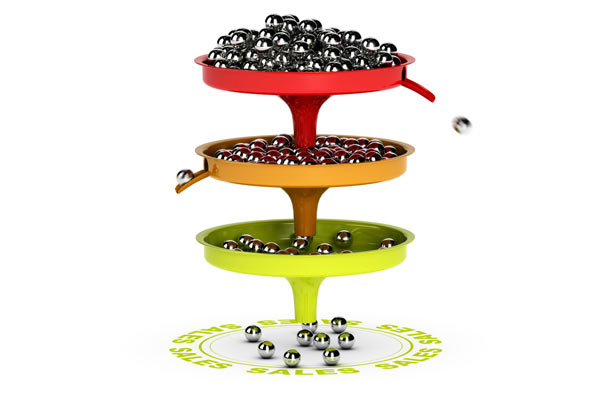 It used to be the case that sales shouldered most of the sales funnel burden, while marketing had a much more fire-and-forget role. But with the advent of ever-increasing transparency,  and online interconnectivity, marketing has taken on more and more responsibilities traditionally handled by sales.
In other words, the funnel itself is changing from a traditional sales funnel to a content marketing funnel, which many brands are still doing their best to figure out. Marketers are now able to support sales in an unprecedented way by targeting each part of the funnel with unique, stage-specific content types that help qualify, nurture, and convert leads into paying customers. And newsletters aren't the only way to retain those paying customers anymore, either. Strategic use of content opens up a world of opportunities.
If you are just starting to get your toes wet in the content marketing scene, or want new ways to repurpose your curated content, learning how different types of content target different parts of the funnel is key to an effective content marketing strategy.
The "New" Content Marketing Funnel
Before we even get to that, though, here's an easy breakdown of what the content marketing funnel looks like. Since many parts of the funnel tend to be obscured by sales jargon and marketing speak, we've included synonymous terms for clarity:
Awareness/Unqualified Prospects
Interest/Initial Communication
Consideration/First Discussion
Intent/Discover Solution
Evaluation/Comparison
Conversion/Purchase
Customer Relationship/Service
Retention/Loyalty
For the sake of organization, we've split up the funnel into three main segments: leads, prospects, and customers. Now, for the real question: What content goes where?*
Awareness/Unqualified Prospects

landing pages
explainer videos
gamification
Interest/Initial Communication
Consideration/First Discussion

guides
how-to videos
social media
Intent/Discover Solution

white papers
e-books
webinars
Evaluation/Comparison

case studies
data sheets
demo videos
Customer Relationship/Service

email newsletters
blog posts
social media
Retention/Loyalty

special offers/coupons
contests/giveaways
While it's tempting to cite the success of a company like Apple and attempt to explain the way the tech giant games this funnel, it goes without saying that most companies don't have Apple's sterling reputation (or titanic marketing budget). So, let's start smaller, with a company that more of us can relate to. One that has a flagship product, a decent reputation, and a knack for video marketing: Blendtec.
*Obviously, this is not a hard science. Content marketing is still very new, and there is no agreed-upon content marketing funnel. This content marketing funnel is based on others, like this one, and different companies may be able to appropriate different types of content in different ways, depending on their audience.
Content for Leads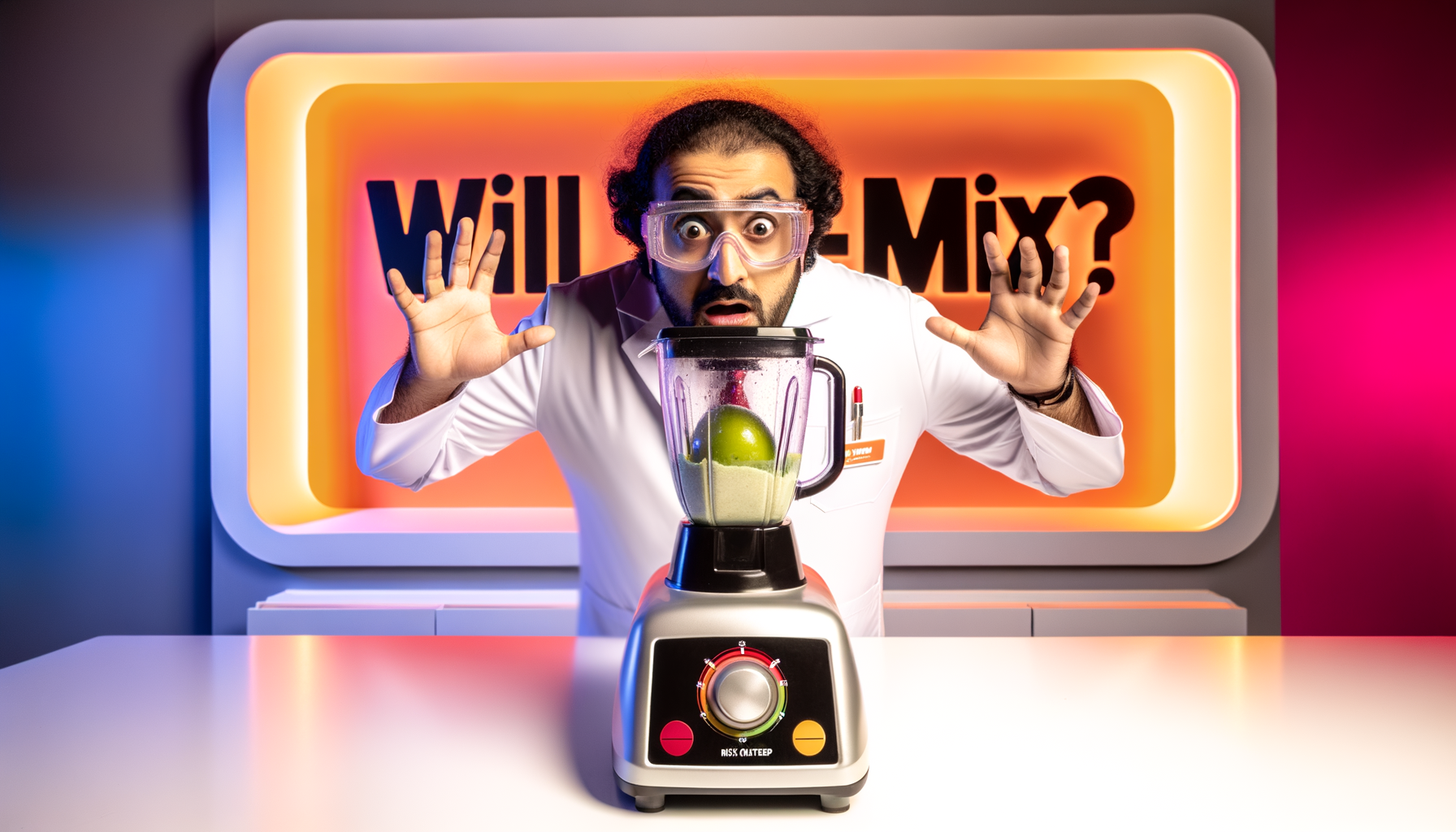 Blendtec is famous for their "Will It Blend" series, but it can be argued that they rely too much on their videos and not enough on other low-hanging fruit content types. A Blendtec blender starts at $500, after all, so it's going to take a whole lot more than funny, feel-good virality to convert the average smoothie enthusiast.
Two parts of our content marketing funnel fall under the "Leads" category: Awareness and Interest. Let's see how Blendtec targets each of these different lead stages, what types of content they're using, and what they can improve on.
Awareness
For completely unqualified prospects who know absolutely nothing about your brand or product, the best types of content are landing pages, videos, and possibly gamification. In other words – there should be as little written content as possible in awareness content.
Because no one cares about your company yet. Presumably, unqualified leads either don't know who you are or have never seen any of your stuff. So you need to catch their attention with more riveting types of content.
Blendtec definitely follows this rule. They have only only two real landing pages, their homepage, which they don't exactly fill it up with words, and their colorful "Will It Blend?" landing page. Both pages do their job well, quickly leading visitors to other relevant pages and calls-to-action. It should be noted that many of those visitors probably arrive at Blendtec home page from their now-famous Youtube channel, which is far more interesting. Their featured video, "Why Blendtec? The 5 Differentiators", is an excellent example of a well-produced explainer video:
We wrote a post over a month ago about the powerful stats behind video marketing, just in case Blendtec's subscriber count hasn't already convinced you of the effectiveness of video.
Gamification, on the other hand, is a very new and upcoming type of marketing, and involves the creation of simple, targeted games for unqualified leads. Gartner estimates that by the end of 2014, over 70% of the world's 2,000 largest companies will deploy at least one gamified application, but for smaller companies gamification is still a budgetary impossibility. Disney was one of the first large brands to hop on the gamification wagon, but in recent years the U.S. Army and Samsung (among others) have also started gamifying their brands. Blendtec is not one of these companies.
Interest
Once you've captured the attention of your leads, they've entered the "interest" stage of the funnel. The best way to capitalize on those increased attention spans is by leading your leads toward qualifying facts or figures and by getting them to start asking themselves whether they want to make a purchase. This can be achieved through infographics and checklists.
Also called "data visualization", infographics meet at the intersection of information, illustration, and design to present what might otherwise be bland and boring in an engaging way. According to Visual.ly, 45% more web users will click on a link if it features an infographic, and 30% of those users will forward it even if the information is pointless. Blendtec happily utilizes infographics, like "13 Easy Blender Ice Cream Recipes", in its blog posts to make them more engaging reads.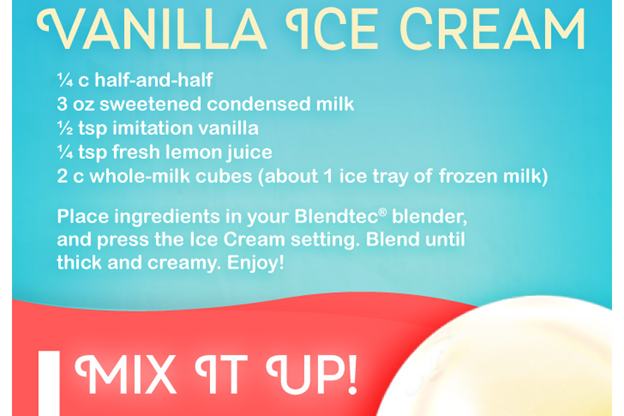 Oddly enough, Blendtec doesn't seem to have any current infographics that detail the selling points (like the ones listed in "The 5 Differentiators" video) of its blenders. An explainer infographic would certainly be appreciated.
Blendtec sometimes includes checklists in its blog posts as well. "Gearing Up to Shut Down: Ready Yourself for Sleep" is a helpful resource post with a checklist that gets readers to ask themselves the right questions. But, again, Blendtec doesn't seem to have a checklist that highlights the selling points of their blenders. Something like a "Can Your Blender Do This?" checklist/landing page would certainly contribute to their marketing campaign, and wouldn't even take that long to write up.
Content for Prospects
A prospect is defined as a sales-qualified lead, which means different things at different companies, but for our purposes we'll say that a prospect is interested enough to fall into the next stage of the funnel.
Let's say that "Prospects" fall into the Consideration, Intent, and Evaluation stages of the funnel. Let's see how Blendtec targets them with content marketing, and what they can do better going forward.
Consideration
Your sales-qualified lead has now seen your explainer videos, laughed at your viral marketing videos, and probably looked over a few of your compelling and impeccably-designed infographics. Your checklists have also put them on track to start asking themselves the right qualifying questions. Now, it's time for the next step: how-to guides/videos, and social media engagement.
One of the first things a prospect is going to want to know after they've decided that a product might be useful is whether they can trust the brand behind it. The best way to do this is by establishing domain expertise as a helpful thought-leader. And helpful leaders usually offer free advice. In terms of content marketing, free advice translates to how-to guides and videos that act as resources for target buyers. Blendtec offers plenty of helpful how-tos on its blog in the form of recipes and healthy living tips, and also has a great call-to-action in a native newsletter sign-up that offers more free recipes.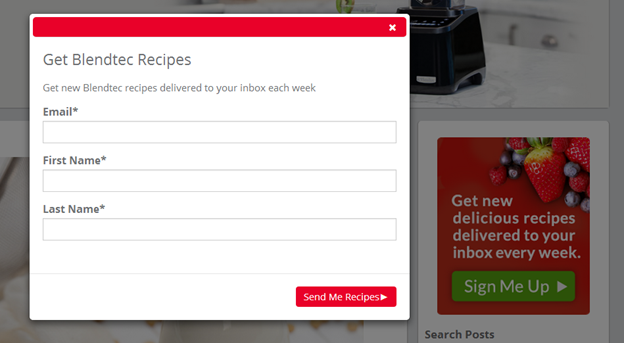 But in the age of interconnectivity, being helpful on a website or through a newsletter alone isn't enough. Prospects want to see some serious community engagement, and that's where social media kicks in. Blendtec's Instagram, Twitter, and Facebook pages are all regularly updated, and cater to their respective followers accordingly. A prospect can instantly gloss over dozens of delicious Instagram smoothie pics, new products and events, and satisfied customer comments. Social media is the quickest, surest way of getting prospects and customers to engage and become brand evangelists.
Take Lauren Mitchell, for example. She's a proud Blendtec owner who has uploaded a Youtube video called "How to Clean Blendtec Blender." Well-played Tom Dickson. Well-played.
Intent
Once you've demonstrated your helpfulness and expertise, a prospect is going to be far more serious about your brand. But there are still a few more steps to take before they commit to making a purchase.
You have to convince them that buying from you is the smart thing to do. This usually means providing more qualifying information to assuage their fears. But this time, the info can't just be a generic infographic. These prospects aren't leads anymore, and they're going to start scrutinizing everything a little more closely. In other words, now's the time to offer long-form, in-depth content like white papers, e-books, and even informative webinars.
Most research companies, like Forrester, regularly release white papers that cover large-scale marketing or business survey findings. Granted, Blendtec's product line isn't all that complicated, so they don't have any need for traditional white papers. That being said, a $500 blender is a hard sell no matter how you look at it. Taking the time to explain why Blendtec blenders are worth $500 certainly wouldn't hurt.
For example, Blendtec blenders were named "Best-in-Class" by a leading foodservice magazine in 2012. This is the type of throwaway blog post that could have easily been commemorated in an evergreen white paper explaining what the magazine's ranking criteria were, and why Blendtec placed first.
Blendtec does have a couple books on sale, but because they're both picture recipe books they aren't available as e-books. Whether they make any real money selling these books is almost immaterial – making them available to their customers further establishes Blendtec's reputation as a lead blender manufacturer.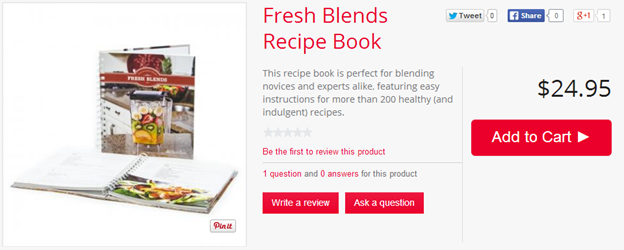 Evaluation
Anyone looking for a bigger, better blender that has gotten to the Evaluation stage of Blendtec's funnel is one step away from making a purchase. They just want a few more reassurances, namely in the form of customer reviews and testimonials, data sheets for comparison, and product demo videos.
Case studies seem like a dime a dozen these days, yet Blendtec doesn't have any case studies under its "For Business" tab. Surely a restaurant chain that switched from their old blenders to Blendtec blenders could contribute something here, but all we have to work with is a "Commercial News" section: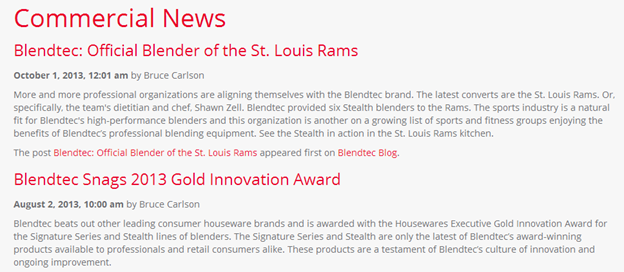 Not the worst offering, but certainly not the best, either. This page is basically a subsection of the blog, and doesn't really show prospective business clients how Blendtec blenders might improve their bottom line.
Blendtec does feature data sheets in the form of specifications and handy online user guides for each of their many blenders, but they don't have a single comparison chart that pits Blendtec blenders against the competition (like this one). A handy, by-the-specs comparison chart would also have been very helpful for prospects.
Fortunately, Blendtec more than makes up for these absences with its amazing Youtube Channel, which features more product demos than you can imagine in the form of "Will It Blend?" episodes like this one.
Content for Customers
Lastly, we arrive at the final category of the content marketing funnel. Paying customers fall into the last three stages: Conversion, Relationship, and Retention. Ideally, customers will cycle between these three stages and become repeat customers.
Conversion
Successful brands understand that conversion can and should be a repeat stage if possible. Once a prospect pays for their first product and becomes a customer, the goal is to make them pay for another product or service, and one of the best ways to do that is via customer reviews and testimonials.
As far as on-site customer reviews go, Blendtec could do a better job. Amazon.com tells the customer appreciation story of each of its blenders perfectly:

And testimonials from satisfied customers on Facebook and Twitter are equally prominent: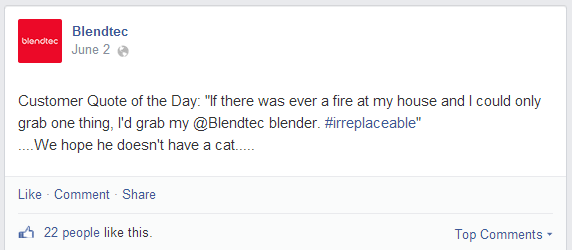 But the website is oddly devoid of customer quotes. The homepage doesn't have any, and when a visitor navigates over to an individual product page, they'll see this: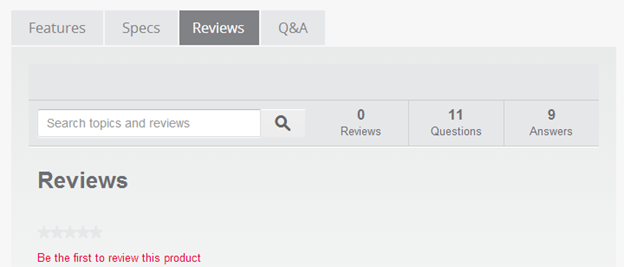 Poor form, Blendtec. You can do better than that. Featuring some of the Facebook, Twitter, or Amazon quotes on the appropriate blender pages on Blendtec.com would be a smart move. Blendtec shouldn't just expect all of your site visitors to have already seen product reviews elsewhere.
Relationship
Conventional wisdom tells us that many relationships fail because couples stop trying as hard once they settle into a comfortable routine. This doesn't work well in the dating world, and it doesn't work well in business, either. Once a prospect converts into a customer, you need to keep offering them helpful, resourceful content to keep the relationship fresh and relevant.
This is where a lot of first-time marketers make a big mistake. Too many brands trying to dip their toes into the exciting world of content start off by writing blog posts and newsletters when they should be focusing on other content types instead. When it comes down to it, blog posts, newsletters and social media engagement are all ideal ways to retain customers, not necessarily attract new ones.
As mentioned earlier in this post, Blendtec maintains a lively, regularly-updated blog full of recipes, tips, and infographics that ties in with their recipe-rich email newsletter as well. Check and double-check. They also have established an excellent social media presence across multiple platforms, and are regularly engaging with their paying customers (who, in turn, end up evangelizing to prospects through testimonials, reviews, and positive comments).
Retention
The final stage of the content marketing funnel is retention, or customer loyalty. Again, comparing the bottom of the funnel to a serious relationship is useful. It's not enough to attract, date, and stay on your toes in a successful relationship. Sometimes it's nice to remind your significant other that you care with gifts and shows of affection. In content marketing terms, this translates into special offers and coupons as well as contests and giveaways.
Blendtec has consistent coupon offerings on sites like RetailMeNot, and special discounts on retail sites like Amazon.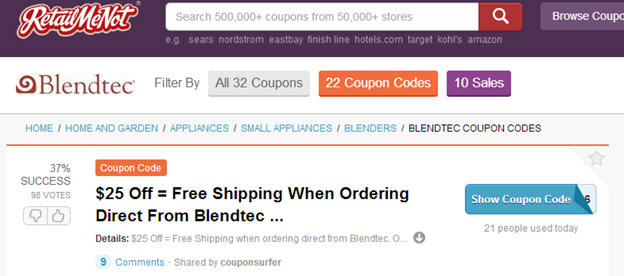 They also have a curated Pinterest page just for giveaways and regularly host smart contests like the St. Patty's Green Smoothie Challenge. While these strategies are less content-based, they are still going to be embedded as calls-to-action or announcements in other types of content, like blog posts and newsletters.
What Does Your Content Marketing Funnel Look Like?
It goes without saying that Blendtec's content marketing strategy isn't going to work for all companies. The beauty of the content marketing funnel is that it can and should be fluidly adaptable.
A tech startup and a mid-market retailer may target different parts of the funnel with different types of content, but the general strategy will remain the same. We hope that our content marketing funnel can be a stepping stone for your own content marketing strategy, and we'd love to hear your thoughts on how your brand uses different types of content for the different parts of the funnel.
(Image credits to Online Presentations and Blendtec)