How to Boost Lead Generation and Authority with White Papers
We all know how important it is to maintain constant communication with potential customers. According to Salesforce, it takes about 6-8 touch points for a conversion to happen. Prior to that, your prospects are still in the decision-making process.
To maintain a relationship with prospects you need to get their contact information. You also need to know more about them so you can offer a customized experience. But getting a steady supply of good leads isn't easy.
Just look at these numbers from HubSpot's State of Inbound 2018 Global Report.
61% of marketers say their top challenge is generating traffic and leads: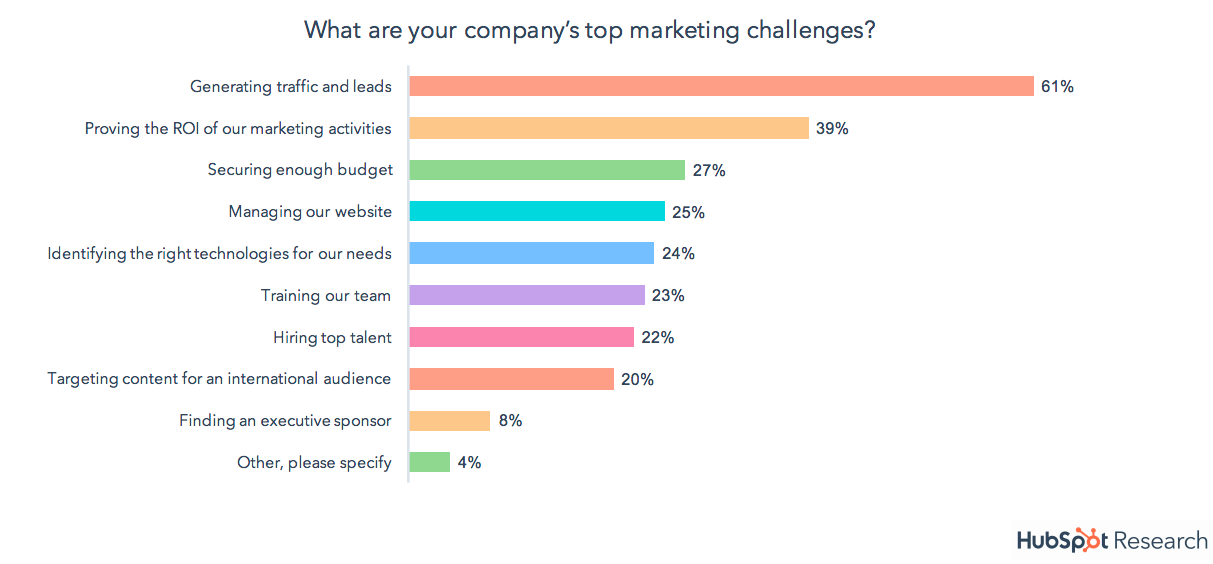 40% of salespeople say getting a response from prospects is getting more difficult: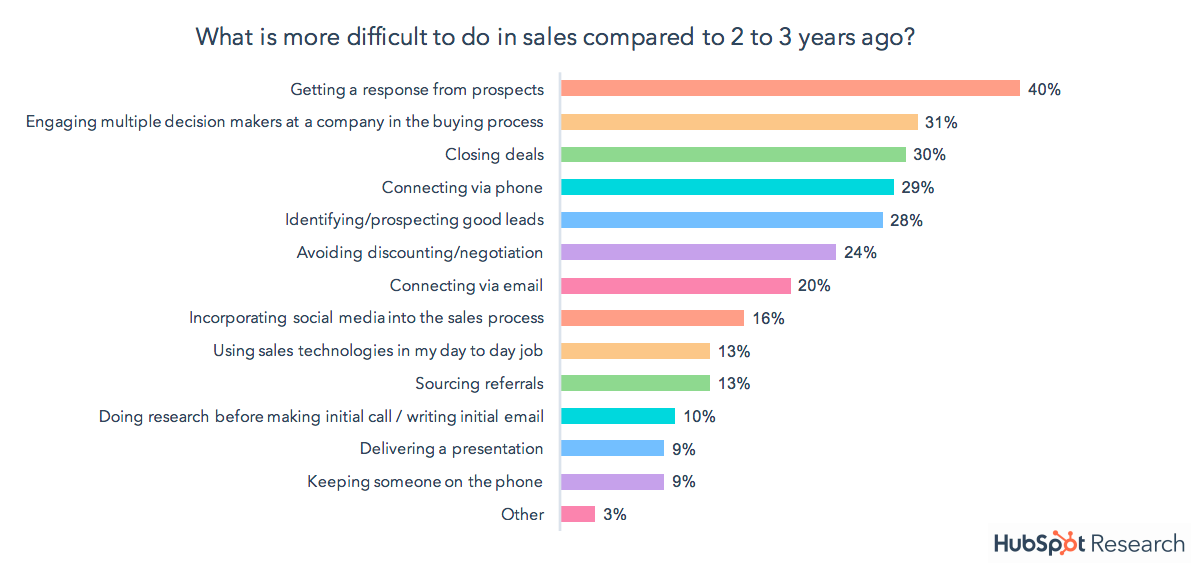 Getting good leads is definitely a problem for everyone. That's why a lot of marketers are turning to white papers – and they're getting excellent results.
Consider that a 2015 B2B Media Consumption survey conducted by TechTarget reports that 91% of 2,430 IT buyers regard white papers as the second most effective content to use in the first stage of a buying decision process after product literature.
Another survey, conducted by Eccolo Media, features 100 respondents who indicated that of 10 different forms of content, the most helpful in their initial sales phase were white papers: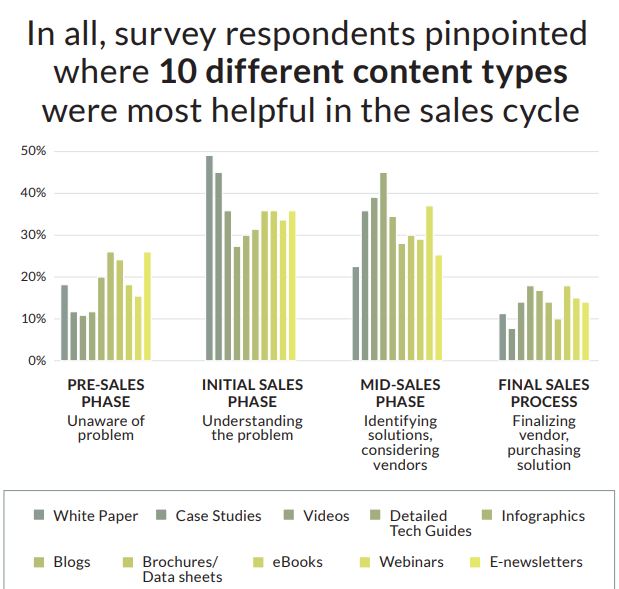 In Content Marketing Institute's 2018 content marketing survey, they found that white papers were the most effective type of content used by 62% of the most successful respondents: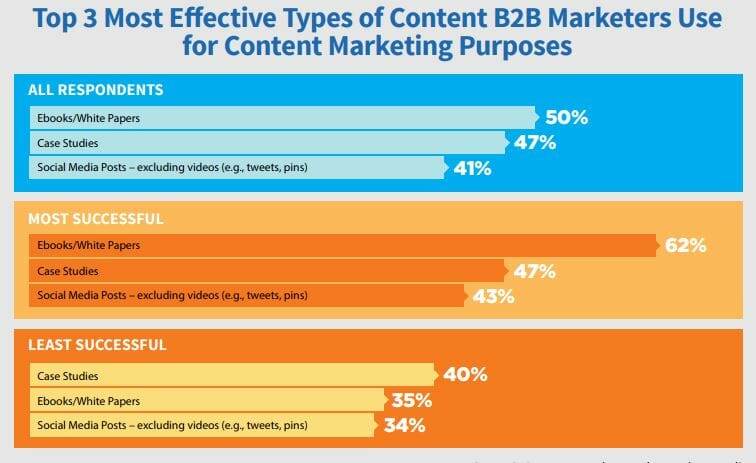 White papers simply work, and in this guide, I'll show you how you can create and promote them for maximum effect.
First, let's start with a definition.
What Is a White Paper?
White papers can mean different things depending on the industry, but since we're talking about content marketing, here is HubSpot's definition: "A white paper is a persuasive, authoritative, in-depth report on a specific topic that presents a problem and provides a solution."
White papers are advanced problem-solving guides. Marketers create white papers to educate their audience about a particular issue or explain and promote a particular methodology.
Click To Tweet
The goal of a white paper is to inform and persuade with evidence, so it is not a sales pitch and, though the lines can get blurred, white papers are also not e-books.
Generally, white papers are extremely detailed, ranging from a few pages to hundreds of pages. They show a high degree of expertise, are well researched and are backed by a lot of data.
White papers do more than generate leads though; they can also:
Boost your company's brand image and authority
Increase your website's search ranking by way of backlinks
Increase a customer's trust in your company
Now that we've gotten the definition out of the way, let's move on to how you can create great white papers.
Further Reading:
Creating a White Paper
As I wrote earlier, there's no standard definition for a white paper. It varies based on the complexity of the topic and the audience it's created for, but a white paper is usually created as a reference guide. It offers valuable information to your audience, centered around eliminating problems and making your leads better in their field.
This is how you create a great white paper.
1) Find a Pain Point
The first step to creating high-performing white papers is to find a pain point. Your white papers can only be as good as the problem they solve.
For example, say you're in the IT industry. You could create a white paper on how businesses can prevent cyber attacks. And an even more powerful topic for your white paper could center around how businesses can get ready for GDPR. These topics are not only recent, but there's a lot of misinformation and fear surrounding them. It's an excellent opportunity to not only solve a painful problem but also to show your company's expertise and build trust with prospects and customers.
Here's how you can discover pain points in your industry:
Groups and Forums
One great way to discover what your potential customers are interested in is to be active in online groups and forums. By actively listening to their legitimate concerns, you can get ideas for your white papers.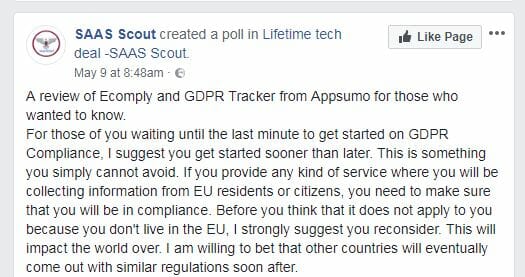 Create Polls
Another way to make sure your white paper touches a legitimate pain point is to create a poll. You can send surveys to people who are already on your subscriber list by using a simple tool like SurveyMonkey. Or you can create a survey on your Twitter page, Facebook group, or even on your website. Then you can simply share the link across your other channels.
Here's an example poll: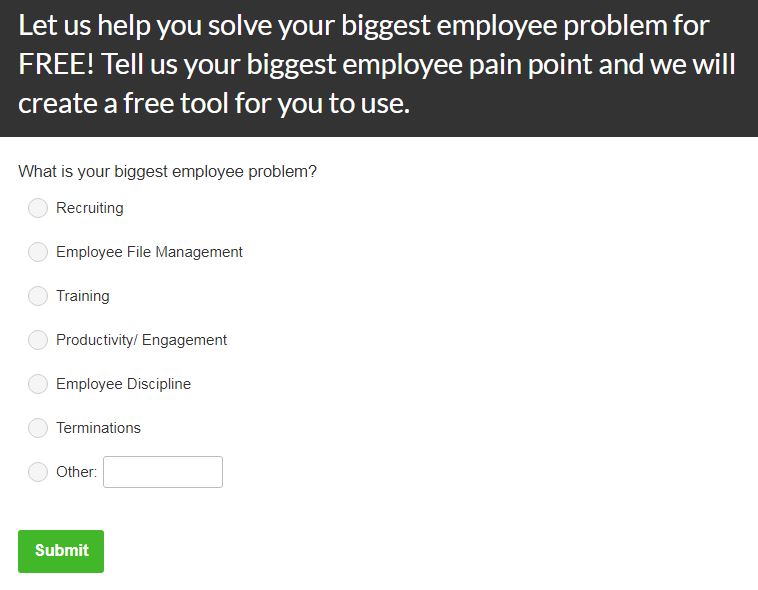 Use Google Trends
Google Trends is a powerful free tool for discovering trending topics in your niche. It even offers a cool line graph so you can easily gauge how interested people are in a topic over time.
For example, if you were in IT, a quick search for "information privacy" would show you areas of interests: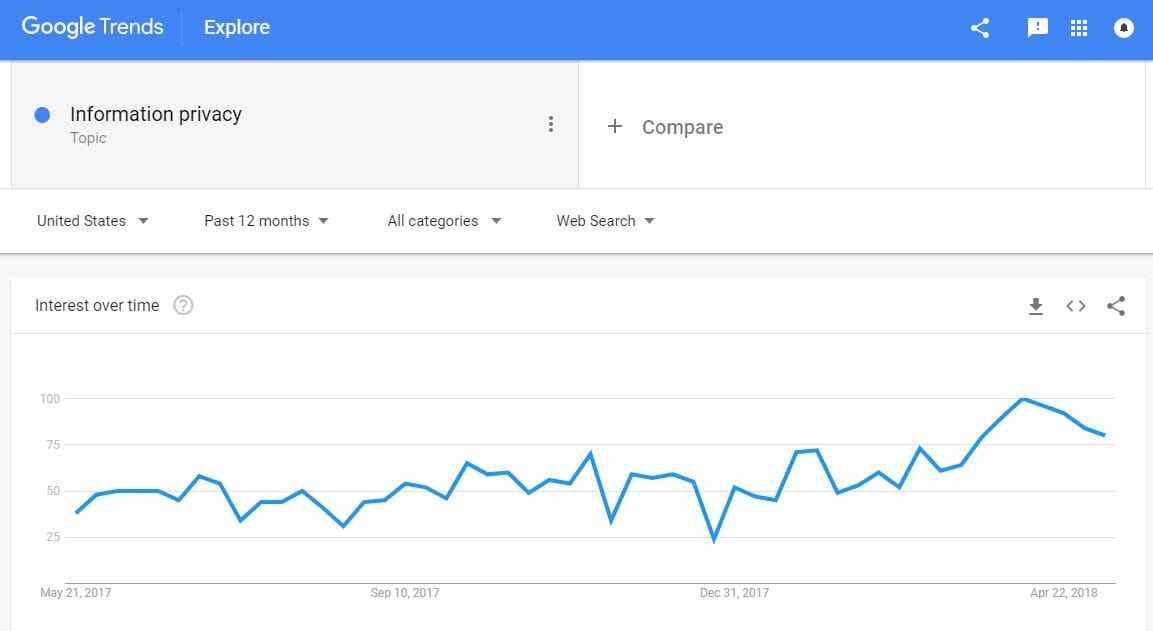 This search revealed that a lot of people are interested in GDPR (a possible topic for your white paper):

Search Industry Blogs
What are the top blogs in your industry talking about? Just by gauging the level of engagement that a blog post has received, you can tell if it's a topic that your audience has an active interest in.
Here are the most popular posts on Computer Weekly, a leading IT blog: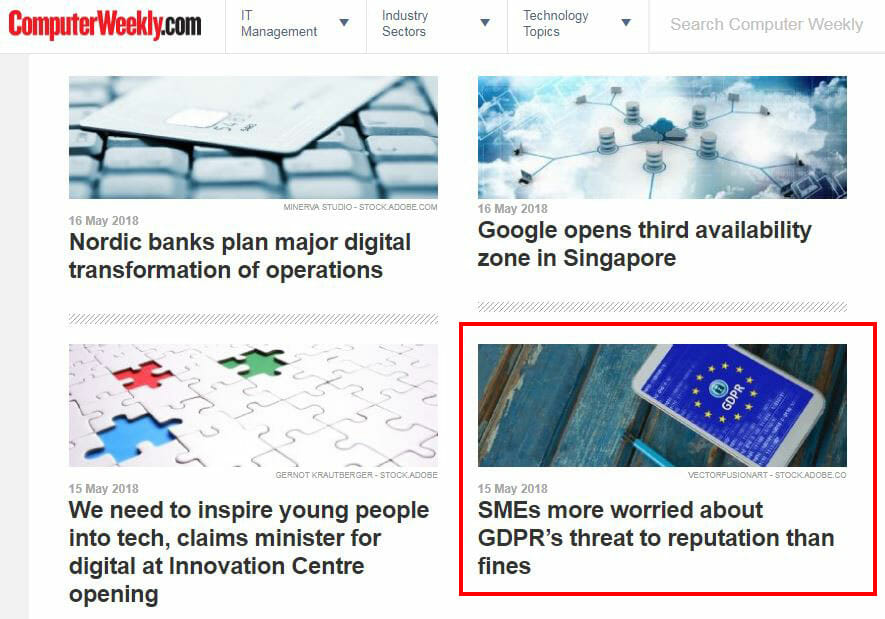 No surprise that we find GDPR again. It's a massive pain point.
Talk to Your Customers
And finally, there's no better way to get ideas for your white paper than by speaking to your customers and prospects in person. This tactic provides you with the specificity and details that online interactions simply can't match.
2) Create Content
Once you've discovered a great pain point to base your white paper on, it's time to do the actual work. White papers have no specific length so you're not obligated to write a 100-page document when your topic only requires 20 pages.
Your white paper exists for one reason: to solve a pain point well. And whatever length your paper winds up being to make that happen is exactly the length it needs to be.
There are, however, some best practices to follow to ensure that your white paper is comprehensive and easy to understand:
Focus on One Topic
Just because you have to be comprehensive doesn't mean you should cover everything related to your topic. While it might be easy to jump from IT security to Big Data, your white paper should focus on only one pain point and provide effective solutions for it.
Format It Properly
Your white paper should be in PDF format in portrait orientation (8.5″ x 11″). You can use a one- or two-column structure, or even a mix of both, so long as it has a logical flow and comes out easy to read.
Table of Contents
As I've said, white papers can be a lengthy read, so it's nice to let your readers know what's in store before they start. That way they can decide to schedule it for later when they have time. In Search Engine Journal's "Guide To SEO" white paper, they make the level of commitment needed to finish obvious: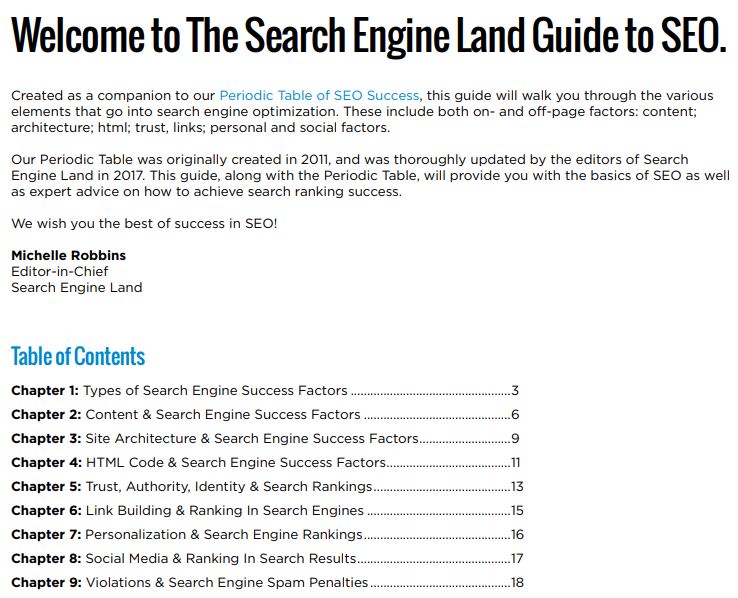 Include Images
Just because white papers are supposed to be serious doesn't mean they should be devoid of images. Images help readers flow through your writing by breaking up the monotony of text.
SEJ's white paper manages to incorporate images flawlessly: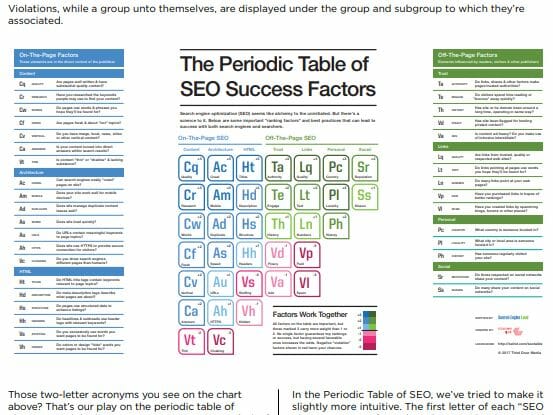 Add White Space and Subheadings
The lengthy size of white papers make sufficient spacing between text not just advisable but necessary. Cluttered text will make you lose your readers, so adding subheadings will give them a sort of visual mark to find their place and know more about a chapter.
HubSpot's white paper on emerging tech for SMBs includes healthy spacing and subheadings: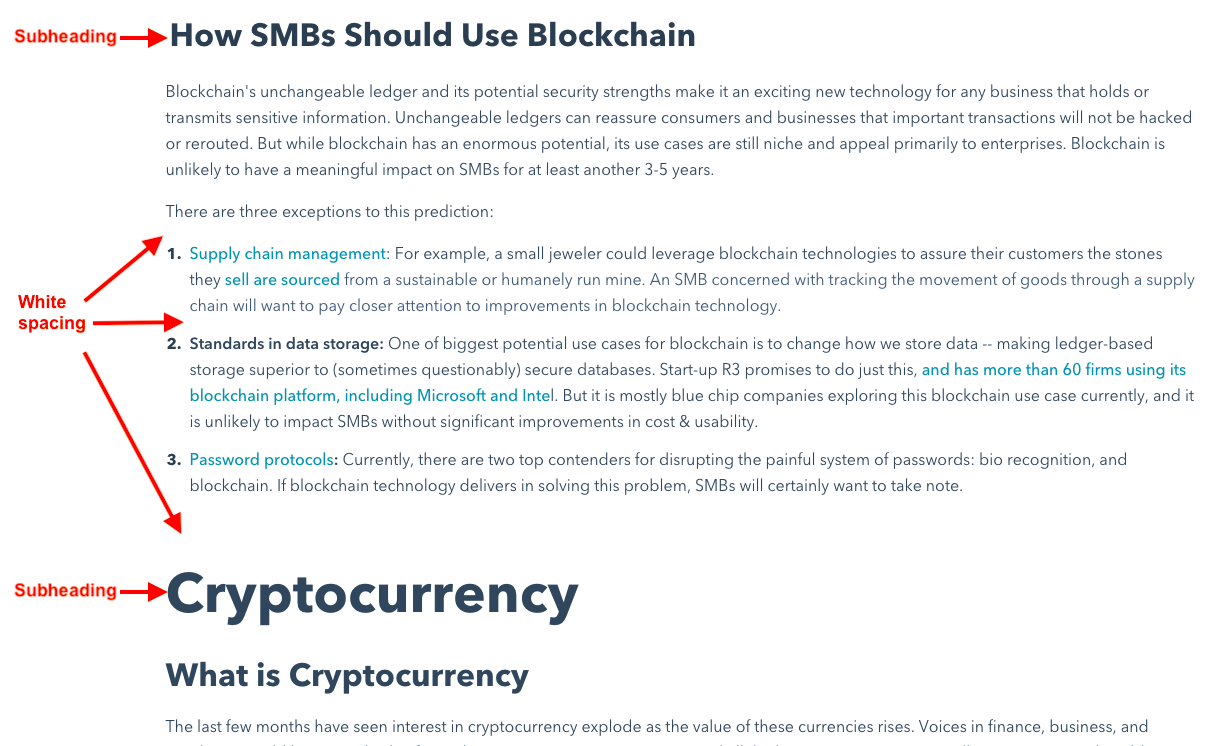 Back It Up with Data
Backing up your white paper with data adds credibility to it. The data you include can be your company's own research findings or from well-respected external sources. Even HubSpot draws data from MIT to back the claims on their white paper.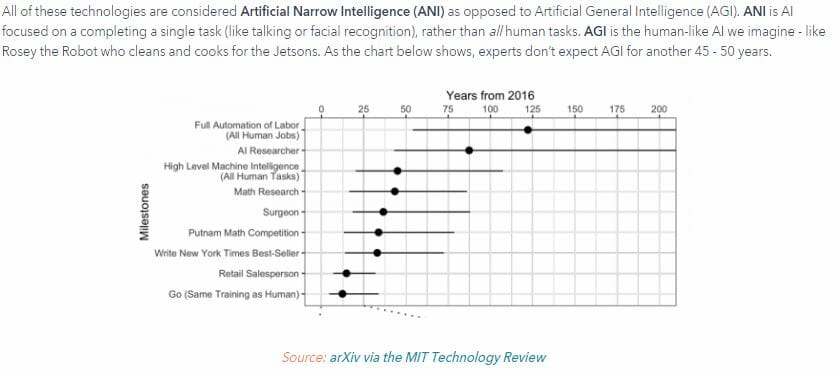 Add Expert Insights
Though not necessary, getting a few experts in your industry to offer their own take on the topic of your white paper can not only boost its credibility, but give it a better chance of gaining popularity, especially if the expert is well known and shares the white paper through her own channels.
Further Reading:
Include Your Customers
Allowing some of your customers to add their own take on your white paper not only shows current prospects that you care about your customers, but your customers might share your white paper with their peers, who could in turn convert to customers.
Promote Your Brand
You've worked hard to create a great white paper, so link your brand to it. Add your logo and company name as footers on each page as well as all your original images. Also, add links to more resources on your website where useful. This way, wherever your white paper ends up, your company will get all the credit it deserves.
HubSpot recognizes the importance of branding their white paper: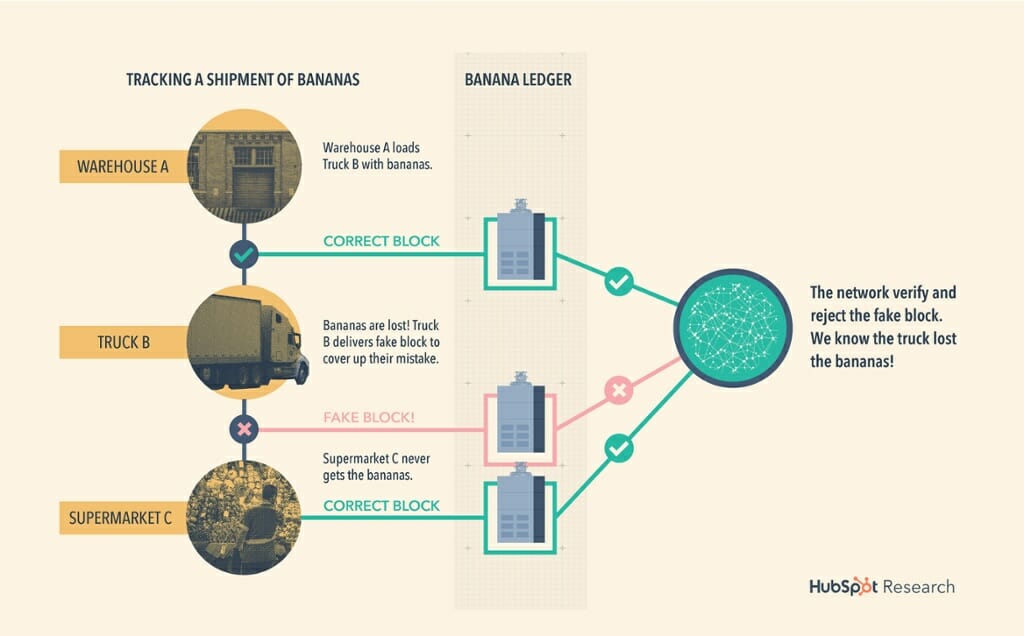 So far, we've covered how to create an awesome white paper, but your job doesn't end there. To take this valuable document to the next stage, there's one crucial step you have to go through, and that's promotion.
Promoting Your White Paper
The promotion stage is just as crucial as the creation stage. Now you want to give your white paper as much attention as possible. This is where you actually get the leads we've been talking about.
Here's how to promote your white paper:
1) Optimize Your Landing Page
This is arguably the most important aspect of white paper promotion. The landing page is where you turn your visitors into leads and, unfortunately, a lot of landing pages are just terrible.
I'll present a few guidelines that'll make sure your landing page is optimized for lead generation.
Use a Straightforward Headline
Your headline is the most important part of your landing page. It's the first thing your visitors see on your social media pages, your ads, and when they get to the actual landing page. It's what they see basically everywhere. So you can imagine why it's crucial to the successful promotion of your white paper.
For lead generation, it's best that your headlines be as straightforward as possible. Indicate the problem and the solution you're offering.
Why should you create a straightforward headline rather than something witty?
Well, the folks at Sumo ran an experiment to determine what type of headline converted better when it came to opt-in offers, creative or straightforward.
Here's the difference between a creative and a straightforward headline: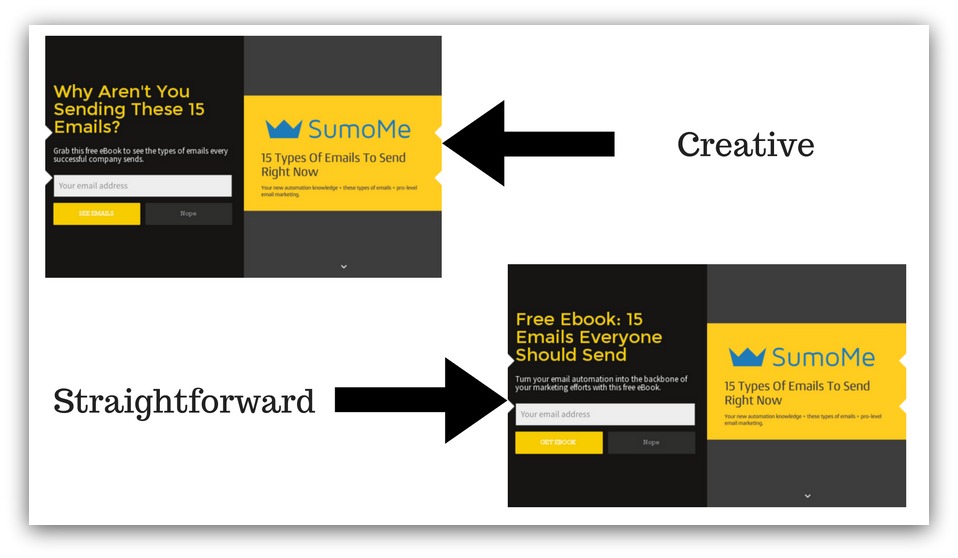 The result? They found that straightforward headlines converted better than creative headlines by a huge margin: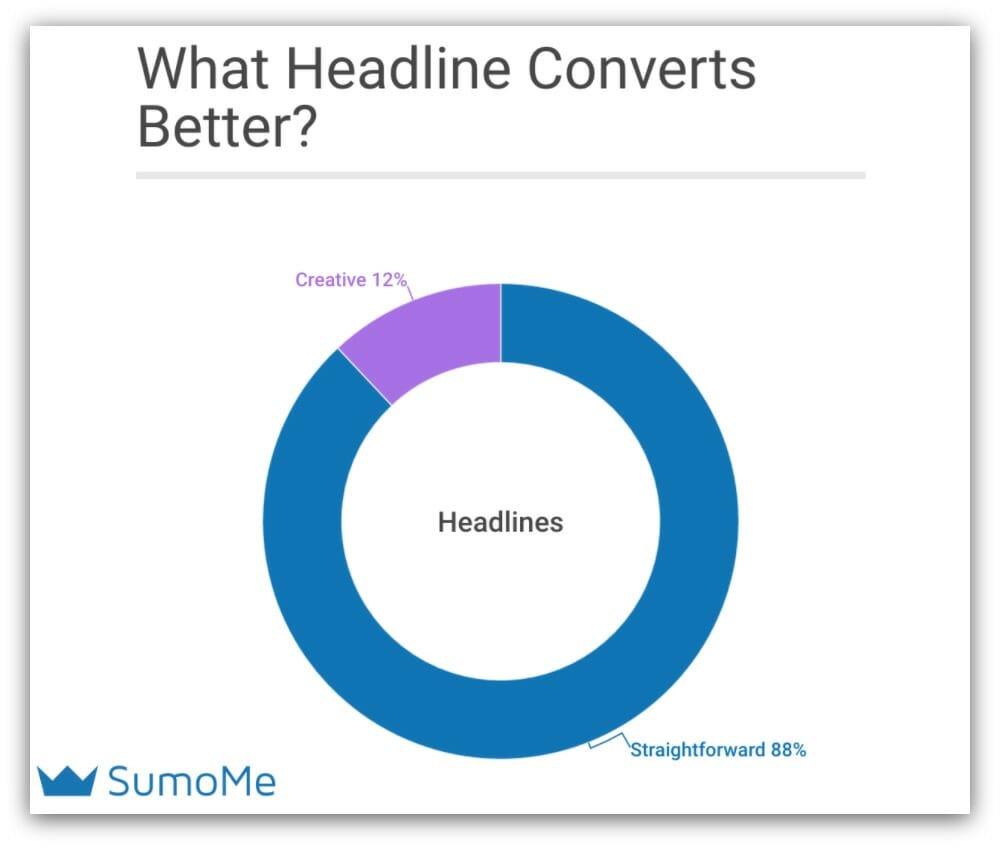 So don't bother going for something witty in your headline. Just present the problem and offer a solution.
Here's a straightforward but effective headline from Wrike: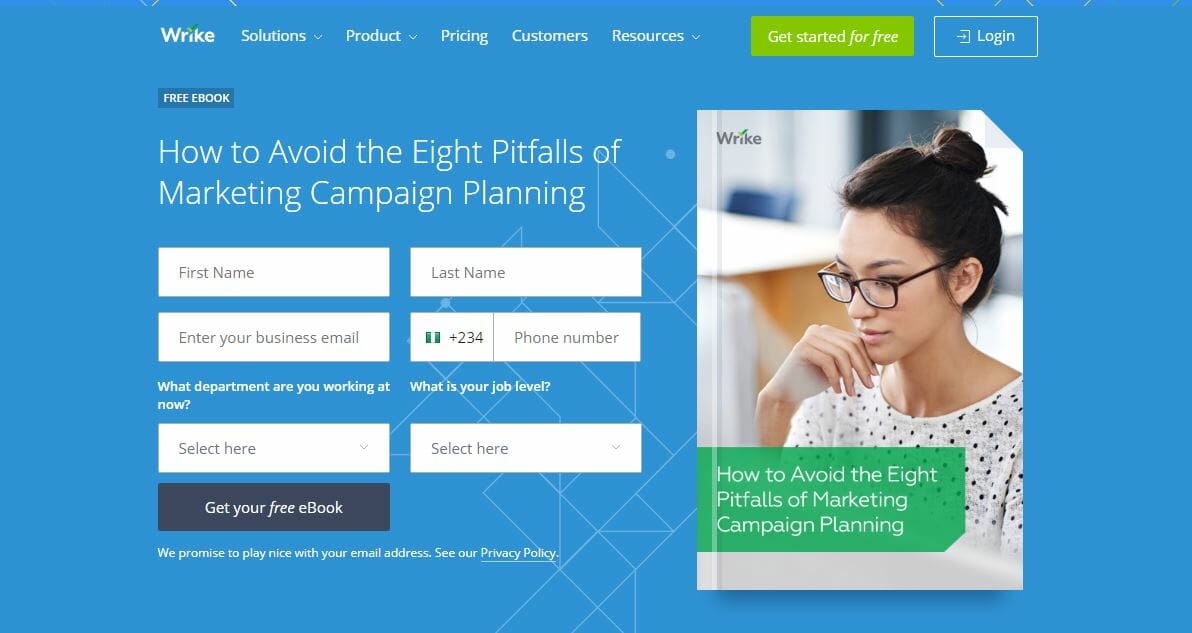 Notice how they clearly present a problem and offer the solution in the headline? That's what you should aim for.
Only Ask for Needed Information
Creating a good white paper will be a lot of work. Yet that doesn't mean that you should ask for as much information as possible. Generally, the less information you ask for, the more likely people will be to sign up. And the more important that people judge your white paper to be, the more information you can ask for.
It's a double-edged sword between getting as much info as you can and getting as many people as possible to sign up. So think carefully about everything you ask for. If you can do without some information, then don't ask.
WordStream tries to strike a balance between the information they collect and signups: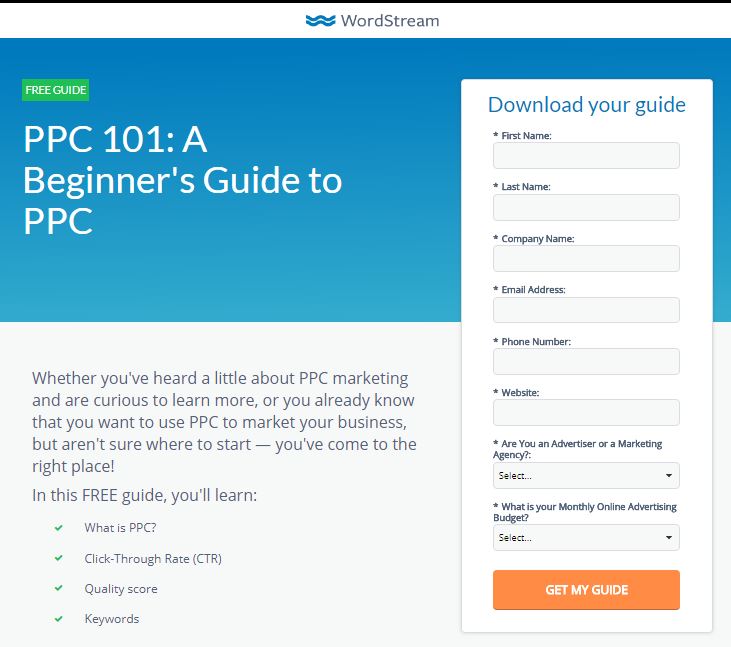 Perform A/B Tests
The only way to ensure that your landing page is the best it can be is to continuously test it. Try different headlines, images, CTAs, button colors, etc.
This can give you a headache when you perform it manually, but thankfully there are some landing page software that can help you optimize your landing page with little stress. Tools such as Unbounce, Instapage and Optimizely, just to name a few, can make A/B testing a breeze.
Once you've got your landing page ready, then the next step is to direct traffic to it.
Further Reading:
2) Offer Your White Paper as a Content Upgrade
By far the easiest way to direct traffic to your landing page is with a content upgrade (or lead magnet). Simply include links to your white paper in the body of your blog post, especially when the blog post is related to your white paper. This way you ensure that the people who see it have an active interest in the topic.
You can also set up pop-ups confined to a specific page or even site-wide to bring people to your landing page. HubSpot includes a content upgrade in the body of their blog posts: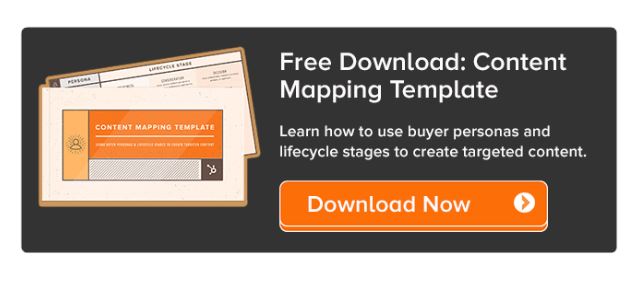 Link to Your White Paper in Your Bio
If you're a prolific guest poster, a quick way to generate leads is simply to include the link to your landing page in your author bio rather than linking to your homepage.
This author does it well in her post for Smart Blogger.

Link to Your White Paper in Your Facebook Page's CTA
This works well if you have an active Facebook page. Simply include the link to your landing page in your CTA. You can make this even more effective by indicating this in your page's header image or video.
Search Engine Journal makes optimal use of their Facebook page's CTA: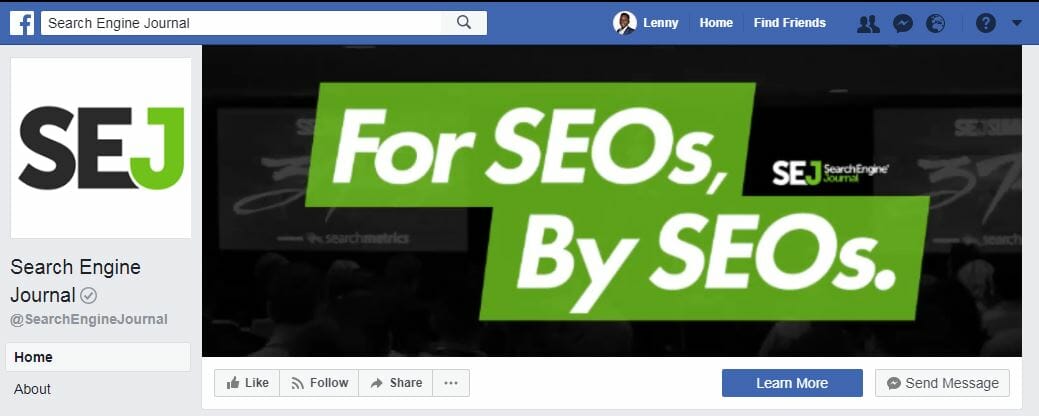 Clicking on the "Learn More" button directs you to a landing page for their latest e-book: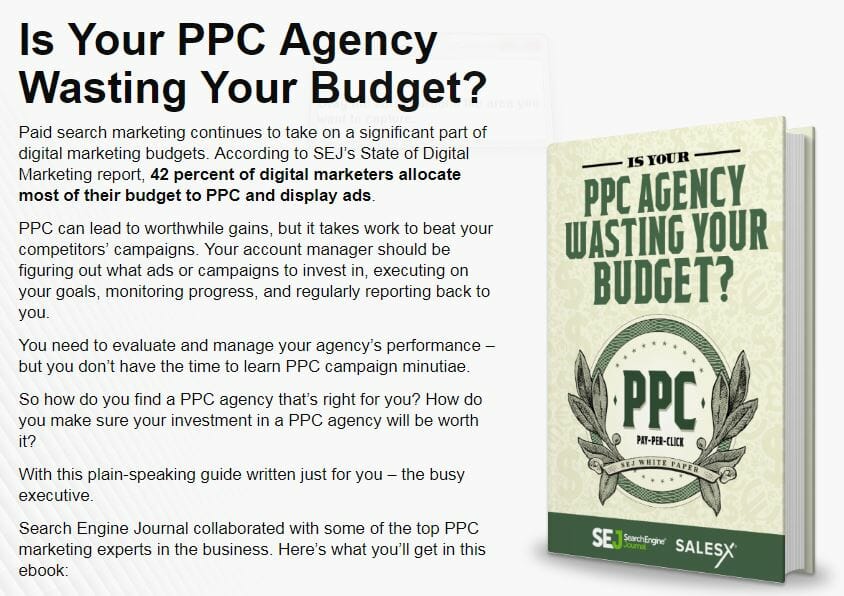 Send a Link to Your Email List
Doesn't make much sense right? Why would you send a link to people whose email addresses you already have?
Well, it makes sense for three reasons:
An authoritative white paper builds trust with leads and even current customers.
It offers you a chance to get more information. If you only had their email addresses before, it gives you the opportunity to get phone numbers and even company information.
There's also the chance that they'll share your white paper with more people, which helps you to generate more leads.
Submit to Directories
If there are directories related to your industry and they accept white papers, it's a good idea to send yours over to them. A great place to do so is the American Marketing Association's robust library: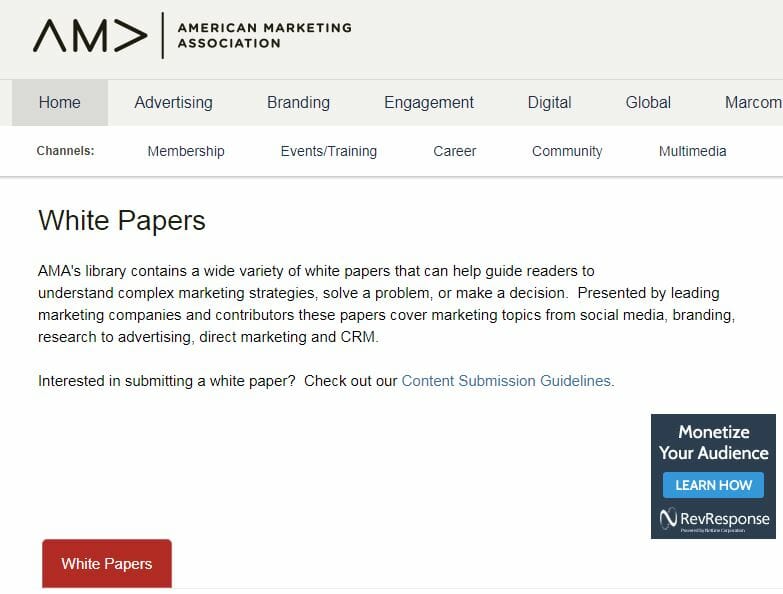 Create a Separate Section for Your White Papers
This is especially useful when you've created a lot of premium content over time. This way visitors can simply go to a specific section rather than searching all your pages for a link to your white papers and e-books.
AdEspresso has a separate section for their lead generation content: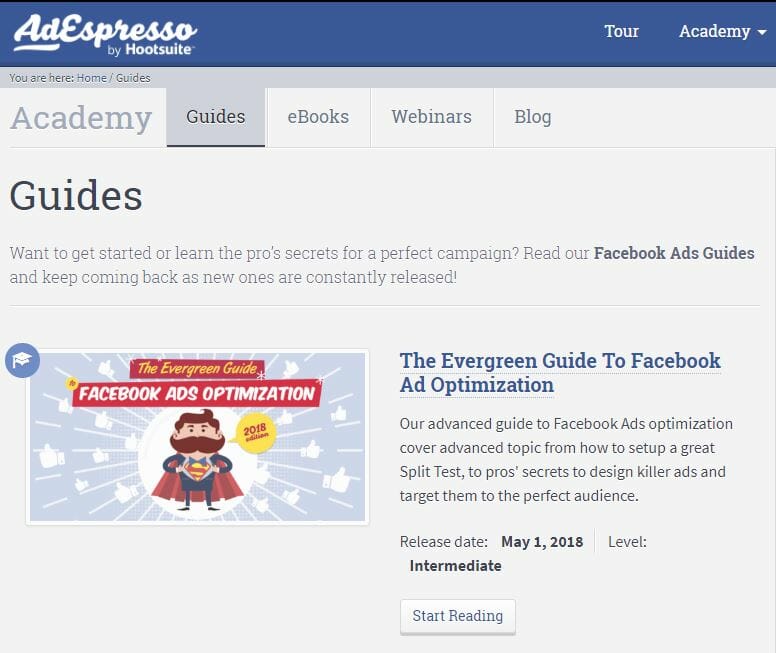 Promote Your White Paper at Industry Events
If you're a speaker at high-profile events in your industry, you have an incredible opportunity to promote it to the people who matter most. You can tell them about your white paper and the level of work that went into it, and also tell them how they can get it.
Run Ads
Finally, paid promotions could give your white paper a boost. You can run Ads on Google, Facebook, LinkedIn, and Twitter.
To get maximum impact, you should retarget your website visitors. This way, only people who are familiar with your brand will see your ad, since white papers are middle of the funnel offers.
Look at this Facebook retargeting ad from Unbounce. It's clearly meant for people who already know who the company is and what they do.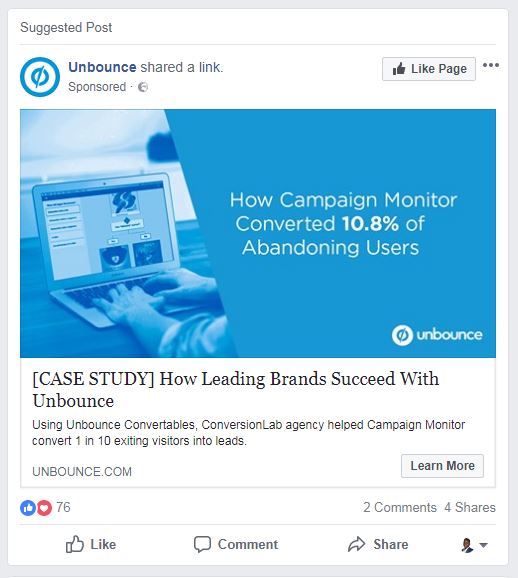 Conclusion
White papers are some of the most effective pieces of content you can create. They influence buying decisions, make you an authority and even improve credibility and trust.
To get the most out of white papers you need to:
Write on a serious pain point.
Support your facts with data.
Make it easy to read.
Direct traffic to an optimized landing page.
Promote on free and paid channels.