If you're investing in content marketing, blogging will form part of your strategy. But despite there being over 4.4 billion active Internet users ready to feast their eyes on content, your blog post probably isn't going to reach them — especially when over four million blog posts are published every day (and that's just on WordPress!).
You'll need to put some work into making your blog posts stand out.
The bad news? Differentiating your blog posts from the sea of content out there takes more than a few fancy images, and a "click-worthy" headline.
The good news? We're here to share seven creative ways to make your blog posts stand out.
1) Know Your Audience Inside and Out
It's easy for brands who don't know their audience to go down the route of publishing content they think their audience will be interested in.
For example: Your customers are aged 13-20 and have an interest in make-up. That means they're willing to consume a 2,000-word blog post about picking the best mascara, right?
Not necessarily. Assuming what content your audience wants to read can be dangerous. Not only could you spend hours (3 hours and 28 minutes, on average) writing a blog post that isn't going to be read, but your content won't stand out because it's not tailored to a specific group of people.
Think about it: You're much more likely to be impressed with a blog post that speaks to you and your pain points than one written solely to tick a "publish blog post" checkbox.
Avoid that trap by understanding your audience. Build your buyer personas through:
Surveys: Ask your audience what type of blog post they enjoy reading. Offer incentives for people to take part (like the chance to win a free product) and drop the survey link in your newsletter.
Monitoring the industry: Use tools like Ahrefs and BuzzSumo to find top-performing content in your industry. What is your target audience reading, watching or listening to?
Talking to customer-facing staff: Ask your customer service teams for a list of frequently asked questions. What are they struggling with?
Once you understand your audience to a T, only then can you create blog posts that stand out, as John Tucker explains:
"Is there a problem that your audience has? Acknowledge that, empathise with them and explain that you will show them how they can improve their situation by following the advice you're about to give them.
For example, content marketers may be finding it hard to think of original ideas to write about. Address that issue, reaffirm with data if possible so they can see they're not alone, then introduce your solution that will make it easier for them to come up with new ideas."
Take a look at this blog post by GotchSEO, for example: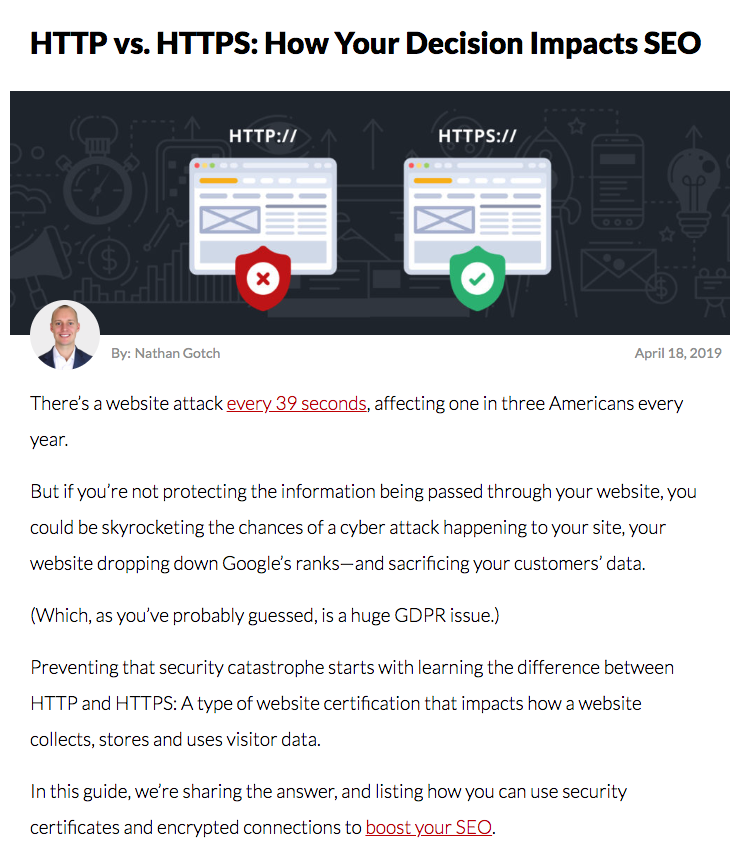 They don't stick to top-level content that fails to give their readers the information they actually want. They've clearly taken time to research the type of blog posts their audience want: An in-depth guide to HTTP and HTTPS, and how their decision impacts SEO.
Not many marketers include this step in their content marketing strategy. But by doing so, you can make your blog posts stand out.
Dive Deeper: 
2) Analyze the Competition
By this point, you should have a solid understanding of who your ideal readers are. Add another step into the research process and find out what blogs they're reading.
The list of blogs that your audience reads frequently is your competition. It's who you'll need to "beat", content-wise, to gain their attention, so it's worth investing some time into analyzing their strategy. After all, you can't stand out if you don't know what (or who) you need to stand out from.
Plug your competitor's URL into Ahrefs or Moz to find out which blog content performs best on their website in terms of backlinks, organic traffic, and social shares. And then ask yourself: How can I make it better?
As a content marketing agency, let's use Content Marketing Institute as an example competitor. We can see in Ahrefs' Top Pages report that their most popular blog post (in terms of organic traffic) is their "What Is Content Marketing?" guide — which gets over 7,000 organic visitors each month: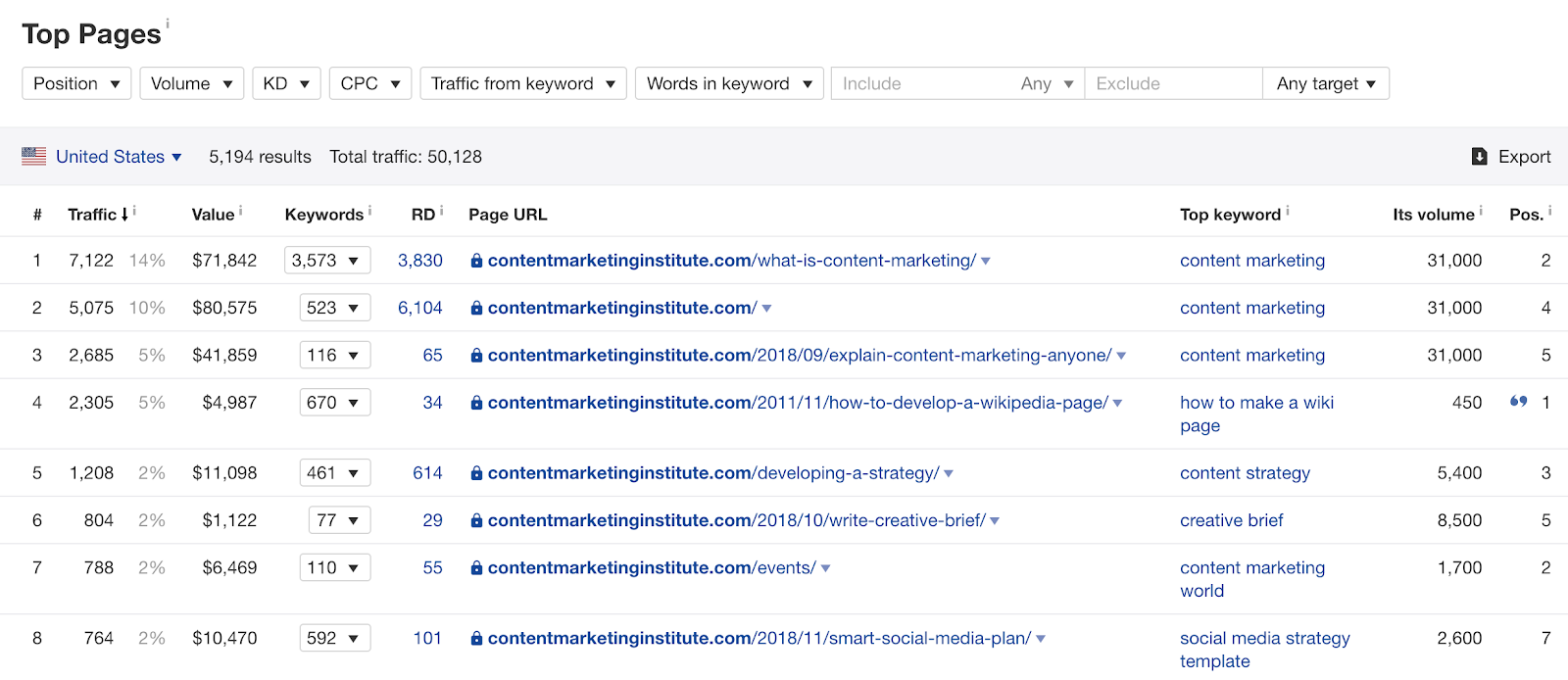 We want to take their traffic and their #2 position in the SERPs for "content marketing". So, let's dig through the post and see what they're missing:
Word count: Our competitor's blog post is only 645 words in length. We could easily beat that and write a lengthy ultimate guide piece that stands out from theirs.
Visuals: Their blog post includes two videos and one image. With the extra length we plan to add, we could easily double (or triple) this and include high-quality, relevant images, graphics and videos.
Expert quotes: Our competitor doesn't include quotes from experts, which helps to add multiple opinions (as opposed to a single-view), in their blog post. If we couldn't find any experts on the topic, we could send a HARO query to ask content marketers for their best tip and include them in our version.
Do a similar analysis for your competitor's blog post, checking everything from visuals and quotes to social shares and backlinks. Highlight things they're missing — and include them in yours — to differentiate your content.
Dive Deeper:
3) Develop a Unique Writing Style
You need to make people recognize your writing — even if your blog post is housed in a blank Word doc. The key to achieving that is developing a unique writing style that should be consistent throughout your entire blog.
In fact, Sam Allcock, founder of PR Fire, goes so far as to say:
"Every piece of content should use your brand's unique writing style, including blog posts, social media updates, and press releases. You want people to recognize your writing style within the first few sentences."
But how do you have a unique writing style when over 280,000 people are employed as writers in the U.S. alone? That's a huge volume of people to differentiate yourself from.
The truth is, you don't need to compete with those writers. You do, however, need to compete with your competitors and prove to your customers that they should put your blog post — and not your competitors' — on their reading list.
Innocent Drinks is a fantastic example of brand writing style. Take this blog post titled "dental arithmetic", for example: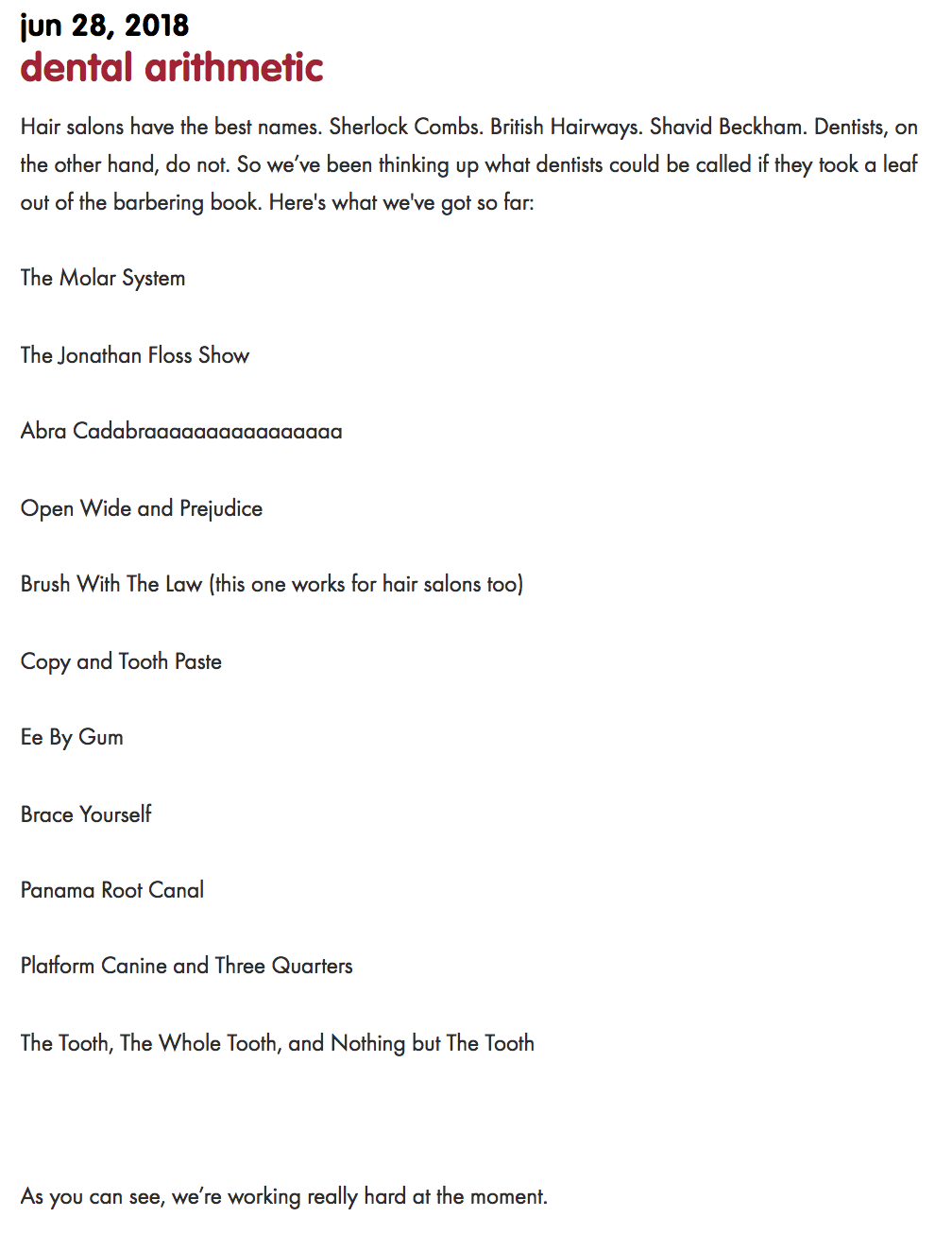 Granted, this example doesn't go far in the sense of proving credibility to their customers. But it does show that the people behind Innocent Drinks are, in fact, people — helping their customers relate to their blog (and therefore, stand out from other food blogs).
You don't have to go to Innocent Drinks' extreme when you're developing a unique writing style. Take a look at your competitors and ask yourself:
What sentence structures do they use? (Long? Short? A mix of both for emphasis?)
Is their personality dry and boring or lighthearted and fun?
Do they use jokes in their blog posts? Or is their writing academic?
Whatever they're doing, test the opposite. So long as the writing style fits within your brand guidelines, switching up the 'norm' for your industry is bound to garner attention.
Dive Deeper:
4) Go into Detail
Earlier, we looked at the word count for our competitors' blog posts.
You might notice that a handful of blog posts you're competing with span past the 1,800-word mark — especially if they're ranking on page one. A study by Backlinko discovered that this is the average word count of high-ranking pages.
But even if you aren't competing with other blog posts thousands of words in length, it's important that you go into detail. Ryan Robinson does this with his guide to starting a blog, coming in at almost 25,000 words long:
"At the time I first published it, the second most comprehensive article on this topic was around 11,000 words in length, so I aimed for doubling my own level of detail in hopes that I'd capture the attention of readers looking for a more granular step-by-step tutorial.
It's important to note though, that more content isn't always better just for the sake of throwing more words onto the page. There's a fine line between delivering the right amount of value and over-serving your readers—so I'm quick within that guide to offer a free, digestible email course that readers can sign up for and chip away at over the course of days or weeks."
The result? Ryan's guide ranks for almost 9,000 related keywords, and the blog post drives over 13,000 monthly visitors from organic search to his website:

Sounds too good to be true, right?
There is a caveat: Long-form blog posts are only required if your audience actually wants to be overloaded with information. There's a long-standing joke about this with recipe bloggers:

Always check that your audience wants a long-form post by using this Excel function before you commit to writing one. Sure, 10,000 words might be warranted for an ultimate guide, but if you're bombarding people with 2,000 words just to please Google, it's not going to impress your readers — or make you stand out from the sea of bloggers doing the same thing.
5) Infographics Are Back from the Dead. Use Them!
Six years ago, everyone and their dog was creating infographics. They started to decline because they weren't as novel; we were overwhelmed by photos that visualized a standard blog post. Plus, spammy SEOs helped contribute to their reputation of being used solely for link-building purposes.
But now that people aren't creating them much, the market is open again.
We've been running tests to fact-check this. We found that if you create infographics nowadays, they perform much better than they did when audiences were saturated with them. And the best part is that infographics don't always have to be a direct copy of your blog post. You can turn:
Opinions
How-to steps
Statistics
…into an infographic, like this example from The Exercising Entrepreneur: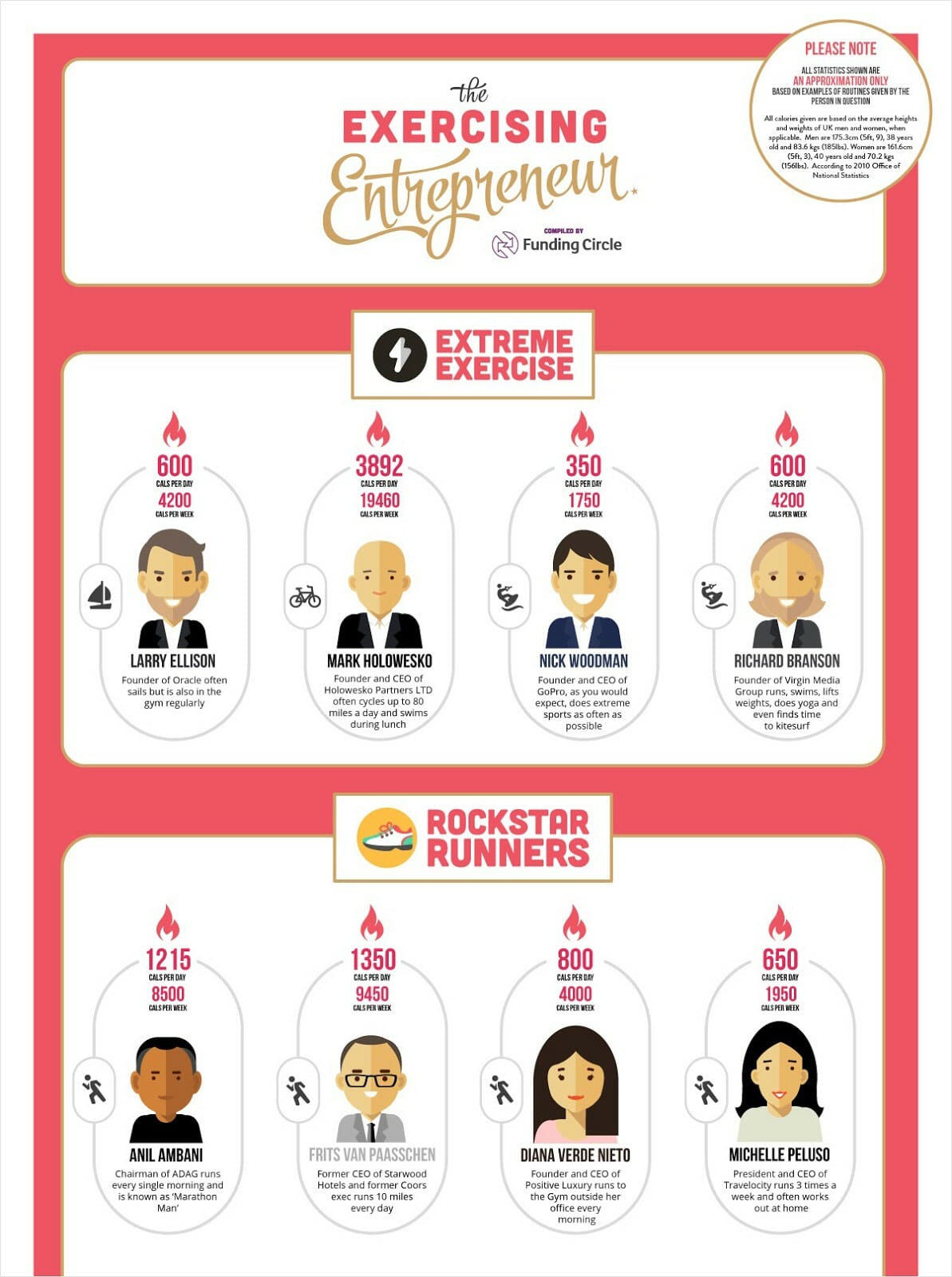 Simply use a template from Canva or  Venngage, upload the infographic to your website with an embed code, and start spreading the word.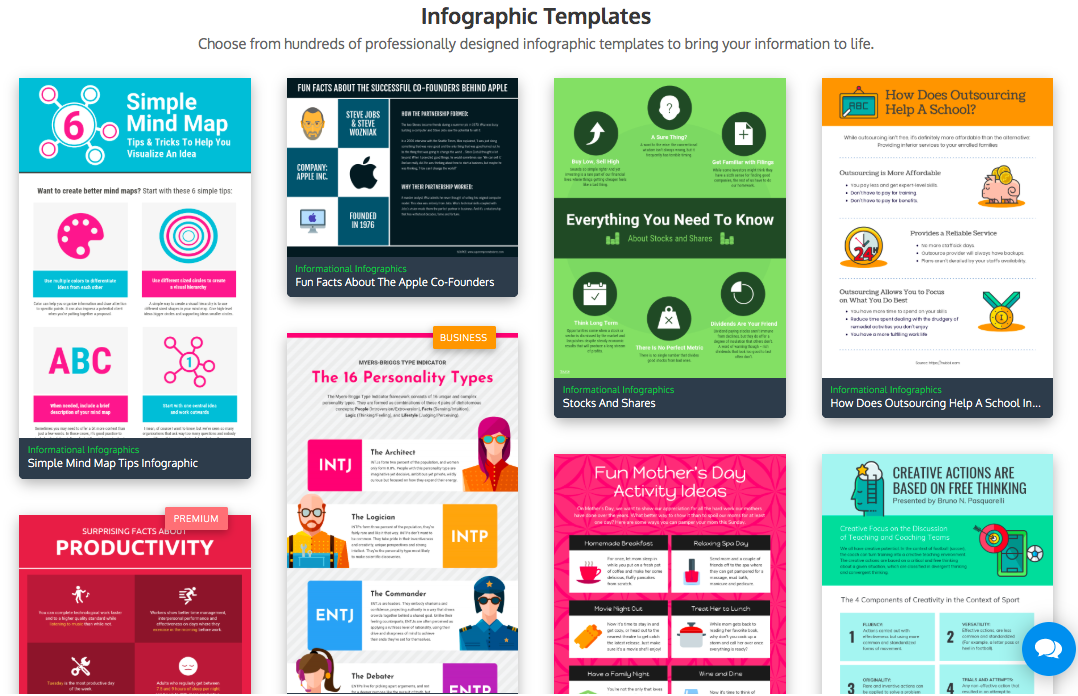 And if you're capitalizing on the return of infographics, make your blog posts stand out by promoting them on Pinterest. It's a platform that many bloggers neglect, but by sharing infographics to their 250 million monthly active users, you can stand out — like Elna Cain, who tripled traffic to her blog by using the platform for promotion.
Dive Deeper: Why Infographics Are the Best Content Investment You'll Ever Make
Check out a few of our most popular infographics:
6) Publish Original Data
We all know that including data makes blog posts appear more credible. It's easier to trust what someone's writing if they've got research papers, statistics (linked to the source, of course) and conclusions from industry reports to back them up, right?
But don't just pull data from other sites and sources and link to them; do your own research.
You can hire people from freelance sites like Upwork, Fiverr and Guru to do this. It's worth the investment because when a blog post is populated with your own generated data, it stands out. Not every blogger is willing to go that extra mile.
Benjamin Houy put this into practice when he published his article titled "Do Headline Analyzers Work?":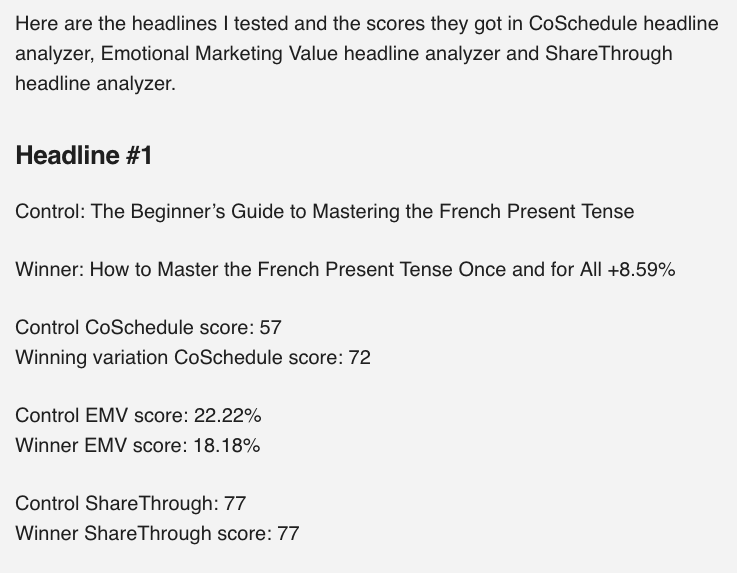 Instead of comparing different tools, Benjamin experimented with them and wrote up the answers in a blog post:
"This article about headline analyzers doesn't simply talk about headline analyzers. It contains data showing that the headlines headline analyzers consider to be the best aren't actually the ones that perform the best in real life."
Having unique data in your content marketing toolkit is valuable for any type of business — especially if you're in B2B and hoping to generate customers from your blog posts. Why? Because 74% of buyers consider original research from brands to be influential on their purchasing decisions: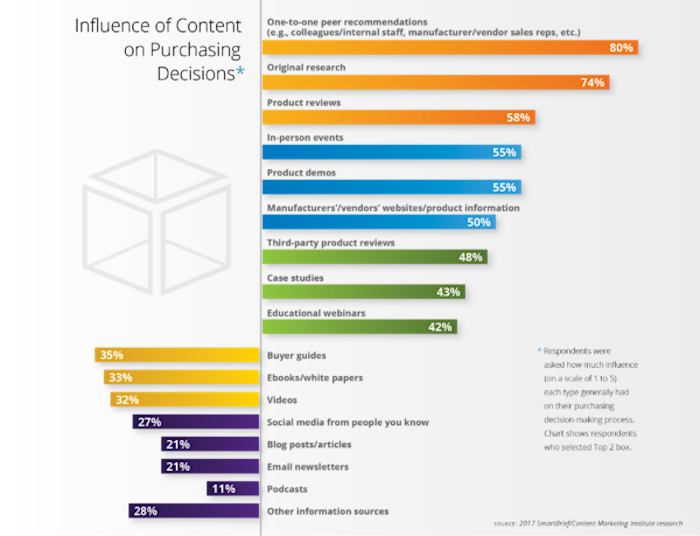 You're proving your credibility not by jumping onto another brands' research, but by taking the time to invest in your own. Why wouldn't that make your blog posts stand out?
7) Make Your Content Exclusive
Exclusivity (or gated content) has long been praised as a holy grail marketing tactic. And making your content exclusive — like giving people permission to view it once they've joined your email list — could be the factor that you need to make your blog posts stand out.
Here at Single Grain, we're currently testing this. Certain pieces of content now require our audience to enter their name, email and other information we need to collect a lead. Only then can they get access to premium content.
We're testing this to see if exclusive content affects metrics that impact rankings, such as:
Time on site
Bounce rate
Pages per session
So far, we've found that blocking off parts of the content makes the content seem more irresistible.
Survicate is testing this exclusivity tactic, too. In fact, they combined this tactic with a bunch of original data they'd already collected: 260,000 survey responses that shows which forms result in low completion rates.
But Survicate didn't settle for a blog post. They turned their findings into an exclusive e-book — which you'll need to hand over your email address to gain access to (of course!):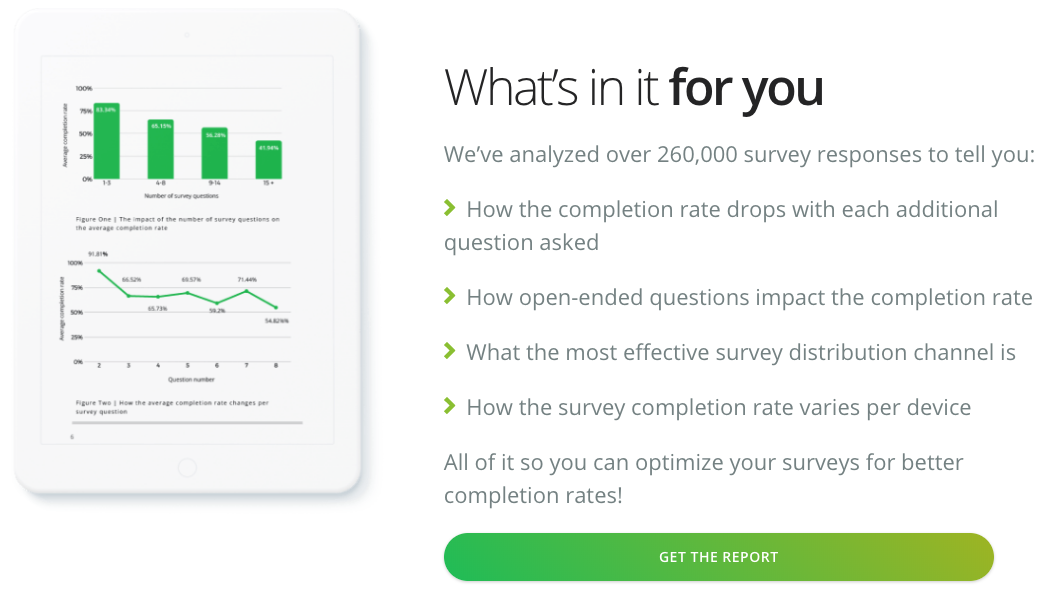 Final Thoughts
As you can see, it's tough to make a blog post stand out. You'll need to increase the time (and, often, cash) you invest into your content marketing strategy, and have the guts to try something new.
Whether you're hiring a freelancer to collect data or simply making your blog post as thorough as it can be, these tips are bound to drive attention to your content.