We all need new customers, both to get our business going and to continue growing it. And SEO can help you do this.
Determining how your audience finds your site, which channels they prefer to engage with you on, what type of content they enjoy reading from you, and more – these questions make up the core of a successful marketing strategy.
SEO means a lot of things to many people.
To Wikipedia, SEO means: "the process of affecting the online visibility of a website or a web page in a web search engine's unpaid results."
To other marketers, it's all about keywords or links, but in the context we're talking about, SEO helps both to attract relevant, organic traffic and identify the channels that bring in qualified leads.
How Do You Identify the Most Effective Customer Acquisition Channels?
Before you start, you should have clear business goals you want to achieve. Setting precise KPIs will help you understand what's working and what's not. After testing out different channels you can compare the success of each one against the other in relation to those goals.
In this case, the Google Analytics Acquisition Report offers valuable data, providing you with an evaluation of the channels you are using: identifying those that are performing well, and those that generate decent traffic but result in low conversion rates. It helps you invest in the most efficient channels, decrease spending and enhance results. The Google Analytics Frequency and Recency Report shows how many people come to your website once, twice, etc., over a certain period of time.
In this post, I'm not going to get into the particulars of a framework. Instead, I'm going to show you six effective ways to use SEO for customer acquisition and understand what channels have the potential to deliver the most value. (For a broad overview of SEO tactics, check out this post.)
Learn More: 5 Evergreen SEO Tactics That Just Work
1) Keyword Research to Get New Customers to Your Site
Finding new keywords for a website's pages and using them in the content is, undoubtedly, one of the ideal ways to boost customer acquisition and get traffic to your website.
Instead of relying on your main keywords, use long-tail keywords, which carry more weight. The aim of this tactic is not to accumulate huge amounts of traffic, but to boost conversions by targeting search queries that will actually end in sales.
Yes, there are usually just a small number of people searching for long-tail keywords, but these keywords convert!
How do you get a list of effective keyword variations?
The SE Ranking keyword suggestion tool allows you to quickly view different keyword variants and long-tail keywords. You can easily see the highest-trafficked pages for a certain domain, and keyword rankings in organic search. It immediately gives you estimated traffic and traffic cost; it's a no-brainer to reveal the topics with massive traffic.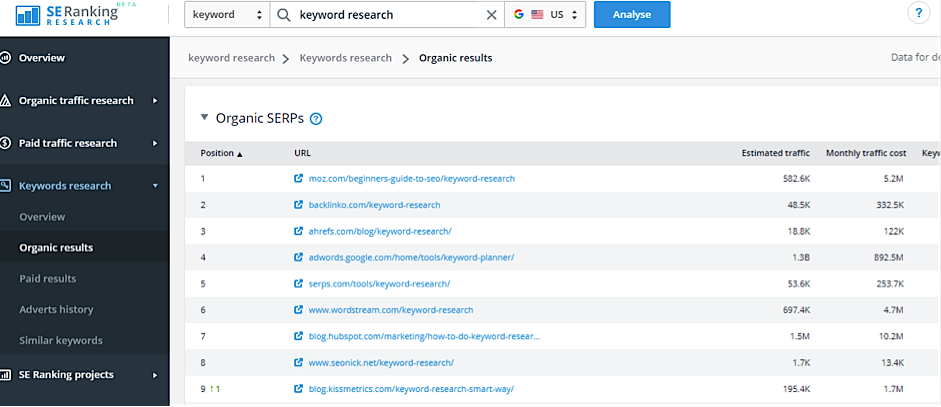 Moreover, you can use this keyword research for any competitor in your industry to unveil a bunch of good opportunities.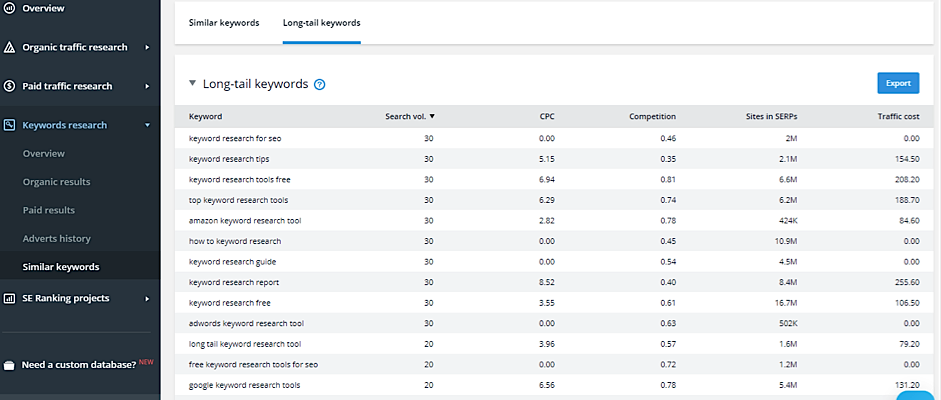 Google AdWords "ad group ideas" was initially designed for bidding purposes, but it easily imitates topics and shows a brief outline of the true potential of a certain group. I don't recommend that you rely on the average monthly searches, but try to adhere to the above-mentioned process to get a decent snapshot.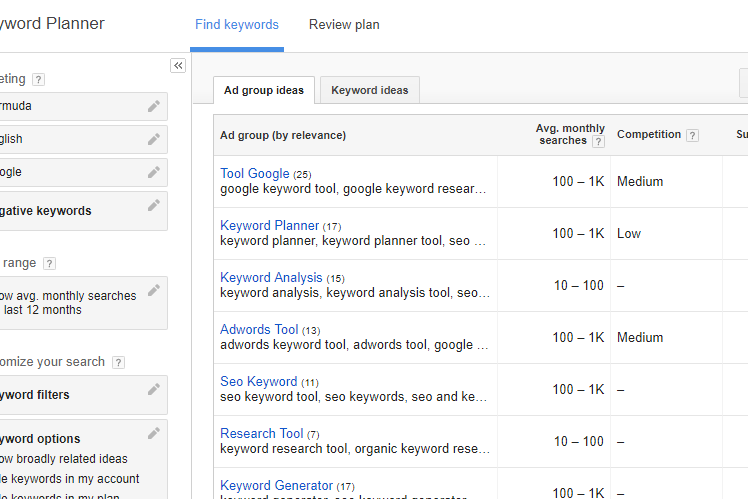 From my experience, good keyword research basically requires hard work: being creative, using professional tools to catch keyword variations, using phrase match to collect a list of relevant terms, etc. If you are a newbie to keyword research, here are some great articles on the topic:
2) Improve Customer Experience on Your Site
Based on an Oracle study, 74% of top executives consider customer experience a hugely important factor which affects the customers' willingness to be a loyal advocate. It starts with the first touch…
When potential customers visit your website for the first time, they're already reviewing the product or the service you provide based on that first impression.
The following SEO factors can make or break your customer experience at key touchpoints:
Page load time – no one wants to watch a site buffer; this is a priority for easy navigation.
Responsive design – no matter what screen size your customers are using, they should be able to view a site that fits their screen.
H1 and h2-h4 tags – boost scannability and readability.
Broken and dead links – prevent web content from being navigable.
Meta data – Google uses this data in SERPs, so spend the time and effort to create a brief and compelling description for your content.
Bold and italics – use them sparingly to emphasize key points and enhance your message for your customers.
Each and every one of these components should give potential customers a reason to come back to your website and engage with you. A positive customer experience is a never-ending process and you should always be striving to improve it.
3) Refurbish and Repurpose Content for a Better Content Experience
Repurposing content means taking one piece of content (blog post, podcast, infographic, webinar, etc.) and reusing it somewhere else. It sounds simple in theory, but it can have some pitfalls in practice. To make it work, you should try creating evergreen content when possible so that you always have repurposing in mind from the start.
To create great content that can be reused, ask yourself these questions.
First of all, start with the basics. What drives your customer's buying decision? What are their problems and cracks? How can you help them?
Further, use the aforementioned keyword research tools to do deep research. The objective is to pre-identify good topics that you can use for your new content.
Finally, bait. Many blog posts fail because they don't spark the reader's interest or sympathy enough to click on the link and read the content.
In this context, you can try out the famous PAS formula by the copywriting legend Dan Kennedy:
Problem – Describe a problem or pain point that makes people search for information.
Agitation – Cover the issue in different ways with real examples by highlighting the emotions.
Solution – Show the solution to the agitated problem.
Here's PAS at work on the Acuity Training page: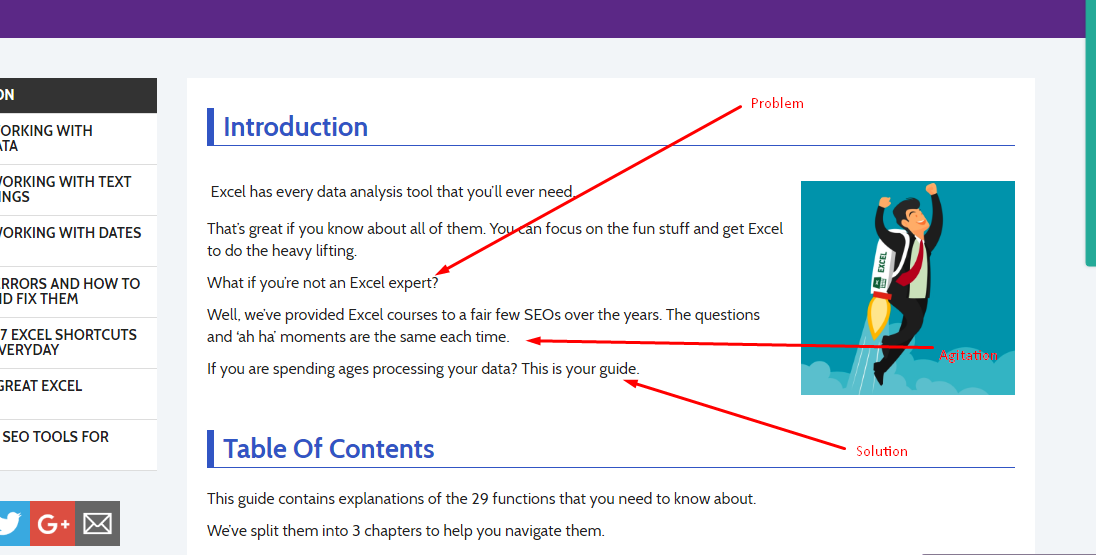 The formula is perfect for a blog post because problems can catch even more attention than benefits. People want to get rid of pain, risks, glitches, and problems.
Making new content is important and great, but stop thinking about your company and start focusing on your customer's problems.
Learn More: 9 Ways to Repurpose Your Old Blog Content
4) Use Social Media
Social media is the most effective channel for CMOs to communicate with a customer and run targeted ad campaigns for your business.
If you want to interact with people at the learning, use, trial and discovery steps of the buying trip, social media is essential for engagement.
Click To Tweet
When you need to direct your customer to a target page or sales email, social media is an excellent way to put customers through the journey towards acquisition.
The following steps can help you develop or return your customers through social media:
Start with a Facebook Messenger Ad.
Create messages in Power Editor, and add a photo and link. In the message text, remind customers about their interest in your company and inform them of your special holiday offers or content.
Sponsored messages target people you have an existing conversation with, so these people can be warm leads.
Attract more followers to your social page in order to increase the Sponsored messages audience. Use auto-posting to make this task easier and less time-consuming.
Learn More: How to Easily Set Up a High-Conversion Facebook Retargeting Campaign
5) Participate in Forum Marketing to Get Real Customer Feedback
Forums are a real mine of useful information where potential customers can discuss services or products that are similar to yours. Forums help business owners and customers share their ideas and views with each other and can be a good place to drum up business.
Quick tips to succeed in forum marketing:
Read what your competitors post and see what connections they have.
Find some experts or specialists in your industry and try to get chummy with some of them. You can ask for some advice, add something valuable to the discussion or offer them a free trial of your product in exchange for saying a few words about it.
Position your business as a solution provider. Don't post to sell. Post to answer people's questions and build relationships with them.
Be more creative and present your service or product without violating the forum rules and policies.
Forum marketing works well because you get to chat with people in the very place where they go to get advice and find solutions to their problems. You can also use one of these user and customer feedback tools.
6) Promote Your Upcoming Customer Events 
Link building can be really discouraging, especially with Google's algorithm updates. Often the best link-building results emanate from large marketing campaigns or promotions. But, if you are going to highlight an event or pop-up that you're putting on, you'll have plenty of places to post … and you'll automatically generate new backlinks.
Here's an example of the Hard Rock Hotel in San Diego that shows Black Friday and Cyber Monday deals: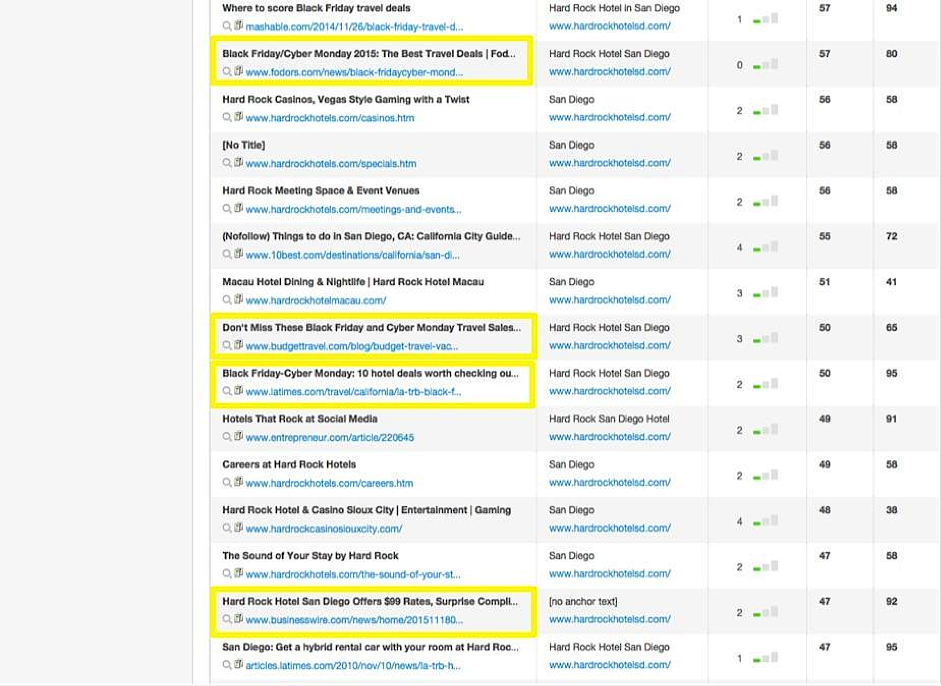 This link profile reveals the results of huge promotional efforts and campaigns, but not traditional link building.
Here is a short list:
Create a new page on your site about the campaign or event with details.
Set up different CTAs on your website to funnel people to that page.
Use your own email lists and social accounts by inducing them to leave a review on local listings.
Invite influential local bloggers in your industry to participate. To catch their attention, offer free access to your product or service, a discount coupon for their readers, or press at the event. Insta-backlinks from their social profiles and blogs! (More information on choosing the right influencer and measuring the ROI of that campaign.)
Find journalists who have already promoted similar events and and in your pitch, show how this event can affect their readers.
Create retargeting ads. Target anyone who comes to your website within this promotional campaign to get as many people as possible.
Increase your visibility on local listings like TripAdvisor by offering some deals and setting up specific ads related to your campaign.
Learn More:
Conclusion
Looking for potential customers is much tougher than just retaining current clients. The good news is that SEO is not as difficult as you think for customer acquisition – it's just an extension of what you should already be doing. I hope these six tips help you with your customer acquisition!