Creating a Social Media Contest Strategy to Boost Engagement
Do you want to connect with your customers – existing and potential? Do you want to grow your follower base, expand traffic and increase user engagement? This is all possible by running a social media contest. Many people "Like" the Facebook page of a brand in hopes of getting a discount or a product for free, and giving away your products can result in free marketing.
Believe it or not, social media contests are integral to strengthening your marketing efforts and helping you reach a new audience. In short, it is an amazing way for your brand to interact with fans and build a strong, engaged and loyal community. You can generate more qualified leads with social media contests and turn them into sales.
Social media contests are the easiest and most effective way of promoting your products and services without spending a fortune.
Click To Tweet
It all comes down to a simple rule of reciprocation: you give something of value to your followers and in exchange, they will connect and engage with your brand, share your posts and encourage their friends to do the same. It will help you garner plenty of shares and likes, improve your brand reputation and grow your followers.
To run a successful social media contest, you need an effective strategy that will generate maximum engagement. Here are some great ideas and result-oriented strategies that you can jump on to make your social media contest a huge success.
Let's get started!
Determine the Primary Purpose of Your Contest
First of all, it is important to figure out the goal you want to achieve from launching a contest. Are you interested in increasing user engagement on your social media accounts, or do you want to promote new products or services?
When brands are hosting a contest, they usually have these primary goals in mind:
Increase website traffic
Increase brand reputation
Boost user engagement
Build your email list
Convert followers into loyal brand advocates
Convert followers into qualified leads and sales
Grow your social media presence
Market an upcoming product or service
Gather user-generated content
Collect user feedback to improve product quality
When you have a clear goal in mind, it will be a lot easier to come up with a solid strategy and an effective contest idea to achieve the desired results.
Understand Your Target Audience
In this age of empowered, forever wary and savvy customers, if you want to achieve your marketing goals, you need to understand your audience. Today, socially active consumers prefer to connect with brands that offer something valuable to them.
So, it is important to specifically cater to your target audience and keep everything relevant to their interests and needs. When you have a clear idea about your audience, you can keep them engaged and offer more relevant giveaways that matter the most to your target market.
You can use this template to discover who your target audience(s), or buyer persona, is:
Check out this video How to Use Facebook Audience Insights to Get More Marketing Ideas:
Further Reading:
What Is the Prize?
The prize you give out totally depends on the goal of the contest, your target audience, and your budget, but whatever it is, you should choose a giveaway that your target audience will love and motivate them to connect with your brand. If you are not giving away something of value, what's the point of encouraging your followers to participate?
To generate social media engagement, you have to come up with some out-of-the-box ideas that can better represent your brand personality, attract your target audience and create great customer experiences. It is also important to keep in mind that modern consumers are looking for products that offer immense value by being useful to them – like a FitBit rather than a gym membership.
General rewards such as free tickets to a relevant event, Amazon gift cards, or a thrilling vacation are ideas that can work for almost anyone. And, of course, one of your high-value products will appeal to your followers (why else would they be following your brand?).
So, choose your prize wisely, as it can dramatically boost your social media visibility and take your brand to unprecedented heights of success.

For instance, Pink Lime gave its users a chance to win a $500 hair and makeup makeover and used a picture of their current chic hairstyle, using the hashtag #Pinklimelooks.
The Right Tools to Run Your Giveaway Promotions
Rafflecopter is an easy platform to help you run your giveaways and sweepstakes promotions. It allows you to create multiple entries for one giveaway, with an option to fulfill multiple objectives under one umbrella, such as boosting engagement, traffic, and awareness. You can integrate it easily into your website, blogs, and Facebook.
Speaking of which, Facebook has their own app to publish contests on your Facebook Page: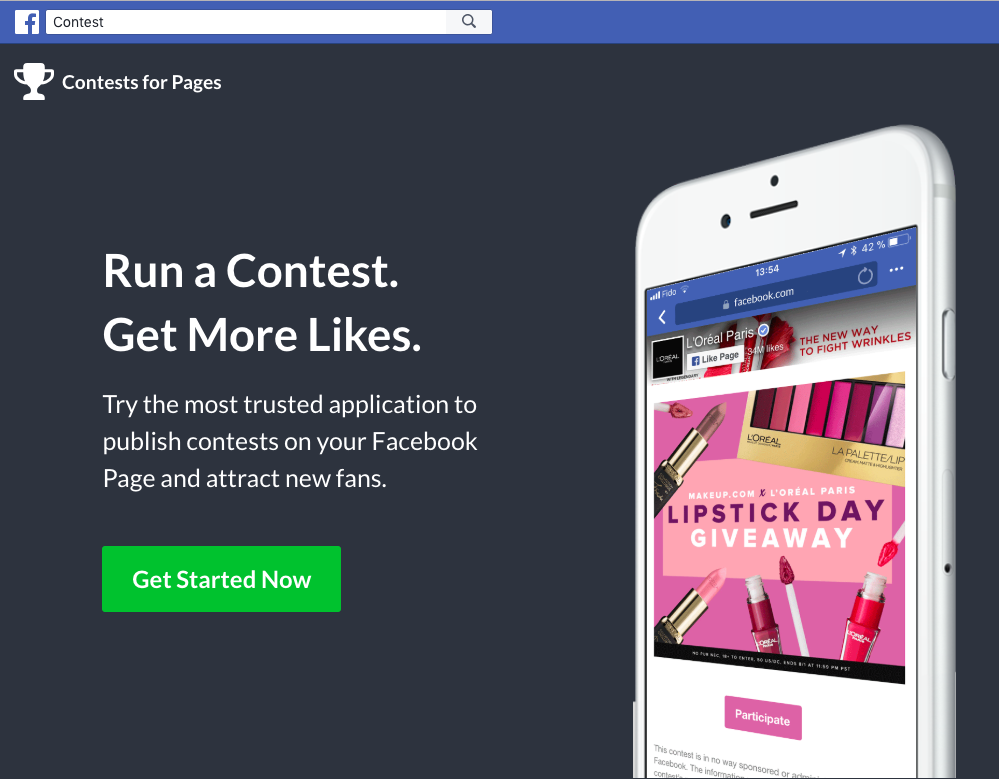 Other tools that make running a giveaway or contest a breeze include:
Choose the Type of Contest
To run a successful contest, it is critical to know which type of contest you are aiming to launch for your target customers. Here are some giveaway campaign ideas to fuel your creative fire:
1) Video Contests
Video contests are both engaging and effective. According to Content Marketing Institute, "audiences are about 10 times more likely to engage, embed, share, and comment on video content than blogs or related social posts," so this type of contest has the potential to generate viral growth for your brand. You can generate email leads, grow your fan base, and increase website traffic with video contests.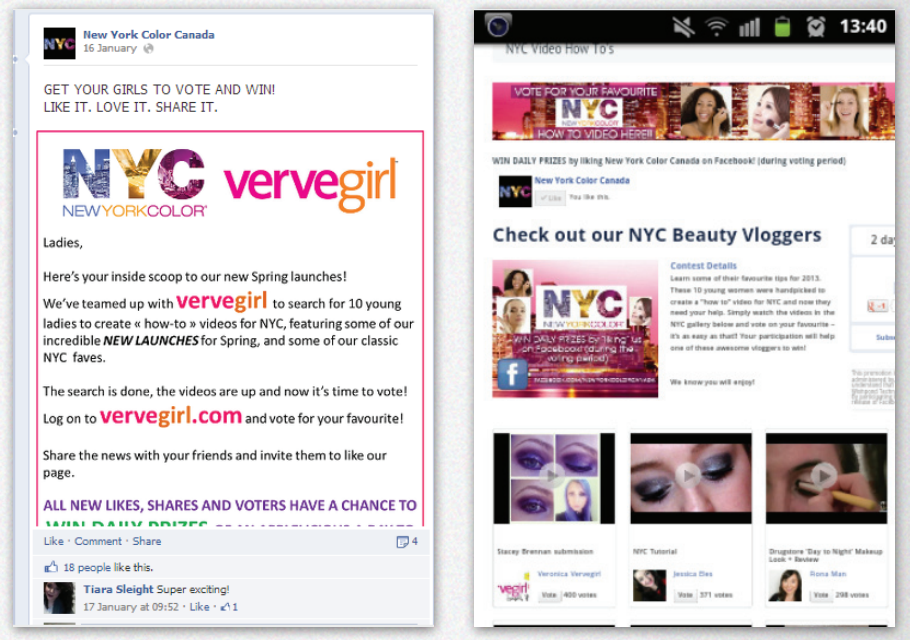 VerveGirl encourages beauty vloggers to submit their beauty tutorials and demonstrate their makeup skills to a wider audience. All voters had a chance to win daily prizes from VerveGirl such as Appleicious Glossy Lipbalm and other beauty products.
2) Photo Contests
Everyone likes to share their photos, which is why 95 million photos are uploaded to Instagram and 400 million Snapchat stories are created every day. This is a gigantic pool of content for brands to capitalize on for a contest that increases social media engagement. Photo contests are a great way to create buzz and increase the reach of your brand to a wider audience.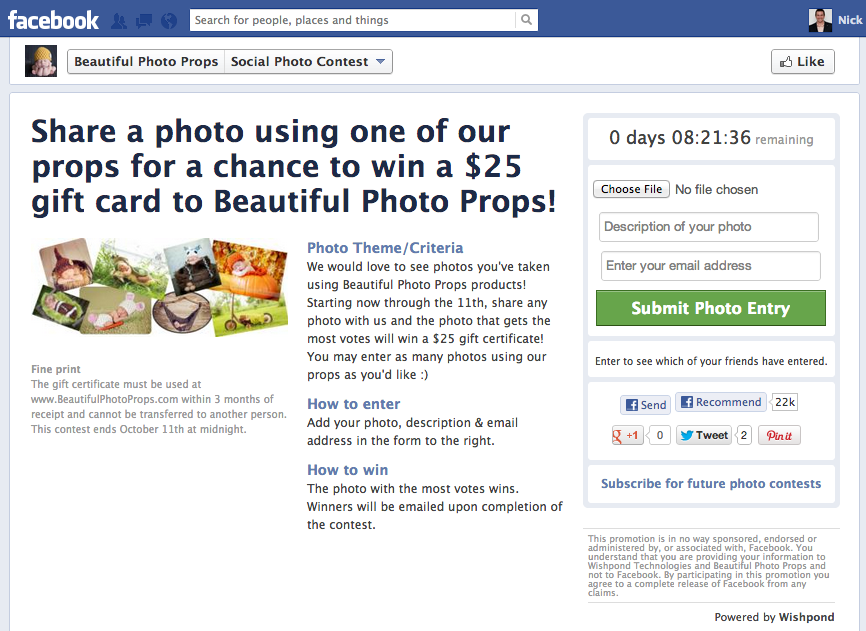 3) Vote Contests
People love sharing their opinions, so running a voting competition is a great way to interact with your fans and generate more leads.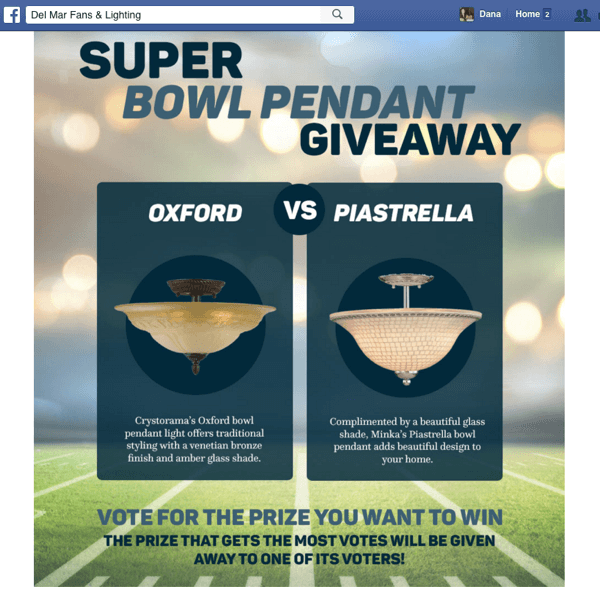 On Twitter, you can easily set up a voting contest (not to be confused with a Twitter poll) with the help of a third-party app: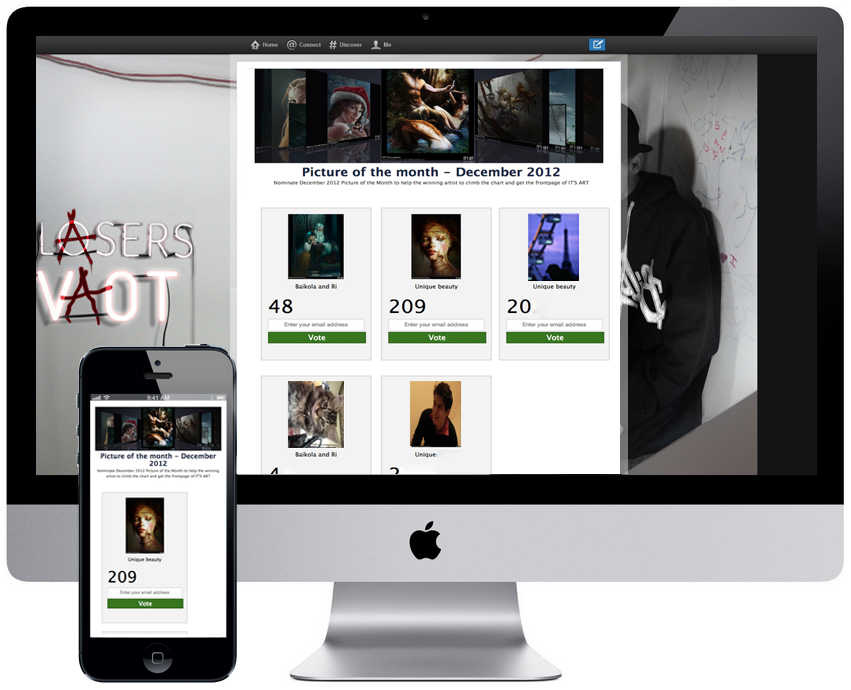 4) Fan Content Campaigns
Fan content campaigns or user-generated content campaigns are another great way to increase your brand awareness and reach, as well as gather valuable content from your fans, which can be used for achieving your marketing goals in the long run.
"User-generated" usually means photos, and Instagram is a great platform for this, like this Starbucks contest:
Here are some more ideas for contests on Instagram.
Further Reading:
5) Charitable Campaigns
Ask your fans and followers to give back with a fundraising contest for a social cause. Participants who raise the most funds can feel good about the cause and also be rewarded with your branded prize pack. Reliant Energy used Twitter to host a charitable campaign contest: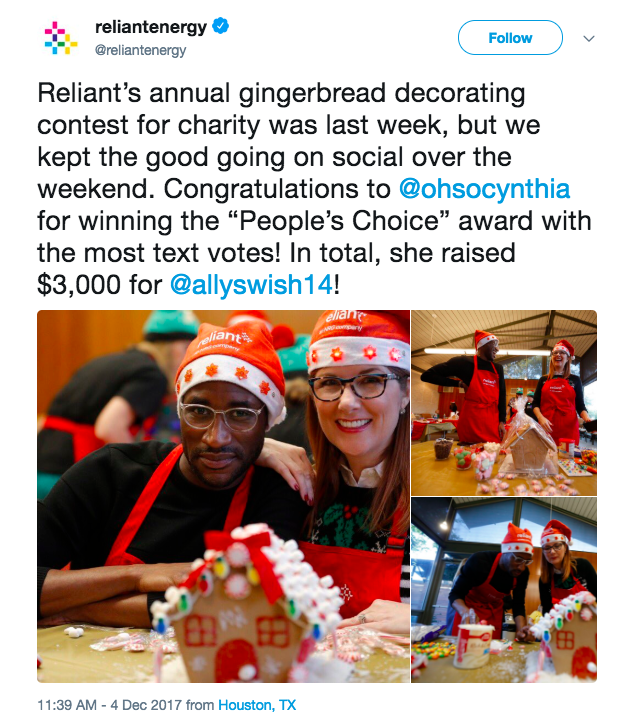 Facebook provides the tools to host your own charitable campaign: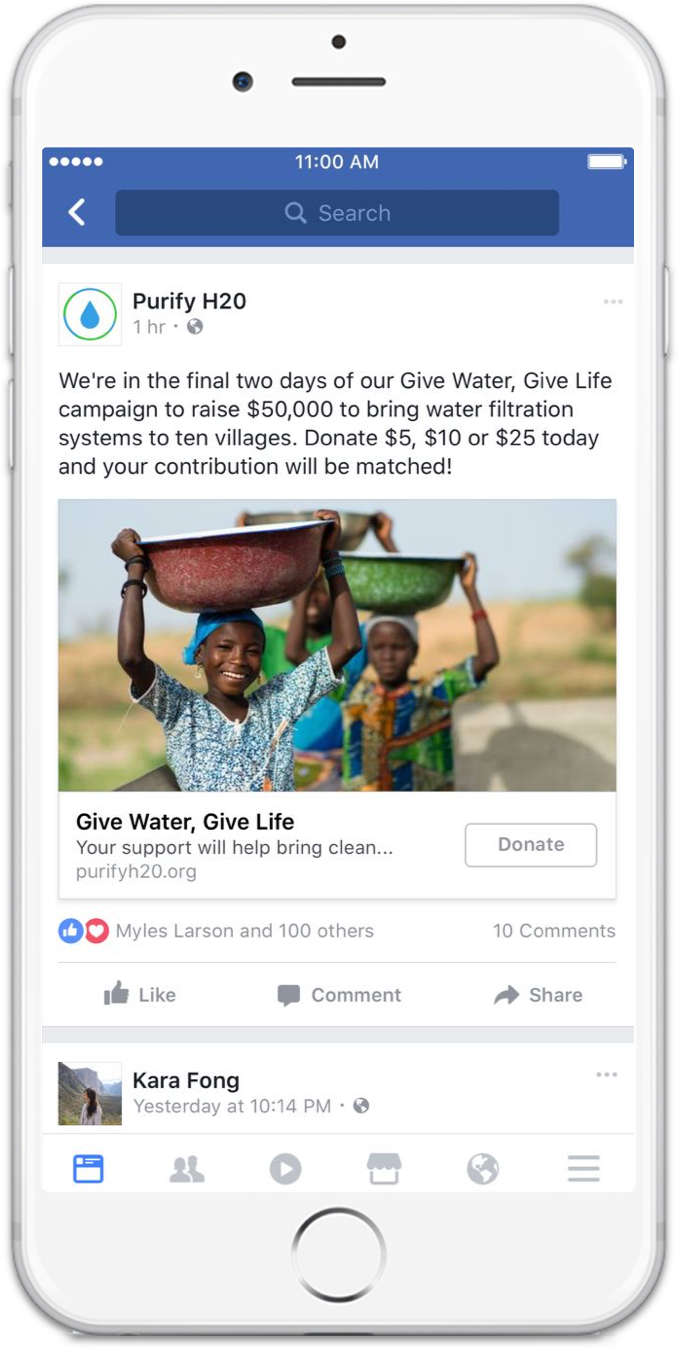 6) Comment-Based Campaigns
"Comment to win" contests are a great way to involve your fans and followers and get more engagement with your posts. You can ask people to write a comment, answer a question, name a product, guess the location of a new outlet, or anything else that gets them to begin tapping.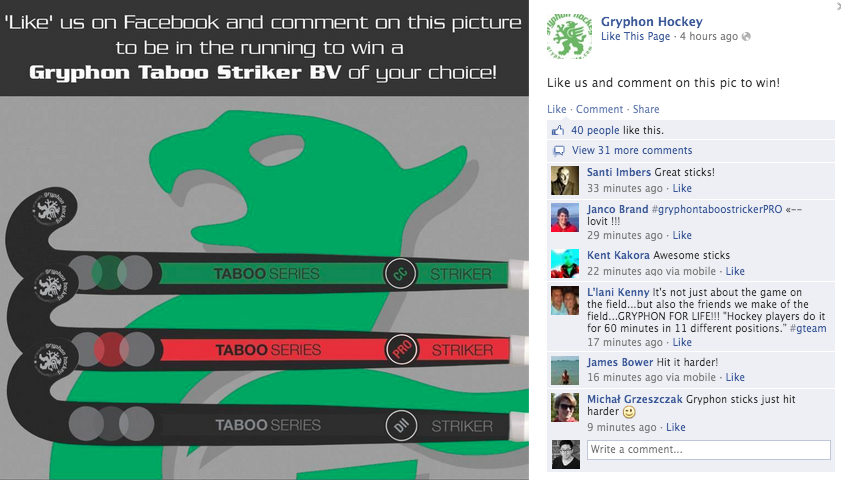 Promote Your Contest
A successful contest depends on a well-executed promotion strategy that includes your paid and free efforts. You can promote your giveaway across a wide array of platforms, such as:
Run promoted posts on Facebook and Twitter
Use the paid Discovery feature of StumbleUpon
Use Reddit to advertise your giveaway
Send an email to inform subscribers and encourage them to participate
Include a link to the contest in your newsletter
Use or create a hashtag to promote your contest, such as #contest, #[yourbrand]contest, #contestentry, etc.
Partner with a similar blog or site for cross-platform promotion
And don't forget to post it on the homepage of your own website/blog!
Using these simple and easy advertising techniques will definitely generate more exposure for your giveaway.
Determine the Winner
Stay transparent when elucidating the rules for your contests, and make the selection process clear to your audience from the get-go. For instance, if you are running a photo contest, clearly mention in your rules that pictures should be relevant and unique. If the winner is determined by number of votes by the end of the voting period, take a screenshot of the winning entry with a time stamp.
Also, disclose how and when you are planning to announce the winner and the factors you will keep in mind during the winner selection process. You can notify the winner of the contest by email or on social media.
Summing Up
Brands can take advantage of social media contests to engage with their followers and especially connect with Millennials and Generation Z. In fact, it is the best way to gain organic visibility as contests can help you earn shares, likes, and impressions. Besides increasing engagement, social media contests will get your brand in front of more potential customers.
All you need you do is come up with a creative social media contest idea and a valuable prize, such as free tickets, products, VIP upgrades or anything to delight your customers. But make sure you give away a truly unique experience to catch your fans' attention. This way you can outshine your competitors and establish your brand as a credible entity.