22 Companies Dominating the World With Content Marketing Campaigns
It's estimated that by 2021 27% of internet users in the U.S. will be using ad blockers — which means that about one quarter of all ads won't reach their target.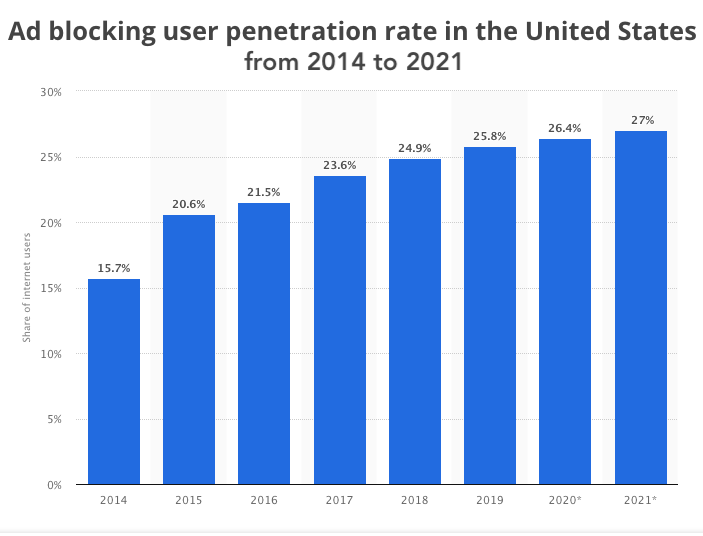 Because of ad blockers, the loss of ad revenue is projected to increase from about $3.89 billion in 2016 to $12.12 billion by 2020 in the U.S. alone.
So how can you future-proof your business from experiencing a loss? Content marketing.
According to HubSpot's State of Inbound Marketing study, simply increasing the amount of content you produce leads to greater customer acquisition:
55% of marketers say blog content creation is their top marketing priority
Marketers who prioritize blogging efforts are 13x more likely to see positive ROI
Content marketing gets 3X more leads than paid search advertising
70-80% of search engine users are only focusing on the organic results
Content marketing is the preferred strategy of smart marketers because it avoids the drawbacks of traditional, paid advertising: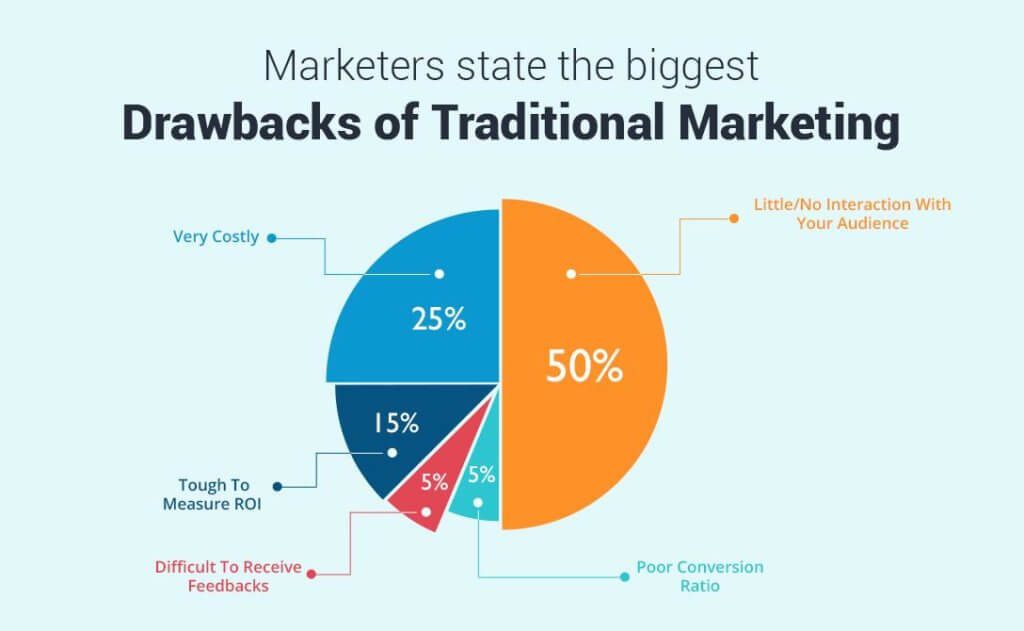 Which I'm sure you already know if you're reading this, so let's get to the point.
In this blog post I'm going to show you exactly what I mean about the power of content marketing by giving you 22 examples of companies that are dominating the world with awesome content marketing — and what we can all learn from them.
Neil Patel is the king of content marketing. Search for anything related to SEO, social media strategy or content and one of his articles is likely to be at the top of the SERPs.
Neil's blog consistently pumps out high-quality material that actually gets social shares and ranks high in search results.
He executes a hub-and-spoke strategy where you publish one main piece of content as the "hub" and then include several "spokes," or various types of content on the same subject, that connect back to it: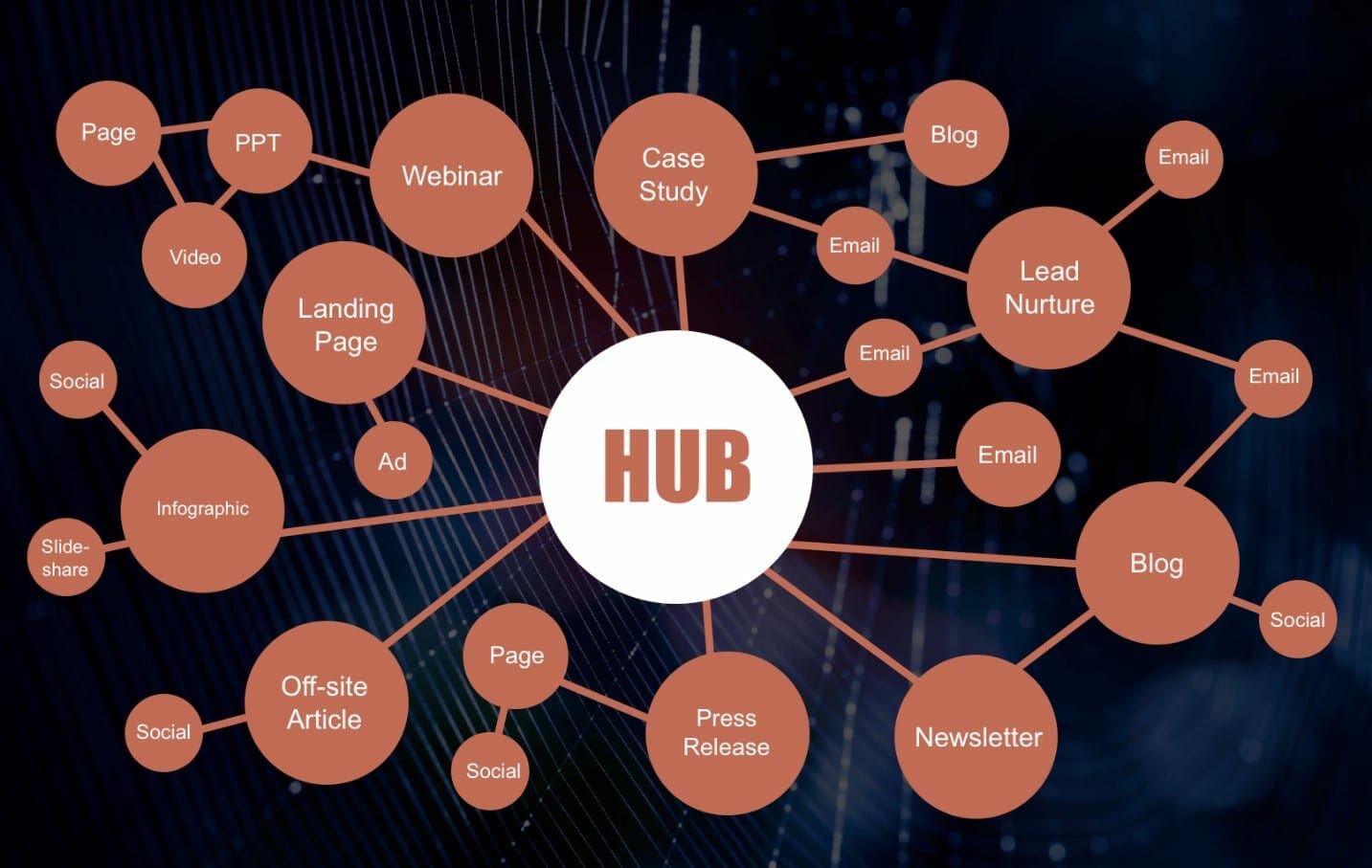 By the way, sometimes this is called a topic cluster: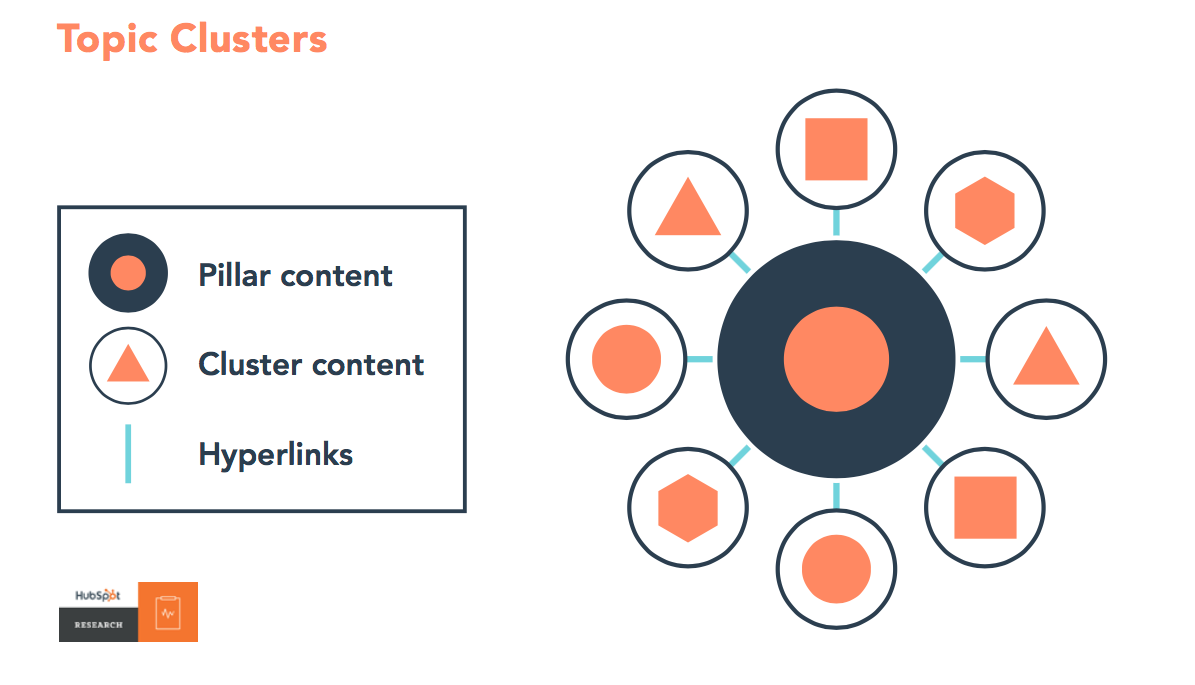 In short, this method focuses on choosing one core piece of content, which is usually more general in focus – for example cold outreach emails.
The spokes, or cluster content, drill down into the longer-tail keyword topics associated with the core. In the above example, that could be cold outreach email follow-up timings, tools for cold emails and cold email templates. You then link the core content to the cluster articles and use the same keyword.
Using the hub method means that if someone searches for "Facebook marketing guide," Neil Patel's blog comes up first. Then if they need to dive deep into a specific area of the topic, they will find the links within the core content piece, increasing their time on site and thus showing Google that the content is relevant.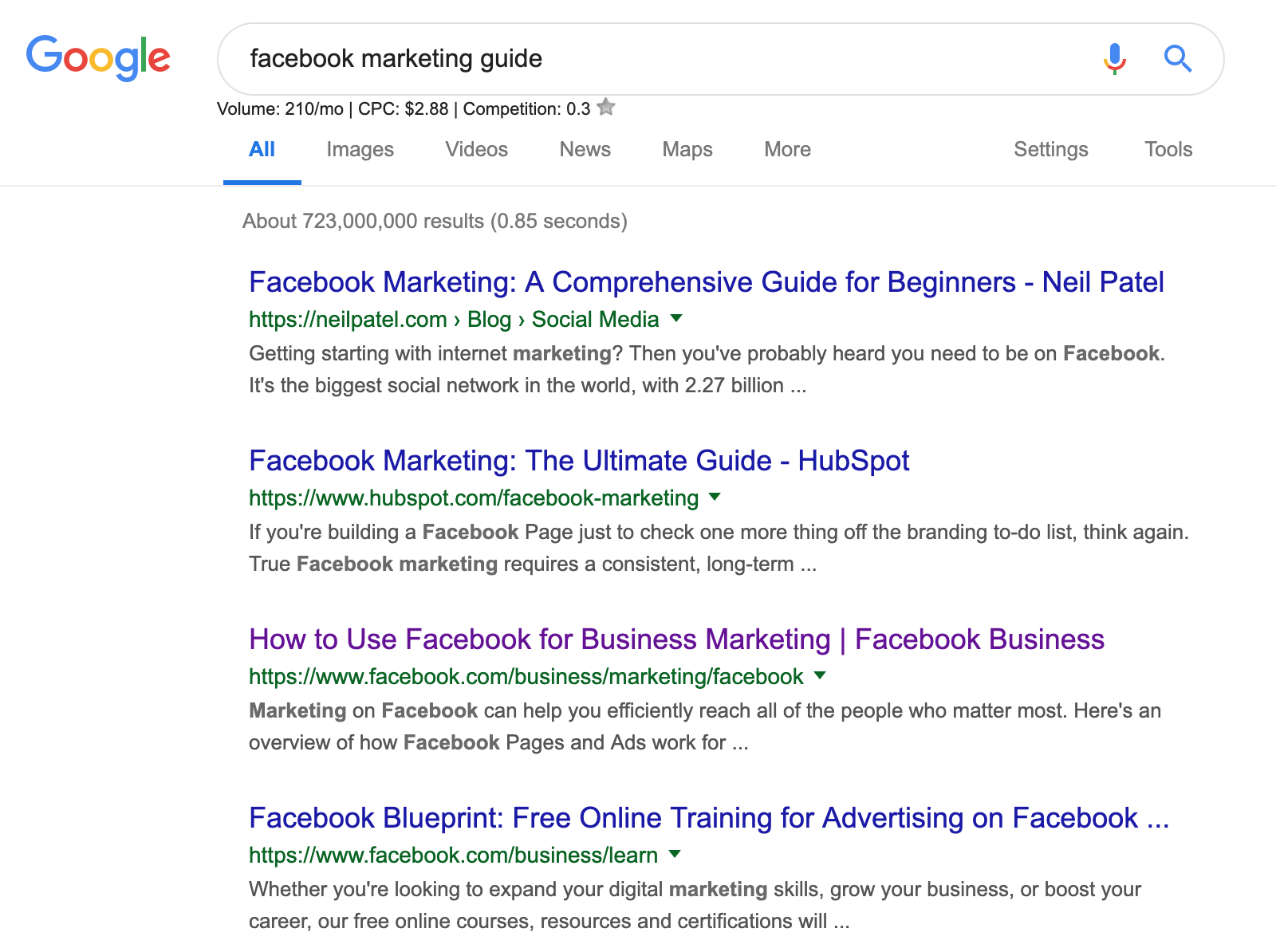 By consistently putting out high-quality guides with good design and 10x content, Neil not only ranks high in terms of SEO, but it generates more leads by positioning his brand as the "go-to" resource for different topics in their space.
Takeaway Tip
Create one "hub" piece of content that examines a specific topic from a broader level. Then create other, more detailed pieces (or "spokes") related to the hub's long-tail keywords and link them all together through the hub. This is a good way to increase your chances of ranking high for those exact searches and ultimately building the best possible resource list for your topic.
Dive Deeper: Absolutely Everything You Need to Know About 10x Content
QuickSprout is a content marketing blog founded by Neil Patel — so it's no surprise that they've also got great content. It's now run by Corry Cummings and Lars Lofgren.
QuickSprout has pages (called "guides") set up for specific elements of digital marketing: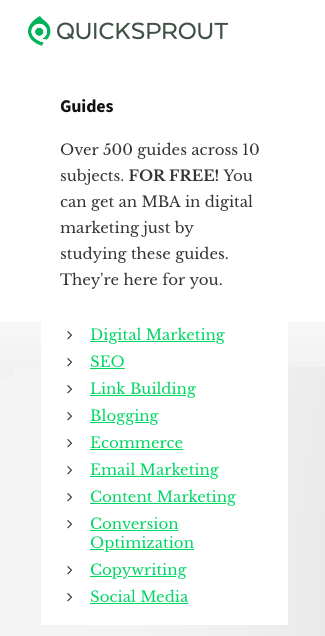 If, for example, you click on conversion optimization, you'll see that each page provides a slew of videos, tutorials and specific blog posts: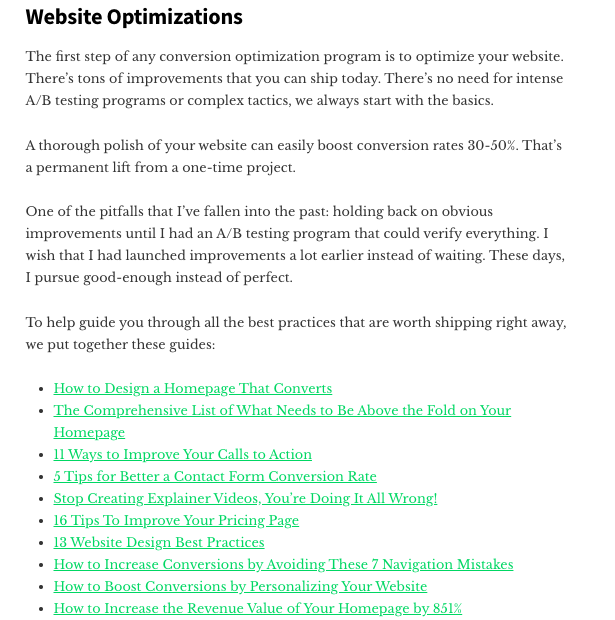 By building a page filled with high-quality content, they're not only providing readers with tremendous value, they're also increasing the likelihood that readers will bookmark the page and return instead of just reading one blog post and then leaving.
Creating a mass of high-quality content is one of the best ways to boost engagement blog retention.
Not only does Quicksprout focus on providing high-quality content, but they go out of their way to include images that help explain certain ideas and actions.
For example, in this piece on optimizing above the fold, an old newspaper is used to explain where the term came from and how it relates to modern digital marketing: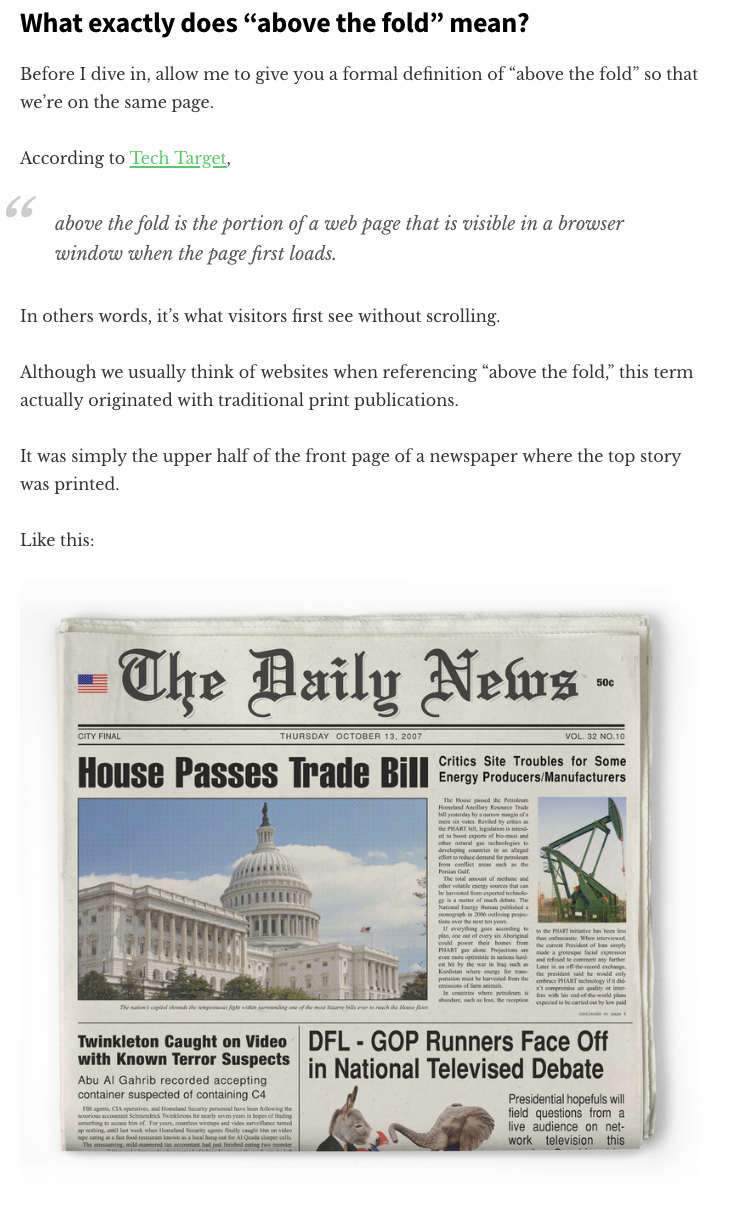 The inclusion of relevant images crucial for helping your content's impact.
According to HubSpot, eye-tracking studies show that readers spend more time looking at relevant images than they do reading the text on a page.
Guides that look better tend to get more views and more shares, which ultimately results in more leads.
Takeaway Tip
The quality of your writing matters, but design matters, too. By creating more visually appealing guides and e-books, you'll get more views and shares. Also, build at least one high-quality hub of content on your site so that readers have one go-to page for all their needs.
Dive Deeper: How to Design the UX of a Website or App to Increase Conversions
You can't talk about content marketing without mentioning HubSpot! They publish high-performing SEO-driven content, and each blog post is optimized for conversions.
Many marketers focus on cranking out content without focusing on the most important part — moving potential customers towards the sale. HubSpot doesn't make this mistake.
When buyers realize they have a specific pain point, 72% of them turn to Google to find the solution:

Usually, these initial search terms are high level and looking for general information. For example, someone might have heard that content marketing can help but isn't sure how to set up a strategy. HubSpot has a piece of content that is ideal for people at this stage: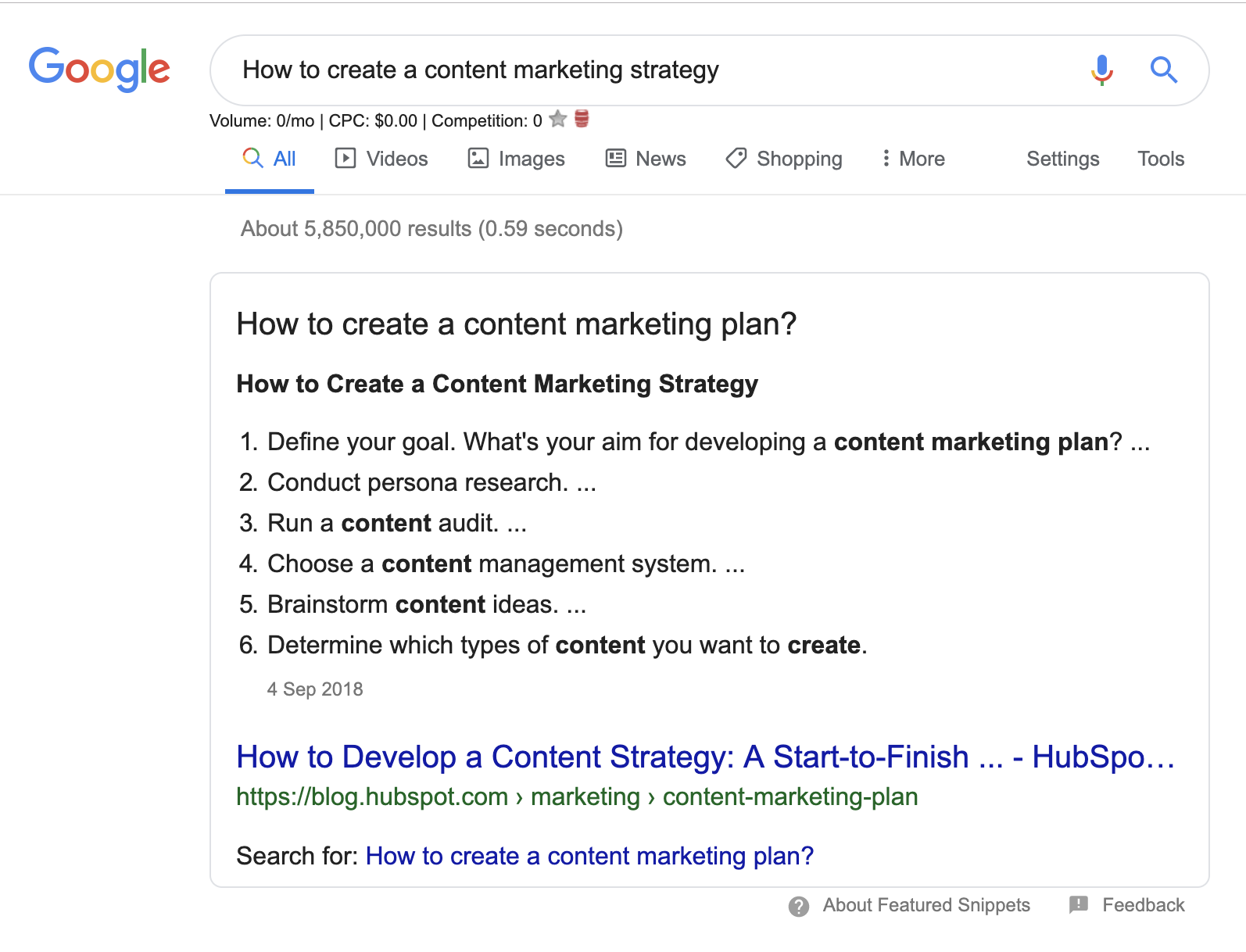 They'll then also have more detailed content for those who are further along in their content marketing journey: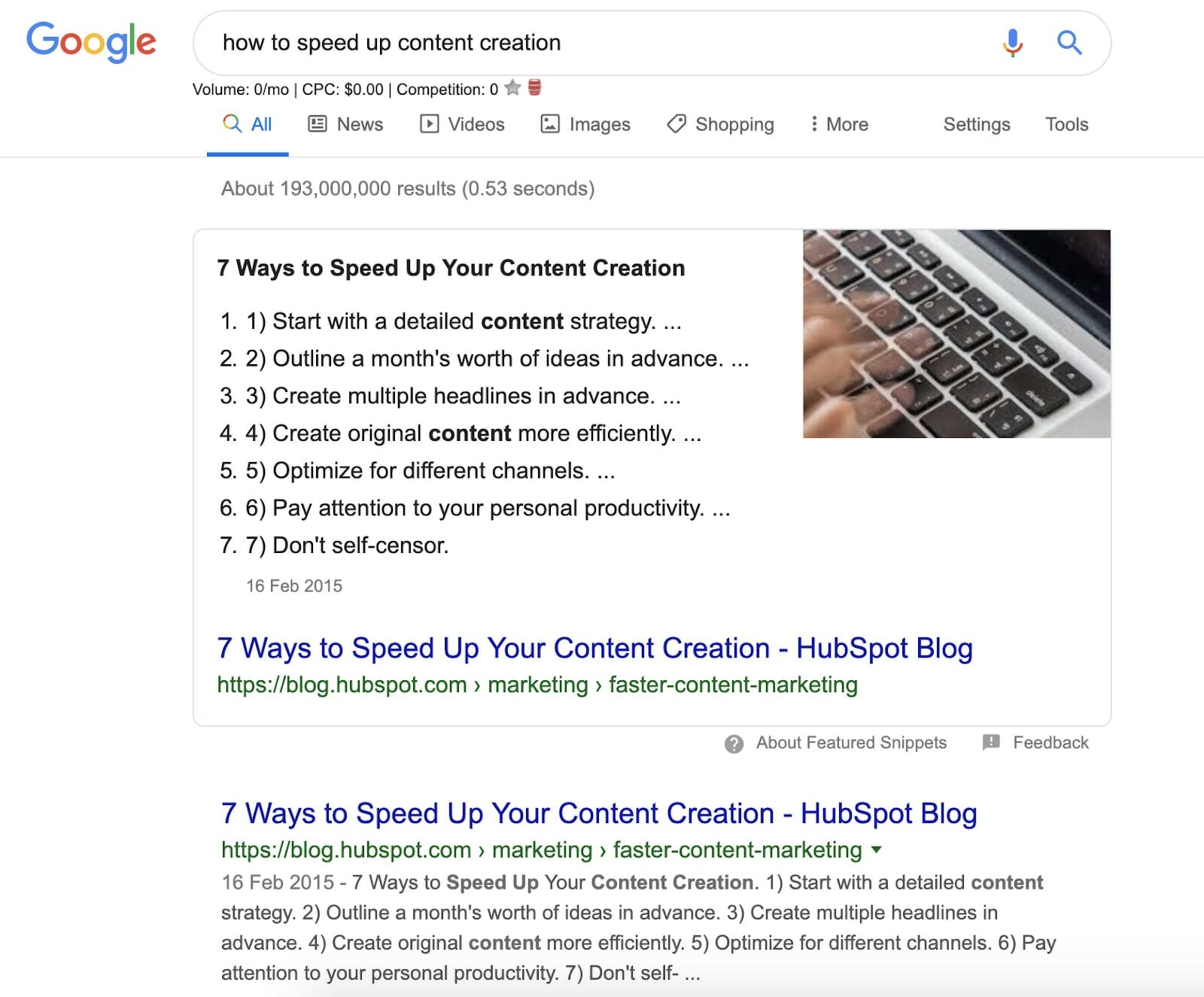 HubSpot is ready for users at every stage of their purchase journey. They have everything ready and waiting so they can easily move customers from one step to the next.
At the bottom of each post, HubSpot includes 2 extras to keep their users engaged:
A list of related posts for those who need more information on a similar topic: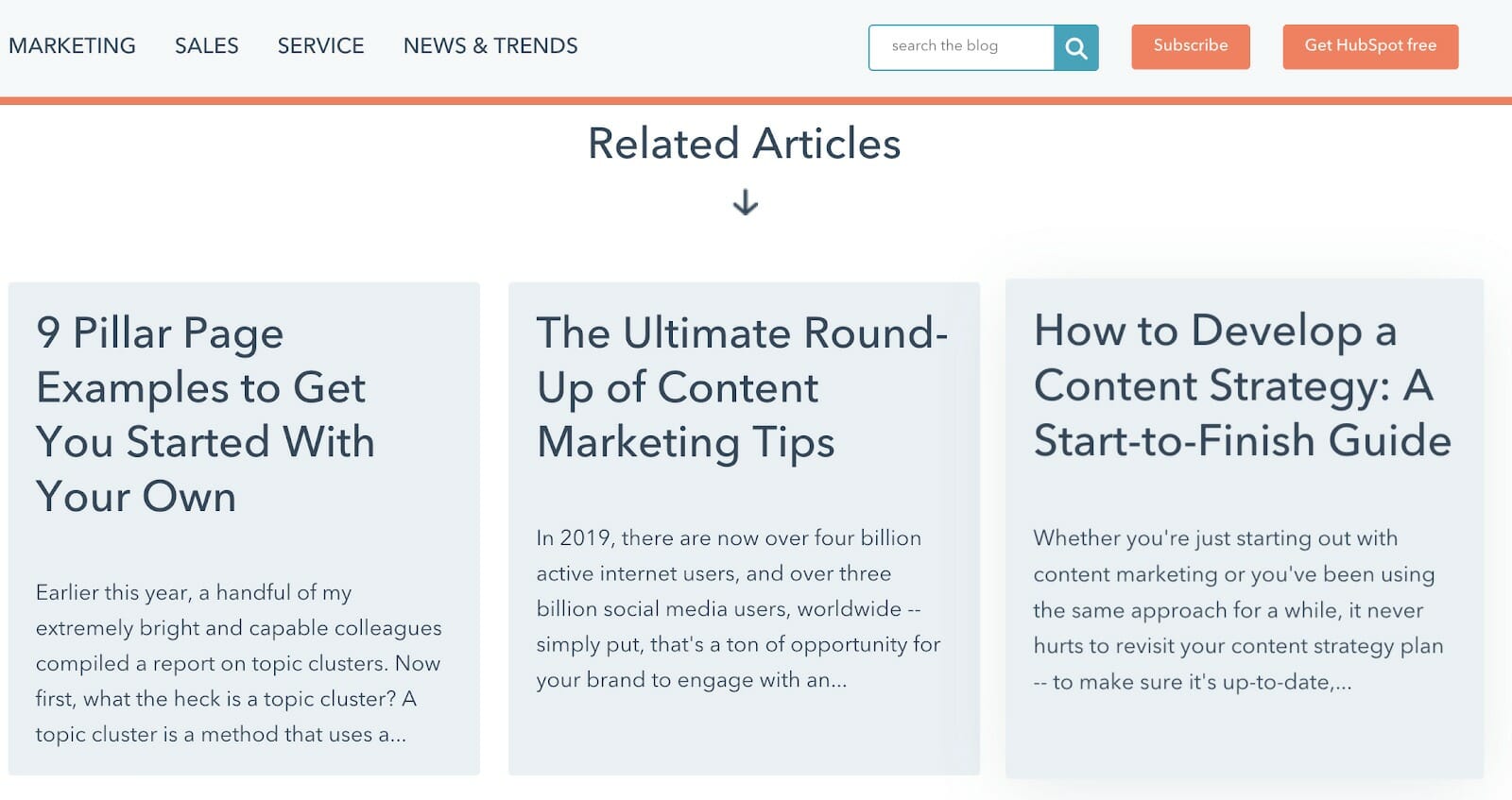 Some form of content upgrade (or lead magnet) which requires an email opt-in to obtain: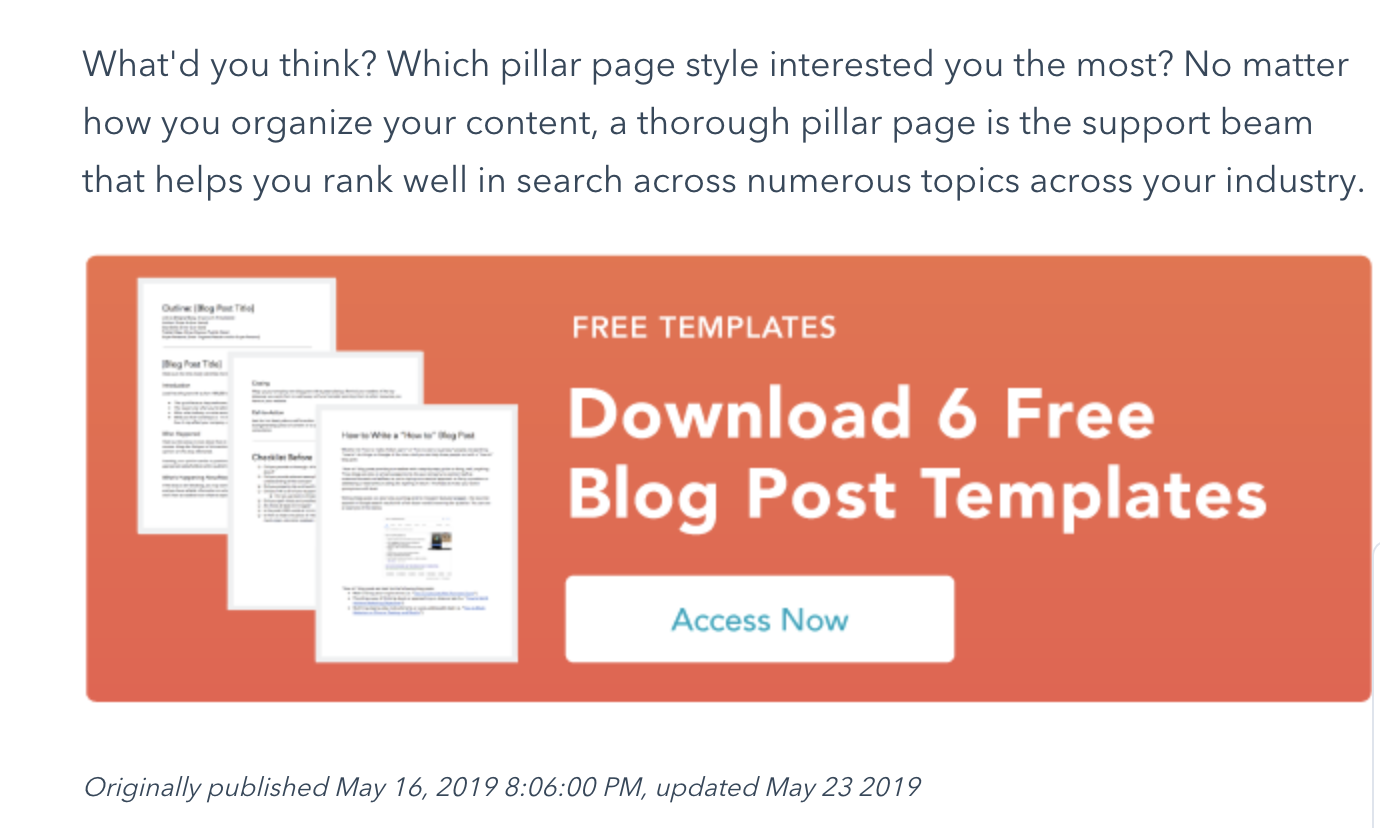 After buyers become aware of their problem, around 30% of them will consult white papers, case studies and guides, so by giving them the right content upgrade, HubSpot is moving them towards the sale.
Takeaway Tip
Offer an irresistible content upgrade at the bottom of your highest ranked articles. This way you'll maximize the number of e-mail subscribers so that you can continue to send them relevant content in order to gently push them towards a sale.
Dive Deeper: How to Create A High-Value Lead Magnet to Quickly Grow Your Email List
Copyhackers focus on conversion copywriting and they separate themselves from the pack by infusing personality into every post.
A lot of marketing posts tend to be dry. They feature data, tactics and plenty of numbers and statistics. But that shouldn't come at the cost of your personality. Without personality, you risk sounding the same as everyone else.
Check out how friendly and relaxed this content sounds: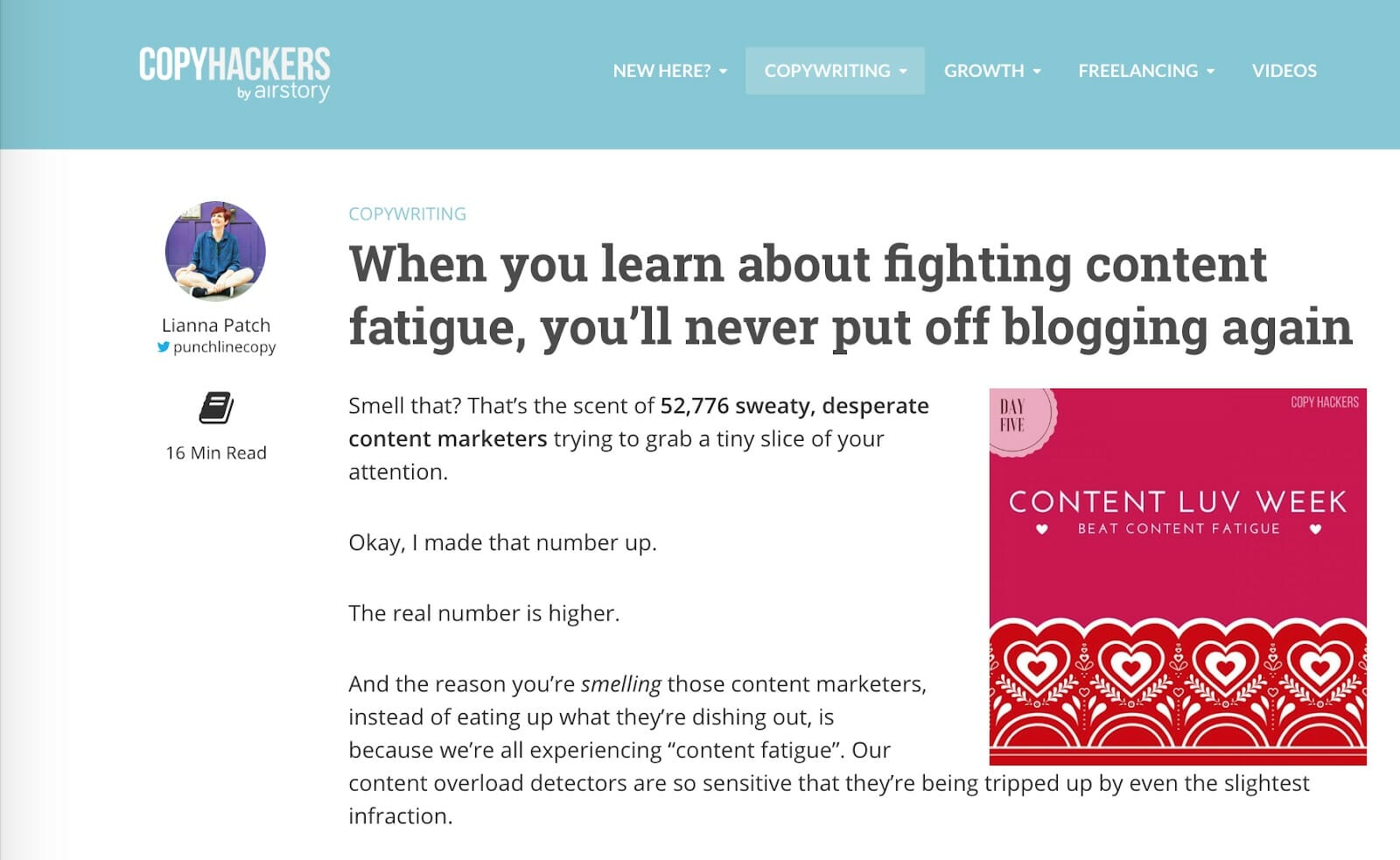 Adding personality to your content increases your audience's trust in you, which ultimately boosts conversions.
Takeaway Tip
Instead of solely focusing on facts and supporting your statements with data, make it a point to infuse some of your own distinct character into the way you write. An easy way to do this is by reading your content out loud to make sure it's written in the same way you would talk to a friend. This will help boost the connection and trust between you and your audience, often leading to more sales.
Dive Deeper: Copywriting Hacks: How to Build Trust With Your Audience
TED is a set of global conferences where authors, experts and other leaders give short talks about thought-provoking ideas. TED has had significant growth as a result of content marketing.
Check out their YouTube page — they've got over 14.5 million subscribers who get every single video update: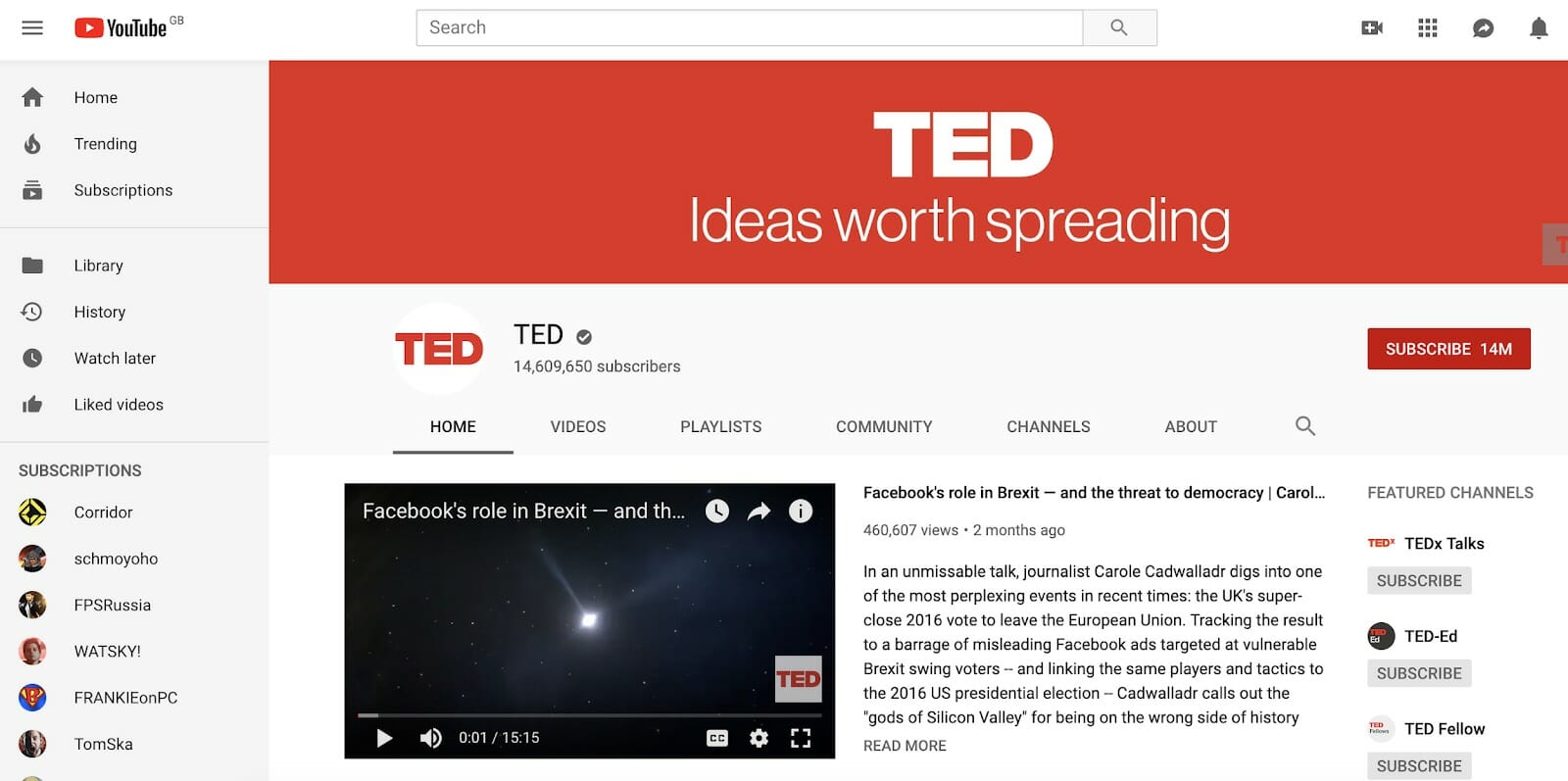 Most of their videos have tens of millions of views, and that's not even counting their TEDx, TED Fellows, TED-ed, and other channels: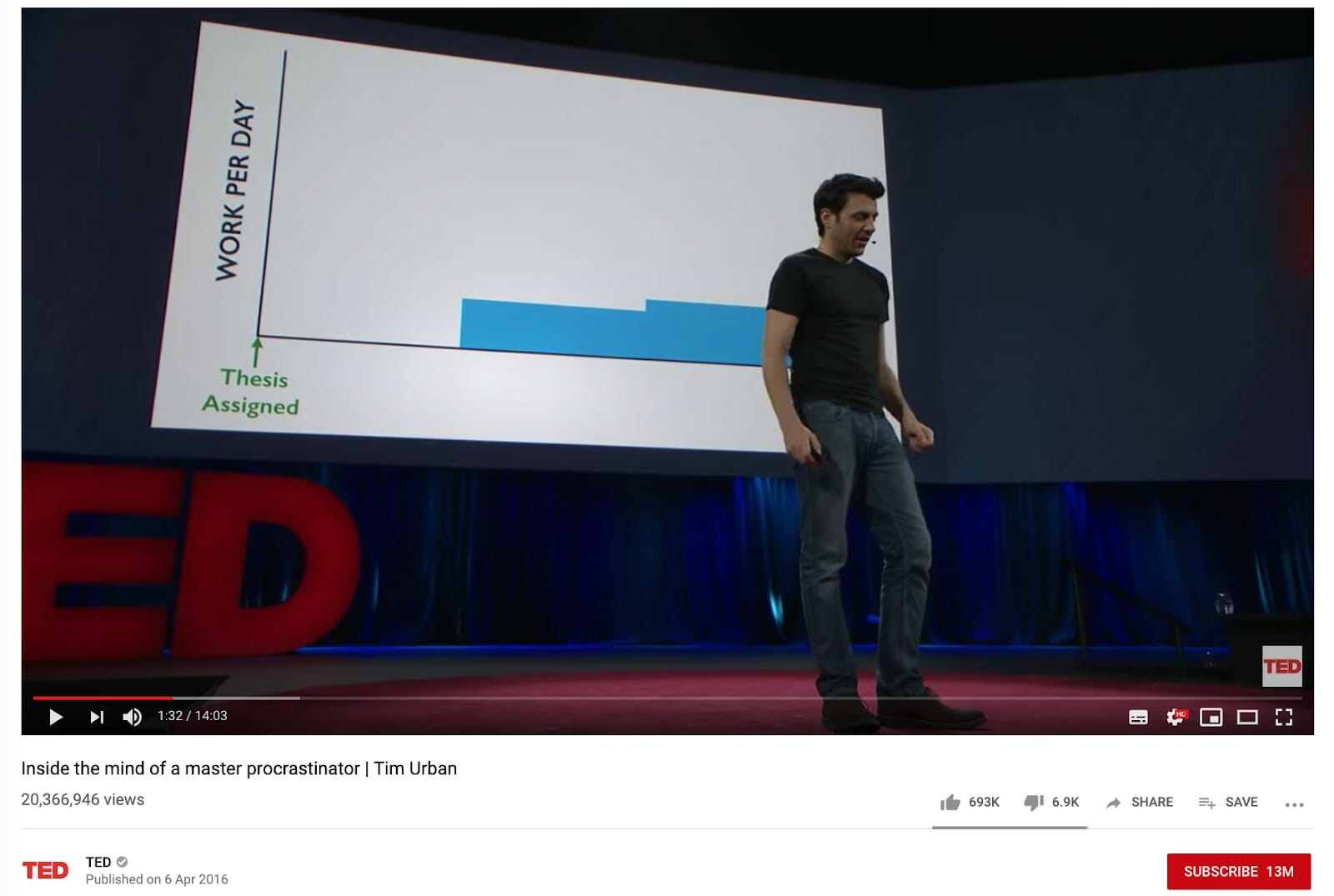 The reason that TED does so well is that they're committed to creating "ideas worth spreading."
There are a lot of different reasons why people spread ideas. Jonah Berger wrote in his book Contagious: Why Things Catch On that there are a few key factors behind why people share content:
They want to look smart.
They're reminded of it (i.e. a blog post about quitting your job is probably only viewed by those who have quit their job).
It makes them feel strong emotions.
They want to show off to their friends (about how smart or funny or caring they are).
They find it extremely helpful and think others would benefit.
People just love to tell, hear and share a good story.
At the end of the day, TED isn't making SEO or market research their main priority — they're just trying to find and create world-class content they think people would love.
This is why they've become such a global sensation, even though most of their content is comprised of 15-minute videos of someone talking on a stage.
Takeaway Tip
A good idea is worth far more than well written content. It's interesting ideas that get people to engage and share content. Creation and promotion are important, but if the idea behind your content is boring, no one is going to care how well written it is.
Dive Deeper: 7 Examples of Storytelling Content You Can Use in Your Marketing Campaigns
Wistia provides companies with professional video hosting and video marketing tools. Their Learning Center includes a variety of content on topics their audience cares about.
They keep their content wholly focused on the needs and issues that their audience faces. Sure, it might not be interesting to outsiders, but knowing how to choose a suitable backdrop for your video is a big issue for those producing video content:

However, Wistia also embodies the Copyhackers approach to injecting a little fun into their copy. They prove that selling a serious product doesn't necessarily have to be serious. This post is a prime example of building a better rapport with readers with a little humor:

Takeaway Tip
Getting down to brass tacks is key to getting the attention of your users, but you also need to keep them interested. Brands that sell a "boring" product don't have to go the boring content route. They can quite easily increase the effectiveness of their content and build deeper relationships with their audience by having a little fun.
IBM does everything in tech from producing hardware to IT consulting. They've proven you can still publish interesting, 10x content even if you're in an industry that isn't "sexy."
It's like in college where a good professor can make a dull subject seem really interesting, and a bad professor can make an otherwise interesting subject sound boring. IBM takes a subject that would ordinarily be quite dry to most people and makes it captivating.
For example, they actually broke the Guinness World Record for the smallest film ever created. They filmed a tiny movie called A Boy and His Atom to showcase what goes into their work, which apparently is moving atoms!
With their other content, IBM is great at taking what could be dull topics (like IOT technology and cloud reporting), putting it in real terms and making it engaging. Here's a great example of them doing this with wildlife protection.
A topic like conservation will always go down well, and is far more interesting than saying "you can do X with our Y".
Takeaway Tip
Figuring out how a potentially boring solution can be used for interesting things is a great way to create a more emotional and lasting engagement with your audience.
GoPro is a manufacturer of action cameras that are mostly used in adventure sports.
A couple years ago at the AdAge CMO Strategy Summit, the SVP of GoPro said, "We're not just a camera company anymore. We're an enjoyment platform for people all over the world to watch."
They've run with this and have become one of the best examples of how to leverage user-generated content (UGC).
Very little of the GoPro brand content is created solely by GoPro themselves. It's often well-edited video compilations of users doing whatever it is they're interested in with their GoPro.
Take the below video on surfing as an example:
Their YouTube channel is filled with compilations of other extreme sports. Not every video is going to resonate with everyone, but they certainly grab the attention of similar users  –  so much so that GoPro recently celebrated 2 billion views on their YouTube channel!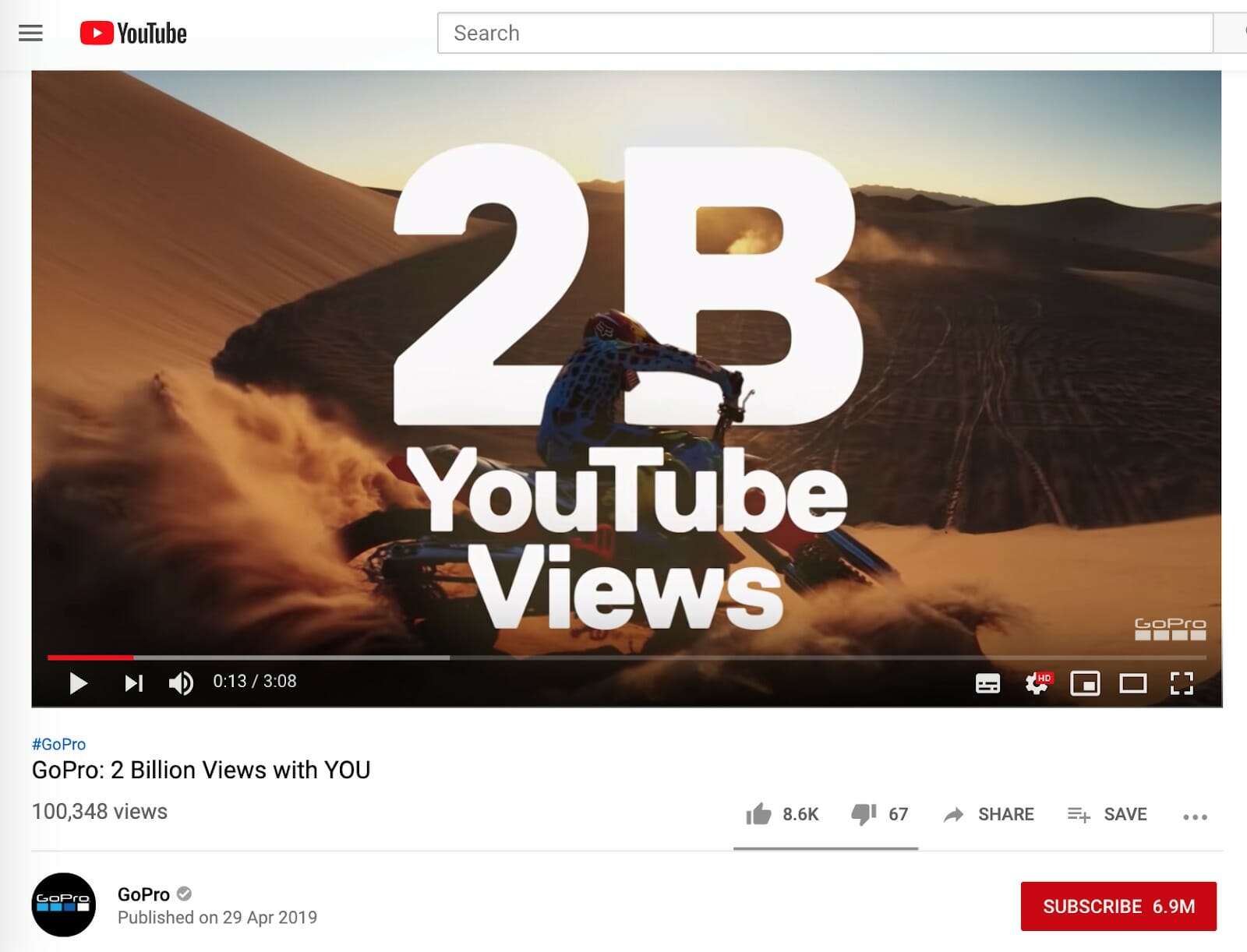 Their content goes viral consistently because people can either live vicariously through the videos they publish or are able to use them as inspiration for their own extreme adventures.
Not only that, but because it's user generated, it costs comparatively little to produce.
Takeaway Tip
Your users aren't just potential customers, but advocates and brand ambassadors. If you can get them to help produce marketing collateral you'll massively increase reach and social proof with little effort.
Dive Deeper: 8 Ways to Encourage More User-Generated Content (UGC)
Moz produces SEO software to make inbound marketing easier.
Like other top tier marketing companies, Moz takes their blog one step further — in addition to cranking out regular posts, they also maintain a resources page with long-form guides about learning SEO and search marketing: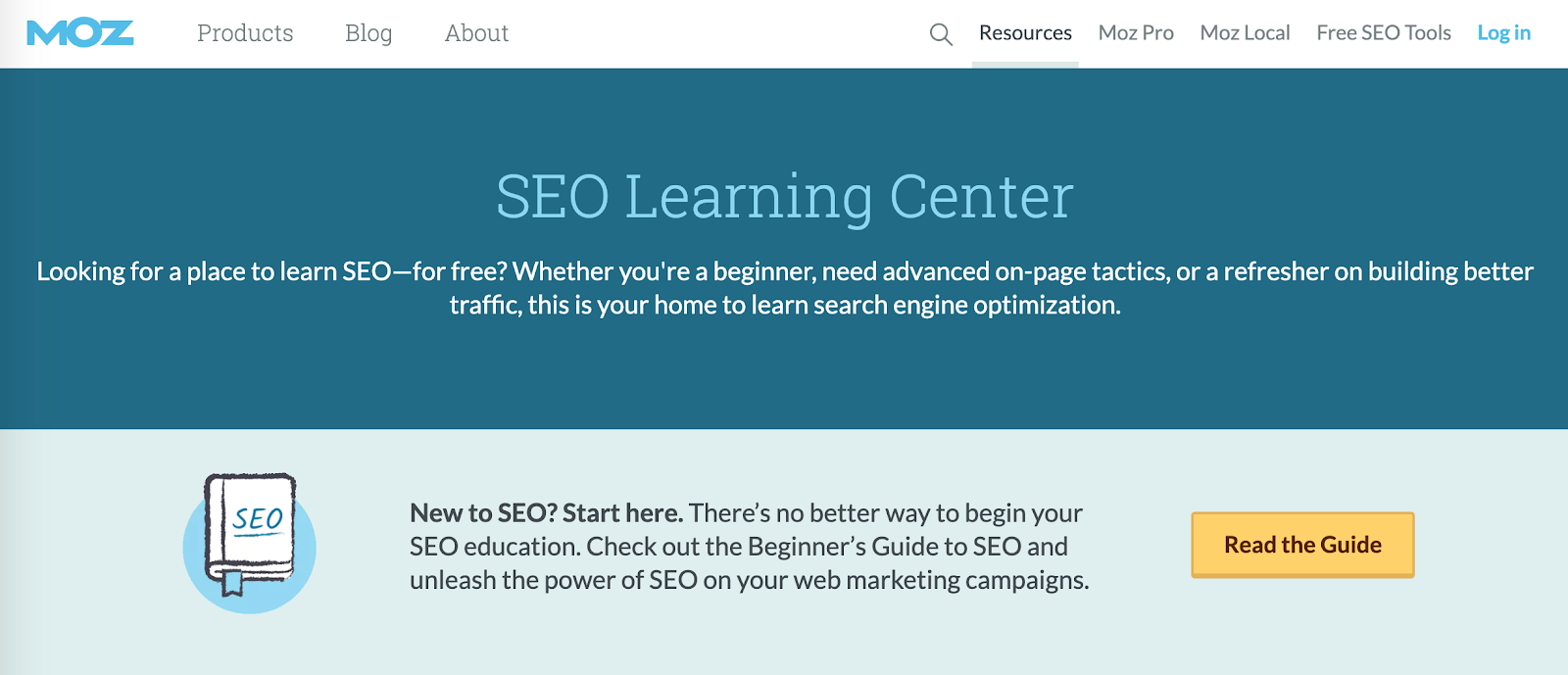 They even have a separate, more in-depth academy for Pro users: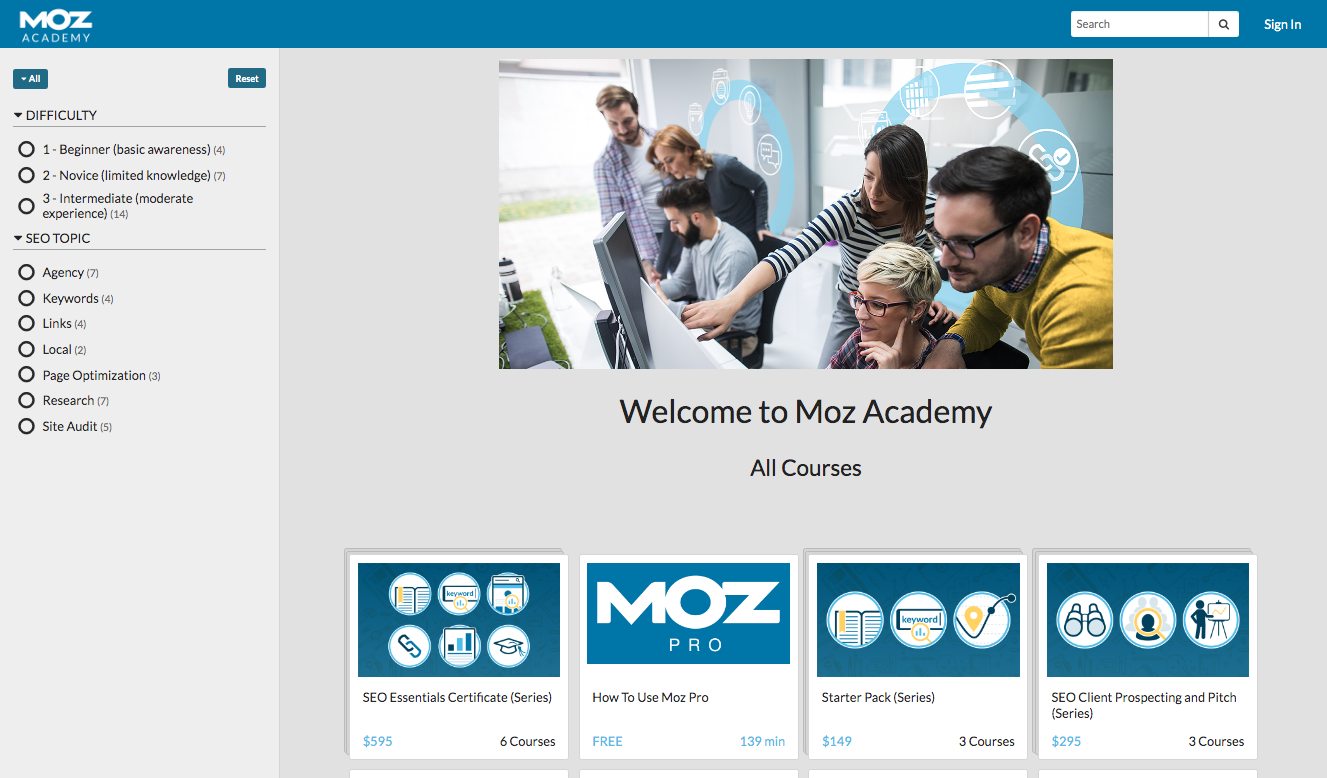 Most marketers don't think about using content marketing to boost user retention, but the biggest marketing ROI actually comes from building a good relationship with your existing customers. It's much easier to sell to customers you already have a relationship with than acquiring ones who don't know you yet.
Takeaway Tip
Content marketing shouldn't just be a way for you to attract cold leads. Smart marketers use it to re-engage past customers and keep current users from churning.
Dive Deeper: Here's How Targeting Cold, Warm & Hot Traffic Builds Successful Customer Relationships
Groove is a help desk software company that takes a very different approach to content marketing from most of its competitors — they are hyper-transparent about their company in their content.
For example, they write content like 3 Early Failures that Nearly Killed Our Startup that generated over 1,000 shares and 82 comments:
They also write about what they did well, like in this article: How We Grew Our Blog to 5,000+ Subscribers in Five Weeks (FYI – their on-site opt-in currently says they have 150,000+ subscribers):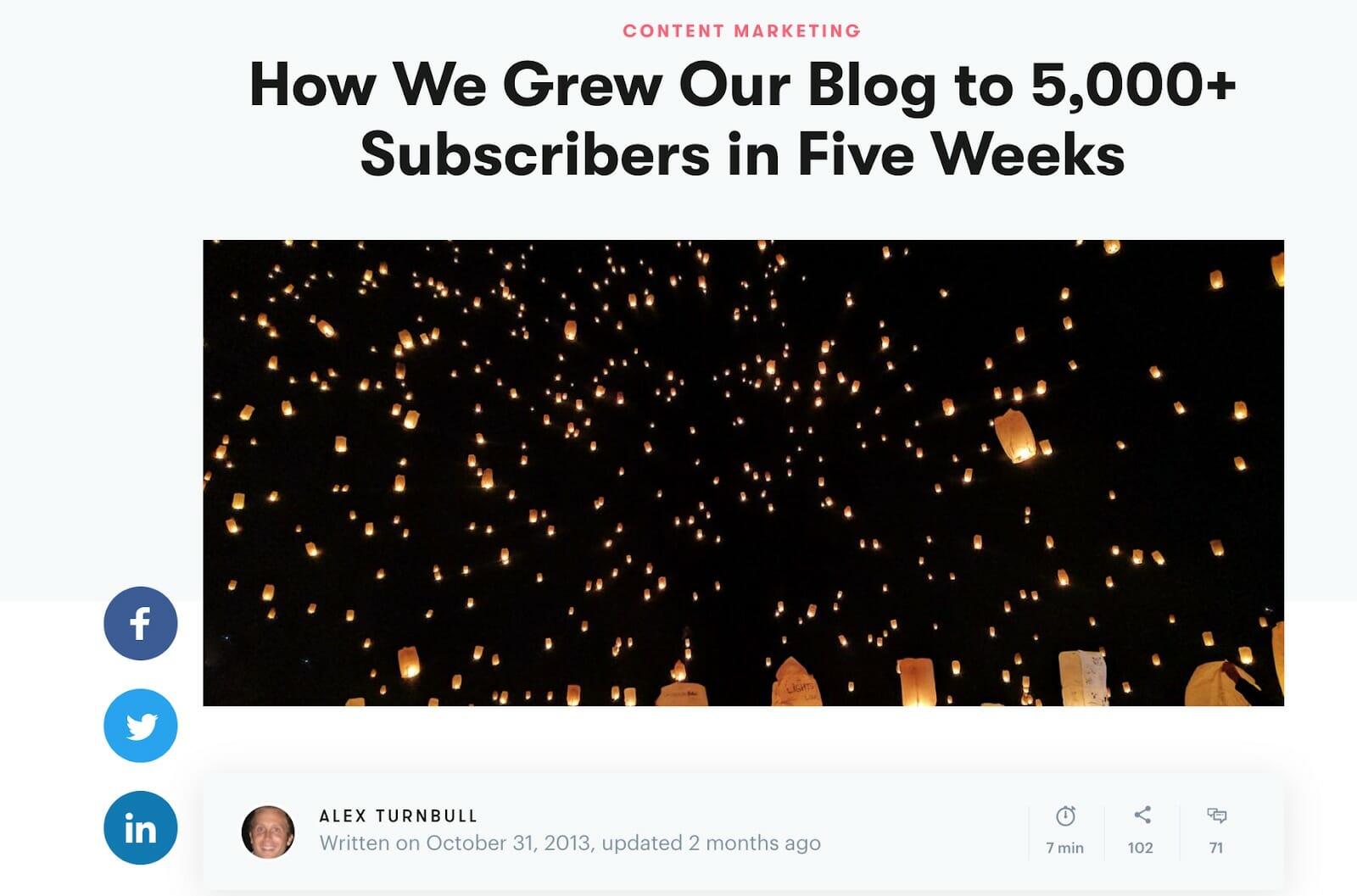 According to Zapier, Groove's blog is their number one driver of new customers, generating over 3,000 paying customers in just two years. Transparency works because it helps build trust with your audience. And people are more likely to do business with brands they trust.
What's more, those posts actually drive new customers directly. Groove's founder, Alex Turnbull, explains:
"As we've become more intentional about content attribution, we were honestly shocked to discover a number of old and new Founder's Journey articles were among our top performers for last-click to new trials. We try to add that same raw and relatable honesty into everything, even well-worn tops like developing customer service skills."
It's obviously been noted at Groove that this is one of their key differentiators as their new content is still along the same lines. If you head to their blog, you'll see article titles like:
Why We Dropped "Fun" as a Core Value
What I Learned Rescuing Our Startup from Death
Why I almost Walked Away from the $500k/Month Company I Founded
They've remained brutally, and refreshingly, honest in their content approach.
Takeaway Tip
Don't think that you have to present the face of success in everything you do. Honest content strikes an emotional chord with users and can massively increase their trust in your brand.
Related Content: 37 Life-Changing Leadership Books You Need to Read ASAP
Birchbox is a subscription service that sends subscribers a box of select beauty products every month. Their content marketing strategy has been at the core of much of their growth.
According to NewsCred, Birchbox started with 600 subscribers and grew to 800,000+ in just five years.
They were able to leverage content marketing for both customer acquisition and retention because as Bene Cipolla, Head of Program Office at Birchbox, says, "Content was there from the beginning. It was never an afterthought. It is core to our business strategy."
Because their products are all about aesthetics, they focus on creating aesthetically pleasing content. As a result, they host their blog on Tumblr rather than on their site: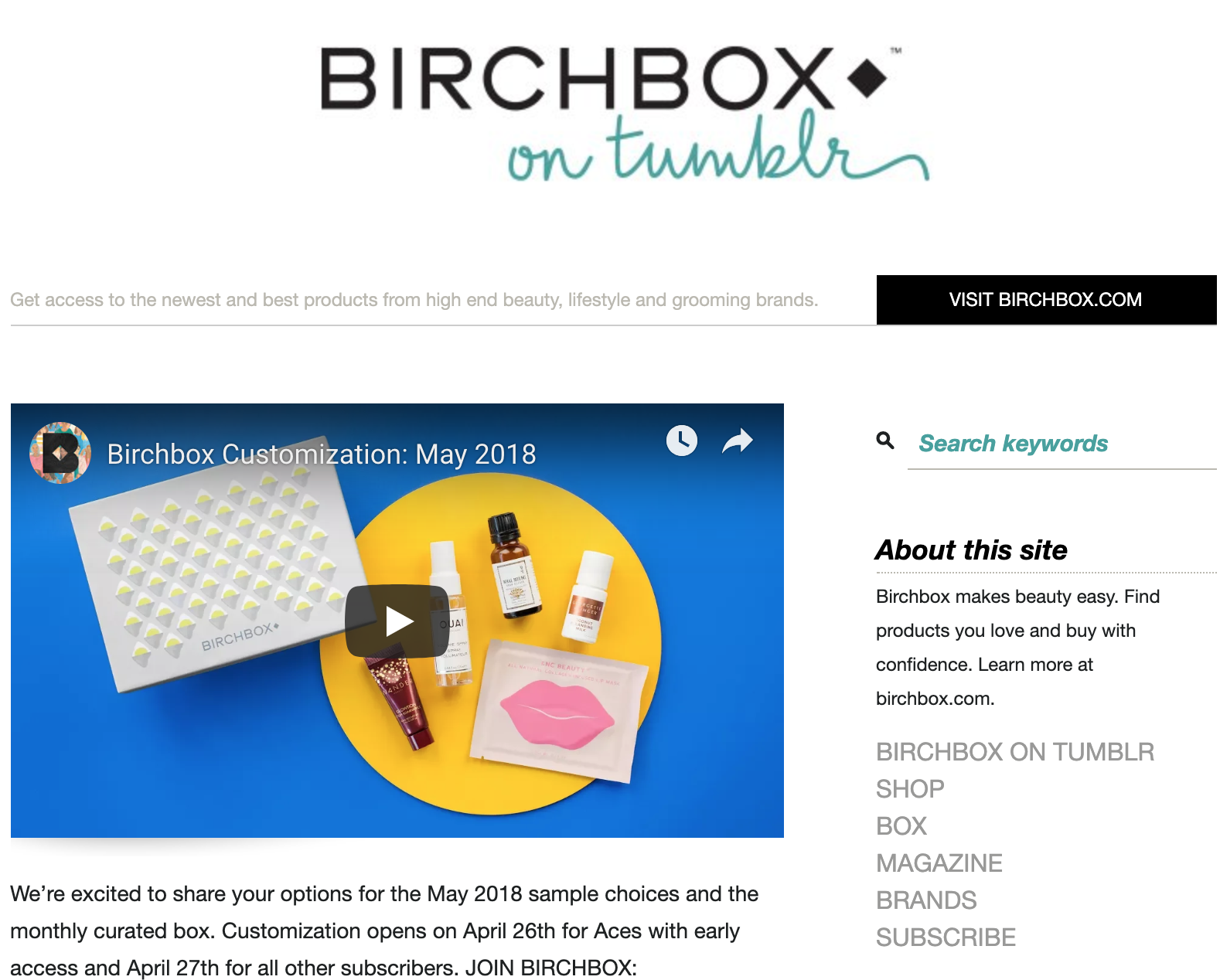 They offer informative articles that capture the imagination, such as How to Fake Natural Curls and This Is What Barbie Would Look Like with Normal Measurements.
In fact, for most of their posts, they place the focus on images rather than attention-grabbing headlines. This works perfectly because it not only fits with their product line, but it also hits the aesthetic focus of their beauty customers and works perfectly on Tumblr.
Takeaway Tip
Look at what your products are helping customers achieve and see how it can be incorporated into your content format and delivery.
Dive Deeper: Overlooked SEO: Optimizing Images and Video For Search
Buffer automates your social media posts making it easier to share content. Content marketing is Buffer's main growth strategy and they get around 1,900 shares per post.
In their early days, they gained almost all their customers through guest blogging, which is a quick way to get exposed to tens of thousands of potential customers, even when you have no audience of your own. Buffer realized this, and got featured on over 100 blogs in just two months.
With all the tools available to us today, getting featured on major blogs really isn't that difficult. One quick way to do this is to write a post on Medium, wait until it gets a certain amount of traffic/views, then contact an editor at a major publication and offer to cross-post the content.
For example, after I got traction on Medium for an article, I e-mailed an editor at LinkedIn asking if the post could be promoted internally on the site. She immediately accepted.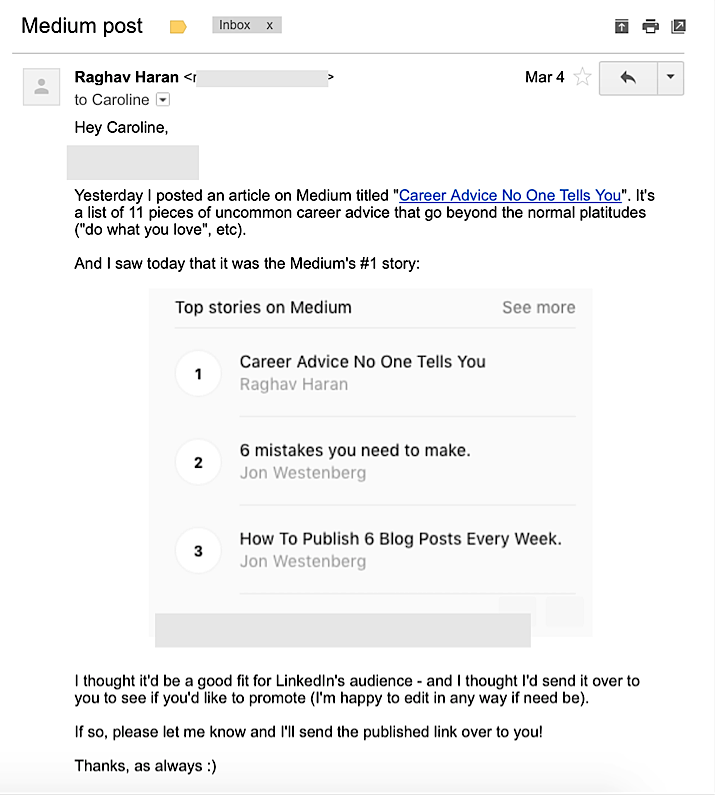 We all know that it takes a lot of time to get results through content marketing, but one of the best ways to speed it up is by guest posting on other high-traffic sites.
Takeaway Tip
We don't all have an established audience. Instead of trying to grow from nothing, take the path of least resistance and use guest posts to get your best content in front of your ideal customers.
Dive Deeper: The Power of Guest Blogging (And How to Get Started!)
Intercom helps companies communicate with their customers more efficiently. One of the things that they do particularly well is repurpose content.
For example, they have a podcast that addresses key marketing and business topics. Once an episode is recorded, they repurpose everything they can. Take this piece for example. On that one page you have:
A recording of the podcast itself
A number of quick takeaways that address the main points
A full transcript of the piece that has been nicely designed to include standout quotes and relevant images
They basically turn a single piece of content into a multi-use asset. Using your core content to create spin-off pieces gives you a much better chance to rank on page one of the SERPs.
Intercom also does a good job of using images and graphics in the right places within a blog post to add more value, or certainly more quality. For example, in this piece on chatbots, they offer a GIF to show how it works: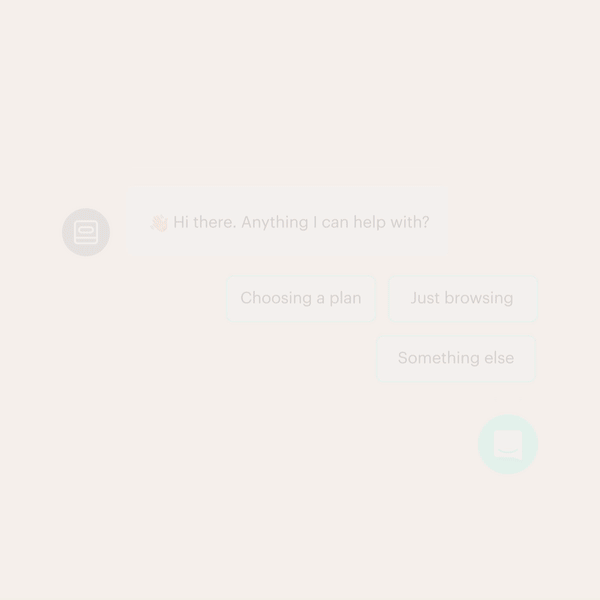 Takeaway Tip
Get as much use out of every piece of content as possible. Examine how you can spin a single piece into different formats to give yourself more of a publication buffer and help you connect with customers across channels.
Dive Deeper: The #1 Marketing Strategy for 2019: The Content Sprout Method
This example is a little older than some of the others, but it's one of the best examples we've ever seen on how to effectively leverage video.
Dollar Shave Club disrupted the male grooming industry by offering cheap razors that are conveniently delivered to your door. This was a big selling point, but it was their launch that we want to focus on.
The brand launched with a brilliantly funny video titled "Our Blades Are F***ing Great," which quickly gathered pace and went viral, garnering over 5 million views in the first 90 days:
The video features CEO Michael Dubin walking through the Dollar Shave Club warehouse cracking well-timed and perfectly pitched jokes that are impossible not to laugh at. This single video launched the brand and was a major reason for their success.
Dubin had an advantage in that he studied performing arts and leveraged his contacts to produce the video for a fraction of what it would have cost. (Neil Patel estimates the saving at around $50,000)
Although this is a rare example where a lot of factors came together to contribute to the viral success, there are a number of lessons we can take away from the excellent content.
Takeaway Tips
Video is great for storytelling. Dollar Shave Club builds immediate trust by appearing to be run by a regular guy who is on your side. Video is such a great medium for this kind of storytelling because it gets ideas across at a high bandwidth. Within the first 10 seconds, you already know everything you need to about the brand and what it stands for. Which brings us to…
Have a clear value proposition. Dollar Shave Club has a genuinely compelling offer. Get great razors, cheaper and more conveniently than you do currently. It's simple, easy to understand and the offer is a good one. They've made it an easy sell by looking at the market and finding a gap, then communicating their unique offer clearly.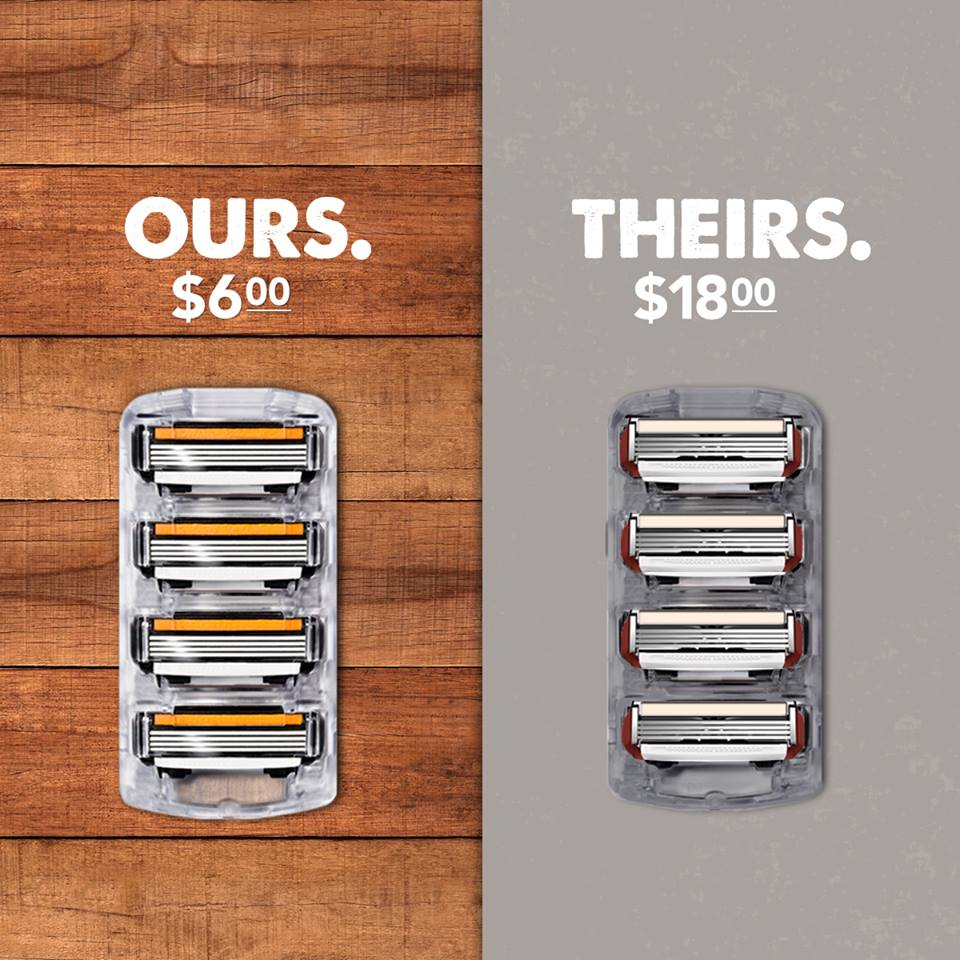 Make content that is easily shareable. By using video, and also creating stop-motion animations shared on social media, Dollar Shave Club made it easy for their content to be shared, and this is what led to their viral success.
Know your audience. The reason the video is so shareable is that it's genuinely funny to the people that are most likely to use the product. It talks to young men in their language, using their kind of humor.
Dollar Shave Club went on to be bought out by Unilever for $1 billion. That's the power of good content!
Dive Deeper: The Video Structure that Big Agencies Use to Create Successful Videos
SpaceX is Elon Musk's game-changing rocket company which reinvigorated the space race by slashing the costs of getting into orbit through reusable rockets.
An example of some extremely brave content marketing is SpaceX's blooper reel of rocket landings. The video shows us that it's not so easy landing rocket boosters and takes us through some of the explosive failed attempts.
Check out this video called How Not to Land an Orbital Rocket Booster:
Given that these rockets are extremely expensive and the massive explosions involved are incredibly dangerous, it was a risky move to add humorous music and cheeky subtitles. But the result is very watchable and shows the rapid progress that has been made. SpaceX now routinely lands rocket boosters.
SpaceX live streams all its launches and even has its own presenters who walk the audience through each stage. The lesson here is the way that SpaceX owns the launch.
All these launches have the potential to go wrong, and there is real danger of death with each one, not to mention hundreds of millions of dollars at stake. Rather than allow any failures to be painted in a negative light, SpaceX takes control of the narrative, demonstrating the necessity for experimentation in driving the technology forward.
Elon Musk has his detractors, but launching a Tesla Roadster into space was another genius move, producing iconic images that will go down in history. The live video reached an audience of 2.3 million concurrent viewers on YouTube, making it the second-most-viewed video ever (behind the aforementioned Felix Baumgartner leap from Space):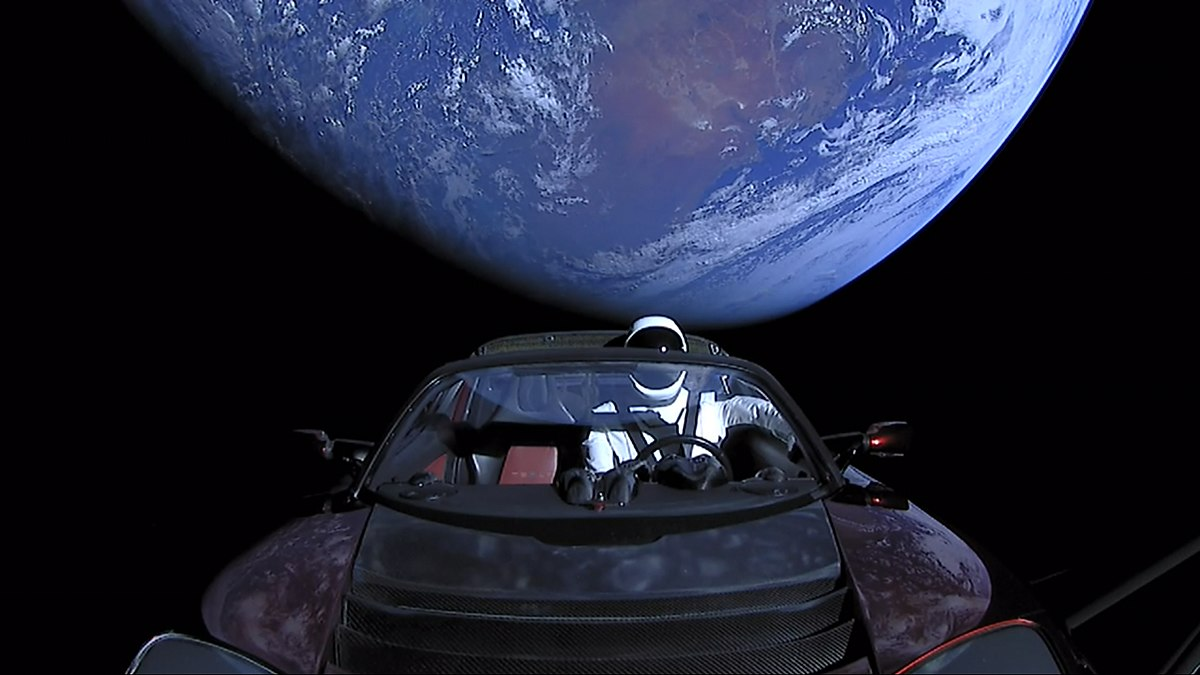 Takeaway Tip
Take control of how your brand is perceived. We can learn a lot from the way SpaceX navigated how the brand is shown to the world, producing content that is awe-inspiring and kind of terrifying at the same time. With the right approach, you can reinvent your brand into the talking point it needs to be (without the terrifying part, hopefully!).
Dive Deeper: How to Make Your Live Video a Guaranteed Success
You might not remember the company (BlendTec), but you definitely remember the "Will it Blend?" videos they produced.
The viral success of their product videos has transformed the brand – and "Will It Blend?" has even turned into a brand in itself. Who among us has not wanted to throw things into the blender (or microwave or under the tires of a car) to see what happens?
The videos rely on a simple formula that works every time. After a deliberately cheesy opening, CEO and founder Tom Dickson introduces a product to put to the "Will it Blend?" test – iPhones, iPads, an Amazon Echo, glowsticks – you name it.
He gets to the blending pretty quickly and there's no hard sell, just a link to the website and a couple of mentions of the product within the video.
These viral videos launched the brand in 2006, garnering 6 million views in the first six days, but the impressive thing about BlendTec is their continued commitment to content marketing with numerous recipes on their website and another YouTube channel dedicated to blending actual food.
Takeaway Tip
Show, don't tell. Use your product in your content. A lot of brands talk about high-level issues and general pain points, but never really promote the product. Promoting the product in a fun way through your content is a great way to show your users what it can do.
Dive Deeper: 12 Engaging Types of Video Content that Viewers Love to Watch
UK-based no-frills airline easyJet was a pioneer in bringing affordable air travel to the masses when it launched 20 years ago. To celebrate the milestone, the brand launched a campaign that demonstrates the power of a personalized approach to content marketing.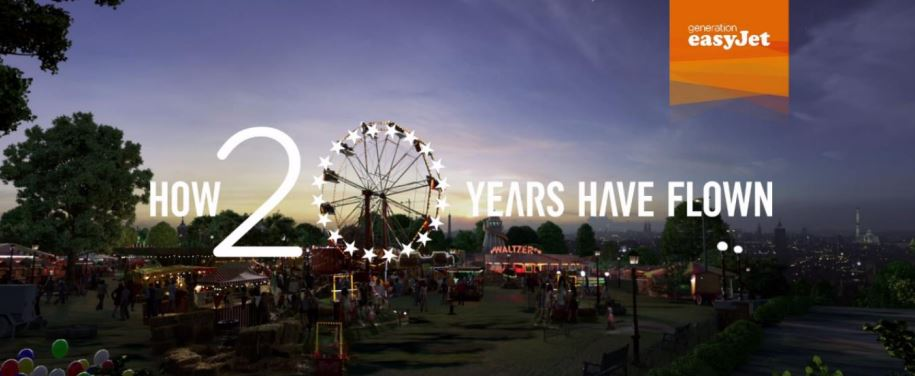 EasyJet used customer travel data that they'd collected over two decades to produce personalized customer stories that featured milestones such as their first flight with the airline or where they would like to go next.
Based on 28 key data points, they sent personalized email newsletters using graphics, high-res images of holiday destinations, and emotive copy to over 12 million customers. Open rates doubled and click rates were up 25% compared to their standard newsletters.
Personalization is becoming more and more commonplace and is just as relevant in content marketing as in any other area of digital strategy.
Takeaway Tip
Customization is the best way to increase engagement with your audience. If you can customize based on user action, perfect! If not, try to look at the problems small segments are experiencing and how you can tailor content to their needs.
Dive Deeper: The Complete Guide to Getting Started With Website Personalization
Grammarly is a spelling and grammar checker and plagiarism detector. The sophisticated software uses machine learning to improve itself by using data from users' common mistakes. It also provides explanations of errors so that users can learn, rather than just be corrected.
Grammarly's blog contains useful content about common grammar and spelling mistakes  –  which may sound dry but they manage to make it fun.
A recent post focused on eliminating eggcorns from your writing, erroneous phrases that result from misunderstood or misheard words such as "escape goat" for "scapegoat" and "doggy-dog" for "dog-eat-dog":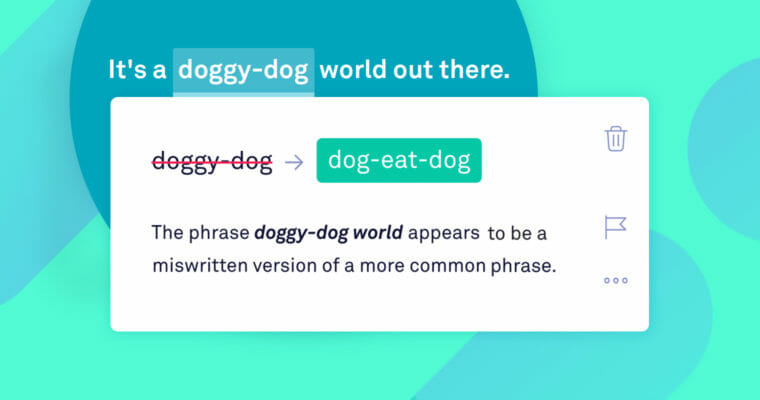 Grammarly puts a lot of focus on customer retention. They reason that helping users get the most out of their product will keep them engaged with it and continue paying the subscription.
Grammarly sends out a weekly progress report to customers offering insights into Activity, Mastery and Vocabulary: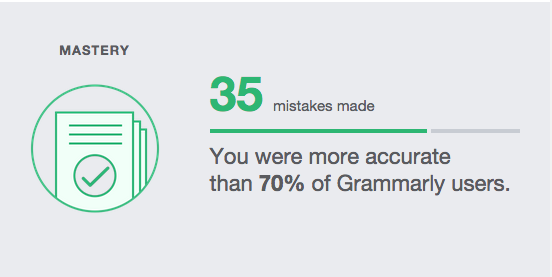 Turning the process of correcting your writing into a game in this way – gamification – is a proven way to increase engagement. It's a tactic that could be applied across industries.
Takeaway Tip
Create content that gives users the ability to not need your tool, service or product. It seems counter productive, but it builds your authority and user trust in you. You'll also find that most users will still use your services as a shortcut to success.
Dive Deeper: 11 Companies That Are Doing Mobile Advertising Right in 2019
Headspace is a meditation and mindfulness app designed to help people maintain focus, avoid overthinking, and live a more peaceful existence.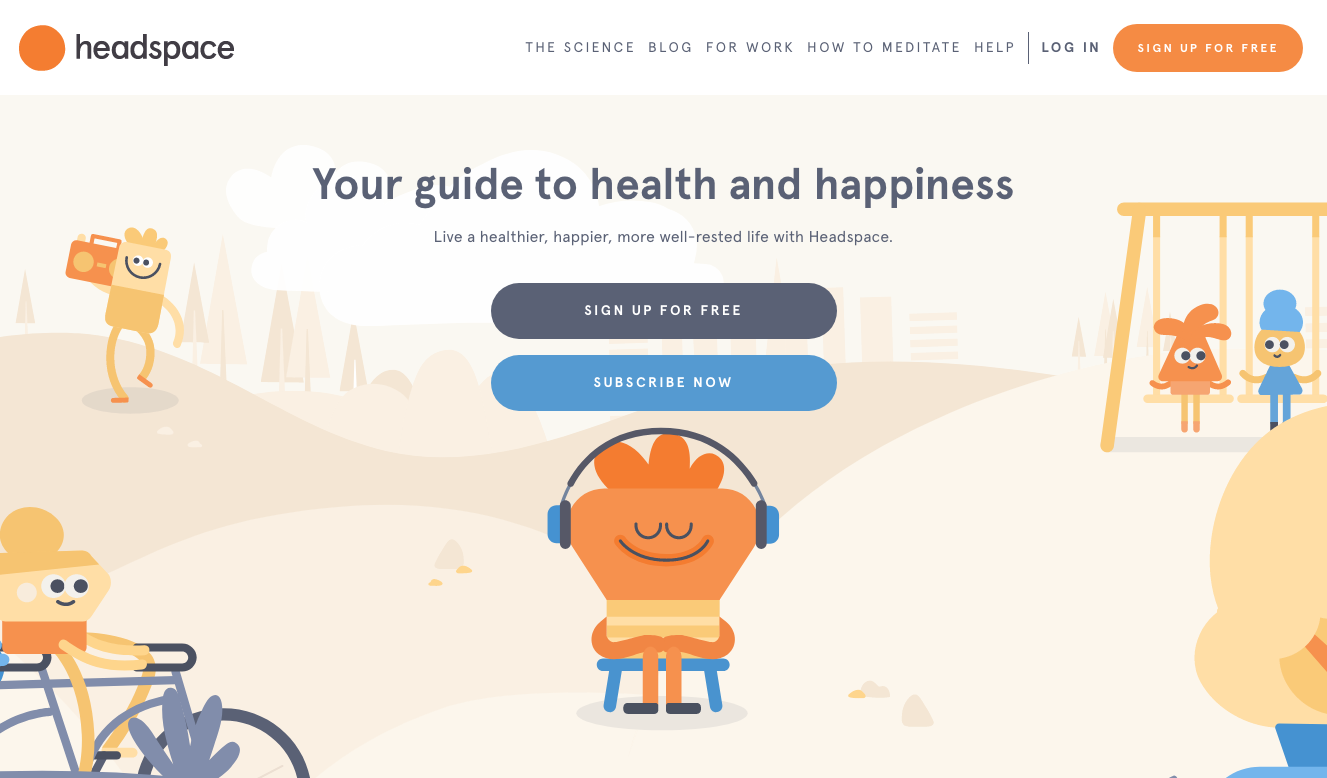 Video meditation sessions are offered via a mobile app and YouTube videos, and articles on the topic are shared on the brand's blog, The Orange Dot: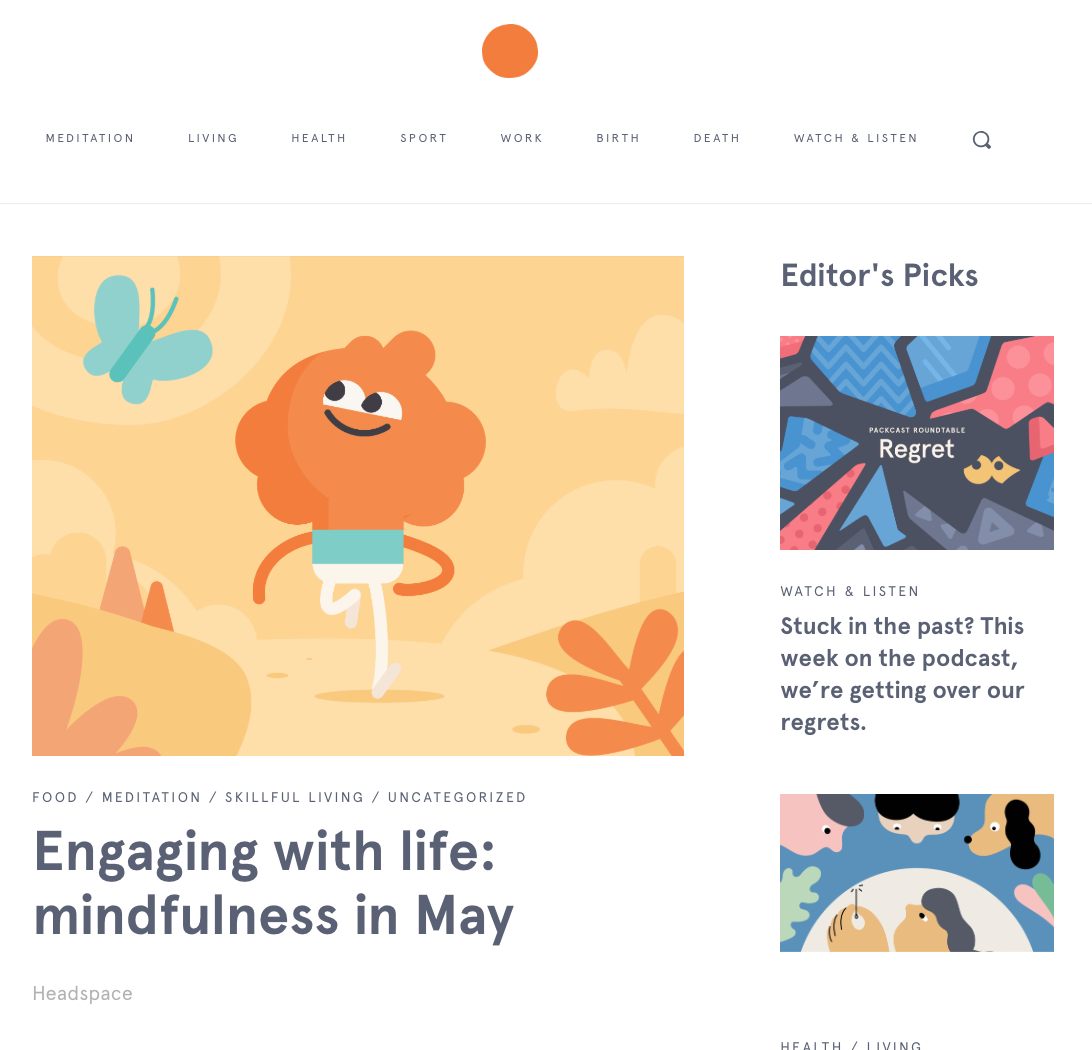 All the articles feature fun and eye-catching illustrations that grab readers' attention and make meditation and mindfulness less intimidating. As Chris Markland, a Senior Creative and Artist at Headspace, says:
"We've always made really deliberate design decisions to break the stigma and peoples' misconceptions about meditation. The mind is often an overwhelming and scary place. Illustration has been a really useful tool in breaking that down to people in an engaging, fun and relatable way."
The videos cover intriguing topics on the nature of the mind and how meditation can help people in everyday life. One video called Understanding Dark Thoughts clearly hit a nerve with people, as it has over 50 million views:
Headspace works by creating fantastically useful content that taps into a deep need for peace in a busy world. By creating top quality content, the brand pulls viewers in from social channels and leads them gently, via the video description but never explicitly, towards downloading the app.
The quality of content and consistency of branding has helped Headspace grow to over a $250 million company, demonstrating the power of good, meaningful content.
Takeaway Tip
Try to maintain brand image and voice across all channels, especially if you've put the time and effort into building something unique. It just makes it easier for your users to recognise your unique brand.
Dive Deeper: The Complete Guide to Brand Building (Must-Read for Digital Marketers)
Jack's Flight Club deserves a mention for setting up an entire business around an e-mail newsletter.
Jack spends his days scouring the net for the very best flight deals from the UK and EU. He then sends them out in a handy newsletter two or three times a week. The newsletter is absolutely free, with more frequent updates reserved for premium members.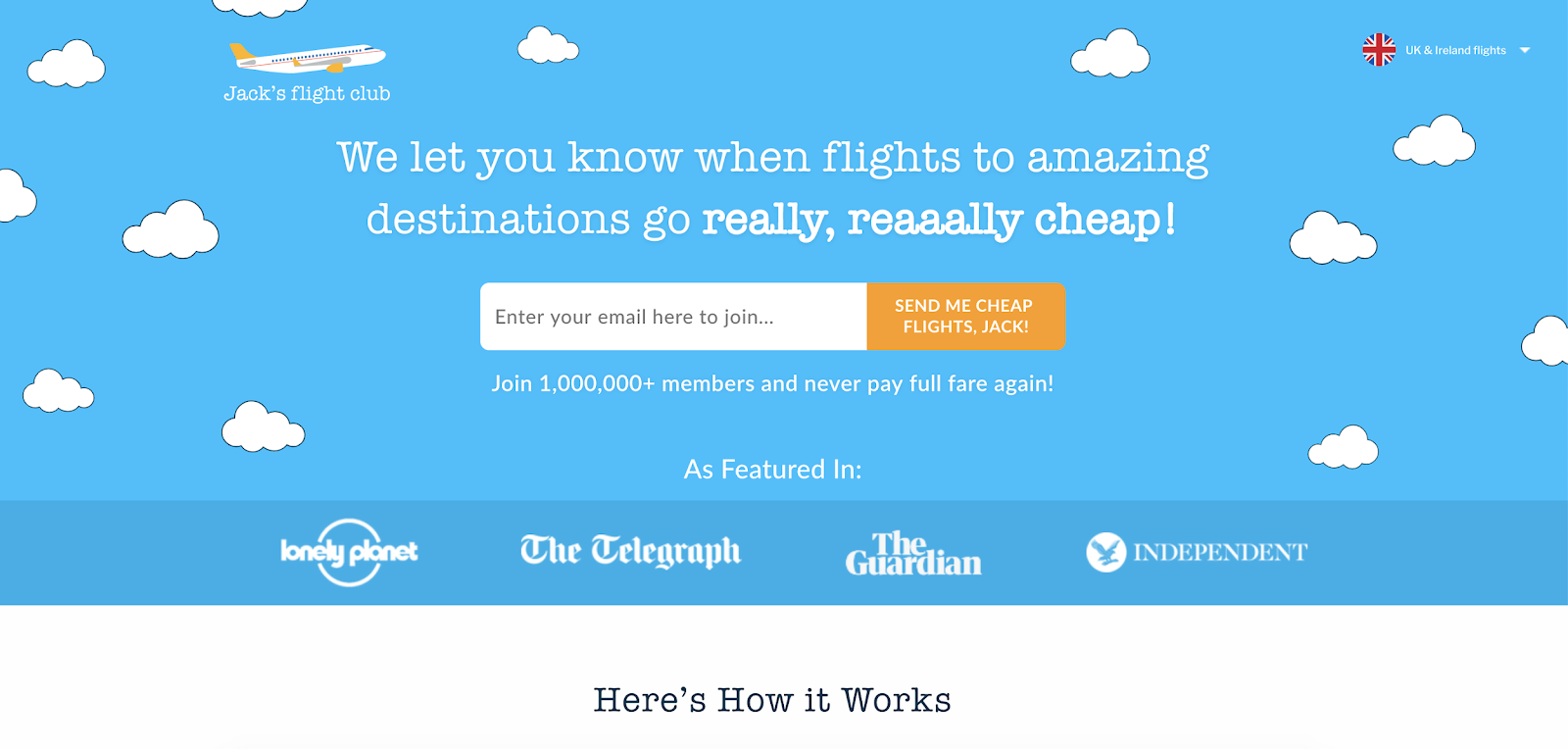 Leads are attracted by word-of-mouth and through media placements in major publications, as well as through articles published on the brand's blog. In the early days, Jack added 40,000 subscribers by doing an 'ask me anything' session on Reddit.
There's no video content, no fancy graphics, no gimmicks at all. The beauty of Jack's Flight Club is in its simplicity. The newsletter has gained over a million subscribers just by providing a useful service.
Takeaway Tip
Provide something useful to your audience and clicks will go through the roof. Then leverage your most loyal users by setting up a premium version of your product. Focus on value and helping your users above all else. Do this, and you'll find that the promotion side of your content will almost take care of itself.  
Dive Deeper: Beyond the Newsletter: You've Got Their Email, Now What?
Swedish furniture retailer IKEA has always approached branding and marketing from a quirky perspective. Aside from its excellent Ideas blog, it also provides compelling examples of how to engage users with content by using the latest technologies.
In 2017, IKEA launched an augmented reality app called IKEA Place, which allows users to see a virtual representation of how a piece of furniture will look in their homes: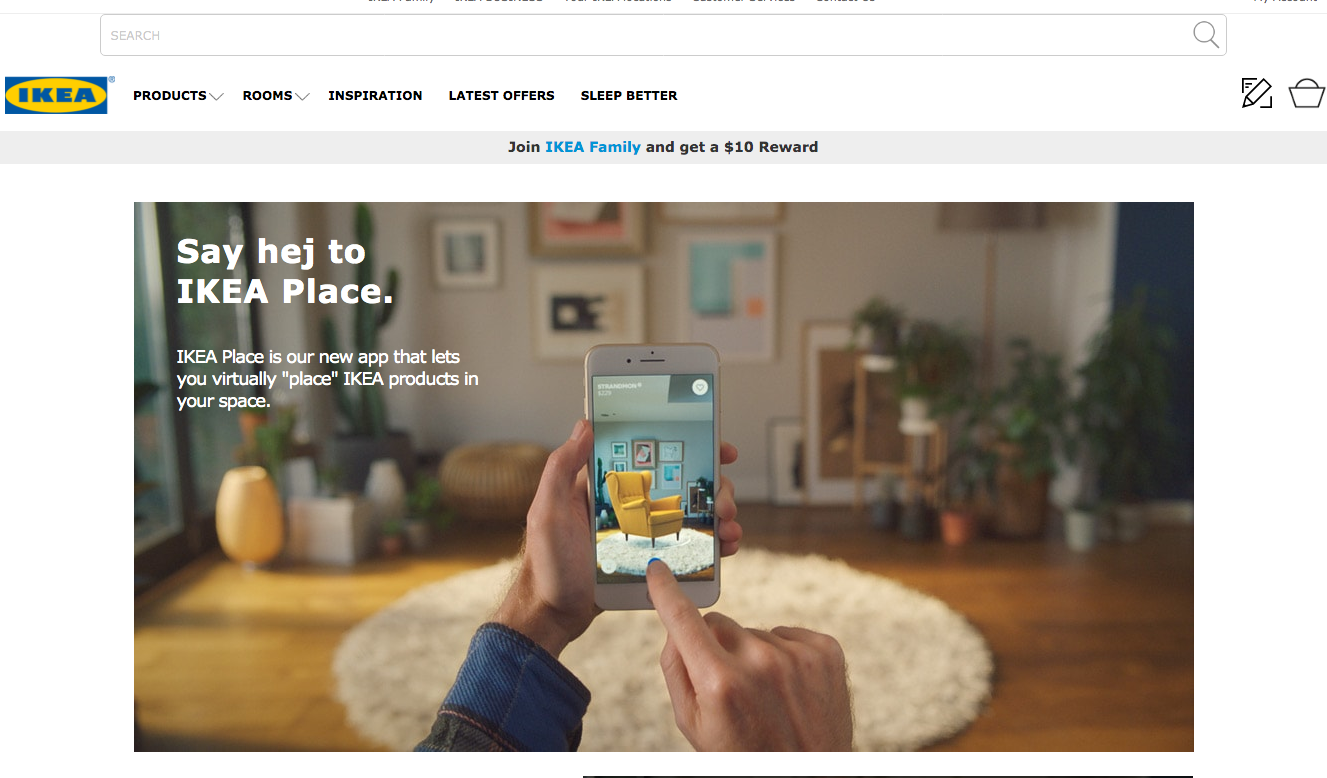 The app lets people move the furniture around and share the results with friends on social networks. It's a great example of an innovative and useful application of cutting-edge technology.
IKEA's willingness to provide this kind of helpful content for customers has seen their social following skyrocket. They have over 500,000 followers on Pinterest and 1.9 million Instagram followers who regularly engage with the brand.
Takeaway Tip
What can you do with your content to make it actionable for users? What additions can you make so that the user walks away knowing the answer to the question they had that brought them to you, and how to implement it in their life.
Dive Deeper: 22 Digital Marketing Trends You Can No Longer Ignore in 2019 & Beyond
22) Single Grain
Without tooting our horn, we have worked really hard to grow Single Grain into the successful digital marketing agency that it is, especially the content marketing department. Every single client that we have – like Uber, Amazon and Salesforce – came from our content marketing.
Just six years ago, in 2013, our CEO Eric Siu bought Single Grain from the founders for two bucks (less than the price of a cappuccino!) when it was about to go down the drain. At that time, the agency's revenue was coming only from SEO services, but with the Google Penguin update, everything went downhill and client churn was skyrocketing. That's when he decided to focus on content marketing: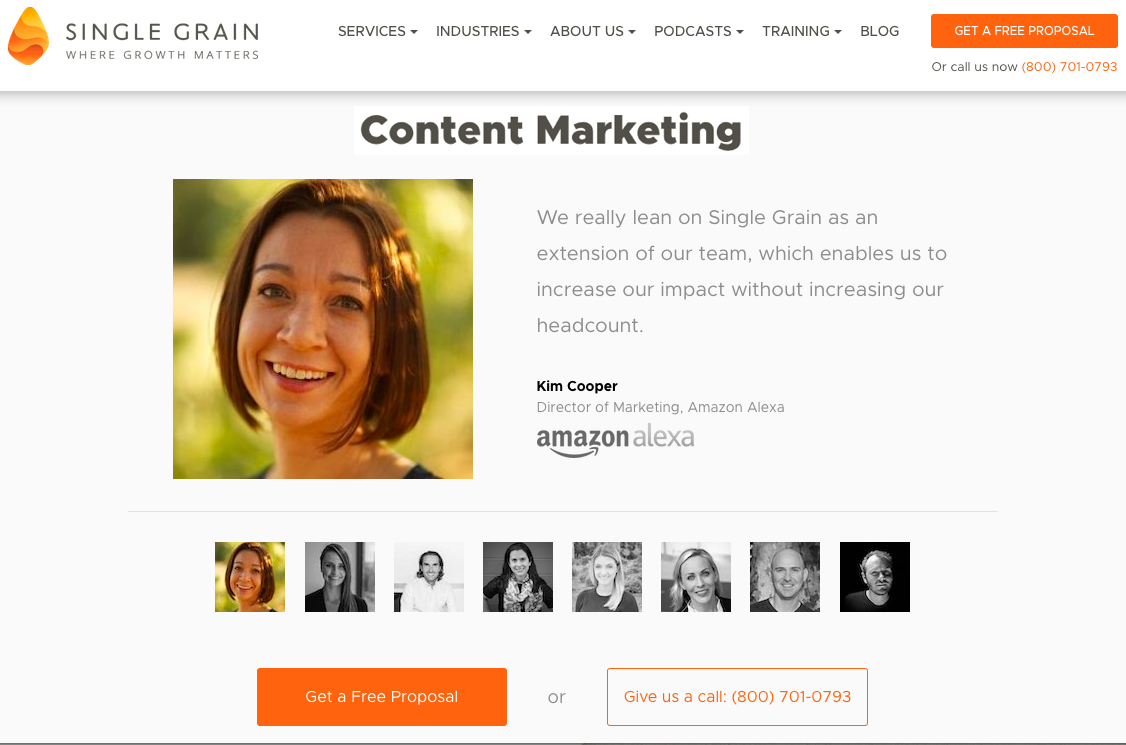 Today, Single Grain is a content marketing powerhouse, and we are able to maintain this level of consistent, quality output by using the Content Sprout Method – a tactic that starts with one great piece of content (the "seed") from which you "sprout" new forms of content.
For example, Eric films a daily YouTube Live which he simulcasts to Facebook and Instagram, so with one video we're already putting out content to three channels at once. Then we take that "seed" and create these "sprouts":
Three or four shorter YouTube videos from the longer Live video
Take the audio and put it onto the Growth Everywhere podcast
Use a bite-sized piece of the topic and discuss it with Neil Patel on their Marketing School podcast
Get the transcript from the video, add captions, and natively post the video on Eric's personal LinkedIn and the Single Grain Facebook page (with the time limits, we sometimes shorten the video for these channels)
Create a 30-second Instagram teaser video linking to the Live
Use the transcript to to create a 2-3K word blog post
Once we publish that — it usually takes a week or so to turn around the blog post —  we'll make it into an Instagram Story post
And, occasionally, if the subject warrants it, we'll create an infographic
So one Live video just turned into 13 pieces of content on five channels.
But it wasn't enough just to create our own content; we wanted to help others learn from our successes and mistakes. So in addition to our blog (where we publish 6 posts per week, including updates of older articles) we offer:
Takeaway Tip
Make sure to maximize your content efforts while minimizing the work involved so that you can effectively scale your content marketing.  That means putting your content in front of your audience, no matter how they prefer to consume it: listening to podcasts, watching videos, bookmarking informative infographics or reading posts and e-books. The Content Sprout Method allows you to publish multiple content formats on multiple platforms to give your audience a multi-channel experience.
Dive Deeper:
Conclusion
It's easy to talk about why "content is king" and why we should all be producing more content; it's quite a different story to actually execute it in such a way that gets fantastic results.
Traditional advertising that not only interrupts consumers but aggressively pushes them toward a sale is slowly losing efficacy. But content marketing isn't. It provides something of value to consumers first, builds trust, and lets them approach the brand when they're ready to purchase or gather more information.
In today's digital landscape, content marketing isn't just about creating a few blog posts and sharing them to your social media. Take it from the pros – true content marketing requires much more to be successful!
At Single Grain, our content marketing campaigns focus on three distinct phases of content production and promotion: Traffic Generation, Audience Engagement, and Conversions and Profits. If you're ready to benefit from our knowledge and experience, find out here how we can help you grow your business!