Whether you're brand new to content marketing or you're a seasoned veteran, coming up with content marketing ideas is hard work.
It's also not enough to come up with old and boring content ideas. Your content strategy needs to drive business results. In fact, the Content Marketing Institute's definition of content marketing ends with "to drive profitable customer action." That's what we're looking for.
The best way to keep a steady stream of effective content marketing ideas coming is to study other brands that have been successful at it.
That's why we pulled together some of the best content marketing examples from brands around the world.
In this article, we'll cover successful examples of content marketing campaigns that use (click on a link to jump to that section):
Read on to dive into the strategies they used, why they worked and how you can replicate their success.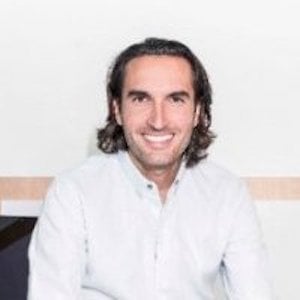 Yaniv Masjedi
CMO, Nextiva
Their expertise has helped Nextiva grow its brand and overall business
Examples of Great Written Content Marketing
Since written content still contains a broad variety of content marketing strategies, we'll break it down and give more specific content types that you can replicate, including:
Original research
'How-to' solution-focused content
'Hub-and-spoke' authority content clusters
A glossary
1) Orbit Media: Original Research
Orbit Media may be "just" a web design and development agency, but their content marketing is truly unparalleled. The website brings in over 50,000 visits per month in organic traffic alone:

Their success lies in the originality of their content.
While their guides are comprehensive and well written, they also do a lot of original research. For example, every year they send out a survey to 1,000 bloggers and then curate the data into statistics which are transformed into branded images, charts and more. Just that one post has over 7,000 backlinks!
In addition, their CMO, Andy Crestodina, is quick to catch on to trends and create new statistics around them. For instance, when the COVID-19 pandemic hit, he was one of the first to share original research around how it affected agencies: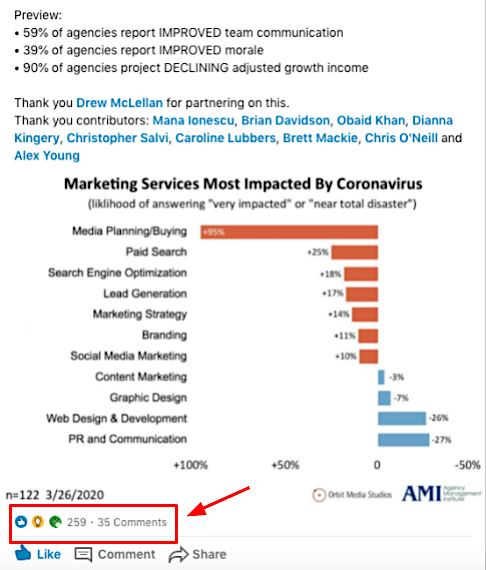 Although some of these research projects can be expensive, not all of them are.
Crestodina once wanted to know the average lifespan of a website. The statistic didn't exist at the time, so he hired a virtual assistant to go into the Wayback Machine, an Internet archive of more than 424 billion web pages saved over time. Within a few days, they found that the answer was: 2 years and 7 months.
When he published the article with this new statistic, it earned over 300 backlinks and only cost the company a few hundred dollars to hire the assistant.
Takeaway Tip: Invest in original research and consider having a spokesperson for your company. This can be as simple as calculating a statistic yourself or as complex as doing a collaboration with, say, a software company with complex data. You can also leverage collaboration as a double-edged sword by not only building relationships with the people that you work with directly, but also by leveraging their audience through speaking and podcast opportunities.
Related Content: 106 Quick and Fascinating Voice Search Statistics [Infographic]
2) Ahrefs: 'How-to' Content
Ahrefs is an all-in-one toolset for backlinks and SEO analysis.
This company stands out for investing heavily in educational content. They've created many detailed how-to guides that cover the pain points and challenges of their target market. How-to queries present a big opportunity for content marketers, and Ahrefs taps into that effectively.
Here's an example: their How to Create a Winning Content Strategy article: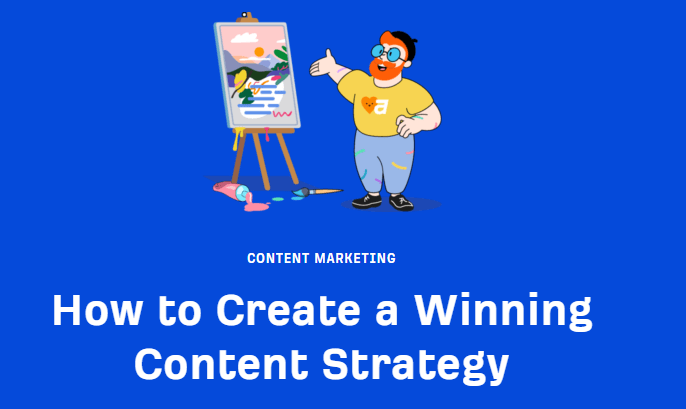 Ahrefs excel at showcasing their product as a solution for the challenge that people are searching for. In this case, if you're trying to figure out how to create your content strategy, you'll most likely need to do keyword research at some point.
Ahrefs uses this opportunity to seamlessly mention their Keywords Explorer feature: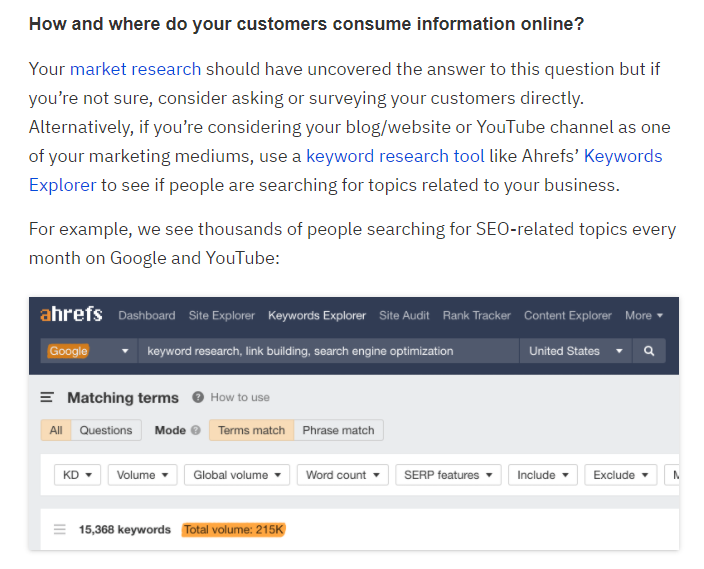 It isn't overly salesy, and it is a genuine solution to the reader's exact needs. For another example from Ahrefs, check out their article on how to deal with negative SEO attacks.
Takeaway Tip: If you can write 'how-to' content and rank it in Google, you'll have the opportunity to showcase your solution at exactly the time when your prospective customer needs it. Consider the key needs and challenges that you solve for customers, and conduct keyword research to find 'how-to' queries for your content marketing plans.
Related Content: How to Create a High-Performance Content Marketing Strategy in 2023
3) Hotjar: 'Hub-and-Spoke' Content Clusters
Hotjar makes heatmaps for websites. A heatmap tracks where on a web page users have visited and what they clicked on and moused over.
Even though Hotjar is a SaaS company, they have an incredible content marketing strategy that brings in over 294,000 visitors per month:

So why is this company so successful? For one, they created an amazing hub-and-spoke piece devoted entirely to heatmaps: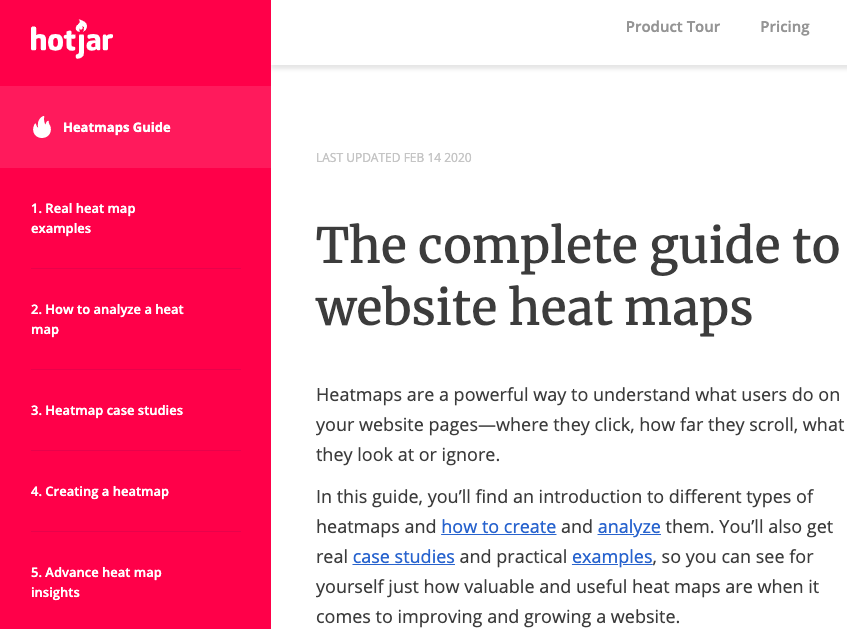 This piece ranks for just about every single keyword related to heatmaps, both broad and long-tail: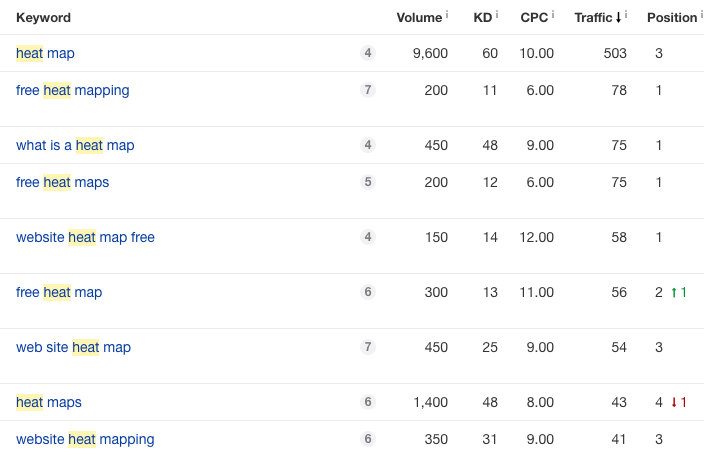 Comprehensively covering one topic, including examples, instructions, case studies and insights like this builds topical authority. If you demonstrate to Google that you're an expert in the field of heatmaps, you're likely to rank well for any heatmap-related search query.
Takeaway Tip: When you start building your content, start with a hub-and-spoke model to capture all the relevant keywords possible for your main term. For example, if you sell bookkeeping software, create a hub-and-spoke piece around "bookkeeping."
4) Shopify: An E-commerce Glossary
Creating a glossary or encyclopedia of terms within your niche can be a great way to establish expertise, create brand awareness, and drive top-of-funnel organic traffic.
Shopify's Business Encyclopedia is a great example of this:

Each page contains a short definition in plain terms, with very brief additional details. For example, their merchandising definition page contains a quick definition, short bullet points on merchandising strategies, and the benefits of merchandising. No real depth though (you can see that it's a 1-minute read), because that's not what searchers are looking for at this stage.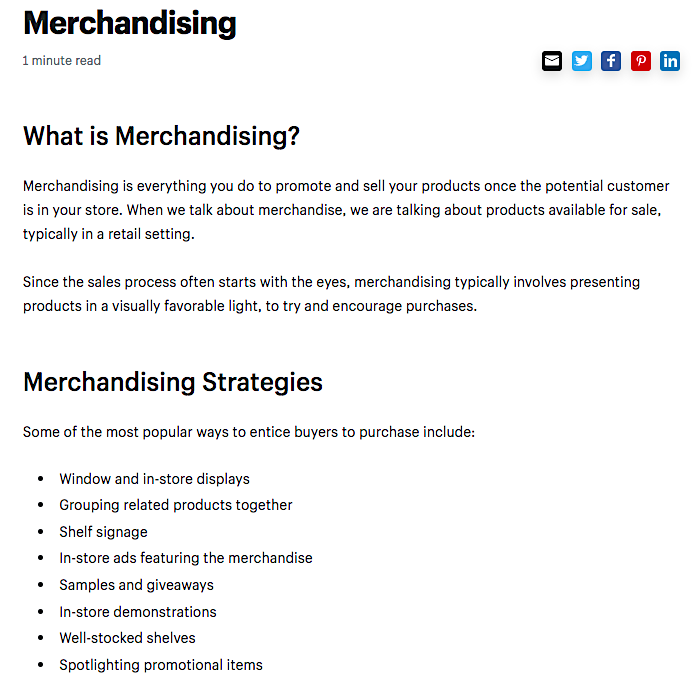 Through creating high-quality definitions and a smooth user experience, Shopify has been able to rank for hundreds of highly competitive terms, even the broadest keywords in their niche such as 'e-commerce'.
The encyclopedia drives an estimated 106,000 organic users per month, all of whom are interested in e-commerce topics and could be prospective Shopify customers:

Definitions are also effective for link building with content. Those who need to cite an authority resource to define an e-commerce term can use Shopify's glossary (as you can see by the 14,000 backlinks their encyclopedia has earned so far).
Takeaway Tip: Think about some of the common jargon in your niche. Can you find a way to explain it in simple terms? Are there people searching for those keywords? Consider putting together a glossary of definitions, and adding internal links to further reading. You can capture prospects at this early stage of the funnel and push them towards learning about your product or service.
Learn More: What's the Right Content for Each Stage of the Marketing Funnel?
Examples of Great Video Content Marketing
The popularity of video content marketing  is stronger than ever before, and it clearly works. Almost all (99%) marketers who invested in video marketing in last year stated they would continue to do so in the future. 
Let's take a look at some great video content examples:
5) TED
TED is a platform for global conferences where authors, experts and other leaders give short talks about all sorts of thought-provoking ideas: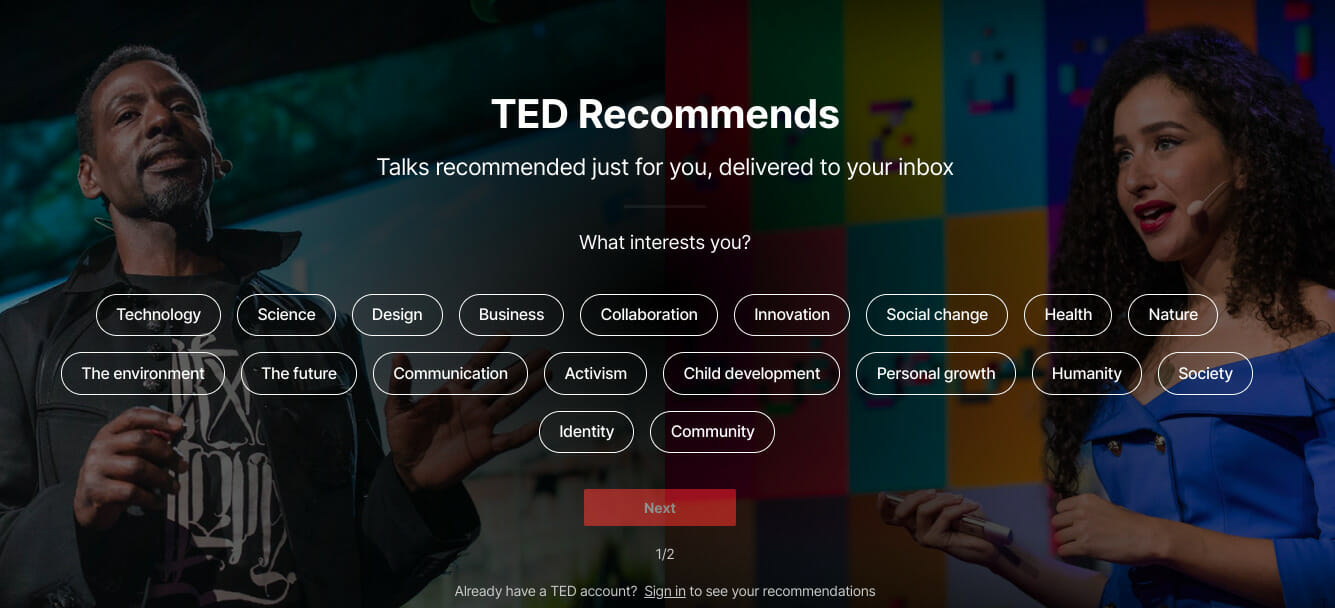 TED has had significant growth as a result of their amazing free content. Check out their YouTube page — they've got over 20 million subscribers: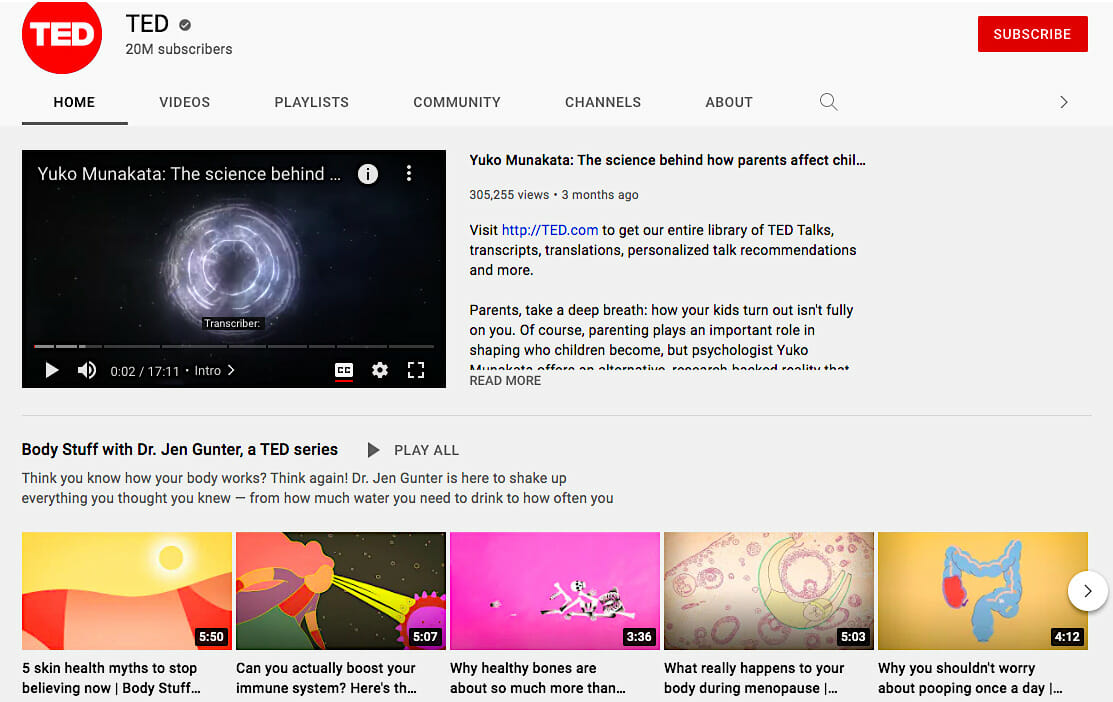 Most of their videos have tens of millions of views, and that's not even counting their TEDx, TED Fellows, TED-ed, and other channels: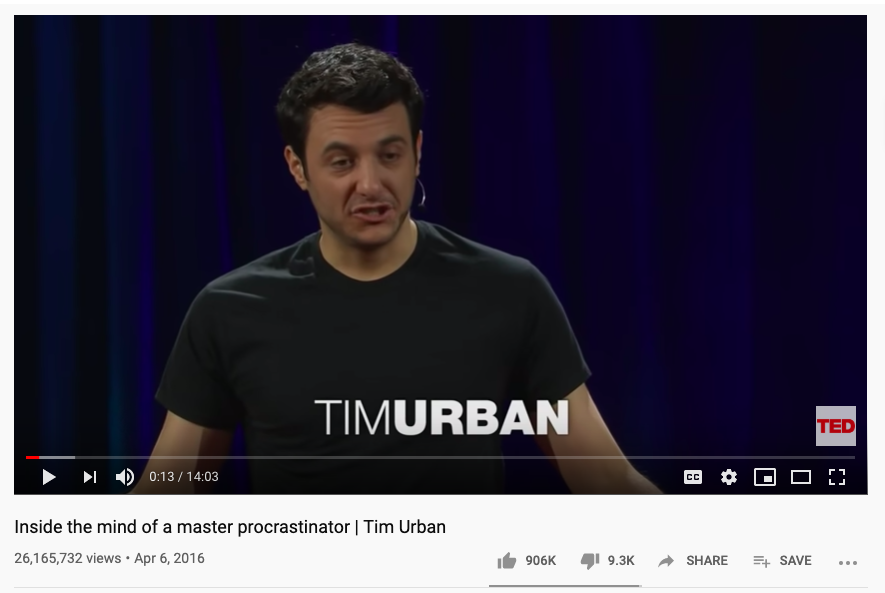 The reason that TED does so well is that they're committed to creating "ideas worth spreading." So how did the TED videos catch on?
First, they bring on only the very best speakers with truly engaging ideas. TED originally was an invitation-only conference and the organizer of the event was known to send people off stage during their presentation if he felt it wasn't good enough. The high-quality standards have since attracted speakers like Elon Musk, Tim Urban, Tim Ferriss, Brené Brown, and many more.
TED isn't focused on SEO or market research. They're focused on finding and creating world-class content they think people would love. This is why they've become such a global sensation, even though most of their content consists of 15-minute videos of someone talking on a stage.
Finding and recruiting world-class thinkers to help contribute to your content is one of the best ways to build an audience. If you are just starting out, consider niching down and find an expert on one very niche idea. You can start by interviewing them on a podcast and later turn those podcasts into blog posts, emails and more (this is called repurposing content, an efficient way to get more bang for your buck).
In addition, TED realizes the importance of free content and how useful it can be to build a brand.
They started by releasing just six talks in June of 2006, and by September they had reached one million views: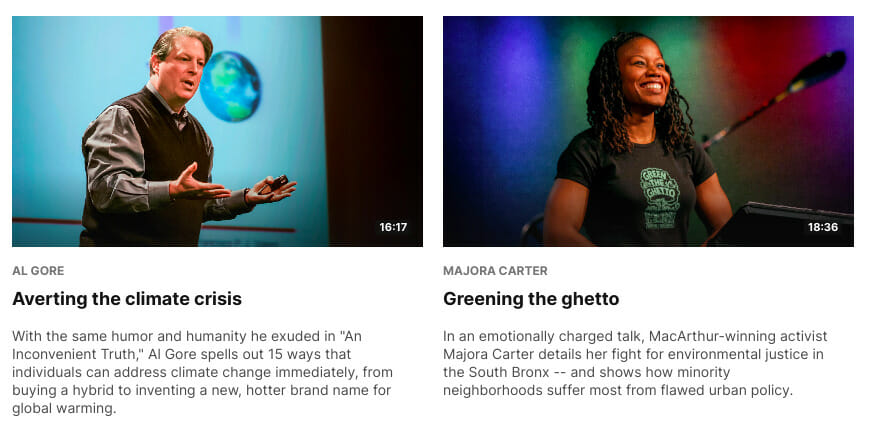 After noticing how valuable the free content was to the brand, they began simulcasting the spring conference and by 2009, it had over 100 million views. In the fall of 2012, TED Talks celebrated its one billionth video view – with an average of 17 new page views per second around the world.
Takeaway Tip: Think about how you can attract thought leaders and get them on your platform (start with a podcast). If you're brand new, niche down and as you grow you'll get bigger and bigger influencers. Also, take note of the latest digital trends and don't wait to try them out.
6) Wistia
Wistia provides companies with professional video hosting and video marketing tools. So it's no surprise that their video content creation process is successful.
Wistia manages to take a unique, Netflix-like approach to content marketing that indirectly showcases its product (video software) and provides actionable advice with an added dose of humor.
For example, their latest content marketing approach is a mini TV series called Brandwagon. The show, while humorous, provides great insights into building a brand with the company's CEO, Chris Savage. The popular media format and humor draws people in, but the expert advice keeps the ideal target audience hooked: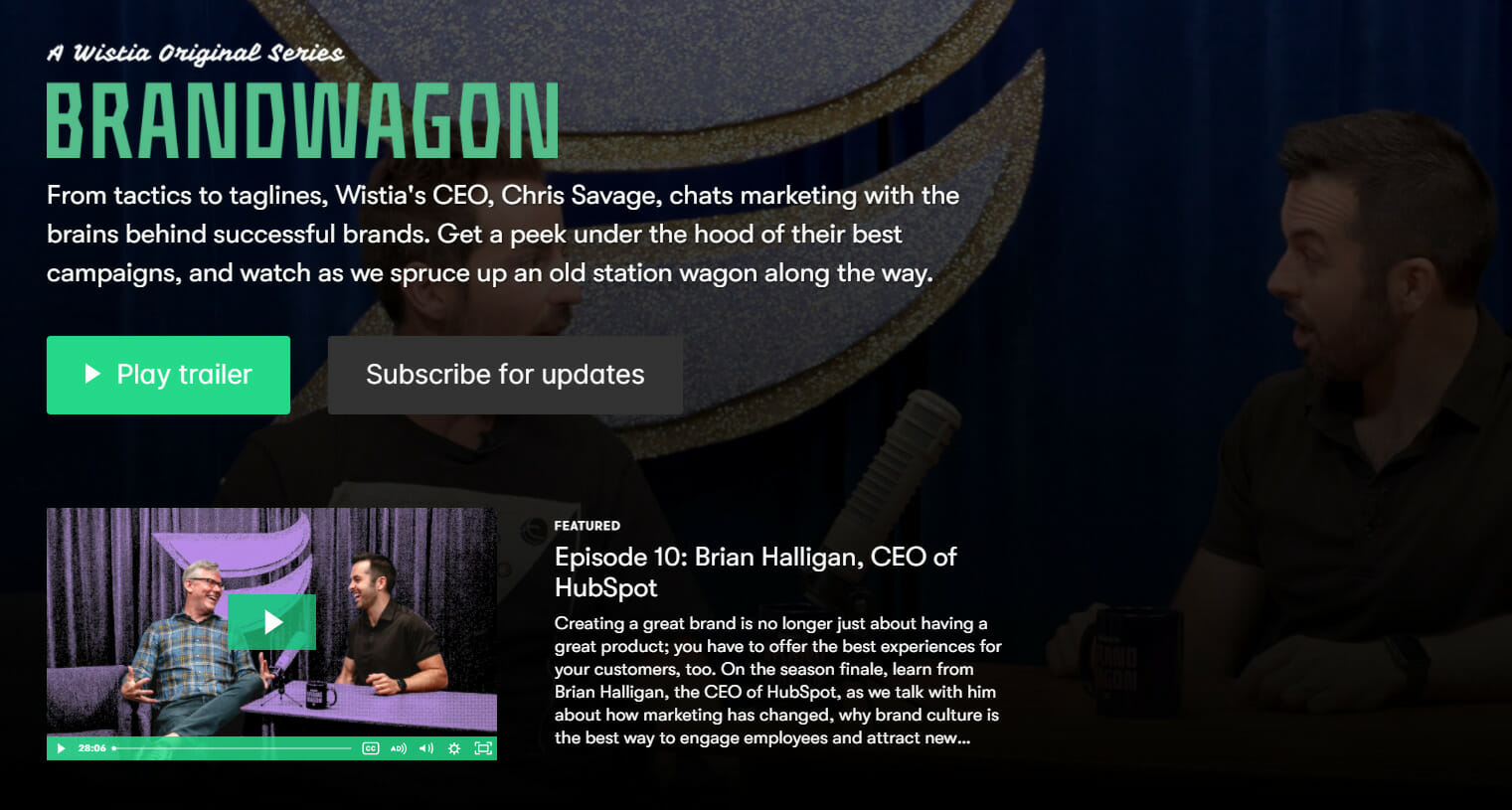 Another approach that they take is creating research projects, essentially, that are shot and edited to look more like a documentary series. For the experiment, One, Ten, One Hundred, a series that explored the relationship between creativity and money, Wistia hired one video agency to make three different videos and the only variable was the budget: one would be a $1,000 video, the second a $10,000 video and finally a $100,000 video:

Couple these unique and captivating forms of video content with the fact that video drives 66% more quality leads and it's a sure win.
Takeaway Tip: Think of a unique medium that you can present your content in. For example, if you're in the B2B space, consider transforming your content into a TV format. In addition, learn to leverage the unique assets that your business has. That could be the CEO's insights into your niche or data that you've collected over time.
Learn More: 20 Pre-Production Tips to Create Successful Video Content
7) Blogilates
Perhaps one of the most popular fitness gurus on YouTube, Blogilates is an online Pilates, PIIT28 and fun bootcamp body sculpting instruction course. In fact, the owner, Cassey Ho, currently has over five million subscribers and most of her videos receive 6-figure views within the first week of its release: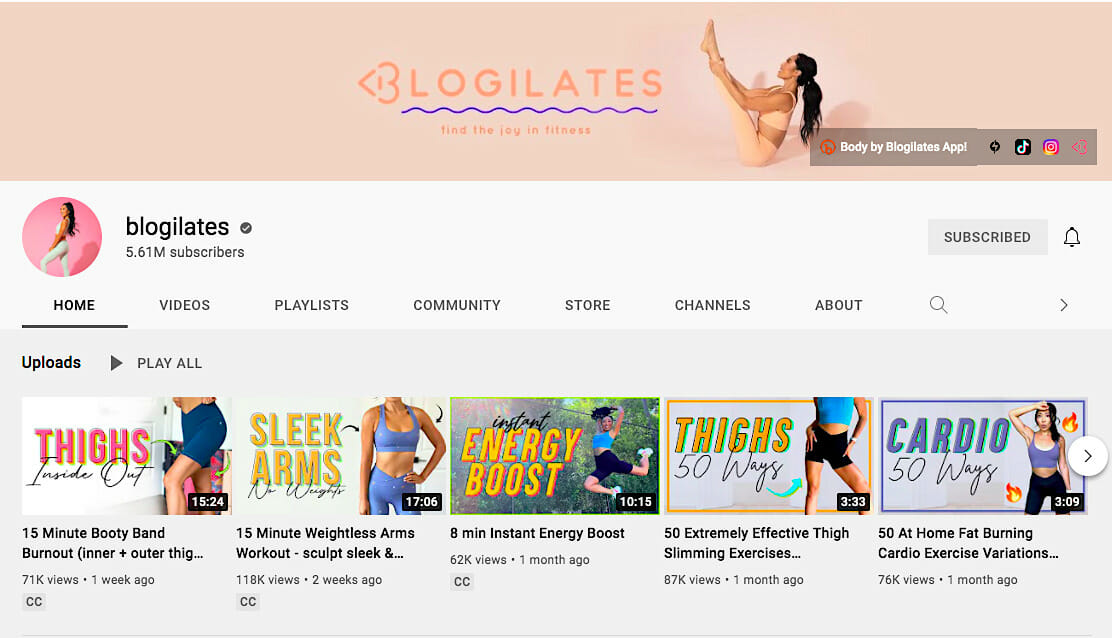 So how did she create this following?
She creates a lot of free (and very high-quality) content that has a life-changing impact on people. In fact, when you go to her website, there are relatively few direct CTAs. Most of the content is helpful, free, and informational:

So think about how you can create truly life-changing content and give it all away. Building a bond with your audience helps increase customer retention and reduces refund requests.
In addition, she has a unique approach to working out. She doesn't appeal to people who want to work out for aesthetics; rather, she appeals to people who just want to feel better and live a healthier lifestyle. By taking a unique perspective, she stands out from the rest of the workout channels and attracts people who are more likely to be lifelong customers.
Takeaway Tip: If you provide something truly useful to your audience, engagement will go through the roof. Then leverage your most loyal users by setting up a premium version of your product. Focus on value and helping your users above all else. Do this, and you'll find that the promotion side of your content will almost take care of itself.
Examples of Great User-Generated Content Campaigns
User-generated content (UGC) refers to content created by someone who isn't directly affiliated with the brand. Most commonly, it refers to social media posts and videos, but it can be a broad range of other content, like podcasts, reviews, studies, and more.
It's not only cheap and scalable, but it's effective too: 85% of people think that content shared by consumers is more influential than content directly shared by the brand.
Here are some examples of user-generated content marketing to inspire you.
8) GoPro
GoPro is a manufacturer of action cameras that are mostly used in adventure sports:
These cameras are usually used by their customers in dangerous or envy-inducing locations, so it isn't difficult to encourage them to share their videos and thus the product. And they've run with the idea of letting the product advertise itself through user-generated content. The best part about UGC is that 79% of consumers say it highly impacts their purchasing decisions.
Very little of the GoPro brand content is created solely by GoPro themselves. It's often well-edited video compilations of users doing some activity that they love.
GoPro took the UGC idea to the next level by creating a Million Dollar Challenge where people submit their adventure videos for the chance to win a million dollars. GoPro used the winner's video to create a marketing campaign and it was wildly successful, not only by encouraging users to share their videos but also by creating free marketing content.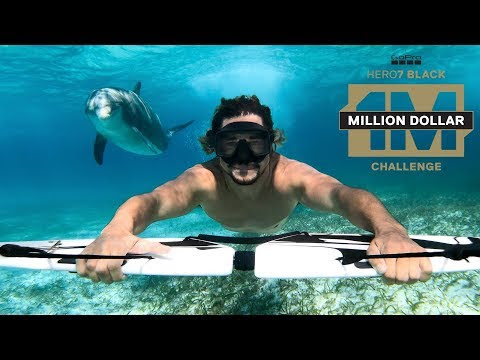 Their YouTube channel is filled with compilations of extreme sports, which grabs the attention of similar users. So much so that GoPro celebrated their first 2 billion views on their channel with a classic "extreme" video:
Takeaway Tip: Your users aren't just potential customers, but advocates and brand ambassadors as well. If you can get them to help produce marketing collateral, you'll massively increase reach and social proof with little effort. Not only that, but because it's user-generated, it costs almost nothing to produce.
9) Spotify
Spotify is a master at customization.
They offer customized emails, playlists and even a data-driven microsite celebrating each user's individual listening habits. Everything about Spotify is personalized.
A couple years ago, they launched their first "Wrapped" campaign where users received an email that showed them their most listened-to music in a story-like fashion: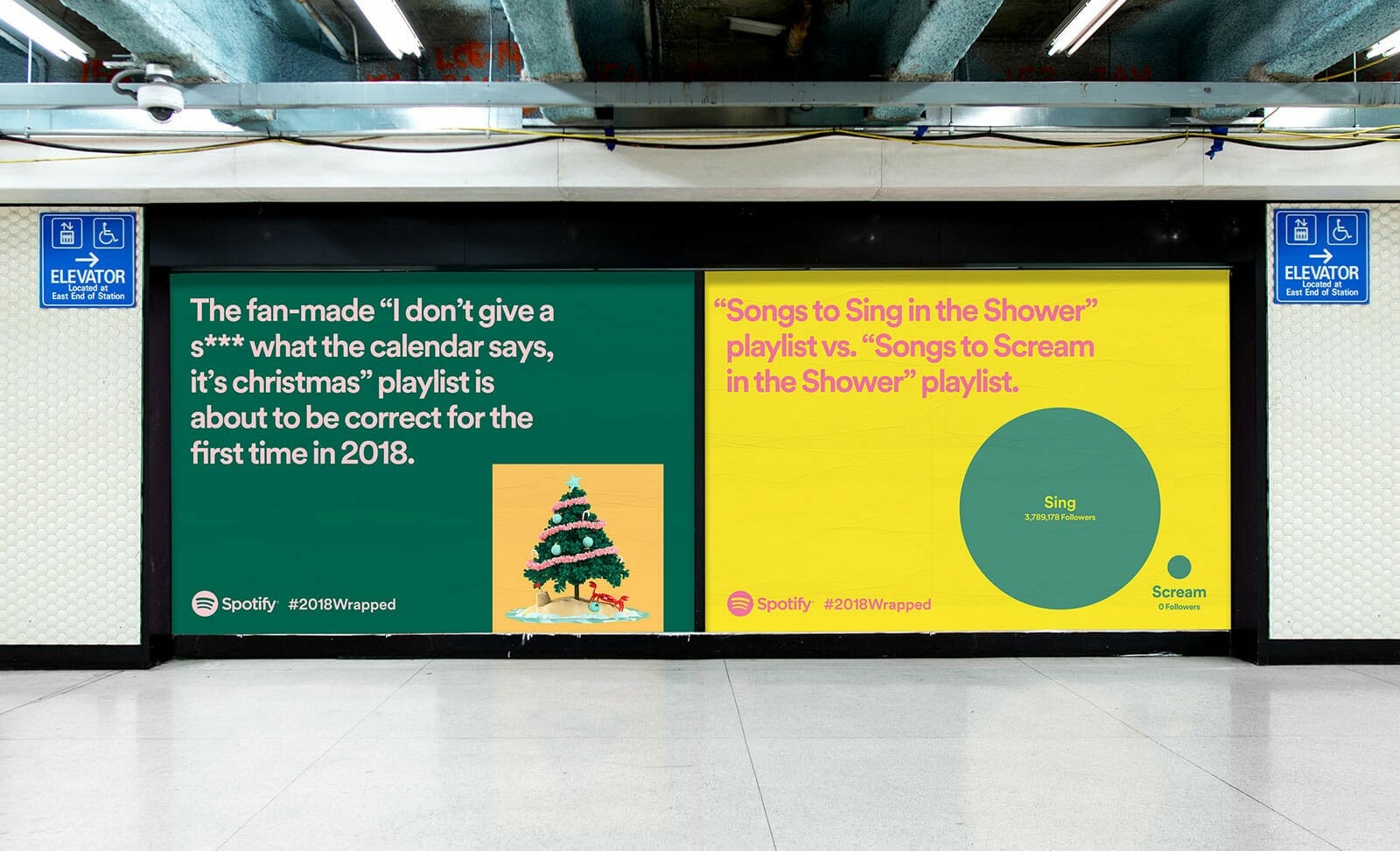 After its initial success, new "Wrapped" campaigns are launched each year.
By sharing unique personalized data and prompting users to share it, Spotify benefits from huge brand awareness and reach online without creating any new content themselves.
Users are keen to see, and share, their listening habits for the year, and artists with huge social followings are proud to shout about how many people are streaming their music: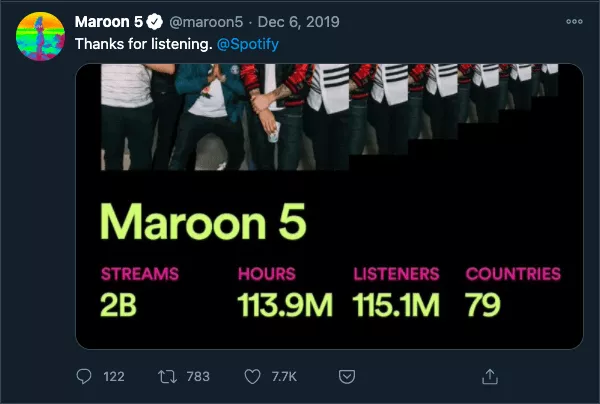 As for the impact? In 2020, mobile app downloads soared by 21% during the first week of December when the Wrapped campaign launched: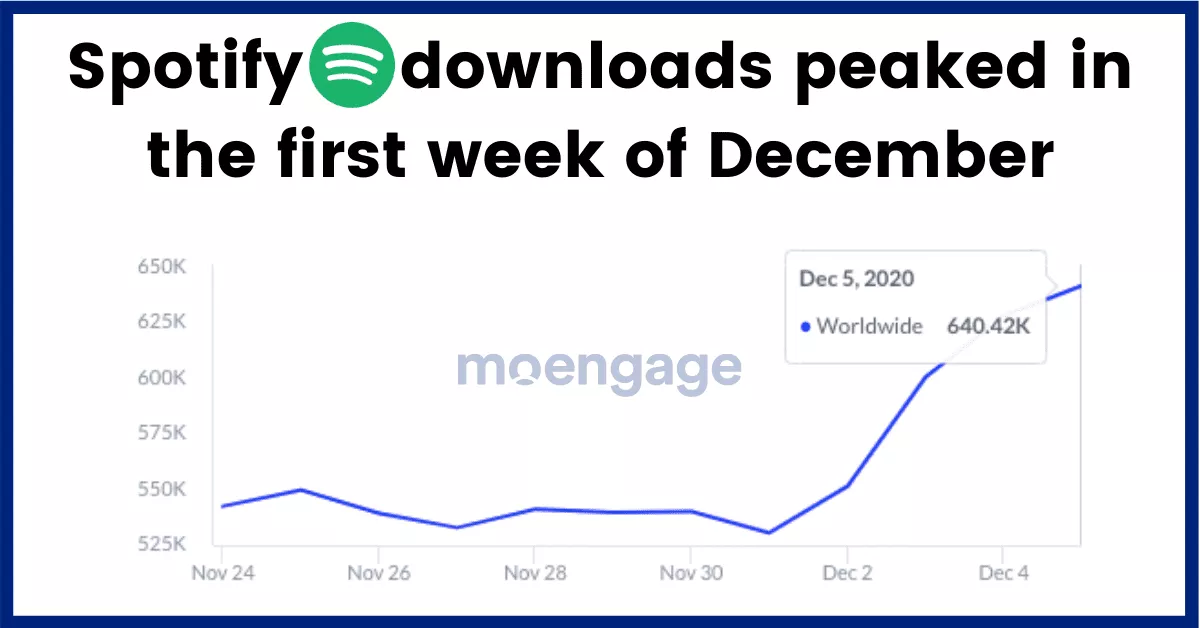 Takeaway Tip: Customization is the best way to increase engagement with your audience. If you can customize based on user action, perfect! If not, try to look at the problems that small segments are experiencing and how you can tailor content to their needs.
Related Content: Spotify Ads 101: How to Run Successful Audio and Video Ads
Examples of Great Social Media Content Marketing
In 2023, I don't think social media content marketing needs much of an introduction.
A recent survey showed that 60% of businesses planned to grow their Instagram budget, and almost half of businesses had similar plans for YouTube, LinkedIn and Facebook spend.
Here are some great examples of brands using social media content marketing effectively.
10) Glossier
Glossier is a beauty brand that takes community to a whole new level. Their Twitter followers are such advocates of the brand that the company rarely has to do any marketing itself.
Unlike GoPro, which offered a product that promotes itself, Glossier built a loyal following by interacting with Twitter users in a very personal way. In fact, if you look at their Twitter page, it often looks like a conversation between two girls geeking out on makeup products, not a company doing great marketing: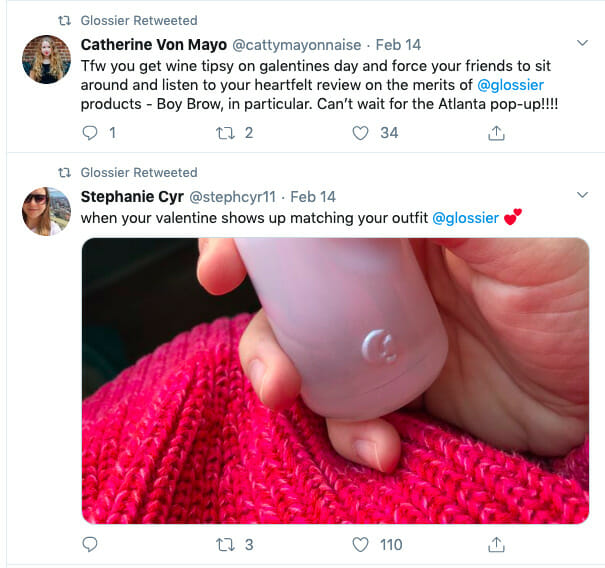 Notice that most of their feed consists of fan retweets. This reduces the workload on the content team as they don't have to create more posts; plus it provides amazing social proof in a fun way.
Takeaway Tip: Try creating less content and investing in building customer relationships. Rather than just doing giveaways or "share to win" posts, focus on consistently responding to comments, sharing any brand mentions and turning your social accounts into a community. Don't take yourself too seriously in the process!
Related Content: Here's How Targeting Cold, Warm & Hot Traffic Builds Successful Customer Relationships
11) Jay Shetty
After returning from India where he was previously a monk, Jay Shetty struggled to find a job. He wanted to share the personal growth lessons he had learned as a monk in a new and entertaining way and eventually created his own videos.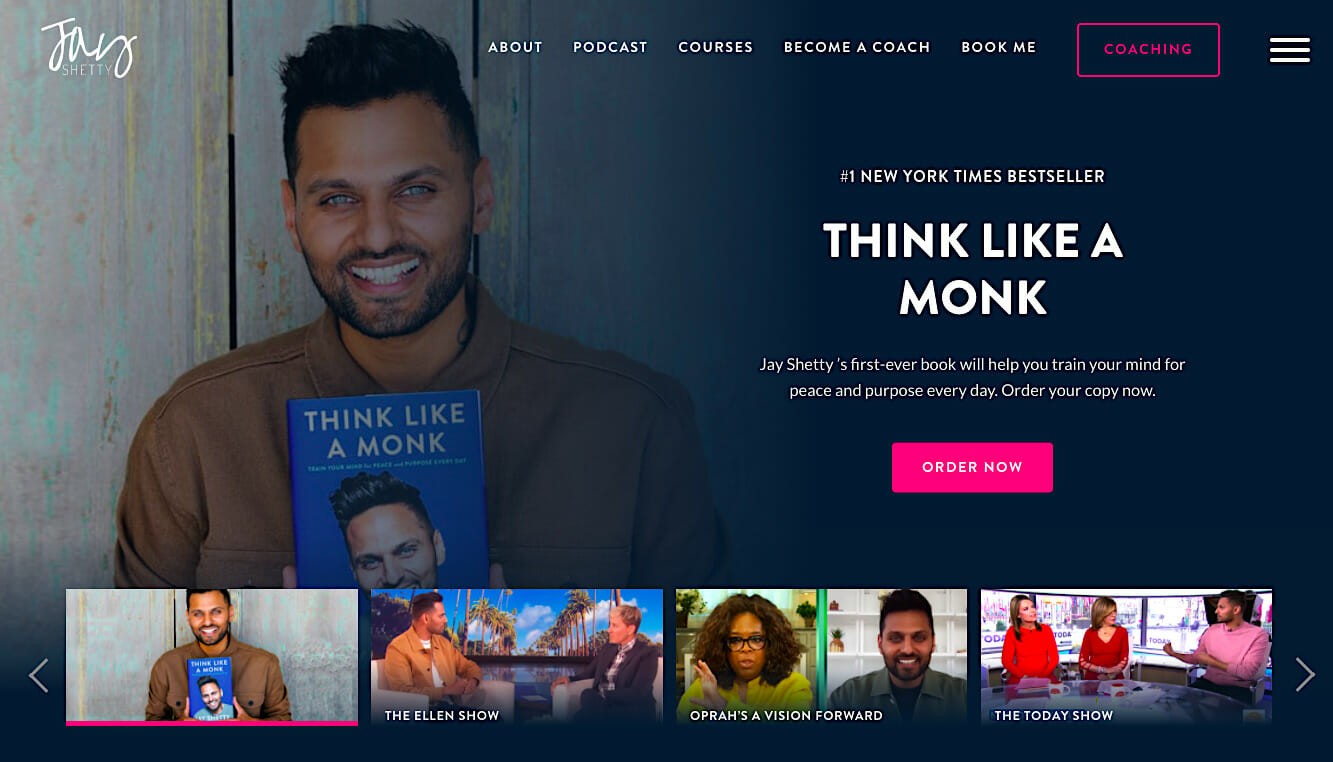 His content was so unique and inspiring that it was eventually picked up by Ariana Huffington and within just a few weeks he was on his way to being one of the most inspirational personal development speakers. He now sells coaching programs and has over 20 million followers – and he grew all of this through content.
Why was his content wildly successful? There are two main reasons.
First, he leverages storytelling.
His videos begin with a highly relatable scenario that hooks the reader. His early videos would usually begin with a tale or news story, but his later videos even used actors to act out a scenario.
For example, this video below opens with a man who is fired from his job. Two years later the boss runs into him on the street and the man now has his own company, an expensive car and is much happier. At the end of the video, Jay Shetty explains that sometimes when things don't work out, such as getting fired, it's actually a blessing.
Shetty then gives the viewer actionable advice. His unique background as a monk also gives him a fundamentally different point of view than an average psychologist, therapist or personal growth coach and he has a truly captivating form of speech.
Second, he's omnichannel.
Shetty's content appears seemingly everywhere. He has a consistent posting schedule on Facebook, Instagram and YouTube, and he also hosts a podcast where he brings on world-renowned guests like Kobe Bryant, Brendon Burchard and Dean Graziosi.
He takes his content offline as well, speaking frequently at conferences and even writing a book. He repurposes most of his content which makes it possible for him to have an efficient team of around 25 employees.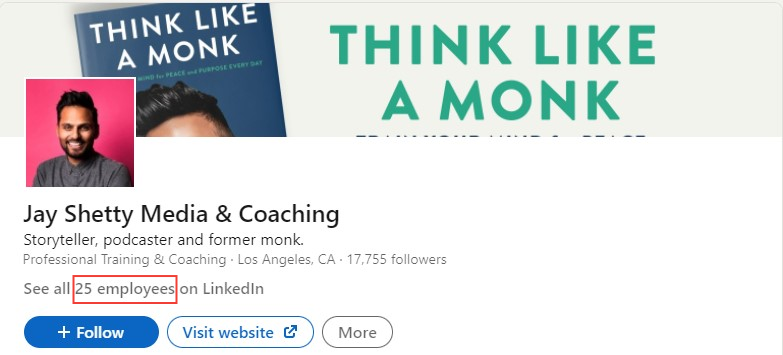 Takeaway Tip: Think about how you can incorporate stories and draw from your own past experiences to hook people into the message you want to share. The best content marketing examples all include repurposing as well to build a strong presence across multiple platforms with a small and agile team.
Dive Deeper: 7 Examples of Storytelling Content You Can Use in Your Marketing Campaigns
12) WPMU DEV
WPMU DEV is an all-in-one platform that provides plugins, support, and hosting for running WordPress sites.
Their social media content strategy is notable for two reasons.
The first is their use of humor and memes. WPMU DEV is great at finding fun and relatable memes for their target market of WordPress webmasters. Here's one example that pokes fun at a common website security issue: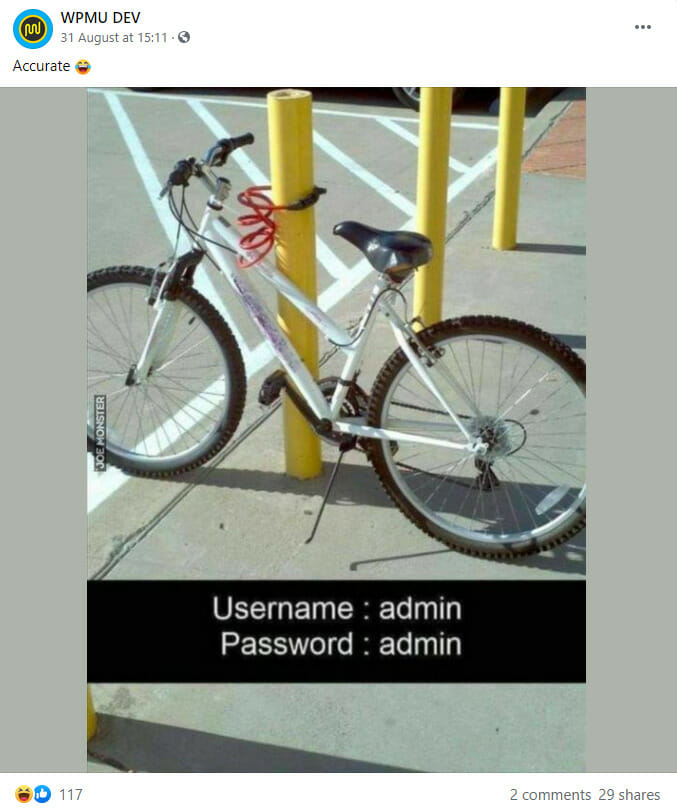 Using memes on a business social profile can showcase your brand personality, and increase engagement, reach, and traffic.
The second thing we can learn from WPMU DEV's social content is how to humanize a brand. They regularly share what members of the team are getting up to.
This example below not only helps customers learn about the people and faces that deliver their services, but it also shows that WPMU DEV is interested in their employee's personal milestones: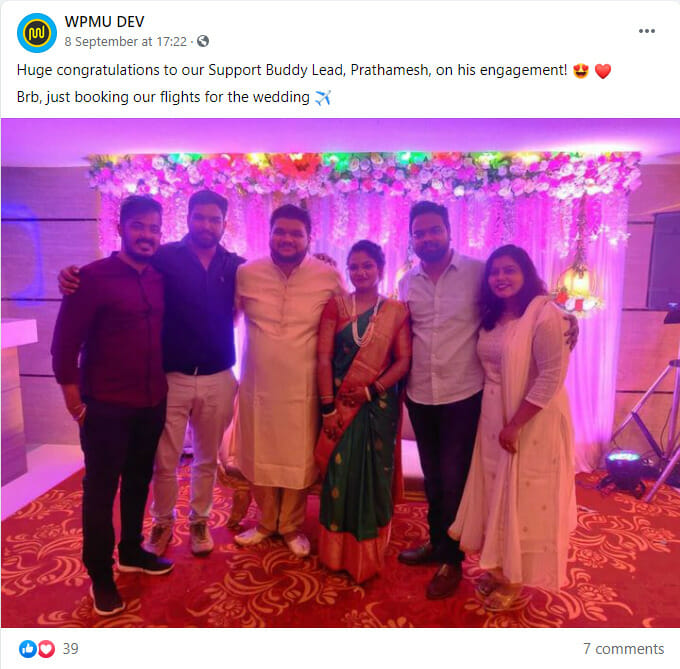 Takeaway Tip: If it fits your brand, lighten up your social media posts. Add humor and memes that will resonate with your target market. Share photos of the team and let your customers see the faces behind the products or services that they pay for. Be sure to maintain the balance between brand personality and professionalism, but mix it in for an optimal social media content strategy.
Examples of Great Lead Magnets in Content Marketing
A lead magnet is a quality piece of content that requires the user's email address or other details in order to access it. Examples include e-books, white papers and templates.
50% of marketers using lead magnets report higher conversion rates. So while it's not for everyone, clearly many content marketing teams are seeing success with lead magnets.
Here are some examples of brands using this strategy in their content marketing effectively.
13) HubSpot
HubSpot is one of the companies with the strongest examples of content marketing, and lead magnets are a big part of their strategy.
HubSpot creates a wide variety of content for all stages of the decision-making funnel. Sometimes their call-to-action is to get a free trial or demo of their software, but in other content, their focus is a lead magnet.
For example, if you're reading their guide to on-page SEO, it's a big stretch to go from TOFU intent to immediately wanting to learn more about HubSpot specifically. So instead of jumping the gun, they use a different CTA: a downloadable on-page SEO template: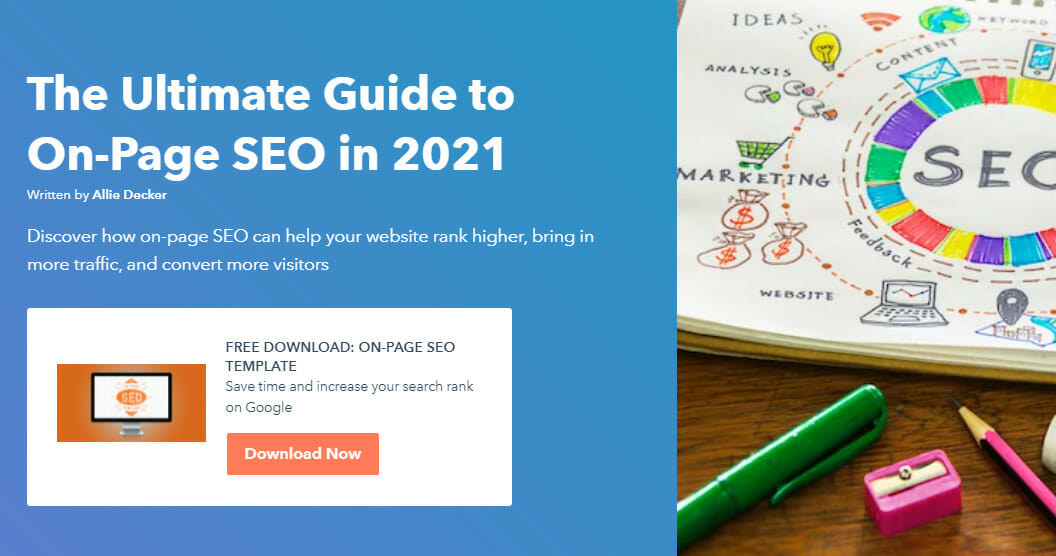 This is a perfectly logical next step for the reader. It adds further value and, in exchange, the user has to share some of their details: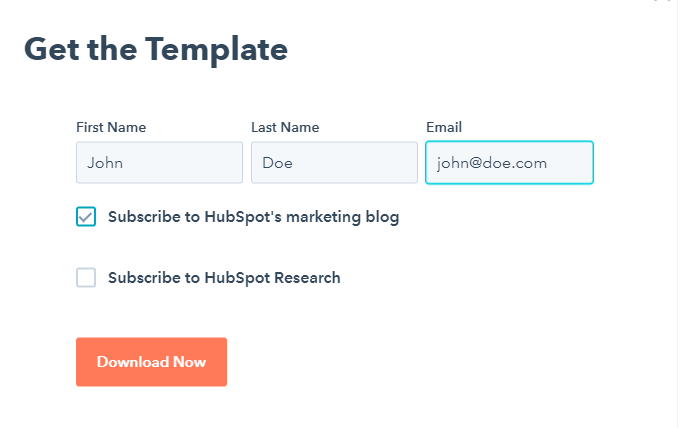 After all the hard work that has gone into creating the content to drive traffic, it would be ineffective if the reader left the site without taking any action, even if they'd learned a lot from the free content.
Using this CTA gives HubSpot a chance to continue nurturing the user further through their funnels, until they're ready to try out the product in the future.
Dive Deeper: How to Create Better-Converting In-Content Calls to Action (CTAs)
Takeaway Tip: A direct CTA to inquire about or try your solution isn't always the best next step. Sometimes you'll see better performance by offering additional gated content. Provide even more value for an email address and plan to nurture that user well to push them further along your funnel.
14) Digital Marketer
Digital Marketer is one of the biggest educators and online communities in the digital marketing space.
Like HubSpot, they've created a ton of great content, and lead magnets play a big role in converting that audience and pushing users further down their funnels.
In fact, the very first thing you'll see when visiting their homepage is a lead magnet: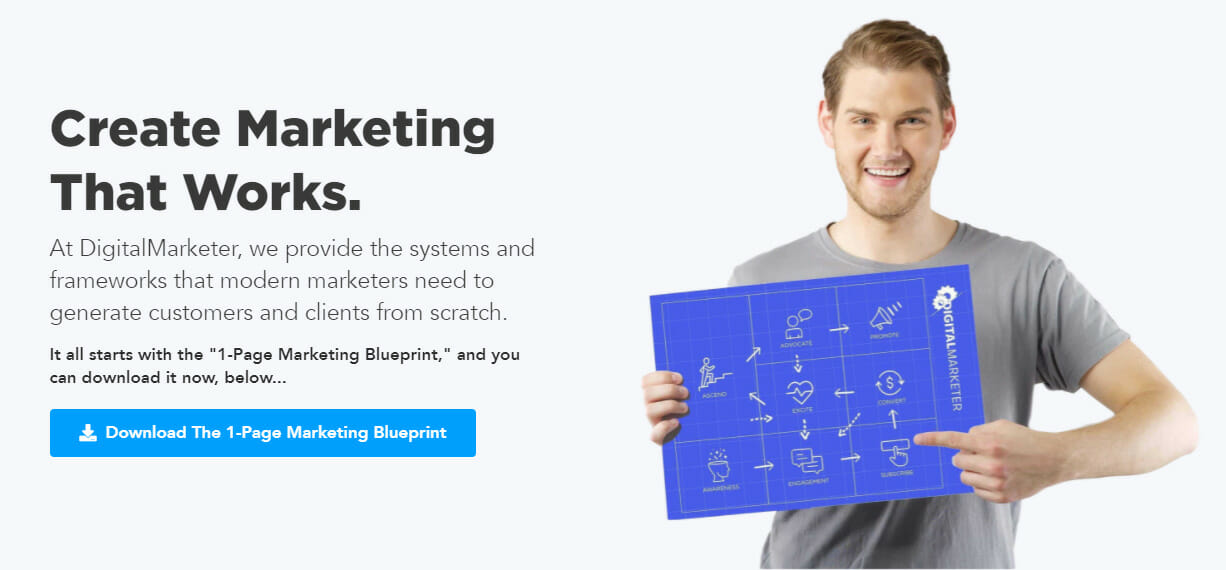 Digital Marketer does a great job of proving that lead magnets aren't complex, time consuming, or expensive to produce. In fact, it's probably better that they're not. Lengthy white papers and e-books can be expensive to produce, plus they're harder for users to consume.
Checklists are a great example of a low-effort lead magnet. They are quick and easy to produce, easy to consume and use, and yet still valuable. For example, creating a podcast checklist like this one gives Digital Marketer the perfect resource to promote within any of their numerous pieces of podcast-related content: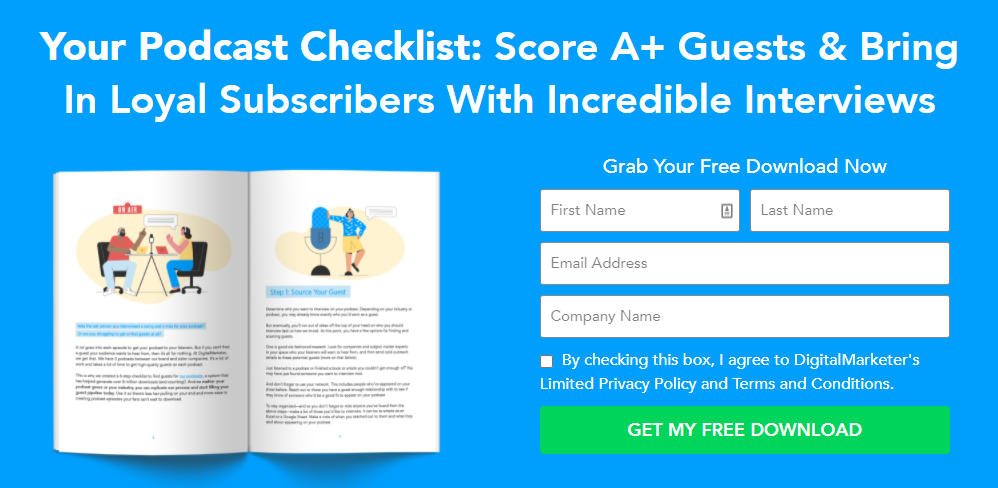 Another way that Digital Marketer persuades readers to share their email in exchange for value is to simply give them more of what they're already reading.
For example, if you're reading their article on 101 Best Email Subject Lines, the CTA and next step they push you towards is a swipe file of 700 more subject lines: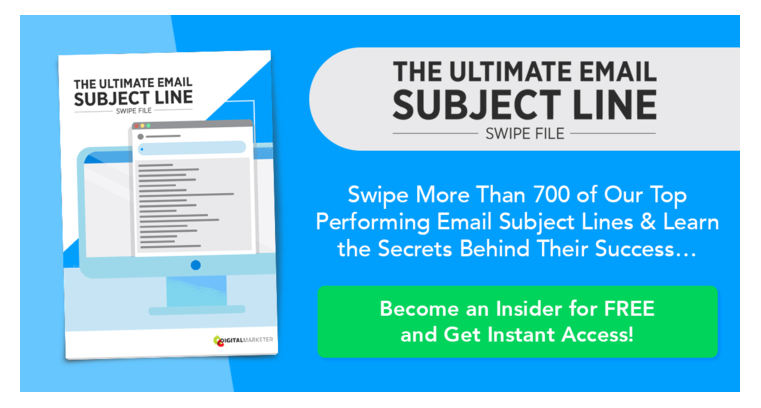 Although it is long, the list format is still very easy and low-effort to scan through for ideas. The chances of the reader actually getting value from the lead magnet is high.
Takeaway Tip: Lead magnets don't need to take hundreds of hours to produce. In fact, a long e-book or white paper is more work for your reader to consume and less likely to be actually implemented. Instead, think about low-effort lead magnets. If you have a list of 20 examples, offer a downloadable version with 50 more. If you're writing about how to do something, offer a downloadable checklist.
Dive Deeper: How to Create a High-Value Lead Magnet to Quickly Grow Your Email List
Examples of Great Case Studies in Content Marketing
Case studies are used to prove what you can do. They break down the results you've had, and the process you worked through, on previous projects.
Around 42% of marketers say that using case studies is a primary part of their content strategy. Clearly marketers are catching on to their effectiveness, but there's still room to jump onto this type of content marketing that most still aren't utilizing effectively.
Let's look at some successful case study examples.
Dive Deeper: How to Write a Case Study that Converts Prospective Buyers into Customers
15) Webflow
Webflow is a no-code website building platform, primarily aimed at enabling designers to build beautiful sites without relying on developers.
They use case studies in their content marketing to build social proof, prove that their platform is effective, and demonstrate that they are experts in their niche.
Take a look at this case study they published about HelloSign's experience with Webflow: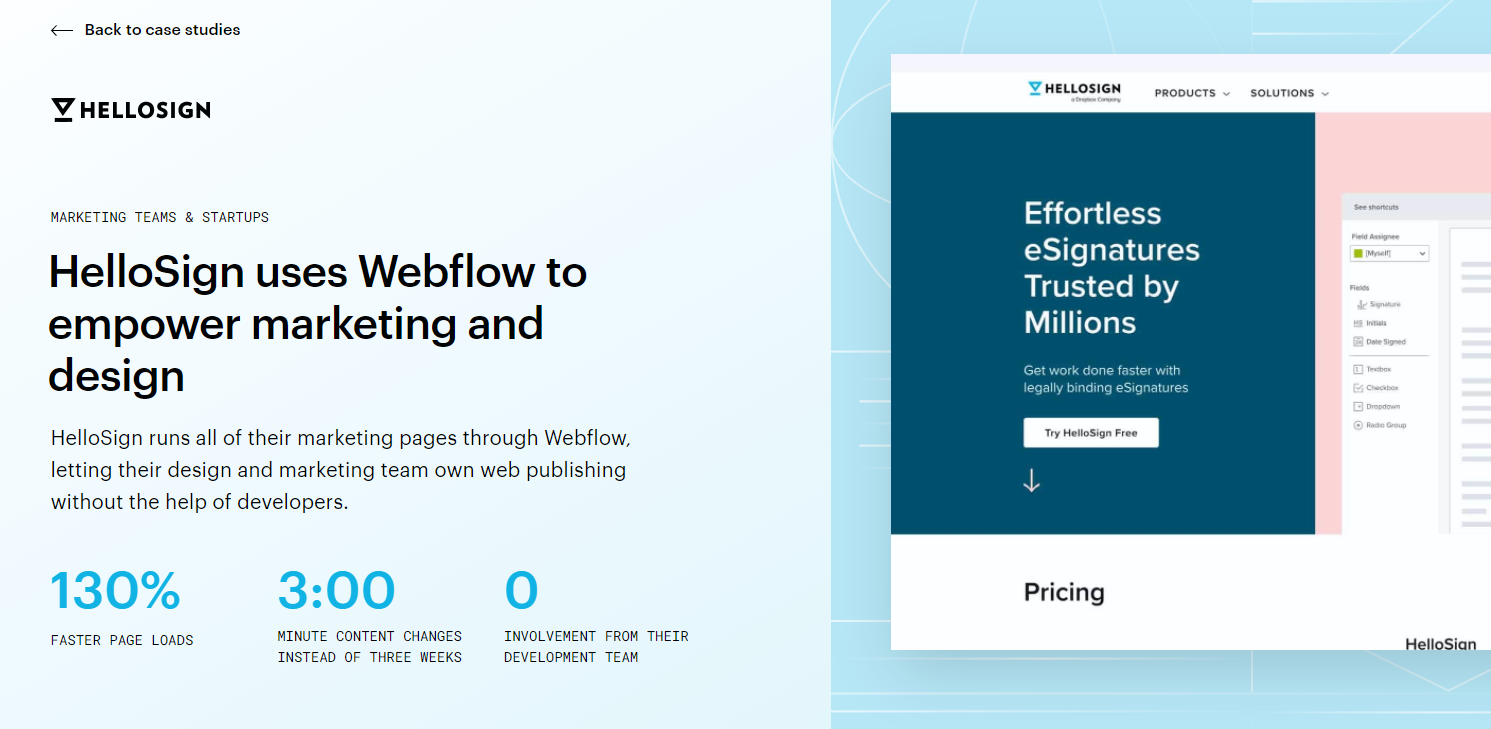 The case study walks prospective customers through the problem, solution, and impact HelloSign had when switching to Webflow.
Webflow carefully highlights the key pain points and benefits that their ideal customers are looking for:
Faster page load speeds
Quicker turnaround time on website updates
Reduced reliance on developers
They also include a powerful testimonial, which doubles down again on the biggest pain point:

For prospects near the bottom of the funnel, persuasive results like this could be just what is needed to make the final decision on their next website platform.
Takeaway Tip: Use a case study to walk your prospects through the problems, challenges, solutions, and results that you can provide. Make an extra effort to highlight data which proves that you've solved key pain points, like Webflow did with page load speeds and quicker implementations.
Dive Deeper: Why You Should Update Content – Or Risk Losing The Traffic You Have [Case Study]
16) App Annie
App Annie is a mobile data and analytics platform that provides customers insights and benchmarks to maximize their apps marketing performance.
Like Webflow, they use case studies to build trust and prove that their solution has been effective for their customers. In particular, App Annie boasts about how huge brands like Coca-Cola rely on their product: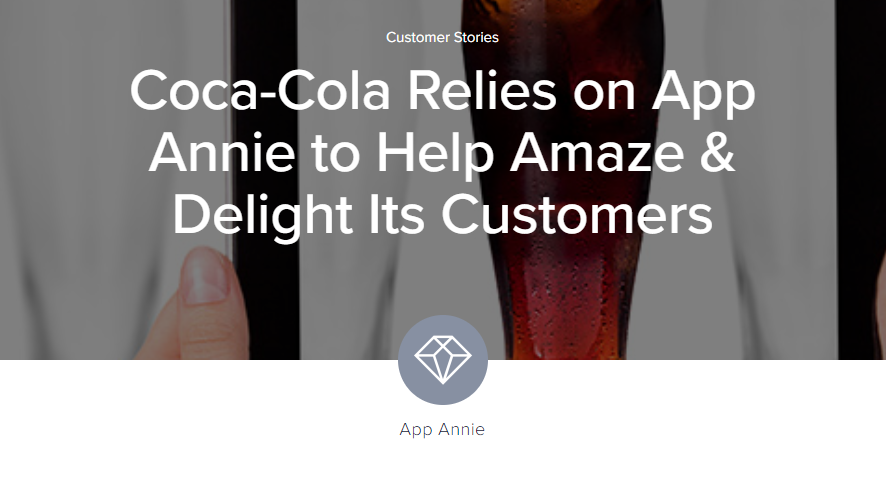 If you were a prospective customer for App Annie, seeing a headline like that would make you think: "If it's good enough for Coca-Cola, it must be good enough for me!"
The case study follows a familiar format:
Challenges
Solutions
Results
And this time we have the added element of using a video testimonial. Putting a real human face and a name from Coca-Cola to the case study builds even more trust and makes the testimonial more effective. According to Wyzeowl, 2/3 of consumers are more likely to buy a product or service after watching a testimonial video.
Takeaway Tip: Build trust and social proof by shouting from the rooftops about recognizable brands that use your solution. Explain how you helped them: highlight the challenges, solutions, and results. If possible, get your customer on video to add the human element; it's much more effective than plain text on a page.
Examples of Great Multi-Channel Content Campaigns
Having a multi-channel content strategy means that you're maintaining a presence across all the key channels where your potential customers are online. For example, instead of only running a blog, you also produce videos, podcasts, and social posts.
Being able to do that effectively means that you're able to have more touch points with customers and prospects, and thus deliver a consistent message across the internet.
Here are a couple examples of brands using multi-channel content marketing effectively.
Dive Deeper: Why You Should Use Multiple Channels to Maximize Your Customer Acquisition
17) Single Grain
The majority of our clients – like Uber, Amazon and Salesforce – came from our content marketing.
In 2013, our CEO Eric Siu bought Single Grain from the founders for two bucks (less than the price of a cappuccino!) when it was in the red. At that time, the agency's revenue was coming only from SEO services, but with the Google Penguin update, our success formula spiraled and client churn was skyrocketing.
That's when he decided to focus on content marketing.
Today, Single Grain is a content marketing powerhouse, and we are able to maintain this level of consistent, quality output by using the Content Sprout Method, a tactic that starts with one great piece of content (the "seed") from which you "sprout" new forms of content.
We usually start with a live video which is simulcast to multiple platforms like Instagram, Facebook, LinkedIn and YouTube. We then repurpose that content to our blog, social media, the podcast and other channels.
For example, when we came up with the Content Sprout Method, we did a livestream called "How ONE Piece of Content Can Change EVERYTHING" which lasted about 40 minutes:
This was the seed which then sprouted into a video posted to various platforms like YouTube and LinkedIn. It then also became a blog post: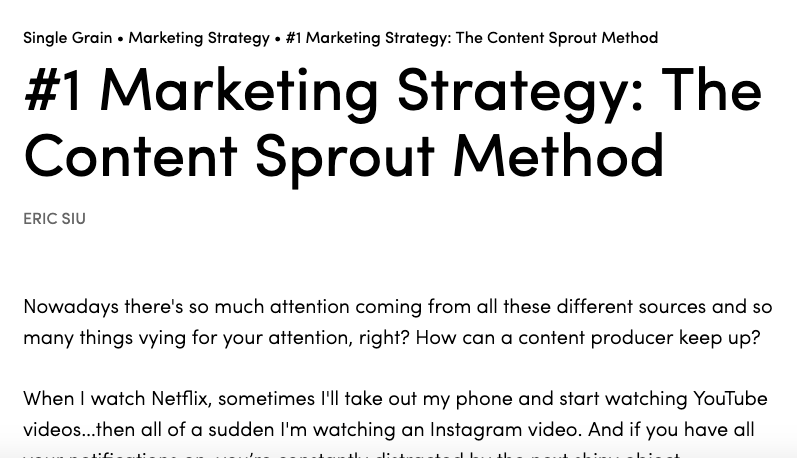 From there, we also used the audio to post a shorter version to our Leveling Up Podcast: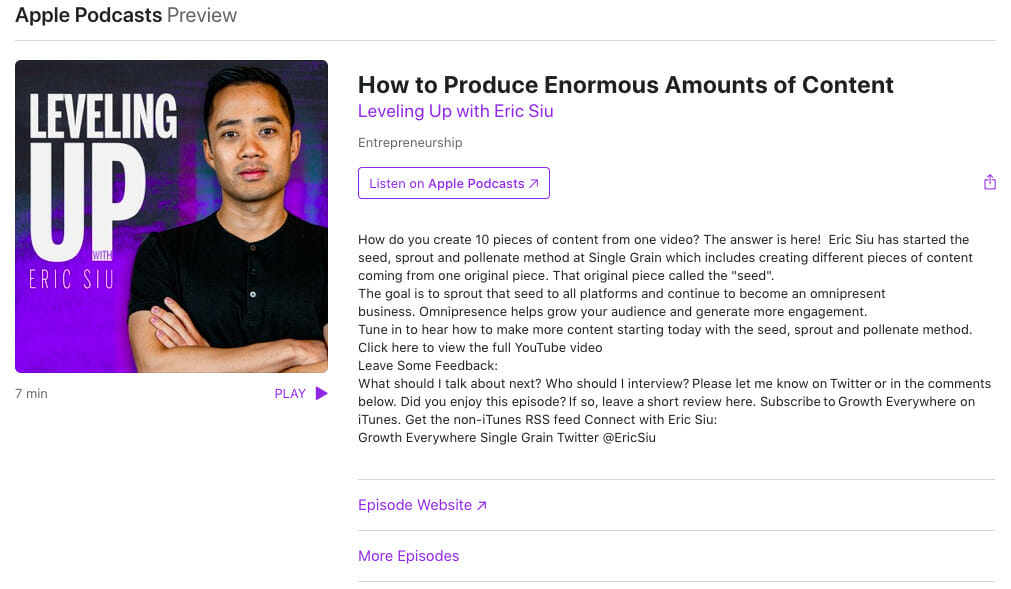 If you want to try out this technique, here's a sample schedule you can adopt:
First, record a Live video of your topic
Then create three or four shorter YouTube videos from the longer Live video
Take the audio and turn it into a podcast
Get the transcript from the video, add captions, and natively post the video on LinkedIn and Facebook (with the time limits, we sometimes shorten the video for these channels)
Create a 30-second Instagram teaser video linking to the Live
Use the transcript to to create a 2-3K word blog post
Once you publish that, make it into an Instagram Story post
If the subject warrants it, you can create an infographic
But it wasn't enough just to create our own content; we wanted to help others learn from our successes and mistakes. So in addition to our blog, we offer:
Takeaway Tip: Make sure to maximize your content efforts while minimizing the work involved so that you can effectively scale your content marketing.  That means putting your content in front of your audience, no matter how they prefer to consume it: listening to podcasts, watching videos, bookmarking informative infographics or reading posts and e-books. The Content Sprout Method allows you to publish multiple content formats on multiple platforms to give your audience a multi-channel experience.
18) Privy
Privy is a SaaS tool that provides Shopify store owners with email marketing tools and e-commerce coaching.
Their focus on multi-channel content marketing has helped them scale to over $11M ARR, and contributed towards becoming acquired by SMS marketing giant Attentive.
Privy invest resources into producing content for their:
Privy Masterclass, a free video online course series
Email newsletter
Social channels
Their multi-channel content strategy means that their target market, e-commerce marketers, can always find valuable educational resources on whichever is their preferred platform.
If you're a fan of podcasts, you might discover Privy through platforms like Apple Podcasts, Spotify, and other podcast players:

If you prefer written content, you might find one of their 250+ posts on email and e-commerce marketing through a search engine or through a social channel like LinkedIn.
And existing customers and subscribers will keep getting ongoing value through the email newsletter and social posts, strengthening Privy's positioning as the go-to expert on e-commerce marketing.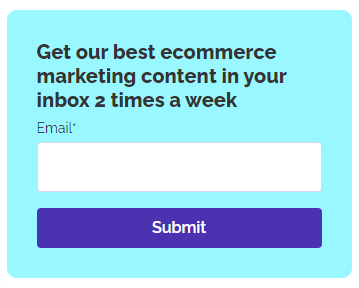 Lastly, Privy also collaborates on their Masterclass video content with other influential people and brands in the e-commerce space like Ezra Firestone from Smart Marketer, and Kurt Elster from the Unofficial Shopify Podcast.
This is smart because:
It reduces the workload involved as each episode is presented by a different person
These people have their own relevant audiences who they'll share the content with
It ensures that each episode is delivered by someone who has real expertise on that topic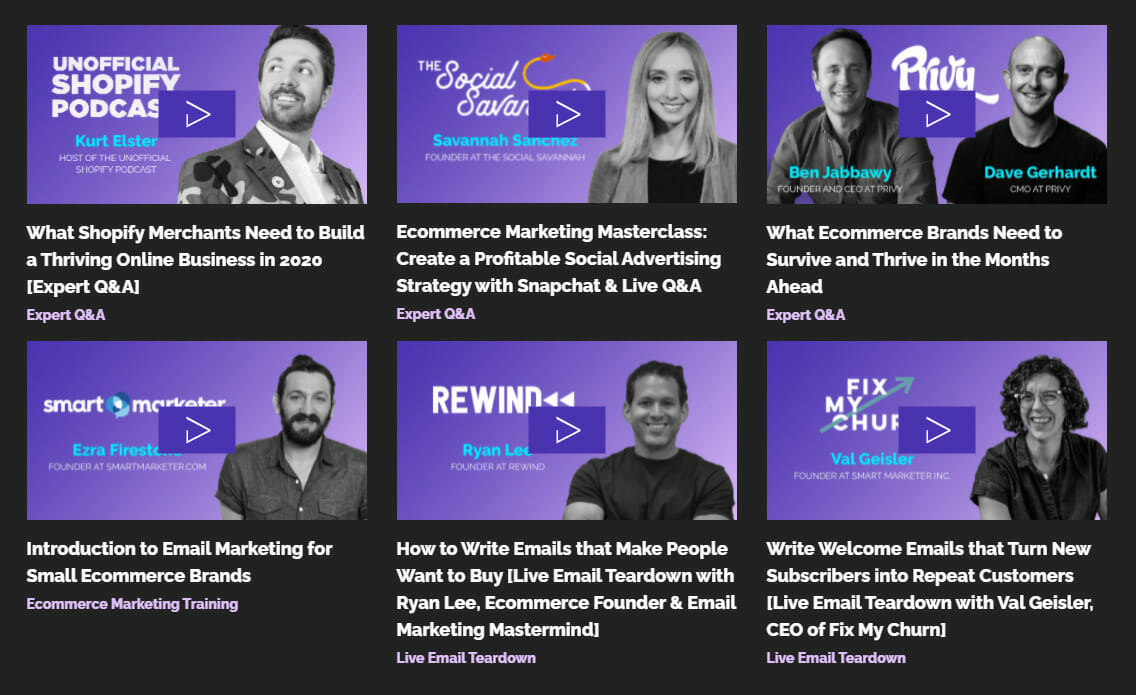 Takeaway Tip: If you have the resources for it, maintain a presence in all the key channels and content formats that your existing and prospective customers are most likely to consume. Maintaining a multi-channel presence like that strengthens your brand positioning as an expert in the niche, and keeps you top of mind.
Dive Deeper: Omnichannel Marketing: Using the Content Sprout Method to Overcome Info Overload
FAQs on Content Marketing
What is considered content marketing?
Broadly, content marketing refers to any type of marketing that involves creating and sharing content online. That could be anything, such as a blog post, a video, a social post, a podcast, an infographic, etc.
What is the role of content marketing?
Content can be created and shared for a variety of reasons. Typically, content marketing campaigns will target a particular stage of the decision making funnel.
For example, the goal of a top-of-the-funnel content marketing campaign may be to increase brand awareness, and build a social or email following. This is often the first touchpoint with a brand.
Towards the bottom of the funnel, the goal will be to directly generate revenue. That might be a direct purchase for e-commerce, an enquiry, a free trial, and so on.
Which brands use content marketing?
The short answer is 'most of them'!
In addition to all the great brands listed in this article, 84% of brands are using a content marketing strategy of some kind. Scroll up to see some great examples of brands like GoPro, HubSpot, Spotify and many more to see how they implement successful content in their marketing efforts.
Who is responsible for content marketing?
The composition of a content marketing team will vary in different types of organizations.
Job titles like 'Content Marketer', 'Content Marketing Manager' and 'Content Strategist' are among the most common you'll come across. In a large enough organization, you'll also see roles such as a Content Director or Chief Marketing Officer who have oversight of the channel at a high level.
On the other hand, 76% of content marketing teams are made up of three people or less. It's very common to use freelancers for content writing, video editing, and preparing visuals like social media images and infographics.
Final Thoughts on Content Marketing Examples
Content marketing isn't just about cranking out content. As the digital marketing space becomes more competitive, it's imperative that you think of new ways to thrill and offer value to your customers. Here is a quick takeaway from this article:
If you can conduct original research, consider publishing new data to generate backlinks and brand authority, like Orbit Media.
If you have a social following, try Glossier's approach by actively engaging with your customers as if they are your friends.
Maybe your customers already love your product, like GoPro, so consider how you can turn fans into brand evangelists and made good use of user-generated content.
Keep testing various approaches and give each one a fair chance before giving up!
At Single Grain, our content marketing campaigns focus on three distinct phases of content production and promotion: Traffic Generation, Audience Engagement, and Conversions & Profits. If you're ready to benefit from our knowledge and experience, click the button below!
Contributions by Raghav Haran.