Here are just a few of the hundreds of clients Single Grain has helped, and some of the challenges we worked on and solved together:
The Opportunity
Intuit has massive name recognition for tax and personal-finance services. Intuit realized that its customers might be receptive to getting easy-to-use tools for other parts of their businesses, like website creation. After doing a lot of research with customers and on the competition, Intuit developed and launched the Intuit Website Builder.

The Challenge
When you're a household name for one service, how do you get visibility and become knwn for a new, very different service? And to make matters even more challenging, how do you break into a marketplace that's dominated by single-focus competitors like GoDaddy?

The Approach
Intuit asked Single Grain to help with gaining visibility in organic search results. Our first task was to build out a lot of content on the site, so
the quality of that content would reinforce Intuit's positioning
as a powerful website-building solution.
Dozens of proven link-building techniques exist, and they vary in terms of effectiveness depending on the industry they're used in, among other factors. We conducted a deep competitive analysis to determine the proper mix of link-building techniques for Intuit's website-builder space.
We then ramped up the blogging and social-media effort, in order to engage with the existing large community of Intuit users, and connect with new potential users who may be actively interested in site-building solutions.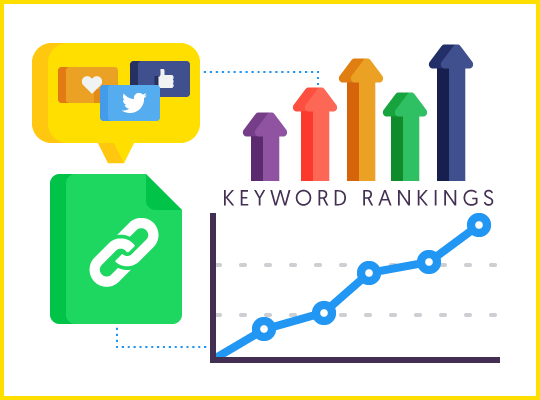 The Results
In a highly competitive keyword environment, we were able to boost visibility across a range of common search terms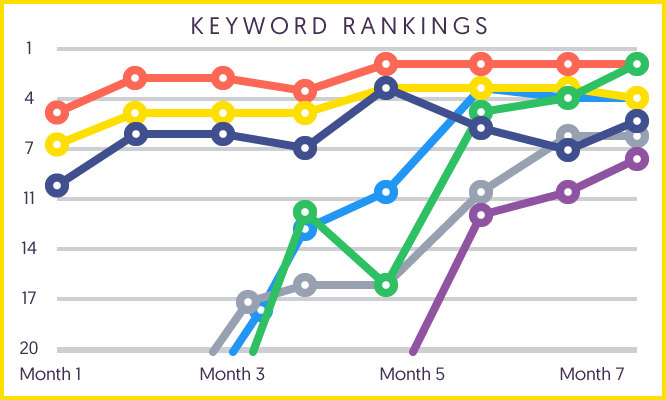 The Client: Harris Teeter, a national grocery chain
The Opportunity
All across America, grocery stores have traditionally been known as good community citizens, in the sense that they sponsor school sports teams, road races, and holiday events. Harris Teeter was just that sort of good citizen, but it also wanted a robust online presence. It engaged Single Grain to boost its visibility in social media.

The Challenge
The grocery business is famous for razor-thin profit margins. That means there's not a lot of room for error when exploring ways to gain market share. To add to the challenge, shoppers tend to come from only a fairly small radius around each store and–similar to gas station customers–they are constantly on the lookout to save dollars or even pennies.

The Approach
We performed rigorous testing within Facebook of different ad creatives, targeting segments, and placements. This allowed us to identify a few combinations that delivered the most visibility for our client.
Once we had grown the social-media fan base, we focused on growing the engagement rate of posts.
We employed behavioral targeting to get in front of potential new customers. This involved geographic targeting of ads, extensive use of Lookalike Audiences, and oCPM ("Optimized Cost Per Mille") bidding to stretch our ad dollars the furthest.
Because social-media users can be so voracious in their consumption of new posts, tweets, likes, shares, etc, we've found that images become stale sooner than in other channels. We therefore shortened the duration between rotating in fresh images.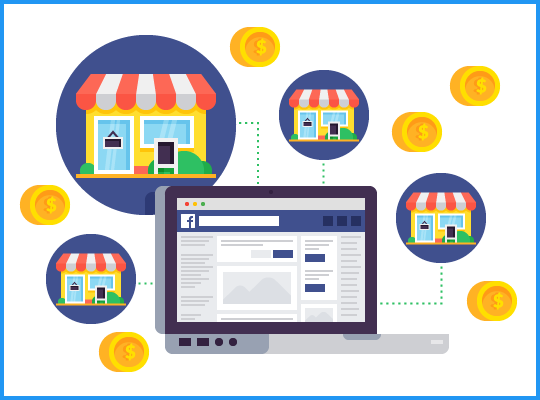 The Results
Single Grain drove 15,000 people into the Harris Teeter stores during one campaign
We doubled our client's Facebook reach in 6 months, and monetized those new fans.
One coupon campaign drove more than 25,000 conversions during the holiday season
We increased post engagement rate by 400%.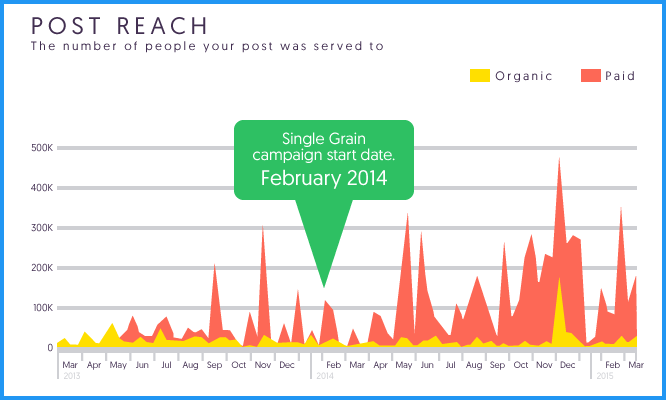 The Client: Manufacturer of scooters
client wishes name to be withheld
The Opportunity
Scooters have been around for decades. What originally was a type of skateboard with handlebars for kids has evolved into a vehicle that attracts a much-larger market. High school and college students commute on scooters, and serious riders have created athletic events around them. The demographic has disposable income, and our client wanted a healthy share of that market.

The Challenge
The client approached Single Grain because it was expert at scooters but relatively new to the digital arena. The advertising budget was limited.

The Approach
When budgets are tight, it's easy to conclude that paid advertising should be back-burnered in favor of organic-traffic efforts. In our experience, sometimes that is a mistake. If you really know your way around paid traffic, it's possible to get surprisingly high visibility with relatively few dollars.
For this client, we launched cross-device campaigns through multiple platforms, including Google Adwords, Bing/Microsoft Adcenter, Yahoo! Stream Ads, and Amazon product ads We didn't spend a lot in any one area, but made sure that the company had visibility on just about every type of device (especially mobile, considering the demographic) and on every major ad platform.
The campaign ran the gamut from display campaigns that drove brand awareness, right down to product-listing ads when someone was searching Amazon for a competitor's scooter. We very carefully monitored not only the daily spend, but the ROI of each channel and every ad. It would be fair to call us ruthless in killing underperforming ads and expanding the winning ads.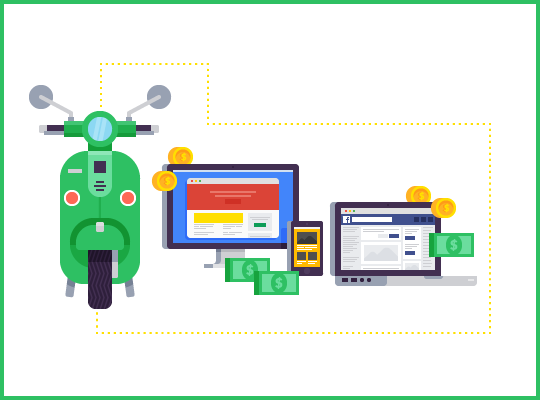 The Results
Here is what the ROI looked like:
Since campaign launch, we have driven close to $1,000,000 in revenue for this client.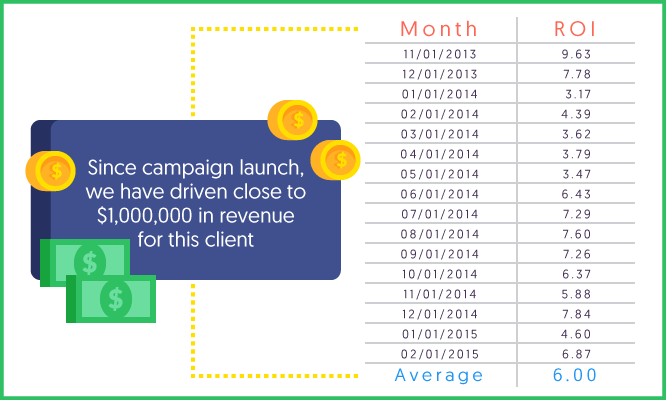 The Client: A group of clinics specializing in laser hair-removal
client wishes name to be withheld
The Opportunity
It used to be that Dad took photographs with the family camera, a few at a time on special occasions. Now more than 1,000,000,000,000 photos are taken every year. Yup, a trillion. That's also roughly the number of times people can feel self-conscious about how they look, and unwanted hair is a big part of that anxiety.
Our client was already spending significant sums to gain market share. They hired us to turn more visitors into clients; in other words, to increase their conversion rate.

The Challenge
Profit margins were initially healthy for laser hair removal, but that led to fierce competition. Some players, in an effort to make a few quick bucks, began the race to the bottom by slashing prices and offering "daily deals."
At the same time, the topic of hair removal is sensitive. Many users don't want anyone to know that they need or use such services. That means it's hard to get detailed, truthful opinions about what works, what annoys users, and how to outperform the competition.

The Approach
First we conducted on-site surveys and email surveys, to capture as much information as we could from those customers that were willing to share their anonymous thoughts. (Yes, it's possible to send emails to people but also to let them know that when they fill out a survey online, we do not track which email address completed which survey.)
Then we did some "mystery shopping": That's when you call your client's business and experience the process–in this case laser hair removal–from the point of view of a regular customer. That means dealing with the call center, receptionist, clinic staff, seeing the facilities, and experiencing the service. It's time-consuming but incredibly useful in terms of generating ideas for potential improvements to test. (Plus we are now so very beach-ready.)
We also analyzed months of call-center data to identify as many objections as possible, prioritize them in terms of effect on business, and develop test ideas around solutions.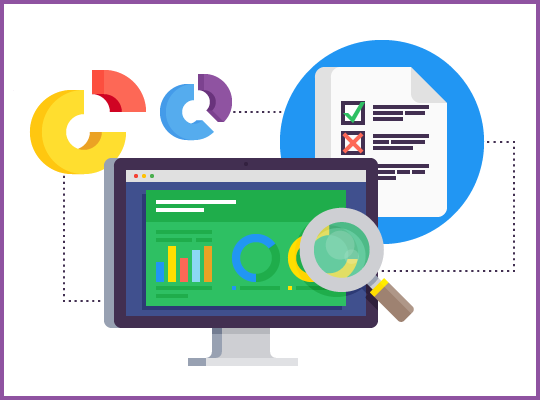 The Results
The return on investment of our efforts was over 475%.
By targeting both desktop and mobile traffic, Single Grain boosted the conversion rates of not only successful user segments, but also previously underperforming ones.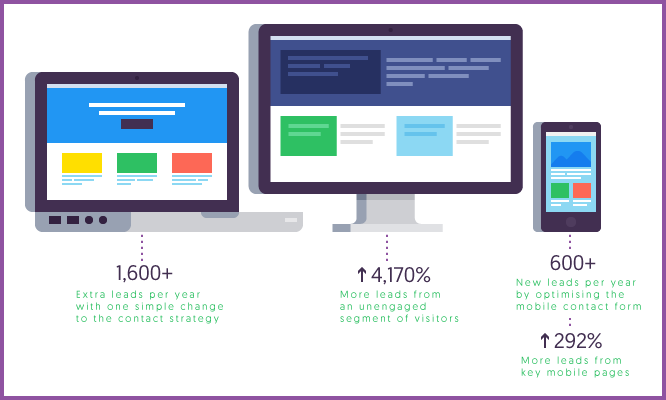 We Know One Thing For Sure:
We know that your business has its own set of unique circumstances and challenges.
If you would like to contact us for a friendly chat, we can let you know if we've encountered some of those challenges before.
Who knows - maybe we won't be able to help, but then again maybe we can.
Can We Help with Your Unique Situation?
Let's have a friendly chat to find out