When it comes to promoting and growing a business, everyone knows that video is king. But what's often overlooked are the actual "how-to" steps that go into making a truly successful video that inspires its audience.
If you've got some videos out there right now, ask yourself these questions to evaluate whether or not they're serving your company and product:
Answering "no" to any of these may mean that your existing videos and video marketing campaigns are not hitting the mark, and it's time to rethink your strategy. For the next go-round, make sure you start out with a clear map or plan of attack that will guarantee you're producing content that is relevant, engaging and, above all, motivates viewers to act.
If you look at any winning video's marketing campaign, you'll notice a common thread — it's all about the video structure. So today's your lucky day!
Here's an eagle-eye view of the 3-step process that top advertising and branding agencies swear by to create dynamic videos that drive massive sales for their clients.
Stage 1: Research
If you're showcasing a product or service that lacks the potential to become a viable solution to your target market, making a video about that product or service is a waste of time and money.
The initial research step is designed to validate your video's purpose and make sure that you're confident in your product and its ability to sell. That means getting to know your target audience and gaining an intimate understanding of their wants, needs and pain points. Use the following suggestions to help you hone in on who your best customers might be and why they need your product.
Get to know the product by using it often and asking others around you to use it and provide feedback. Try to determine if the demand is there.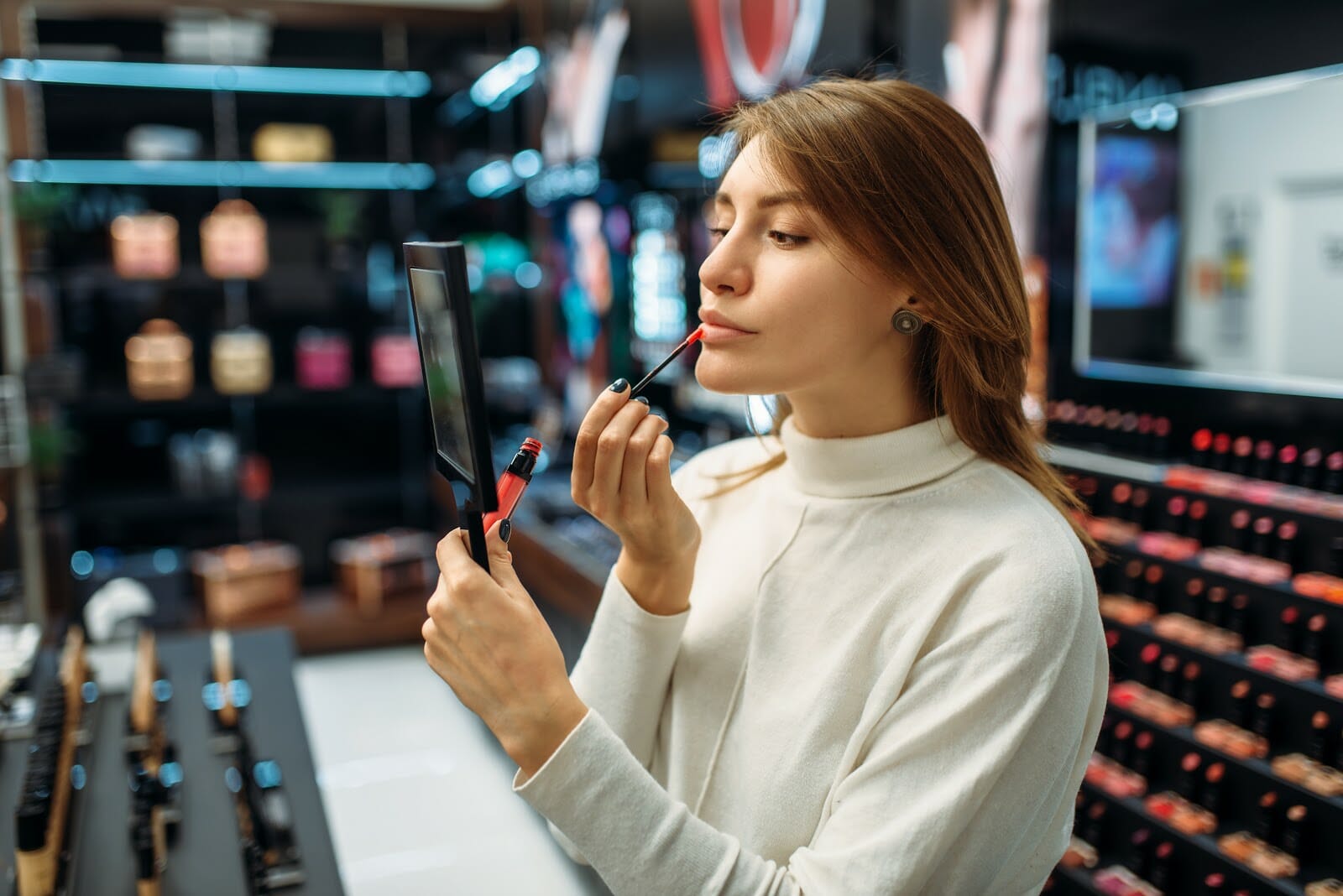 Determine your target audience with questions like:
What age group needs this product? Are you marketing to teens or young adults? What about older adults?
Where do your target customers live? Do you have a local brick-and-mortar business? Is your company web-based? Do you plan to target people nationally or even globally?
What income range will you market to? Maybe you sell high-end products. Or perhaps you want to target a market with a tight budget.
Will you market the product to businesses or consumers? Are you selling business-to-business (B2B) products or direct to consumers (B2C)?
At the close of the research phase, you should have the following action steps completed:
Establish the biggest problem(s) you're trying to solve
Determine if your product is something potential customers know they want or something they need to know exists first
Learn what your customers love and what they value
Figure out the customers' tipping point and determine what they need to understand before they convert
Learn the biggest doubts about the product and plan how to counteract/resolve each
Research your competitors and the alternative products out there, then identify how your product is better
Fleshing out these details will help you come up with a way to showcase just how much your product is needed in the market today and why customers should choose you over your competitors. These defining points will serve as the foundation for your video's story.
Dive Deeper:
Stage 2: Concept Development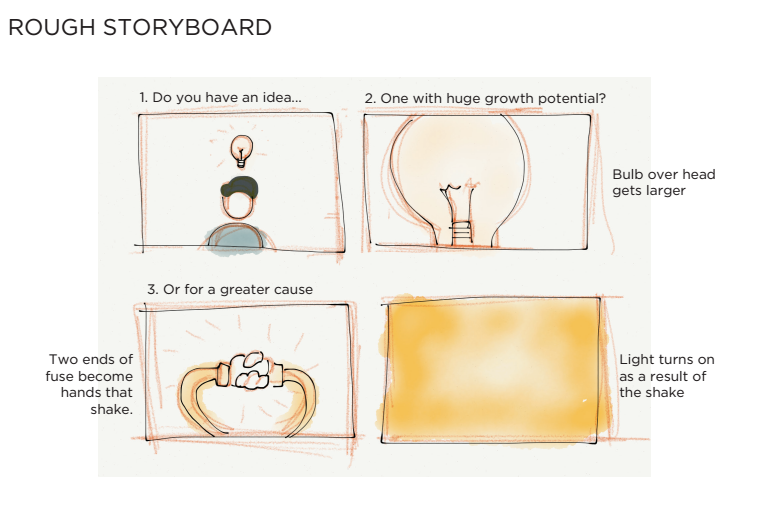 When developing the idea for your video, you can use the key insights that came out of the research stage to make sure your concept fits the product perfectly.
Since the story is the thing that's going to set your video apart from the other media out there and create engagement with your audience, don't skimp on creativity during concept development. When brainstorming your video concept, don't be afraid to do something bold.
Here are four things you can do to develop a great video concept:
1) First, Choose the Right Type of Video
Choose the type of video that will be most effective for your marketing strategy. Here are 13 different types:
Website Videos – Can be added to various pages on a website, including the "Home" or "About" page, to increase engagement and explain what your brand has to offer. Be sure it's short, sweet and to the point.
Product Demo Videos – Help point out key features and what differentiates your product from the rest. Particularly good for items that are more complex

 –

or deceptively simple, like this demo video for Original BUFF® Headwear:
Testimonial Videos – Show why real people (not actors or company spokespeople) love your company or product.
Announcement Videos – Debut your newest products or services and create a buzz before the release.
How-To/Instructional Videos – One of the most popular types of videos. Showing people how to solve their problem with your product or guide helps build trust and bring in customers.
Training Videos – Great for training new employees and customers to show them how to use your product. More detailed and/or advanced than a product demo video.
Team Leader Interview Videos – Highlight your company's top team (including the CEO), culture, style, passion, purpose and approach.
Company Profile Videos – Explain what your company does, how you do it and why you are better than your competitors.
Investor Presentation Videos – An "at-a-glance" presentation showing why investors should get on board with your company.
App Demo Videos – Featured in app stores to show off your app and increase downloads and customer excitement.
CROwdfunding Videos – Great for crowdfunding campaigns to help engage an audience, explain your campaign and drive contributions.
Explainer Animation Videos – Quickly explain how a product works in an engaging way. Animated explainer videos are very popular, but you can use whiteboard animation or live action, too.
Lifestyle Videos – Show audiences what kind of lifestyle your product supports to evoke emotion and drive action.
Dive Deeper: 
2) Show How Your Product Is Better than the Competition
The best way to do this is to go to the customer. Looking through reviews and talking to consumers who have had direct experience will help identify how consumers are differentiating the product.
Try looking at Amazon reviews to see what customers are saying (particularly the unsatisfied reviews):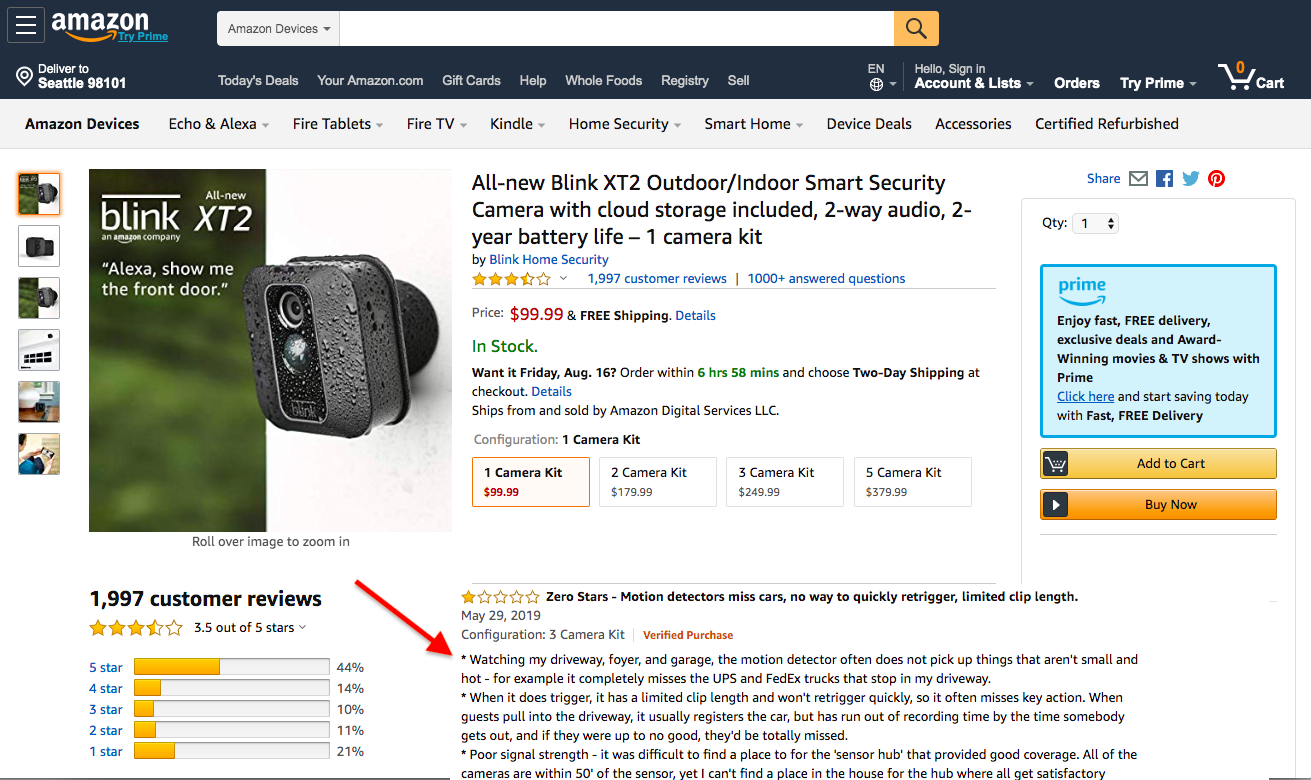 Use your own testing (and testing of competitors' products) to see what makes your product superior.
Run a survey with past customers to see what made them purchase and continue to love your product.
If you're only talking with the internal team about differentiators, you will more often than not be off the mark on what consumers really value in the product/brand.
Dive Deeper:
3) Is the Concept Interesting?
Make sure the concept you settle on is surprising, holds viewer interest and successfully drives home the point.
You'll want to start compiling all the videos that have ever spoken to you or just made you pause in appreciation. This is where you can let your inspiration and creativity run free.
To come up with great concepts, you can start by looking at your competitors to see how they explained their product. Just remember that you don't want to copy them; you need to be unique to stand out.
Then look at completely different industries and products to see what kind of video concepts they used. Maybe you can bring an older concept into your industry for the first time to stand out.
Make sure your concept fits your product. Not all good concepts are good for your project, so don't try force a concept that isn't a good fit.
Keep in mind that marketers can often become copycats when it comes to advertising – every ad starts to blend together and soon all brands have the same commercials. Don't box yourself in.
4) Can You Realistically Produce the Video?
Decide if your video can be shot within budget and with the locations, props and actors you realistically have access to.
Budgets don't dictate the success of a video, but a proper understanding of your budget heavily influences the experience of creating the video. When everyone on the production team has a strong understanding of scope and funds, it keeps everyone on the same page and moving at the same pace.
This is often overlooked when people are brainstorming, which is ok because that's what brainstorming is all about, but before locking in a concept make sure that it's realistic.
Review which locations, actors or props that you already have available (i.e. that you don't have to rent or buy). There are great tools out there to raise the production value of the video without increasing budget, such as:
Look for filming locations that you can use (you may have to simplify the concept to fit your budget). Maybe removing some extra characters or using an alternate location is all that is needed.
Remember, explosions, crane shots and action sequences are cool, but they are expensive. Keep your concept realistic and don't let your creative juices wander too far off.
Dive Deeper: 20 Pre-Production Tips to Create Successful Video Content
Stage 3: Structure Your Video for Success
Once you've done the background work and developed a brilliant concept for your video, it's time to come up with a good story that will grab people's attention and keep them curious enough to sit through your entire video.
Here's the 6-part winning formula agencies rely on to develop a successful script structure:
1) Create the Hook
The "hook" of your video is the idea, problem or selling point that's meant to grab your viewer's attention right off the bat. Since interesting content can be highly subjective, it's a good idea to test multiple hooks both internally and once the video goes live to see which ones get the most positive feedback.
Unique twists can help you capture your audience's undivided attention. Check out how Ingram's Water and Air Equipment literally just yells at you to stop scrolling:
This UAG video ad uses an eye-catching image of a laptop falling from the sky to grab the attention of their viewers:
Other tips for creating a great hook include:
Add visual effects such as shaking images, bouncing images or sliding transitions that will shock the viewer and, at the same time, encourage them to keep watching.
Add animations can make for a richer visual experience.
Create eye-catching opening titles — and be sure to test different copy.
Drop your discount or offer early in the video to throw in a nice incentive.
Insert a blurred image at the beginning of your video can make viewers curious about what the blurred image will uncover.
2) Pose a Problem
In other words, answer the question: What issues are viewers faced with that this product will solve for them? In this second step, don't just call out the problem, but make your audience really feel the problem (that's the benefit of using video!). The viewers aren't there just to watch your character or characters struggle; they need to connect with the problem on a personal level and feel their pain.
By creating this connection with your storyline, you can drive your audience to not just stay glued to it, but also actively start thinking about finding a way out of their problem.
Check out how Airtable uses a fun and creative way to introduce and solve a common problem:
3) Showcase the Solution
In the video, your product or service is the hero of the story, so now is the part where you do a proper introduction — you show just how your product or service brings your character (and, hopefully, your viewer) some relief.
What does your item do exactly and how does it make the problem go away? Highlight the most compelling features and why/how they work to solve the problem in a way that differentiates you from competitors. Do this step well and it can become your video's tipping point — the most memorable takeaway or impactful message that succeeds in getting people to purchase your product.
See how FiberFix introduces the solution to the problem they are fixing — in a very memorable way:
4) Ask for Action
Your video's call-to-action is your chance to "go for the ask," the place where you ask viewers to reach out to you. You should test a few different hard- and soft-sell options here, such as prompting them to purchase, inviting them to go to the website to learn more or asking them to fill out a contact form. Whatever you choose for your CTA, just make sure to communicate very clearly what you want the viewer to do.
Check out how VPN company Hide My Ass! (HMA) asks (and asks and asks and asks) you to click their CTA:
Dive Deeper: How to Create Better-Converting In-Content Calls to Action (CTAs)
5) Diffuse Doubts
In this step, you have a chance to turn doubters into believers by touching on common concerns and counteracting them. The more innovative or unique the product is, the more you will need to address doubts and give viewers a reason to see your company and product as credible. The doubts that consumers have are often things that your competitors lack, so it's your job to explain how you are different and better.
To help you decide what concerns to tackle, try combing through product reviews to look for instances where customers were skeptical at first, then were pleasantly surprised or impressed after using your product. Point out these concerns in your video narrative and then KNOCK THEM DOWN!
Coin basically uses the entire video to overcome all the doubts and questions that viewers are likely to have:
6) Ask Again
Finally, in the second call-to-action, your ultimate goal is to motivate anyone who wasn't convinced earlier to take the next step and make a purchase or inquire further. Drive it home one more time with a bold ask and make it super easy for your audience to take the next step.
Dive Deeper:
8 Videos You Can Generate from One Interview with Your CEO
9 SEO Areas to Focus On to Boost Your Video's Visibility
9 Tips to Close Sales with Video Content
Overlooked SEO: Optimizing Images and Video For Search
Final Thoughts
Creating an amazing video isn't strictly about creativity or imagination. It is much more complicated than that. It is an intertwining of creativity, business goals and video structure.
With the video structure outlined above you now have the roadmap that video agencies use to walk this fine line and to create dynamic videos that drive massive sales.