There's no doubt that video is taking over. Although marketing predictions for each year always state that we need to gear up for "the year of video," don't be tricked into thinking video is just a marketing fad.
Considering that YouTube is the second largest search engine in the world, you're definitely missing out if you're not using this popular video platform to promote your product or service to potential customers.
In this guide, you'll learn everything you need to know about advertising on YouTube — from getting started to advanced targeting techniques to get the most out of your cash!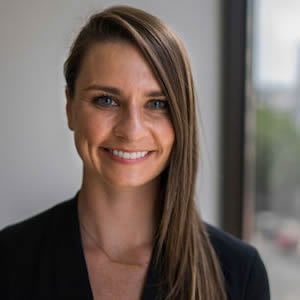 Jacqueline Foster
Demand Generation Marketing, Lever.co
We can count on them to bring new ideas to the table consistently
How to Get Started with YouTube Advertising
If you're frantically Googling "YouTube advertising for beginners," firstly: you're not alone.
Marketers have been able to use YouTube ads since August, 2007, but there's still a mysterious cloud surrounding how YouTube ads actually work. Brace yourself for a pretty shocking fact:
Video advertising on YouTube is different from other platforms like Google or Facebook Ads because of the way a view is counted: You only pay for a view if the user passes the 30-second mark or watches the entire video.
Click To Tweet
Anything under that threshold is free.
If you fancy taking advantage of this unique pricing structure, here's how you can get started with advertising on YouTube:
To summarize:
Create a Google Ads account and learn how both the targeting methods and ad formats work, since YouTube ads are run through this platform.
Promote something based on your audience's interest — using a model that combines display keywords and in-market lists — to find people who are showing purchasing behaviors.
Broaden your targeting placements, and expand as you collect initial results.
Granted, setting up a YouTube advertising campaign can be tricky if you've not got much experience with the Google Ad platform (formerly known as Google AdWords), but it's not impossible. Take your time when getting started and don't try to rush things.
Learn More:
The 4 Main YouTube Advertising Formats
Are you ready to create your first ad but unsure on which format you should use? We're not surprised.
There are three types of YouTube ads — all of which have their own requirements, benefits and use cases.
1. Pre-Roll Video Ads
This type of YouTube video ad is shown before a video, and runs about 30 seconds.
They're charged per click, meaning you only pay for the total number of clicks generated, rather than the number of video views.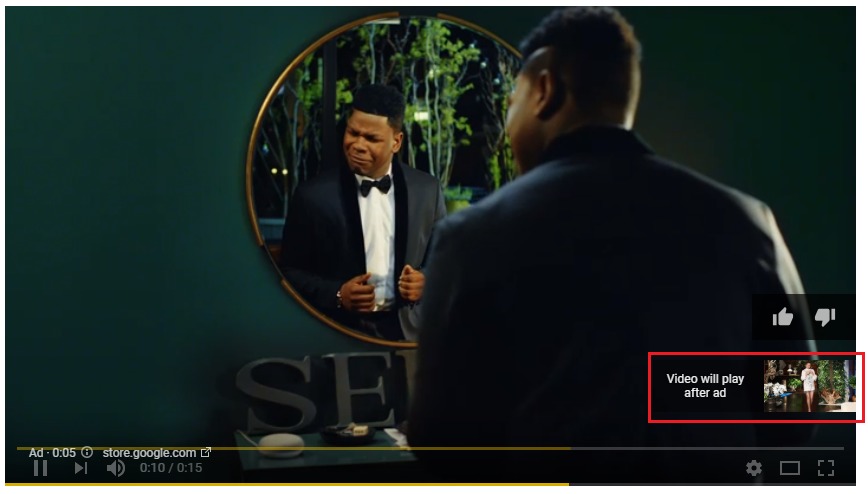 Since these ads are charged per-click, they're usually the most cost-effective for campaigns focused around on-site conversions such as link clicks or to grow your subscriber list.
2. In-Stream Ads
If you've selected TrueView ads to form the basis of your YouTube advertising campaign, your videos will be shown to users before they view a normal video.
You'll be charged per view for these ads and there's no upper time limit.
But here's the catch: Whoever's viewing your ad has the opportunity to skip your video after five seconds, as shown in this example: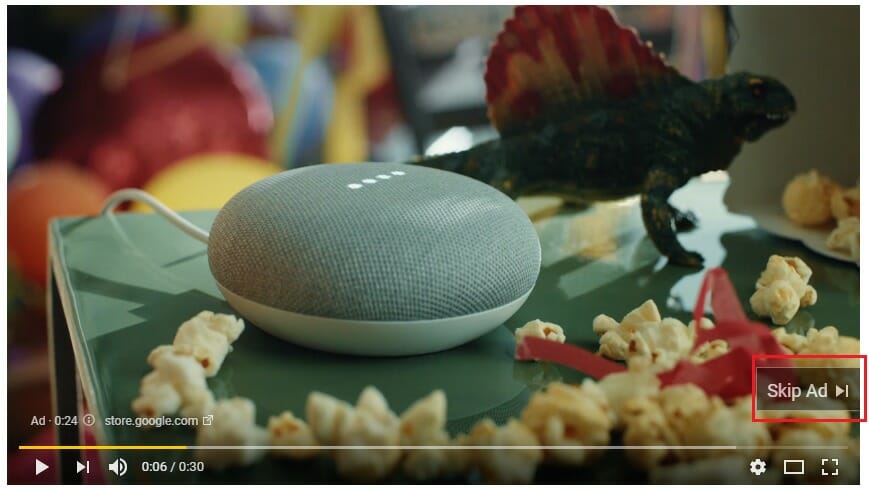 Although you've got more space to play with, you've got less chance of encouraging someone to watch the entire video, especially if the first five seconds don't grab their attention.
That's why these ads are usually best for generating brand awareness.
3. Bumper Ads
If you don't fancy creating longer videos to promote via YouTube ads, don't worry. You're able to use the bumper ad format to show a six-second, non-skippable clip before a regular video: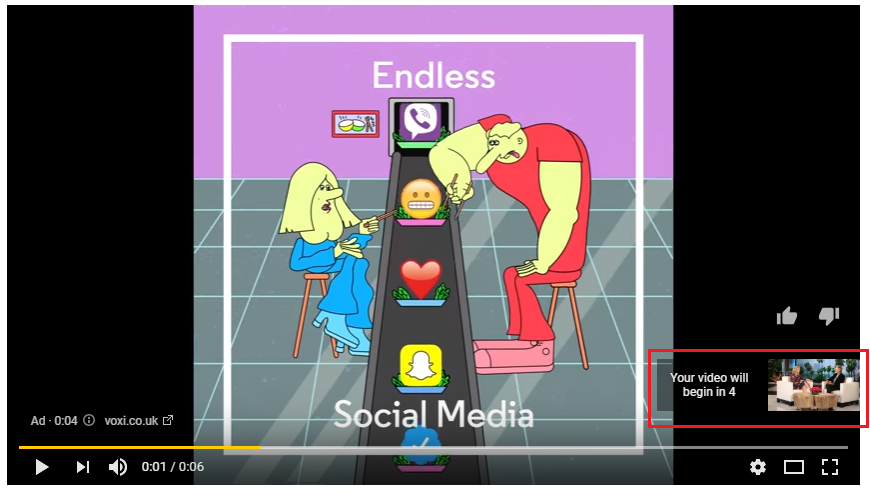 You might not think that six seconds is enough time to grab your audience's attention when running video marketing campaigns on YouTube, but Google found just the opposite: in 300 bumper campaigns, 90% drove a significant lift in ad recall — making them a fantastic format to use if you're looking to boost brand awareness.
4. In-Display Ads
If you don't want to advertise within the video itself, in-display ads are your best bet.
Charged on a per-view basis whenever someone clicks the link, in-display YouTube ads are shown on the right-hand side of a user's screen — like this example: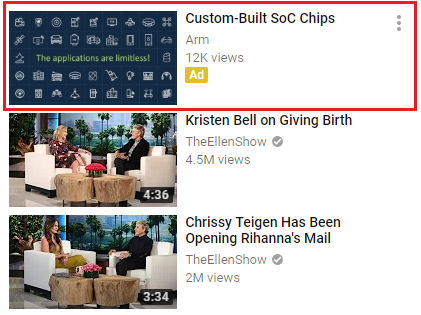 Despite the name, in-display ads aren't the most prominent type of YouTube ad. Users are able to bypass your advert altogether if they're only interested in watching the video they're currently viewing, but they're a good option if you're looking to boost conversion rates.
The person who's clicked on your in-display ad has done so by choice, meaning that they're already interested, and therefore potentially easier to convert.
How to Produce the Perfect Creative for YouTube Ads
Now that you've selected the perfect YouTube advertising format for your product or service, it's time to think about the overall creative of your video, which is often referred to as one of the most important aspects of your entire campaign.
Creating a video that's enjoyable to watch is the basis of any successful YouTube video campaign. After all, you can't expect to see results if you aren't encouraging people to listen to whatever you're saying.
This awesome video, with Noah Scott from the Single Grain team, shares how you can meet the criteria of a perfect YouTube ad:
Here's the checklist you'll need when nailing the creative of your video ad:
Make the first 5-8 seconds engaging. After this point, people decide if they want to skip your ad or continue watching.
Replicate the language, cinematography and personality of the industry you're looking to advertise to so you can tailor it to what they want.
Design a thumbnail for your YouTube ad that fits this industry, too.
Focus on explaining one key point to avoid overwhelming your viewer.
Tell a story to engage your audience, but make sure it's relevant and fits within the time you've got.
Learn More: 
Key Metrics to Track for Your YouTube Ad Campaigns
As soon as your YouTube campaigns are up and running, you might be eager to check in and see how they're performing.
YouTube recommends that advertisers link their YouTube campaigns to Google Ads to see deeper insights. But if you sign into this dashboard to analyze your ad, you might not have a clue what to look for — or if the results you're getting are good, compared to the industry average.
(We don't blame you, it can be tricky to navigate the dashboard if it's your first time using it!)
Here are the key metrics you'll need to track in the Google Ads dashboard:
Impressions: How many people were exposed to your video?
Views: How many people watched past the 30-second mark?
View rate: What percentage of people who were shown the ad viewed it?
Cost-per-click (CPC): How much are you spending for every link click from the ad?
Cost-per-view (CPV): How much are you spending for each 30-second view?
Earned actions: How many people subscribed to your channel, visited your website or liked your video as a result of the ad?
5 Tips for Improving Your YouTube Ad View Rate
If you've noticed that your campaigns aren't performing as well as expected, there's one thing you can do: try to increase the volume of people who are watching your video past the 30-second mark.
Think about it: If someone is engaged enough to view the majority of your video, your business has them hooked. You've done enough to make them stick around and your chances of collecting more 'earned actions' will automatically increase.
And, because engaged customers are more likely to spend more, an uplift in ad view rate could boost the ROI of your entire video marketing campaign.
5 tips for improving your YouTube ad:
A/B test your creative
Campaign level settings
Trim fat
Try out alpha beta custom affinity audiences
Ninja (management) placements
Watch this video from Andrew Bloom to learn more about these five awesome tips to improve video view rates on your YouTube video campaigns:
Advanced Targeting Techniques to Improve Your YouTube Ads
Hands down, the best way to improve your ad rate is to make sure you're positioning it in front of the right people. You can't expect 80% of your impressions to turn into a 30-second view if they're not interested in the topic you're discussing, right?
That's why we've pulled in Ramsey Elhadry, from the Single Grain team, to chat with us about advanced targeting techniques for your YouTube ads:
Ninja placements
Behavior-based retargeting
Custom affinity audiences
Watch this short video to learn all about audience targeting (and boosting your ad view rate, too):
How to Optimize Your YouTube Channel
We couldn't chat about YouTube ads without giving a few tips about improving your channel overall!
When you're advertising on this platform, it goes without saying that your channel needs to be spot on. Inviting your audience to subscribe to a video channel with only one or two videos won't give the best first impression, but a few simple optimization tweaks to your channel could help you to see more conversions almost instantly.
Optimization tips include:
Transcripts
Tags and labels
Keywords
Video comments
Playlists
Video thumbnails
Check out these six quick tips from Single Grain's John Rappaport to optimize your channel for YouTube SEO:
Learn More: 
So, Does YouTube Advertising Really Work?
That's a question on everyone's lips.
With marketing becoming increasingly harder to crack, marketers want to know whether their investment in video advertising is going to pay off.
After spending $11,000 on YouTube advertising, we discovered that running ads can help your channel be found more through organic search.
Why? Because if you're running campaigns with a primary focus on growing your subscriber list, those people will be notified of new video content as soon as it's published, which builds those all-important views within the first 24 hours, and pushes your video up the ranks.
But it's not just the organic search benefits that you could experience.
Check out the  top advertisements on YouTube generated 536 million views alone, plus 14 hours of viewing time and 3.6 million likes:
If you're able to piece together a successful YouTube ad campaign, there's no reason why you couldn't experience a surge of people who know (and love) your brand — and recognize you when you're advertising elsewhere.
Final Thoughts on YouTube Advertising
YouTube advertising has the power to transform your entire video marketing strategy, so there's no reason why it couldn't become your business' largest customer acquisition channel.
Remember to focus on quality, and always strive to improve your ad rate. Increasing the volume of people you're engaging through your ad content is key. You can't expect to see results if they're not sticking around to watch it!
YouTube Marketing Frequently Asked Questions (FAQs)
Q: What are the key benefits of YouTube video ads?
A: You only pay for the total number of clicks generated.  Good ROI.
Q: What creative elements are needed for a successful YouTube video ad?
A: Just like a good speech, you need an engaging first 5-8 seconds. You need to also ensure you are targeting the right audience on YouTube.
Q: What is the most important number to pay attention to of a successful YouTube video ad?
A: Engagement.
Q: What are the benefits of using video for your marketing? 
A: Video increases exposure to you, your team, and the product.  Just like how a picture can depict 1000 words, video provides even more of an experience.  
Q: What is the most popular social media platform for teenagers? 
A: YouTube 
Q: Which advertising format is the most expensive? 
A: In-display
Q: What percentage of people who are shown your ad are expected to watch it? 
A: 20%
Q: What is the expected click-through rate for video ads? 
A: 1.6%