7 Easy Ways to Optimize Your Facebook Ads
Facebook is one of the most popular social media platforms among people and brands – as of Q1 2019, it has 2.38 billion monthly active users – which means that it has a lot of potential to promote your brand: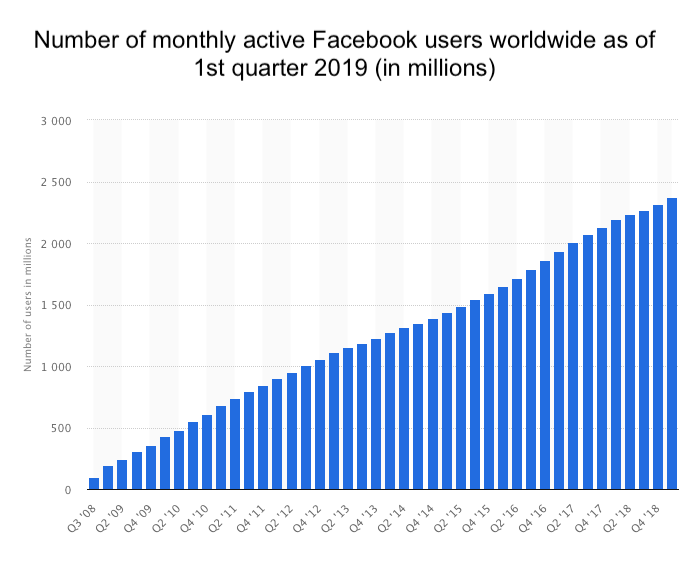 With Facebook ads, which are not expensive, brands can post content to promote their services or products which helps them widen their reach, drive high-quality traffic to their website and boost conversion rates.
You spend a lot of your money and time creating Facebook ads, so, obviously, you want to get as much benefit as possible from your ad budget. But if you're struggling to reach the right audience via Facebook ads, then you probably need to optimize your Facebook ads.
Keep reading to discover 7 effective ways to optimize your Facebook ads to improve their performance.
1) Optimize Shares and Likes on Your Facebook Ads
The shares and likes you get on your Facebook ads and posts are nothing but a form of social proof. If you gain a higher number of likes and shares, it indicates that audiences like your product and services.
When you set up a Facebook ad campaign, there are two options: create new ads for every campaign and ad set or use an existing post: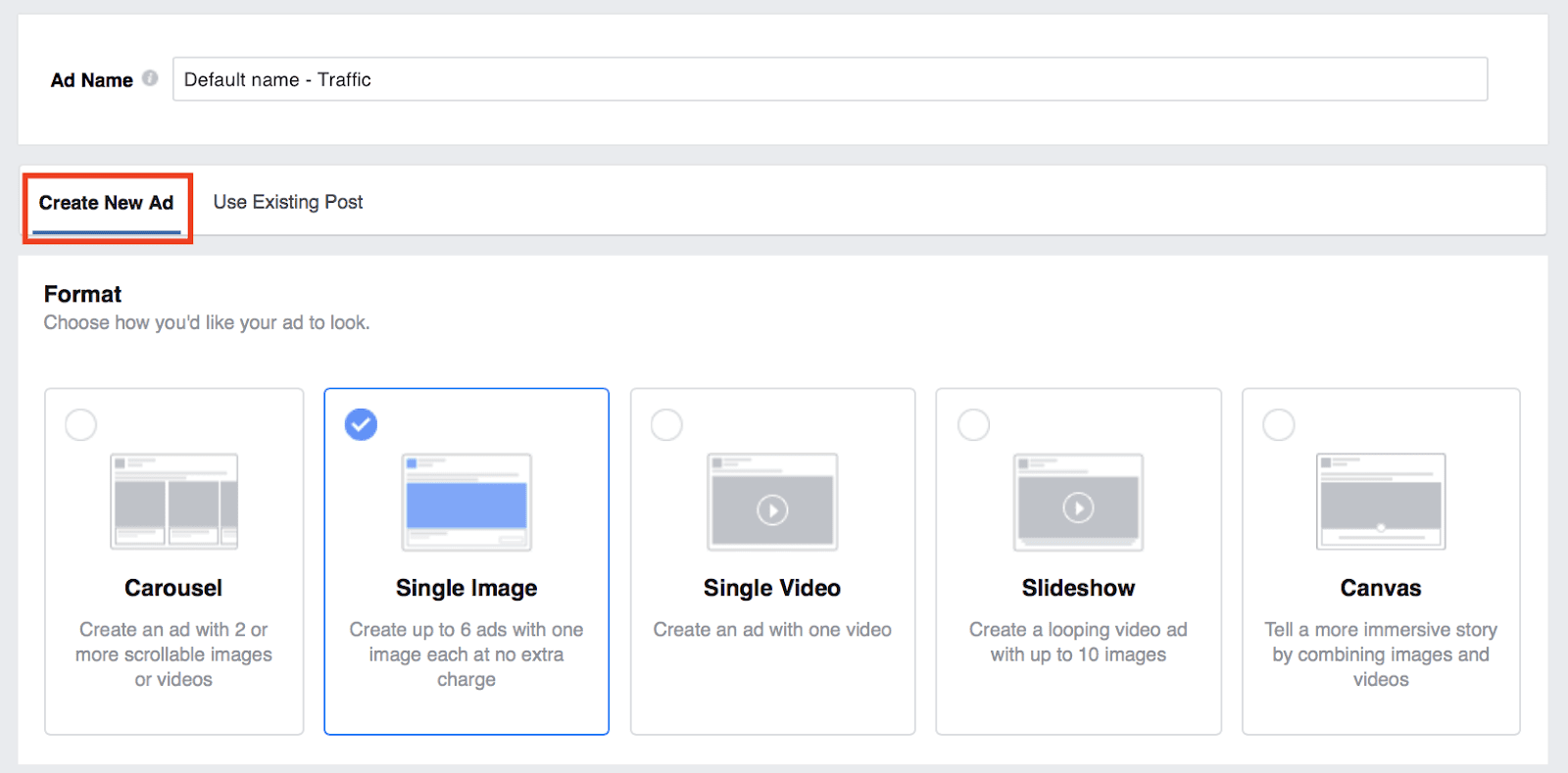 Most brands usually miss the "Use Existing Post" option, but this is an incredibly effective way to optimize your Facebook ad shares and likes. It gives you an opportunity to collect all the campaign post engagements under a single ad.  If you are wondering how your competitors have hundreds of likes on their Facebook campaigns, they are probably using this optimization hack.
But how do you do it?
It's easy and simple: All you need to do is use the same post to set up multiple ad campaigns and publish the promotional post on your company's Facebook Page. Then select this post every time you're setting up a new ad campaign.
Dive Deeper:
2) A/B Test Your Ideas
Before you can optimize your Facebook ads, you need to figure out what works best for your brand. But how will you figure this out? The ideal way to discover the best-performing ads or creative messages is to run a quick Facebook A/B test.
Having said that, you don't have to test everything. You just need to figure out which elements of your ad could have the highest impact on your target audience. In addition to this, any changes you make need to generate the highest click-through and conversion rates.
To begin with, you can start your A/B testing with the following ad elements:
Ad design
Campaign objectives
Ad copy (especially the headline)
Ad placement
Your unique value offer
Bidding methods
Call-to-action buttons
The best way to test different versions of your ad is by assigning a UTM parameter (tags that you can add to the end of your URLs to track the effectiveness of your marketing campaigns across traffic sources and publishing media) for each version:

This way, you can get a clear idea of how much referral traffic each version managed to send and which ones had the most impact.
UTM.io can help you create UTM links just by entering the important details like campaign name, medium and source. It keeps track of all the tagged links you've created, when they were created, and who created them so you can neatly organize your UTM links.
Dive Deeper: How to Run A/B Tests that Actually Increase Conversions
3) Optimize Your Targeting Preference
It's important that you identify the right profitable target audience, which includes the right gender and age group. Not all genders and age groups respond in the same way, so you need to avoid wasting your money on the wrong unprofitable categories.
Make sure that you invest enough to target the right audience(s) to generate more sales, which means that you need to analyze gender and age group performance.
To do that, log into Facebook Ads Manager and click on "Reports":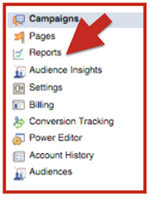 Once the report page pops up, you need to select the date range that you want to analyze. Next, click on "Customize Columns" and decide on the values for the report. Under the drop-down list, select "Age," "Gender" or "Age and Gender":

Once you get the report, the insights will help you make strategic decisions and enable you to refine your targeting preferences to reach the right audience.
4) Leverage Influencers to Optimize Your Facebook Ads
Another great way to optimize your Facebook ad is to repurpose your influencer-generated content. The content created by influencers is usually more relevant, authentic and relatable than a business' content, which can tend to be promotional or salesy. Such content will help you get the attention of potential customers and connect with them more easily.
You can use influencer-generated content to boost the impact and effectiveness of your Facebook ads by helping you generate more high-quality traffic, boost your engagement rate, and increase your social media followers.
Rather than using generic images, you can use authentic images created by influencers. Let's take a closer look at some of the most effective ways to use influencer content to optimize your Facebook ad:
Amplify Repurposed Influencer Content
Content that's generated by your influencers will help you win the trust of your target audience. That's because the content is not spammy and it looks more relatable and realistic.
74% of marketers said that they repurpose influencer-generated content and publish it on their social media channels: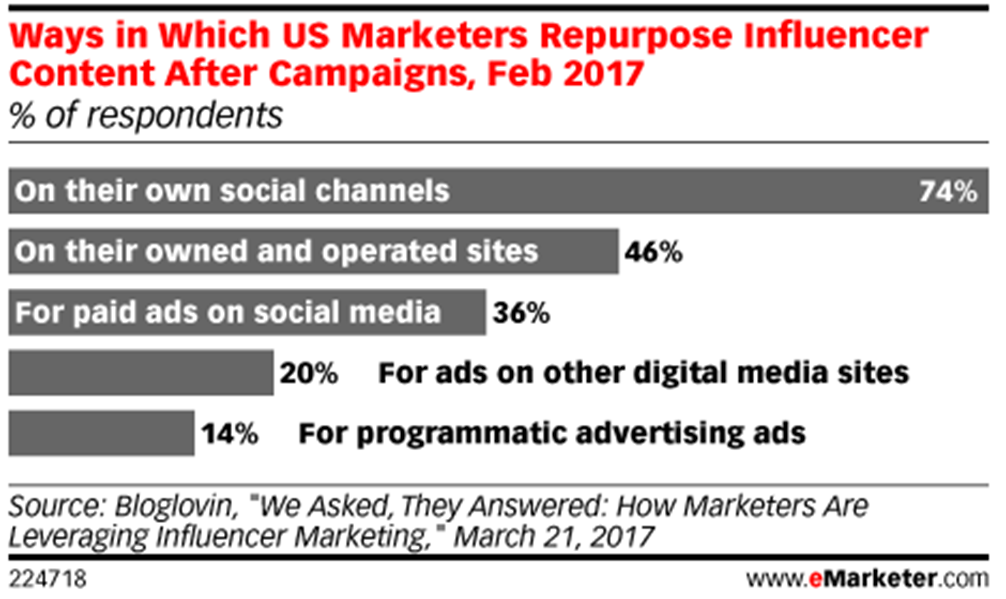 However, ensure that you have permission from your influencers to use their content!
Now that you have repurposed influencer-generated content for your Facebook post, you may want to pay to amplify the post. This will help you widen your reach and find an audience other than users who are already your followers. Relatable and high-quality posts and images will attract your target audience to your Facebook page and help to convert them into followers.
Use Influencer-Generated Campaign Content in Your Facebook Ads
Influencers tend to have a much better idea of what their target audiences want to see, so the content created by them appeals to their audience. Also, influencers know exactly how to display your products in an engaging and natural way. As a result, this tactic can help you convert your potential customers into actual customers.
You might want to skip the additional step of sharing the influencer-generated content on your social media channels and just use it for your Facebook ad. You can create ads to promote a certain product or services, which will encourage people to click on the ad, visit the product page, and make a purchase.
But for this strategy to work, you need to find and collaborate with the right influencers. You can use a tool like Influence.co to find the most relevant influencers for your brand:

Dive Deeper:
5) Use Facebook Pixels and Reach New Markets
The Facebook Pixel – code that you put on your website to track conversions from Facebook ads – enables brands to create a lookalike audience for their products or services to find new people who have similar traits to your influencer's target audiences. In other words, it's an easy-to-use and effective tool.
Here's a great 12-minute tutorial:
Using Facebook Pixels empowers you to easily reach out to and tap into new markets which can widen the reach of your brand. This feature allows you to identify and target audiences with similar interests, behaviors and habits. Once you identify a lookalike audience, you can use the best-performing influencer-created content and easily target new prospects.
Follow these easy steps to install Facebook Pixels:
Step 1 – You need to open the Pixel page. You can either directly open it or go to the Facebook Ads Manager, open it, and then click the menu button on the top.
Step 2 – When a new window opens up, click on the "Create a Pixel" button to start the process: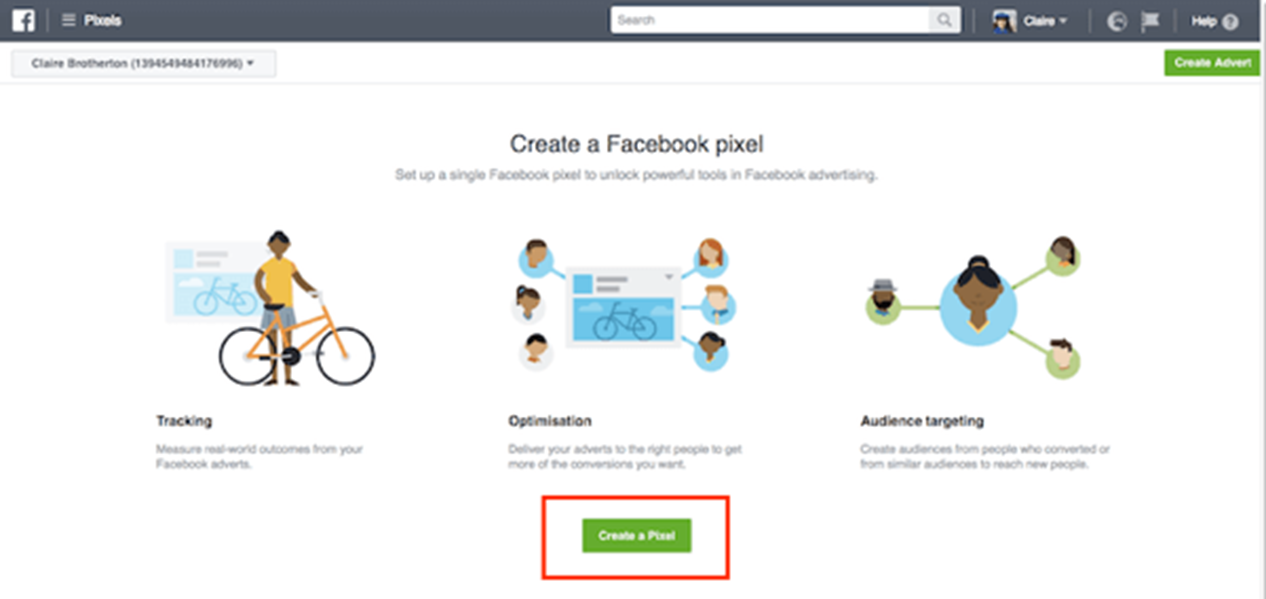 Step 3 – Name your pixel account, then click "Create":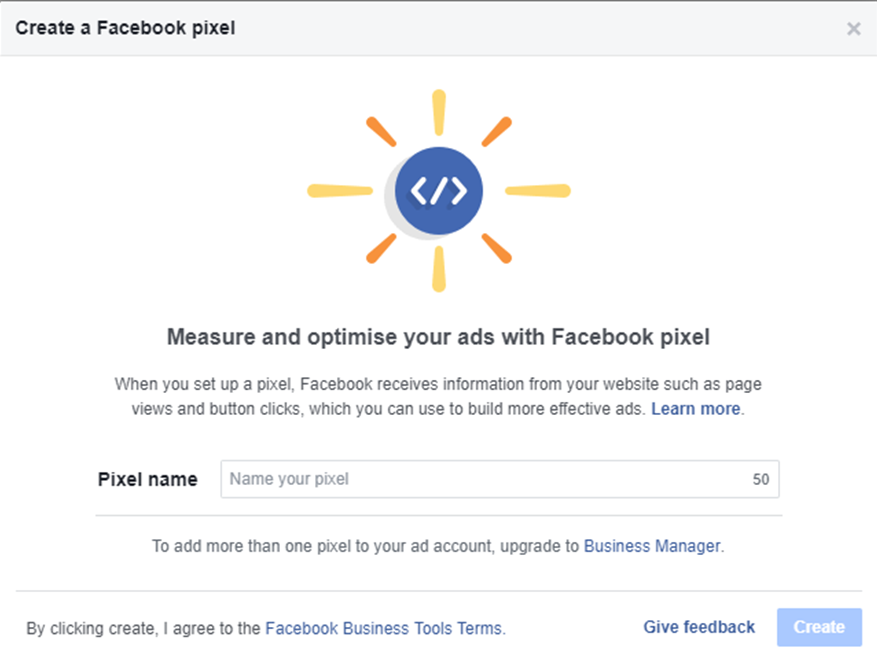 Step 4 – Now you are ready to install the pixel page. Remember to use the given base code: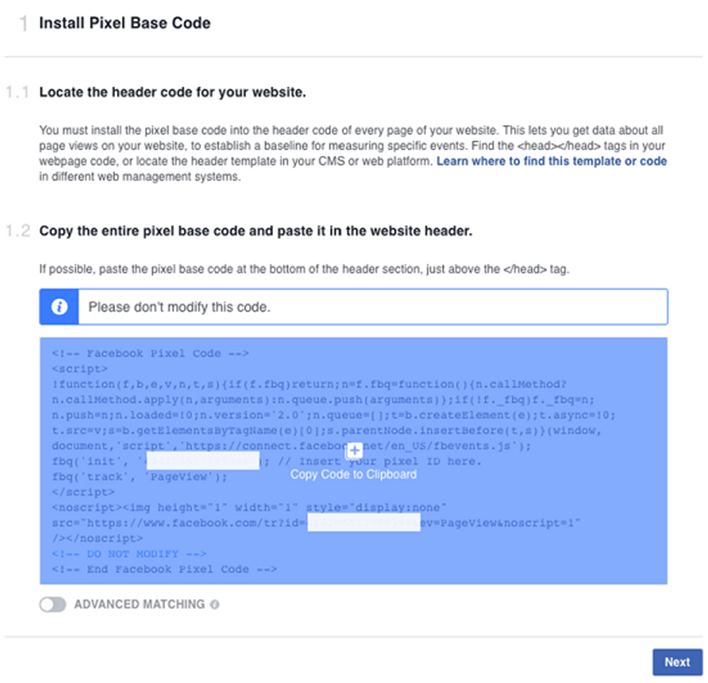 Step 5 – Time to install the Facebook Pixel by using the event code! Click "Next" and test your Pixel status (so you need to select "Pixels" by going back to your Ads Manager page). If you see the status of your Pixel as "active," that means you have installed it correctly. Normally it takes around 20 minutes to update the Pixel status.
After you have successfully created a Pixel page for your brand, you can then create a lookalike audience. This will help you increase your brand's reach and get the attention of your target audience.
6) Think of Whitelisting
When brands have full access to their influencers' account and run ads in the names of their influencers, it's called whitelisting. With the previous strategy, brands use influencer-created content and run ads for their own Facebook page. But with this strategy, brands can run ads on their influencer's Facebook page.
When you run ads on your brand's Facebook page, it can be effective. However, running the same ad on your influencer's Facebook page can be doubly effective and generate better results. Why? Because influencers are popular, have huge followings and, more importantly, are trustworthy and authentic. However, this isn't the one and only reason for you to do whitelisting.
Whitelisting also allows brands to keep an eye on the performance of the influencer's organic and paid content. This strategy also allows brands to filter any type of content which can harm the reputation of their brand. Thus, it enables you to shield your brand from any sort of controversial content.
Just make sure that you team up with influencers who are from your niche and are relevant to your brand. They also need to create engaging, appealing and, of course, safe content for your brand. If you collaborate with or trust the wrong influencers, it can do a lot of damage to your brand's reputation.
Whitelisting helps you collaborate with brand-safe influencers, but you must ensure that you don't silence the authentic voices of your influencers. It was their unique voices and styles that helped them become influential in the first place.
This strategy is not only beneficial to brands, but it is also has some advantages in store for influencers as well. It will help influencers expand their reach and gain new, relevant followers. All at no cost to them because you will be paying for the ads!
Dive Deeper:
7) Select the Right Bidding Option
In simple language, Facebook runs auctions and selects the best advertisements based on performance and bids. This means that you need to select the most suitable bidding option for your business. In recent years, the bidding model of Facebook has changed and became more complicated.
You need to decide on what type of results you want to optimize your Facebook ads for. Each campaign objective offers you several options to select from.
For example, if you are running a conversion ad campaign, then you can select from landing page views, link clicks, and conversions. Ideally, conversion is the most effective option to select.
But what if you are running a campaign on a shoestring budget? In that case, it's best to choose to optimize for clicks until Facebook has enough conversion data: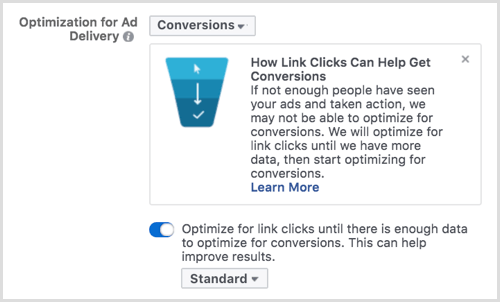 However, if you want to increase the number of visitors to your blog, then you may want to optimize for engagement.
Recently, Facebook has changed their automatic and manual bidding options for conversions. You can select from two new bidding strategies:
Target Cost – This is focused on keeping a constant average cost (formerly called manual bidding).
Lowest Cost – This is with or without a bid cap (formerly called automatic bidding with a maximum bid).
If this is your first time with Facebook ads or you are in a super competitive industry, then you need to consider selecting the latter option, "Lowest Cost." That will help you survive any bid fluctuations.
You can select "Lowest Cost" and "Set a Bid Cap" if your aim is to generate satisfactory results with the lowest possible cost. But if you select "Target Cost," it will help you deliver the highest-quality leads at average costs. However, you might end up paying more than what you might have expected. Also, it may require additional optimization and management.

Final Thoughts
When used correctly, there are many advantages of using Facebook Ads in your marketing strategy, like helping you generate high-quality traffic and more profit. But, to generate maximum profit, you need to optimize your Facebook Ads – and the easy-to-implement and effective ways mentioned above can help you do this.
Dive Deeper: