How to Use Personalization to Increase the Impact of Email Marketing
Did you know that the number of email users worldwide was estimated to be 3.7 billion in 2017? And that number is expected to reach a whopping 4.3 billion by 2022, according to research by Statista.
These numbers certainly indicate that email isn't going away anytime soon. And so, it's no wonder that marketers still use email marketing as one of their key strategies to acquire and engage customers. In fact, according to eMarketer:
80% of marketers report that email marketing is the most effective digital strategy for customer acquisition and retention.
Click To Tweet
Consider these email marketing stats from 2018:
Email marketing has an average ROI of 3,800 percent. For every dollar invested, the average return is $38.
Email is the third most influential source of information for B2B audiences, behind colleague recommendations and industry thought leaders.
Segmented email marketing campaigns get 14.64% more email opens and 59.99% more clicks compared to non-segmented campaigns.
Including video in email can increase your open rate by 19% and increase your click-through rate by 50%.
The biggest takeaway here is that you can increase the effectiveness of your email campaigns even further with one simple tactic: personalization. And this goes way beyond just addressing your customers or prospects by their first name – there's so much more you can do.
Check out this infographic from Post Funnel on the impact of personalization in email marketing: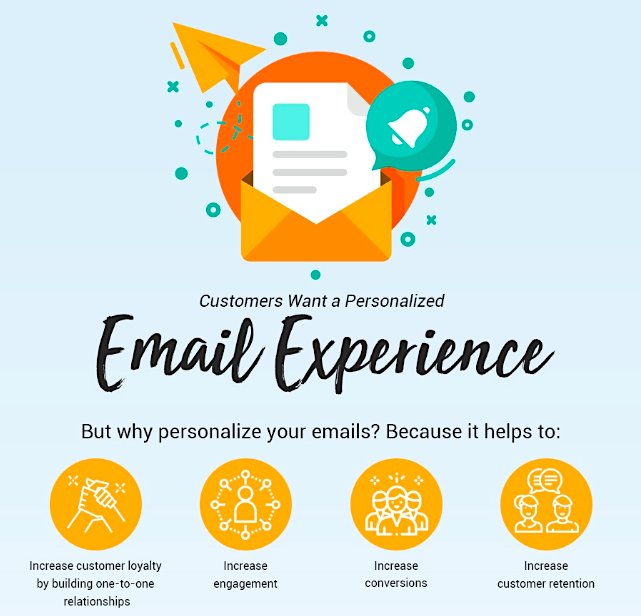 The Impact of Personalization
50% of marketing influencers have reported that message personalization is the most effective email marketing strategy. And 37% have found data segmentation for personalization to be another effective email marketing strategy. In fact, a study found that 82% of marketers have witnessed an increase in their email open rates by leveraging personalization.
These numbers clearly indicate how personalization has a huge impact on the success of your email campaigns. In this article, we'll take a look at some simple ways to use personalization to make your email marketing even more effective.
Learn More:
1) Personalize by Using Segmentation
You know that your customers have varied tastes, preferences and interests. So you can't expect to keep them happy with a one-size-fits-all solution, right? This is why you need to focus on creating different customer segments based on their demographics and interests. You can then use these segments to send more relevant and tailored offers and recommendations to your customers and prospects.
Econsultancy conducted a study in which they found that the top priority for over 1000 marketing, digital and e-commerce professionals is customer segmentation. In fact, 72% of these professionals reported using customer data to create segments. The study also found that segmentation is a priority for even the most underachieving businesses.
Customers are bombarded with so much information today that you need to cut through the noise in order to be heard: send them only info that's truly relevant to them.
Click To Tweet
When you send them relevant offers or recommendations based on their interests, it shows that you care about them. It's no wonder that 59% of consumers who have experienced personalization believe that it has a significant impact on their purchases. So you need to segment your email recipients into different groups based on common characteristics to improve the results from your email campaigns.
Marketers have noticed a 760% boost in their revenue from segmented email campaigns and increased open rates by 26%: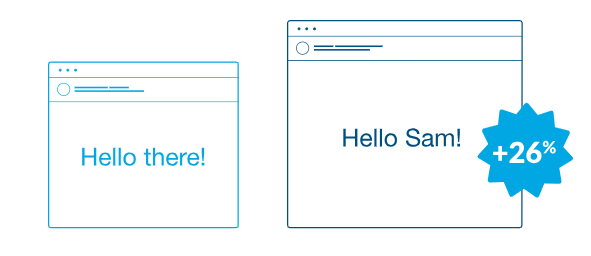 You can group your customers by their purchase histories, locations, genders, ages or even job titles. You can go deeper with these segments and try to come up with more relevant messages.
For example, from your millennial customers list, you can create a segment of the people who have spent the most money in the last six months. You can then reach out to these "VIP customers" with attractive offers to thank them for their loyalty.
Example: Rocksbox
Take a page out of Rocksbox' – the company that helps you discover and shop for jewelry online – book. Their customers need to pay a monthly fee, and in exchange, they can rent fashion jewelry from the best designers and brands of their choice.
But how do they leverage segmentation to provide personalized solutions? They ask their customers to fill out a survey that includes questions about their tastes and preferences. Using the results of this survey, Rocksbox gets a good sense of what styles their customers prefer.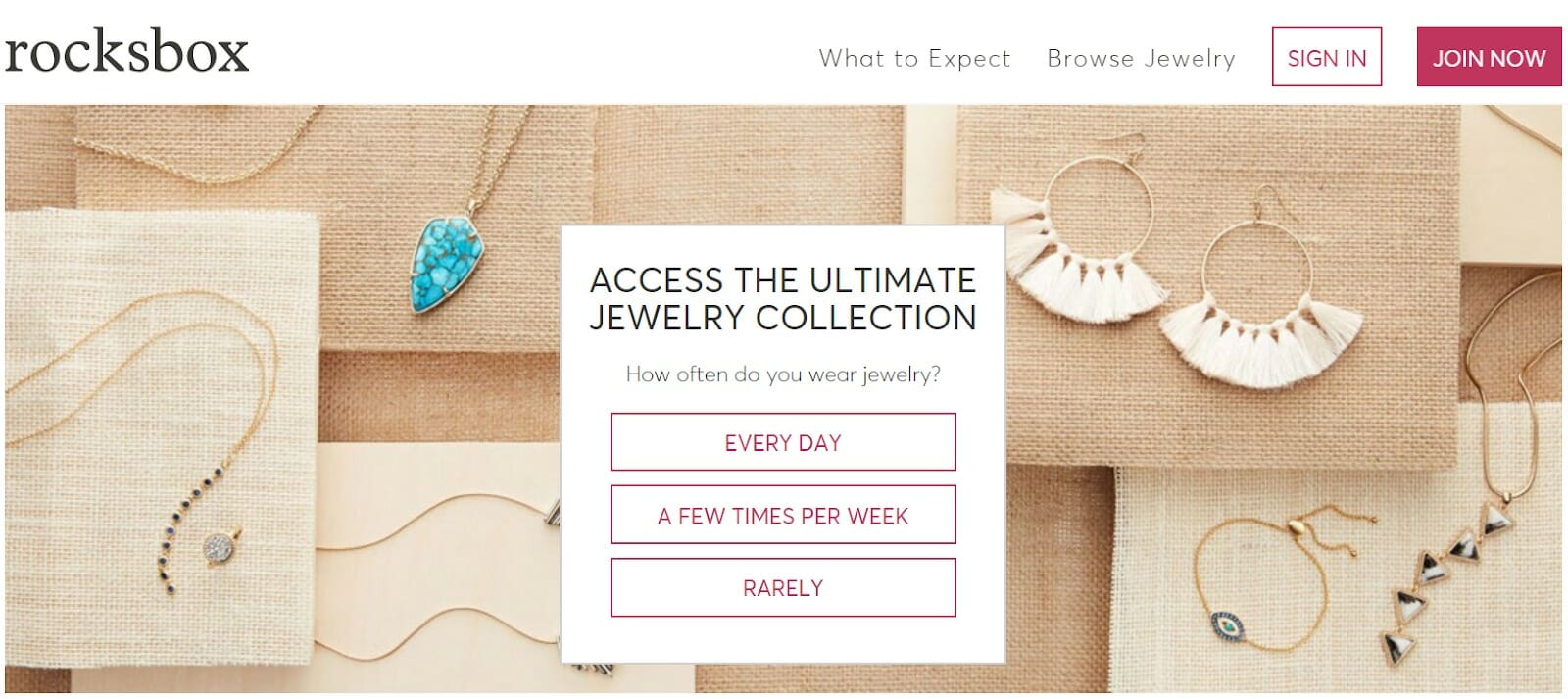 Based on these segments, they send their customers emails that have personalized product recommendations. This helps them build loyalty because customers feel special when they see such tailor-made recommendations. It helps them save time searching for the perfect jewelry and, in many cases, it translates into sales.
Example: Zillow
Another great example of using segmentation to send personalized emails to customers comes from Zillow – a provider of various real estate services including buying, selling, renting, remodeling, etc.
They segment their customers based on the life cycle stage they're in and then send relevant marketing emails to each group of prospects and customers.
For example, they send emails containing information about homes in preferred areas to people who are looking to buy a house. When users have added certain houses to their wishlists, they send emails notifying them of price changes of their saved properties.
For consumers who are close to finalizing a house, they send emails with information on financing options. Or for people who have opted for a mortgage, they send emails with information about mortgage loans.
Using such a strategy, Zillow saw an 18% increase in their click-to-open rates and a 161% increase in their email open rates.
Learn More:
2) Personalize by Using Dynamic Content
A great way to personalize your emails is by using dynamic content.
Dynamic content is "web content that changes based on the behavior, preferences, and interests of the user. It refers to websites as well as e-mail content and is generated at the moment a user requests a page."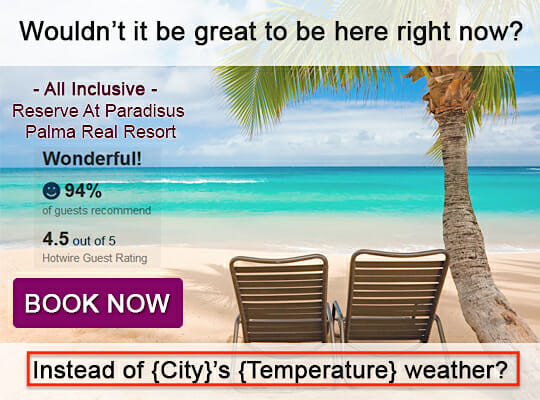 Using dynamic content saves you the effort of spending hours tweaking each email to make it relevant to your customers or prospects. Essentially, you need to draft only a single email, but you can customize portions of it based on the customer segment you're sending it to. The customer feels special because they're getting relevant information and offers delivered straight to their inbox.
You can use dynamic content in your emails based on a variety of different data points you might have collected. For example, you can dynamically change the email content based on gender, location, preferences, past purchases, weather, loyalty program status, and many other parameters.
Let's take a look at some examples of dynamic content in action.
Example: Adidas
If you're a fashion retailer, you certainly wouldn't want to recommend your latest baby collection to Millennials or senior citizens.
Adidas follows the same principle and uses dynamic content in their emails to display women's apparel recommendations to their female subscribers and men's apparel recommendations to male subscribers.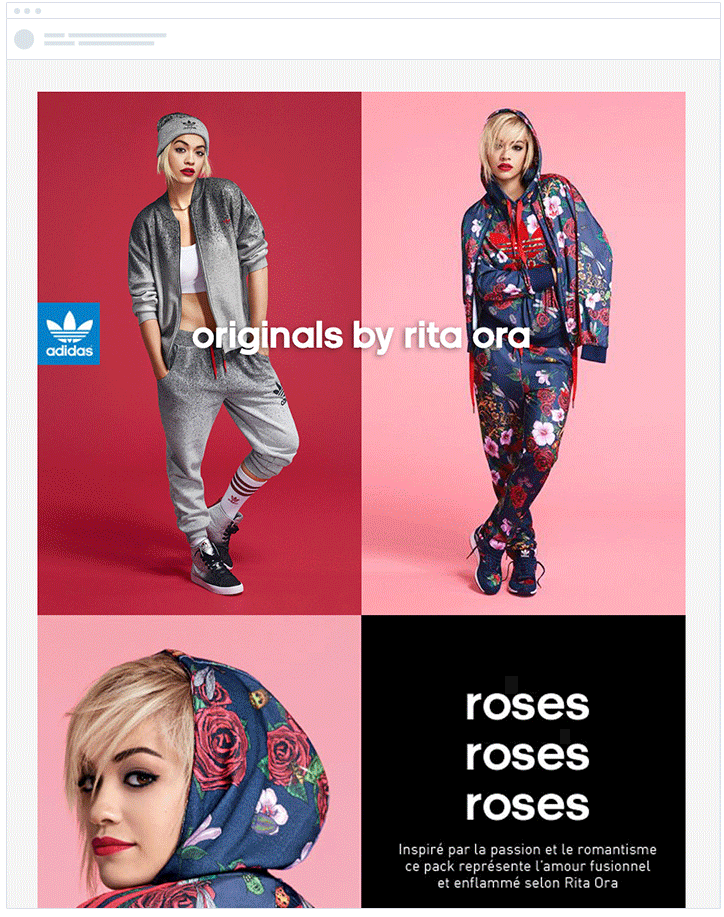 Example: Virgin Holidays
January is a very important period for travel service providers as many consumers want to escape the long nights and cold weather to go someplace nice and warm. In fact, for Virgin Holidays, January sales account for almost a third of their total revenue.
However, the uncertainty over Brexit caused many British people to put their travel plans on the back burner. And so, Virgin Holidays realized that they needed a new approach to their email marketing and it had to avoid being salesy. They used personalization to come up with more relevant offers for their prospects and customers.
Using dynamic content, they made sure that every prospect or customer received an email that was tailored to their personal preference of travel destinations. And by making use of AI, they also came up with some compelling subject lines that were most likely to resonate with their audience and they also honed in on unique send times.
As a result of this approach, they recorded 70% greater opens and 65% greater clicks from their emails from the previous year. And not just that – they even saw an increase in their revenue by 49% over the previous year as a result of this personalized email campaign.
3) Personalize with Product Recommendations
Personalized product recommendations can go a long way to show your customers that you really care for them. A study by Salesforce found that 76% of customers expect businesses to understand their needs and preferences yet half don't feel that they are: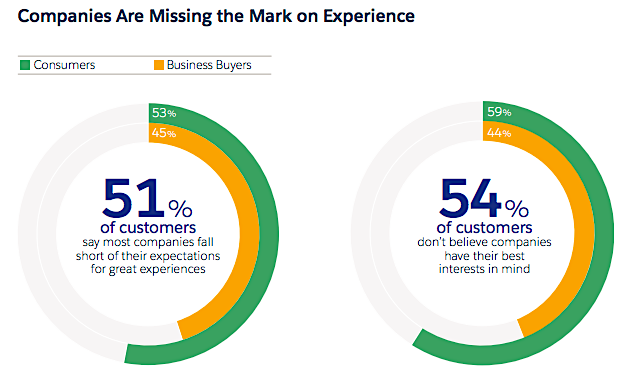 A great way of showing your customers that you understand their needs is to provide customized recommendations on what to buy next based on their past purchases. One way of doing this is to send your customers information or offers on related or complementary products.
You could also take this a notch higher and send how-to guides that include information on related products or accessories. For example, if a customer has bought a shirt from your store, you could send them an email that includes a style guide on how to put together a complete ensemble using that shirt and other items from your store.
This is a great strategy to not just show that you understand what they want, but to get some additional sales as well. How-to guides can drive your customers to purchase some of the other items you've recommended in your emails so that they can create a complete ensemble.
You can even help your customers save time from having to browse through your store this way. In fact, studies have found that 96% of people would like brands to help them discover new products to a certain extent.
Example: J.Crew
J.Crew, a women's, men's and children's apparel and accessories store, sends their customers emails that contain personalized product recommendations based on items they have already purchased. In the example below, you can see how they've put together a style guide on how to create three complete looks using their leopard print skirt.
The email includes three different looks – for work, for the weekend, and "for wherever" – each complete with recommendations for tops, shoes and accessories. It also includes a discount to encourage more people to make purchases.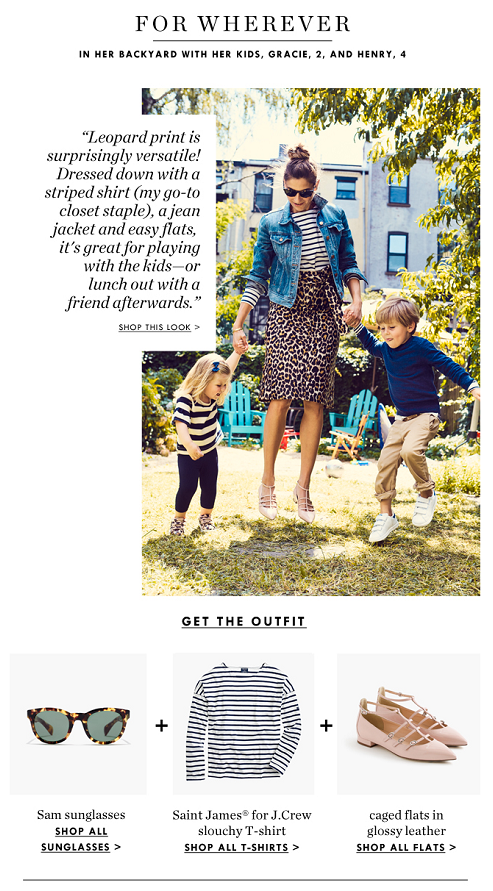 Example: Amazon
A company that has mastered the art of personalization is, of course, Amazon. The e-commerce giant keeps track of the products you've purchased or even browsed on their site and, based on that data, they send you personalized recommendations of products you might like.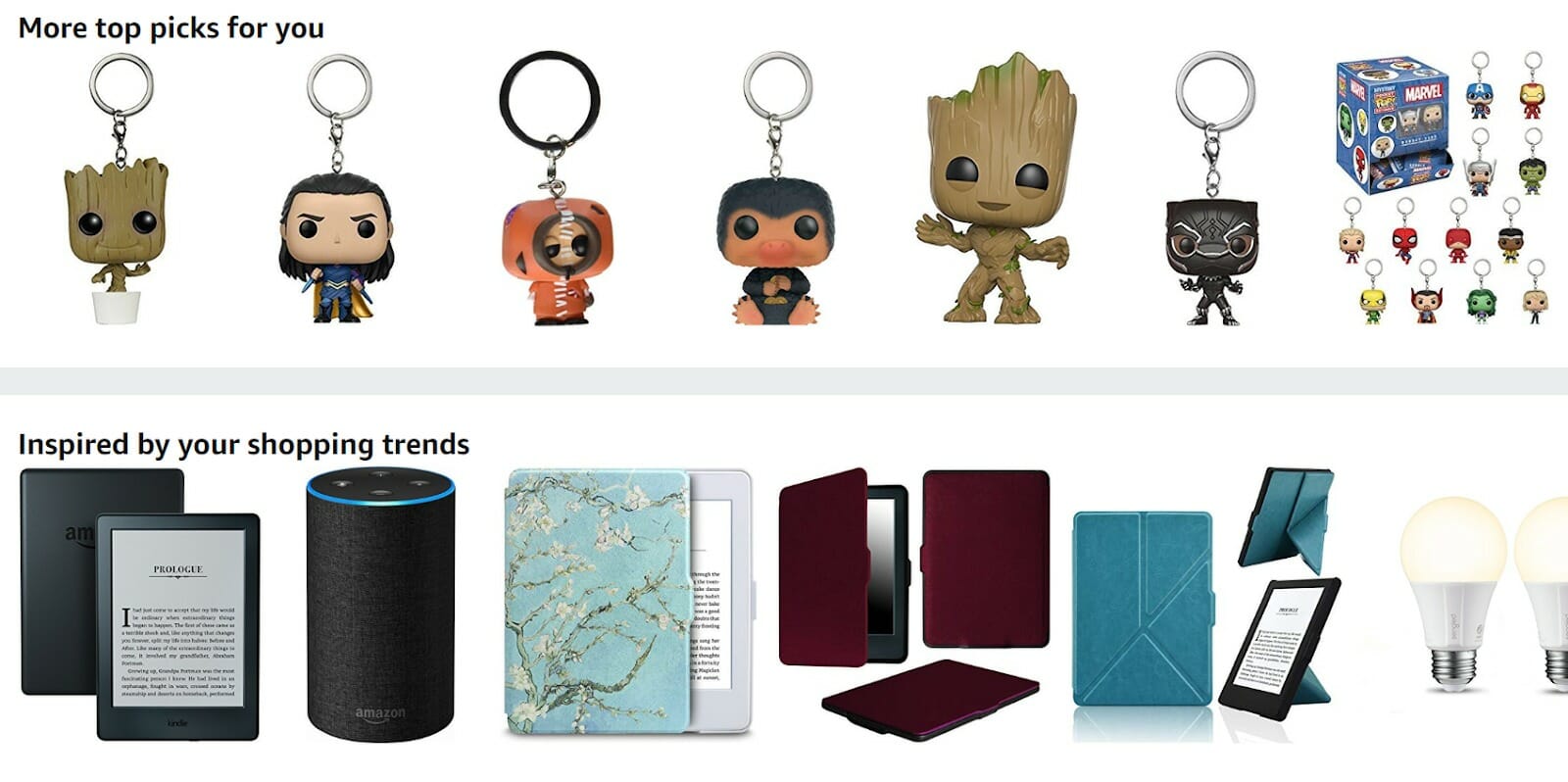 Learn More:
4) Personalize with Special Offers
Instead of sending the same generic discounts and offers to everyone, why not personalize them according to the segment a customer belongs to? When consumers are exposed to offers that are more relevant to them, you're likely to notice an increase in your click-through rates as well as conversions.
Example: PetCareRx
PetCareRx is an online retailer with all kinds of products related to pets. Many of their products need to be reordered by customers every 3-12 months. They were using generic discounts and offers for all their customers which proved ineffective in the long run. So they took an innovative approach and decided to personalize their offers for their customers.
Using predictive analytics, they were able to offer steep discounts via emails to customers who were less likely to buy and smaller discounts to those who were more likely to buy. As a result of this, their campaign response rates more than doubled without having to increase their marketing spend. In addition, their quarterly sales increased by 38% and profits by 24%.
Example: Uber
Uber uses a personalization strategy based on the location of their customers or the places they travel to most often. Based on such knowledge, they segment their customers and send them personalized offers and discounts.
Here's one such email that they sent to a customer who frequently travels to San Francisco: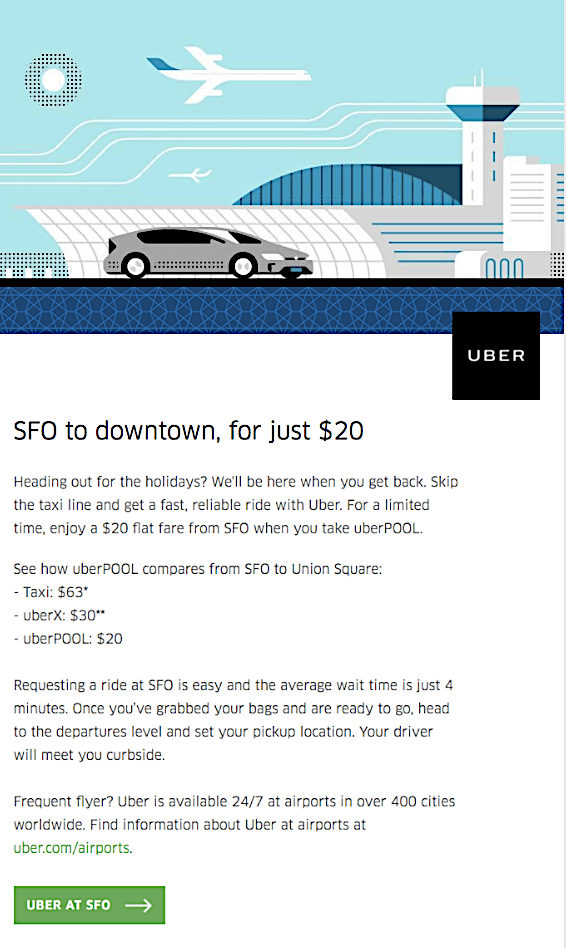 Final Thoughts
These are just a few ways you can use personalization to increase the impact of your email marketing. A simple personalization tactic that does not require too much effort is to send your customers a reward or a discount on their birthdays or anniversaries. Not only is this a great way to show that you care about them, but also a great way to win their loyalty.
Another way to personalize your offers for your customers is to track their purchases, especially for products that need to be replenished every few months. When it's time for the product to run out, you can send your customers personalized offers and remind them to reorder the product. Or you can even send emails to remind your customers who have abandoned their shopping carts to complete their purchases. The possibilities are endless.
The only thing you need to remember is to make your emails as relevant as possible to the recipients you're sending them to. For more information on this, check out the infographic below: