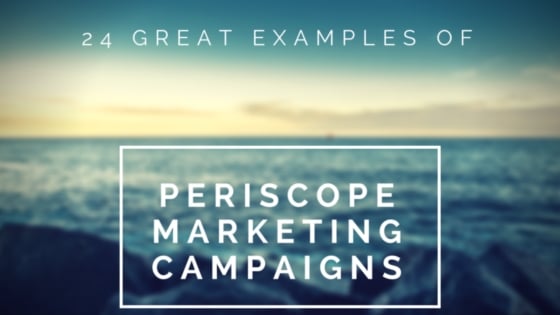 You've probably been hearing a lot about Periscope in the last half year, but just in case you've been living under a petrified camcorder, Periscope is a live streaming video app that Twitter launched in March. Though it's still relatively new, it's already gaining a ton of traction: in its first five months, Twitter reported that the app had more than 10 million users.
As Periscope gets more and more popular, brands across the country are scrambling to figure out how to leverage it to earn new followers and grow their business. The stand-out quality of this new app is its ability to "forge a more personal relationship with consumers" and thereby accelerate and enhance branding opportunities in an exciting new way. It's a great chance to engage with your current or potential customers in a more human, accessible way, it's ideal for quick product demonstrations or interactive customer support, you can easily capture and share live events or Q&As, and it's a great way to hold live press interviews for media outlets around the world.
If you're currently in the process of launching your first Periscope campaign, start by studying other brands that have already been successful. Here are 24 great examples of Periscope marketing campaigns to help get you inspired:
1. Red Bull
Red Bull was one of the first companies to take advantage of Periscope. Rather than focus on promoting their own product, however, they've used live video streaming to engage with customers in a way that reflects their brand image. In one instance, the beverage giant used the app to broadcast the Red Bull Guest House event, their "ultra-exclusive weekend-long party in Miami Beach"—a scenario that couldn't be any more perfect for live streaming!
2. Dunkin Donuts
Dunkin Donuts has been trying to regain market share from Starbucks for years. And in this pursuit, they've been especially focused on the millennial market, since the purchasing power of this demographic is growing rapidly. Over the past summer, the company started looking for new ways to draw attention to their iced coffees and Periscope was one of the platforms they used. 
They called this event "DD Summer Soundtrack," a five-concert series with musical performances, videos, customized playlists of all the musicians, behind-the-scenes action, and wrap-up sizzle reels from all the footage. Scott Hudler, VP of Global Consumer Engagement, says that reaching customers across various social platforms is critical: "This will be the first time we've had the mass social presence across all the channels on the same idea for the same promotion."
3. Doritos
Doritos was the first brand to use Periscope to promote a contest, a game called #DoritosRoulette that was coordinated across Twitter, Vine, and Periscope. Here's a link to one of the tweets that the company posted, which clearly demonstrates the purpose of the contest: to draw attention to its new product "Roulette," a chip so spicy that it may just be too hot to handle. The contest included online games of chance, a live giveaway styled like a gameshow, and many opportunities to win prizes—after tagging at least three of your social media buddies.
Ultimately, the contest helped create massive exposure for the new product launch. A number of customers tried the new chip as a result of the company's promotional efforts and said it was delicious (although many of these same testers disagreed on the level of spiciness Doritos promised).
 4. EA Sports
Electronic Arts (EA) Sports has one of the biggest lines of sports video games on the market, and a few months ago, they started using Periscope to stream their most recent game, Madden 15, to give would-be buyers a taste of what they were missing out on. Viewers got to see exclusive behind-the-scenes footage of such NFL stars as Odell Beckham Jr and Patrick Peterson, ask questions, and otherwise interact with EA. This brand for one knows the value of transparency!
 5. Benefit Cosmetics
While many brands use Periscope to grow their market, Benefit Cosmetics uses live streaming to build brand equity with their existing customers. They regularly host live streaming tutorials on using makeup and other cosmetic topics that reach more than 2,000 viewers every time they stream.
Like many other brands, Benefit Cosmetics fully understands the old adage "If the mountain won't come to Muhammad, then Muhammed must go to the mountain." Many customers simply can't make time or travel the distance to go to an in-store demonstration, so Benefit Cosmetics brings the live demo to their home. According to Digiday, their customers are clearly highly-engaged, as the company usually earns nearly 20,000 hearts in any given live streaming session. 
 6. Adidas
Adidas was the first sports company to recognize the benefits of using livestreaming to reach a wider audience for a press announcement only a couple of days after the app was introduced. Adidas included Periscope in their marketing strategy to live-stream Real Madrid soccer star James Rodriguez signing a deal with the sports clothing giant. This 20-second press event was broadcast from their headquarters in Germany, and though Periscope was new and didn't have a huge viewer base, Adidas still earned the distinction of being the first company in their industry to promote via Periscope.
7. General Electric (GE)
General Electric is one of the largest corporations in the world—a fact that undoubtedly causes many customers to wonder what really goes on behind the scenes. Well, wonder no more; GE has begun using Periscope to give their customers an inside view of some of their facilities, which has helped boost transparency and customer engagement.
In one instance, GE developed a drone that hovered over its manufacturing facility in Texas. The drone carried a camera that streamed the video feed to their Periscope channel as part of a week-long event known as "Drone Week," which became a unique way for GE to engage with their millennial viewers.
"When you give people a peek behind the curtain, they fall in love with the company," said Sam Olstein, director of innovation at GE. "We're treating it as a week-long show where we stitch together a narrative to demonstrate the scale, size and impact of our machines."
GE believes that Periscope events such as this are going to play an important role in earning the loyalty of their younger customer demographic—and I can't argue with that!
8. BarkBox
BarkBox is a popular manufacturer of dog products that are sold across the United States. Understandably, the brand wants to communicate that it has a strong affinity for dogs, and Periscope has played an unexpected role in fostering their image as dog lovers.
For example, BarkBox had a number of puppies at their office one day. They captured these adorable little dogs on video and streamed the cuteness on Periscope. The concept was simple, but it helped the brand gain a lot of traction on social media. In fact, one of their streaming sessions last March received close to 800 likes on Facebook. But come on—who doesn't love puppies?
9. T-Mobile
John Legere, the CEO of T-Mobile, believes that CEOs need to be more engaged with their customers. And he's probably right, considering that so many of today's consumers are complaining about a lack of brand transparency.
Legere discovered that Periscope was one of the best ways for company executives to engage with customers. He currently hosts regular Periscopes to update their followers and has found them to be remarkably effective. In October he created a broadcast titled "5 Ways T-Mobile CEO @JohnLegere's Use Of Periscope Is Changing The Game and Why Other Leaders Need To Take Notice." As its name implies, this broadcast focused on the fact that Periscope was one of the most effective ways for him to reach his customers and demonstrates why other brand leaders should follow suit.
10. Orange France
Orange France is a leading mobile and internet service provider in Europe. And since digital media is the essence of their brand, leveraging new technology like Periscope was a crucial part of their branding strategy.
To date, the company has used Periscope to engage their customers and establish themselves as an early adopter of live video streaming. However, their campaign was different than many others, in that they incorporated it into their existing television marketing strategy. Viewers watched a reality show unfold and were able to engage with the actors through Periscope, giving the actors advice to get through a date they were enacting. This was an entertaining and original experience for both the actors and the viewers.
11. Adobe
Some brands have run very brief Periscopes to entertain their audience. However, Adobe has invested in much more intensive streaming sessions. In one instance, they hosted a day-long event, where 24 different Adobe employees discussed the release of one of their new products, Creative Cloud.
Here's an excerpt from the company blog covering the event:
"For 24 hours you can chat with 24 different members of our team (evangelists, product managers): We'll discuss new features, explain the mobile-to-desktop workflow and CreativeSync technology, and give you the opportunity to meet and engage with the teams behind our applications and services—Adobe Photoshop CC, Adobe Illustrator CC, Adobe InDesign CC, Adobe Muse CC, Typekit, Adobe Stock—our mobile applications, and more."
The Periscope session was a big hit for them in terms of their ability to get their point across. The #CreativeCloud hashtag generated a lot of traction on Twitter, which helped draw even more attention to the Periscope event.
12. DKNY
New York fashion house DKNY was founded over thirty years ago, but it has survived since then by keeping up with the times. In particular, DKNY executives realized that Periscope was a revolutionary platform that would allow them to reach new markets, which is why they were among the first in the retail industry to leverage the streaming service.
One of their Periscope sessions involved streaming a feed inside their closet, which allowed viewers a rare glimpse at their wide array of designer clothes. Digiday grabbed this screenshot to give people who missed the Periscope event a look.
13. St. Germain
Branding Magazine pointed out that the early adopters of Periscope were primarily fashion brands, though French liquor maker St. Germain broke the tradition by being one of the first alcohol distributors to stream on the new platform. The first Periscope they ran was called "Peep Show"—a burlesque-style show starring Canadian actress Hannah Simone—in which you could actually peep into her dressing room and watch her. In an innovative move for the beverage industry, St. Germain's format was similar to that used by Orange France in that viewers could play the role of director and get the actress to move around the house.
14. Turkish Airlines
In July, Turkish Airlines became the first company in the world to broadcast a flight over Periscope, giving the brand's social media followers a behind-the-scenes view of the cockpit, crew cabins, and other parts of the plane as it made its way from Istanbul to New York. As it streamed, the event gave Turkish Airline customers a new appreciation for all the hard work that the airline's employees go through every day to make sure that planes reach their destinations safely.
15. Spotify
Music streaming service Spotify was one of the first brands to join Periscope, actually creating an account the very day that Periscope launched and holding their first Periscope session only a few hours later.
Irish folk singer Conor O'Brien of the Villagers was the performing artist at their event. Adweek reports that nearly 400 people watched the event the first day and gave them 1,534 hearts (Periscope's version of Facebook likes)—a big deal, considering that the service was less than 24 hours old at that point. The success of their first Periscope set the stage for Spotify to create even more streaming events over the coming months. 
16. Lincoln
Auto brands weren't among the first adopters of Periscope, but they're now starting to use the service extensively as they quickly discover the benefits. Lincoln is one of the companies that has turned to Periscope to boost brand exposure to younger demographics and inform customers about new vehicle designs. Here's an example of a tweet that they shared to promote one of their streaming events:
"|LIVE NOW| Our #Continental Concept reveal with Lincoln Design Director David Woodhouse."
The juxtaposition of the iconic car design of the '40s and '50s and the modern technology with which it is showcased is a work of art—not to mention smart marketing. Considering the success this brand has seen so far, Lincoln will likely benefit even further with video streaming to promote its brand in the future.
17. Taco Bell
Taco Bell has also found a number of creative ways to use Periscope to boost its brand exposure, one of which is to promote various giveaways. In May, Taco Bell released a Cinco de Mayo promotion, which was broadcast across its Periscope channel.
Rob Poetsch, the company's Director of Public Relations, said that Taco Bell immediately recognized the marketing potential of Periscope shortly after it was released. "We're always looking for new ways to engage with our fans and saw that they were using Periscope," Poetsch stated. "We played around with the app and immediately saw the potential. It's a fun way to broadcast news and live events, and a great platform to make our Breakfast Defector Day announcement."
Scott Michaels, Executive Vice President of Vancouver-based app developer Atmi, thought Taco Bell's strategy was very cleverly executed and believes that other brands can learn a lot from it:
"You have a promotion, and how can you expand the reach and distance of your campaign announcement for as little cost as possible? Use a currently trending social service as the launch point, of course. This has been done on YouTube in its early days, Twitter, and now Periscope. I applaud the effort—and believe that the press generated around it is of course more valuable than the other methods of posting they have at their disposal (Taco Bell already having YouTube, Twitter, Facebook and Instagram accounts)."
18. Whiskey River
Whiskey River is a new restaurant that was founded by Dale Earnhardt Jr. and given the challenges associated with growing exposure for a new bar and grill, it's no surprise that Periscope has played a prominent role in his marketing strategy.
Shortly after opening the restaurant, Earnhardt Jr. started using Periscope to give people an inside view into his restaurant. He told USA Today that this helped his fans feel more connected to him and promised more transparency.
"You get a real good judge of a person's character by seeing them in that environment," Earnhardt said. "A lot of people that are fans of ours haven't had a chance to have any real interaction (with him in person). So maybe that gives them an idea of my personality. I don't know. We'll just have to see what happens."
Earnhardt suggested that the first Periscope campaigns turned out very well, but is still debating whether he'll be using Periscope on a regular basis or just for important announcements and special promotions.
19. Pizza Hut
Pizza Hut has also found a number of different ways to promote itself on Periscope. The company has used the platform to host a number of contests, such as the Pizza Championships (which you can read more about at the Pizza Hut blog). It's much easier for people to get excited about a competition when they're watching it live—not to mention build momentum around the event—so the marketing team went live with video footage and interviews with the participants. Here's an excerpt from one of the contestants who won one of the later rounds.
"And we're live on Periscope—follow the blog squad's Rickey McCoy as he broadcasts from @pizzahutpeople. That puts us at round 5 with Becky Schrock from the Great Lakes Region up against Ron Alvarez representing Southern Louisiana! Things are getting intense here in Dallas…"
20. Green Bay Packers
The Green Bay Packers recognized that Periscope could revolutionize the way they interact with their audience. Many Packers fans have been sharing developments throughout the game on Twitter and Facebook for years. However, Periscope is giving the team the opportunity to connect with people in a whole new way.
One of the first times they connected with fans through Periscope was during a September game with the Chicago Bears. Anyone who follows either team knows that these two have a tense rivalry, which is why fans valued the team's live Periscope streams for their ability to get an up-close view of their favorite team. The team's initial Periscope was clearly a success, as they've continued to stream a number of other games since.
21. Uber
Uber has gained a lot of ground in many jurisdictions throughout the country. However, it's also facing significant backlash, as many people have criticized the company for being loosely regulated and for not protecting the safety of its passengers as well as it could. As a result, some communities have been reluctant to allow Uber to operate in their borders—an obstacle that Uber is attempting to overcome with Periscope.
Take Winnipeg, Canada, for example. Recently, Uber made a presentation to the Winnipeg Chamber of Commerce, which was broadcast on Periscope, allowing Chris Schafer, Public Policy Manager for Uber to gather extensive input from viewers on the streaming service. Winnipeg business owners and customers were given the chance to submit questions live, to which Uber responded. It was a great presentation, and the city reported that it's likely to take citizen feedback from the Periscope event into consideration.
22. Nestlé
Nestlé's Drumstick used a different angle for its Periscope marketing. Rather than running video feeds of its facilities and employees, it made its customers the focal point of the Periscope campaign. The company reached out to a number of Nestlé fans across the world and convinced them to eat their drumsticks on video. The feeds were then broadcast on Periscope so that other customers could see the brand in a more personal light than ever before.
Meredith Saxe, brand manager for Nestlé Drumstick, said that the strategy has been remarkably effective. "These content creators regularly reach their followers on Periscope by telling their own stories, and we are excited to see what they create for Drumstick."
23. Nascar
Since auto manufacturers such as Lincoln and Jaguar have been leveraging Periscope, it makes sense that Nascar would use the streaming service as well. So far, many Nascar drivers have adopted the service to engage with their fans on a much more personal level and give them a behind-the-scenes view that few people are fortunate enough to see. Dale Earnhardt, Jr. is one of the drivers who has been actively using Periscope (which is probably why he saw it as a natural fit for promoting his new restaurant).
According to Sportingnews.com, Earnhardt used Periscope to connect with his fans no less than three times within the first month after service was launched. Tony Stewart is another driver who's been using Periscope to engage his followers. "I've just been experimenting, playing with it," Stewart wrote in a post on wlfi.com. "I'm having fun with it."
24. Ralph Lauren
Ralph Lauren has done an exceptional job utilizing new technology to expand their market base and improve customer satisfaction. And while we already know that fashion brands were among the first to engage with Periscope, Ralph Lauren's use of the app has evolved over time.
In September, they began using Periscope to broadcast one of their fashion shows in London. David Lauren, executive vice president of global advertising, marketing and corporate communications, says, "We are using technology to make retail shopping a fully interactive experience with the recent launch of our holographic windows on Fifth Avenue." A few days prior to the fashion show, they advertised the livestream on a large, outdoor screen at Piccadilly Circus, tweeted from the Ralph Lauren account, and included a countdown clock. And the smartest move of all? The Ralph Lauren Bond Street store is just minutes away from Piccadilly Circus for those who are inspired to shop.
Learn from the Best Periscope Campaigns
Periscope is a growing platform that's already attracted more than 10 million active users. It's clear that it can be a tremendously effective way to engage with your brand followers—if you know how to use it properly. As you think about launching your own Periscope campaign, look to the example of the companies above to get inspired!
What have you learned from these Periscope campaigns? Share your thoughts by leaving a comment below: