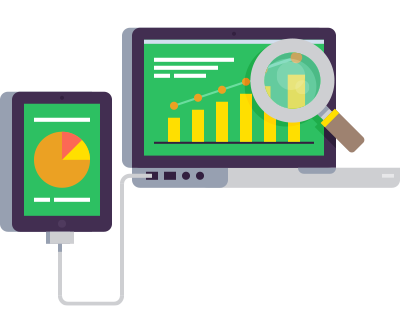 Today's SEO isn't just about keyword counts or backlinks from high PageRank websites. It's about delivering content that the search engines want to reward and that drives customers through your sales funnel. It's about being found in all the right places, and it's about using that visibility to drive real, measurable growth in your company's bottom line.
Single Grain got its start as an SEO agency, and we've used our time to stay ahead of the curve with constant research, training and experimentation. When we say that we have the skills and knowledge needed to increase your visibility and traffic, know that we've been putting our money where our mouth is for nearly a decade!

What SEO Services Do We Offer?
We can help with any of the following:
SEO Campaign Management
Infrastructure Analysis
Link Profile Audit
Broken Link Identification and Outreach
Site Crawl Review
Trust Factor Analysis
UX Evaluation
Link Prospecting Recommendations
Web Analytics Setup
SEO Tool Selection and Integration
General SEO Consulting
FAQ
How long does it typically take to see results?
Usually 5-6 months is when we really start to see the needle move. Organic traffic is not a fly by night type of campaign – it's ongoing and takes time.
Do you offer any guarantees?
We do not – if we offered guaranteed ROI we would be sitting on the beach right now 🙂
What makes you different from other agencies?
People on our team have experience working in house and in a tech startup atmosphere where we understand the importance of increasing our clients' bottom line. That's all that matters to us.
How do you measure SEO success?
Great question. We look at organic traffic and organic conversions. To a lesser degree, we'll pay some attention to keyword rankings but don't put too much emphasis on them.
Just a Few of the Companies Whose Revenues We've Grown
We Do the Same for Lots of Smaller Companies, too
Uber
Amazon
Recurly
SalesForce
Trustpilot
Intuit
View Case Studies
We really lean on Single Grain as an extension of our team, which enables us to increase our impact without increasing our headcount.

Single Grain team have been instrumental in providing us with forward-thinking, growth-impacting marketing support. Their expertise has helped Nextiva grow its brand and overall business.

Single Grain has been an important force for guiding our digital marketing. They act like an extension of our team, proactively coming to us with ideas and fixing issues as they arise; exactly what we look for in partners.

Single Grain has been key in helping us generate B2B engagement across digital channels. We can count on them to bring new ideas to the table consistently and that's why we love working with them.

Not only did Single Grain deliver strong results — markedly increasing unique, new web traffic and engaged users — but they provided us with key learnings about our messaging that we are now using.

SingleGrain has been there to help take a lot of the stress out of the process. We can always count on them to deliver high-quality content on time, and knock it out of the park.

What stands out is that they have a skilled team with subject matter experts in each digital marketing discipline. These guys are very good.

Single Grain has been the strongest outside force in helping our business "level up". Since engaging with Single Grain our revenue has increased more than 300%.
Friendly Chat
Marketing Gameplan
Low Hanging Fruit
Full Rollout
Learn & Adjust
Can We Help with Your Unique Situation?
Let's have a friendly chat to find out
Top SEO content from our blog