Did you miss the first post in this series? Read it now: The Ultimate Guide to Creating Your Marketing Funnel
Optimizing your marketing funnel can help generate massive ROI for your business.
At each step of a funnel, there's a drop-off point where potential customers stop engaging with your content. Even a small increase in drop off could have really negative effects on your bottom line over time.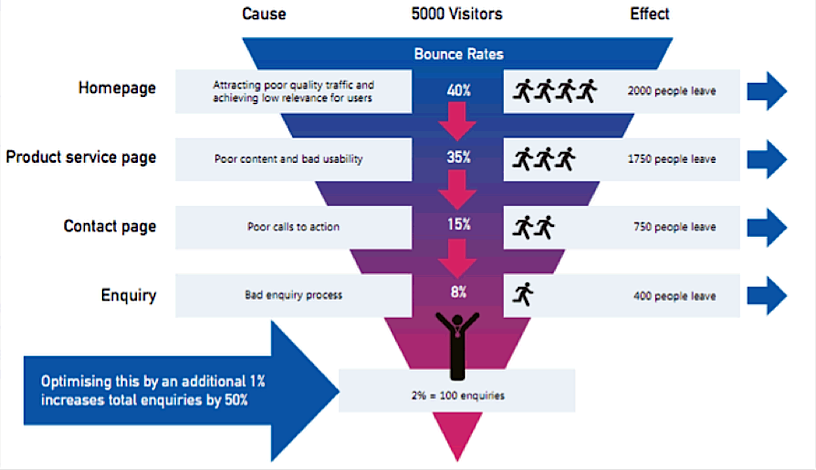 For example, Telestream gained nearly $400,000 in additional yearly revenue as a result of reducing drop off by just 4% in the final stages of their funnel.
If you look at the image above, optimizing the end stage of the funnel by just 1% could boost total inquiries by 50%. Depending on the average value per inquiry, that could be tens of thousands or even hundreds of thousands of dollars gained.
In this post, we'll talk about some tactics you can use to optimize your marketing funnels as well as the tools to help you do this.
How to Optimize Your Funnels
Improving your marketing funnels at each stage involves digging deep into your analytics, testing and tweaking your conversion points, making sure your copy "hits the spot," and making sure your design has as little friction as possible.
Before we talk about the tools that will help you increase your conversions, let's talk about the high level strategy of identifying the different components in your funnel that need fixing.
Create a Funnel in Google Analytics
The easiest way to start testing your funnel is by setting conversion goals in Google Analytics. Conversion goals are meant to track a customer from the moment they land on your page, to what their actions are, to where they drop off. The data you'll find in your Google Analytics funnels will show you exactly where your potential customers are losing interest.
First, add your website to your Google Analytics page (you'll find the relevant tracking code under the "Admin" link). After that, you can copy and paste the code on all the pages that make up each part of your funnel.
To create conversion goals within Google Analytics, click on the section called "Conversions" on the dashboard menu. When you click it, you'll see a sub-menu like this one:

There are a few different types of conversion goals that you can track:
Destination – Use destination goals to set a page view as a conversion.
Duration – Set duration goals to measure time on page, and tie that to a conversion goal.
Pages/screens per session – Setting pages/screens per session as a goal allows you to measure user engagement by observing the number of pages/screens a user views in a single session.
Event – Set an event goal if you want to set a user interaction on your site as a conversion (like signing up for an e-mail list).
To create a New Goal, you can click "New Goal" and go through the steps.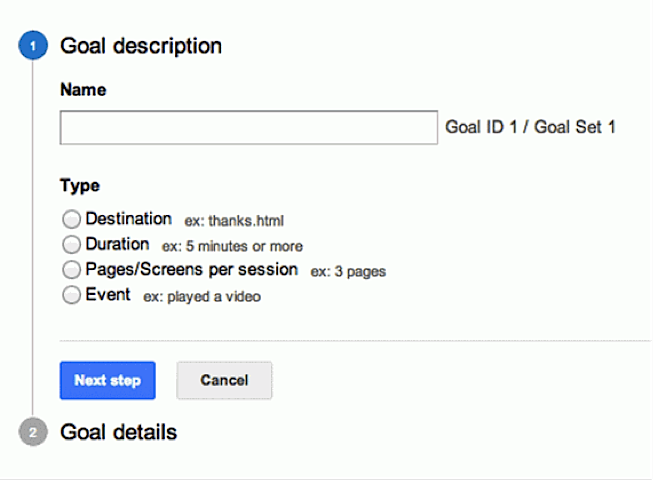 Once you've created a goal, you have to create a funnel around that goal.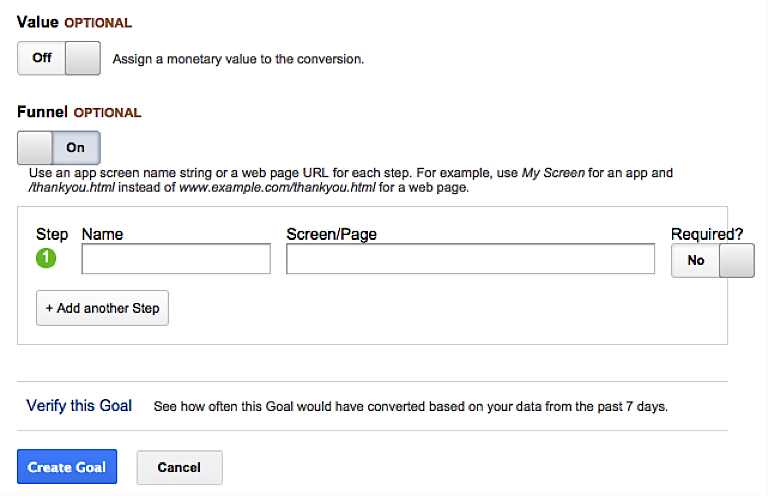 After this step, you'll be able to add your individual funnel steps from beginning to end. Here's an example of how a Shopify customer might go through the process of searching for and buying a new pair of shoes: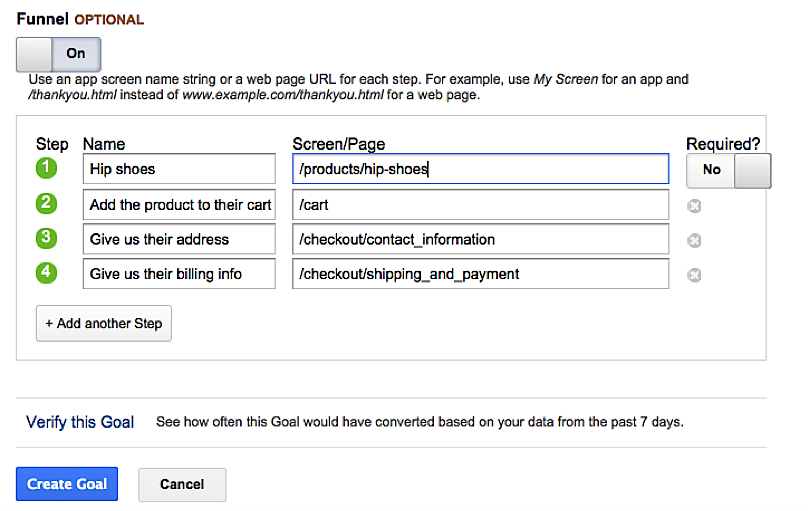 Finally, you can select "Create Goal" to finish. Now you'll be able to measure conversion rates at each stage of your funnel in order to analyze the patterns behind customer drop off — this will better equip you to patch those "holes" and ultimately boost your bottom line.
Analyze Your Landing Pages
Once the funnel is set up and you've started collecting data on some of the pages in your funnel, it's time to start tweaking different parts of your page to see how you can boost conversions.
Here are a few factors that make a high-converting landing page, according to KISSmetrics.
1) Clear and concise headlines
Headlines that address a specific point that's related to the page's content will attract the attention of the right type of reader, while vague headlines cause higher bounce rates.
Here are some article headlines that helped IncomeDiary get 10 million readers:
6 Instant Confidence Boosters

10 Steps to Successfully Outsourcing Your Online Business

21 Ways to Dominate YouTube: The Ultimate Guide
2) Social proof
One of the best ways to boost conversions is through social proof. There are a few different social proof tactics you can use on your landing pages to boost conversions, including:
Testimonials, ratings or reviews

Influencer endorsements

Customer logos
Trust badges
Security certifications or trust badges are very important: the eye glasses company ACLens saw a 41% increase in conversions after they added VeriSign as well as a 58% increase in revenue per transaction.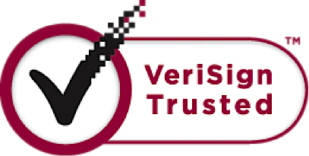 3) Strong CTAs
It should be obvious to your prospects what you want them to do next once they land on your page.
Mozilla Firefox saw a 3.6% boost in conversions when they changed their CTA from "Try Firefox 3" to "Download Now — Free." Small changes to your copy can have a massive impact on your business.
Learn More: How To Create CTAs that Actually Cause Action
4) Limit the number of links
The more options people have, the less likely it is that they will choose any of them. On your landing page, limiting the number of links will make it easier for users to take action on the few links that you do have.
For example, notice how KISSmetrics makes it extremely obvious what they want visitors to do once they land on their site:

Understand Your Market's Objections
According to CrazyEgg, the biggest things that marketers struggle with are creating engaging content that holds the limited attention of prospects, and using it to drive conversion.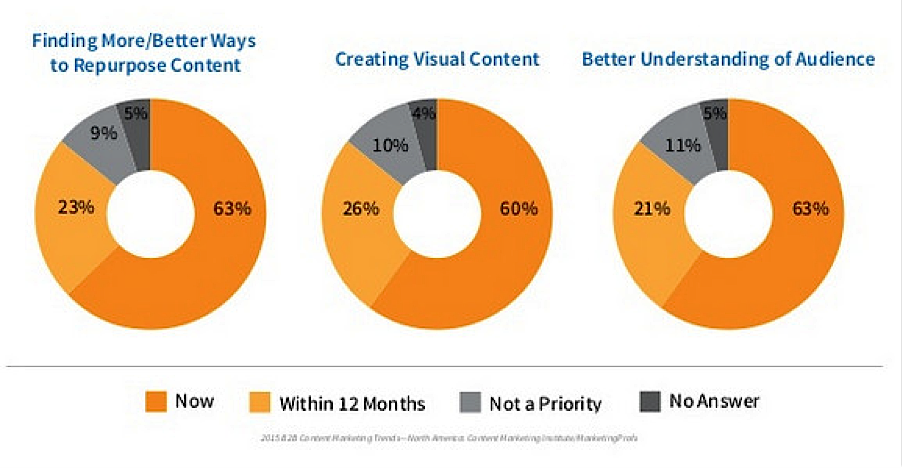 Source: CrazyEgg
Most content on the Internet doesn't lead to conversions — whether that's e-mail subscriptions, downloads, sales, or any other metric you're measuring. The way to counter this is by understanding what blocks prospects from taking action at key points in the funnel.
Some of the most common objections can be put into three buckets:
1) "I don't need it right now"
2) "I can't afford it right now"
3) "I don't trust you enough to deliver"
It's important to have a variety of content that hits all these objections at the right time in your funnel.
For example, to counter the "I don't need it right now" objection, you could include scarcity tactics like limited time discounts, limited time bonuses, limited inventory, etc.
This is what AppSumo does to boost sales for their promoted products. They offer limited time discounts on digital products to reduce the urge to procrastinate on purchasing: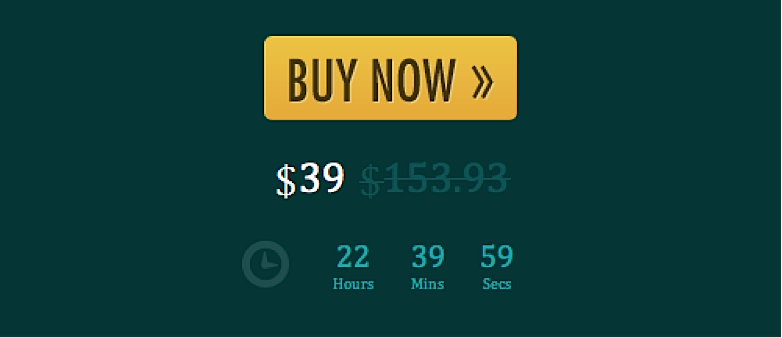 People tend to unconsciously assign higher value to products that are scarce, so these tactics can also be used to reduce the number of potential customers that drop off after seeing the price.
You could increase the level of trust your audience has in you by telling personal stories in your autoresponder sequences, adding testimonials, customer logos, influencer endorsements, money-back guarantees, or security certificates.
Don't Stop After the Sale
Most marketers focus on acquiring customers and fail to focus on user retention and referrals. But this is a huge mistake because referrals can drive massive profits at low cost.
That's why Neil Patel added the stage "grow customers" to his conversion funnel: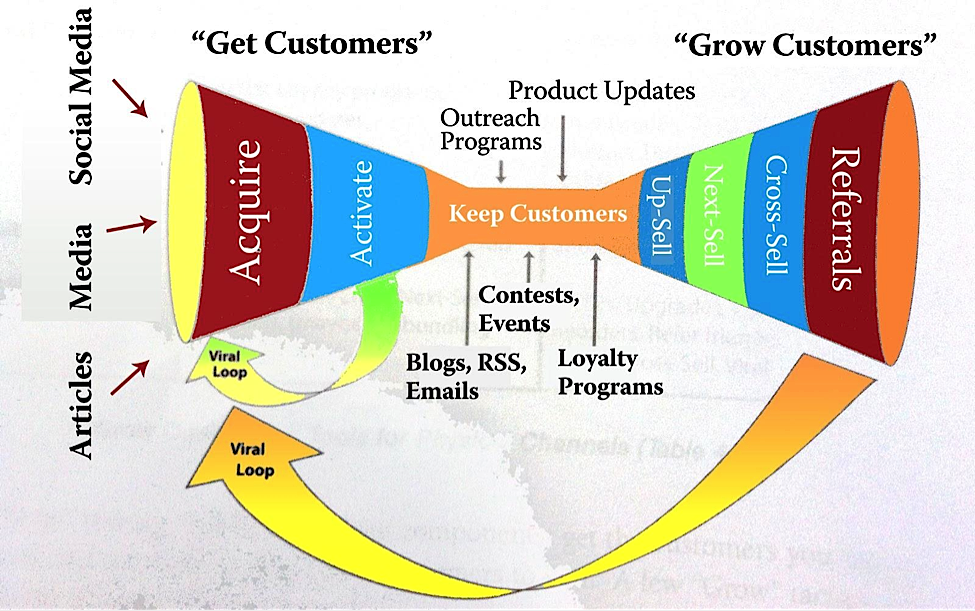 Once customers make a purchase, think about what content they might need or want from you after transacting. Maybe they want to feel reassured that they made the right decision by getting your product. Maybe they want to get set up quickly with user-friendly instructions that don't require a lot of technical skill to understand.
If you provide an amazing experience to an existing customer, they'll turn into your biggest advocates and bring you new customers at a fraction of the cost you'd normally spend to convert prospects.
Now that you have a sense of the high level strategies for boosting conversion rates at various steps in your funnel, let's dig into the tools you can use to facilitate that.
Best Tools for Funnel Optimization
Google AdWords
Google AdWords is a tool that will help drive more people into the first stage of your funnel — the "awareness" stage. At this step, prospects have yet to hear about your business but the goal is to help them stumble across it through organic search or paid advertising.
Learn More: 
By showing ads to prospects who are searching for specific keywords, you could drive targeted traffic back to a well-designed landing page.
Plenty of businesses have had great results with Google AdWords. For example, Extra Space Storage grew their share of rentals from online channels by 1,300% over five years. Because they're a local business, ROI for their zip code targeting topped 184% with a 77% click through rate.
According to Sitewit, businesses receive $2 for every $1 they put in AdWords.  PPC ads are one of the most highly rated channels in terms of return.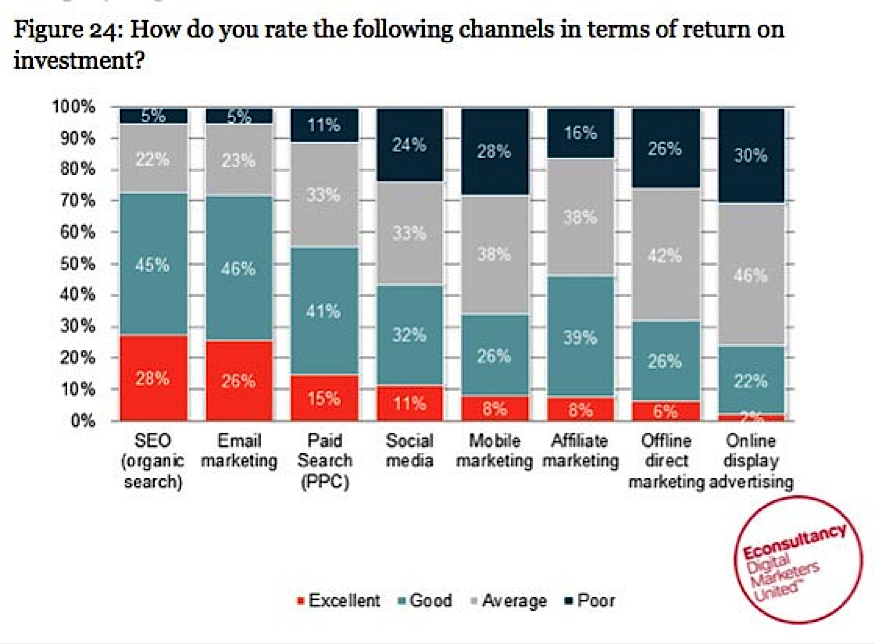 Here are some tactics you can use to leverage AdWords to optimize the top of your marketing funnel:
Analyze your competitors' strategies
Enter your competitor's URL in the text box on sites like SpyFu to take a look at your competitors' keyword click-through rates, their estimated ad budget, and their most profitable keywords.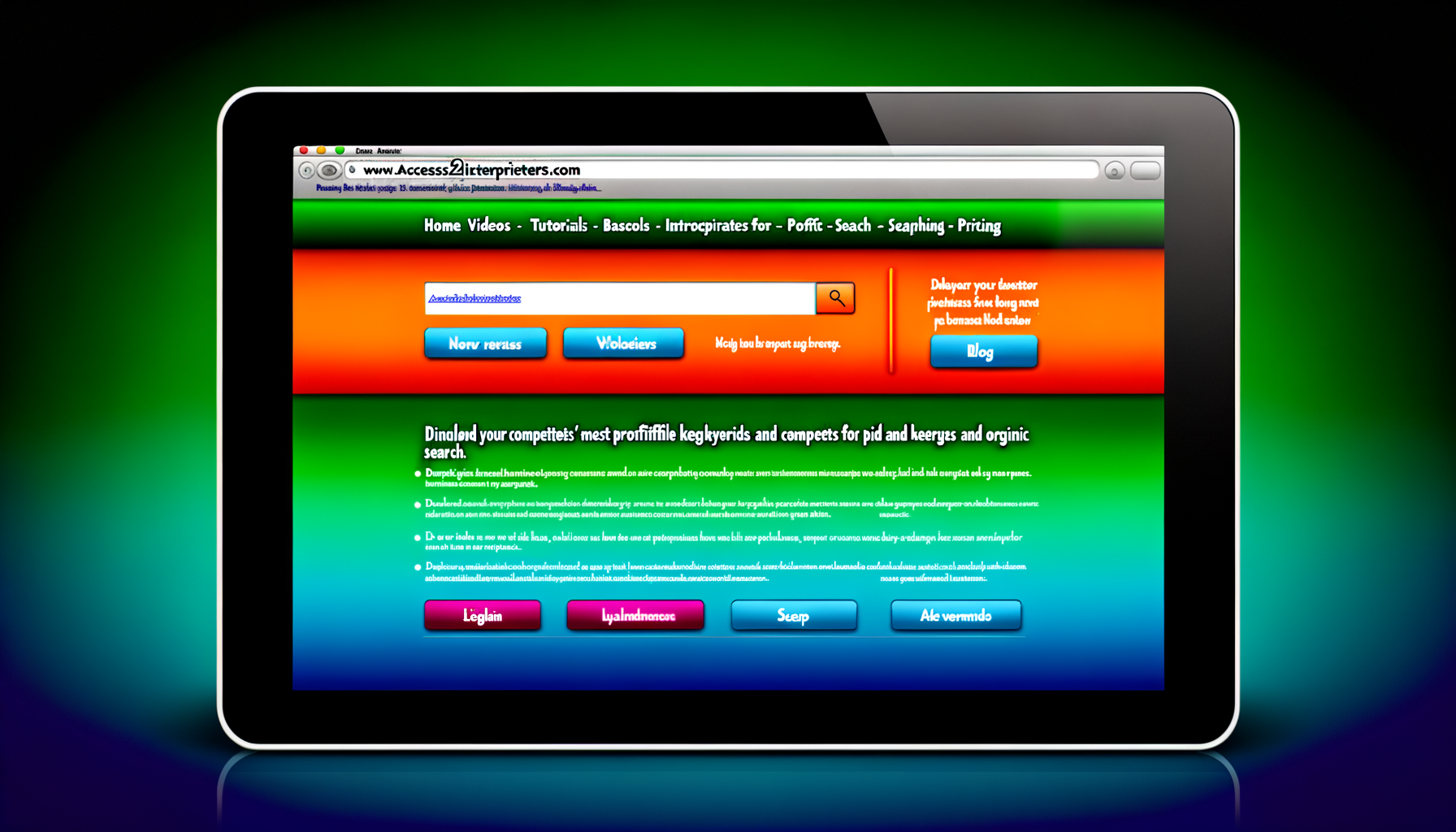 Source: Neil Patel
Then you'll get a sense of your competitor's keyword performances, plus estimated PPC clicks, and even their ad budget estimate.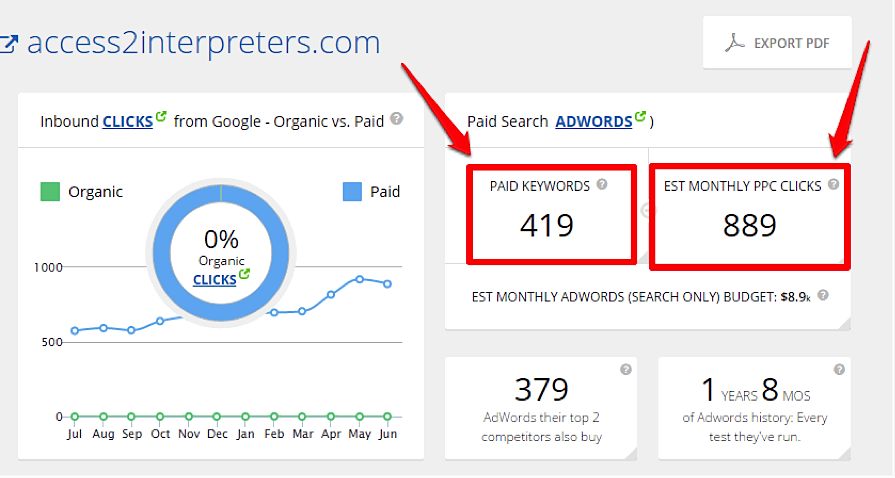 Source: Neil Patel
If you click "Paid Keywords" you can see popular keywords that are performing well for your competitors.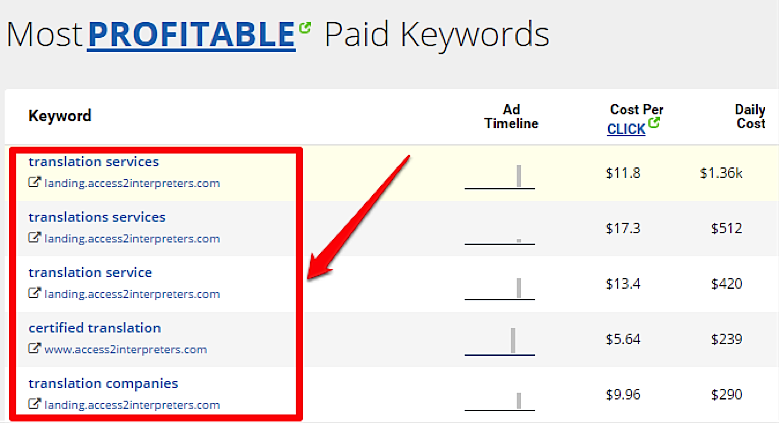 Using this information, you can target the same keywords that they're targeting, choose a different set of keywords that they're not targeting, and compare their ad copy to the results they're getting.
This sort of data will you give a "benchmark" for how various types of ad copy in your industry perform, and it can be used to generate more awareness for your business through search.
Download free: The Only Guide to Effective SEO You'll Ever Need
Facebook Advertising
Facebook ads are another way to drive more awareness for your business.
To see success with Facebook, it's important to first understand the psychology of Facebook users. According to AdEspresso, people don't go to Facebook to make decisions — they go there to avoid making decisions.
This is quite different from AdWords strategies, which are focused on bringing users to a relevant site when they search for a pain point or problem they're facing. But on Facebook, users need to be able to engage with you first.
The first step of a Facebook marketing funnel is to attract visitors, which is done through good ad copy. The best ad headlines have to do with avoiding pain or gaining pleasure. Highlighting something that they'd be missing out on, or a big mistake they're making tends to increase ad engagement.
For example, check out this ad that AdEspresso ran: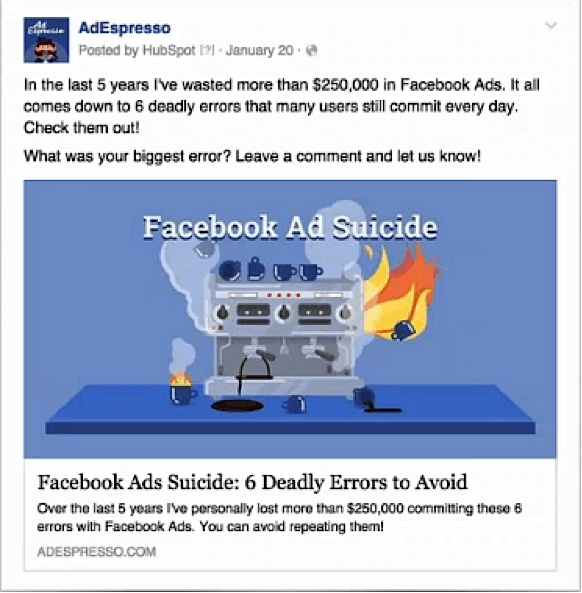 Notice how the article title is "6 Deadly Errors to Avoid" and how the ad copy talks about how much money was wasted.
The main goal up front is driving website visits. Audience targeting for your initial website visitors should be relatively broad — they should consist of a group that is located in a particular area with a specific interest in mind (that's related to what your business offers).
Once you get clicks on your ad and visitors to your landing page, the next step is to convert them into leads. There are multiple ways to do this. For example, you could offer an e-book in exchange for an e-mail address, you could offer a free webinar registration, or you could offer a free e-mail course that drips out over a span of time.
Webinars convert exceptionally well on Facebook — in fact, Wishpond used Facebook Ads to boost their webinar registration by 450%.
Again, the main types of topics that work best for Facebook webinars are threat avoidance. Check out the ad copy on this free masterclass training — it references musicians who work hard and get nowhere, and promises to talk about the difference between them and the musicians who are successful.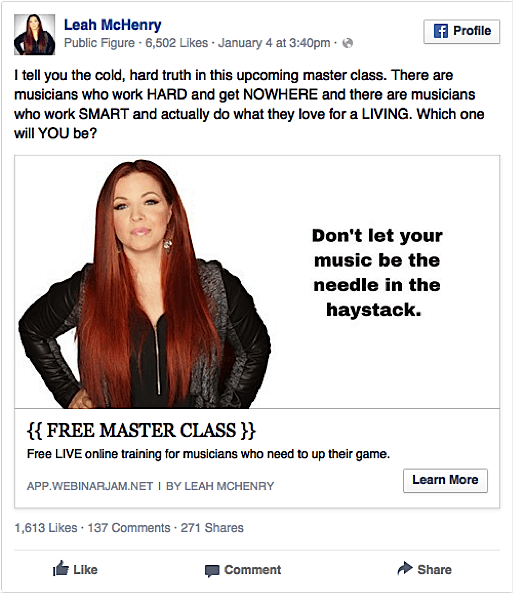 Source: AdEspresso
Also, webinars provide prospects the benefit of interacting in a group setting, which is one of the best ways of building trust with your audience.
Using Facebook ads the right way, you could drive significant awareness to your business and push prospects down your funnel much faster.
Unbounce
Unbounce is a tool that allows marketers to build, publish, and test landing pages without requiring any sort of technical knowledge.
You could use Unbounce for your landing page design to take prospects from the "awareness" stage to the "interest" stage in your funnel. Once prospects arrive on your landing page, you only have a limited amount of time to get their e-mail before they bounce.
KISSmetrics used Unbounce landing pages to generate $13,000 in additional sales per webinar. The Unbounce landing page (along with sample webinar registration copy) helped KISSmetrics convert more of their community members into leads. They were able to push out 3-5 new initiatives a week and constantly keep testing new Unbounce pages without any design or engineering help due to Unbounce's simplicity.

Creating custom, high-converting landing pages allow you to test much faster, which makes it more likely that you'll find a big winner. You also save time by not having to go through your IT department. In fact, Chair 10 Marketing saved $400 per client by using Unbounce to reduce their setup time from 30 days to 5 days.
SumoMe
SumoMe is another tool that marketers use to generate more leads through their website. They provide lightboxes, share bars, and A/B testing tools to help marketers collect more e-mail addresses.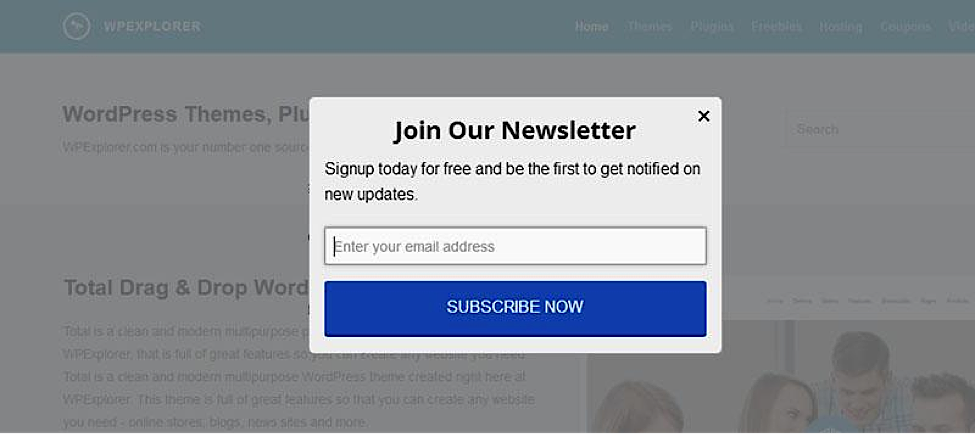 Source: WPExplorer.com
They also have a tool called Welcome Mat which can help skyrocket your conversions by showing people your opt-in box in a relatively non-intrusive way whenever they land on your page.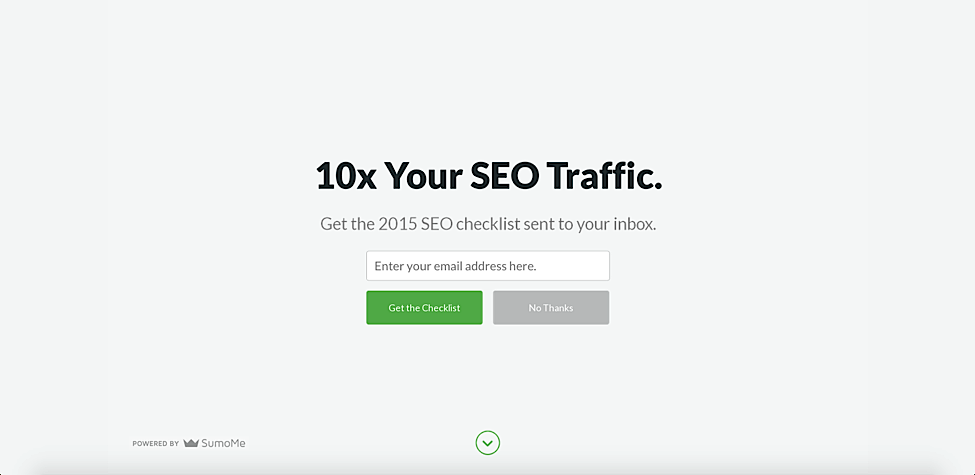 There are many ways that you can use SumoMe to get more potential customers onto your e-mail list and into your lead nurturing campaign.
For example, Shane Snow (author of Smartcuts: How Hackers, Innovators, and Icons Accelerate Success) put his SumoMe share bar across his entire desktop site: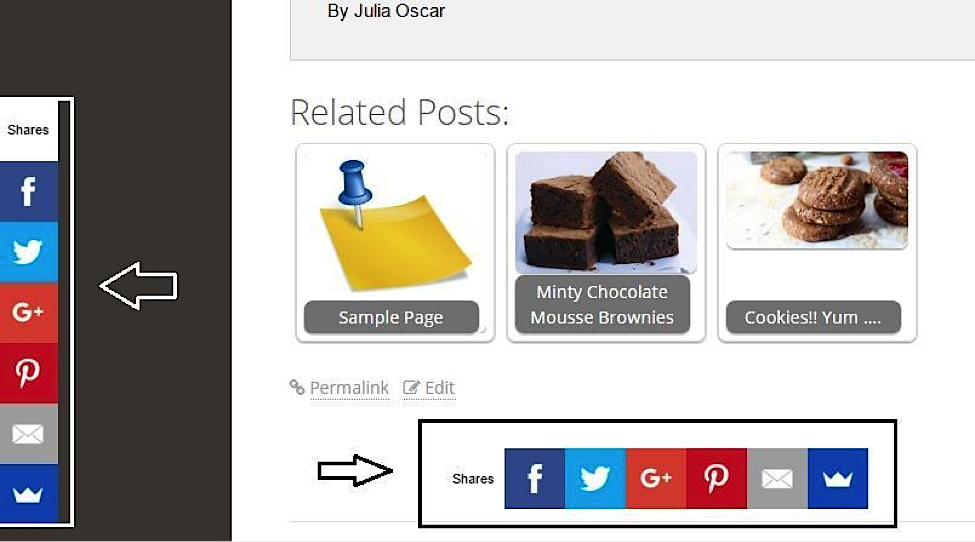 Another tactic you can use to build your e-mail list is A/B testing the size of your lightbox. AppSumo actually ran this exact same test to see whether large popups convert better than smaller ones, and they were shocked by the results: testing this one element alone could get you 20% more daily signups.
One last interesting tactic you could test out on SumoMe is giving readers the option to share your articles through text or WhatsApp.
If you have SumoMe, this is relatively easy to set up — just go to the share app, click on mobile optimized settings, try out Share Pro for free, drag SMS and WhatsApp over. Then hit "save" and "done."
Formstack
Formstack is an online form builder solution that helps businesses make processes more efficient, boost conversions, etc. This platform allows you to launch forms in minutes, design in visually appealing themes, manage submission data in one system, and increase form submissions.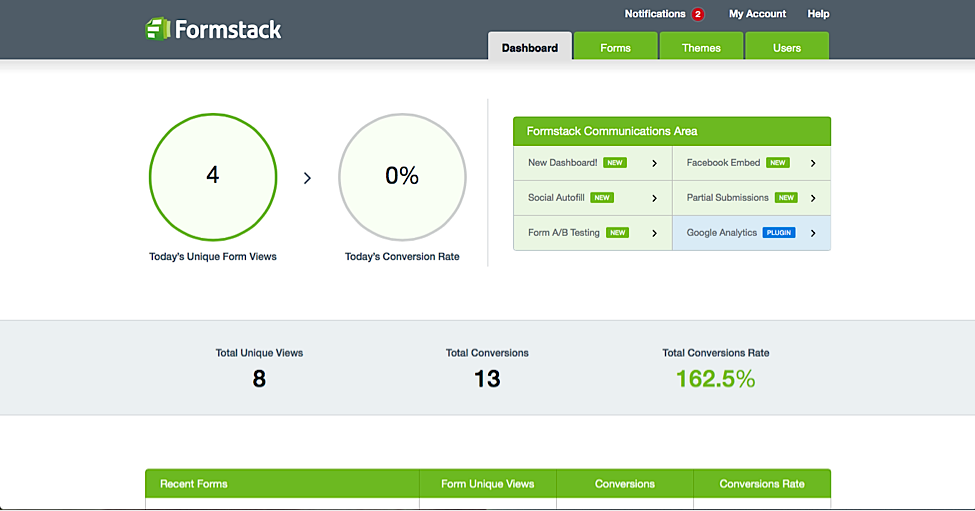 Miami Web Company used Formstack to boost form submissions by 114% and save 50 hours per week. The company was looking into choosing either Formstack or Wufoo, but ultimately chose Formstack because of 1) its ability to handle seamless web integrations, and 2) greater flexibility in embedding online forms.
When Miami Web Company was tasked with building a website with multiple forms (the main form being over 35 fields), their goal was to collect 1,000 signups from all over the world (which they exceeded), so this type of form was something that would've been tough to code from scratch.
According to the company's founder, building a form for people all over the world would require developing for different Internet speeds and operating systems. You also have to think about whether people are still using Internet Explorer or Firefox. Using a service like Formstack means that you don't have worry about all those details.
In addition to the lowered technological headaches, Formstack also saved the Miami Web Company 50 hours of time because they were able to make quick changes to the membership form and relaunch it very fast.
Similarly, Lasell College, a private school located outside of Boston, was able to streamline lead tracking using Formstack and save 20 hours per week. They even used Formstack's UTM tracking feature to optimize the landing pages of the campaign and no longer had to worry about the maintenance of 30+ landing pages. In addition to this, the UTM tracking feature pulls tags from URLs that show details about traffic sources that would've have initially been uncovered.
Now, the marketers at Lasell college can pull information from different campaigns using a single form.
Not only did Formstack help increase the efficiency of Lasell college's user acquisition, but the UTM tracking feature also gave them more insight into campaign performance than they otherwise would've had. The information collected through Formstack can be passed into the company's CRM, which allows them to follow leads all the way from the beginning to enrollment.
This way, Formstack allows them to see exactly what works at every step of the funnel, and helps them notice points of drop off which can then be patched.
It's not just tech companies that can see benefits from products like Formstack. Rio Nutrition was able to generate 6x more quality leads in a single month using Formstack. Before Formstack, Rio Nutrition had no way to gather data on website visitors. They weren't sure who their visitors were or how they were discovering their site.
They implemented Formstack in multiple different ways. For one, they built a price quote request form on the website to capture lead information. They also implemented UTM tracking to get a better sense of the traffic sources that brought users to the site. And once they found out which campaigns were performing and which weren't, they were able to adjust their strategy to bring in more qualified leads.
Formstack's lead generation and analytics features can help business generate more leads more efficiently at the top of the funnel.
Pardot
Pardot is a marketing automation tool for B2B organizations. They companies with e-mail marketing, more effective lead generation, lead management, and ROI reporting. They also help businesses to filter leads based off of lead score, a metric that grades the quality of a lead based on a variety of factors.
They've helped businesses send targeted lead nurturing content to convert more free trial users into paying customers — which is exactly what they did for Vidyard, a platform that shows businesses how their video marketing efforts are impacting ROI and how users are interacting with them. Pardot helped them shorten their sales cycle, increase marketing qualified leads (MQLs) by 300% in one year, and create highly targeted nurturing tracks for different segments of buyers.
By prioritizing leads based on their lead score, the sales team could prioritize the best leads first (i.e. the ones that were most likely to convert). Vidyard was also able to use different nurturing tracks for cold leads, a feature in Pardot, along with a free-trial campaign that automatically pushes leads to sales.
This way, the marketing team is able to provide the sales team with high quality leads that have already been educated into a "sales-ready" position.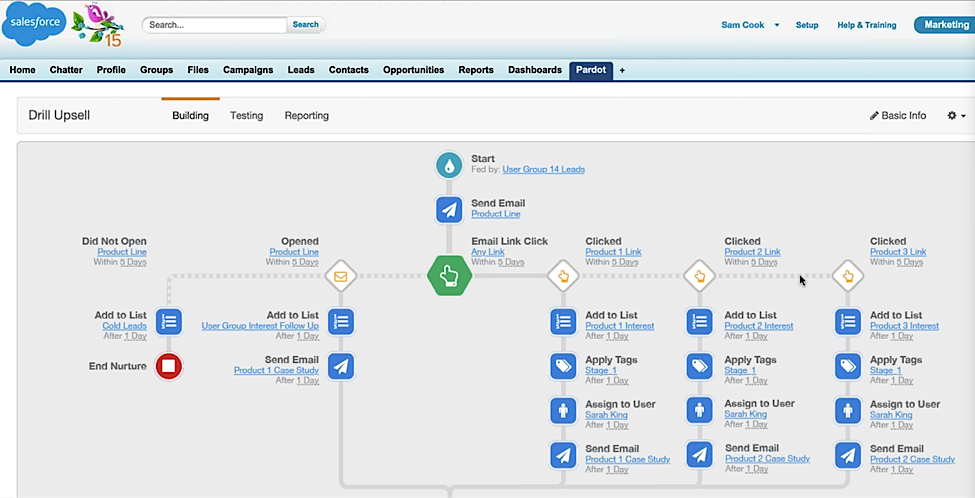 Source: Marketing Mag
After signing up through a form, Vidyard sorts their buyers into different "tracks" called "active," "inactive," or "highly active." The buckets are determined by automation settings in Pardot and based on the lead's characteristics, they're able to send targeted content to them.
Pardot also helped another company, LiveTiles, improve their lead quality as well as their marketing efficiency and productivity.
LiveTiles helps businesses build "digital workplaces" to facilitate more efficient collaboration and according to the case study, their biggest concern was scalability as they grew. They needed a platform that would integrate with a variety of services such as GoToWebinar, Eventbrite, Salesforce, and others.
By implementing Pardot, the company was able to use the lead nurturing tools to better segment their data, and ultimately move to a more targeted e-mail marketing sequence with personalized messages based on the characteristics of each lead.
Once they were able to send targeted e-mail campaigns and integrate with the necessary tools, LiveTiles was able to get buyers into the sales cycle more quickly, while giving their sales team the right information about each customer.
Using tools like Pardot can help you optimize the middle of your funnel, which in turn reduces funnel drop off after prospects signal interest in your business (i.e. by opting into a list) and before they buy.  
Conclusion
There are many ways to build a marketing funnel for your business. Depending on what you want to measure and which metrics you consider valuable, you might have different steps in your funnel. Some might stick with the regular marketing funnel, and others might focus on building a conversion funnel.
But no matter which funnel design you choose, and no matter which details about your specific situation are different, you could potentially skyrocket your business's revenue for the long term if you fix even just one small thing in your funnel.
More on this topic:
Mapping out and optimizing your funnel can be one of the most important things you do for your business. But it isn't easy, so we put together this free guide to help you: