The Ultimate Guide to Growing Your Business with Influencer Marketing
Want to learn the secrets of the world's best marketers in just 5 minutes a day? Sign up for a free 14 day trial of Marketing School Pro to access exclusive content, actionable advice, and a private community that will make you smarter! Click here to learn more.
What is influencer marketing and, more importantly, should you be leveraging it for your own brand?
Marketing can drive even the most hardened entrepreneur up the wall. Branding, speaking your audience's language, choosing appropriate platforms for your product, and figuring out which marketing strategies are most effective for your target market can be a real challenge.
But you don't have to tackle this all on your own.
Influencer marketing is a great way to help you reach new audiences, increase brand awareness, and boost your marketing ROI and bottom line.
This is truly an epic guide, covering everything you need to know about influencer marketing, so read from start to finish, or click on the chapters in this table of contents to jump straight to a specific topic.
---
---
Chapter 1: First, a Brief Overview of Influencer Marketing (Definition, ROI, Lessons Learned)
This first chapter is a general overview of influencer marketing, from what is an influencer to how to choose an appropriate person to achieving maximum ROI with influencer marketing to where to find legitimate influencers. (As well as the biggest lesson we've learned from doing influencer marketing. 😀 )
Then, as per the table of contents above, we'll dive deeper into each aspect of influencer marketing in chapters 2 through 10.
1) What Is Influencer Marketing?
Influencer marketing is a strategy that businesses use to promote their products and services by partnering with popular social media users or bloggers. Influencers usually have a large, engaged audience that brands can tap into to build credibility and even drive sales.
When you see Beats by Dre, which is owned by Apple now, you might wonder why it was so popular. It's because every single celebrity, from LeBron James to the Kardashians, appeared in TV commercials saying: "Hey, you have to wear these headphones. They're cool. We all wear them."
That's influencer marketing.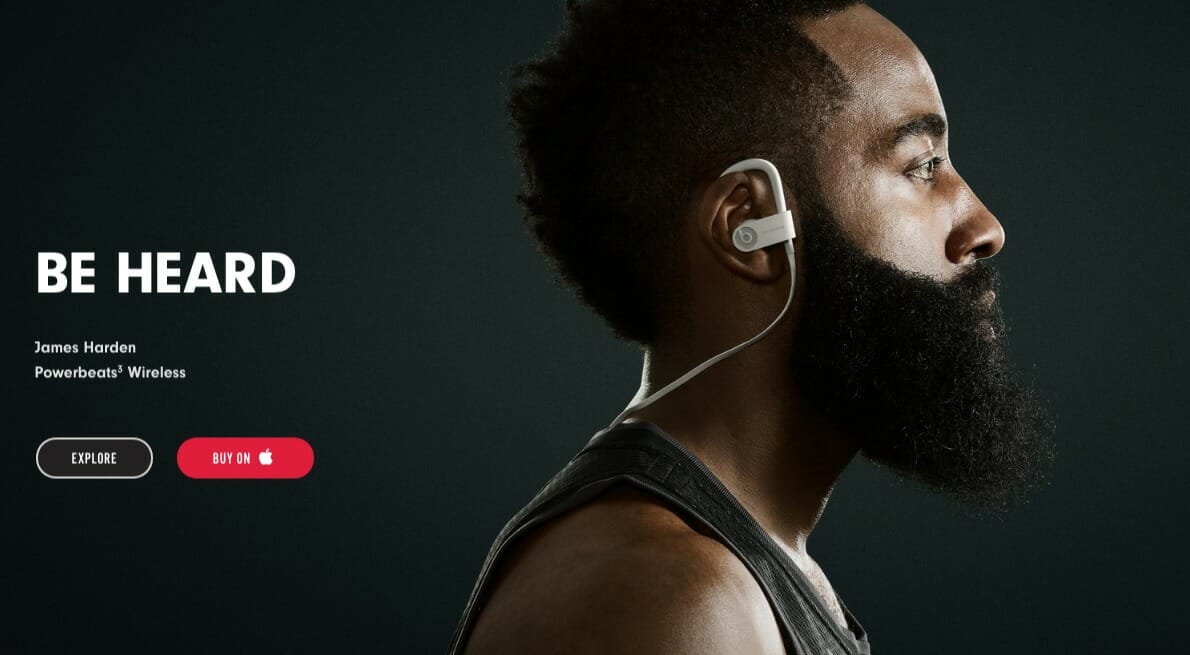 Partnering with influencers is a number one marketing strategy for many brands. The simple answer to why influencer marketing works includes these benefits:
Reach a bigger audience
Build trust for your brand
Grow your social following
Increase site traffic
Get more leads
Drive sales
When you see celebrities and other famous people you look up to wearing things or using stuff, you are much more likely to do the same as well.
The influencers whom you see on social media have a few hundred thousand or over a million followers on Instagram or Snapchat or YouTube. These people have built up their earned audiences, which is why they're called influencers.
Keep in mind that building up a following is very hard. YouTube and Facebook are paying these people good money because they have these huge organic audiences.
2) How to Leverage Influencer Marketing
The easiest way to leverage influencer marketing is to directly pay influencers for posts.
Take Instagram, for example. There are tons of models on there pushing their protein products or water bottles or something similar. These models are being paid per post.
You don't even have to be a huge company for this type of marketing to be valuable. Right now, there's an Indian cosmetics company interested in influencer marketing that's talking to us. They're willing to pay a good amount of money to agencies that will connect them with influencers.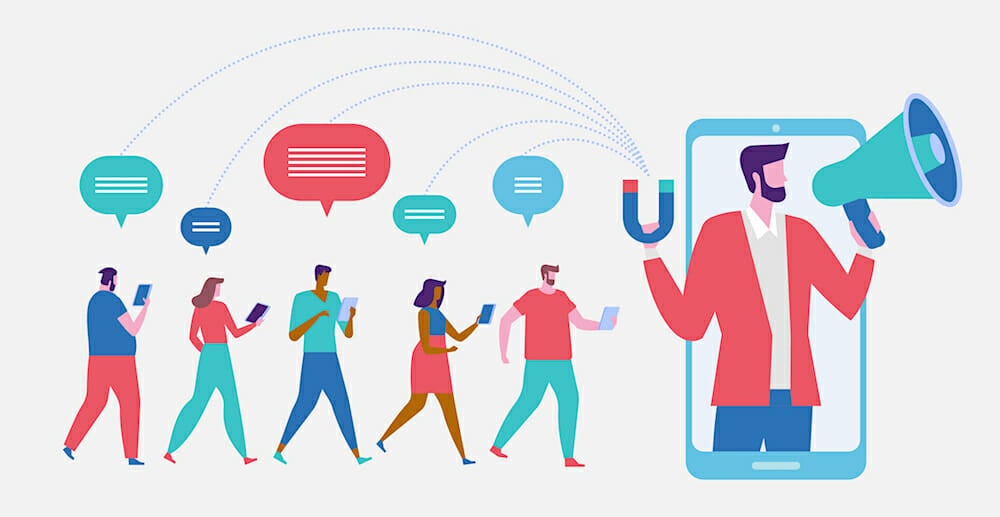 Let's say you're in e-commerce and you're pushing products. You don't necessarily need influencers on the level of LeBron James or Kim Kardashian. I was just talking to an influencer the other day with 500,000 followers. I asked her how much she was getting and she told me that she's getting paid about $800 per post. She's 24 years old. At that age, that's a lot of money for very little work.
If your e-commerce company is paying $800 per post and your average order value is $50, you can see how the numbers add up in your favor. Let's say one of this woman's posts gets you $5,000 worth of orders. That's a deal you'd do all day every day. In fact, you're going to be looking for even more influencers. This is something you want to double-down on.
Learn more in Chapter 2: How to Grow Your Business With Mutually Beneficial Influencer Marketing
3) Which Influencers Should You Recruit?
It's not enough to just find influencers with high follower counts — those numbers can be artificially inflated. The really important metric is follower loyalty.
Click To Tweet
When you look at people who have a million followers on Instagram, if they're only getting a thousand likes per photo, what does that tell you? Their following isn't loyal. If someone doesn't have a loyal following and they say, "Buy this product. Use this service," what do you think's going to happen? No one will care.

On the other hand, if someone has a loyal following, they'll get more likes, more comments and more engagement per post.
This higher engagement ratio is almost impossible to fake and is a clear indication that this influencer has taken the time to build up an organic, loyal following.
So when you're trying to figure out which influencers to recruit, don't just pick the ones with the biggest following or decide based on how much they charge. Base it purely on the engagement they're getting.
Learn more in Chapter 3: How to Choose an Influencer that's Best for Your Marketing Campaign
4) Achieving Maximum ROI with Influencers
When we're doing influencer marketing on Instagram, we don't look at how many followers someone has, we only look at how many likes per photo they get and how many comments they get because:
We want to make sure that the ratio is above 5% for smaller audiences of 10,000-20,000 followers
We want to make sure that the ratio is at least 3% for 20,000+ audiences (this is a good sign that we're dealing with a loyal following)
From there, we try to buy as many posts as possible by negotiating and buying them in bulk packages. Don't do one-offs. You've got to do it consistently over time. Just like Beats by Dre.
If they pay Kim Kardashian once to wear the headphones, they won't do well. But if they pay a ton of influencers and do it over the course of six months to a year, it starts having an impact. It creates a movement.
Learn more in Chapter 10: All You Need to Know About the ROI of Influencer Marketing [infographic]
5) Where to Find Influencers
There are platforms where you can find the influencers you're looking for.
Whether it's in gaming, beauty or whatever industry you're in, you can use an influencer marketing platform like FameBit.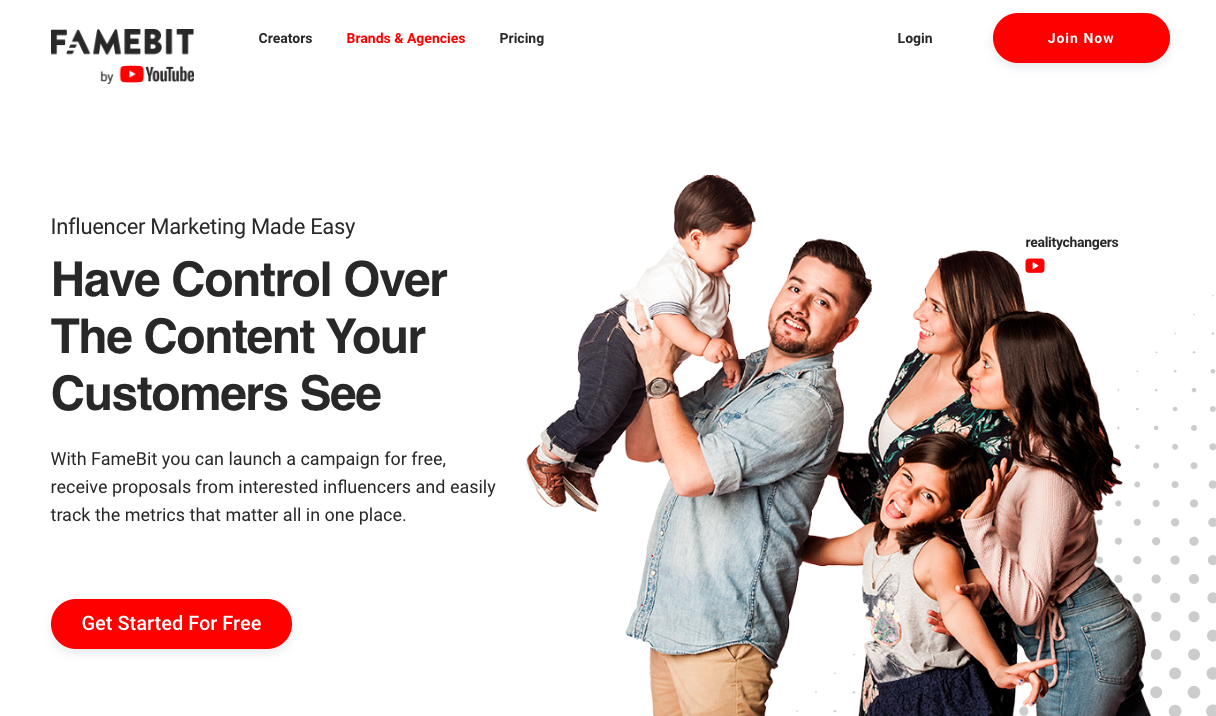 Sort through the influencers you want to reach out to by age, number of followers, cost per engagement, cost per impressions, etc. It's easy to see who's super popular.
It's basically like bidding on ad spots, and a tool like FameBit will make your life a lot easier, especially when you're first starting out.
Think about it this way:
If you're selling a gaming product, you can push it to Twitch streamers.
If you're selling something like water bottles, you can push it to sports influencers.
If you have a cosmetic product, you would need to go to a beauty influencer.
But if you're selling enterprise software, influencer marketing is probably not the right fit for you.
It's all about targeting.
Learn more in Chapter 7: Tools to Find Influencers and Track Your Marketing Campaigns
6) The Biggest Lesson I've Learned from Influencer Marketing
I've tried influencer marketing for a while now. I've even done it for my personal brand to see if I can increase my popularity, which would help increase the overall brand awareness of Single Grain and Growth Everywhere.
What I ended up learning is that when your influencers are posting sporadically, it doesn't have a big impact. But if you have a huge budget and do it consistently and frequently, you can really start a movement.
I don't have the budget that Beats by Dre had, so I did the next best thing. I tried to have influencers post once a week, every week, on a specific day. When I had all the influencers do it on a Monday or Wednesday and stuck to that schedule, I noticed a much bigger impact.
That's because on those specific days thousands of people were seeing my name and my brand multiple times from different influencers in the same space. They're thinking, "Wow, I'm not just seeing one or two pictures, I'm seeing five or six or seven on the same day from this company or of this product or service. Maybe I should check it out now."
But when someone sees it sporadically over a week, it doesn't have as much of an impact compared to that rapid-fire frequency in a short period of time.
The last thing I want to add is that you should track your influencer ROI with specific coupon codes. That way you can track the effectiveness of any given campaign from any given influencer.
Now that you've gotten a general overview of influencer marketing, let's move on to growing your business with influencer marketing.
To keep up-to-date on influencer marketing, check out 9 Influencer Marketing Trends You Can't Ignore
Chapter 2: How to Grow Your Business With Mutually Beneficial Influencer Marketing
Referrals have long since been one of the most effective marketing strategies.
If you have a problem and one of your friends tells you about a great solution for it, there is a good chance that you'll go buy it.
Influencer marketing is just like that – only at scale. When influencers tell their fans and followers about how great your product is, there is a much higher chance that their audience will convert, simply because they need the product and trust the influencer.
Typically, the seller or marketer will give a special discount code just for the influencer's audience in order to track how effective the campaign is.
1) The Growth of Brand Influencer Partnerships
Here are a few inspiring stats about influencer marketing:
70% of teenage YouTube subscribers trust influencer opinions over traditional celebrities
49% of consumers depend on influencer recommendations
On average, businesses generate $5.20 for every $1 invested in influencer marketing
89% of marketers say that ROI from influencer marketing is comparable to or better than other marketing channels
For these reasons, brands and influencers are now forging long-term relationships: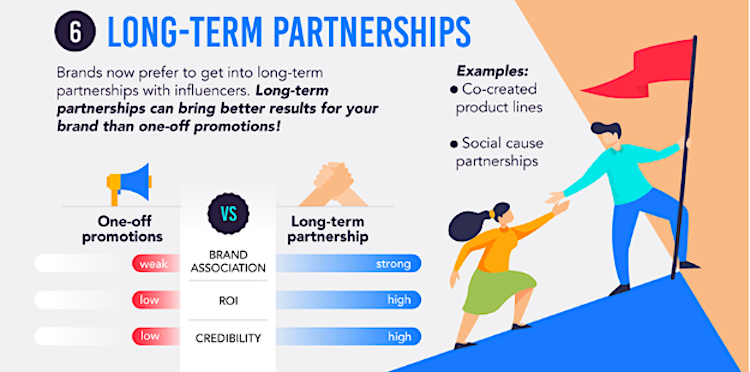 For example, when Motorola launched a new line of smartphones, they turned to influencers across YouTube to promote it.
Why YouTube? They were already marketing their product to a young demographic and realized that those people hang out a lot on this particular platform.
They chose 13 influencers, each of whom made their own video promoting the smartphones. One of the most successful videos was made by an influencer who strapped it to a 10-foot rocket! The end result was:
11.6 million views
38.1 million social impressions
122,000 clicks to the website (80,000 of which were first-time visitors)
It should be no surprise that the influencer marketing space is expected to hit $15 billion by 2022: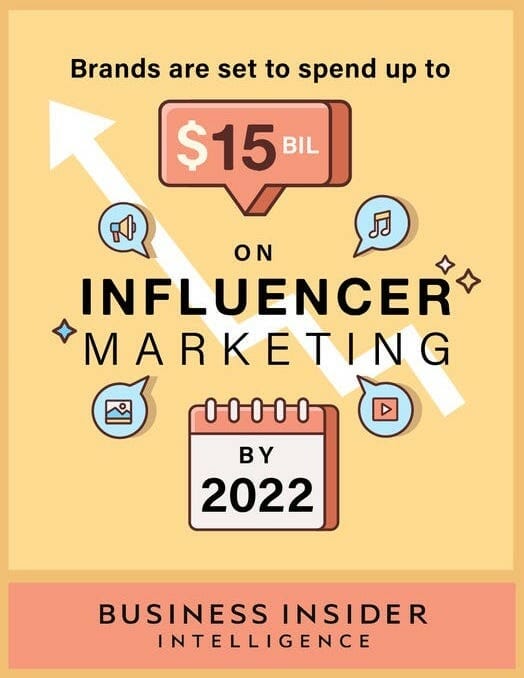 As paid ad costs continue to rise on social media platforms like YouTube and Instagram, businesses have to find a way to survive. This is where influencer marketing steps in.
Working with influencers can be cheaper than paid advertising and is much more effective because you can buy into the influencer's loyal (and often huge) following.
Click To Tweet
Industries like fashion/beauty and photography have seen a huge rise in the popularity of influencer marketing over the past several years: 57% of fashion companies currently use influencer partnerships and 21% expect to begin leveraging it soon.
So is influencer marketing a trend that will soon fizzle out or become oversaturated? Or is it worth jumping into it?
Rest assured that influencer marketing will not be going away any time soon simply because the sheer number of eyeballs on social media continues to grow. The popularity of social networks, in turn, leads to an increase in the number of influencers, which means that that's where the marketing spend is.
In fact, 65% of influencer marketing budgets will increase in 2021.
The influencer marketing space still has a long way to go before it becomes saturated, though you should expect it to become more expensive soon because it works so well.
Still not sure if you should jump on the bandwagon?
Take a look to see if there are other brands in your industry running ads with influencers. You'll probably notice that several are, and if any of them have been running ads for several months or years, it's a good sign that it's working.
Even if you don't see anyone using it in your industry, it still might be worth finding a highly compatible influencer and testing it out.
2) Why Brands Rely on Influencer Marketing
Because influencer marketing is still a fairly new strategy, it continues to be a viable solution for marketers who are willing to think outside the box on building trust with their target audience.
Here's why brands are relying on influencer marketing.
Influencers Have Real Power
There aren't many things that drive sales more effectively than good ol' word-of-mouth marketing:
This is part of an overall shift in how we prioritize recommendations over paid television, magazine and newspaper ads and it's hard to ignore the power of these unofficial brand ambassadors: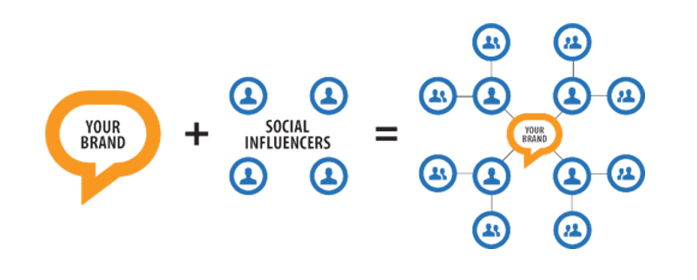 Influencers Are Social
According to Oberlo, everyone uses social media, even your grandparents:
90.4% of Millennials
77.5% of Gen X
48.2% of Baby Boomers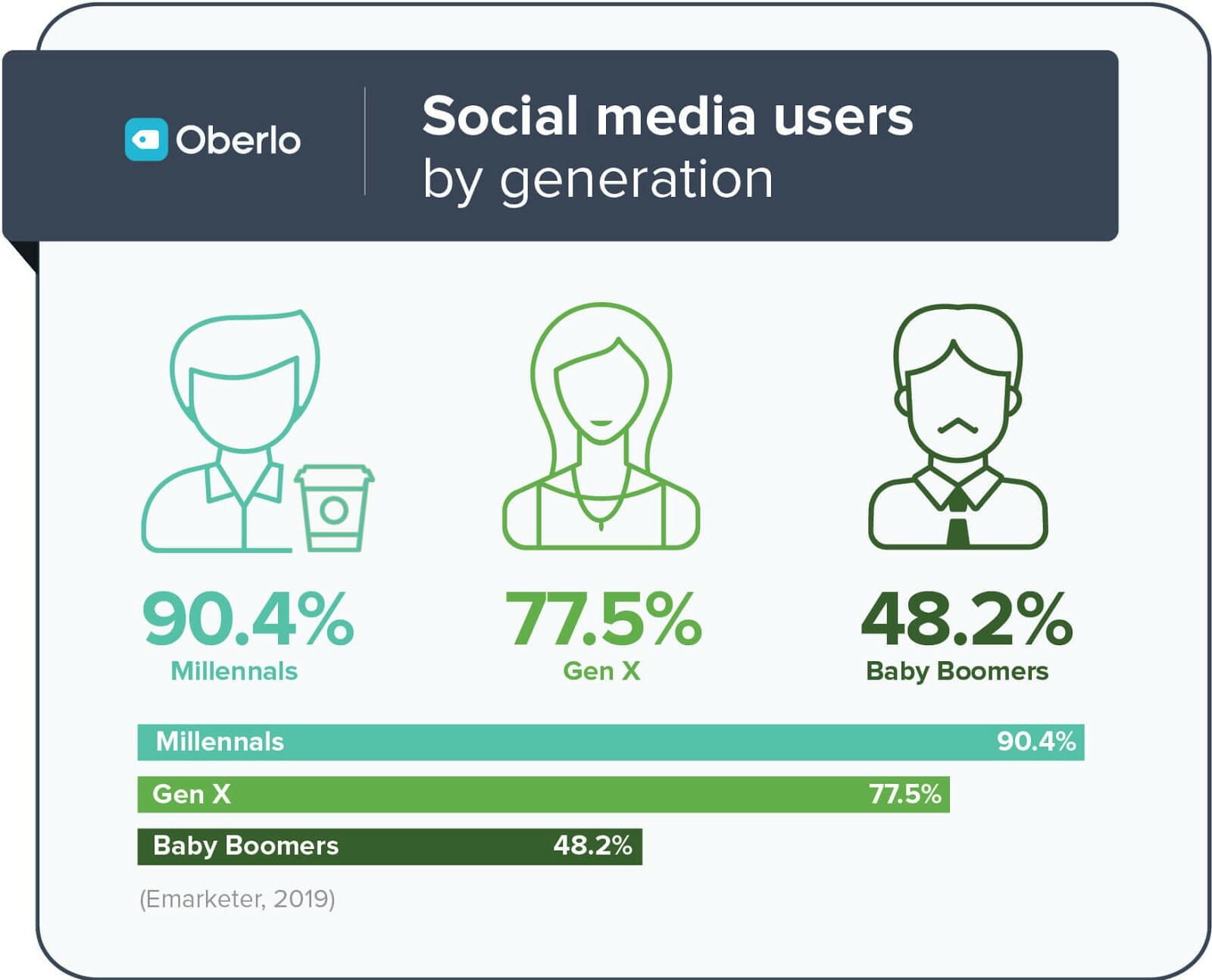 Having a strong social following is a dynamic way to interact with customers, who are on social media researching products and brands: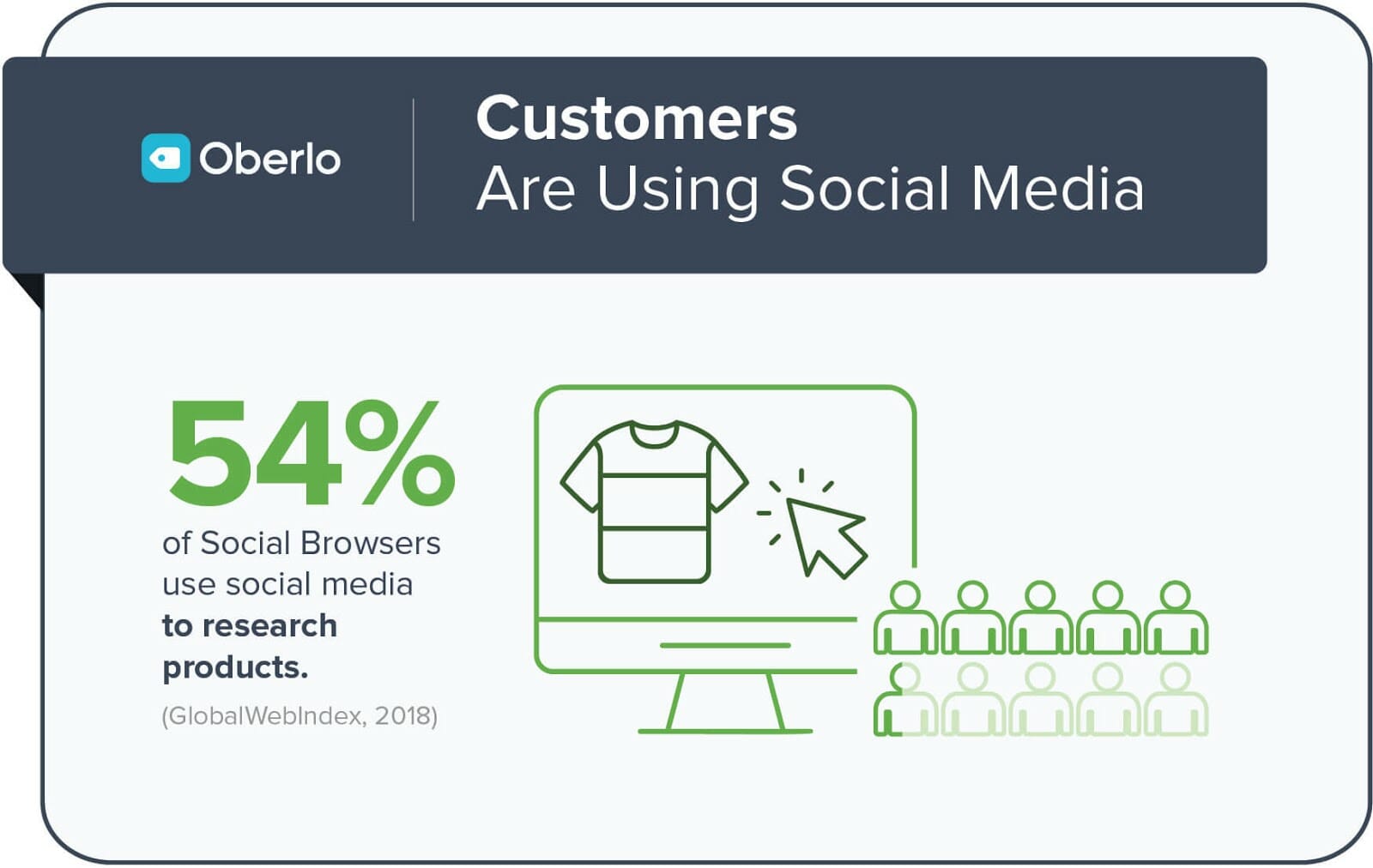 Influencers will probably be able to help you grow your social following almost overnight, just by introducing a large number of targeted customers to your social media pages. Even if they don't convert with the initial influencer campaign, you can retarget them with, for example, Facebook ads.
Influencers Affect Your SEO
Having an influencer help you increase your social media following also improves your SEO.
How? While social media presence isn't a confirmed ranking factor, it is a signal to search engines that you have a substantial following which they equate to brand quality. As you are probably aware, brands are indeed the way of the future.
3) Brand + Influencer: Make It Mutually Beneficial
Just like any relationship, influencer marketing should be a two-way street.
If your brand is the only party that benefits, you likely won't get anyone to agree to a relationship with you, and if they do, they probably don't have a great following.
The general formula for influencer compensation looks something like this:
$100 x 10,000 followers + extras = total rate
Use this formula to get an idea of compensation before you start reaching out to people (more on that later). Make sure that you aren't low-balling your potential partners and offending them before you even get to the negotiation process!
There are several different ways that you can remunerate influencers:
Cash. This is the most common form of compensation, and most influencers prefer this method and will request it. The only caveat with this is that the person may not be truly invested in your brand and therefore doesn't put their heart into the project. If your company has the resources, however, the data confirms that this is one of your best options.
Free product or discount. Why not offer somebody a free product or a discount in exchange for a shout out? This doesn't have to be the only arrangement, but it is a good way to build a relationship. Over time, you may phase this out and opt for another form of payment.
Commission. This is a win-win, as both parties have skin in the game. You pay the person to share your brand's product with their audience and any sale they generate will result in a commission paid to the influencer. As long as you are fair with the commission structure, this is one of the best arrangements.
Creative freedom. Crowdtap ran a survey of 59 influencers, asking them what persuaded them to work with brands more than once, and 77% said that creative freedom is important to them: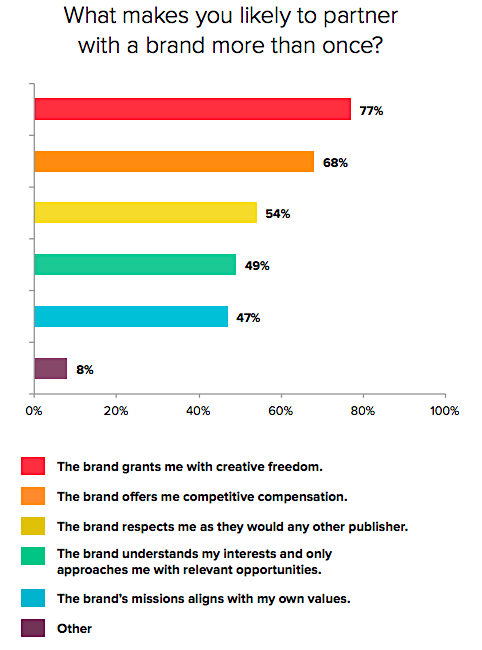 With a mutually beneficial arrangement, your influencer marketing campaign will thrive.
Set a Budget, Track Your ROI
Before you get too excited and influence your way into bankruptcy, it's important to set a budget.
NeoReach analyzed 2,000 influencer marketing campaigns and discovered that earned media value averaged $5.20 per $1 spent. In other words:
For every dollar spent on influencer marketing, brands generated over 5x as many impressions and engagements as paid advertising.
If this is your first venture into influencer marketing, start with a small budget so that you can figure out what works and what doesn't.
Here's an idea of what other companies are spending on influencer marketing: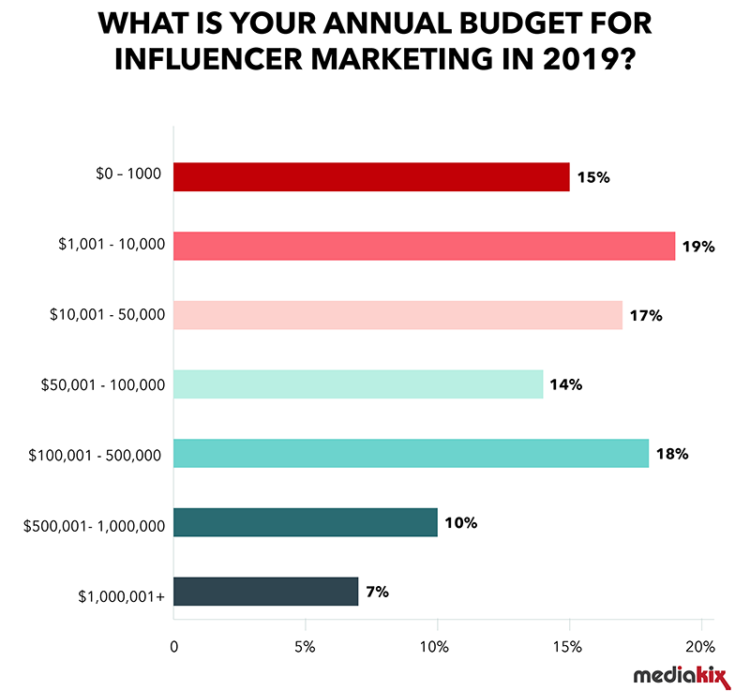 It's easy to go overboard with influencer marketing, as every opportunity will appeal to you in some way, so it is your job to stick to your budget and only spend money when it makes sense to do so.
To do this, you'll need to track your ROI. Not only does this show you what is and is not working, but it also puts you in a position to tweak your strategy and increase your budget in the future (more on this in Chapter 7: Tools to Find Influencers and Track Your Marketing Campaigns).
Related Content: Word-of-Mouth Marketing — What Is It and How Do You Do It?
Chapter 3: How to Choose an Influencer that's Best for Your Marketing Campaign
Choosing an influencer for your marketing campaign is not always an easy task.
Before reaching out, be sure to set your campaign's objectives. Only when you have a clear objective for your campaign can your search begin. Then use the tools listed in section 3 below (Find Your Ideal Influencer) or other ingenious methods of research in order to find the appropriate influencer for your marketing campaign.
Once you've got this all locked down, remember that the creation process should be collaborative, so you need to constantly communicate with your influencer and offer relevant information. If the first influencer marketing campaign goes well, you could have a fruitful and long-term relationship.
Let's examine how to choose an influencer to boost your marketing campaign.
Book My Free Marketing Consultation
1) Examples of Influencer Marketing Partnerships
According to Bright Local's Consumer Review Survey, 76% of people trust online reviews as much as a personal recommendation, which leads to a very important conclusion:
Customers place confidence in complete strangers more than they do in well-known companies.
And after reading a positive review, one third of people will visit a brand's website and 11% will contact the business: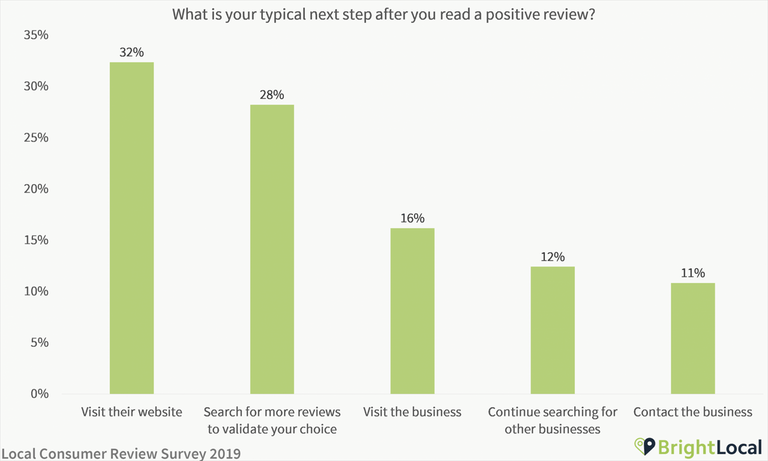 Let's take a look at a few examples of successful influencer marketing partnerships.
Cristiano Ronaldo & Herbalife Nutrition
An example of an influencer marketing partnership is the one between Cristiano Ronaldo and Herbalife Nutrition, which started in 2013 and was recently extended to 2021: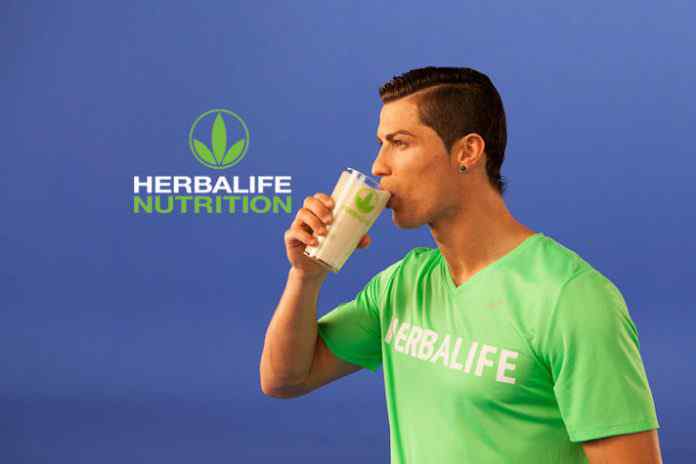 Herbalife partnered up with Cristiano Ronaldo, an internationally famous Portuguese footballer (i.e. soccer player), for the launch of their Herbalife24® CR7, a sports drink "designed specifically to meet the nutritional needs of the global soccer legend and benefit athletes of all levels."
This is the "magical" effect of influencer marketing: When you see or hear about a product or company, you automatically associate it with a well-known person, such as a famous athlete or movie star, and vice versa.
But don't be put off by thinking that if you're not a big, well-known brand this type of marketing won't work for you. You don't have to pay a personality six or seven figures to have him or her promote your products. In fact, the majority of influencers are not so notable and famous. Read on….
Cherished Bliss & Bigelow Tea
Have you heard of Ashley, the lifestyle blogger at Cherished Bliss? Most people probably haven't.
But Bigelow Tea, one of the most recognized brands in the tea industry, reached out to her to promote their tea. Ashley created a recipe for Bigelow Iced Tea with Lemonade Ice Cubes, which got Bigelow on page one of the SERPs for competitive search terms like "ice cube iced tea":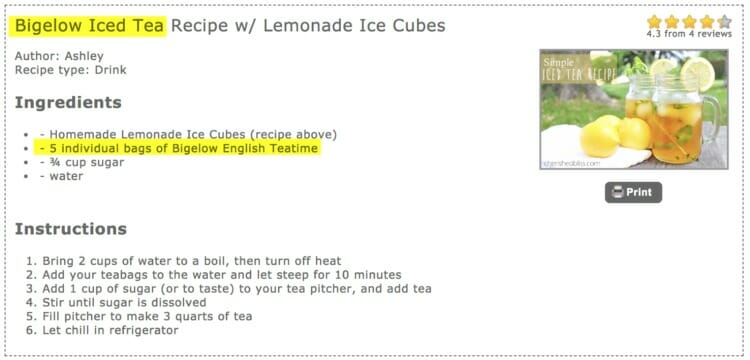 This influencer campaign generated over 32,000 blog engagements, 44 million impressions and increased Bigelow Tea sales by 18.5%.
Jérôme Jarre & Turkish Airlines
An influencer partnership that is not all about lifestyles and beverages is the one between French Snapchat star Jérôme Jarre and Turkish Airlines. This partnership was created to help bring humanitarian aid to Somalia millions of people were desperate for food and water.
Not only was Jérôme able to raise $1 million dollars for Somalia in 24 hours, but with his influence, they wound up filling ten planes with food and water.
THE AIRPLANE FOR SOMALIA IS HERE !!! IT HAS OUR NAME ON IT 😍 INCREDIBLE HOW MUCH CAN BE DONE WHEN HUMANS COLLABORATE TOGETHER!! 🌍 pic.twitter.com/bHwIiK9e4Z

— JÉRÔME JARRE (@jeromejarre) April 1, 2017
These are just a few examples of influencers, but there are plenty out there, big and small, and chances are you can find one (or more) that is a perfect match for your brand or product.
2) Set Your Influencer Campaign's Main Objectives
Before brainstorming for some extraordinary campaign ideas or starting to search for your dream influencer to leverage his or her influence with your audience, you first need to outline your objectives.
If you don't want to waste precious resources, every decision you make needs to have a final objective. We'll continue our Cristiano Ronaldo example to make it comprehensible for everybody.
Say you are a big company selling nutrition supplements and even though you have quite an impressive portfolio, you haven't yet become a reference point in the industry. This is a very competitive niche with lots of powerful companies competing, such as MHP, Universal Nutrition, and Gaspari Nutrition, so you need to stand out.
When writing down your campaign's objectives, you should keep in mind three very important aspects:
Target audience (age, gender, location, studies, incomes, etc.)
Influencer's main role
Influencer's role during the campaign
An influencer for this particular campaign needs to be under 40, well-known in the sports industry, and have a young fan base. Because we want to give our brand a real boost, the influencer needs to have an 8-figure or more fan base. Ronaldo has 200 million social media followers, which makes him an ideal candidate.
This campaign's main objective is to increase sales by 30% in the first three months. It will include at least six social media posts by the influencer during these three months and there will be a 20-second ad which will be shared on social media channels (mainly Facebook, Youtube, Twitter, and Instagram).
Why 20 seconds? Because according to YouTube, user retention drops by the first 15 seconds of the ad.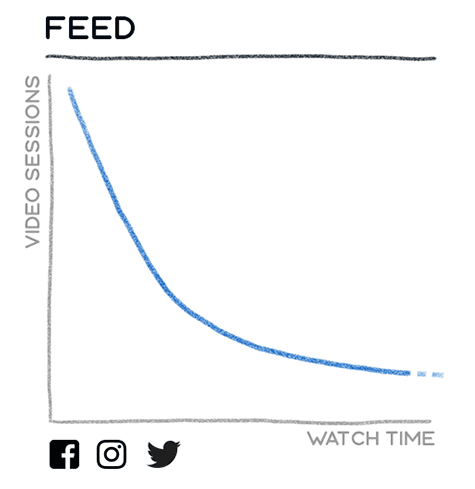 When setting your campaign's objective they need to be  S.M.A.R.T.
Specific
Measurable
Achievable
Relevant
Time Bound
Our goal is very specific: to see a 30% increase in sales. You can easily measure its progress and achieving it is not unrealistic. The boost in sales is very relevant for our company because we want to increase our revenues and, last but not least, it is time bound. It has a 3-month trial period.
3) Find Your Ideal Influencer
Now that you've set up your campaign's objectives, roll up your sleeves and let's find your influencer!
Finding the right place to sell your products can be quite easy – you just search for stores that sell similar products and reach out to them.
Well, influencers are not quite as easy to find. This is a new type of marketing and it's not like there are places where you can go and place an ad for an influencer.
Here are a few effective methods of searching for your ideal influencer:
Manual Searching
First, you'll need to figure out both which channels you want to use and what type of influencer you want: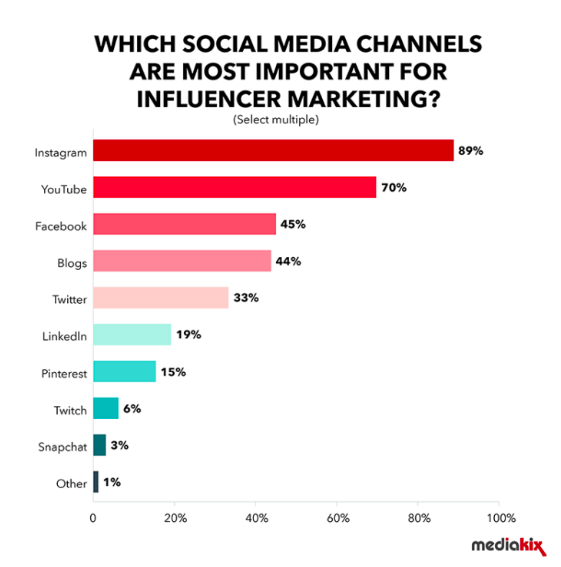 Here are a couple of ways to figure this out:
Ask your audience. If you work with a software company, for example, you might simply get on a call with one of your customers and ask them what types of media they prefer and where they like to consume it (podcasts, blog posts, videos; YouTube, Instagram, Facebook, etc). You can also do this via your email list. Then find some influencers on those platforms and ask your customers if they follow any of those people. If they do, bingo! If not ask for suggestions.
Do some competitor research. You're probably doing some of this research already, so just check to see whom your competitors are partnering with. You likely won't be able to make partnerships with the same influencers, though you should find competitors of the influencers and then create partnerships with them.
Use a tool like Famebit. This connects you directly with influencers who are willing to go into long-term partnerships with brands. (See chapter 7 for more tools.)
Evaluating the Perfect Influencer for Your Brand
Now that you have some ideas about finding the right influencer, here's how to evaluate them for your brand: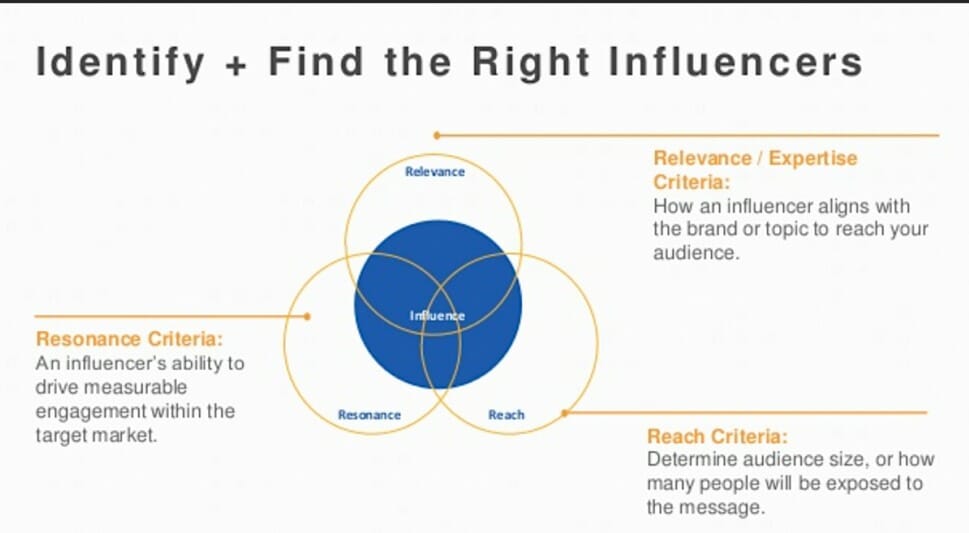 a) Social Media Reach
An influencer is only an influencer if they can actually influence others. Bit of a tongue twister, but makes sense, right?
Simply put, the larger the reach, the larger the number of people who will see your product or service. An Instagram user with 1,500 followers may be able to generate some results, but an Instagram user with 150,000 followers can really push your message to your audience.
Of course, bigger is not always better. You should also take into consideration past engagement, as this helps you understand if the person's audience truly listens to what they have to say:

Sticking with Instagram, you may find that a person with 15,000 followers receives an average of 500 likes on each update. Conversely, a person with 30,000 followers may only receive an average of 100 likes per update.
While the person with more followers will put your brand in front of more people, the post or video may not receive as much engagement. This is a balancing act with a trial-and-error component.
Depending on your budget and the level of engagement per follower you desire, you may want to look into a micro-influencer, or an influencer with a smaller (usually up to 10K) audience in a specific niche. Again, a macro-influencer may promote you to millions, but how many are really listening? Are they really willing to engage in the way that someone specifically in your niche would?
Here's an idea of how much micro-influencers charge:
Sponsored blog posts:
96% charge $1,000 or less per post
87% charge $500 or less per post
Facebook posts:
96% charge $500 or less
90% charge $250 or less
Branded tweets:
96% charge $200 or less
90% charge $150 or less
b) Influencer Audience Segment
Before engaging with an influencer, understand where your audience hangs out. For example, do they prefer Instagram or Twitter?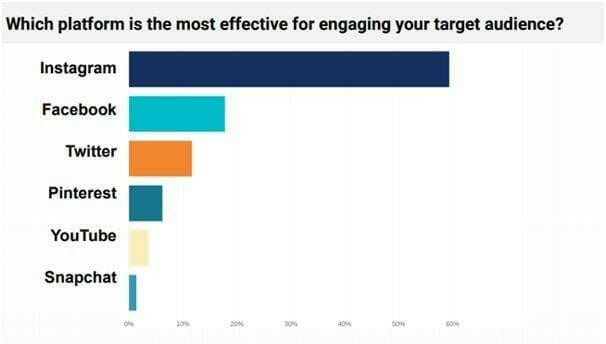 One of the primary mistakes among influencer marketers is chasing after personalities with a large following and nothing else. As noted above, a large reach is a good place to start. But again, it's not the only point to consider.
You must make sure that the person's audience matches your brand. For example, a swimsuit model with 100,000 followers could be the perfect target if you are selling women's apparel. But would this person be able to do anything for your software business? Probably not (or, rather, hopefully not!). This influencer's audience is not interested in software.
Creating a Database
Allen McGregor, Aussie Writings' Lead Researcher, explains this method:
"This is the most grueling one. You need to manually go over every page containing information regarding your industry. You need to find bloggers or personalities very well connected to your audience. Basically, it's like this: Google-Read-Write-Down-the-Relevant-Facts-Repeat."
You'll need to compile all your findings in a database and Google Drive and Docs are simple and free resources for this.
Here are the main things you should add to your database for every influencer that you research:
Name
Niche
Fan base size
Social media channels (and links to them)
Strong points
Weak points
Contact info
Observations: write down their peculiarities (tend to use video a lot, has a great sense of humor, has lots of ads, our competition has him/her under contract, etc.)
Online Databases
You can easily find lots of software that scours the Internet in search of this information, and it's often broken down into type of authority or location. Keep in mind that even though this method takes less time to get the info, it is not always very relevant, so you will have to double check it.
A few tools you can use to obtain the needed data are:
These databases are an excellent way to find influencers, and probably give you the broadest possible selection of online influencers. You just need to then approach those people yourself, once you identify them.
Influencer Platforms
Influencer marketing platforms provide searchable databases of influencers to help brands find an appropriate influencer for their campaign.
The benefit of using such a platform is that much of the work is already done for you. The influencers come pre-vetted and their profiles offer lots of information regarding their niche, activity on different channels, fan base count, etc.
Head on down to Chapter 7: Tools to Find Influencers and Track Your Marketing Campaigns for a detailed list of the top influencer marketing platforms, including Upfluence, Onalytica, Traackr and HYPR: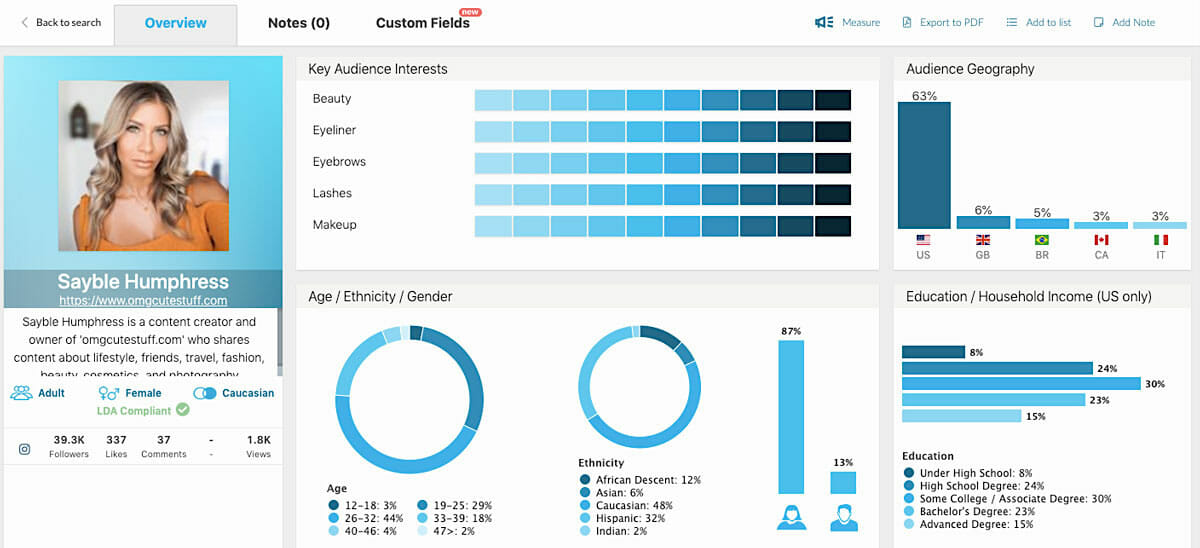 4) Create Your Influencer Campaign
Now that your campaign's objectives are clear in your mind and you've decided which influencer you prefer, it's time to start engaging with this person and leverage his or her image.
Here are the most important things you should keep in mind when creating your influencer campaign:
Your Message Should Be Unique: When creating your campaign's message and theme, you need to be 100% original. Together with your influencer, brainstorm original ideas and try unusual methods of advertising your message. These are the ones that have the best impact.
Use Relevant Channels. You might have the best message out there, but if you don't use the right channels, it won't reach your audience. For example, if your audience is made out of end users, not businesses, you shouldn't waste your time advertising your message on platforms such as LinkedIn. This platform is most suited for B2B interactions.
Offer Inside Information to Your Influencer. Invite your influencer to your headquarters, highlight your company's mission, demonstrate how useful your product is to your customers, etc. Give her meaty information to work with. If there are any interesting stories or funny moments during your company's existence, share them with your influencer. This will be the proof that she needs that you trust her and will inspire her to genuinely promote your brand. Through the real content that she generates, customers will also feel this trust in your brand.
Related Content: How Artificial Intelligence Is Transforming Influencer Marketing
Chapter 4: 5 Hacks to Start a Conversation with an Influencer
Influencers and industry experts are swamped with senseless offers, advertising, and spam. People ask them to share, to help, to advise. This is why they tend to ignore most of the messages they receive without even reading them.
Most of the approaches I suggest here are based on doing the influencer a favor first, not asking them for a favor, which will help them notice your message among all the others that are doing the opposite.
Once you strike up a conversation, you'll be able to start collaborating on some projects and building long-lasting relationships.
Here are five ways to start a conversation with an influencer you'd like to work with.
1) Conduct an Expert Interview
How It Works
Here are two undeniable reasons for this approach:
People love sharing their experience and discussing things they're passionate about or they've learned.
Because influencers don't have a lot of time, your offer to interview them as an expert is a great opportunity for them with very little work on their part.
It's best if you pitch some large publications and have a publishing contract or agreement in place first before asking experts to contribute. Without an agreement, you may end up unable to find an appropriate platform for publishing your interview. And asking influencers to take part in articles that never go live isn't something that helps build strong relationships.
So tell the influencer your idea and where you're going to publish it. They are usually more than happy to contribute. Once your interview goes live, it will be much easier to ask your influencer for a favor or discuss some other ways to collaborate.
How to Implement
To find exciting questions for your interview, I suggest using BuzzSumo's question analyzer: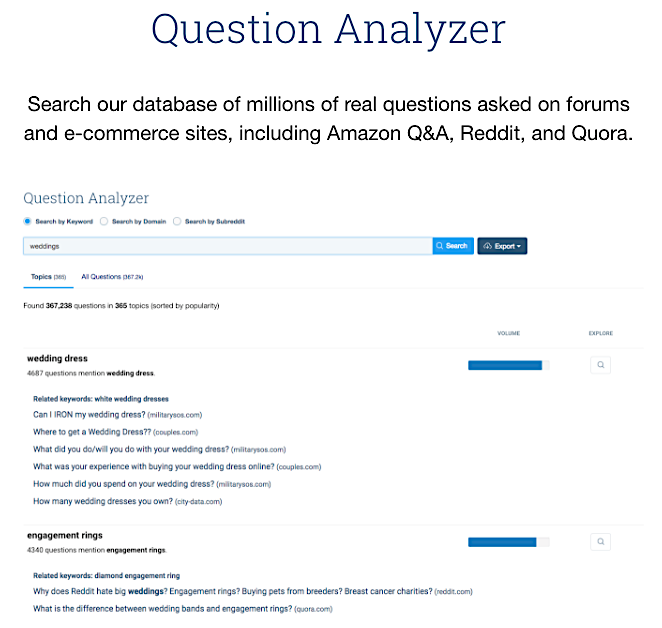 It gathers millions of questions from Q&A sites, e-commerce sites, and forums like Quora, Reddit and Amazon Q&A.
Try searching for your main idea for the interview, look through the list, and grab the most exciting questions you'd like to ask your subject.
Decide where you are going to publish this post (on your own blog or another platform).
Add it to your editorial calendar or make an agreement with the other platform.
Find influencers by using one of the tools in chapter 3 like Upfluence or Onalytica, by searching LinkedIn, Facebook and Twitter communities, and by finding lists of industry experts on Google.
Add influencers on LinkedIn, Facebook and Twitter, and follow them on other social media platforms to make it easier to reach out or follow up in future.
Start reaching out to influencers! Send a personalized email explaining who you are, what you want, and what your idea is.
I believe strongly that no one is so busy that they have no time to write "thanks, not interested." So don't give up after sending a single email and not getting a reply.
Follow up at least two times if there is no response for 3-4 business days, and then try to reach out via LinkedIn/Facebook/Twitter, or the contact form on their site. But remember, don't be too pushy and don't write too often. Stop after 2-3 messages.
The main idea of this approach is to offer a unique and exciting idea so that the influencer notices you in the email chaos.
Book My Free Marketing Consultation
2) Don't Ask for a Favor; Offer a Favor
As I said earlier, influencers are swamped with messages from people asking them for a favor. If they helped everyone, they wouldn't have time for anything else! So that's why I offer the opposite approach: do a favor for them first.
How to Implement
What kind of favors can you do for an influencer? Here are few ideas:
Comment on their blog post
Share their blog post
Review their book
Endorse their skills on LinkedIn
Find and report an error on their blog
These ideas are easy to implement if you're already a part of the professional community. Let's admit it, almost everyone who writes for the Web dreams about being an influencer someday.
If you want to find an influencer in your niche, you should always be in the community commenting and sharing influencers' social media posts, their blog posts, and their articles on the leading publications in your niche. The thing is, if you're a part of this community, you won't have to fake your online presence. You'll already naturally be commenting, sharing, and discussing.
These steps will help let influencers know about you so that your name rings a bell when they see it in their inboxes.
The most important thing here is to find the right words to start a conversation so that it doesn't look like:
"Hey Ben, I reviewed your e-book. Now I want you to share my article in return."
The better variant would be:
"Hey Ben. Recently I was reviewing your e-book on Amazon and I came up with a brilliant idea for a blog post that would complement your book. Could you please take a look at it and share your opinion?"
You can also help influencers find an error on his/her website to win their trust. The easiest way to do this is to use an SEO tool that allows site audits like Serpstat. This tool finds a wide range of errors in a matter of minutes, although for this approach we only need HTTP status code issues.
Once you've launched a site audit to find 404 errors, the tool will show the number of such errors along with the locations and it gives recommendations on how to fix them:

Once you have this info, let the blog or site owner know about the error on their page. Helping an influencer improve his/her site is a good way to start a partnership!
Your message could look like (pretend you didn't use Serpstat to find their site errors!):
"Hey Ben, I found out that the article on how to plan an effective content marketing strategy on your blog is returning a 404 error. Just wanted to let you know about this issue.
To be honest, I was reading your blog as I was trying to find an idea for a guest post to offer you. And that topic from the broken page sounds like something I can cover. 🙂 What if I write an article on this topic so that you can update that broken page?
Or I can write on a completely different topic as well. Let's discuss it!"
3) Create a Personalized Pitch
Influencers usually have their own blogs, and pitching a high-quality article is a great way to start a relationship. If your idea is good and unique and your pitch doesn't look like spam, you have a great chance of getting noticed by the influencer.
While the wonderful idea for the guest post is up to you, I'll give you some tips on how to create a personalized pitch.
How to Implement
a) Call the influencer by his/her name in the subject line
Research shows that using the name of the email recipient in the subject line can increase open rates by as much as 20% (which my own experience validates).
And although it might seem weird to use the first and last name of a person in your subject line, the research shows that it actually works well.
Some subject line examples are:
Congratulations, [FNAME] [LNAME]!
TED2014: Invitation to register for [FNAME] [LNAME]
Hi [FNAME] [LNAME], please update your email preferences
Influencers get tons of spam every day and most of this is sent via automation tools, so your main goal is to convince the recipient that you're not a mass-emailed newsletter.
b) Add a small personal note
Since automation tools are smart enough to add a name automatically, you should enhance your personalization with a personal note. It could be anything that shows the influencer that you have done a little research before pitching.
Some examples are:
"Hey, I found this article on your blog, and I think I could develop this topic in another direction…"
"I found an article about backlink building strategies in 2017 on your blog. I'd like to write an updated article on the same topic…"
"I've found that articles about content marketing are the most shareable on your blog, so I would like to offer…"
Use a tool like Serpstat or BuzzSumo to find the most shareable content on any blog or website.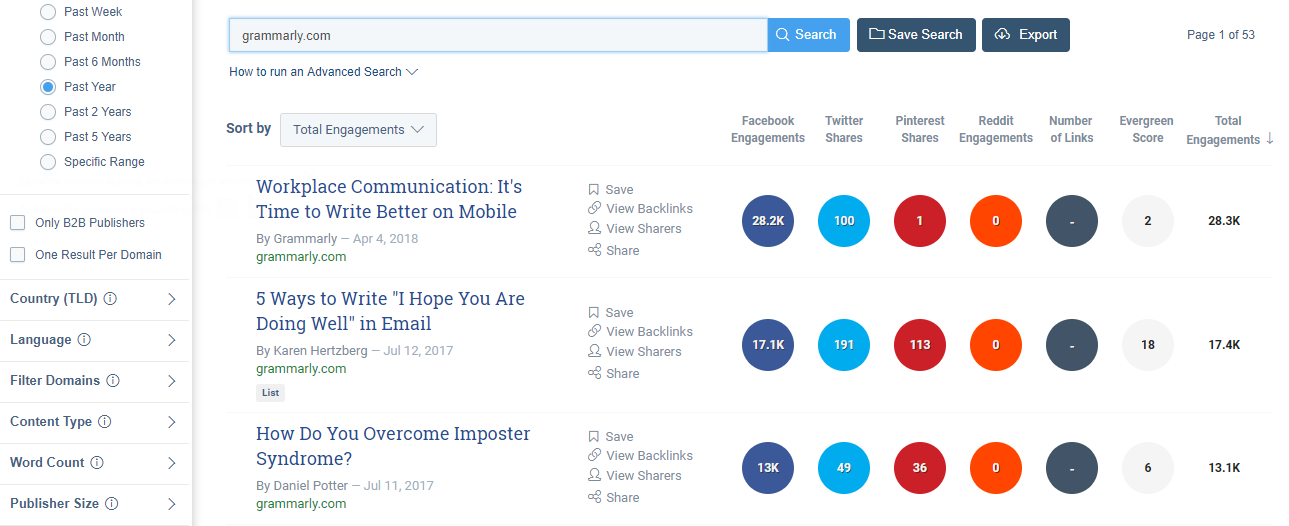 The ideas for personalization are endless – you just need to use your imagination a little. At the same time, you should keep your pitch as brief as possible.
In fact, your pitch email should consist of a short introduction, a personal note, suggested topics for a guest post, and several writing samples (if necessary). So cut out the fluff and get straight to the point.
Related Content:
* How to Use Personalization to Increase the Impact of Email Marketing
* How to Get More Responses From Your Cold Emails
* 10 Best Cold Emailing Tools to Help You Quickly Close Sales Deals

4) Ask for a Piece of Advice
As I said earlier, people love sharing their experience, but most influencers are too busy to talk to strangers and help newbies. That said, a few years (or decades!) back they were newbies, too.
If you ask meaningful questions, some of them will respond, and it's a great way to strike up a conversation and get the chance to collaborate in future.
How to Implement
Write down several complex or difficult issues that only an experienced person could answer. Never ask something that everyone can find on Google! If you can't think of anything, try looking on Quora or other relevant forums.
Send a brief and polite message asking the influencer if they could help you out by answering a quick question(s).
When Eric Siu, CEO of Single Grain and founder of Growth Everywhere, was first starting out, he used this exact strategy to learn from Neil Patel. Not only did he learn from an expert, but now they co-host the popular Marketing School podcast.
From an interview with Neil on Growth Everywhere:
"In the course of time that led up to Neil deciding to take Eric on as a mentee, Eric was constantly messaging Neil with short, to-the-point emails that contained sophisticated, non-basic questions – asking just one question at a time, making it easier for Neil to reply.
At the same time that Eric was asking him questions to help his business, he was also trying to help Neil's. For example, he gave Neil suggestions on ads by comparing his ads to someone else's and showing him the statistics."
Or listen to Eric talk about how he did it in Alex Berman's video "How to Find a Mentor? (How Eric Siu Met Neil Patel)":
5) Mention the Influencer in Your Content
The last approach I'm going to cover is mentioning influencers in your blog posts. In fact, you're helping the influencer promote his/her blog, personal brand or service, so of course s/he would be happy to take a look at this post and share some feedback.
How to Implement
Find influencers who are interested in your topic. To do this, you can use special tools, follow LinkedIn/Facebook communities, and follow influencers on Twitter.
Find a way to mention them in your blog post. It could be a quote, a link to his/her post or research.
Email the influencer and ask them to take a look at your post and share their feedback. If the post is good, an influencer can share it with his/her audience, and you'll have something to talk about.
The best article on this kind of outreach I've seen is this one called "I Just Deleted Your Outreach Email Without Reading. And NO, I Don't Feel Sorry."
Related Content: 84 Influencer Marketing Statistics for 2021 [Infographic]
Chapter 5: How to Reinforce Your Customer Acquisition Strategy with Influencer Marketing
Collaborating with influencers to reinforce your customer acquisition strategy is probably the most cost-effective way of gaining new customers. As influencers are genuine, authentic and creative, they can easily establish a connection with your prospects.
But make sure to find relevant influencers in your niche for the success of your campaign.
Monitor your campaigns, as this can help you understand what's working and what's not and, if needed, make changes accordingly. You must also track the traffic and conversions generated from your influencers' content (more on this in Chapter 7: Tools to Find Influencers and Track Your Marketing Campaigns). It is important that you keep leveraging these influencer marketing tactics for a successful customer acquisition strategy.
Let's take a look at some winning influencer marketing tactics to help you create a robust customer acquisition strategy.
1) Get Influencers to Promote Your Brand's Story
The way you represent your brand to your audiences is very important for customer acquisition. Your brand's values and mission need to be clearly communicated in a simple, easily understandable, and relatable way to your audience. To a large extent, your brand's image will depend on what and how you communicate.
Stories are the best way to build an emotional connection with people, so you can ask your influencers to share your brand's stories with their social media followers in ways that will appeal to them. But why do you need an influencer to become a storyteller for your brand?
Influencers are known for their creativity and authenticity, so when they present your stories to their followers, it can do wonders for your customer acquisition strategy. Because 89% of brands depend on influencers for sharing their stories with authentic content, it tends to attract new customers: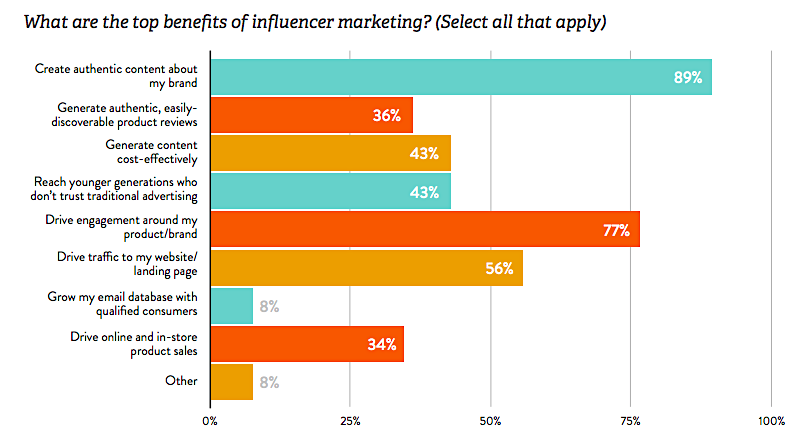 For example, Amber Fillerup is a fashion influencer and an expert storyteller on Instagram with 1.3 million followers. Popular brands like Urban Outfitters and Nordstrom have often teamed up with her to promote their brands' stories.
In the post below, she is seen promoting a travel experience in Whistler, Canada. As you can see, there isn't much text in the post, yet it has managed to receive over 48K likes.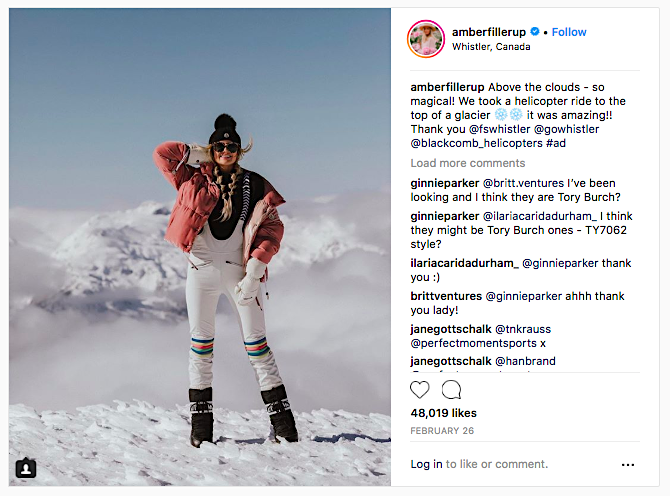 2) Get Influencers to Collaborate on Giveaways and Contests
Organizing giveaways or contests is one of the best ways to strengthen your customer acquisition strategy.
When done correctly, it will definitely draw new customers to your brand because it's always exciting to win a prize, free of cost. And when you collaborate with influencers to run contests or giveaways, you can reach a wider audience which may not have been possible otherwise.
Katie Stauffer is a successful mom influencer with nearly 4 million followers on Instagram. Chicken NY, a kids clothing brand, recently collaborated with her to organize a giveaway contest. This is a great way to make people aware of your brand and products.
However, there are a few things you need to keep in mind when hosting giveaways. Make sure that the instructions to enter the contest are clear and so are the winning criteria. Of course, you need to also make sure that you're offering something valuable so that people want to participate.
As you see below, Katie very clearly explains the instructions to enter: participants need to like the picture, follow the brand and the influencer on Instagram, and tag three or more of their friends in the comments. This is a great tactic that helps both the brand and the influencer gain new followers.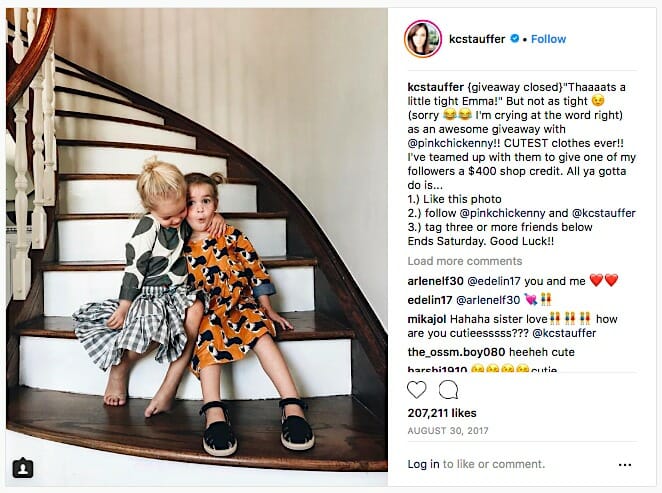 3) Get Influencers to Be Your Brand Advocates
One of the easiest ways to increase awareness of your brand is to turn your loyal fans into brand advocates. You can use the same strategy with your influencers, too. So team up with influencers who are already huge fans of your brand and turn them into advocates to support your customer acquisition strategy.
This tactic is much more effective when you build an influential brand advocates community, rather than collaborating with just a few of them. You can use various social monitoring tools, like Hootsuite, Brandwatch or Google Alerts, to track any mention of your brand or products. These tools will help you to identify your biggest loyal influencers.
For example, Glossier, a makeup and beauty brand, has a community of influential brand advocates called "Glossier Girls." Followers of these Glossier Girls can use their unique URL and get a 20% discount on their first purchase. By simply promoting the brand's products, they, too, stand a chance to make money.
Here's a post from Glossier Girl Helena, promoting one of the brand's beauty products: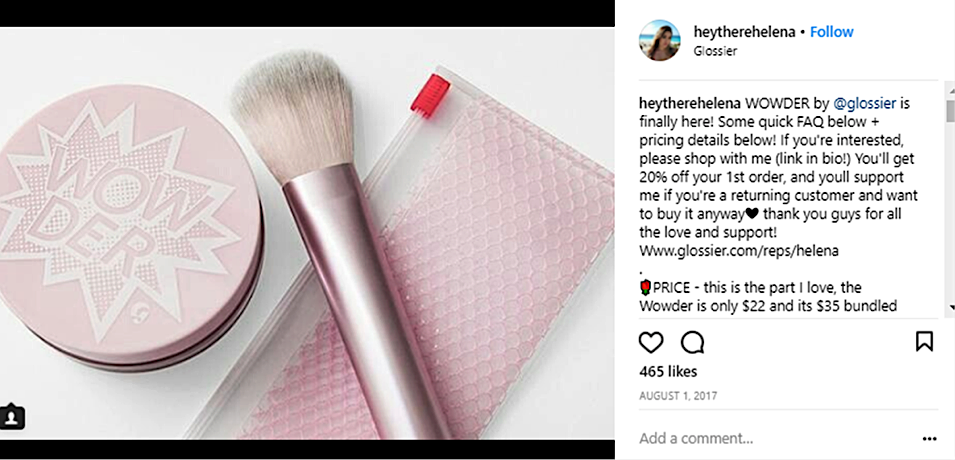 4) Get Influencers to Use Campaign-Specific Hashtags
To further reinforce your customer acquisition strategy, you can use hashtags that are relevant to your campaign.
The key to getting discovered by relevant audiences and increasing brand awareness is to use the right hashtags, but remember that it takes time, effort, and extensive research to find relevant ones. Ensure that they are a mix of common and unique ones and encourage your influencers to use this successful combination of hashtags in their posts.
For example, LaCroix, a sparkling water brand, works with micro-influencers to promote their product and gain new customers. In the example below, even though the micro-influencer has less than 5K followers, her engagement rate is pretty high.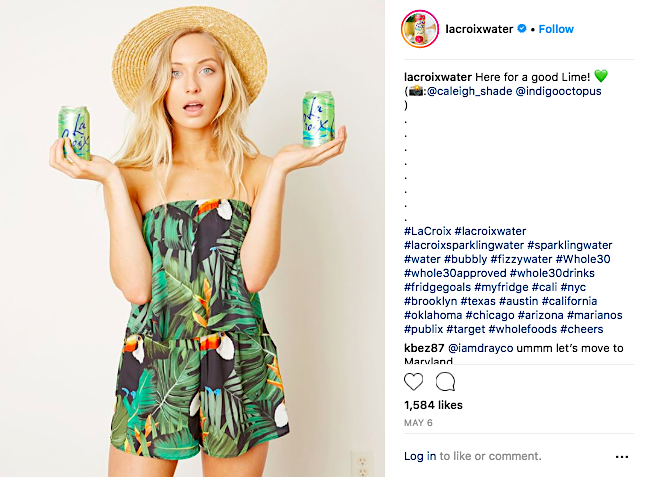 As you can see here, the brand uses specific hashtags and they've asked the influencer to use them too.
Just like LaCroix, you can also promote your products by using specific and relevant hashtags in your campaigns. One way of collaborating with micro-influencers is to send them free samples of your products and ask them to review and/or promote them on social media.
Book My Free Marketing Consultation
5) Get Influencers to Write Honest Reviews
To further strengthen and support your customer acquisition strategy, ask your influencers to write and share honest reviews about your products. Genuine feedback never fails to attract new customers.
User reviews and testimonials are even more important when you are a fairly new brand in the industry. In such cases, chances are high that people have not heard about your product or they don't trust you enough yet to invest their money. However, a positive review from an influencer whom they trust can speak volumes about your brand and it's value.
So collaborate and ask relevant influencers to give you their honest feedback of your products or services and ask them to share their experience with your brand on their social accounts. These tactics will surely help you win the trust of new customers.
Lewis Hilsenteger is a tech and gadgets guru with over 11 million subscribers on his YouTube channel, Unbox Therapy. In his videos, he talks about all the coolest and latest gadgets. OnePlus, a mobile phone brand, partnered with him to promote their new OnePlus 6 smartphone using his review and opinions.
He made a video on OnePlus 6, talking about the smartphone in detail, and in just a few days, the video was viewed by more than 1.5 million people and liked by 53K.
6) Get Influencers to Leverage UGC
Leveraging user-generated content (UGC) is one of the most successful and powerful tactics to gain new customers.
You can think of UGC as a hidden advantage for your influencer marketing campaigns. For this tactic to work, you need to first establish and build connections with your influencers and then leverage their trustworthiness and reliability to position the image of your brand on social media.
User-generated content positively impacts the purchasing decisions of your potential customers. In fact, millennials believe that information received through UGC is 50% more trustworthy than from other media sources, including TV, newspapers and magazines.
When you compare all forms of content, people trust visuals from users more than any other format. User-generated visuals are more impactful and influential when compared to a brand's own images or videos.
This is exactly what the Hawaiian Tourism board did. They collaborated with micro-influencers to promote tourism and encourage people to visit Hawaii. They used the hashtag #LetHawaiiHappen for the campaign.
One of the micro-influencers was Jordan Herschel, a professional photographer. The screenshot below is one of his posts on Instagram in which he talked about the beauty of Hawaii. The campaign successfully generated 100K posts in just one year.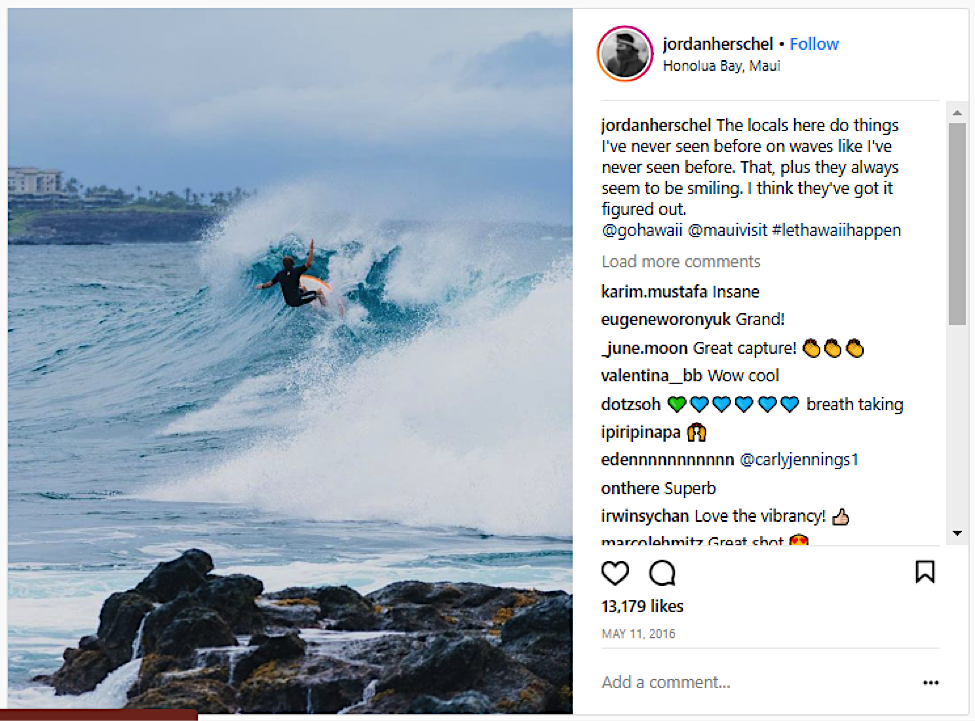 Related Content: Customer Acquisition Tactics for 2021 & Beyond (with FAQs)
Chapter 6: Influencer Marketing for SEO: How to Build Links with Influencer Outreach
Before I show you how to boost SEO with influencer marketing, I'll first explain why it works. The SEO benefits of influencer marketing can be direct or indirect.
1) How Influencer Marketing Can Boost Your SEO
Here are four ways that influencer marketing can boost your brand's SEO.
Build Brand Awareness
Building your own unique audience base takes years or even longer without the help of others. When you partner with established industry players, you can shorten the process.
86% of marketers use influencer marketing to fuel their content marketing strategies and 57% say it performs better than brand-created assets.
If you partner with influencers, particularly those who have a loyal following of hundreds of thousands of people, you can get better reach than promoting from your own site alone.
Get Backlinks
When you reach a larger audience through influencer marketing, you also get significantly more opportunities to build backlinks. Links are one of the most important ranking factors that Google uses in search.
When you partner with bloggers through guest posting, product reviews or other types of collaboration, you're almost always guaranteed a new link back to your site. Some of these might be nofollow (meaning they're flagged to not impact search rankings). But they can still impact SEO indirectly by building brand awareness and driving traffic.
Gain Social Media Followers
SEO experts like to argue over whether social media has a direct impact on PageRank in search engines. Either way, one thing is clear: social media signals can improve SEO, indirectly or otherwise: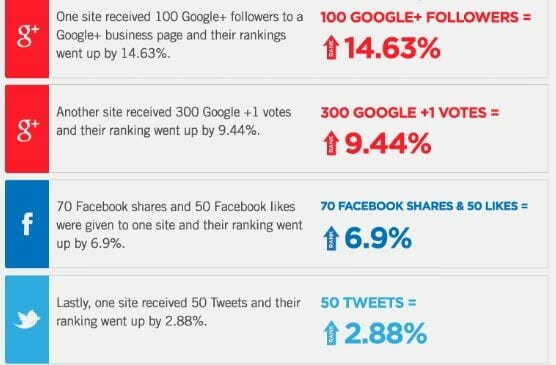 When your business engages with a new social audience, it unlocks the potential for more followers and engagement. This can lead to more site traffic, backlinks and other factors that improve SEO.
Create More Organic Content
Ultimately, the more content you create through influencer marketing, the more opportunities you have for your brand to rank in Google search results.
Say your business is new and your domain authority isn't good enough to rank well. Write a guest post on Entrepreneur or collaborate on content with another high-authority site. This content will likely rank much better in search while spreading the word about your brand.
The same goes when you work with a YouTube influencer (more on this in Chapter 8: How to Work with YouTube Influencers to Grow Your Brand) to promote your brand. It's a big opportunity to rank better in Google Video Search and regular organic results: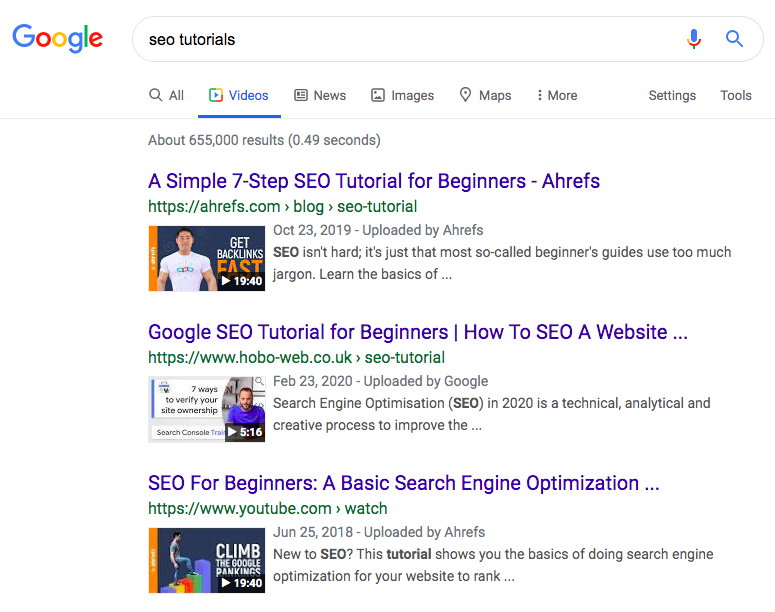 2) Strategies for Working with Influencers to Build Links
There are a lot of different ways to collaborate with influencers. Here are a few strategies you should focus on if building links is your main goal:
Product or Site Reviews
There are lots of bloggers out there who are willing to review your product and link back to your site. You can use AllTop or other tools to find popular blogs categorized by industry to find the right people (more on this in Chapter 3: How to Choose an Influencer to Boost Your Marketing Campaign).
When looking for influencers to review your product, make sure you check their domain authority. Bloggers who offer review opportunities tend to link back to a lot of different sites. This could negatively impact their domain authority if they're linking to a lot of low-quality sites. You don't want that kind of link juice for your website.
The more domain authority a site has, the more valuable their links will be for your SEO. You can use a number of tools to compare their domain authority to yours. Moz's Link Explorer, for example, offers a free domain authority score based on the potential of a domain to rank in search results: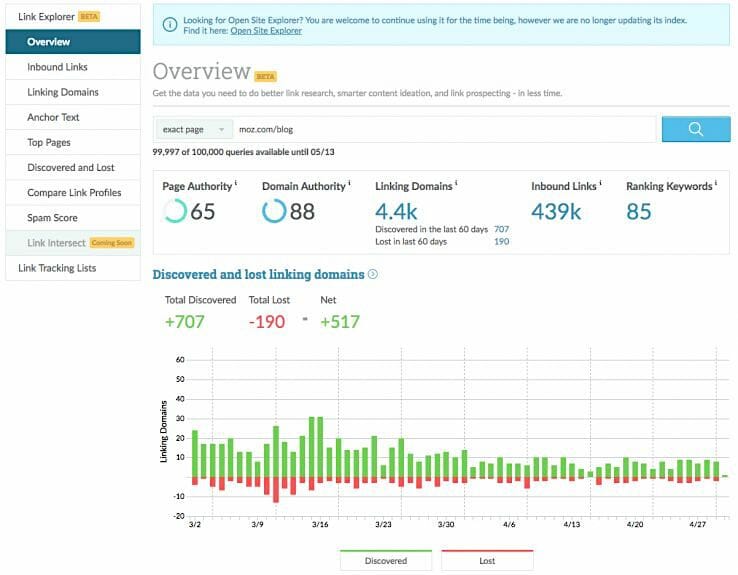 Guest Posting
Guest posting is a great way to grow links while collaborating with another site, free of charge. As with review sites, you should target domains that have comparable or better domain authority.
It's easy to find guest posting opportunities on sites that have published submission guidelines. Just use search queries like these to get started:
[Niche keyword] "write for us"
[Niche keyword] "contributor guidelines"
[Niche keyword] "submit a guest post"
[Niche keyword] "guest post"
[Niche keyword] "become a contributor"
Read the fine print of their guidelines and try to target blogs that allow you a dofollow link back to your website.
Related Content:
* Beginner's Guide to Using Rel Tags To Improve Your Site's Rankings
* The Power of Guest Blogging (And How to Get Started!)
* How to Squeeze the Most Value Out of Nofollow Backlinks from High-Authority Sites

Contest or Giveaway
Giveaways are a great way to generate buzz on social media, attract people back to your site, and get links. But you can amplify the strategy even more by working with influencers.
Here's an example. KeVita partnered with influencers to promote a giveaway of their products. To enter, people had to follow their Instagram account, comment on the influencer's photo, and tag someone in the comment: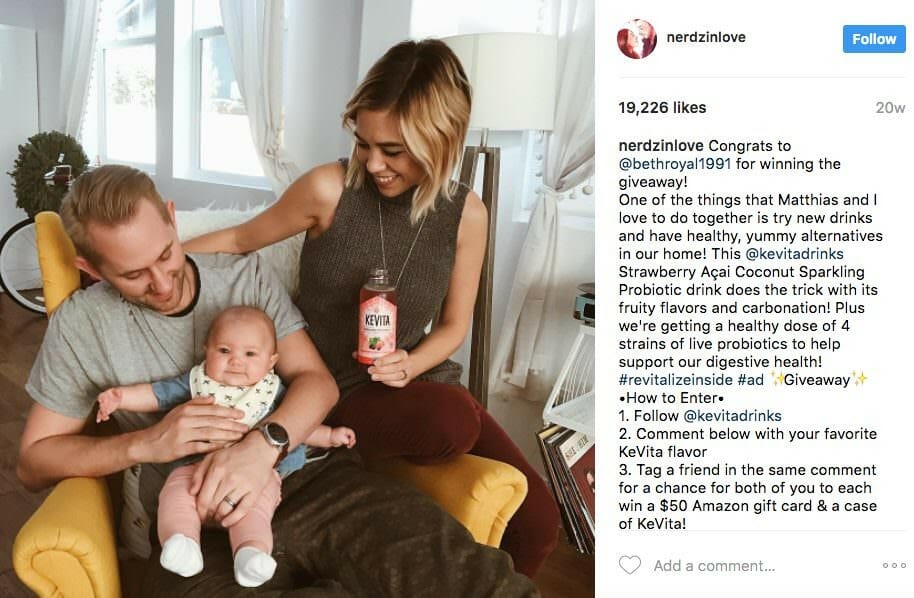 By partnering with influencers, KeVita was able to reach a much wider audience, and generate more brand buzz and site traffic. These are all good factors that can help you build links.
Discount Code for Their Readers
If you aren't prepared to give away free products to work with influencers, a discount code should be enough to start working with them and reaching a new audience.
Dealspotr can help with this. It's a platform where brands can promote their product deals and connect with blogging influencers. You provide the coupons and influencers will share them with their audience.
Mention the Influencer
People love to link back to and share content that features them. You can benefit from this by regularly creating blog content that mentions or features other influencers.
Roundup posts are a great way to do this: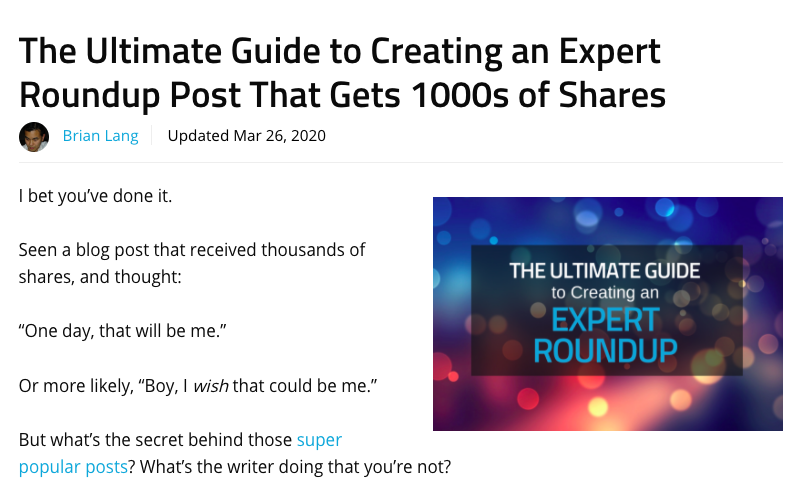 You could also quote an influencer or feature their business/product in your content.
After your content is published, reach out to them by e-mail (you can find their e-mail address with Hunter) to let them know they're mentioned. Provide a link to the content so they can easily share it.
Book My Free Marketing Consultation
Contribute Your Expertise
If you take a closer look at some of the best content on the web, you'll almost always see that it was the result of collaboration between industry figures.
For example, Neil Patel and Eric Siu collaborate on their daily Marketing School podcast: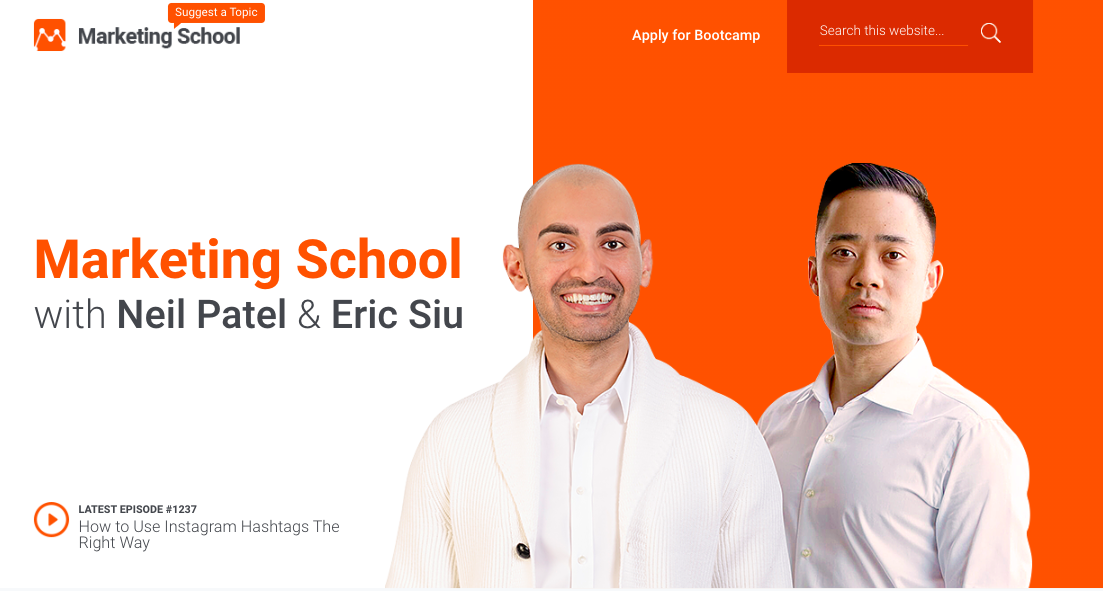 If you have some industry data that another industry player could analyze and use, or just helpful knowledge on a topic to improve their content, propose a collaboration.
Content that's been carefully optimized performs better in the SERPs: It ranks higher and for a bigger spread of search terms. That means more eyes on your content and a greater chance that others will link to it from their own content. Not only that, but the work involved on your side to score any extra links that may come your way is minimal.
A tool like ClickFlow, for example, makes content optimization simpler and more effective with its Title/Meta Testing, Page Element testing, and Content Editor features: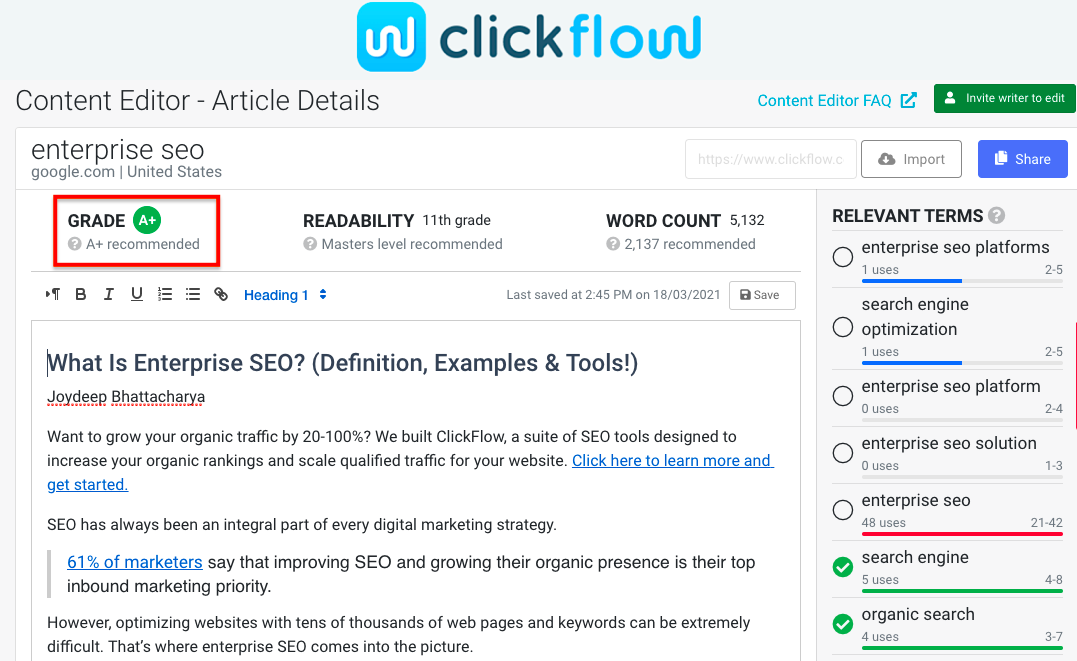 Related Content:
* 4 Ways to Signal to Google that You're an Expert Content Creator
* The Ultimate Guide to Link Building with Content for SEO
* 9 Effective SEO Techniques to Drive Organic Traffic in 2021

Chapter 7: Tools to Find Influencers and Track Your Marketing Campaigns
If you've gotten this far in this post (hurray!), you now fully understand the power of influencer marketing. But what good is this power if you aren't tracking it?
Tracking your influencer marketing campaigns is an important strategy to help you make informed marketing choices to drive better ROI. The more detailed metrics you have access to, the more precise your efforts can be.
The one-dimensional insights you gather from UTM codes and social impressions simply aren't enough for many brands to maximize the value of influencer marketing.
In case you're hungry, here are some more food-for-thought stats on influencer marketing:
65% of influencer marketing budgets will increase in 2021.
The most common influencer budget is $1,000 – $10,000/year, followed by $100,000 – $500,000/year.
89% say ROI from influencer marketing is comparable to or better than other marketing channels.
69% of marketers plan to spend the most money on Instagram for influencer marketing this year.
Instagram posts, Instagram stories, YouTube videos and Instagram videos are the most-used format, in this order.
The Influencer marketing industry is set to grow to approximately $9.7B in 2021.
Average earned media value per $1 spent has increased to $5.78.
Here are the average engagement rate benchmarks across four key platforms (Instagram, YouTube, Facebook, Twitter) and influencer follower size (nano, micro, medium, mega):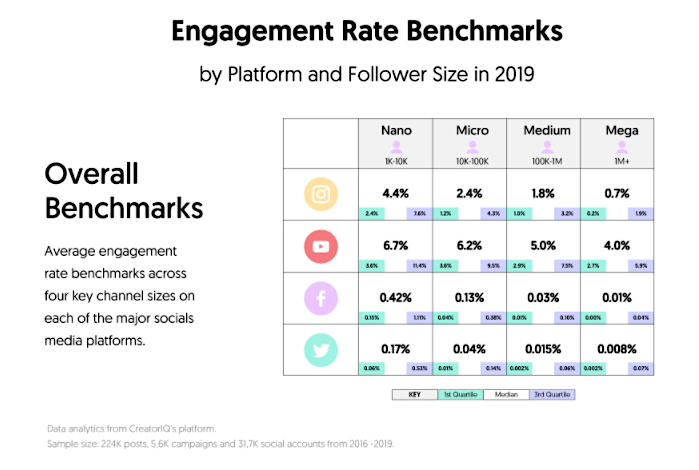 Statistics like these offer an industry snapshot, but how do you make sure that you manage the same level of success for your brand? Consider trying one of these advanced tracking tools and see the benefits for yourself.
Here are 10 tools that help brands track each step of their influencer marketing efforts.
1) Traackr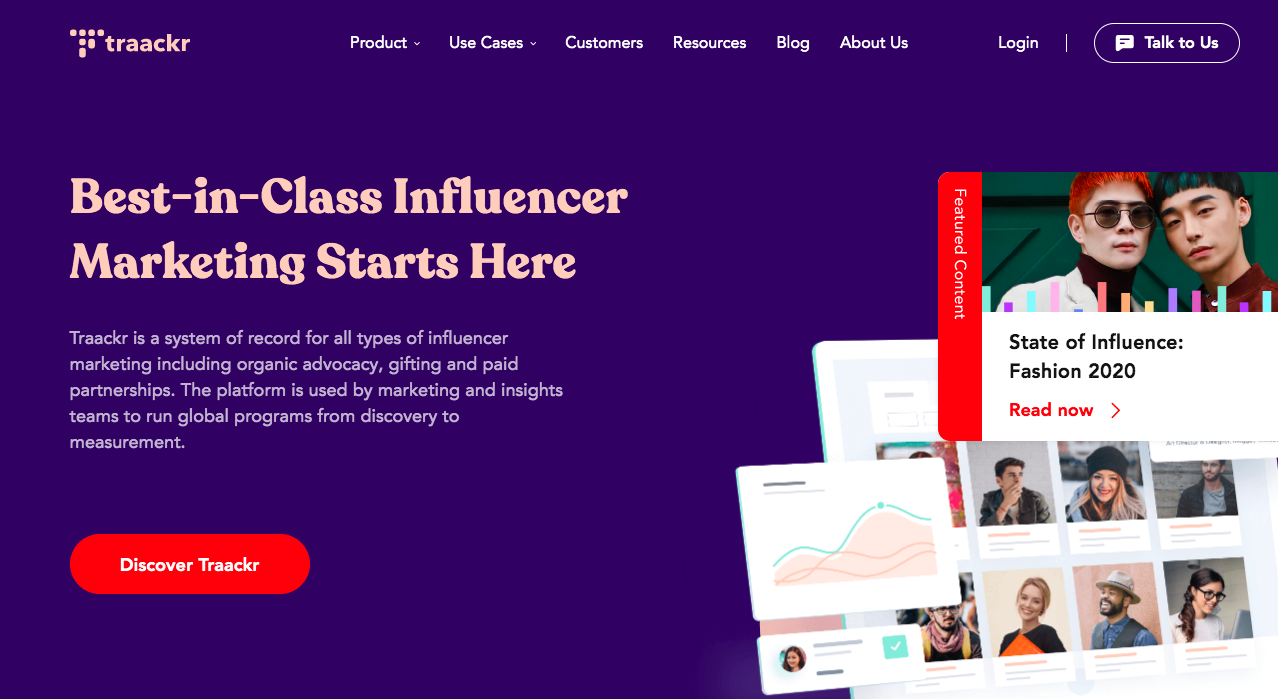 Just like the name implies, Traackr is one of the top tools out there to help you build and track your influencer marketing campaigns. Traackr was built on the idea of helping brands manage their relationships with influencers, but it also comes with a host of features that help you monitor the effectiveness of your campaigns.
How It Works
Traackr is a system that manages influencer relationships. It offers standardized metrics across teams, brands and geographic locations to help you scale your influencer strategy.
Upload your list of existing contacts and use Traackr to search for new potential influencers. Traackr helps you validate your influencers by offering in-depth metrics about who they are and where they're active on the web.
Next, you can tier and organize your influencers into meaningful groups based on their niche, team members they're relevant to, which projects they're associated with, etc.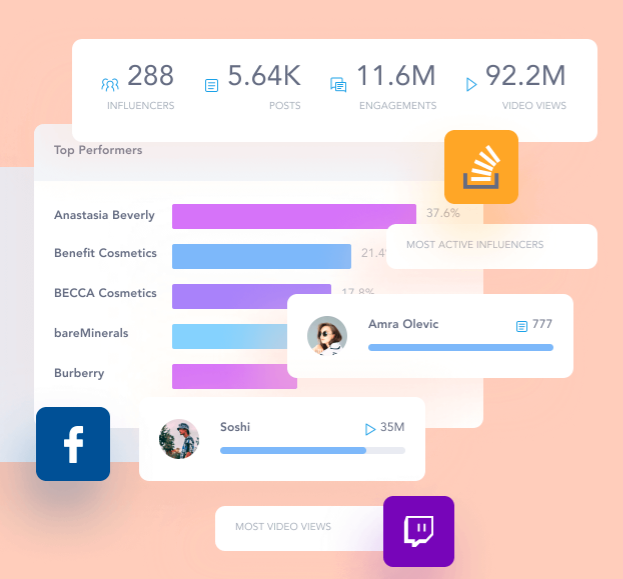 This information all becomes valuable when you launch and track your campaigns. Traackr helps you keep tabs on influencer activity and engage in order to build relationships. You can focus on tracking topics related to your niche, your brand mentions specifically, etc.
All your communications with influencers will appear in a universal record, no matter which of your team members is engaging with them.
Traackr analytics features allow you to:
Set a benchmark for your brand's current influence in the market so you know your starting point for improvement. Compare your share of influencers against competitors to set a baseline.
Get a complete picture of how each influencer marketing initiative is performing (content, platform, etc.). Track changes in mentions and engagement with new influencers.
Analyze your investment and influencer results together to determine who is the most effective at driving engagement for your brand.
Set up reports to track fulfillment and compliance when you ask influencers to help promote your brand.
Traackr also helps paint a picture of the stage of influencer relationships with a funnel breakdown: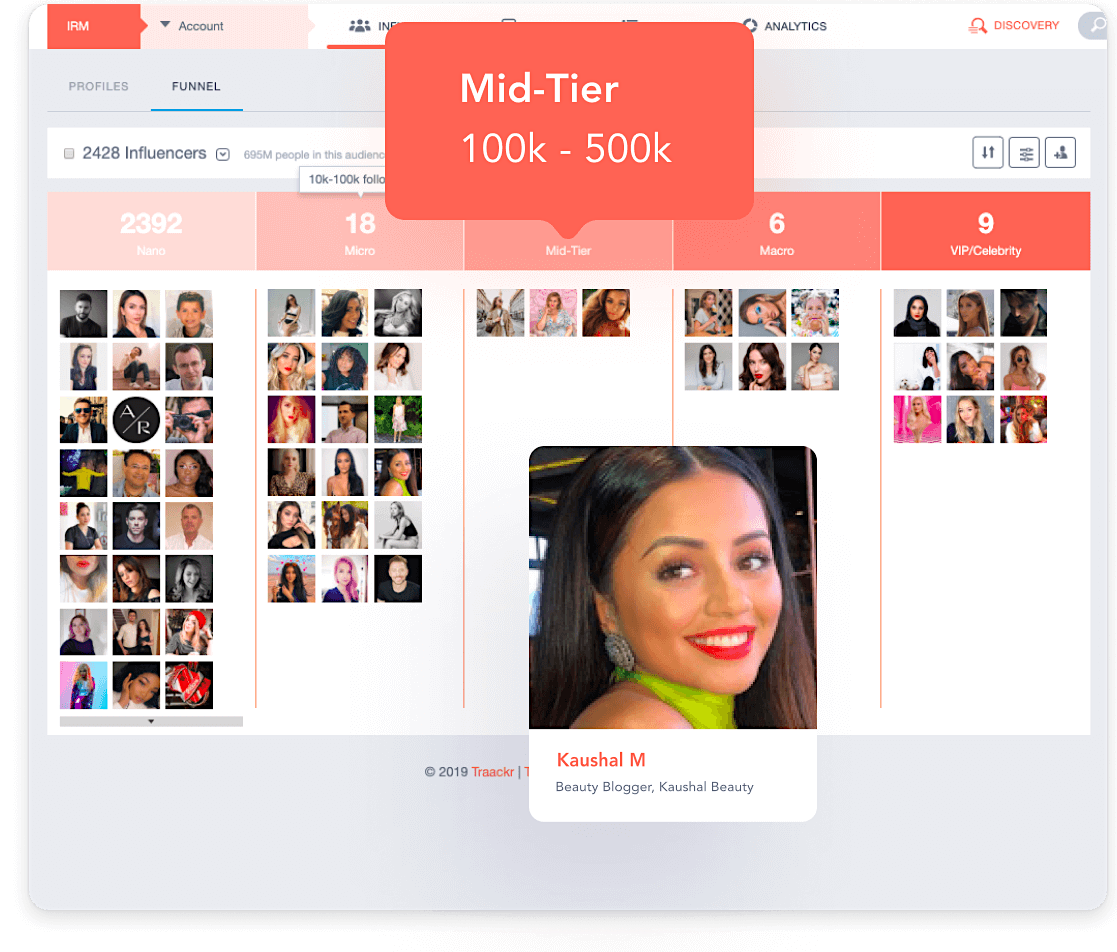 This makes it easy for any team member to select influencers that are best for your latest campaigns. Assess progress and continuously monitor how your funnel is changing based on influencer data.
The main pain point Traackr aims to address is eliminating cross-functional conflicts when you work with a large team and a lot of influencers.
Pricing
Traackr does not list any set pricing, and instead asks you to contact them directly for a quote. Discussions around the Internet suggest that they are not cheap. That said, whatever they do charge will be customized to your influencer marketing needs, so you won't have to pay for features you don't use.
2) Dealspotr Marketplace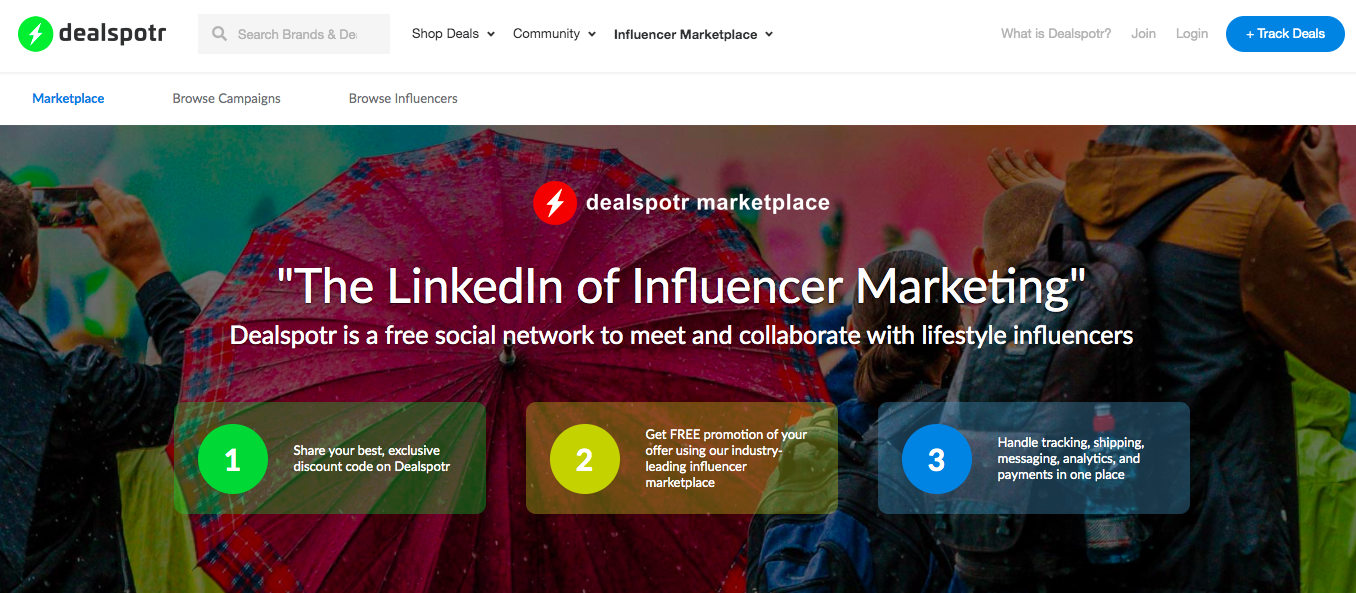 The Dealspotr Marketplace is a free influencer marketing platform that combines the benefits of a promo code website with a CRM-type management system to track your influencer marketing campaigns.
You can add exclusive codes to the platform, browse Dealspotr's database of micro-influencers to enlist in promoting these codes and your product, and track everything from one comprehensive dashboard.
How It Works
Since Dealspotr functions as a hybrid promo code database and influencer marketing platform, you'll have access to two basic types of marketing capabilities:
Promoting your promo code(s) on the web
Partnering with influencers to run sponsored content about your brand/store
Much like posting a job on LinkedIn, Dealspotr allows you to create a sponsored campaign that is visible to their network of over 4,000 micro-influencers. Interested influencers can then apply to your campaign and you choose the ones you want to work with. You can also search for influencers by niche and invite them to join your campaign: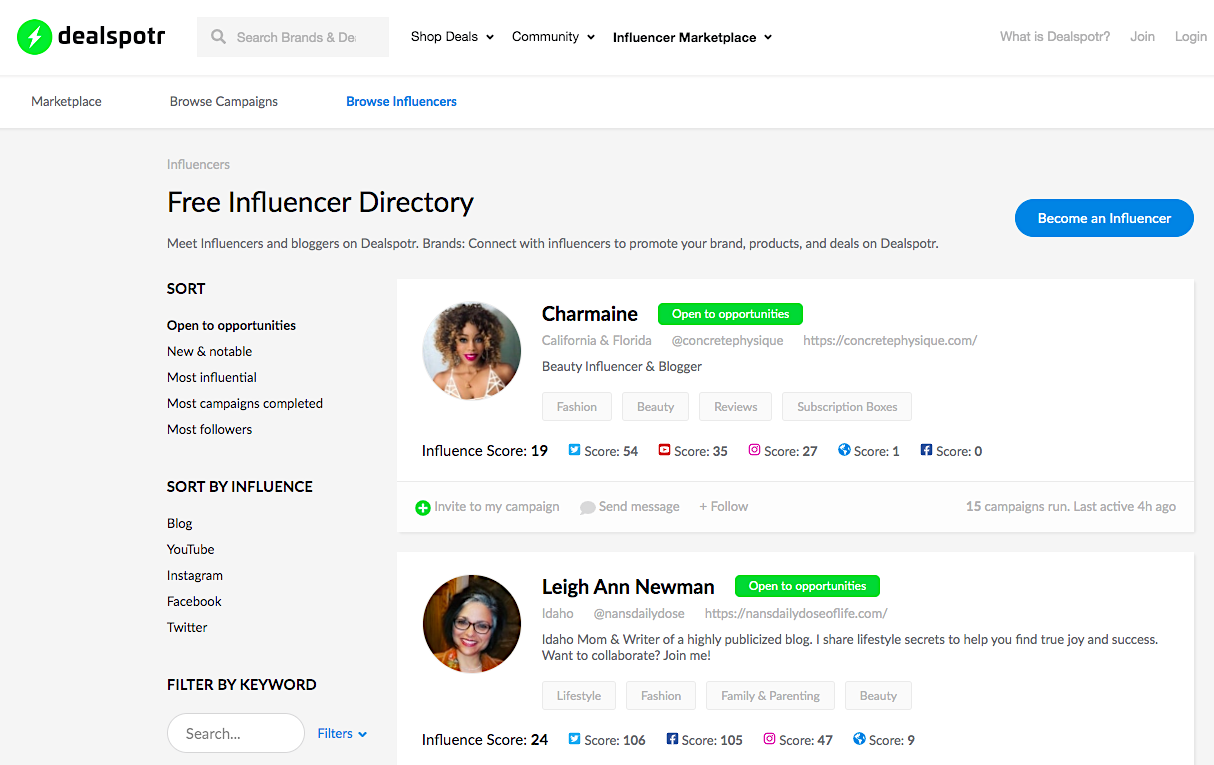 Here are some key features:
a) Pre-calculated Influencer Rate
When running an influencer marketing campaign, a lot of time can be spent negotiating with influencers on their rates. Many influencers tend to price themselves high – and with issues of purchased followers and fake engagement rampant, an influencer's rates aren't always a reflection of the actual reach that influencer has.
In the Dealspotr Marketplace, each influencer is given an Influence Score, which is calculated by an algorithm: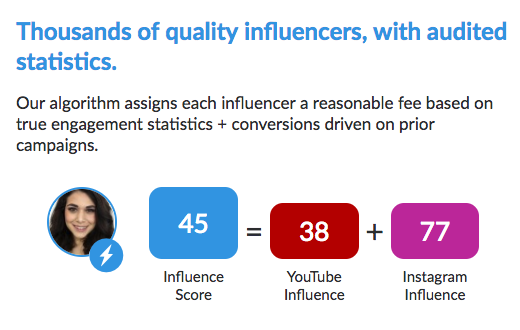 This score determines the fee that an influencer is paid, and is designed to combat these fake followers and overinflated influencer rates.
An influencer can see their Influence Score and pay rate when applying to campaigns, which takes the negotiation and guesswork out of the process.
b) Manage All Your Campaigns from One Dashboard
When you create an influencer marketing campaign in the Marketplace, you'll have access to a full dashboard – your hub for everything you need in order to track your campaign: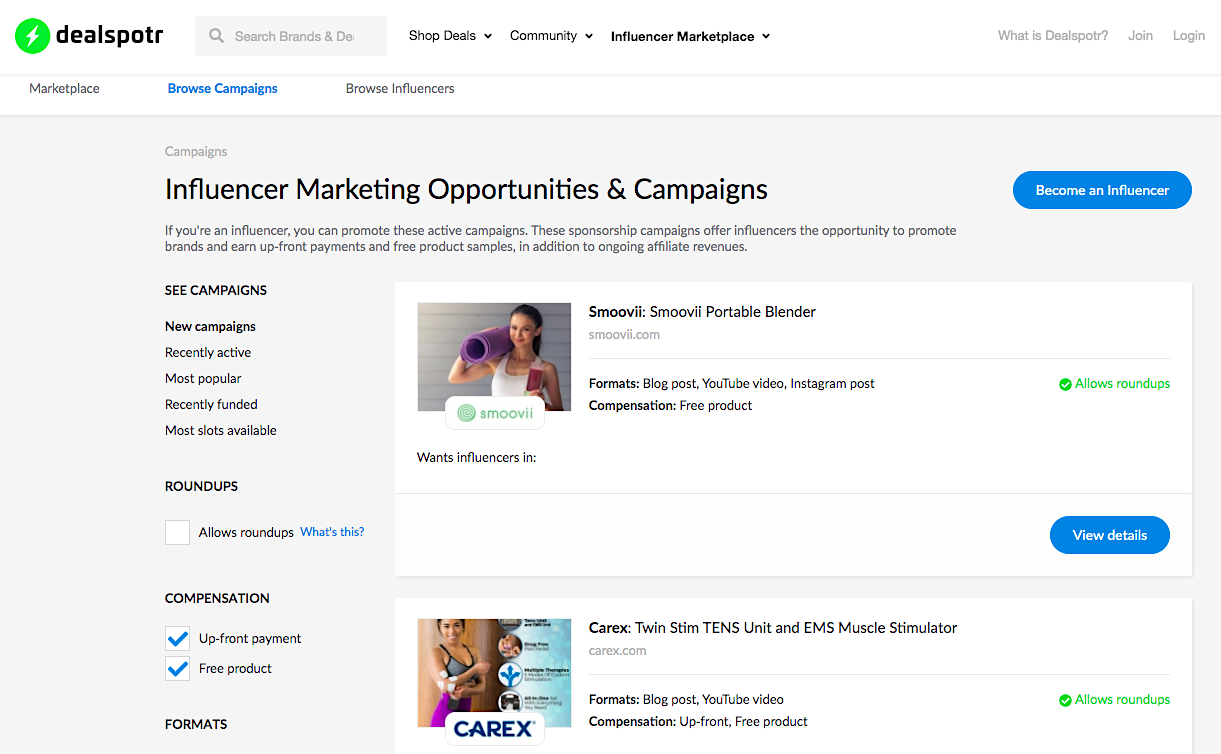 You'll be able to see pending applications from influencers who want to work with you and track the status of each one. You'll be able to track invites you've sent out as well.
Once you decide to work with a particular influencer, you can track your whole relationship right from the dashboard. You'll be able to do things like send out a product sample, check your influencers' sponsored post due date, and add funds to your campaign.
Dealspotr's Marketplace fully automates content scheduling and notifications, so you won't have to track down your influencers via email or Instagram message. The platform enforces timelines and automatically sends out reminders to keep your campaigns moving forward.
c) Track Clicks and Conversions
If you've run an influencer marketing campaign before, you know that one of the hardest things to do is track ROI (more on this in Chapter 10: All You Need to Know About the ROI of Influencer Marketing). It can be a hard number to quantify and requires a lot of analytical data and processing.
The Dealspotr Marketplace automatically tracks clicks and sales for each influencer you work with. The platform's tracking technology integrates with Shopify, Magento, WooCommerce, and other popular e-commerce platforms, and gives updates on clicks and conversions in real time.
Pricing
The Dealspotr Marketplace is completely free for brands to use. Any type of "fee" is baked right into the exposed influencer's rate, so what you see is what you pay.
Brands also have the option to offer a free product-only campaign, where they compensate influencers with just a free product. It's a good starting point if you're not sure whether you want to work with one influencer or 20, since you can freely pay per influencer.
3) Klear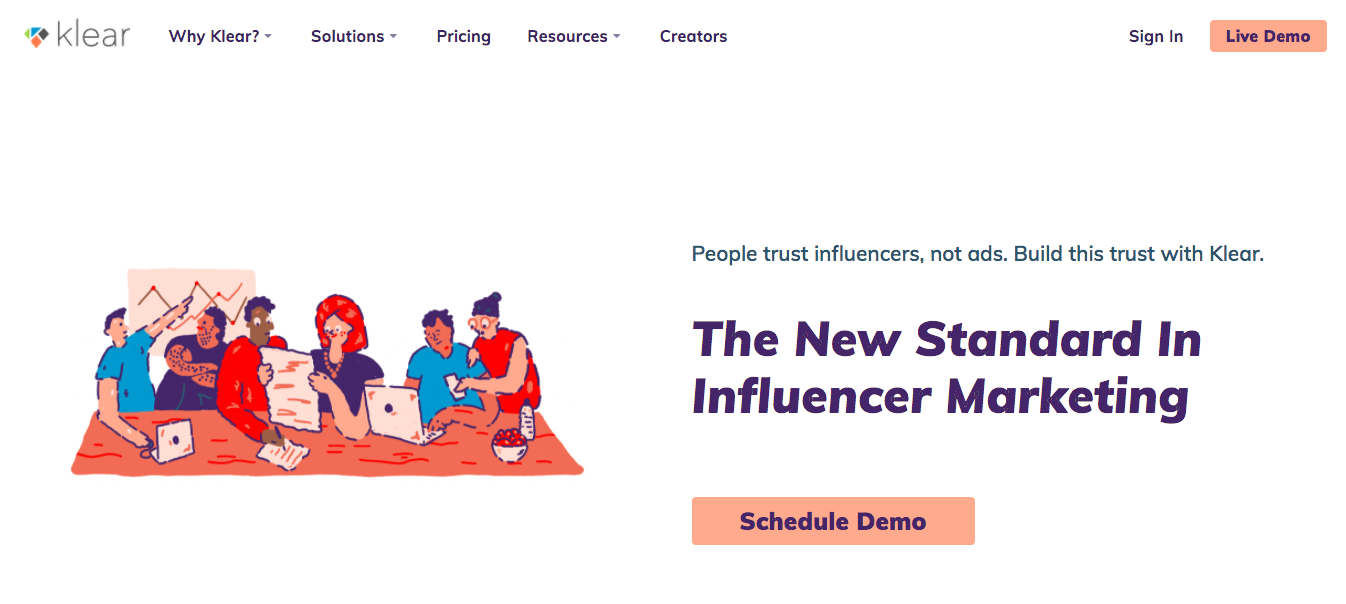 Klear is first and foremost a place to search for and find influencers to work with, but it has also become a sophisticated platform to manage and track your campaigns as well.
How It Works
Klear is fully equipped to help you find, analyze, manage and monitor your influencers. Here are some key features:
a) Find and Analyze Influencers
Klear offers a database of 900 million influencer profiles with historical data. You can browse or search through more than 60,000 categories based on skill, location, platform and more.
Once you click on a profile, you can see a snapshot of the engagement level on different platforms, reach, content and overall influence to help you make an informed choice.
b) Manage Campaigns
Klear offers a built-in CRM to help you manage your influencer campaigns. It was designed specifically for influencer marketing so you can focus on key insights that matter most, like hashtag mentions for your campaigns, influence, reach and total fans for each influencer.
The CRM helps you contact potential influencers and keep track of your activation and outreach with easy-to-use tools: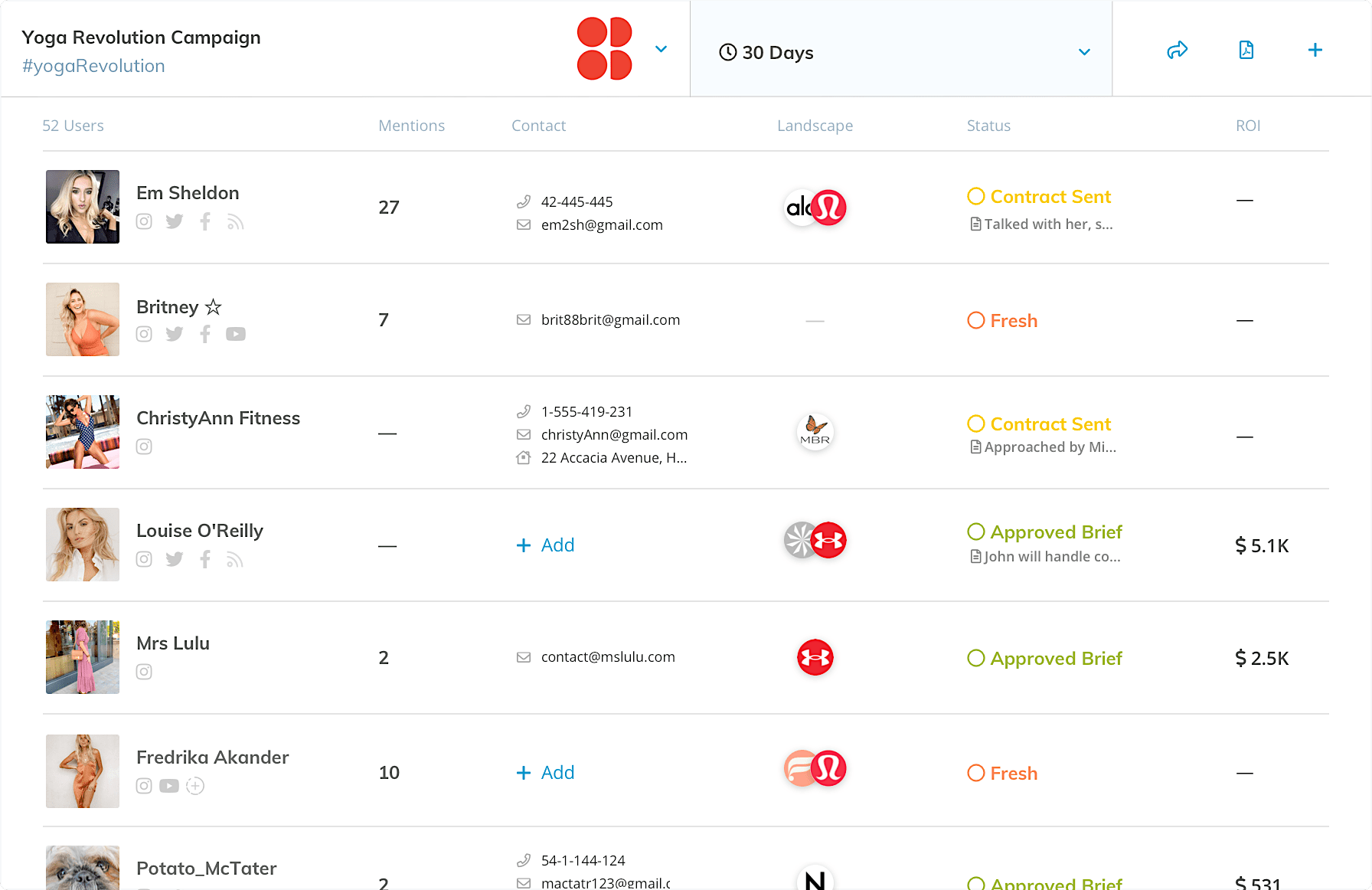 Most importantly, you also get access to detailed reports of the impact each influencer and user-generated content in terms of mentions, engagement, reach, and other key line metrics.
c) Monitoring Performance
With Klear's Performance Report, you'll see hard data for your influencer campaign key performance indicators: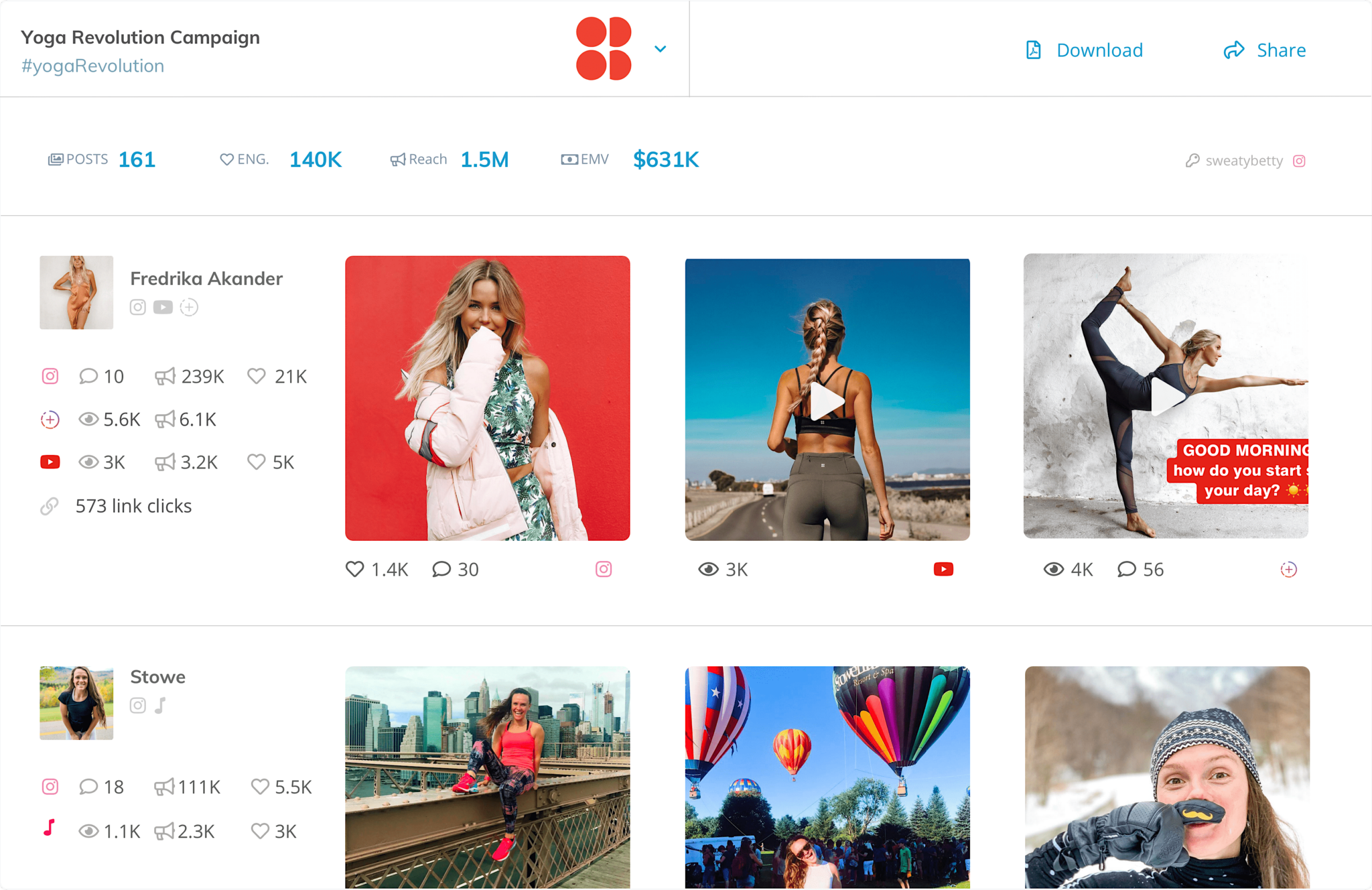 All these metrics are tracked in real-time, keeping you up-to-date on your true reach. You can also create your own custom reports to visualize the impact of your influencer marketing efforts.
Klear lets you dive deep into your data to determine which influencers contributed most to your overall ROI, or you can split data across networks and determine how much ad spend you're saving overall. Insights from Klear's Performance Report are all you really need to determine what factors contribute to your campaign success so you can shift focus and improve your efforts.
Pricing
Klear does not list any set pricing, and instead asks you to contact them directly for a quote.
4) GroupHigh

GroupHigh is an all-in-one tool to help you find bloggers and social influencers, manage your relationships with them, and measure the impact of the content that they create for your brand or agency.
How It Works
GroupHigh has quite a few features that will help you launch, track and improve your influencer marketing campaigns:
a) Blog Search Engine
GroupHigh offers a database of 50 million websites you can search to find the right influencer to fit your brand message.
b) Website Research
If you have spreadsheets from your old influencer outreach efforts, you can upload the URLs to GroupHigh to get deeper insights into their social footprint, traffic, SEO and other key website metrics. Use this information to track key blogging influencers and make informed decisions about which to work with.
c) Influencer CRM
GroupHigh's Influencer CRM offers some advanced features to help you track your influencers and manage your relationships with them: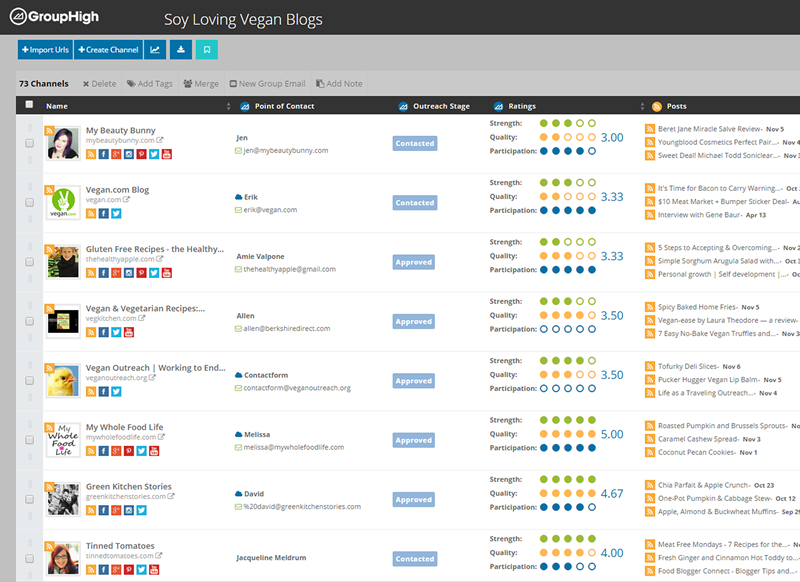 Use folders and lists to organize them based on performance, affinity, niche and other metrics. Then, filter down based on recent content, followers, keywords, etc. You can easily export the most important information to create custom reports and spreadsheets.
d) Blog and Social Content
GroupHigh makes it easy to collect all your brand or campaign mentions related to your influencer marketing efforts. It scours the web to find blog posts, Tweets, Instagram posts and YouTube videos associated with your campaign so you can see the results of your efforts.
e) Content & Engagement Reporting
Lastly, track the performance of your campaigns as a whole and by individual influencers with Engagement Reporting. See which content is driving the most engagement, mentions, conversions, impressions, etc. The report will also rank your influencers to give you insights and encourage them to share and post.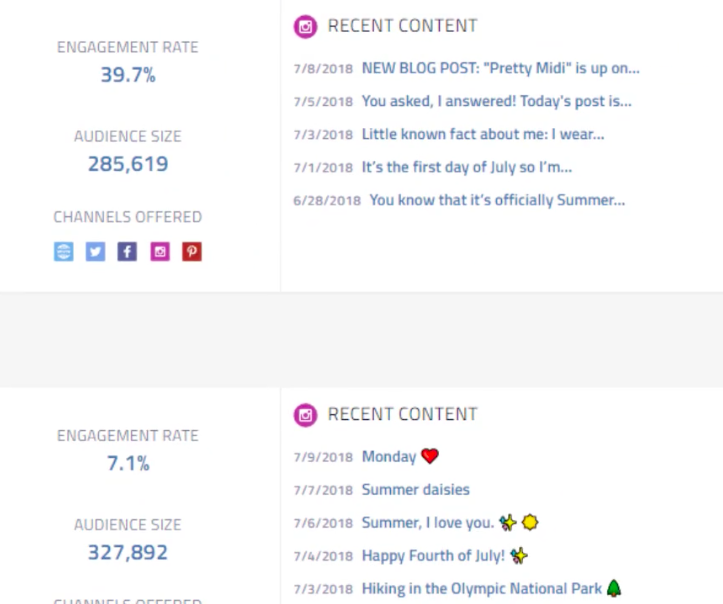 Pricing
GroupHigh doesn't list any pricing options on their website — you'll need to reach out to them for a quote.
Third-party sources around the web say full-access can range between $5,000-$9,000, making it a pricey option to track your influencer marketing campaigns. But it's likely that GroupHigh customizes their pricing to the needs of each user so you can focus on the features that matter to you most.
5) Onalytica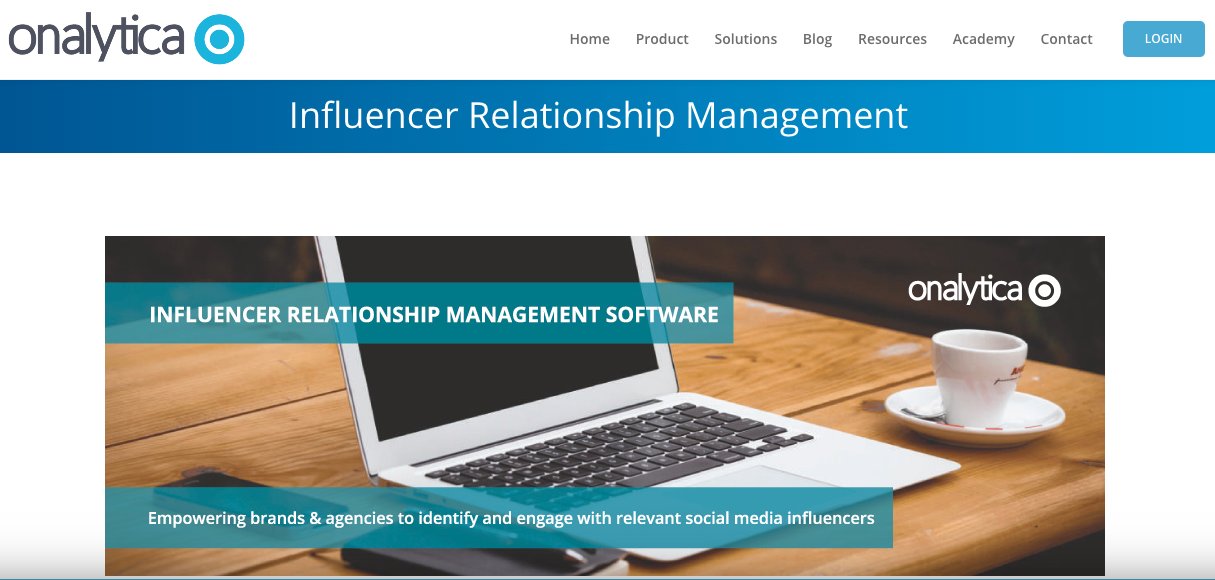 Onalytica is an influencer relationship management software to help you find, reach out to and track your influencers. It offers an impressive amount of data to help you track and measure your campaigns.
How It Works
Onalytica provides influencer discovery software, a relationship management platform and professional services to help you optimize your campaigns.
If tracking features are what you're interested in, then check out their Influencer Relationship Management (IRM) platform. It offers:
a) Customizable Dashboards
See and analyze your influencers all in one place. Customizable dashboards offer a snapshot of top influencers and their conversations, along with whatever other charts you want to see: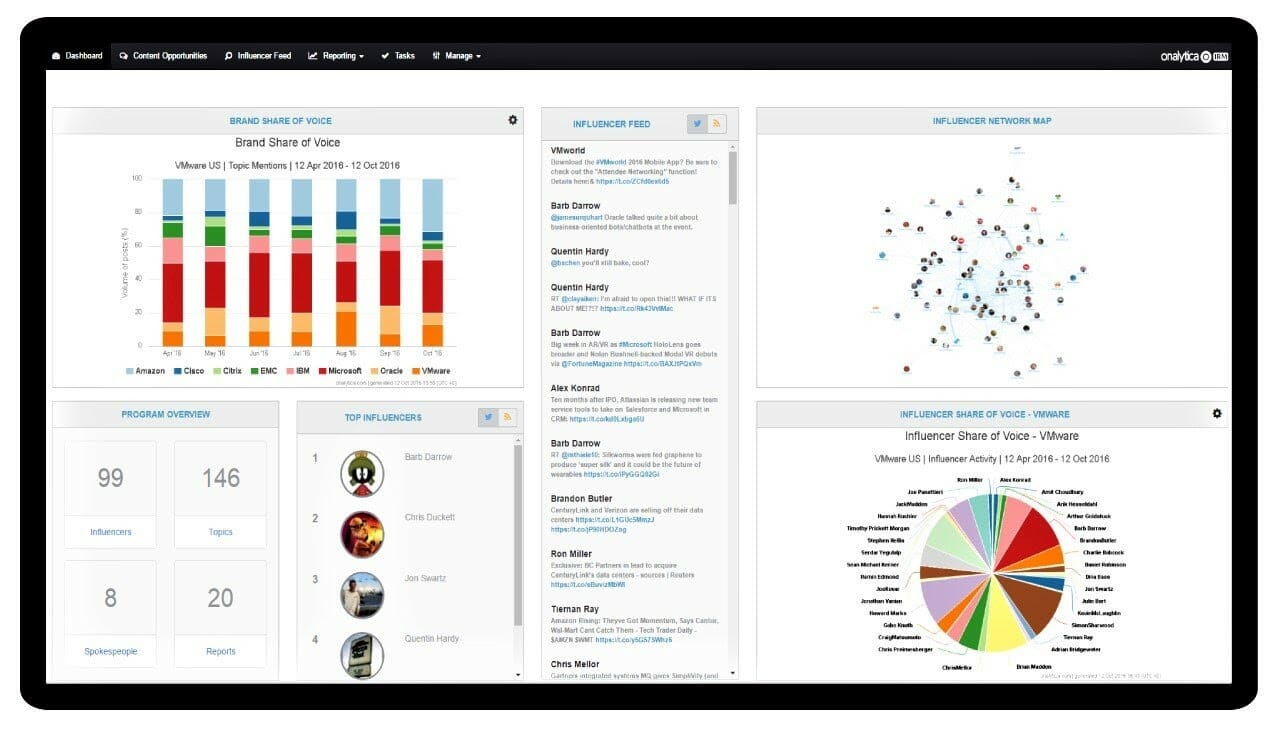 b) A Real-time Influencer Feed
Here you can keep track of key market influencers and see real-time reports of their social conversations. You can set this feed to focus on certain influencers, topics, time periods or social channels.
c) Influencer Profiles
If an influencer catches your eye, you can visit their profile to get more insights into what they talk about online and who they're connected to. This information can help you make your engagements more relevant.
d) Content Sharing Opportunities
Here you can upload your white papers, case studies and other marketing content, and Onalytica will automatically alert you when that content becomes relevant to an influencer.
e) E-mail Topic Alerts
Receive automatic e-mails when opportunities to influence come up, such as one of your target influencers mentions a topic that you can share with your audience to further nurture your relationship with them.
f) Insights & Measurement Reporting
Lastly, Onalytica offers powerful analysis features including 12-months' worth of historical data on your influencers, their social discussions, and your relationship with them. You get access to key insights such as volume trends, share of voice, and share of reach to help you monitor and analyze the impact of your efforts: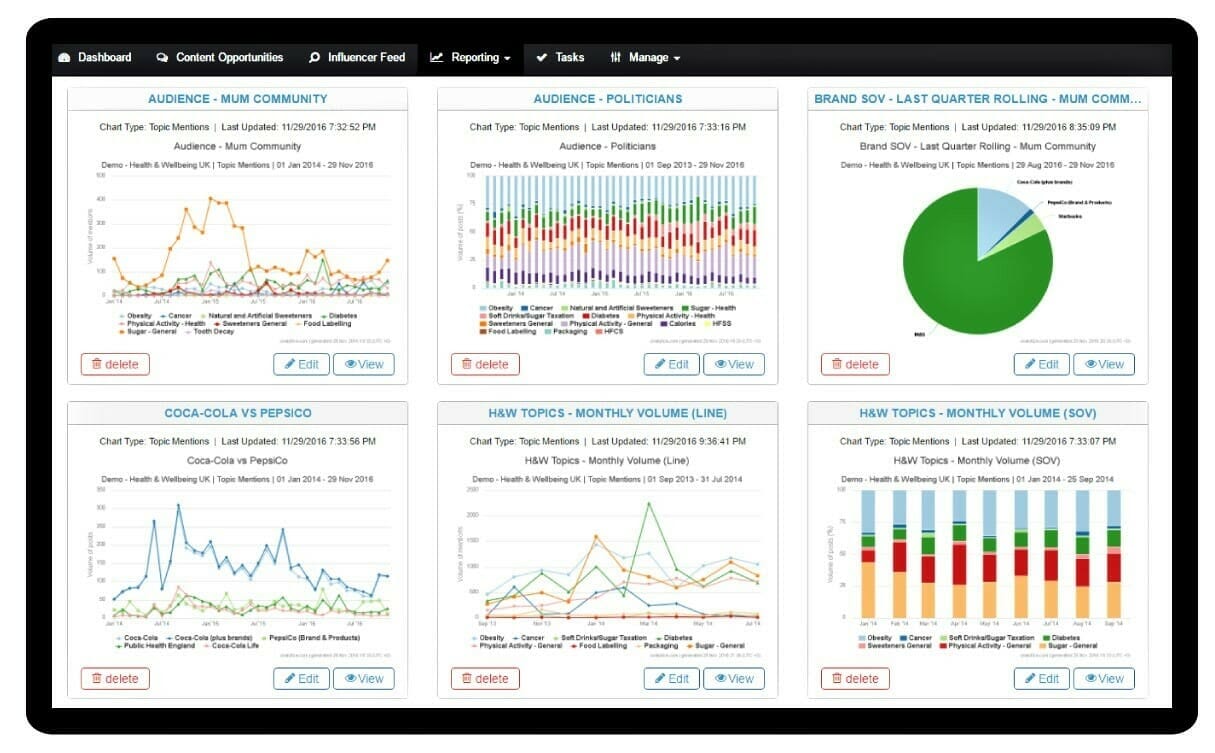 Pricing
Onalytica doesn't list any pricing options on their website — you'll need to reach out to them for a quote.
From reviews on the web, it seems that the platform is a good fit for medium- to large-sized companies who can customize their plan to fit their particular needs.
6) Tomoson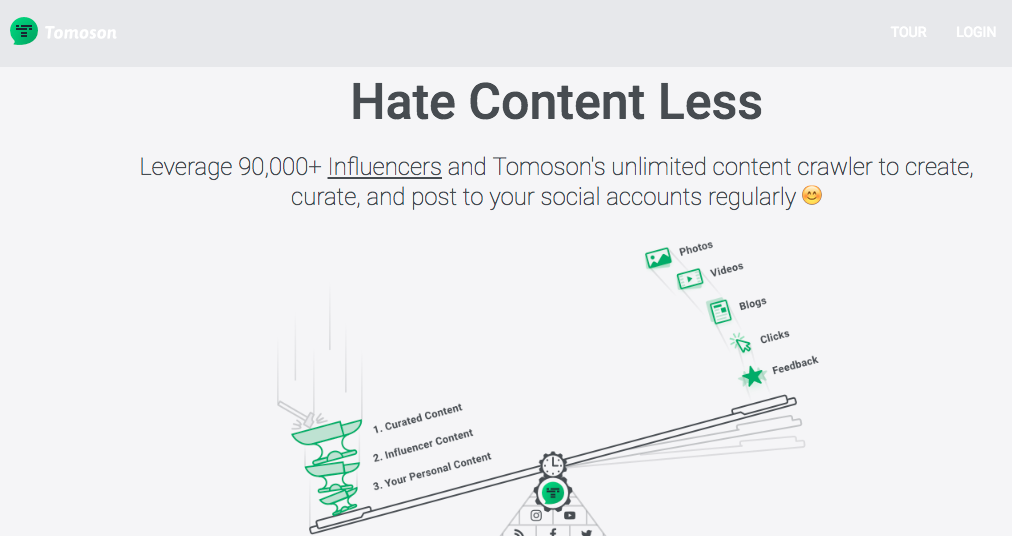 Tomoson is an influencer marketing dashboard that helps you gather and post branded content. It allows you to fully manage your influencer relationships while tracking their effectiveness to help you make better decisions for your marketing strategy.
How It Works
Tomoson offers a three-pronged approach to marketing:
Influencer Marketing
Content Crawler
Do It Yourself
They offer an integrated inbox of all the content that matters most to your brand, so you can easily share and keep your social profiles active. Create content feeds based on certain hashtags, blogs, Tomoson campaigns and more, then schedule your posts in advance. You can also connect all your social accounts to this platform and share your own unique content with one click.
But it's much more than a set-and-forget social media automation tool. You can search through their native database of influencers and explore detailed metrics about them, such as following, average engagement, Alexa ranking, and more: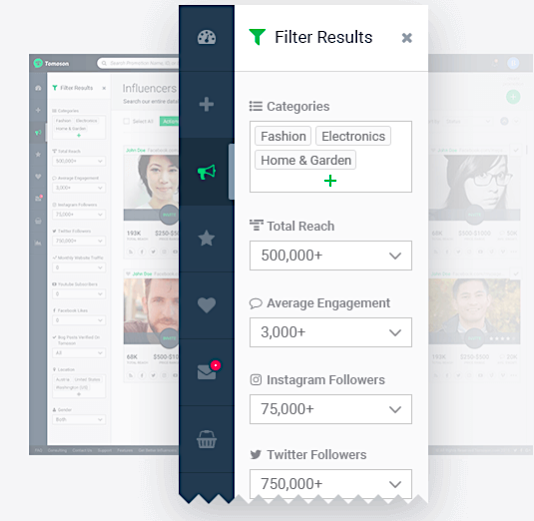 Once you've found the right influencers for your campaign's needs, Tomoson helps you set up predetermined task deadlines to walk influencers through exactly what you expect them to do and when. Decide on all the details of the content that they'll create before agreeing to work together.
Once influencers complete your tasks successfully, they'll be paid through escrow. You'll walk away with detailed analytics of total campaign exposure for each influencer and how their audience engaged with your branded content to see how each influencer impacts your return on investment: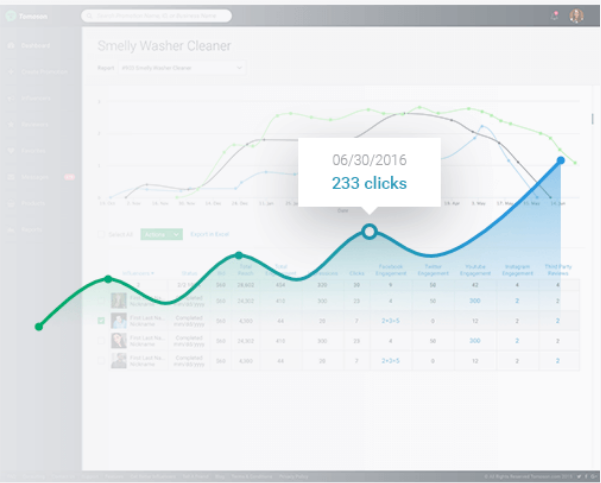 Pricing
Tomoson offers five different price packages that work for any-sized brand:
Basic: $49/mo for 1 active campaign
Starter: $99/mo after a free trial for 10 active campaigns
Business: $199/mo for 30 active campaigns
Agency: $399/mo for 100 active campaigns
Scale: $599/mo for unlimited active campaigns
Choose the Starter package or higher, and you'll get a 21-day free trial, no credit card required. You can also reach out to Tomoson directly to get a customized quote to fit your business.
Related Content:
* 10 Ways to Measure Social Media Engagement (Plus 7 Tools to Track It!)
* 8 Tools to Help with Conversion Rate Optimization
* The Big List of Free (or Almost Free) Resources, Tools & Apps Every Content Marketer Needs

BONUS: 6 Additional Tools for Influencer Outreach
Here are a few more helpful influencer marketing tools that you can use to build backlinks and improve SEO:
BuzzSumo
BuzzSumo is a great tool to find both blogging and social influencers. Use it to search for keywords related to your niche and BuzzSumo will show you the most popular content on the topic: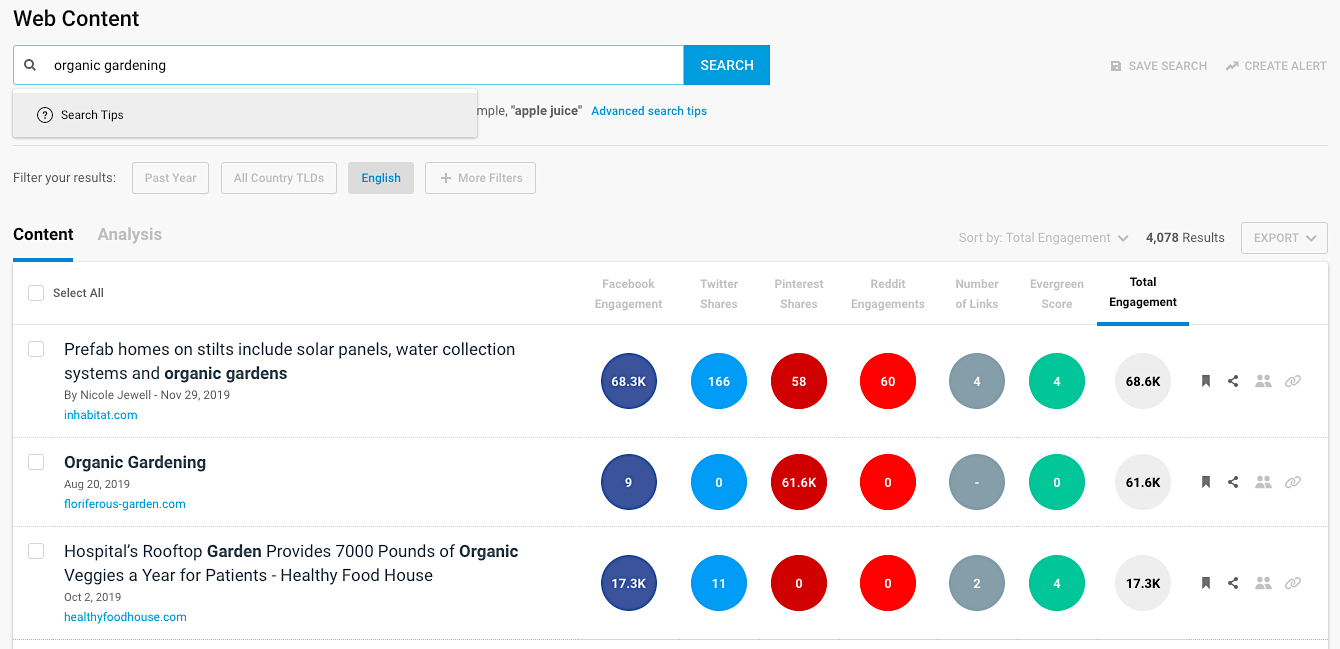 You can target the authors of that content and maybe even collaborate with them or guest post on their site to build brand reach.
If you're looking for social influencers, click the "View Top Sharers" button next to the content (on the very far right) where you'll see powerful social users who like to share content related to your niche. Or you can go straight to the "Influencers" tab on the top menu to search by author or topic: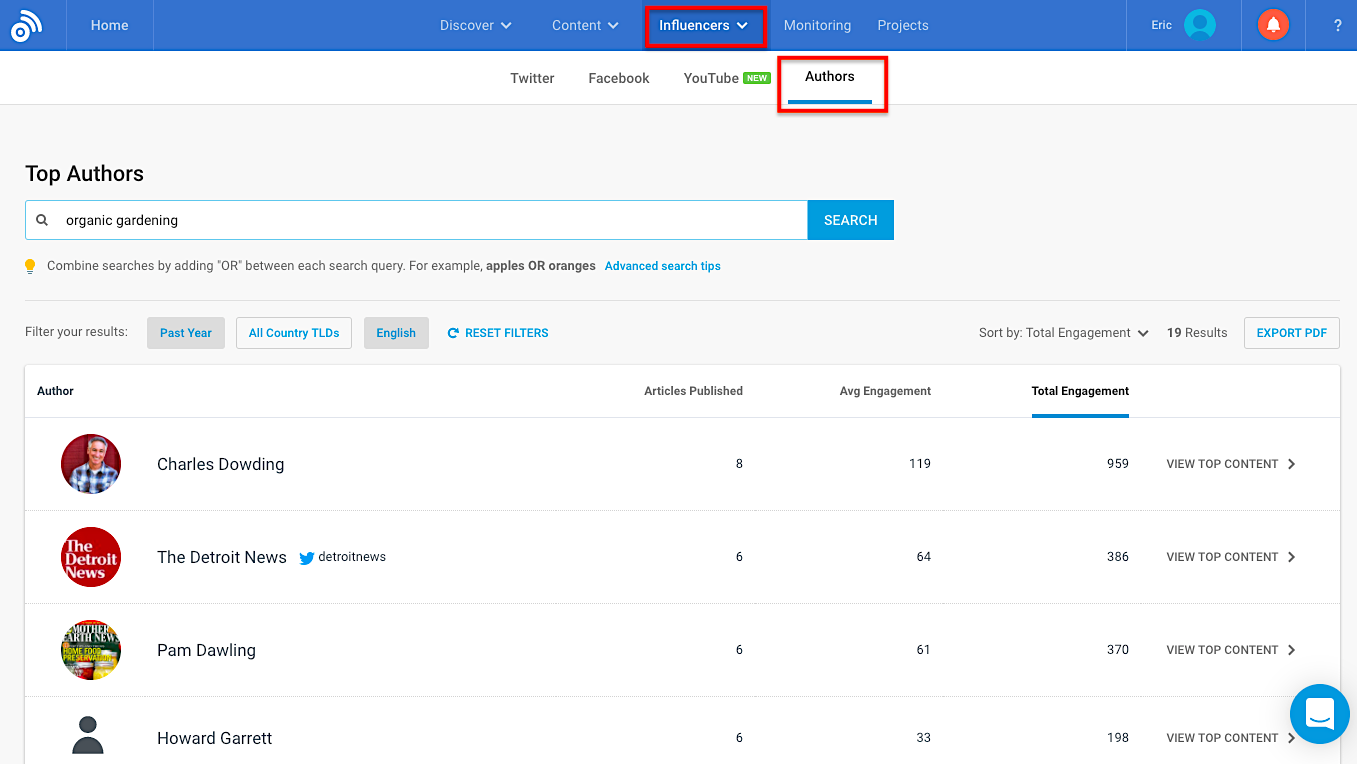 You can also search for influencers by keyword and see important data like number of followers, domain authority, etc.
Book My Free Marketing Consultation
HYPR
HYPR is a database of more than 12 million influencers, including bloggers and social media personalities, and 30,000+ topic categories. You can search and narrow them down based on audience demographic factors: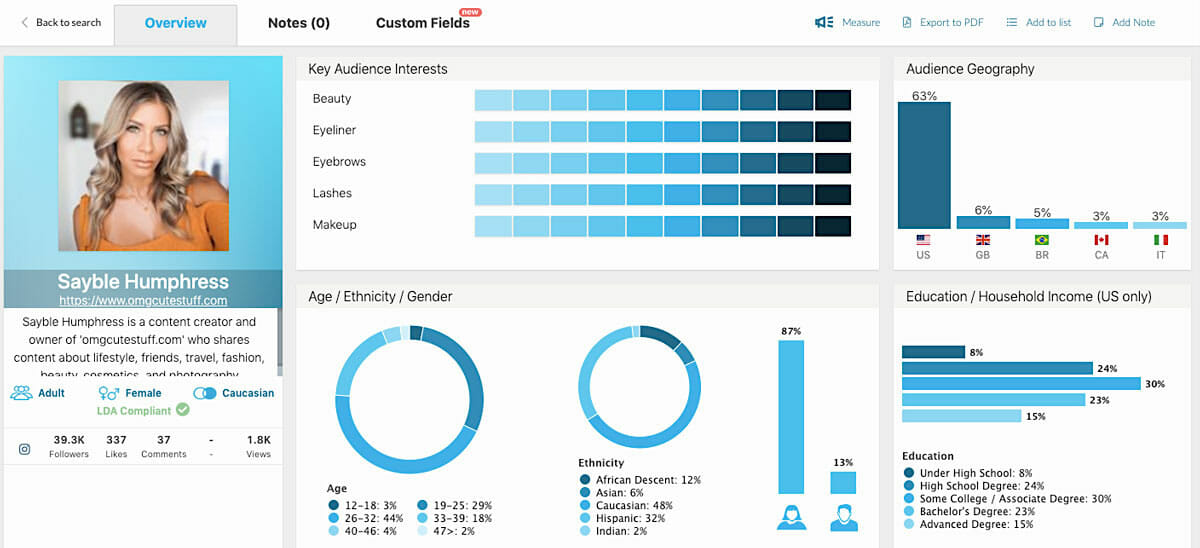 Then you can reach out to the influencers whose audience best matches yours.
Octoly
Octoly is an influencer marketing platform that enables brands to collaborate with a community of 30K+ vetted influencers with a reach of over 3 billion engaged consumers: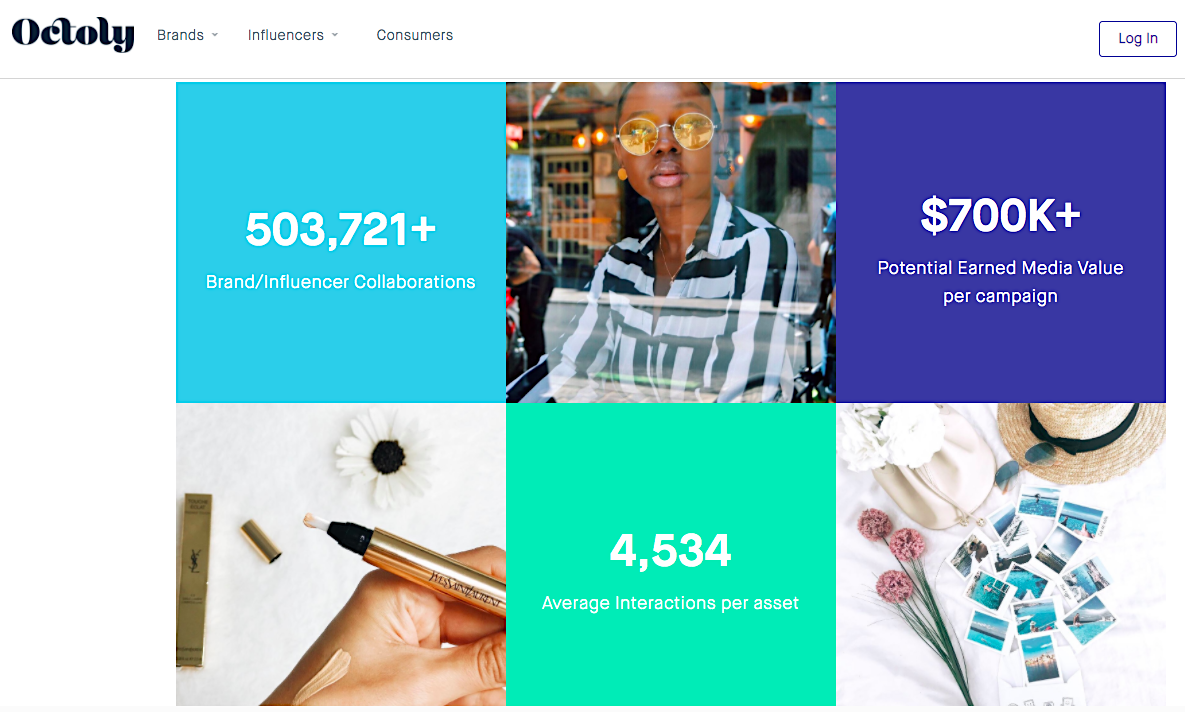 Influenster
If you're interested in getting product reviews, Influenster can help. Submit your product to their "VoxBoxes" program, and you can ship free samples to their database of influencers. The influencers will post product reviews on the platform and share with their social audience.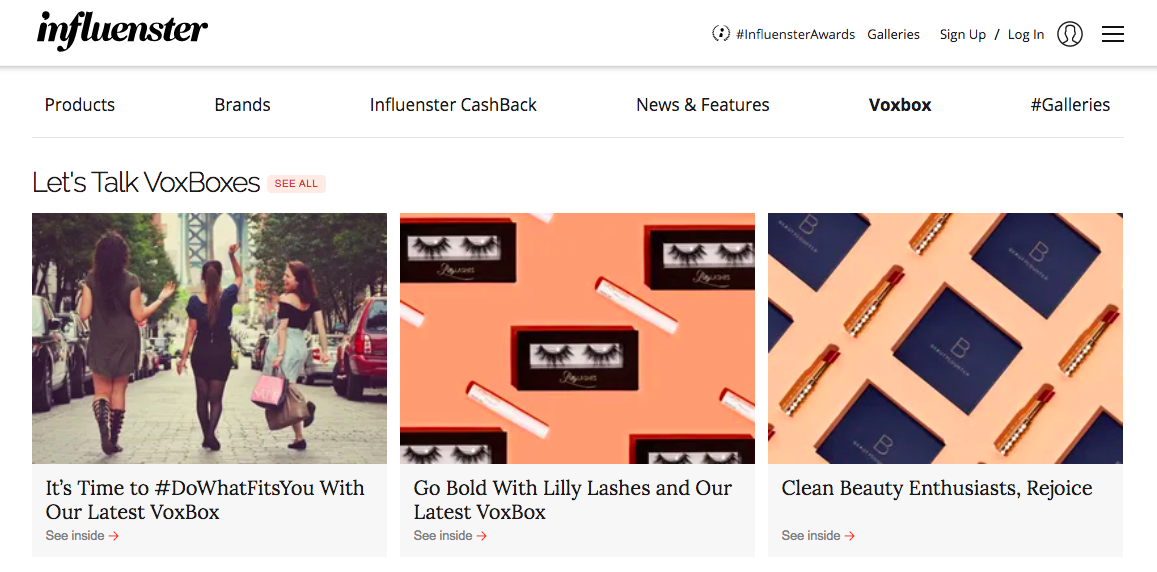 Tribegroup
Tribegroup is a marketplace where you can find and work with social media influencers to promote your brand on Facebook, Instagram and Twitter: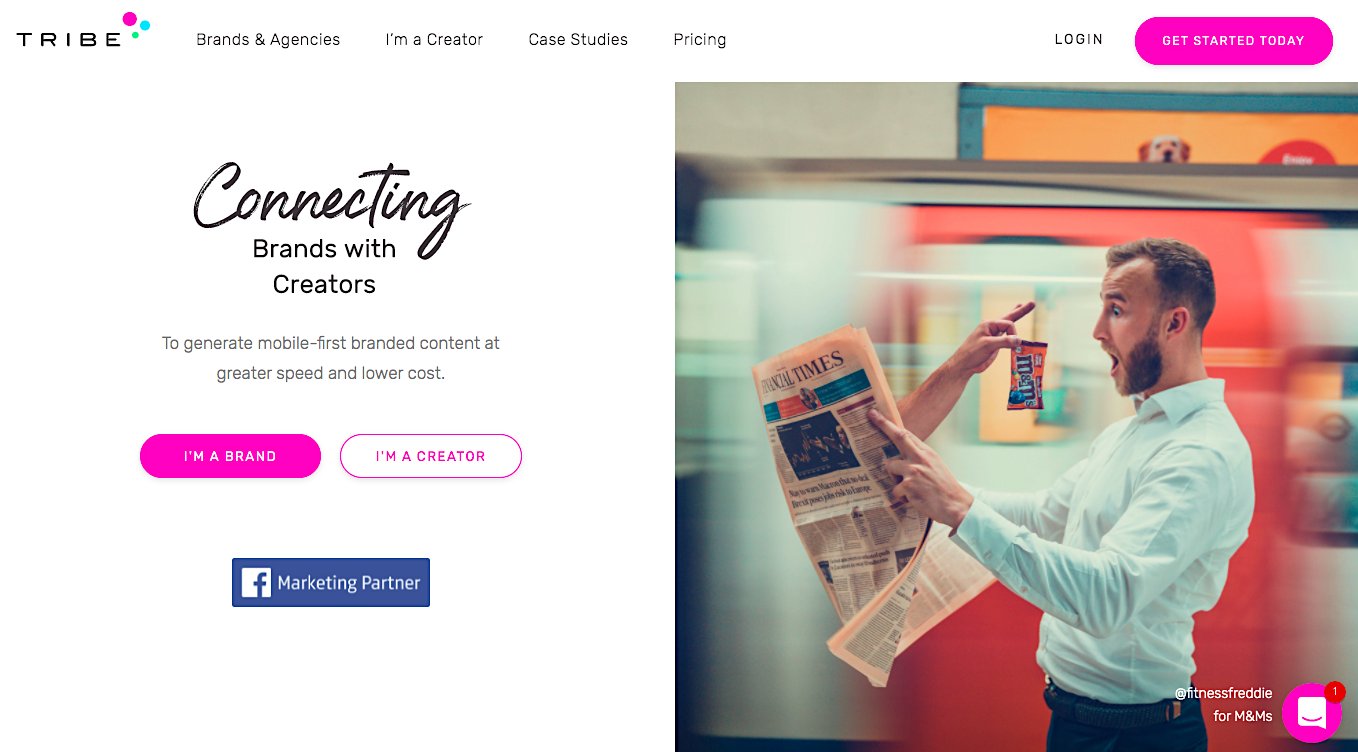 Brands upload a brief of their product and marketing campaign to the platform, then influencers can create their own unique posts about it and submit them to you for approval. If you like it, they share it.
Upfluence
Upfluence considers itself "the smartest influencer marketing platform" because you can find relevant influencers and run better campaigns with their AI-powered, all-in-one platform for smarter, data-driven influencer marketing.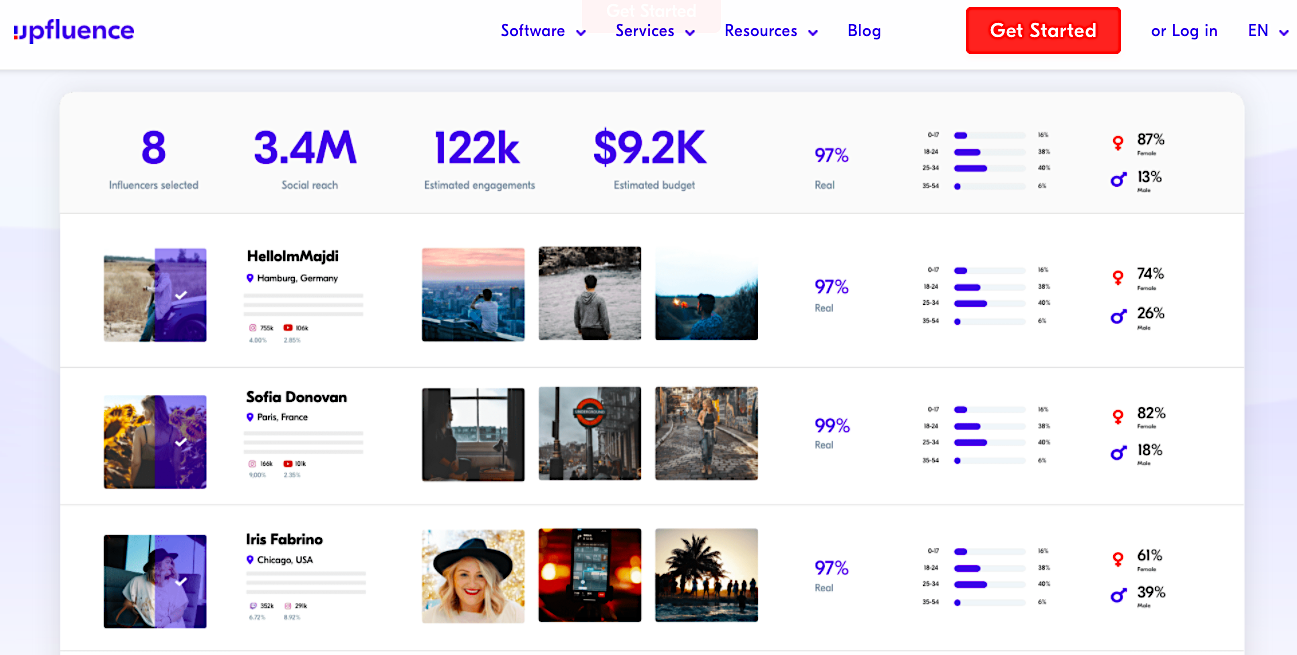 Gone are the days of spreadsheets, endless hours searching for influencers, sending cold invites one by one, and time-consuming campaign reporting. Upfluence makes it easy to find influencers quickly with their data-driven search engine, send automated bulk emails in one go, streamline your campaign workflow, and measure ROI all in one place.
trendHERO
trendHERO is an advanced tool for influencer marketing on Instagram. It's a huge database (80M+ accounts) for influencer discovery, in-depth analysis, fake detection, daily tracking, ad posts database and audience overlaps. Despite being an all-in-one solution for influencer marketing, trendHERO has very affordable pricing.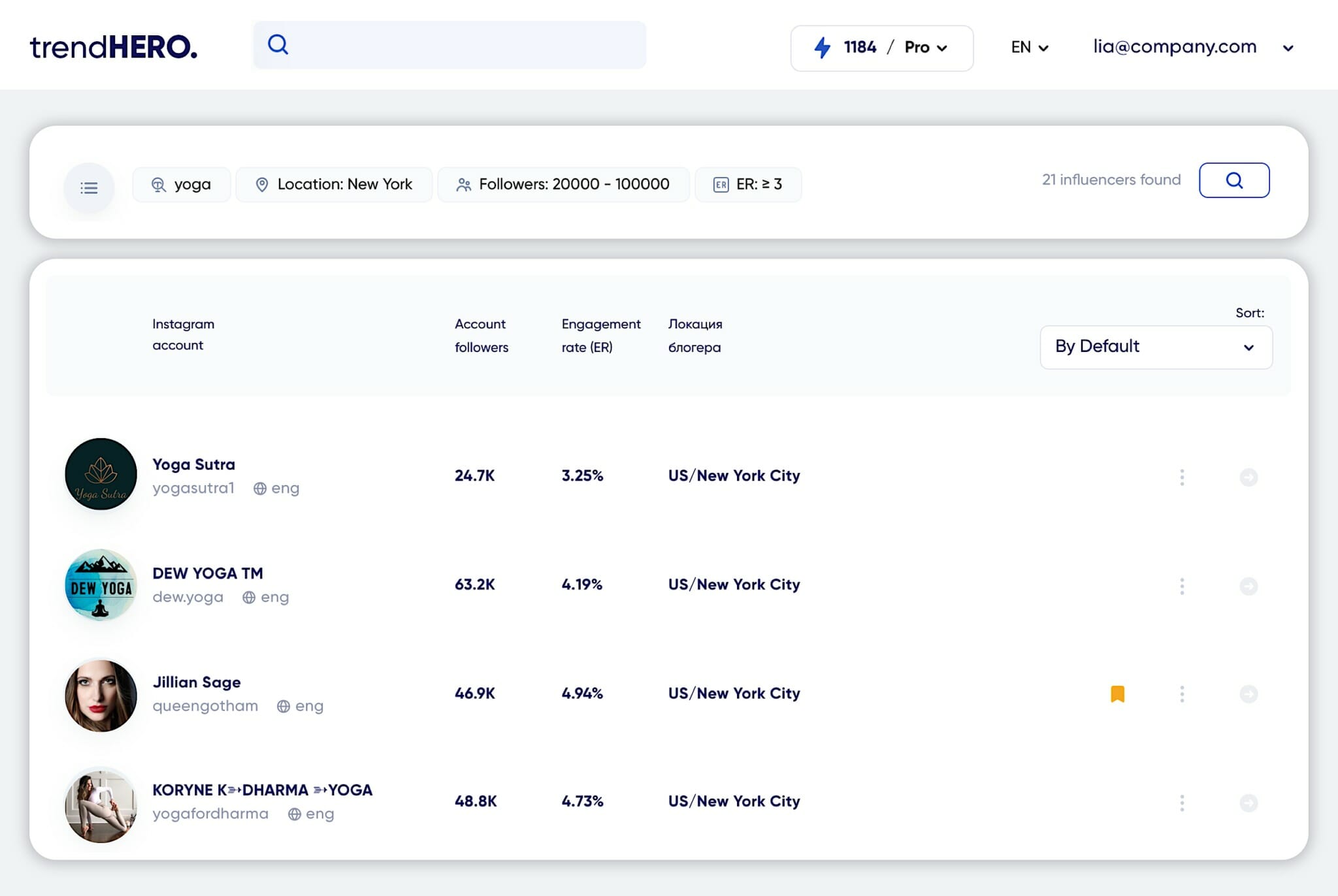 trendHERO has some unique features – for example, a 500 similar accounts report, which you can get for any influencer or brand in just two clicks. It's a list of similar influencers you should work with based on followers' interests. This feature is also very helpful to analyze your target audience.
Related Content: 9 Tools for Easy Competitive Website Analysis
Chapter 8: How to Work with YouTube Influencers to Grow Your Brand
Working with YouTube influencers allows you to leverage two of the most effective forms of advertising – influencer marketing and video marketing.
YouTube, the most popular website for videos in the world, has over 2 billion monthly active users. It is only natural that marketers are inclined to explore the immense potential of YouTube as an advertising tool, like this ad by Dior that has gotten 102M views and 155K likes:
However, with more than 500 hours of video being uploaded to YouTube every minute, making your content stand out is challenging. This is exactly where YouTube influencers can come to your rescue.
Many YouTube influencers have thousands of subscribers who get a notification every time they upload a new video. When you collaborate with these YouTubers, you get access to this highly engaged audience. Your content also earns credibility due to the friendly rapport these influencers have with their fans.
Having said that, ideating and executing a successful influencer marketing campaign on YouTube isn't an easy task. Forging strong relationships with influential YouTubers is of utmost importance. In addition, you need to have a proper plan and strategy.
Here are the most important things to keep in mind when trying to work with YouTube influencers (bear in mind that much of this applies to other influencers, too, but in this section we'll provide specific YouTube influencer tips).
1) Set Your Goals
In order to execute a successful influencer marketing campaign, it is important to define the outcome you want:
Do you want to reach a larger audience?
Maybe you want to create buzz about your products or services?
Or perhaps you want to generate leads and drive sales through the campaign?
All these factors will decide which influencers you should collaborate with. These factors will also dictate the kind of content you should create for effective collaboration with YouTubers, not to mention that you will also have a better idea of how to measure your campaign progress.
So, make sure you have a clearly defined set of goals in mind before you approach any influencer.
2) Choose the Right Influencers
If you randomly pick a YouTube influencer with a lot of subscribers and collaborate with them, your efforts won't yield significant results. So even before you start ideating, it is important to identify the right influencers to collaborate with.
When selecting an influencer for your marketing campaign, you should take the following points into consideration:
Relevance – The influencer you choose to work with needs to be relevant to your product, service or industry. Their niche should align with yours. Only then will you be able to grab the attention of their subscribers.
Reach – Look for relevant influencers with a large number of subscribers on their YouTube channel. They can help you grab more eyeballs with their content.
Engagement – Reaching a large audience won't be fruitful unless viewers engage with your content. Don't be fooled by the high number of subscribers on an influencer's YouTube channel. Take a closer look at the comments section of their videos – that will tell you how well their audience interacts with their content.
Experience – It is always better to collaborate with influencers who have worked on similar projects before. Their expertise and insights can further enhance your marketing campaign.
Consider the example of Super Evil Megacorp. The gaming company collaborated with Felix Kjellberg, a.k.a. PewDiePie, to promote their multiplayer action mobile game, Vainglory 5V5.
With over 103 million YouTube subscribers, PewDiePie was the right fit for this campaign. Also, being a gamer himself, he already had a sizable audience that consisted of video game enthusiasts.
PewDiePie played the game and created an intriguing video for his audience. The success of the campaign is evident from the whopping 2.2 million views on the video: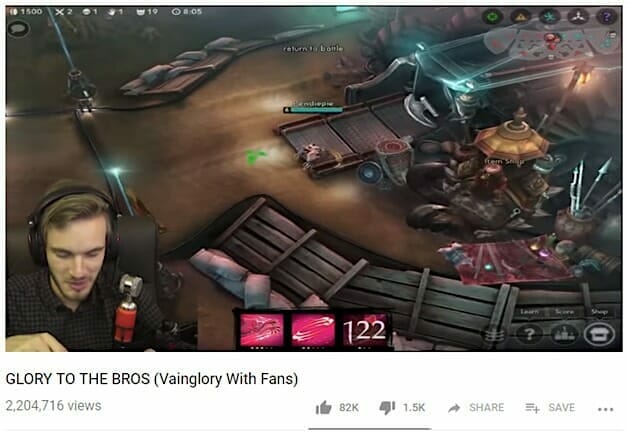 Apart from this, the selection of your influencer will also depend on your budget and ultimate goals. For instance, if you want to target a local audience, working with local micro-influencers can be extremely fruitful. They have a relatively small, yet highly engaged audience. And they are less expensive compared to those with millions of subscribers.
How to Find YouTube Influencers
You can simply run a Google or YouTube search to get a list of the most popular and relevant influencers and then take a look at their YouTube channels to get an idea of the content they are creating.
Navigate to the "About" section on their pages to get their contact details: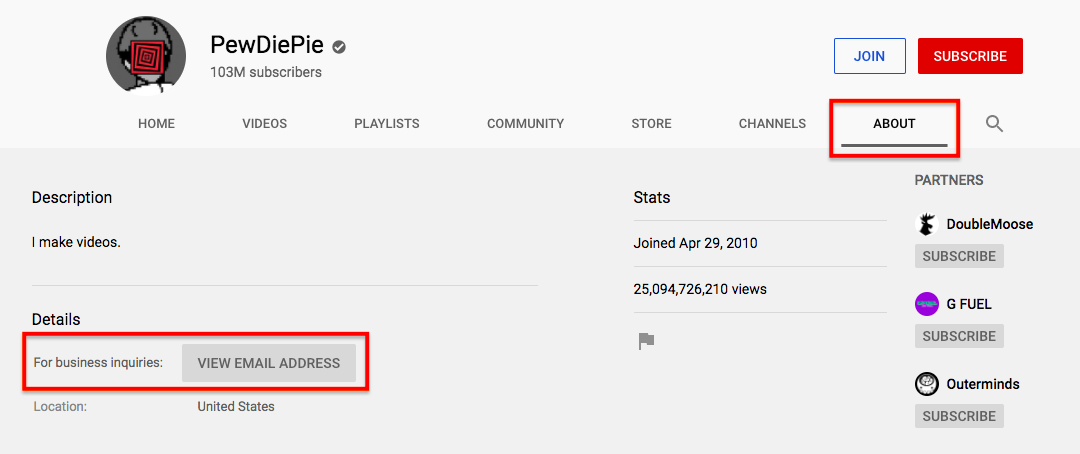 However, you might not have the time it takes to search through hundreds of channels for the best fit, and might want to look at more detailed channel demographics. For such scenarios, you can also use a data-driven influencer platform like FameBit, YouTube's branded content platform, to find the right influencers for you.
Branded content produced through FameBit has generated 270 million views and 1 billion minutes of watch time. It makes sense that they call their influencers "creators," because they "are more than a new generation of celebrity – they are writers, producers and distributors of content to a large and already engaged audience."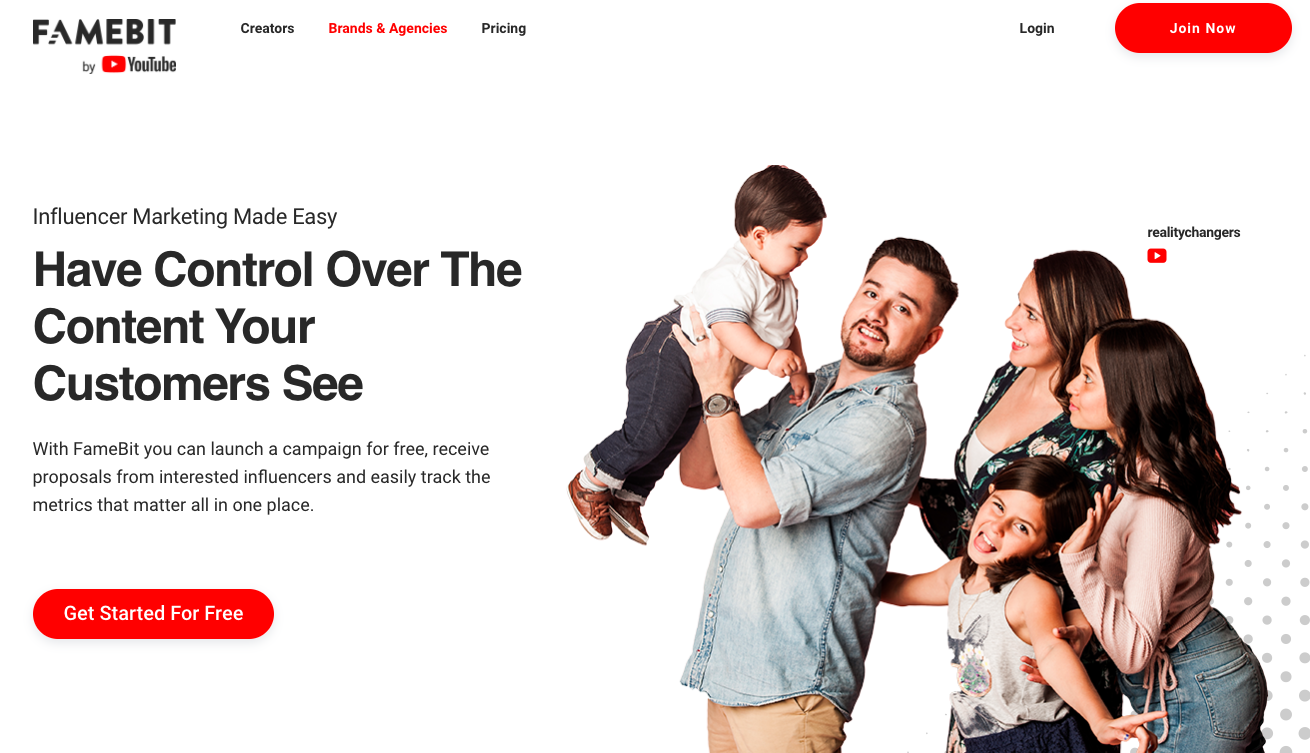 3) Trust Your Influencers
Influencers create engaging content on a regular basis to keep their audiences hooked. Their content already has a unique voice that hits the right chord with their fans, so they can integrate authenticity into your sponsored content in a seamless manner.
It's important for you to relinquish control and award creative freedom to the influencers you have chosen to collaborate with.
Video production is a cumbersome task that requires significant capital and labor. You should be prepared to provide all the resources that your influencers might need to create high-quality videos. Allocate a specific budget for the campaign, including the influencer's fee.
Most influencers prefer to work with brands that allow creative liberty and provide competitive compensation.
Book My Free Marketing Consultation
4) Create User-Centric Content
Good content is at the heart of every marketing campaign. Working with YouTube influencers is no different.
Video is an extremely effective tool for communicating crucial information in an interesting and easy-to-digest format. According to a study by Wyzowl, 87% of businesses rely on videos for effective communication.
However, creating a video that goes on and on about how awesome your product or service is won't be of much use. Instead, you need to develop an interesting narrative around your brand to grab the attention of your target audience.
In addition, you need to communicate how your product or service can help resolve their problem. Seasoned YouTubers already have a fair idea of what works well with their audiences.
Here are a few types of videos you can partner with influencers to create:
Product Reviews and Testimonials
In a fiercely competitive consumer market, it is difficult to win the trust of potential customers. They are less likely to rely on brands that sing songs of self-praise.
Instead, they trust recommendations and testimonials from real-life users such as friends, acquaintances and influencers. In fact:
70% of teens trust influencers more than traditional celebrities
49% of consumers depend on influencer recommendations
40% of people purchased something after seeing it on Twitter, YouTube or Instagram
So, if your goal is to generate leads and increase sales, you can ask your influencers to create honest product review videos. Give them the freedom to share their own experiences with your brand, outlining both the pros and cons.
Coming from a trusted influencer, such a review is likely to foster brand awareness, add credibility to your product or service, and inspire your target audience to purchase it.
This is exactly the strategy that was adopted by ORIGIN PC, a custom computer manufacturing company. They collaborated with YouTuber Linus Sebastian of Linus Tech Tips, who has 10.5 million subscribers.
They worked with him to create and upload a detailed review of their product. The video has garnered more than 1.1 million views, 32,000 likes, and 2,100 comments: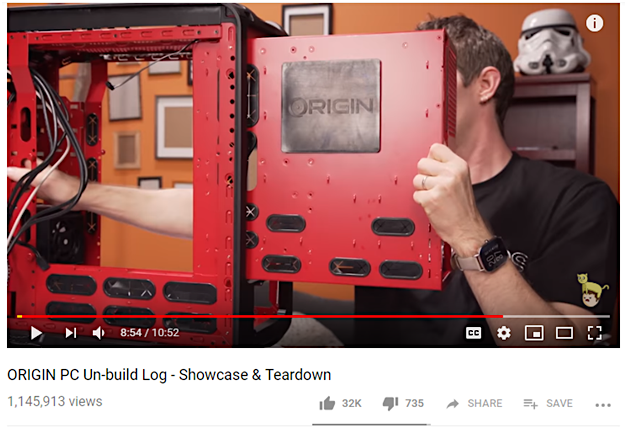 Storytelling for Your Brand
Nothing holds the attention of viewers better than an interesting story that hits the right emotions. You can work with YouTube influencers to spin a captivating narrative and position your product or service appropriately in the video. While creating such videos, you need to be extra cautious so that the brand mention doesn't seem overly promotional.
Videos with strong narratives often stand out amidst the plethora of random content. Further, if your target audience enjoys the video, they are likely to share it on their social media profiles. As a result, your content will reach a far wider audience.
Although this might not drive direct conversions, it is extremely effective in generating brand awareness and customer engagement.
Next Games, a Helsinki-based gaming company, collaborated with some of the most popular YouTubers to promote their new mobile game, The Walking Dead. These influencers, including Hannah Stocking, Lele Pons, Anwar Jibawi, Inanna Sarkis and Rudy Mancuso, collectively had over 18 million subscribers. Each of these influencers was asked to create a video with an interesting story that featured the game.
Pons created a four-minute comedy sketch about a real-life zombie attack featuring characters from the video game. The creative storytelling and high-quality production design in this video are noteworthy. It also featured Anwar Jibawi, thus engaging his fan community as well.
As a result, the video garnered more than 1.3 million views, 236,000 likes and 5,000+ comments, and stands outs as one of the most successful videos that came out of the campaign: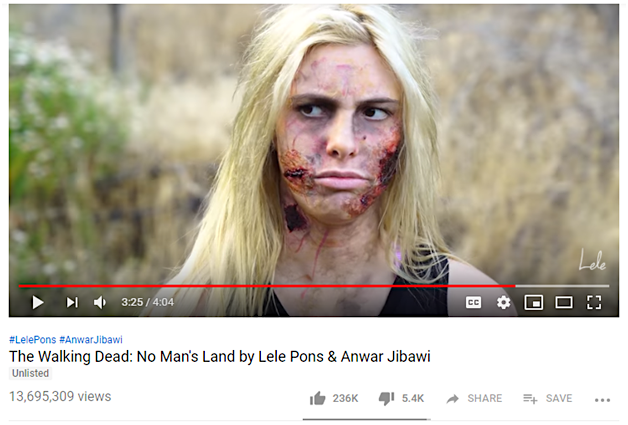 Tutorials, Demos and How-to Videos
Educating your target audience about how your product or service works can influence their purchase decisions. Video, being an effective and effortless communication tool, is the ideal format to create tutorials or demos showcasing your products. Since influencers are perceived as industry experts, having them create a how-to video can bring exceptional results.
Coming from influencers, such videos can increase your brand's visibility and reinforce brand trust. They can also be helpful in lead generation.
Segway, an American manufacturer of personal transporters, adopted this strategy to promote their new product, the Segway miniPRO. The company partnered with Lewis Hilsenteger of Unbox Therapy, who created a video demonstrating how the new product works.
The video garnered immediate traction because Unbox Therapy's audience consists of people who are interested in the latest technologies. It got more than 2.6 million views on YouTube: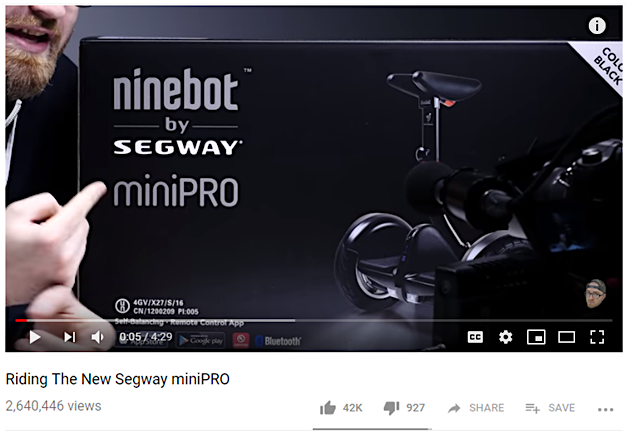 5) Experiment Without Fear
It isn't uncommon to see fashion and beauty bloggers review the latest cosmetic products on their YouTube channels. In order to really hold the audience's attention, though, you'll need to break the convention and do something out-of-the-box.
While it might sound ludicrous at first, this kind of experimental content does work at times. For their #MeetAnOwner campaign, Subaru, a popular car company in the USA, collaborated with three influencers from different niches. The idea was to showcase the lives of people who own Subaru cars.
One of the influencers that Subaru partnered with was adventurous YouTuber Devin Graham, a.k.a. DevinSuperTramp. He created a video in which he skydives off a 500-foot cliff and thanks Subaru for making the video possible. The goal was to establish a connection between Subaru cars and adventure. Looking at the 1.1 million views on the video, it seems to have worked like a charm: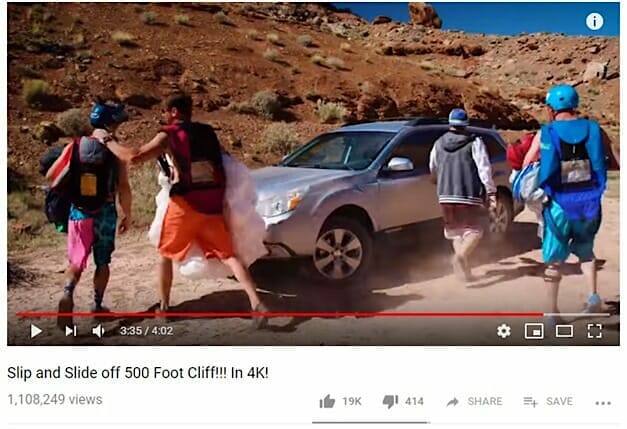 6) Insert Calls-to-Action
If an influencer's audience likes your content, they may want to know more about your brand. Including a clickable link in the video or adding a link in the video description prompts them to take immediate action.
In addition to raising brand awareness, it can also drive organic traffic to your website. This can have a positive impact on your website's search engine rankings.
Conversion copywriter Peter Boyle recommends these rules to ensure that your CTAs cause users to take action:
Use value-focused words
Test different color combinations (try to find contrasting yet complementary colors)
Place the CTA at the logical decision-making points on the page
Utilize urgency elements for more immediate action
Keep a 1:1 ratio between actions and conversion goals
7) Keep Your Legal Documents Handy
It is advisable to sign a legal contract when working with YouTube (or any) influencers because it helps to define roles, timelines, deliverables and payment terms in a clear and irrefutable way.
If all goes well, you might never have to take a second look at the contract. However, it can be useful in case there is a dispute between you and the influencer. Having everything on paper helps avoid miscommunication and complications.
Influencer Marketing Hub offers influencer contract templates as well as some typical points you should include in your own influencer contract.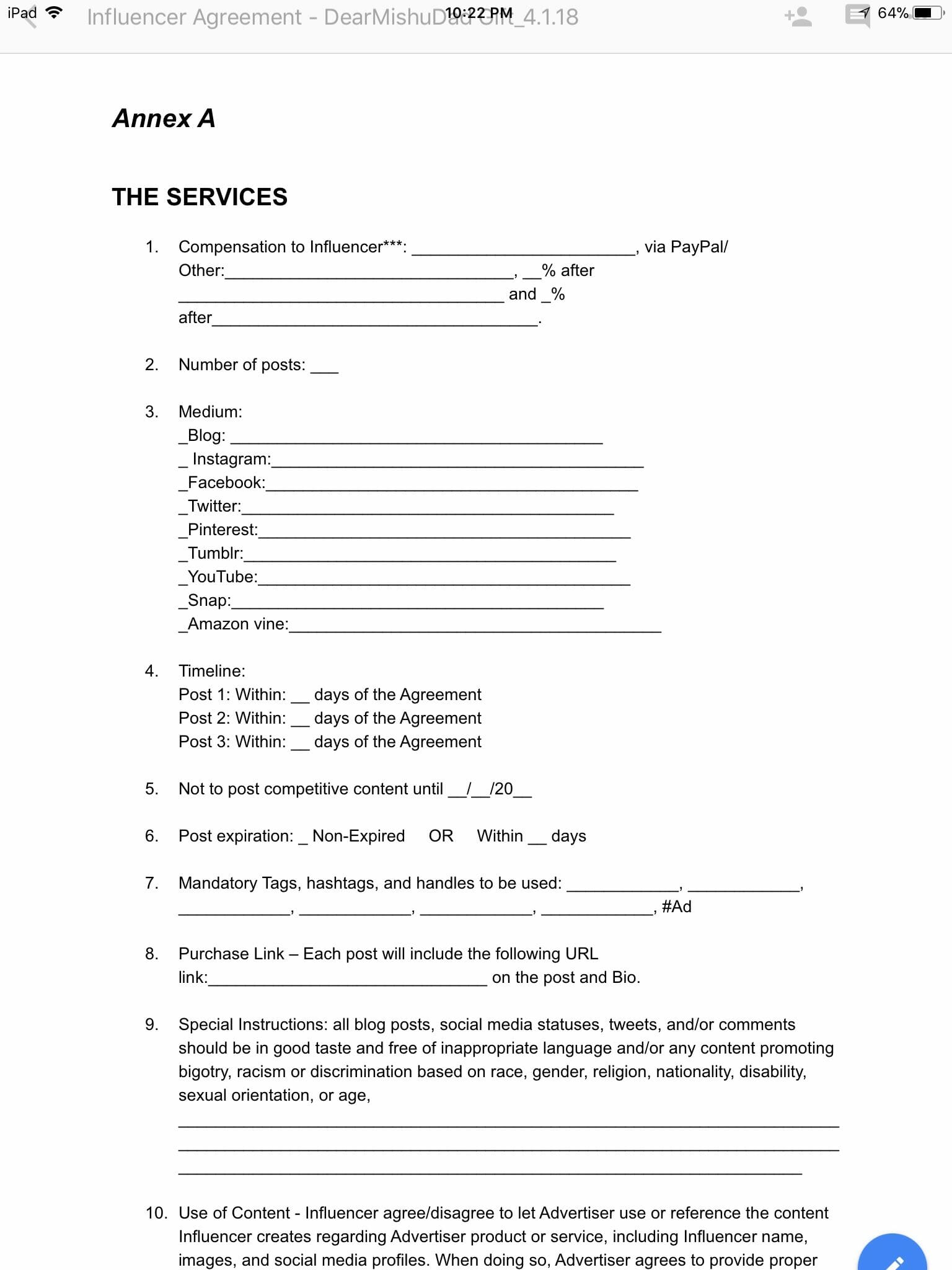 8) Engage Continuously
Your collaboration with a YouTube influencer doesn't end when the final video is uploaded to their channel. Once the video is released, you have a whole new set of responsibilities. In order to make your campaign truly successful, you need to monitor how the audience interacts with your content.
Respond to Comments
A good way to start a conversation about your brand is by replying to the comments posted by viewers. If they have provided feedback, thank them for doing so. If they are soliciting more information, offer to answer all their questions. Such an initiative from your side positions you as a brand that cares about its potential customers.
Keep in Touch
It isn't a good idea to abandon a YouTube influencer once you have successfully executed your marketing campaign with them. You should strive to build and maintain a long-term association with them. Keep them updated on the latest company news. Once in a while, send them incentives in the form of freebies or discount vouchers.
This will help build strong relationships with influencers. And, in turn, it has the potential of connecting you to their fan community in the future. It also becomes easier for you to collaborate with them on future projects.
Related Content:
* YouTube Analytics: How to Understand & Measure Your Progress
* The Ultimate Guide to YouTube Advertising in 2021
* The Complete Guide to YouTube SEO

Chapter 9: 11 Facts You Should Know About B2B Influencer Marketing
Many people make the mistake of believing that influencer marketing is a strictly B2C concept, which couldn't be farther from the truth.
B2B influencer marketing has been employed by many brands in recent times and has also been quite effective: 65% of B2B buyers said they prefer credible content from industry influencers and 95% of B2B marketers say they prefer credible content from industry influencers.
It is important to note, however, that B2B results with this form of marketing is a slower process, requires a lot more strategic planning and cannot be counted on to deliver quick results.
The upside to this is that once the results start coming in, there's no looking back. B2B influencer marketing does wonders for a brand's reputation and credibility in the market and consequently translates into a broader market reach.
Let's understand how influencer marketing works for B2B with these 11 facts.
Book My Free Marketing Consultation
1) Influencer Marketing Benefits B2B more than B2C
While it might seem unlikely, influencer marketing benefits B2B transactions a lot more than B2C.
The reasoning behind this is that the average size of purchasing and sales with B2B is significantly larger and consists of a lot more revenue for any brand. That's why the right kind of influencer marketing campaign — and teaming up with an influencer who genuinely reflects the objective of your campaign — can result in a significant increase in revenue and also expand your network.
PulseAbility is a great place to source the best business influencers for the job (and one of the few B2B influencer marketing platforms):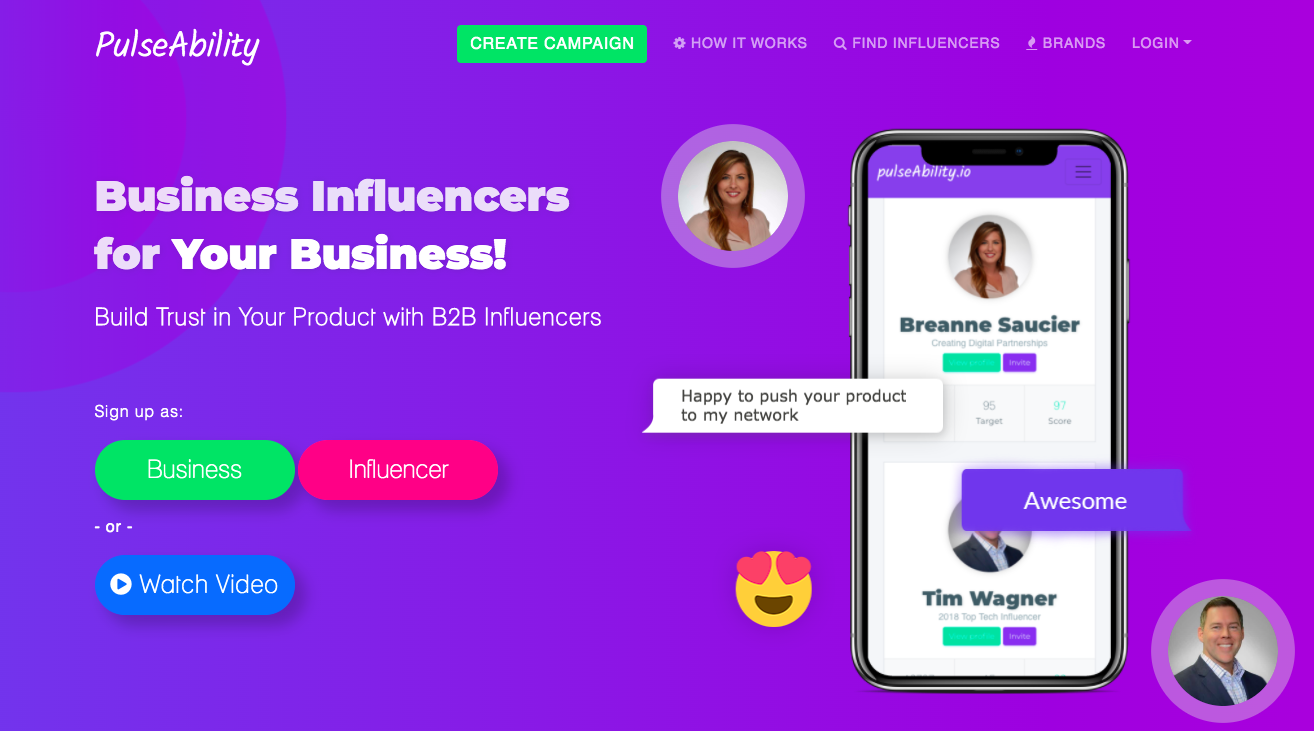 See Chapter 7 for more platforms to find influencers.
2) B2B Influencer Marketing = Word-of-Mouth Campaigning
If B2B and B2C are to be compared, then the former is heavily influenced by word-of-mouth marketing.
A lot of different factors go into influencing how a consumer buys and which brands they decide to buy from, but for companies that need to collaborate with other businesses, it's got a lot to do with the credibility of a brand in that industry and how many other companies are opting to work with them.
Influencer marketing is technically one of the best marketing approaches for B2B because it's basically an amplified version of word-of-mouth campaigning.
When an influencer promotes a brand, the word spreads within the industry and other brands become more aware. After all, for other businesses, it's not just about purchasing and consuming, but more about seeking mutual gain and benefits. Word of mouth is and probably will always be the one form of marketing that will never lose its charm.
3) B2C Needs New Faces, but B2B Needs Reputable Faces
For consumer-directed influencer marketing, finding new faces and names to promote your brand is key. Popular and new faces always tend to work, because they generate curiosity and also engage the audience in the campaign. The higher the number of people who are talking about your brand, the more credibility your consumers are going to add on to it.
This works conversely when it comes to B2B influencer marketing. New faces and names don't generate curiosity, but rather lack the kind of reliability and reputation you're trying to establish. Now, if a known influencer in your industry begins advocating in favor of your brand, that holds a lot more value.
For example, someone who has been heralded an industry expert for years is a great choice to be an influencer for your brand or even someone who has been reviewing or talking about your line of work for a significant amount of time for their word to be trusted.
As we mentioned in chapter 3 above, when compiling your own database of potential influencers, here are some things you should look at:
Name
Niche
Fan base size
Social media channels (and links to them)
Strong points
Weak points
Contact info
Observations: write down their peculiarities (tend to use video a lot, has a great sense of humor, has lots of ads, our competition has him/her under contract, etc.)
4) Your Influencer MUST Have Thorough Knowledge of Your Brand
The glitz and glam of influencer marketing has its unique appeal, no doubt, but for B2B dealings it's just not enough. One wrong message communicated could completely negate the entire objective of your marketing campaign, and that tends to happen when the influencer(s) you decide to collaborate with lack critical knowledge about your brand and product.
Hence, you have two options: pick someone who already has detailed knowledge that can help your campaign become successful, or take the extra initiative to educate them and brief them thoroughly about your products before you kick-start the campaign.
Either way, your brief aims to ensure that your influencer is completely in sync with your brand ideals and also has technical knowledge as and when required. Remember, your business audience is already well-versed with the nuances of your industry, and that's why you can't slip up.
5) Social Media Numbers Don't Count for B2B
Influencer marketing is a massively digital form of promotion, and that can't be denied. However, social media stats like number of followers or likes and comments on posts don't dictate the extent of one's influence, at least for B2B marketing.
It's true that the reach of an influencer who is directly promoting to consumers is quite heavily dependent on how many followers they have, but this doesn't hold true when other businesses and brands are your target audience.
A classic example of this is Seth Godin. This man is one of the most influential people in the world, and his word could very well be carved into stone: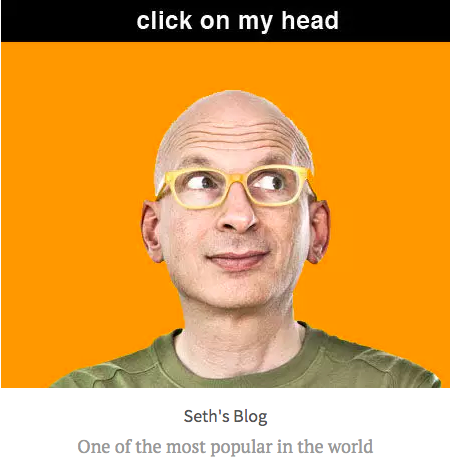 For a long time, he wasn't even actively engaging on social media, but did that make his influence any less credible or valuable? Nope.

So yes, B2B influencer marketing does work on multiple social platforms, but social numbers aren't indicative of how reliable or not an influencer is. This is where internal industry knowledge and circles come into play, and also why choosing an influencer very carefully is a crucial step.
6) Be Careful of B2B Influencer Conflicts
The B2B influencer marketing segment is a lot more sensitive to corporate and brand loyalty conflicts, which is why you need to be very careful about who you eventually sign on.
Influencers who work on short-term projects don't have any such restrictions or guidelines about who they can work with, but there are those influencers who are in long-standing contracts with other brands. These contracts restrict them from a number of things, even if they don't prohibit them from working with your brand.
So, ensure that you have all your facts right before you decide to divulge any key information about your marketing campaign with them. You should have an airtight agreement on what they will deliver and what you will give them in return, without any conflicts occurring with regards to their scope of involvement.
7) Trends Are Important in B2B Marketing
The consumer market is extremely volatile with trends coming and going quicker than spells of rain in Seattle. What's in vogue today might just drop in ratings overnight.
And while you can't exactly control how these trends work, you can be smart and keep yourself up-to-date on them. This is where trend analysis and predictions come into play and, yes, it does have a direct correlation with influencer marketing.
The whole idea of opting for influencer marketing is about choosing a brand advocate who aligns with the ideals of your brand and presents it in the most sales-worthy way. If the current trends don't match up with your influencer marketing campaign, then no matter how good it is or how effective your influencer's communication is, the campaign is more likely to fail.
So all those articles and pieces of news about trends that you come across? Pay heed to them! Use Twitter lists, sign up for newsletters around influencer marketing, set up Google Alerts, etc.: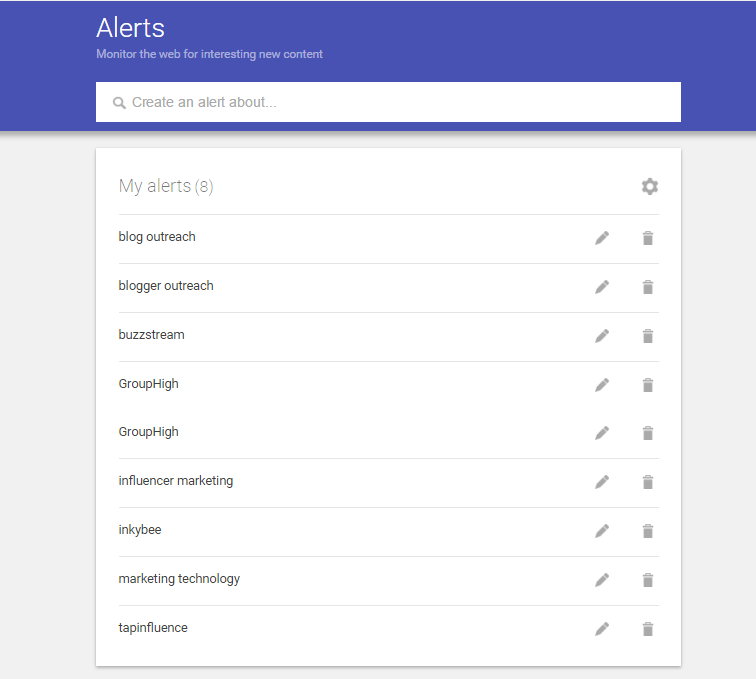 8) B2B Influencer Marketing Still Needs to Be Creative
There's a misconception that B2B influencer marketing tends to be more technically driven and less creatively inclined, and this is where the mindset needs to change. Influencer marketing in this niche has more than enough scope for creativity and mass appeal — it's just the minor details that need to be more fine-tuned and specific.
Even for a project that involves reviewing websites or creating guest posts for other websites, there's a whole bunch of creative aspects that you can add on to the campaign.
The point is that influencer marketing between businesses and brands is no less competitive than launching a brand new product/service in the retail market. While your target audience is comprised of industry experts who are looking for a business opportunity, they still want to be wowed by a concept and engaged by the thought process going into it.
Another bonus is that even your influencers are going to be more inclined to think outside the box and put their creative prowess to work!
9) A System Is Essential to Choose the Right Influencer
Going back to the drawing board to re-evaluate your influencer marketing strategy is essential, and this also means double checking if you've chosen the right influencers to team up with (see Chapter 3 How to Choose an Influencer to Boost Your Marketing Campaign).
To help you better analyze this strategy, you can make a list of statistics and figures that you need to look into. If the numbers and metrics match the goals you're trying to achieve, then you know you're on the right path. This list can consist of the following:
Potential reach and ranking
Engagement statistics
Worst and best campaign performance
Growth graph
Media presence and reputation
Content relevancy and hashtags
Location-wise reach
Best results in terms of niche and industry
Coverage and topics
And with this list in place, you can make a more comprehensive decision about who and how many influencers get on board for your campaigns!
10) Co-creating with Your Influencer Is Key
The influencers you get on board can simply be advocates who recite word for word whatever you tell them about your campaign, or they can choose to be part of the conception itself.
Many brands fail to see the importance of involving influencers for the entire process of creating an effective marketing campaign. This start-to-finish involvement not only works wonders for the end execution of the campaign, but also employs the much-needed involvement of the entire team.
And, of course, with your influencers working in tandem with you, the influx of ideas and strategies is going to be much more lucrative!
11) Create an Influencer Strategy
Instead of approaching influencers yourself each time, create an influencer program that attracts influencers to your brand:

If the perks and the association seem like a win-win situation, you're going to have influencers more interested in taking up partnerships with you for various campaigns.
It's about how well you package and present your brand to your potential market:
What is the communication tone you employ?
What is the overall message it conveys?
When someone thinks or speaks of your brand, what are the adjectives they're using?
All of this and more adds on to your brand's profile, and when the larger picture comes into play, you're going to be reeling in the content creators and influencers without much effort.
Related Content:
* 4 Steps to Discover Your Ideal Buyer Persona for B2B Marketers
* How B2B Firms Can Acquire Leads with Programmatic Ads
* Everything You Need to Know About B2B Performance Metrics

Chapter 10: All You Need to Know About the ROI of Influencer Marketing
Influencer marketing is helping big brands reach out to more people and it's helping small businesses scale better by giving them more publicity. And the best part is that it provides better ROI than other marketing methods.
89% of all marketers find ROI from influencer marketing comparable to or better than other marketing channels: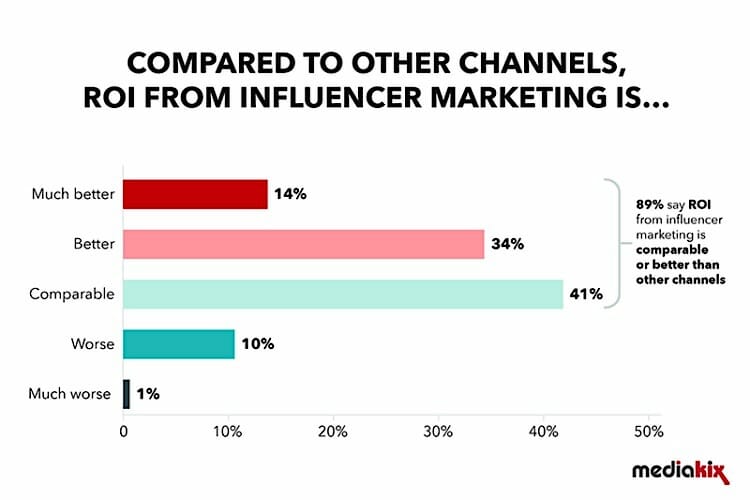 But how do we calculate ROI from influencer marketing? Let's look at a few factors that we need to look at while calculating influencer marketing ROI – and check out the infographic at the end of this chapter!
1) Brand Awareness
When you want to grow your business, you need to make sure that you create buzz around your brand – and influencers can help you do so quickly. A social media post or a video by an influencer can help put your brand in the limelight. Influencers, who have large, loyal audiences, can make your brand more recognizable and easily relatable.
2) Better Brand Perception
Influencers are known to engage with their followers and form genuine relationships with them and their word on a product or service is seen as trustworthy. So getting an influencer on board can actually affect the way that consumers perceive your brand.
The best thing is that when influencers promote your product or service, it doesn't come across as advertorial. For frozen foods retailer, Iceland Foods, collaborating with influencers made a huge difference to their approval ratings. After they released influencer-backed videos, their approval ratings jumped from 10% to 80%.
3) Increased Traffic and Engagement
Affiliate links and social media tags help the followers of influencers directly reach a brand. This means they can be redirected to your brand's website or social media pages.
Because of this, influencers often use affiliate links and social media tags along within their posts. These can provide a way to redirect followers to your brand's website. So marketers can expect an increase in website traffic and engagement.
Keep an eye on the number of page views, daily visitors, likes, shares and comments to keep track of this ROI.
Book My Free Marketing Consultation
4) Diversified Content Feed
Influencers know what kind of content resonates with their audiences, so working with influencers will help you diversify your content feed. From reviews to social media takeovers and tutorials, you can experiment a lot. Influencer testimonials can also help you gain more credibility.
To understand the ROI of influencer marketing better, check out this infographic:

In short? Technology marketing can greatly benefit from influencers.
Case Studies: How Influencer Marketing Helped Multi-Million Dollar Companies:
---
Writers who contributed to this epic post: Eric Siu, Raghav Haran, Olivia Ryan, Anna Rud, Brian Mechem, Michael Quoc, Shane Barker