Introduction
One the first things entrepreneurs and marketers think about when considering whether to a digital marketing agency or not is:
"How much will it cost?"
It's important to make sure that the marketing agency you select fits your budget. But if you focus on price too much, you might be disappointed their deliverables. The most expensive agency is one that charges a cheap rate but wastes your time with subpar results.
According to HubSpot, companies that do inbound marketing well tend to have higher marketing budgets. Investing the time to choose the right marketing agency will yield better financial results for your company down the road.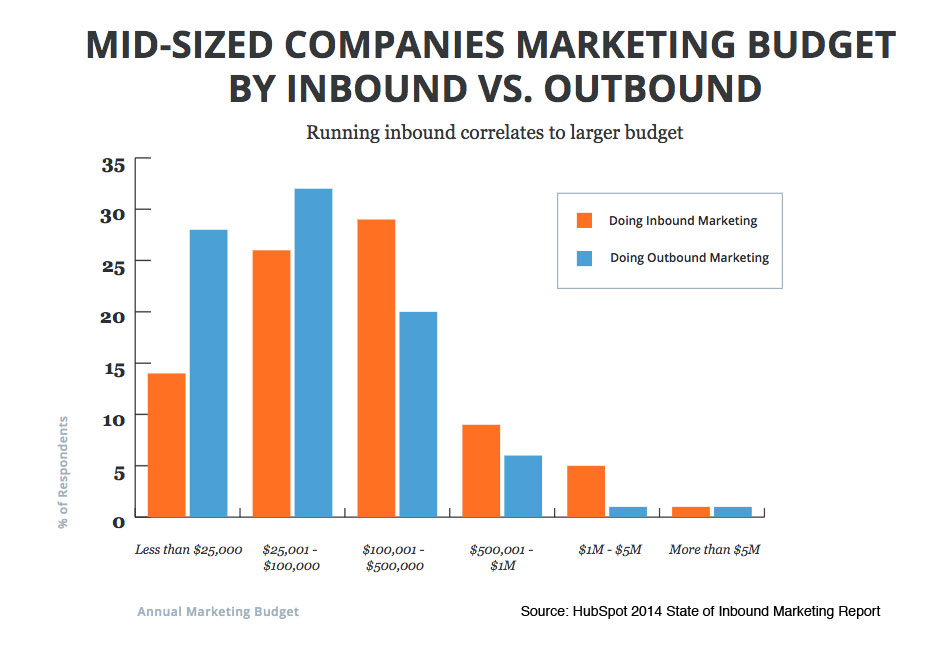 The truth is, when you're dealing with an industry that has a low barrier to entry, you'll encounter a few people who claim to know what they're doing, but actually don't. There are plenty of digital marketing agencies out there that promise insanely good results for low rates with no intention of actually delivering.
Be careful of those agencies that charge you money every month by giving you the impression that it will take a long time to see results, even though their strategies will never provide ROI.
In other cases, agencies might guarantee bottom-of-the-funnel results, which is a huge red flag since there are too many factors that are specific to each company that will influence any results you might see.
Asking about price is not just a good way to make sure that the agency fits into your budget. It can also be a great way of filtering out low-quality agencies that can't answer your questions satisfactorily because they can't deliver results.

Pricing Structures
Here are the various pricing structures that you can expect from a digital marketing agency.
Blended rate with time estimates
This rate covers all specialists at every level of seniority in the agency, and will be fixed at one rate (i.e. $500 per day). Instead of billing for each person who works on your project individually at different rates, the blended rate model provides an average hourly rate for a pool of resources.
Each hour or day that's worked is charged at the blended rate. This is a simple model that can get both you and your prospective agency on the same page pretty quickly.
A blended rate is usually the average of the rates and expected hours worked by all those who the agency will employ to work on your project.
Specialist rate with time estimates
This model is the opposite of the blended rate in that it factors in the individual rates of all the specialists within the agency who will be working on your project.
The rates for individuals vary depending on both their seniority level and the number of hours they expect to work on your project. Of course, more experienced people will give you higher-quality results, but also cost more.
Here's an example of a "specialist rate with time estimates" spreadsheet from Smart Insights: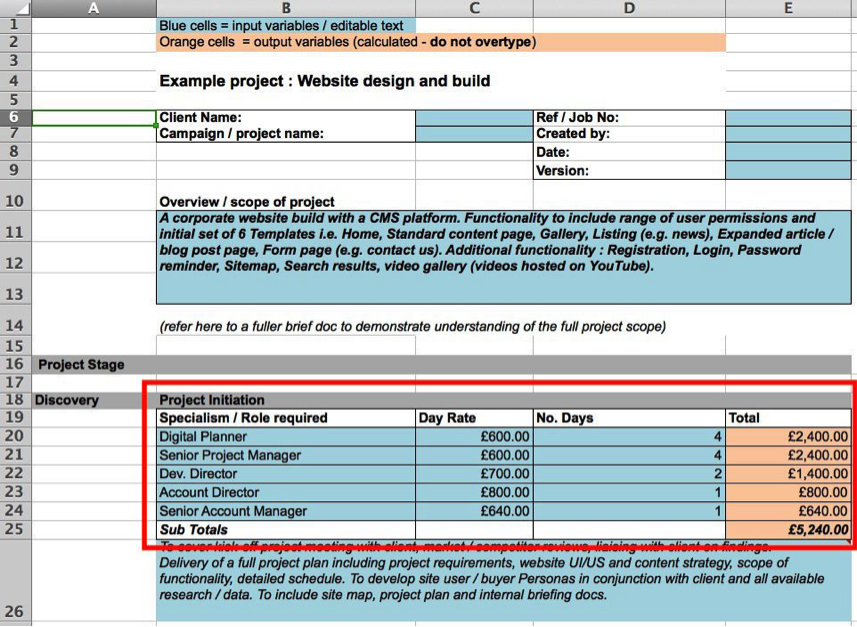 Getting Your Return on Investment
Now that we talked about price, let's take a look at the kind of return you can expect to see from a digital marketing campaign.
The truth is, most marketers don't know how to measure their marketing ROI.
According to Marketing Profs, 82% of marketing executives say that they expect campaigns to be measured. And yet only 18% can measure the ROI of public relations, 24% can measure the ROI of search engine optimization, and 26% can measure the ROI of social media.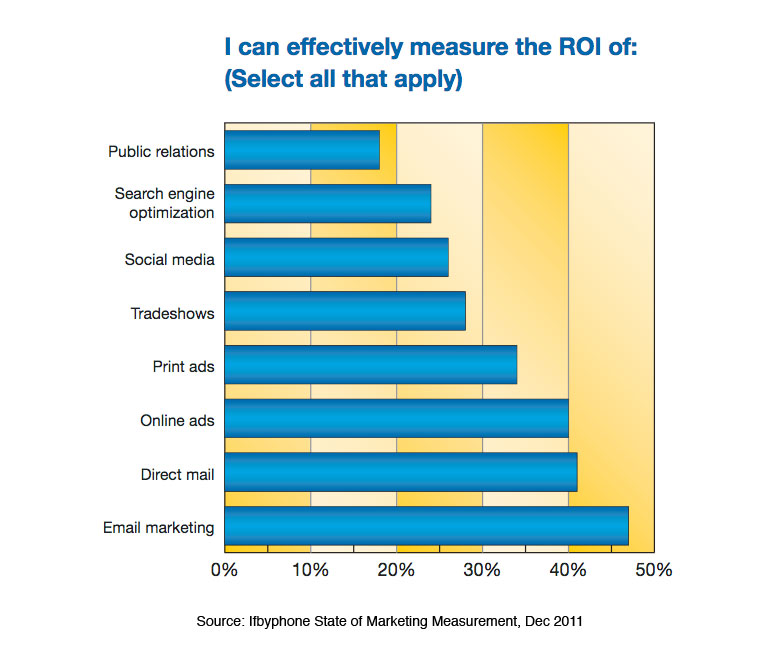 .
There are certain benchmarks for ROI numbers for various channels that are important to remember. Here's the average return on investment for the following marketing channels for every $1 spent:
| | |
| --- | --- |
| E-mail | $38 |
| Search | $22 |
| Internet display advertising | $20 |
| Social media | $13 |
| Mobile | $11 |
| Catalogs | $7 |
Getting a high return depends on a variety of things, which is why no specific result can be guaranteed for any individual company. For example, it could depend on:
Quality and how competitive the product is in the market
How competitive and sophisticated the industry is as a whole
Competence of the agency that's responsible for marketing the product
The marketing channel(s) that are being used
How accurately conversions can be tracked
You should make sure that your agency understands how to calculate ROI. If they don't, that should be an immediate deal-breaker.
For example, here's a general way to calculate ROI from an SEO campaign:
Anticipated ROI = (Anticipated Revenue from SEO efforts – Proposed Cost of SEO Project)/Proposed cost of the SEO project
Here's an example of how to calculate this from Optimize Smart.
Let's say you run an e-commerce site. Your ROI can be calculated based on average monthly visits to your site, average conversion rate of the site, and average order value.
For example, suppose your average monthly visits is 50,000, your conversion rate is 0.68%, and your average order value is $176. And your agency tells you that you might have to spend $20,000 for your SEO project.
From there, you can determine your "break even" point. This is the point at which you will generate a positive ROI from your agency. This can be determined by:
Proposed cost of project / Average order value
If your proposed cost of project is $20,000 and your average order value is $176, then your break even point is 114 sales.
You can also determine the additional traffic you'll need to break even. This can be determined by:
Number of orders needed to break even / E-commerce conversion rate
If you need 114 orders to break even, and your conversion rate is 0.68%, then you need 16,765 visits to your site to break even.
Of course, this is just a break even rate. To see significant ROI from the campaign, you'd probably like to see at least double those results as a client. So your ideal number of visits should be over 32,000.
This is just one example of how to calculate expected ROI for a marketing campaign, so you know exactly what results to expect from your marketing agency.

Conclusion
There are a few specific red flags that give away low-quality agencies, like guaranteeing results and price.
Depending on your needs, there might be one pricing model that is a better fit for you. But whatever model you choose, be sure not to cut corners.
In the agency world, you tend to get what you pay for. While most businesses are on tight budgets and are careful with their marketing spend, the return on investment you can get from hiring an expert versus someone who offers a good deal is significant.