Ever look at your website or LinkedIn profile and feel slightly annoyed that you've served hundreds of clients but only have a handful of testimonials? Then let's talk about how you can get testimonials from all your happy customers.
Your Customers Are Your Best Advocates
I'm pretty sure you're already convinced that testimonials work. But if you want to find out how well they work, just Google conversion rate optimization studies around testimonials.
Customer testimonials help convince other people that they should be doing business with you, buying your product, or using your service. In other words, they're a vote of confidence and social proof.
For example, when you look at SaaS company websites, nearly all of them have testimonials and company logos on the homepage. These all add validation. That's also social proof.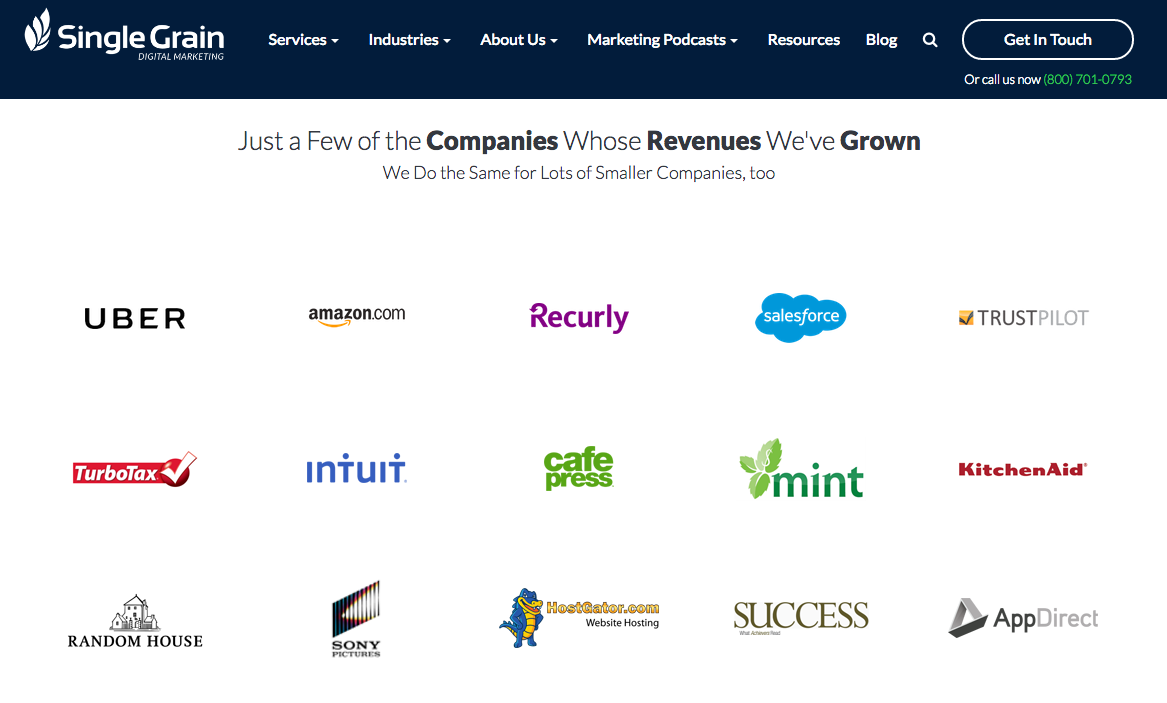 It's more powerful for someone else to say, "Wow. Eric's business is awesome and you have to use Eric's service" than for me to say, "My company is incredible. Hire me."
A Few Ways to Get Recommendations
I like to use a tool like YesInsights that allows me to email my list and ask them for feedback about a service or product. For example, "How happy are you with our service?" They can choose between "Very happy" or "Not happy at all." If they chose "Very happy," you can easily ask them if they'd like to give you a testimonial and then bring them to a testimonial submission page.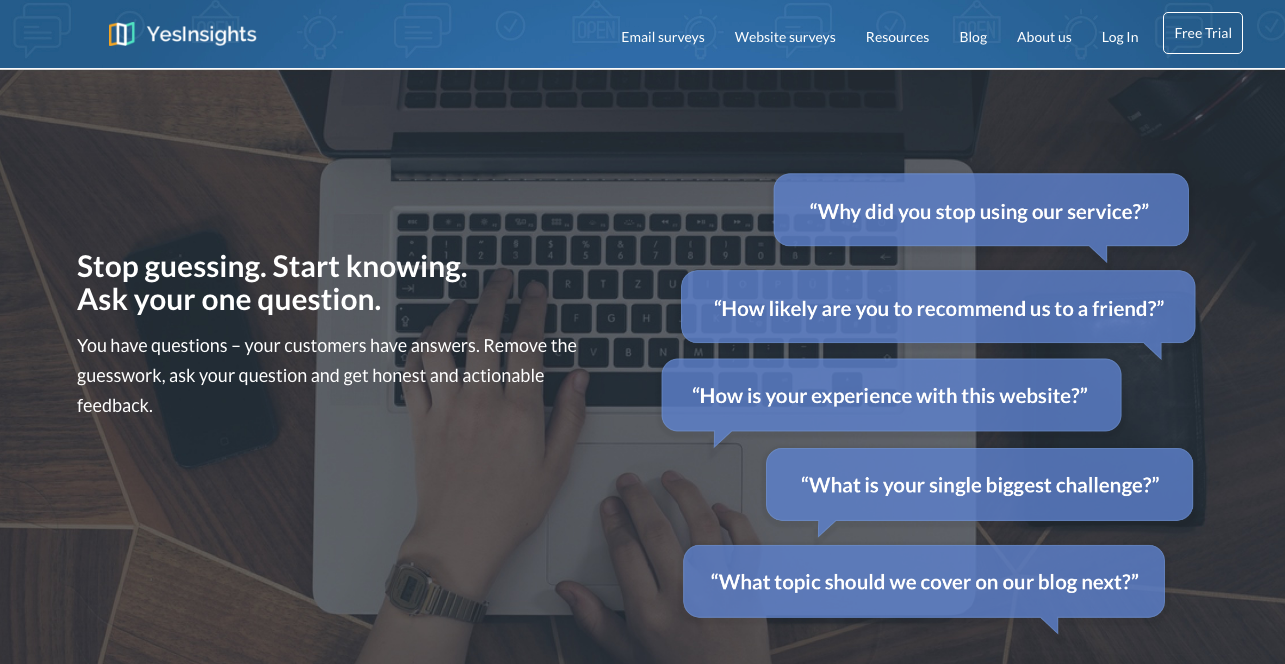 Of course, you could also just go to your current customers who you know are 100% happy. Don't be afraid to ask customers for a positive review about your business. Be very simple and to the point.
The simplest way of all is to just email clients directly and say, "Hey, I want feedback." It doesn't matter if you have a product or service. Just say:
"I want feedback. We want to improve and we want to make your experience better. Can you please give us feedback? That way we can make sure everyone's happier with our business."
What we found is that when you email 100 people, roughly three of them will give you feedback. Ten if you have a really loyal audience, but you should get at least three on the low end.
Now, when you get negative feedback, you want to solve the problem and improve the experience. But when you get positive feedback, it's easy to send a second email. You can either say that what the client wrote was so good that you want to turn it into a testimonial (you just need their permission), or you can ask them for a testimonial if they don't mind. If they're giving positive feedback, chances are they'll say yes to either option.
A message template I like to use is: "Hey Bob. Love the feedback and I'm glad that you're happy. Is there any way that we can turn this into a testimonial? Of course, I'll mention your name and your company when I do so, and this will give you some great press as well." That's how I mainly get my testimonials. It's simple, it's easy, and it works.
Related Content: How to Get Productive Feedback from Your Customers
How Do Testimonials Impact ROI?
There are a lot of studies out there where marketers claim to increase sales by 20-40%. That's usually just fluff—if your conversions go up by that much, there's typically something else wrong with your website, your copy or your messaging. Usually, I don't see lifts greater than 10%. Anything more than 10% is really hard to achieve.
I bring that up because testimonial ROI is nearly impossible to measure accurately, but they will definitely help you push undecided leads over the fence and get them to sign up. You know the type: "Oh, I'm not sure if this is right for us. I don't know if I'm going to be happy. I've been burned before."
Testimonials help convert these risk-averse prospects into excited buyers.
Click To Tweet
You could actually try to measure the ROI of your testimonials by assigning net promoter scores to your leads and customers. The idea is to send out an email survey with questions like "How likely are you on a scale of 1 to 10 to recommend my product or service to somebody else?"
Anyone who replies with a 1-6 are your detractors. These people aren't satisfied with your product or service. Anyone who gives you a 7-8 could be happier, but they aren't dissatisfied. The 9s and 10s are your promoters.
Always ask, "Do you have anything else to say or any other feedback that you could give us?" because you may discover that some 7s and 8s may still be very happy to give you a glowing testimonial.
Do You Have to Ask for Permission to Use Logos?
I think it's very important that you ask people for their permission before you publicize a testimonial or even their business logo. For example, in my industry (digital marketing) a lot of clients don't want their competitors knowing who they're using to get an edge.
On the other hand, an investor/entrepreneur friend of mine said, "It's easier to ask for forgiveness than for permission." He may have a point. Most companies, if they're happy with your work, probably won't mind if they see their logo on your website. But they might not say "Yes" if you ask them directly for permission.
This is for most smaller companies. When it comes to larger companies, it's a nightmare to get approval to use their logos. It's just easier to use them without asking, because chances are they'll never notice (or care if they do). Asking just opens up a huge can of worms.
Even if you do get the legal notice to remove it, you can just comply. No harm, no foul.
Do You Have to Ask for Permission to Use Testimonials?
Every once in a while, you may find yourself in a situation where, either through email or some other kind of chat, a client gives you a fantastic quote that could easily be a testimonial. Do not post these without permission. I never use quotes without permission, because when you put a name and a face to a claim, people tend to be much more cautious.
I've been in situations with some of my clients in which I knew that just by putting their quote on the Single Grain website, they'd end up getting more traffic to their own sites. But, believe it or not, many people just like to keep a low profile. They're more than willing to increase brand awareness for their business, but they don't want to put their own name out there.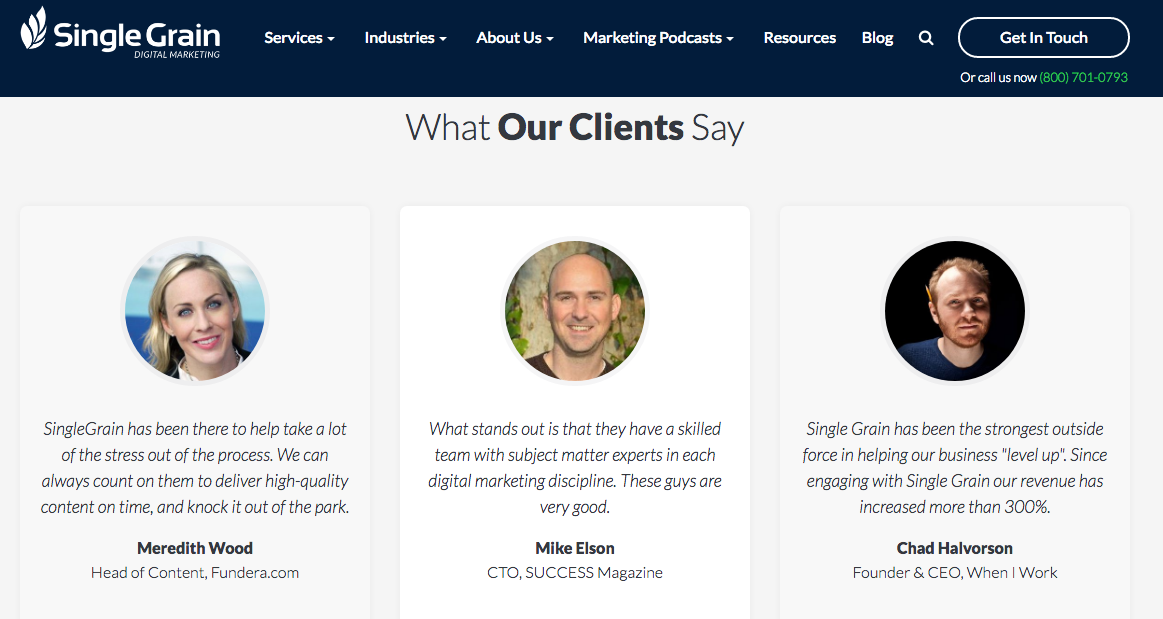 Also — do not make up fake testimonials. This is a terrible idea because you could get sued and it will really damage your reputation if the person in question decides to go public about it.
For example, Neil Patel once discovered that someone was using him as a testimonial, even though he'd never given them one. In that instance, he just politely asked them to take it down, and they did.
Another time, a $100-million-per-year company created and sold a digital course with Neil's name on it. They made an entire website with his face, and were branding it as a Neil Patel course on content marketing. They blasted it out to 800,000 people.
Angry people started emailing Neil, going, "Neil, I'm mad. Why do I have to be on a waiting list to buy your product?" When Neil found out the company was just using his name to sell a course, their reaction was, "Oh, we thought you'd be okay with this."
Fortunately for them, Neil's a really nice guy. He didn't even sue them. But the point is he could have sued them for millions. That's why it's never worth it to make up a testimonial.
This post was adapted from Marketing School, a 10-minute daily podcast in which Neil Patel and Eric Siu teach you real-life marketing strategies and tactics from their own experience to help you find success in any marketing capacity.