6 Customer Service Trends You Can't Ignore
Last year was full of grand ideas, innovations and surprises in the customer support field. And the biggest humbling realization was that price and product are no longer the only competitive differentiators that make customers stay loyal.
But this year, the biggest differentiator is customer experience.
If a company doesn't provide personalized, speedy and efficient service across all customer interaction touchpoints, the overall customer experience suffers. Chances are you wouldn't be able to stay afloat for long, even with the best product in the world.
Knowing the latest customer service trends is a good first step to understanding how to improve the overall experience that people have with your business this year and beyond.
6 Customer Service Trends You Can't Ignore
Good CX comes down to the highest standards for providing customer service. That means that your customer service has to reach a whole new level than ever before. The rewards for this are well worth the effort: customer loyalty, repeat business, and higher revenues.
A PwC report, for example, found that 52% of customers are willing to pay extra for fast and efficient customer experience.
Here are some more key findings about customer service:
Customer support requests are up to 14% from last year
More than 60% of customers now expect companies to meet all of their needs
61% of customers would leave for a competitor after just one negative experience
90% of customers are willing to spend more when companies provide personalized customer services
And now, on to the top six customer service trends you can't ignore if you want to maintain loyal customers….
1) Social Media Shopping Is More Important than Ever
One important aspect of delivering a great customer experience is meeting customers where they are and when they want it.
This means that you should step outside your online store and explore other popular channels where your customers are hanging out. "Other popular online places… like social media?" Exactly!
Customers are already shopping on social media, as businesses can now integrate their accounts with e-commerce platforms: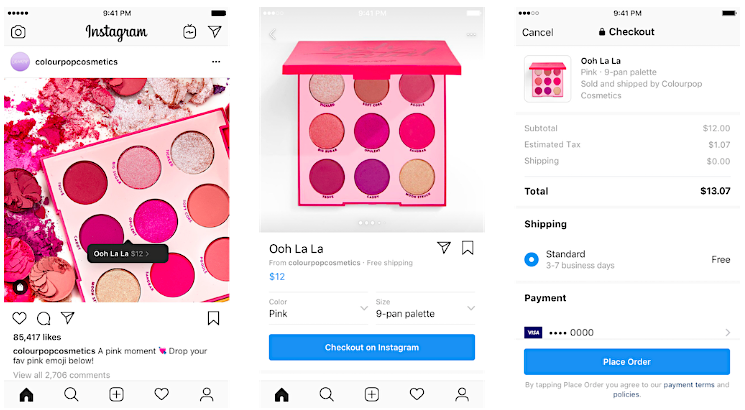 This makes it a whole lot easier to keep the process seamless and easy for the customer. Need proof that the investment into making social media a place to shop is definitely paying off?
More than 72% of Instagram users say they've bought a product they discovered on the Instagram app.
It comes as no surprise that this year, social media shopping is continuing to gain traction, as more people are getting used to the idea that e-commerce stores aren't the only places to purchase what they are looking for.
In fact, the two biggest reasons why we follow retailers on social media is to learn about upcoming sales and new products, according to Surviving the Retail Apocalypse survey: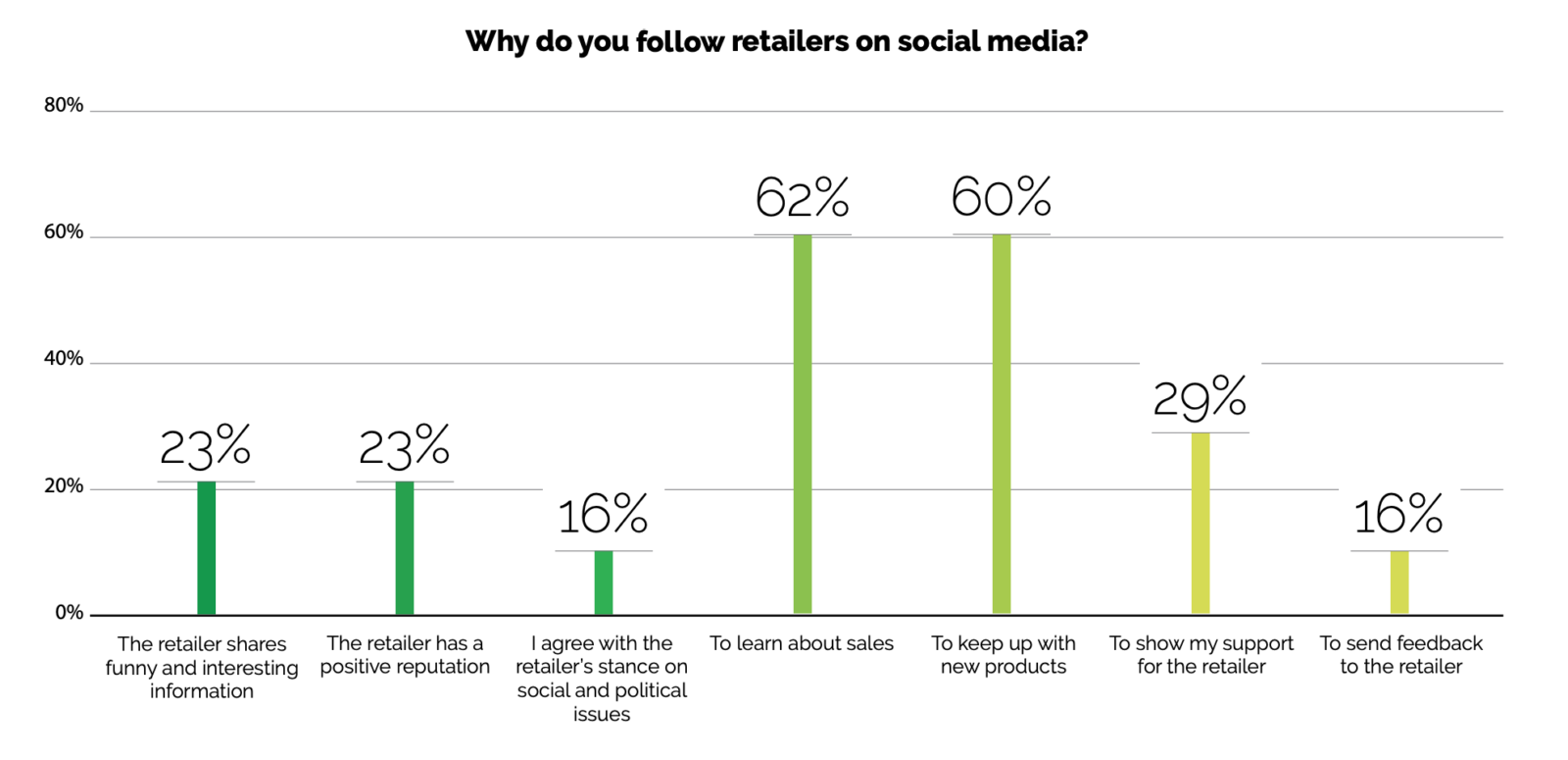 Brands are using social media to sell primarily with paid advertising and shoppable posts.
First, let's talk about paid advertising. In the image below, an ad on the right appears in social media users' news feeds, inviting them to the product page or a Shopify store: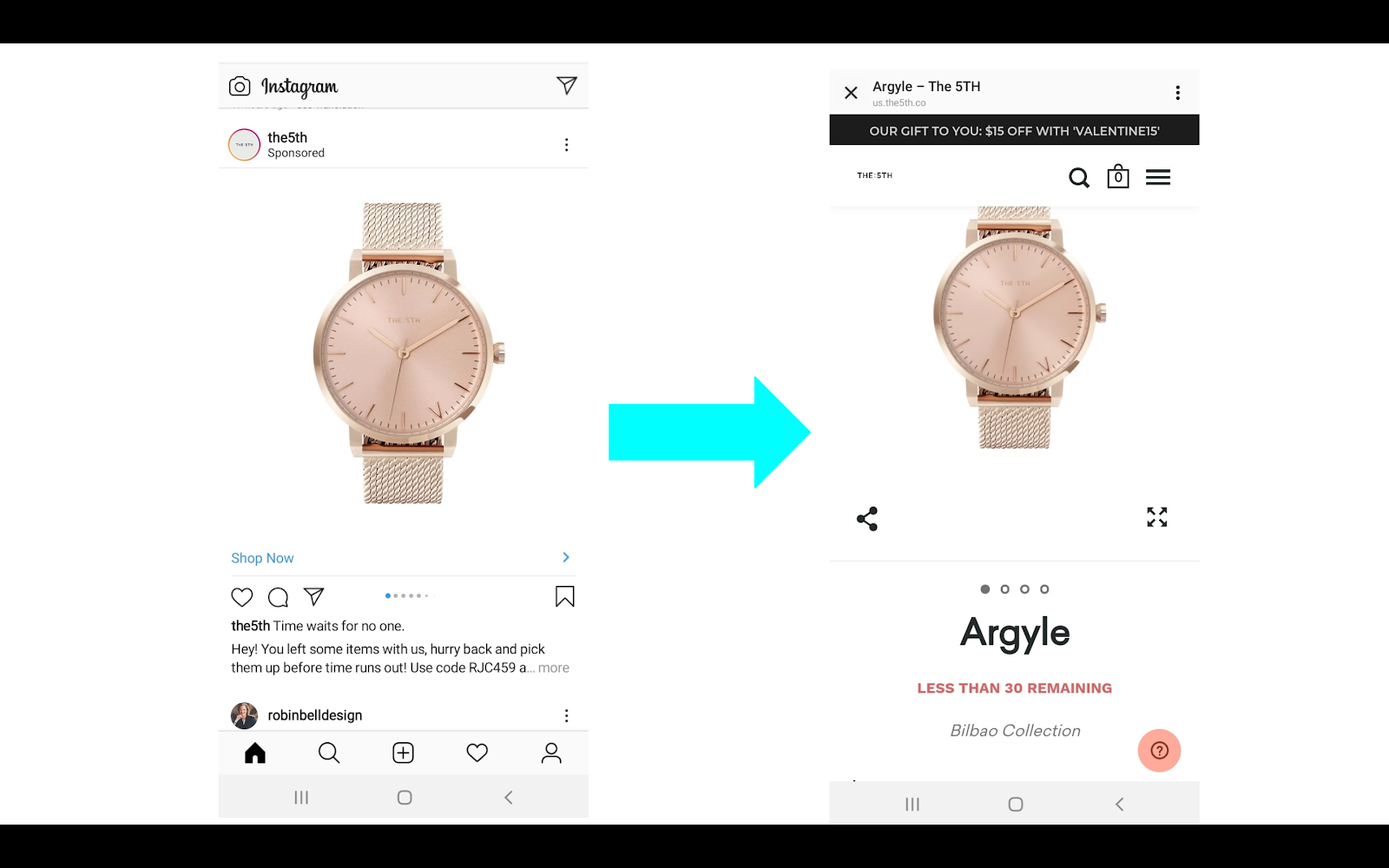 That's convenient, don't you think? Also, paid ads on social media are most often based on the user's browsing history, so many people perceive them as relevant.
Next stop: shoppable posts.
The recipe here is pretty easy:
Take a great-looking photo of a product
Tag it in an Instagram post
Use features like Shoppable posts that allow you to tag products directly in posts and connect them to their pages on e-commerce stores
Connect the product page to the post to redirect customers to your store
Here's a typical customer journey to discover a product on Instagram with a shoppable post. Such a post has the "View Products" notification in the bottom left corner (see the first image on the left, below), which a user can click to see the product. After viewing, they can then click on the "View on Website" button.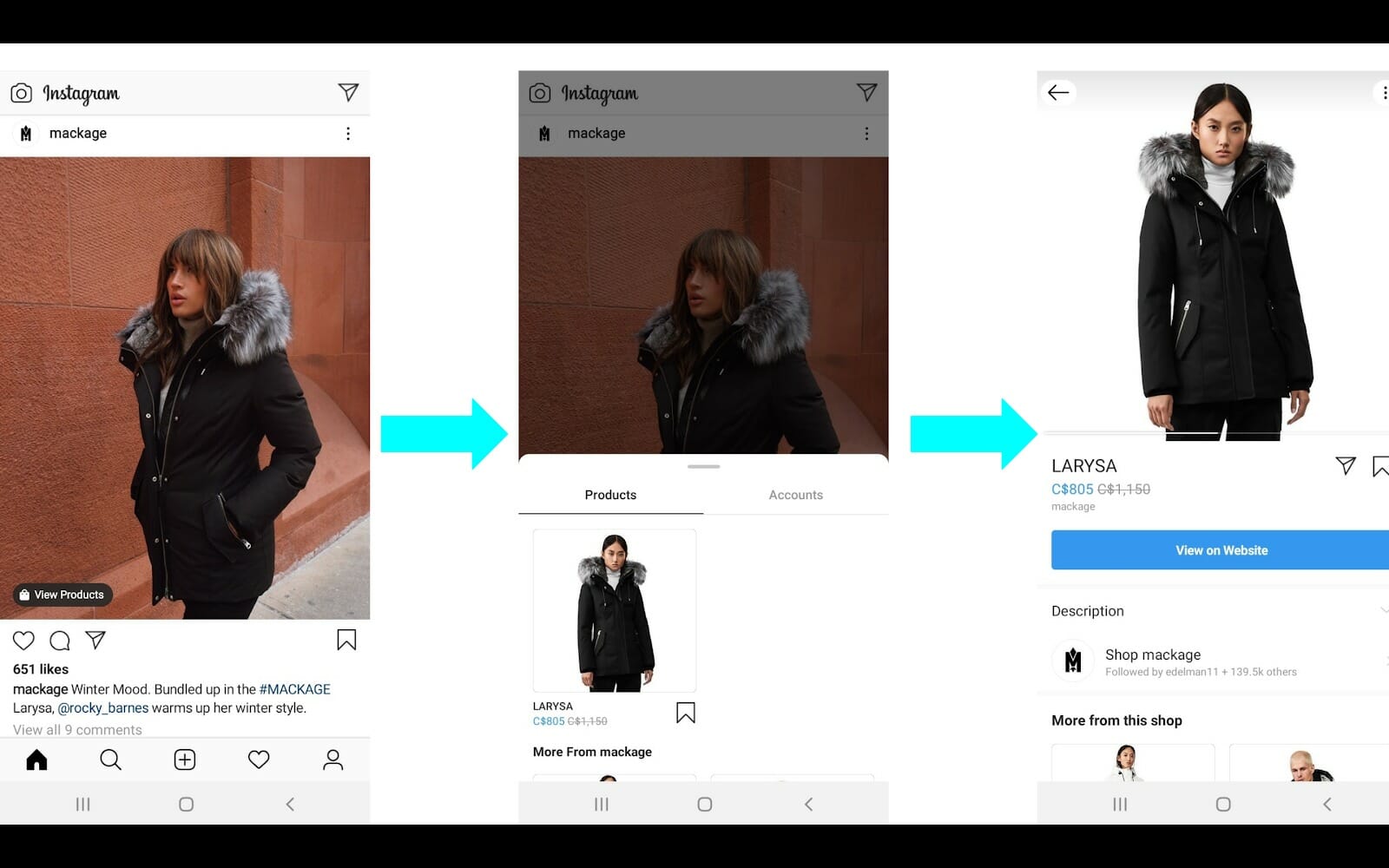 If you're not producing shoppable posts on Instagram, you could be missing out on a huge opportunity to increase website traffic and sales. Many businesses find a drastic difference between their sales performance before and after implementing shoppable posts. And we've got proof for that.
For example, when SociallyInfused Media implemented the shopping function for one of their e-commerce brands, they saw their Instagram sales reaching $99,000 within the first six months. The traffic on the brand's website also increased by 2.5%, which came from users clicking on products in shoppable posts.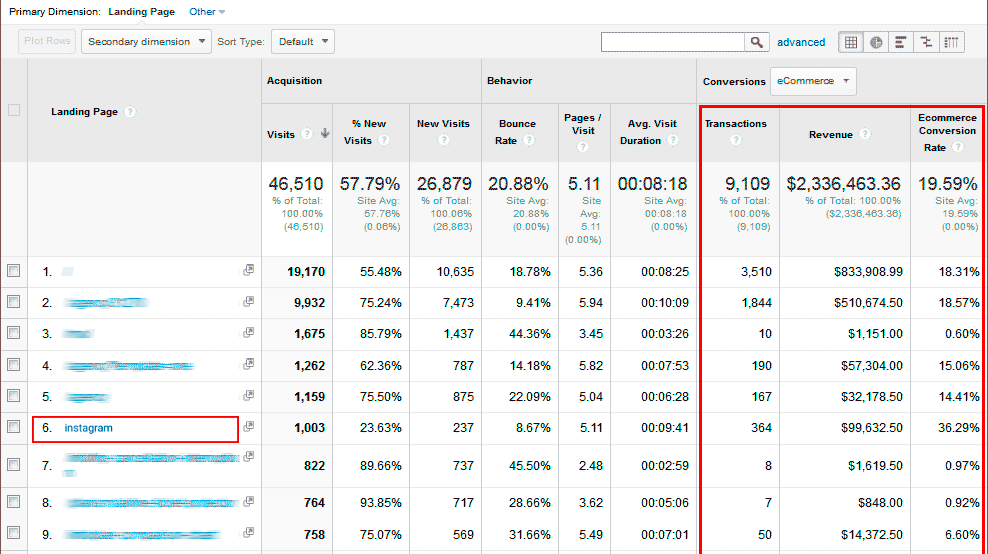 As Vincent Bucciachio, founder of SociallyInfused Media, told me:
"Whether you are advertising, enhancing your customer experience (CX), or building a broader audience—Instagram is a great retail option. Now we're using it to answer customer inquiries, manage complaints, implement targeted outreach programs, and even process returns."
The recipe for success is simple: sell to people in places where they hang out most often.
But, as Bucciachio's quote suggests, selling isn't the only thing to take care of. If customers like buying on social media, they want businesses to be available for service there, too. In fact, 67% of customers say they used a business's social media page for service.
That's a lot of customers and potential revenue, right? And this is what makes social media a powerful frontier in customer service.
If your business still hasn't incorporated this concept into your strategy, it might be quite a challenge to get your customer support ready in time – before they leave for your competition. What are the main expectations to fulfill?
Faster response times
Availability across multiple time zones
And, of course, helpful answers
These three factors will play a deciding role in creating the much-needed (and expected) positive customer experience.
To deliver timely and effective customer support on social media, more brands will be using live chat and chatbot automation tools. For example, Sephora, a well-known personal care and beauty brand, has a Facebook chatbot that helps make appointments in local stores, provides feedback, and connects with a human customer service representative.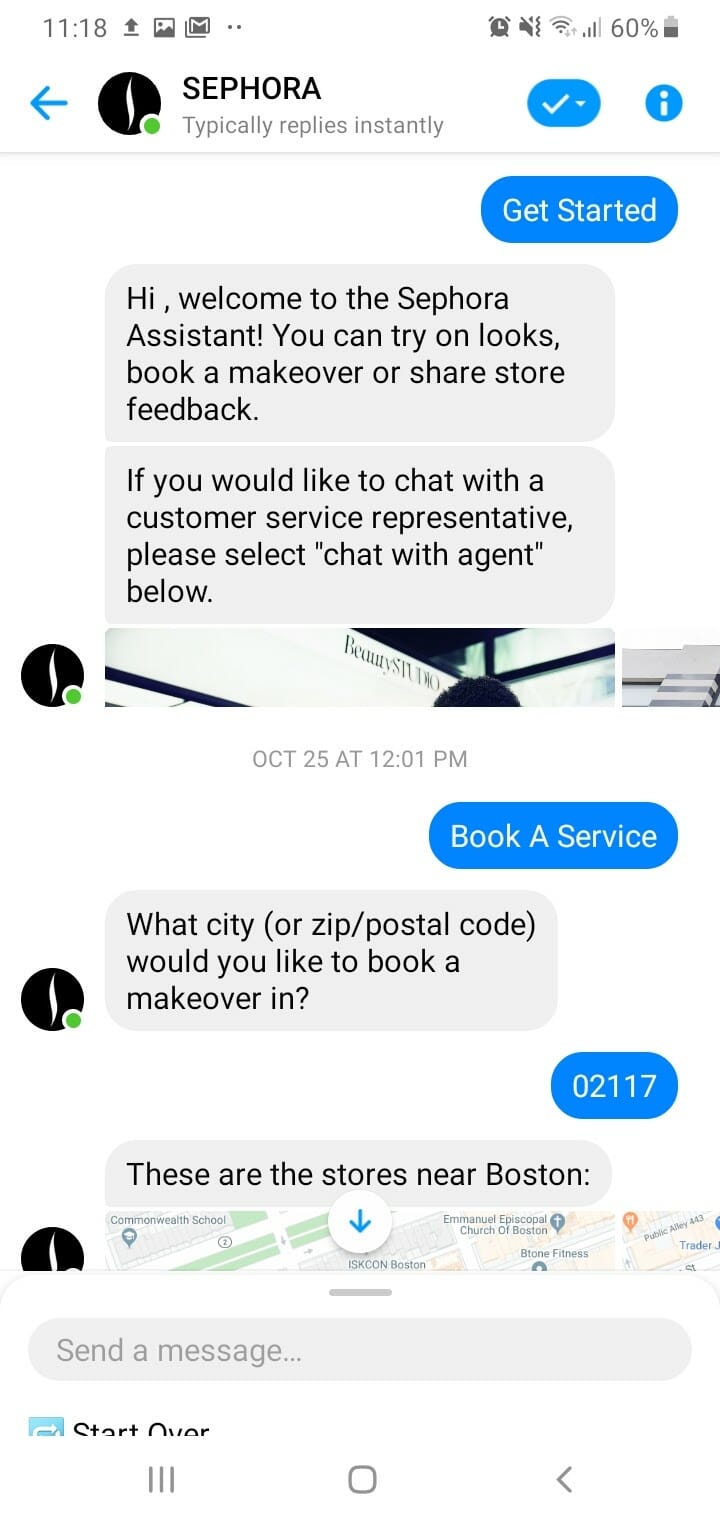 Dive Deeper:
2) The Functionality of Customer Service Chatbots Is Expanding
Chatbot-powered customer service is here to stay, and this year we will witness its evolution and expansion.
Last year, chatbots were the preferred communication channel when making online purchases for 43% of U.S. online shoppers. This applies to both e-commerce sites and social media business pages.
Yes, chatbots quickly went from an optional service tool to a must-have in customer support. The ability of chatbots to provide real-time support makes them really desirable, but it's not the only thing businesses use to improve customer experience in the context of customer support.
The functionality of chatbots is expanding. At the time of this writing, it captures these customer service use cases:
Assistance with navigating a website, e.g., finding a landing page
Help with simple service-related questions (order tracking, submitting requests, etc.)
Providing 24/7 assistance regardless of geolocation
Collecting customer input to redirect them to an appropriate human support agent
Making reservations
Providing customers with ideas for inspiration
Offering discounts and collecting visitor emails
Subscribing to a newsletter
For example, here's how a chatbot at The Click Shop collects a visitor's email address by offering them a discount, which helps increase visitor engagement and encourages them to explore products: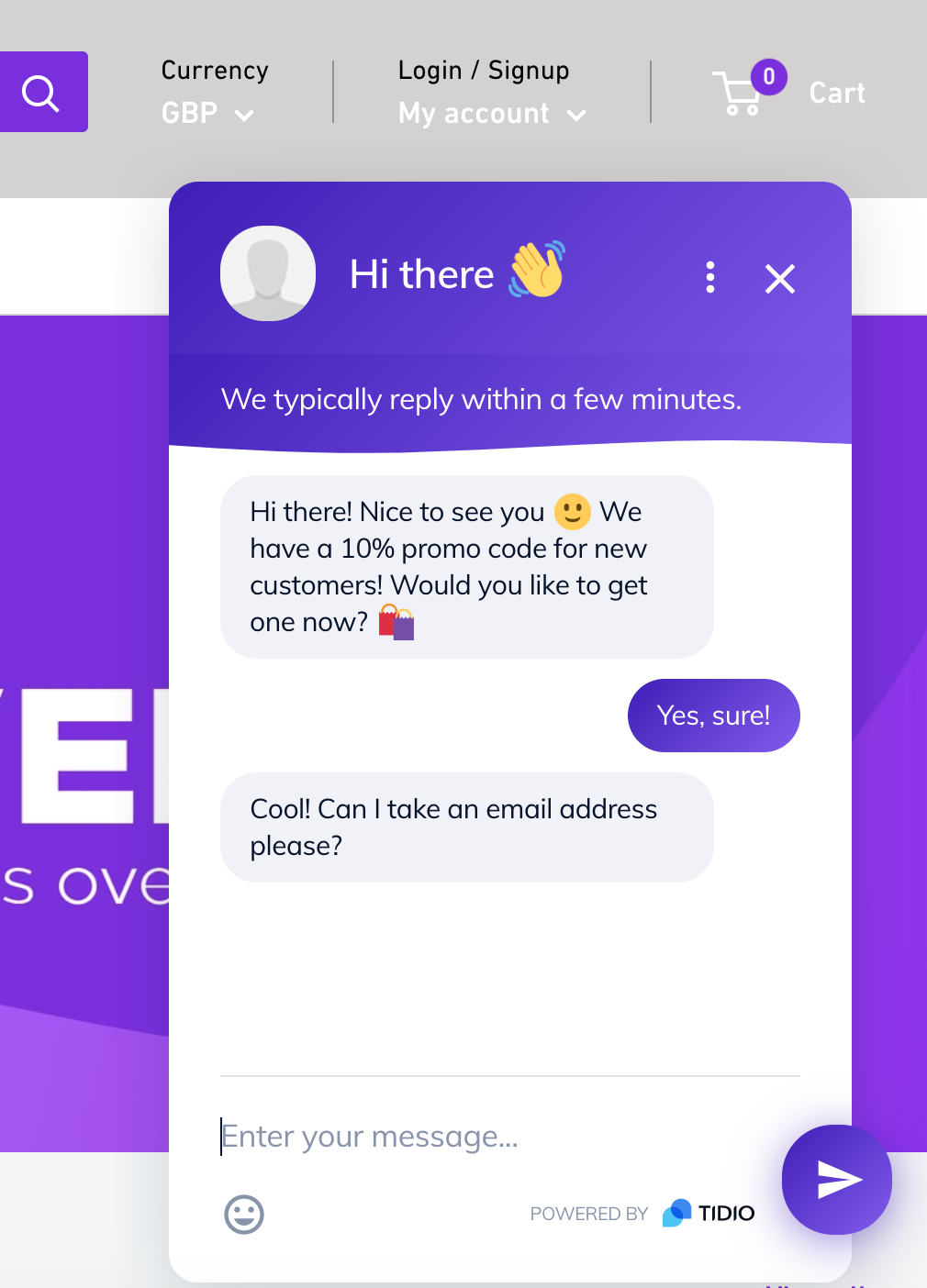 Even if the visitor ignores the offer, they can get the discount later, as the chatbot is available 24/7. The integration of chatbots with Messenger also makes them perfect for those who like to message brands through Facebook.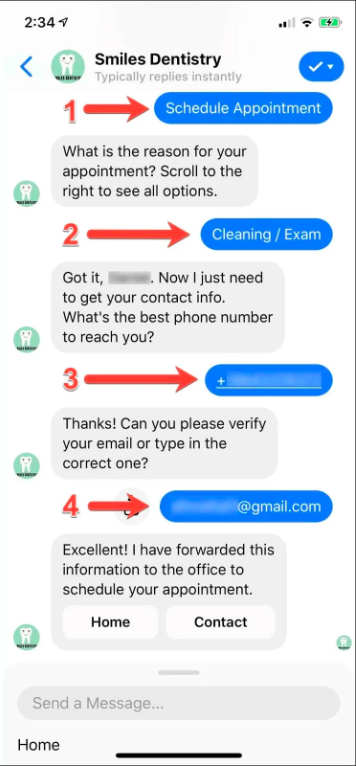 As chatbots get more functional, more customers will prefer them as a tool to contact a business. Some of the expected development avenues for chatbots in the next few years are:
With assistants like Siri and Alexa now widespread, more people will be more comfortable using chatbots for customer service. Voice-enabled chatbots like Amazon Echo and Google Home are also growing rapidly, as voice search slowly takes over display search.
The ability of chatbots to understand customer queries will increase thanks to Natural Language Processing (NLP), a technology for recognizing and interpreting texts written in the natural language
By tracking customer browsing behavior on their websites, businesses will improve the ability of chatbots to provide more relevant and personalized offers.
That's why more companies will consider hiring a chatbot for their customer service this year.
Dive Deeper:
3) Taking Personalization to a New Level with Hyper-Personalization
Personalization is another critical component of customer experience.
Last year businesses have been integrating it with their business development strategies, and there will be an increase in demand for it across the customer lifecycle this year and beyond. Be it live chat, a chatbot, or email, e-commerce customers expect to be treated in a special way, so businesses will have to find ways to create a hyper-personalized environment.
In fact, 63% of customers expect personalization as a standard. This applies to all touchpoints, and those failing to meet this expectation risk losing customers to competitors.
That's why many brands are looking for ways to collect customer data in order to better understand where to start and how to personalize correctly.
One common method is gathering feedback from customers with custom quizzes and surveys on websites. This can done with assessment software that allows marketers to personalize data collection forms to the needs of specific target audiences.
However, this year traditional personalization practices like addressing a customer by name in an email might not be enough. There's a new approach on the rise:hyper-personalization.
Hyper-personalization involves using customer data to improve the overall experience as close to real-time as possible thanks to the use of artificial intelligence tools.
It's just a matter of time when your competitors will be using this strategy, too. In fact, 29% of businesses are already working on implementing hyper-personalization into their strategies: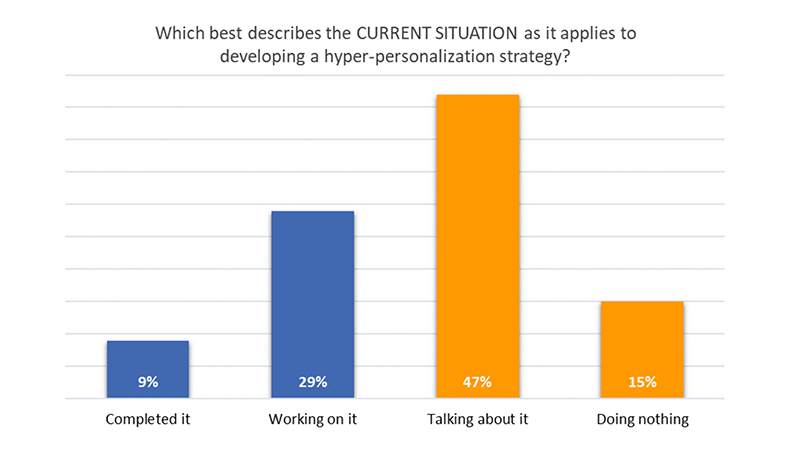 Here are the areas where hyper-personalization will make a difference for online businesses this year:
Personalized email marketing: Personalization in email marketing is a well-known technique, but this time AI can help with including dynamic content based on the recipient's location and preferences, real-time pricing, and choosing products based on the user's browsing history.
Email marketing automation: Email automation techniques like cart abandonment and welcome emails are a great way to engage with your audience at the best time possible.
Individualized product offers: These are based on customer browsing history, customer support requests, and previous purchases.
Timing of marketing communication: AI-based tools take advantage of predictive analytics to define the best times to engage specific customers.
Improving content performance: By sharing personalized content based on customer preferences and interests, businesses can get more reads, views and conversions.
On top of these benefits, hyper-personalization is now a recognized method for simplifying the conversion channel. By making data collection more relevant for customers with hyper-personalization, many businesses have already been able to advance their lead generation efforts.
Involve.me is one of those businesses. This company has been consistently converting 10% of website visitors into leads thanks to the hyper-personalization of customer feedback collection tools. Here's what else Monika Bencatova, the Head of Growth, had to share with me about their experience:
"We used customer insights to create surveys and other interactive content elements on our website for lead generation and early segmentation. As a result, we've been able to convert more visitors without having them go through product pages. Here's how the lead capture elements have been performing so far."

In addition, Bencatova, says:
"We found that hyper-personalized surveys had more value to visitors and helped to simplify the conversion channel. This goes to show that hyper-personalization isn't just about creating offers, but also smart customer data collection for long-term success."
And they are not the only ones.
Hyper-personalization becomes common practice during users' on-boarding as well. To get a better idea on how to do it effectively, a representative from Landingi described to me how they approach the design of this process:
"Landingi's user on-boarding process is different for each user persona. We divided our customers into three groups: business owners, marketers and marketing agencies. To each of these groups we send a different welcome message email:

We also designed various user onboarding flow activities, for example, we are trying to call each of the agency persona users shortly after signing up.
Furthermore, we have created a behavioural matrix covering each variant of the customer journey; for example, if the user, on a free trial, had entered the editor, built the landing page and saved it but not published he will receive an email like: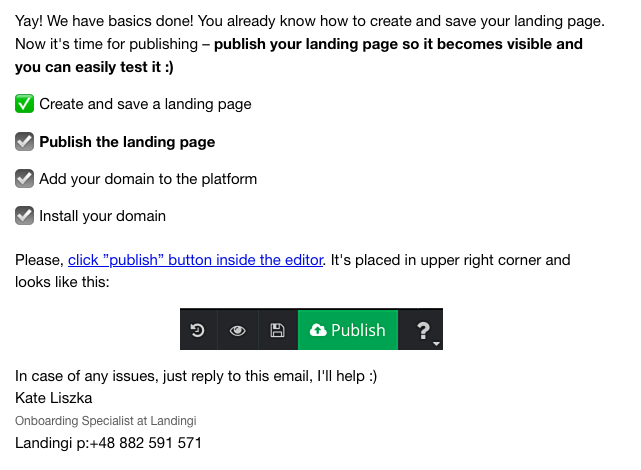 If the user did build and publish the landing page but didn't add a domain to the account he will receive an email explaining why adding a custom domain is so important: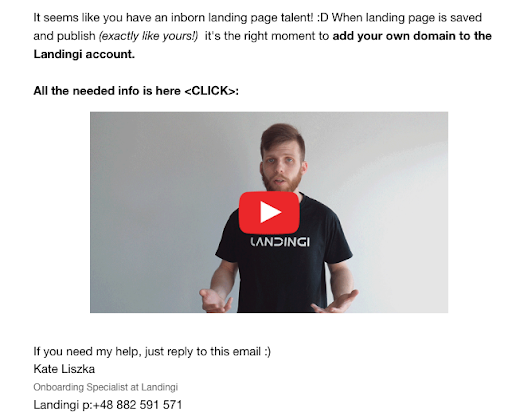 All the emails + follow ups (because we are checking if the user has moved forward in his user journey) are kept [in order] to have only one call to action driving users one step closer to the AHA moment which is publishing a landing page under their own domain with no IT department 🙂
The entire matrix is covering more than 20 scenarios to keep users highly engaged in a product." (End quote.)
That's quite impressive, isn't it? And the best part about this process? You only have to set it up once to enjoy the benefits for a long time. Your customers will feel taken care of and understood, and it puts you just a step away from gaining their loyalty for life!
Dive Deeper:
4) Omnichannel Marketing for Better Customer Experience
Simply defined, omnichannel marketing is a strategy that combines all customer communication interaction points – social media, emails, meetings, etc. – to provide people with a consistent and unified brand experience.
The concept has grown in prominence in recent years, and we should see a lot of progress this year with the abundance of newly developed AI tools that can process tons of customer data and reveal insights for businesses. Starbucks is one such company making tremendous progress.
Example: How Starbucks Is Using Omnichannel Marketing
Starbucks uses real-time recommendations and other personalized marketing messages based on a customer's transaction history to ensure a consistent brand experience.
Here's how they do it.
Imagine that you've pulled into your local Starbucks drive-through for some coffee and a bite to eat. You've added your favorite coffee to the order, but…hmm…you're not sure what else to buy….
Oh look, a pop-up message appears on the screen which invites you to take a look at a few nice food suggestions. You browse the options and there is the Turkey Pastrami Reuben sandwich you ate last week that you thought was great. "You had me at 'Turkey'!" you think, and add it to your current order.
So how does Starbucks know what you might want?
They use machine learning to analyze the customer's buying history and browsing recommendations – be it from a mobile app or website – and provide personalized suggestions.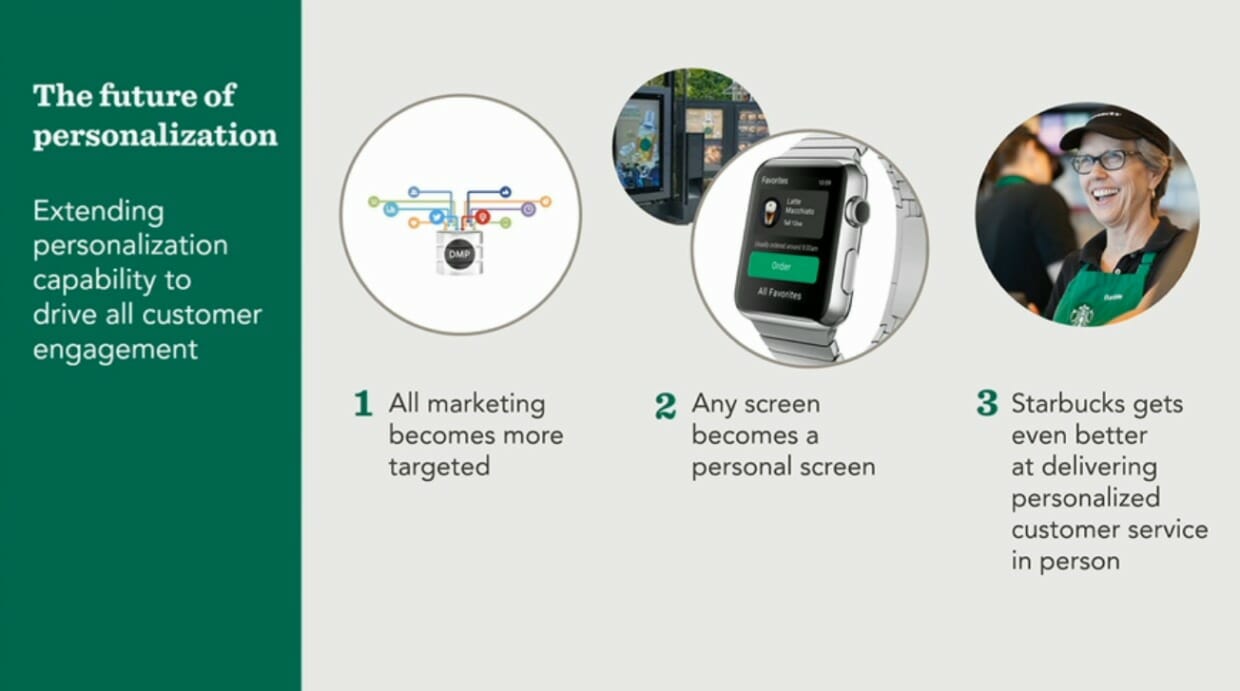 Gerri Martin-Flickinger, the company's CTO, says that machine learning-powered omnichannel marketing helps them to create barista schedules, store design, optimize inventory planning, engage customers, and do many other things:
"We're meeting our customers where they are — whether in-store, in their car or on the go through the app — using machine learning and artificial intelligence to understand and anticipate their personal preferences."
By doing so, Starbucks is succeeding in delivering the right message at the right time. That's what omnichannel marketing is all about, and you can't put a price on that.
However, although omnichannel marketing is a powerful strategy, it's no easy feat. For this reason, it's important to plan ahead and make sure you have the right resources in place before implementation.
Dive Deeper: Omnichannel Marketing: Using the Content Sprout Method to Overcome Info Overload
5) Customer Experience-Driven Service
Customer experience-driven service means focusing on brand values, consistent customer experience, and marketing messaging when providing customer service. CX-driven service goes beyond typical brand values like honesty and ethics, because, well, every business should be based on that. We're trying to find the values that make your brand, and therefore, customer support, stand out.
Here's a simple explanation:
Your brand values should be evident in your customer service practice. Every customer who spends time with your customer support should be able to say something like this after looking at the list of your brand values:
"Oh yeah, they practice this. They didn't just put it there because it sounds good."
Since customer service is a part of the larger customer experience, using the same brand principles and values to resolve support issues and answering questions is critical to shaping consistent brand perception.
Customer experience has already become a critical factor for making buying decisions, but this year, CX is projected to overtake price and product as the main competitive differentiator.
In other words, people will be more willing to do business with you if you provide customer service that's consistent with your brand values and ensures an overall positive experience.
Customer Experience-Driven Service: Best Practices
Focus on providing customer service experiences that drive loyalty to the company rather than products. For example, a business can simplify the search for critical information by deploying a quick-to-access and an in-one-place solution like chatbots.
Not limiting customer experience investment to the service department. If customer experience is a priority for the support team only, then there is a risk of becoming overly focused on profits rather than brand values. On the other hand, if the entire company realizes the importance of providing a branded customer experience, you'll be more likely to understand customer needs, and therefore create more consistent customer experiences.
As Head of Customer Service at CandyBar, Jaime Ricasata, told me:
"In 2023, customer support teams are no longer considered simply a 'cost of doing business', but a key component in the company's brand development. Customer service teams are in the front lines of customer communications, which means that they're experts in identifying customer's needs.
Product, Design and Marketing teams must work alongside Customer Success, heavily relying on their input to evaluate the customer lifecycle and develop strategies that will help customers achieve their goals."
Focus on customer success. This approach is now a huge addition to traditional customer support practices and values, and resembles the philosophy of the most successful customer-focused companies. To be able to understand what your customers truly want and need, you have to ask them the right questions.
Here's that Nikola Baldikov from Brosix shared with me about their successful approach to improving customer experience:
"Last year we undertook an effort to improve our customer experience (CX)…. In terms of better understanding our customers, we conducted research that helped us define some similar characteristics, specifically which business sectors they're coming from predominantly.
We found 4 such sectors which made up the vast majority of our customers. Based on this information we began to gather feedback from customers related to our product, and how it specifically helped businesses in their sector. With this information we were able to tailor and differentiate our customer service approach towards customers in these sectors.
One concrete step we took was to bring on talent with experience in each of these sectors who better understood businesses' needs…. By creating a customized approach to each of these business types we've received highly positive feedback, especially when compared to our previous one size fits all approach."
Leverage customer self-service. This is a customer support strategy that doesn't require any interactions with company representatives. With 60% of U.S. online shoppers now preferring a self-service app or website instead of contacting a human support agent, providing options like live chat, FAQ pages, and chatbots is a must.
Retail giant Best Buy's website FAQ is an excellent example of self-service options. For instance, the company has divided common account support topics into categories – Membership, Points, Reward Certificates, etc. – to make it easier for customers to find an answer.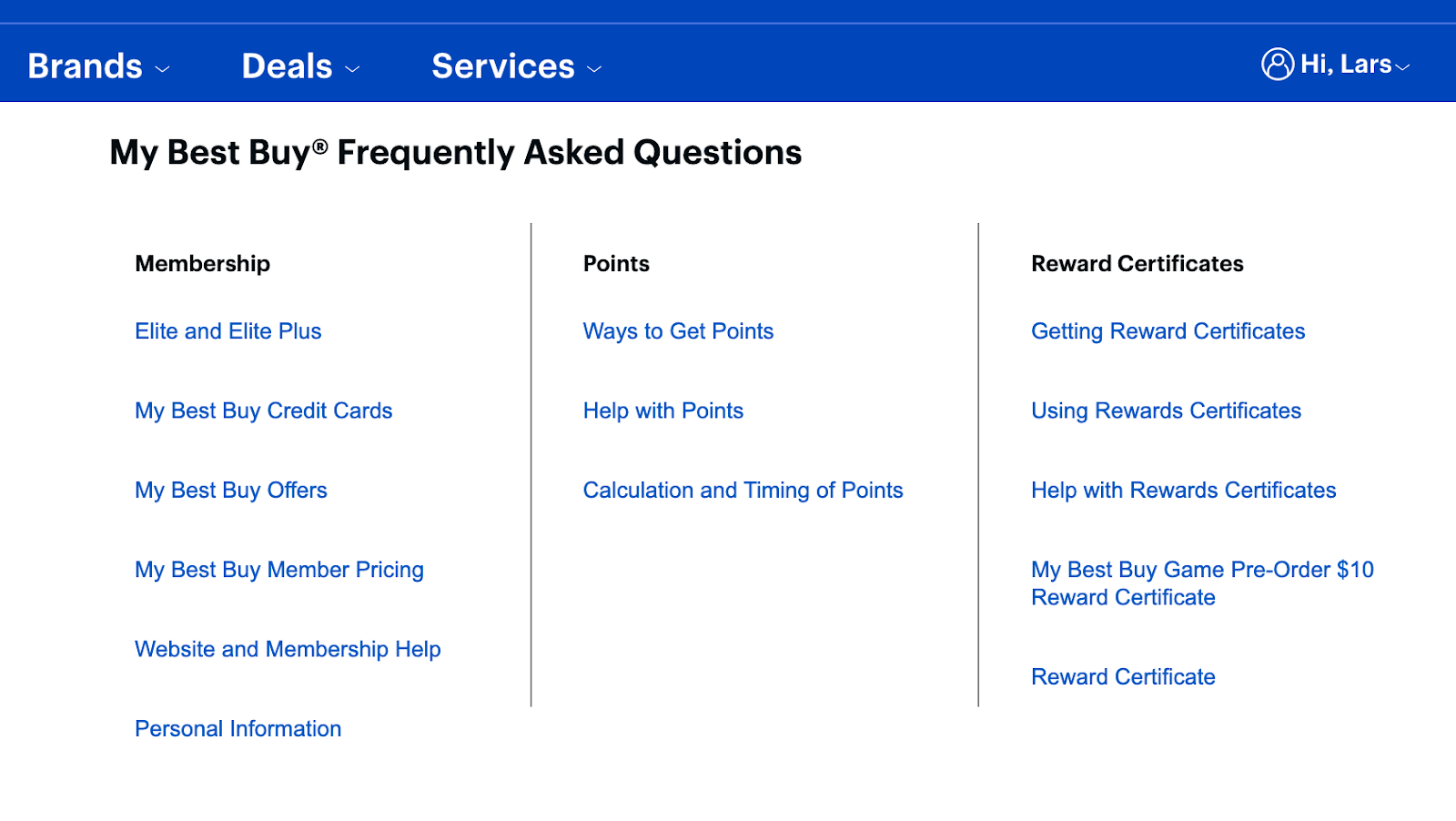 There's even a bunch of other helpful self-service resources, too, including store finder, password recovery tool, payment guide, and even holiday FAQs to provide answers for the most common requests around the holiday season (store opening hours, etc.).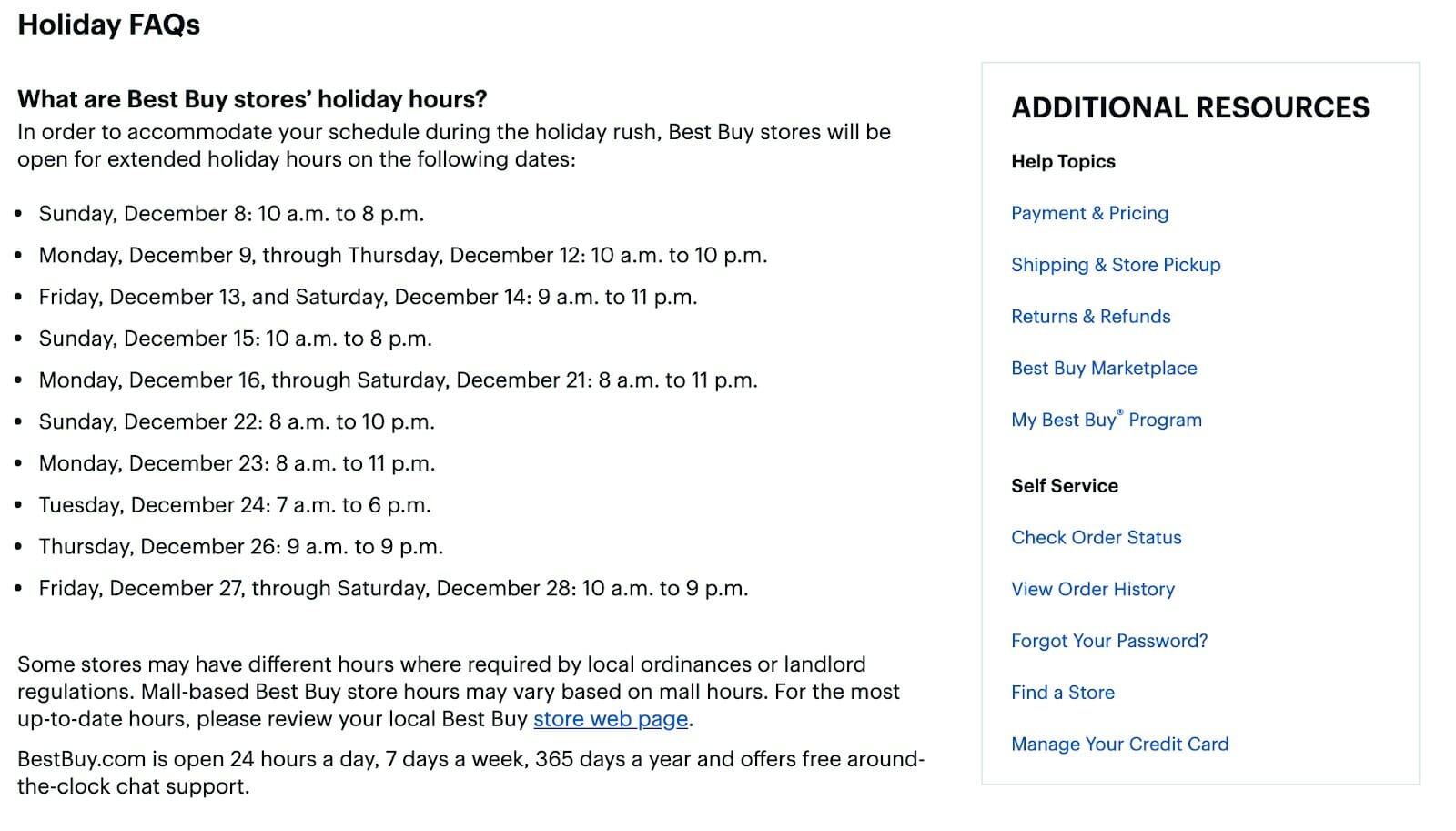 Being in possession of such a comprehensive collection of self-service resources can definitely help with reducing costs for customer support and allow customers to choose the channels that they prefer to get information.
And let's not forget about the most important aspect of providing a CX-driven experience: listening.
Having a deep understanding of what your customers need and expect is crucial in deciding how to design the process of delivering them exactly that, and more. Here's what Albacross told me about mastering this approach:
"As our customer base expanded, we at Albacross wanted to have deeper conversations with our customers to get a better understanding of their needs and eventually create a better experience for them. At the same time, we wanted to boost our presence on software review sites by asking promoters for support.
So, we started by importing our NPS survey results from Wootric into Intercom which allowed us to set up automated and personalized messages for users based on the score they gave.
To put it briefly, this approach resulted in a 2x Net Promoter Score and over 100 reviews on Capterra, with an average rating of 4.5 out of 5."
Pretty good, huh?
But if you really want to step your CX up a notch, nothing beats having a business phone line. It's still the preferred method of communication for a majority of customers.
6) Artificial Intelligence for Scaling Customer Service
The expansion of AI in customer service will continue this year.
According to Forrester Research, AI will take over repetitive support tasks and communicate with customers autonomously, allowing human operators to focus on interactions that require personalization and empathy. This, in turn, reduces costs for running a business, which makes the technology more attractive for businesses of all sizes.
And not only that, but AI technology is proving to be a great tool for decreasing your churn rates and, simultaneously, increasing your customers' loyalty: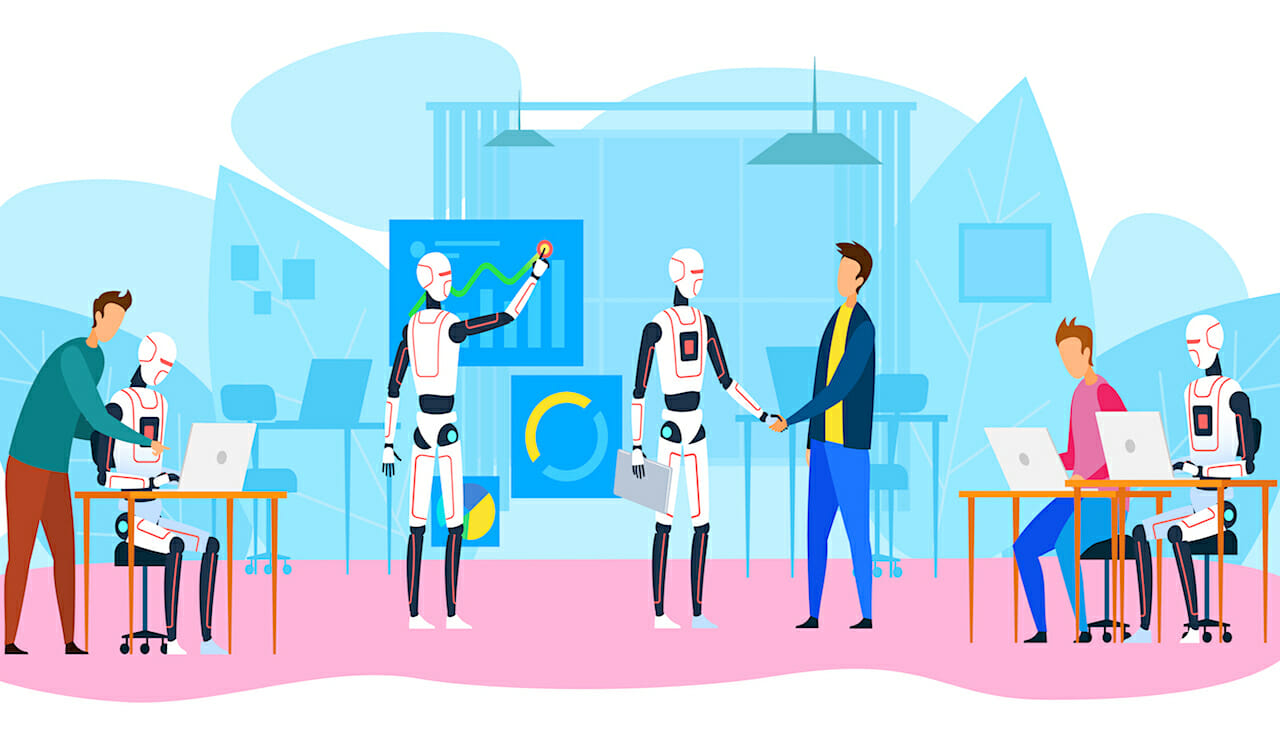 That makes sense. Machines do not have bad days, don't complain, are always focused on the task at hand, and don't even think of ignoring your customers when not in the mood. What could possibly be a better definition of a dream customer service representative?
Chatbots are the best example of AI-powered customer service software. This year, they'll become more driven by machine learning, which will make them capable of handling ever more complex customer interactions.
They'll become more effective at automating tasks, scaling customer service, and getting customer feedback. The most common customer support queries will now be taken by chatbots, which can also collect the feedback needed to connect a customer to an appropriate customer support agent.
As a result, AI-enabled tools like chatbots can help businesses scale their support team and increase their efficiency.
Dive Deeper:
Final Thoughts
So here you go, the top six customer service trends that will make a difference.
With customer experience now being the most important competitive differentiator, businesses need to follow these trends to ensure that their service departments are stellar.
One thing is certain: you must ensure the best possible customer service, knowing your customers and meeting them where they are will be tremendously important.