Eric Siu • Jun 6, 2017
5 Great Ways to Ideate for Your Blog Posts
•
Constantly coming up with new content ideas is hard, so here five great ways to ideate for your blog posts. 
1. Check Out Other Sites
When I first started blogging, I would just Google a ton of keywords and phrases and go on sites like Dig.com or Reddit to see what was popular and made the homepage. Nowadays, you can use tools like BuzzSumo or Feedly (see image below) to do this.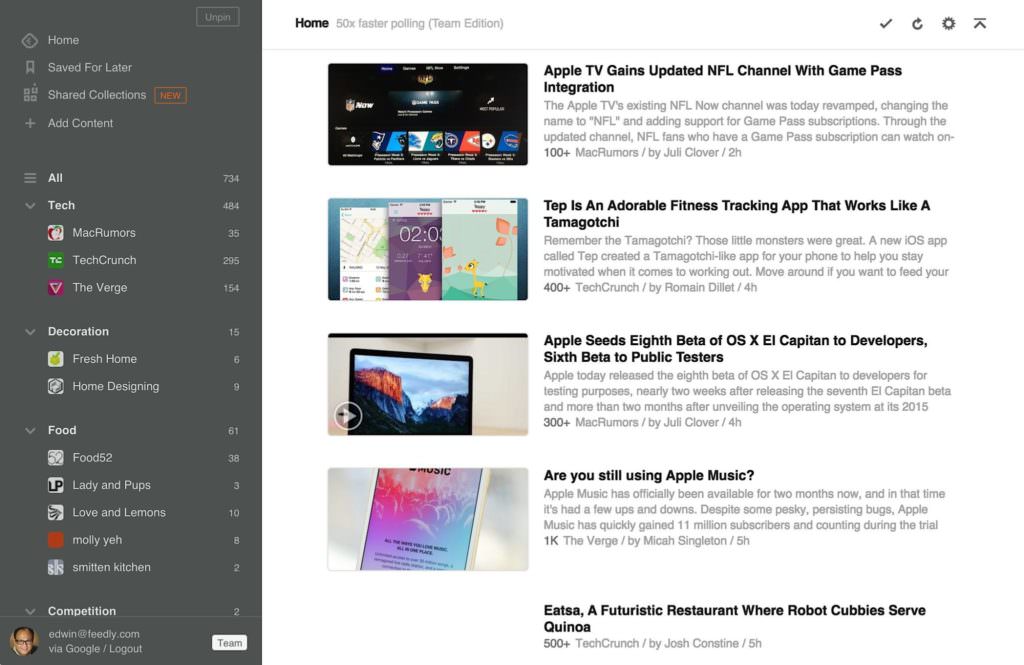 Related Content: How to Produce High-Quality Content Consistently and Not Waste Your Money
Just put in keywords related to your space, see what's hot, and then use Brian Dean's skyscraper technique to one-up those articles and write something that's much better. For example, if someone wrote an article on 21 SEO tools that you have to use, I would write one called "101 SEO Tools That You Have to Use" and make it way more detailed and thorough.
A tool that may help you if you're using Reddit is called TrackReddit. It's a free tool that allows you to track certain keywords that are popping up on Reddit in real time, daily or weekly. This way you can stay up to date on relevant topics.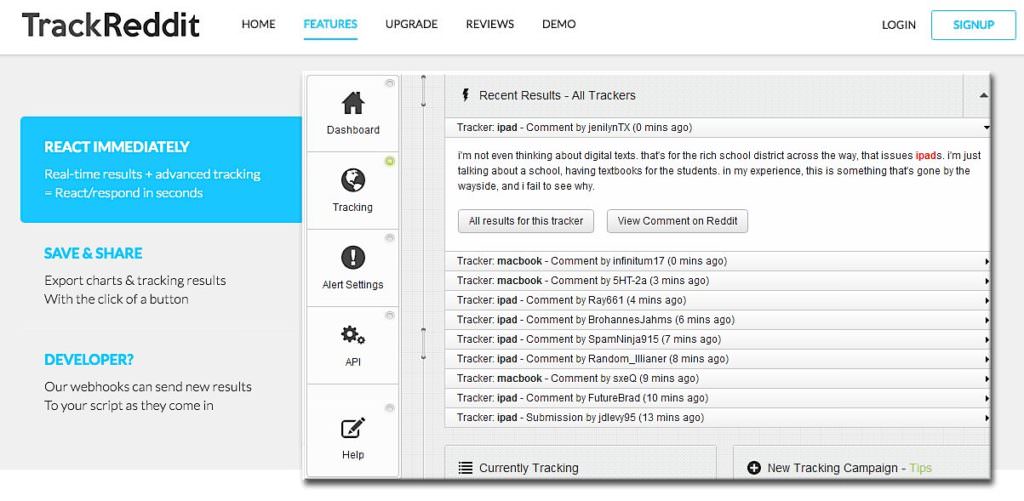 If you're a new blogger with a very small or nonexistent audience, that's the best place for you to start when you're doing research. Take what you already know is working and one-up it by creating something that's a lot better.
Even if you don't have a lot of social media fans, if your content is good enough people will start sharing and commenting and it will go viral. Start building that relationship with people.
2. Expand Upon Your Subheaders
Another method you can utilize when you're first starting out is to expand upon what you've already written.
Let's say you write one blog post. For example, I have a post called "Content Expansion: How to Maximize Your Content" on how to promote your posts, which took me a couple of weeks to research and write. The 4,000–5,000 word article has loads of information and a lot of subheaders, such as where to push your content, getting on bigger publications, figuring out what your unique angle is, how to find publication editors, and promotion tools.
Each of these subheaders could actually splinter off and become their own separate articles.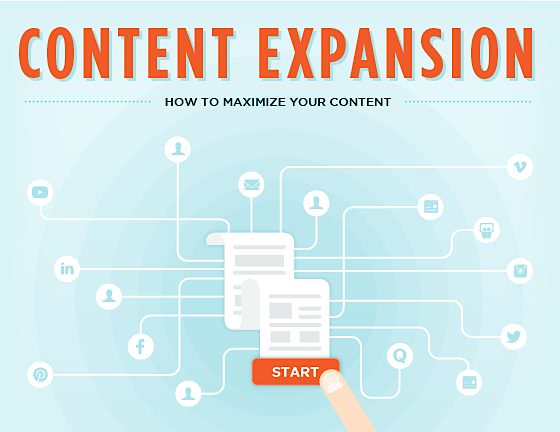 Related Content: Why Content Marketing Should Always Be 20% Creation and 80% Promotion
3. Crowdsource Ideas
If you have a couple people helping on your team, including freelancers, get together once a week and discuss ideas. The goal is to have everyone come to the meeting with five new ideas to put into a spreadsheet. That way, you can crowdsource concepts rather than having the burden fall on one person.
I have a calendar invite for myself every Sunday to come up with new topic ideas, which I can then bring to the content meeting on Monday. If other people on your team are not also taking the time to do this, you should have a conversation with them on why this is important.
Ultimately, you are doing this because you're trying to grow the company. You're trying to put good content out there so other people can read it, so you can help other people. And that should be everyone's goal– it's good to sometimes remind people why this idea session is key.
4. Listen to Other People
You can also get a lot of great feedback and ideas from your listeners or your audience, if you have one. Whether you have a team or are working solo, you should take advantage of this great resource.
We've used several audience-suggested ideas for our Marketing School and Growth Everywhere podcasts in the past. Just the other day, a gentleman named Scott emailed us a lot of topics for the podcast, and a ton of them were so good that we're using them. We're talking 20+ ideas. I love Scott! 
5. Look Around (Onscreen and Off)
Also take inspiration from your experiences and daily life. I pay attention to what people email me about, what sorts of problems people are facing that I hear about at conferences or networking events I attend.
I look at my favorite YouTube channels and my favorite podcasts. What have they been talking about recently? Take a look at your own analytics. What have people been engaging with in the past that you can build other ideas off of?
Related Content: 3 Advanced Ways to Write Content that Converts
A Free Content Planner for Your Time
A couple years ago, Neil took on the challenge of creating a new blog post that would generate $100,000 a month in income within 12 months. He went with a theme called "Nutrition Secrets" and hit the goal!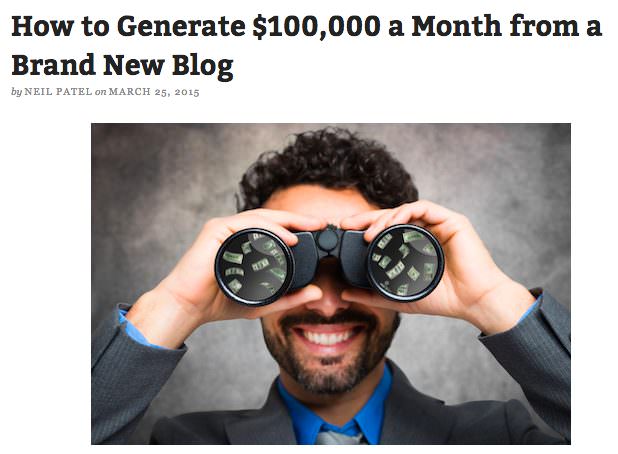 One of the ways Neil generated content topics and did research for this space was by using this Excel spreadsheet that he got from his friend, Aaron Agius from Louder Online, who gave it away for free. The spreadsheet pulls from a ton of different sources, such as Reddit and Quora. You put in the keywords and it will give you topic ideas that usually do really well.
Think about it—Neil is a marketer. What does he know about nutrition? Very little to nothing. So he had to figure out how to come up with topic ideas and he didn't have an audience base that he could just ask, "So guys, what should I write about nutrition?" The template was a life-saver.
And there you have it. Don't make it hard on yourself because there are so many great resources out there. I hope this post has been helpful. Now get writing!
This post was adapted from Marketing School, a 10-minute daily podcast in which Neil Patel and Eric Siu teach you real-life marketing strategies and tactics from their own experience to help you find success in any marketing capacity. Listen to the podcast version of this post below: