4 Bullet-Proof Ways to Increase Customer Retention (and Increase Sales!)
In an article for Harvard Business Review, Amy Gallo explains that acquiring a new customer is at least five times costlier than retaining an existing one. Yet this (rather self-evident) fact is entirely neglected by nearly 44% of companies.
For most business owners, growth seems to be getting more sign-ups from new people, but the process that turns a subscriber into a customer is longer and costlier than it is to retain an existing customer. Your current customers have already gone through that lengthy process, bought a product or service from you, and are therefore already primed to make more purchases. It's not that different from relationships – it's easier to keep going out with the same person than it is to meet, get to know, and ask out a new person.
Successful businesses know the value of current customers and invest a lot in preserving them. They are using some customer retention techniques that have been working for them for years.
In this article, you're going to learn about four of the best ways to increase customer retention!
Free Bonus Download:
Get a list of 13 quick tricks to increase your conversion rates right now – actionable advice condensed into a PDF that will increase your conversion rates today!
Click here to download it for free right now!
1) Ensure an Overall Pleasant Customer Journey
As AdAge explains:
"We are loyal to the companies and retailers who show us they understand us through the products they offer and the customer experiences they create."
Most companies fall short of identifying the real pain points in their customers' journey. They might provide a satisfying experience at some touchpoints, but the overall customer experience is forgettable at best and downright unpleasant at worst.
Let's say that you own a company that receives a lot of phone calls and online messages from your customers who ask for guidance, and imagine that you are very responsive to their queries. You might wonder why, in spite of all your efforts to satisfy your customers, you still have a pretty high churn rate.
Although you're doing a good job answering all those customer queries, your customers' overall journey is still unpleasant: they need to frequently contact you for guidance on different issues from installation to maintenance to updating.
In order to provide a pleasant customer experience, some comprehensive research into your customers' buying journey is required. You'll need to:
Map out the exact journey that your customers go through (awareness, assurance, purchase, installation, usage, updating, etc.) and provide a frictionless and pleasant experience in all of them.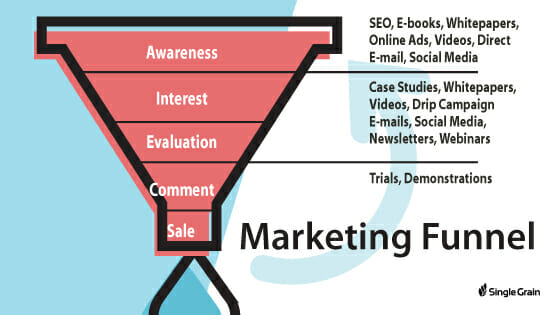 Communicate more frequently with your sales and technical representatives to figure out the recurrent pain points that your customers are dealing with.
Understand your buyer persona, or customers' demographic (age, gender, income, etc.), and psychographic features (interests, preferences, hobbies, fears, etc.). People's personality types make a huge difference in their decision making process.
Gather information on people's actual experience of using your products by analyzing their queries and complaints, using surveys, asking for reviews, etc.
Further Reading:
2) Predict Future Needs of Your Customers
A typical business only hears from 4% of its dissatisfied customers, so to deal with the 96% of your customers who are unhappy but not complaining, you'll need to go deeper than the surface.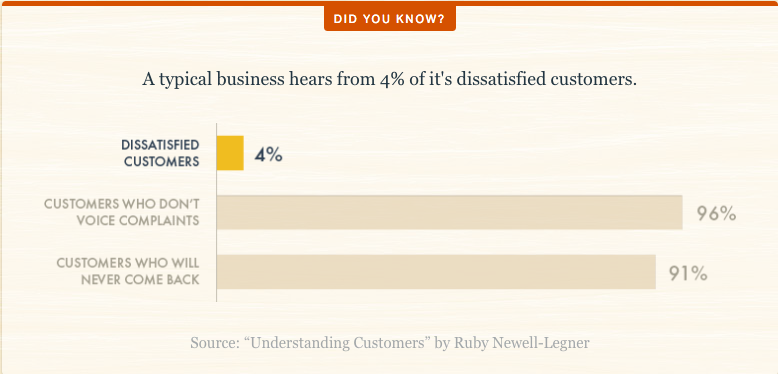 Forbes contributor Carmine Gallo makes a great point about this when he discusses the ability of "5-star brands" to earn their customers' loyalty by anticipating and acting on what they "don't say." He brings up the case of some big names, such as Apple and The Grand Del Mar, and how they have outpaced their competition by looking into the future needs of their customers.
For Apple, it is obvious enough that their Mac buyers have trouble migrating from PC and adapting to the new environment, so their sales and technical representatives are trained to recommend services and tools before customers even ask.
For Grand Del Mar hotel, their customers' comfort in any situation should be guaranteed even if they don't ask for it. For example, if the kids have discovered a new sand area near the beach, they probably need toys to have a great time. Or if their customers are in need of a special service due to an unexpected situation, the hotel servants are ready to offer it before being asked. Getting to know the customers, their personalities and behavior, and the nature of the activities and services offered by the hotel could help their employees predict the future needs of the guests.
Another way to get informed of your customers' unexpressed needs, pain points, and complaints is to do a good competitive analysis.
By analyzing the features and functionalities of your competitors (with a tool like SEMrush or Ahrefs) and seeing if people like them, you can gain insight into which new features or functionalities you should add to your products. Additionally, any complaints about a competitor's product or service that is posted on social media or any other public outlet (e.g. magazines, review sites) can inform you of the existence of a potential problem in your own business.
Competitor analysis is a great way to acquire new customers as well. For example, Closio could land a well-paying client simply by monitoring mentions of their competitor. Upon realizing that their competitor was acquired by SalesForce and no longer supported some countries, they stepped in and offered their platform: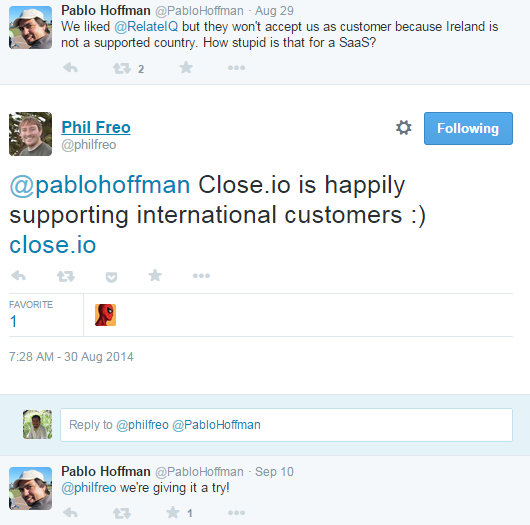 Tapping into the unexpressed concerns and needs of your customers sends a strong signal: "We care about the values that our customers get from our services or products!" And as Consulting explains, the real value that customers get is being transformed from their current self to a desired self, especially when they themselves have no idea how to do it.
Free Bonus Download:
Get a list of 13 quick tricks to increase your conversion rates right now – actionable advice condensed into a PDF that will increase your conversion rates today!
Click here to download it for free right now!
3) Provide a Personalized Experience
The standard example of a business that gets its customers to buy more by providing a personalized buying experience is Amazon. This company has a name for timely personalized product recommendations both on-site and through emails: it uses an AI engine that considers the customers' and their segment's browsing history to recommend the most relevant products.
The result of providing such a personalized buying experience was a whopping 29% increase in quarterly sales in 2012 compared to the same time over the previous year.
This level of personalization is never out of reach for your business. Whether you're a B2B or B2C company, automation platforms such as Pardot can help you personalize your customer's buying experience.
Good automation software can help you segment your (prospective) customers and show them relevant messages. This could include emailing timely offers based on the browsing history of your customers in combination with other factors such as time and relevance or, more interestingly, showing personalized on-page content to different customer segments.
This last possibility has always been a big dream for me. What if I knew what my customers were interested in so that I could show them the relevant content (articles, images, features, pop-ups, forms, CTAs, offers, coupons, etc.) when they visited my website? Dynamic content can provide a personalized buying experience for your customers.
Optimizely was able to personalize its homepage to show specific elements that suit a particular audience. For example, when employees from a travel agency enter the website, they see this homepage: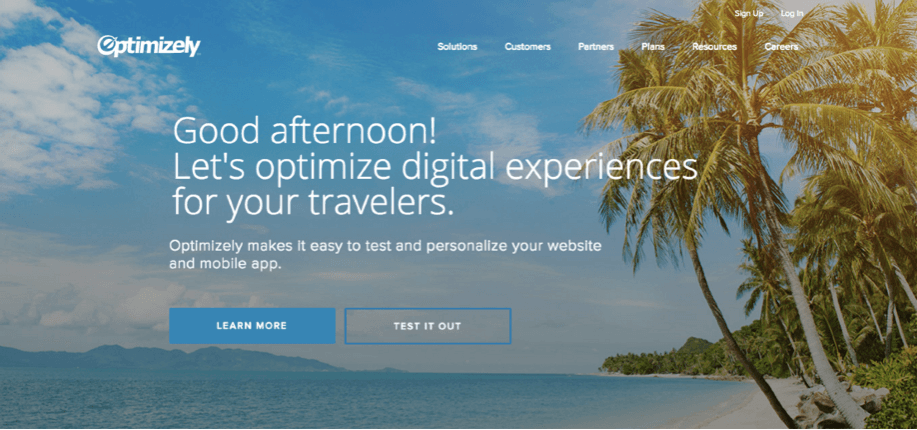 Visitors from Adidas, on the other hand, will see this homepage: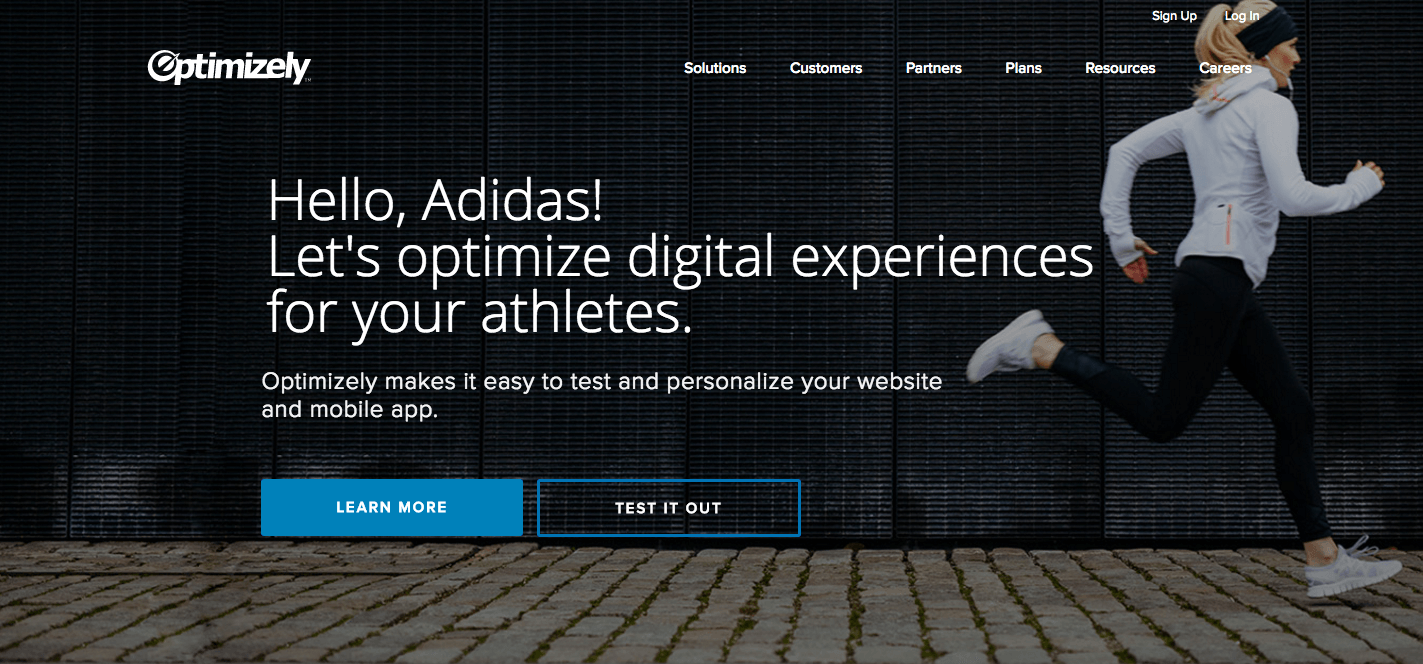 And personalization is not limited to the hero image, header or CTA; ALL the elements of a page can be personalized for specific audiences.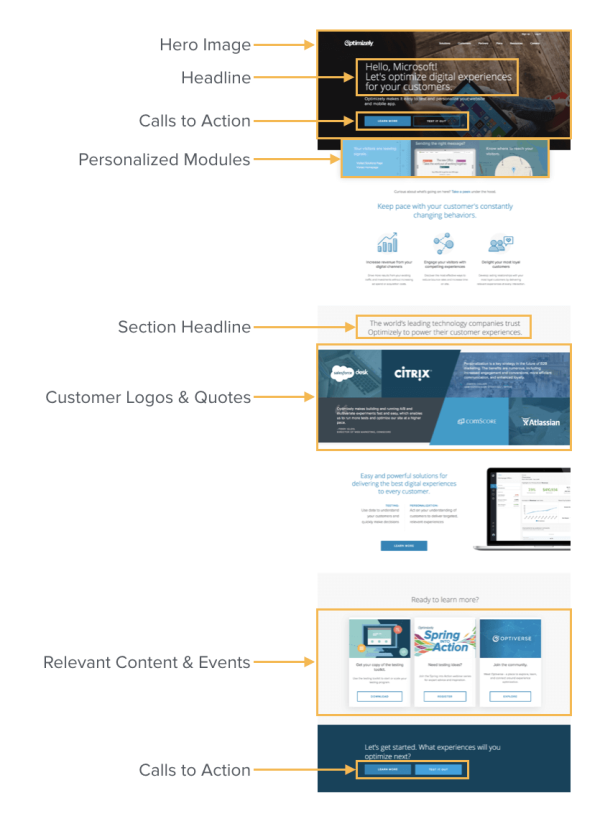 The concept of "dynamic content" on Pardot has quite the same function. Using this feature, you can easily show personalized forms, landing pages, emails, and homepages to your prospects. You can define your prospects based on the criteria they have chosen when submitting their contact information.
Further Reading:
4) Make Sure You're Offering Something of Value
Obviously, when focusing on customer retention, you need to cast a special look at the quality of your conversions rather than their quantity.
In one of his Whiteboard Friday videos, Rand Fishkin explains that building long-term relationships with customers goes beyond converting as many visitors as possible: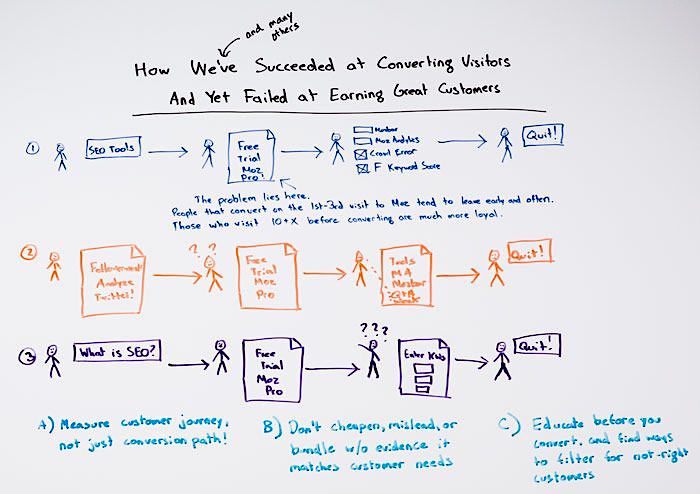 In Fishkin's opinion:
"Succeeding at converting visitors into customers is not the end goal for the vast, vast majority of companies, unless you have a product that you know you're only ever going to sell once, and that will be the only brand interaction that you hope to have with that human being ever or that organization ever in your lives. Well, usually that's not the case."
And what better proof for this claim than Moz's own CRO data. According to Rand:
"Moz customers that convert on the first, or second, or third visit to our website tend to leave early and often. They tend to be not longstanding, loyal customers who have low churn rates and those kinds of things. They tend to have a very high churn and low retention."  
Now, back to you conversion optimization lovers! You must make sure that you've done your job in determining when to convert your visitors. Is "early" timely for you or do you need to prolong the brand interactions between you and your customers?
In the second case, early converters are more likely to cancel their purchase or stop doing business with your brand. You need to avoid this scenario because first of all, the person who quits has a bad experience with you and might spread the word about it, and secondly, you have undergone some charges to nurture this customer with no, or a very low, ROI.
So in order to deal with this problem, you need to make sure that your converters are well-informed and interested in your product. Do they understand the value you're offering? Are they convinced that your product is a perfect fit for them?
One way to make sure of this is to increase the number of times your new visitors return to your website, or the amount of time they spend on your website before they convert. As for Moz, people normally visit their website 8 times before they sign up for the free trial. And Rand states clearly that for them there is a strong correlation between the the time spent on the website and customer loyalty.
An article on Kissmetrics also builds on Rand's idea that you should offer a couple of solutions. For instance, he argues that you need to map your CTAs on your website according to the sales funnel stages. So instead of showing your free trial or buy now CTAs to your new visitors, you need to nurture them first by showing learn more or additional info CTAs.
And, finally, keep in mind that, as GoodFirms explains in its web design research, low conversion rates are a strong signal of a poorly designed website: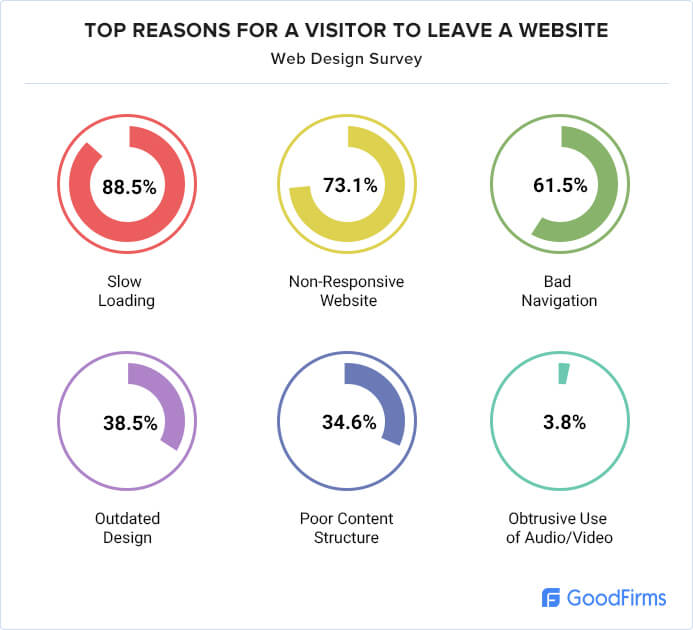 Check out their detailed analysis of the latest web design trends that can improve conversions and try them out with A/B tests. Implementing some of the most common web design trends can help reduce your website's conversions: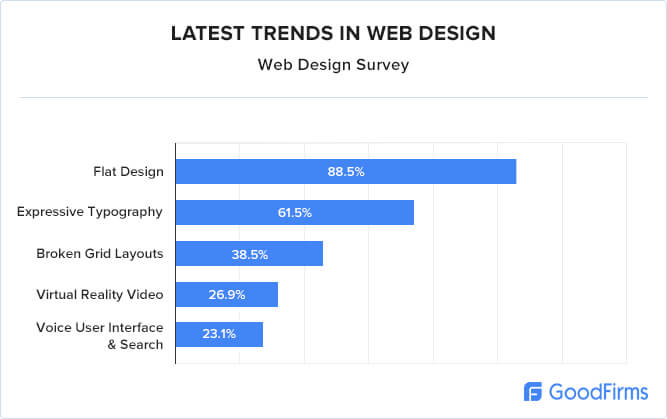 Free Bonus Download:
Get a list of 13 quick tricks to increase your conversion rates right now – actionable advice condensed into a PDF that will increase your conversion rates today!
Click here to download it for free right now!
In Summary
Business growth does not necessary mean acquiring new customers. Turning new people into customers is a costly and time-consuming process. Increasing sales to your current customers, on the other hand, is at least 5 times cheaper than acquiring new customers.
Use the tips in this article to turn your one-time customers into loyal ones and decrease your business's churn rate.
Further Reading: