Customer experience is a top priority for businesses in 2019 and beyond. A survey conducted by the Temkin Group suggests that companies with an annual revenue of $1 billion can expect to increase it by up to $775 million within three years simply by investing in customer service.
Additionally, a Walker study predicts that by 2020 the importance of customer experience will increase as price and product decrease for most businesses: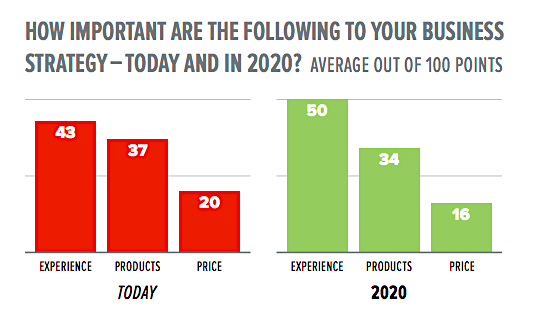 What this means is that most customers (86%) are willing to spend more money on products or services that offer a better customer experience: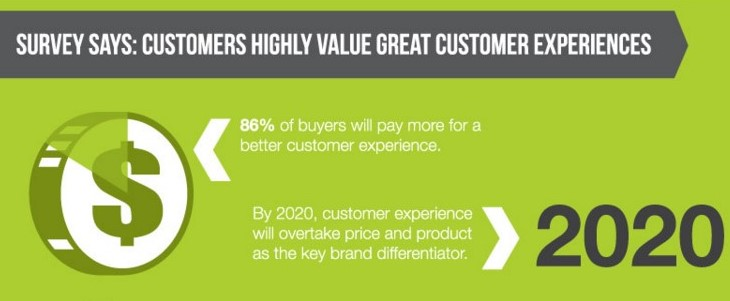 What Exactly Is Customer Experience?
Customer experience, simply put, is the sum of all interactions, either direct or indirect, that people have with your company, both online and offline.
Direct interaction happens when the prospect visits your store or calls your business representatives. Indirect interaction happens when the prospects read an article about your business in a newspaper or on social media.
Learn More:
Are You Using the Right Tools to Improve Customer Experience?
As per a survey conducted by Bain and Company, it was shown that Asia-Pacific companies have the highest tool adoption rate with over 28% of brands having used at least one tool in the last five years.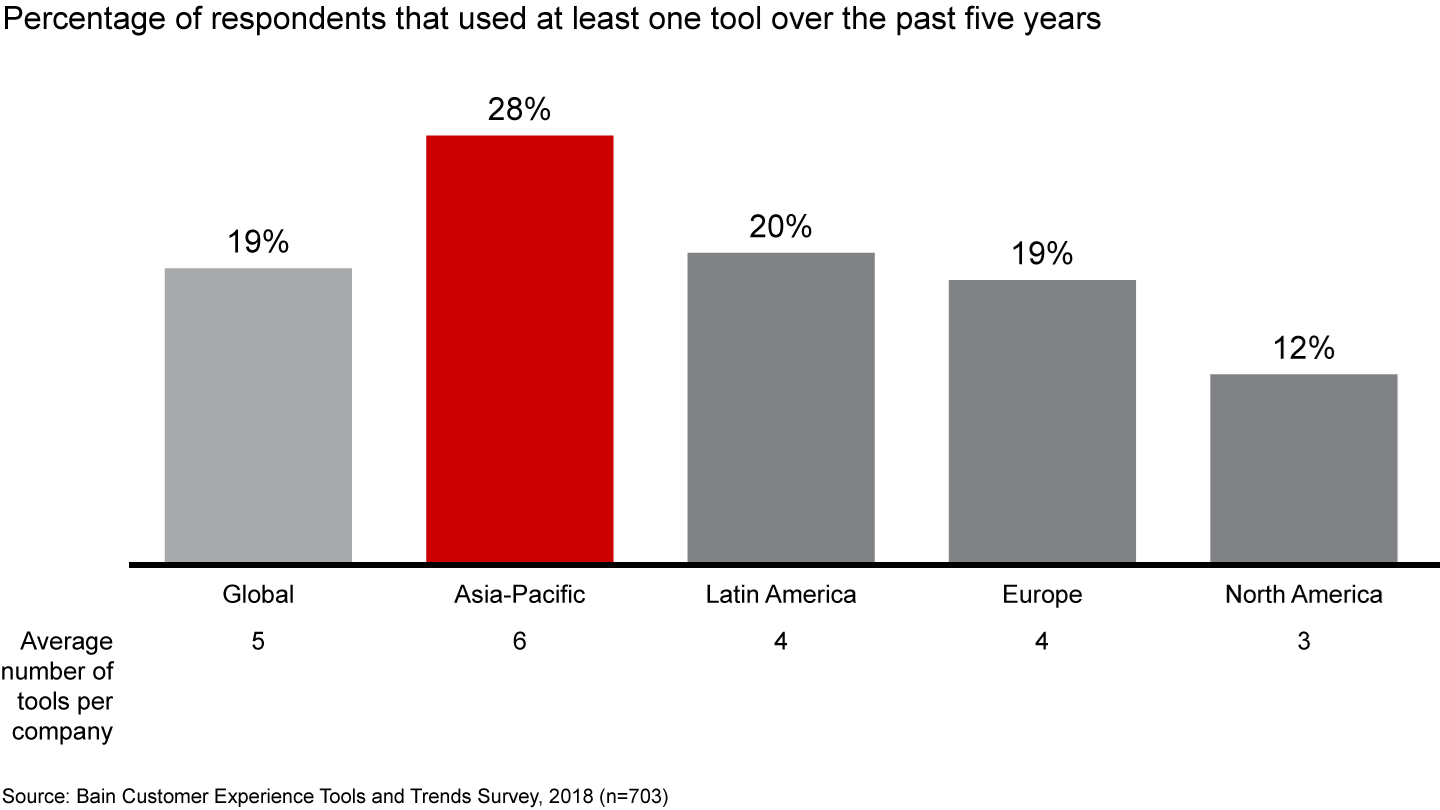 The survey also revealed that companies who use the maximum number of tools have experienced the highest satisfaction with financial results as compared to companies who used fewer tools with declining revenue: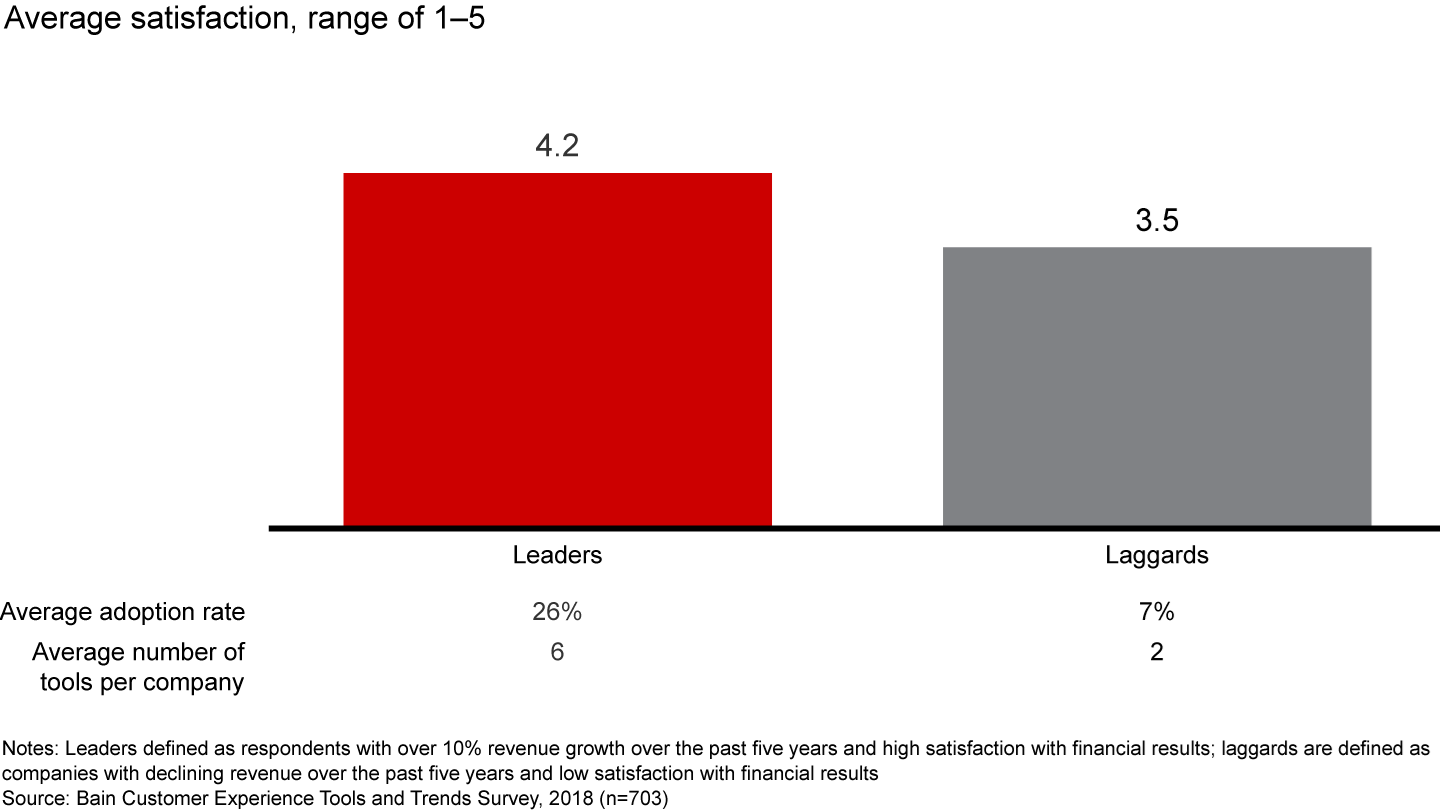 These surveys suggest that not only do you need to start using customer experience tools, but you need to use as many as possible in order to improve your existing customer experience by up to 10x. This will give your business a competitive advantage that will be hard to match.
So, which tools should you use?
Learn More:
Top 8 Tools to Improve Customer Experience
The best customer experience happens when you are able to present your business in the perfect manner to your audience and are always ready to assist the user when they are in need.
Here is a list of the top tools to enhance the customer experience for your brand in 2019 and beyond.
Hotjar lets you visualize the customer's behavior with the help of a heatmap (or heat map) which is "a graphical representation of data that showsthe most popular (hot) and unpopular (cold) elements of a webpage."
Heatmaps allow you to understand what users want and what they care about the most. This helps you make appropriate and specific changes to your website that match the behavior of your target audience, thereby improving the overall user experience.
Top Features of Hotjar
Hotjar lets you visually understand user behavior with the help of heat maps, which come in various forms like click heatmaps, scroll heatmaps, download and share heatmaps, move heatmaps and heatmaps split by device type: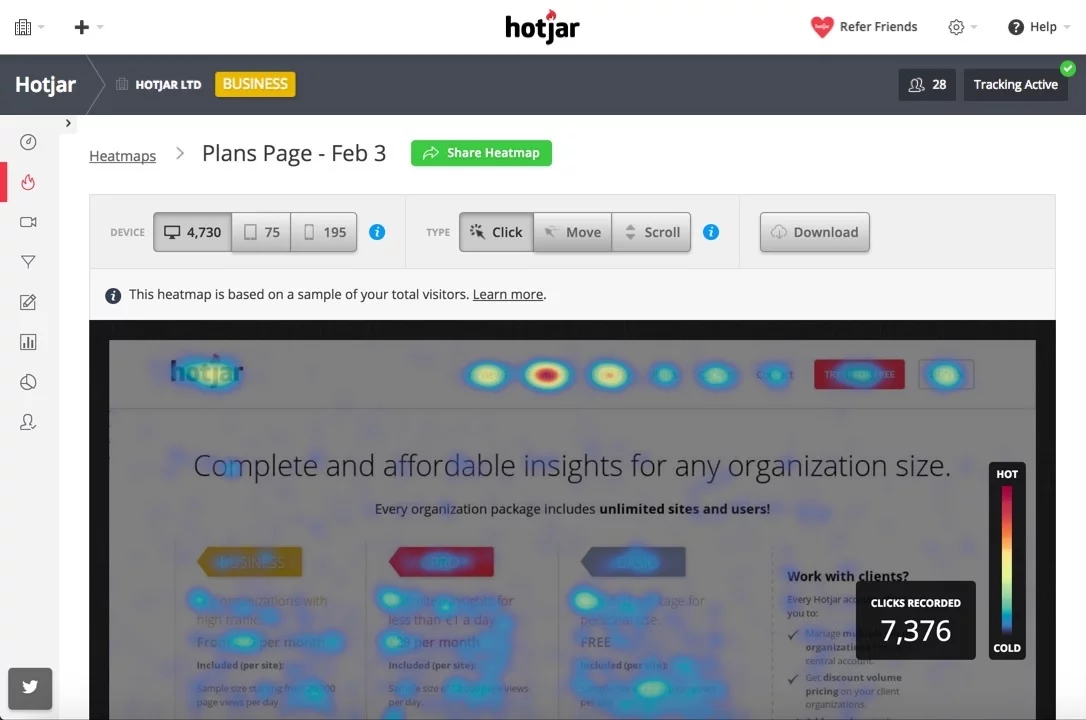 With the help of the "Visitor Recordings" feature, you can see recordings of real visitor behavior on your site and identify which CTA they are clicking on and what information they are reading: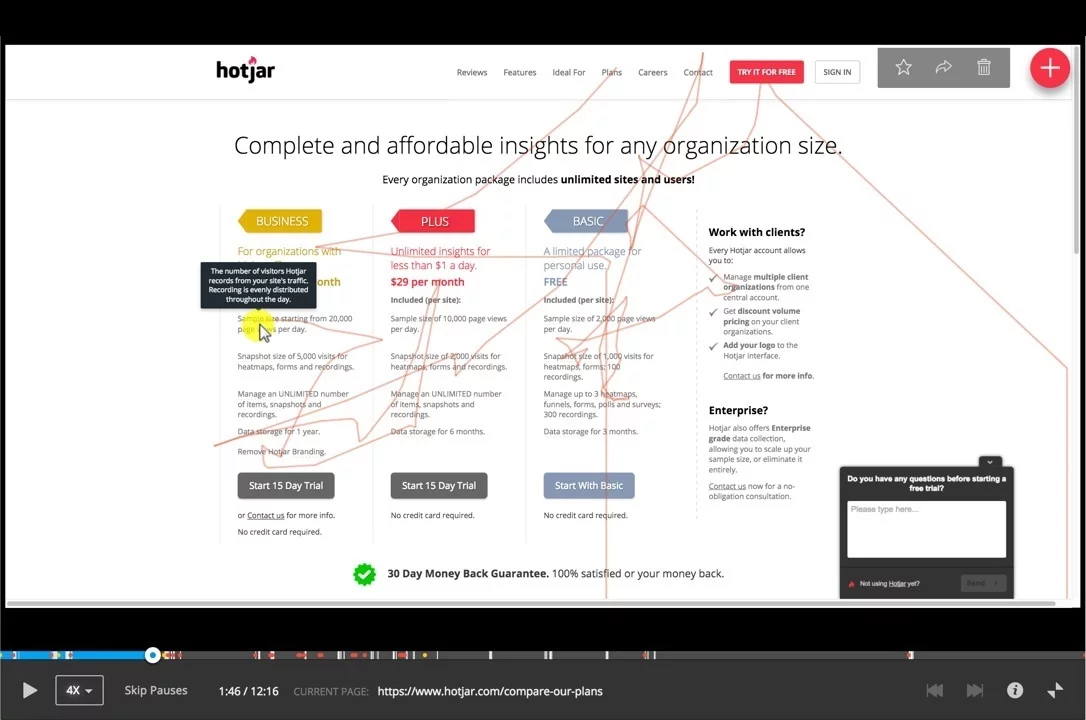 You'll know that you aren't offering the best customer experience when visitors bounce from your website. With the help of the "Conversion Funnels" feature, you are able to identify on which page or which step most visitors are leaving your site and make changes accordingly.
Using the "Form Analysis" feature, you'll discover which fields take too long to fill out and thus why users are abandoning the form.
Feedback polls allow you to understand the reason behind the behavior of the user.
Why This Tool Is Useful
The tool covers each and every aspect of user behavior on your website and gives you ample opportunities to optimize your site. You can definitely improve the customer experience if you promptly take action on the results provided by Hotjar.
Price
The basic plan is free to start and you can track 2,000 pages of data per day. The plus plan starts from $29 a month and you have the power to track 10,000 pages per day.
The best way to improve customer experience is to simply to ask your customers what new features they would like or how you can improve your product or service for them.
This is where UserVoice can really help. It lets you capture user feedback in the best possible manner: Users can leave feedback without the need to create profiles. The easier you make it for people to leave feedback, the more you will receive and the better the experience your business can provide for your customers.
Top Features of UserVoice
You can add a feedback portal on your website where customers can share their thoughts and experience in order to improve the product or service. The auto-suggest matches any existing feedback and cuts down on duplicates.
With the help of the feedback tab, you can allow your customers to make suggestions right from the app. You can easily configure the widget by adding a few lines of code.
Any special requests that your support team receives from your customers can easily be passed on to other team members anytime and anywhere. This is made possible with the help of the browser bookmarklet. Feedback can be captured from any app like Gmail or any CRM: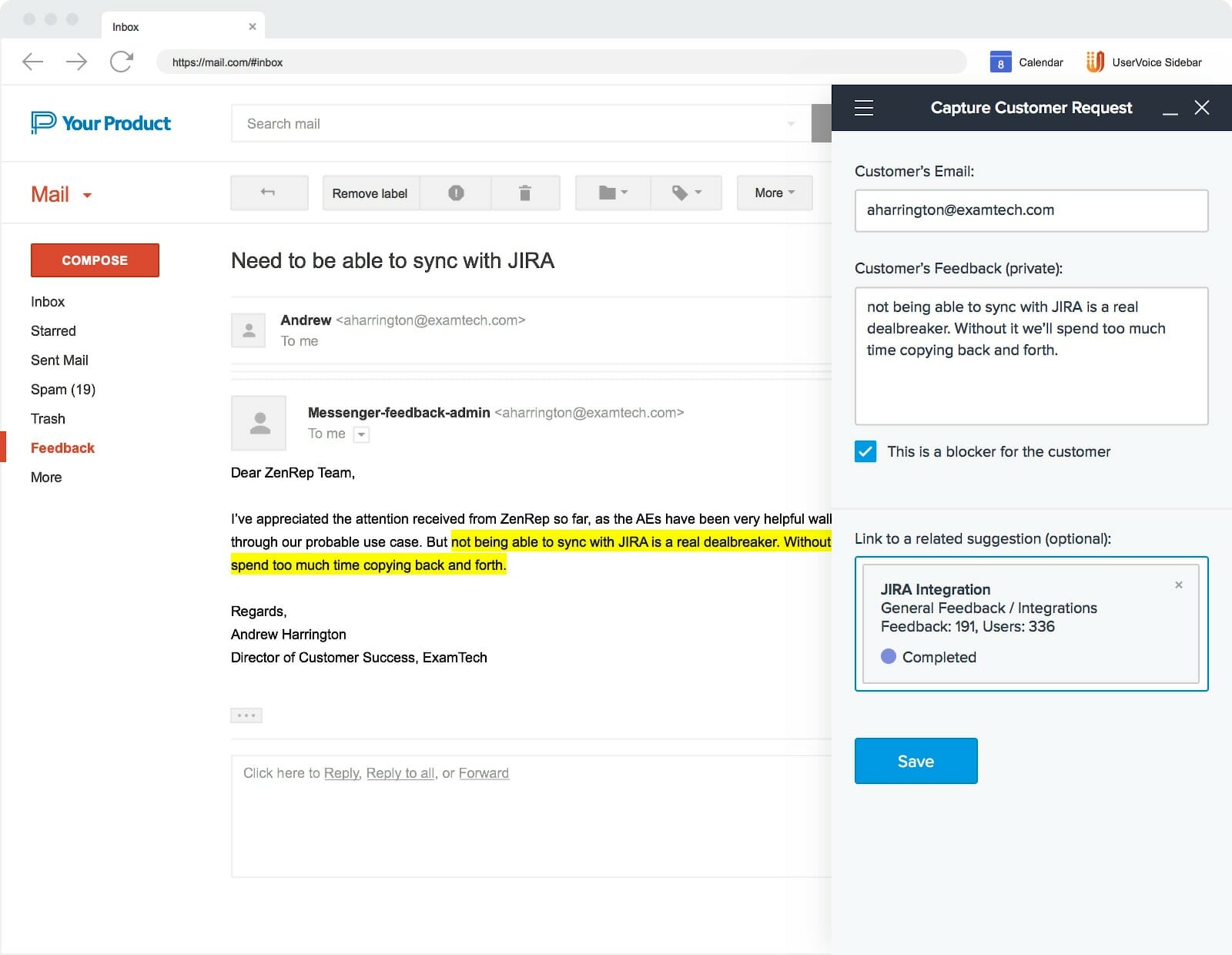 Users are able to vote for your product or service via Net Promoter Score (NPS).
The "SmartVote" feature lets you work on a specific segment as shortlisted by you. You can gather user feedback for that specific segment and improve the product experience.
Why This Tool Is Useful
Capturing user feedback is vital for business innovation and UserVoice lets you obtain customer feedback in an easier and actionable manner. You can listen to your customers, focus on product innovation and put your efforts on features that matters the most.
Price
The pricing packages for UserVoice starts from $499 per month because the software aims to provide improvement at scale.
Your website link represents one of the first interactions that people have with your business. Have you ever thought of branding your links? Well, if you haven't, then the time is ripe to do so because people love interacting with brands that have custom URLs representing their business.
Rebrandly is a link management platform that lets you brand, track and share short URLs with a custom domain name.
Top Features of Rebrandly
You can increase brand visibility and trust factor by putting the name of your business on every link you share.
You can collect and manage several domain names representing your brand using a single dashboard: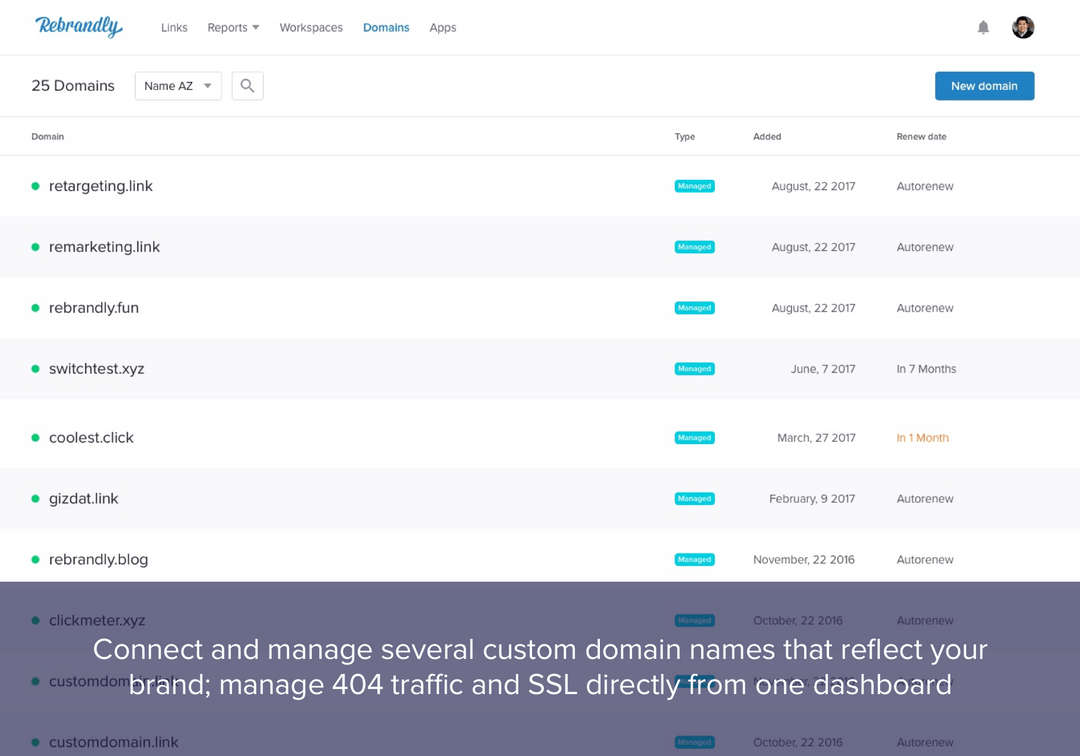 Powerful analytics let you schedule and send custom reports based on the traffic received on branded links.
You can even fire retargeting pixels directly from your branded links and add new users to your retargeting lists.
Why This Tool Is Useful
You definitely need to "brandify" your links if you want people to remember you. If you are using a URL-shortening service like bit.ly or goo.gl then people won't remember your business unless you add your name to every link you share. Rebrandly empowers you to improve your branding by having your business name on each and every link that you and your team members are constantly sharing on web.
Price
The basic plan is free to start where you can track around 5,000 clicks each month. The starter plan costs $29 per month and you can track 25,000 clicks each month, the pro plan lets you track 150,000 clicks for $69 a month and the premium plan lets you track 1,500,000 for $499 a month. If you need to track more clicks, just contact the support team for a custom quote.
If you are a retail store owner then this is a tool you definitely want to have in your arsenal. Zipline is used by some of the world's renowned retail brands like Lego, BevMo and Casper. The tool lets you streamline communication and task management in order to create a seamless customer journey.
Top Features of Zipline
The tool enables each and every member of your team to get a personalized digest of what's new and what's due. This keeps them informed and also helps them stay ahead of their tasks: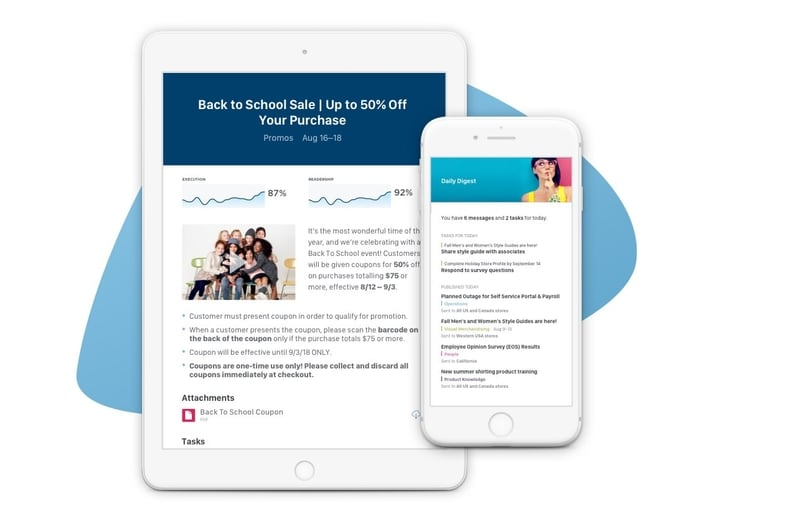 With the help of this internal survey tool, you can allow real-time tracking of your survey and also find out which stores have filled out the survey or which ones need a push.
The tool allows stores to talk to each other so that the feedback loop gets completed.
Why This Tool Is Useful
Zipline enables you to send the right information to the right people at the right time. If your team members are aware of their responsibilities and they are getting the right encouragement from the management, then they will always try to outperform. This will ensure that your customers receive the best service every time.
Price
The subscription plan depends on the number of stores you have and the type of products your business needs. Contact the support team for a custom quote.
Nowadays, every business needs to maintain positive online reviews because consumers prefer to research before they buy any product. ReviewTrackers lets you monitor reviews and build a reputation that people can trust and act upon.
Top Features of Review Trackers
The tool enables you to centralize all your reviews from all locations into one dashboard. This helps you analyze negative reviews and take prompt action on them.
ReviewTrackers automatically sends emails whenever your business receives a negative review.
The ReviewTrackers reporting suite presents comprehensive reporting so that you always remain on top of your strategy: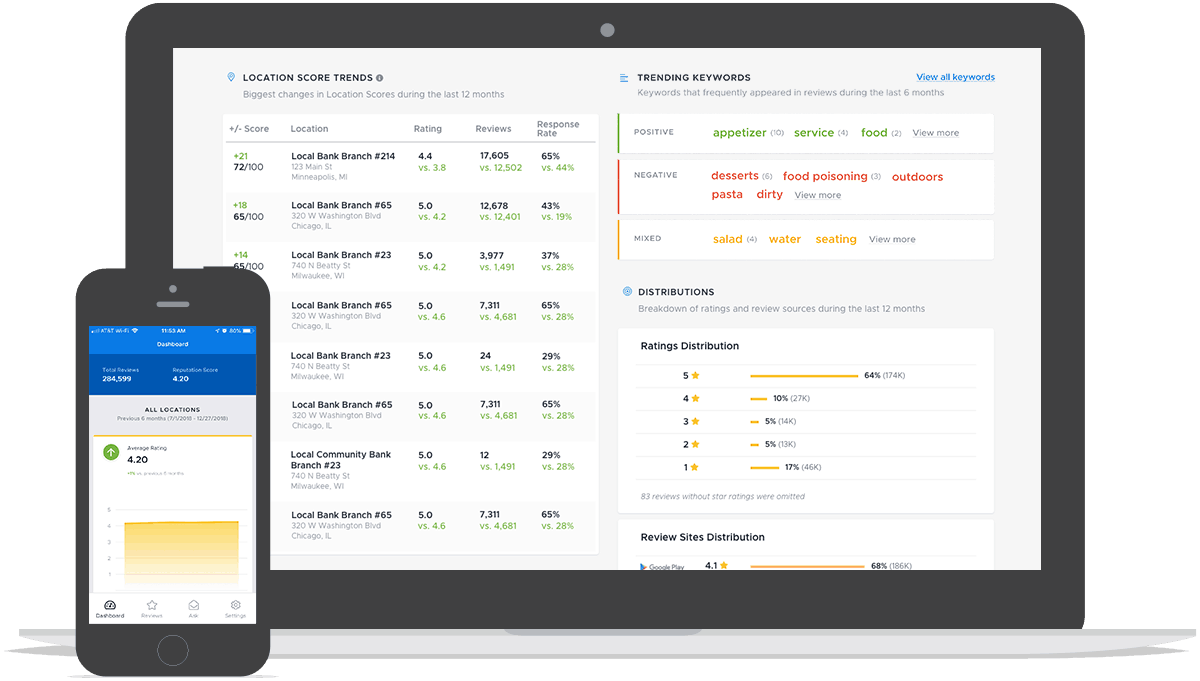 The Ask Tool allows you to generate new reviews by running email campaigns, sending SMS or creating customizable landing pages.
You can respond faster with the help of the Smart Response feature and manage the reputation of your business.
Why This Tool Is Useful
People prefer businesses that have many positive reviews and can solve their issues promptly. If your business takes negative reviews seriously and resolves them as soon as possible, then people will dump your competitor and come to you. Managing online reviews is one of the best ways to improve the experience of your customer.
Price
The professional plan lets you track reviews on fewer than 50 locations. The enterprise plan is for large companies with more than 50 locations. There is also a special partner plan for marketing agencies. Whichever plan you choose, try the product for free first and contact the support team for a free demo. The team will provide a custom quote depending on your exact needs.
Learn More:
Qualtrics (which was recently acquired by SAP) offers to manage four core experiences that play the biggest role in customer experience management: customer, product, employee and brand. When your business is able to manage these four aspects of customer experience with just a single software, it definitely helps to improve your bottom line.
Top Features of Qualtrics
The customer experience model helps you turn customers into fanatics. You can start a conversation with your customer using email, SMS, mobile app or any other medium where the customer is present.
The IQ directory lets you monitor and optimize the experience of each and every customer at every part of the customer journey.
The predictive analytics feature lets you predict the next action of your customer so that you remain prepared: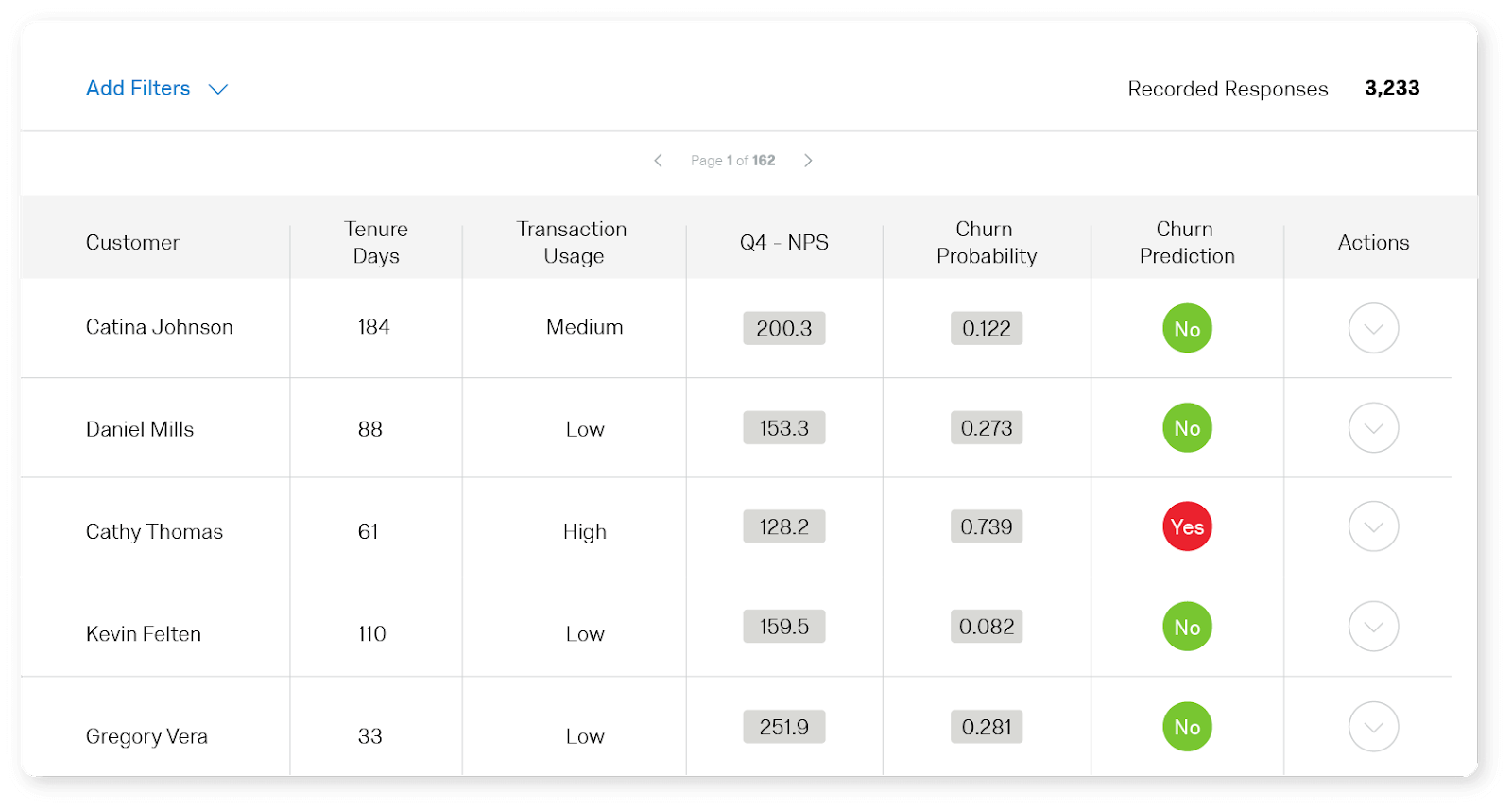 The employee experience module helps turn employees into brand ambassadors. The software provides actionable insights right from pre-hire to exit. If your employees stay happy, they better serve your customers and the overall customer experience is improved automatically.
Pre-built survey dashboard and drag-and-drop simplicity lets you take full control of your brand strategy. You can segment your customers, communicate with them and target them at every stage of the customer journey.
Why This Tool Is Useful
Qualtrics takes care of every department of your organization. You are able to develop products that people love, make every interaction with the customer meaningful, develop a world-class work culture and build an iconic brand.
Price
You need to contact the support team for a free demo and they will provide a custom quote based on your exact needs.
Learn More: How to Use Predictive Analytics for Better Marketing Performance
Honestly lets you boost the customer experience with omni-channel feedback. With the help of surveys, feedback channels and impressive reporting, the tool empowers you to create and retain more customers, which leads to improved ROI.
Top Features of Honestly
You can obtain all your customer feedback in one dashboard and filter the data by location. The dashboard also lets you see CSAT, NPS or any other customer metrics: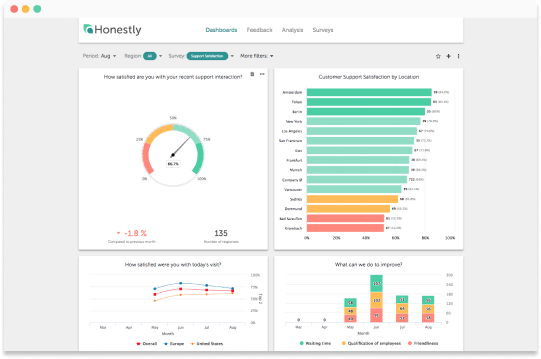 With the help of the Pulse survey, employees can submit real-time feedback on different areas of engagement so that you know the exact areas that need improvement. Keeping your employees happy is a great way to keep your customers happy.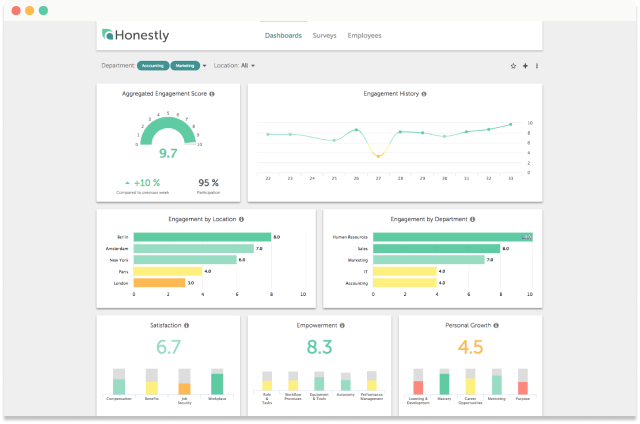 The company provides feedback terminals right at the point of experience. This helps customers share their feedback in real time.
You can also collect customer feedback using Honestly survey tablets for complete flexibility.
Why This Tool Is Useful
Both customer feedback and employee feedback are important if you want to improve the overall customer experience. Honestly helps you to acquire customer feedback from their point of experience using floor terminals and survey tablets, as well as collect employee feedback using custom surveys.
Price
Honestly starts with $4 per employee per month. You can request a special quote if you have more than 200 employees.
PipelineDeals is a CRM software that is easy to set up and use. You definitely need a tool that helps you manage your overall account and provide full details pre and post sales. PipelineDeals lets you manage pipeline, leads and your entire sales team so that you can convert more customers.
Top Features of PipelineDeals
The software lets you visualize your entire sales process and provides all the tools you need to manage and develop customer relationships: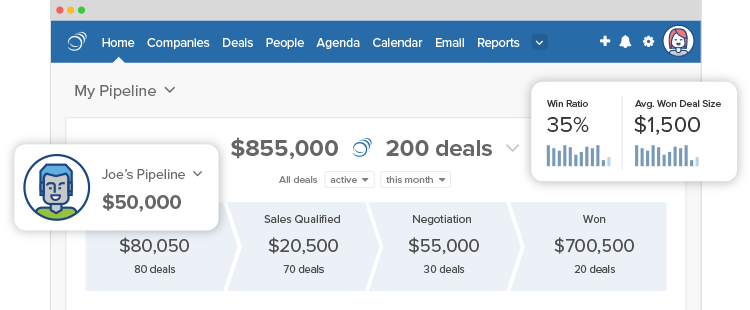 You have the power to track the progress of each and every deal with its own custom page with 12 different data fields.
You are able to receive the latest sales update on every activity of your leads.
The lead dashboard provides you with all the information to track the progress of each and every lead: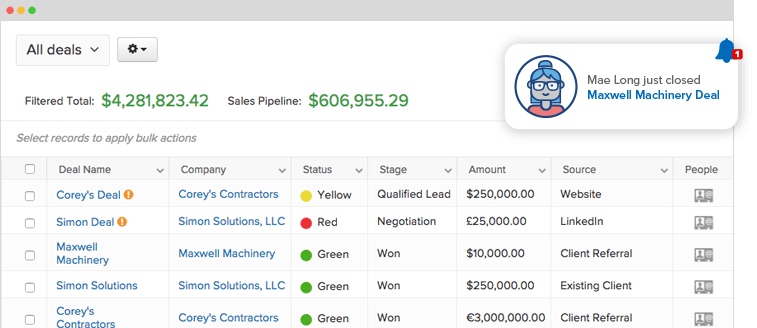 With the help of the priority list, you can prioritize each and every list in your pipeline.
The powerful reporting feature lets you understand where customers are dropping off in the sales process.
Why This Tool Is Useful
Most customers leave a company during the sales interaction. People come to your business but your sales team is unable to close the deal due to poor customer experience. PipelineDeals helps to close more deals and convert more customers by improving work flow and optimizing customer experience.
Price
The beginner plan for PipelineDeals is priced at $25 a month. You can start using it and change the subscription plan as per your needs.
What's Next?
If you want to see your business become successful in the next few years then you must invest in customer experience. People prefer brands that offer the best experience for them, and tools play an important role in improving the customer experience. Make use of the 8 tools suggested in this article and convert your business into a brand that people love!