Social media marketing has historically been an island of its own: We seldom see it integrated into other digital marketing channels, like SEO or content.
This is unfortunate because your social media strategy can benefit a lot from data and insights that your other teams and tools can contribute. After all, there's one single goal behind all your digital marketing channels: You want to better understand and better serve your target audience to turn one-time visitors and one-time buyers into brand advocates.
The more data you can collect about your target customer's struggles, preferences and interests, the better you can serve them, regardless of the channel. And collecting data from non-social media channels makes a lot of sense – it can help you or your social media manager to better relate to and cater to your audience.
Dive Deeper: The Impact of Social Media on Business in 2023
4 Content Marketing Tools to Improve Your Social Media Strategy
Here are four content marketing tools that can provide valuable insight to inform and direct your social media strategy:
1) Find Topics to Cover on Social Media Using Keyword Research Tools
There's one thing about old-school keyword research (or keyword extensions, as it's traditionally about making your seed term longer): it's terribly under-utilized by marketing teams outside of a purely SEO department. And that's a shame because keyword research provides a goldmine of insight into the interests and struggles of your audience.
What many people fail to grasp is that there's a real breathing human being behind each search query. If you humanize keywords, they become much more useful, giving you lots of ideas on how to better engage and serve your target customer.
The logic is simple: If enough people type a search query into the search box for keyword research tools to make a record of it, this topic is likely to resonate on social media, too. When it comes to crafting social media updates, encourage your team to use keyword research to:
Generally learn which topics to cover in social media updates (like creating mini tutorials, posting "tip of the day" updates, etc.)
Come up with popular hashtags to increase your social media reach on Instagram and Twitter
The best part is that keyword research doesn't have to be paid. You can use a free tool and find lots of content ideas to implement on both your website and social media.
For example, Kparser is a freemium keyword research tool that generates huge keyword lists for free without even requiring a login. To use Kparser:
Type in your basic core term
Play with filters to the left to narrow keyword results based on a chosen angle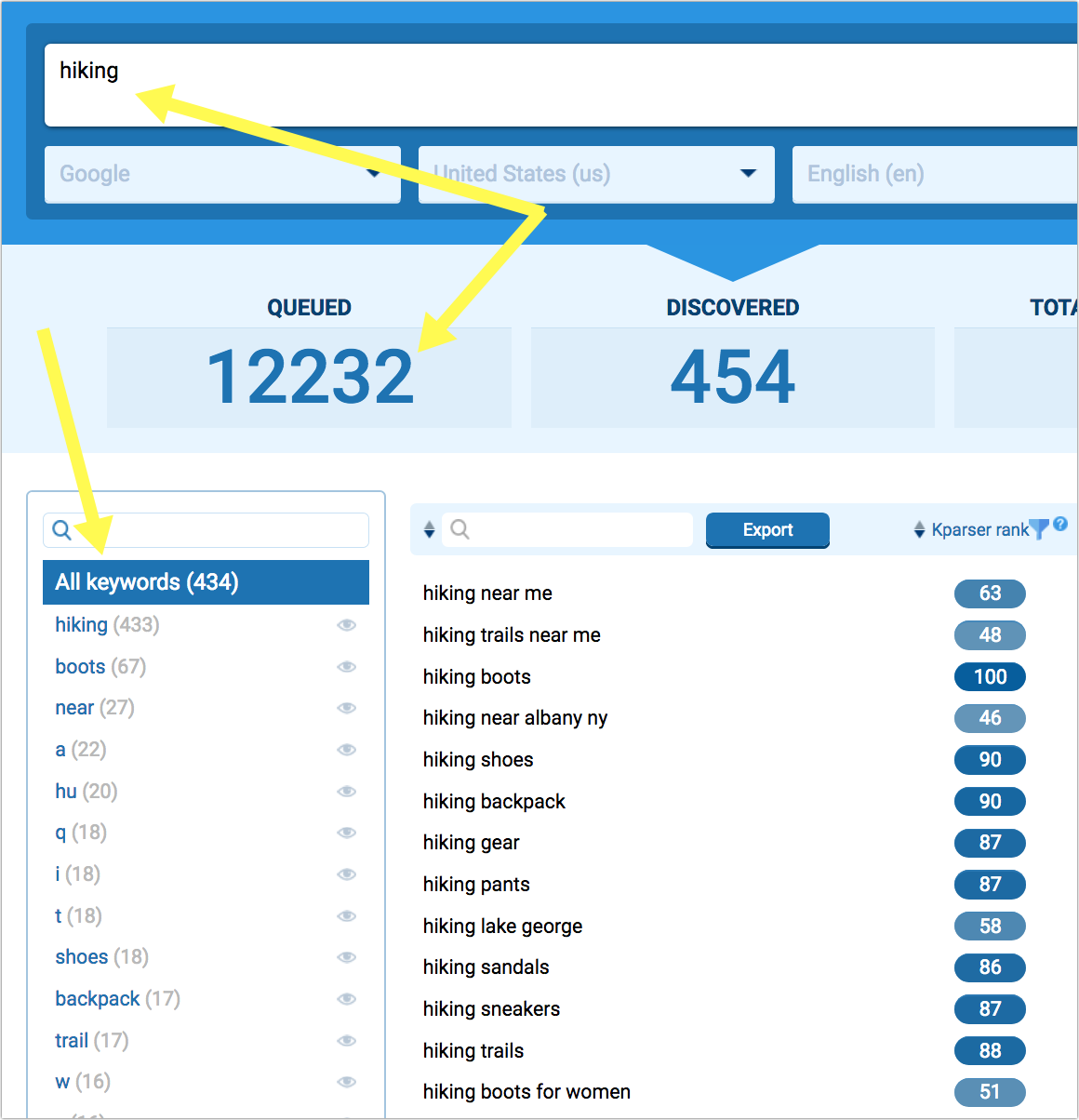 The only real problem behind keyword lists is that they are really messy to the point that they are unusable. Even narrow-niche company keyword lists are thousands of lines long because there are so many ways to put the same query into a search box.
This is where keyword clustering (i.e. "grouping") comes into play. Kparser does some sort of clustering, which allows you to group keywords by a common word inside the phrase. But this is a very basic clustering technique that doesn't give you a good enough overview of the topic. This technique would group hiking shoes and hiking boots into two different categories, while essentially they belong to one.
Serpstat offers a much more effective keyword clustering functionality, which allows you get a better understanding of your niche and target your content and social media updates more effectively:
To access the clustering functionality, you'll need to upgrade your Serpstat account to at least Plan B tier ($69 monthly)
Proceed to the "clustering" section and upload your keyword list (you can copy/paste the list from your Excel file you generated from Kparser or Google Search Console)
Give it some time. Serpstat will go through your keywords, identify those queries that trigger similar/overlapping results in Google and group your keywords into clusters by relevancy: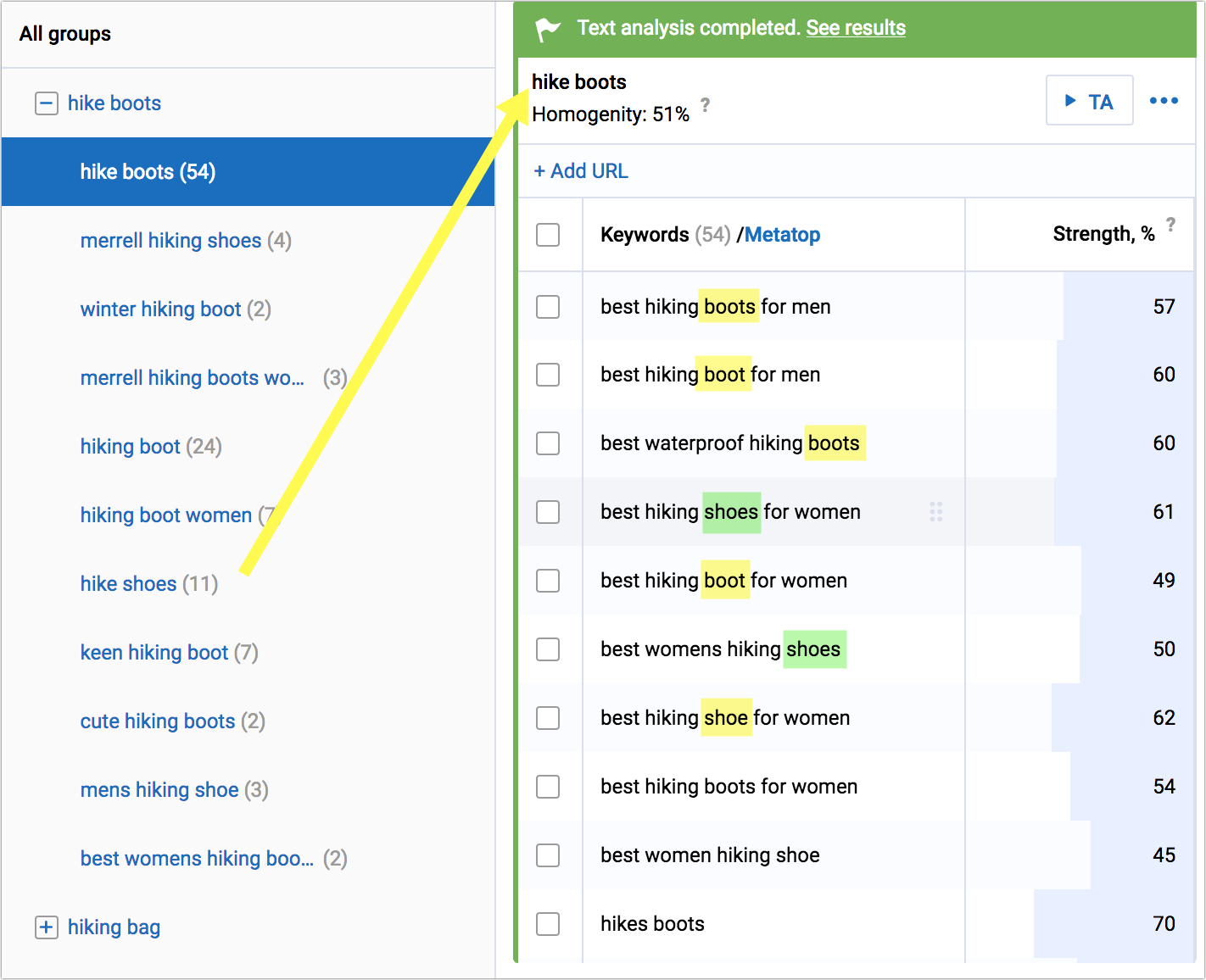 The beauty of this clustering technique is that you can catch related terms quite easily in order to come up with a more diverse hashtag marketing strategy.
Dive Deeper: The Content Marketer's Guide to Keyword Research
2) Use Question Research to Discover What to Ask Your Social Media Audience
While keyword research has been around for ages, the recent voice-search-driven trend toward optimizing for natural language has created a demand for new tools, i.e. those that can be used to research niche questions.
And this is a very fortunate trend for social media marketing because asking questions is one of the best ways to improve social media engagement, including getting more comments. Questions trigger the natural human instinct called "instinctive elaboration". This instinct forces people to pause and start looking for or formulate an answer.
Adding all types of questions to your social media calendar thus makes a lot of sense and with new SEO and content marketing tools, question research has become much easier and more effective. For example, Campmor, the outdoors gear retailer, asked a simple question on social media and received 139 comments: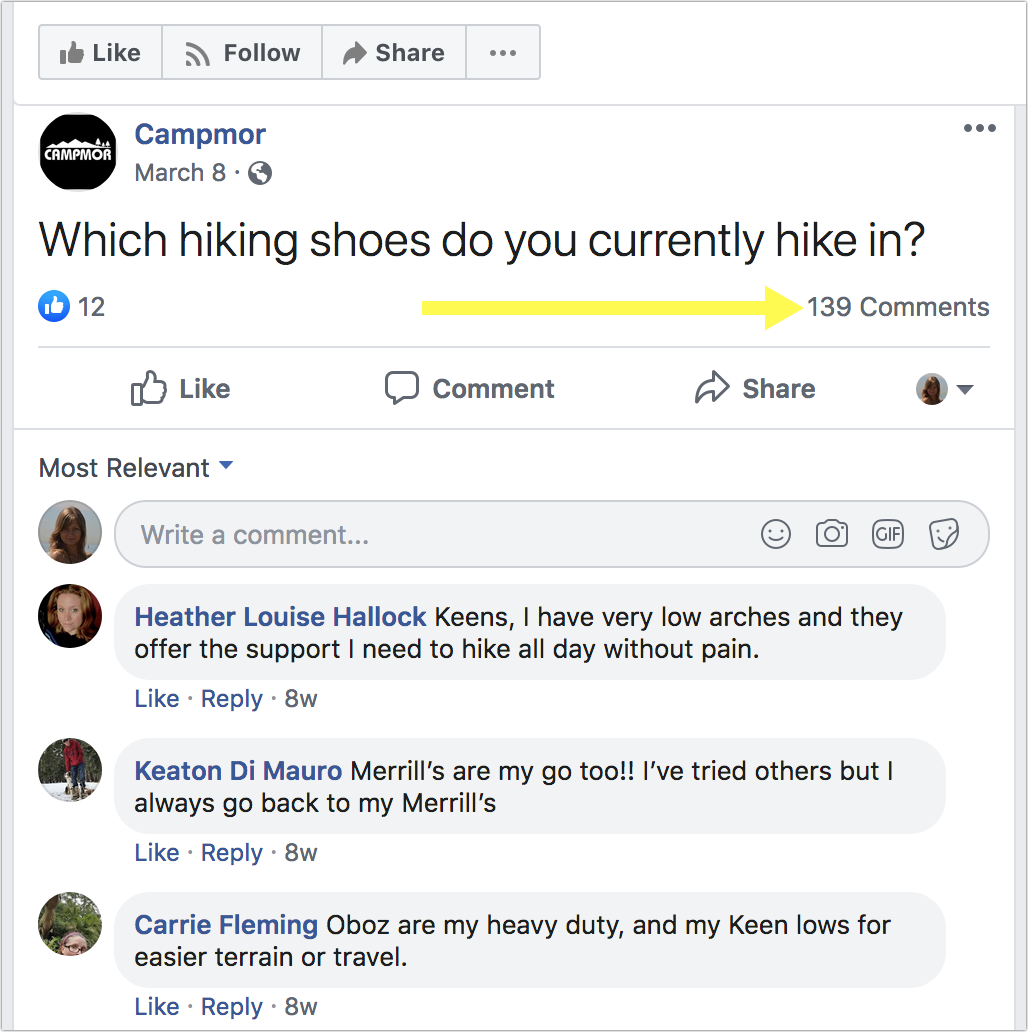 There are several powerful tools and platforms that make it easy to discover niche questions to include in your marketing editorial calendar. These include: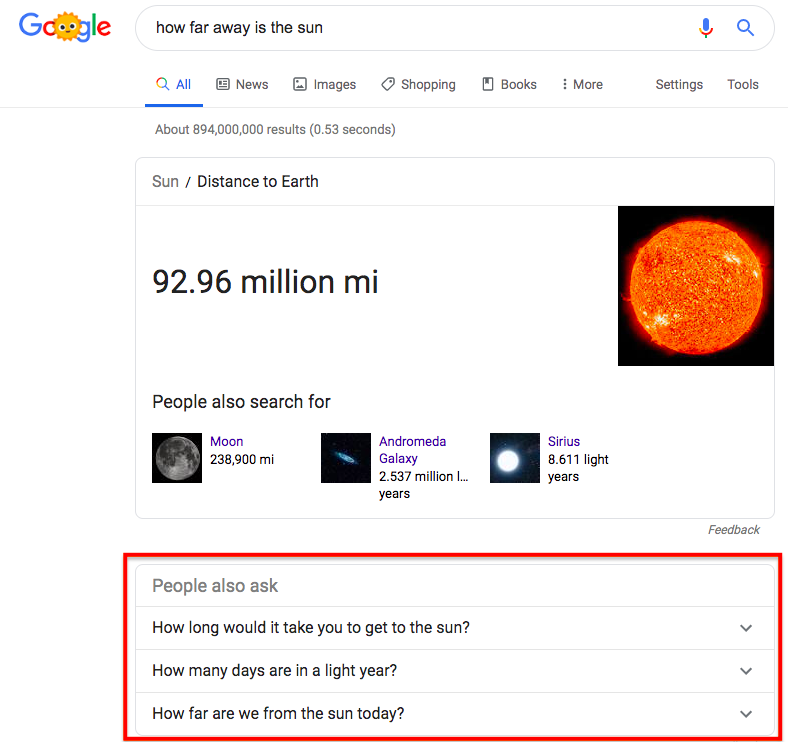 One of the newer tools that allows you to identify and research questions on any topic is Text Optimizer, which uses semantic analysis to extract related and popular questions right from Google's search snippets. You can export the whole list and hand it to your social media manager to include them in your social media calendar.
To find popular questions using Text Optimizer:
Head to their content ideas section and enter your seed term
The tool will use semantic analysis to identify popular questions on the topic and show you a huge list sorted by popularity: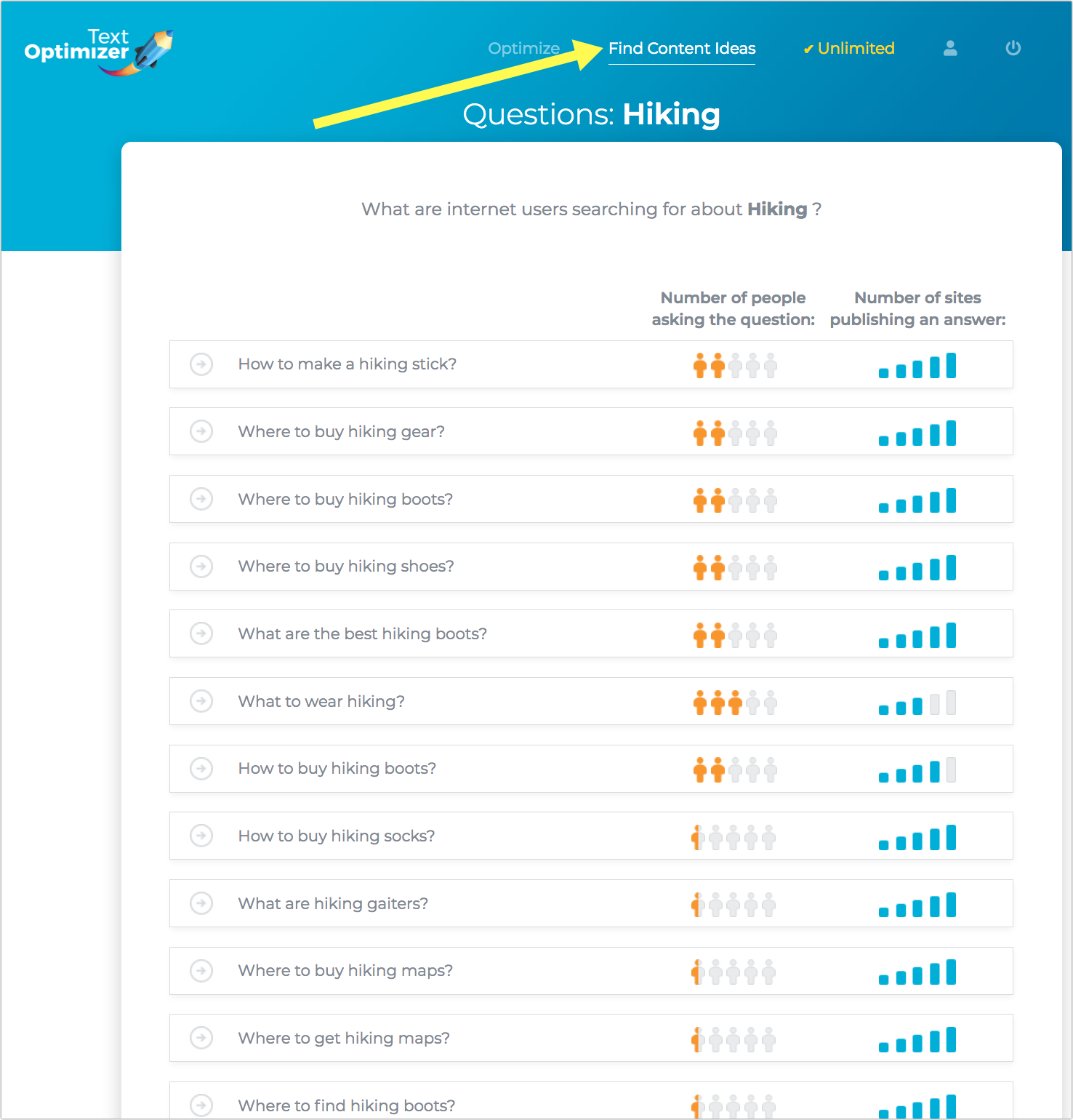 There are many ways to include popular questions into your social media marketing, such as:
Simply ask your audience a question in a new post (you can also include a nicely branded visual version of the question)
Create a poll and encourage your users to choose their answers (and comment with more thoughts)
Invite an active social media follower or a niche influencer to host a mini-AMA event on your page (or at your Twitter chat) to answer some of those questions
Diversifying your social media content is key to engaging your audience, and incorporating niche questions will make your strategy even more effective.
Dive Deeper:
3) Use On-Page Analytics to Identify the Best Calls-to-Action
Finally, we want some of our social media updates to convert, not just engage. While social media analytics provides some basic insight into how different calls-to-actions perform across different social media updates, we have much more testing and analytics flexibility when dealing with our own website.
On-site analytics provide much deeper insight into what triggers conversions and what drives people away, so it makes perfect sense to use this insight when crafting CTA wording for social media updates. too. Google Analytics offers in-depth goals tracking, but it's a high-level tool, which makes it less useful for social media marketers who are basically looking for very specific answers.
Finteza is a free analytics software that is designed to be straightforward enough for even a non-analytics person to understand. Once you install Finteza's tracking code on your site (much like you install Google analytics code), you can use Finteza's WordPress plugin to add on-page links for event tracking: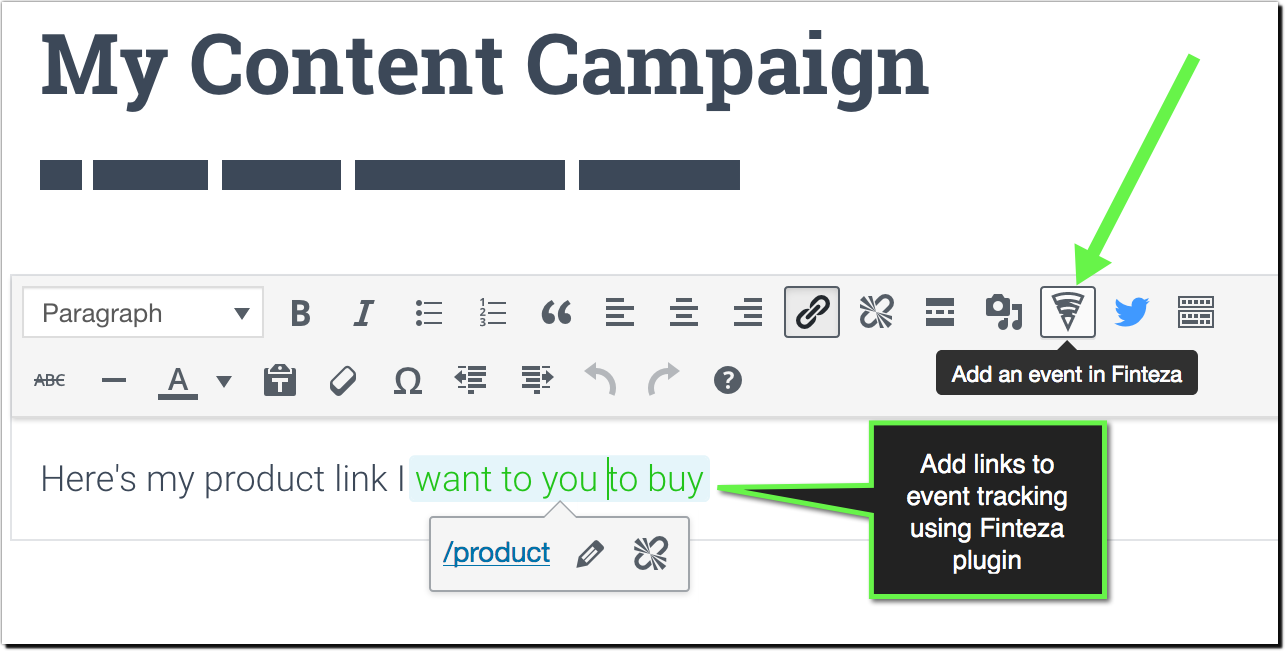 If you are not comfortable with using tracking codes, Finteza allows you to use WordPress's visual editor to create events to monitor.
Once your in-content CTAs are set up for tracking, you can easily put together funnel monitoring inside Finteza. Simply select your URLs and events to visualize which of those lead magnets work best and whether this is something worth promoting via social media ads: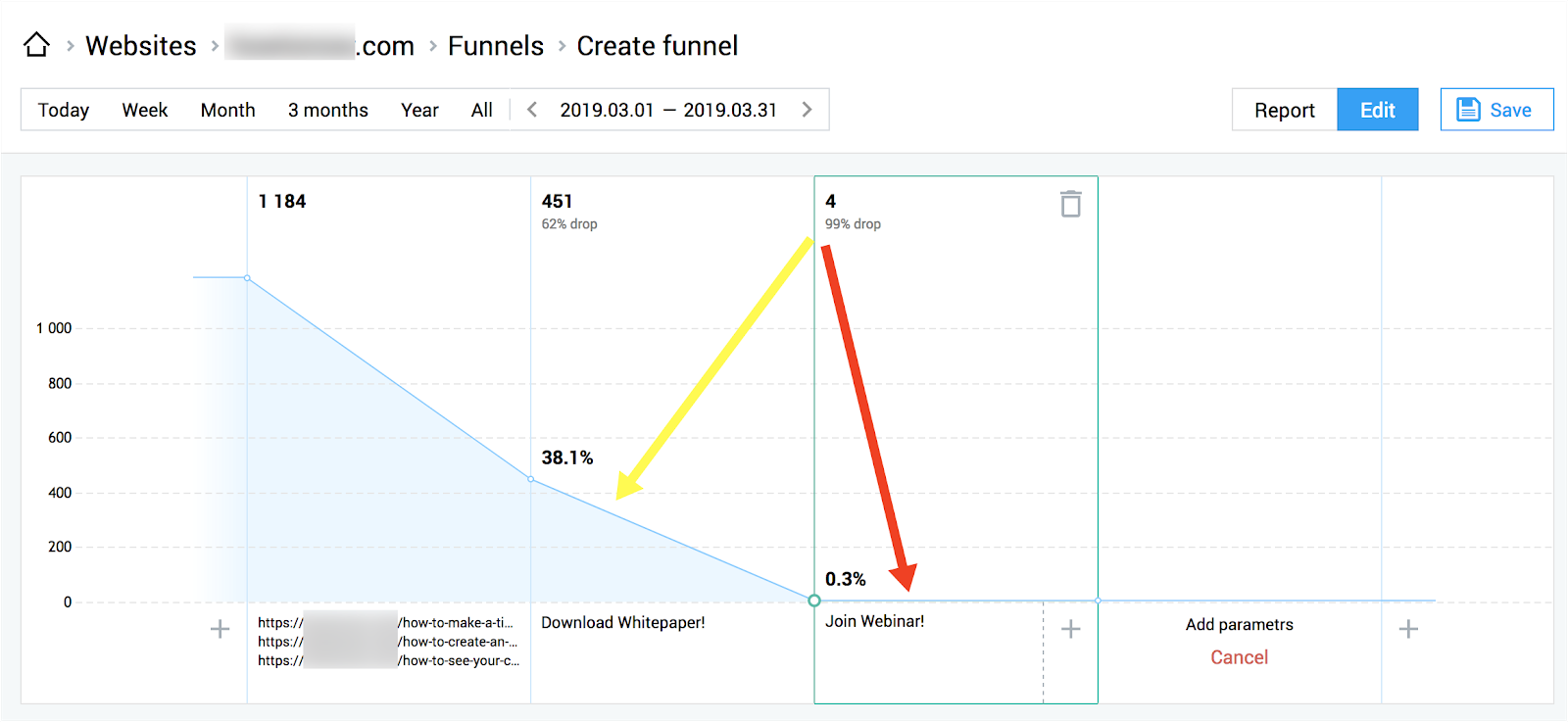 It is obvious that a "Whitepaper" CTA collects more leads than a "Webinar" CTA, so your social media team may create better-converting ads if they choose the whitepaper asset to promote on social media.
Finteza is one of the most marketing-friendly analytics suits because it's incredibly easy to set up.
Dive Deeper: 
4) How to Put It All Together and Keep Your Team Updated
Finally, with so many data points and (remote) teams working together for the common goal, what's the best way to keep everyone updated?
ContentCal is a collaborating social media management tool that offers a "Campaigns" feature that allows you to schedule content marketing campaigns and create detailed content briefs which can be accessed and edited by other team members:
ContentCal allows you to schedule content + social media marketing campaigns so that your whole company knows what is coming and when, and lets them contribute their own data from their managed tools.
It's a great idea to record all the keywords, questions and best-working content magnets for your social media marketing managers to implement in their strategy: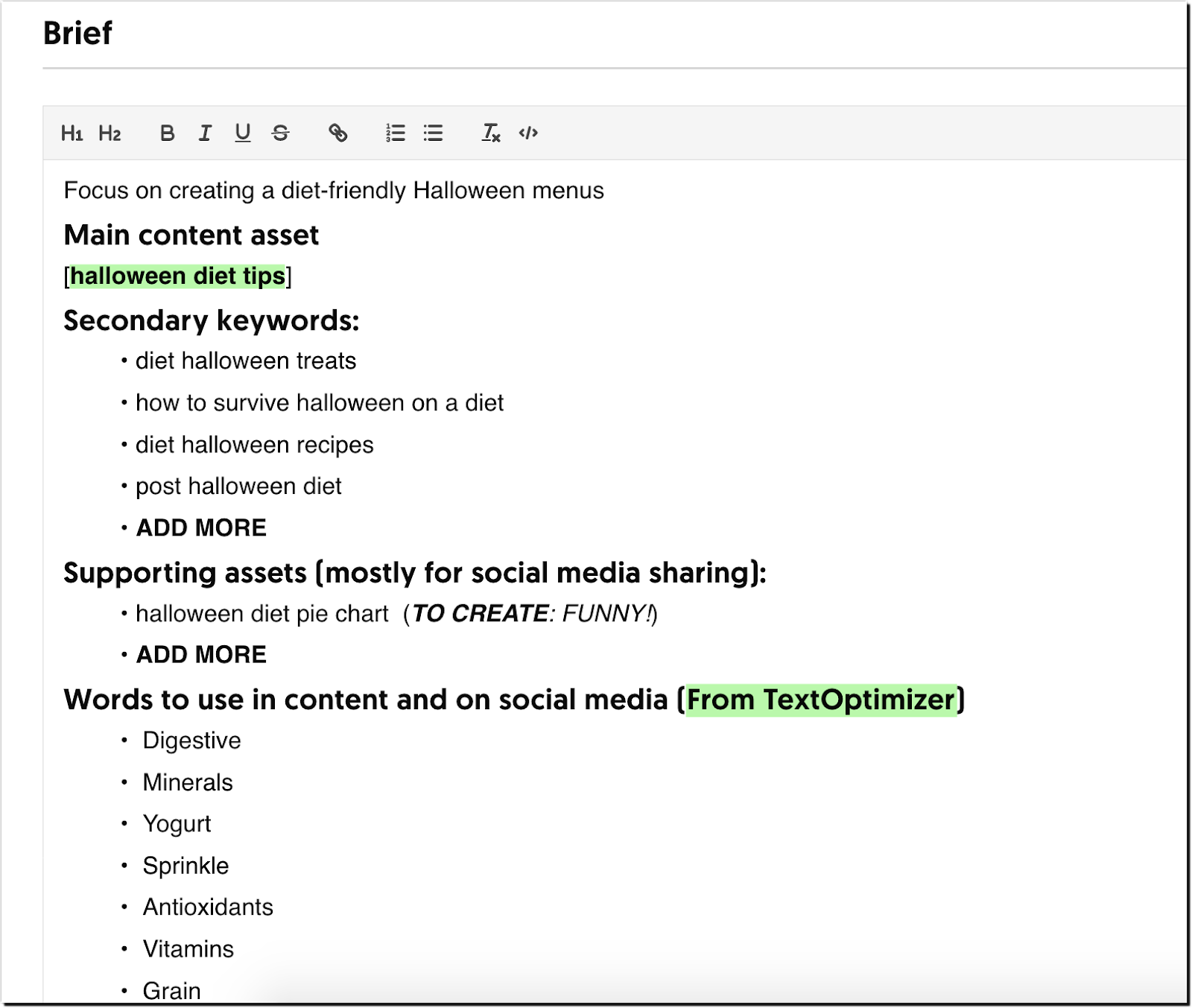 Each brief can be as detailed or as concise as you choose it to be and your other team members can add their data, too. The end result is that your social media manager knows everything, from lead generation assets to use across ads to hashtags and popular questions to include in social media updates for better organic reach.
Takeaway: 4 Content Marketing Tools for Social Media