8 Slack Communities Every Marketer & SEO Should Join
Since it launched in 2013, Slack has become a ubiquitous workplace tool. With more than ten million active daily users, the company has revolutionized the way that teams manage workflow and share information. And now it's changing how communities engage online.
Slack groups are growing in popularity – and the funny thing is, Slack had nothing to do with it. They never set out to disrupt Facebook or LinkedIn groups. It happened organically as users realized that a free platform where you can create chats around a topic or theme was a great place to congregate.
Why Slack Communities Are so Great for Marketers
You might be thinking, "I'm already part of too many online groups and chats. Adding one more to the mix is just going to be another distraction." Here's why you should reconsider joining a Slack community:
Accessibility: You're probably already on Slack all day long for work. Say you're on one of your team chats discussing a problem that no one knows how to solve. Head over to one of your Slack groups and search for the answer. Or post asking for advice. Problem solved, and you didn't even have to open a new tab.
Distraction-Free: Facebook groups are great, but it's hard to focus when you're getting notifications that 100 people liked or commented on that cute photo of your dog. Slack is work-focused, so you can interact with your communities on Slack without noise from your personal life coming through.
Quality: Many top-tier marketers are admins and members of Slack communities. They know what they're doing so they can be an endless source of learning and information. I consider myself to be someone who knows what I'm doing, marketing-wise, and I still learn something new every time I visit one of my groups.
Networking: This one is so important. You have an opportunity to connect with other people in your industry and you don't have to leave work or attend an event to do it. Those connections may lead to business partnerships or even a new job down the road, if you're looking for that kind of thing.
Marketing: Slack communities are another channel for building your personal brand or business. Not only do you have the chance to get valuable advice, but you can give it as well. Offering useful information and tips is a great way to boost your credibility and make yourself more attractive to clients and customers. Most groups have #shamelessplug channel where you can brazenly promote your content, products and services as well.
Learn More: [Growth Study] Slack: The Fastest Business App Growth in History
There are many more groups on other social networking sites than there are on Slack, but this platform's communities are steadily growing. You just have to know where to find them. Slack doesn't offer a discovery feature for groups, but sites like Slofile and Slack List have cropped up to help users find what they're looking for. Or you can trust someone who knows – in this case, me – to tell you where the good ones are. 🙂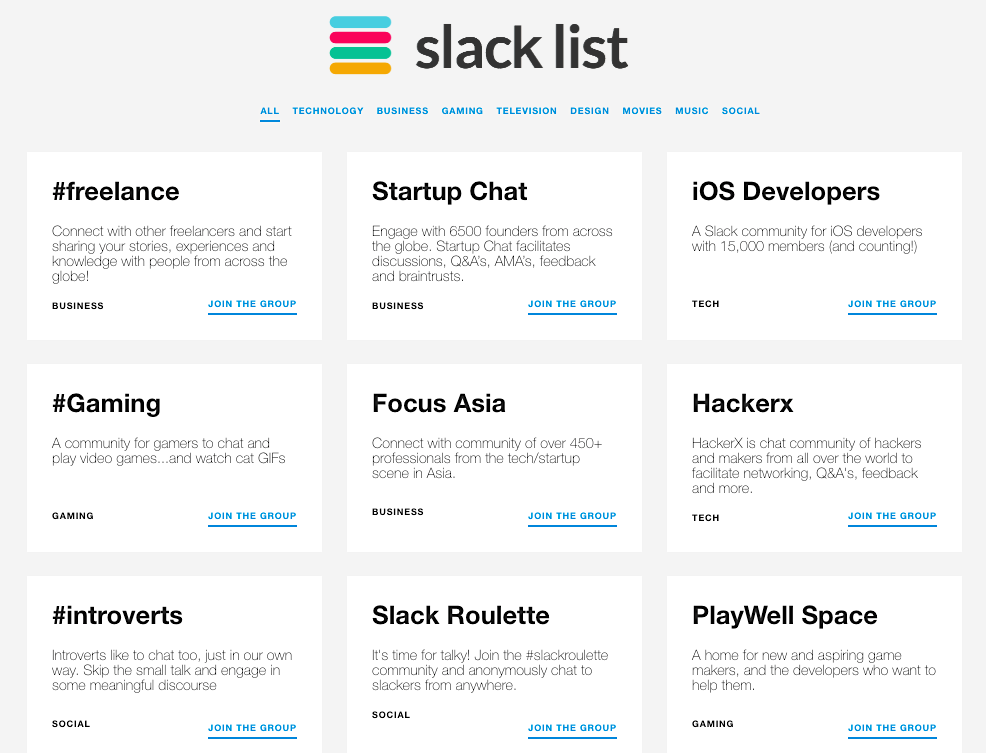 The Best Slack Community: Traffic Think Tank
Traffic Think Tank is a paid, private Slack community run by Matthew Howells-Barby of HubSpot, Nick Eubanks of From the Future and Ian Howells of Lending Tree – three marketing powerhouses. The group is focused on SEO, but you'll also see discussions on content, analytics and even job posts. It's one of the most engaging Slack groups I've ever been a part of.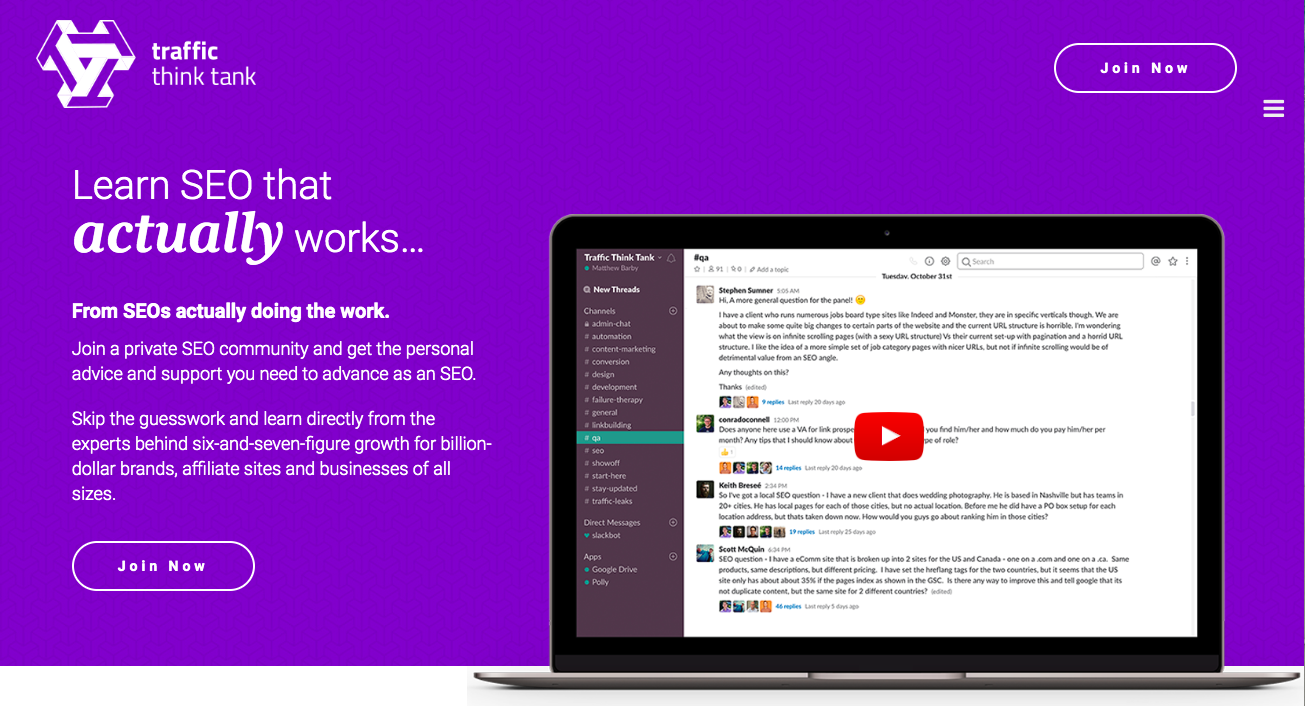 There are a ton of marketing communities on Slack and most of them are free, but I pay for TTT because I get a huge amount of value from it. It's a favorite of Neil Patel's team, too, and one of their most requested memberships.
TTT is always adding more content and the community provides value as well. There's a new webinar every single month, along with tutorials and live Q&A sessions. There are also tons of really informative and engaging videos. In fact, I once took a weekend trip to Las Vegas and instead of going out on Saturday night, I sat in my hotel room and watched their videos all night long. I got much more value from that content than I did playing poker the night before – and I enjoyed it more, too.
There are 14 different channels on TTT right now, including #linkbuilding, #automation and #qa. Membership gives you access to 100s of hours of exclusive video content and live events, not to mention a direct line to the three brilliant marketers who started it (they post regularly in the community).
The only potential downside to TTT is the cost – it's $119 per month or $1,190 per year. If you're a smaller business or new to Slack groups, that may be too steep for you. But think of it this way: it's much cheaper than hiring a consultant (or consultants) to help you improve your SEO.
Learn More:
Free or Low-Cost Slack Communities for Marketers
While I think that Traffic Think Tank is the best Slack community out there, there are plenty of others that are free or inexpensive and provide a great deal of value. Here are seven that I think are worth checking out.
1) Online Geniuses
Online Geniuses bills itself as the largest Slack community for marketers. With more than 17,500 members, the group regularly holds AMAs with marketers like Neil, Gary Vaynerchuk and Rand Fishkin. There's also a weekly CRO teardown and offline events held around the world.
OG grew out of a small group chat on Skype started by founder David Markovich, who also co-founded 18percent, a mental health community on Slack. It boasts thousands of posts each day and every member is manually vetted before they're allowed to join. Members include marketing experts across a variety of niches, including SEO, PPC, social media and email marketing. Discussions are also moderated to keep out spam.
In addition to topic channels, OG has local channels for major cities, so members can network with those in their location and industry. There are also local chapters in several states and countries that host regular meetups.
If you're looking for a large community that covers a lot of marketing topics, OG is a great place to get started with Slack communities.
2) Buffer
The Buffer Community on Slack strives to be a warm and fuzzy place for marketers and entrepreneurs to connect, get advice and meet their goals. Launched in 2015, Buffer describes their community as "warm, supportive, positive, smart and emoji-friendly."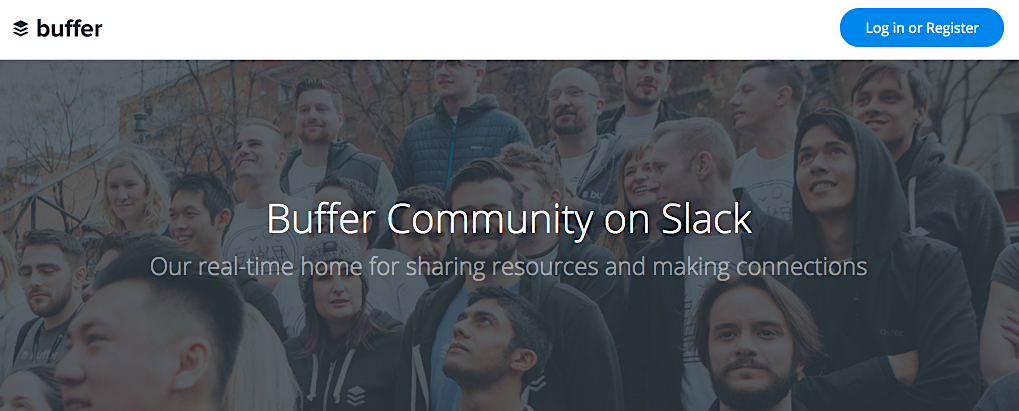 The BC is focused on social media and currently has more than 6,000 members connecting across more than 20 channels, including #watercooler, #buffer-products, #topic-socialmedia. Members can set goals in the #weekly-goals channel and network in #meet-someone-new.
Buffer hosts a Community Mastermind every week, where members share social media marketing challenges and get advice. The group frequently holds "challenges" as well, which can be about anything from marketing to personal development.
If you're looking for a laid-back and friendly place to talk about all things social, network with others in your industry and find inspiration, Buffer may be the place for you. And if you use Buffer products, you'll definitely want to join to access discussions about tips, tricks and getting the most value from them.
3) Big SEO
Big SEO's Slack community grew out of the subreddit of the same name. But although the sub has over 31,000 members, the Slack group is more tight-knit, with close to just 2,500 participants.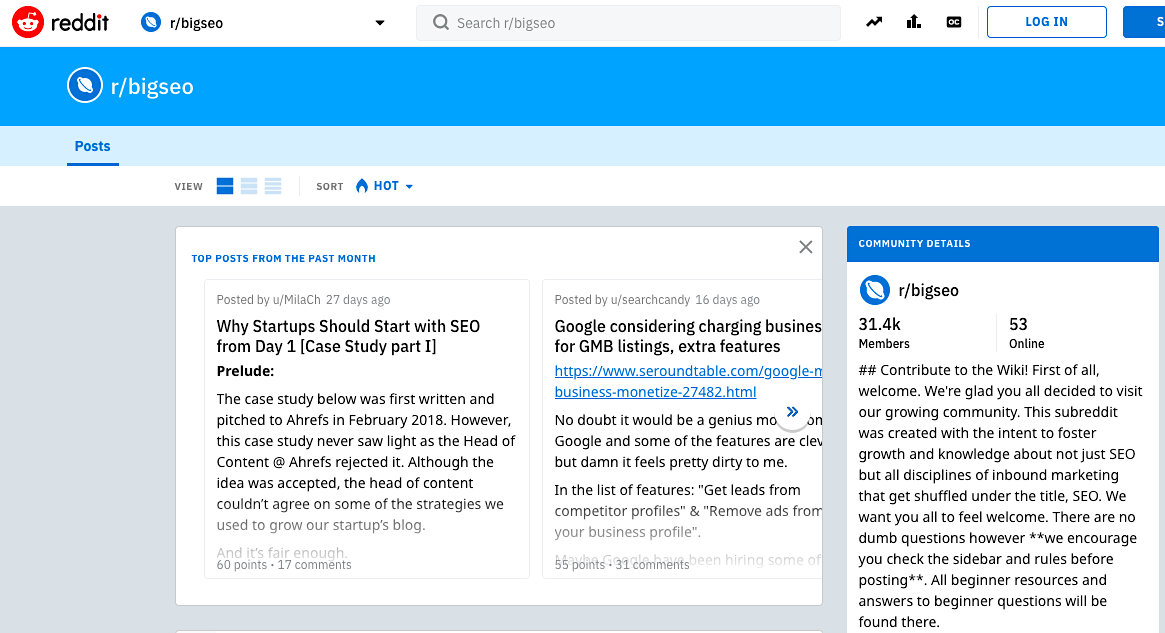 The Slack community was launched in 2016 to bring together the more knowledgeable and advanced marketers in the group. The subreddit is still quite active, though, if you want to get a feel for the types of discussions and the general vibe you can expect to find on Slack.
Big SEO's channels include #must-reads, #technical-seo, #sitereview and #jobs. Unlike many of the other large groups, however, this community doesn't have a web presence outside of Reddit. If you want to join, you'll have to fill out the form in this Google doc.
Big SEO is obviously perfect for an active member of the subreddit, but if you want to improve your SEO, you can't go wrong with this Slack community.
Learn More:
4) Link Building HQ
The best link building slack community trusted by 1000+ companies.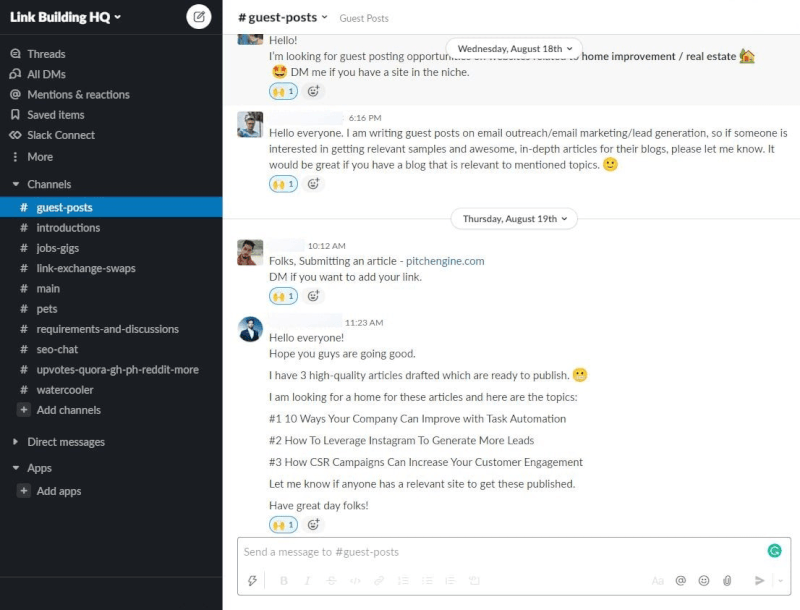 Link Building HQ is an invite-only community that instantly helps you build backlinks in no time. Community members exchange backlinks from the websites they manage as well as the guest posts they publish. A place to build relationships with other link builders, guest bloggers, and SEOs. You can join the waitlist by filling this form.
5) CRO Growth Hacks
CRO Growth Hacks has close to 1,000 members and, as the name suggests, it's a Slack community devoted to conversion rate optimization hacks.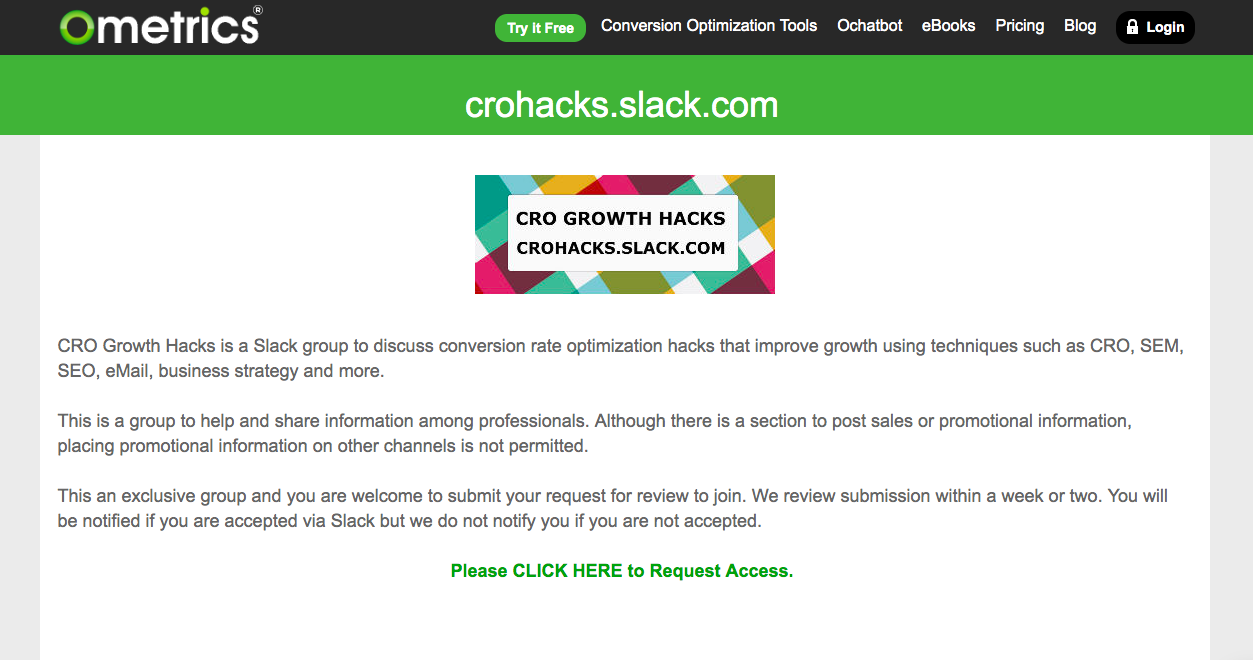 There are also channels devoted to SEO hacks, email hacks, analytics hacks…you get the idea. If it starts with an online marketing channel and ends with "hacks," you'll probably find it there.
Like other Slack groups, CRO Growth Hacks also hosts AMAs and has a jobs channel. One thing that sets it apart, however, is the #chatbot_hacks channel where members can get advice and tips on using chatbots in sales and marketing. It's definitely worth checking out if chatbots play a role in your marketing mix.
Dive Deeper: Why Chatbots Are a Must-Have for Businesses (and How to Build One!)
6) Creative Tribes
Creative Tribes isn't solely a marketing community. In addition to marketers, its 1,000+ members include entrepreneurs, designers, writers and developers – anyone who wants to connect and share tribe-building strategies.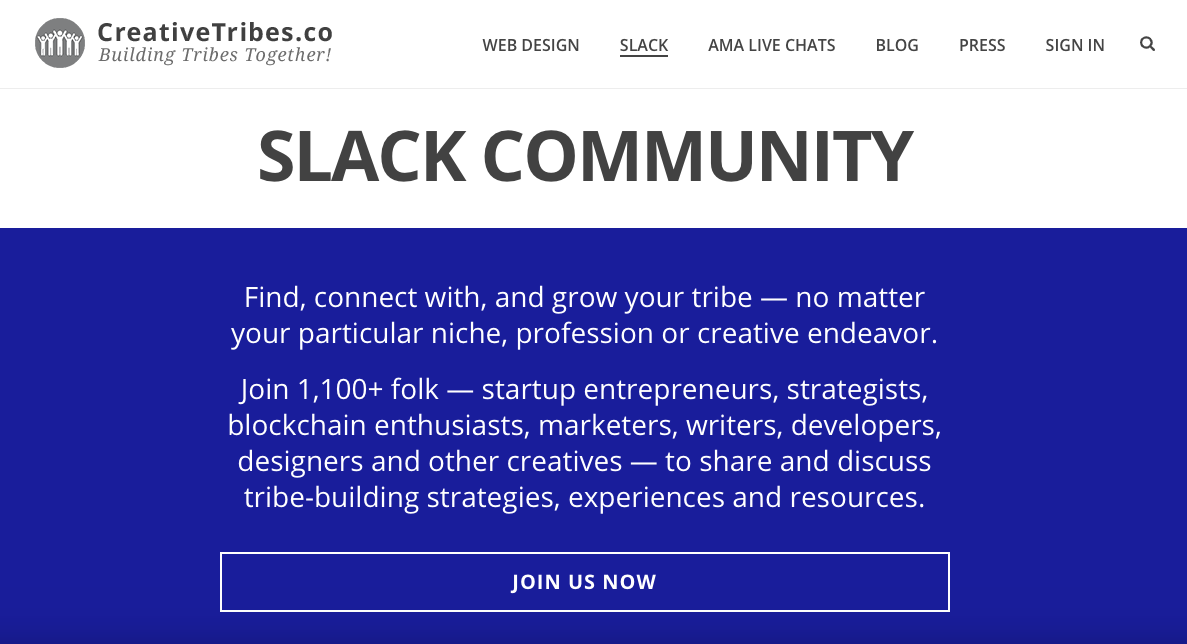 CT is a web-design firm and their Slack community is a four-year-old extension of their business, bringing together creators to form "tribes." There are currently 24 channels on CT, including #content_marketing, #seo-strategy and #analytics_datascience. They hold AMAs with marketers like Seth Godin, blockchain experts and successful freelancers.
Currently, there is a one-time fee of $27 to join the Creative Tribes community on Slack, but its popularity among creatives seems to suggest that members are finding significant enough value to justify the community's cost.
New and Hot: Leveling Up
Leveling Up is our own private Slack community run by Eric Siu (Marketing School, Growth Everywhere) and the Single Grain team. The group is focused on all things digital marketing, with channels for PPC, content marketing, SEO, feedback on your marketing projects, and a 'showoff' channel where you can share your best content or awesome results.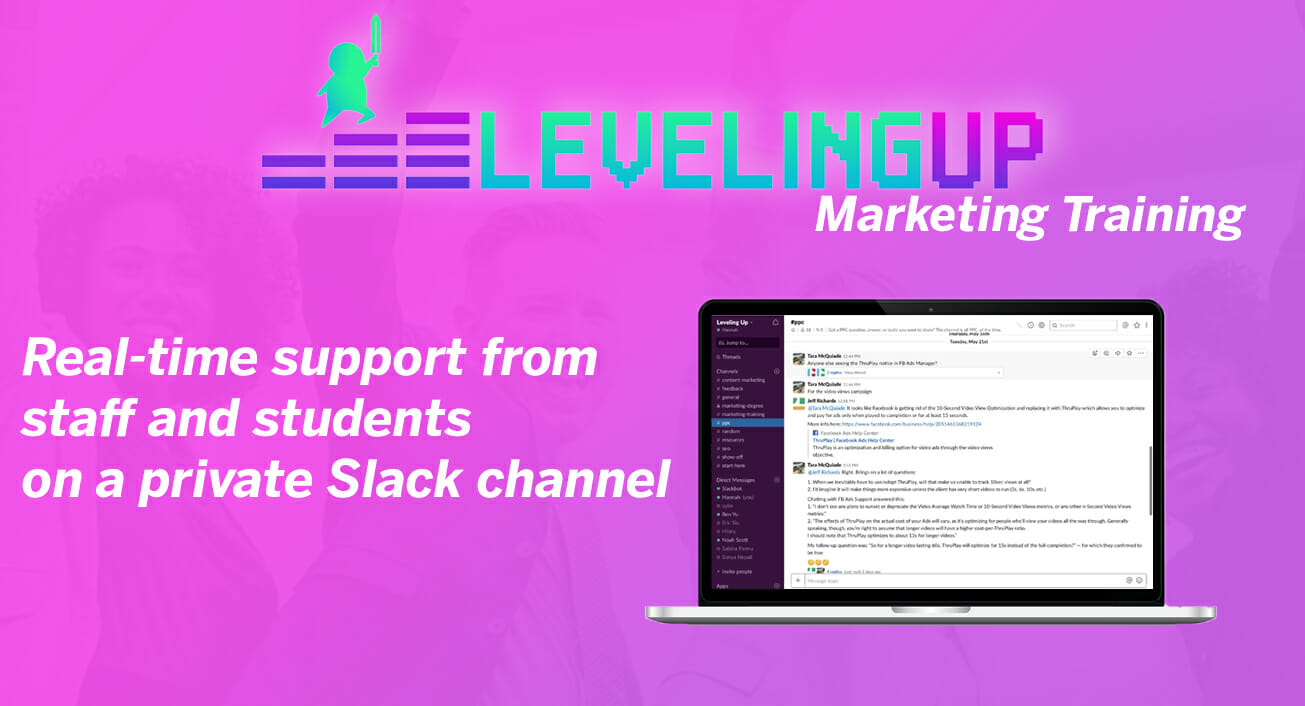 Yes, this is our own Slack group, but we believe wholeheartedly in our product: the Leveling Up Slack Group provides a lot of value. Our expert team is all over the channels, providing answers and feedback on all topics. We've also invited a select group of marketers to join so you'll be part of a quality, knowledgeable community who loves to share their knowledge. With higher tiers, you'll get access to Eric Siu's Live Q & As. We also share new content, tons of resources and templates, videos, webinars… and since the group is newer, you have the opportunity to give us feedback on what you want out of your ideal Slack group.
Right now Leveling Up is free. However, if you want access to private channels where you'll get quick feedback and support, access to Eric Siu's monthly live Q and As, and more,  you can sign up for our Leveling Up marketing trainings.
How Slack Handles Communities
What's interesting about these communities is how hands-off Slack has been, though that's likely to change in the future. Slack recently had to crack down on hate groups on the platform. If they weren't already, they're probably giving serious thought to how groups work on the platform right now, and how to better moderate them.
Communities also represent a huge opportunity for Slack, both from a member acquisition and – as the success of paid channels like Traffic Think Tank shows – a revenue one. It will be interesting to see how the groups evolve as Slack devises ways to harness them for growth.
Whether or not you have an audience, Slack can be a great opportunity to bring together like-minded people in your industry. If you're prepared to actively engage your community and either handle moderation or farm it out to other members, the platform is a great place to build your credibility and grow your business.