It can be difficult to produce interesting blogs and articles continually. Sometimes you just struggle to come up with new content ideas and need a little inspiration.
In this post, we will go over six effective approaches to discover amazing content topics that will drive traffic to your website and boost your digital marketing efforts.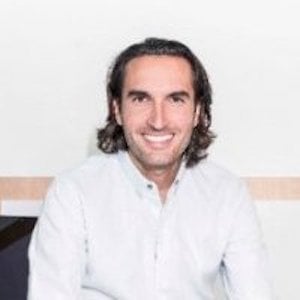 Yaniv Masjedi
CMO, Nextiva
Their expertise has helped Nextiva grow its brand and overall business
6 Ways to Find New Content Ideas
One of the most common and relatable symptoms of recurring content creation is running into creator's block where you can't think of what to write about next. Don't worry, we've all been there.
That's why we've come up with these helpful tips to help you get the creative juices pumping again.
1) Use vidIQ's Daily Ideas Feature for YouTube Inspiration
If you're an active content creator on YouTube, you're likely always on the lookout for fresh ideas to engage your audience.
VidIQ comes to the rescue as an invaluable tool in your arsenal. One of its standout components is the daily ideas feature, designed to make your content creation process more efficient. This means you no longer have to start from scratch or spend countless hours brainstorming ideas. VidIQ's daily ideas feature serves as a springboard for your creative endeavors, providing you with a solid foundation to build upon.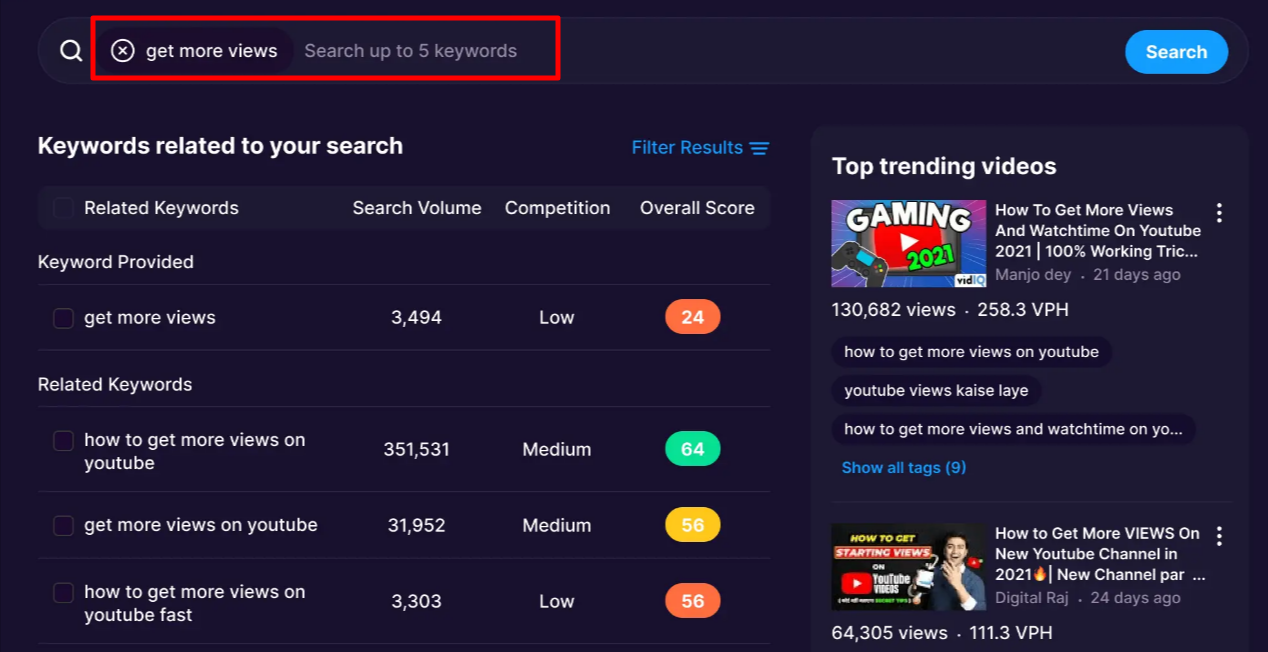 Although the headlines provided by vidIQ are a great starting point, it's essential to personalize them to align with your brand and audience. This customization allows you to add a personal touch and inject your own creativity into the ideas presented by vidIQ. With a few tweaks and adjustments, you can transform these suggestions into content that reflects your brand identity and captures the attention of your viewers.
The predictive performance metrics associated with each headline provide insights into the potential impact of your content, enabling you to make informed decisions. With this valuable information at your disposal, you can choose ideas that have a higher likelihood of resonating with your audience, boosting engagement and viewership.
Check out this 3-minute video to help you come up with Headline Ideas to Get Attention Without Spending a Fortune:
2) Quora Is a Treasure Trove of Ideas
When it comes to finding content ideas, many content creators often overlook the potential of Quora, a popular question-and-answer website where users can ask questions in a wide range of topics and receive answers from a community of contributors. This platform serves as a goldmine for tapping into the curiosity and interests of your target audience.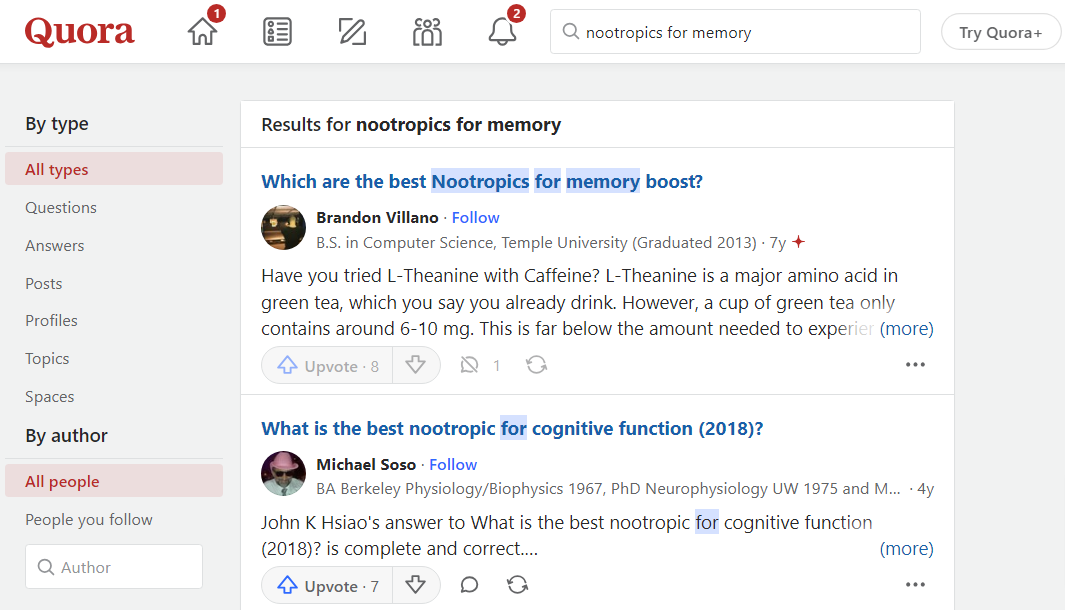 You can combine the questioning nature of Quora with tools like Answer The Public, which can give ancillary suggestions that you can then combine with Quora for ideas: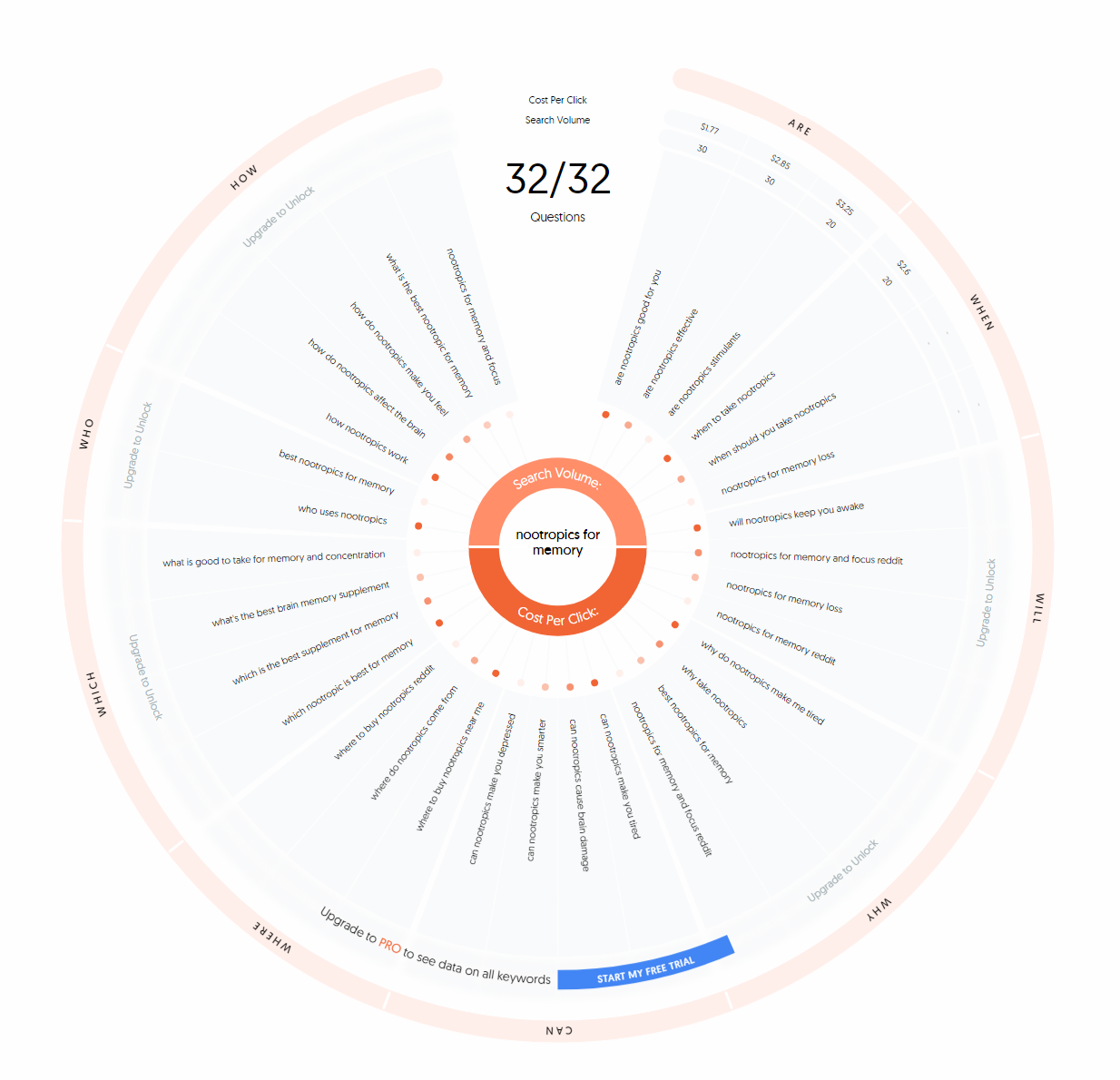 Moreover, the beauty of creating content based on questions is that it not only satisfies the curiosity of your audience, but also positions you as an authority in your field. This, in turn, enhances your brand's reputation and encourages repeat visits, as your audience recognizes you as a reliable source of knowledge within your industry.
Dive Deeper: 30 Ways to Come Up with Great Ideas for Your Blog Posts
3) Listen to Google's Suggestions
Many content creators often overlook a simple yet effective method for generating content ideas: using the suggested topics that Google provides when you enter a query into the search bar.
This straightforward approach can serve as a shortcut to discovering a wealth of great ideas for your content.
All you need to do is type a question related to your industry into Google's search bar. As you scroll through the search results, pay close attention to the "People Also Ask" section located in the middle of the page. This valuable section presents a compilation of additional questions commonly asked by users, offering a plethora of new content ideas to explore.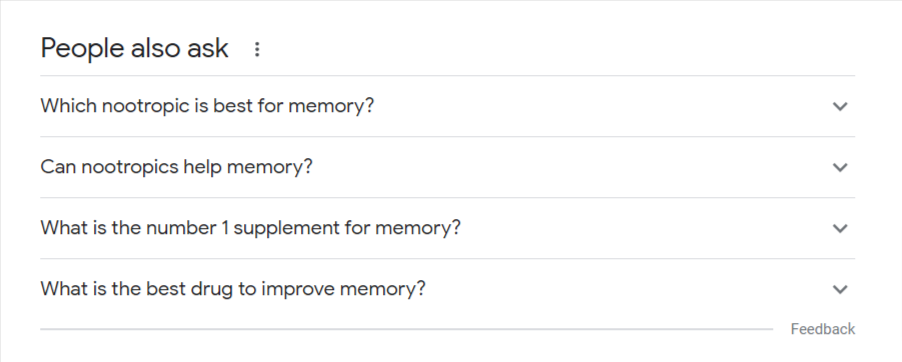 If you keep scrolling to the bottom of the page, you'll find an additional resource: the "Related Searches" section:

By delving into the questions that people are actively seeking answers to, you gain valuable insights into their interests and concerns. This information allows you to tailor your content to directly address their needs, positioning your website as a go-to resource within your industry.
Dive Deeper: Never Run Out of Ideas: 7 Content Creation Strategies for Your Blog
4) Pore Over Your Website Analytics
One of the most valuable sources of content inspiration lies right within your website analytics. If you dive into the data provided by your analytics platform, you can uncover a goldmine of information that will guide you in finding compelling content ideas.
The key is to examine what your visitors are searching for on your website. This insight allows you to identify popular topics that resonate with your audience and cater to their specific needs and interests.
In the left-hand sidebar of Google Analytics, navigate to Behavior > Site Search > Search Terms: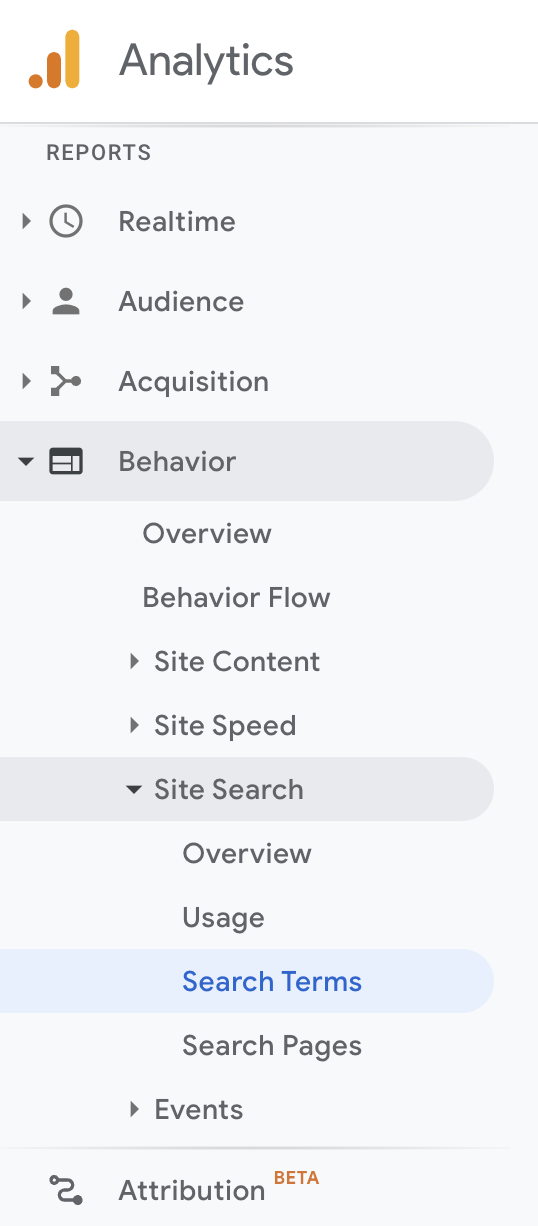 The "Search Terms" report will show you the search terms used by visitors on your website, along with metrics such as the number of searches, the number of pages viewed after the search, and the average time spent on the site after the search.
To do this, though, you'll need to enable internal search tracking. By doing so, you gain visibility into the keywords and phrases that users are actively searching for within your website. This information is invaluable as it offers a direct glimpse into the topics and information your audience is seeking.
To enable internal search tracking to find out what your visitors are searching for on your website, follow these steps:
Sign in to your Google Analytics account and navigate to the desired website's reporting view.
In the left-hand sidebar, click on "Behavior" and then select "Site Search" and "Overview."
On the "Site Search Overview" page, you'll see a toggle switch labeled "Site Search Tracking." Make sure it is set to "ON."
Next, you need to configure the query parameter, which is the URL parameter that identifies on-site searches. To determine the query parameter used by your website's search functionality, perform a search on your website and examine the URL. Look for a parameter that appears after the "?" in the URL and typically contains the search term. For example, if your search URL looks like this: "https://www.example.com/search?query=keyword," then the query parameter would be "query."
Enter the query parameter value into the "Query parameter" field on the "Site Search Settings" page in Google Analytics.
Enable the checkbox labeled "Strip query parameters out of URL."
Click the "Save" button to apply the changes.
After you have completed these steps, Google Analytics will start tracking the search terms that visitors use on your website.
5) Explore Industry Forums and Communities
Another great source of ideas is industry communities and news sources, such as digital magazines, digests, and forums. These mediums serve as vibrant hubs where like-minded individuals gather to discuss topics and seek advice within a specific industry.
One of the most valuable aspects of industry forums and communities is the abundance of questions and discussions taking place. Paying close attention to the questions being asked allows you to identify common pain points, challenges, and interests shared by your target audience.
Continuing with our example of nootropics, we found a variety of forums and informational sites, like Nootropics Expert, dedicated to discussions about different nootropics, their benefits, and their drawbacks: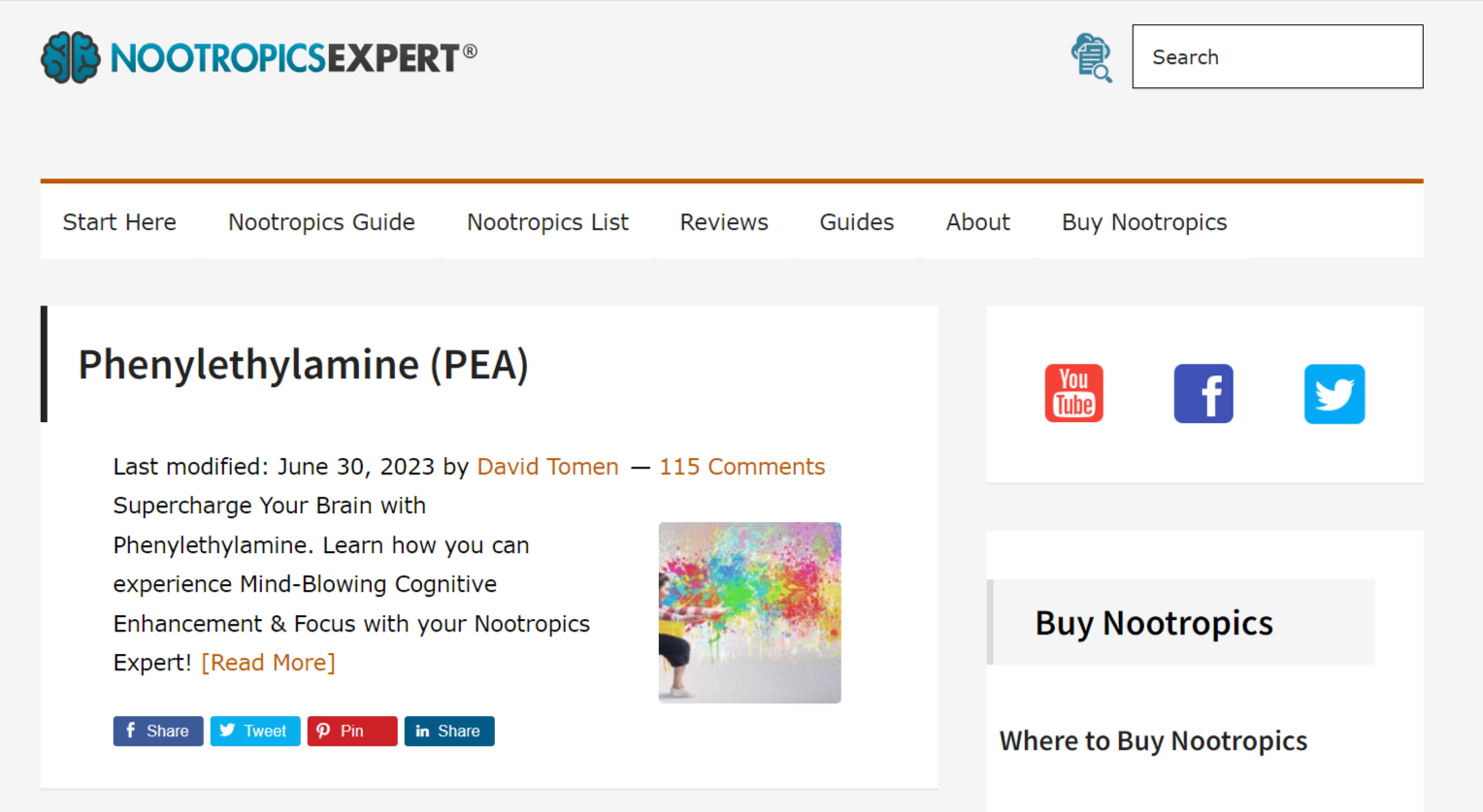 Furthermore, by participating in these discussions and offering your expertise, you establish yourself as a trusted authority within your field, further enhancing your reputation and credibility.
6) Study Your Competitors
Analyzing your competitors' content can provide valuable insights and inspire your own content creation. Identify the top-performing content in your niche and understand why it resonates with the audience. While it's essential to offer unique and original content, studying your competitors can spark new ideas and help you identify gaps that you can fill with your expertise.
BuzzSumo is a great tool for your competitor research. You can search for content by keyword and see some of the top-performing content by engagement, number of backlinks and evergreen score. You can also apply filters to the types of content available.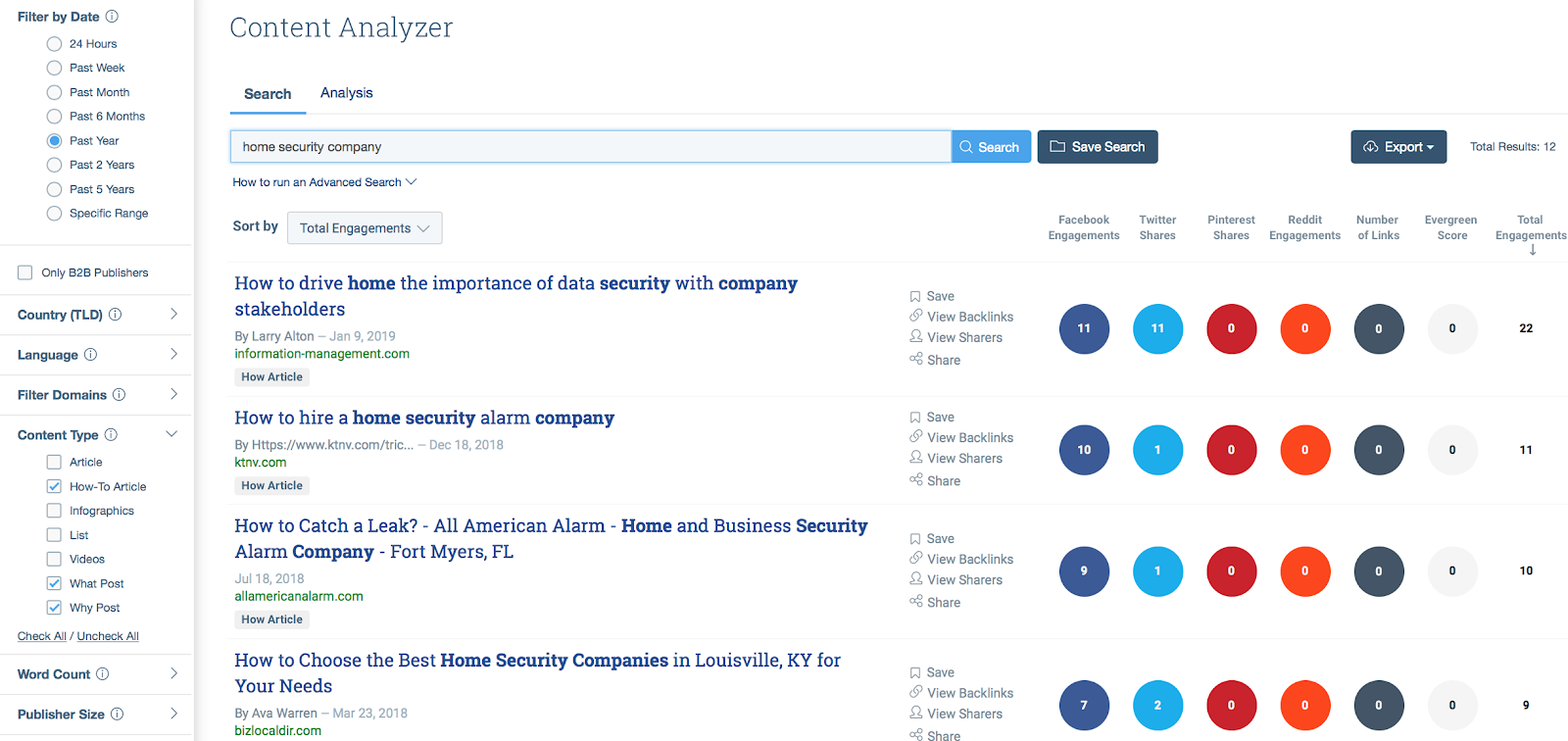 Start by examining the topics your competition covers and the angles they take. Identify the types of content that receive the most engagement, such as blog posts, videos, or social media campaigns. Pay attention to the formats, styles, and tones they use to captivate their audience.
While studying your competitors' content, it's important to maintain a balance between drawing inspiration and maintaining your uniqueness. It's crucial to offer original and distinctive content that sets you apart from the competition.
Use the insights gained from your analysis to identify gaps or areas where your competitors may not be fully addressing the needs of the audience. This presents an opportunity for you to leverage your expertise and create content that fills those gaps, offering a fresh perspective and valuable insights to your audience.
Remember, the goal is not to replicate or imitate your competitors' content but rather to learn from their successes and adapt their strategies to suit your brand and target audience.
Dive Deeper: How to Use Google Keyword Planner for Content Creation
Final Thoughts on Content Ideas to Revitalize Your Content Calendar
We're confident that some or all of these approaches are bound to work for you to some extent. But it does take hard work on your own part to locate the places where ideas are rich and plentiful.
The biggest thing we'll leave you with is identifying which source is rife with the best ideas you can go to reliably.
Once you realize where your audience is spending their time and getting their information from, you can piggyback on that source to derive your own content with your unique twist on it.
If you widen your net, you'll be all the more likely to uncover new ideas that you'd never thought of before. Just keep an open mind!
If you're ready to level up your content marketing, Single Grain's

content marketing experts

 can help!👇
Repurposed from ourMarketing School podcast.