According to a survey by Havas, "people wouldn't care if 74% of the brands they use every day just disappeared."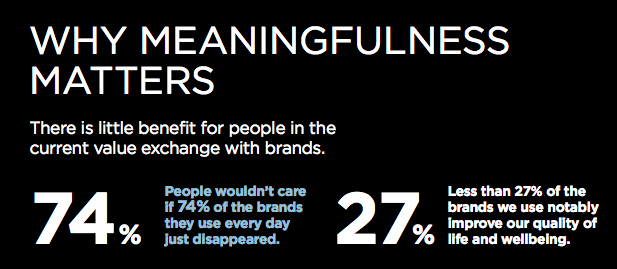 Across the world, only 57% of brands are trusted on average (and only 33% in North America!):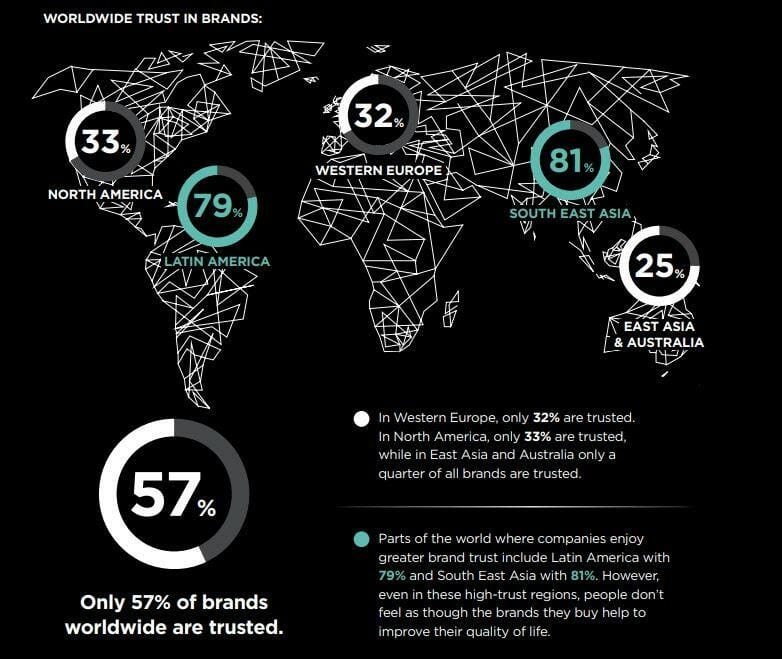 These figures are shocking, right? They shouldn't be. Today's shoppers place a lot more value on customer experience than ever before. They're willing to provide their personal and financial data to companies, but (reasonably) expect a higher quality experience in return.
Do you know of many brands that do this?
Many businesses tend to only focus on how much money a customer can make them rather than investing in the level of service that needs to take place, even after a purchase. In other words, when a customer buys from them, this type of business feels that they have achieved their goal of receiving money from a transaction. They then move on to converting a new customer.
But have any of these brands ever thought about the lifetime value of that customer? Or the acquisition costs associated with continually acquiring new customers as they neglect those who have already bought from them? Once a customer is loyal to your brand, you have an excellent opportunity to continue cashing in from this relationship.
And you do that by leveraging real-time customer data from UX testing.
User experience (UX) testing can turn this data into revenue by allowing a brand to see how they can personalize their service for each customer, make the purchasing process more seamless, reward loyalty and improve customer service. Not only can UX testing reduce the costs of getting a new customer, it ensures that your relationship with your customers are more authentic.
What Are CACs and CLVs? 
What do these two acronyms mean?
Customer Acquisition Cost (CAC) is related to the amount of money you spend to acquire a customer.
Customer Lifetime Value (CLV) is a calculation of the net amount of money a customer spends during the entirety of a relationship with your business: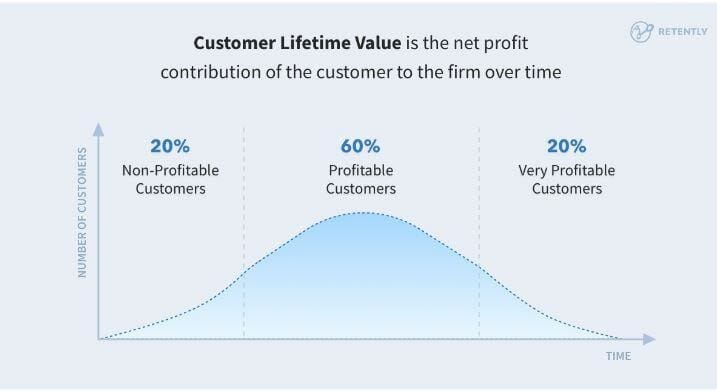 In other words, CAC is the amount of money spent on sales, marketing and associated employee costs divided by the number of customers that you get during this period of measurement: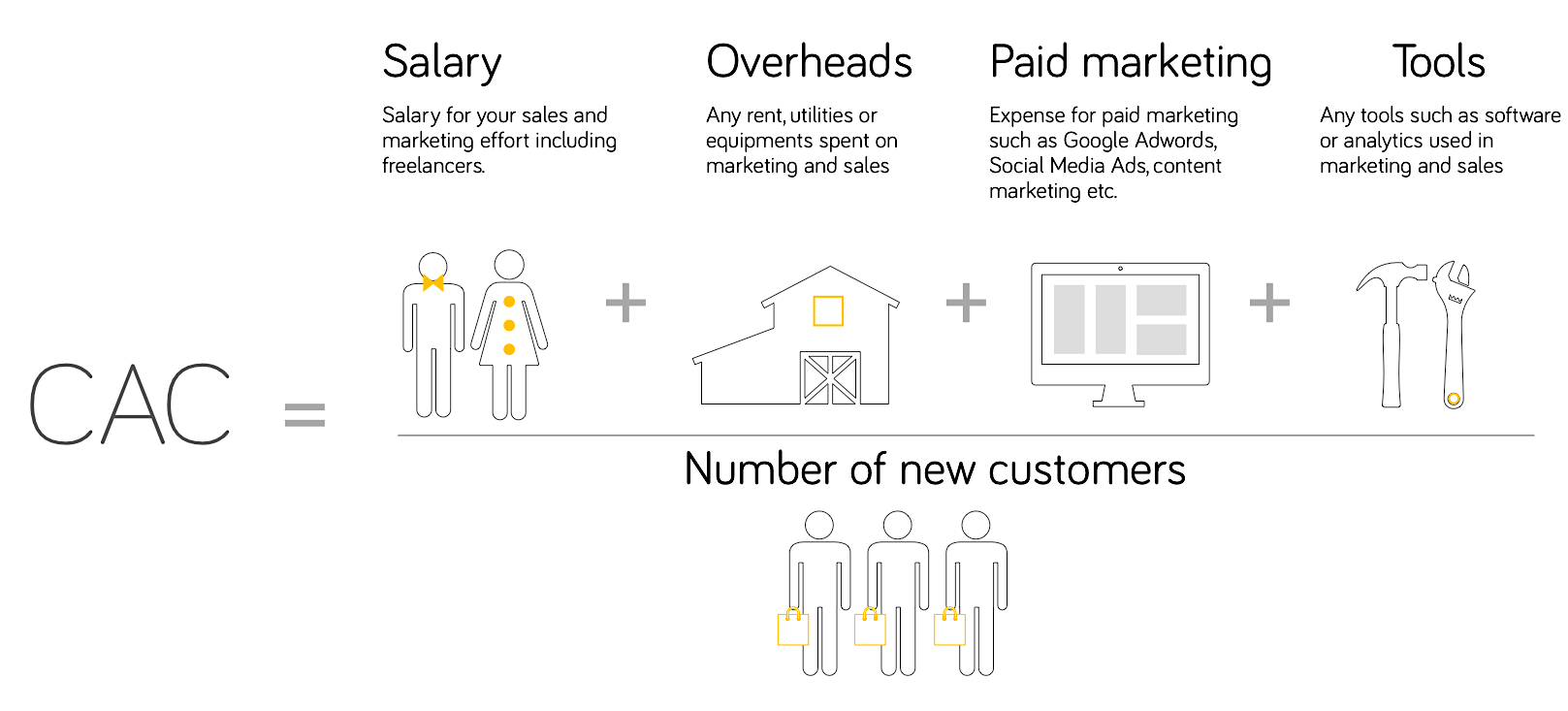 To calculate the Customer Lifetime Value, multiply the lifetime value (value of a sale times the number of transactions times the relevant customer retention period) by the profit margin, which should look something like this: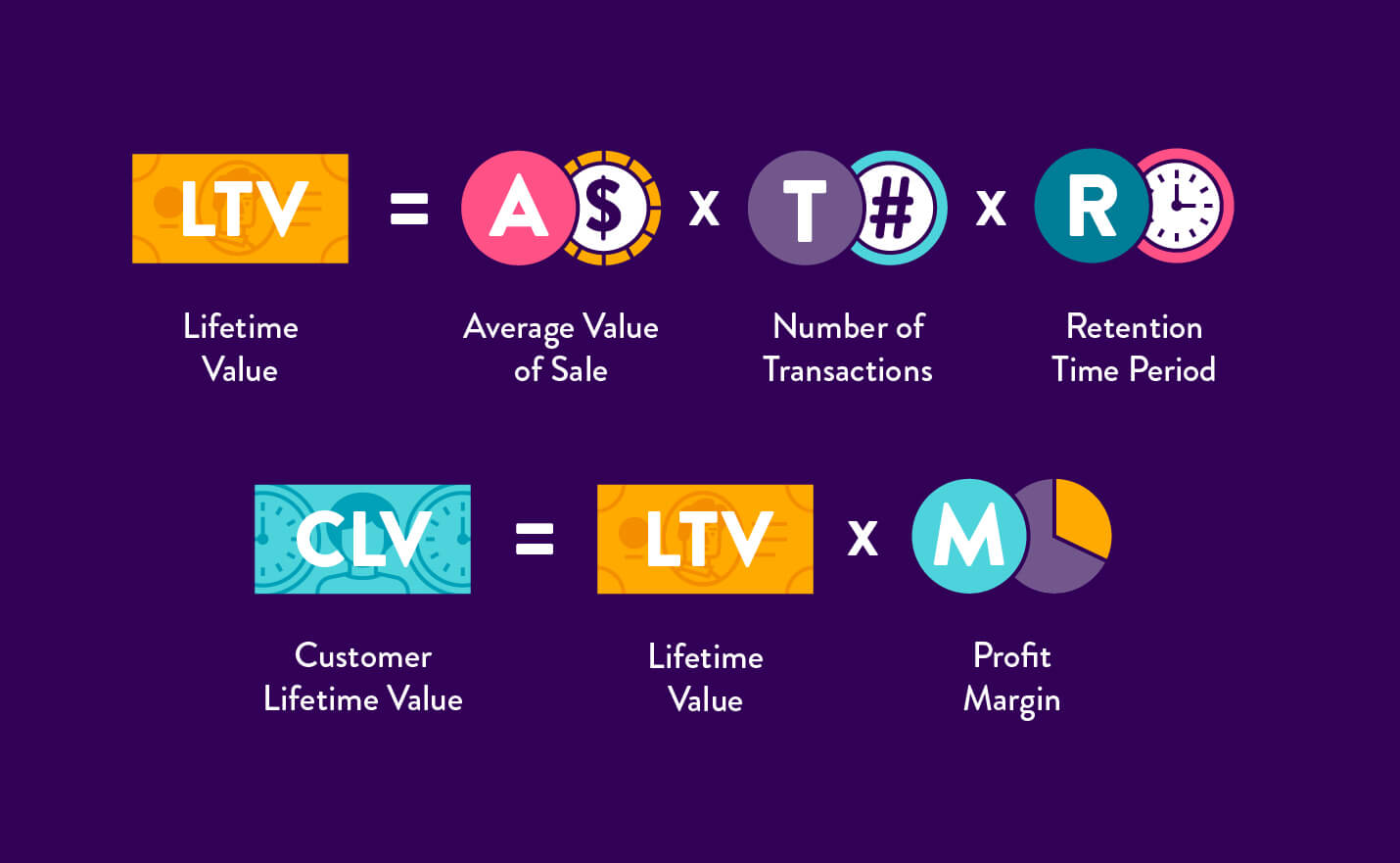 You should always aim for your CLV to be, at most, 3x higher than your CAC. If this ratio falls, you need to take action to improve your CLV.
So how does UX testing fit into this action plan?
Dive Deeper: 7 Mistakes in UI and UX That Are Costing You Engagement
What Is UX Testing?
A UX test allows you to extract high-quality, actionable user insights from your qualitative research that will demonstrate what is of most value to your customers. Think of how problematic it would be to design a product or service and then only discover afterwards that it contains a myriad of problems and doesn't even meet the specific needs of your target customer.
Going through a UX testing process ensures that your product or service is user-centric from the start and provides you with specific data on the only individuals who matter: your customers.
More importantly, the data received from the UX testing process automatically makes your product easier and more natural to use, which results in more of an emotional attachment to your brand. This is wonderfully demonstrated by the image below from the Interaction Design Foundation: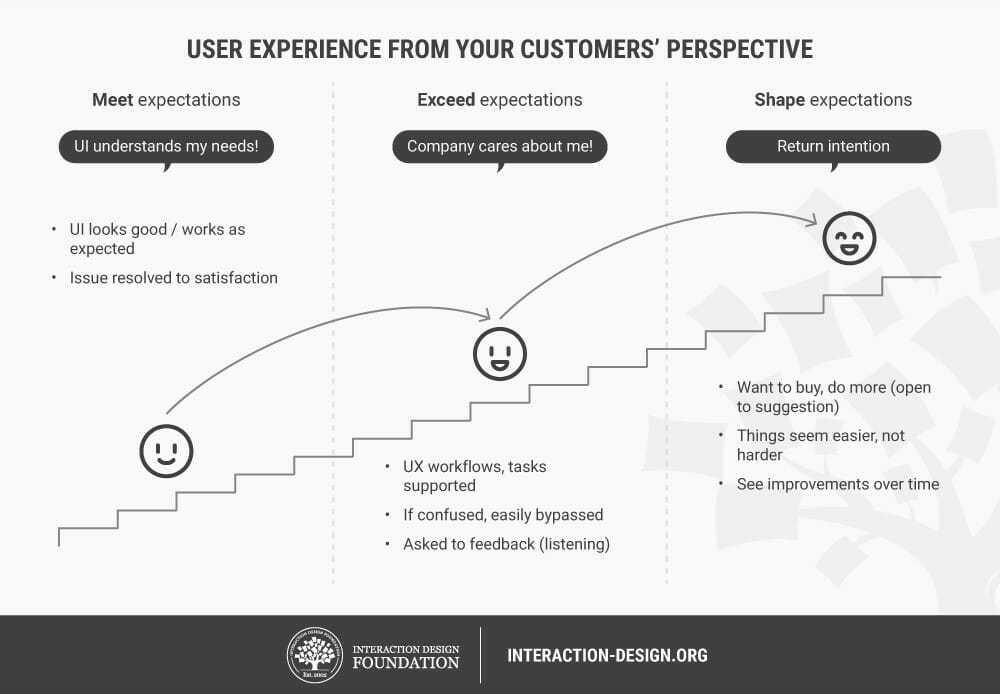 Lastly, it can reduce the cost associated with acquiring a new customer since the data will do away with any guesswork in terms of what is needed to retain that customer. Once you retain your target customers, a better CLV will follow as the loyalty factor ensures that a happy customer will not leave you for another brand.
Dive Deeper:
Types of UX Testing Methods and Their Benefits
Now let's look at two types of testing methods.
Quantitative UX Testing
Quantitative data are numerical data insights. This usually answers the "what" question when used as a part of a UX testing process.
Quantitative research methods are useful if you want to use UX testing results to link directly to your business KPIs. This method is also objective, which means that it is less affected by human bias, and, if you are an individual who enjoys "picturing" goals, it can also be used to visualize data.
Qualitative Research
When paired with quantitative analysis, qualitative UX testing methods answers the "why" of an experiment. These results can be observations, thoughts, feelings and comments from users.
They can also be used to tell a story about user experience with your brand, which would involve uncovering the deepest desires and needs of your target audience. Don't know why your website isn't converting its visitors to customers? A qualitative study could help you understand the reason why, as your target customers talk to you about what you could do better: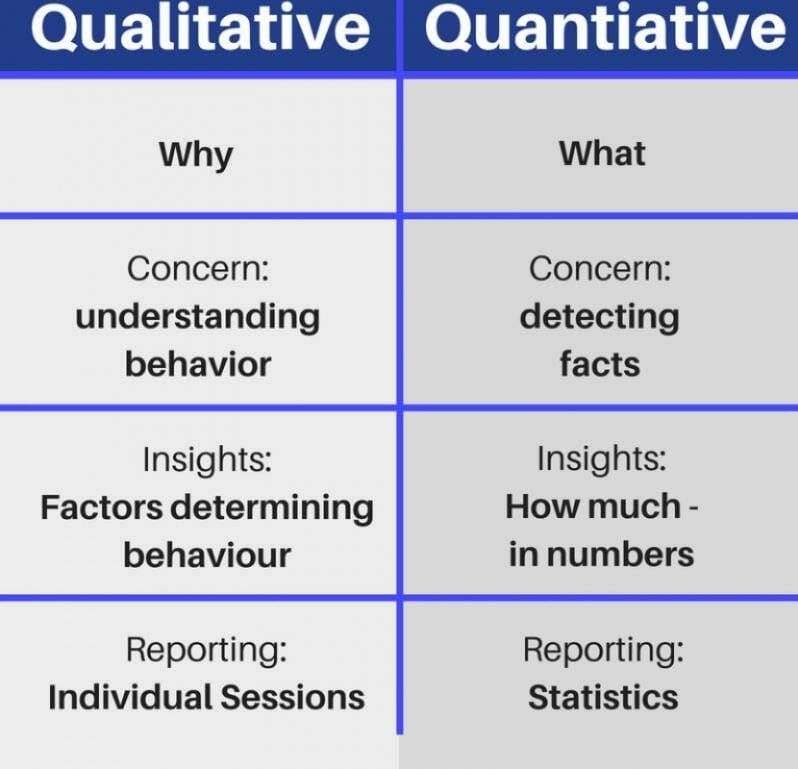 Qualitative user research methods include:
Interviews
Card sorting
Eye tracking
Click stream
A/B testing
Unmoderated and Moderated User Research
Now you'll have to decide whether you want to carry out your research with or without a moderator.
Unmoderated UX Testing
An unmoderated test involves a user interacting with your product or service in a "real world" environment while being subject to a limited number of tasks or questions. Then you'll look at the results of this test to understand the pain points or frustrations of your target customer.
If you use a UX testing service to run your unmoderated test, they can help you build the study, find suitable participants and analyze the results of the investigation.
An unmoderated study is cheaper to run, easier to set up and allows you to test multiple users simultaneously, but it does not allow a business to ask any follow-up questions after reviewing the initial data.
Moderated UX Testing
In a moderated UX test, the moderator can have a live conversation with the participant to go more in-depth into their behavior and attitudes towards your service or product.
Because this session happens live, the moderator can modify their existing questions or prompts along the way to keep the study relevant and better understand the user's behavior. Other team members and stakeholders can also observe these tests anonymously as they happen.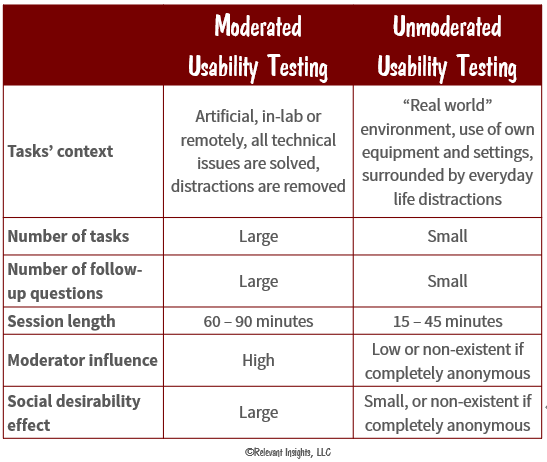 4 Ways to Use UX Testing Methods to Improve CLV and Lower CAC
1) Tailor Your Product/Service for Your Target Market
Loyal customers are valuable, but loyal customers who also spend a lot of money with you are even more useful. While focusing on improving your product is essential, you should also look at ways to make your current customers happy.
But before you can start making customers happy, you need to know who they are and how to target them with your product or service.
Create User Personas for Clearer Understanding
Determine who your target audience is with a user or buyer persona, which is simply a description of your target customer (or customers) made up of such info as demographics, job title, goals, challenges and even hobbies: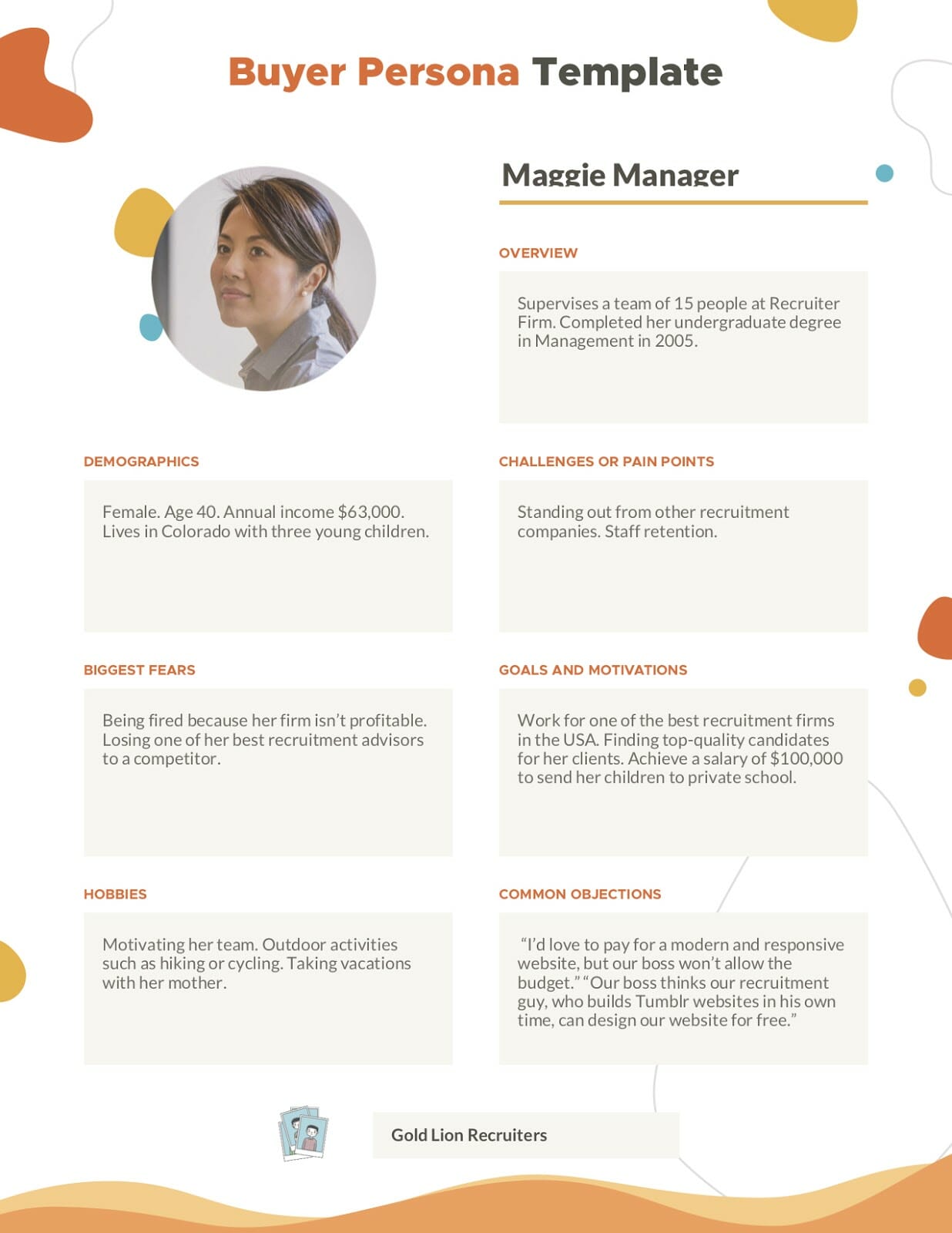 Once you know who these individuals are, as well as their needs, desires and motivations, you can design better schemes, product features or rewards for them so that they continue to stay loyal to your brand.
Start with one persona at first so that your team members have a clear structure.
Dive Deeper: The Ultimate Guide to Developing Buyer Personas (with Templates!)
From Start to Finish: The Customer Journey Map
Assess the entire path from the moment someone realizes they have a problem to the point of purchase by creating a customer journey map.
This will help you understand why a customer feels a certain way about your product or service, and its use is twofold:
It will improve the understanding of your target customer among other team members
It will uncover the various ways that your business can grow as you work on bettering the user journey
In the beginning, you need to create two versions of this map – one to showcase the customer journey now and one to highlight a future journey.
Not only will you need to know your target customer before starting this process, but you'll also need to collate any other research gathered on customers, whether this is from competitor research or customer feedback surveys. Assess this type of analysis when creating your customer journey map with the rest of your team.
Here's an example of a customer journey map from UX Cheat: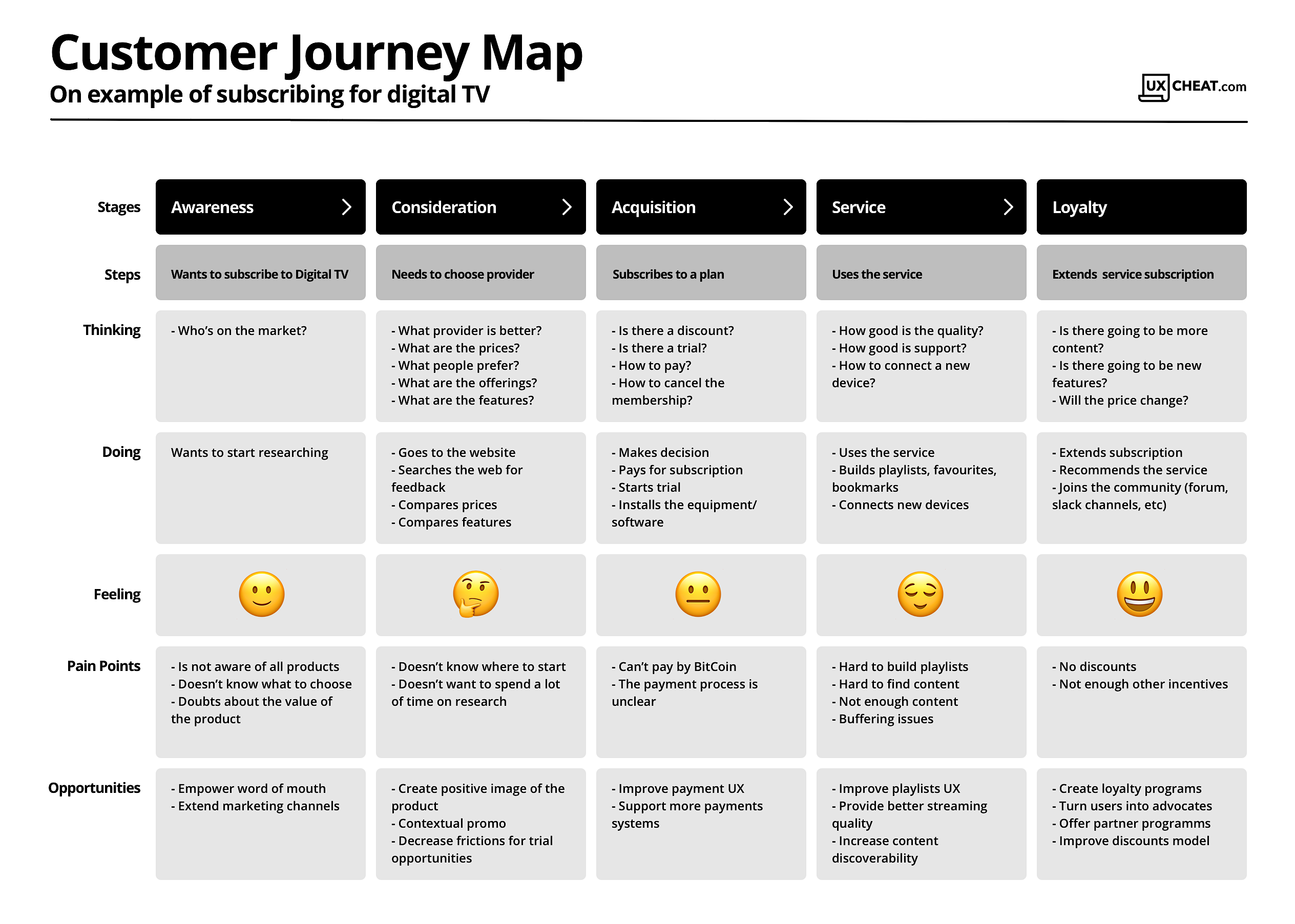 Go Deeper into Your Customer's Mind with Empathy Maps
What about digging deeper into your customers' needs after you've created a user persona or customer journey map? Try an empathy map.
An empathy map is a tool for user experience researchers to understand what the customer is thinking, feeling, seeing, hearing and saying. It creates a more effective user-centric organization.
It's typical for businesses to rely on hunches or assumptions when developing a new product or service. Banish these hunches with an "assumptions meeting" with your stakeholders in which you pinpoint instances of 'risky' or 'difficult to validate' assumptions. A discussion like this can ensure that you investigate any assumptions further to avoid their becoming an unnecessary part of the customer experience. 
The North Face takes on this principle by stocking inventory that is based on their local audience. Additionally, each store has custom recommendation guides that are tailored to that specific community. So their Manhattan store is customized with apparel, equipment and guides for "urban exploration here in New York or getting out to the wilds of Central Park or even further."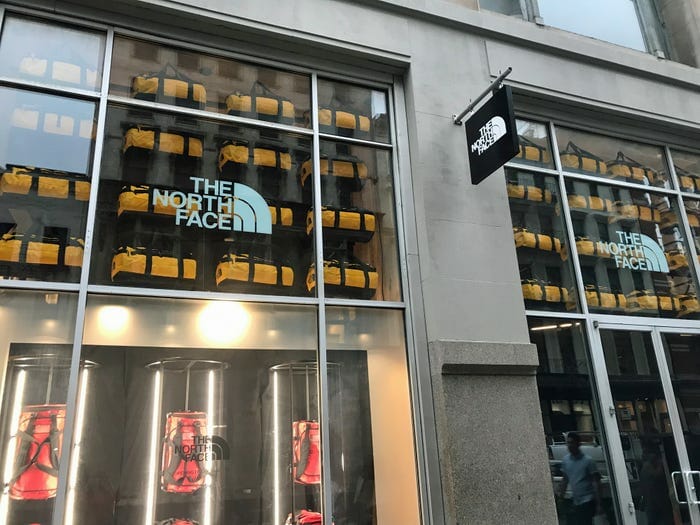 The outdoor recreation company uses a UX tool for heat mapping in their brick-and-mortar stores to discover which areas of the shop are most popular with their customers, and then arrange the merchandise to reflect those customer interests.
2) Deliver an Exceptional Customer Experience 
According to a recent study by Qualifio, 83% of marketers find it challenging to personalize their campaigns for customers. Even more importantly, if customers receive the personalized service that they feel they deserve, they will share their data in this way: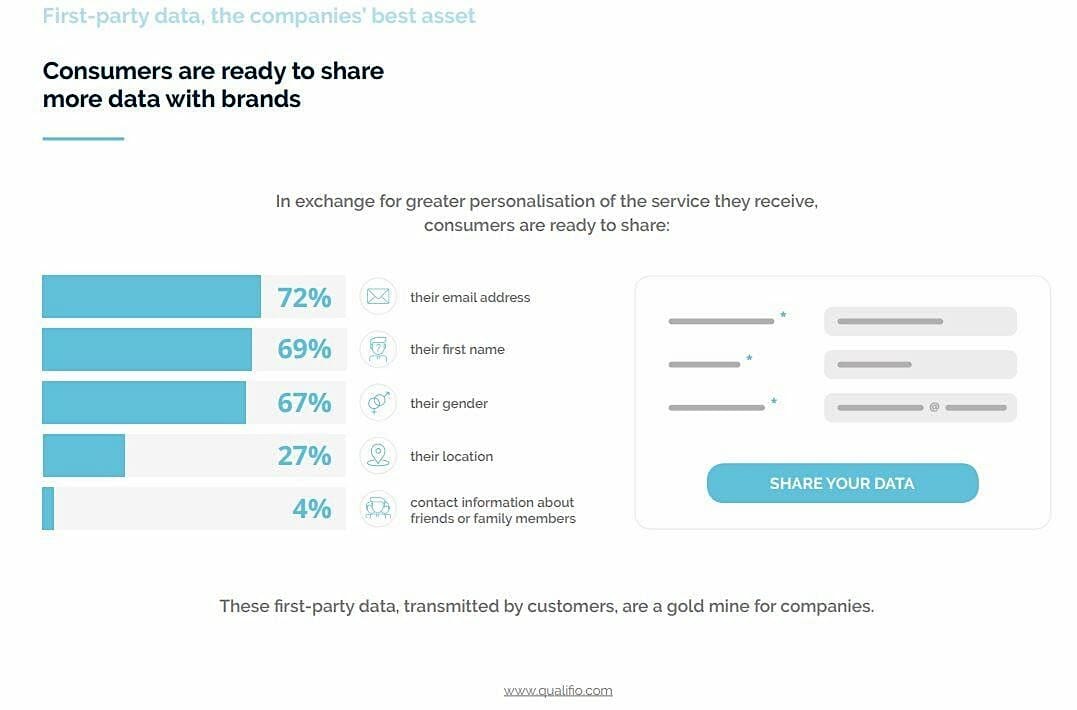 We'd love to be able to turn every potential buyer who walks into a store into a loyal fan, or every customer who browses your website into an advocate. But how do you know what would actually work?
Is it about uniformity with regards to navigation across all pages — including tabs, buttons, commands and menus? Is it about using eye-catching elements to draw attention? If you own a store, could your rates of conversion improve with loyalty schemes? But how do you determine the type and content of the loyalty scheme that works best?
Dive Deeper: 9 Ways to Deliver the Best Digital Experience to Your Customers
Getting Personal with Your Customers
The truth is that all customers love to feel special. Their loyalty to your brand will start to grow if you can make them feel like this.
Personalization can determine whether your target customer becomes a repeat buyer, as it involves delivering a message through the right channel at the right time.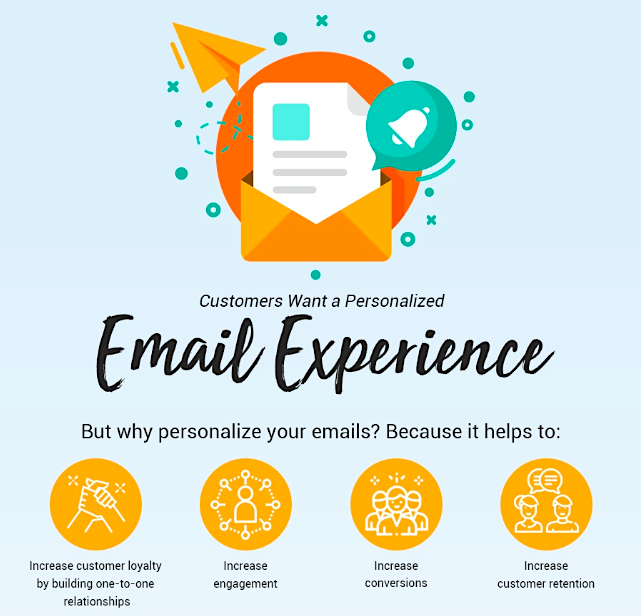 Once you know your users better, you can use this insight to change your onboarding process to give your new customers a better welcome. Personalization can also enable your customer support team to offer better customer service, because the language and resources that your customer service team uses will make a customer feel like they have an actual connection with your brand.
If you want to encourage a customer to buy from you continually, you need to keep them engaged with content that adds value to their lives. After mapping out the customer journey and creating your user persona, you should have a better idea of the type of value that you need to offer your audience.
Use email marketing to emphasize the personalized value that your product can offer. For instance:
If you provide a food subscription services, you could provide recipes, tips on healthy eating plans that also save money each week.
If you are a software provider, your weekly email could curate the best testimonials from your customers as well as a quick tip on how to solve a common user issue.
You could also use a newsletter or email to create educational content for your users. Your customer journey map would prove useful here as it would have identified the various touchpoints of a customer's journey where they might get stuck. For instance:
If you are a clothing boutique, you could talk about seasonal fashion trends, the ultimate power suit or how to make your workday more fashionable.
Sometimes, it can be as simple as sending a handwritten note with every purchase, a thank-you email or some other little touch. For instance, Birchbox shows their appreciation for their customers by enclosing the purchase in beautiful packaging and "in-box extras that take the delight factor up a notch." Customers love unboxing their delivery:
How cute is this month's box from @BirchboxUK 😻😻😻 #birchbox pic.twitter.com/2Vyabmc3Hk

— Kayleigh Holden (@KayleighBow95) August 14, 2019
And even though customers know that they will be getting a personalized beauty-based box every month, they never know exactly what they will get (even the packaging). So, it's fair to say that Birchbox has understood how to deliver an exceptional customer experience to their target audience.
Dive Deeper:
Provide the Best Level of Customer Service to Everyone
Personalization is also a crucial part of customer service when a brand can show that it is committed to solving an individual's issue in the best manner as quickly as it can. Customers value getting through to an actual human being who has enough knowledge to solve any problem that they have.
Providing above-average customer service support is one of the best ways to retain a customer's loyalty and help you grow your business. If a person has a great customer service experience, they have a better customer experience. Better customer experience means that they will choose you over a competitor, will keep coming back, and will recommend you to their friends, family and social networks.
If your customer support team communicates on a variety of channels, even better. To decide which channels are best, use your current data to show you what most of your clients use for communication.
It is best to have a dedicated customer service team that can answer queries 24/7. If this is not possible, you can either install a chatbot to answer questions outside of business hours or ensure that your employees respond to queries as soon as possible. A chatbot can also be programmed to follow up any help with a survey to get customer feedback. Not convinced? Take a look at this:

As well as customer support staff and a chatbot service, a business should also build a knowledge platform for all its users that consists of self-service articles, video guides and tutorials, and any other supporting material. This type of database will also take the pressure off your support team so they have the opportunity to work on more pressing issues.
The results for personalization campaigns speak for themselves. What if you could continually collect data on each customer so you can customize their shopping experience each them?
Farfetch's "Store of the Future" does this through RFID-enabled technology: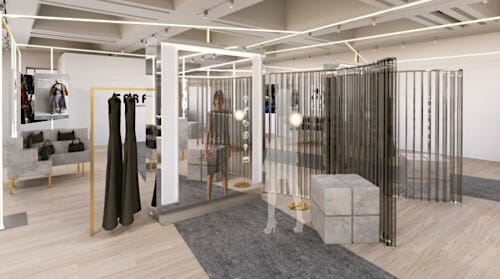 The Store of the Future vastly enhances the online retail experience with:
a universal login that recognizes a customer as she checks into the store
an RFID-enabled clothing rack that detects which products she is browsing and auto-populates her wishlist
a digital mirror that allows her to view her wishlist and summon items in different sizes and colors
a mobile payment experience similar to what exists in Apple Stores
It's no wonder this luxury retailer has earned so many loyal fans!
Similarly, the Sydney Cricket & Sports Ground Trust (SCGT), in collaboration with Cisco, developed a unique and integrated mobile fan feature that allows fans to be more immersed in and connected to the game. They can share their photos, which are then showcased during the match on screens and social media. This experience allows people to feel like they are part of the cricket family on that big day and gives them five minutes of fame. Who wouldn't want that?
UX Testing to Deliver a Personalized CX 
As you've probably gathered already, optimizing your customer lifetime value goes hand in hand with optimizing your retention rate. And the retention rate is improved when you make your customers' lives easier.
Once you identify the buying patterns or behaviors of the customers in your industry or sector, try using the data-driven techniques below to grow your company to new heights.
Dive Deeper: Neuromarketing 101: How Neuroscience Affects Customers' Buying Behaviors
A) Card Sorting
Do you know how your customers want your website to be structured? Does your current website navigation make sense? These are the types of questions that you can use card sorting (a UX testing process) to answer.
Card sorting is exactly as it sounds: participants group cards in a manner that makes sense to them. First you will need to create a group of cards that consist of a concept or item. There are two types of card sorting:
An open card sort

means that participants place cards into categories that appeal to them and then name these categories on their own. This type is best if you are still looking at ways that you can sort through and name information on your website.

A closed card sort involves users putting the cards into categories that a business has determined for them. This type is best if you want to find out whether customers think any of your existing categories are unclear.
You can use this technique to determine whether your college application website, for example, can be navigated easily in this way: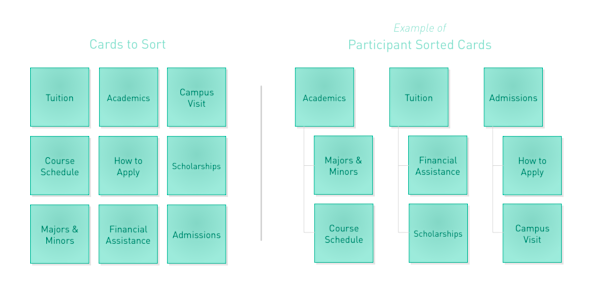 If this card sort is conducted with a moderator, you can also use it to ask participants further questions on what you could do to make your website more personalized.
B) Eye Tracking
If you want to know how your customers think, you can use another UX testing method called eye tracking, which can give you details of what users think of the visual images or objects on your website.
If paired with a moderated interview UX test, a business can also monitor unconscious reactions during the testing process. For instance, tracking the eye gaze through heat maps will make you aware of which areas of the screen received the most interest and which parts did not. It will also demonstrate where, on your website, the user spent much of their time.
If you take a look at this example from Littlewoods, you can see the areas of the website that received the most interest, such as the car or call to action: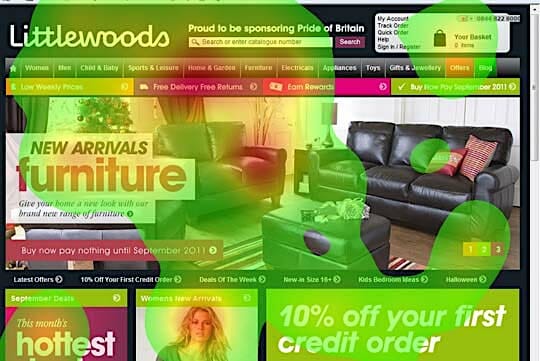 You can also see an example of eye tracking on this Google results page:
C) Clickstream
A clickstream is a name for the series of clicks a user makes on a website when going from one hyperlink to another.
Using a clickstream test will show you exactly how a participant navigated through your website in order to get to the information they needed. It will also show you when they leave, and if they leave too quickly, this could mean that they did not find the information they were looking for.
Clickstreams are popular with e-commerce websites who use this UX testing method to investigate the pages that a shopper normally goes to, stays on and then what typically goes into their basket at the end. Combining this with a qualitative UX test, like a moderated interview, will allow you to discover why customers made certain decisions while on your website.
3) Improve Brand Loyalty via Rewards & Other Conversion Techniques
Segment Your Content 
Once you are aware of who your target audience is, begin by segmenting these customers into various groups so that you can develop specific content to convert customers in those groups. In this way, you can make it easier to create a set of rewards for each type of group.
For instance, you could segment customers based on how profitable they are to your business. Start with categories like singles, families, students and couples.
Once you have these demographic groups, you could segment them even further by assessing the CLV that each group offers your business. In this way, each group could benefit from a different set of content that inspires them to purchase more from your brand in the long-term.
An example of a brand doing this well can be seen with Hello Fresh, which targets families with their family-specific recipes. In this way, they have encouraged more families to sign up to their subscription model as a way of making cooking bigger family-based meals easier: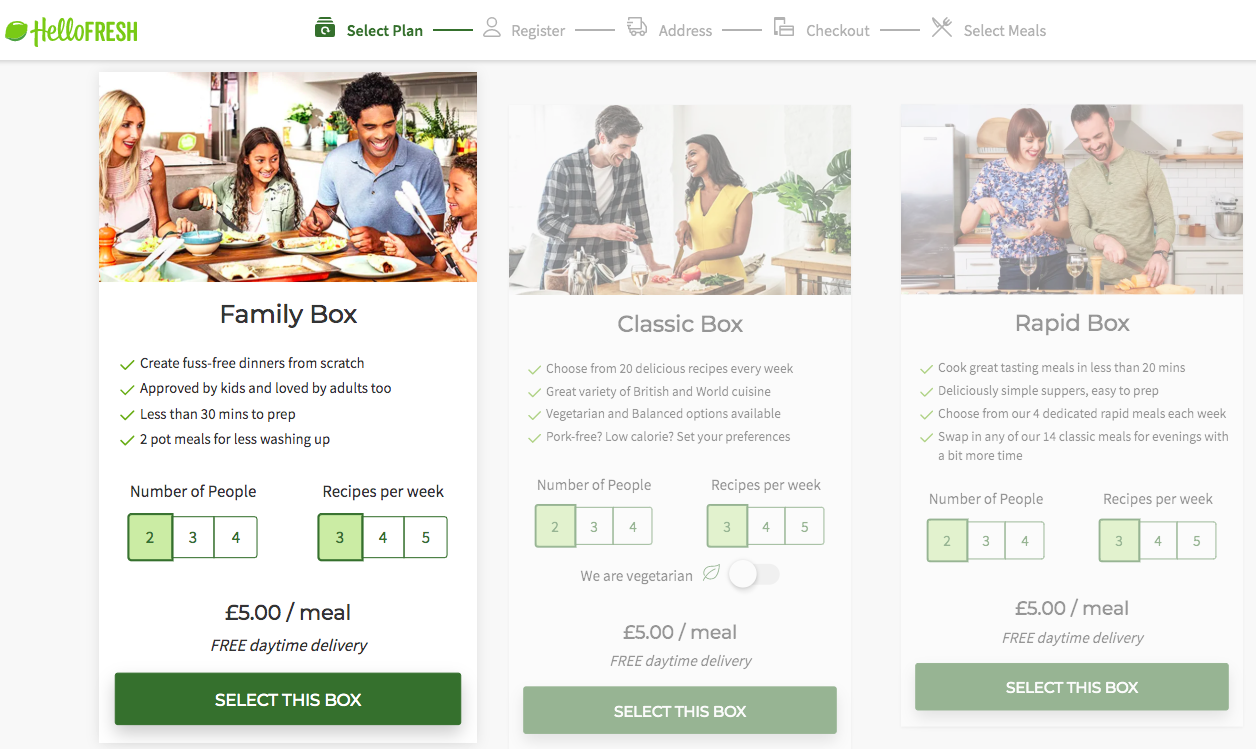 But the process of segmentation does not stop with demographics. You could also segment your customers based on their expected behaviors (once you've derived this knowledge from a user behavioral persona test). This type of persona will tell you what a customer does, when they do it and why.
If you understand why a customer takes a certain action, you will then be able to know what your service can do to help them, which will very likely result in a purchase.
Ensuring employee loyalty is also a way to brand loyalty for customers, as it is the customer support associates that can make or break customer loyalty.
This is what PepsiCo did when teaming up with GoSpotCheck to allow customers to always have access to the products they regularly need.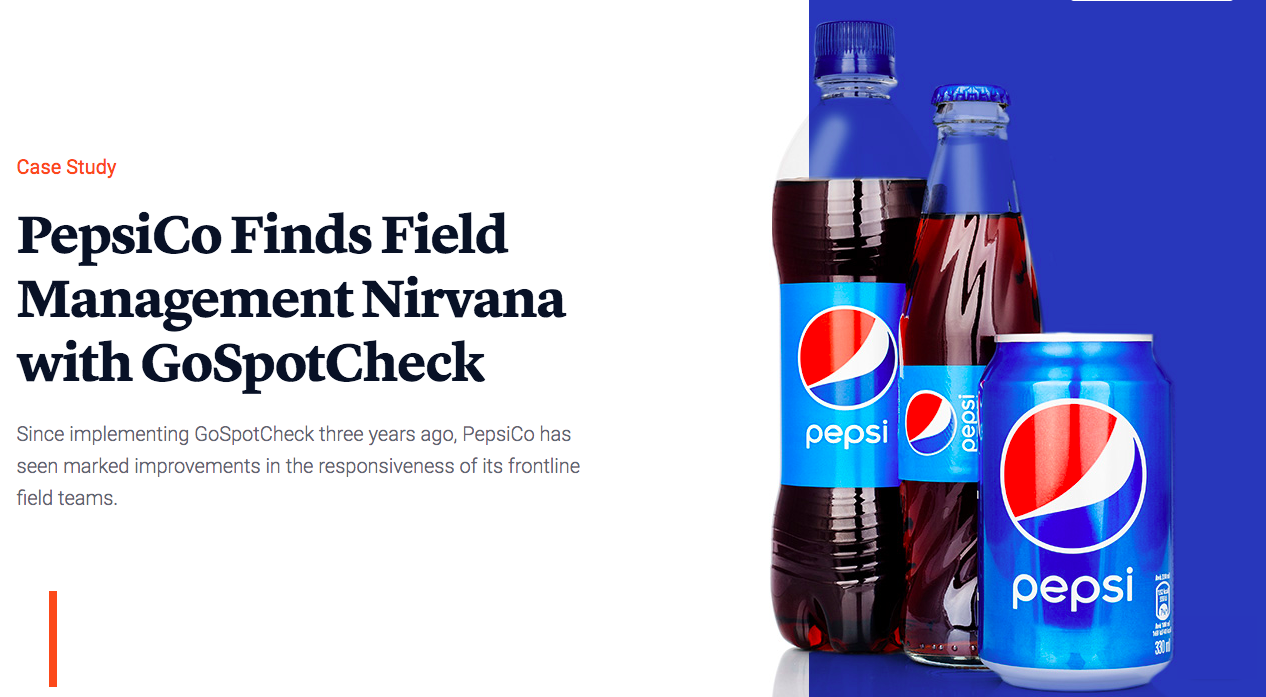 Using a GoSpotCheck-powered app, employees can take pictures of am in-store shelf to notify customers of available items at any given time. A customer's goals are already fed into the app, which means that they get access to the information they have requested based on their specific needs.
Want a repeat customer rather than just a one-time customer? Giving them a discount code for their second purchase can usually encourage people to make another purchase from you. But after this, apart from continually offering discounts, how do you continue to motivate customers to buy from you?
You must realize that not all customers want discounts as a reward. You'll need to figure out what they want, whether it's extra points to purchase or other exclusive experiences that money cannot buy.
You could go one step further by rewarding customers who haven't bought from you yet but have performed another action with your brand, such as sharing content on social media, watching one of your videos or writing a review.
In this way, every customer will want to be your ambassador, especially if you're giving away something valuable before they've even made a purchase.
Every day I am amazed with one of the another innovation happening at @CRED_club #CRED. Following is a pop-up regarding applicable intrest rates which is normally hidden in t&c of cc docs pic.twitter.com/PNOnDZqaAJ

— Abhinav Bansal (@abhinavcontact) January 2, 2020
CRED, a fin-tech company in Bangalore, India, has already taken this action by rewarding customers who make payments on time. When customers sign up on their platform, they receive CRED coins whenever they make timely payments. These coins can then be exchanged for rewards such as dining vouchers or gym memberships.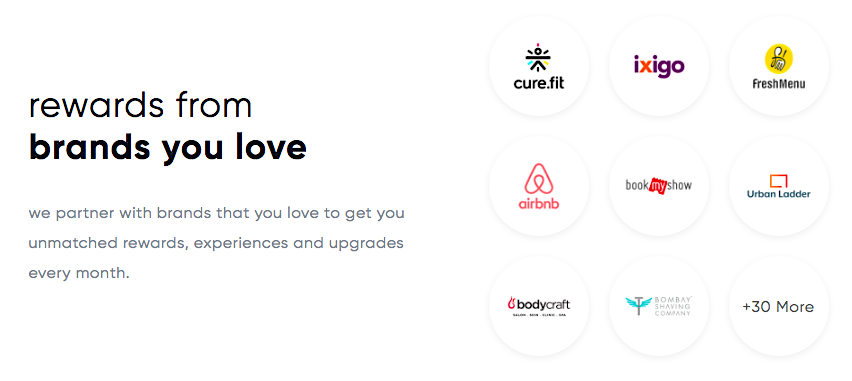 Mizzen+Main, a male fashion designer, also rewards its customers for purchases as well as for completing quizzes and referring individuals to their loyalty program. There are four reward levels that customers can work up to, and rewards include getting into priceless events and birthday gifts personalized to them: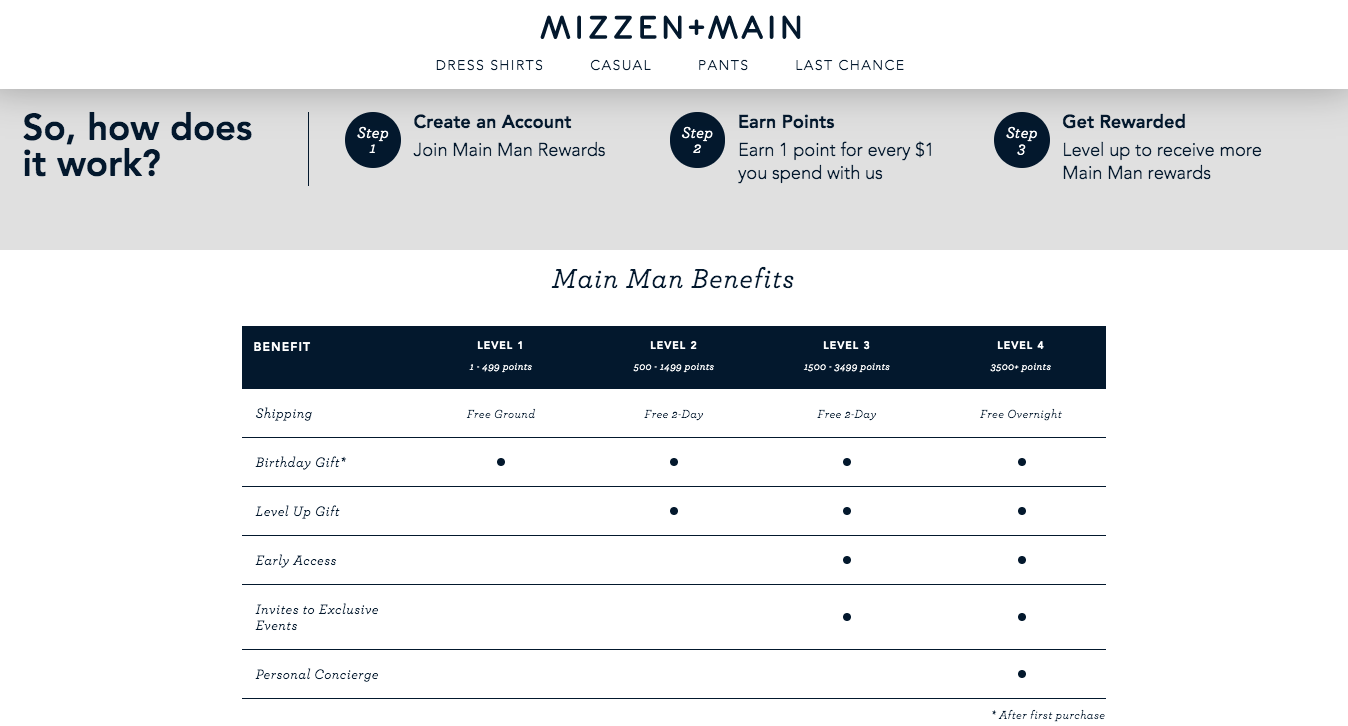 Dive Deeper:
Retarget Customers Who've Previously Bought from You 
The goal of customer lifetime value is to make sure that every buyer continues to buy from you for the rest of their life. So what do you do with individuals who have purchased from you in the past but have been inactive for a while?
You can begin by sending them a re-engagement email that reminds them of the benefits of your brand. Let them know what they are missing out on and what they can look forward to in the coming months if they stay with you. Take a look at this promotional email from Target: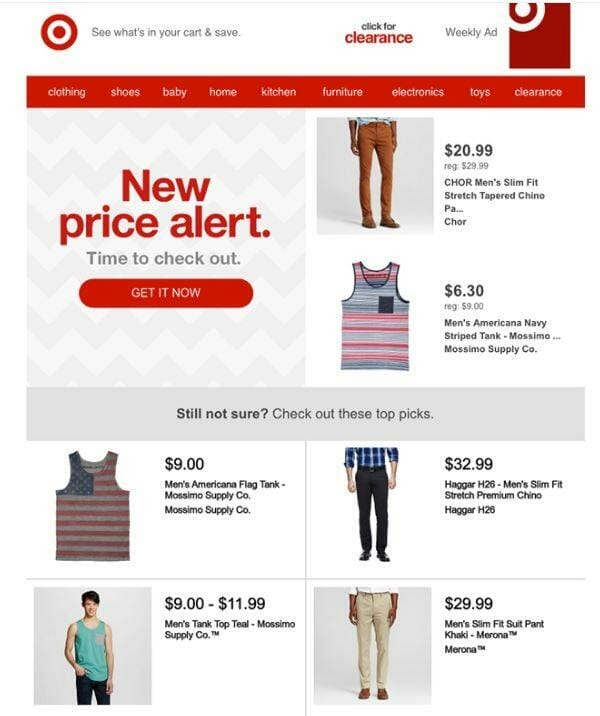 Are any of your products or deals about to run out? Create a sense of urgency by releasing a low stock alert to a customer who hasn't bought from you in a while. Or if a customer previously abandoned their cart, remind them of these items and let them know when they will go out of stock.
We love this abandoned cart email from Doggy Loot which puts a humorous spin on encouraging customer acquisitions: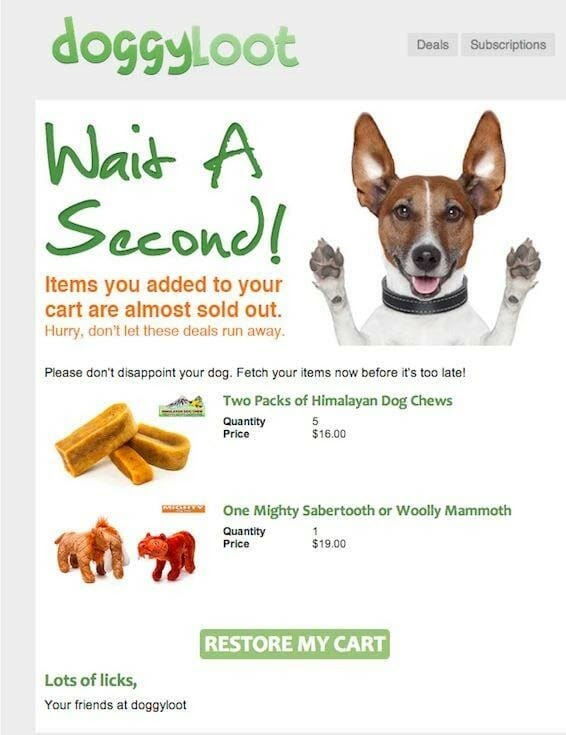 Once the items are back in stock, you can re-engage a customer's interest by letting them know that a product is available to buy again. Abandonment cart behaviors can also take place if a customer does not find what they are looking for. Based on what is left in their card, could you promote an alternative product to them that would bring them back to your website?
Here's a successful re-targeting campaign from Monetate (in collaboration with Bazaarvoice): Monetate used this content firm's shopper profiles (that helps businesses with personalization) to develop a product wishlist in order to turn first-time shoppers who bought a holiday present into regular customers.
Monetate was able to use the insights gathered from their first purchasing experience to create a targeted wishlist to cement brand loyalty.
Dive Deeper: 
Upsell/CROss-Sell an Existing Product or Service
CROss-selling is one of the best ways to improve your CLV and reduce your acquisition costs if you sell similar products or services that can complement each other, like Dollar Shave Club does here: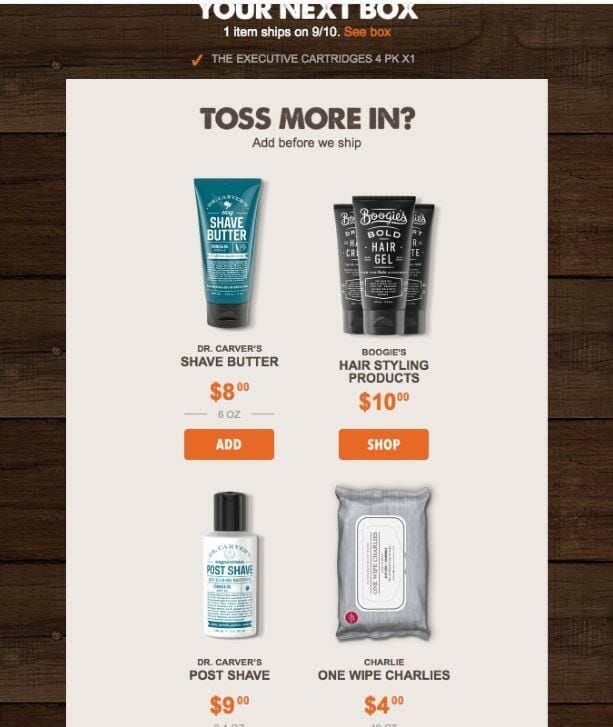 You can also try upselling, which means promoting a more expensive version of a product or service that a customer is already using: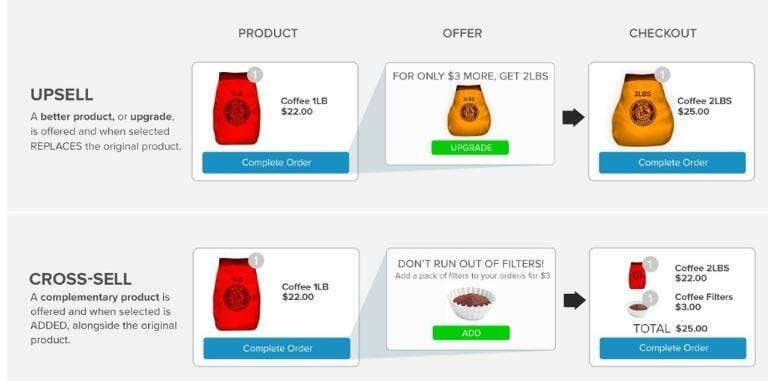 Techniques for cross-selling and upselling for your business include:
Bundling certain products together and selling this package for cheaper
Adding complimentary product suggestions at the checkout stage
Using a "customers also bought" widget that displays when someone puts a specific item in their basket
In partnership with Guess, Alibaba opened its first AI-influenced concept store that allows a customer to log in with a QR code or through facial recognition technology. When they select a piece of clothing online that they like, it will then appear in a smart mirror: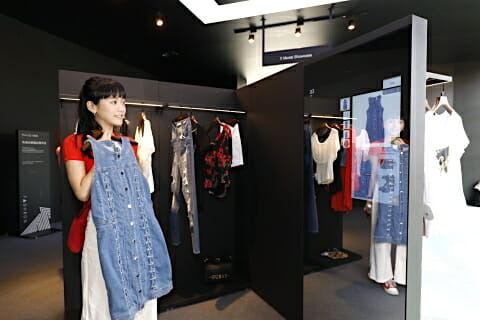 This mirror is then programmed to pick further pieces of clothing to finish the look, based on their previous buying habits or the latest products available in the store. In this way, technology improved Alibaba's capacity to cross-sell and upsell to customers, thereby increasing their customer lifetime value.
Nike has done the same through its membership app, which uses geofencing technology to select experiences and products for customers based on what they have previously bought. If they purchase a product in-store, the app's technology can detect these purchases and then update the app with these preferences too.
How UX Helps Increase Conversion Rates
Diary Studies
If you want to investigate a user's behavior over a long period of time, try using a diary study, which requires a recruited participant to keep an account of their habits, activities and behaviors for days, weeks or months, depending on the topic of your investigation: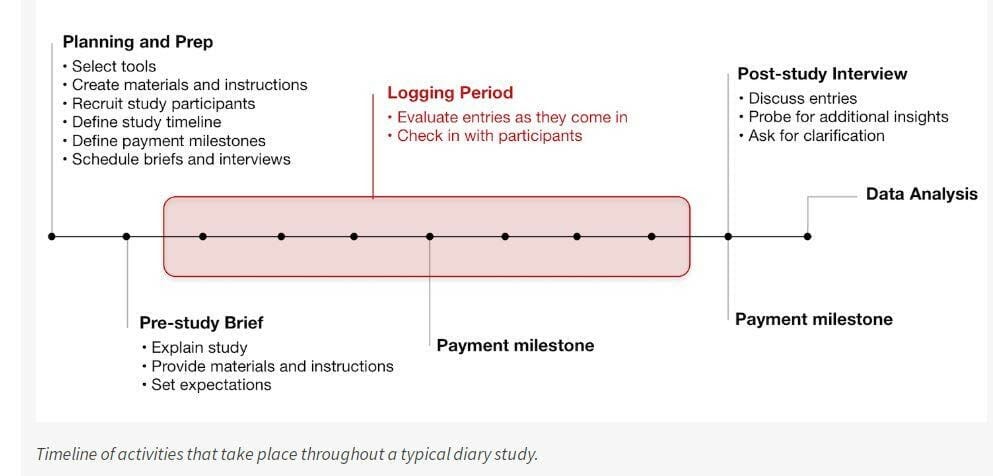 This UX testing method is useful for a brand that needs to get more information about a customer's daily habits over time. A diary study can also be conducted after a moderated interview, contextual or ethnographic (participants are observed performing tasks in their normal day-to-day life) UX testing study:
For instance, you could monitor an individual's shopping- or gym-based habits by asking users to detail the activities in writing and/or with pictures. These types of behaviors could then inform you whether you need to add new features to your website to take this into account or use any technological rewards to make their life easier.
As this type of study is lengthy, you should send reminder emails to participants to check whether the study is still on track and whether they have any questions or concerns. Following the final log of the study, you can have an interview session that gives you the opportunity to ask any further questions based on the logs of information a participant has provided you with.
True-Intent Study
If you want to ask visitors a few questions before they leave your website, use an intercept survey UX testing method, which can be quantitative or qualitative by way of a JavaScript code to integrate on your website or mobile app with a pop-up survey.
You can program this survey with questions like what they were hoping to do on your site, did they find what they were looking for, what did they like or not like about it and what would they suggest improving. In this way, you can find out whether you need to improve the visibility or the standard of any personalized loyalty features or schemes as well as any information guides online.
A/B Testing
If you need to compare two designs, prototypes or wireframes, use A/B testing to see which one is more popular with your customers. For this type of test, you would divide your set of participants so that each set gets a different design. You then examine the two groups to see which one meets your goal.
This UX testing method is useful if you want to make small changes to an existing design, prototype or wireframe, but not worth testing too many goals at once. You could use an A/B test to:
Improve the conversions on your website
Experiment with your call to action by changing the color or text
Test two different versions of a landing page to see which one was more effective at persuading customers to purchase
In this Sim City example, a banner was removed which resulted in a higher amount of conversions: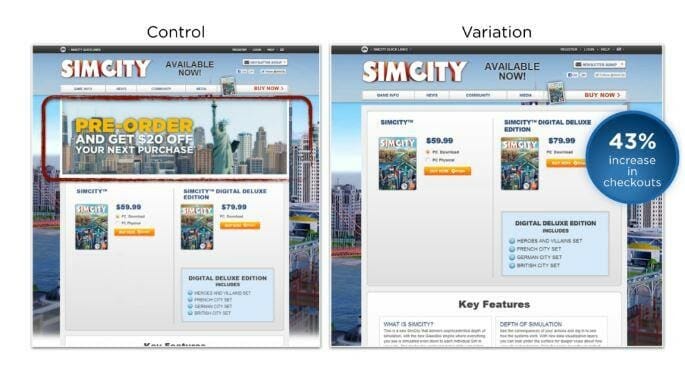 When using software to do this test, it will be able to assess whether there is a numerical difference between the two designs. If any of the test groups get at least a 10% success rate, that experiment has been successful. Use a moderated or unmoderated interview UX test to supplement your A/B test to assess why a participant acted in a certain way.
Dive Deeper: 
4) Makes It Easier for Customers to Buy from You
If a business fails to answer a customer's question in a timely manner, a brand could not only miss out on one purchase, but any chance of loyalty as well.
The solution? Make customers' buying experience completely seamless. Remove all barriers from their shopping journey. Build trust and convert more customers at the moments that matter.
Here are a few ways to do that:
Make Your Returns Process Easier
While free returns might result in additional customer acquisition costs, it will bring improvements to your customer retention rate.
For instance, Zappos discovered that individuals who buy the most products and the most expensive products are also the ones who most regularly return goods. In this way, the revenue outweighs the cost of the free return and means that profitable customers will continue buying from this shoe store.

You can also improve the convenience and flexibility of your returns policy by allowing customers to return a product in a variety of ways. For instance, if a customer returns your product in-store, this could be your opportunity to cross-sell or upsell another product that might be more relevant to them. In addition, your business could also offer free shipping on orders over a certain amount to entice a target customer to increase their purchase.
Make the Checkout Process Faster
There is nothing worse than a payments system or checkout process that is slow, complicated or tedious. If this is what your customers face, then is it any wonder that you have so many abandoned carts?
But you can increase your sales and conversions at checkout by offering various methods with which to pay, such as PayPal, credit card or Apple pay. You can also limit the number of form fields that customers have to fill out and offer guest check out so that they aren't forced to create an account.
Can you guarantee that your customers don't have to leave their vehicle in order to pay for a service? Jaguar Land Rover has done this.
In partnership with Shell, this car's console system is transformed into a payment system through geolocation technology. This allows drivers to pay for gas at Shell service stations without leaving their vehicles, transforming the car's center console into the driver's point of sale.
Customers are encouraged to go to Apple Pay or PayPal from their car to select their type of gas. In this way, the buyer's journey is simplified, and the customer lifetime value has improved.
Make the Transition to a Paid Plan Seamless
Do you know the most effective way to move a customer from your free to paid plan? If you want to be profitable, you need the number of your free-trial customers who transition to a paid plan to exceed the acquisition cost of both your free and paid customers.
The first step towards this transition is to review the journey that a customer takes from a free plan to a paid one. Is this process as easy as possible? Does your customer journey map indicate whether you can do any better? If there's one specific point at which customers do not go any further, you need to do further UX testing on that area so as to improve the customer experience.
Companies like WordPress that offer free software to create websites know that since customers are so happy to receive a service to create their own blog for free, they are willing to pay for any add-ons. The success of WordPress' paid add-ons can be attributed to the resources and service they offer for their free blog option.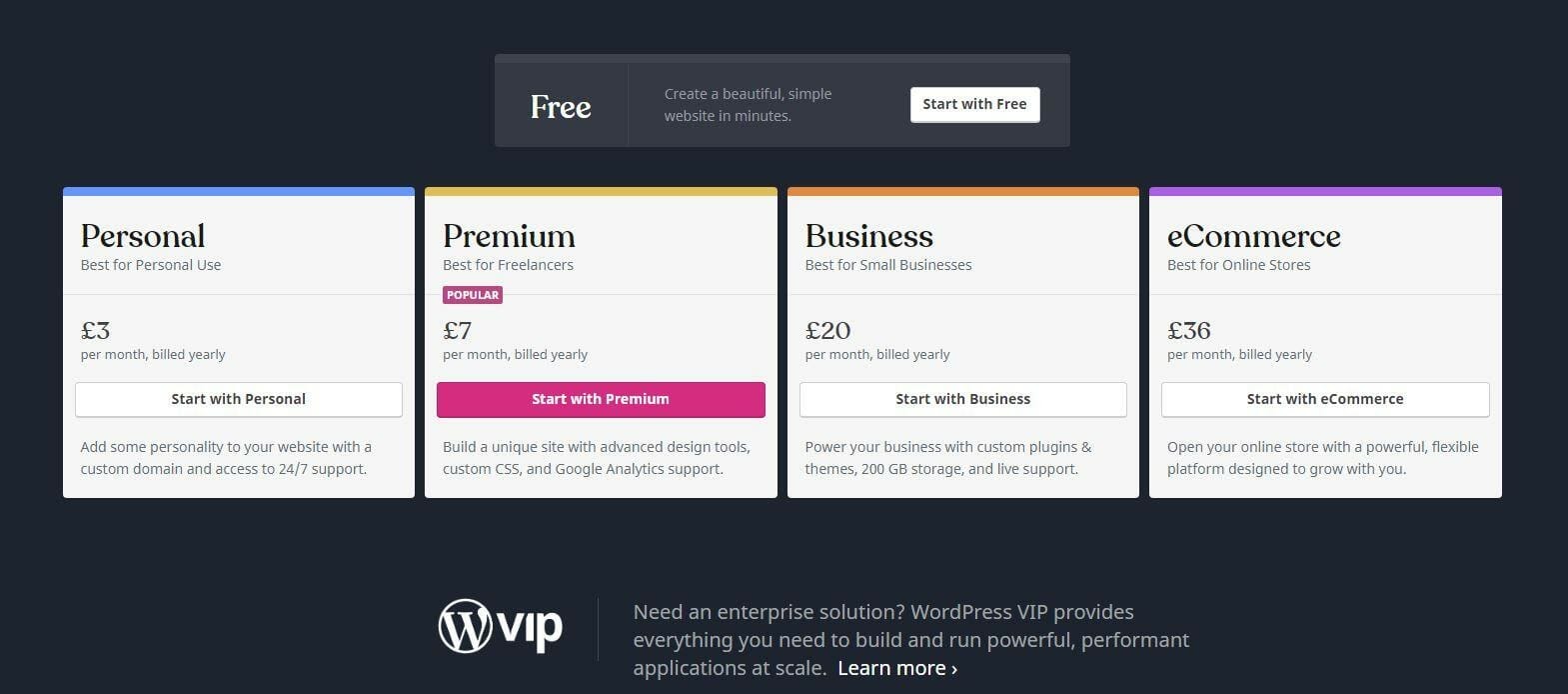 Similarly, although the concept of in-app purchases was initially controversial, Candy Crush went beyond this through their partnership with Facebook that transformed this game into a competitive feat between friends: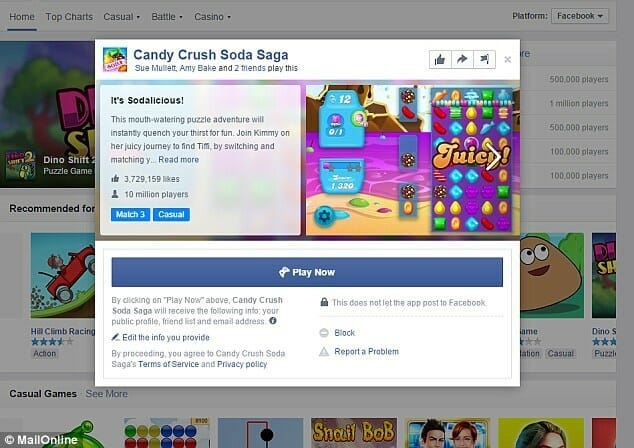 In the end, Candy Crush has proven that the competitive nature of the app means that individuals can be persuaded to buy anything if they want to beat their friends or reach another level!
In this way, your brand can leverage an existing relationship within your target customer's lifestyle to sell your product and improve your customer lifetime value.
Make Your Purchasing Processes Easier
Try programming your website to initiate an intercept or true intent survey (a type of survey that intercepts a person's visit to your site to ask them for feedback) pop up every time a customer browses your website but does not buy anything: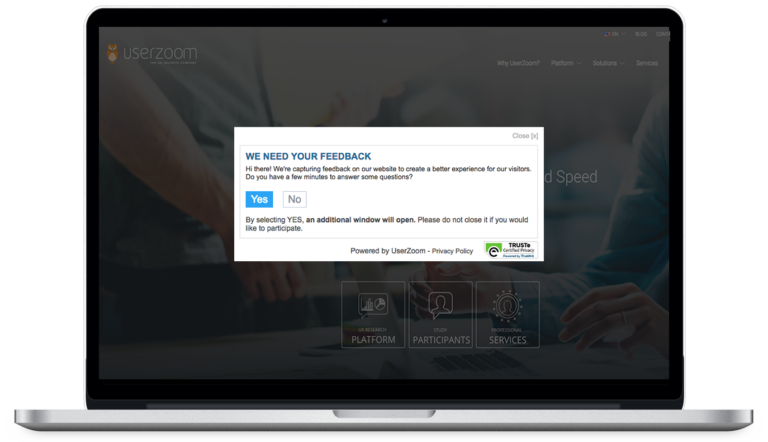 Discover what stopped them from making a purchase and then carry out a further moderated interview to test out any improvements that your team has brainstormed to improve conversions.
If you have several design prototypes, use an A/B test to find out which version of your design has a higher success rate. You can also A/B test a call to action that might link it to a purchasing process, the color or text associated with the cart or different versions of a pricing system.
If an intercept survey indicates that you need a longitudinal study to assess how buyer habits or behaviors change over time or how a capacity for rewards changes over time, perform a diary/camera study with a variety of participants that meet your persona's requirements. At the end of the study, clear up any discrepancies in the logs the customer has made so that you understand what you need to do into order to convert visitors into long-term buyers.
Conclusion
Thinking about how to grow your CLV is one of the best ways to expand your business. This is because it affects customer retention rates and can improve customer loyalty, but most important of all, it allows your brand to continue to be profitable.
UX testing can improve your CLV through user research that shows you exactly what your target customers need and want, whether it is better customer service, personalization or unique loyalty schemes. Take the guesswork out of lowering your CAC and improving your CLV with a research technique that has been used to get results: UX testing.