That's the power of referral marketing.
Every day, millions of people watch TV shows because some else recommended them. And once they finish the show, they recommend it to some else (if they liked it), and the cycle continues. You don't need critical acclaim or A-list actors to make your show viral: you only need the audience's love.
The same is true for your business.
In this post, I will show you how to exploit referral marketing to get satisfied customers to spread the word about your business at little to no cost. Specifically, I'll cover six proven strategies that have helped successful companies accelerate growth and dominate the market.
---
---
Why Referral Marketing Works
Referral marketing is a strategy to promote products or services through current customer referrals to their friends and family. Although similar, it's not the same as word-of-mouth marketing.
Referral marketing takes advantage of your customers' connections to expand your business, acquire leads, and generate sales. Instead of blowing a ton of money on ads to promote your business, you can get your customers to do the work for you by simply sharing their experiences with your brand or inviting people in their circle to check out your products and services.
There are many reasons why referral marketing is one of the most successful and cost-effective strategies for spreading the word about your business: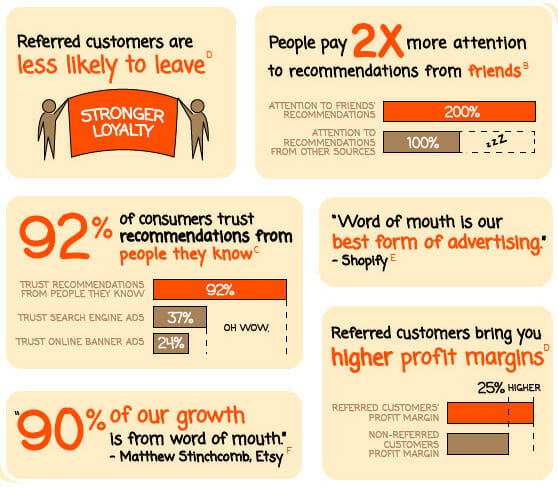 It Builds Customer Trust
Consumers these days are more skeptical than ever. So naturally, they've come to trust traditional advertising less and less, and have chosen to put their stock in the opinions and recommendations of people they relate to.
Since most people have nothing to gain or lose by encouraging others to buy a product or use a service, it's easier to believe that what they say about a brand is true. This recommendation is even more valuable and trustworthy when it comes from someone they know, trust or admire.
Not only are promotions shared through referrals more trustworthy, but they're also more relevant and targeted. While traditional marketing depends on reaching as many people as possible to make the strategy worth it, referral marketing focuses on reaching quality prospects.
This is because people are more likely to share a product or service recommendation with people they feel will benefit from it. Consequently, those who receive the recommendation are more likely to act on it, buy from you, and even keep patronizing your business longer than a customer that you acquire through other means.
For example, Girlfriend Collective's e-commerce referral marketing strategy helped the company grab a sizable market share and compete effectively with big brands like Nike, Lululemon, and Adidas. Their pre-launch website offered new customers $80 leggings made with eco-friendly materials for free for the first few months:
This promise made people so eager to buy and share the information with their friends that the brand's website received 10,000 orders on the very first day, causing it to crash!
This strategy worked really well, and not just because of the freebies. People fell in love with Girlfriend Collective's brand story when they were required to go through the site's FAQ page which explained who they were and what they did (made fair-trade-certified products, for example).
Related Content: Word-of-Mouth Marketing — What Is It and How Do You Do It?
It Builds Brand Awareness
Your Facebook or Google Ads can only go so far, but referral marketing can take your brand to people you might not ordinarily have had access to.
Conversations by word-of-mouth can spread and go viral faster than traditional marketing techniques, as well as help a more extensive audience get familiar with your business in a short period. A simple tweet about your product by a satisfied customer can rack up tens of thousands of retweets in a matter of minutes.
Hawkers is an excellent example of a company using referral marketing to inspire community-driven growth. Recently, the sunglasses retailer gave out free sunglasses to social media users with a large following and backed that up with a referral marketing program that allowed any customer to be an influencer.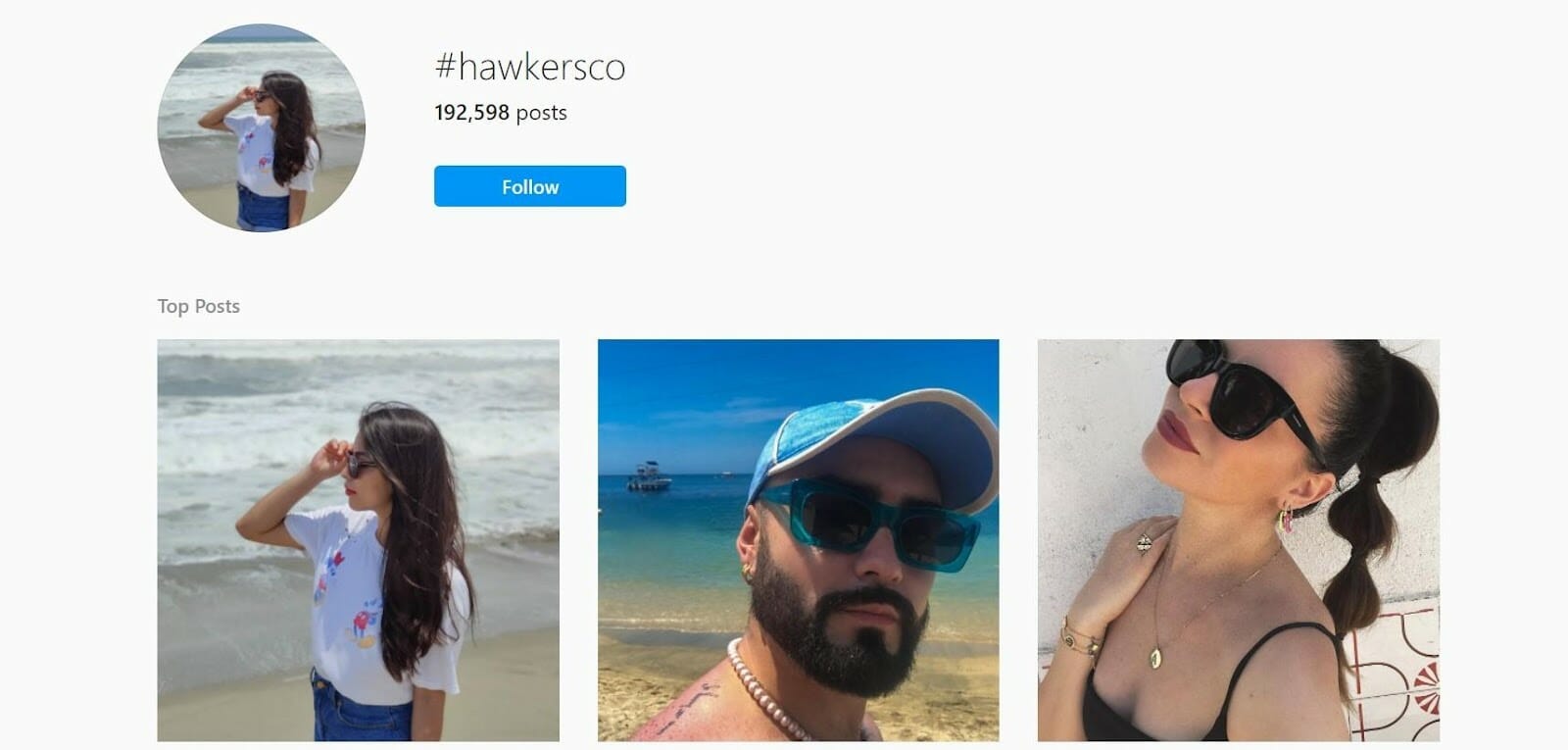 Additionally, customers could share their personalized promo codes, and they received a commission every time someone used it on their purchase. The person using the code also got a new customer discount.
Thanks to this word-of-mouth strategy, Hawkers increased social sharing for their products and generated 90% of their revenue from social media.
Related Content:
* 16 Branding Trends to Increase Awareness in 2023
* Influencer Marketing Strategy: The Ultimate Guide to Growing Your Business with Brand Partnerships

It Helps You Gather Data
Consumers want to feel special. They want an experience that's unique to them, and by monitoring consumer behavior, you can deliver that personalized and seamless customer experience.
When you track the engagement and referrals you get from existing customers and prospects, you'll better understand what's trending, what your customers love, and how to satisfy their needs adequately.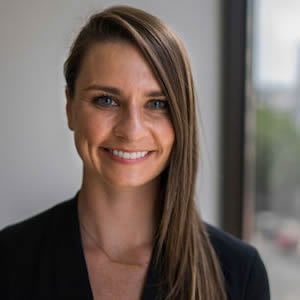 Jacqueline Foster

Demand Generation Marketing, Lever.co

We can count on them to bring new ideas to the table consistently
6 Referral Marketing Strategies for 2023
Investing lots of money in marketing or building a referral program doesn't necessarily guarantee that your customers will preach the gospel of your business to anyone who will listen.
You need to create a spark that will get the fire going and foster customer engagement. And how do you do this? It starts and ends with the right referral strategies. 
1) Send Targeted Emails
Despite the rise of trendier channels like business chat apps, email remains the reigning king in terms of effectiveness and customer preference.
According to the latest DMA Email Marketing Report, email marketing generated £35 for every £1 spent on it in 2020 (roughly $46 USD). The report also revealed that email was the preferred marketing and brand communication channel ahead of any others for over 59% of consumers.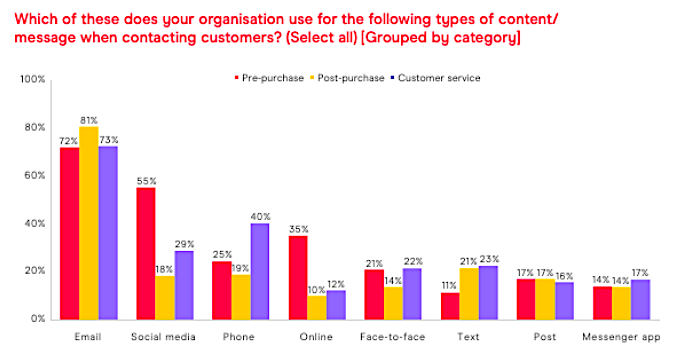 So if you're serious about customer acquisition and retention, you need to start leveraging emails to reach customers, inform them about your referral program, and inspire them to recommend your brand to someone else.
Your past and current customers are already familiar with your business, so it'll be easier to get them to promote your products or services to people in their network in exchange for a reward.
But remember, you can't just send personalized mass emails reminding customers to refer your brand to their friends or leave a review, and then pat yourself on the back. The referrals won't start pouring in until you've established trust with your customers and ensure that your email arrives at the moment when they'll be more inclined to tell others about you.
You can do this by understanding your customers, their triggers, and the vital stages of their buyer journey. Then, set up email autoresponders based on specific events or actions (completed purchases, cart abandonment, positive reviews, etc.) to inform them about your referral incentives.
For example, ReadyTalk, a cloud communication service provider, successfully revamped their advocate marketing program by sending more targeted messages that offered rewards for little things like writing a review or sharing ReadyTalk-related content on social media: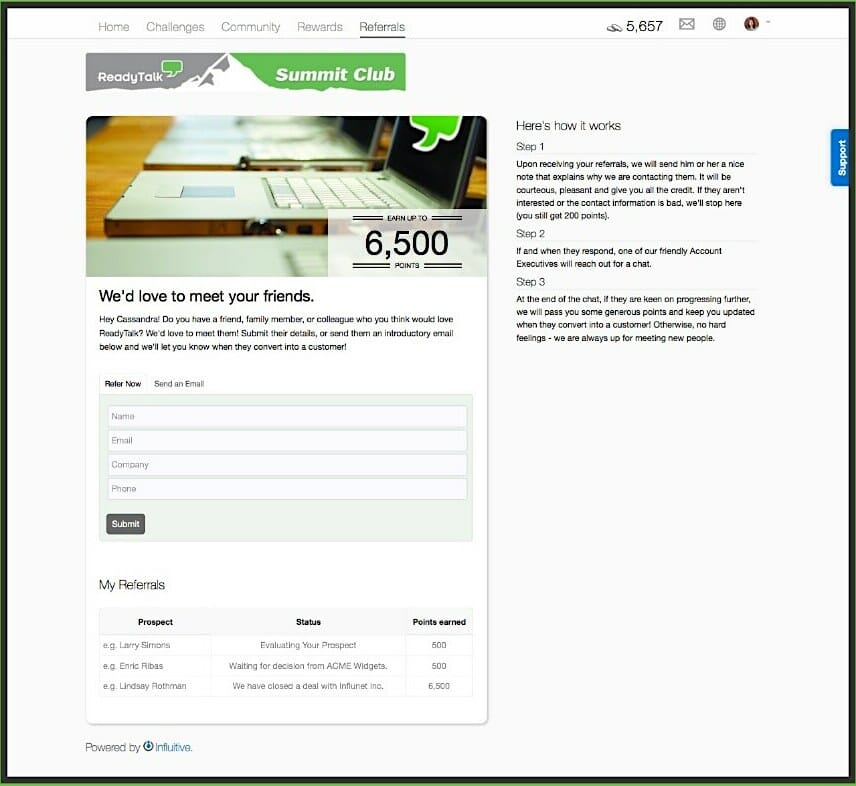 After strengthening their connection to their customers with the program, they began asking for referrals.
Thanks to their efforts, ReadyTalk's email referral campaigns went from zero to successful, bringing in 183 referrals in the first ten weeks alone. Additionally, they closed 33% of those leads in half the time of a regular sales cycle.
Dive Deeper:
* 7 Steps to Get More SaaS Customers with Cold Email
* How to Use Personalization to Increase the Impact of Email Marketing
* How to Lower E-commerce PPC Advertising Costs with Email Marketing

2) Leverage Social Media
Social media platforms have become an integral part of marketing, creating awareness about a brand, and delivering customer support. You simply can't treat social media as an afterthought, as without it, you'd never reach such a broad audience.
To leverage social media, concentrate on building an engaged following and encourage your followers to talk about your brand on their own social media page. Then promote your referral program through high-quality content.
Since social media is a highly visual platform, you want to go with a strong image, video or infographic featuring your referral CTA, while keeping descriptions short and to the point.
You can also design sharing buttons and links with ready-made, natural-sounding templates that people can easily click to share on their socials.
This example from Cowrywise includes an excellent visual so customers can simply copy and paste it on social media or even share it directly with others without editing the message: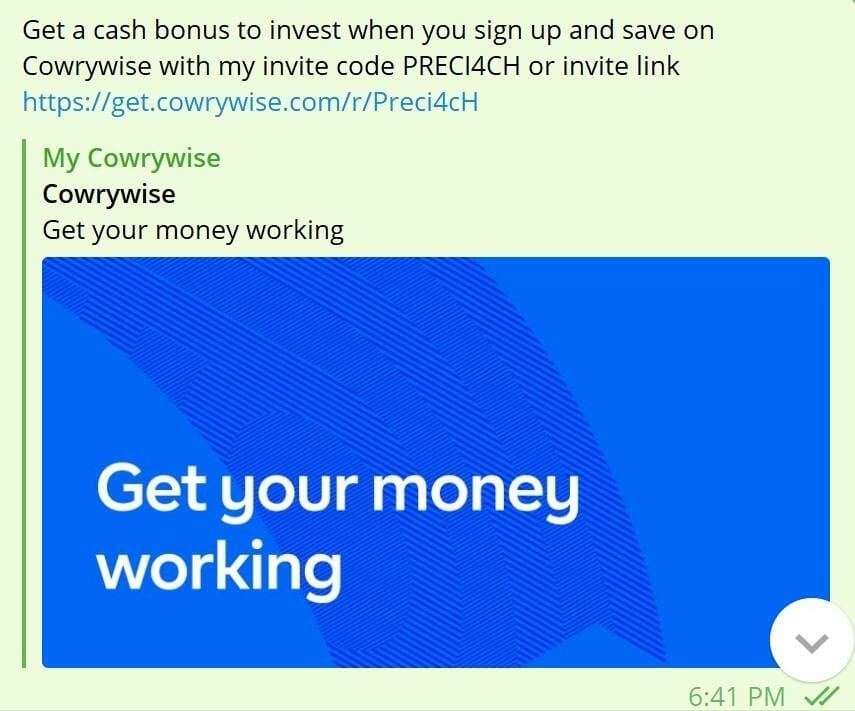 Another effective way to drum up referrals for your brand through social media is by hosting giveaways and contests. For example, you can ask people to share a particular post on their feed with some words about why they love or want to win your product/service.
Or you can have people ask their friends to follow your page or refer as many people as possible within a deadline, and anyone who brings the most followers or referrals wins.
Dive Deeper:
* How to Boost Your Website Traffic with a Giveaway
* Social Media Marketing for Business Owners: How to Get Started in 2023

3) Set Up a Good Rewards Program
There will be times when a customer will be happy to recommend your brand to friends and family simply because you asked, but most customers will require a nudge in the form of potential rewards to get them to take that extra step.
This is why setting up a robust rewards program is one of the best things you can do for your referral marketing efforts.
A rewards program will establish a standardized means of incentivizing past, current and potential customers to patronize you and tell others about your business. To build a program that encourages referrals and drives conversions, you need to make sure it aligns with your brand, goals and customers' needs. Ask yourself:
Who are my top spending or most valuable customers?
What kind of incentives would push customers to recommend my brand?
How can I spur referred customers to make use of referral opportunities?
Am I going to be offering rewards to both the referring customer and the preferred person or just the former? What reward would they prefer to receive?
How can I take advantage of the rewards program and incentives to upsell my other services or products?
Take Tesla, for example. The company has created more than nine different (and successful!) referral programs over the years. In one version, they offered referring customers $1,000 credits in their Tesla account and $1,000 off the purchase price for the referred person: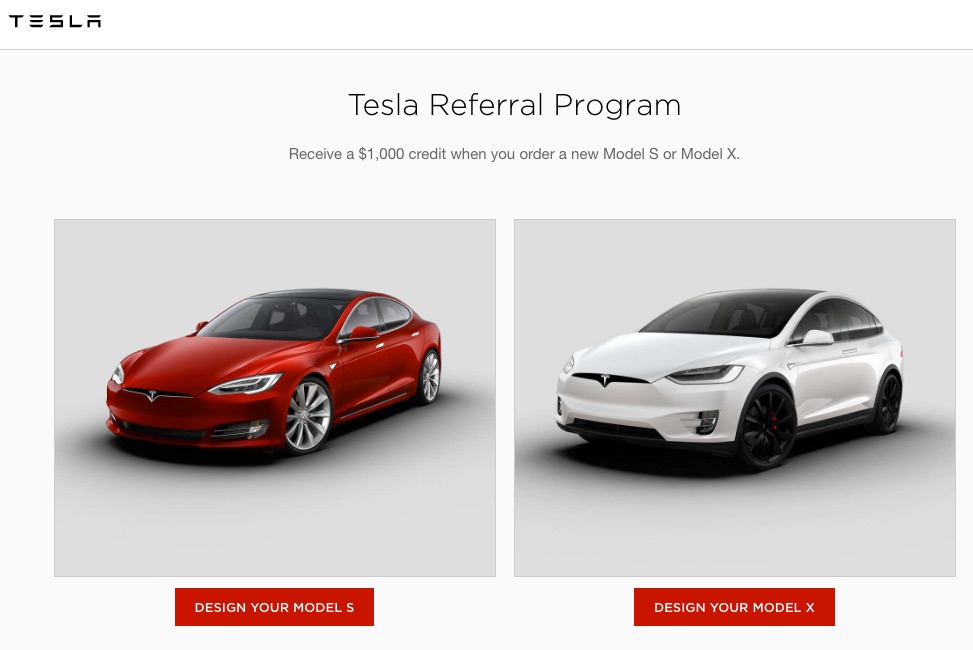 In another program, Tesla offered up to 100% discount on specific cars, so customers could basically get a car for free if they referred enough people. They also provided other non-monetary incentives like tickets to grand openings and tours of their factory. This program brought Tesla a 42x ROI on every dollar spent on their referral program.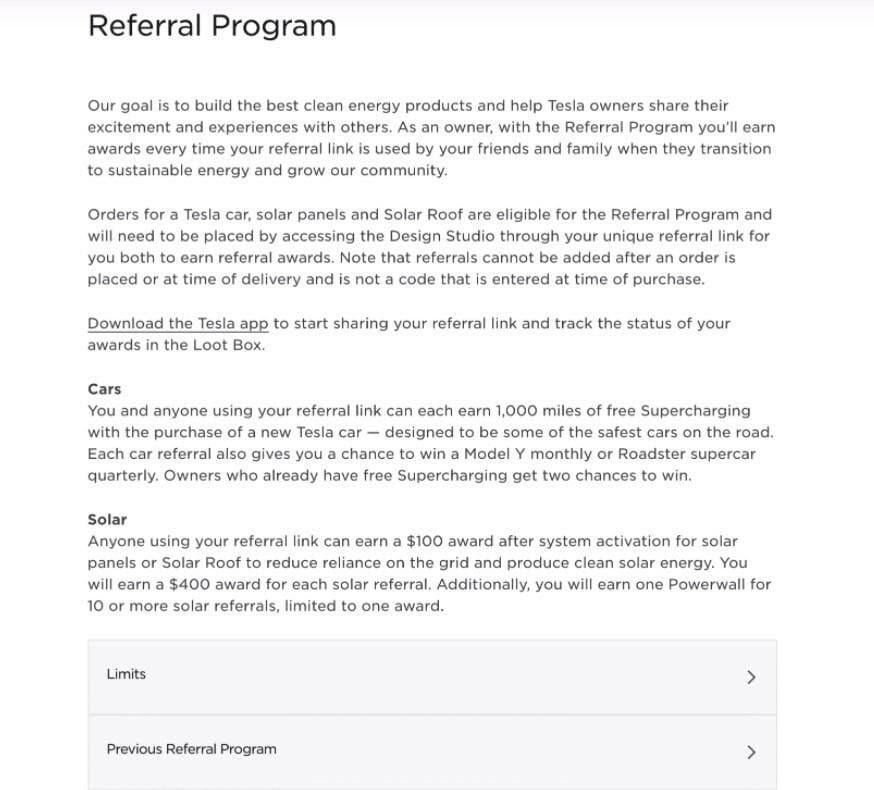 Currently, the company offers 1,000 supercharging miles to both advocates and referred friends who buy a new Tesla car.
Want to be like Tesla?
Consider how your referral marketing campaign will look, what kind of copy would get you the attention you're looking for, and whether your rewards program will be tiered to boost customer retention and return visits.
It needs to be incredibly easy for your customers to refer your business to other people or you'll risk losing potential revenue because customers don't want to jump through hoops to complete an action.
4) Reward Referrers Generously
If your referral incentives aren't enticing enough, customers won't be interested and your referral program won't succeed. You need to offer rewards that motivate your audience to stop scrolling and take a few seconds or minutes to recommend you to a friend so they can reap the promised bounty.
You can choose to offer cash rewards or incentives that are bound to your brand – like discounts, free products, complementary accessories, free shipping or even service upgrades. Ideally, you should find a middle ground between a reward that your customers will value and a sustainable and affordable incentive for your company.
Dropbox's referral program accomplishes this perfectly by giving users on their Basic plan 500MB of additional storage space for each person they invite to join the service, with a cap of 16GB. Additionally, Dropbox gives users who subscribe to the Plus and Professional plans 1GB of extra space per referral, capped at 32GB: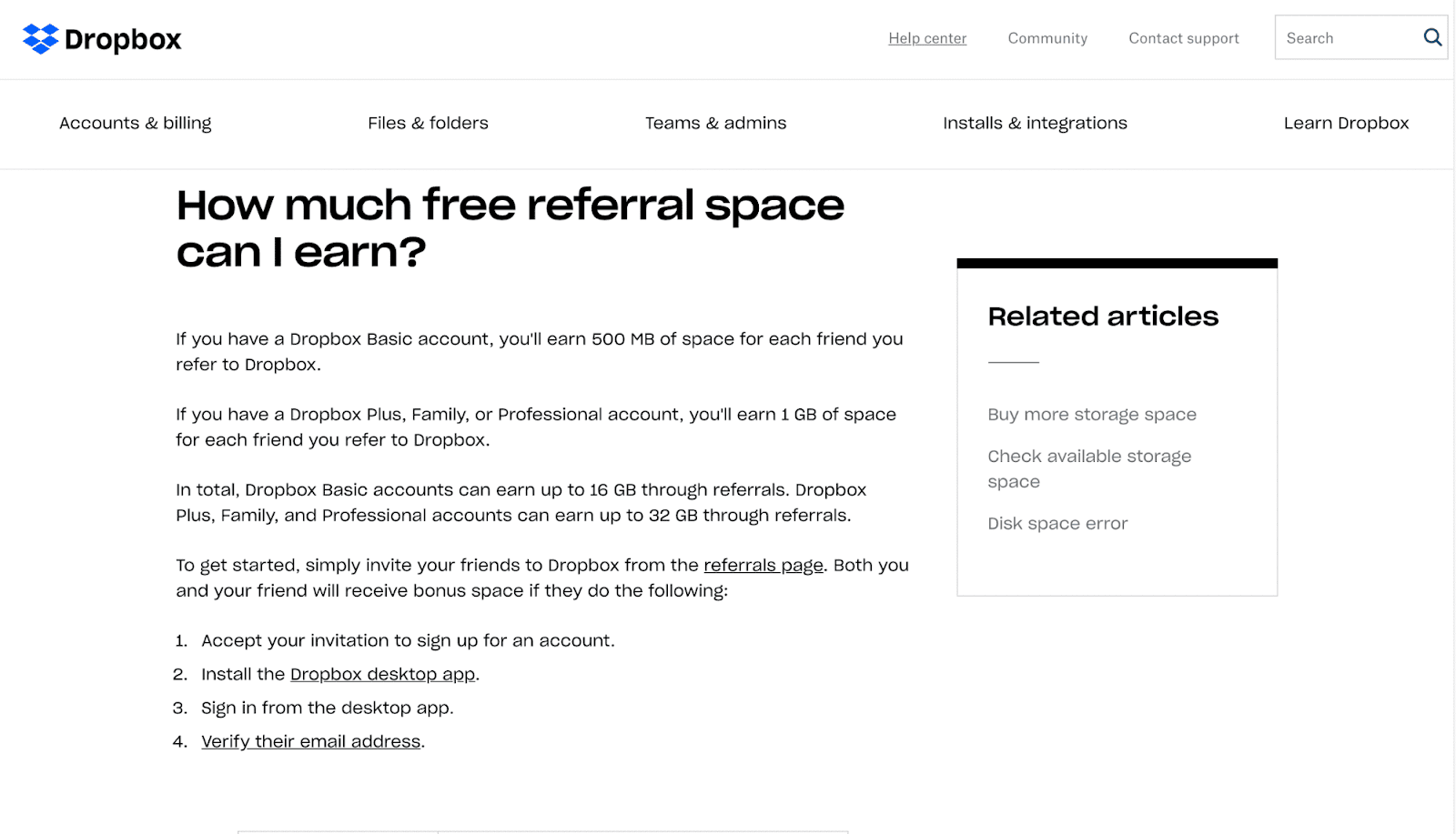 So instead of having to pay out of pocket for more space, users can just earn it by sharing their referral codes to people who will use it.
Ultimately, users received the program so enthusiastically that Dropbox's customer base grew from 100,000 to 4,000,000 users within 15 months! That amounts to a 30% month-on-month growth, and the company didn't have to spend a dime.
To succeed like Dropbox, make sure to analyze your referral schemes after setting them up, and if the engagement is non-existent or poor, take a step back and rethink the value of your offer. You can also survey your customers to learn what types of rewards they prefer, then run A/B tests using different incentives to see what works best for generating quality recommendations.
5) Encourage User-Generated Content
Let your customers be your ambassadors by pushing them to share pictures and videos of your products and how they use them. You can even create branded hashtags to represent your brand.
When other people see your products in the hands of their friends, it will increase their trust in you and give them more confidence to buy from your brand.
The great thing about user-generated content is that users don't have to capture your products with professional angles or lighting to succeed. Authentic content has a unique charm that resonates with people.
Riff Raff & Co, a company that sells washable plush toys designed to help kids fall asleep, was able to leverage user-generated content to grow into a million-dollar company. The brand understood that their key customer demographic — mothers — were a close-knit group that loved to share their child-raising journey and post pictures of their babies and things they loved online.

The company also gave mothers an additional reason to share their Riff Raff & Co-related content and favorite buys online when it offered them a free $65 toy for every five referrals they made. This strategy has been so impactful that almost one in four Riff Raff & Co customers and 35% of the brand's sales come from a referral: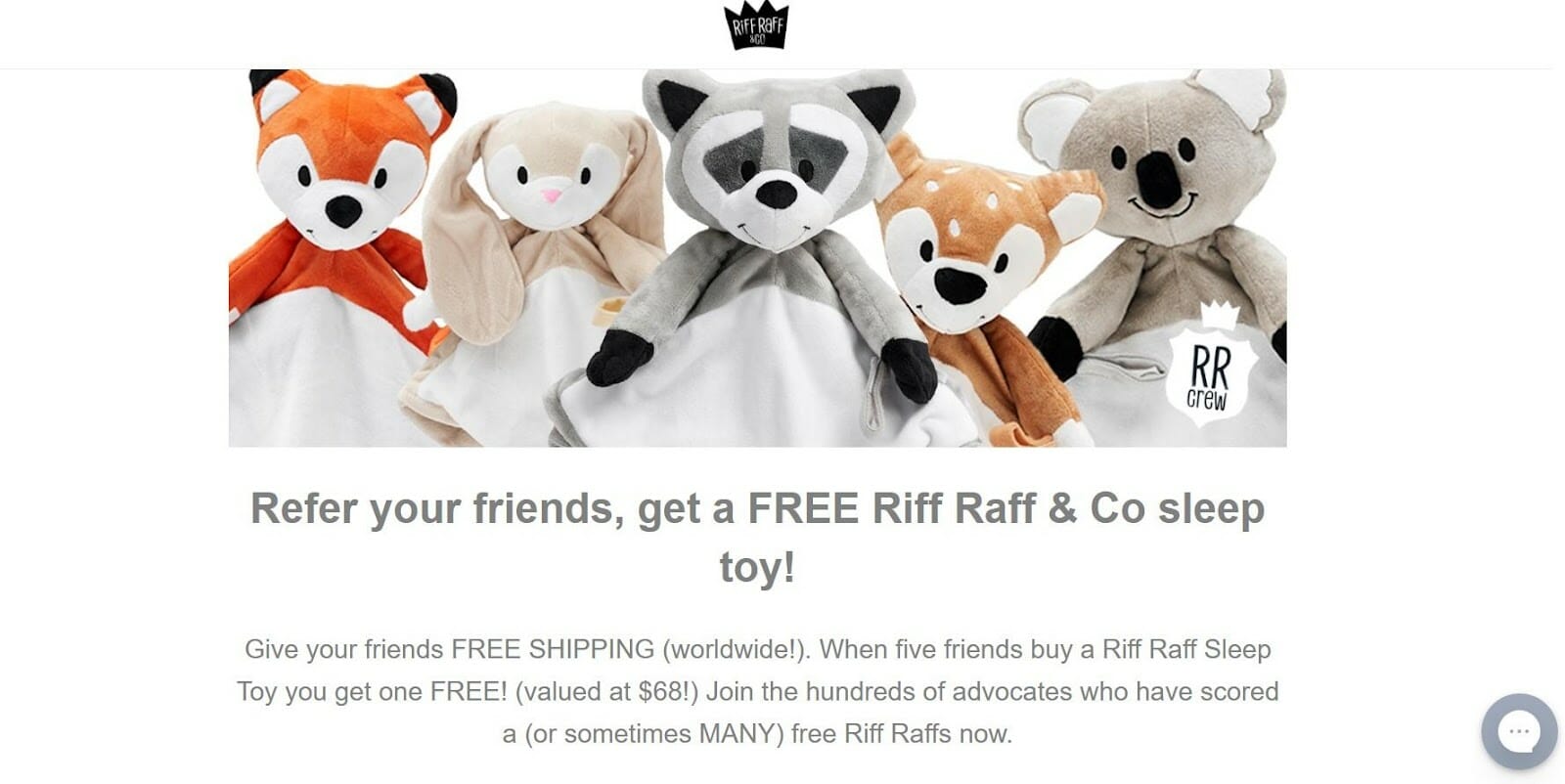 Once you've collected UGC, make sure you use it in promotional materials, on your website, and in branding (with permission, of course).
This way, you can take advantage of existing interest in your hand, create a sense of closeness and loyalty to current customers, and entice potential buyers to come and join your community of satisfied customers.
Dive Deeper: 8 Ways to Encourage More User-Generated Content (UGC)
6) Promote Your Referral Program on Your Website
People will only take advantage of your referral opportunities if they know about them, so constant and effective promotion is vital.
Ideally, you should advertise your referral program on your:
homepage
landing pages
pop-ups on sales/customer pages
checkout pages
thank-you pages
Alternatively, you could create a website to market your referral campaign.
The active lifestyle brand, Outdoor Voices, has carved out a profitable niche for itself in a market dominated by Nike and Lululemon, grown a huge following, and generated millions of dollars in sales with its referral program. 
 The company chooses to advertise its referral offer in a clear and non-intrusive way in the footer of its homepage: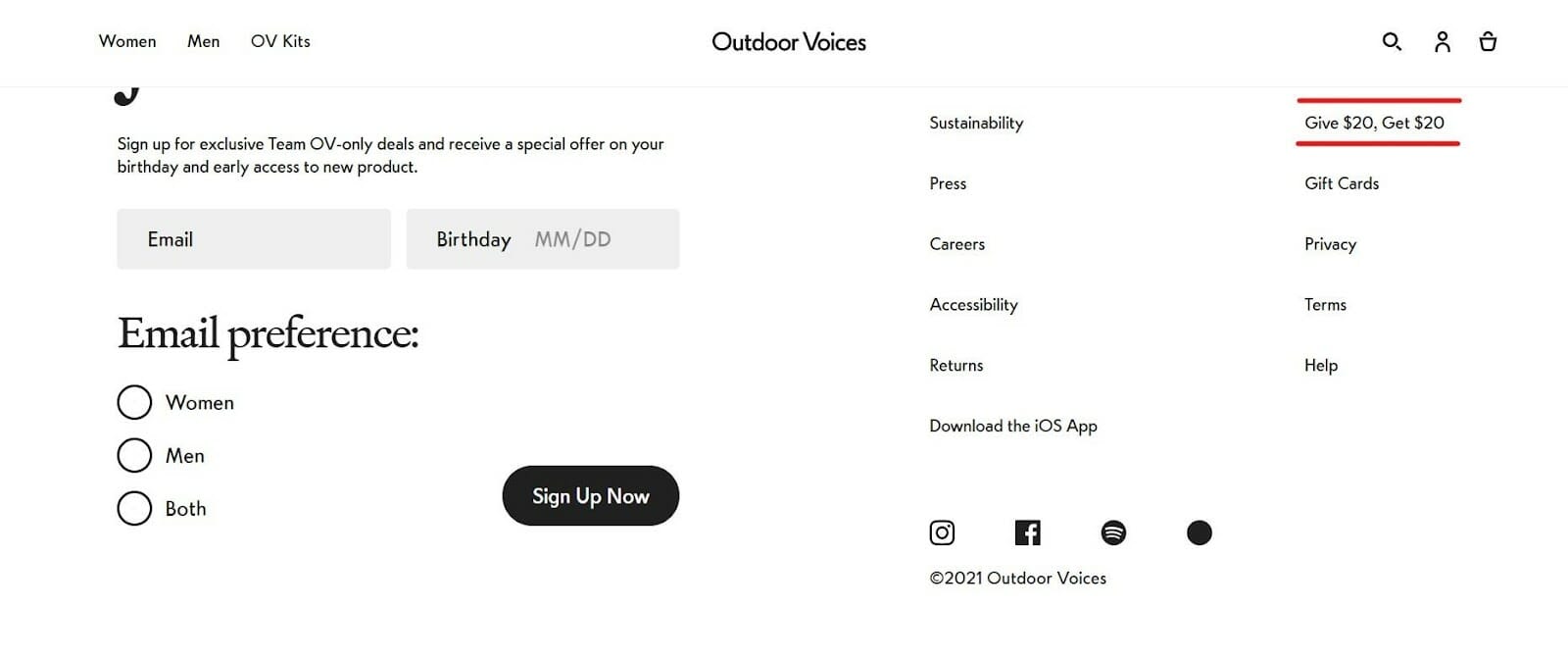 The sneakers company Greats opts for a more direct approach. Their "Refer a Friend" call to action sits right at the top of the homepage, so it catches your eye the moment you land on the site: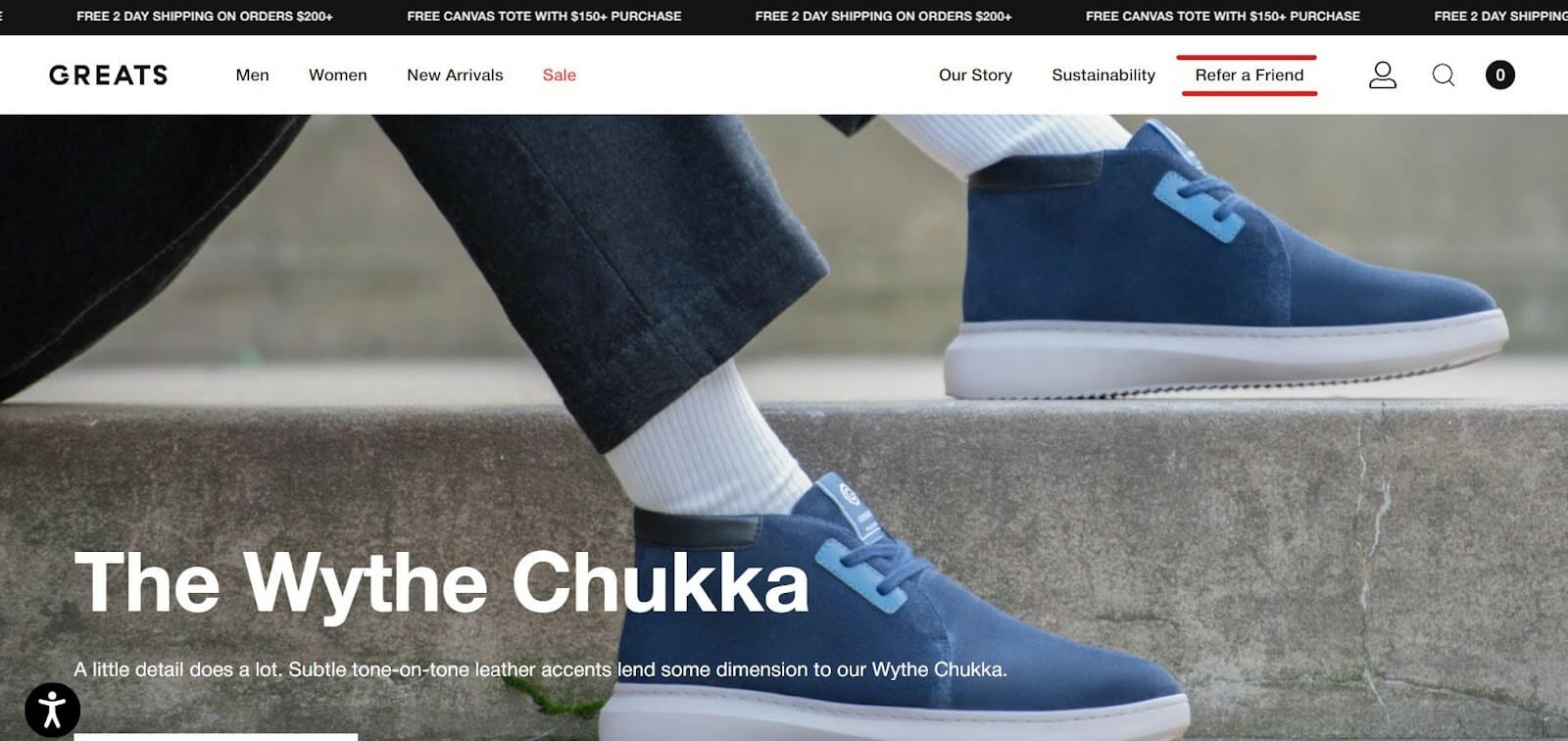 Alternatively, you could use a pop-up creator tool to add a "refer someone" button to your website.
Which approach is right for you? Feel free to try out different placements for your referral scheme to see which one grabs the most attention.
Create Viral Referral Marketing Campaigns
Building a referral marketing program that gets results and skyrockets revenue doesn't need to be a complicated or confusing affair: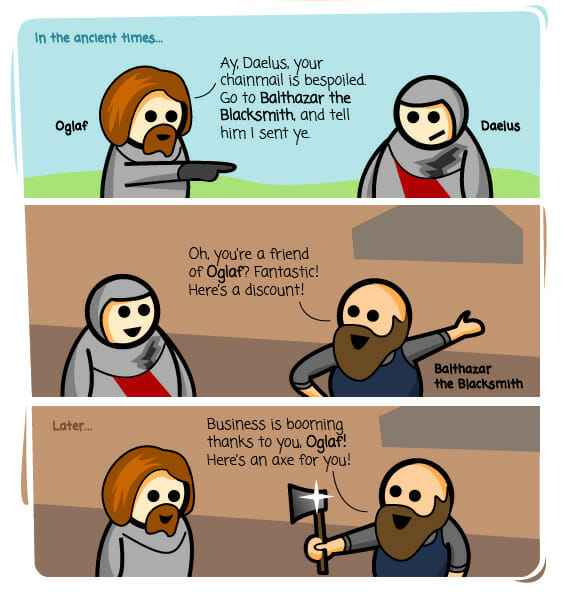 Once you have an attractive incentive, your customer's trust, a rewards program that's simple and easy to use and a strong promotion strategy, you're on the road to success.
For best results, make sure you provide an excellent customer experience, improve the quality of your products and services, and refine your reputation so your customers can enthusiastically refer your brand to potential buyers.
Then, the sky's the limit.
Hopefully you learned how to do referral marketing for your business! But if you just want an expert marketing agency to do it for you, click here.
---
More Innovative Marketing Strategies:
* How to Use Engagement Marketing to Acquire More Customers
* What Is Buzz Marketing?
* Attention Marketing: 10 Tips to Acquire More Customers
* What Is Feature Marketing? The Complete Guide for 2023
* How to Use Event Marketing to Generate Leads & Close Sales
* What Is Category Design in Marketing (And Why Is It an Important Strategy)?