Social media is one of the best ways to market your business.
There are 3.5 billion people using social media worldwide, which is 46% of the world's population:
You are definitely going to lag behind your competitors if your business is not present on popular social media channels.
One of the easiest ways to reach your customers or prospects is via social media because the average person spends around 2 hours and 22 minutes each day on social networks and messaging.
Getting started with social media marketing is not that difficult. This guide is created especially for business owners like you who want to capitalize on the power of social media to reach your existing customers or to acquire new customers.
Let's get started!
What Is Social Media Marketing?
Social media marketing refers to the use of social media channels to build a brand, drive website traffic and promote products or services.
It's a very popular method of marketing, and as such, 73% of marketers report that it is somewhat or very effective for the growth of their business: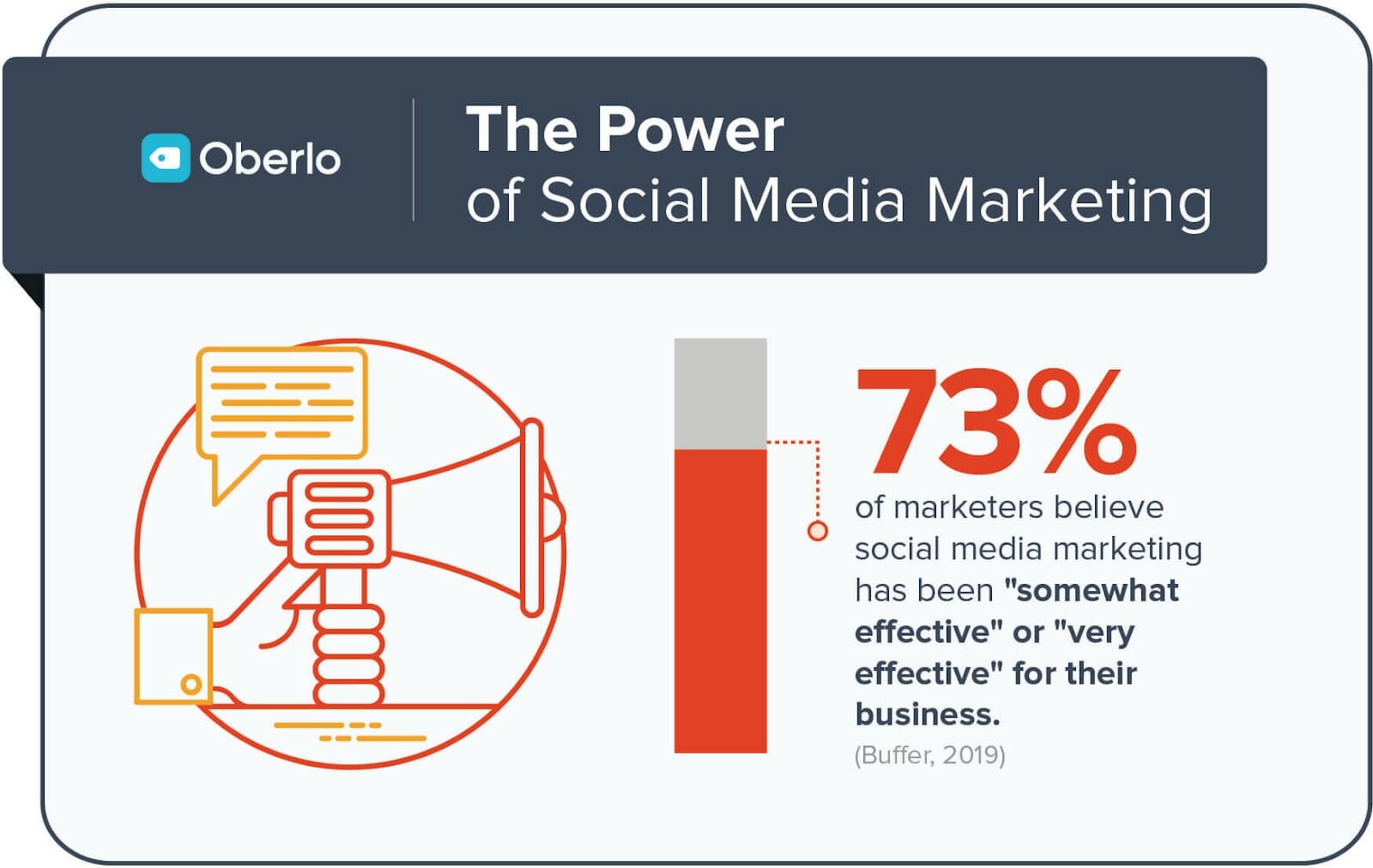 There are two approaches to social media marketing – active and passive:
When you create content for your social platforms and share it with your audience, this is the active approach.
When your customers are talking about your business and you read, like or respond to it, this is the passive approach.
Both approaches are critical for your business presence on social media. Too much of one can be seen as aggressive and annoying; too much of the other will result in your brand not being seen.
The major social media platforms where your business should have a presence are Facebook, YouTube, Twitter, Pinterest, LinkedIn, Snapchat and Instagram.
Dive Deeper: The Impact of Social Media on Business in 2023
Difference Between Organic and Paid Social Media Marketing
There are two ways to promote your business on social media.
First is via organic social media marketing where you establish a great social presence for your brand and acquire a decent follower base. Posts that you share on your social channels start to receive engagement without your paying any money to the social media platforms.
Nike is a great example of a brand that naturally receives a lot of engagement on its posts: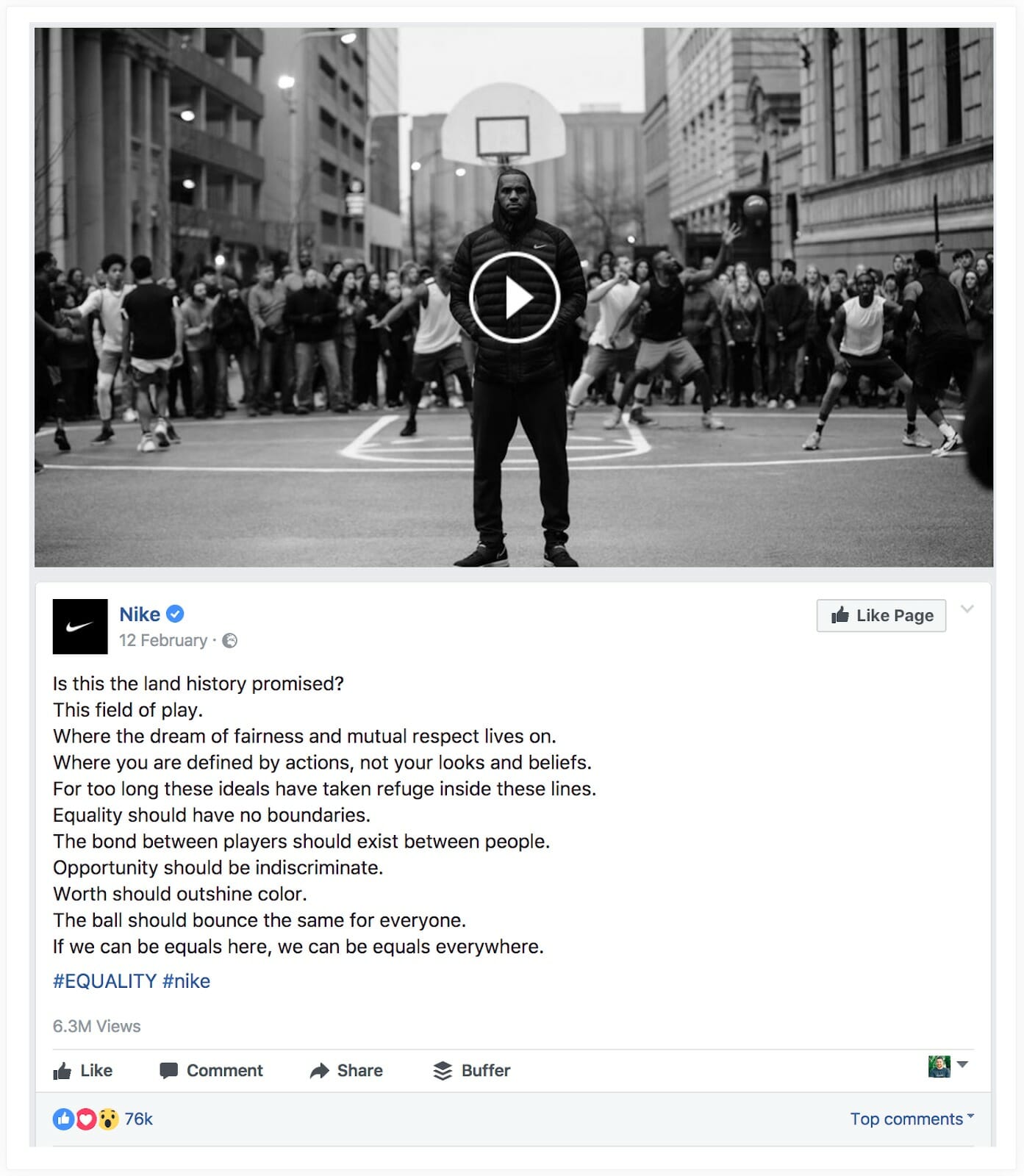 The second way to promote your business on social media is through paid ads or sponsored posts where you spend money for a broader reach to get your posts seen by more people and, thus, receive better engagement. You can advertise your business on all the popular social channels and start converting prospects.
Airtable is a great example of a smaller brand without an enormous following that does paid social media promotion to expand its customer base: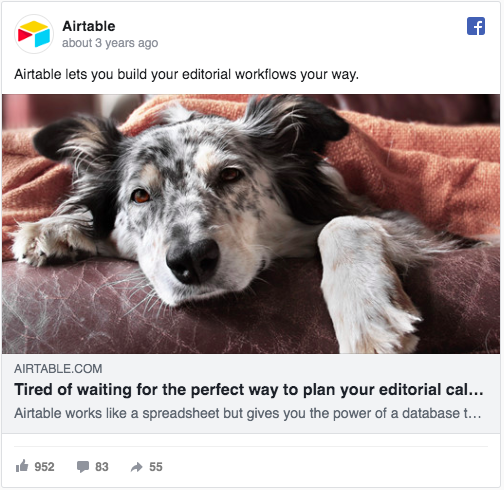 If you want to get results from day one, then paid social media marketing is the ideal option for you.
However, you should not ignore organic social media marketing because it helps you build a strong social presence, thereby reducing the advertising costs in the long run.
Dive Deeper: Paid Content Promotion: A Comparison of the Different Platforms
Getting Started with Social Media Marketing
Executing the best best social media strategy requires proper planning, no matter if you are a new business or a Fortune 500 company.
Here is an easy, step-by-step plan to establish your business presence on social channels and get started bringing in more customers!
1) Begin with a Plan
Creating a social media strategy will give you a clear path on how to move forward. It will help you decide how you are going to achieve your goals.
Your plan should include a summary of everything you want to achieve on social media. Here are a few tips to help you prepare a social media plan.
Set Social Media Goals: Make sure to set goals that are specific, measurable, attainable, relevant and time-bound. To set social media goals, decide what's important for your business such as building brand awareness, increasing social conversion rate, generating more traffic or sales, etc.
Research Your Competition: Chances are, your competitors are using social media to promote their business. While you don't want to copy them, you can learn from what they're doing (what's working, what's not). One of the best ways to research your competitors is by using a tool like Sprout Social. This software will give you a sneak peek at what your competitors are posting and how their posts are performing across social media: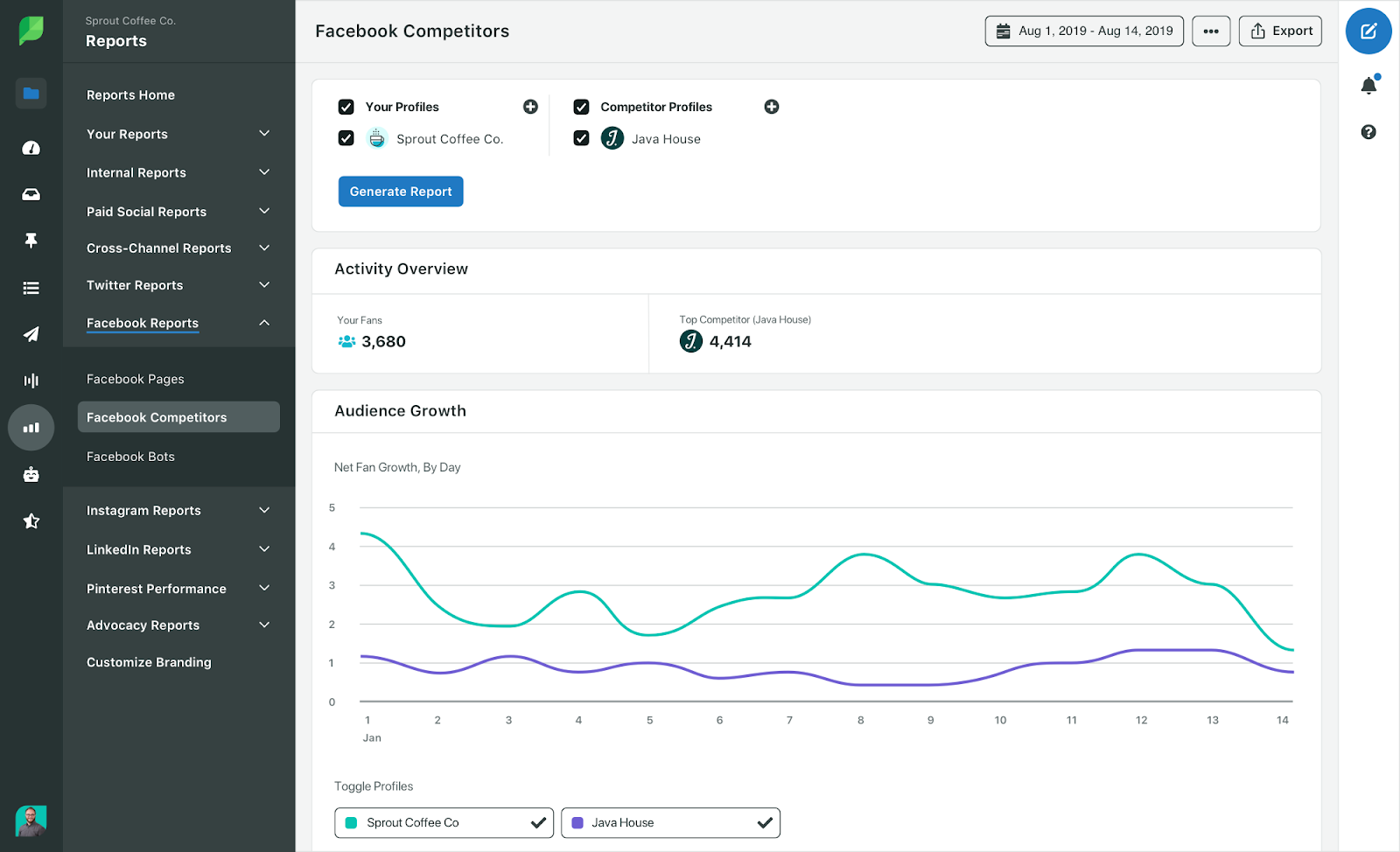 Look for Inspiration: Although it's necessary to have a unique social media plan, you can still take inspiration from other brands that are killing it on social media. The Shorty Awards honors the best content creators on social media, so check out the brands or individuals who are doing great on social media. You can sort businesses by campaign, design, industry, overall presence, content, and more.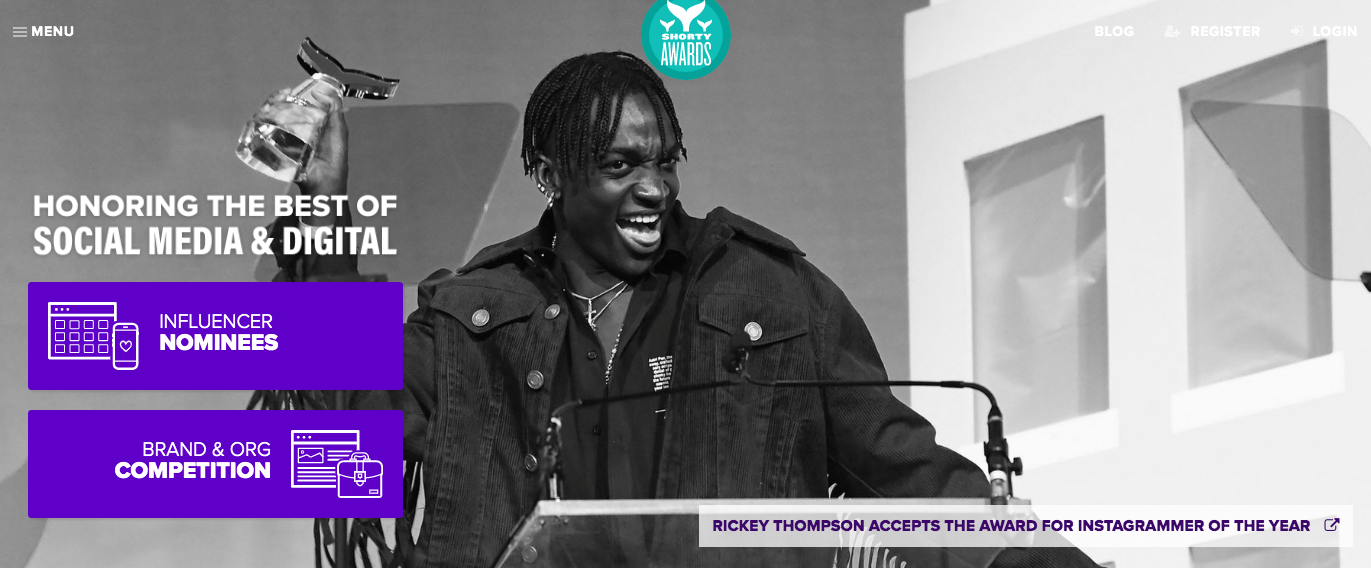 Dive Deeper: The Beginner's Guide to Crafting a Highly Effective Social Media Strategy in 2023
2) Decide Which Platforms Are Right for Your Business
The right platforms for your business depend largely on who you are targeting. You need to be present where your audience is spending most of their time.
It is crucial to look at the social media demographics for each platform. This will help you reach the right audience and fine-tune your social media marketing strategy. Here are a few options for you:
Facebook
Facebook is the most popular social media platform. Facebook has 2.45 billion monthly active users out of which 1.62 billion people use the platform every day.
Let's have a look at Facebook demographics to determine if this is an ideal platform for you:
Instagram
With more than one billion monthly active users, Instagram is one of the fastest-growing social platforms.
Let's have a look at Instagram demographics to determine if this is an ideal platform for you:
TikTok
With 800 million monthly active users, TikTok is the fastest-growing short-video platform. It is also the most downloaded app on the App Store.
Let's have a look at TikTok demographics to determine if this is an ideal platform for you:
Twitter
With 330 million monthly active users, Twitter's base may be smaller than Facebook and Instagram, but it is still an important social media channel, especially when it comes to building a community.
Let's have a look at Twitter demographics to determine if this is an ideal platform for you:
Snapchat
With 293 million monthly active users, Snapchat should be on your list – especially if you want to target the younger generation.
Let's have a look at Snapchat demographics to determine if this is an ideal platform for you:
LinkedIn
With 260 million monthly active users, LinkedIn comes last in this list. But for B2B users, it's the social platform to be on – over 30 million businesses are on LinkedIn.
Let's have a look at LinkedIn demographics to determine if this is an ideal platform for you:
Choose a platform for your social media marketing efforts after determining your business demographics and matching it with the demographics of the social platform.
3) Optimize Your Profile According to the Social Channel
Create a professional business profile on every channel you've decided to use. This means optimizing your social media channels to ensure that they align with your business values.
Here's how to optimize the most popular social media platforms.
Optimizing Your Facebook Account:
Upload Images: It is crucial to upload a profile picture and cover image that reflects your brand. It could be anything from a logo to your team's photo

–

but whatever it is, make sure you use the same one on each channel to create familiarity and continuity. Use the right image dimensions or else the image will look blurry and offer a bad impression. For the profile picture, the recommended dimension is 170 x 170 pixels, and for the cover image, it is 820 x 312 pixels.
Gucci is an excellent example of a brand that uses the correct image size on its Facebook page:

Fill Out Your Profile: Head towards the "About Us" section on the left-hand column and fill in all the details about your business (potential customers do read this!), such as:

Description (in 255 characters)
Categories
Phone number
Website
Email address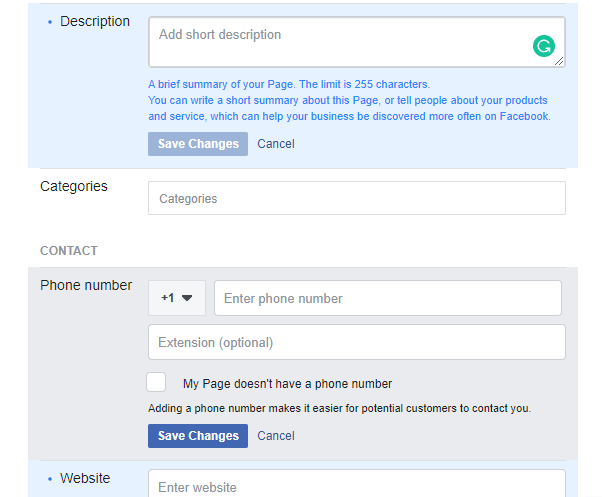 Edit Page Info: Go to the top menu on the right side (beside settings) where you can fill in more specific information, such as location and service area and business hours.

Add a Call-to-Action: Facebook allows you to add CTA so people can easily interact with your business. The default is "Contact Us," and to edit this, just hover over the blue button just under your cover image on the right side:

You have five options for the copy of your CTA button:
Make a booking with you
Contact you
Learn more about your business
Shop with you
Download your app or play your game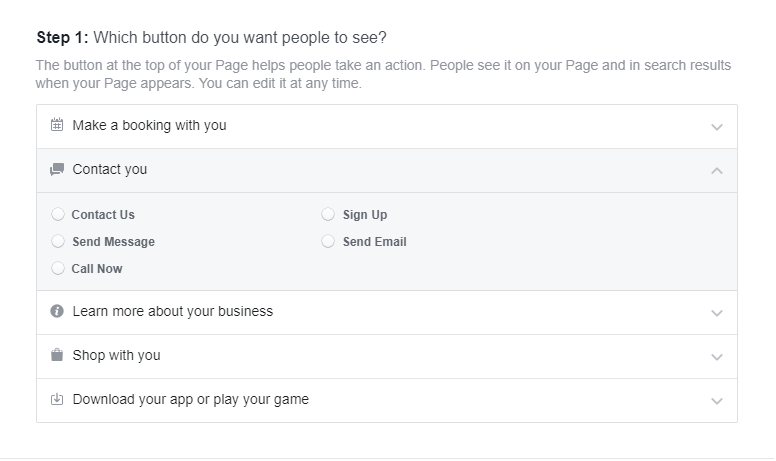 Once you select an option, you'll be asked: "Where would you like this button to send people to?" This option depends on what you chose in the first step.
For example, if you select "Book Now", then you'll see the following: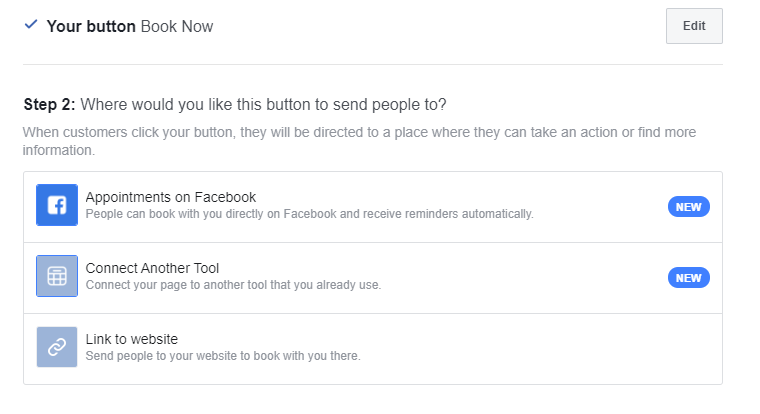 If you select "Shop Now" then you'll see the following: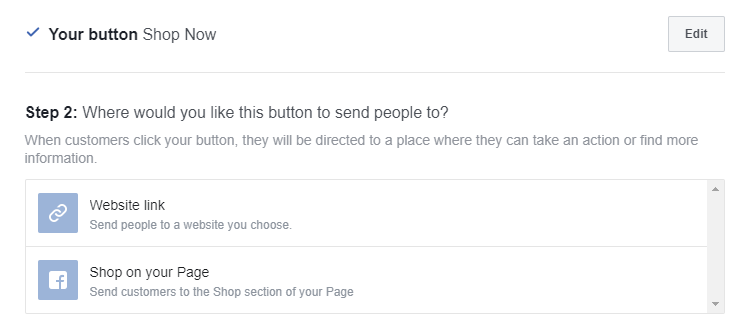 Messenger for Business: People message their queries/thoughts to brands on Facebook and expect them to reply as soon as possible, so you'll want to set up your messaging options. Click on "Messaging" under "Settings":

Set a greeting message to greet people even before they send you a message. You can do this under the "Starting a Messenger Conversation" section:

Set up automated messages to reply instantly to your followers (even when you're away). This will prevent them from feeling that you're too busy to respond. Head towards the "During a Messenger Conversation" and click on "Set Up":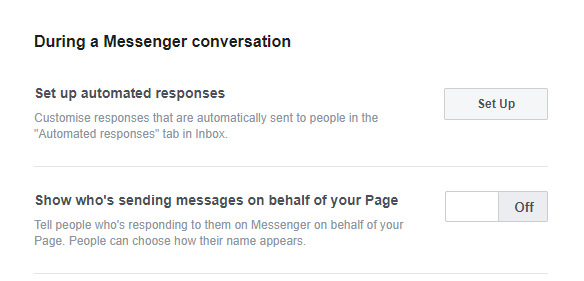 It will redirect you to a new page that looks like this: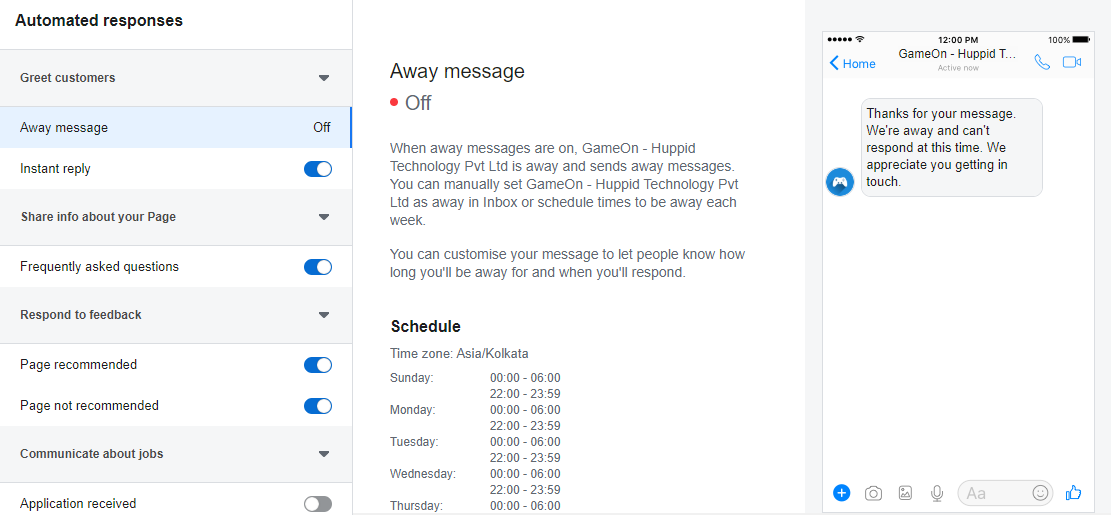 Optimizing Your Instagram Page:
Upload Profile Picture: The first step towards optimizing your Instagram business account is uploading a profile picture that reflects your business. Often, brands will use their logo. But, as with your Facebook page, whatever it is, make sure you use the same one on each channel to create familiarity and continuity. The recommended size for an Instagram profile picture is 110 x 110 pixels. Make sure you upload a high-quality image because profile photos look bigger on desktop computers.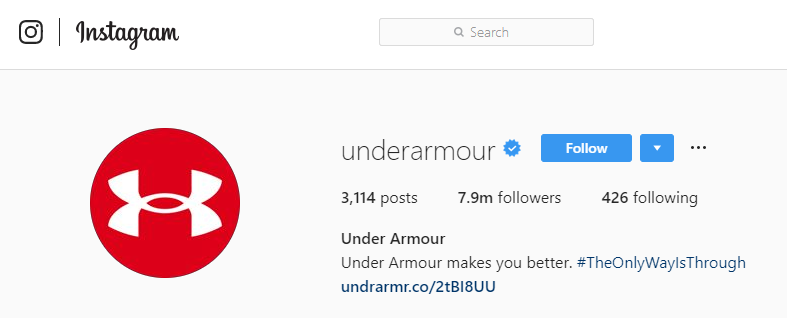 Write an Intriguing Bio: The second thing people notice (after the profile picture) as soon as they land on your account is your bio. You get 150 characters to describe your business. Remember, it shouldn't be only about you. It should be about your customers.
National Geographic is an excellent example of a brand that describes what it can do for its followers. Their bio reads: "Experience the world through the eyes of National Geographic Photographers":

Headspace is another brand that describes what they offer and how it can benefit their followers. Their bio reads: "Your guide to health and happiness. Learn to meditate and live mindfully.":

Alternatively, you can write something that reflects your brand's personality, just the way Starbucks does. Their bio reads: "Inspiring and nurturing the human spirit – one person, one cup, and one neighborhood at a time.":

Add a URL: Instagram allows business accounts to add a link in their bio. Make the most out of it. The URL could be anything from your website to your latest post.
One great example of a brand using the URL to promote its product is HubSpot. They added a link to their Marketing Hub Enterprise in the bio to send their social media followers directly to the resource:

Add a Call-to-Action: Make it easy for your followers to contact you by adding a CTA. To add a call-to-action, go to your account and click on "Edit Profile":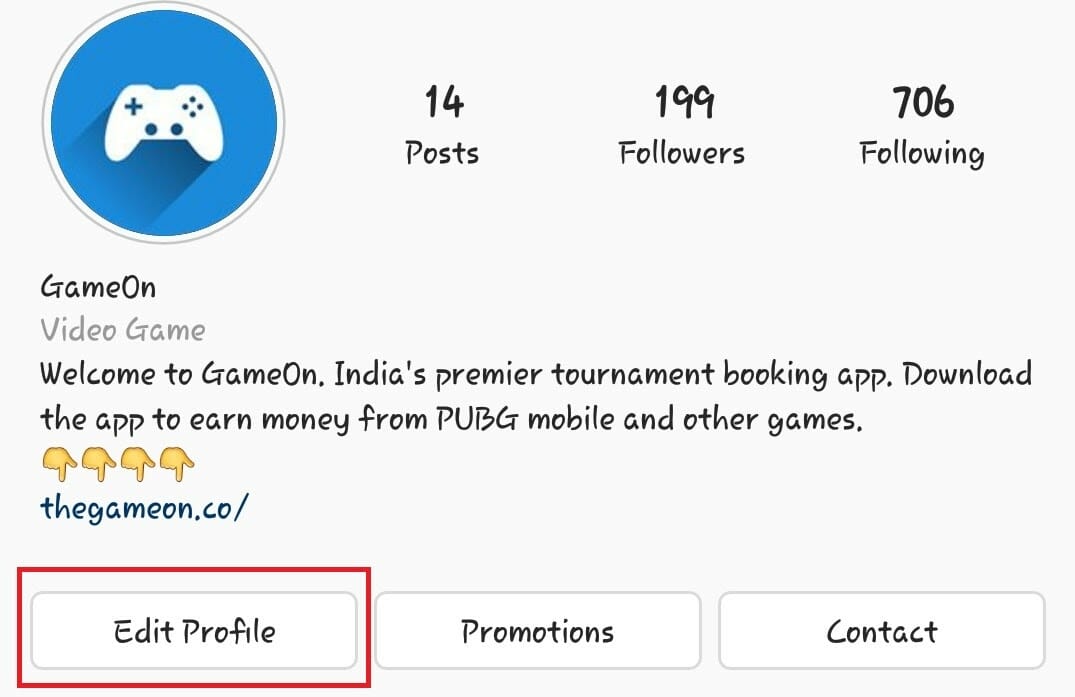 Then click on "Contact Options":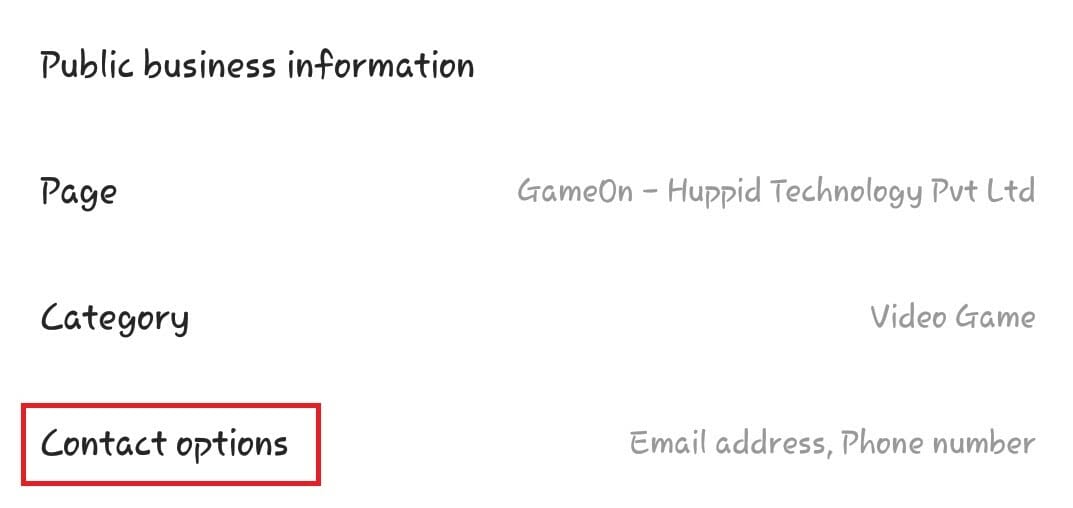 Enter your email address and phone number to make it easy for people to contact you: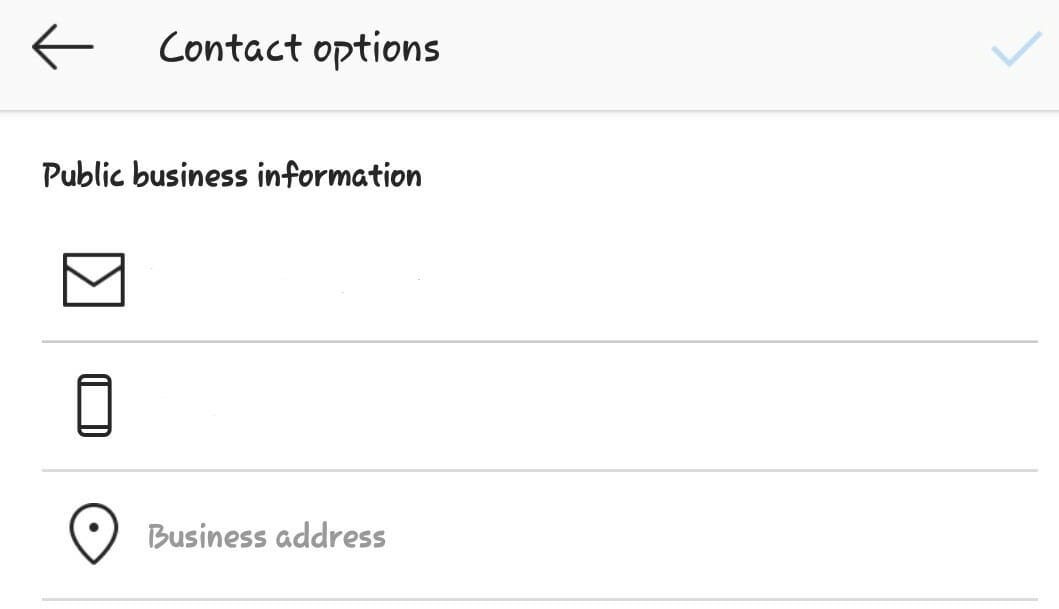 G-SHOCK is a great example of a brand leveraging the CTA button in their Instagram profile, which gives people the option to "Follow," "Message" or "Call":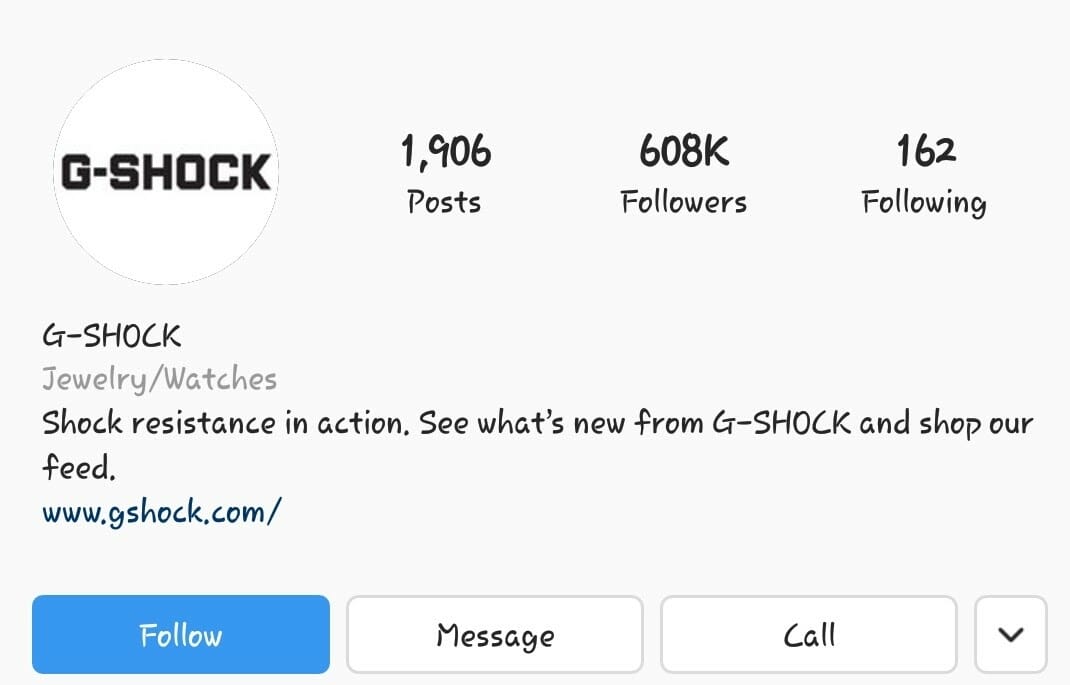 Optimizing Your Twitter Account:
Upload Great Images: Your header image and profile picture are the first things that visitors notice. It's always best to use your business logo as your profile picture. For the header image, you can choose an image that reflects your brand personality. The recommended size for the header image is 1500 x 500 pixels and for the profile image it's 400 x 400 pixels.
Amazon uses its logo as the profile picture and a photo with food items as its header image: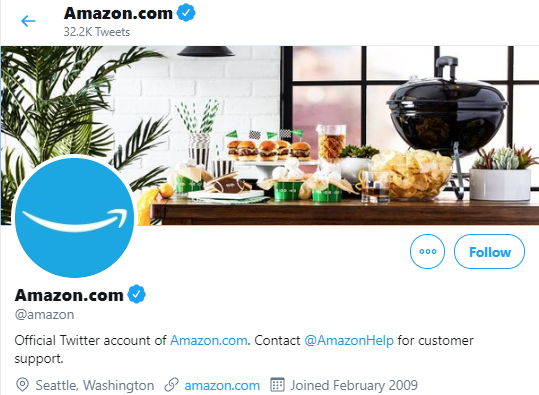 Write an Engaging Bio: Twitter gives you 160 characters to write the bio. Make the most out of it. Oberlo is great at writing short yet informative bios: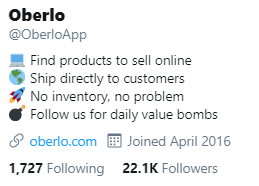 Add a Link: Adding a link on your profile is an excellent way to redirect your followers to your website, so make the most of it.
Consistency: Last but not least, make sure that you use the same username across every channel to help your followers discover you easily on the platform of their choice. Madewell, a women's clothing company, is a great example of a brand that does this: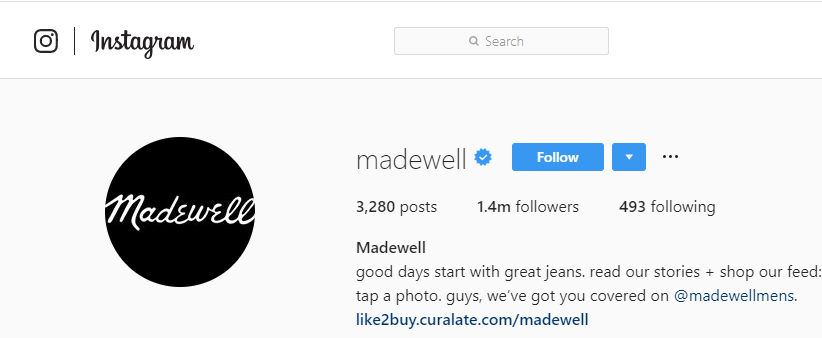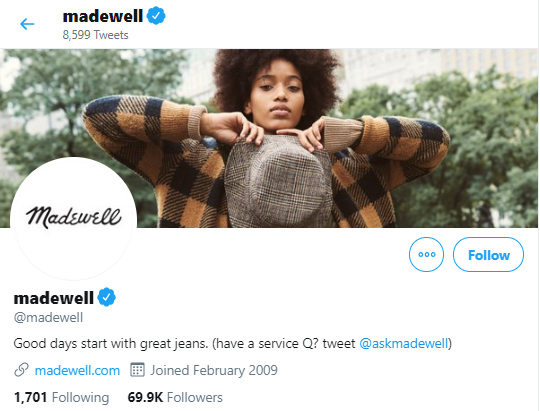 It makes it easier for their followers to search for them on their preferred social channels.
4) Understand Your Social Audience
Understanding your audience helps you create content that actually resonates with them, not just content that you think is cool.
Social media analytics provide tons of valuable information, such as who your followers are, where they live, the languages they speak, what their interests are, and how they interact with your brand. Each social network provides their own analytics for people who run a business page.
To use Facebook Analytics, open your page and click on "Insights" at the top of the page:

This will show you an overview of the page's performance. Here you can check page views, page previews, page likes, reach, actions on the page, and more: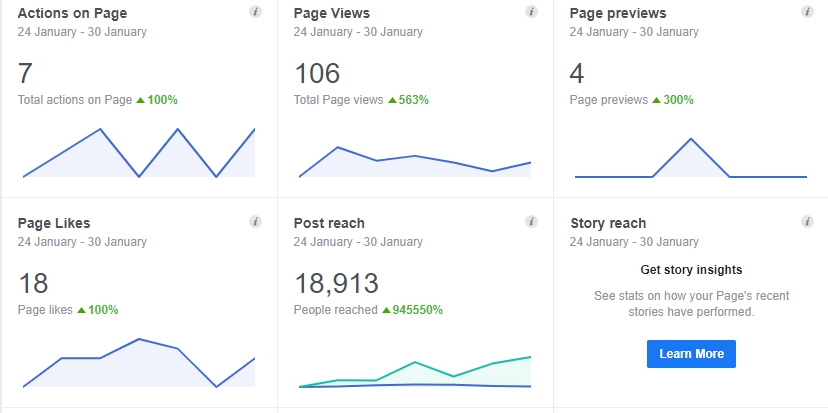 The Twitter Analytics dashboard provides a month-by-month summary of your account's performance. To check analytics on Twitter, click on "More" on the left-hand column, and then on "Analytics":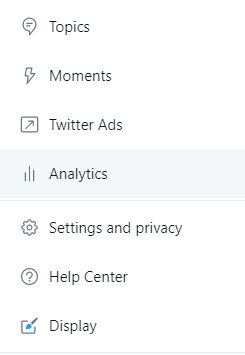 Here you can check the total number of impressions your tweets received, top tweets, and engagement rate per tweet: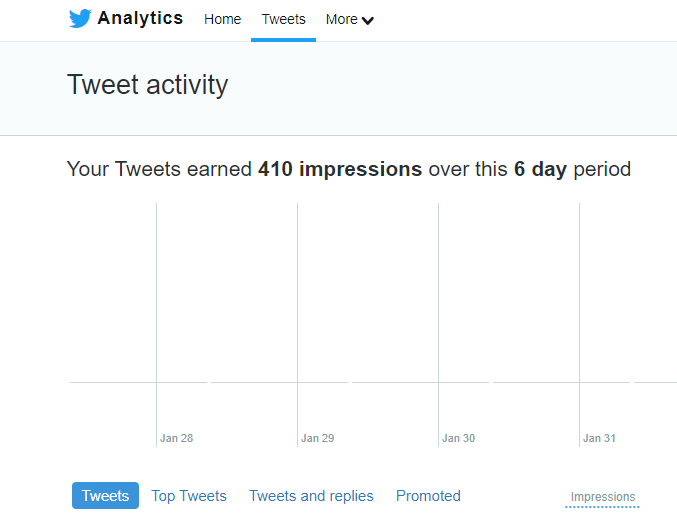 With these insights in hand, you can refine your social media strategy based on which posts people liked the most and more efficiently target your audience on each network.
Additionally, you can use tools like Brandwatch to better understand the performance of your social media campaigns (more on that later).
5) Engage with Your Audience to Build Relationships
Engaging with your followers is a must if you want to establish trust with your audience on social media. It is also a magnificent way to build relationships that develop over time.
When people comment on your content, you should respond to them as soon as possible. Not only does this make them feel good, but it can lead to sales.
Sunwoven, a company that sells locally sewn and woven products, has a fan base of 115,000 on Instagram. Sunwoven always responds to its followers' comments and questions to engage with them: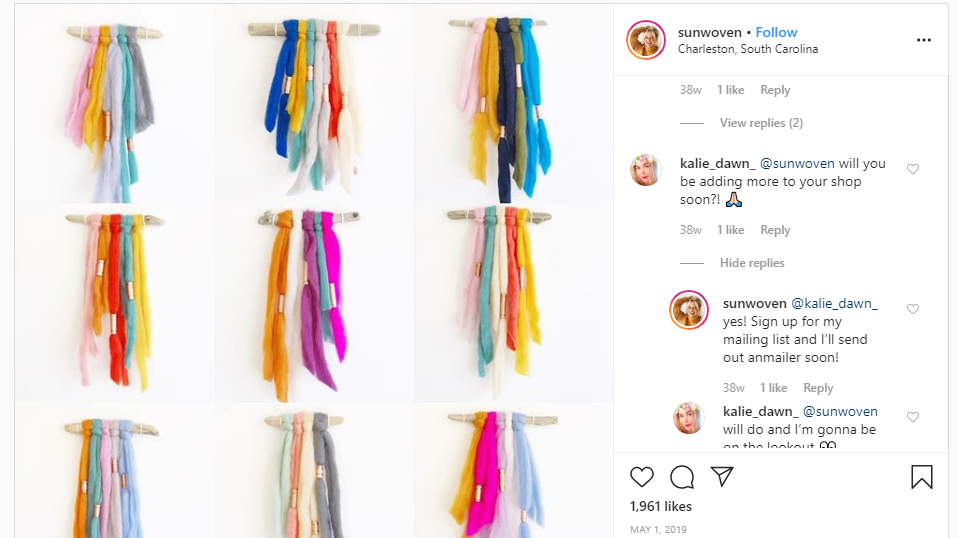 Engaging with followers makes people feel like they know you even before they invest in your brand: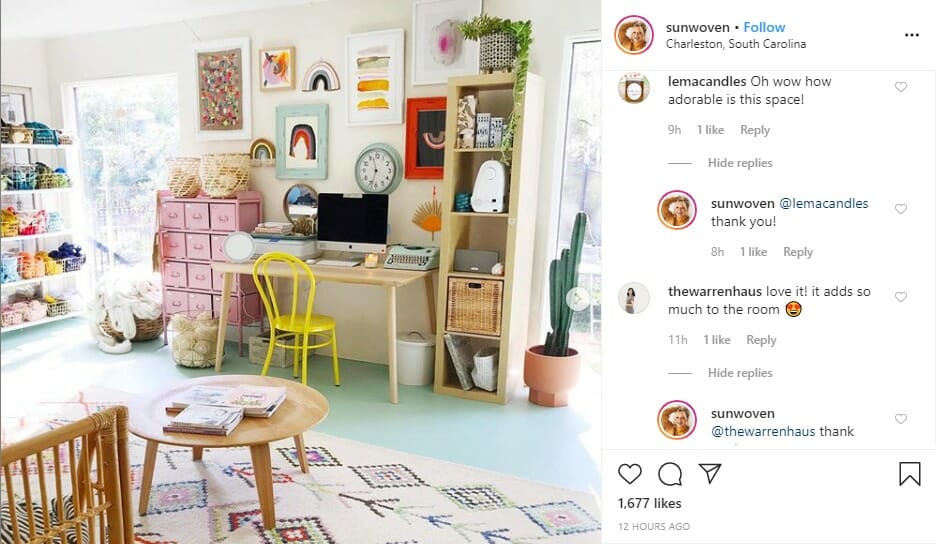 If any of your followers leave a positive reply, share your content or retweet one of your posts on Twitter, and be sure to thank them as well. If they have a complaint, address it as soon as possible with a solution.
Honest – 1 Auto Care South Elgin is yet another business that knows how to build a relationship with its customers. When one of their customers recommended them and wrote a positive review, the owner replied with a thank you. They even personalized the reply by using the customer's name: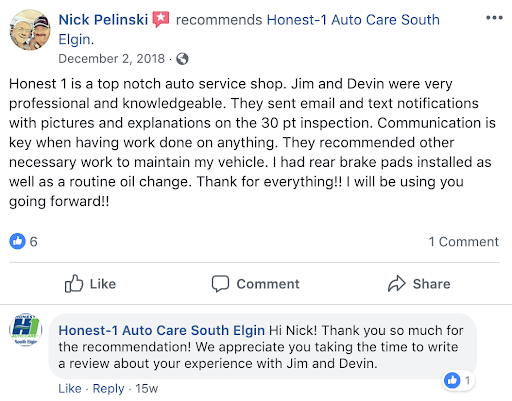 Dive Deeper: Social Commerce: The Easiest Way to Turn Social Engagement into First-Time Buyers
6) Create Different Content for Different Platforms
Not all content types are suitable for every social media platform. While Facebook, LinkedIn and Twitter let you post anything and everything (including text, images and videos), Instagram and Pinterest limit posting content to only pictures and videos (where you can add text in captions).
Similarly, on TikTok and YouTube you can't upload text or images, only videos.
Besides which, all these platforms have different types of audiences who have their own expectations for what they want to see on the network. Therefore, you need to create content that caters to their needs.
Here's what most people expect to see on different social media platforms:
Facebook: Videos and updates about your business.
Instagram: High-resolution photos, videos and stories.
Twitter: Company news and GIFs.
LinkedIn: Company news and other professional business content.
Pinterest: Step-by-step photo guides and infographics.
TikTok: Short videos about your products, services and brand.
Gary Vaynerchuk, one of the top digital marketers, posts the same content to various platforms – but makes small changes in the post's format: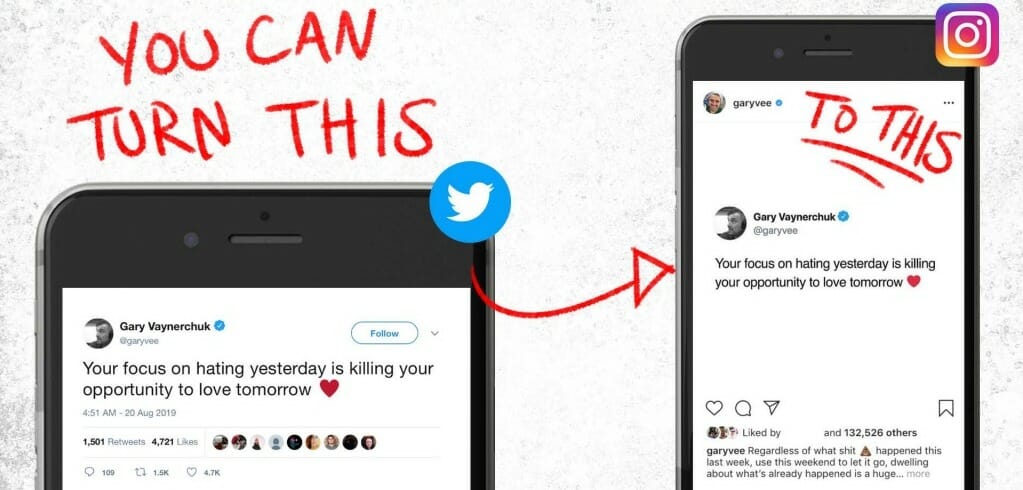 Here are some hacks that Gary Vaynerchuck provides to create more content for each social media network:
Screenshot your tweet and turn it into an Instagram post.
Download your TikTok clips and turn them into Instagram stories.
CROss-post your Instagram stories to Facebook and Snapchat stories.
Screenshot your Twitter interactions and post it on Instagram stories.
Use Facebook and Instagram polls to conduct market research.
Also, it is crucial to design a social content calendar for yourself:
Your social media content calendar will have the dates when you share content and on which channel. This will help you stay consistent and organized, which is especially useful if you are on four or five social platforms.
Use this social message optimizer from CoSchedule to help you write the best social media post.
Dive Deeper: Beyond the Blog Post: 21 Inspirational Branded Content Examples
7) Post Your Content at Optimal Times
In order to get the best out of social media, it is important to publish content at the optimal time.
For B2B Brands:
The best time to post on Facebook is between 9 AM and 2 PM EST on Tuesday, Wednesday, and Thursday.
The best time to post on Twitter is between 9 AM and 4 PM EST on Monday or Thursday.
The best time to post on LinkedIn is 7:45 AM, 10:45 AM, 12:45 PM, and 5:45 PM EST on Tuesday and Wednesday.
The best time to post on Instagram is 11 AM, 3 PM, and after 6 PM EST between Tuesday to Friday.
(Source: Hootsuite and Promo Republic)
For B2C Brands:
The best time to post on Facebook is between 12 PM EST on Monday, Tuesday, and Wednesday.
The best time to post on Twitter is between 12 PM and 1 PM EST from Monday to Wednesday.
The best time to post on LinkedIn is 7:45 AM, 10:45 AM, 12:45 PM, and 5:45 PM EST between Monday and Wednesday.
The best time to post on Instagram is 11 AM 1 PM CDT on Saturday.
(Source: Hootsuite)
However, it's always a good idea to do some research to find out when most of your specific audience is active.
8) Leverage Social Video Marketing
Video content is an excellent way to increase engagement on social channels. Not only will video content represent 82% of Internet traffic by 2021, but videos on Twitter are 6x as likely to be retweeted as photos.
Here are a few tips on creating engaging social media videos:
You don't need an actual studio set or high-quality camera to shoot the video. You can shoot a great video with your smartphone (but sure to check out these tips to make it look as professional as possible).
Base your videos on your objectives and goals.
Edit your videos for each social media requirements, such as view-baiting videos for Facebook and Instagram, explainer videos for LinkedIn, and proper size (such as vertical or horizontal):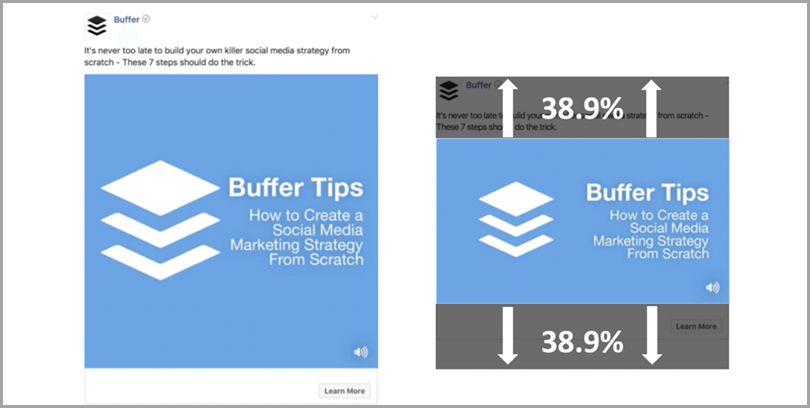 As 83% of videos are watched without sound, it is recommended to use captions in each of your videos.
Leverage Facebook and Instagram Live to interact with your followers in real-time.
Dive Deeper: Quick Tips to Optimize Your Facebook & Instagram Live Broadcasts
What kind of video content should you post on social media?
While there is no specific type of content that you should be creating (again, it depends on your brand and your audience), here are a few ideas:
Announcements
Do you have a sale coming up? Let your followers know when it starts, how long it will be, and how much they can save from it. You can even offer early-purchase discounts.
Are you launching a new product? Tell your audience what's it all about and, if possible, show them a video demo of the product and how it can benefit them.
Later, a social media scheduling tool, knows how to announce products on social media: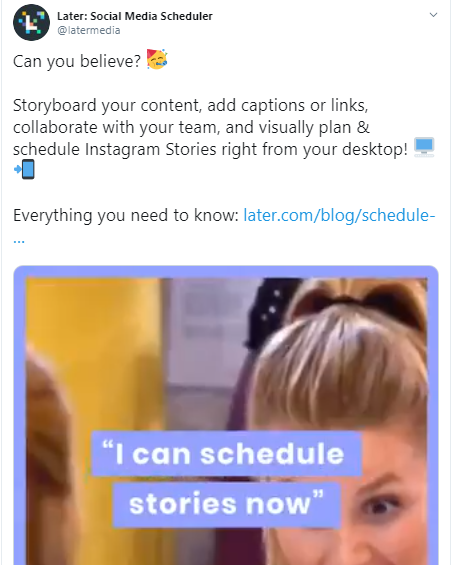 Tutorials
Creating how-to videos can be a great way to engage with your customers. These can be more general how-tos, or videos that demonstrate how to make the most out of your specific product.
Blossom uploads hacks and DIY videos on their Facebook page to capture the attention of its followers:

User-Generated Content
These are videos that your customers create. It can be something like a product review or a testimonial. Sharing such videos will not only delight your customers (they'll get their "15 minutes of fame"!), but it will also show the value that your product adds to consumers' life.
Starbucks is an exceptional brand that uploads user-generated content. They compile photos of their iconic holiday cups from customers in a video slideshow: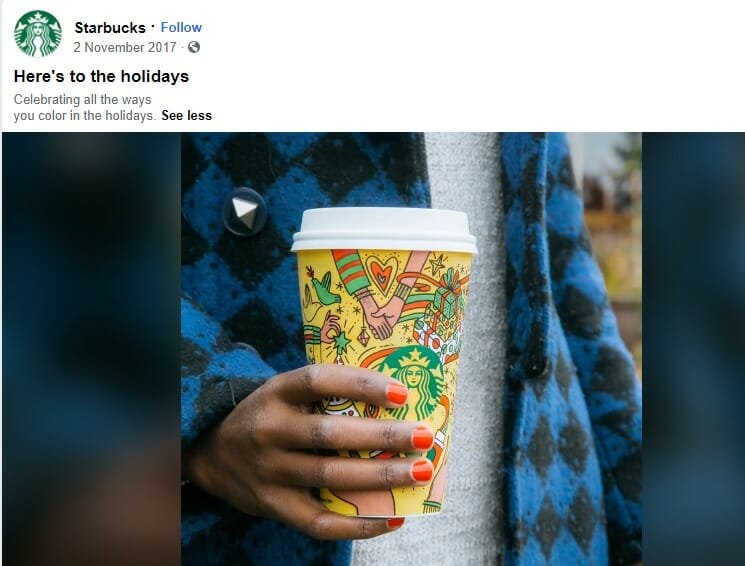 Dive Deeper: 8 Ways to Encourage More User-Generated Content (UGC)
9) Focus on Quality over Quantity
It might be tempting to upload as many posts as possible, but it is crucial to focus on quality. Make sure your content offers value to your audience on social media.
86% of consumers say authenticity is important when deciding what brands they like and support and 57% think that less than half of brands create content that is authentic: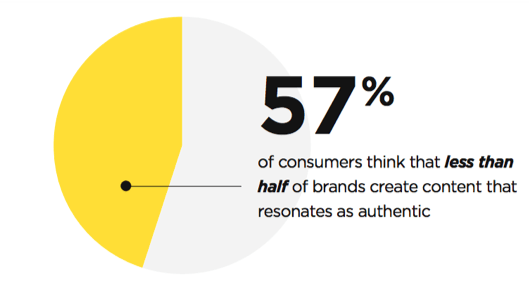 If all you do is promote your product and focus on sales, there's very little motivation for people to follow you.
Here is an example of a bad Facebook post that is overly promotional: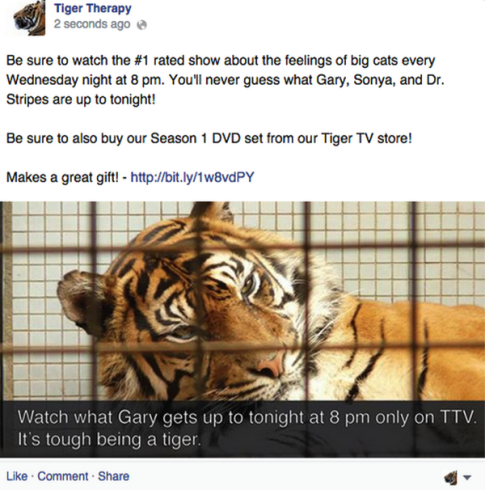 If you are overwhelmed by the idea of publishing content on tons of social media channels, just start with one or two. Focus on the top channels sorted by your target demographics and then slowly move to the other channels.
10) Promote Your Social Media Channels
You have created accounts on all the relevant social media channels, and you've started posting content. Now what? How do you get in front of the right people, especially if you're new to social media and don't have a ton of followers yet? That's where promotion comes into the picture.
One of the best ways to promote your social media pages is cross-promotion of your own social channels.
For example, @jadethesablegsd, the Instagram account for a dog named Jade, cross promotes its Facebook and YouTube posts on Instagram: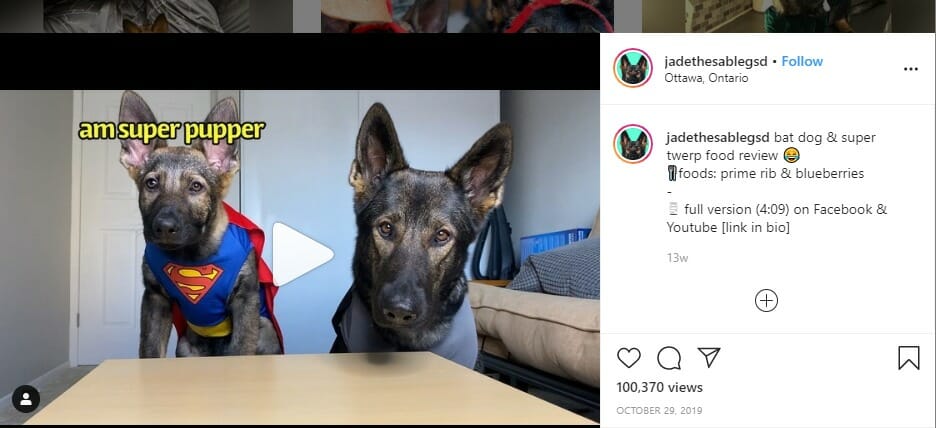 Here are a few other ways to promote your social media channels:
Partner with Influencers
There are two benefits of partnering with influencers:
Influencers will promote your product
Influencers will tag you in their posts
In this way, they will promote both your product and your social media accounts.
JBL partnered with Veronique Mitchell to promote their earphones. The influencer also tagged JBL South Africa's Instagram account, redirecting users to the JBL account: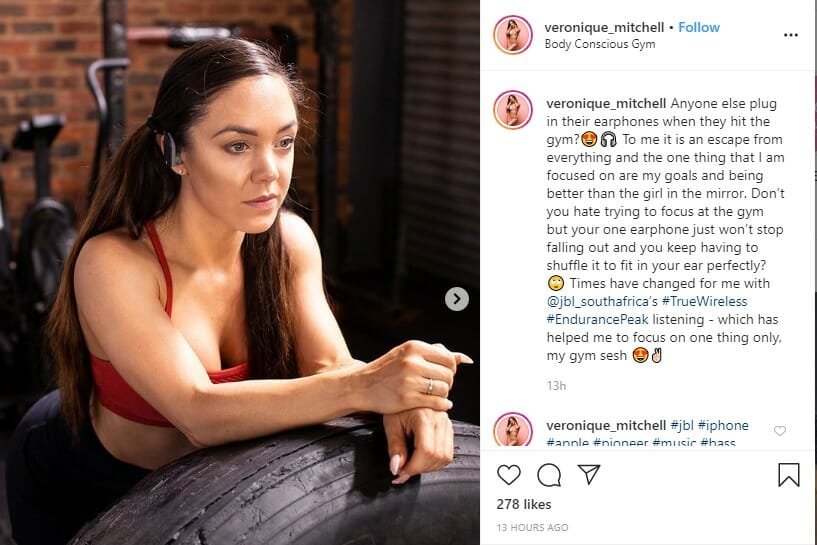 Dive Deeper: How to Grow Your Business With Influencer Marketing and Brand Partnerships
Use Branded Social Icons on Your Website
Your site visitors might not know which social channels you're on, so make it easy for them and use branded social icons in the footer of all your website pages to send them directly to the network of their choice:

Add Social Media Buttons in Your Newsletter and Email Signatures
Your subscribers are already reading your emails, so including social media buttons in the newsletter and your email signature can give them another easy opportunity to follow you.
Grammarly is a brand that knows how to integrate social media buttons in emails. It includes icons of all the platforms where the business has its presence: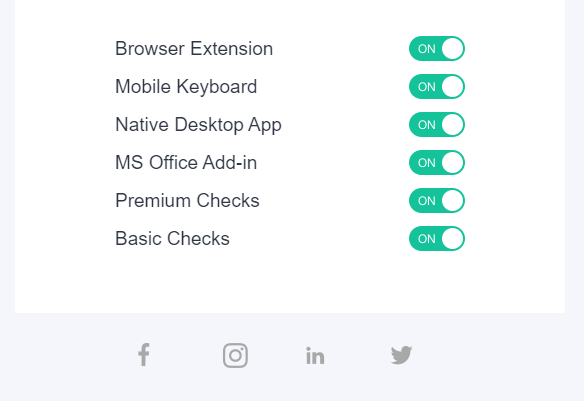 Run Contests and Giveaways
Hosting a contest or giveaway is one of the most popular ways to promote your social media accounts. You don't have to give away too much for free, either. It could be as small as a $10 gift card or a 20% discount coupon.
X-ring Store ran a giveaway on Instagram where participants could win a $200 deposit for one of their X-rings. But to enter the contest, users had to follow the brand, like the post, and tag three friends: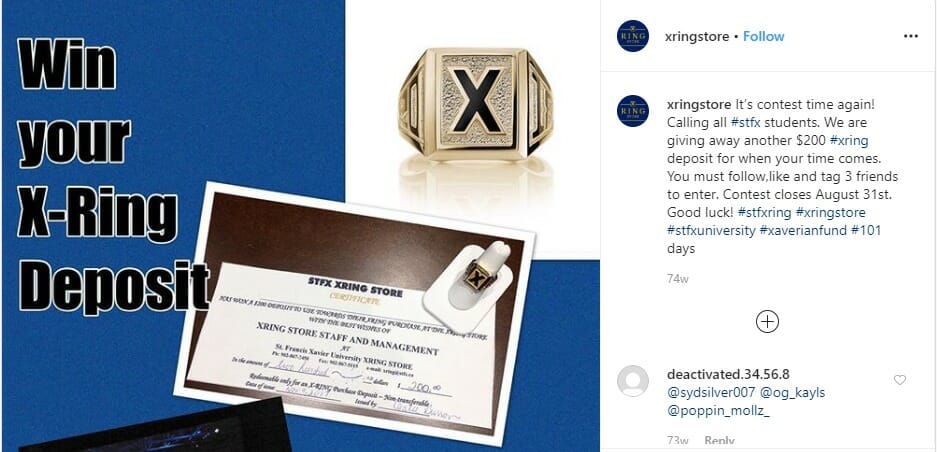 Dive Deeper: Best Lead Generation Tactics for Content, Email & Social Media Marketing
11) Use the Right Tools
Social media tools can simplify or automate much of the work. This way you can use your time for more important things while still getting the most out of your social media campaigns.
Here are some of the tools that can ease your work:
Social Listening Tools: With tools like Hootsuite, you can manage all the messages and mentions of your company (on every social media platform) in one dashboard. You can then respond to those messages and mentions without having to log in to each of your social media accounts: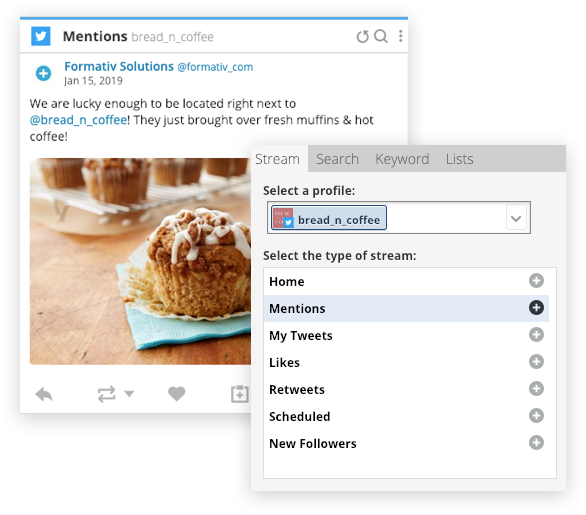 Social Media Scheduler: Each social network has its own optimal times when users are more likely to engage, but it can difficult to post on each of them at the right time. That's why it is crucial to use a social media scheduler that helps you post the right content at the right time. Sprout Social is one of the best social media scheduling tools. It allows you to organize posts across profiles, networks and campaigns using a visualized calendar: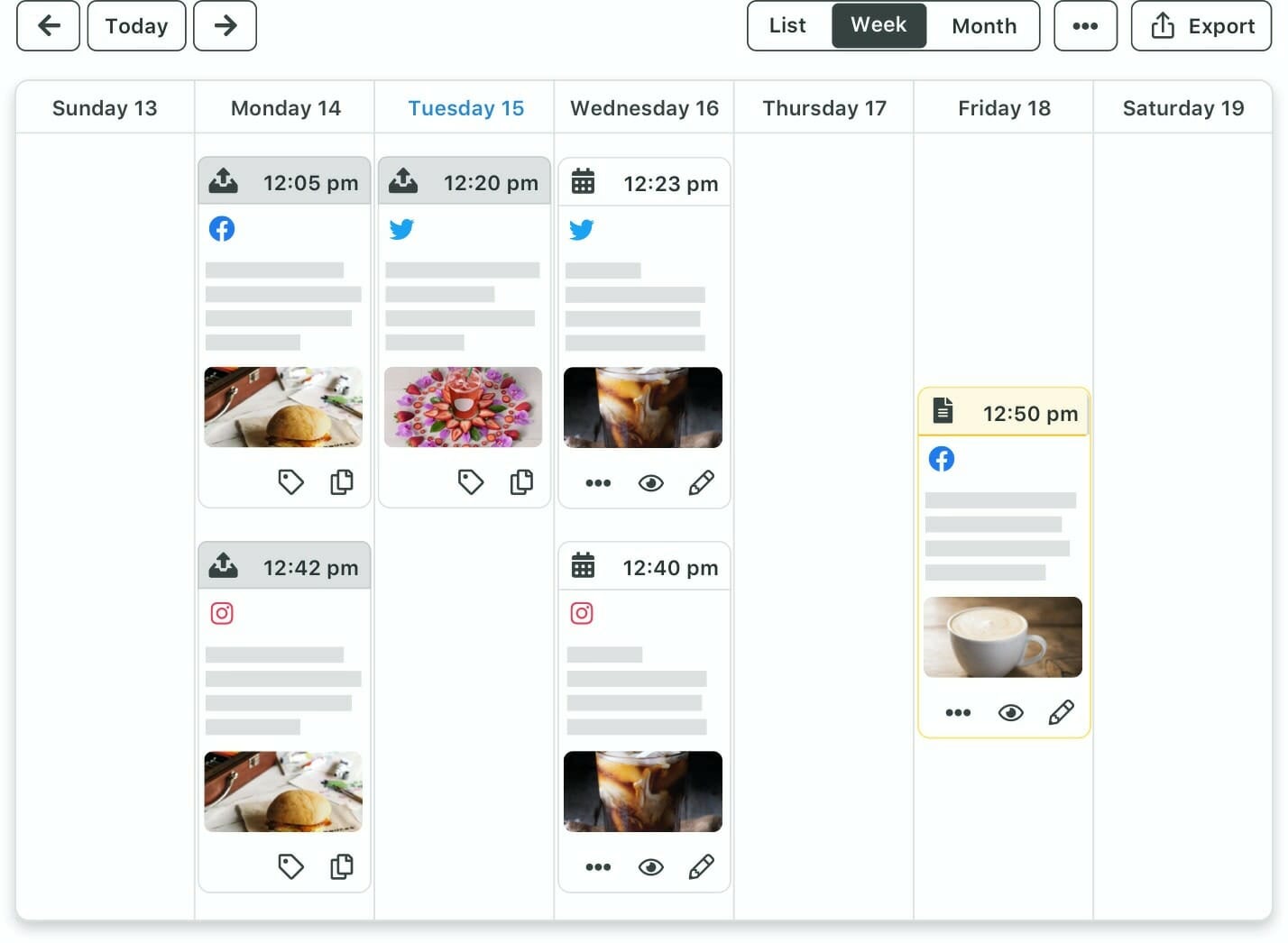 Analytics: It is essential to understand the real ROI of your social media marketing efforts. Brandwatch provides in-depth reports on how your customers feel about your brand. This tool also helps you spot changes in sentiment and measures brand visibility in real-time. With Brandwatch, you can track the impact of your marketing strategies to identify what is working and what needs to be changed: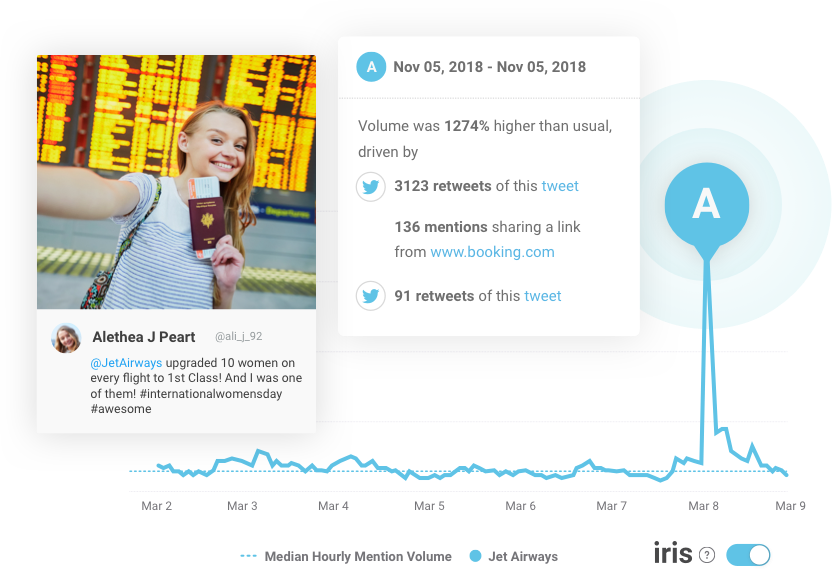 Dive Deeper: How to Boost Your Social Media Marketing Efforts with Content Marketing Tools
12) Leverage the Power of Social Media Ads
Social media ads are a great way to get in front of a wider audience, particularly if you're a small brand just getting started on social media. You can get hundreds of new impressions and engagements for just a few dollars.
With Facebook Ads, I was able to reach 21,444 people just by spending $7. This resulted in 1,069 people engaged with my posts and 497 clicks on the link to visit the website:

If you are not sure what kind of ads to create, start by boosting your existing posts that are doing well.
For Facebook
Visit the "Insights" tab of your page and you'll see all your posts along with their reach and engagement. It is recommended to boost the posts that have received maximum engagement organically as they are more likely to receive the maximum engagement via a paid: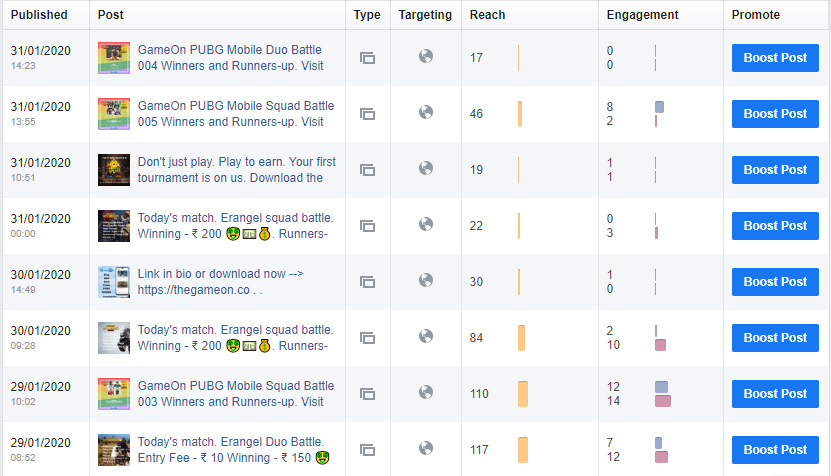 Click on "Boost Post" beside the content that you want to advertise. You'll then get the option to "Choose Objective", "Add a button to your post", "Select the audience", and "Decide the duration and budget":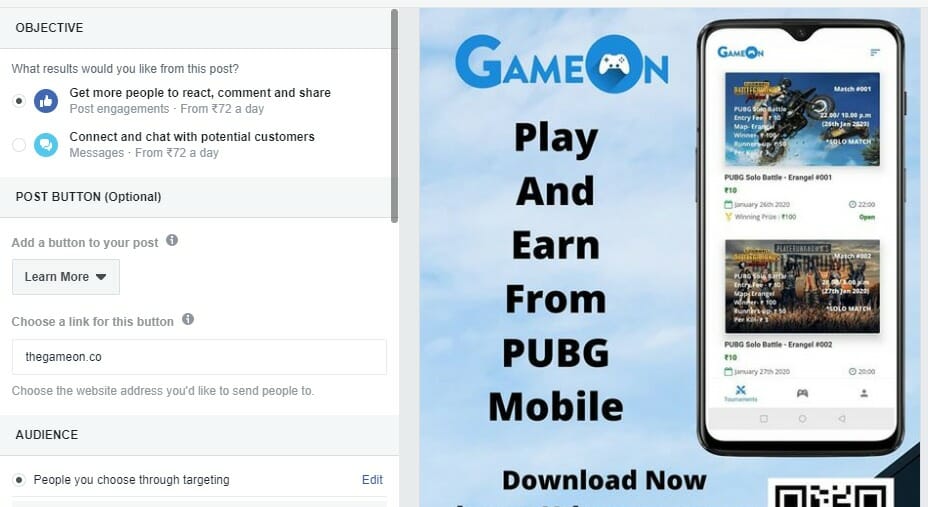 Facebook provides a lot of targeting features, such as gender, age, demographics, interests and browsing behavior. Enter as many details as you have about your audience to narrow targeting and maximize the ROI: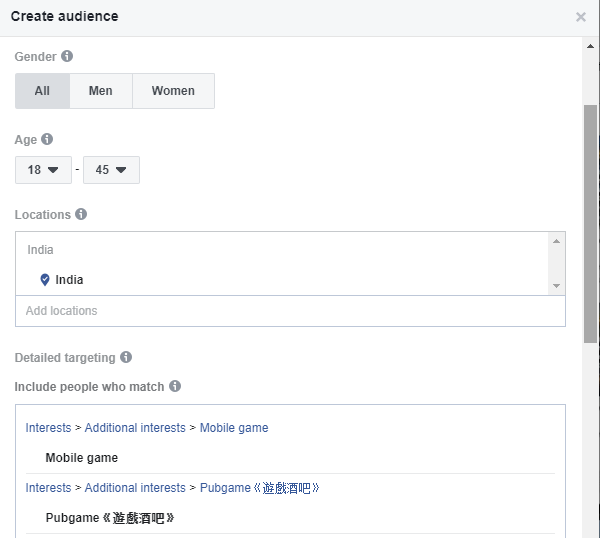 Choose how many days you want to run your ads and then click on "Boost".
Dive Deeper: How to Get the Cheapest Facebook Ads Without Sacrificing Quality
For Instagram
Go to your account and open the post you want to promote. You'll see "Promote" button just below the post: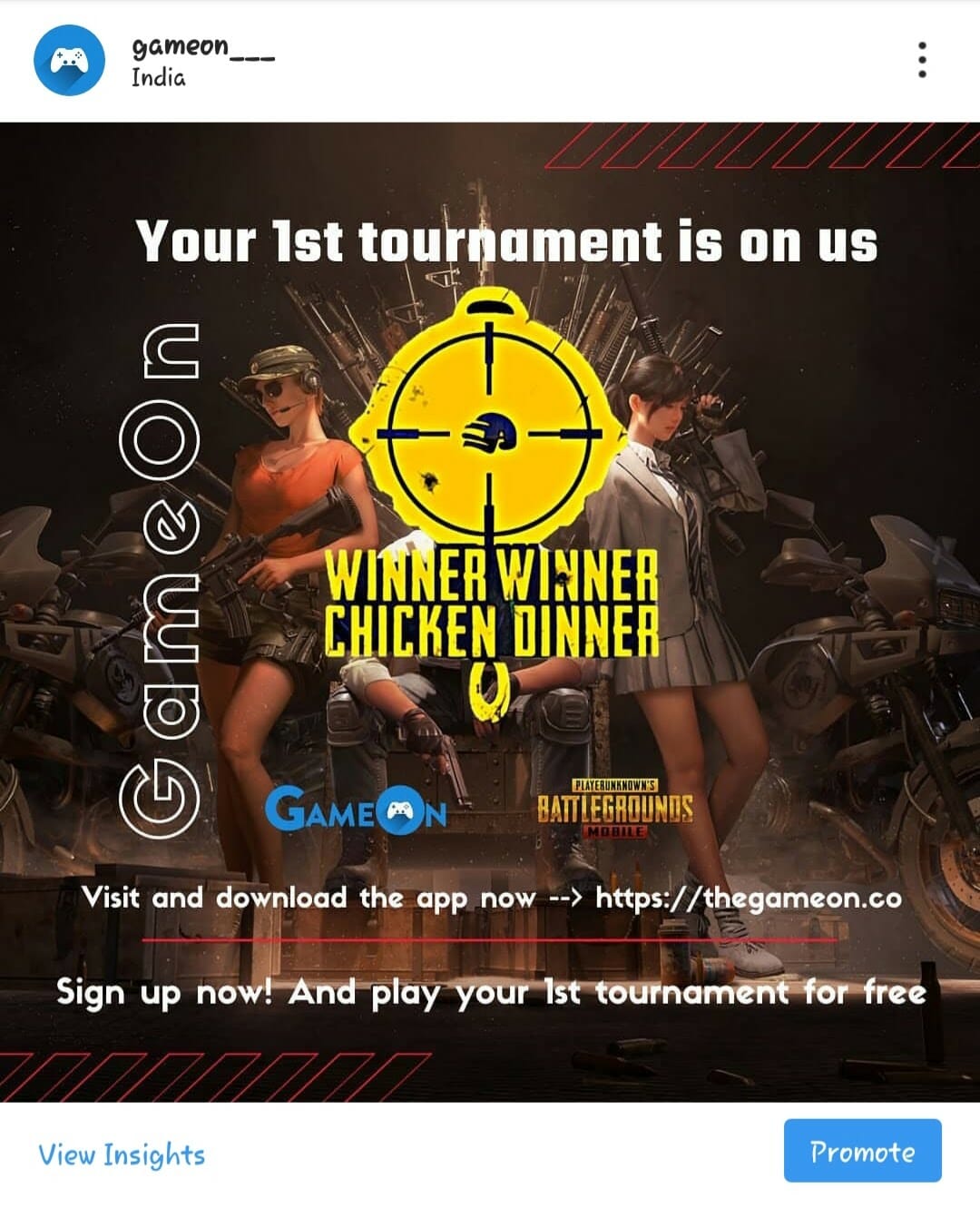 Instagram will then ask you where you want to send people. Choose the most relevant destination: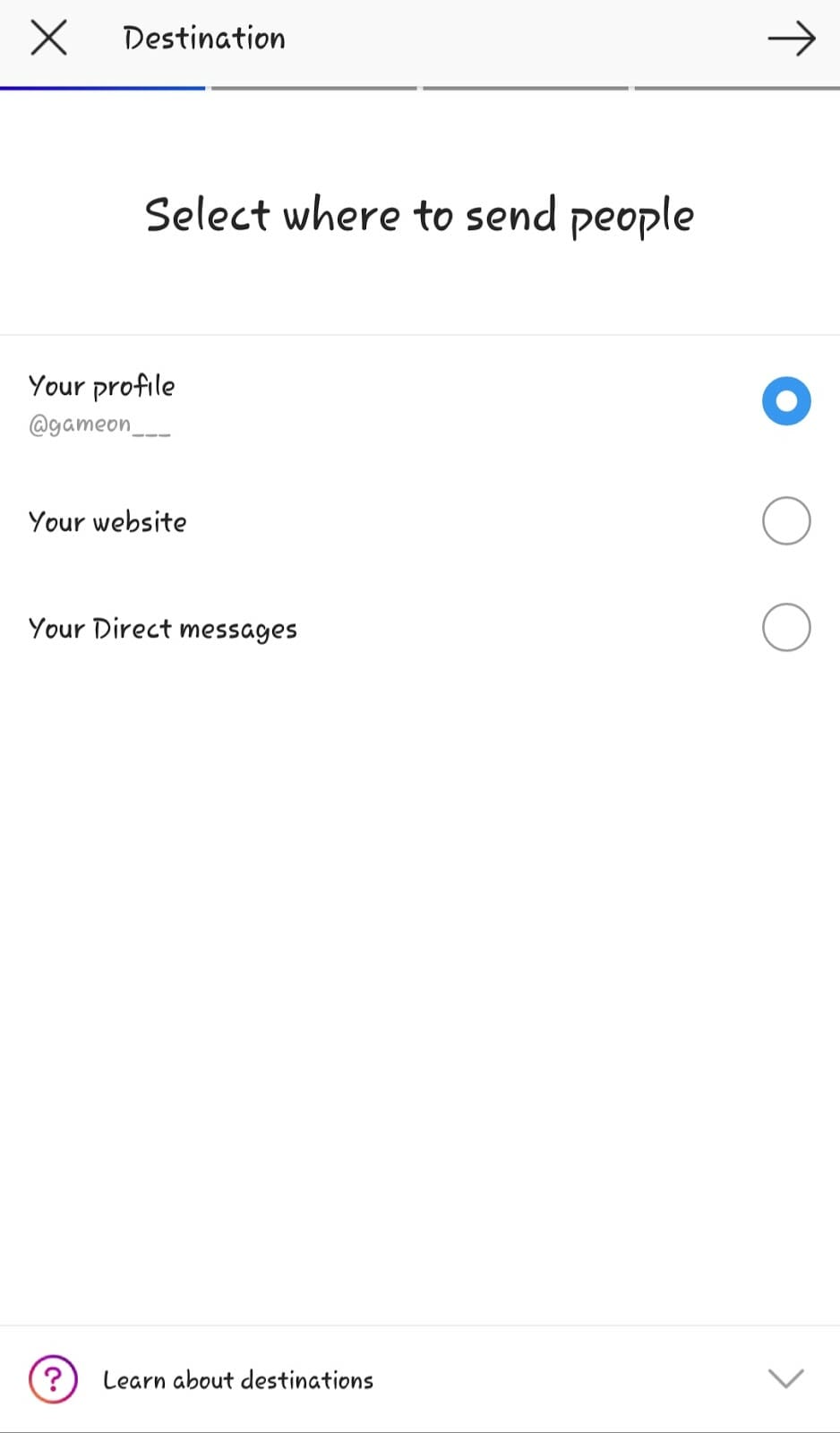 You then get the option to select the target audience. You can either create your own audience or leave targeting to Instagram: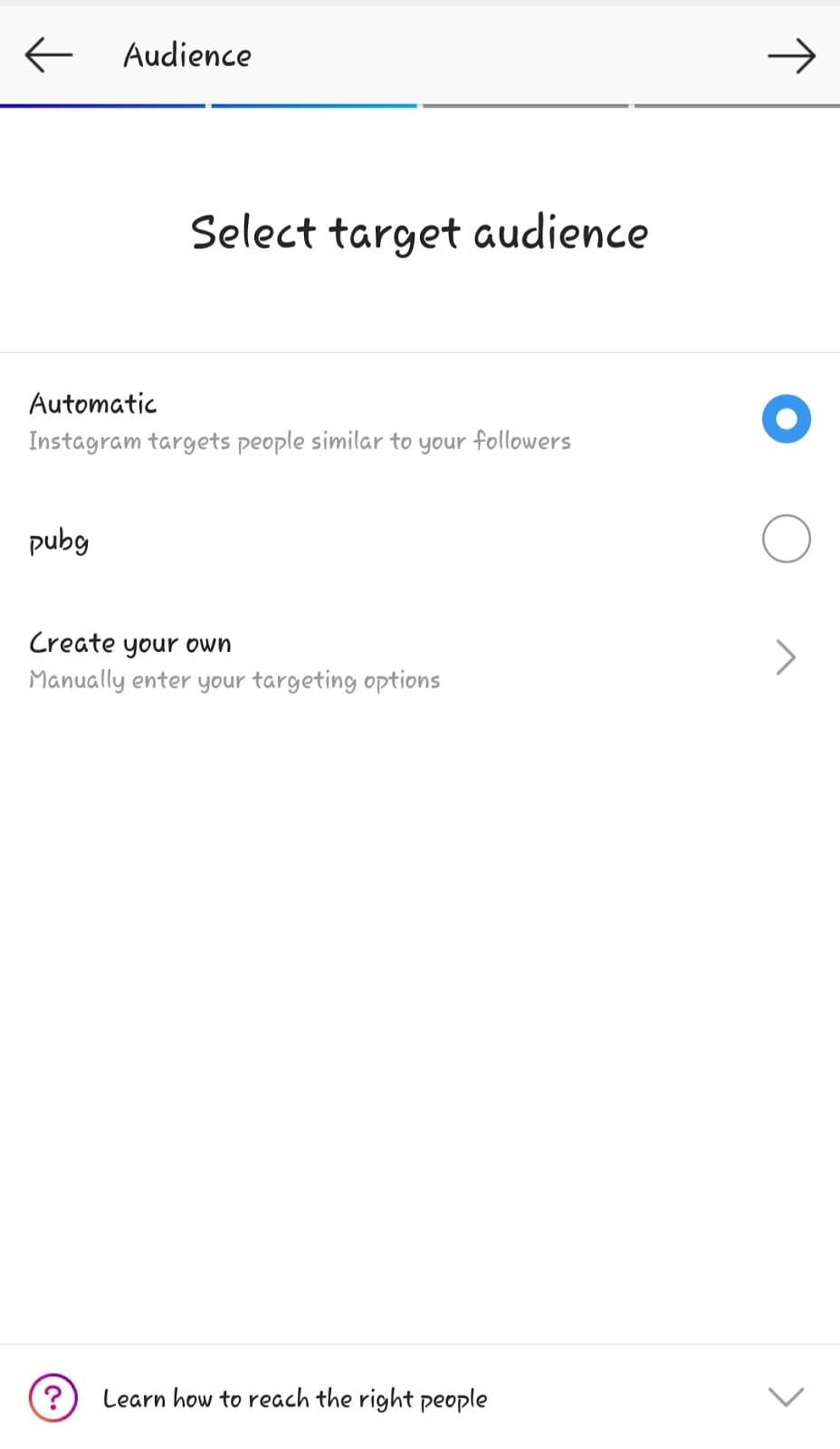 Choose your budget and you're done!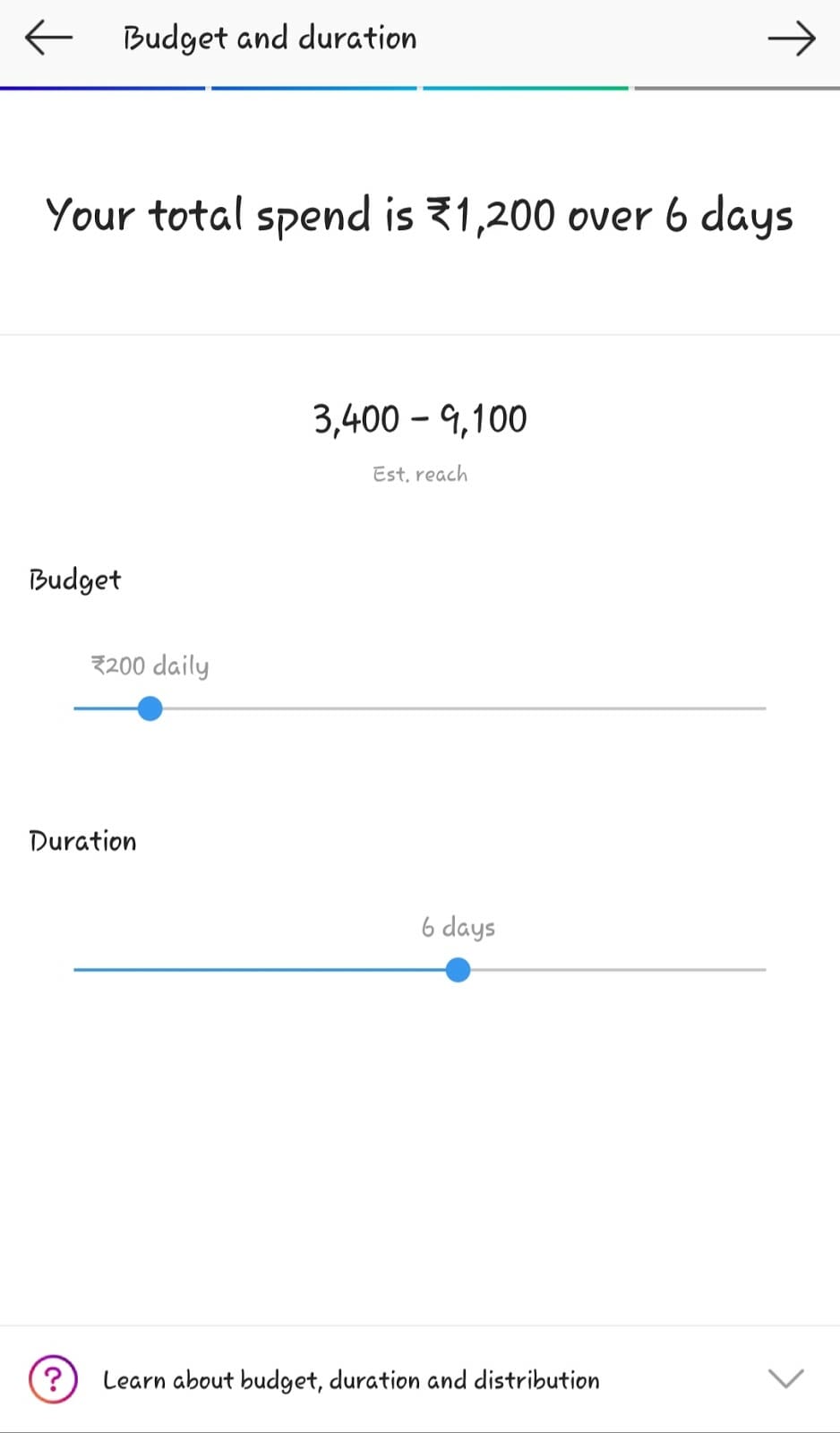 Dive Deeper: How to Create Instagram Stories Ads that Your Ideal Customer Will Swipe Up
For Twitter
Visit Twitter Ads and choose between two options:
I want to automatically promote my tweets: In this option, Twitter will automatically promote all your posts. You can set your budget to make sure you don't go overboard with your marketing spend.
I want to launch a Twitter Ads Campaign: In this option, you can set up and manage ad campaigns.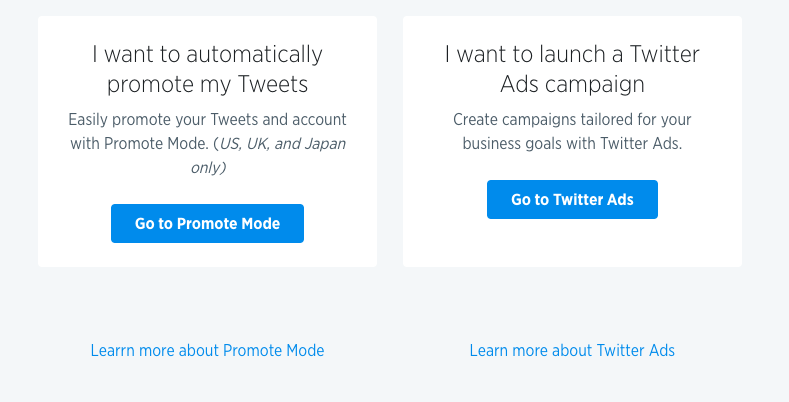 You'll then be asked to choose your country and time zone. Select the country whose currency you'd like to be billed in: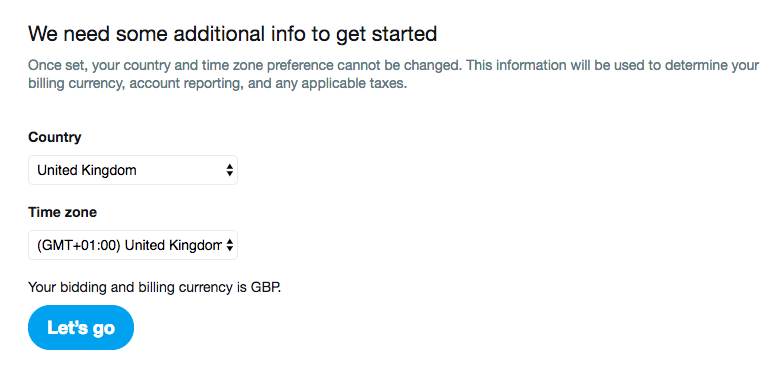 Enter your billing information and start your campaign.
You don't need a big budget to get started with social media ads. Start small and increase your spend as you improve your ROI.
Dive Deeper: Do Twitter Ads Really Work? (Or Should You Focus on Other Platforms?
What's Next?
Social media marketing is an excellent method for businesses of all sizes reach a wider audience, increase brand awareness, and boost conversions. With more and more people using social media, integrating it into your marketing strategy makes complete sense.
Following this guide will help you start with social media marketing and excel at it!