Want to hear a secret? Having an online store doesn't mean that you have to limit yourself to marketing your brand online.
For the longest time, the story of e-commerce has been one of online versus offline, physical versus digital, brick-and-mortar businesses against the rising tide of online businesses.
Although it's true that more and more people are happily going online for all their shopping needs, it's also true that in 2019, e-retail sales accounted for just 14.1% of all retail sales worldwide: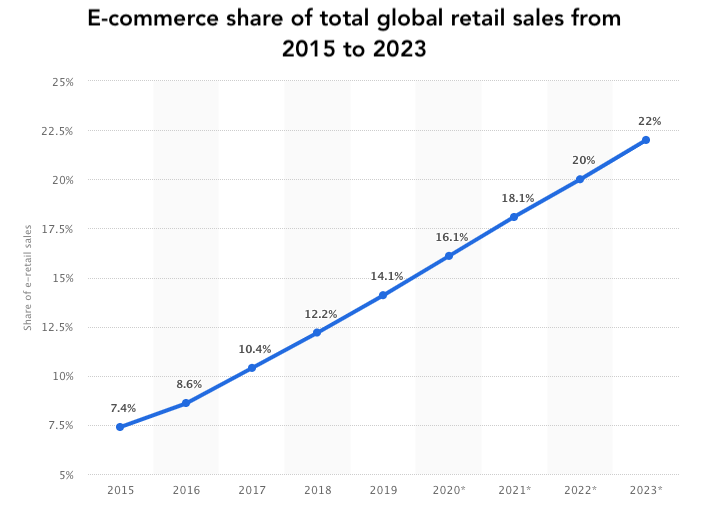 There's no denying the fact that e-commerce is the future of retail, but what we're finding out is that the brands that are succeeding in this new age of retail aren't the ones who limit themselves to the realm of digital marketing – they're the ones that are able to find the right combination of online and offline marketing strategies.
As Fab Dolan, Head of Marketing at Google Canada, explains:
"The brands that are winning are the ones that understand and own the fundamental interplay between experiential and transactional. If we were to believe that retail is dead, then we should be spending all of our money doing online ads and guiding people to our website. And yet, what we're seeing time and time again is that building anticipation and an appreciation for the magic of our products happens in the real world even though most people buy online or through call centres."
With that in mind, let's take a look at how you can start growing your e-commerce brand by taking it offline and in to the power of event marketing.
Benefits of Event Marketing for E-commerce
In short, event marketing is a marketing strategy where a brand can promote itself and their products by holding an in-person event – such as a conference, networking meet-up or live version of your podcast – for its audience. Live events are a perfect way for any brand to showcase their personality and connect with their fans in a meaningful way.
Event marketing is certainly nothing new, but recently e-commerce brands have begun experimenting with experiential marketing – in a word, it's the power of experience – as a way to connect with their customers offline. By making events a part of their marketing strategy, e-commerce brands have an opportunity to grow their business by using events to generate new leads, nurture strong relationships with their prospects and customers, and increase their overall sales and revenue.
If that's not enough to convince you, here are three key reasons why you should start embracing events:
1) Generate New Leads and Sales
Perhaps the biggest barrier in e-commerce is being able to convince someone to purchase something without their trying it first. Even if they're planning to purchase an item online, 62% of customers still want to be able to physically see and touch the product before committing to a purchase decision: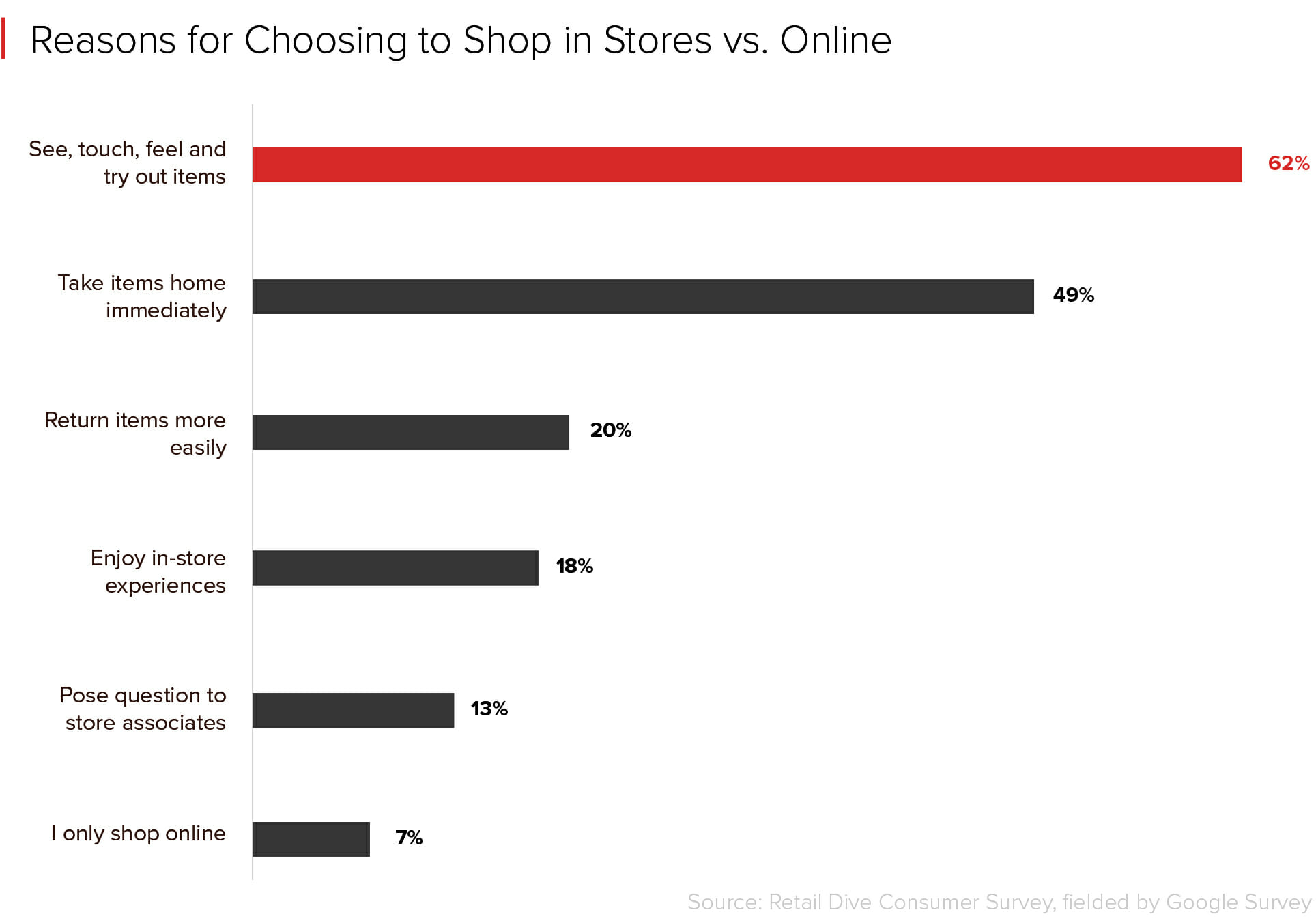 Even if you have the best product on earth, nothing beats a face-to-face interaction for closing a sale. Consider these experiential marketing stats:
91% of consumers say they have more positive feelings about brands after attending events and experiences.
85% of consumers are more likely to purchase a product or service after attending a live marketing event.
80% of businesses believe that live events are an important component of their company's success.
Regardless of whether or not you're able to close a sale right then and there, every single person attending that event can be considered a hot lead that you can follow up with later.
Dive Deeper: What's the ROI of Throwing a Live Event?
2) Encourage Word-of-Mouth Marketing
When it comes to driving awareness of and exposure to a brand, word-of-mouth marketing still reigns supreme.
According to Convince and Convert: 83% of Americans say that a word-of-mouth recommendation from a friend or family member makes them more likely to purchase that product or service.
Sure, it can be difficult to get people to talk about your brand, but you know what gets them talking? Events.
As Seth Godin so eloquently put it in his book The Purple Cow, if you want your brand to stand out, you need to give people "something remarkable [that] is worth talking about."
Whether it's speaking at a conference or hosting your own pop-up shop, events are the perfect vehicle for brands to provide their audience with a unique experience that they can't wait to share with their friends and family. One survey found that 72% of customers were more likely to do business with a brand after seeing friends post or talk about their experiences with that brand.
Take it a step further, and turn your event into a word-of-mouth marketing machine by encouraging attendees to share their experiences on social media. Send them follow-up thank you emails or surveys and include links to your social media.
Dive Deeper: Word-of-Mouth Marketing — What Is It and How Do You Do It?
3) Increase Brand and Customer Loyalty
Outside of being a great way to activate new customers and generate new leads, where event marketing really shines is in its ability to forge genuine relationships between a brand and its customers.
Any time a brand connects with its audience in an authentic way, it leaves a lasting impression – and it doesn't get more authentic than actually engaging with a brand in-person. Even five seconds of real human interaction will make your brand more memorable to someone and thus better encourage a long-term relationship as opposed to their consuming hours and hours of your content online.
Research from Forrester found that consumers are 57% more likely to become loyal to a brand that demonstrates real human communication. Engaging with customers offline naturally humanizes your brand in an organic way, and immediately sets you apart from the hundreds of competitors that only interact with their audiences online (sometimes only via chatbots and/or call centers).
Unlike other forms of content, events give people the chance to engage with the humans behind the brand and feel/hear/see their personality, mission and values in a variety of ways.
By actively experiencing the brand (as opposed to passively consuming it), consumers are far more likely to develop the type of connection that will ultimately lead to a sense of loyalty towards the brand.
Dive Deeper:
Picking the Right Event for You
Now that we know how powerful it can be to bring your brand offline, it's time to figure out what kind of event you should be taking advantage of. Not all events are the same and, depending on your audience and your goals, some will be more effective than others.
The key to understanding what type of event will work best for you lies in asking yourself the following questions:
Who is my target audience? It's important to know the market segment you're honing in on. If your audience is primarily other business owners, for instance, you'll probably be better off participating in a trade show, rather than opening up a pop-up shop.
What resources do I have for this event? Event marketing can be a costly investment, and you'll need to factor in costs such as promotional items, venue rental, hired help and marketing. For example, sponsoring a festival is far less expensive than hosting a dedicated workshop.
What action do I want my audience to take? What is the goal of your event? To generate sales on that day? To introduce new leads into your sales funnel? To share their experience on social media? Think very carefully about what it is you want your event to achieve and how it relates to your overall goals.
What experience do I want to provide? What's the primary emotion you want to elicit from your audience? Do you want them to have fun? Feel educated on a certain topic? Is this in line with your brand persona?
How am I providing value to my audience? As with all good marketing, you need to provide value to your audience. This can range from giving away physical samples of your products to educating them about a subject they're interested in to the smaller details like great drinks and snacks or a beautiful venue.
Dive Deeper:
Events that Are Perfect for E-commerce
After answering all the above questions, you might have a reasonably good idea about the kind of events that will work best for your e-commerce brand. However, just in case you need a little more info to steer you in the right direction, here are five different types of events and why they're perfect for e-commerce:
Pop-up Shops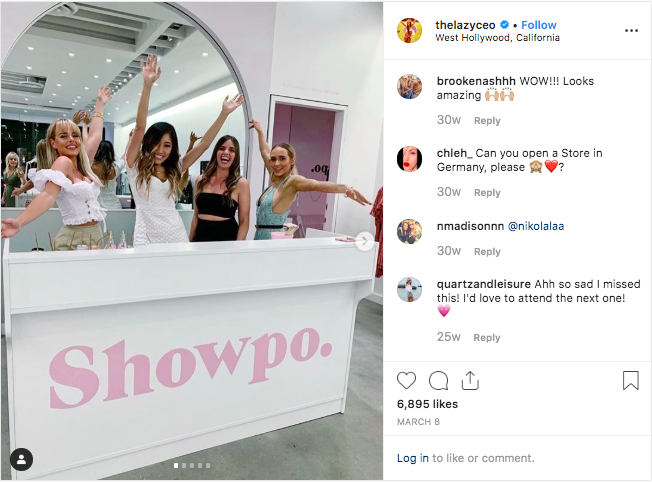 For retail brands selling physical products, opening a pop-up shop is an obvious choice when it comes to event marketing.
Pop-up shops are short-term retail locations that can last anywhere from a few days to a few months. For many e-commerce brands, pop-ups are a powerful way to introduce their brand into a new market, to experiment with offline selling, and to deliver a unique experience for their audience.
With a pop-up shop, a brand has complete control over the kind of experience they want to give their audience, the marketing and promotion of their event, and the customers they will be attracting.
A great example of this in action is e-commerce brand and fashion retailer Showpo, who opened their first pop-up shop earlier this year in L.A. for just nine days, because they "wanted to build trust with our customers and establish a better connection with them, and we felt like a good way to do that through a pop-up."
More than being another channel to generate sales, Showpo's pop-up was viewed primarily as a marketing channel through which to engage their audience.
The Showpo team created a 'Showpo Cafe' within the pop-up store for people to take and share pictures of themselves interacting with the event, and invited a variety of noteworthy influencers and members of the press to further increase the level of buzz and awareness around the brand.
All this culminated in Showpo's shop generating tens of thousands of shares on social media and remaining on track to meet its goal of hitting $100 million in revenue by 2020.
For anyone looking to set up their own pop-up shop, sites like these are incredibly useful when looking for the right venue:
Trade Shows and Conferences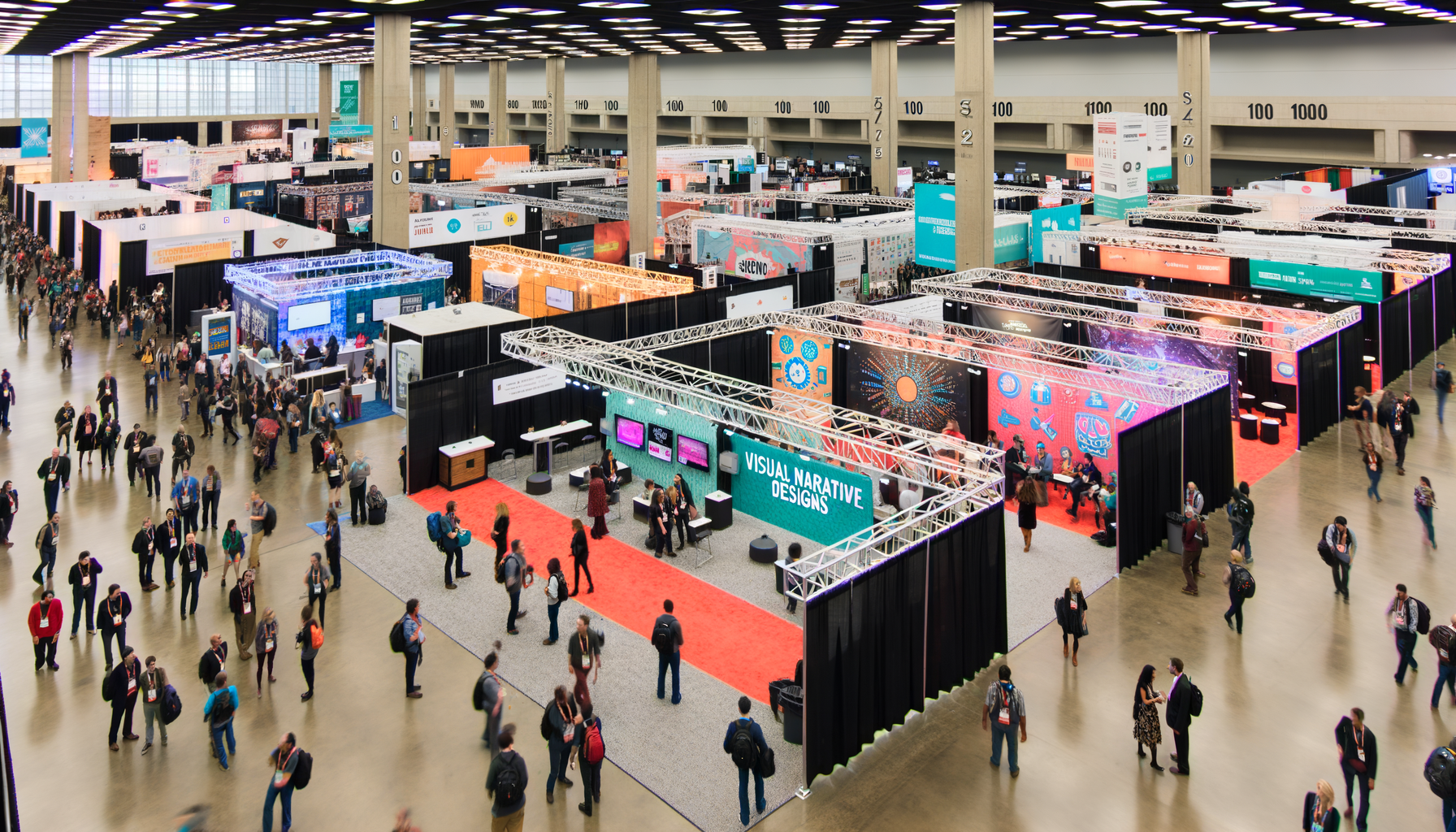 No matter what kind of business you have, there's bound to be some sort of industry-specific trade show or convention that your brand can benefit from being a part of.
For most brands, participating in a trade show means becoming a sponsor, and perhaps setting up a branded show booth within a pre-existing event. The major benefits of being a sponsor? For one thing, it's generally cheaper than hosting your own event. You also won't need to worry about all the logistics that come with creating an event, while enjoying guaranteed access to an audience of potential customers.
On the flip side, having little to no control over the event itself also means that you'll have to work harder to distinguish your brand from the dozens of other sponsors showcasing their brands right next to you.
However, with the right strategy in place, trade shows and conferences can still be a powerful way to generate new leads and sales for any e-commerce business: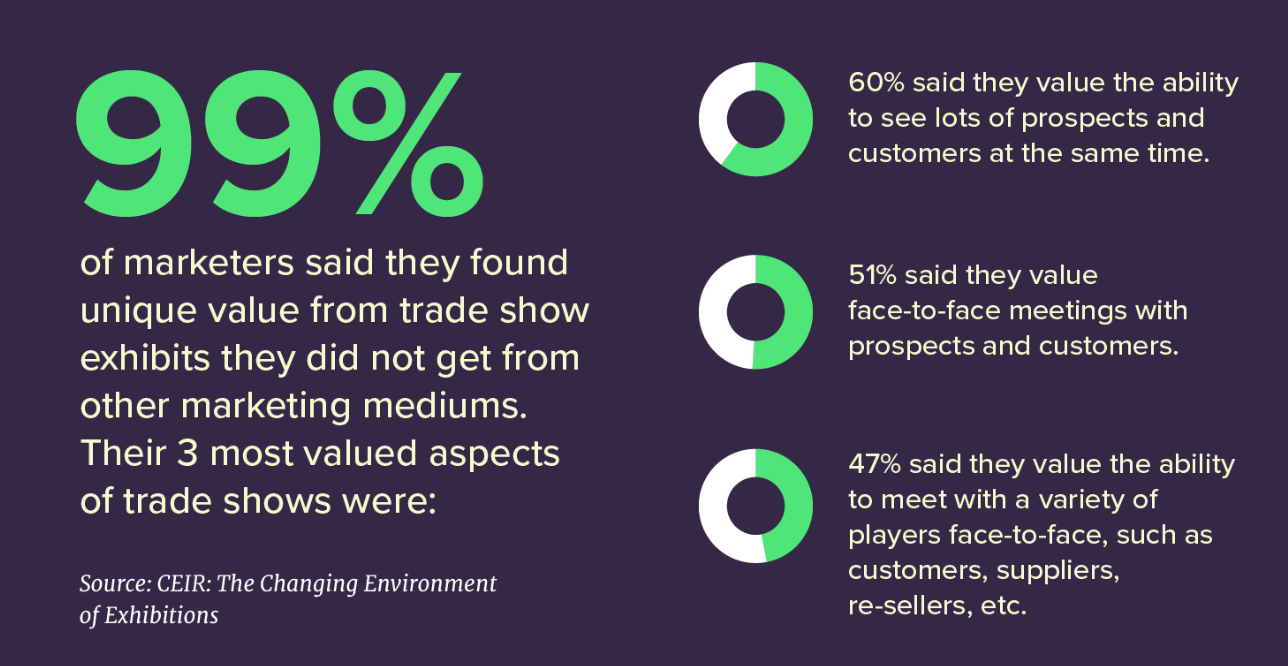 According to EVO Exhibits, the top 5 benefits for brands attending trade shows are:
Raise brand awareness
Forge business relationships
Highly targeted leads
Competitor analysis
Education
An effective tactic to stand out at a trade show is to offer to be a guest speaker. Not only will being a speaker make event attendees more likely to visit your booth, but it'll also give you the opportunity to establish your authority and network with other influencers in your industry.
Dive Deeper:
Festivals and Community Events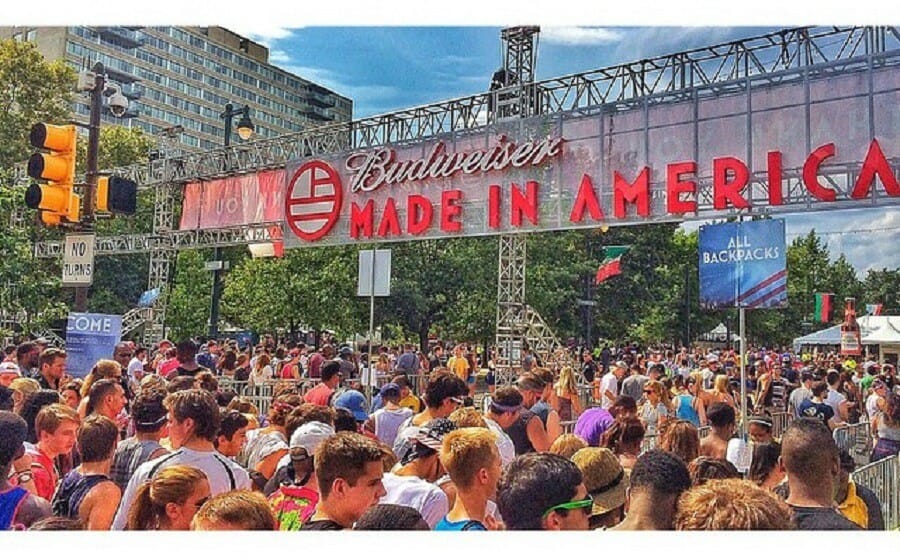 As with trade shows, e-commerce brands can easily take advantage of event marketing by becoming a sponsor for local festivals and markets. While conferences work best if you're a B2B brand, partnering with festivals is a great way for B2C brands to engage with everyday consumers.
Brands such as Cupcake Vineyards have seen huge success by becoming an official sponsor to prominent festivals like Coachella and Lollapalooza. By using these sponsorship opportunities smartly, they were able to introduce their brand to thousands of potential customers who would have never heard of them otherwise: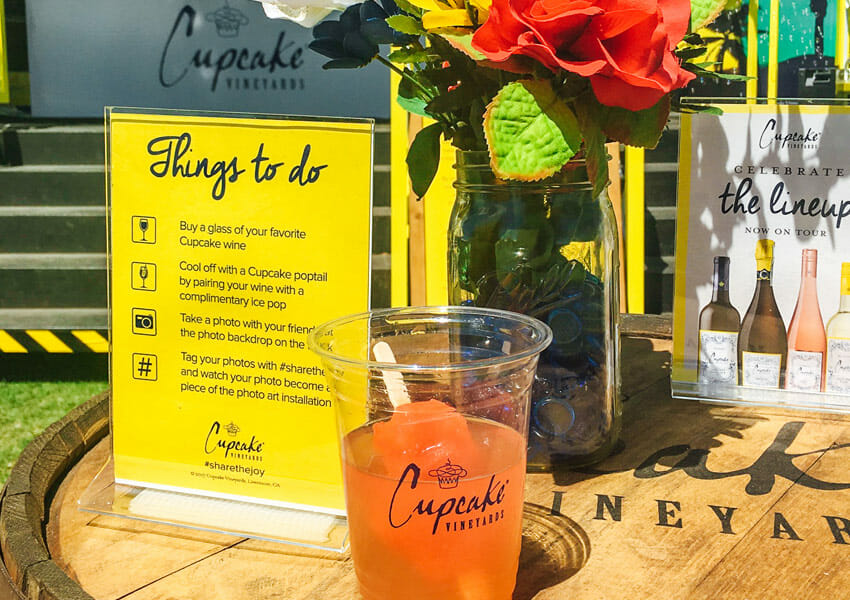 And the research backs this up:
93% of festival goers surveyed said that they liked the brands that sponsored such events
80% said that they were more likely to purchase a product after having had that music experience
37% said they had a better overall perception of the company as a result of its integration in the festival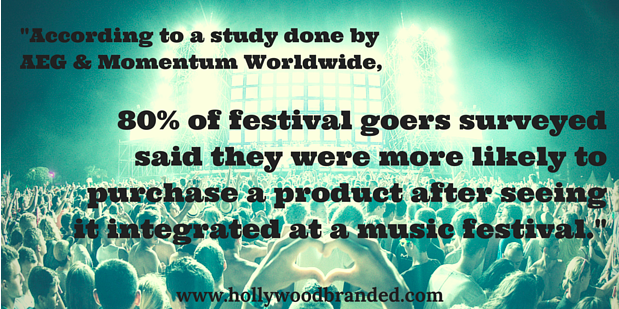 In addition to festivals, brands can also participate in other types of community events such as fun runs, local markets, and street parties to increase their level of exposure and awareness. Depending on the event, you might not even need to pay out of pocket to become a sponsor; simply donating your product or services might be enough to have your brand featured in their marketing materials.
The key is to make sure that you do your due diligence so that your brand and the event are a good match. Don't be afraid to ask event organizers for demographic information to ensure that attendees align with your target audience.
You might find it useful to check out services like Sponsor My Event to help you find local events looking for sponsors.
Product Launches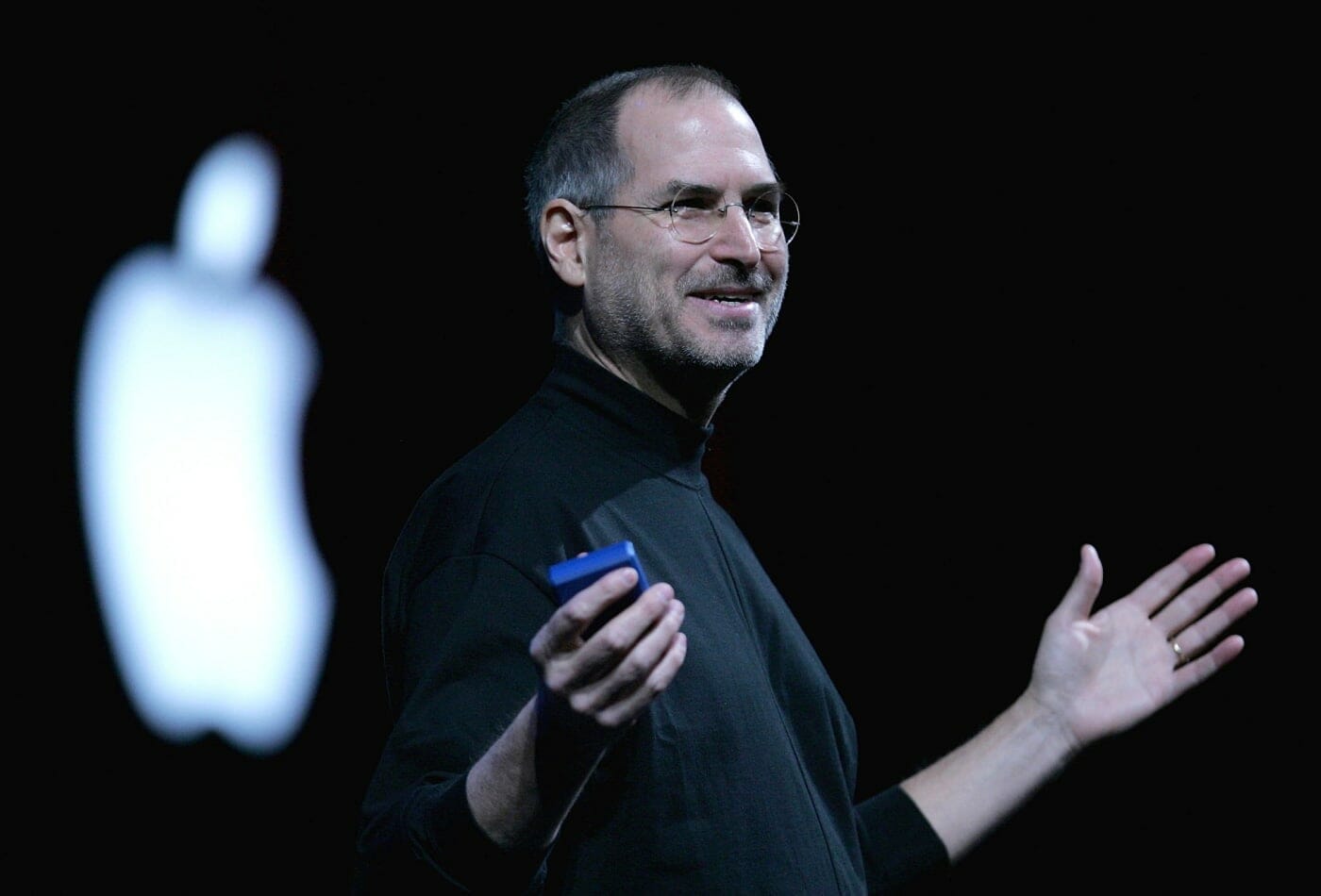 Anytime you're releasing a new product, you have the perfect excuse to host an event – by throwing a product launch party!
Not only are launch parties a great way to reward your team for a job well-done but, more importantly, they also come with the benefit of building hype around your latest product and connecting with your most loyal and dedicated fans.
Apple has famously mastered the art of the product launch by treating every product launch as a true event. They go out of their way to invite notable influencers to these launch parties, spend weeks beforehand building up the hype for the event, and even go so far as to close down their online store for the day.
Of course, not everyone is Apple, but that doesn't mean you can't still have a successful product launch. As part of their Kickstarter campaign, Foundr hosted a launch party where they invited influencers to give speeches and close to a hundred people attended: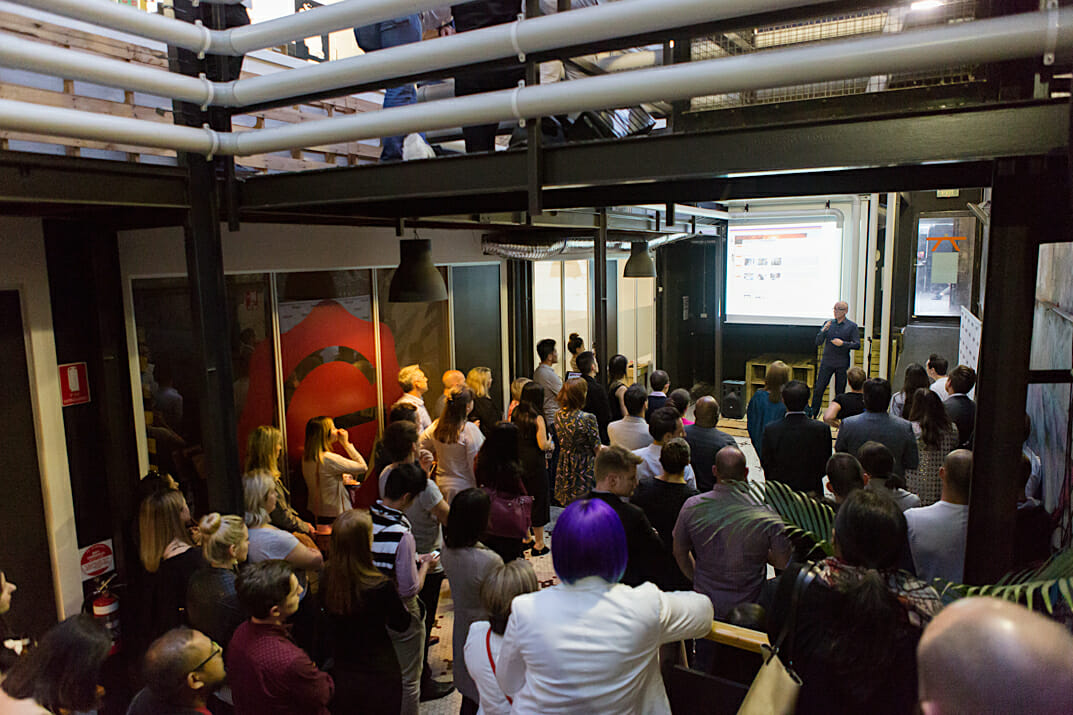 The result? Foundr managed to bring in $15,000 within 5 hours, in addition to generating a ton of promotional content they could use for the rest of the campaign.
Dive Deeper: How to Turn a Minimum Viable Product into a Booming Business
Classes and Workshops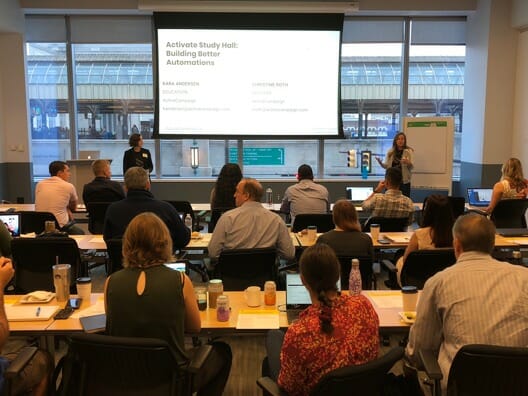 Besides being an effective channel to engage and convert prospects, classes and workshops are one of the best ways to provide real value to your audience in the form of education, while also forming a real sense of community around your brand.
Take a page out of Active Campaign's book and their Activate Study Hall events. Each class is a full-day event in which customers are taught "advanced marketing automation techniques catered specifically to your business problems" as well as the best ways to use Active Campaign for their own business.
What's more, Active Campaign doesn't limit these classes to just one location; their study halls are held everywhere from the U.S. and Canada all the way to the U.K and Australia, which allows them to build a highly engaged community all over the world: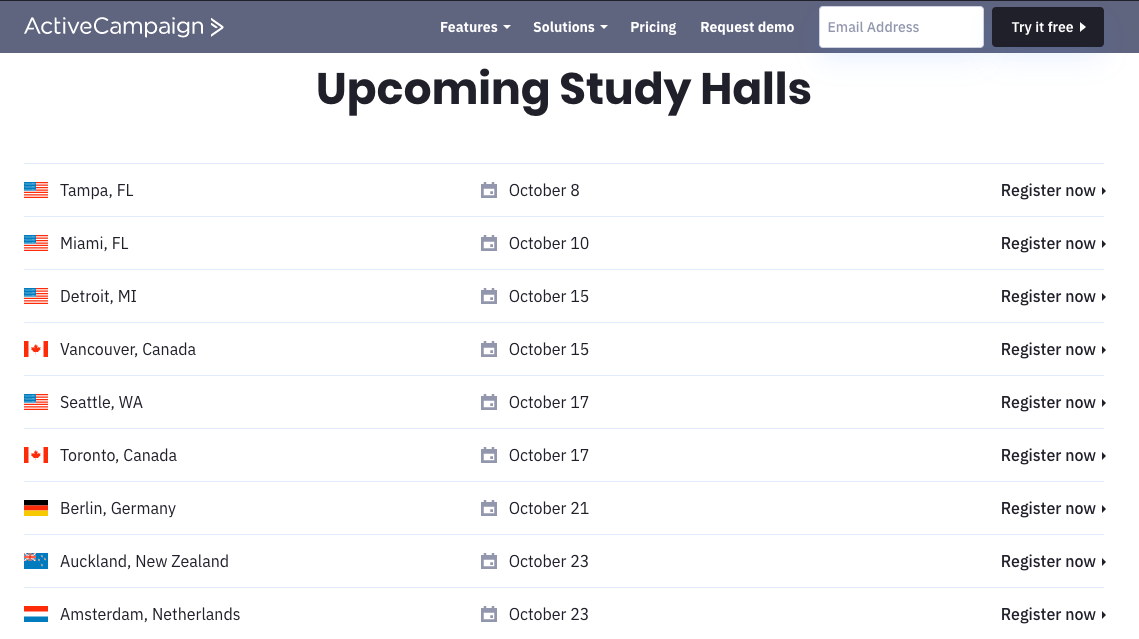 Crafts and fashion brand Wool and the Gang, on the other hand, host events called Wool and the Gang Parties where community members can come learn how to knit and exchange tips and tricks with others: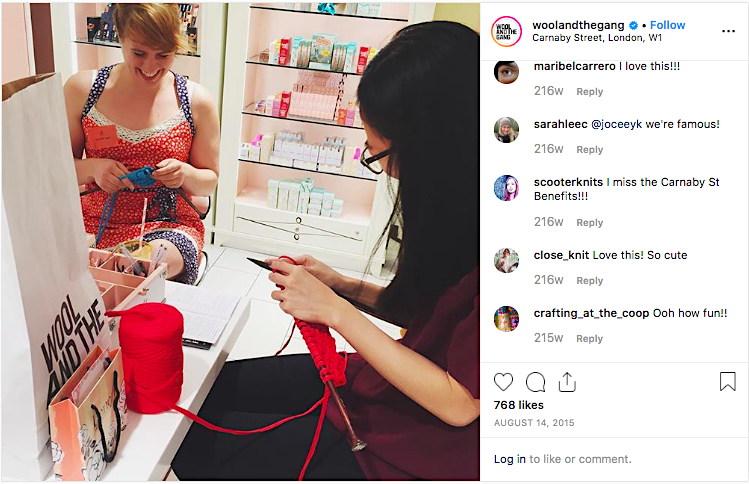 Taking it a step further, Wool and the Gang have effectively outsourced the hosting and promotion of these events to their brand advocates. Anyone who's interested in hosting their own knit party just has to contact the company and they'll be sent a "party kit" containing all the supplies they'll need to create their own event, including instructional videos and even recommended Spotify playlists and food recipes.
By empowering their customers to host their own workshops, Wool and the Gang have developed a powerful method of creating a real sense of community around their brand.
Making Events Worth Your While
At the end of the day, simply hosting a branded event isn't going to be enough. To really make the most out of event marketing, here are a few simple tips and tactics you can use to supercharge the ROI from your next event:
Engage Influencers
Give your event a boost by engaging in some good ol' fashioned influencer marketing. Depending on what kind of event you're doing, this can be as easy as asking influencers to help promote your event or have them as a featured guest or speaker.
Don't feel like you have to limit yourself to digital influencers either. Never forget that traditional media is still very powerful, so take the time to craft irresistible press releases inviting journalists to come down and cover your event.
Dive Deeper:
Provide Branded Merchandise
Have your event attendees become literal walking advertisements for your brand by giving out branded swag and merchandise at your events.
People love free stuff, and according to Event Marketer, following a live experience:
38% of attendees visit the company's website
32% purchase its products or services
30% use or wear an item with the brand's logo on it, such as a t-shirt or pen
There's no need to reinvent the wheel; even something small like a branded USB, shirt or notepad can go a long way towards establishing a positive relationship between your brand and its audience.
Use Content Marketing
Every event you take part in, regardless of whether you're a host or sponsor, is a veritable goldmine of valuable content for your brand.
Increase the visibility of your event by live-streaming it to your online audience. You can also create a small competition where attendees need to share their experience on social media to enter. Maximize the impact of your event by writing a blog post recap of tips you learned or sharing select videos of your event's most memorable moments.
Instead of treating events as a one-off experience, use it as the foundation of your content sprout technique and incorporate them into your long-term content marketing strategy.
Dive Deeper:
Follow Up Immediately
Don't make the mistake of believing that events can provide no further value as soon as it ends.
Make sure to follow up with every single person who registered for your event, regardless of whether they actually attended or not. Create a formalized plan for following up with these leads to help you maximize the ROI from your events.
You can even take it one step further by sending out a simple thank you letter to all your qualified prospects, or offering a small gift or discount code that is exclusive to event attendees.
Dive Deeper:
Track and Analyze
The final piece of the puzzle when it comes to event marketing is making sure that you have the ability to accurately track and measure the ROI from your event marketing efforts. Here are a few metrics that are worth tracking:
Event attendance: A key metric, marketers often use this number to measure everything from the relevancy of their event's topic to the overall effectiveness of the event itself. It can also be helpful to segment your attendees by how they found out about your event in order to measure the effectiveness of your marketing.
Social shares: Measure the amount of brand awareness and exposure your event generated by checking the number of mentions your event gets on social media. You can make this easier to track by creating a custom hashtag that attendees can use.
Audience satisfaction surveys: Gain valuable insight into the effectiveness of the event itself by sending an NPS survey to attendees after the event. Not only will this give you insight into how you can improve upon your future events, but you'll also be able to easily identify who your most engaged followers are.

Direct sales: An easy way to measure the success of your event is the amount of sales you made at the event itself. Compare this with the cost it took to participate in the event to determine the immediate ROI from the event.
Number of qualified sales leads: While you might not be able to sell directly at the event, you can definitely generate a ton of high-quality leads. Create a specialized landing page or an event-only discount code to help you measure the amount of quality leads you were able to acquire.
Conclusion
To repeat Fab Dolan's words again: "The brands that are winning are the ones that understand and own the fundamental interplay between experiential and transactional." 
People love the convenience of online technology that enables them to do just about anything, but there is still one thing missing from tech transactions: the human touch. Meeting the human faces behind the brand at a live event is almost like rubbing elbows with celebrities: it's exciting, it's new, and not everyone gets to do it.
As the popularity of experiential marketing (the power of an experience) has shown us, we humans still want and need to connect with others offline – and not just in personal relationships, but in brand/customer relationships, too.
If you haven't already, try throwing or sponsoring events as part of your marketing strategy to increase brand awareness, generate new leads, nurture relationships with your prospects and customers, and increase your overall sales and revenue.