How can you lower ecommerce PPC costs with email marketing?
The basic rule of economics is supply and demand. If the supply is higher than the demand, prices go down. If the demand is higher than the supply, prices go up.
If you have some experience in the digital marketing space, you know that the same rule applies to ecommerce paid advertising. The price of ads is much higher on those paid channels where there are more companies competing for attention.
That's why on paid advertising channels, like Facebook and Instagram, especially around the seasonal peaks like Black Friday, Cyber Monday and holidays, the ad spend of many ecommerce businesses is through the roof.
Here's how to lower the cost of paid ads by leveraging email marketing for your ecommerce store.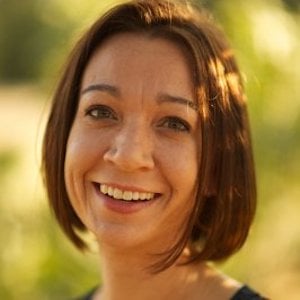 Kim Cooper

Director of Marketing, Amazon Alexa

Single Grain enables us to increase our impact without increasing our headcount
How to Reduce E-commerce Advertising Spend and Still Get More Traction
With paid ads being high, the acquisition cost becomes a significant expense, while the average order value and the customer lifetime value stay the same. In other words, you're pouring money into ecommerce PPC without increasing your return on investment (ROI).
Besides, it's hard to get those customers who came through social media to buy again. That's because if you're selling through Instagram in one click, the level of commitment from your customer is low. You evaporate 80% of your marketing budget on ads and in return get a bunch of unprofitable one-time buyers. 
Should something unexpected like a pandemic happen again, if you don't have loyal customers who come to shop with you on a regular basis, your only option is to pour even more money into ads, which isn't sustainable and you'll be losing money with every purchase.  
The answer isn't necessarily doing something different with your paid ads per se. Rather, it's using a different channel that's a lot less expensive, yet can yield amazing results (up to 50% of the total revenue of your store coming from that one channel, based on our experience at Flowium).
What I'm talking about is email marketing. It's the way to go if you're looking for a lower acquisition price with high returns and increased customer lifetime value on top of that.
Related Content: How to Use UX Testing to Improve Your Customer Lifetime Value (CLV)
How E-commerce Email Marketing Can Decrease Acquisition Costs and Reliance on PPC
Let's say you invest $20 in acquiring one customer. You also spent $40 on making the product. Then they buy $60 worth of products. So if you stop there, you only break even and your ROI will be $0.
If, however, you send an email 15 minutes after your customer made a purchase suggesting another item that goes well with the one they just bought, there's a very high chance that they'll buy it – and then this transaction becomes profitable.
In other words, the trick is to focus on increasing your customer lifetime value rather than chasing new customers all the time.  
I want to help you reframe the way you think about social media and ecommerce PPC for your business. Instagram is what gets your prospects' attention (awareness stage in your customer journey), but it's email marketing that turns them into your loyal customer (consideration and decision stages).  
Here's why you should choose email marketing over pouring money into paid ads:
Email marketing is cost-effective: It offers an average of a $42 ROI for every $1 spent (i.e. a 4,200% ROI!). Whereas when you market through social media, you plunge money into paid ads hoping that one day the lifetime customer value will be greater than the acquisition cost.
With email, you own your customer base. Although building your email list isn't easy, there are proven ways to do it – it's not impossible. And when you're done, it's yours to have in perpetuity, unlike your Instagram followers.
For social media, you need to invest money in experiments if you want to stay ahead of your competitors. Because social media companies are constantly updating and tweaking their advertising rules, it's expensive to keep your strategy up to date.
Email can yield positive results across the three main growth multipliers: acquisition, purchase frequency, and average order value (AOV). In email marketing, you can target customers in every one of those categories.
Related Content:
* 11 Email Marketing Trends You Can't Ignore in 2023
* 7 Steps to Get More SaaS Customers with Cold Email
* PPC Audit Cost Analysis: How Much Should You Expect to Pay?

4 Tactics to Increase the Effectiveness of Your E-commerce Advertising Strategy
So now that you've chosen email marketing, what exactly should you do? If you aren't doing anything with your email marketing yet, here are a few things you can do to get started.
1) Use an Email Marketing Platform that's Built to Make You Money (Not just Send Emails)
For ecommerce stores, the best email marketing platform on the market is Klaviyo. Here are a few reasons why:
Klaviyo has the most robust analytics dashboard that allows you to see not just how your emails are performing, but how well they're selling: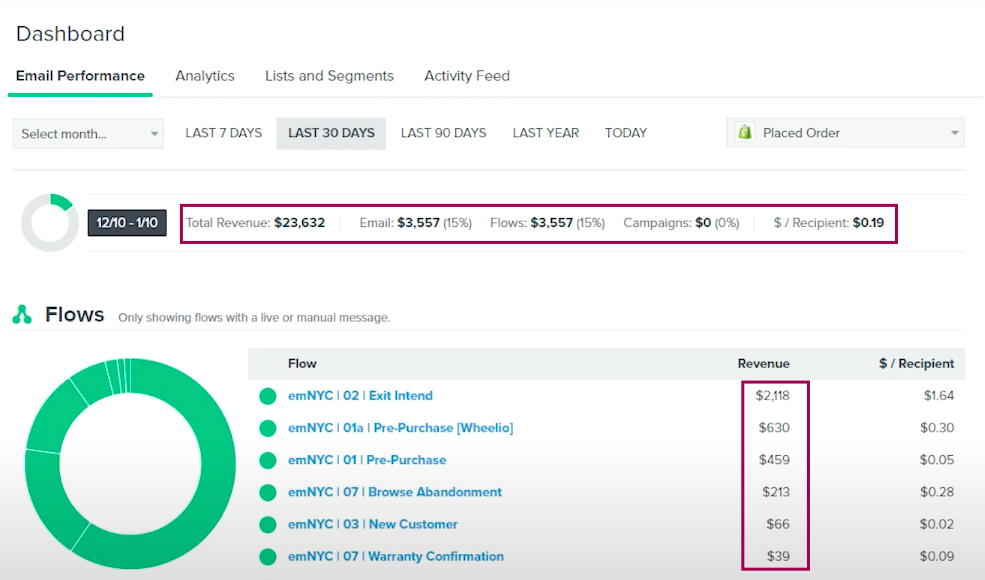 With this tool, it's easy to see which emails are underperforming and fix them.
You can dive deep into the buying history of each customer for much better segmentation.
If you want to learn more about Klaviyo and how it can help your ecommerce business, I recommend this article about top ecommerce tools and software.
Related Content: Top 10 Best Email Marketing Services
2) Set Up Opt-Ins
Opt-ins are crucial when it comes to converting your website visitors into email subscribers and leads.
An opt-in is a form or button on your website where your visitors can sign up to receive emails from you. There are static and dynamic opt-ins.
Static opt-ins are those that are fixed on your website – your header, footer and banners. Here's a great example of an opt-in banner from Ka'chava, a brand that sells plant-based superfood meal shakes:

It's clean, easily noticeable, has an attractive offer and a clear CTA.
Dynamic opt-ins are pop-ups. The most common types of pop-ups are home page and exit intent pop-ups. These need to have an attractive enough value proposition to compel your potential customers to leave their email.
Here's a perfect example of a home page pop-up from Magic Spoon, a low-carb, high-protein cereal: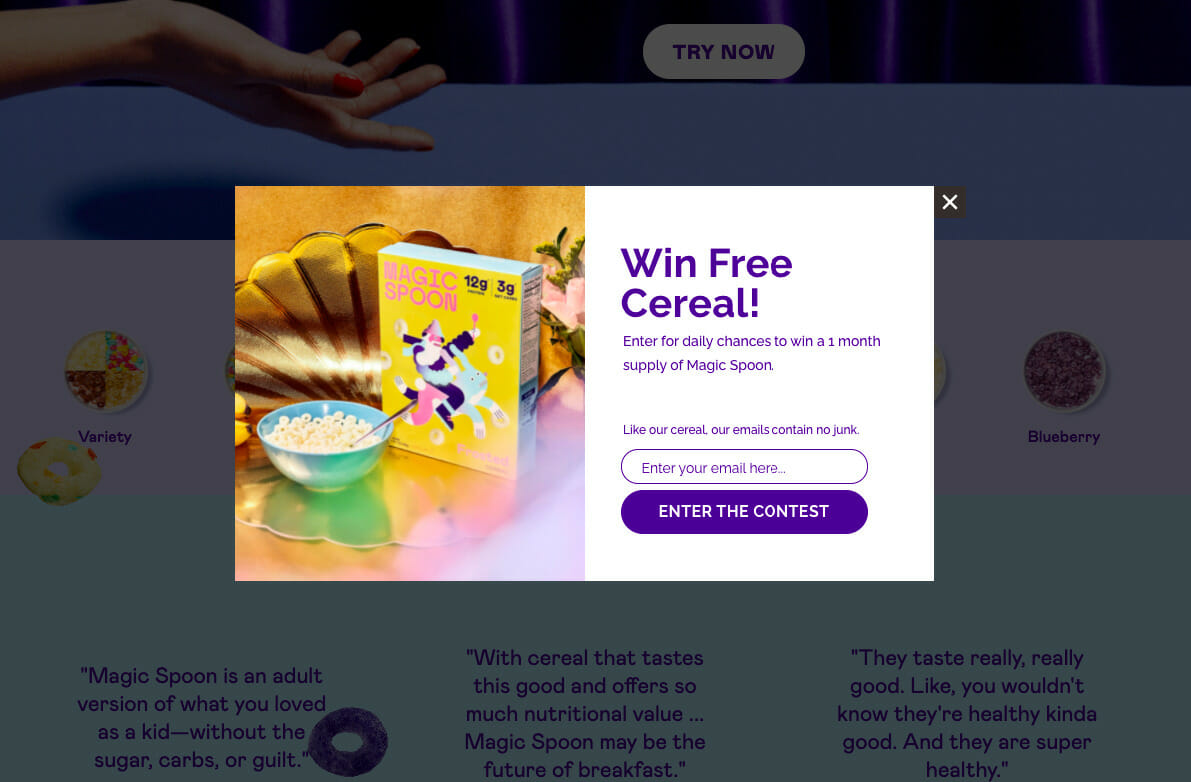 Anyone shopping for this cereal would be happy to leave their email address if it means they could get this product for free. It's a clear value proposition, the pop-up has a clean design, and it's easy to understand what action you need to take. Plus, the copy is punchy and aligned with the overall brand voice, which is always a plus.
Many ESPs (email service providers, like Klaviyo, ActiveCampaign, etc.) offer native pop-ups, but there are also plenty of options on the market if you're looking for more robust functionality. The most popular options are:
You can get creative about what you put in your pop-up. It can be a quiz, a spin-to-win discount wheel, or a more traditional 10% off the first purchase.
For ecommerce stores another essential opt-in to keep in mind is "Checkout Started" – the one you use for your abandoned cart automation. List all the ways your subscribers can opt in to your system.
It's important to have a bird's eye view of all your opt-ins so you can personalize messages for each specific lead magnet.
Related Content: How Correctly Used Pop-Ups Can Help Increase Leads
3) Set Up Foundational Email Automations
Depending on the email marketing service you use, email automations will be called different things: flows (Klaviyo), drip campaigns (Drip), automations (ActiveCampaign), etc.
When first setting up email marketing for your store, we recommend starting with automations so you can begin gathering data and learning about your audience.
The four crucial email automations are:
A) Welcome (aka Pre-Purchase) Emails 
These are the first emails that you send to subscribers after they sign up for your email list.
When someone opts in (i.e. signs up for your email list), but hasn't yet made a purchase, we add them to our Pre-Purchase automation.
The goal with this automation is to nurture your new subscriber and convert them into a buyer. Before that can happen, you'll have to guide them into making their first purchase. Typically, you'll want to talk about your brand and your product, as well as provide useful content.
Here's an example of a good welcome email: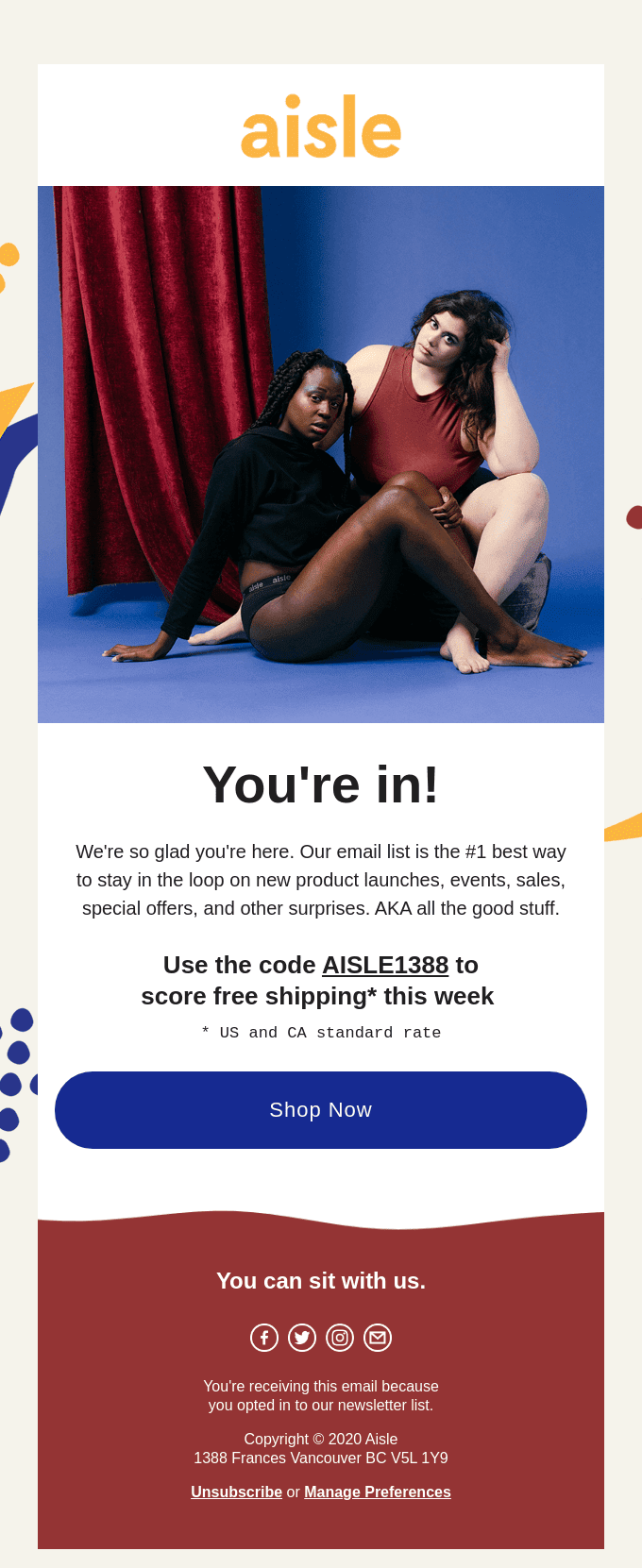 The rule of thumb is that you send three "value" emails for every "sales" email. So don't rush to share crazy discounts in your first three emails. Instead, focus on showing your brand's personality, build trust with product reviews or before-and-after photos, show the people behind your brand, and just prove to your customers that they belong.
This automation can include as many emails as you want — the quality of content is more important than quantity in this case. However, anywhere between 3-7 is optimal.
In this post about welcome emails, I share an example of a perfect welcome email and include an interactive Miro board with the entire strategy.
B) Abandoned Cart Emails
These are emails that you send to your prospect when they start the checkout process but don't complete it.
This is a low-hanging fruit in ecommerce email marketing, and it's one of the most profitable automations.
Keep in mind that the messages you send in this flow should be different from the ones your customers received when they first signed up. Also, it's important that your opt-in software has a dynamic block, which shows them the items they left in their cart.
Here's an example of a perfect abandoned cart email:

It's perfect because it:
Connects with the potential customer in a lighthearted, humorous way
Shows the item they placed in the cart right at the top
Provides a clear CTA
Offers social proof 
C) Browse Abandonment Emails
These are emails that you send when your prospect browses through your products but leaves without taking any action.
This automation is triggered when a customer in your database visits a specific product page but doesn't add that product to their cart. When they leave your site without buying anything or even starting the checkout process, this flow is triggered.
Be careful with this automation because it can easily go from thoughtful and helpful to creepy.
We recommend leading with a personalized email that includes a picture and description of the product your customers looked at but didn't buy.
Here's an example of a perfect browse abandoned email: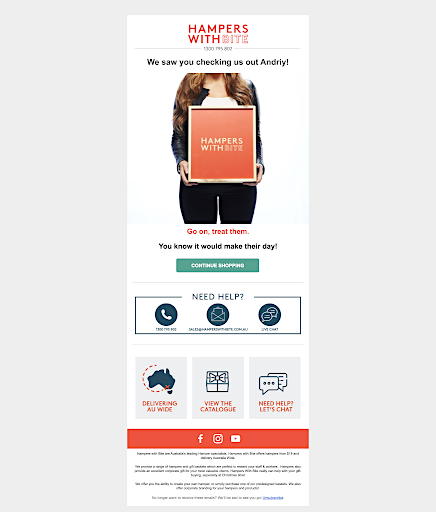 D) Bounce Back Emails
A bounce-back email automation is an offer that you send to customers immediately after they purchase. This is designed to "bounce customers back" to the store in the nearest future possible.
Bounce back is a great automation because it helps solve the dreaded one-time buyer problem.
These one-time buying customers typically come to a website, buy a low AOV product, take up a fair amount of customer service time, and never come back again – which makes them highly unprofitable.
For your bounce-back email, offer something that's easy to commit to, something that can be an impulse purchase. Make it an easy yes or no decision. Klaviyo recommends offering a product priced at around 30% of your store-wide AOV.
Here's an example of a well-implemented win-back email:

4) Create Email Campaigns Around Your Ecommerce PPC Campaigns
The difference between automated emails (aka flows) and email campaigns is that:
flows are a series of automated emails triggered by customers' actions
email campaigns are one-off emails that go out to your customers segmented by lists or other characteristics
An email campaign isn't triggered by a customer's actions. Instead, a customer's initial behavior places them on a specific list or segment that your campaign will target later down the line with single-use emails.
Some examples of email campaigns include:
Announcing a new product release
Kicking off a seasonal sale
A general message of appreciation ("Thank you for being our customer")
Tips and tricks for one of your most popular products (sent to a list of people who've purchased that item)
Some campaigns can include a series of emails spread out across 2-3 days. Multi-day sales often require an email each day that the sale is active.
Many people make the mistake of thinking that their ecommerce store can only send automated flows or campaigns – not both. Don't fall into that trap. We've found that the two approaches complement each other and augment sales in different ways.
Automations are a great way to introduce your customers to your brand and lead them towards their first purchase. When you build your email list through PPC, you can then set up email automations that nurture those passersby into your loyal customers.
Campaigns, on the other hand, are an excellent way to build and maintain a connection with your customers. They'll teach you things about your audience, help define your brand, and turn one-time customers into repeat visitors.
Related Content: PPC for Ecommerce: 8 Effective Best Practices
Why You're Spending Too Much on Ecommerce Advertising
The key takeaway is this: Email marketing is one of the best ways to stop relying so much on paid advertising for new customers.
Using social media for all parts of the funnel makes for an insane acquisition cost and leaves you with a ton of one-time buyers.
When you instead use paid ads on social media to catch your prospect's attention and get their email, you can then nurture them into your customers and later repeat buyers through email for a much lower price.