Customer experience is key for building a good brand reputation, but there's more that goes into the concept of customer experience than simply providing people with a pleasant interaction with your brand.
A major way to set your brand apart from the others is to meet customers at their preferred digital channels and give them the experience they desire. If your brand is looking to improve interactions with customers, you could benefit from an omnichannel customer strategy.
What Is an Omnichannel Customer Experience?
An omnichannel customer experience consists of individual touchpoints on multiple marketing channels, like email, phone, SMS, social media and even in-store. Omnichannel refers to a cohesive customer experience across all these channels, regardless of where the customer leaves off and picks back up.
Unlike traditional or even multichannel, utilizing an omnichannel approach leaves no room for gaps in quality customer service, which is why it's considered the new "golden standard" for a premium customer experience.
Omnichannel customer experiences are the opposite of single-channel customer experiences, and they are often considered to give users a better experience. In fact, a recent study found that companies with omnichannel strategies retain an average 89% of their customers, compared to 33% of companies with zero omnichannel strategy: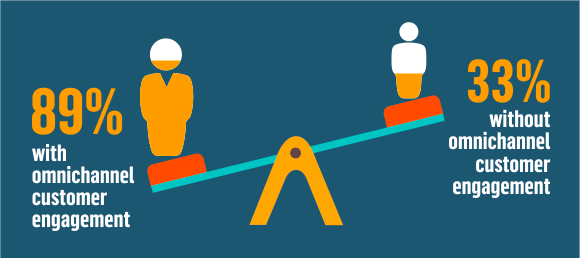 This type of customer experience differs from the standard by opting for a more unified means of customer communication across various channels. Normal customer experience interactions focus on one channel per customer at a given time, not taking into consideration that people may interact with various teams on various channels at different touchpoints within their unique customer journeys.
Dive Deeper: Omnichannel Marketing: Using the Content Sprout Method to Overcome Info Overload
Why Is Omnichannel Customer Experience Important?
We already know that delivering a strong customer experience is important, but even if you have the best-quality communication across each channel with a customer, if the process isn't integrated or seamlessly flowing between communication channels, you'll still be providing a subpar customer experience:

This integrated experience enhances the traditional customer experience because it cares about seamless transitions. Whatever quality of communication and support a person receives on channel one, they will also receive on channel two.
Basically, if a rep is prospecting via LinkedIn, the customer should be able to continue communicating at ease when the real-time conversation moves to a new channel: phone, email, live chat – you name it.
Omnichannel Marketing vs. Omnichannel Customer Experience
While these two phrases sound similar, it's essential to distinguish omnichannel marketing from the omnichannel customer experience.
Omnichannel marketing consists of messaging sent to customers digitally and through traditional communication methods. Think: promotional emails, text messages via your mobile device, cart abandonment reminders or targeted advertisements on social media platforms – even face-to-face communications in a physical store.
The omnichannel customer experience, however, focuses on a multifaceted approach to customer support and attention across all channels. This encompasses multiple teams: customer service, marketing, sales, and any other groups that have customer-facing roles. This is about enhancing the customer relationship rather than just acquiring customer data through outreach or targeted messaging.
Related Content:
* 9 Ways to Deliver the Best Digital Experience to Your Customers
* 3 Ways to Personalize the Customer Journey Experience
* Top 8 Tools to Improve Customer Experience Using Heat Maps, Feedback and Links

Omnichannel vs. Multichannel Customer Experience
Though similar, omnichannel and multichannel customer experiences are not synonymous.
An easy way to remember this is: All omnichannel experiences use multiple channels, but not all multichannel experiences are omnichannel.
That might be confusing, so here's a breakdown:
Omnichannel means that a company uses multiple channels to interact with a customer, and over the course of which the customer experience is seamless and the transitions flow easily between channels and channel owners.
Multichannel means that a company uses multiple channels to interact with a customer, but there may be gaps in communication, lost or missing information, and the experience will be choppier, lack flow, and leave the customer feeling tossed around.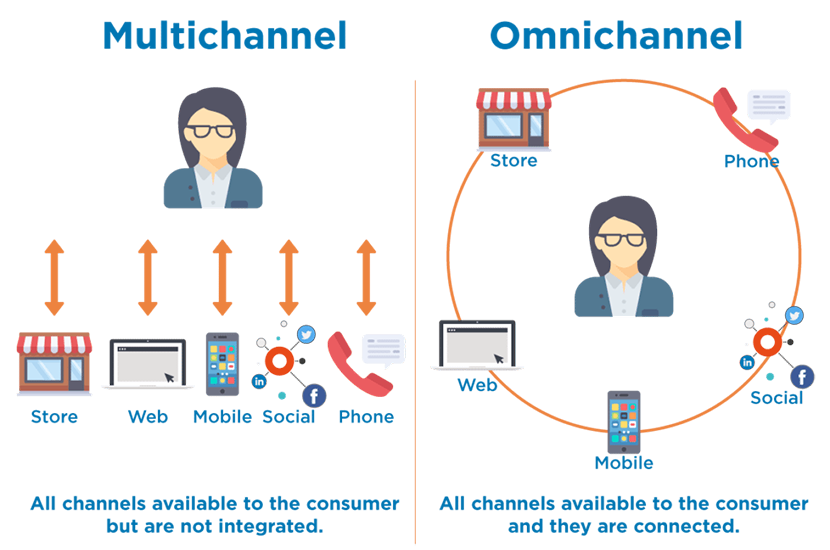 An omnichannel approach seamlessly integrates communication and outreach across all channels, which is the optimum way to provide an excellent customer experience and improved customer engagement through all channels and with all teams.
5 Tips to Build an Omnichannel Customer Experience
Now that you're equipped with information on what exactly an omnichannel customer experience is, let's take a deep dive into which components to take into consideration when building your own omnichannel strategy across all digital channels that your customers use.
1) Receive Organizational Change/Buy-in from Leadership
Changing over an entire strategy won't happen immediately, and you'll inevitably need buy-in (i.e. support) from leaders who see the value in going omnichannel.
Leaders across every team need to be involved in making omnichannel a reality. This includes marketers, salespeople, customer service, product teams – everyone who has a direct or indirect relation to the customer experience.
Because each of these teams communicates with customers to some degree (and likely through different channels), it's important to have everyone on the same page. Your support team may communicate via chat, marketing via outreach on social media, and sales via email or phone. In all, there are many moving parts that comprise the customer experience, so you have to be on the ball with removing gaps in communication across all channels.
Make sure that you take each of these communication channels into consideration when optimizing for omnichannel. Coordinating a seamless transition between channels and between teams is the best way to ensure that the customer experience is truly omnichannel.
2) Map Out the Customer Journey
Customer journey mapping has to be a primary step in your omnichannel approach. Segmenting customers to determine where they are in the buying phase is step one. This will help reps determine which digital touchpoints are needed and what actions they need to take for the best chance of garnering new customers: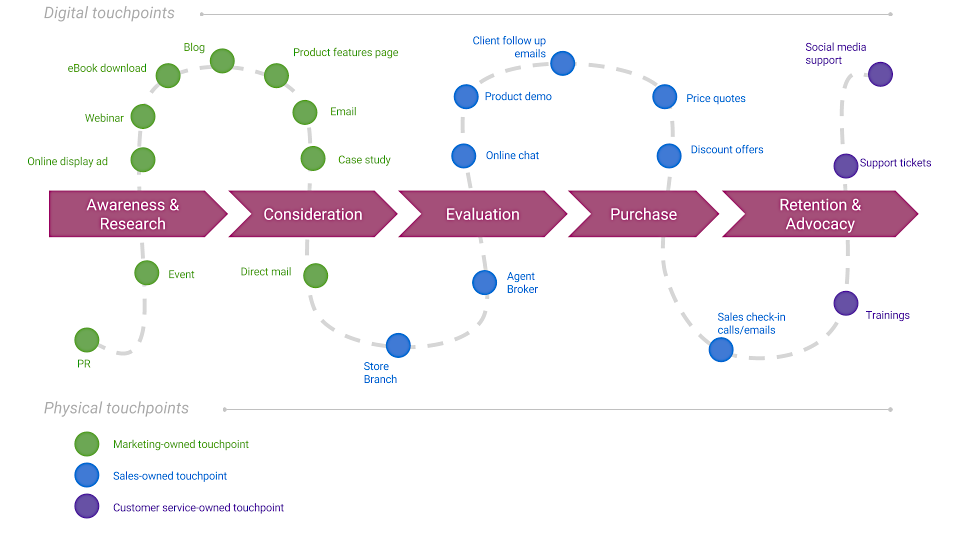 Segmenting customers can also help identify gaps in the journey, like where customers tend to fall off, navigate away from your site or abandon their carts. Having this information allows your team to improve outreach and communication efforts, enhancing your approach to make a more intuitive, desirable buying process for a customer.
Dive Deeper: Segmentation 101: A Strategist's Complete Guide to Marketing Segmentation
3) Invest in Tools That Support Omnichannel
You can't have a true omnichannel strategy until you have the tools that support this type of customer experience.
Seamless integration for customer communication is crucial, so using tools like live chat and chatbots on your website and mobile app keep customers connected and discussions linear. This allows customers to start conversations with your brand on the channels they prefer, such as picking up the phone when emailing isn't their preference.
There are also tools like AI-powered automation software that can offer personalization for the individual. An example of this would be a recommendation engine prompting customers to add more products to their cart in e-commerce stores, as Amazon has been doing masterfully for years. Netflix also does this with their movie and show recommendations based on what you've been watching.
When it comes to internal communication, tools like a business phone system unify voice, text, video and web chat. This allows you to get a full scope view of communication between your reps and your customers. These tools integrate with CRM platforms as well as help desk software, which makes for more robust data on your customers.
Speaking of which, help desk tools are imperative for creating an omnichannel customer experience. These tools keep your team accountable for accurate and efficient customer support. Since more than 80% of consumers expect elevated customer support post-pandemic, going with a help desk tool is that important: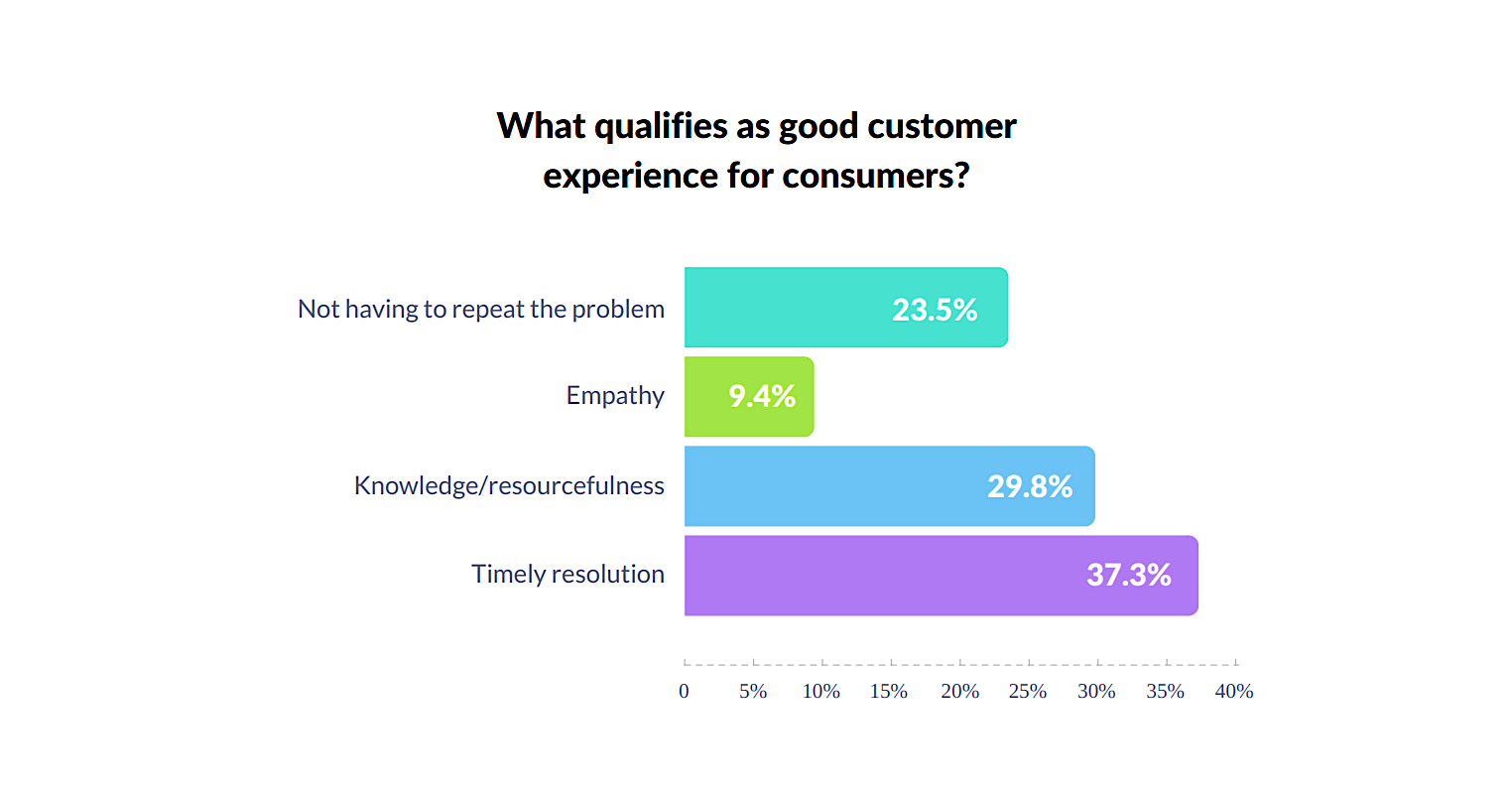 Related Content:
* 8 Best Business Phone Services in 2023
* 10 Easy Ways to Get Started with Marketing AI (Artificial Intelligence)
* Facebook Messenger Chatbots: The Step-by-Step Guide to Getting Massive Results

4) Strengthen Your Customer Feedback Loops
A customer feedback loop should improve a product based on user reviews and suggestions, and the feedback you receive is meant to act as a give and take between customers and companies. Using a customer feedback loop is yet another way to enhance the omnichannel customer experience: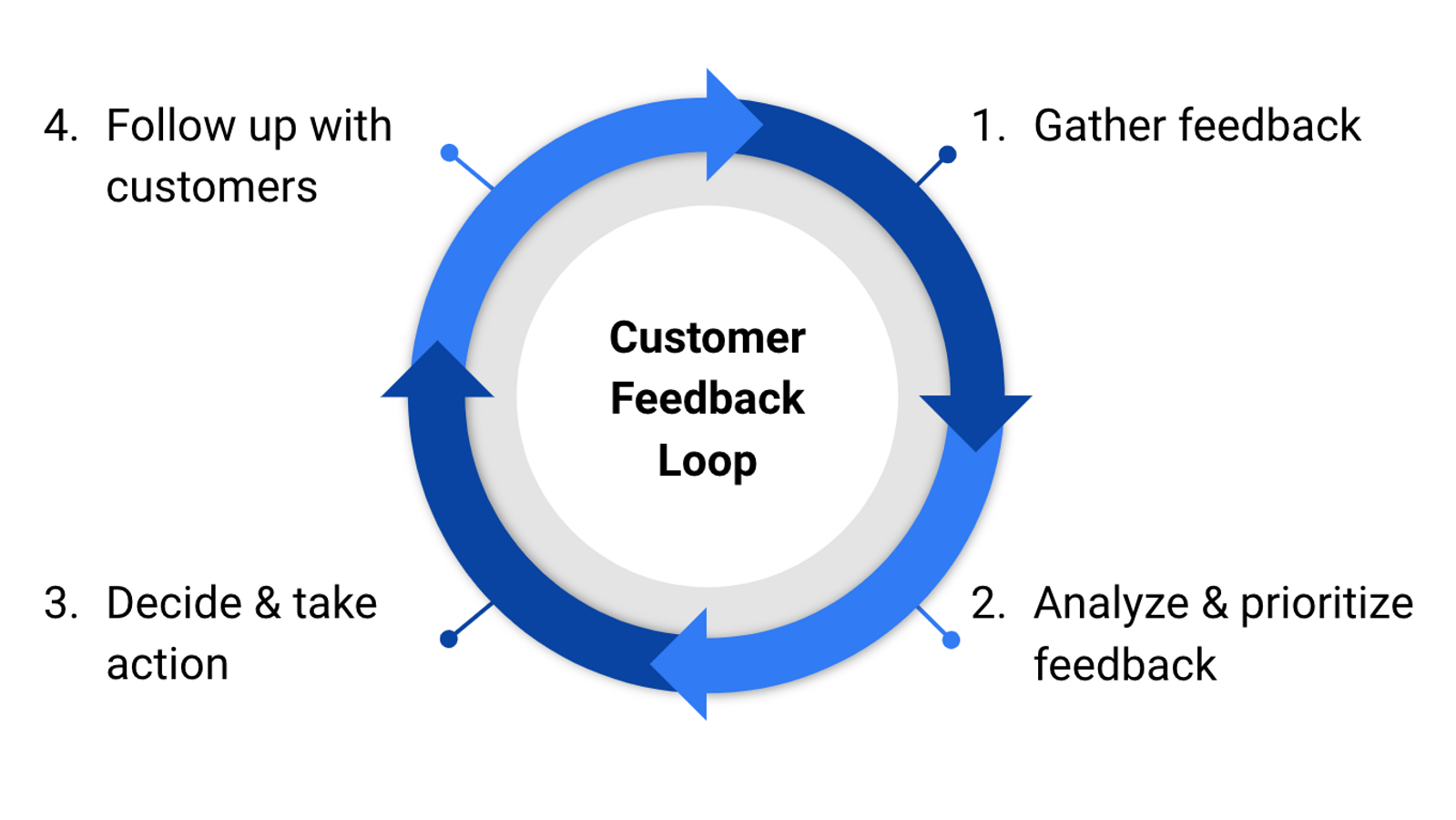 If you're still working off of a multichannel customer experience and not sure what your customers want or need, using their feedback and reviews about your platform and the quality of your service will help you implement changes more quickly.
Your team knows a lot about its product or service, but when it comes to the daily, hands-on use, your customers know more. Listening to their wants and needs can help refine your current approach to customer interactions and make a better experience for them the next time they come around.
Tip: For speeding up the cycle of customer feedback loops, consider using a project management tool. A PM tool can help you organize stakeholders within the feedback process. Every time a feedback survey is conducted, these stakeholders have their roles and deadlines for implementing that feedback.
5 Brand Examples of Omnichannel Customer Experience
Let's highlight a few well-known brands who have changed the way we look at omnichannel customer experiences in today's digital era. These brands have set the golden standard.
1) Starbucks
Starbucks has been a leader in the omnichannel customer experience space for a while. Before the use of smartphone apps became second nature, you were able to use their handheld rewards card and receive coupons via direct mail for drink rewards for your birthday.
Since the mobile evolution, Starbucks has maintained a competitive edge over other brands. In fact, they have an entire webpage dedicated to showcasing their omnichannel capabilities: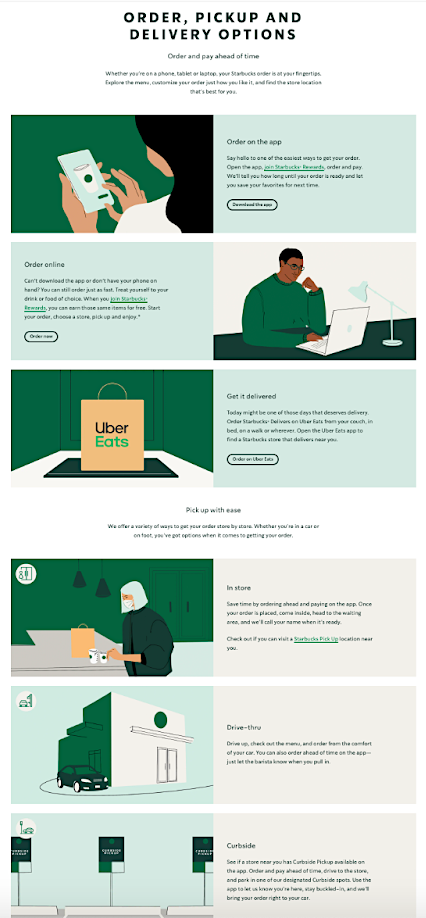 You can create a free account on their website on which you can upload a credit card or a gift card from their store. Once you have an account set up, you're able to get rewards for your birthday as well as other special members-only promotions and freebies. 
You can pre-order via their mobile app for pick-up in a store or via drive-thru at your favorite location. You can also order (via a third-party service) delivery for all beverages and food items that Starbucks sells. What's great is that you can pay via a handheld card, via the barcode on your phone's app, through other connected devices (like Fitbit), or on their desktop website. The options are endless, providing their customers with a truly omnichannel user experience.
2) Chipotle
Chipotle has taken omnichannel customer experience to the next level. They make ordering food from wherever the customer is as easy as clicking a few buttons.
Whether via their online ordering system or through their mobile app, you can easily order your meal ahead at Chipotle. When ordering, you choose the time your food is ready, and you can easily pick it up at a grab-and-go station inside the restaurant.
They simplify the process of ordering by allowing users to create an account that can be accessed anywhere, for ordering at any of their locations. You can save customizations for favorite orders, favorite locations, and dietary preferences on the app and they'll remember your choices even if you opt to use the website instead: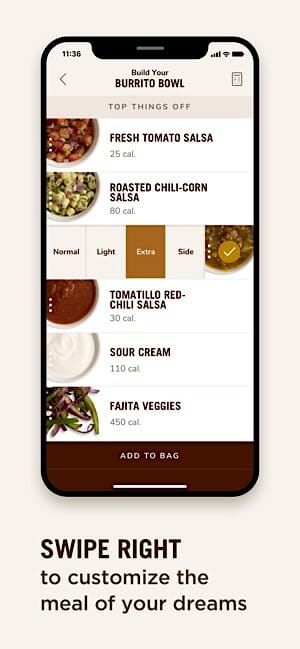 Not only can you order for yourself, but you can order multiple meals for a group. You can also order food ahead of time or for immediate pick-up, plus they offer delivery if you can't pick it up. They use this omnichannel approach to make the ordering process as seamless as possible with a variety of tools at a user's disposal.
3) DSW
DSW (Designer Shoe Warehouse) is a chain shoe store that's been killing the omnichannel game for the longest time. When other shoe stores (Payless) closed down, DSW capitalized on the potential for an influx of new customers by being the best option around. They have a full-blown site with options for women, men, children (boys and girls), and accessories beyond shoes, like purses, scarves, sunglasses, hair clips, etc.
Not only does DSW have a website, but they also have a user-friendly mobile app that allows users to add items to their cart for delivery or in-person pick up: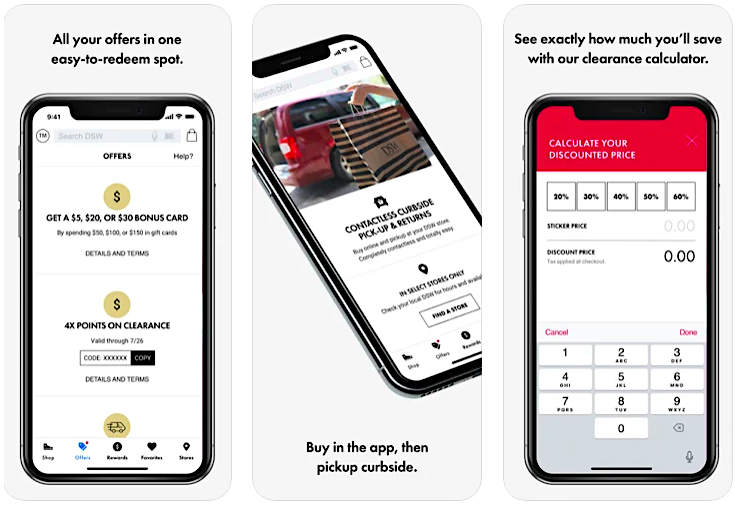 The best part is, if you're a VIP member (membership is free), you will get free shipping for life within 4-7 days on any item.
Additionally, they offer personalization to the degree that you can preset your shoe size preferences along with things like medium or wide width, adult or child sizes, and the sex(es) you shop for most often. Lastly, they provide all users who've spent at least $1 USD in the past calendar year with a birthday coupon to use at their store.
This omnichannel approach allows users to purchase items online, in a store or via the app, and customers can pick up items at their leisure if they don't want to wait for shipping. If they opt for shipping and are a registered VIP member, the shipping is free. It's a win-win all around.
4) PetSmart
PetSmart is a pet store chain that provides options for purchasing products in a store, online and via their app, and they offer pet grooming services, dog training, cat and dog boarding and daycare options. They also serve a wide range of animals, like birds, fish, reptiles, and amphibians.
Besides their wide range of offerings, what makes PetSmart a great example of superb omnichannel customer experience is the ability for customers to:
Add items to a shared cart (via web and mobile app) without losing products saved in the cart
Purchase items online (web or mobile app) and pick them up in the store
Purchase items online for same-day delivery via DoorDash or delivery in a few days via a local shipping carrier
Return items purchased online either via mail or in the store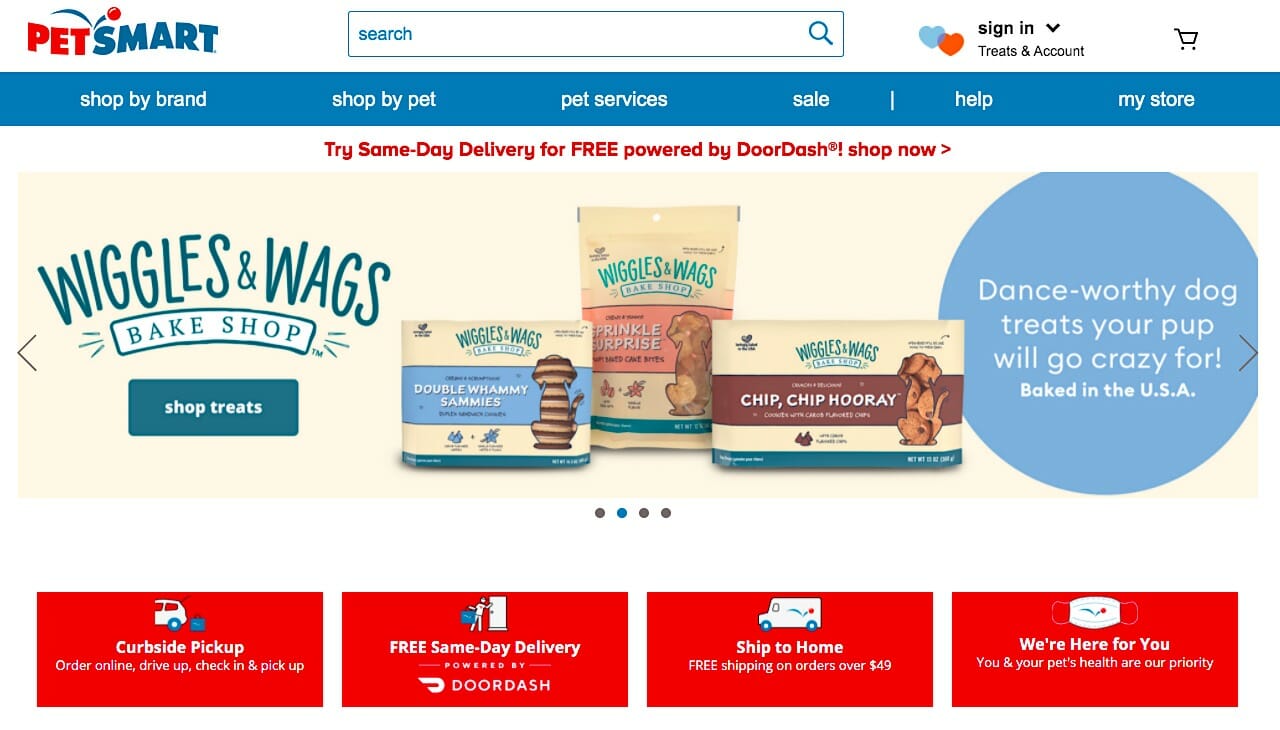 5) Disney
Naturally, Disney is another major player that offers a premium omnichannel experience to its customers. Beginning with their website, you get to create a personalized experience that transfers from channel to channel: website, mobile app – you name it.
They even have something called the My Disney Experience, a tool that truly embodies what it means to be omnichannel. The "MagicBand" or card is a hotel room key, lets you order food (by scanning), stores photos you take at the park, and much more. You can integrate other things, like the jump-the-line fast pass as well.
It's not surprising to see Disney leading the omnichannel revolution. In fact, since the inception of Disney+ in 2019, Disney has added more than 90 million digital subscribers to the platform – outpacing Hulu, Netflix and other major content streaming brands: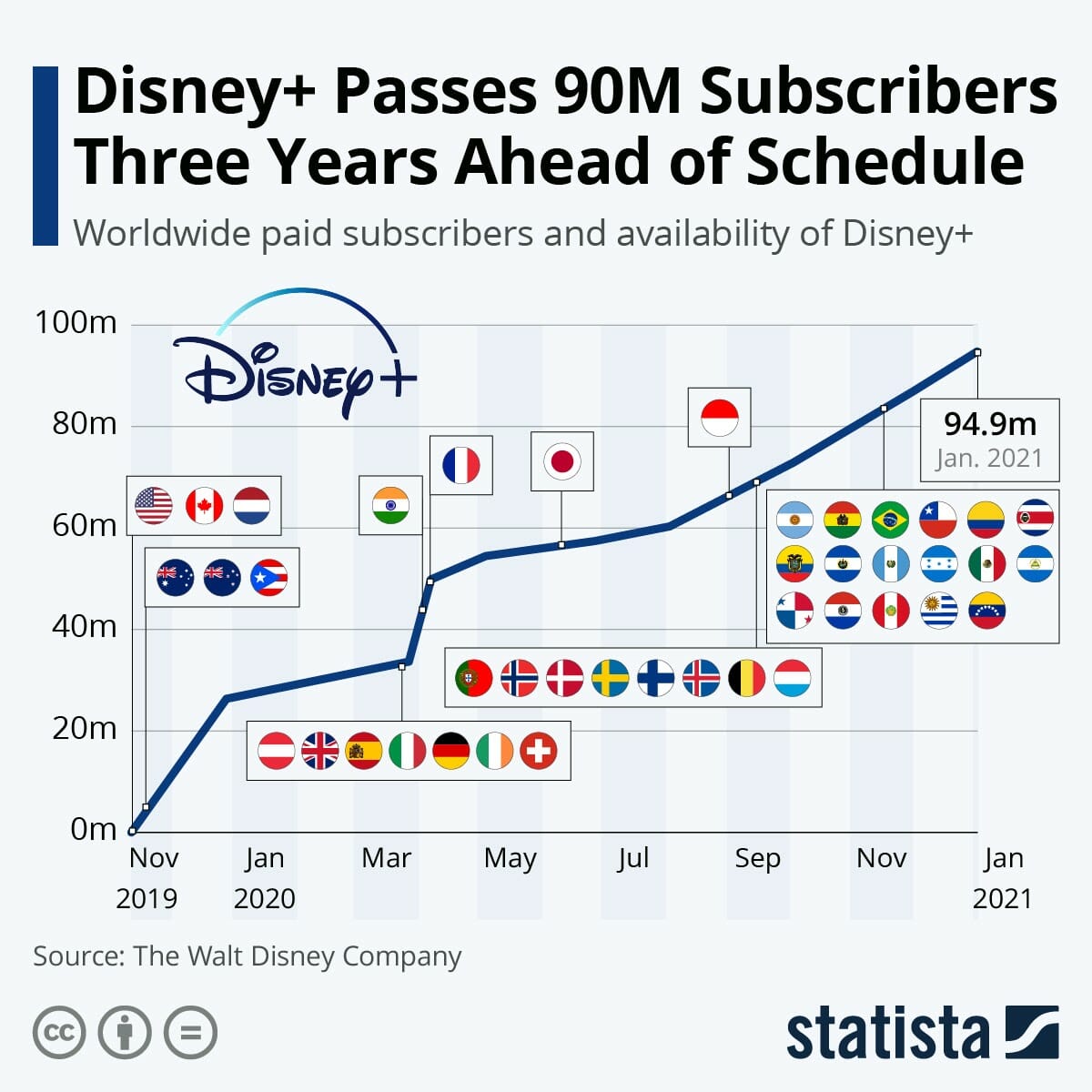 It's only a matter of time before Disney devises ways to incorporate their streaming app experience into the real-life experience of their theme parks!
Conclusion
As we've demonstrated above, it's no longer enough to be committed to providing a great customer experience. If you aren't enhancing your customers' experiences with an omnichannel approach, you'll be losing while your competitors gain new (i.e. your) customers.
If you care about a holistic customer journey that's seamless and memorable, using the right approach, communication tools and channels will be your best bet. It's crucial to give customers a consistent experience with your brand on each channel on which you communicate.