Creating content for your brand's online presence is incredibly important and, when done right, has multiple invaluable benefits for your company. However, quality content creation often becomes time consuming, expensive, and can sometimes feel impersonal.
But what if there's another way to get high-quality content at little to no cost? What if this content already exists and proves to be more powerful and authentic than all other marketing strategies combined?
User-generated content, or UGC, is a solution to many of the problems that brands face in building their online presence. It has quickly become one of the most desirable marketing tools because of its simplicity and what it can achieve.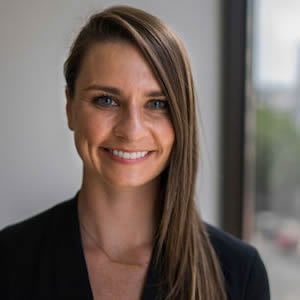 Jacqueline Foster
Demand Generation Marketing, Lever.co
We can count on them to bring new ideas to the table consistently
The Importance of User-Generated Content
By using your fans' and followers' content, you can build trust in your brand and nurture relationships with your customer base.
Research shows that 85% of consumers find UGC more influential than content from brands and a separate survey showed that 60% of people say that UGC is the most authentic type of content (compared to just 20% for brand-generated content), so it only makes sense to spend more time curating content from users rather than creating your own.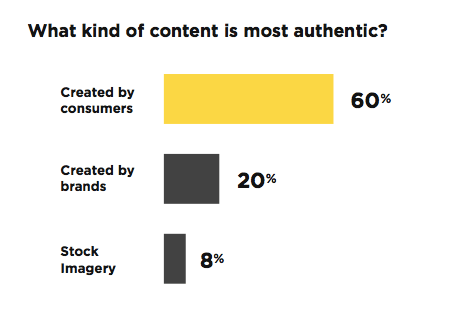 UGC also allows you to track mentions and conversations about your brand, giving you insights into what consumers think about your products and services and address any issues accordingly.
Lastly, user-generated content helps your brand save money and free up time to focus on other aspects of business operation. Research by Magisto reveals that the average mobile user takes about 150 photos every month. With benefits like these, you're probably wondering how to start a UGC campaign successfully.
8 Tips to Encourage More UGC from Your Fans
1) Choose Your Platform Wisely
For a UGC campaign to become effective, you must already have a strong online presence. However, for brands that haven't gained a huge number of followers yet, the very first thing you need to do is to find out where your audience spends most of their time on social media.
Moreover, you have to have a deep understanding of which type of content works best on each social media platform. For instance, Facebook works best for sharing stories while Instagram is the go-to for visual content.
Here's what Buffer suggests:
Facebook: Videos and curated content
Instagram: High-res photos, quotes, Stories
Twitter: News, blog posts, and GIFs
LinkedIn: Jobs, company news, and professional content
Pinterest: Infographics and step-by-step photo guides
When asking for content, remember to be clear and concise with what you need. Often, people are more than happy to share content with brands in hopes of getting featured, but without specific guidelines, you'll end up with a ton of unusable, low-quality content.
Learn More:
2) Create Powerful Hashtags
Hashtags are extremely valuable to your brand because they allow you to categorize your content and reach a wider audience. Kevan Lee from Buffer says:
"A hashtag immediately expands the reach of your tweet beyond just those who follow you, to reach anyone interested in that hashtag phrase or keyword."
When doing a hashtag campaign, it's important not to go overboard. Research from Buddy Media reveals that tweets with a hashtag have twice the engagement than those without, but using more than 2 hashtags can actually drop your engagement level by up to 17%: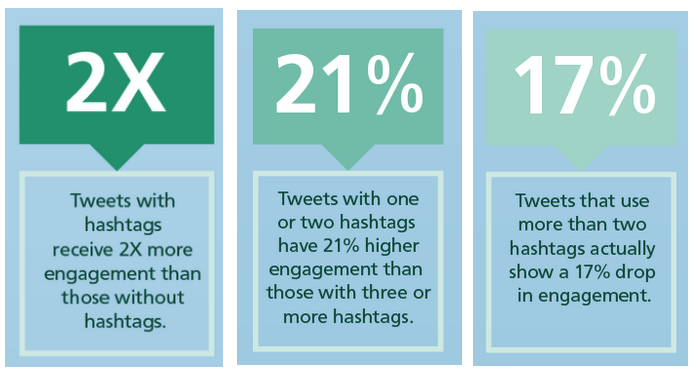 Remember Coca-Cola's #ShareaCoke campaign? It's one of the most unforgettable hashtag campaigns ever created that landed Coca-Cola about 25 million new Facebook followers. Over 500,000 photos were shared and people created 6 million virtual Coke bottles.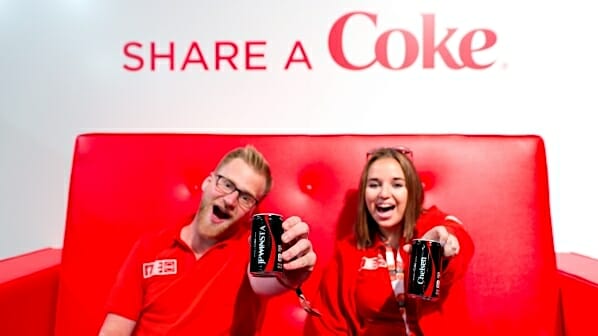 What should be admired about the campaign is its simplicity. It placed a great emphasis on individual storytelling which sparked organic conversations, thus, consumers felt compelled to participate without even thinking that they were promoting the brand. The hashtag itself is catchy, easy to remember and includes a powerful call-to-action, leaving consumers flocking to stores looking for bottles with their names on it.
3) Collect Independent Customer Reviews
Customer reviews are the cornerstone of every successful UGC strategy. According to a survey from BrightLocal:
91% of 18-34-year-olds trust online reviews as much as personal recommendations
68% of consumers must see at least four reviews before trusting a brand
40% of consumers will stop using a business after they read negative reviews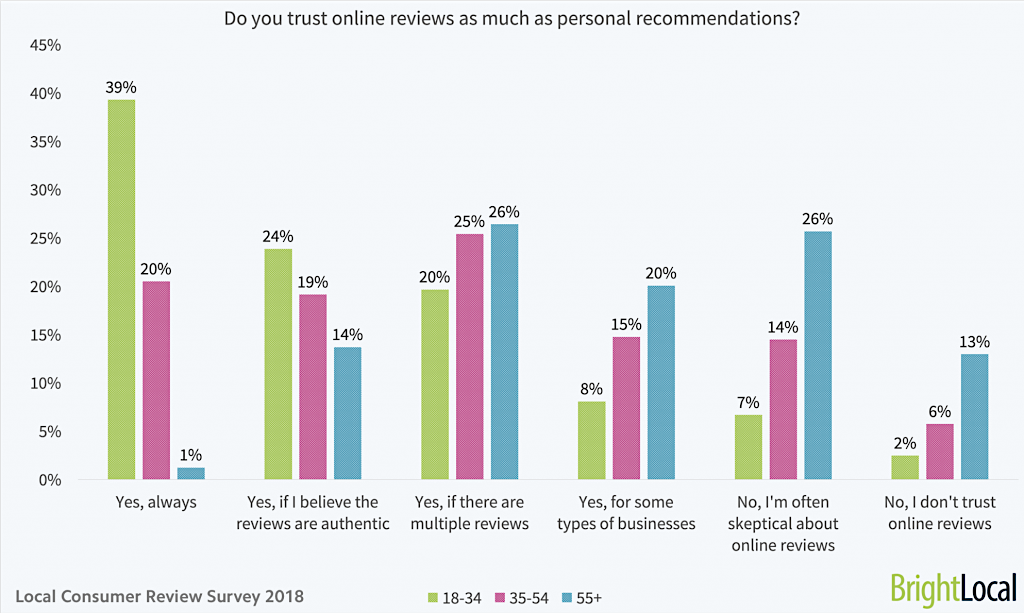 That said, reviews are only as powerful as the platform they are built upon, which is why it's important to collect reviews from third-party review websites. This will show customers that you aren't manipulating the data. Today's savvy consumers can spot fake reviews from a mile away, and they know better than to trust a brand that scores perfect 5-star ratings all the time.
Reviews, good or bad, also help your consumers make informed buying decisions. While you may be tempted to wipe away all the negative reviews about your brand, those are still valuable UGC that provide honest opinions from real users. Customer feedback can help shed some light on what needs to be improved with your product or service, something that not only benefits the next buyer, but your business as a whole.
Learn More:
4) Run a Contest
Running a contest can help spark that much-needed buzz about your brand. Contests not only help increase the volume of UGC submissions, but they also help increase their quality.
The key to running a successful contest is to make sure that the reward is enticing enough to encourage participation. You also have to emphasize that the prizes are limited, as this will push your fans to be more creative with their entries.
However, when creating a contest, it's important to keep things as simple as possible. After all, you want more people to participate, not scare them away with complicated contest mechanics.
Libby's, the popular fruit and vegetable brand, executed this perfectly by capitalizing on one of America's favorite holidays. They encouraged their fans to post pictures of what they are thankful for with the hashtags #Cansgiving and #Contest. They even made the campaign more useful by providing a dedicated campaign page where fans could opt in to receive marketing emails in the future.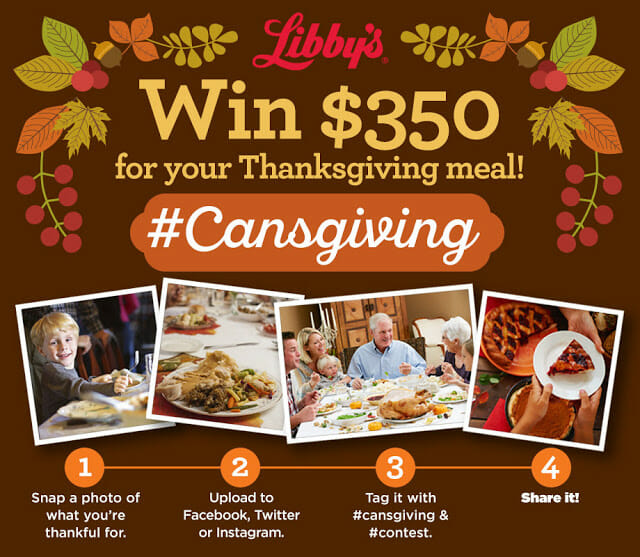 What's beautiful about this contest is that it's simple and consumer-focused. Apart from rewarding ten advocates with an assortment of Libby's goodies and $350 towards their Thanksgiving meal, the company even went above and beyond to show their values. They allowed each winner to choose which among their three chosen charities – City Harvest, Children's Hunger Alliance, and Meals on Wheels America – Libby's should make a matched donation to.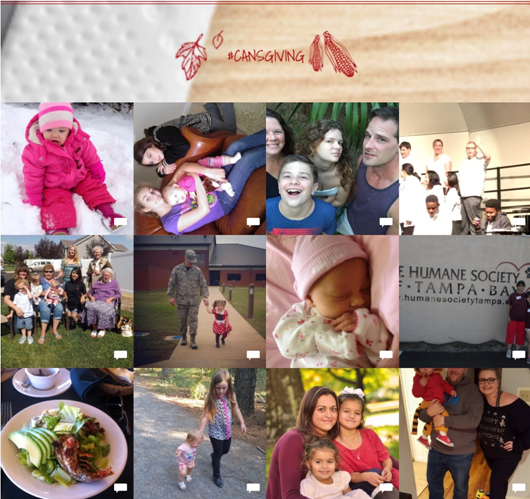 5) Offer Rewards
There is nothing else that can motivate users more than rewarding their efforts. Offering rewards for the things that they're already doing ignites an organic and spontaneous response that even the most expensive marketing campaigns couldn't easily accomplish.
One of the best things about rewards is that they normally don't require a ton of work in order to be earned. Often, it only takes a few minutes to create a quick video, photo or short review, so it's quite easy to encourage fans to participate.
Moreover, rewards don't always have to be expensive. Unlike contest prizes, the reward can be as simple as reposting a tweet or featuring their article on your website. These simple gestures are enough to provide your most engaged fans the social recognition that they deserve. Not only will it make them feel that they are a part of your brand, but it can entice new users to submit new content as well.
Loews Hotels' #TravelForReal campaign is a perfect example of a UGC strategy done right. They noticed that guests were sharing photos of their vacation stays at the hotel and hashtagging them, and that they received a lot of engagement when they reposted their guests' pictures.
Loews decided to get in on the action and celebrate real hotel guests instead of hiring actors or models to promote their brand. Allowing their guests to share their own vacation experiences brings out the brand's authenticity and provides future guests a true glimpse of what they can expect without any professional camera tricks or air brushing.

The takeaway: People respond more favorably to images that depict real people and their lifestyle than those recreated by a brand. Allowing your audience to tell their own stories humanizes your brand and makes you seem more genuine.
Learn More:
6) Support a Cause
One way to have an authentic connection with your audience is to support a cause that aligns with your brand's values. It shows your fans that you don't exist simply to make sales, but because you have a greater vision to serve the needs of many.
Aerie's #AerieREAL campaign changed the lives of many women. There had been some controversy surrounding excessive photo editing of females in advertising and marketing and its impact on women's self-esteem. To take a stance on the issue, Aerie, American Eagle's brand of lingerie and sleepwear, pledged $1 to the National Eating Disorders Association for every Instagram user that posted an unedited photo of themselves wearing a bathing suit.
Aerie even stepped up their campaign by featuring women with health conditions to model their bras. Some of Aerie's new faces include women with ostomy, vitiligo, Down's syndrome, and arm crutches. By doing this, Aerie is empowering women to feel comfortable and positive about their bodies.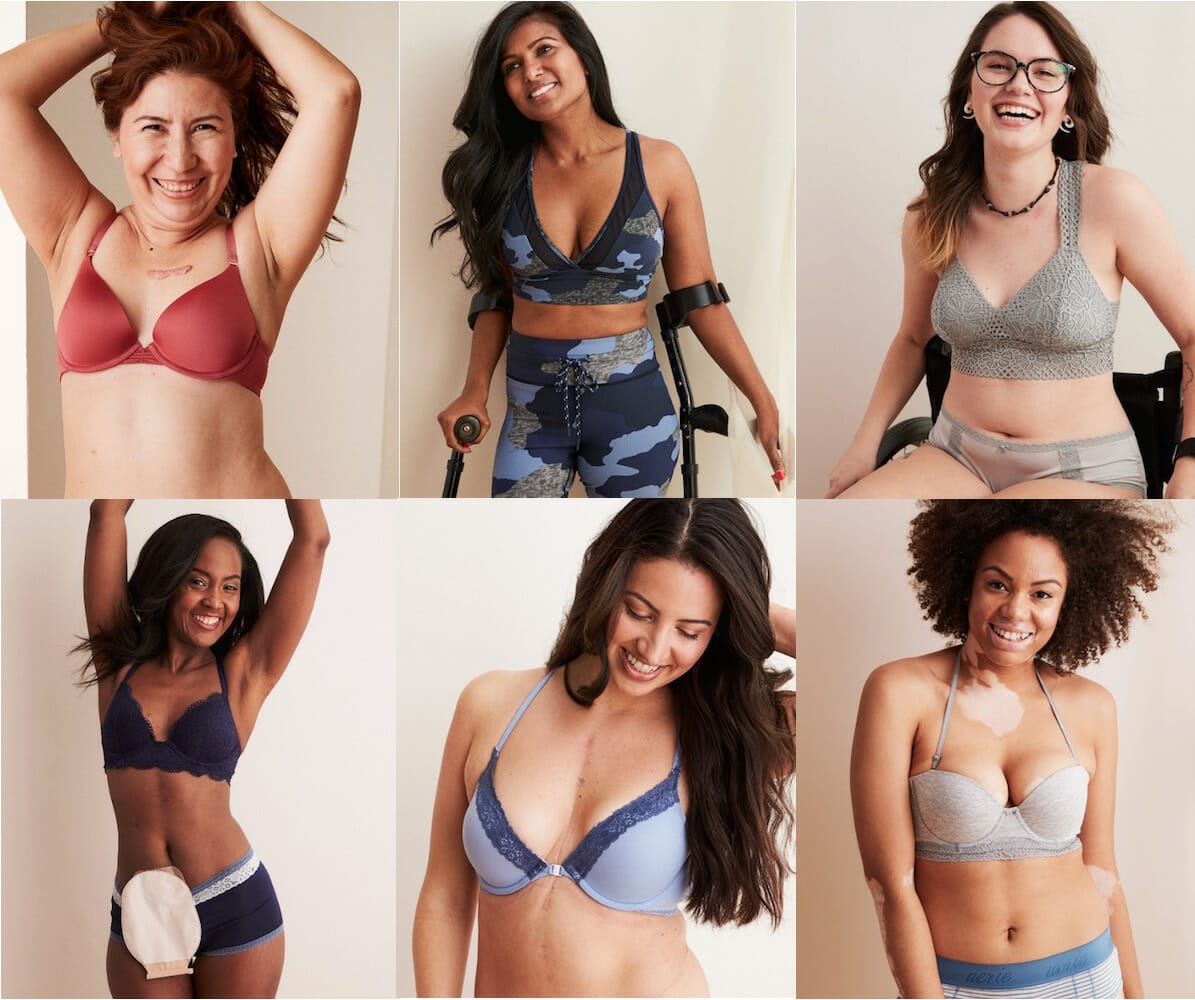 7) Start a Beta Group
The thing about today's consumers is that they love getting involved and being heard, which is why forming a beta group is one of the easiest ways to gather UGC without much effort. All it takes is tapping into a group of fans or customers who are already interested and let them know that you have an ongoing promotion for a limited number of individuals. It could be a coupon code, a free sample, or a free trial run if you're selling a subscription service.
This is especially useful if you're planning to launch a new product, service or feature. Approaching a select few to participate in your beta testing phase before it is released to the public gets those users excited, not only because they will be able to test your latest offerings for free, but because you are letting them know that their feedback matters.
By letting these individuals in, you are building a community that you can always count on to provide you with honest insights about any new additions to your product or service. This allows you to make the necessary adjustments early on and prevent costly mistakes.
Learn More:
8) Don't Forget to Engage with the Users
Regular engagement gives your brand a personality that your audience can relate to. After all, suddenly asking for favors may seem out of character if you don't communicate often or if you share very little content with your followers.
You can convince your customers to share their thoughts and experiences about your brand only if you treat them well. Participate in community discussions, answer questions, and respond to feedback graciously. Be helpful, be attentive, and most importantly, be human.
If you just started a campaign, don't forget to thank your fans and compliment their submissions. If you fail to acknowledge them, they might lose interest in whatever it is that you have to offer in the future. Also, remember to post valuable content consistently, as this helps build anticipation from your audience.
Conclusion
Today's savvy consumers know better than to take a brand's word over other users', making UGC more powerful than any other brand-driven content. By capitalizing on your customers' existing content, you can build a brand that is personable, authentic, and trustworthy.