Before the digital age, word-of-mouth marketing consisted of one person telling another about a brand, product or service during a conversation. Kind of like this old '80s commercial for Faberge shampoo:
Now, you are no longer limited to peer-to-peer recommendations; your business can encourage and amplify word-of-mouth marketing as a method of promotion.
There are many types of word-of-mouth marketing, such as:
Social media 

–

where users can share posts and talk about the brands they like.
User-generated

 –

which can take place on social media but can also come in the form of blog posts.
Reviews

 – this type of content can originate on blogs, be promoted on social, and be shared to review sites.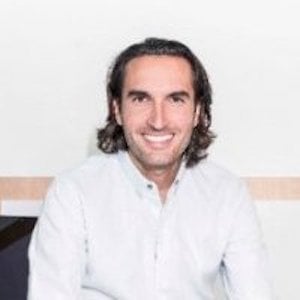 Yaniv Masjedi
CMO, Nextiva
Their expertise has helped Nextiva grow its brand and overall business
Word-of-Mouth Effectiveness
To understand just why word-of-mouth marketing is so effective, you first need to think about consumer trust in brands. Over the past decade, trust has been falling rapidly. In 2018, only 48% of the population in the U.S. say they trust businesses — a drop from 58% in 2017.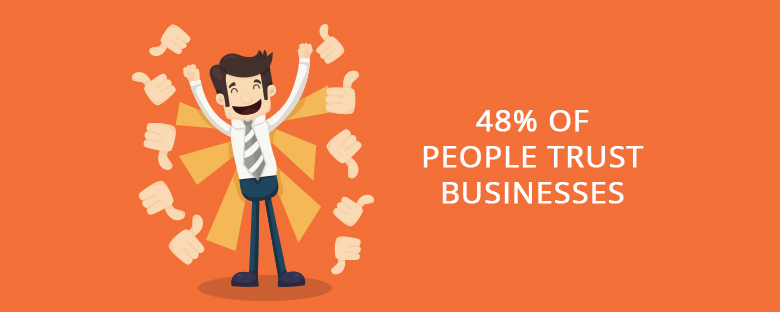 In contrast, consumers do trust their peers. When asked how they prefer to receive information, 46% of people said through family members and 45% picked friends they know in real life. The only option that received a higher score was online search, with 66%.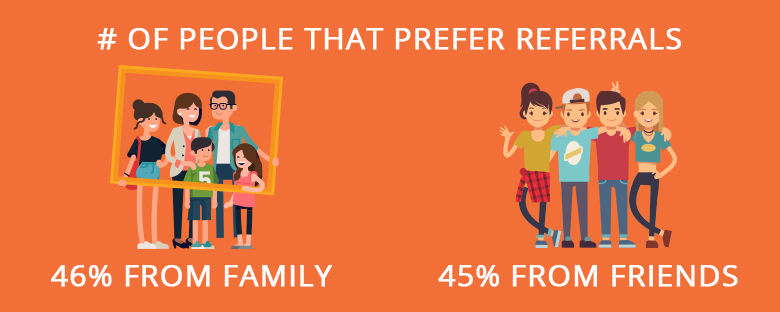 Clearly, people like making recommendations:
83% of people have made at least one word of mouth recommendation.
55% make a recommendation on a monthly basis and 30% at least weekly.
Consumers rated a recommendation from a friend or family member of having a value of 5.2 out of 7.
If they had to choose just one source, 50% of people prefer word-of-mouth to get their info.
Dive Deeper:
How to Use Word-of-Mouth Marketing
1) Encourage Shares of Content
You should already have some simple tactics in place to increase the number of shares of your content, like social sharing buttons on your website and blog as well as a social media strategy. You should also be creating content that users want to share — content that contains unique insights or gives users advice that will improve their lives.
All this is good, but alone it is insufficient. Take your marketing strategy a step further by encouraging users to create content for you. First, the users who create it will want to share it with their friends. Second, when others see that the content is user-generated, they will be more likely to trust the information — 86% of Millennials consider the fact that content is user-generated to be an indication of quality.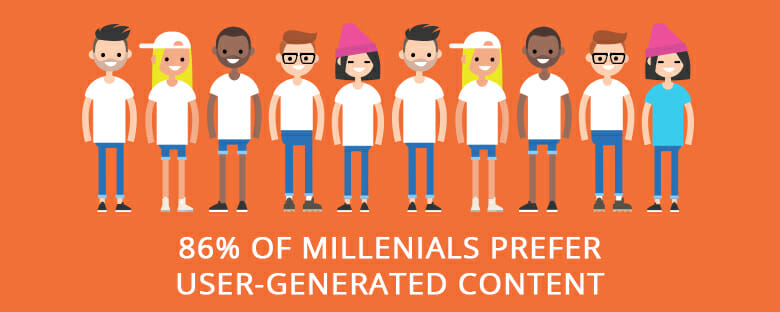 To start, you need to make users aware that you are looking for user-generated content (UGC). Launch a campaign asking people to demonstrate how they are using your products or services, perhaps in a particular situation.
To further increase the amount of UGC you receive, consider:
framing your campaign as a competition
posting a great piece of UGC on your homepage and asking your customers to create their own stunning content which may be featured
running a hashtag campaign — come up with an original phrase or use your brand name — in which the social content it generates will be linked back to you
2) Use Influencer Marketing
Influencer marketing allows you to develop social proof for your brand. For small brands, major celebrities as influencers are probably out of reach. This is not a problem. Micro-influencers often appear more real, especially when you choose a person with the same demographics as your target audience.
It is even better to use someone who already has a connection with your brand. Enter your employees. No one knows your business better than the people who work for you and no one else is better qualified to share your values. If they're happy at your company, employees will be able to portray a real passion for what you do.
Your employees may be influencers to some extent already. For instance, they may be retweeting your tweets, liking your Facebook posts, and even commenting on your blog. This is a good start, but you need to encourage such behavior on a greater scale. A top way to do this is through an employee advocacy program.
This kind of program rewards employees who are promoting your company. You could use a point system, where different actions provide employees with an appropriate number of points according to their value. Then, you can use the points to give employees prizes. This makes the program fun and allows people to participate as much or as little as they want.
Finally, you should also involve loyal customers in your advocacy efforts. Again, you will need to provide some kind of incentive. You could start a referral program that gives people discounts whenever someone they refer becomes a customer.
Dive Deeper:
3) Ask for Reviews
Before making a purchase decision, many users check out reviews. On average, consumers read 10 reviews before they decide if they can trust a business and half of consumers want to see at least a four-star rating: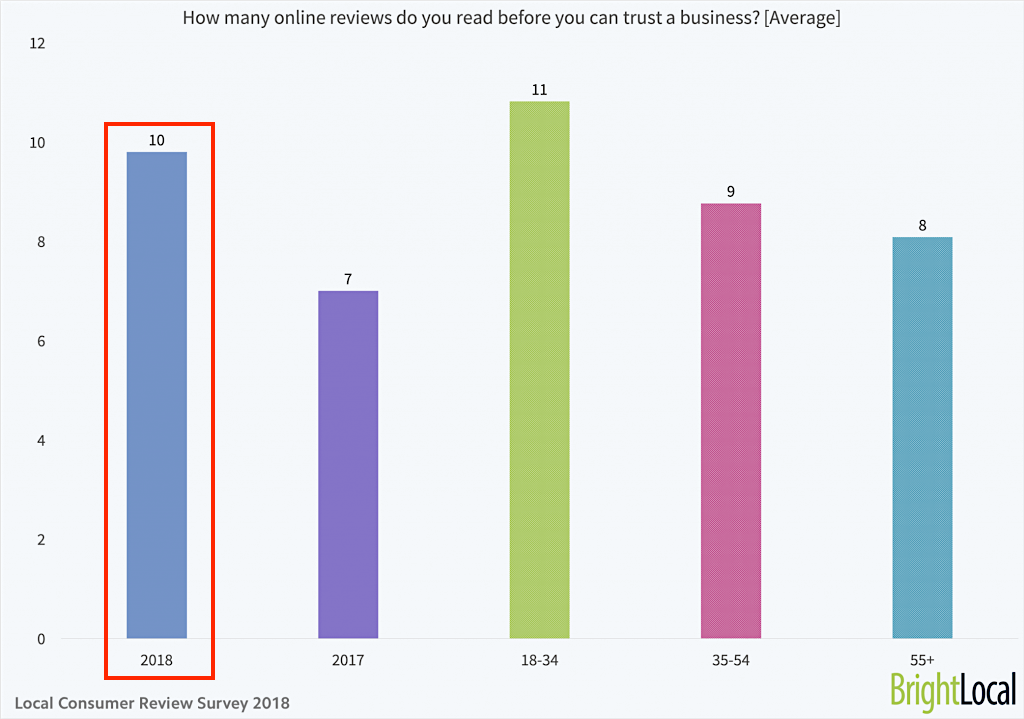 We've already seen that users are willing to make recommendations. However, they may not consider writing a review of your brand unless you put the idea into their heads. Send an email after a customer makes a purchase with a link to a review site, and ask your social media followers to do the same.
If you have an e-commerce store, make it easy for users to rate products and ensure that these ratings appears on the product pages. Amazon, of course, is a great example of this: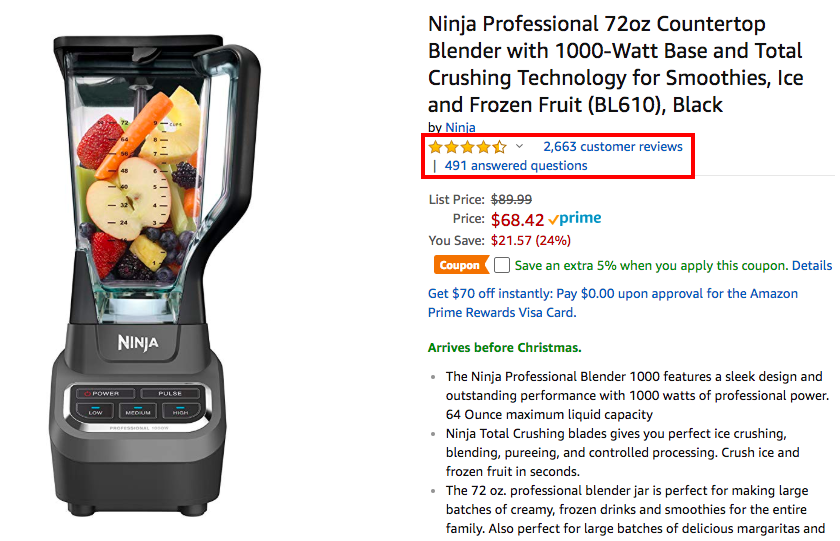 In fact, Amazon founder Jeff Bezos even says: "If you do build a great experience, customers tell each other about that. Word-of-mouth is very powerful."
Once you have a good number of reviews, feature the top ones on your website and post them on social media. This will both show other potential customers that you have great reviews and encourage them to write their own for the chance to be featured.
Dive Deeper: Why Product Market Fit Is Important for Marketers
Final Thoughts
It matters less which word-of-mouth marketing methods you choose and more that you have some kind of word-of-mouth strategy in place. Otherwise, you are missing out on the opportunity to have your customers do the hard work for you — promoting your business and increasing a sense of trust for your brand.