6 Easy Ways to Build Social Proof and Incorporate It into Your Website
It should come as no shock that consumers these days are quite mistrustful of businesses and advertising. We've all gotten excited by an ad for some product that makes grand promises or looks a certain way – only to be quite disappointed once we actually buy it: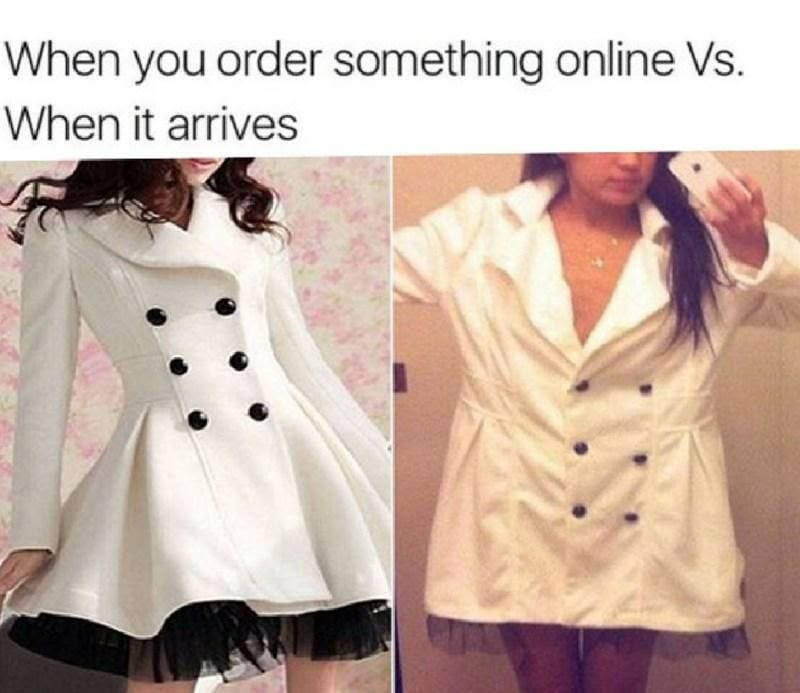 This may be funny in some instances (like when it's not you), but it is incredibly frustrating for both customers and marketers.
As the general sense of distrust increases among consumers, many of the traditional marketing strategies do not work with the same magic that they used to.
81% of consumers say that trust influences their purchasing behavior, and yet the vast majority find advertising to be misleading and untrustworthy.
So how can companies make sure that people trust them enough to not only make a purchase, but build relationships and positive brand associations?
The answer is social proof.
Although many people may not trust businesses or advertising, they tend to trust each other.
76% of consumers trust a stranger's opinion on the Internet just as much as a personal recommendation from friends and family!
What is social proof?
Social proof is a psychological phenomenon that causes us to be naturally inclined to trust other people's opinions and let this influence our behavior.
This is why we tend to follow the crowd and do things simply because other people are doing it (Apple Store line-ups, anyone?).
When it comes to marketing, social proof can be extremely powerful because it helps to break down the walls of skepticism with potential customers by simply showing them what other customers (not the brand itself) honestly think of the product or service.
Here are some super simple – but highly effective – ways to incorporate social proof into your own marketing strategies, not only to build trust with your audience, but to increase conversions, too.
1) Know the Major Types of Social Proof to Build
Many marketers automatically think of customer reviews or user-generated content (UGC) when they hear the term "social proof." But there are actually six different types of social proof – and it doesn't always come from consumer recommendations.
Certifications
When you're applying for a job, you try to enhance your resume with proof that you have knowledge and experience by listing accomplishments and certifications such as college degrees or awards. The same goes for your business – if your company has received certifications from trusted organizations (like the Better Business Bureau), they can be used to establish social proof.
For example, the SaaS company DevriX lists certifications that their company has been awarded to prove their expertise. What is important here is that the certifications are also from organizations that consumers recognize and trust.
In this case, seeing an "Expert Rating" on a WordPress test is quite impressive: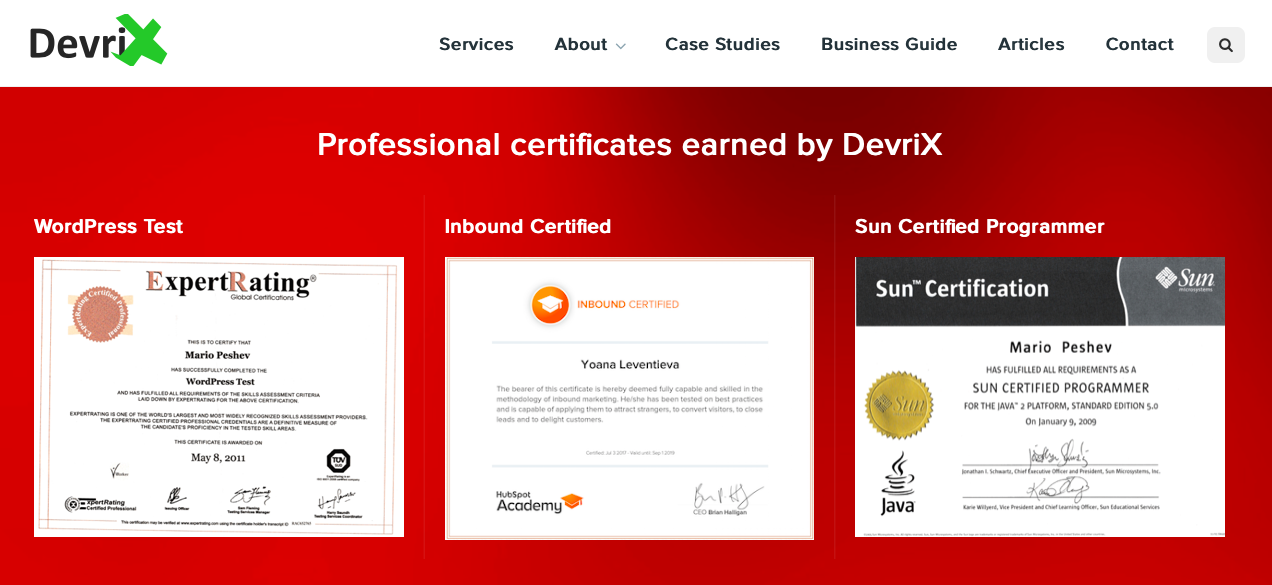 Media Coverage
There are certain media outlets that consumers trust without question, so any brand mentions in these types of publications can do a lot to help your business' reputation.
Any mention of your brand in external sources shows potential customers that your business is well-known and recognized by trustworthy news sources, giving you lots of credibility.
For example, Ritual Vitamins includes links to articles from trusted sources like The New York Times, Forbes, and Health Magazine right on their homepage to show that their name is endorsed by these major brands.
They even include direct quotes from these articles to show customers just what the media has to say about them: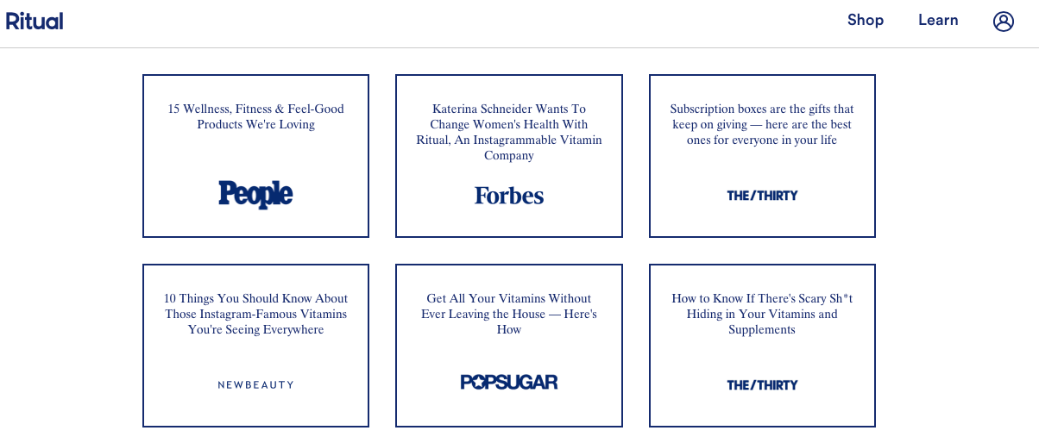 Social Media Proof
Social media is where social proof runs rampant. Seeing that an account has a lot of followers or high engagement in terms of likes and shares makes us trust it more. After all, if all these people endorse the account, then maybe we should too, right?
You can see a great example of this on HubSpot's website (also right there on the homepage), where they list numbers on the size of their community across multiple types of networks – including their social media following and membership in related groups: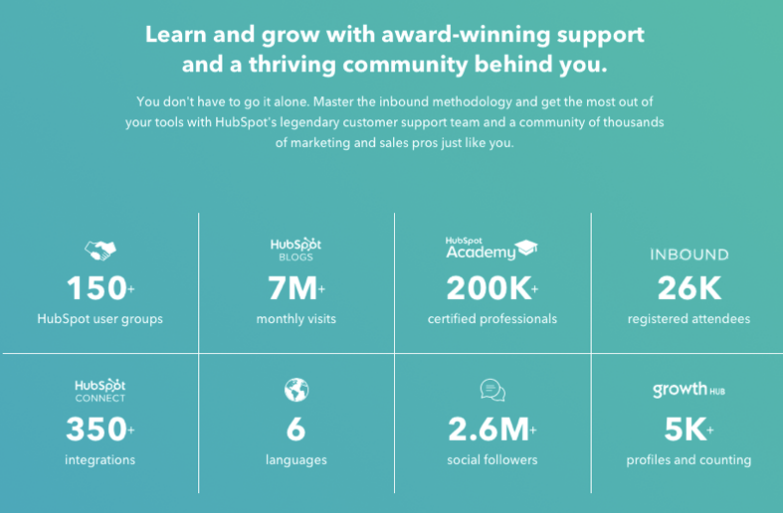 This shows consumers that by becoming a customer, they will be joining a large brand community. There is power in numbers  and seeing that HubSpot has millions of social media followers can provide some peace of mind.
Related Content: 4 Ways to Acquire Customer Reviews Using Social Media
Expert Referrals
Having an industry expert back you up can also help put a new customer's mind at ease. These experts don't necessarily have to be well-known, they just have to have some sort of credential – such as being a business owner, author or having a lot of experience in the field.
For example, Quip, an electric toothbrush brand, features quotes from dentists on their website to establish social proof that their teeth-cleaning products are endorsed by medical professionals: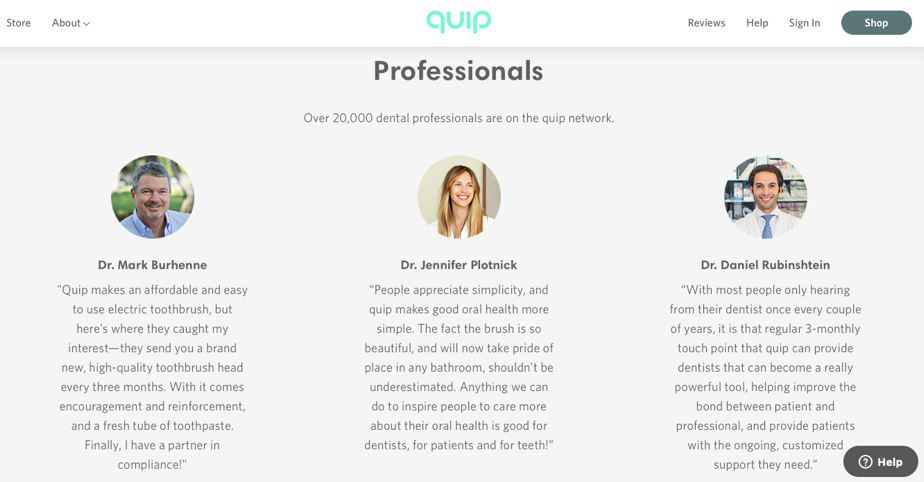 People are going to trust these dentists' opinions, even if they do not know of them personally.
Ratings, Reviews and Testimonials
Of course, having online reviews is one of the most obvious ways to build social proof, but the way that you integrate it matters.
Some companies will just highlight a few of their favorite glowing reviews in an attempt to make themselves look great. But it is best to get super detailed if you want to get customers to actually trust you.
For example, Care/Of , a vitamin and supplement brand, shares real customer success stories on their website.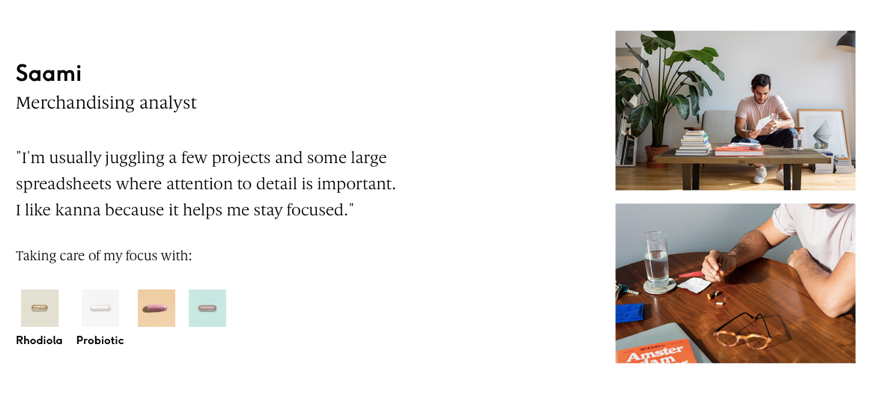 These short little testimonials help them earn trust with new customers who may be a little skeptical of the company's claims. This gives people more personalized details about the experience, rather than a generic star rating.
Related Content: How to Get as Many Testimonials as Possible from Your Customers
Referrals from Friends and Family
How many times have you bought something because your friend told you all about it or your mom suggested you try it out? We tend to trust a product recommendation when it comes directly from a person that we know.
Building a referral program is another way to build social proof and increase conversions.
Click To Tweet
Companies will often provide a pretty good incentive to get word-of-mouth marketing going. For example, personal styling service Stitch Fix offers a $25 credit when customers share their referral link on their personal social media pages.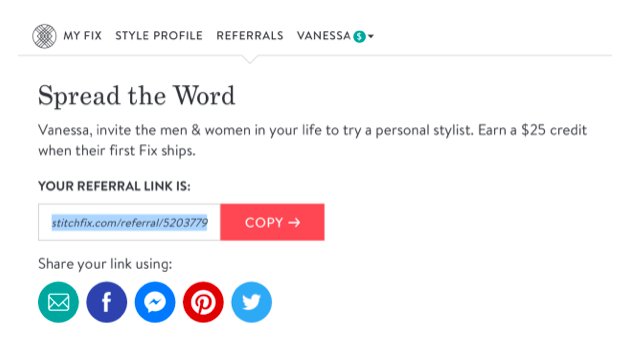 Related Content: Word-of-Mouth Marketing — What Is It and How Do You Do It?
2) Embrace Honest Feedback
One of the most straightforward ways to integrate social proof into your site is to feature snippets from customer reviews or testimonials.
Reviews are also a great keyword strategy: they are a ranking signal for Google and can boost keyword presence on your pages.
For example, The Pearl Source, an online retailer for luxury jewelry, started to feature quotes from their reviews on their website to build trust with new customers and establish social proof:

They had collected over 7,000 verified reviews, so including them directly on their site and product pages allowed the company to build social proof immediately – as well as rank higher on organic Google searches, which drove more traffic to their site.
The key here is, of course, honest feedback.
Many brands will just pick and choose a few glowing reviews to highlight while trying to keep the less positive ones under wraps. Consumers are well aware of this practice, so only showcasing the flawless testimonials will raise some red flags.
According to BrightLocal's report, many customers were quite comfortable purchasing from companies that had an average three- to four-star rating. They even perceived companies with five-star averages as untrustworthy and suspected them of faking their reviews!
So don't be afraid to showcase a mix of reviews on your website (putting the positive ones up higher) so customers can see the wide range, rather than just the highlight reel. This will help you build more believable social proof.
Related Content: Targeting Branded vs. SEO Keywords: Which Should You Focus On?
3) Publish Customer Photos on Product Pages
User-generated content is incredibly powerful for visual marketing since it gives customers a more "realistic" view of what they can expect from their products.
While it is fairly common to see this on social media, brands are now starting to integrate it into their websites and other marketing content, too. For instance, Abercrombie will often show images of real customers along with model photos for their clothing items: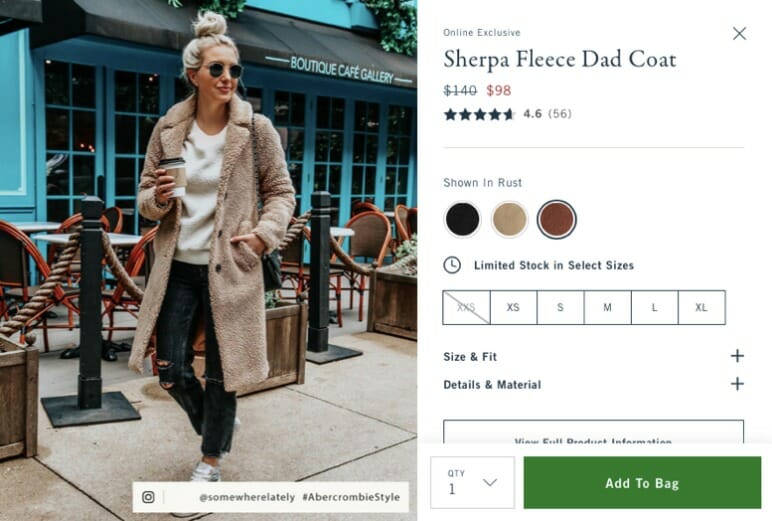 But one issue that many companies find with this type of marketing is gathering UGC in the first place. To encourage your customers to share this type of content, you may need to offer some incentives.
One way is to offer them something in return. For example, Tarte Cosmetics gives their customers extra reward points for sharing purchases on social channels: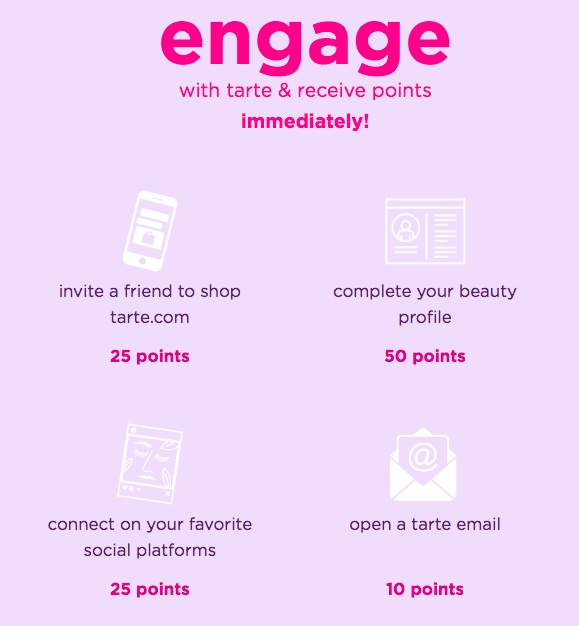 Another option is to host a social media contest or giveaway that requires customers to engage by sharing content on their own. This can help encourage meaningful engagement and a brand community by simply requesting that customers share images with a branded hashtag as an entry.
Related Content: 9 Best Web Hosting Providers
4) Partner with Micro Influencers on Big-Name Accounts
Although influencer marketing is quite popular and very effective, consumers nowadays know that many accounts are doing these promotions for a paycheck and so they may not necessarily view them as trustworthy.
Many influencers have been called out in the past for merely copying and pasting a caption that came straight from their PR manager into a post – or not even using the product that they're endorsing. This comes off as extremely inauthentic.
A recent study found that only 4% of people find big-name influencers to be trustworthy. However, the same study reveals that micro-influencers (accounts with less than 10,000 followers) have far higher engagement rates and are considered to be authentic and trustworthy by the same group of consumers.
So if you plan to try out influencer marketing, consider choosing micro-influencers with more niche audiences who are extremely transparent. For example, Liz Claire runs a YouTube channel and Instagram account where she reviews products that she receives for the purpose of influencer marketing: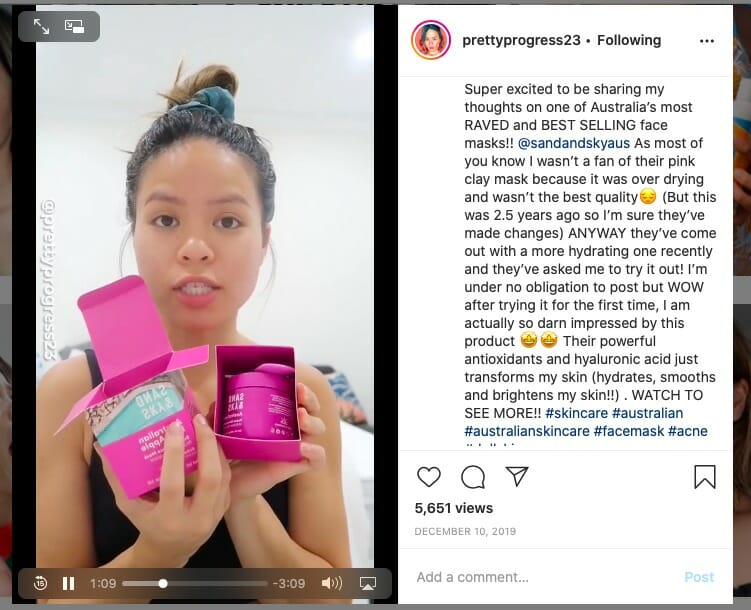 Claire provides honest feedback – even when she doesn't like the product or it didn't work for her. Her authentic recommendations have a lot of weight with her audience, making her a great micro-influencer for brands to partner with.
Related Content: How to Grow Your Business With Influencer Marketing and Brand Partnerships
5) Set Up Referral Systems
As mentioned before, we are far more likely to buy something when our friend or family member tells us about it directly.
However, while we may have a few brands or products we swear by and tell our friends about, we often don't share our experiences or love for a brand online unless we have had either an exceptionally great experience – or an exceptionally terrible one.
So you may (once again) have to incentivize your customers a bit to become advocates for your brand – particularly online. One brand that does this very well is Harry's, a shave accessory brand, who encourages social sharing to earn free products: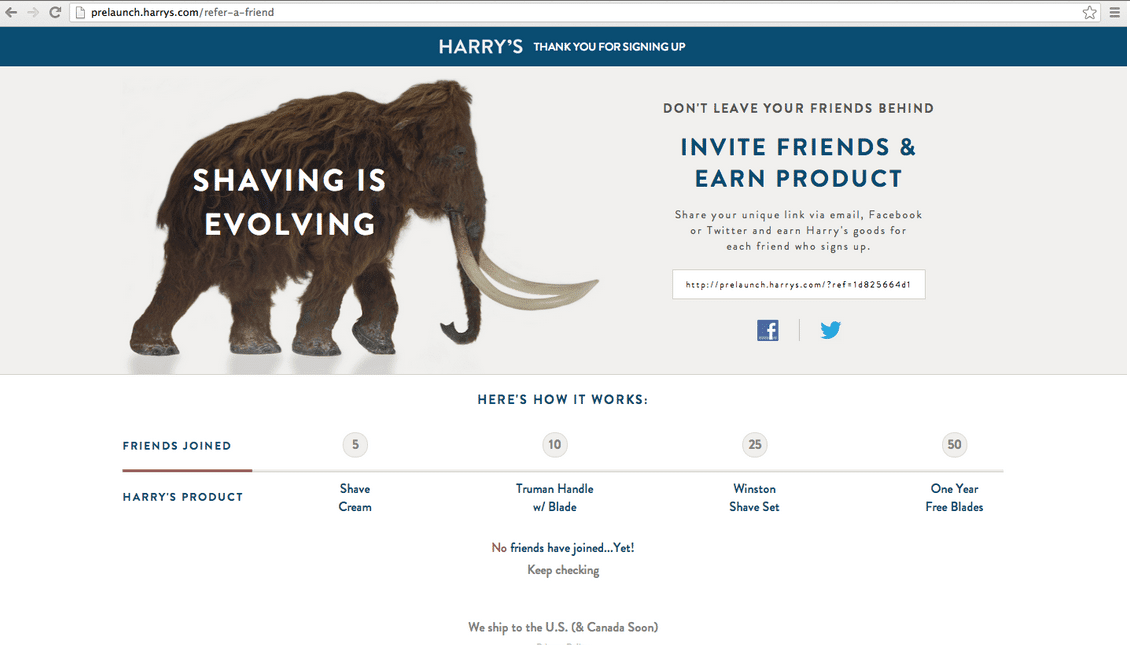 Customers simply share their special link and code with friends. They can earn up to a year of free products, as well as smaller gifts, for every guest that signs up.
What is interesting to note here is just how well this strategy has worked for Harry's.
They announced this program along with their initial product launch in order to grow their customer base and were able to generate 100,000 leads in just the first week – and 77% went on to become paying customers!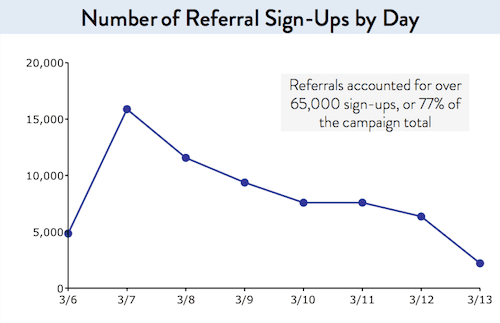 But you don't need to offer such extreme rewards for this strategy to be a success. Even a simple 10% discount can help to get the referral ball rolling!
6) Publish and Share Non-Sponsored Content
Reliable, non-sponsored content – like case studies, research reports and interviews from industry experts – can be extremely helpful for building social proof, particularly for B2B companies.
A report from Demand Gen found that B2B customers prefer to consume varied content formats as they moved along the buyer's journey. Early stage customers prefer e-books and industry publications, while those in the late stage of buying are persuaded by content like analyst reports and case studies.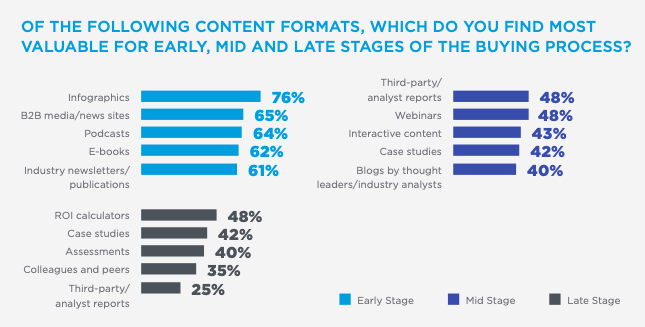 Unfortunately, content that is specific to your business or industry may be hard to come by – so you may need to create some on your own or find creative ways to integrate it.
For instance, Hum Nutrition sends out surveys to their customers asking them to review their experiences after taking a supplement for a set amount of time. They then publish this information on their product pages to provide statistical proof: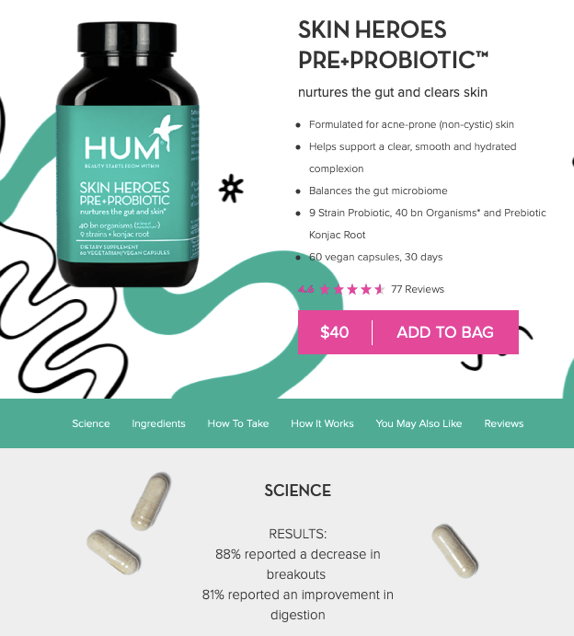 It may also be beneficial to incorporate information related to scientific studies or research about your industry to prove why your product is important.
For example, say your business offers data analysis software – which other businesses can use to support strategic decision making.
You could use statistics from verified studies, like Teradata's report on Siemen's use of analysis to optimize delivery systems. Or SFR's case study about how they used data to improve their customer journey.
Even if these case studies are not specifically about your company, as long as they are related to your industry they can work to highlight your expertise in the field.
Related Content: [Case Study] The Content Sprout Method: How to Use Strategic Content Marketing to Grow Your Traffic From 0 to Millions
Final Thoughts on Social Proof
Trust is easily one of the most important factors when it comes to converting customers.
If consumers do not trust your business, there is no way they are going to give you their hard-earned money. Much of your marketing should be focused on finding ways to build an authentic relationship with your audience – and integrating social proof is without a doubt one of the best ways to do this.
At the end of the day, customers trust people over brands – so use this to your advantage by utilizing social proof as a trust-building marketing strategy.