Much like the middle child in a family, middle of funnel (MOFU) content tends to get overlooked in favor of the more popular siblings. Everyone likes to focus on how to use content marketing to bring in new leads, and using content to turn a prospect into a customer.
But what about the process of turning a lead into a prospect?
According to MarketingSherpa, roughly 79% of leads never convert into sales, with the most common cause being a lack of lead nurturing. That means, for the average business, most of your leads aren't being given the attention they deserve or the content they need to feel safe in making a purchasing decision.
Yet Forrester Research found that brands who place a higher priority on establishing their authority and strengthening their customer relationship generate 50% more sales at 33% lower cost in comparison to competitors who don't.
This is where our oft-neglected middle child comes into play, because MOFU content is all about nurturing your leads!
Instead of spending even more money on trying to bring in more leads into a leaky sales funnel, use MOFU content to help you strengthen your sales funnel and overall conversion rate by further qualifying and nurturing your leads.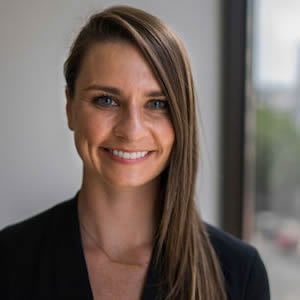 Jacqueline Foster
Demand Generation Marketing, Lever.co
We can count on them to bring new ideas to the table consistently
Where Does MOFU Content Fit in the Sales Funnel?
The key to understanding MOFU content is to put yourself in your customer's shoes and ask yourself, "How can this help me?"
Let's take a look at the standard sales funnel: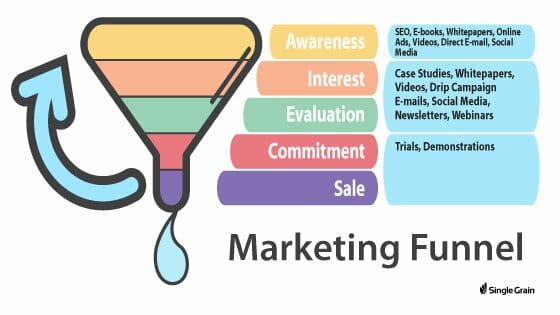 TOFU content might be something like a post called "What is digital marketing?" or "What is a marketing funnel?"
MOFU might be something like an opt-in e-book titled "How to select the right marketing funnel tool?" for retargeted visitors. You might retarget them on Facebook.
BOFU content might be something like a landing page to close them on some type of offer. Maybe the freebie this time is a webinar or maybe it's a low-dollar offer or a discounted subscription.
By the time someone has reached the decision stage (or interest/evaluation) of your funnel, they already know what problem they're facing and what your brand is all about. Prospects at this point are now focused on researching all the different ways to solve their problem and whether or not your business is the right fit for them.
The goal of your content now is to be able to provide them with all the relevant information they need to make the correct decision.
At this point in the funnel your content needs to be:
Targeted to the prospect's specific needs
Educating your prospect about your business
And, most importantly, as persuasive as possible
According to a recent report by Demand Generation, 47% of buyers will view three to five pieces of content before even considering engaging a sales representative. That means you need, at the very least, three different pieces of MOFU content within your sales funnel.
1) The Case Study
There is perhaps no better way to help convince a prospect that they're in the right hands by showing off how someone else in a similar situation solved a similar problem.
Case studies help persuade prospects by tapping into the power of social proof. By our very nature, humans are social creatures that also happen to be inherently afraid of the unknown. When faced with an uncertain outcome, we naturally base our decisions on those who have been in similar situations.
Through a case study you can effectively demonstrate to your prospects exactly how your business can help them by sharing stories and testimonials from your existing customers. Case studies immediately build a sense of trust and authority between yourself and your prospect.
HubSpot has an entire section of their website dedicated solely to in-depth case studies of hundreds of their clients. From this page alone, a prospect can immediately be assured of HubSpot's usefulness by the sheer amount of successful case studies alone.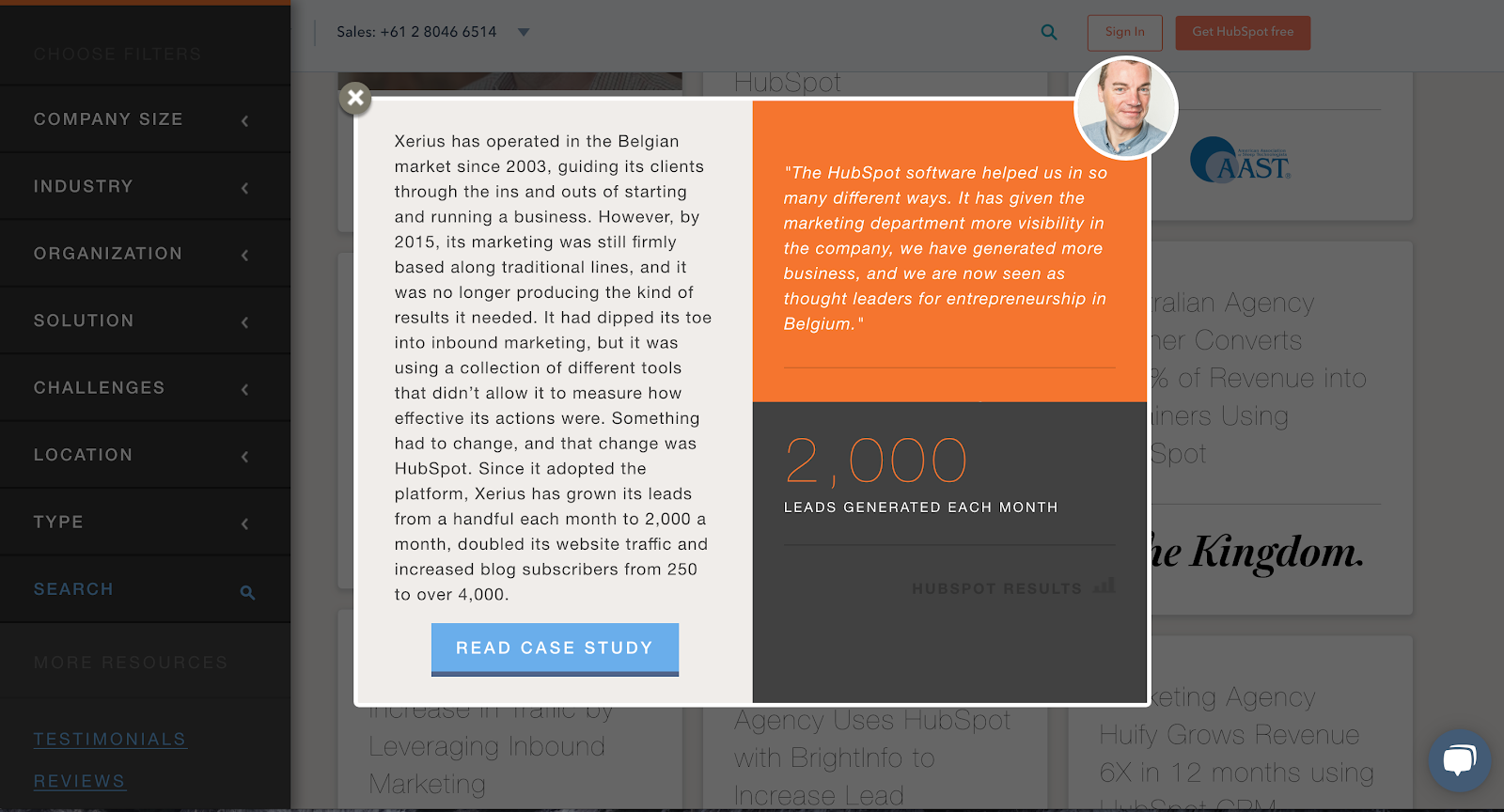 Every case study breaks down exactly how each customer used their product as well as provides hard metrics as to how they benefited from using HubSpot. They even take it a step further by creating a search function for their case studies so readers can add specific filters for the challenge they're facing, the size of their company, what industry they're in, etc., which makes it easy to find the exact case study that matches their current situation.
You don't even need to be a big company to successfully use case studies. Just take a look at how solopreneur Jared Goetz uses his own story as a case study to demonstrate to his prospects how his method works, why it works, and how it'll work for them.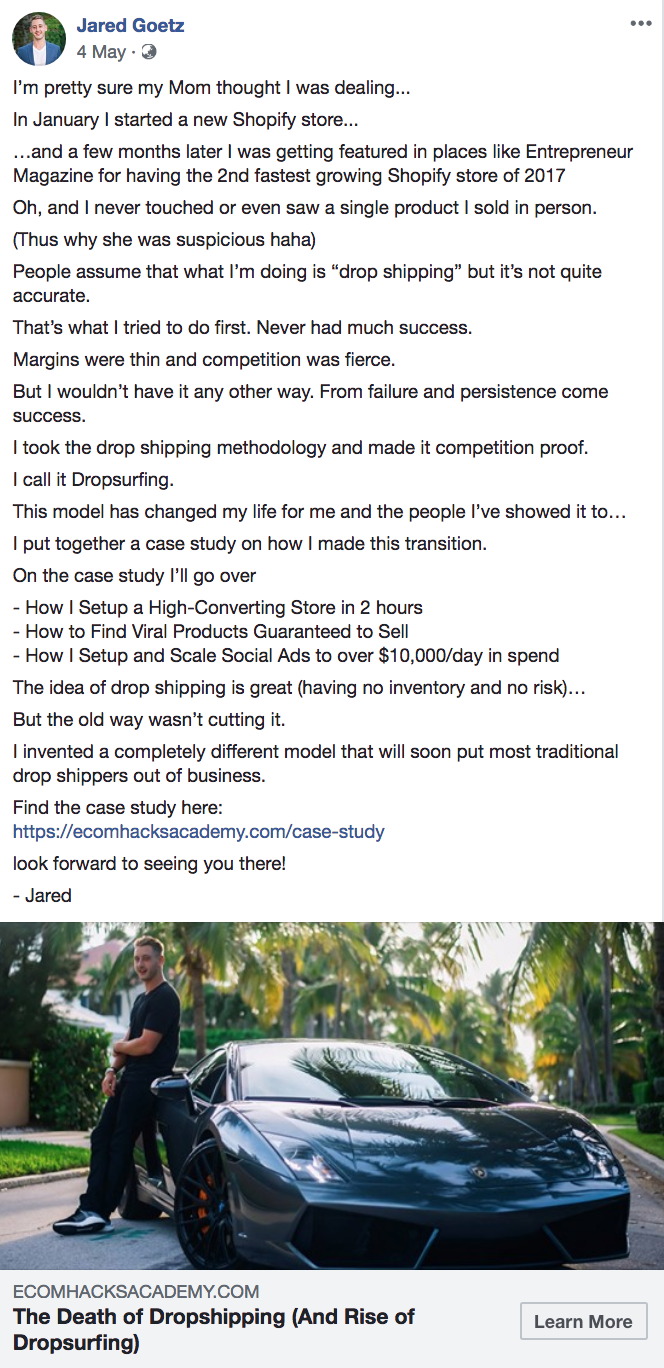 If you're struggling to think about what kind of MOFU content to create, then start off with the classic case study.
Create the perfect case study for your business by searching for a compelling story among your existing customers. This can be done as easily as sending out a simple survey or messaging your most engaged customers. From there it's just a matter of getting that story out there for your prospects to find.
Further Reading:
2) The Checklist/The Template/The Toolkit
One of the biggest challenges that content marketers face is keeping their prospects engaged enough to continue moving onto the next stage of the sales funnel – which is exactly why you need to know how to create a good piece of actionable content.
Actionable content is powerful because you're able to provide specific and targeted value to your prospect, it quickly establishes that sense of trust and authority, and it gets your prospect involved. In contrast, other types of content, no matter how engaging they might be, inspires your audience to close the browser window after they're finished reading. That's it.
Actionable content like checklists, templates and toolkits encourage prospects to continue engaging with them after their first viewing by providing a specific action for the prospect.
Khierstyn Ross of CROwdfunding Uncut has an entire e-book where she provides a checklist for what people should do to ensure a successful crowdfunding campaign: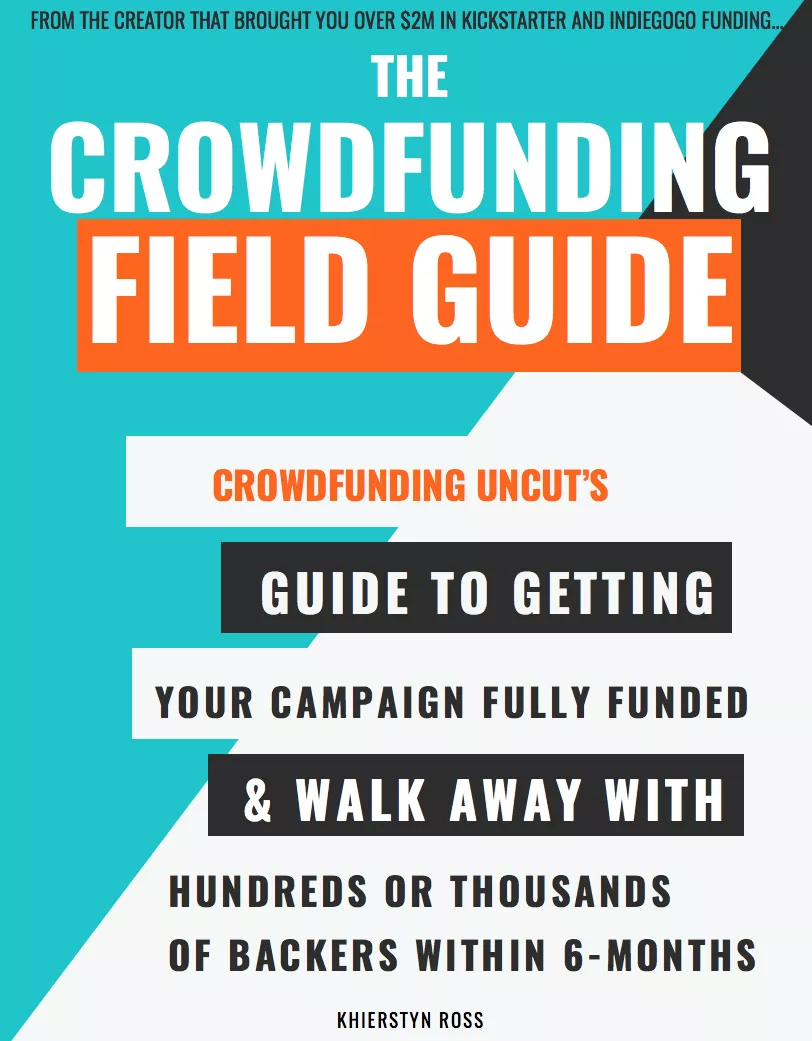 This field guide immediately provides a specific and actionable piece of value for the reader and is something that they'll likely refer to over and over again. It also subtly highlights Khierstyn's expertise and authority on the subject.
You can take it a step further with your actionable content by creating a simple online tool. Take a page out of Single Grain's book with our Marketing Impact Calculator: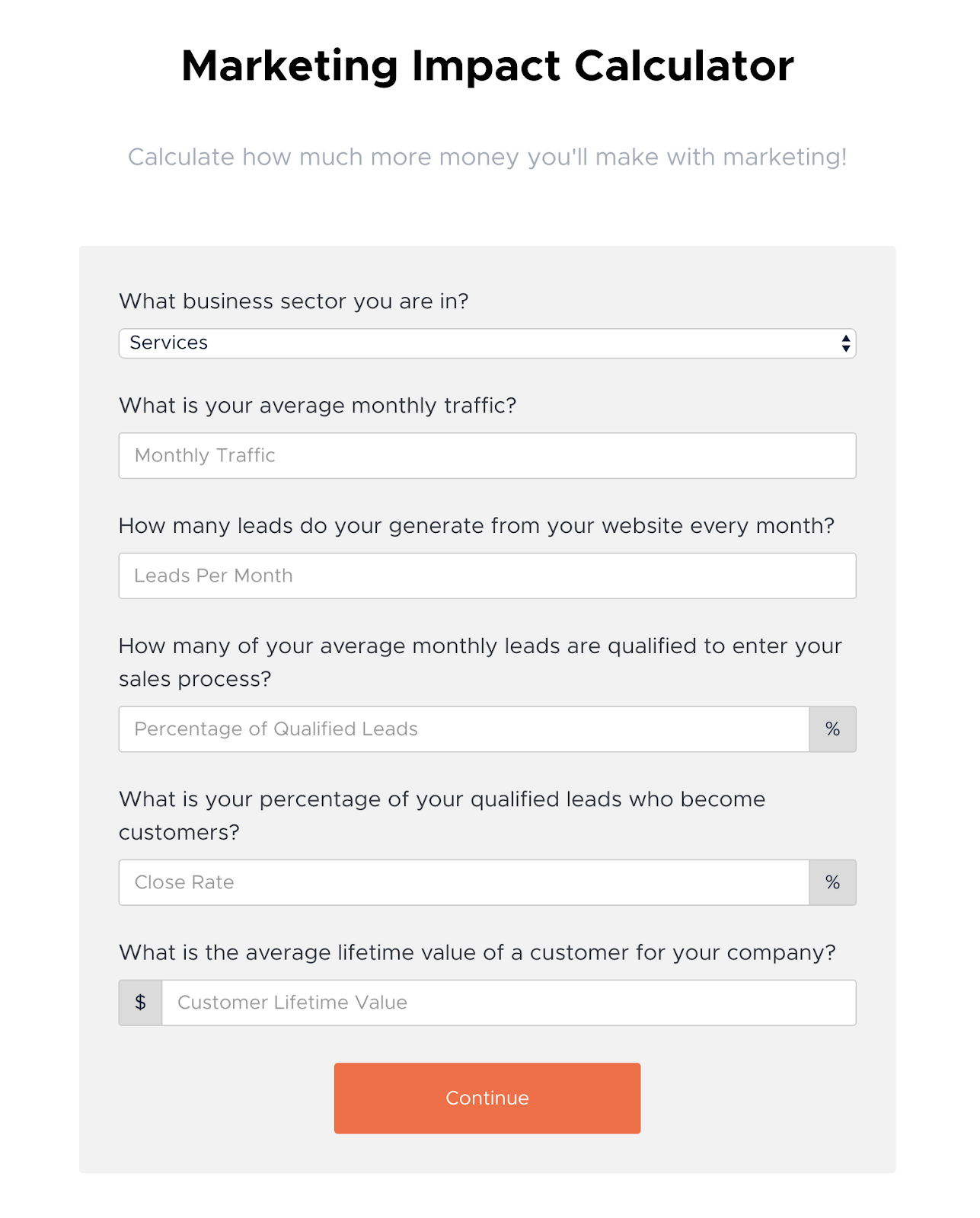 It's a simple fill-in-the-blank tool where prospects enter their business info and contact details and we'll send them a free report where we calculate their marketing ROI. It's incredibly simple but it's a great way to help give our prospects something to do and simultaneously gather important information about who they are and what they're all about.
Actionable content is great as MOFU content because, depending on what value you're giving, only prospects in that specific stage of your funnel will want to use it.
Click To Tweet
This is incredibly useful to you as a way to help you score leads, since you can tell that anyone who downloads your checklist or toolkit is not just doing research but is actively looking for a way to get to the next stage of your funnel.
3) The Trial/The Demo
By the time a prospect has reached the decision stage of your funnel, one of the biggest questions they're asking themselves is "Will this work for me?"
Take a page out of 19th century entrepreneur Benjamin T. Babbitt's methodology and directly answer your prospect's question with a free sample. In order to promote his product, Babbitt would offer tours of his factories and give out small samples to visitors so they could have a chance to use his soap completely risk free.
While we've certainly updated our tactics today, the core logic of giving away a free sample still remains as relevant as ever.
It has been scientifically proven that 53% of people who try a product sample will go on to purchase that product. Another study went on to find that 35% of people who try a sample product will purchase that product within the same shopping trip.
It's why you'll see virtually every SaaS in the world offer a free trial to their service, like Shopify: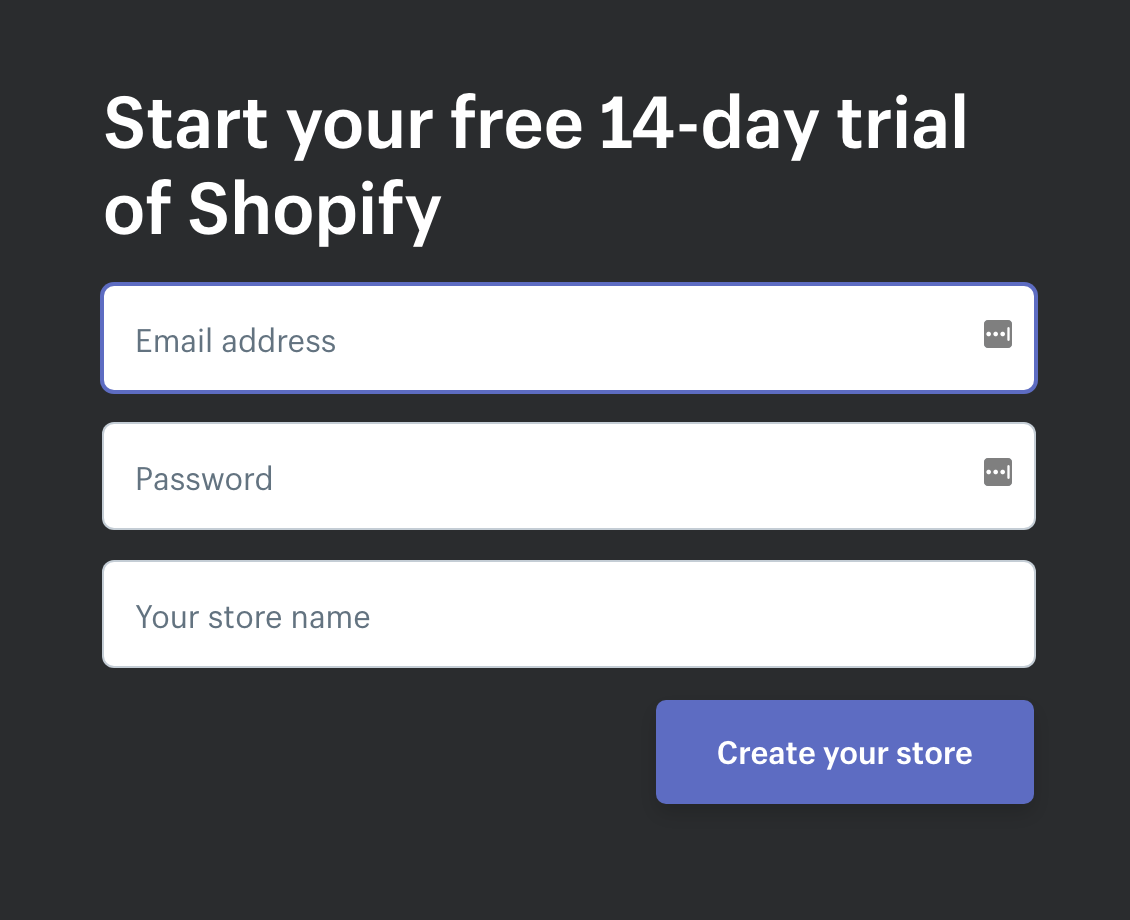 Just like Babbitt, virtually every marketer out there naturally understands that we are all risk-averse creatures. We are naturally afraid of uncertainty, and even being given the option of trying out a product or service will naturally build up a sense of goodwill and trust between a prospect and a brand.
But before you start offering free trials left and right, make sure that your trial or sample is actually worth it for your prospect. Your trial or sample should be able to deliver quick results, but still be a long enough period of time for them to get a feel for the product. Getting that balance right can be tricky but it's well worth it in the end.
If you're not a SaaS or don't happen to have a business where you can give out miniature-sized versions of your product, then a simple demo video can be the answer you're looking for. A demo video is a quick and efficient way to show off the best features of your product, what separates you from the competition and, most importantly, how great it is at solving problems.
Animoto found that four times as many customers would prefer to watch a video about a product rather than read about it. And prospects who watch demo videos are 1.81x more likely to purchase than non-viewers.
To see a demo video done right take a look at this video by Saddleback Leather:
Not only does this video detail the manufacturing process that goes into making one of their products, and therefore provides great quality, but they also add enough humor and storytelling to keep the viewer engaged throughout.
4) The Free Training
If you really want to beef up your MOFU content then you need to consider giving away some free training. By offering free training what you're really doing is taking advantage of all the best qualities from the content types listed above.
Offering free training means that you're able to give people a sneak peek into how to operate and use your service, effectively giving them a sample of what you're all about, as well as requires prospects to deliberately engage with your content a lot longer.
You can see how Moz does this. Their Moz Academy is made up entirely of short video lessons where they show prospects exactly how they can use Moz to do keyword research, optimize their website, and even more advanced techniques such as link-building and analysis.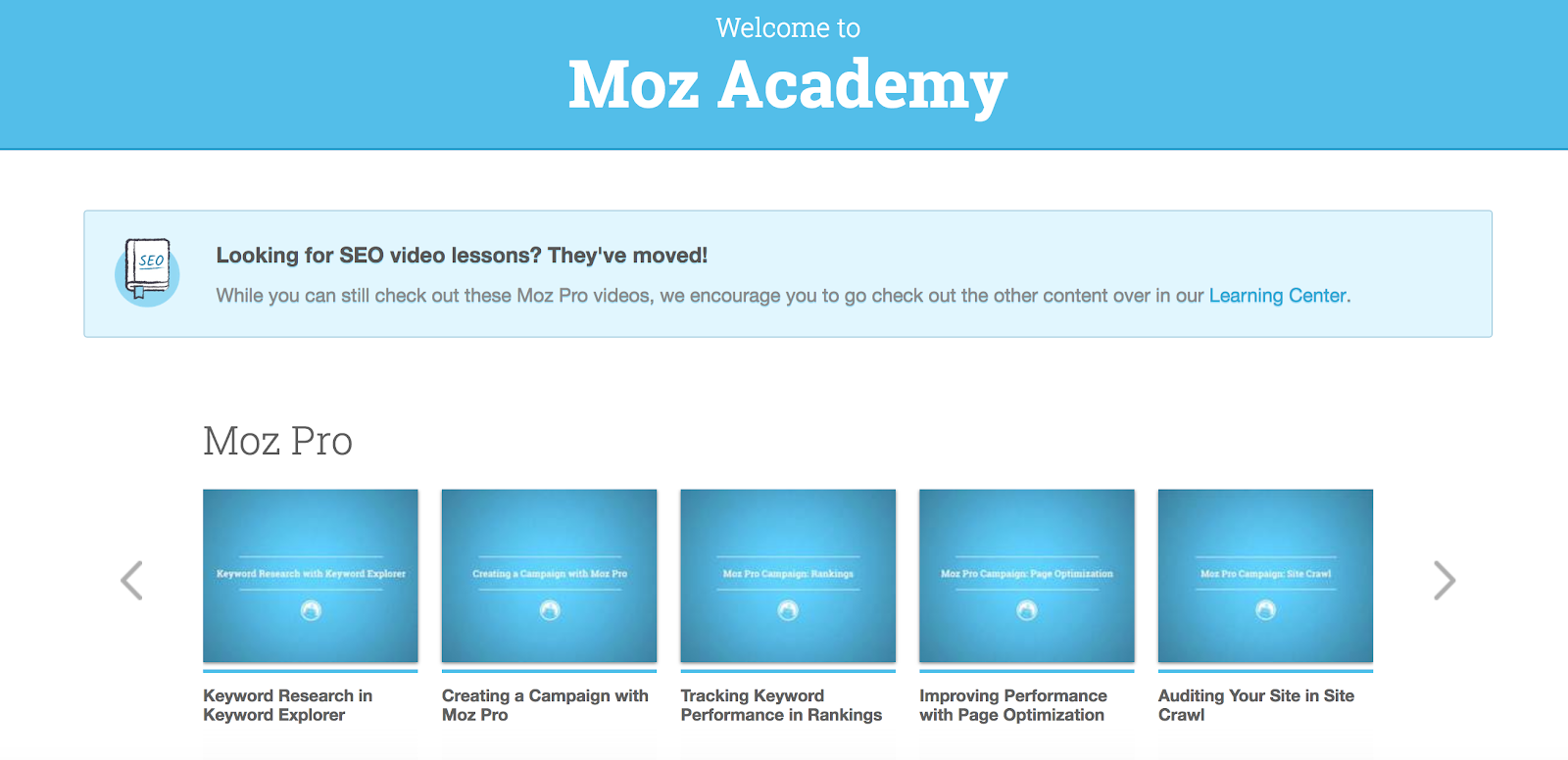 All this is done so that anyone who is even remotely curious about Moz can immediately find out how Moz can help them achieve their goals without having to spend a single cent. At the same time, each video is effectively a product demo that highlights each and every one of Moz's unique features.
Another way to offer free training, and by far the most popular, is through webinars. According to the Content Marketing Institute, 61% of marketers include webinars as part of their marketing strategy. Another report by Ascend2 found that webinars are the second-most effective type of content for lead generation, with 42% of webinar registrants becoming customers: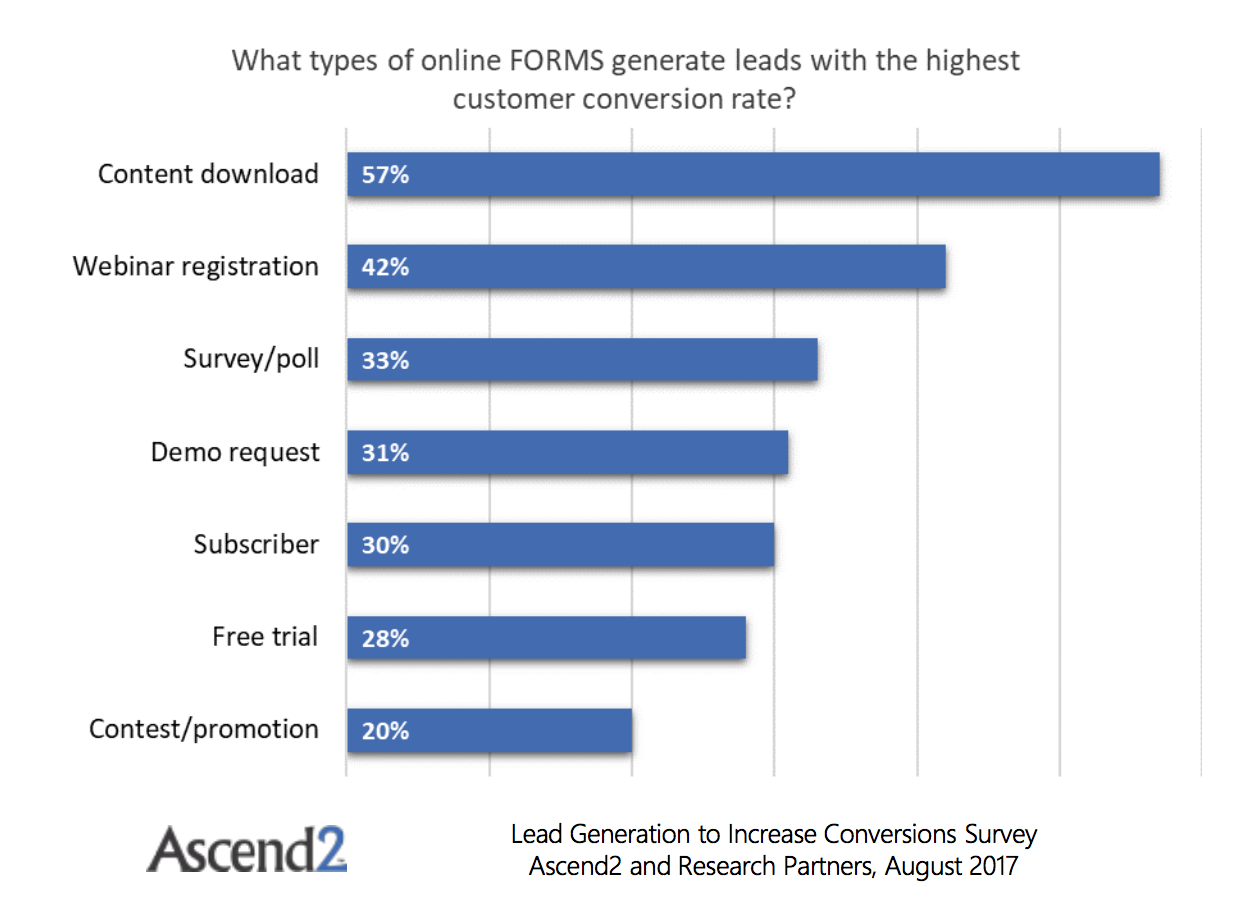 Take a look at how Foundr offers free live training on mastering Instagram for business. The masterclass promises to teach you the top 5 strategies that Foundr used themselves to quickly grow their Instagram account.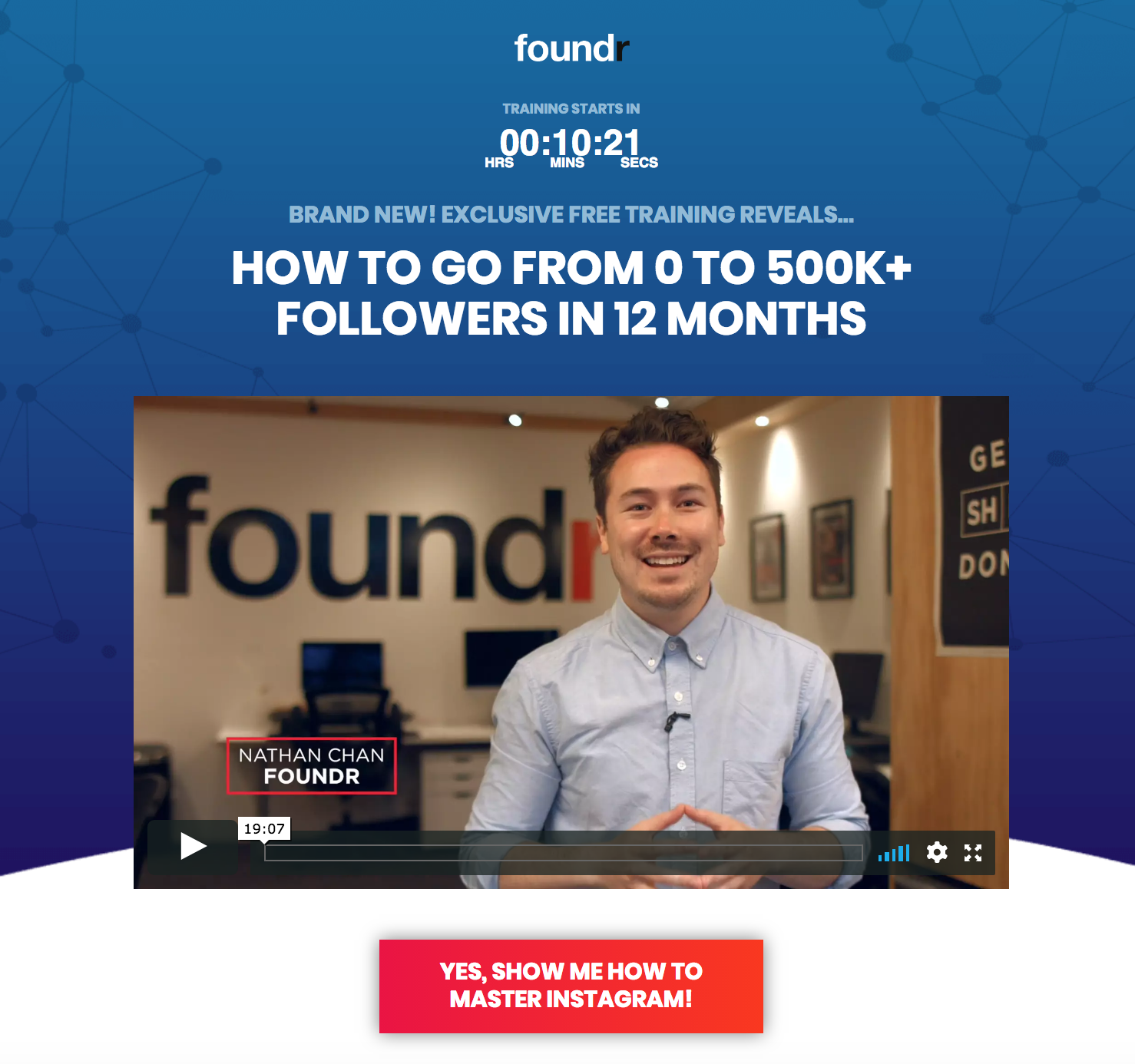 Through their live webinar, Foundr is able to establish their expertise to all attendees and build a personal connection with them, and the masterclass itself is able to provide enough actionable value so that attendees stay engaged. By also including a live Q&A section towards the end, Foundr has an opportunity to handle any questions and frustrations prospects may have.
All this is done so that attendees are then primed and ready to accept the ultimate offer of purchasing Foundr's Instagram Domination course.
Further Reading:
Where to Use MOFU Content
Now that you know what types of MOFU content you need to start producing, let's take a look at the best places to use your newly created MOFU content.
As with everything else in marketing, the best way to maximize your conversions with your MOFU content is to make sure that you get your timing right with your prospect. As the name suggests, MOFU content works best when a prospect is in the middle of the funnel, particularly when they're in the considerations or decision stage.
Here are a few strategic ways you can ensure that the right prospect is engaging with the right content at the right time.
1) Content Upgrades
Drastically increase the chances of pushing a prospect further down your sales funnel by simply offering your MOFU content as a content upgrade (or lead magnet). With this tactic, Brian Dean was able to boost his conversion rate by 785% in one day alone.
Simply put, a content upgrade is when you take a new or pre-existing piece of content (often something that's already proven to be popular) and offer a relevant lead magnet in the middle of it. That way, anyone who is reading your article or watching your video just has to click a button and they'll instantly receive the content – and move through your sales funnel at the same time.
For example, in a blog post about Instagram ads, GetResponse places an eye-catching CTA at the very end of the article for their downloadable guide on how to use digital advertising.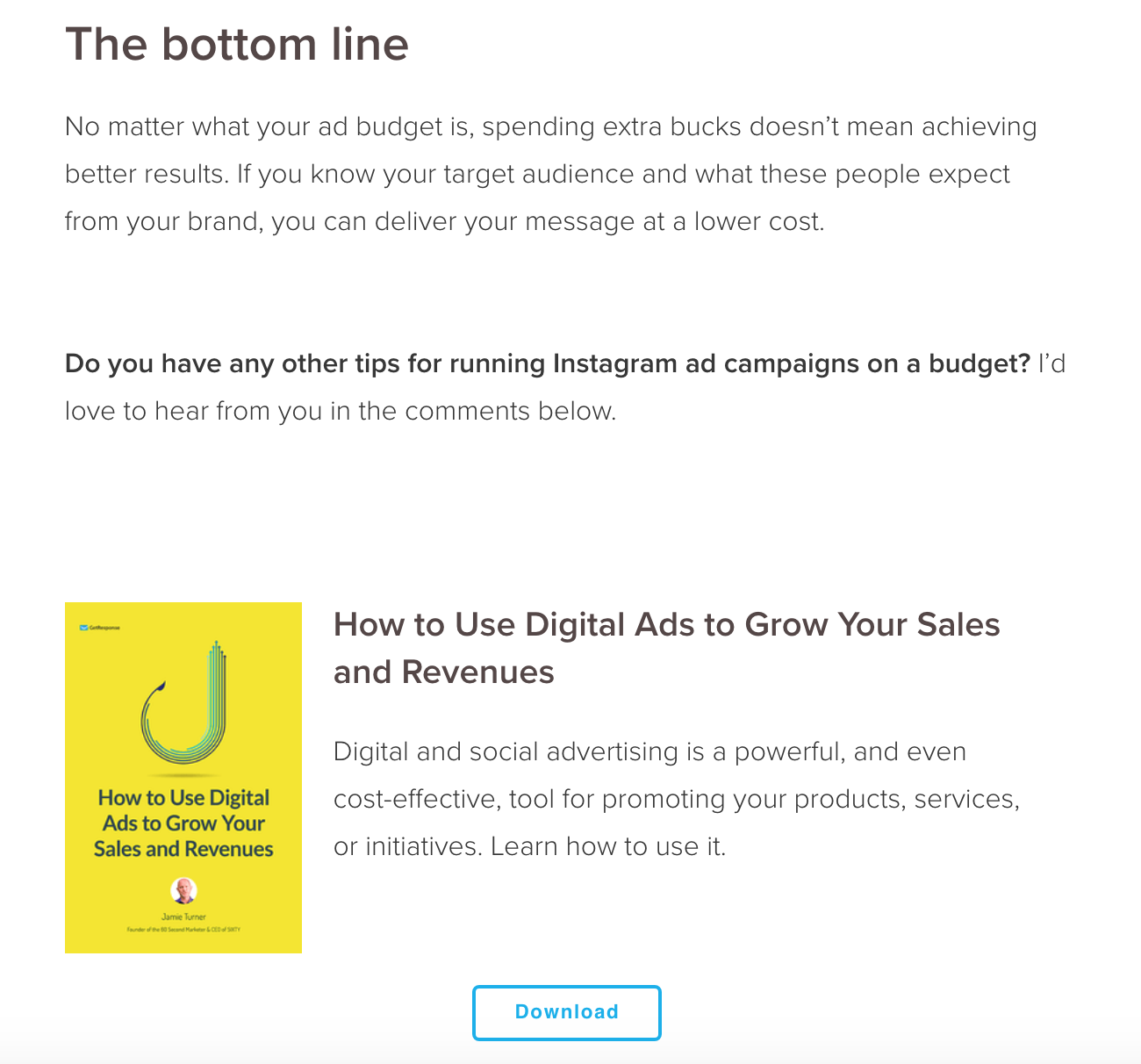 By pairing this particular guide with this specific article, they know their readers are already thinking about digital ads, thereby increasing the overall conversion rate for this particular lead magnet, and further nurturing the lead.
2) Email Marketing
Perhaps the most effective way to promote your MOFU content is through email marketing. With lead scoring and specific triggers, you can make sure that your prospect is receiving exactly the right piece of content in their journey.
For example, in thisDigital Marketer email, they offer an actionable checklist to subscribers whom they know would find this type of content valuable. This is because only subscribers who have downloaded similar content before would receive this offer in the first place.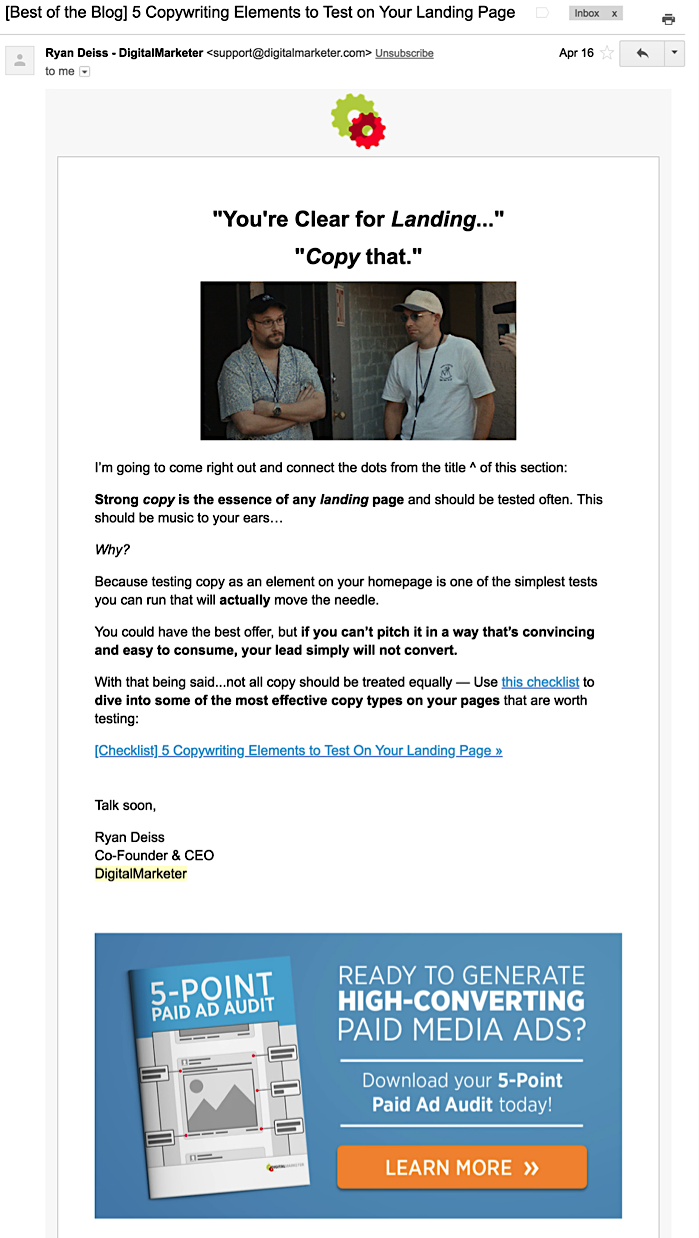 Even better, you can automate the entire process so you can continuously nurture leads and prospects in the background.
3) Live Chat
By the time someone is on your homepage, you can be sure they're in consideration mode. The problem is that only a mere 2% of visitors actually end up becoming a viable prospect. This is due to the fact that no matter how much information you have on your homepage, it can't answer all their specific questions.
One very effective way to solve this is to implement a live chat function onto your website. By making use of live chat, you can make sure that all your visitors' questions and objections are handled, and they can be directed to the right piece of MOFU content.
Just take a look at how the Customer Success Specialist OptIn Monster can direct visitors to the type of content they're looking for:
Even if your live chat isn't able to close a sale right then and there, it provides an engaging touchpoint for your prospect.
A survey by eMarketer found that for websites with a live chat feature, up to 63% of online shoppers were likely to return to the site again with an intent to purchase, and 38% of all visitors attributed the reasons behind their purchase to the chat session itself.
Further Reading:
Conclusion
At the end of the day, if you want to create a solid content marketing strategy, you cannot ignore MOFU content. A great content marketing strategy is one that is able to serve your prospects' needs at every stage of their customer journey.
Instead of wasting all your time and energy trying to constantly bring in new leads, think about how you can more effectively turn the leads you do have into customers. Sometimes all it takes is just one article to convince someone on the fence to make that decision.