Customer acquisition is a major goal for most businesses, and there are plenty of ways that brands go about finding, connecting with, and gaining new customers.
Some customer acquisition methods are more effective than others. For example, referral marketing – a strategy in which brands incentivize loyal customers to promote their products or services via personal referrals (similar to word of mouth, except that WOM is organic) – will have significantly higher rates of success than cold calling potential leads.
Engagement marketing is an effective way to acquire new customers over a long period of time by focusing on creating meaningful interactions that nurture relationships. While it's not an instant revenue generator like fast-acting PPC campaigns may be, it's reliable and can offer long-lasting results.
In this post, we're going to break down everything you need to know about engagement marketing, including exactly what it is (and what it isn't), how it can benefit you, and mistakes to avoid when using this strategy.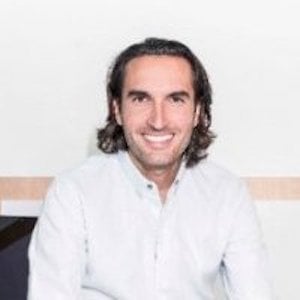 Yaniv Masjedi
CMO, Nextiva
Their expertise has helped Nextiva grow its brand and overall business
What Is Engagement Marketing?
Let's start with an engagement marketing definition.
Engagement marketing is the intentional, strategic process of creating engaging content that's designed to generate meaningful interactions between your brand and your target customer.
In other words, you aren't just shouting a message at people and hoping they read it. Engagement marketing, which is sometimes called "experiential marketing" or "event marketing," is exactly what it sounds like: a type of marketing where you encourage the customer or lead to become involved, or engaged, in the brand experience.
Your target audience can be a B2C consumer, but you can also use this strategy to target other brands, too, if you're a B2B company.
Here are a few examples of what engagement marketing may look like:
A Facebook group that regularly asks members their opinions about new products, suggestions for what they'd like to read in a blog or concerns about new policies. Katelyn Magnuson's Finance School for the Self-Employed group regularly asks users what they want to learn about or shares their questions, wins and exciting news: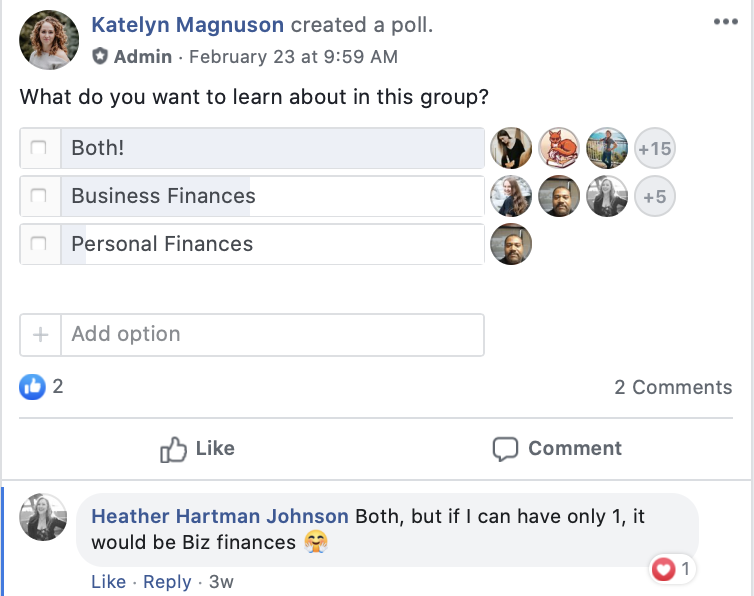 An athletic wear company that also offers studio classes, online instruction and blog posts about tips to help improve your practice. Alo Yoga has created several studios that offer yoga and meditation classes in addition to selling their yoga wear, which provides an immersive experience: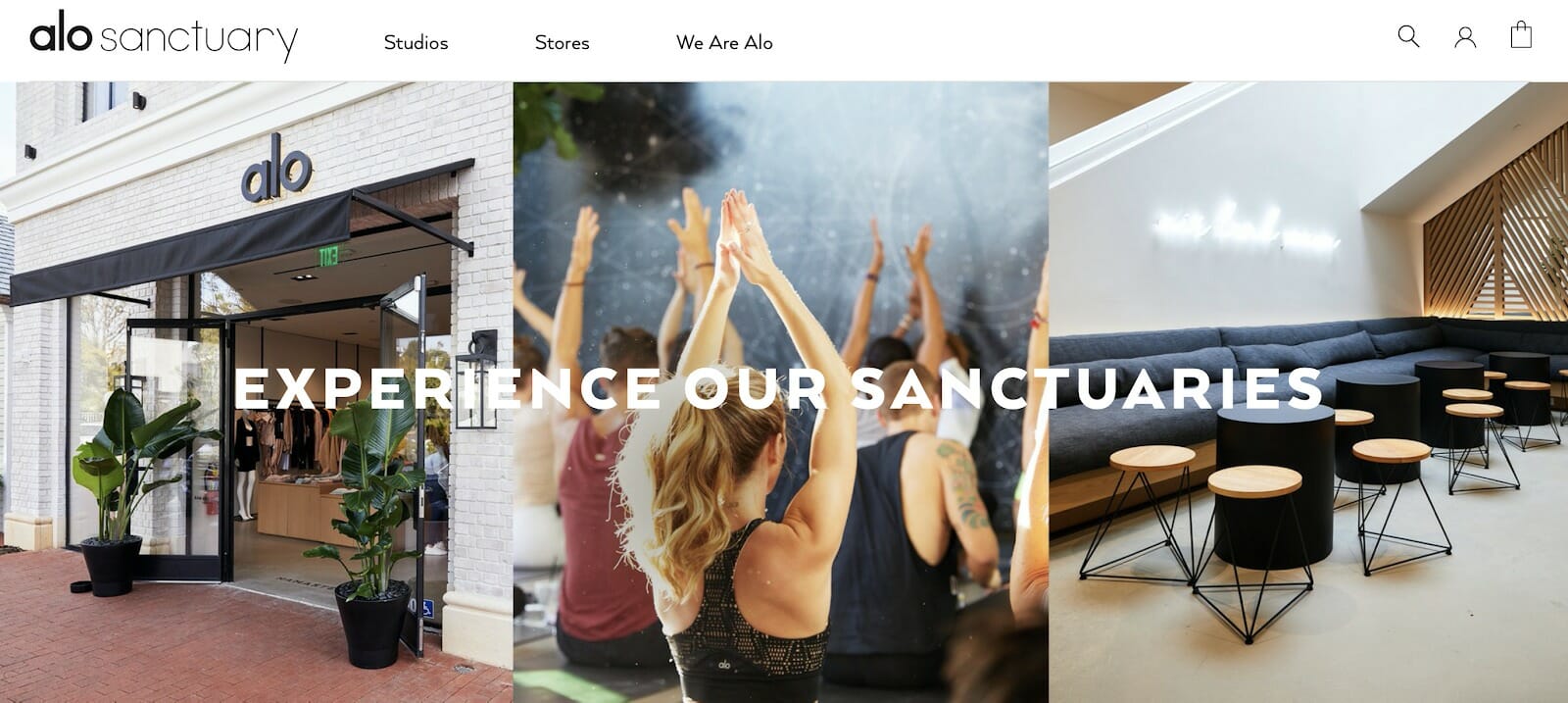 A social media campaign that's centered around your audience. Adidas made marketing headlines when they created short videos of each individual runner in the Boston Marathon. Even though the ultimate goal was to build excitement for a new shoe launch, the runners were the focus, and thus many happily shared the videos on social.
Companies that offer active, ethical-oriented fundraisers or who focus on giving products to additional members of the community. Stasher, for example, sends all first-time customers an extra recyclable silicone bag, simply asking that they give it to someone who would appreciate it. This makes the customer an active participant in the company's marketing and turns even first-time customers into brand advocates: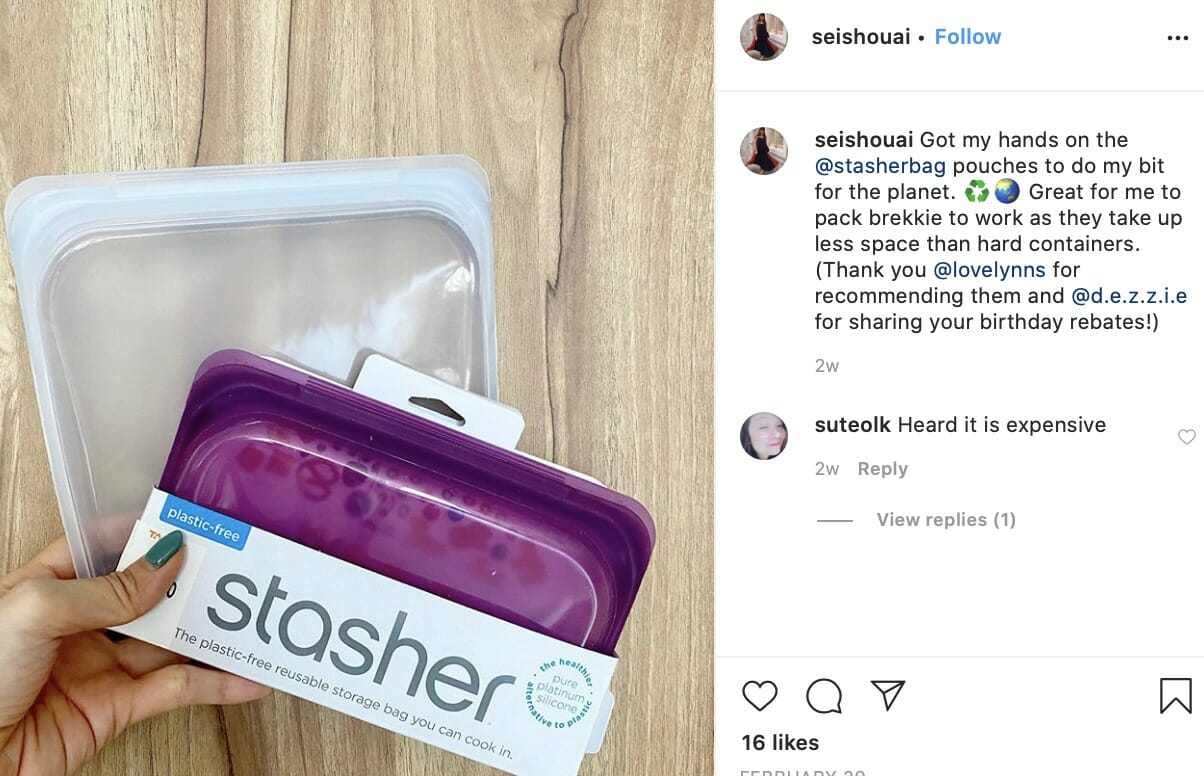 Related Content:
* What Is Experiential Marketing?
* What Is Phygital Marketing?
* How to Use Event Marketing to Generate Leads & Close Sales
* How to Get Started With Paid Performance Marketing

What Engagement Marketing Is Not
Engagement marketing focuses on creating actual meaningful interactions with your audience, and this overlaps several other types of similar marketing, like interruption, event and experiential.
While most of these strategies tend to overlap, and therefore the definitions are not always black and white, let's get a bit clearer on what engagement marketing is by exploring what it's not.
It's Not Interruption Marketing
Interruption marketing, which has little to do with actual engagement, is the practice of using something like a pop-up on screen to physically interrupt the customer process in an attempt to grab their attention and drive a very specific action. It can work quickly, but it's a little gimmicky.
Fast-acting, interruption marketing only works as long as the campaigns are active. Engagement marketing, on the other hand, will yield more results for a long period of time, even though it's a slower-acting form of marketing. It will make a more significant impression on your audience, which is powerful.
It's Not Event Marketing
Event marketing is a strategy in which a brand promotes their products by holding an in-person event (conference, meet-up, live podcast, etc.) for its audience.
Despite sometimes being referred to as event marketing, engagement marketing is not synonymous with this strategy. Having an in-store event can obviously be a part of engagement marketing, but it's definitely not a necessary requirement.
It's Not (Exactly) Experiential Marketing
Experiential marketing, also called relationship marketing, is a marketing strategy that leverages the power of experience, like a conference or workshop, as a way for brands to connect with their customers offline. It's why we choose to go to a live concert when we can listen to the exact same music at home.
This is often used synonymously with engagement marketing, and it's a very close sibling, but in this case the experience drives the engagement, rather than the engagement driving the experience. For example, with ethical engagement (see below), people are willing to spend more money on the brands that use ethical business practices. It's the engagement, not the specific experience, that promotes loyalty.
The 5 Types of Engagement
There are different strategies you can use to engage potential customers, which is one thing that makes engagement marketing so great. Because it's so versatile, it allows businesses to adapt the strategy to fit their brand identity and what their audience responds to.
When boiled down to the core function of your engagement, this strategy can fit one or more of seven different purposes from the following list:
Active engagement. This essentially recruits users to actively engage with one or more of your channels. Think about when you ask users to provide feedback when posing a question about your brand or to share a sample of your product with a friend. For this specific type of engagement to work, you need to be personable while also explaining exactly what you want your customers to do.
Ethical engagement. Consumers care a great deal about a brand's ethics; 73% of Millennials are even willing to spend more money on brands that use ethical and sustainable business practices. Ethical engagement is all about demonstrating your commitment to your customers, employees and community. Hosting fundraisers, promoting great work-life balances for your staff, and focusing on moral missions can all work well and make customers want to be involved with your brand.
Contextual engagement. This is a type of engagement that brands are able to track through analytics that detail who the user is and what their behavioral motivations are. This information is actionable and it should be used to create content designed to appeal to this target audience, using the data at hand as valuable context. For example, this might include reaching out to a customer with a push notification to buy an item that complements their recent purchase.
Convenient engagement. Simply put, customers purchase more and engage more when it's convenient for them to do so. Convenient engagement focuses on driving results with easy, integrated experiences that align with a customer's buying history and shopping patterns. Amazon's Dash button is a prime example; it was designed to position Amazon as the central player in essential shopping by creating a seamless, streamlined shopping experience: All customers need to do is hit the dash button when they want to purchase again.
Emotional engagement. Emotions carry a lot of weight in marketing. They resonate with your target audience in a powerful, memorable way, and they can be a major driving force. Emotional engagement, therefore, is all about reinforcing the emotional ties that the client has to a brand and what it's doing or offering. An example may include a business that promises to donate a pair of shoes or socks for every pair purchased by the customer.
Related Content:
* 10 Psychological Hacks to Improve Your Content Marketing
* 7 Mistakes in UI and UX That Are Costing You Engagement
* How to Increase Your Conversions with Online Customer Engagement

The Benefits of Engagement Marketing
Even if it doesn't deliver the most rapid results ever, engagement marketing is extremely powerful because it creates a dynamic branded experience that your audience will remember for a long time.
Brand Loyalty
Engagement marketing is designed to bring users into your brand. Think about a business that you're really passionate about and would advocate for. How involved with this brand do you feel?
I know that I'd go to bat for my kickboxing studio, for example; they've used me in some of their marketing promotions, and I like how hard they work to train students before competitions. I'm not just a customer; I've been involved with the brand.
I'm also a new customer of Stasher (the silicone bags discussed above), and have recommended them to a bunch of friends and family. Every time I order a new set, they send me a free bag to give away (triggering active engagement). I love their sustainability and their mission (which triggers emotional engagement), and I'm now a loyal customer and brand advocate.
The Data
Research shows that creating an experience that involves your clients in your brand's core identity will pay off substantially. Better engaged customers will purchase more and they'll purchase more often. They're more loyal and they'll be more likely to share the great news of your brand with those in their network.
One study found that as many as 74% of customers are more likely to buy a product that was being promoted with branded engagement marketing than other types of marketing.
Another study found that engagement marketing accounted for 50-80% of all word-of-mouth activity. This makes sense, because the more involved a customer feels in your brand, the more likely they are to tell their friends and family about you. They become brand advocates faster and more often.
There are plenty of brands and marketers that tout the benefits of engagement marketing. One-third of marketers expect to allocate up to 50% of their budget to brand experience, 59% of CMOs believe that brand experience increases brand advocacy, and 90% say that brand experience delivers more compelling engagement:

Engagement Marketing Tools
Here are some simple tools that you're probably already using to help you better engage with your customers or prospects:
Blog posts: Writing and sharing content that speaks directly to your audience and gives them something of value is one of the easiest ways to evoke customer engagement. A helpful how-to or step-by-step guide on a topic that your data has shown is important to your ideal customer is a simple but effective tool.
Social media: Popular social networking sites (Facebook, Instagram, LinkedIn, Twitter) are perfect for engagement marketing because they offer a simple means for people to have a conversation directly with brands in a way that has never before been possible.
Email campaigns: Emails are a great tool for engagement marketing because they are delivered directly to your audience's personal inbox. If you're smart, you'll devise many creative ways to compel your email recipients to interact with your message, make a purchase and/or share your email with others.
CROwdsourcing: "CROwdsourcing sites offer engagement marketing opportunities through their open media contests…by encouraging users to share their submissions on various social networking sites. By first engaging fans and consumers in the act of shaping the brand identity itself, there is increased brand awareness and development of brand relationships well before launching any official media campaign."
Here are some of the best online tools specifically for improving customer engagement:
The 3 Engagement Marketing Mistakes Most Brands Are Making
Engagement marketing can work wonders for your brand, but only if you're executing your campaigns well. To ensure a great campaign, keep these important principles of engagement marketing in mind:
A relentless focus on building trust
Embracing strong two-way communication
An exchange of value
A relationship focus
A long-term view
Now, here are the three most common mistakes to watch out for in order to keep your campaigns on track and your customers engaged.
The Experience Isn't Personalized for Your Audience
When creating engagement marketing campaigns, it's so crucial to think about what your audience will respond to most.
There are a number of different types of "experiences" that you can offer customers with engagement marketing, including:
Classes and workshops
One-on-one events
Product showcases
Pop-up experiences
Direct mail, including personalized, handwritten notes
A local barre studio, for example, knows that most of their customers loved healthy, green eating, so they regularly host pop-up events where their receptionist (who owns her own nutrition business) shares classes and recipes with the studio: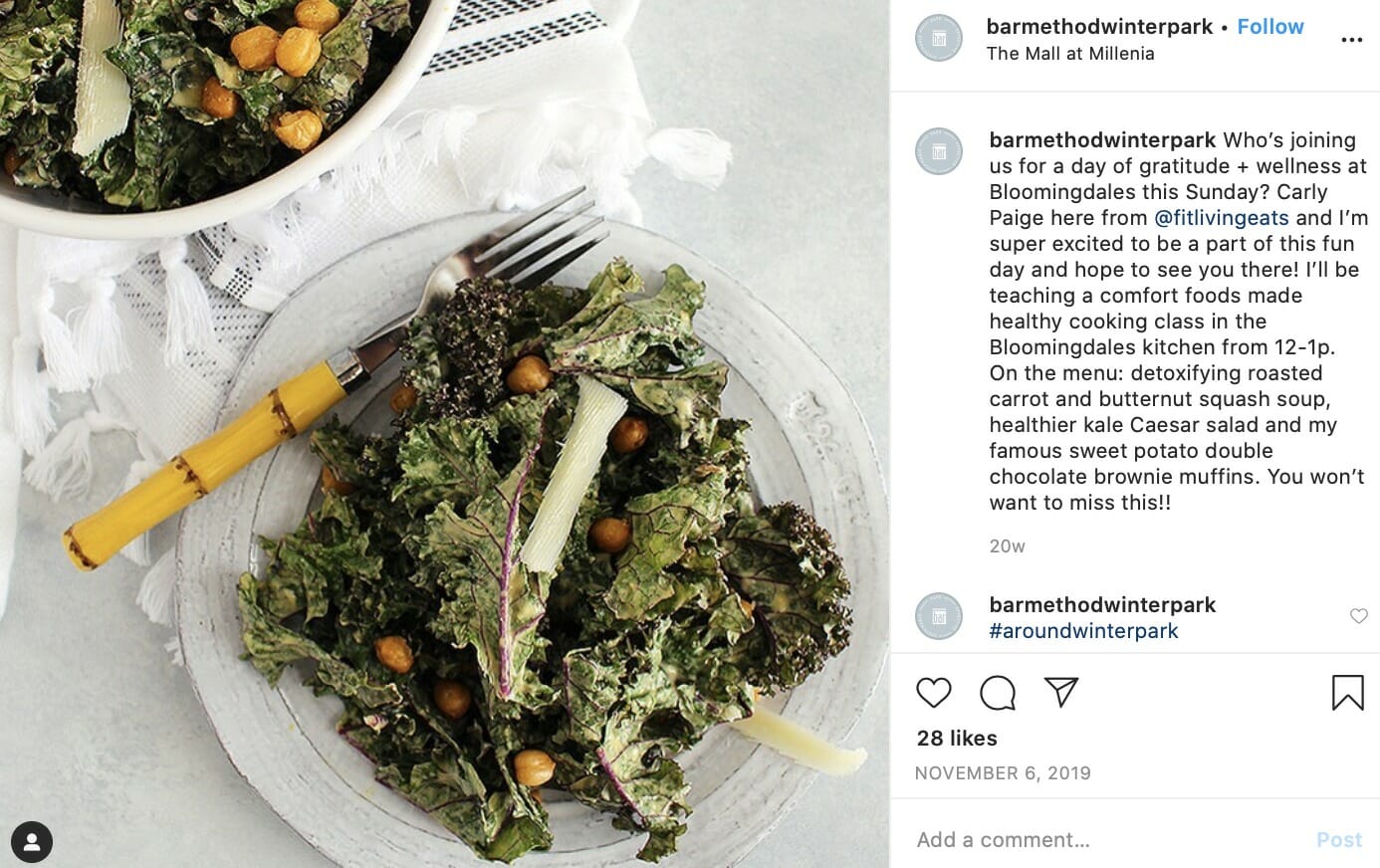 It's a win-win for both companies and for the studio members, and it works well because it's tailored to the specific audience, which increases the propensity for them to really engage with the brand.
A gym that was focusing on #gainz likely wouldn't want low-calorie, vegan recipes; their members are more likely to be interested in learning about finding the right balance of carbs and protein to increase muscle mass quickly.
Related Content:
* 3 Ways to Personalize the Customer Journey Experience
* 7 Segmentation Mistakes That Are Costing Your Business Money
* How to Use UX Testing to Improve Your Customer Lifetime Value (CLV)

You're Not Thinking Outside the Box
Thinking outside of the box is one of the most fun parts of engagement marketing! Finding new ways to create meaningful interactions with your audience will help you stand out, and that leaves plenty of room for originality.
If I were selling dog toys, for example, the standard marketing approach would probably involve creating educational resources about dog care, training and toys. This is effective, but something a little different can help you make a bigger impact.
BarkShop (the creators of BarkBox) created a pop-up shop in New York and invited dogs to come in and try out the dog toys in all their chewy, squeaky glory. This was not only fun for the dogs and the owners, but educational for the company: The dogs were fitted with RFID-enabled vests so BarkBox could track which toys were played with most. They took customer-centric to a whole new level.
Learn More: Attention Marketing: 10 Tips to Acquire More Customers
You're Forgetting the Emotional Aspect
Emotional engagement is one of the five types of engagement you can optimize your campaigns for, but plenty of brands still forget all about it, even if their mission itself is relatively emotion-based.
Finding a way to provide an emotional experience that actually resonates with your audience is key with engagement marketing.
Click To Tweet
TOMS, for example, has always been known as a caring, emotionally driven brand. When a customer buys a pair of shoes, another pair gets donated to a child in need.
That's great, and most people appreciate that, but they took things a step further to involve the customer in the charity work, a personal engagement that TOMS' customers had been asking for.
TOMS recently set up 100 virtual reality headsets so customers could see with their own eyes how much of an impact their purchases are making so that they can experience the joy of giving:
Conclusion
Engagement marketing can be a big undertaking, especially while you're in the initial stages of developing campaign ideas that will work for your brand and your audience. That being said, it's easily worth the effort.
When running engagement marketing campaigns, remember to watch your analytics carefully to assess what's working and why. Compare clicks to your landing page against attendance, for example, and track what people are saying online about you by using social listening tools like Mention. Ask for your customers' feedback, and see what they have to say. You'll learn a great deal about what experiences and interactions they value, and where you can go moving forward.