The last few years have seen a surge in the supply and demand of software as a service (SaaS) platforms. The industry is varied, ranging from video conferencing solutions to sophisticated customer relationship management (CRM) platforms, like HubSpot or SalesForce. 
One thing they all have in common is that they are software products used by the end user on the Internet. Another is that, just like any other business, SaaS companies need to market their products to find new leads and customers. This often includes cold email campaigns. 
A HubSpot report showed that the software industry saw a cold email open rate of just 20% — which means that 80% of cold emails from SaaS companies were never even read:
This leads to the question of how SaaS companies can create emails that not only connect with prospects but also get their customer value management off to a positive start. Ultimately, it comes down to writing an email that appeals to and answers the call of the person receiving it.
In this post, I'll discuss how to achieve this, but first let's take a brief look at how cold email campaigns for SaaS companies are different from those in other industries. 
Dive Deeper: The Fastest and Easiest Way to Increase Your Email Open Rates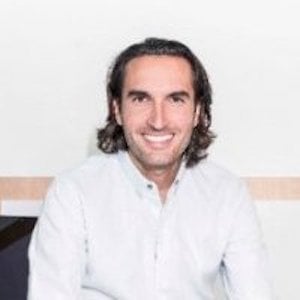 Yaniv Masjedi
CMO, Nextiva
Their expertise has helped Nextiva grow its brand and overall business
What Makes SaaS Cold Emails Different from Other Industries?
SaaS companies face many of the same problems that other industries do when it comes to email marketing. They still have to make sure their emails are delivered, for example. They also need to make sure people open their emails, read them, and — even better — click on the link they've provided.
One way that the SaaS business model stands out from other models is how they tend to go about attracting new customers. For instance, you would not find many retail businesses offering the use of their products free to use for a month — which is precisely what a lot of SaaS businesses do. It can be a very effective carrot to draw people in. After all, people love free stuff!
And although it might be relatively easy to get people to sign up for a free trial or demo, it generates no revenue until the prospect signs up for a paid package.
SaaS businesses should try to avoid the temptation of offering a trial straight away, instead using it as a closing tool where appropriate.
A lot of prospects will end up signing up for a free trial or demo before committing, meaning that there should then be a focus on educating them on the product — and not just how all the features work, but how it can make the prospect's life easier. This helps ensure strong customer value management and will ultimately get you closer to a deal. 
Even better, the nature of SaaS products means that the developer will have detailed information on how their products are being used on an individual level. This opens up marketing opportunities that most other industries won't have. SaaS businesses should recognize this and take full advantage of it.
Learn More:
* Vertical SaaS: The Future of SaaS Is in Niche Industries
* How to Get More Responses From Your Cold Emails
* SaaS CAC: A Guide to Customer Acquisition Costs

7 Steps to Get More SaaS Customers with Cold Emails
1) Gather Data and Understand Your Prospects
When it comes to cold emails, the first order of business is understanding who you're sending it to. You may already have a contact, a company name and a general idea of how your firm can help theirs. But sending an effective cold email requires you to go further, and an excellent place to start is recognizing what your prospects need.
The most obvious starting point is current clients or segments you already service. This will give you a broad idea of who may respond most favorably to your email.
Next, dig a bit deeper. Learn about the company and who they are:
What regions do they serve? 

How many employees do they have? 

Who are their competitors? 

Do they have an IT Team Department?

Do they have existing software platforms?

Startup or legacy brand? 

What's their growth rate or target for growth? 

Is anything impeding that growth?
Your specific data gathering can be as narrow or as broad as you see fit, but ensure that you develop a clear picture of who your target prospect is and their pain points by the end of the process. Most importantly, figure out how your solution will help them overcome it.
Once you have sufficient data, you can put it into a customer or buyer persona that will shape your cold emails. The deeper you dig for data, the more direct and consequential your message will be: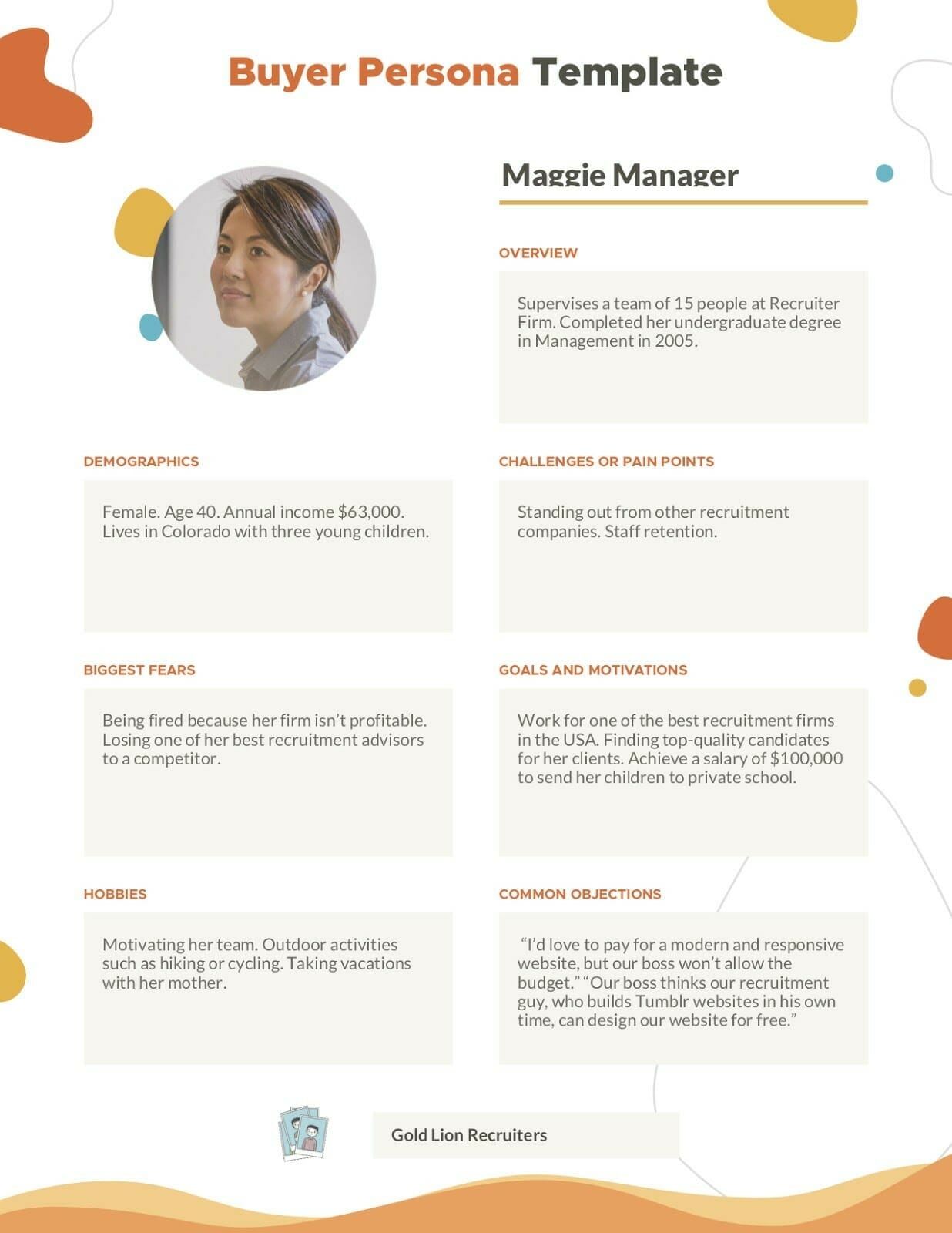 Learn More:
* 3 Steps to Increase SaaS Conversion Rates with Customer Education
* Top 10 Best Email Marketing Services
* How to Analyze Your Email Campaign Performance and Optimize It
2) Find the Correct Recipient(s)
Now that you've identified the type of person (i.e. job role) you want to target, you need to get their email address. But how do you find it? 
The good news is that software is available that will help make the task a lot easier than you might think. For instance, a tool such as Email Hunter make it easy for you to find the email you're looking for in a matter of seconds. The tool offers search options that include the most common email pattern and the ability to find all email addresses at a domain, which is ideal if you want to send bulk emails to particular companies.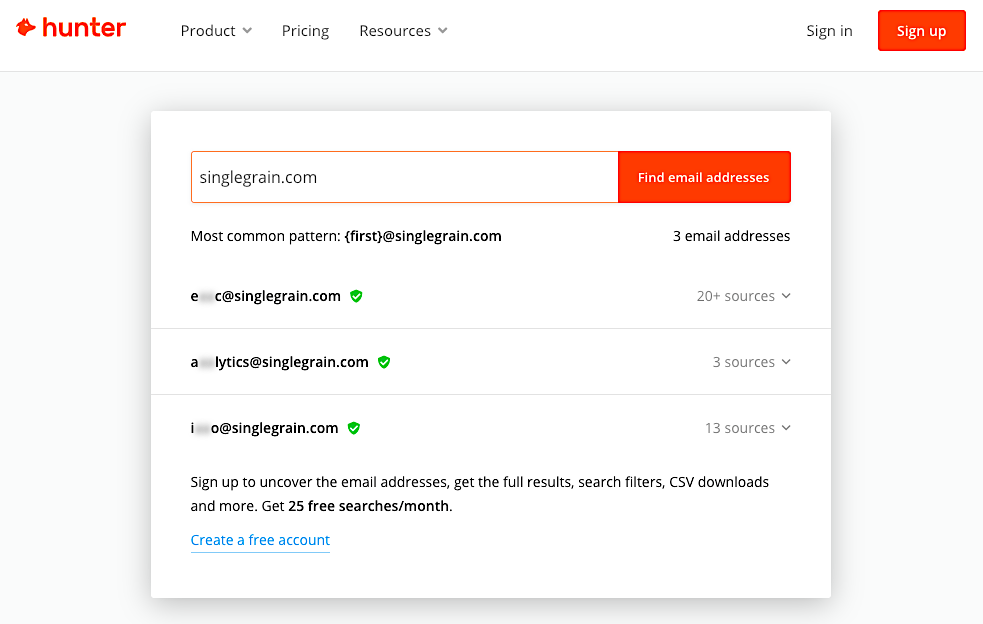 More targeted search options include the ability to filter by department or to search for emails by the name of the intended recipient. Just type in their first and last name along with the domain of the company they work for and you should get their work email address in a matter of moments. 
Email Hunter will also verify the emails for you by checking their deliverability. This will help to keep your bounce rate down and help ensure that your emails make it to the inbox of the people you are trying to reach.
Dive Deeper: SaaS Lead Generation: How We Improved Axure's Lead Quality Overnight [Case Study]
3) Make It Personal (Not About You)
Some sales individuals mistakenly believe that making it personal means focusing on themselves. While that may prove helpful in specific scenarios (namely, when you're past the cold email stage and building rapport), cold emails need to be about your prospect.
First, show you've done your homework and that your concern is for the email recipient's success. When you're digging for data and identifying stakeholders, check out their social media pages — Facebook, Twitter and LinkedIn for starters.
Look for nuggets of info you can use to break the ice of your cold email, whether it's about them personally (within reason, of course) or their company. Have they recently received an award? Published an article or blog post? Been recognized for something they, their team or their company achieved?
Personalization doesn't require much. Using an individual's LinkedIn page will yield a lot of information, and not just about their current job, but also where they attended school or any organization or charities they might support.
Verify names and titles. If you're emailing James Smith, VP of Marketing, first make sure that he does indeed go by James and not Jim. Next, check and recheck that their title is correct. While it may not matter to some, getting a person's current title correct at least shows you're referencing up-to-date information.
A tool like Clearbit Connect can be really helpful in this stage of the game: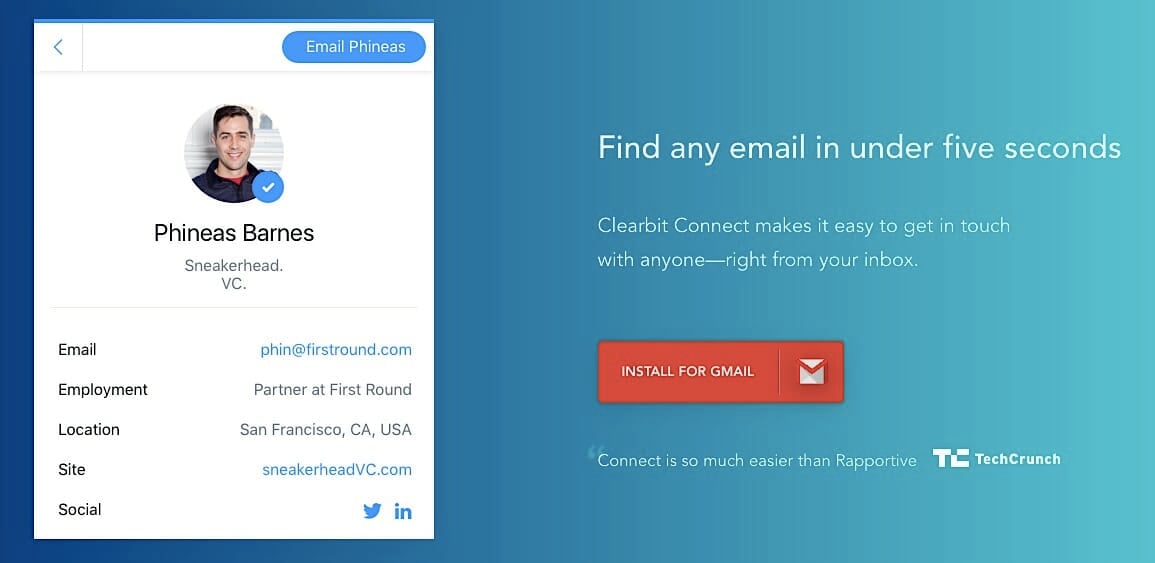 It allows you to instantly gather a large amount of data on any prospect, including title, email address, social profiles, and the contact info of other important people at the company.
Learn More: How to Use Personalization to Increase the Impact of Email Marketing
4) Prompt a Response
Arguably, the most critical aspect of your first email to a prospect is your call to action (CTA). Oddly enough, it's also the part of your communication that most benefits from being direct and straightforward. At this point, you're not trying to offer a free trial, generate a sale or even set up a demo. You just want to get on the prospect's radar yet respect their time and leave them with a good enough impression to take the next step.
Your main goal is to move the engagement process forward. Don't attempt to get an hour-long meeting or full-blown demos of your product or service. Instead, your CTA on a cold email can be as simple as a question. In fact, that's all it should be. Posit your CTA as a chance for the prospect to discover your brand's value in a timeframe that is manageable for them. Keep your CTA appealing, short and to the point.
Make it easy to answer with a simple yes or no and within a specific timeframe. Busy professionals appreciate not having to negotiate a timeline to discuss your initial cold pitch. Keep any requests to less than 30 minutes (shorter is better). Examples include:
Would you like to jump on a 10-minute call to discuss how we can increase your primary revenue streams?

Do you have 15 minutes to see how

our accounting software can do away with a lot of your menial tasks?

Can you carve out 20 minutes in your busy schedule for me to walk you through a short CRM demo?
Here's a good example of a CTA that is clear, direct, and actionable: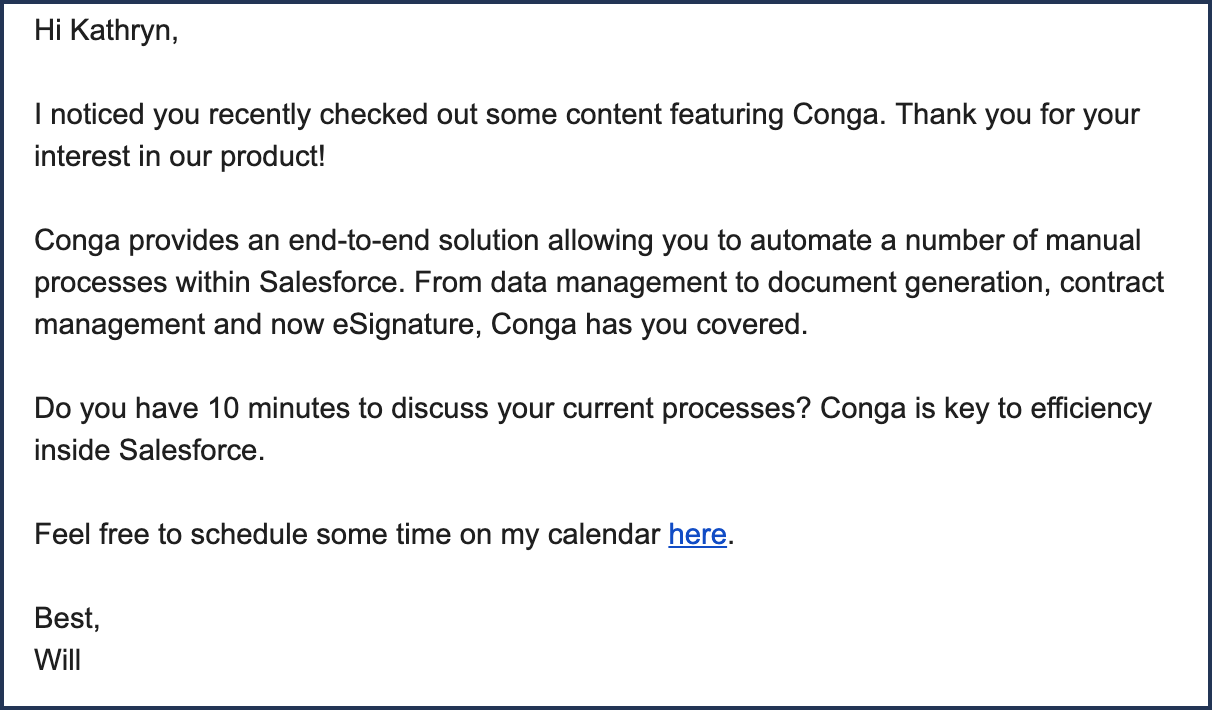 Your CTA (really, your entire email) is directed at achieving the next discussion point with your prospect. Even if it's a straightforward 10-minute phone call, then your email was successful enough to step from typing to talking.
5) Write a Great Email
This may seem very elementary, but writing a great cold email is key to getting it acted upon. However, excellent correspondence goes beyond getting your point across. Often lost in striving to create the perfect marketing or lead-generating email is clear communication that is easy to read and understand.
Cold emails, in particular, should be kept painfully simple. You want the recipient to read your message, like what you have to say, and trust you enough to respond and keep the dialogue going. That trifecta is easily achieved when there is no filler getting in the way.
Just as you would with an in-person sales pitch, writing a great email means honing your message. Ask yourself:
Is it straightforward and to the point?
Do you connect at a personal level early in the email?
Do you identify a prospect's pain points and demonstrate the value your brand brings to the table?
Are you directing your message to the right recipient?
Is there a clear call to action?
One thing that will help you write killer cold emails that get clicks is to remember the AIDA model: 
Attention

– Get the attention of the recipient. Ask a question along the lines of "Would you like to automate your accounting tasks?" or "Are you interested in reducing staffing costs?" Obviously, the question you ask will depend on the nature of your SaaS product, but the general idea is to pull them in with specificity so they continue reading. 

Interest

– Tell the reader something that helps them get interested in what you are offering. One good way to achieve this is to provide a factoid that explains how other companies are benefiting from your product. Business owners are often interested in anything that might be giving the competition an edge.

Desire –

Get the reader thinking "I want these benefits!" Will your SaaS product help reduce staffing costs by x%? Let the reader know! Will it make the workload easier, improving productivity? This is something that will help people realize that they want what you are offering.

Action –

Encourage the reader to take action. Tell them to click on a link to arrange a chat with you or for more information. Make your CTA compelling; make the reader feel as though they don't want to miss out. If they don't click now then they are unlikely to return to your email again, so create a sense of urgency. Use the word "today" or "now" to encourage an action right away. It can be surprising just how easily people will follow straightforward instructions. 
Once you're clear on what you want to say and have refined the message, proofread it. And then proofread it again. Read it out loud. Read it to someone else and have them read it back to you.
A great, well-written cold email should read effortlessly because your writing and research skills reflect you and your brand's attention to detail.
Learn More:
* 11 Best Cold Emailing Tools to Help You Quickly Close Sales Deals
* 9 Cold Email Case Studies with Great Reply Rates
* 7 Segmentation Mistakes That Are Costing Your Business Money
6) Segment Your Emails
Once you've constructed your baseline emails — honed your pitch, personalized the email, ended with a compelling CTA— you should segment it to allow for a more targeted approach to prospects.
Segmenting your emails makes them easier to manage. More importantly, it lets you drill even further into prospect personalization, which carries a higher chance for response. Whether it's based on company size, the individual or job title, it helps you build more direct and more time-saving processes around your outreach.
You can make your segmentation as narrow as you deem necessary. For example, if your brand provides management software for apartment communities, there's an infinite number of segments you can make direct appeals to, such as:
Management companies
Private ownership groups
Communities in specific states
Residential apartments
Student housing
Luxury communities
Apartments that operate in rural areas
The list can go on. And that's just one very specific industry, too. This process also helps you figure out your ideal prospects. One segment may possess a higher response rate than another, indicating that more resources should be dedicated to that client profile.
Jordie van Rijn of Emailmonday offers some helpful "pillars" you can use to segment your cold emails: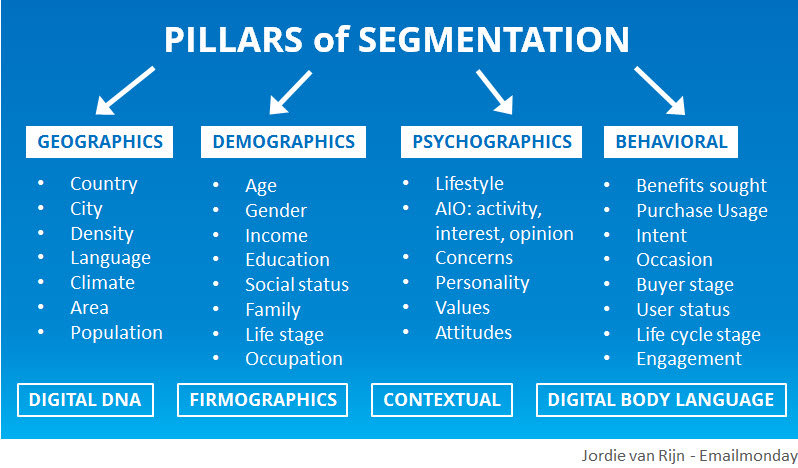 As part of the segmentation exercise, you might consider full sales automation to address the more tedious aspects of the cold email and sales funnel process. That way, you maximize your efficiency and keep your sales reps focused on growing the business.
If you use email marketing software like MailChimp, it's easy for you to segment your database according to certain criteria. In fact, MailChimp users get access to pre-built segments categorized by some of the most commonly used segmentation pillars. 
Another option is to use a CRM platform like Salesforce or Pardot. These platforms offer many of the features that email marketing software does, with additional features including advanced marketing automation tools.
Learn More:
* Is Netflix a SaaS? 25 Examples of SaaS Companies that Are Rocking It
* What Does ACV SaaS Mean in Marketing?
* LinkedIn Ads for Enterprise B2B SaaS: The Only Guide You'll Need
7) Follow Up
Finally, don't "one-and-done" your cold emails. If a recipient doesn't respond the first time, don't take it as an automatic rejection. People are busy; inboxes get full. Some of your best clients may grow out of a little extra effort.
To best manage your cold emails, build a timeline for sending out follow-ups until the prospect responds or it's time to move on. It may even prove helpful enough to prompt the prospect in other ways before sending your follow-up email.
A follow-up schedule might look like this:
Initial cold email
Request to connect with them on LinkedIn (or like one of their posts)
Send follow-up email
Reach out by phone
Send final email
Depending on the businesses you're appealing to, adjust accordingly. Anywhere from three to seven engagement attempts are optimal. It's persistence without being a pest.
In our example, if after the fifth attempt to connect fails, then it's time to move on and focus on the next potential lead. If you do get a hit at any one of the follow-up engagement points, act upon it immediately. If it proved difficult connecting the first time, it might be even more challenging if you delay capturing their return inquiry from a follow-up.
Much like your cold email, write specific, targeted follow-up emails. Reiterate your original value points, add additional personalization, and include a different CTA (instead of 20 minutes, ask for 10).
Here's an example of one that is short and to the point but also reiterates the value offered: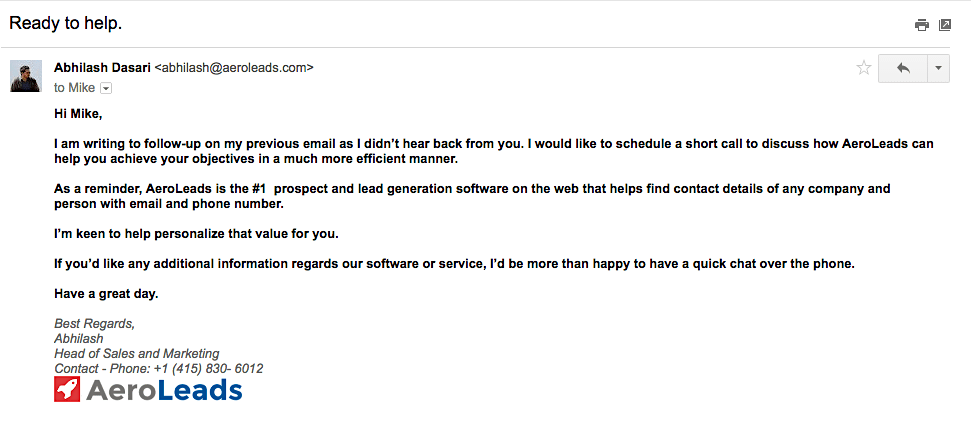 You can also opt to automate the process and send out your follow-ups at specific intervals. As we mentioned above, platforms like MailChimp, Salesforce and Pardot offer marketing automation features, including sending out emails according to certain criteria. They can even give you information, such as whether or not the email was opened, helping you to respond in an appropriate manner.
5 Cold Email Templates You Can Use
Here are five cold email templates to use in your own cold email outreach.
Template #1: The Initial Outreach
Hey [first name],
I know you're busy so I'll keep this short. I wanted to reach out because [relevant reason for connecting, like referral, came across website, etc].
[Name of platform] is a software platform that will help [name of prospect's company] [achieve big goal]. Specifically, it allows you to:
Benefit/feature 1
Benefit/feature 2
Benefit/feature 3
Are you available for a quick chat this week to talk about how [name of platform] might help you [big benefit]? Just shoot me back a quick reply and we can get the ball rolling.
Cheers,
[Your name]
Template #2: The Follow Up
Hey [first name],
Just wanted to touch base to see if you saw my previous email regarding how [name of platform] might be able to help you [big goal/benefit].
I'd love to quickly show you how [prospect's company] could:
Benefit 1
Benefit 2
Benefit 3
Do you have a few minutes to chat this week? Here's a link to my calendar if you want to schedule a call [calendar link].
Cheers,
[Your name]
Template #3: The Redirect
Hey [first name],
I haven't heard back from you about using [name of platform] to [big benefit].
I realize, however, that may not be your area of focus.
Could you put me in contact with the person responsible for [business goal]?
Thanks!
[Your name]
Template #4: The Voicemail
Hey [first name],
I just left a short voicemail about [subject].
Is there a better time to chat about how [name of platform] can help [prospect's company] [achieve big goal]?
If so, just let me know and I'll get it on my calendar.
Also, you can call me directly at [phone number].
Cheers,
[Your name]
Template #5: The Breakup
Hey [First Name],
I've tried to get in touch with you several times regarding helping [prospect's company] [achieve big goal], but I haven't heard back from you.
I won't continue to bother you, but I want you to know that if your needs change at any point, I'll be happy to help you.
Just shoot me an email or call me at [phone number] and I'll be there to help.
Cheers,
[Your name]
Dive Deeper: Best SaaS Marketing Agency: Top 5 Choices for 2023
Final Thoughts
There's no great mystery to cold emails. But it does require time and due diligence to understand who your prospects are and how to write the best cold emails to garner their attention.
While the basic premise remains more or less the same for all companies, there are some practices that are unique to SaaS companies, giving them opportunities others don't have. Recognize those opportunities and make the most of them — doing so can make a considerable difference to your bottom line.
After all, email is not dead. The better you get at it, the more long-term success you'll have with generating new customers.
Hopefully you learned how to get more SaaS customers with cold email, but if you just want a SaaS agency to do all the work for you, click the orange button below!