Is your company starting a new advertising campaign? Or maybe you're interested in expanding your existing online ads. If so, you will need to have a better understanding of the different types of online advertising to attract the right consumers and convert leads.
From native to display ads, this article will break down the different types of online advertising you may wish to consider for your marketing plan.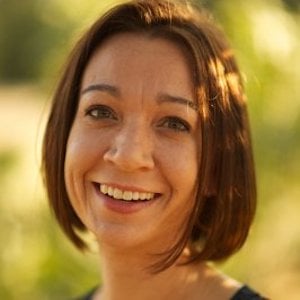 Kim Cooper
Director of Marketing, Amazon Alexa
Single Grain enables us to increase our impact without increasing our headcount
Display Ads
As the name suggests, display ads are visual. The best examples of this type of advertisement have compelling imagery that will make viewers want to click on them. Over the last few years, display digital advertising has evolved. Advertisers can include more enticing elements like sound, rich text, and animations. They can also be in video format.
Brands can also include information such as demographics and industry in their display online advertising campaign to ensure their ads appear on relevant websites.
Types of Display Ads
When creating display web advertising, several different ad types can be used, each with its own benefits to your marketing efforts.
Some display ads are more popular among advertisers than others. Here are the most frequently used options to help you decide which to incorporate into your marketing plan.
Note: We will discuss some of the most prominent ones, such as native ads, later in the article.
Banner Ads
This is one of the most common types of display online advertising. Banner ads usually appear on the top, bottom, or sides of a web page. They combine imagery and text to promote products and services, though more advertisers are switching banner ads to video format.
Banner ads are available in different sizes and orientations. Viewers most commonly see them on news websites, blogs, forums, and email platforms.
Pop-up Ads
As the name suggests, these ads pop up on a screen and include a call-to-action. The CTA varies, depending on the online advertising goal; they can either compel users to sign up for a service or newsletter, learn about a product or brand, or purchase products.
These pop-up ads appear as small boxes on a web page, and viewers can choose to take action or click off the ad. They usually appear after a viewer spends several seconds on a web page.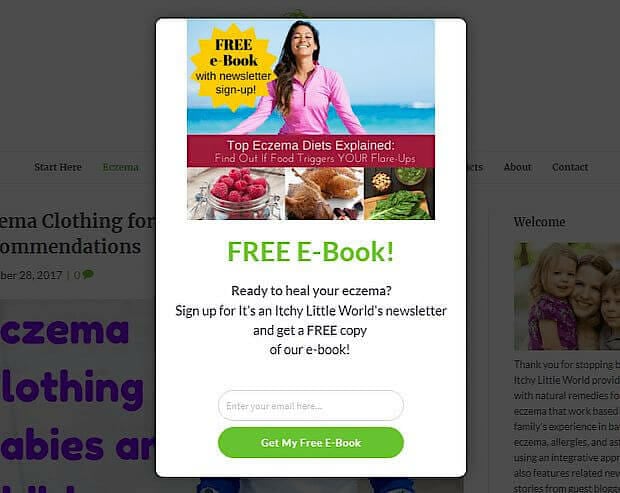 Interstitial Ads
Interstitial online advertising is popular for mobile ads. They appear in apps, such as games, and appear during transitions. Interstitial ads are a solution for freemium apps, where users can opt to watch an ad instead of paying for the app. This way, app owners can still generate revenue on mobile devices.
For example, if users are on an app such as DuoLingo, an interstitial ad will appear between lessons: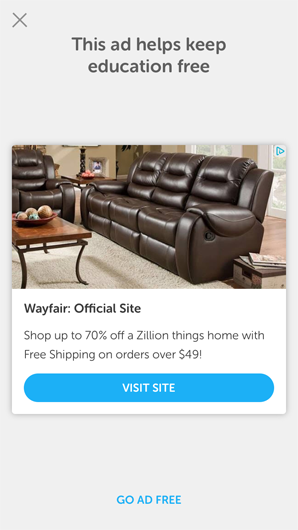 These ads can be in video or image format and usually include text. Different ad platforms can optimize your ads for specific apps, so you can reach your target audience and convert more leads.
Interactive Ads
Interactive online advertising has features that entice users to engage with the content. This can include playing a game, dressing a character, or filling out a survey.
These ads are most beneficial for promoting products with direct interaction. Games are one of the best examples; users can play the game and click the mobile advertising link in the ad to download the game.
Dive Deeper: 7 Key Benefits of Using Responsive Display Ads
Ads for Search Engines
Search ads are one of the most successful types of online advertising, especially if you invest in Google Ads.
This is a form of search engine marketing where you pay for the top result on SERPs, positioning your brand to be displayed to those searching for relevant keywords or phrases.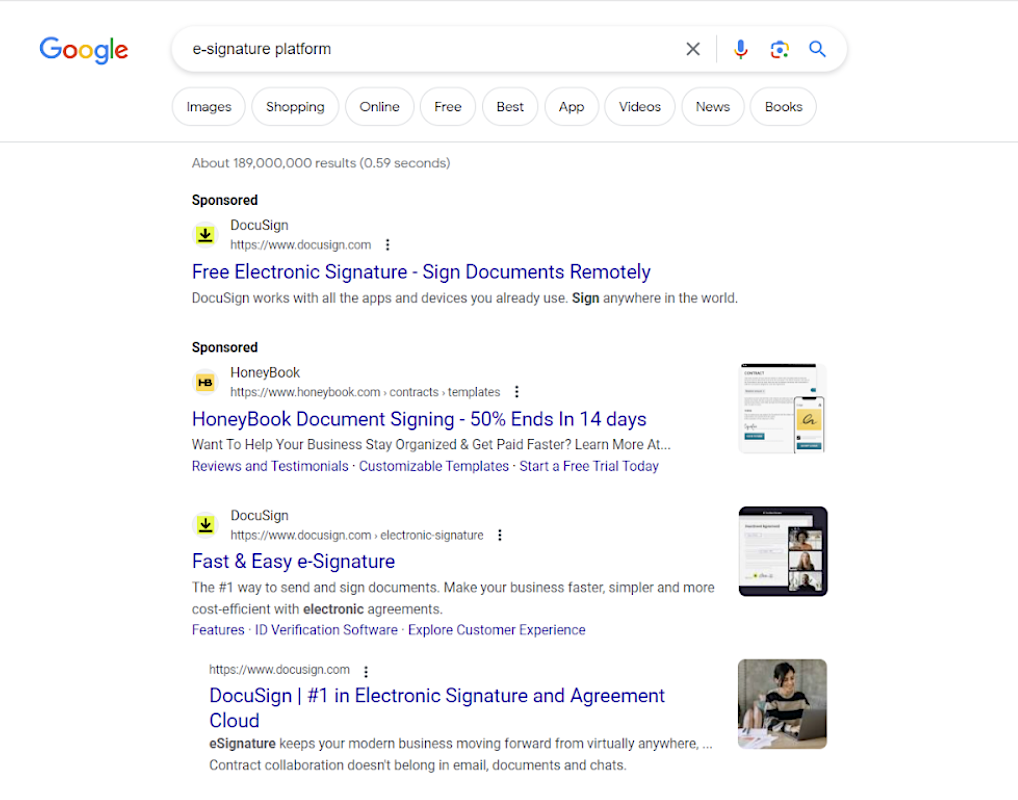 Google Ads have an average conversion rate of 4.40%. What separates search ads from other types is you're targeting users who are ready to act. They're actively searching for products/services or even recommendations.
Search ads appear at the top and bottom of the SERPs, positioning them so users are likelier to click the search ad and act. Plus, search ads are an easy way to reach your target audience. You're investing in keywords your audience searches for, tapping into their wants, needs, and pain points.
This ad type is effective for desktop and mobile advertising:
59% of users perform searches on mobile devices, whereas desktop search usage is 39%.
Types of Ads for Search Engines
When most people think of search ads, they think of text online advertising. These appear on the top and bottom of search results for both desktop and mobile advertising.
Advertisers bid on specific keywords to ensure that your ad appears when users search for those terms. They can be branded terms or general inquiries.
Google Ads also offers display options for e-commerce companies. These ads appear when users enter a query that indicates a potential purchase opportunity, such as "best printers," and Google will display sponsored products. Users can either click on the individual products or select "More on Google" to visit the Google Shopping listings (more on that next).
Google Shopping Ads
As stated previously, Shopping is a Google Ads section where it displays products from all over the web, depending on your search terms and the product's popularity.
This feature is available on desktop and mobile devices. It is free for sellers, but e-commerce companies can invest in Google Shopping online advertising campaigns to improve the visibility of their items.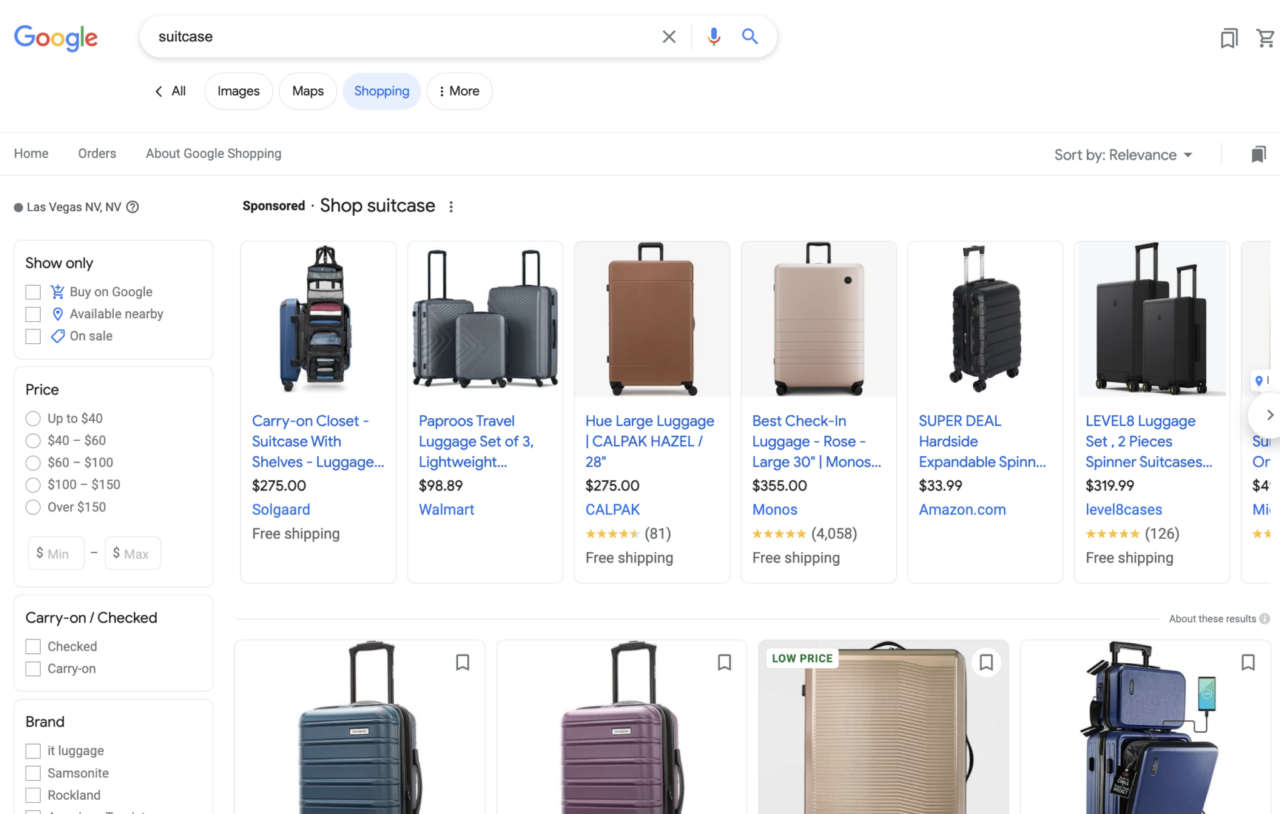 Unlike traditional search paid advertising, Google Shopping ads are visual. They feature an image of the product with the headline, price, and other benefits, such as "free shipping." The sponsored products appear before the organic results so that shoppers can browse these products first.
Brick-and-mortar stores can also take advantage of Google Shopping's local features. Bidding on local keywords, including those featuring a city or zip code, will draw more foot traffic into your store.
E-Commerce Ads
Google isn't the only platform that offers online advertising features for e-commerce companies. Nearly every major e-commerce marketplace offers ad space for sellers, whether you promote specific products or your brand as a whole.
E-commerce advertising offers many benefits to sellers for both desktop and mobile devices. With the right retargeting strategy (which we will cover later), you'll continue seeing a healthy flow of leads down the sales funnel.
These ads are also an effective search engine marketing method. Many popular e-commerce platforms like Amazon and Etsy have powerful search engines. Optimizing your listings for e-commerce SERPs will continue putting your brand in the face of consumers seeking products like yours.
Types of E-Commerce Ads
Sellers can focus their e-commerce online advertising strategies on different platforms and create the types of ads that these marketplaces allow.
Some examples of e-commerce marketplaces perfect for ad campaigns include:
Many of the online advertisements we will mention apply to alle-commerce campaigns regardless of the platform, but it's best to tailor your advertising strategy to the specific platforms.
For example, Amazon is one of the most diverse marketplaces for advertising. They allow numerous advertising opportunities, such as search engine, video, native, and display advertising.
However, eBay only offers three types of ads: display ads, classified ads, and promoted listings.
Dive Deeper:
* How to Improve Your Amazon Ads to Increase Sales
* 10 Best Facebook Advertising Strategies to Drive More Revenue
* The Power of Social Shopping on Instagram (and How to Sell More)

Local Ads
Brick-and-mortar store businesses also have a major opportunity with online advertising. Since 46% of Google search engine results are for local information, these businesses can increase visibility and foot traffic with a local online ad.
With local advertising, small businesses and stores can promote their products/services and entice their local market to support their business.
Focusing on local advertising also helps brands allocate their marketing budget strategically by focusing their ads on individuals in their geographic area that may visit their physical location.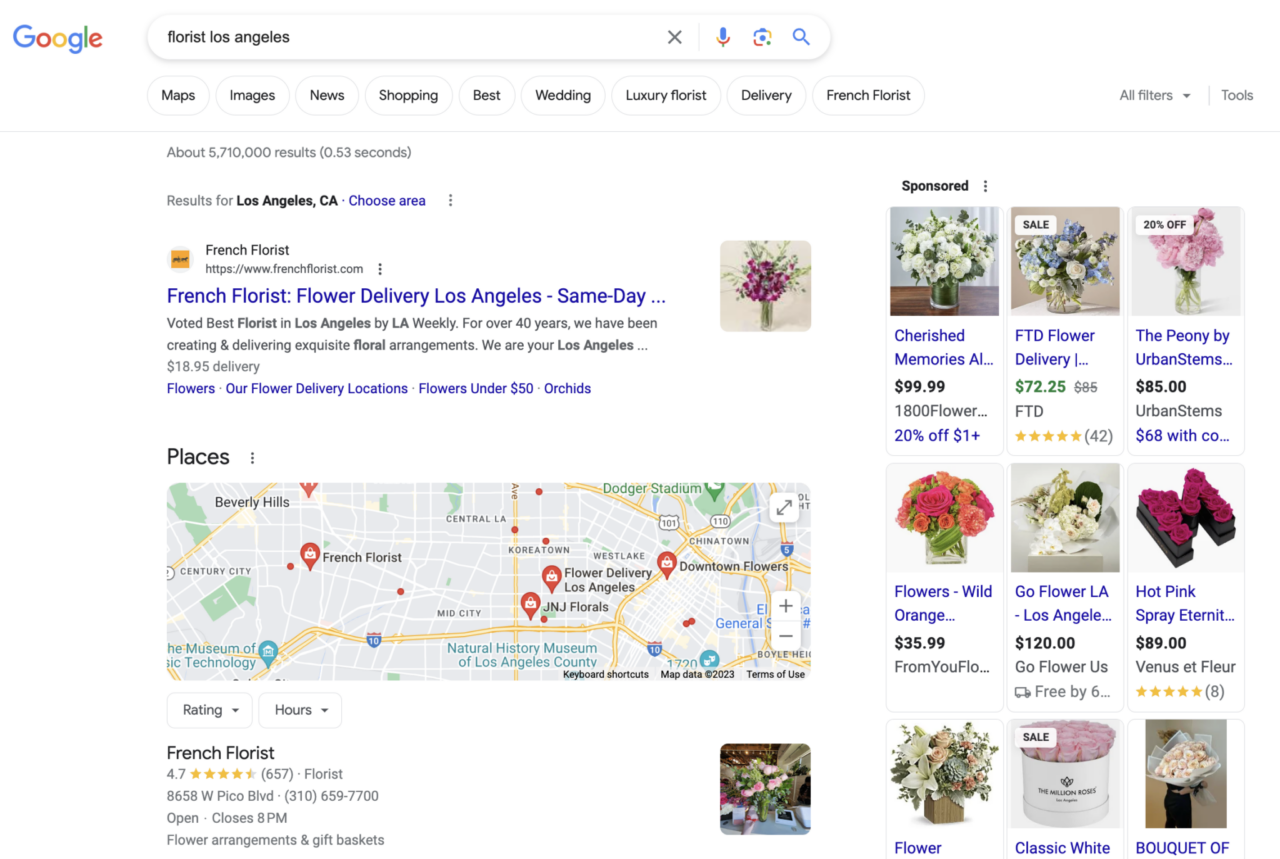 Types of Local Ads
Businesses can use most main online advertising types to target their local demographic. These include display, video, and search engine ads.
For example, if organic search engine optimization isn't generating your desired results, your brand can invest in local SEO ads.
While you can create a general promotion, such as this florist in Baltimore, you can also promote a hosted event. Local businesses can collaborate with influencers in their area to draw more geo-targeted traffic.
Retargeting and Remarketing
Retargeting is the act of advertising to consumers who have already interacted with your business: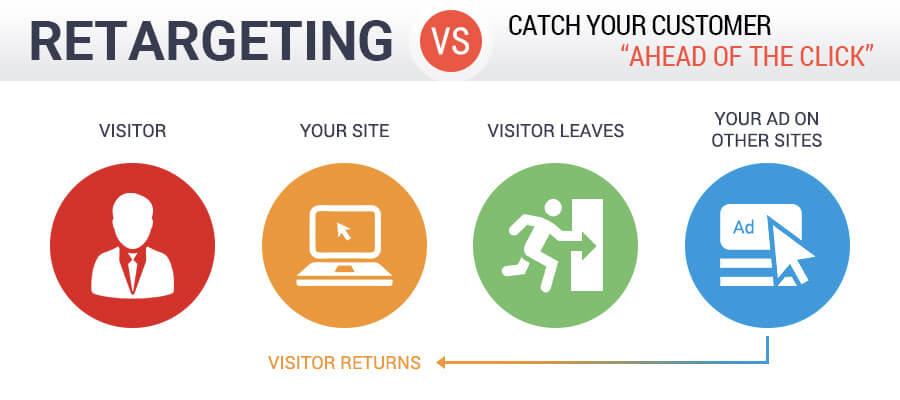 Ad retargeting comes with a 0.7% CTR, and website visitors who see retargeting ads are 70% more likely to convert.
This type of online advertising also gets confused with remarketing – when you target customers who previously shopped at your e-commerce store or are current subscribers (such as for SaaS companies). These advertising strategies are very similar, and businesses can use both in their campaign.
The main reason why retargeting works is you know more about your audience, so you're more likely to convert them. Plus, your customers are already familiar with your brand, so they move down the sales funnel faster.
To set up a retargeting campaign, you must begin with your customer demographics. Pixel-based retargeting is one of the most common techniques. Pixel is a piece of Javascript that collects first-party cookies. This way, you only use customer data for your own marketing needs.
You can use this data to plug into different advertising platforms and social media.
Companies can use these different advertising formats when creating a retargeting or remarketing strategy, with display being the most popular option.You can bid on keywords that have generated past sales to target your advertising efforts further.
Dive Deeper: How to Easily Set Up a High-Conversion Facebook Retargeting Campaign
Video Ads
Last year, video ad spend totaled nearly $75 billion USD.
There's a reason why video ads are highly successful:
To create videos for internet advertising, keep them short:
Your video should be aesthetically pleasing and match your branding and niche. Write a script that speaks directly to your target audience's pain points and offers a solution.
For best results, include on-screen captioning:
80% of viewers are more likely to finish a video with subtitles.
Most viewers prefer watching videos with the sound off, and reading the captions allows them to retain all information in the video. Captions are also more accessible to the deaf/hard-of-hearing community and to second-language learners.
Keep the music light-hearted if your video has sound, and ensure your actors speak clearly.
Dive Deeper: 8 Benefits of Video Ads: Why You Need Them in Your Advertising Strategy
Social Media Ads
Social media platforms are one of the best places for internet advertising:
60% of the world's population is on social media.
But this isn't the only reason brands should invest in social media online advertising. Many social media platforms offer different tools to target your audience based on core demographics, such as gender and age, as well as other aspects, such as education, job title, interests, and past purchases.
Some tools also provide additional features, such as A/B testing. For example, Meta offers this function, ensuring that businesses use the most converting advertising method, resulting in an exceptional ROI.
Types of Social Media Ads
Brands can run ads on nearly every social media platform, including:
These platforms offer a variety of online advertising methods to better target your prospects.
Facebook is arguably one of the most diverse; brands can post ads in the form of videos, GIFs, carousels, stories, display ads, and more.
However, some social media platforms are more restrictive with internet advertising. TikTok and YouTube ads are good examples – since these are video platforms, it's best to stick to video advertising.
Should brands use all these social media platforms?
To improve your ROAS, stick to the social media outlets that your target consumers use.
For example, if your company generates more from B2B sales, you'll have more success investing in LinkedIn advertising. 40% of B2B marketers say LinkedIn is one of the most effective channels for driving business leads.
Dive Deeper: Social Media Marketing for Business Owners: How to Get Started in 2023
Native Ads
Native ads blend in with the other content, making them look more like organic posts. The best examples of native online advertising are suggested posts on news websites and blogs: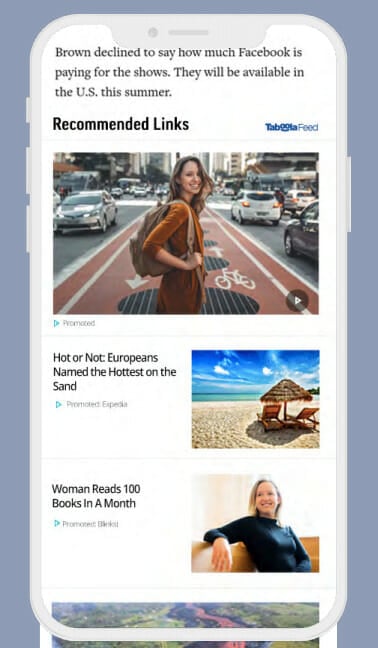 These ads also appear on social media feeds and stories. They look like organic posts, making users feel compelled to click on them.
This type of advertising offers many benefits to businesses and publishers. Publishers can optimize their websites for ads without sacrificing user experience or their existing web design. Unlike pop-ups and banners, native ads are non-disruptive and help to combat common advertising issues, such as ad blocking.
Many platforms optimize native ads for demographics, industries, and niches. This means your ads will appear in front of the right audience.
Since these ads blend into organic posts, 75% of web visitors trust native advertising.
There are some downsides to a native ad strategy. The FTC has strict requirements for this type of advertising. They must have a sponsored tag, and the messaging must reflect it's an ad.
Plus, a native ad campaign can be costly. Businesses can spend as much as $1,000,000, depending on several factors. Your campaign will be more expensive if you post your ads on websites with a high DA and if the publisher has a lot of competition. Reaching certain audiences and geographical regions can also come at a higher price.
Dive Deeper: 9 Types of Online Advertising Techniques to Elevate Your Marketing
Use the Different Types of Online Advertising in Your Campaign
With all the competition online, attracting an audience can be challenging. Organic tactics, such as search engine optimization, may not convert enough leads to meet your business needs. This is why many companies use online ads to dominate the competition and increase brand awareness.
There are many types of online advertising that you can include in your campaign. Native and display ads are perfect for featuring your brand on different websites, while advertising on social media and search engines is better for targeting a specific audience.
Businesses in specific niches, such as e-commerce, can also post their ads on relevant marketplaces to convert more leads.
Look through all these ads and include the ones that will best target your audience and increase your ROI.
If you're ready to level up your business with effective online advertising, Single Grain's paid ads experts can help!👇