The Power of Social Shopping on Instagram (and How to Sell More)
Here's one thing we all can agree on: Every business aims at gaining new customers (or keeping existing ones) to increase the sales of its products and services.
But people don't care about your brand and product until you can solve their problems or satisfy their needs. Before making a purchase, 36% of customers search for information about your product on social media.
What's more, the majority of users follow brands on social media to better understand their products, which also means they are ready to buy in-app, according to a Marketing Week report: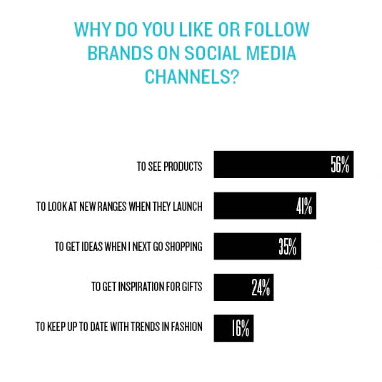 Shopping on social media is getting more and more popular, so brands need to offer an easier experience for customers. Thus, companies need to start selling products directly through social media networks with social shopping.
What Is Social Shopping?
Social shopping, also known as social commerce, is an e-commerce method that involves customers' friends in the shopping experience. It also allows social media users to buy products in-app with the help of business-specific features like product tags, shoppable stickers, 'Shop now' action buttons, etc.
With over 87% of people claiming that social media platforms help them decide what to buy, isn't social shopping the future?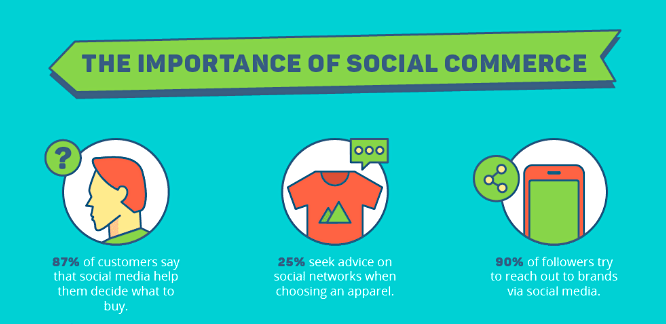 Dive Deeper:
The Rise of Social Shopping on Instagram
Instagram is getting more and more popular among marketers at a rapid pace. As specified in the eMarketer study, the number of marketers who use Instagram for business has grown from 53.2% to 73.2% over the last three years, with a continuing rise predicted:

Brands should sell more on Instagram because:
For companies, this means that the possibilities for selling products are endless.
Back, Instagram announced shopping on the platform to improve the shopping experience for their users. Today, there are many Instagram shopping features that help businesses sell products directly on the platform.
So, want to sell on Instagram? Check out four proven ways to make the most out of Instagram social shopping.
4 Proven Ways to Sell More on Instagram
1) Sell Solutions, Not Products
No matter what your product is, it's likely that there are some nearly identical options on the market. This means that customers can choose from a great variety of products, so they don't care about your product until it can prove that it solves their problems. Thus, successful companies need to focus on selling solutions if they want to stay one step ahead of competitors.
Educate Your Followers
When looking for products, customers want to find something that can fulfill their needs. Thus, companies need to understand their consumers' pain points and sell the desired outcome. Once your content helps followers find solutions, they trust you, which means that your company becomes the number one option when it comes time to making a purchase.
For example, the cosmetics brand Bali Body knows that its customers have many questions about the products before buying them. Thus, the company has decided to educate their Instagram followers. Grouping Instagram Stories into Highlights, Bali Body answers customer concerns before they even ask: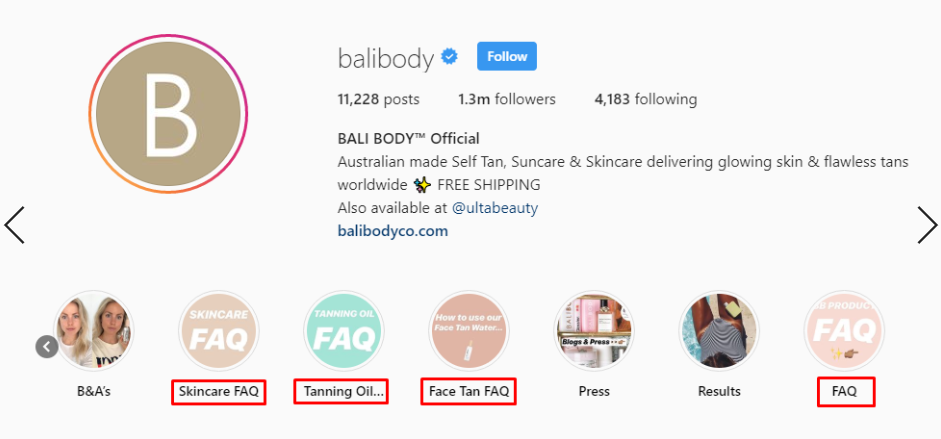 What's more, the company uploads educational videos to its IGTV channel to teach its followers about product features and niche trends. Sharing useful content helps them gain authority and credibility, and therefore attract loyal customers: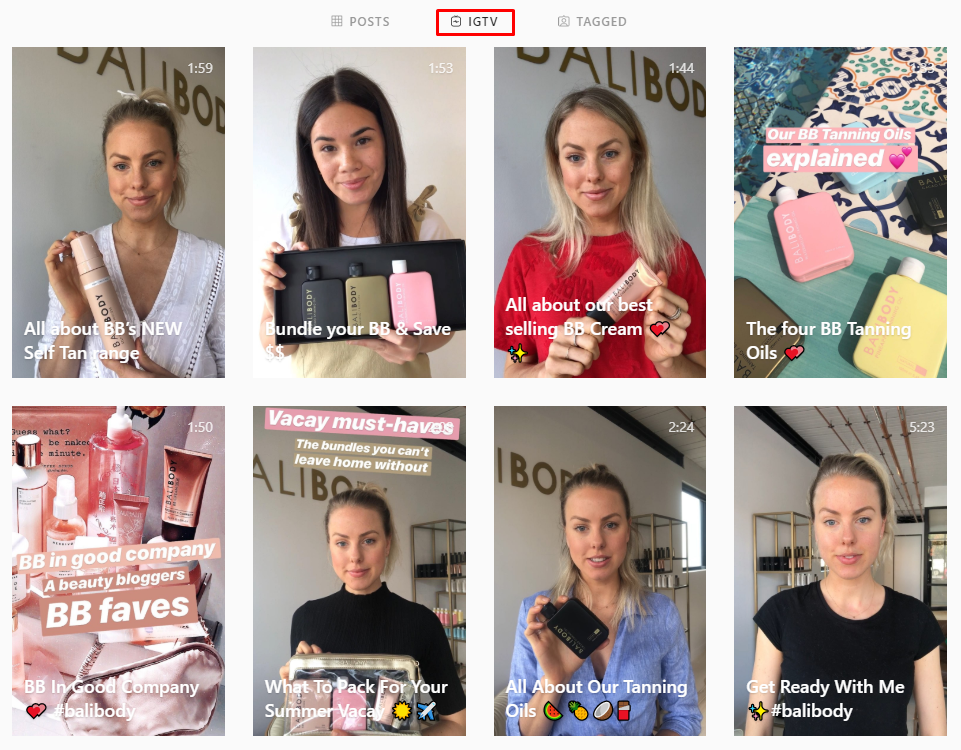 If you want to grow your brand with IGTV and be recognized within the industry, think about posting the following videos that can prove your niche expertise:
Product reviews
Unboxing
Expert roundups
Niche trends and tips
Tutorials and how-tos
Use Lifestyle Photos
Modern people don't trust ads: 64% of them find ads to be annoying and intrusive. For brands, this means that keeping a focus on your product won't help to get higher sales. Instead of bombarding followers with advertising content that is focused on the product, put your customers first and let them be the hero of your promotion with lifestyle photos.
Want to know the best part? Lifestyle photography helps to sell more.
Let's take a look at an example from H&M. The company publishes lifestyle photos to hint at the kind of potential life their customers could have, and it works well. Since this photo has gained over 130,000 likes, it proves that this type of image attracts followers' attention: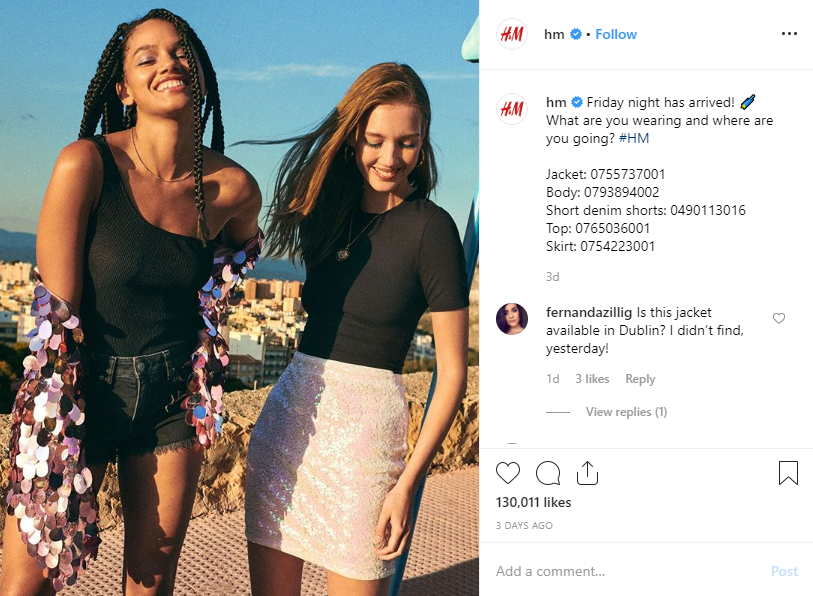 Although the image shows brand products within a styled scene, it looks authentic and non-promotional. However, the company writes an informative caption to help interested followers find featured products online.
Dive Deeper: Growing Your Brand With IGTV: A Complete Guide
2) Leverage Social Proof
Today, it doesn't take much time or effort to learn more about a product before buying it. In fact, 91% of customers read online reviews to find out more about the product and make a purchase decision. So if you want to start selling on Instagram, you also need to leverage social proof.
Share Reviews
The more people choose your product, the more other people want to give it a try. For brands, it's important to share what other people think about their product, so they need to encourage customers to give their feedback.
If it's difficult for you to find and post customer testimonials, you can monitor brand mentions to see whether your brand has been featured in magazines or blogs. For example, Moi Skincare is often seen in different beauty magazines, which shows that it's worth customers' attention. The company shares this information with followers as social proof: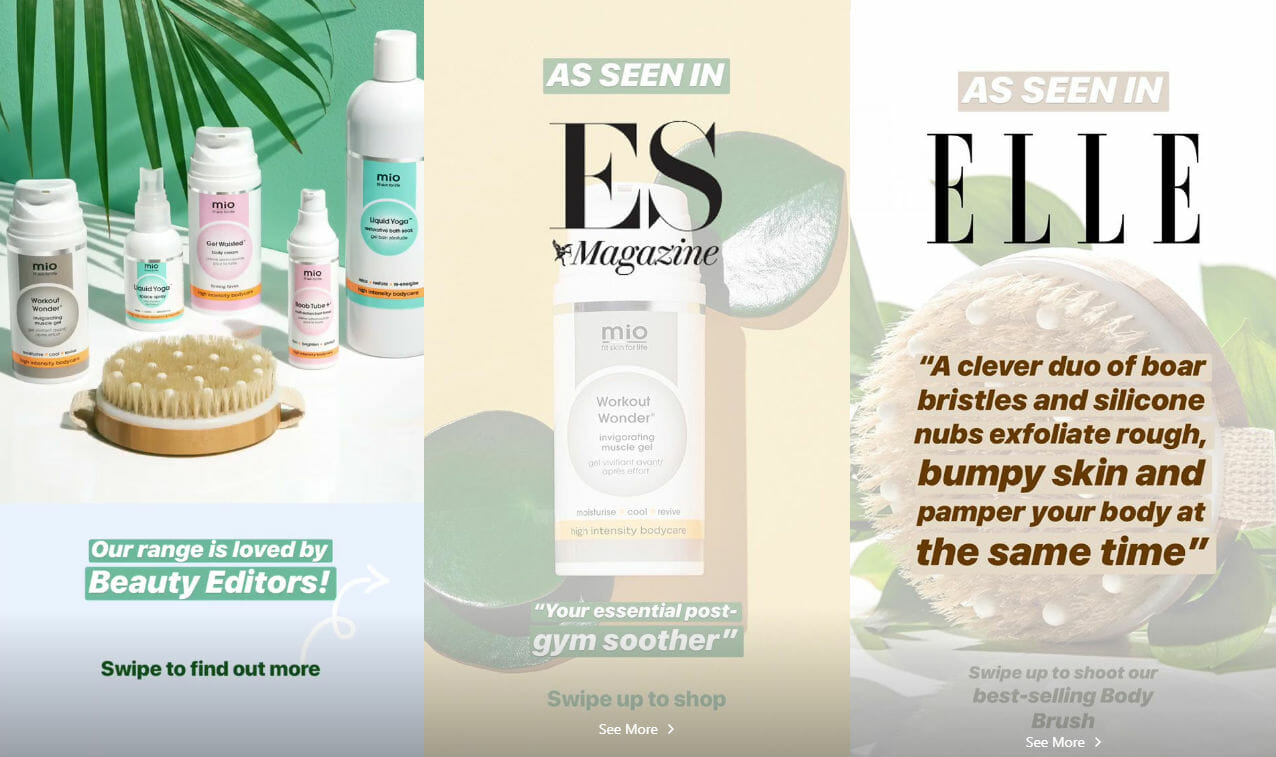 Since people want to read online reviews, it's crucial for businesses to ensure that their potential customers can get this information on Instagram, too. Here are some ideas on how to share reviews:
Turn customer feedback into social media posts
Feature your loyal customers and their stories
Post what other companies say about you
Post User-Generated Content
Living in the digital era, customers love shouting their experiences on social media to inform people about what they can expect after buying your product. And if your customers are satisfied with your product and service, it can help boost sales.
So wouldn't it be great if you could turn your customers into salespeople? Encourage them to share user-generated content (UGC).
With user-generated content, customers spread the word about your company and you get new images to post on your brand's Instagram page. Since people want to feel valued, they will create UGC for the chance to be featured on your business account.
Let's take Converse, for example. The company features its customers with a short bio about them. Converse uses their branded hashtag #InMyConverse to gather UGC photos, so everyone can post a photo for a chance to get attention from the world-known brand.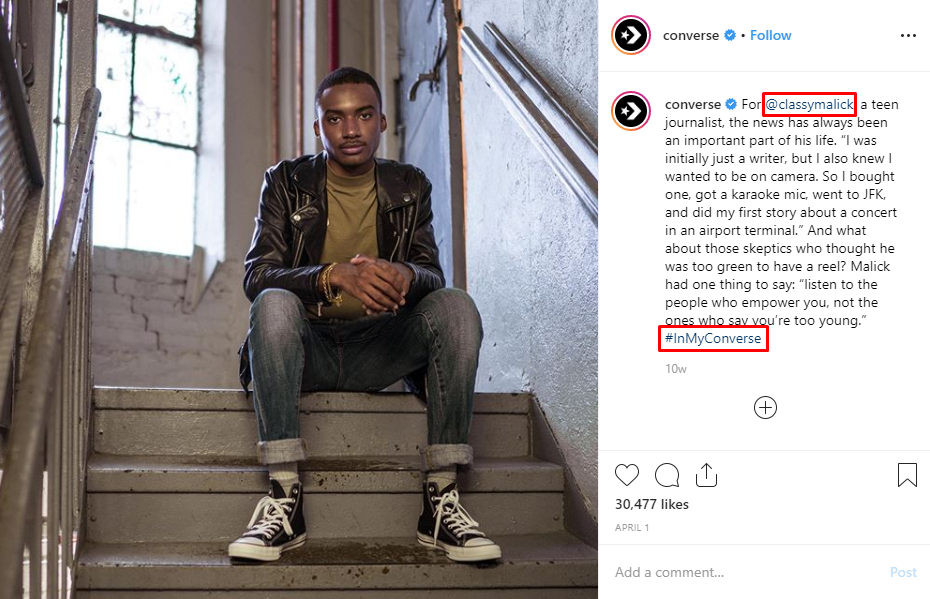 Publishing user-generated content leads to higher engagement, better recognition and more sales. It also helps prove to worried followers that other customers have chosen your brand, and therefore ease their minds.
Interact with Your Customers
One Metro survey says that 44% of people feel more comfortable using social media for communication. For brands who try to sell products on Instagram, this means that your potential customers want to communicate with you within the app, so it's important to interact with them to increase customer engagement and satisfaction.
Even one of the world's most well-known coffee chains, Starbucks, puts a lot of effort into communicating with its customers on Instagram. The company likes their followers' comments, replies to them if needed, and even monitors brand mentions to ask permission to repost users' content: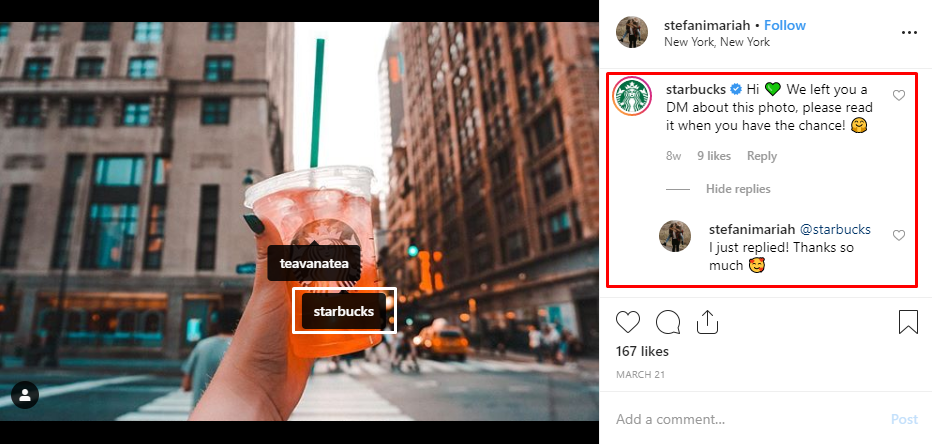 When you interact with your followers, you are proving that you focus on them and not your product and profit. People value authentic relationships, so they are more likely to become your customers if you take care of them – listen to them, learn about their pain points, and try to solve their problems.
Dive Deeper:
3) Spread the Word about Your Product
If you use Instagram for business, chances are you promote your products and services there. Although it's important to inform your visitors about your products, showing them off from different angles isn't enough to increase brand awareness and encourage Instagrammers to follow your brand. To start selling on Instagram, you need to use alternative ways to spread the word about your product.
Collaborate with Niche Influencers
Modern customers are sick and tired of branded content that sounds too salesy. Today, consumers want to hear about real experiences from real people, so they turn to opinion leaders when it comes to making purchase decisions, and it gives results.
Any proof needed? Let's take a look at influencer marketing statistics:
86% of women use social media to find products to buy
51% of brands claim that influencer content outperforms brand-created content
46% of marketers run between 2-5 influencer programs per year per brand, and 62% of them work with more than 10 influencers per program.
Influencer marketing is 10X more effective than affiliate marketing in online customer acquisition.
For every $1 spent on influencer campaigns, companies are earning $7.65 on an average.
Since Instagrammers seek out peer recommendations and trust them, it's no wonder that brands work with influencers to build brand awareness, increase brand loyalty and boost e-commerce sales. For example, Frank Body featured Ellie Gonsalves, a popular Instagram blogger with over 1.5 million followers, to prove that popular people choose their products: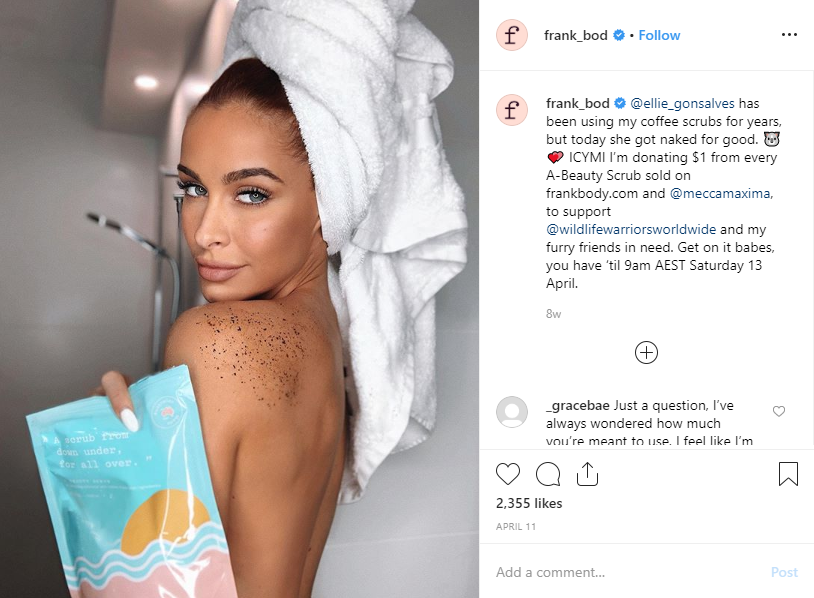 When you work with influencers, you enter an already-established community of loyal followers who crave product suggestions. Customers will never get tired of recommendations from their favorite bloggers who help them discover something useful.
For example, the same photo got 3,900 likes on Ellie's profile and one follower reported buying the product: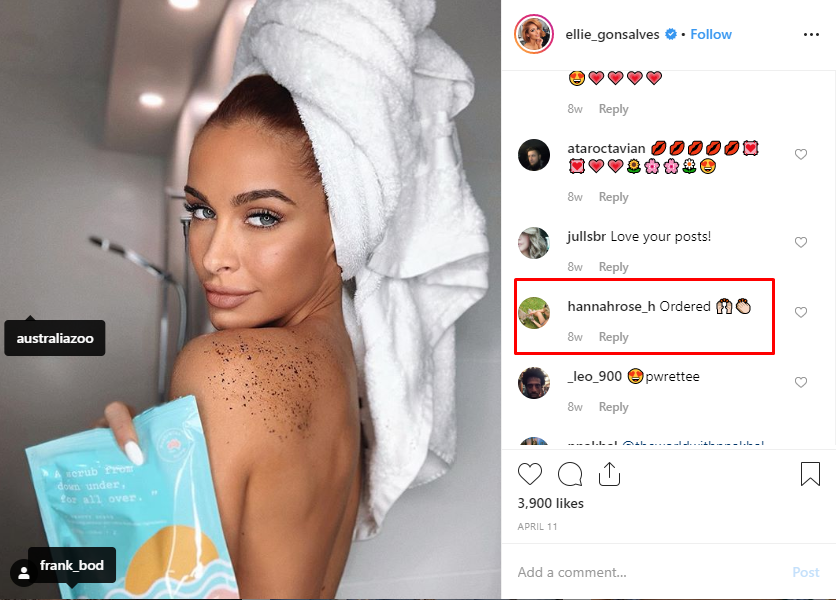 But if you're not a big brand, you may have trouble taking advantage of a collaboration opportunity with popular bloggers. However, micro and nano influencers — those who have a smaller but engaged following — can be an amazing alternative to costly influencers.
Dive Deeper:
Become a Giveaway Sponsor
Who else loves free stuff? According to psychology, free things are hard to resist, so social media giveaways are very popular among users. In fact, a free product comes with low expectations, so it's a great way to "wow" people and turn Instagram followers into customers.
Thus, being a giveaway sponsor is a great way to spread the word about your brand and attract customers who are interested in your product. Since sponsors are more likely to promote this contest on their profiles, it also helps increase visibility and engagement, and therefore attract more Instagrammers.
Here's the kicker: In partnership with different brands (Alo Yoga, Sakara Life, Sporteluxe, and OUAI Haircare), Frankies Bikinis ran a promotional giveaway with amazing prizes to give participants a chance to test their products for free. Sponsors wanted to attract more people, so they offered many prizes to maximize their winnings, and it worked well: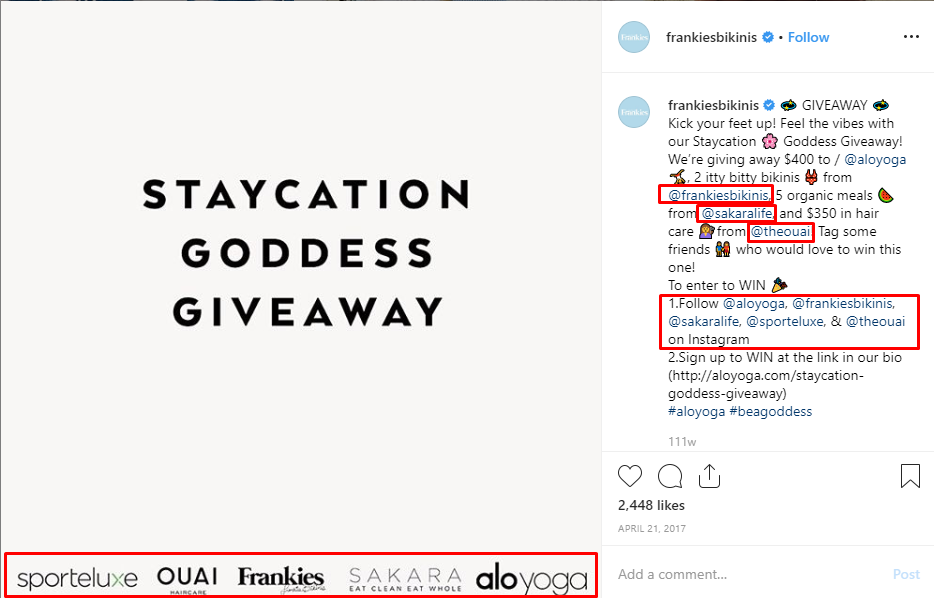 Instagram giveaways are popular among users and they help companies get good business results fast. When you give away branded freebies, you target potential customers, which results in attracting a more engaged following.
Dive Deeper: Creating a Social Media Contest Strategy to Boost Engagement
Run Instagram Ads
With over 25 million business profiles on the platform, cutting through the noise can be daunting. The competition is high on Instagram, so most brands run Instagram ads to reach their target audience and accomplish their marketing goals faster.
Case in point: In honor of a new fitness wear line launch, Gymshark ran the Instagram Stories ad campaign to promote its 'Flex' collection. With a beautiful product image and a clear call-to-action, the company achieved a 9X return on ad spend and over 2,400 sales directly through its ads: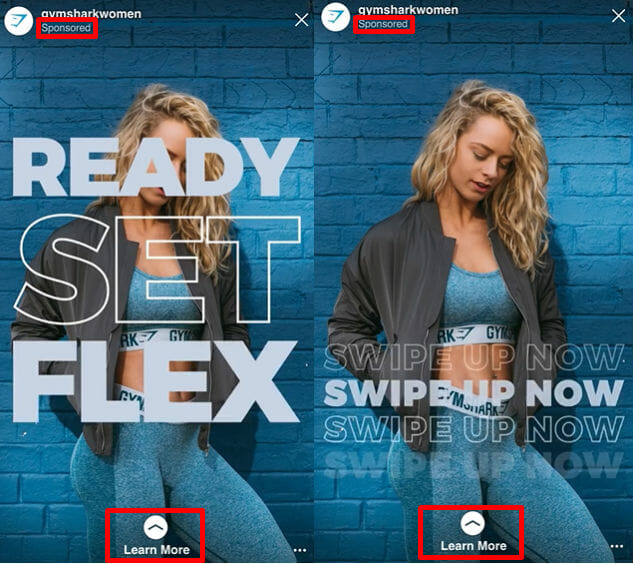 To run a similar ad campaign successfully on the platform, you need to make your customers swipe up on Instagram Stories ads to learn more about the offer, so it's important to design Instagram ads that capture and hold users' attention.
But not all success stories come from running Instagram Stories ads. There's no one-size-fits-all approach to Instagram advertising, so you need to experiment with ad types to find out what works best for you — photo, video, stories or carousel ads.
Dive Deeper:
4) Improve the Customer Experience
With a great variety of product options on the market, positive customer experience can be what makes you stand out from your competitors who want the attention of the same audience. And when it comes to Instagram social commerce, you need to ensure that your followers are satisfied at every stage in the customer journey.
Optimize Your Account for E-commerce
Instagram has always been a great place for product discovery. Since the community has reached one billion users, it has great sales potential, so Instagram is now helping brands sell their products in-app. With a wide variety of business-specific features, it's easy to optimize your Instagram business profile for e-commerce, and MadeWell is a perfect example: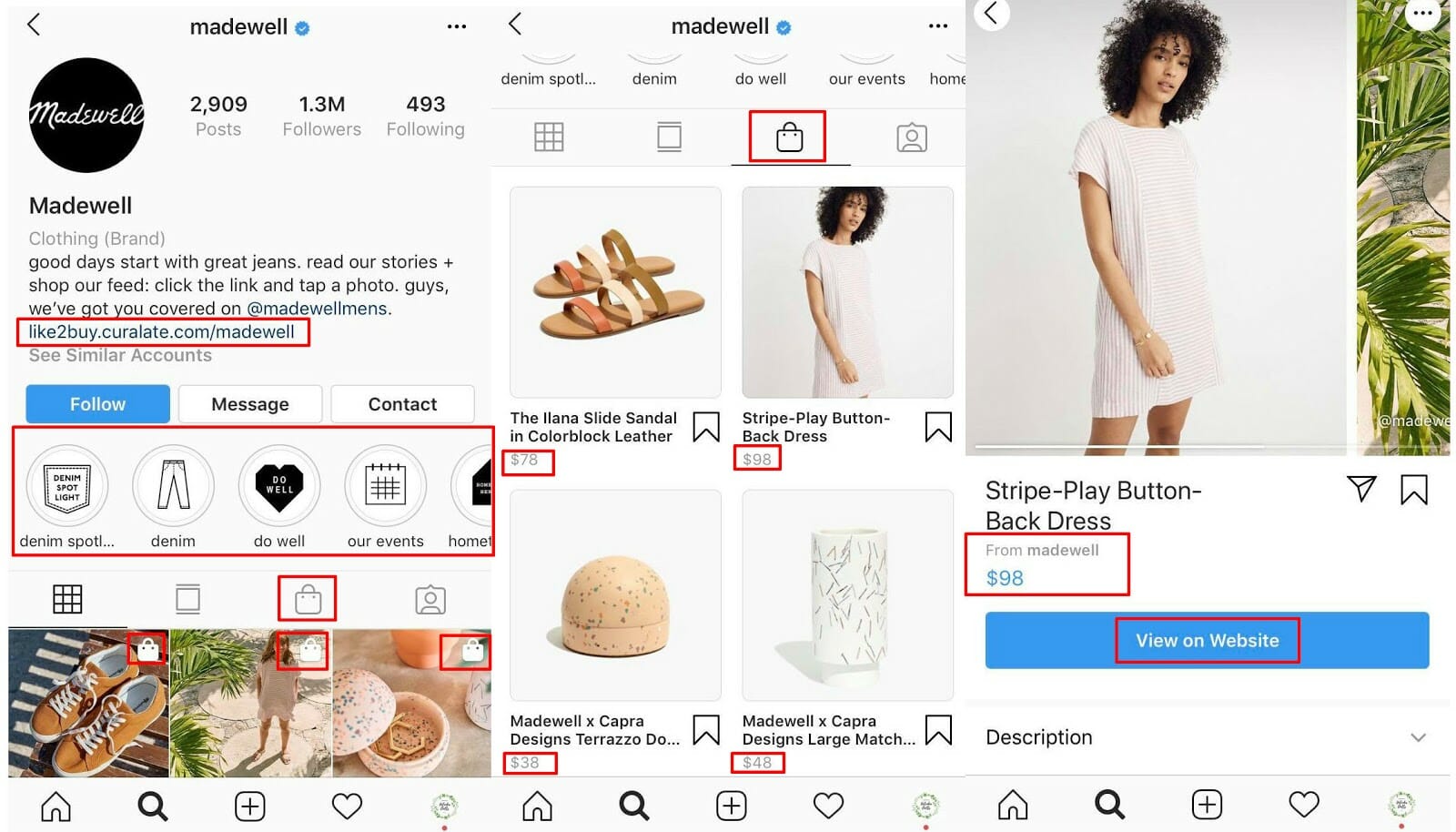 Whether you are a loyal fan or a first-time visitor, it doesn't take much time and effort for you to understand what the company is selling and how to buy its products in-app.
Here's how to optimize your Instagram account for e-commerce:
Insert a bio link: Although Instagram bios are limited to 150 characters, adding a link is a great way to provide visitors with additional information and increase website traffic.
Add call-to-action buttons: If you want to keep your followers engaged, you need to let them do business with you without leaving the app. Thus, you should encourage them to take the desired action faster, so it's important to choose from the four action (or CTA) buttons that are available on Instagram: Book, Reserve, Get Tickets, Start Order.
Use Stories Highlights as product albums: Since Stories Highlights appear right below your bio, it's a great way to save your visitors' time and provide them with all-important information about your brand. From featuring new products to sharing customer testimonials, create different group content that can be useful for followers.
Tag products in your posts: Since people claim that they use Instagram to discover new products, it's important to let them know as much as possible about the featured items. With product tags, you can include prices and descriptions to improve customer experience.
Use shoppable Instagram Stories stickers: Instagrammers spend a lot of time watching Instagram Stories, so they are ready to discover products in Stories and using shoppable stickers is a great way to provide them with additional information about your product.
Add clickable Instagram Stories links: Once your account has reached 10K followers, you can post clickable Instagram Stories that allow you to add a link to your e-commerce site.
Dive Deeper:
Provide Excellent Customer Support
For most brands, Instagram isn't used often for social media customer service. But if you want to make the most out of Instagram social commerce, get ready to deal with customer requests on the platform as people want to connect with their favorite brands on social media. To increase customer retention and improve customer acquisition, you need to provide excellent customer support.
Let's take a look at ASOS. Like all large companies, ASOS receives many customer requests on Instagram. Although it may seem difficult to manage all these requests on the platform, the company uses quick replies to encourage dissatisfied customers to use help pages for better support: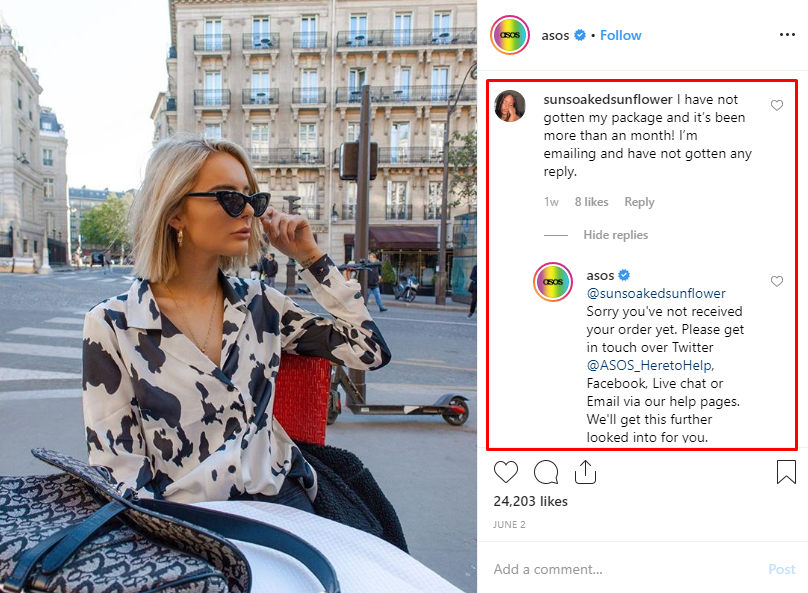 Good customer support is about solving followers' problems in a timely manner; turn on notifications for comments and Instagram direct messages requests so that your followers can get a reply to their inquiries on time.
Reward Your Loyal Customers
Getting discounts and promos is the number one reason why people follow brands on social media. And if you want to turn one-time buyers into repeat customers, you need to invest in customer loyalty. Once your customers feel valued, they are more likely to do business with you again and recommend your brand to their friends and family. For companies, this means more sales. Thus, it's important to reward your loyal customers.
How? For example, Lulus encourages its loyal customers to show off their Lulus looks on Instagram for a chance to win $250 and be featured on the profile: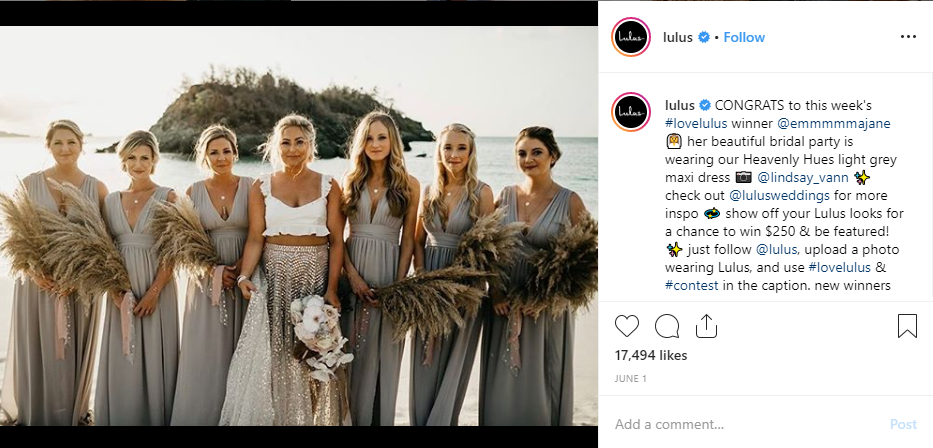 This idea stimulates customers to share their looks on Instagram, which helps Lulus spread the word about the brand and increase brand loyalty. However, there are many other ways to reward your loyal customers who follow you on Instagram:
Share time-limited offers
Send personal discounts
Announce product sales
Give away branded freebies
Post exclusive product previews
Feature their photos on your brand's account
Organize Q&A sessions with niche influencers
The Bottom Line
The days when Instagram was a simple photo-sharing tool are far behind us. Today, Instagrammers want to discover new products and buy them in-app, so social shopping is on its rise. For brands of all sizes, this means an opportunity to reach their target audience, establish a connection, promote their products and boost e-commerce sales.
With a huge number of active Instagram users, it's high time you jumped on the bandwagon and start your social selling campaign on the platform. Don't miss a chance to grow your revenue!