With its large user base and global reach, Facebook has positioned itself as an indispensable tool for businesses leveraging the power of social media marketing. So if you stick to just one or two of your favorite Facebook advertising strategies, you're missing out.
Social media advertising is continually evolving, and unless you're an ads expert, you might not know all the latest strategies and tips to help you maximize your ad potential, create compelling ad copy, effectively reach your ideal client, and stand out on the platform.
In this article, I will share the top-performing Facebook ads strategies to maximize your digital marketing efforts.
Let's begin!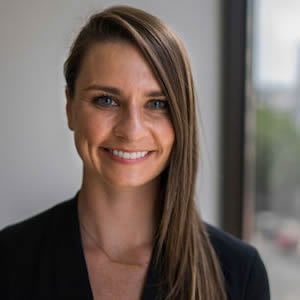 Jacqueline Foster
Demand Generation Marketing, Lever.co
We can count on them to bring new ideas to the table consistently
What Are Facebook Ads?
Facebook Ads is the advertising platform of the leading social media platform, Facebook. It allows the display of advertisements to promote the products and services of businesses targeted to users based on their location, demographic, and profile information. It allows you to reach your target audience, boost brand awareness, and drive conversions effectively on a single social platform.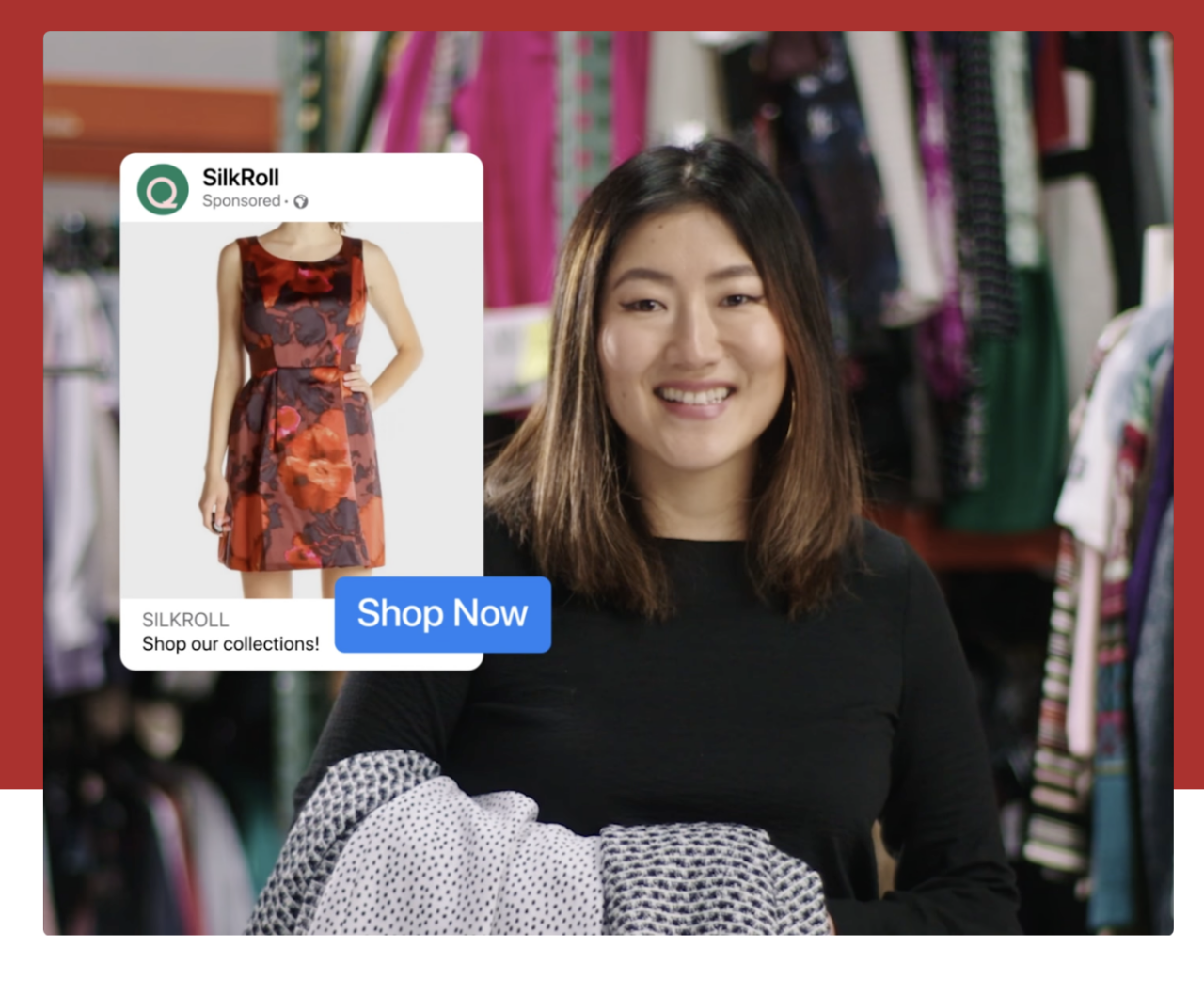 Advertising on Facebook is similar to Google Ads. The default pricing model for ad campaigns is the CPC (cost per click) where you pay Facebook for every click on the ad. You can also run your advertisements using the CPM (cost per thousand impressions) model.
You can create appealing paid campaigns by choosing the perfect ad variation with the help of Facebook Ads Manager and tracking their performance effectively using Facebook Pixel (now Meta Pixel). This is a piece of code that is placed on your website to allow you to track and analyze the effectiveness of your ads in driving your target audience to perform the desired actions.
The different Facebook ad components include:
A compelling CTA button
Appealing ad copy
The perfect ad format
Enticing images and videos
Here is an example of a Facebook Ad in action from Yard House restaurant, where they are attracting audiences with a tempting image of appetizers and pizza: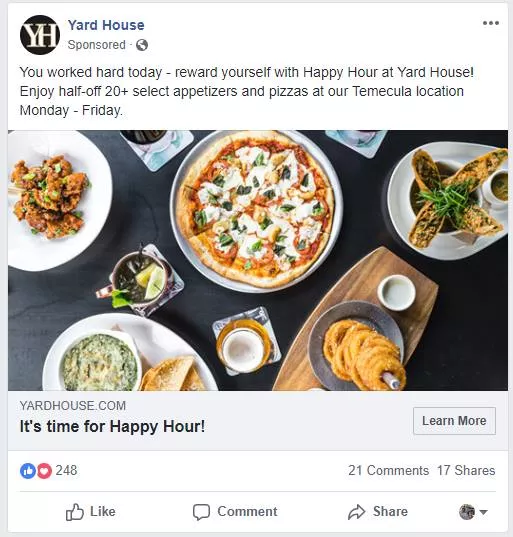 Dive Deeper: How This Ecommerce Store Doubled Its Revenue Using Our Facebook Ads Advice
Importance of Facebook Ads
As the largest social media platform worldwide, Facebook provides businesses unparalleled reach and engagement opportunities. This, combined with its sophisticated targeting options, make it an essential piece of any successful digital marketing strategy.
Facebook connects almost 2.9 billion monthly active users across the globe: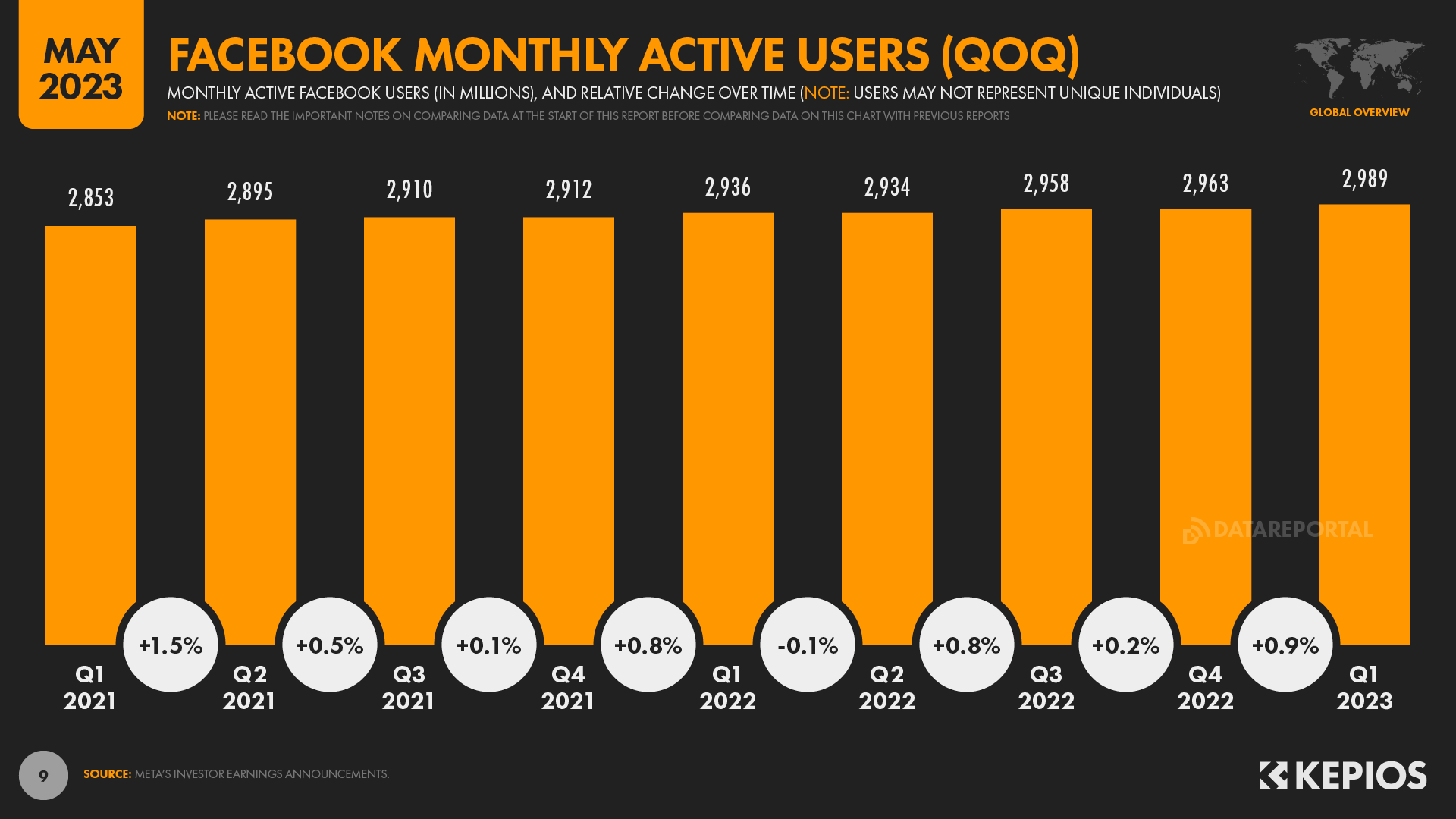 For business interested in leveraging this global audience and harnessing the potential of advertising on the platform, there are plenty of reasons to start investing in Facebook Ads.
Benefits of Facebook Ads
Helps your brand increase scalability and audience reach.
Reaches the right audience at the right time based on their search queries, demographics, tastes, preferences and income.
Integrates well with other social media platforms leading to broader visibility.
Offers a wide range of Facebook advertising formats, including images, videos, collections and carousels.
Allows budget control and cost-effective Facebook advertising.
Provides access to valuable audience insights and data.
Helps you evaluate the ad performance and forecast future budgets and returns.
Dive Deeper: Facebook Ads E-commerce Case Studies that Increased ROAS
Facebook Ad Specs: Facebook Advertising Formats
The Facebook platform offers a variety of advertising formats, allowing you to select the best configuration to effectively deliver your brand messaging and connect with your target audience.
The different ad formats available for your Facebook ad strategy include the following:
1) Image Ads
The traditional image ad is one of the primary ad types in Facebook advertising, which includes static images in the ad copy with a headline and brief description. They are used for marketing a particular product or service, as seen in this ad from Infolinks: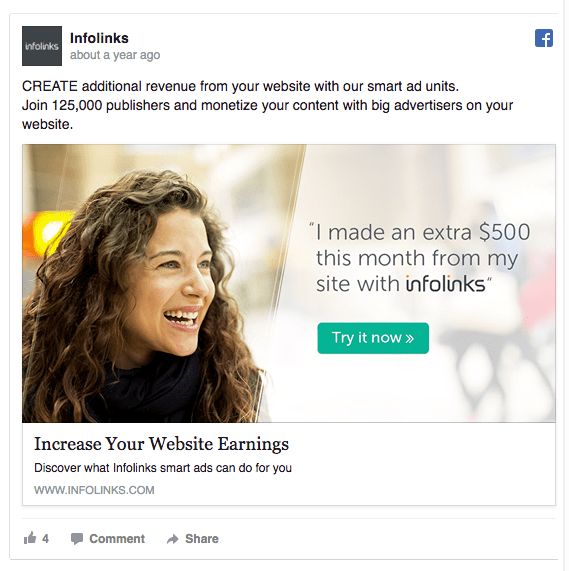 2) Video Ads
The video ad is another popular Facebook Ad type involving videos and Facebook stories ads. Video ads like this ad from Flixel draw customer attention through movements, helping your message stand out from the rest of the content the platform's users are scrolling through when they come upon it: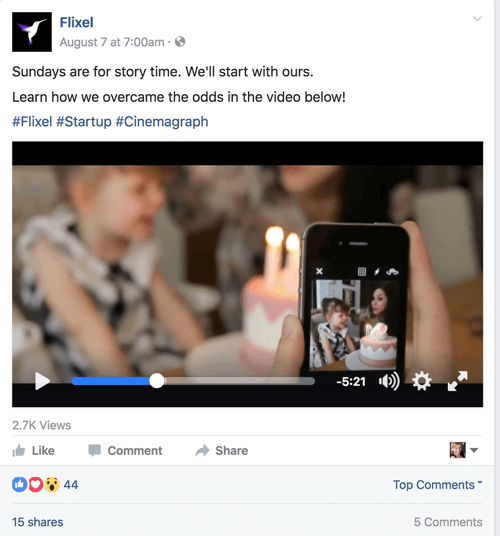 3) Carousel Ads
This type of Facebook advertising involves ad placement and promoting several products and services in a single campaign, as seen in this ad from Nike. It is one of the most popular ad formats that help increase the audience's curiosity about your brand by swiping photos and videos.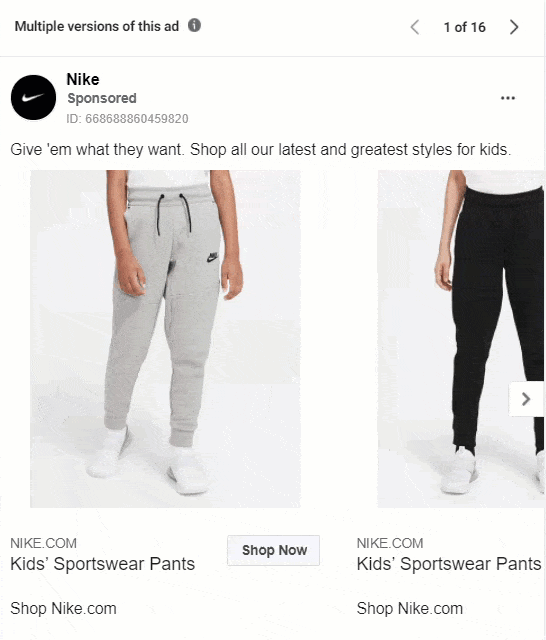 Some brands will use this format creatively when focused on pushing a single product or service by highlighting it in different angles, environments, poses, or demonstrated uses, providing the best image or video to connect with each potential consumer without the need for A/B testing or narrowing their focus.
Dive Deeper: Why Facebook Clothing Ads Are a Must-Have for Fashion Brands
4) Instant Experience Ads
While not its own ad format, Instant Experience Ads provide brands with added features that will elevate their advertising efforts. These features are designed to load instantly and provide a more engaging ad experience.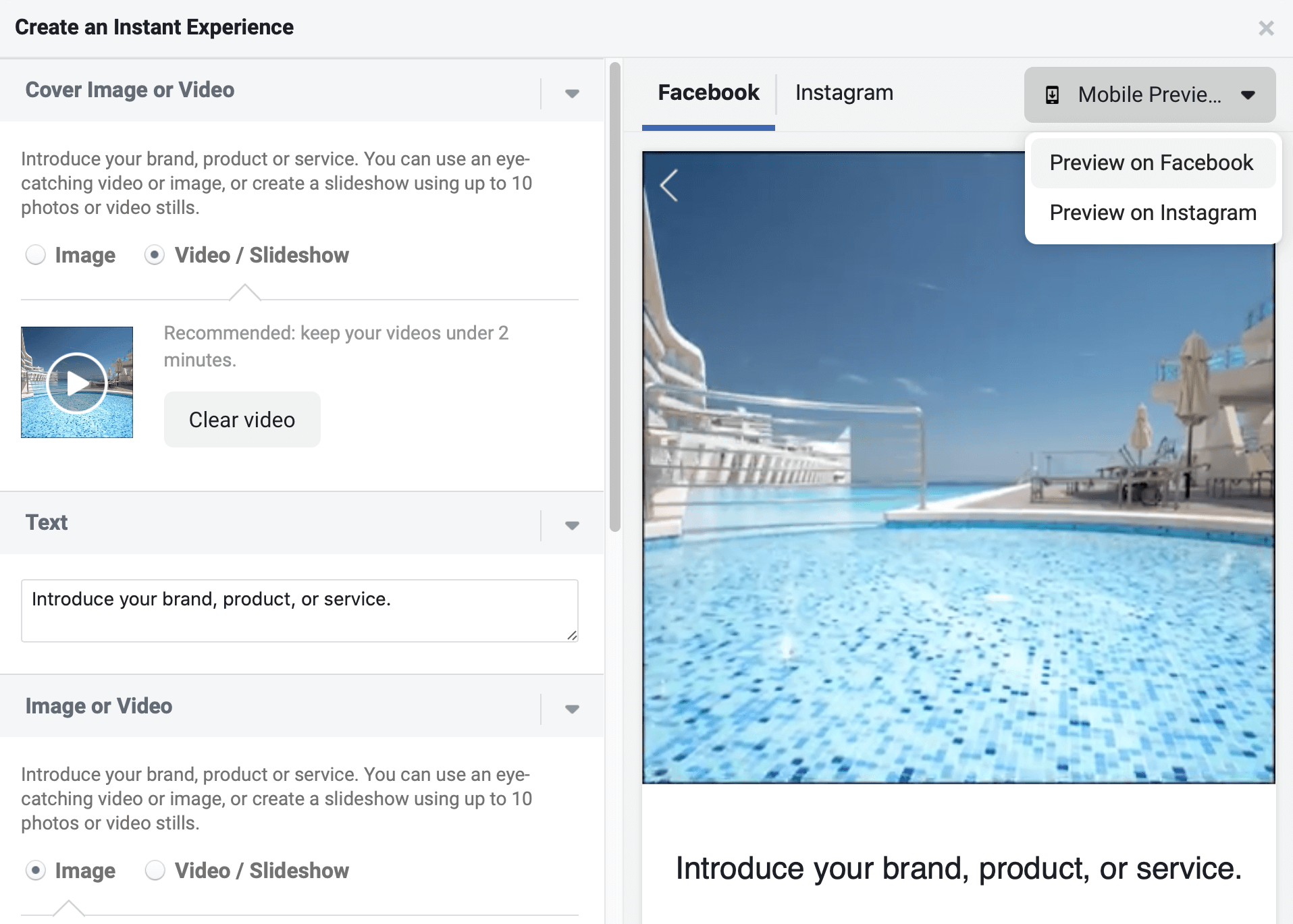 When setting up your Instant Experience Ads, the templates available include:
Customer Acquisition
Storytelling
Sell Products (Without Catalog)
AR Experience
Custom Instant Experience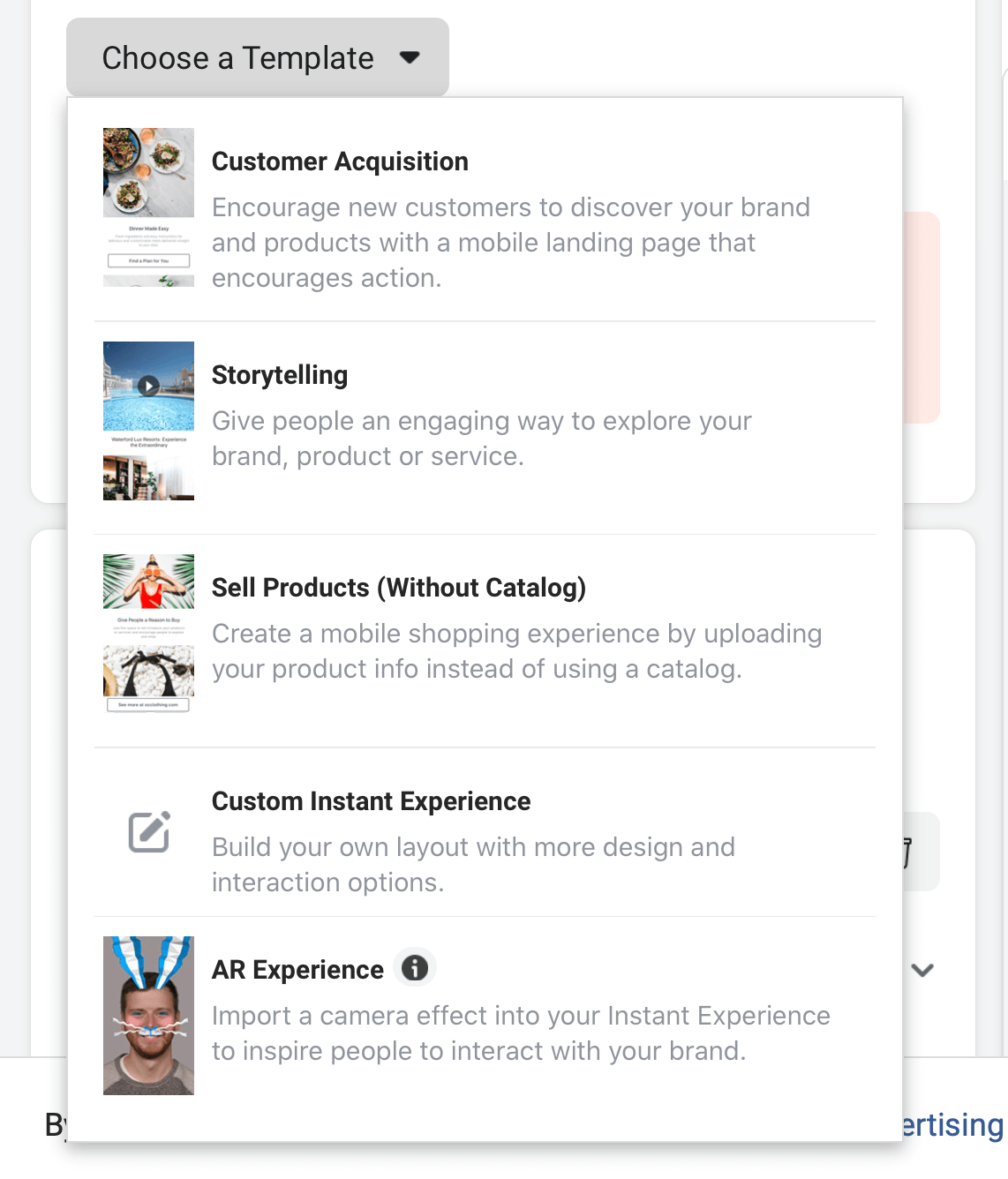 The added features are largely mobile-focused allowing users to tilt their phone to pan, view lifestyle images with products tagged directly in them for easier identification, engage with interactive elements, and scroll through several traditional ad formats in a single ad experience.
The mobile focus of this format caters to the fact that mobile phones account for 60.66% of all website traffic.
Dive Deeper: Shopify Facebook Ads Case Study: 7 Campaigns that Drove Results
5) Collection Ads
With the collection ad format, you can showcase products in a grid layout so potential customers can browse more of your products and services in a single advertisement.
To provide a more traditional "shopping experience," you can include an Instant Experience element by creating an instant storefront. This allows the consumer to move from discovery to purchase without leaving the platform. By making the buying process easier, you can increase conversion rates.
As seen in this Adidas ad, the format features a primary image or video with a selection of smaller images below in a grid-like layout: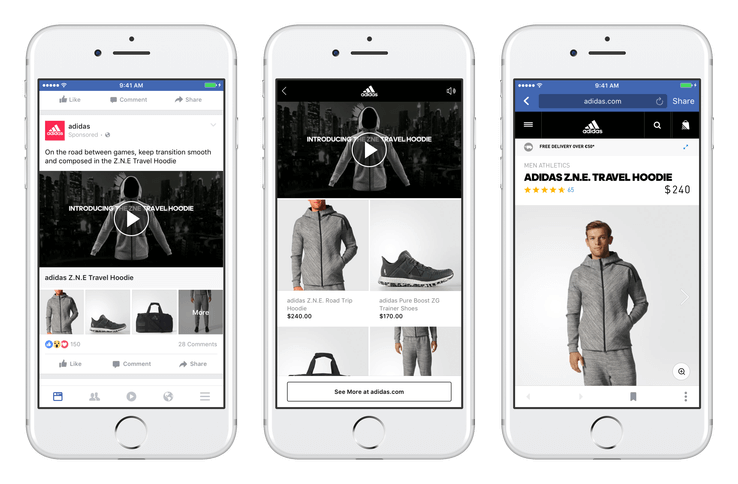 10 Best Facebook Ad Strategies
Selecting the best ad format is only the first step in building a successful Facebook marketing plan. Here are ten essential Facebook ad strategies to create engaging and high-performing ads:
1) Define Your Audience
To create a Facebook Ad, it is essential to understand the likes and dislikes of your target audience and how they move through your sales funnel. If you don't have a relevant existing audience from previously run ad campaigns, you can create a new lookalike audience on the Facebook platform.
To begin the process, you should answer a few questions about your target customer, including:
What segment of the audience does your brand cater to?
What is their age group?
Who are your brand's dedicated and engaged blog readers?
What is their average income level?
What are their tastes and preferences?
What is their location?
What methods do they use to discover a brand, product or service?
What kind of Facebook ad campaigns compel them to perform site action?
You can utilize social listening, surveys, questionnaires, interviews, comments and direct feedback to answer these questions.
This data will help you identify the problems lookalike audiences face, how your brand and ads will help solve them, what methods will help them find your brand, and what the best ad formats for your Facebook strategy will be.
2) Create Enticing Ad Copy
Ad copy is the key content that excites and convinces potential buyers to increase your website traffic, conversions, profitability, and ROI. It involves communicating directly with the audience through text, images, and videos.
This is one of the critical elements of a good Facebook Ad account, which connects custom audiences with your brand and improves your remarketing ads strategy.
To write compelling and engaging ad copy, you will need to consider the following:
Remember that the average person has a very short attention span. To account for this, web and mobile ads should be short, crisp and captivating enough to catch users' attention instantly. An optimized Facebook Ad has approximately 20-25 characters for the heading, 25-30 characters for the link description, and 100-125 characters for the main body.
Since Facebook has an excellent reach, your ad will also be displayed to website custom audiences, depending on your ad goals. To best leverage this, focus on writing different ads for different consumer groups. For example, if you have an apparel business for both men and women,

you can create separate ads that highlight the unique product offerings, styles and benefits that resonate with each gender.
Avoid hard-to-understand, sugar-coated language. For an effective ad, your message should be direct and straightforward, clearly communicating how you can help solve a particular problem for people, as shown in this example of a Slack Facebook Ad. It is clear that Slack is an office management and communication tool that can help save time spent during meetings.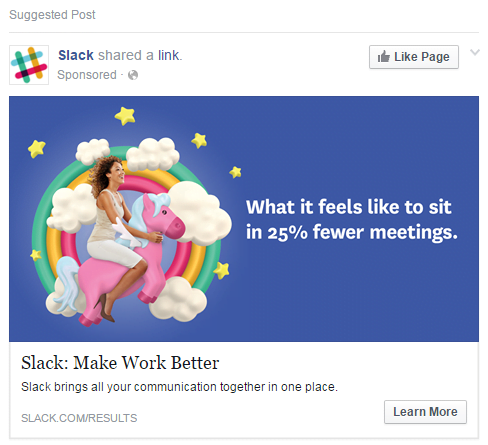 Ensure that your text copy aligns with the images you include in your advertisement. Images tell a story and help Facebook users understand your brand better. A non-contextual image and text will confuse the audience, leaving them wondering what your brand is about and discouraging them from moving to your landing page.
Make sure that the USP of your brand is highlighted in the copy. Share special discounts, events or offers as they help convert new customers. You can also mention the price of the product and services you offer if they promise great value.
Besides increasing your ads engagement, another reason to create Facebook paid ads is to persuade your target audience to perform specific actions on your website or application, like getting brand insights, installing the app, or purchasing. To boost conversions, include a single, clear, and direct CTA button.
An essential factor of ad copy is exceptional copywriting. You can utilize AI or online copywriting tools like ChatGPT, Jasper, and Unbounce to assist you in creating compelling copy in minutes by saving you time, effort, and resources: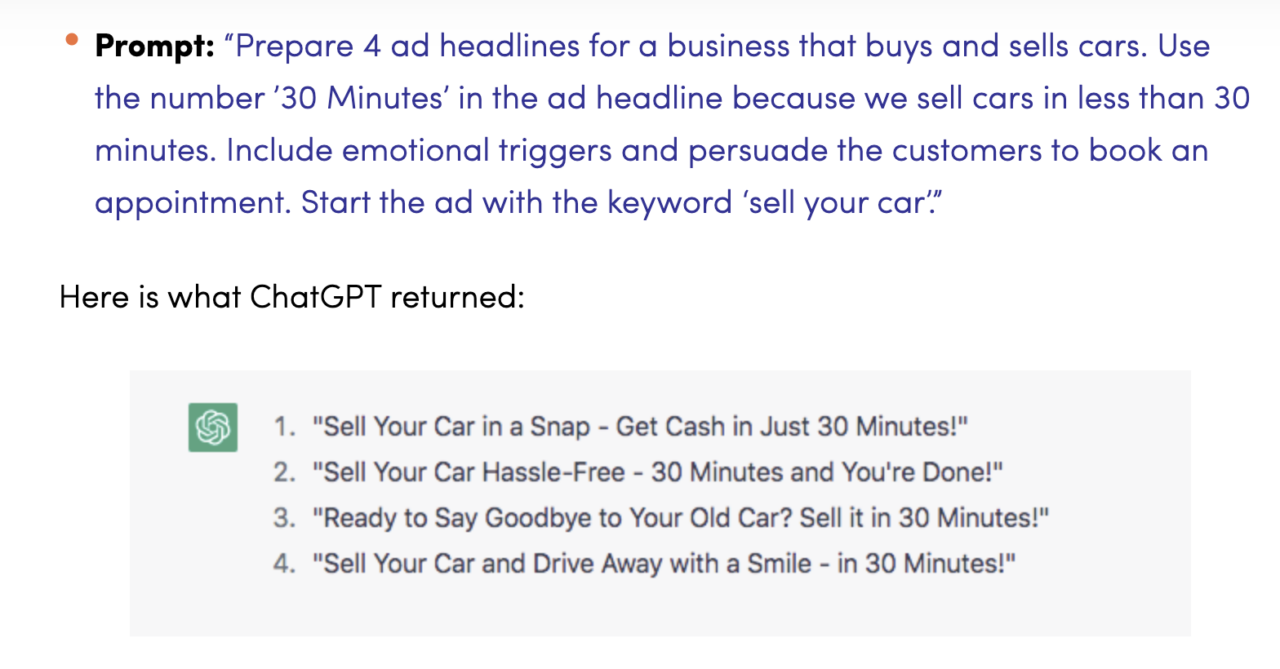 You can also hire an experienced ads agency to achieve the best return from your Facebook Ad spend. These marketing professionals will provide expert knowledge, combine Facebook ads, leverage automation, and identify trends to help your brand outperform the competitors.
Dive Deeper: How to Easily Set Up a High-Conversion Facebook Retargeting Campaign
3) Include Engaging Videos
The addition of high-quality video in your ads can increase engagement and conversions. Video content has the unique ability to combine movement, sound and text, allowing you to effectively tell stories, evoke emotions, and captivate your target audience.
Using videos in ads increases engagement by 59.3% compared to images:
In this ad, Wave Video pairs an eye-catching video with a persuasive headline and a clear CTA. The result is an ad that will grab the attention of their target audience, demonstrate the value they have to offer and effectively drive conversions.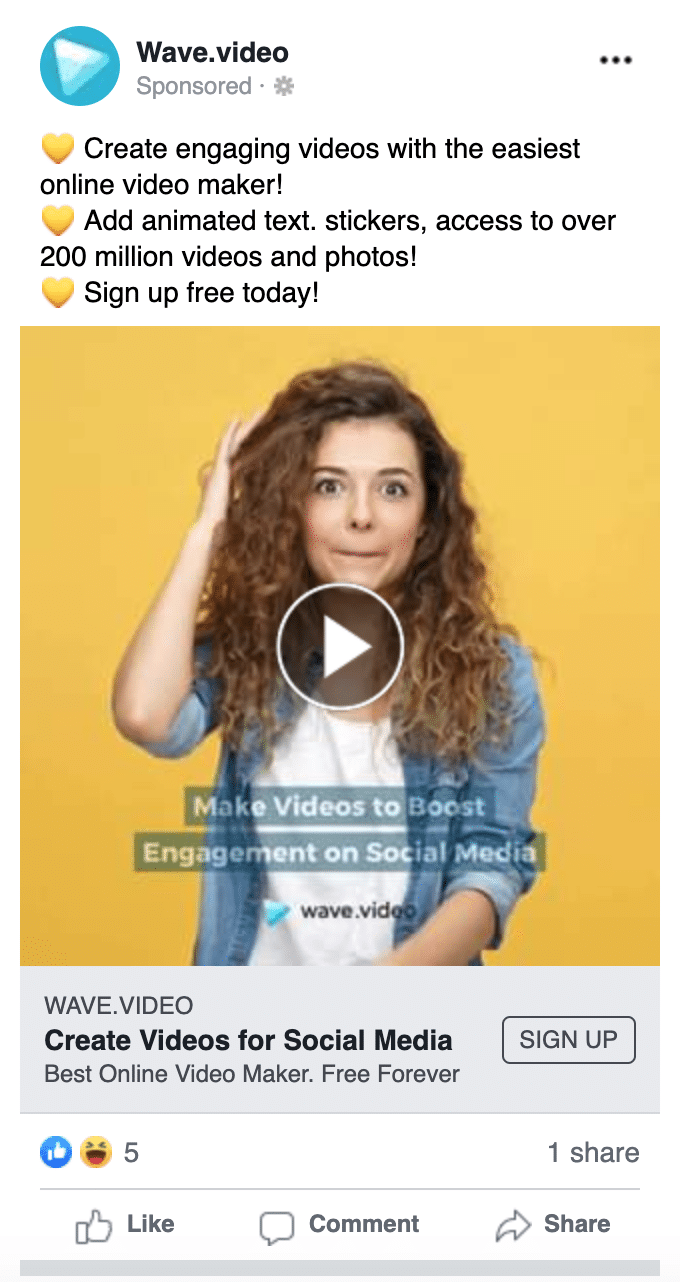 Here are some of the top tips to help you strengthen the performance of video content (including video ads) on Facebook:
Around 23% of users are more likely to remember your brand if its logo or name appears in the video's first three seconds. By focusing on the solutions and value your brand offers and highlighting the ad campaign objective in the initial stage of the video, you will improve your company's online visibility.
In addition to branding and logos, pay attention to the fonts and graphics you use in your video. Ensure that you use high-quality video resolution and focus on creating captivating and eye-catching graphics. The font should be bold, easy to read and large enough to be easily understandable. This will help to hook the custom audience with your brand for a longer time with a clear depiction of your brand story.
Try animation in your videos, as it brings an exciting and fun element to ordinary ads. Make sure that your illustrations are clear and straightforward. They should include your branding, product details, customer depiction, and other important elements to connect with the audience.
Dive Deeper: The Types of Videos to Use at Each Stage of the Marketing Funnel
4) Leverage AI Influencers
AI influencers are popular social media personalities provided by human-like avatars and are programmed to handle various tasks, including robust brand promotions. Besides bringing an innovative touch to your paid ads campaign, collaboration for ads with AI is cost-effective.
ASUS, one of the top electronics brands, reduced their cost per add-to-cart by 30% with their Facebook and Instagram reel advertisements featuring the world's first digital model, Shudu. The ad creative has all the key elements necessary to improve ad performance and reach the masses, including displaying key features, appealing videos, AI focus, and mobile-friendliness.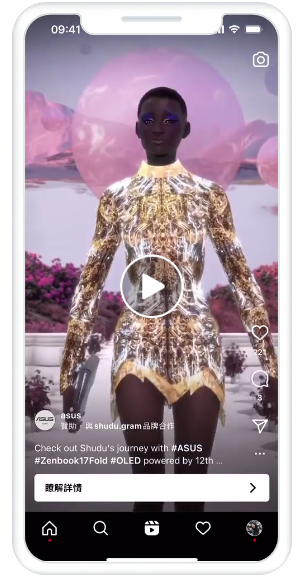 Dive Deeper: How to Implement AI in Your Business: A Step-by-Step Guide
5) Provide Social Proof
Social proof is the influence you put on internet users to follow a particular brand or social account based on testimonials, reviews, shoutouts, and feedback.You can include social proof in your Facebook ad to build trust and improve conversions.
Here is an example of a social proof-focused ad from Body Detox and Weight Loss Center with a short and crisp text body, USPs of the product, and a genuine customer review: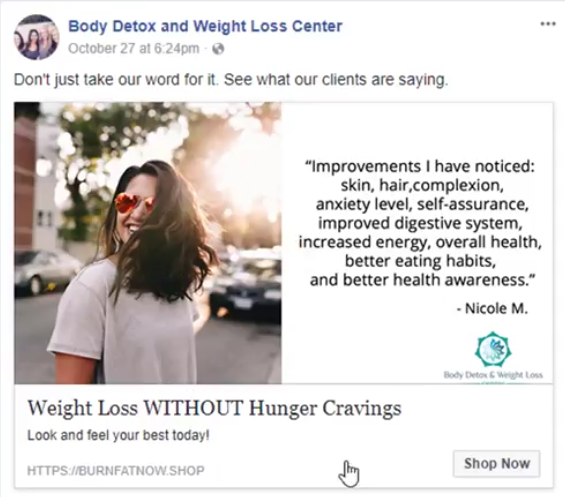 Do you need more social proof that you can share? Ask industry experts, celebrities, existing customers, and friends for reviews and recommendations. This provides  you with great trust-building content and allows you to leverage the power of their fan following to increase your follower base.
You can create social-proof Facebook ads in various formats, including video, image, carousel, reel, and story. Additionally, you can use various metrics like likes, comments, shares, and influencer mentions to calculate the returns on your Facebook campaign spend.
6) Include Click-to-Messenger Ads
Facebook ad copy that clicks to Messenger takes visitors directly to the conversation box, where you can chat with potential customers personally or with the help of AI chatbots. Including a one-to-one conversational format in your regular ads is a fresh approach to engaging potential buyers and improves the scope of generating leads.
Volkswagen, a leading automobile company, used Facebook messenger for marketing their ID.3 range using a human, inviting, and conversational tone with potential buyers. The ad creative format included click-to-messenger and Instagram reels.
This unique Facebook advertising strategy led to a rise of 68% in users who completed the configuration process. Around 23% of the people reported that the campaign was relevant and informative.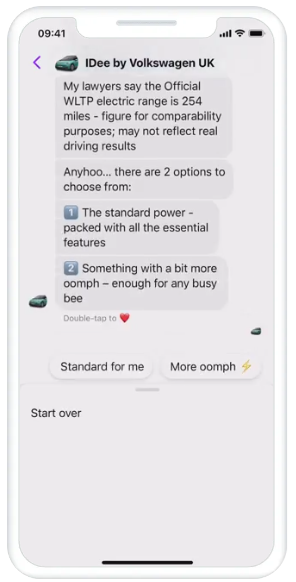 7) Offer Giveaways and Run Contests
One of the key elements of a smart Facebook ad strategy is to entice customers by offering them value. Some ways to provide this value include discounts, gifts, and giveaways.
Creating ads to promote a particular discount event or contest is the perfect way to increase engagement on a particular ad or your social handles. This clear value-added feature grabs users' attention. But optimizing these ads to the fullest so more potential customers participate in them and increase your brand awareness and social analytics is essential.
Here is an example of a giveaway ad from Starbucks, which offered a price of R500 (African rand, equivalent to $25 USD) to people for following and commenting on the Starbucks Facebook page to celebrate International Coffee Day: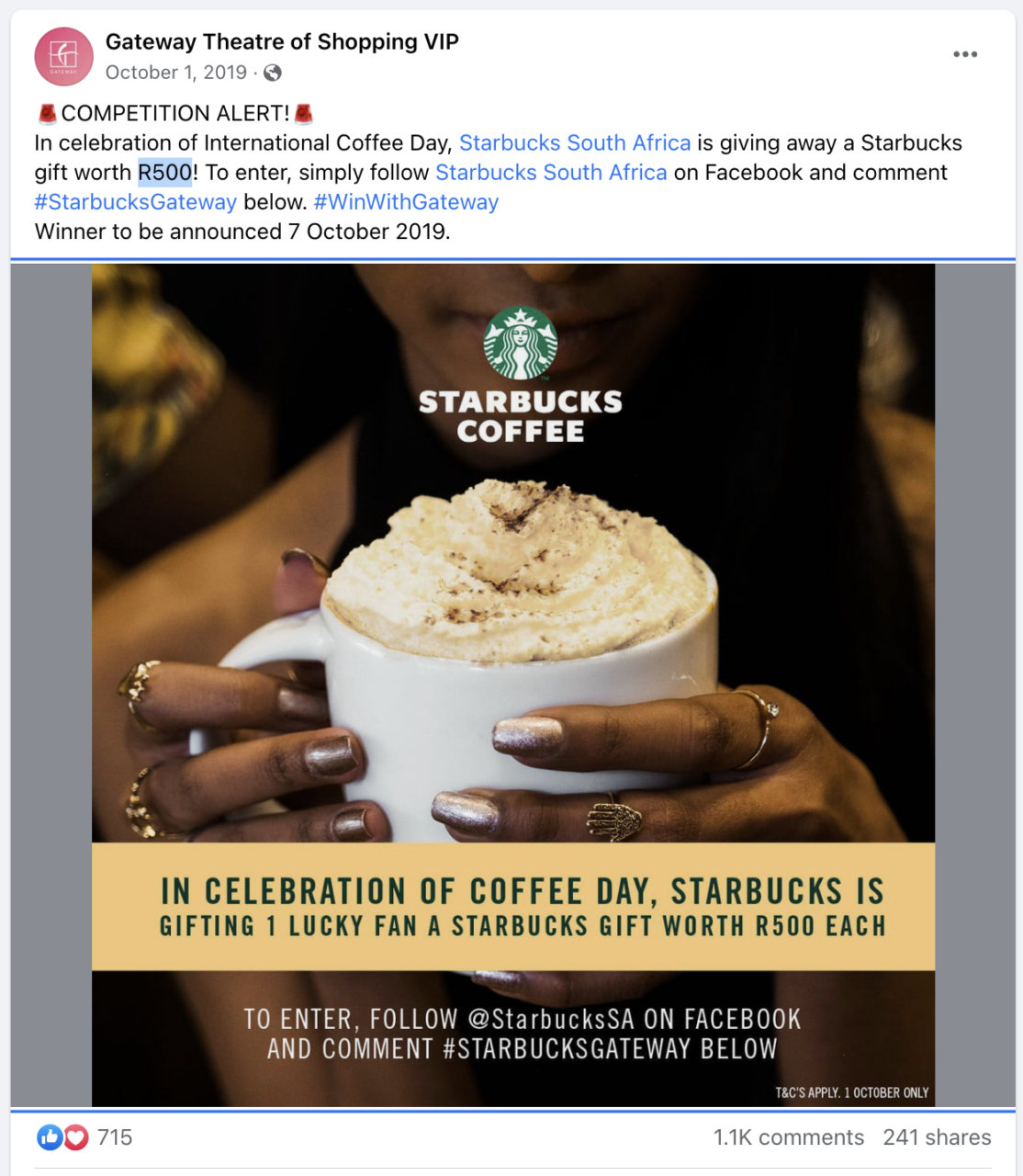 To create robust and optimized giveaway Facebook campaigns for high audience reach, follow these tips:
Bring innovative ideas to make the contest more fun and exciting than regular giveaways and contest ads, which ask you to simply comment on the Facebook post or perform a tedious action.
Decide a gift or offer in advance, tempting enough to encourage Facebook users to participate. It should be relevant to the target users and contribute to your website audience activity. Ensure you stay realistic with the offer and that it does not exceed your budget.
Keep the language of the ads simple to be understood by all users. Also, keep the participation process simple.
Define a particular time cap for your contest and giveaway ads to create a sense of urgency and ensure more people participate quickly.
Leverage the power of occasions, festivals, seasons, and holidays to create seasonally relevant contest ads.
Evaluate timely success by measuring impressions, likes, comments, traffic, and subscriptions through Facebook analytics
Promote your giveaway on all your social media handles.
8) Create a Series of Best Products with Carousel Ads
A carousel ad allows you to showcase your top products or services in a single advertisement. This provides brands with a cost-effective option for their Facebook ads strategy.
The average CPC rate of carousel ad conversions is 20-30% lower than single-image ads since they are visually appealing and depict a story about the brand.
Leading beauty brand Sephora leveraged the power of carousel ads to display their wide range of products, resulting in 23% higher reach, 45% more app installs, and 43% lower cost per install.
In addition to the clear and convincing text, Sephora added a well-defined and easy-to-recognize CTA button directing users to install the app to learn more about the offers and products. This drives traffic to their store and qualifies the leads, as only those interested in the product will click through.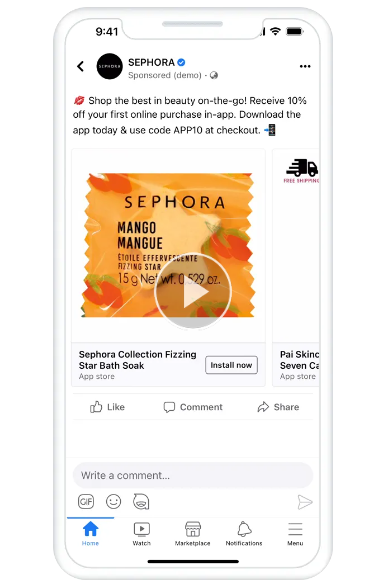 Like Carousel ads, you can create Meta Advantage+ catalogue ads (earlier known as dynamic product ads) to create an ad template where Facebook can automatically use images and details from your catalogue. This saves time and boosts your overall digital marketing efforts.
9) Use Geo-Targeting for Ads
Geo-targeting helps to target people with Facebook lead ads based on their physical location, which includes region, country, state, city, and district. It allows brands to focus ad spend on the Facebook custom audiences that best meet their needs by running ads in a specific area.
You can set up geo-targeted ads by visiting your Facebook page, refining your audience, and changing your location to target the audience in a designated area. For example, Advanced Hair Clinics, a leading Greek hair clinic, reached approximately 5.9 million people with a 30% revenue boost by acquiring leads from targeted regions.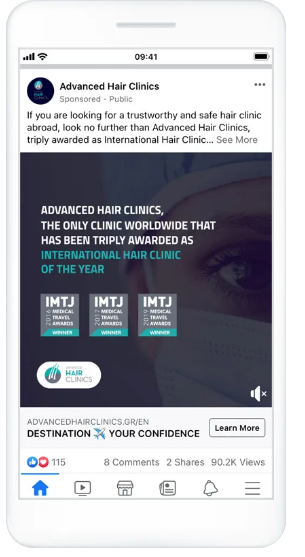 10) Perform A/B Testing
A/B testing helps you identify your Facebook ads' shortcomings and strengths. It involves releasing two ad variations and evaluating which performs better among your specified audiences.
In fact, it is the second most effective ad strategy after analytics to boost conversion rates. Facebook provides insights and analytical data to give you a clear picture of what's working with the audience and what needs to be improved.
To run effective A/B testing, you must run two or more common Facebook advertisements with a landing page simultaneously with different variables like the headlines, images, CTAs, ad format, and audience segment.
Here is an example depicting the release of two ad copies with a similar pattern but different variables. The second ad (on the right) included reviews and emojis, while the first ad did not. By analyzing the data, AdEspresso could identify that the emoji ad had a 12% higher CTR: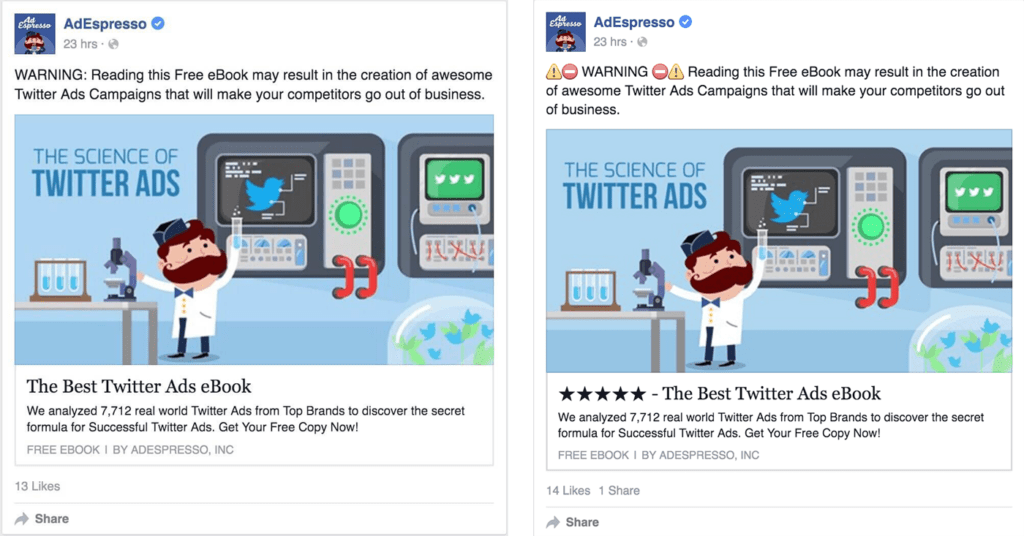 You can decide which ads to drop, keep or improve based on the audiences' actions, like purchases, CTRs, and impressions in the Facebook Ads Manager. This is a highly effective way to improve your ROI.
You can perform these tests regularly using Facebook Pixel to get the maximum returns on your Facebook ad spends. It helps retarget your ads, measure ad results, and effectively reach interested buyers.
Learn More:
* Top 100 Advertising Revenue Statistics to Inform Your Campaign
* 6 Bite-Sized Social Media Marketing Strategies for All Major Platforms

Last Word on Facebook Ad Strategies
Businesses should leverage every single opportunity that holds the potential to reach their target audience and acquire them as valuable customers. This includes focusing some of their marketing efforts on the most popular social media platform, Facebook.
By using the above Facebook ad tips and incorporating the various tools provided by the platform during ad creation and management, you can build brand trust and awareness, improve click-through rates, drive conversions and boost sales, all while prioritizing a high ROI and generating maximum profits.
If you're ready to level up your business with Facebook Ads, Single Grain's paid social ads experts can help!👇