Staying ahead of the competition requires brands to consider a strategic approach to online advertising. One powerful tool to achieve this by building a strong and high-performing marketing plan is pay-per-click (PPC) advertising.
From planning a solid advertising strategy to creating attention-grabbing ads that your target audience won't be able to resist, this post will address everything you need to know to build, execute and manage an ecommerce PPC campaign.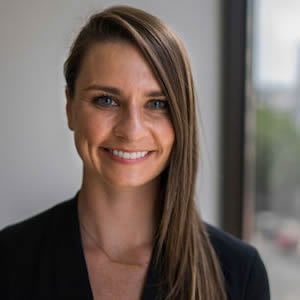 Jacqueline Foster
Demand Generation Marketing, Lever.co
We can count on them to bring new ideas to the table consistently
What Is PPC for Ecommerce?
Pay-per-Click is an effective online advertising model designed to generate click-throughs and help businesses achieve mission-critical goals such as generating more leads or increasing sales.
When we talk about PPC for ecommerce, we're referring to the strategies and best practices that help you use this form of advertising to make more money with your online store.
So, how are these strategies any different from those used in regular PPC advertising?
The most straightforward answer is that they're designed to help business owners overcome the unique challenges the ecommerce industry presents.
For one thing, online retailers typically have a significantly more extensive inventory to promote than their counterparts in, say, SaaS or the local small business market, meaning strategic decisions need to be made about what to promote and how.
Perhaps more importantly, with global sales expected to exceed $5.7 trillion USD, the industry is notoriously and fiercely competitive, meaning campaigns need to be continually optimized to stay ahead of the game: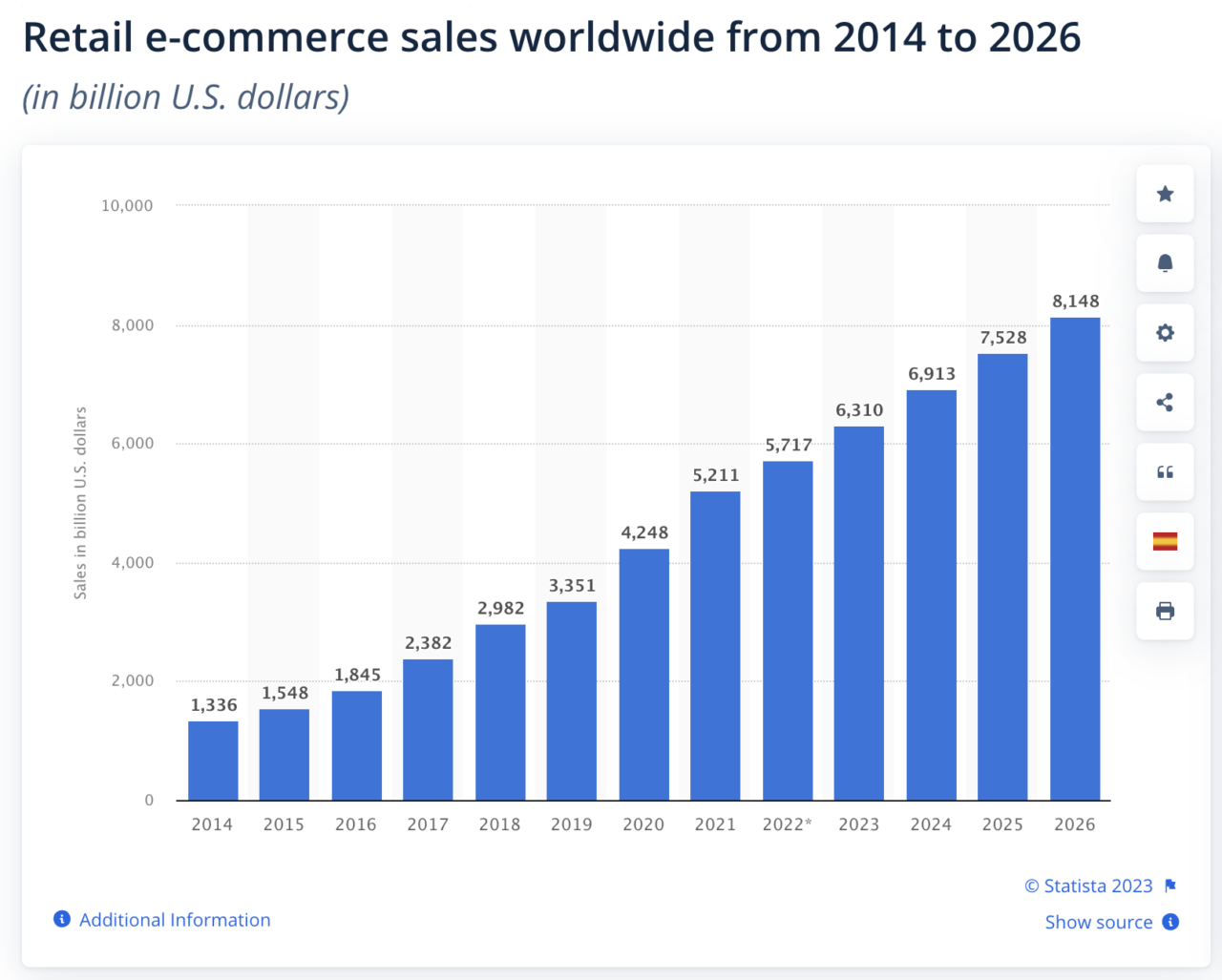 Related Content: Ecommerce PPC Audit: The Complete Checklist
3 Key Advantages of PPC Ad Management
So, if PPC advertising is such a challenge for ecommerce businesses, why would anyone want to do it in the first place?
Because it's effective, that's why. One study by Google found that:
89% of the traffic generated by search ads isn't replaced by organic traffic when ads are paused.
To put that another way, for every 1,000 people visiting your website due to your ad, you'd lose 890 visitors if you stopped running ads and relied solely on click-throughs from organic search results.
More importantly, visitors arriving at a retailer's website from paid ads are 50% more likely to purchase than those who came from an organic link, making an excellent case for advertisements in the never-ending debate of PPC vs. SEO.
Still not convinced? Here are three other reasons to focus on ecommerce PPC management:
1) Data-Driven Results
Few, if any, forms of advertising can match PPC in terms of the number of valuable insights you gain into how your target audience interacts with your ads and sales funnels.
PPC advertising tools provide you with a ton of valuable data on user behavior, click-through rates (CTRs), and conversion rates that you can use to fine-tune your campaigns to reach the right customers with the right products at the right time.
What's more, Cost Per Click (CPC) and Return on Ad Spend (ROAS) data will prove equally as indispensable when it comes to seeing which campaigns and ads produce the best results so that you can make informed decisions about how to best allocate your ad budget.
2) Advanced Targeting
Your Google Ads account gives you access to advanced audience targeting features that direct ads toward specific types of customers based on details such as their location, interests, search history, and more.
This means you can create highly personalized campaigns tailored to each customer's specific needs and preferences, an approach that can boost conversion rates by as much as a whopping 670%.
3) Improved ROI
Ultimately, this combination of data-driven insights and next-level customer targeting results in a tremendous return on investment (ROI).
Google's Economic Impact Report notes that:
For every $1 a business spends on Google Ads, they see $8 in profit, resulting in an 800% ROI.
With those figures, it's fair to say that PPC ads are something no ecommerce business can afford to ignore, so let's dive in and look at how it's done.
E-commerce PPC Management: 8 Best Practices
1) Define Your Goals
The key to success with any PPC campaign is to know precisely why you're running it in the first place.
What is it you want to achieve here? Some examples of strategic business goals include:
Driving traffic to your latest discount sale
Reviving sales for a product line that hasn't been selling as well as it used to
Generating maximum revenue from your hot new big-ticket item
When you know what you want to gain, you can begin tailoring your campaigns to make it happen by following the rest of these best practices.
2) Determine Your Keywords
A few SEO skills can improve your PPC campaigns as you conduct keyword research to determine the most relevant keywords and phrases your target audience is searching for.
This is where the Google Keyword Planner will prove to be a tremendous asset: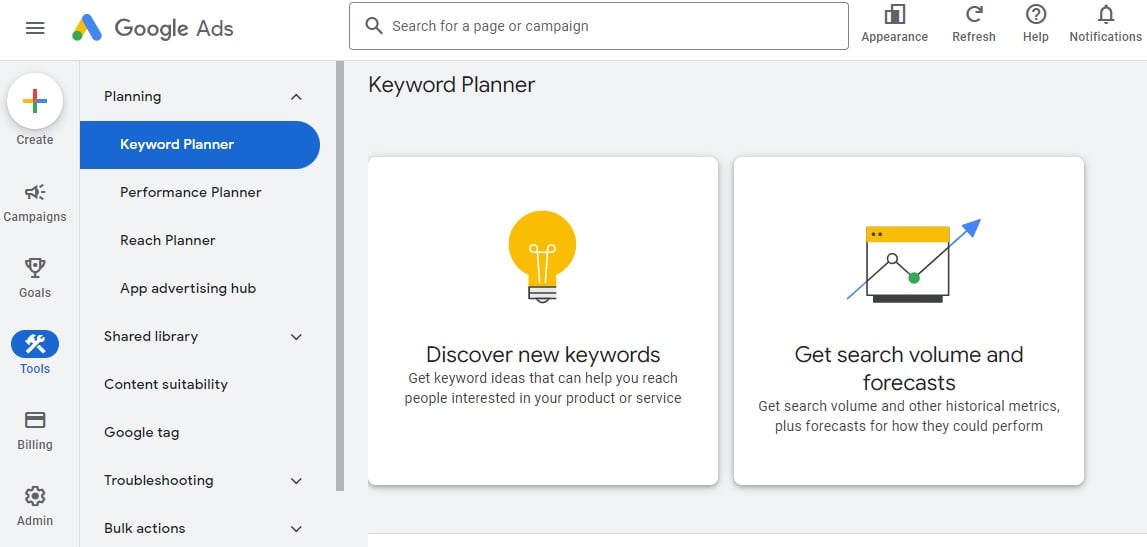 From your Google Ads account, go to Keyword Planner >Discover New Keywords and enter keywords that relate to the products you want to promote, such as "guitar strings" for a musical instrument store or "men's running clothes" for an athleticwear company: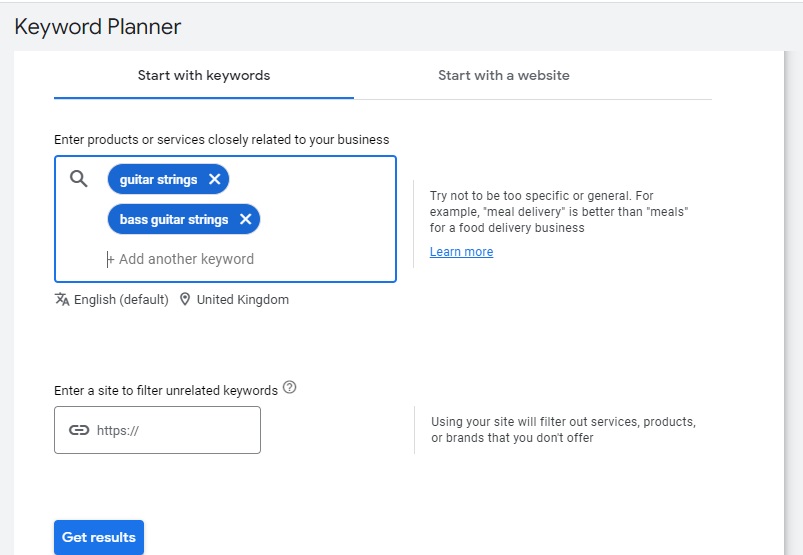 The platform will then generate a wealth of insights into those keywords, including ecommerce-specific data, search volume, and additional short-tail and long-tail keywords you could target: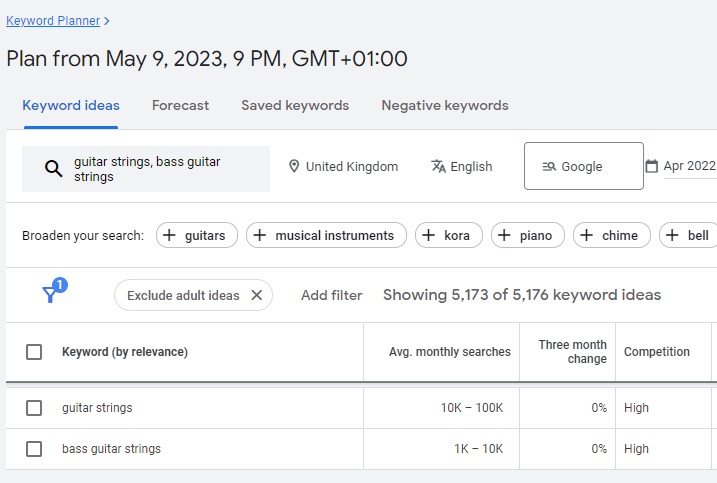 You can use this data not only to find keywords that will drive traffic from people looking to buy exactly what you have to sell but also to help you manage your budget more efficiently by identifying low-competition keywords that cost less per click.
Related Content: How This Ecommerce Store Doubled Its Revenue Using Our Facebook Ads Advice
3) Utilize Negative Keywords
Negative keywords are the words and phrases you can add to your ecommerce PPC campaigns to stop your ads from showing to people searching for things unrelated to the products or types of products you sell.
For example, if you sell top-of-the-line, high-end computer rigs for gamers, you don't want people searching for "cheap gaming computers" to see your ads.
Not that you have anything personal against them, of course. It's just that if someone looking for a cheap gaming computer clicks on your ad, that's going to cost you money that you're never going to get back from a sale because your products are far out of what's considered to be a typical "cheap" price range in your market.
Your keyword research process can help with this. When you type in your head terms, simply look for those keywords that aren't relevant or that you otherwise wouldn't want to be associated with.
You can then add these to your negative keyword lists in Google ads to ensure they don't trigger your ads when someone searches for them.
Related Content: Why You Should Use Long-Tail Keywords in Your SEO Campaign
4) Optimize Your E-commerce Ads for Maximum Click-Throughs
No matter what goals you have with your ecommerce PPC strategy, the primary objective of your ads is to get customers to click on them.
Here are a few ways to do that:
Use Powerful Headings: One of the most effective ways to optimize your product ads is to use compelling copy throughout. Start with an attention-grabbing headline packed with powerful language that all but forces users to take note.
Focus on Benefits and USPs: From there, your Google search ads should include scintillating body copy that shines a light on the product's USP (Unique Selling Point), emphasizing how the product's features benefit users rather than the features themselves.
Close With an Impactful CTA: Using Calls to Action is one of the most important PPC strategies to get right, as this will ensure a user clicks on your ad. Your CTA should focus on strong, impactful action words that make clicking through seem essential to your users.
Aim for Optimum Visual Quality: For display ads, be sure to focus on captivating, high-quality visuals that showcase your products in the best possible light so that you're not just telling potential customers how well that item meets their needs but showing them.
Related Content: Amazon Advertising Case Studies: The Best E-Commerce Strategies
5) Run A/B Tests to Improve Your ROI
If you've never heard of A/B testing before, it's more or less what it sounds like: You run two almost identical ads except for one aspect, call one "Ad A" and the other "Ad B," and see which produces the best results.
For example, if you wanted to see which ad heading attracted more customers, you'd run an A/B test where both ads had different headings but identical copy and CTA. If you wanted to test your CTAs, those would be different, but the headings and body copy would be an exact match.
Run your test for a minimum of seven days to accrue enough data for your test, then re-run the ad that got you the most clicks and sales.
Ultimately, this will help you make continuous improvements essential to succeeding in the highly competitive world of ecommerce advertising and ensure your PPC ads produce the best possible ROI.
Related Content: 5 Important Landing Page Elements You Should Be A/B Testing
6) Invest in Landing Page Optimization
If there's one factor that will make or break your success with ecommerce PPC, landing pages are it.
Serving as the final destination for your visitors after clicking on your ad, every landing page will need to be fully optimized to maximize your chances of getting customers through to your checkout page.
To do this, focus on creating landing page content that stays true to the copy in the ad, reassuring visitors that they're in the right place and you have what they're looking for.
Although they don't have to be identical, your landing page headers and body copy should match your ad's message, style, and tone to prevent visitors from bouncing.
Elsewhere, your landing page optimization efforts should involve creating clear information about the benefits of your products and how they can solve your ideal customer's pain points, with high-quality images and videos that showcase your product and highlight its USP.
From a technical standpoint, your landing pages should load quickly to prevent visitors from bouncing. Slow loading times annoy visitors, sometimes to the point that they'll leave your site altogether.
With that in mind, take the time to optimize your landing page for speed by compressing images, minifying code, and leveraging caching.
Related Content: How to Improve E-Commerce Landing Pages with Paid Ads Data
7) Stay on Top of Your Product Feed
Google Shopping Ads are a powerful way to promote your products, generating as much as 60% more clicks than regular PPC ads for ecommerce sites.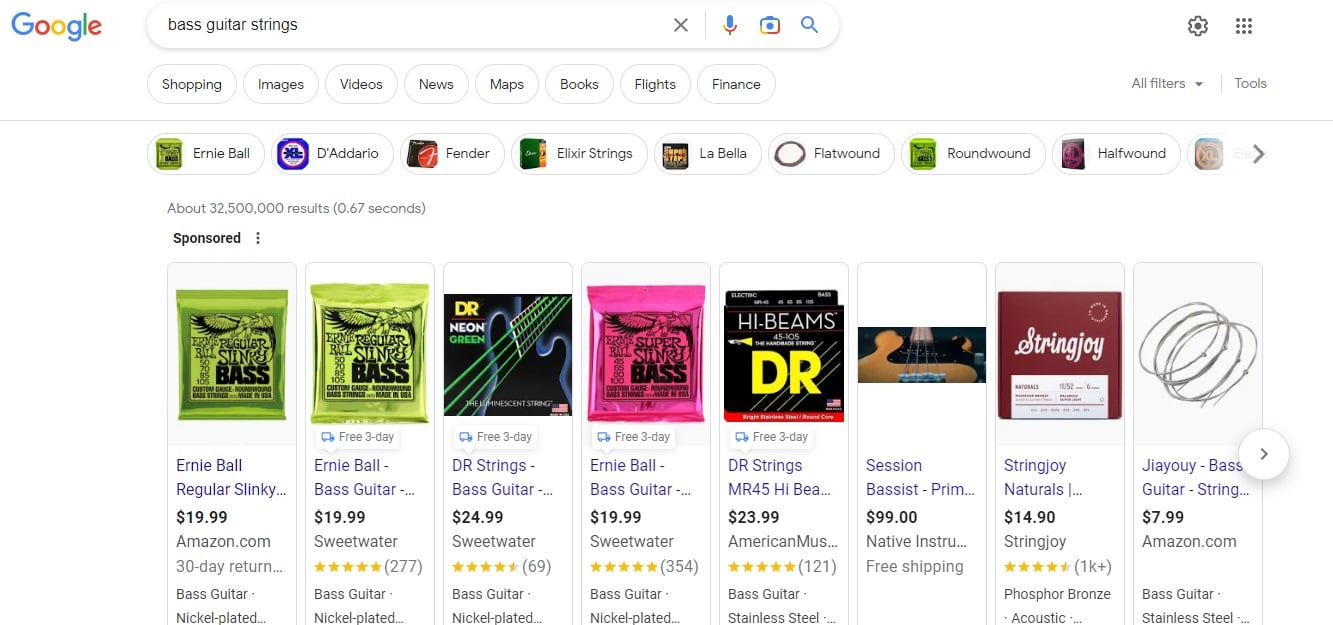 The way they work is pretty simple:
When a customer searches for certain products, the first sponsored search results show them everything they could need to make a quick yet fully informed decision about which product best suits their needs.
This includes:
Product title (hyperlinked to the product landing page)
Price
Seller
Customer reviews
Other key selling points, such as free shipping or return policies
To use Google Shopping Ads to boost sales, you'll first need to create your product feed, which is a file that contains information about your products, (including titles, descriptions, prices, and images) that you submit to Google Merchant Center.
Providing you meet all the product feed requirements such as using high-quality images and adding relevant product identifiers such as Global Trade Item Numbers (GTINs) to ensure your shopping ads are displayed for the right search terms, you're then eligible to start running ads.
Not that it's a one-and-done scenario.
The success of your Google Shopping campaign largely depends on the quality and accuracy of your product data feed, meaning you'll need to review it regularly to ensure no errors or accuracies damaging your campaign's performance.
8) Track Ad and Campaign Performance
Tracking the performance of your campaigns and individual ads is essential to ensure your entire ecommerce PPC strategy is operating at maximum effectiveness.
Regularly monitor metrics such as click-through rates (CTRs), conversion rates, and cost per acquisition (CPA) to gain insights into what's working, what isn't, and, most importantly, what you need to do about it.
For example, if your data shows that one ad, in particular, is getting a lower-than-average click-through rate, that may tell you that it's time for a round of A/B testing to determine the root of the problem.
Likewise, it may be that a particular bid strategy isn't cutting it, meaning it may be time to switch from manual CPC bidding to automated bidding or vice versa.
PPC for Ecommerce: Key Takeaways
If you've learned anything from this guide, we hope it's that the key to success with PPC for ecommerce lies as much in the planning as the execution, with goal-setting and keyword research playing just as big a role as your ad copy and landing pages.
Here's a quick recap of the key points and most effective ecommerce PPC best strategies to deploy before, during, and after your campaigns:
Make effective use of keywords: Negative keywords will prove just as helpful at preventing you from attracting the wrong type of customers as positive keywords are at attracting the right ones.
Optimize your ads on an ongoing basis: Regularly review and optimize your ad copy, targeting, and bid strategies to discover which type of ads produce the most paying customers for your online store.
Track, test and treat: Track your performance metrics, use A/B to find the most effective ad copy and landing pages, and tweak your campaigns accordingly based on their results. Doing so will help ensure every ad is performing at its optimal best.
If you're ready to level up your ecommerce brand with effective PPC ads, Single Grain's paid ads experts can help. 👇