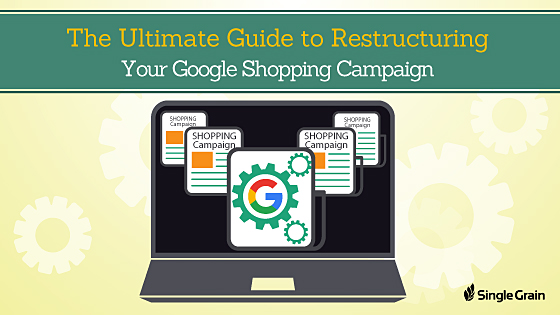 This case study is a guest post by Edwin Choi, VP of Marketing at Mobovida, a customer-driven, vertically integrated mobile accessory brand delivering fashion forward products direct to consumer. 
If you are an online retail company, you should be intimately familiar with Google Shopping. Google Shopping was first released as Froogle in 2002 and was a key growth driver of Google advertising revenue before it transitioned over to its current "pay to play" model in mid 2012.
Google Shopping is one of the biggest revenue drivers for both retailers and Google. Its engaging format drives a high click-through rate and qualifies visitors before they visit your site. The advantageous above-the-fold placement grants the valuable possibility of high traffic levels.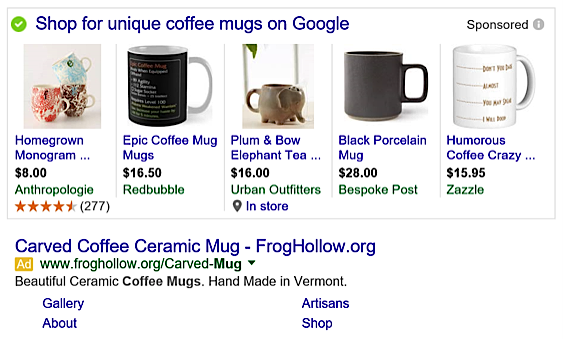 Too bad it's not a secret—the ROAS (Return On Advertising Spending) on these placements are lucrative, so the competition is fierce. The average cost per click has been rapidly increasing ever since its release and it's only getting worse.

Google has also been testing a "16-pack" of Google Shopping results that will only serve to exacerbate the pain of participating in this cost per click battleground. What's a ROAS fanatical growth marketer to do?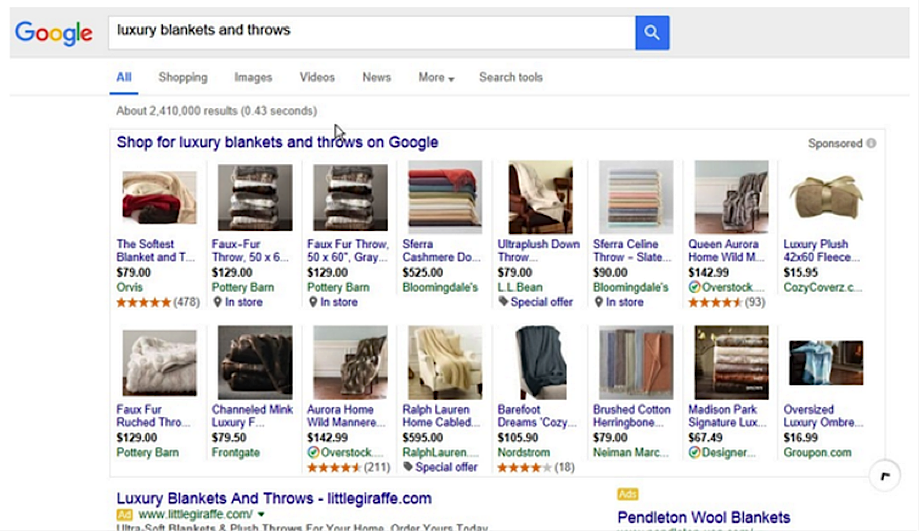 When CellularOutfitter.com first participated in Google Shopping ads, it was driving a fraction of revenue. As we optimized the campaign structure over hundreds of iterations, we slowly developed a Google Shopping campaign structure that was perfectly optimized for squeezing every last penny of return from your Googlebase feed.
We will outline the structure below in our plan for the Ultimate Google Shopping Restructure.
First, Optimally Structure Your Googlebase Feed
Elite performance in the Google Shopping auction starts off with the quality and cleanliness of your Googlebase feed. Google will harvest and index your feed and serve up results based on what it deems to be the most appropriate match to the user's search query. If you have a greater volume of optimized attributes versus your competitors, this will be a key advantage in impression share, cost per click and click-through rates.
# 1
Item title: Most e-commerce companies will simply import their product titles into this column. However, savvy paid search marketers know that Google Shopping results will bold any sort of keyword matches to help users find what they are looking for. With this in mind, you can harvest your top search queries in terms of revenue or traffic contribution from your top text ad keywords and start to optimize your product titles for the best visibility and impression share.
You will reap the dual benefits of increased CTR % as users will see more bolded keywords with your title versus the competition's as well as higher impression share % as Google gets a more exact match to the user's search query. Optimizing your feed in descending order of revenue contribution also ensures that your business will get the best bang for your buck.
Example: We had a high revenue contribution query of "Galaxy S6 TPU cases" doing well for our text ads. We then modified one of our highest converting products to exhibit this exact keyword in the title and descriptions in order to give this SKU more visibility in the Google Shopping results.
#2
Item description: With the above in mind, do the same thing with your descriptions and ensure that they are keyword rich for a few of the keyword variants that are driving the highest proportion of sales. If you are doing frequent ad rotations (which you should to figure out what type of messaging resonates well with your customer base), you can also incorporate some of those learnings into your product descriptions as well.
Example: When we ran our A/B tests for thousands of ad groups we found out that the "Up to 88% off Retail Prices" gave the highest click-through rate and conversion rates. Subsequently, most of our initial ad copy now has this value proposition and we are incorporating it into our SKU descriptions.


(CTR % over time)
#3
The Googlebase contains a multitude of optional fields, including color, product variants and product sale information. Filling these in will allow users to better narrow their search results within the Google Shopping interface as well as grant the Googlebot better information about your products.
Having these fields appropriately filled in will also give you an edge over your competitors as most retailers are too lazy to fill them in.

#4
Make copious use of the "Google Label" fields. The Google label fields allow you to segment your Googlebase feed into different sections that you can exploit for different optimization techniques. A few use cases I would suggest are:
Segmenting your SKU catalog into different profitability buckets. If you have a varied gross margin profile within your SKU catalog, you can label your SKUs with a "Low," "Medium" or "High" margin designation. If a SKU has a "Low" margin profile, you would have to target a lower corresponding cost per acquisition. Inversely, if a SKU has a "High" margin profile, you can accept a higher cost per acquisition and aim to capture more market share.
Segmenting your SKU catalog by category. This is a critical piece of our alpha/beta Google Shopping campaign structure (more on that later). In addition, we will be able to quickly discern performance differences among different categories and make adjustments accordingly. For example, if you are a clothing retailer and the socks category is garnering a 10-to-1 ROI, it would make sense to bid up on this category as a whole versus a category that is only earning a 3-to-1 ROI.
Segmenting your SKU catalog by sale velocity or revenue contribution. The run rate of a SKU can vary wildly—some might sell massive quantities daily while others barely move the needle. We asked our developers to create a daily backend metric of rolling sales velocity over the last 30 days and attach to each SKU. We then attached this metric to our Googlebase which allows our paid search marketers to quickly harvest new opportunities. The SKUs that are driving the business via our other channels should get a strong concerted effort for maximum impression share in the Google Shopping marketplace.
Second, Let's Build Our Alpha/Beta Structure
The default method of setting up the Googlebase feed places an inordinate amount of control in Google's hands: they decide which SKUs show up for which search query, they decide what is served in what proportion, and you only have a few levers to pull in order to influence performance.
However, the Alpha/Beta structure allows paid search marketers to continually harvest insights about their campaigns and maximize performance while incrementally wrestling control away from Google. As a good rule of thumb, the more draconian you are about controlling your paid search traffic, the better your performance will be.
Let's explore the Alpha/Beta structure! If we were to map it out, it would look something like this: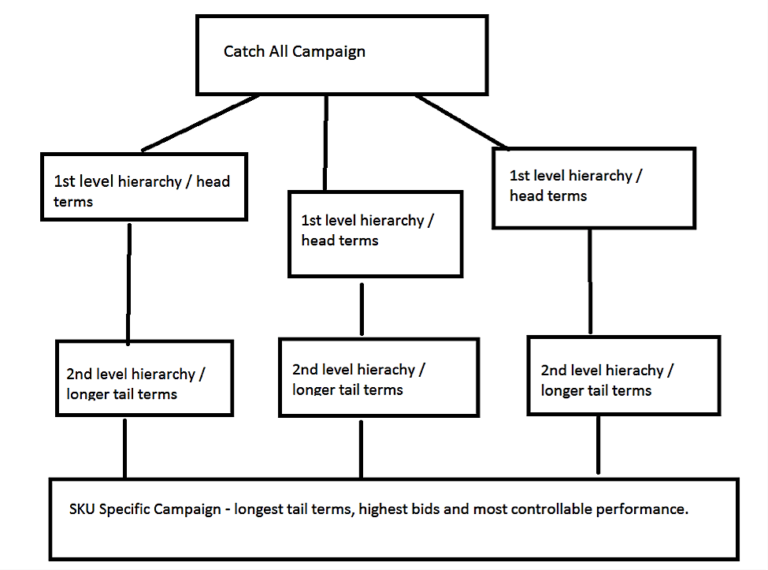 The "Catch All" Campaign
First, we need to create a "catch all" campaign and assign it a low bid. This campaign will simply bid on all products in the feed at the lowest acceptable bid possible in order to get a decent amount of impressions.
For the sake of this discussion, let's pretend that you have a catalog of 500,000 clothing SKUs and you set the bid to .50 CPC. The campaign priority for this campaign will be "Low"—this campaign level setting allows Google to better make sense of how it should deliver Google Shopping traffic if there are multiple Shopping campaigns utilizing the same Googlebase feed.
The goal of this campaign is to:
Continually monitor and harvest your Googlebase feed for new SKU optimizations. For example, if a segment or an individual SKU is appearing at the top of the ROAS heap, you would harvest that SKU and build it out into its own campaign/ad group. Inversely, if a SKU is doing extremely poorly it would be a good warning flag in order to figure out why. As a last resort, you can always bid down on the SKU or exclude it from your campaigns entirely as a way of funneling your ad dollars into other, more profitable SKUs.

The low bid will ensure that this campaign will serve last in terms of the priority totem pole.
The campaign will automatically find and attempt to serve up impressions for new SKUs as they are added to your catalog. For us, this is essential as we are adding hundreds of new SKUs per week.
The First Layer
For your next campaign, we're going to utilize either your Google custom labels or the Brand/Category columns that are present in your Googlebase in order to better sculpt your traffic. We will continue to go along with our clothing store retailer analogy and start to build out campaigns that represent the next tier of keywords that might present themselves in the sales cycle. For example, a prospective customer might search the following in order to buy a pair of dress socks:
Online clothing store > online clothing store socks > dress socks > men's dress socks > black men's dress socks > black Spiderman men's dress socks    
The first layer should be designed to capture search queries in the upper funnel, so a campaign structure might look like this:
Catch All
Category – Socks
Category – Ties
Category – Pants
Category – Shirts
And so on and so forth. The categories should have the following attributes:
Priority: Medium. If a query matched an upper funnel category segment, we would want it to show the search results from the Category query vs. the Catch All campaign. In order to ensure this, we will also stagger the bid so it's higher than the existing Catch All campaign bids. Since the Catch All campaign bid was set to .50, we'll set the Category bid campaigns to .65.
Promotion text: Since we know something about the user, we will construct specific ad copy that resonates with the user's search intent. For example, for the socks category we might have ad copy that states: "Choose from over 50,000 socks at prices up to 88% below retail."
Create the campaign by going into the ad group settings and adding a Category, Brand or Google Custom Label filter to only allow a certain subgroup of SKUs to be allowed to be shown.

By adding this layer into your Google Shopping campaign structure, you are effectively sculpting your Google Shopping traffic and will earn the following benefits:
Better Performance. Your campaign will perform better because it will have more specific promotion text, its own set of negative keywords, its own adjustable bids (and corresponding bid adjustments) and budget.
Better Data Mining Capabilities. With your campaign structure segmented this way, it will become infinitely easier to refine the campaign moving forward. All the search queries and product IDs regarding "socks" will immediately be routed toward your "Category – Socks" campaign, and this will allow you to quickly build out the next levels of hierarchy.
More Predictability. As you wrest control away from Google Shopping's serving algorithm, you will start to shape your traffic on your terms. If a few product IDs or search queries aren't performing well enough to your liking, you can quickly identify and remedy that. If you have search queries or product IDs that are driving significant profits for your business, you can fine tune your campaign structure to maximize your impression share.
The Subsequent Layers
As your Catch All and First Layer campaigns collect data, they will start to provide enough user-driven insights for you to flesh out the remaining, more specific layers of your Shopping campaign. The eventual goal is to create SKU-specific ad groups that are targeting one ID; this will allow you to get the most granular performance and the best shaping of search queries to SKU IDs.
Example: you decide to click on Dimensions > Search Queries in your "Category – Socks" campaign. You see masses of search queries corresponding to rough subcategories. For simplicity's sake, let's vastly simplify some of your findings and assume you gathered enough data for the findings to be significant and that all five groupings have large amounts of traffic:
Black socks – 4.1 ROI
Blue socks – 2.7 ROI
Pink socks – 10.2 ROI
Men's socks – 6.2 ROI
Women's socks – 0.3 ROI
We now have enough data to add all five subcategories to a new campaign designed for your 2nd Layer in the Alpha/Beta hierarchy. These campaigns will have their serving priority set to "Medium" and have a higher bid than the Catch All or Category campaigns. You might structure the bids this way:
Black socks – 1.00 CPC
Blue socks – .80 CPC
Pink socks – 2.00 CPC
Men's socks – 1.50 CPC
Women's socks – 0.76 CPC
By structuring the bids this way, the profitable search queries catered toward "pink socks," "men's socks," etc. will be funneled toward even more specific ad groups with their own corresponding bids, bid adjustments, negative keywords and promotion text. Performance will continue to rise as the more specific subcategory ad groups continue to gather SKU specific data.
You might be asking yourself: why would we want to bid so high on women's socks even though the ROI isn't there? We would want to do this because:
Raising the bids in the Alpha/Beta structure will funnel all the unprofitable women's sock traffic into a specific ad group where you can monitor and optimize its performance. Although it's currently unprofitable, it represents a large opportunity based on its traffic volume and if you were able to get the ROI higher it would be a big net gain for the account. If you don't funnel the traffic, it would be randomly dispersed within your Catch All and Category campaigns and it would be difficult to identify and work on.
Greater optimizations can be done once you segment out your traffic: you'll be able to craft a set of negative keywords that only apply to that group in order to sharpen ROI. Perhaps mobile performance is lacking and a mobile bid adjustment of -50% could sharply increase performance. The possibilities for attacking the issue with a scalpel vs. a battle axe increase.
We commonly find that problems lie outside of the account's structure or strategy. Perhaps the women's sock category on the site as a whole isn't competitive due to a lack of item selection or abnormally high pricing. Some things you might do to attack these issues are to mine your search queries to see if there are any missing holes in your women's sock category and enable your purchasing team to fill in the holes appropriately. Your merchandising team might also be able to do some competitive analysis and drop prices wherever appropriate. After these changes are made, the subcategory breakdown allows marketers to easily monitor performance over time to see if any course corrections need to be made.
­

(Wow, terrible performance! Turned out this SKU was not priced appropriately.)
The Final Layer – SKU Specific
Lastly, once your subcategories start to gather significant amounts of data, you will gain the ability to build the most important piece of the Alpha/Beta structure—your SKU specific campaigns. These campaigns and ad groups will be focused toward individual SKUs that drive the performance of your entire account.
You will enjoy total control over the performance of these SKUs and will be easily able to monitor their performance with a microscope. This campaign will drive highly-defined search queries that sit at the very end of the user's purchasing funnel. It will also be easy for you to dominate impression share % for high contribution SKUs.
The campaign should have its Priority set to "High" and have the highest bids across your entire slew of Shopping campaigns. This will ensure that AdWords will always show the SKUs you want when you want.

You can build out these ad groups by proceeding to the Dimensions > Product ID breakdown tab in any of your higher hierarchy Shopping ad groups. You will see a complete breakdown of the SKUs along with their performance:

Once you export a list of your top contributors, sort them into the following categories:
High traffic, high ROI – these SKUs drive your business. Create individual ad groups with their own promotion text and ramp up your bids accordingly to capture as much market share as possible.
High traffic, low ROI – these SKUs have the potential to drive your business, but they are currently hurting you. Carve them out and give them a lower bid, but optimize and examine the SKUs to see if there is anything you can do to turn their performance around. If you can't, you can exclude these SKUs (see below for a technique on how to do this).
Low traffic, high ROI – these SKUs have the potential to drive your business, but they weren't given a chance to realize their potential while they are lost amongst the thousands of SKUs being served in the generalized Alpha campaigns.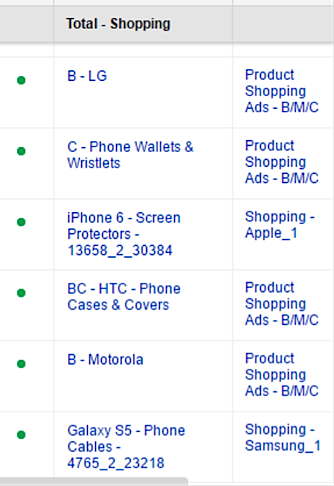 As your SKU specific campaigns gather more data, you will start to exhibit dictator-like control over your Shopping campaign traffic. An ideal situation is your generalized "Alpha" campaigns consistently and efficiently directing traffic to the places in the account structure where they can best performance while serving as "miners" looking for golden nuggets—the gold nuggets are SKUs that deserve to be in their own ad group so they can be optimized for even more traffic.
As your negative keyword structure and bids start to further sharpen your traffic stream, a greater proportion of your traffic will be funneled toward the highest ROI ad groups located in your SKU specific campaigns.
Lastly, a Few Novel Ways to Improve Performance
In the course of running Google Shopping campaigns for years and spending millions in ad spend, we developed a few novel techniques for further improving the ROI of our Shopping campaigns.
SKU Exclusion Tool
When mining for product IDs to add to our SKU specific campaigns, there are often SKUs that lose money no matter what. Since we don't have infinite time or the wherewithal to figure out how to make them profitable, we might want to completely exclude them from being served.
However, when excluding product IDs across hundreds of ad groups and campaigns it can be a chore to keep track of the SKUs that you don't wish to exclude. We wound up playing a frustrating game of "whack of mole" where a SKU excluded from one campaign would simply pop up in another.
We had our developers build a special tool for us—the SKU Exclusion Tool. PPC marketers wishing to exclude a SKU would upload a list in .CSV format. Upon our nightly feed generation, those SKUs would be completely removed from our Googlebase feed. This allowed us to quickly eliminate losing SKUs with 100% certainty and saved countless ad dollars.
Negative Keyword Tool
Mining search queries amongst all your Shopping campaigns can be a massive endeavor. With the enormous scope of search queries that can crop up in the Search Query dimension, it can be difficult to come up with negative keyword additions that would move the needle.
We found that certain unprofitable terms such as "free" would show up countless times, but they were dispersed amongst thousands of unique search terms. This made it impossible to truly determine the ROI of the word "free."
We had our developers build a tool that would separate each word in a list of search queries into a separate entity and then pivot all of the KPIs we needed and attach it to each instance. We could then export this list into an Excel file and quickly build a negative keyword list that would save tens of thousands of dollars. The word free might appear in the export like this:
"Free" – Appeared in 15,201 search queries. Contributed 150,304 impressions, 10,521 clicks, $5,260 in ad spend, $217 in revenue.
Once we added "free" and a host of other broad/phrase match negatives to the Shopping campaign, we would immediately save tens of thousands of unprofitable ad spend per month. We would immediately reinvest these dollars in capturing more impression share for the other profitable areas of the Adwords account.
Query Mapping
This is a new technique we just started to implement. Export your list of search queries from your Google search campaigns into one Excel file, and export another list of your Shopping campaign search queries into another.
Perform a VLOOKUP and try to find mismatches amongst the files. These represent proven opportunities that you can quickly exploit.
You might find search queries that are performing well for your Shopping campaigns that aren't added as keywords in your Search campaigns. Adding these search queries as keywords to your Search campaigns will boost your revenue as these proven winners will now start to appear in Google's search results with greater frequency. You will also appear for both Shopping ad results as well as Search results and capture more impression real estate.
On the other hand, you might have search queries that are performing well for Google Search but are not contributing to your Google Shopping campaigns. For example, some of the below might be huge contributors to our fictional Google Adwords Search campaigns:
Men's red Spiderman socks
Women's Wonder Woman pink socks
Yellow striped hiking socks
If you do carry these products, this would be a great opportunity to go into your Googlebase feed and modify the title, descriptions and attributes of these products to more prominently feature the search queries in question. Once Google starts serving the right products to the right search queries, build them out into their own ad groups and spike up the bid to dominate the impressions for that particular search query tree.
Don't Settle for Anything Less than Domination
With the Search and Shopping results looking more competitive by the day, aim for granular, hyper optimized to annihilate your competition. For our core search queries, we often have 4-6 products appear in the results which can take up 75-90% of the available Google Shopping impressions.
Let us know your experience with Google Shopping Campaign in the comments section below!