The Difference Between Retargeting and Remarketing
Imagine if you had the ability to know, with a single look, who was willing to buy your product. You would be able to easily nudge customers from "Oh we're just window shopping" to "It's time to splurge on this product!" That would be ideal, right?
Remember when you visited an e-commerce website and scrolled through it but didn't end up buying anything, and then suddenly Facebook started showing you ads about those same products and you thought to yourself, "Is the government watching me?!"
Nope. They're not. But this is where the concept of retargeting and remarketing comes in. You've probably heard these terms and are likely using them interchangeably. Let me tell you right now: that is wrong.
This article will take a deep dive to explain how these two concepts are different so that you can use them correctly and make sure you get the most out of them.
What Is Retargeting?
Since about 79% of people abandon their online shopping cart on a website, your main goal is to get them to finish their purchase. The problem lies in understanding who these people are that don't make that purchase on your site.
As Brian Barr reminds us, there are many reasons why a customer might not complete their checkout:
They got an important e-mail from their boss
Their 7-year-old daughter ran into the den crying
They were just shopping around on their phone and wanted to save products for later
They just wanted to check how much shipping would cost
They're still a little unsure if the value you offer is worth the price
The good thing is that many of those problems can be overcome with a little push or by offering an extra bit of value, like a discount. Enter retargeting.
Retargeting primarily uses Internet ads to entice interested prospects back to your website to finish a purchase. This tactic turns window shoppers into buyers.
Click To Tweet
By adding pixels (a short snippet of code) to your website, you will be able to track the user's actions through cookies placed in their browser. That means you will know what the user has done on your website and where to find them online so you can show them new, personalized ads.
By "following" them around the Internet, you ensure that your brand is seen by them often enough that when they're ready to make that purchase, they think of you and return to your site. The key to retargeting is that your ads are aimed at those website visitors who have already demonstrated an interest in your products – not new prospects.
This is what retargeting looks like: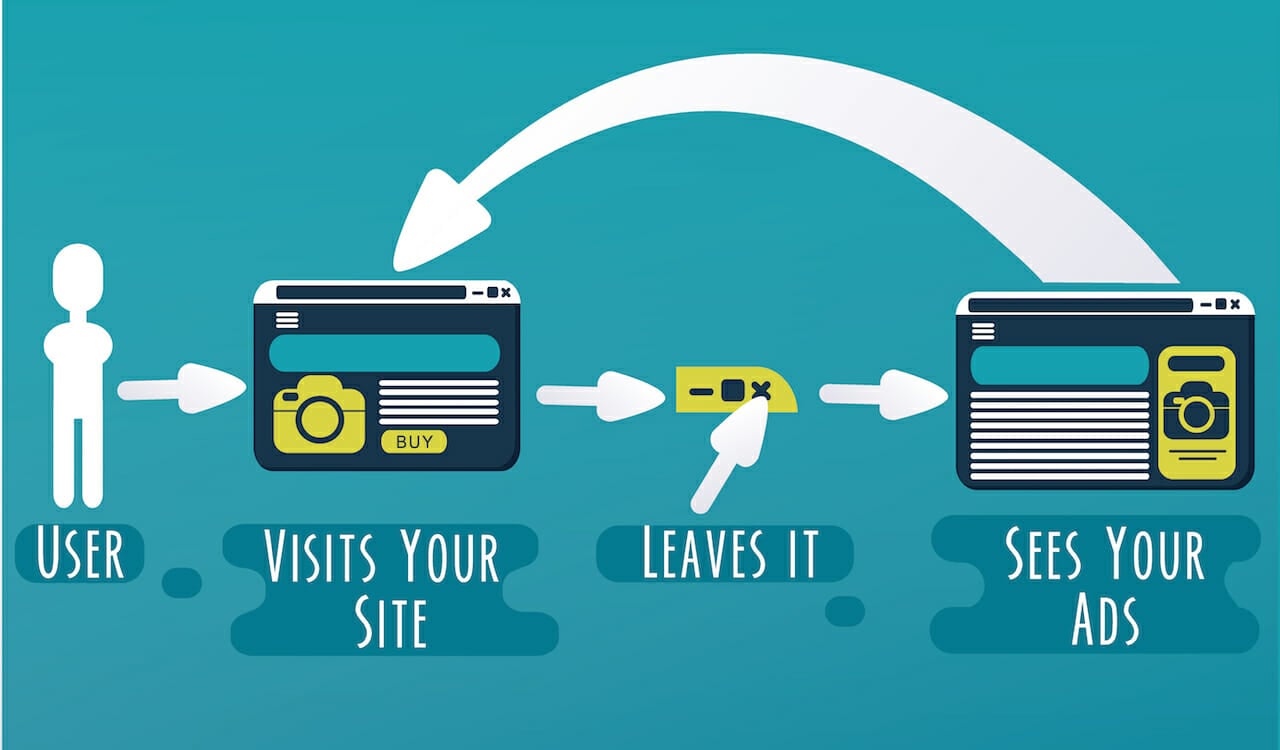 Dive Deeper: Retargeting 101: Why It's Essential for Any Marketing Funnel
What Is Remarketing?
Although both of these strategies are designed to bring back customers who have bounced from your website after performing a certain action, remarketing generally uses email rather than ads.
Remarketing entails gathering your site visitors' info and then sending them emails to persuade them to return to their abandoned shopping cart on your website and complete a purchase.
Click To Tweet
Think of the difference between retargeting and remarketing as sending a sales person out to the mall to find prospects versus having a sales person come to your door. Many marketers and e-commerce store owners use both strategies – which both involve a person who has shown interest in your product but not yet bought it – for best results.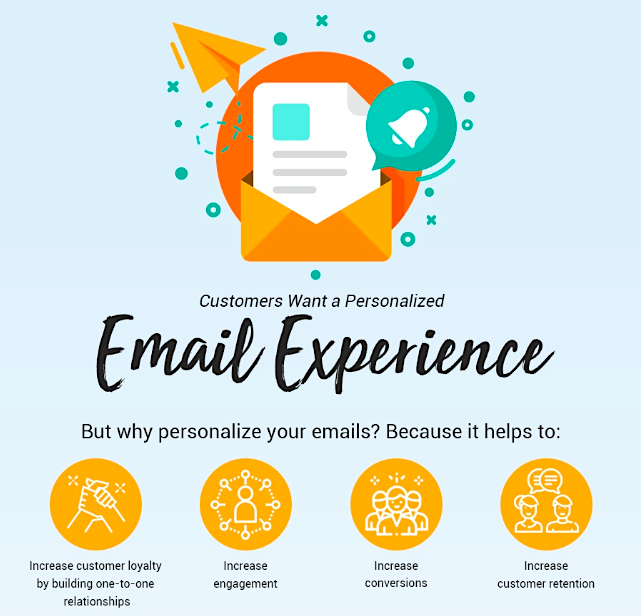 Dive Deeper: How to Use Personalization to Increase the Impact of Email Marketing
Why Should You Use Retargeting?
Many companies end up focusing their efforts on reaching new customers and forget to nurture the existing relationships with current customers.
Customers who have already visited your website understand your products and your aim, so you don't have to create a completely new message for this audience. Since they are already familiar with your brand, they trust you, which makes communication with them easier.
In fact, it is not just that they understand you, but, more importantly, you understand them. You know what kind of products they like, what they don't like and where they are in the purchase funnel. This will help you create customized ads for these people which will help them to convert better.
Retargeting basically allows you to give the specific customer the right kind of attention in the best manner.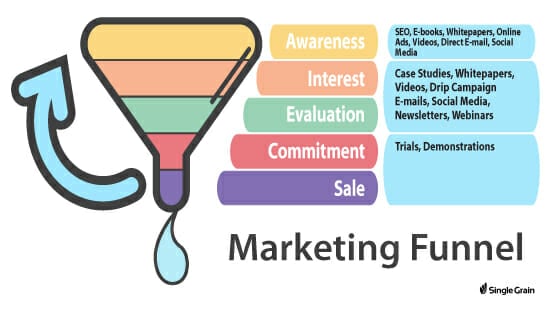 Learn More: How to Create a Marketing Funnel that Generates Sales (Templates Included)
Retargeting Falls under the Umbrella of Remarketing
After you have been able to identify which audience group should be retargeted, you further need to understand how you should target them – in terms of which channels to use and what the ad should contain. This whole process is remarketing.
Ideally, you want to make these ads in such a way that they are direct and focused in order to convert a target audience into actual customers.
The different channels you can use to remarket can be Facebook ads, Google ads and email lists. By creating interesting, attractive and personalized content for your audience, you will be able to catch their attention.
Types of Remarketing
1) Facebook Pixel Remarketing
What is a Facebook pixel? Shopify describes it like this:
"A Facebook pixel is an analytics tool that consists of a code that you can put on your website. The pixel fires [off cookies] to track site visitors. This data allows you to retarget those users with Facebook ads in the future, as well as see what they're doing on your site when they return."
You'll be able to access this audience – and, more importantly, data about them – through Custom Audiences. So now you have the power of Custom Audiences and the power of demographics of the audience – you get the best of both worlds to create the perfect personalized targeting.
To do this, you have to add the Facebook pixel code to your website, which will allow Facebook to track your traffic. Then use this data to carry out your remarketing campaigns.
Learn More: 30 Winning Facebook Ads and Why They're so Effective
2) Google Display Remarketing
By monitoring the data of your website visitors through Google Analytics, you can retarget them with ads on the Google Display Network:

This will give the people who have visited your website just a little more of a nudge by showing them those products they have left behind on your site. You can enable Google Analytics and connect it with your site to monitor the behavior of your audience and accordingly attract them through personalized ads.
Learn More: Google Ad Extensions: Everything You Need to Know
3) Email Remarketing
This is the original channel for remarketing. Companies used only this before Facebook and Google pixels were introduced. Via all the lead forms that people fill out on your website or all the people who sign up on your e-commerce website, you are able to create a large database of emails. With this email list, you can retarget all your site visitors whether they made a purchase or not.
Have a look at this example. Tarte Cosmetics is retargeting the user on the basis of what is in their cart by remarketing via email. The email content is very attractive because it's showing that the product the user wanted (but didn't purchase) is almost gone. A call to action is included as well which says "Ends Soon," creating a sense of urgency.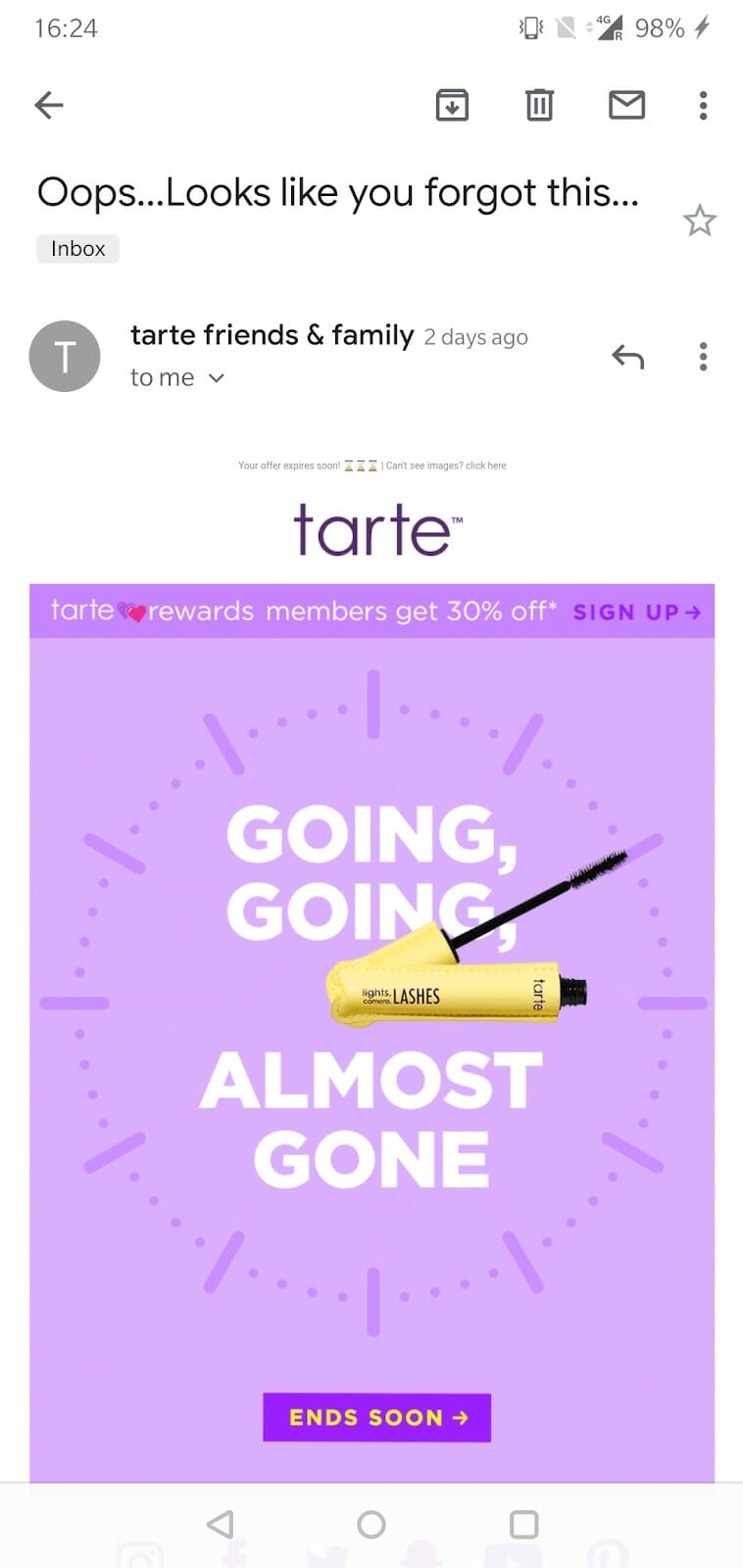 Learn More: Hacking Email Marketing: 14 Tactics that Work [Infographic]
Why You Can't Ignore Remarketing:
Remarketing increases the chances of purchase on your site by constantly reminding the customer about your products.
It allows existing customers to carry out repeat purchases as you can show related products or new products based on their buying behavior.
It reengages customers who haven't connected with your brand in a while.
It pushes customers further down the sales funnel with promotional offers of products that would be of interest for them.
You have more control over reaching your target audience, as you have already collected data on them.
The audience you are reaching is much more precise and exact. You want to reach people who have an actual chance of carrying out actions on your website.
How to Get the Most Out of Your Remarketing Strategy
1) Use Personalization
The best part of retargeting is the information you have about your audience, which is not available through the insane amount of buyer personas that one makes.
We know exactly what the potential buyer is looking for and this is a gold mine for the communication you can then use. You can create content that directly engages the customer. Keep in mind that 25% of consumers enjoy behaviorally retargeted ads because they remind them of products they've viewed previously and 78% of users say that personally relevant content from brands increases their purchase intent.
In this example, the company Nykaa is reminding the customer that they've shopped with Nykaa before by showing new and favorite products with the phrase "restock your all-time favorites":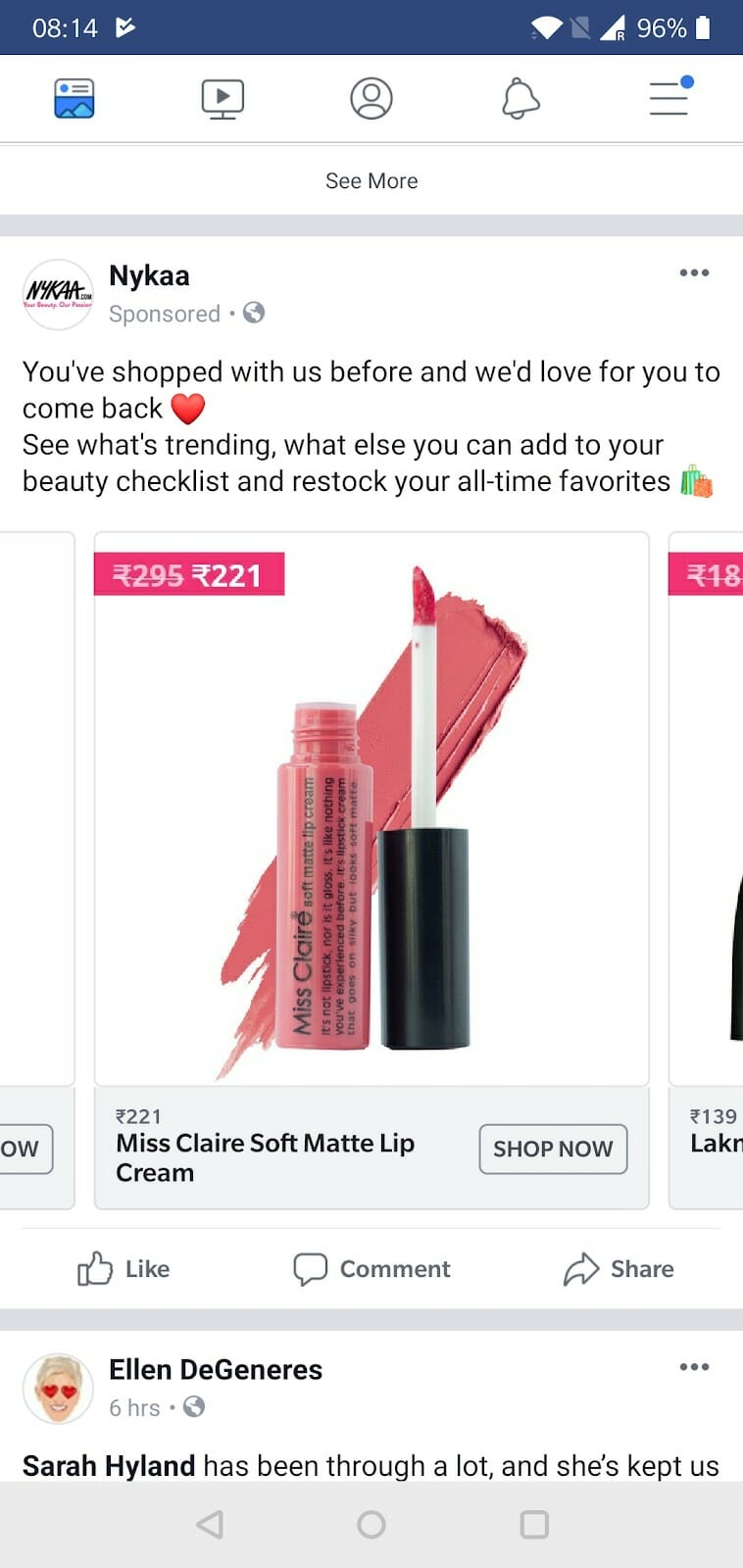 Furthermore, you can use email subject lines like "We have missed you" or "Where have you been?" for customers who have not engaged with your brand for some time.
Dive Deeper: The Complete Guide to Getting Started With Website Personalization
2) Offer Discounts and Other Promotions
An important aspect of remarketing is including a promotional offer that will compel the customer to take action. Offers like free shipping, discounts and "buy-one-get-one-free" are tactics that will grab their attention.
As mentioned above, some of the reasons why a person might abandon a shopping cart could be that they were price comparing or they wanted to calculate the cost of shipping. So a discount on products or free shipping via an email reminder might be just the thing to convert an uncertain potential customer into an actual customer.
3) Leverage Your Best Content
Content marketing is the ultimate contributor to push a user further down the sales funnel. When a brand's content is engaging and offers something of value, the remarketing strategies will automatically be successful.
With the data you've gathered from your site visitors, you can create specific content that appeals to specific people at every stage of your marketing funnel. Here are different examples of content that is ideal for each of the four stages:
Stage 1: Attract
Ads
Landing Pages
Website
Videos (Explainer or Product Demo)
Infographics
Handy Checklists
Stage 2: Convert
Social Media
Blog Posts (How Tos or Guides)
White Papers/E-books
Case Studies
Webinars
Stage 3: Close
Ratings & Reviews
Questionnaires
Self-Assessments
E-mails
Stage 4: Delight
Surveys
Special Offers
Contests & Giveaways
E-mails
Social Media
Blog Posts
White Papers/E-books
Dive Deeper: How to Choose the Right Content for Each Stage of the Marketing Funnel
Are These Ads Actually Creepy?
A simple answer to this question is no. According to statistics:
25% of people welcome seeing retargeting ads
Retargeting ads are 76% more likely to get clicks than regular display ads.
The click-through rate (CTR) of a retargeted ad is 10x higher than the CTR of a typical display ad.
While display ads earn about 0.07% CTR, retargeted ads come out at about 0.7%.
It's clear that users love getting these so-called creepy ads.
Keep in mind that if done right, remarketing is not creepy. If you don't sound like a fraud and you strategically create the right communication, you might be helping out your audience by reminding them that your brand exists and your products can help them.
One of the main positives of these types of ads is that it gives you the chance to improve your offers by personalizing your communication with your customers and providing better promotional offers. This will be a big contributor in helping the audience to convert.
Case Study: Airbnb
One of the best industries to retarget is tourism, and Airbnb is the biggest success story. They use both Facebook and Google Display ads to retarget their audience who have searched for "homestays" in a specific city. On Facebook, they do as many dynamic remarketing campaigns as they can: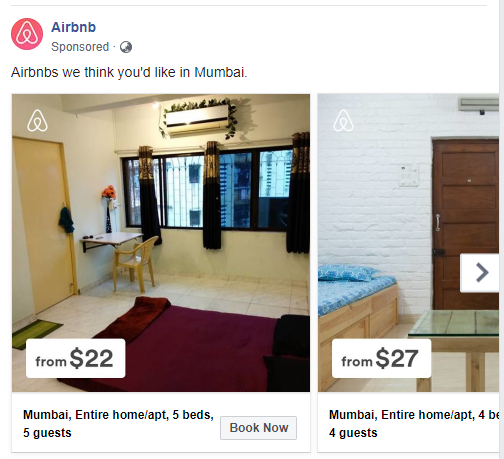 By tracking what the users have searched for on their website, they retarget for the same cities. What this allowed Airbnb in a week was:
3X increase in return on ad spend compared to the previous campaign
238 million people reached globally
47% lower cost per acquisition
Recommended Reading: Analysis of 1 Million Backlinks: Airbnb
Tips for Retargeting and Remarketing
1) Communicate with the Audience Appropriately

Whether you're targeting potential customers or current customers, don't overwhelm them with too many ads. Understand that they will get irritated by seeing the same ad again and again.
Unless you have a proper strategy regarding the number of times you want to show them the same ad, your remarketing process will not work and you will overburden the audience with the same annoying ads. This will ruin your chances of getting them to convert.
2) Understand Your Audience

If you don't understand which kind of customers you are talking to, you may get the message wrong. Let's say that you are remarketing to people who have not made a purchase on your website with ads that say "Make another purchase." This can go horribly wrong and make your audience completely uninterested in interacting with your brand.
This is why it is important to analyze the data you have gathered and further segment this list so that you can send the correct message to the correct prospect.
3) Try Out Different Ads
A user sees hundreds or thousands of posts and ads a day on their social media feeds, in their email inboxes, and all over the web. Clearly, the competition is high, so your job as a marketer is to stand out from the crowd and create engaging content that will attract your audience.
If you're not seeing the kind of conversions you'd like, explore what kind of ads work the best with the audience you are targeting with A/B testing.
Dive Deeper: How to Run A/B Tests that Actually Increase Conversions
4) Have a Clear Objective
You need to make sure that you are clear on what action you want your audience to carry out after clicking on your ads. If it is signing up or buying a product, you have to create the right call to action and have the right communication for this outcome. If a visitor gets to your ad's landing page and doesn't know what you're offering or how to go about buying it or learning more, you've messed up a great opportunity.
This landing page from Uber very clearly and succinctly explains their offer – earn money on your schedule, drive when you want, and earn what you need (and a CTA that says "sign up now"):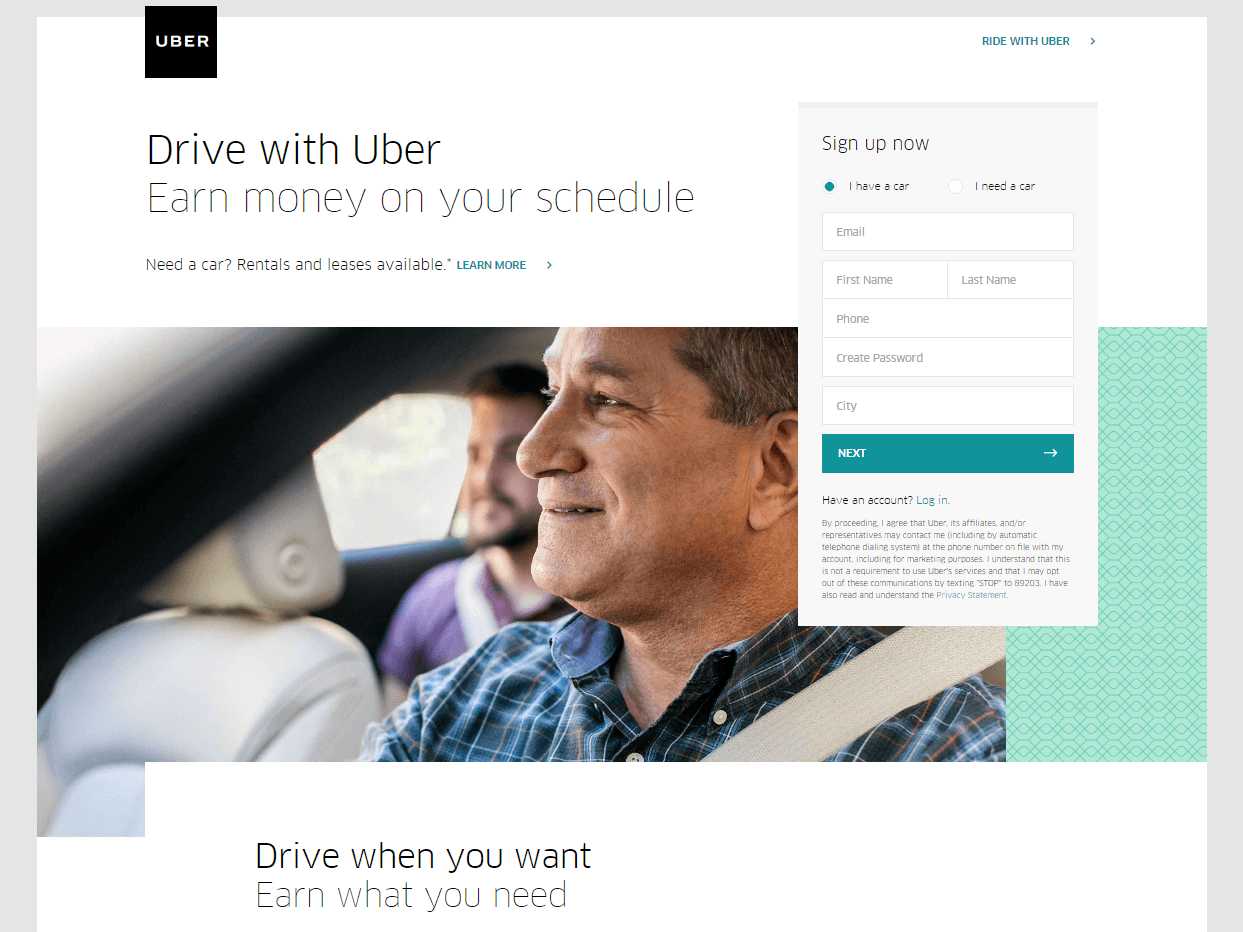 Dive Deeper: The Ultimate Guide to Creating a High-Converting Landing Page in 2019
Remarketing & Retargeting Are Essential for Success
In a nutshell, the difference between retargeting and remarketing is the approach: Retargeting involves showing ads via browser cookies to prospects and remarketing involves collecting prospects' info and sending them sales emails. The goal to both approaches is to get the prospect to convert.
With more and more consumers online with access to almost unlimited information and products, retargeting and remarketing have become important for all brands. These tactics allow you to place your brand in the mind of the user and is one of the easiest ways to spread brand awareness.
Although retargeting and remarketing aren't exactly the same, they do go hand in hand. It is integral to a good digital marketing strategy to carry out both strategies, as this is how you will foster and nurture relationships with your audience – whether they are potential customers or already converted customers.