Out of all the paid media strategies in the digital marketing industry, native advertising is becoming one of the most popular.
But in order to convert leads with native ads, advertisers must pay attention to the latest trends so they don't fall behind.
Here are the top 11 native advertising trends to keep an eye on for this year and beyond.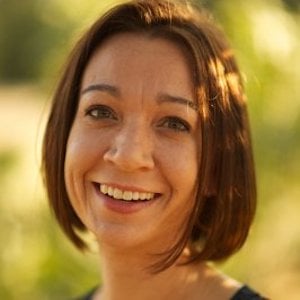 Kim Cooper
Director of Marketing, Amazon Alexa
Single Grain enables us to increase our impact without increasing our headcount
What Is Native Advertising?
Native advertising is a paid media format where your ads look organic, blending in with other posts on the platform. In other words, native ads look more natural than traditional display ads.
Native advertising spending is expected to reach $98.59 billion by the end of 2023, and that's because it works.
The average CTR of native ads is 8.8X greater than display advertising, making a native advertising strategy a very smart investment.
Because of their popularity, most websites and apps allow space for native ads. The most common platforms you'll find native ads are YouTube and various social media sites, like Instagram: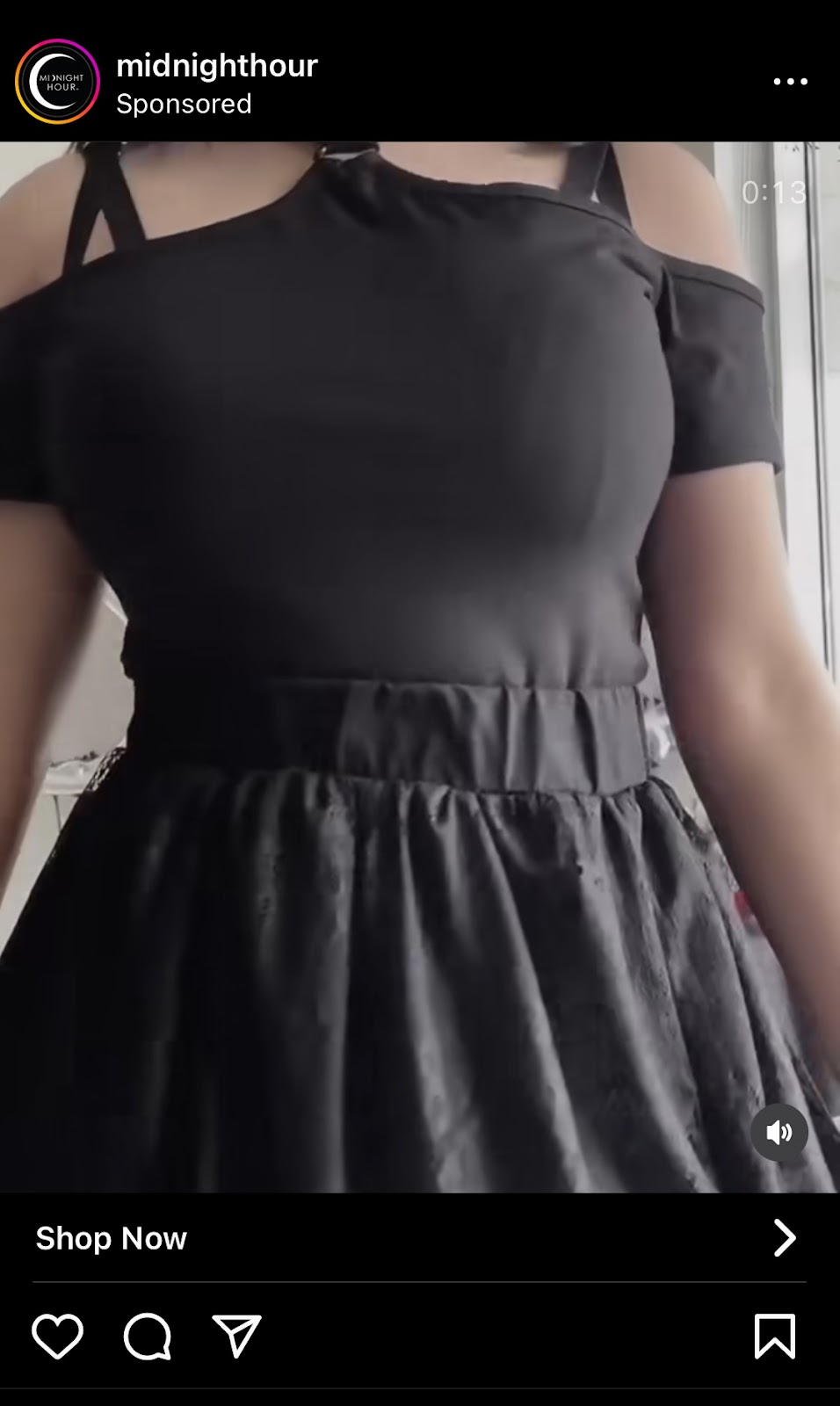 Native ads can also appear offline, such as on apps.
Dive Deeper: Native Advertising for SaaS: A Perfect Alternative to Facebook Ads
Why You Should Invest in a Native Advertising Strategy
Native advertising is a form of advertising offers many benefits. Here are several key reasons why you should invest in native-promoted listings.
Drive Company Growth
Since native ads look like organic content, users have a stronger chance of remembering and interacting with these ads, enhancing brand awareness. For example, Dell started implementing a native advertising strategy and achieved a 40% increase in website traffic.
Cost-Effective
A native advertising campaign can cost as little as $100 or as much as $1,000,000. Since advertisers can boost posts, many brands mix native ads with organic content to improve their ROAS.
Various native advertising platforms offer scalable pricing models, such as cost-per-view (CPV), cost-per-day (CPD) and cost-per-thousand-impressions (CPM). Advertisers can also pay based on how long their ads are up on the website.
Since advertisers can choose their payment strategy, native advertising is a cost-effective way to promote your brand that fits any budget.
Dive Deeper: How to Determine a Marketing Budget for Your Brand
Scalable
Native ads are one of the most versatile paid media options. There are numerous self-serving native advertising platforms, and businesses can pick and choose the services that best fit their campaign and budget.
Companies also have control of their native advertising strategy. They can decide where their ads are placed and track demographics to ensure that they appear in front of the right audience. All of these factors make native advertising scalable, and brands can invest more or less during the course of their campaign.
Better User Experience
There's a reason why consumers view native ads 53% more than other forms of online advertising: Native ads come with a better user experience.
Since native ads blend with organic content, users treat them like regular posts. This results in more converted leads than pop-up ads, surveys and any other type of ad that forces users to click on or watch something that doesn't interest them.
Since native ads improve the online experience, people may also develop more trust in your company, which creates more leads.
11 Native Advertising Trends to Keep an Eye On
Before creating a native ads campaign, it helps to have a wider perspective on the trends for the coming years.
Here are the latest native advertising trends and how to implement them in your strategy.
Trend #1: Branded Native Ads
There's a reason why branded ads work over other ads: 88% of customers say authenticity is important when supporting a business:
Since native ads look seamless, creating branded content as a native ad will look less pushy, like this ad from Spectrum: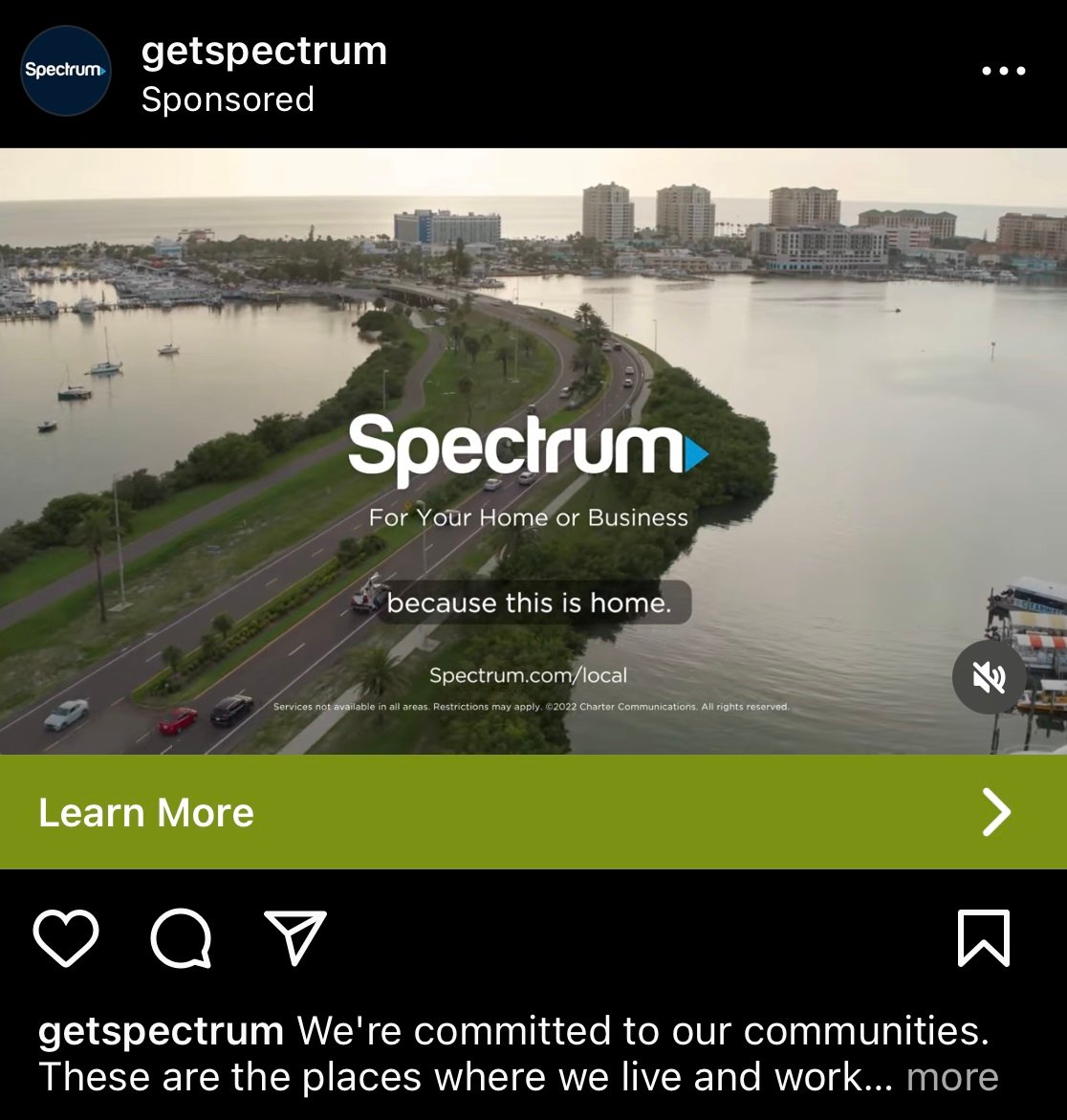 There's another reason native ads are a great outlet for branded content: It's easier to attract your target audience with native advertising. Most native advertising platforms give you control over where to place your ads and how you'll create them. You can add your customer demographics to these platforms so they automatically show up for your specific audience.
This way, you can draw your target audience in with a catchy headline and compelling media, introducing your business as a solution to their needs.
Trend #2: Native Video Ads
Video advertising is one of the most compelling ad formats: 46% of marketers created video ads in 2022, and this figure is expected to increase in the next coming years: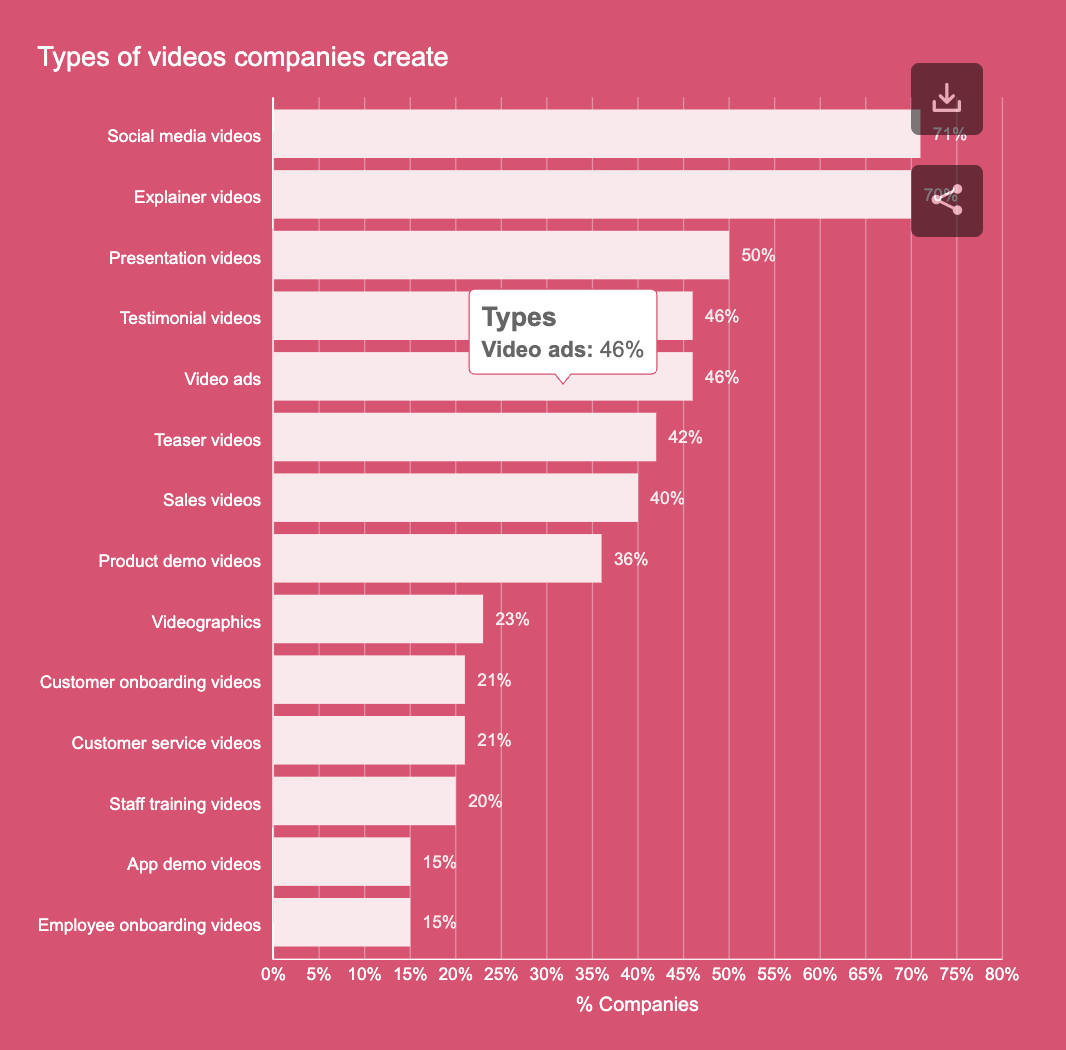 Video content is popular in advertising because it works. In a study on brand awareness, native video ads topped the list of strategies that boosted their visibility:
33% of participants displayed top-of-mind awareness about a brand when shown a native video ad.
Compare this figure to the control group, which saw a mere 14% top-of-mind awareness.
Since more social media platforms optimize videos and reels, this is the perfect time to increase your native video ad spending – specifically on TikTok. In a study, a native video ad on TikTok brought in 45,000 more engagements.
Dive Deeper: TikTok Marketing: How to Get Started with Ads on This Platform
Trend #3: In-App Ads
Mobile apps now account for 52% of global internet traffic.
One of the big reasons why native ads meet current customer demands is that more people are on their mobile devices. There's a bigger opportunity for native ads to appear on mobile apps and other online websites.
In addition to posting native ads on websites, advertisers will have to optimize their strategy for ad formats on mobile. Since more internet users are using apps on their mobile devices, you have a better chance of engaging more leads.
Different apps support native ads. While social ads are a popular example, advertisers shouldn't forget streaming platforms like Spotify and even games. The key is to post engaging content, such as display and video advertising.
Dive Deeper: Spotify Ads 101: How to Run Successful Audio and Video Ads
Trend #4: Programmatic Advertising Automation
More programmatic native advertisers are using automation in their campaigns – so much so that the marketing automation industry grew 22% between 2021 and 2023.
Marketing automation saves time and money, leads more prospects down the sales funnel, improves the customer journey, offers more personalization and comes with smarter insights when tracking your success: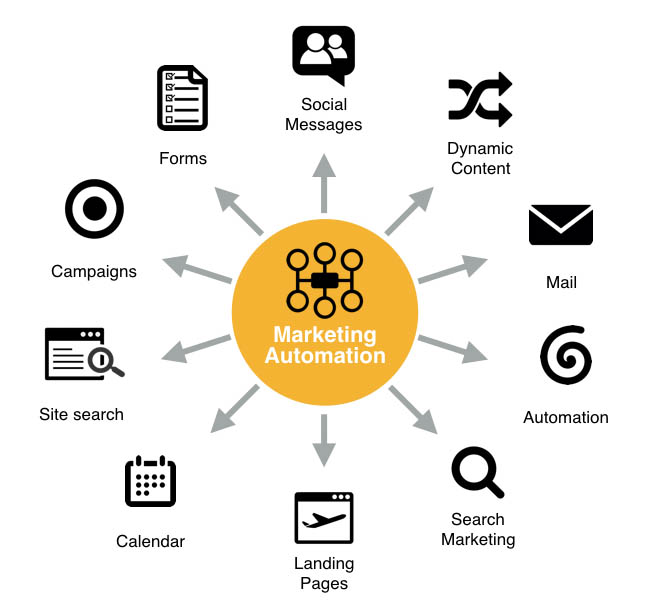 Advertisers can apply these same benefits to their native advertising campaigns. Automation can support programmatic ad buying across all channels, enhancing efficiency in your advertising campaigns.
Keep these best practices in mind:
Know the ad formats that generate the most leads, such as native social display advertising
Create ads that lead prospects down the sales funnel
Include your branding in all ads
Test your results
Use contextual targeting
Build a lookalike audience using CRM data
Dive Deeper: The Ultimate Guide to Programmatic Advertising for Brands in 2023
Trend #5: Valuable Content
Valuable content will never go out of style. Relevant content will engage your audience, entice them to visit your website and encourage them buy your products. And businesses can especially convert leads with a valuable native ad.
Just remember: Consumers demand unique native ads that add value rather than simply promoting a product.
General Electric does this well as they promote their push for sustainability. This post is about Sustainable Aviation Fuel (SAF) and how it bridges the gap between aerospace and zero emissions.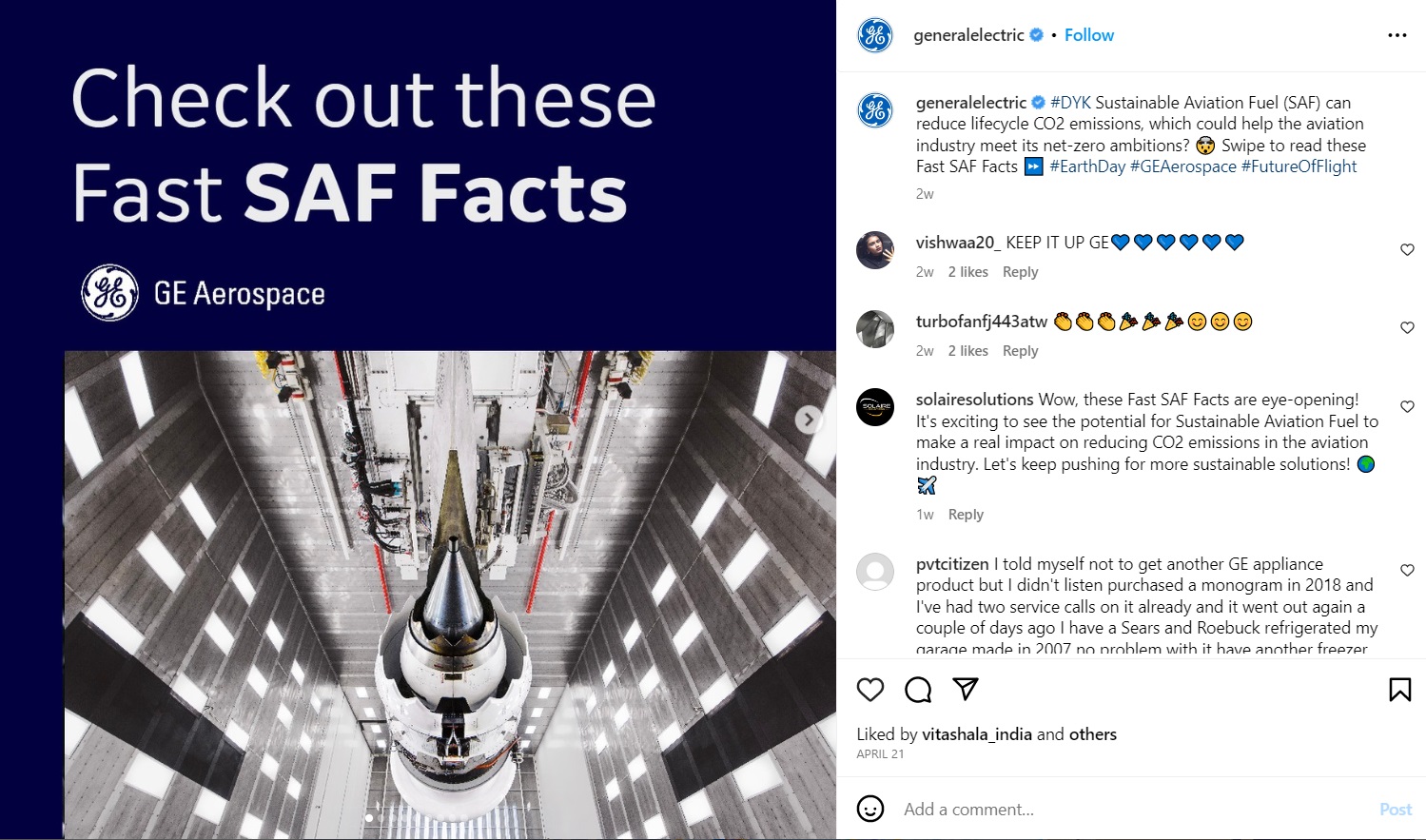 Native ads also stand out from other ad formats because of their flexibility. Advertisers can personalize native ads, targeting them to their exact demographic. Keep in mind that 83% of consumers are willing to share their data to receive a personalized experience, and businesses can supply this demand in their advertising strategy.
Trend #6: AI Native Ads
Since native advertising is growing in popularity, advertisers need to stand out. Many brands are adding innovation to their native ads, and pushing the boundaries of advertising.
Using AI to create native ads is the perfect example. AI is here to stay – even Meta is testing generative AI advertising tools.
Most users are familiar with certain AI tools, such as Midjourney for art and ChatGPT for writing. But there are creative AI tools made specifically for advertising. Tools such as AdCreative.ai connect to Google and Facebook Ads, offering feedback on your campaign: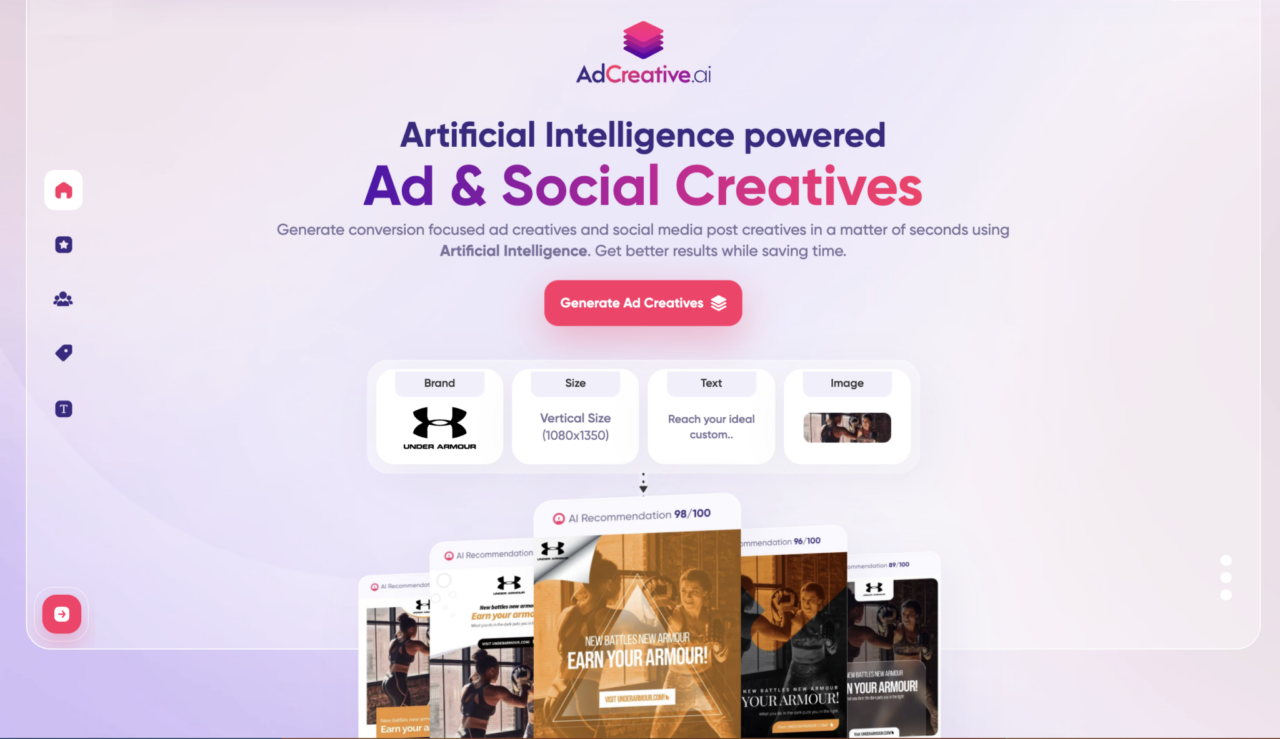 Creative AI tools produce stunning images and clever copy, and advertisers have control over the details of their ads, such as the size and orientation. These tools produce content quicker, which is perfect for brands that run multiple advertising campaigns. Combined with human intelligence, AI can take your current ad creativity to different levels.
With AI, you can also create more targeted messages to better target your audience. AI gathers and processes data about your audience, sourcing this information through social media, your website, past purchasing behavior, as well as demographic data. 
Advertisers can create their displays and text, run it through AI, and machine learning will make necessary changes to fit their audience. The right machine learning tools can analyze and recommend your advertising messages to find that one that will click.
Trend #7: Content Recommendation Ads
Another way that brands are expanding their reach is by using content recommendations. Content recommendations are a system where brands collect and analyze customer data, using that information to create their ads. Prospects will see that ad based on their web activity, which is another way to increase brand awareness.
How do content recommendations play a part in native advertising? When you enter your customer demographics in an ad platform, the algorithm will target prospects based on that data, in addition to interests and past web activity. This is why it's a good idea to put your native ad spending dollars toward content recommendations.
Which native content spaces cater to content recommendations? They are most commonly seen on websites. They often appear above or below an article, recommending that content to website visitors. The thumbnail and headline blend with the website, looking like another article on that same site: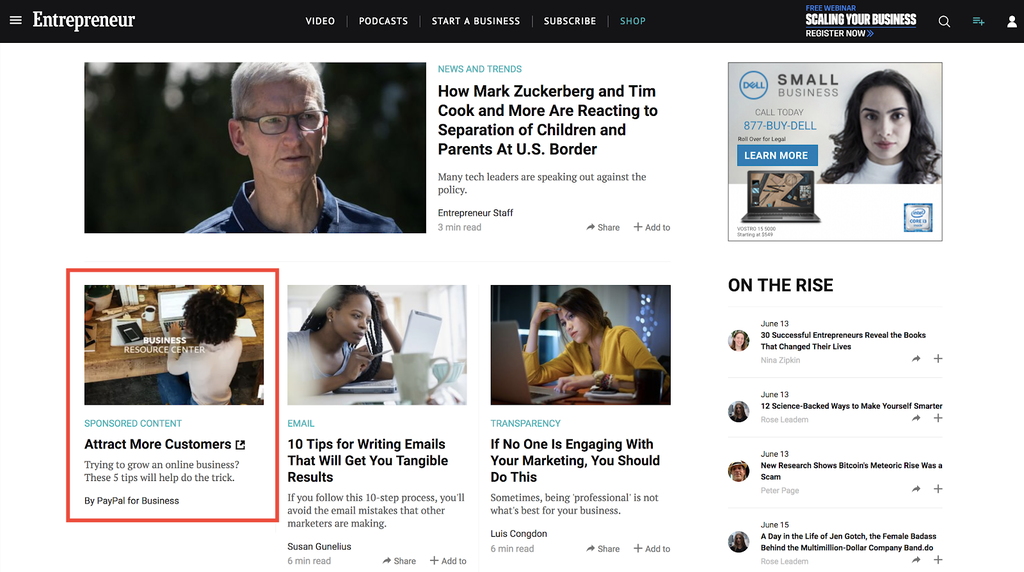 Content recommendations can also appear on social media apps like Twitter and Facebook. Using this dinosaur lawn gnome by Pire Clever as an example, Twitter recommended this ad based on similar topics, accounts followed, and Tweets you interacted with: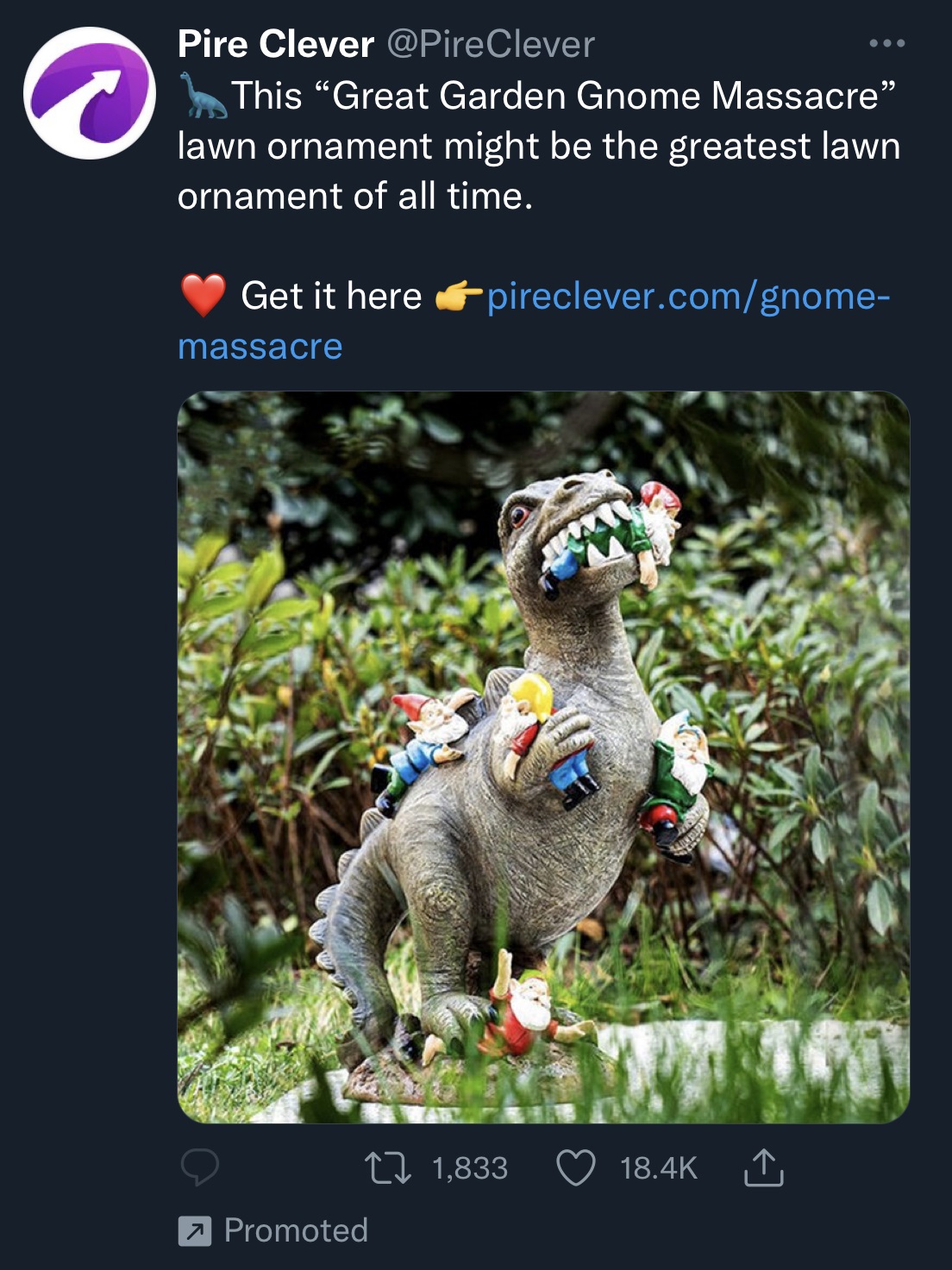 Trend #8: Storytelling
Storytelling is not just for novels – it is a successful advertising format, too.
Since people remember stories 22x more than facts and figures, storytelling in your content and ads is a great strategy. In fact…
A storytelling ad can increase conversions by 30%.
Storytelling ads work because they create trust and authenticity through emotion. In this way, customers can relate to your ad, and you, in turn, can deliver a realistic solution to their problems.
A great example is the collaboration that The New York Times did with Nurtec ODT. The ads are in a series, with Nurtec ODT users describing their experience suffering from migraines, and how Nurtec ODT helped relieve their migraines. 
The ad is in video format, with captivating visuals that represent the sensation of migraines. These visuals connect with migraine sufferers, encouraging them to try Nurtec ODT themselves.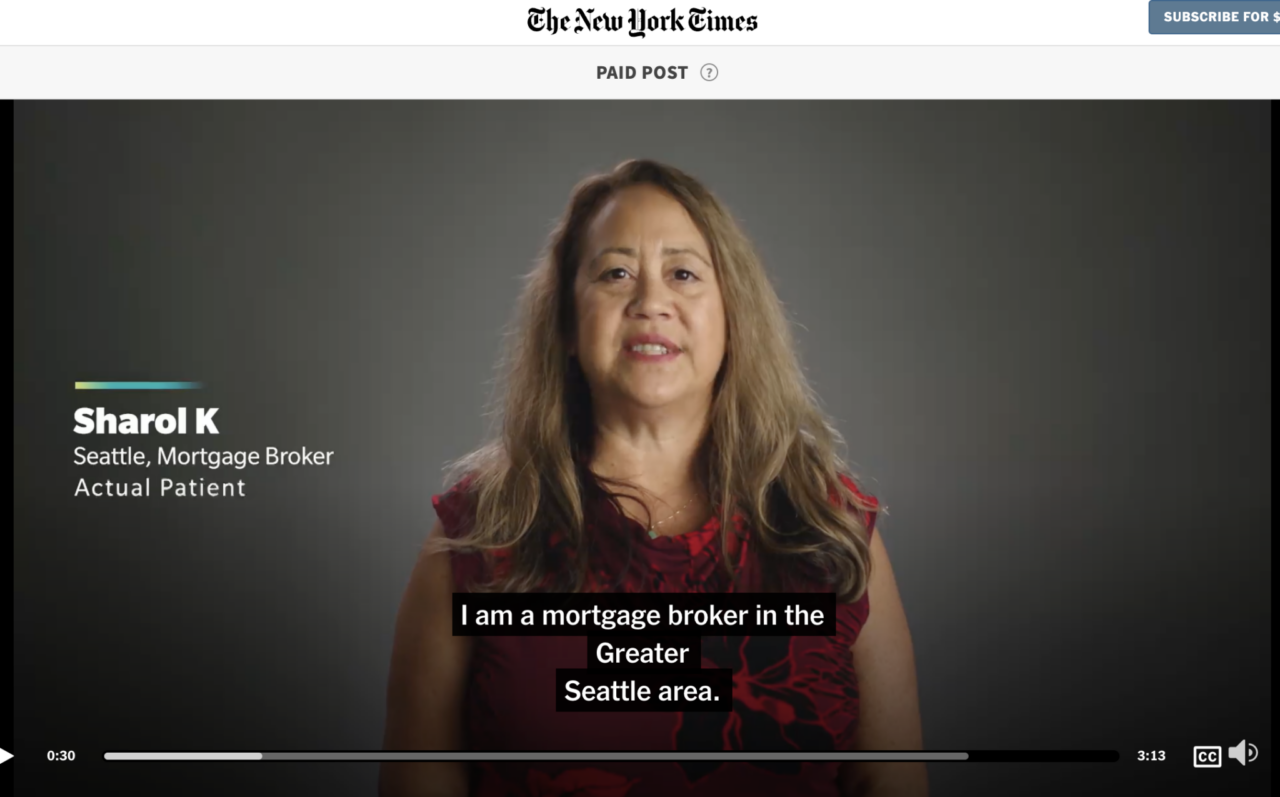 Dive Deeper: 9 Examples of Storytelling Marketing to Inspire Your Next Campaign
Trend #9: Close-Up Images
Have you noticed that more ads show a close-up photo of the model or product? There's a reason why: Close-up ads result in more impressions, clicks and engagements.
First impressions are 94% design related.
Close-up ads satisfy two of the 4 Ps of marketing: product and promotion. Featuring a close-up of the product will help viewers identify the features and specifications of the item, improving the decision-making process.
Should your close-up ad feature text? If you need to include text in your ad, don't go overboard. Only 20% of your ad should include text. Ideally, your ad should rely on visuals, such as this Menagerie Cosmetics ad that shows a close-up of their Flight Club eyeshadow palette with a shade swatch: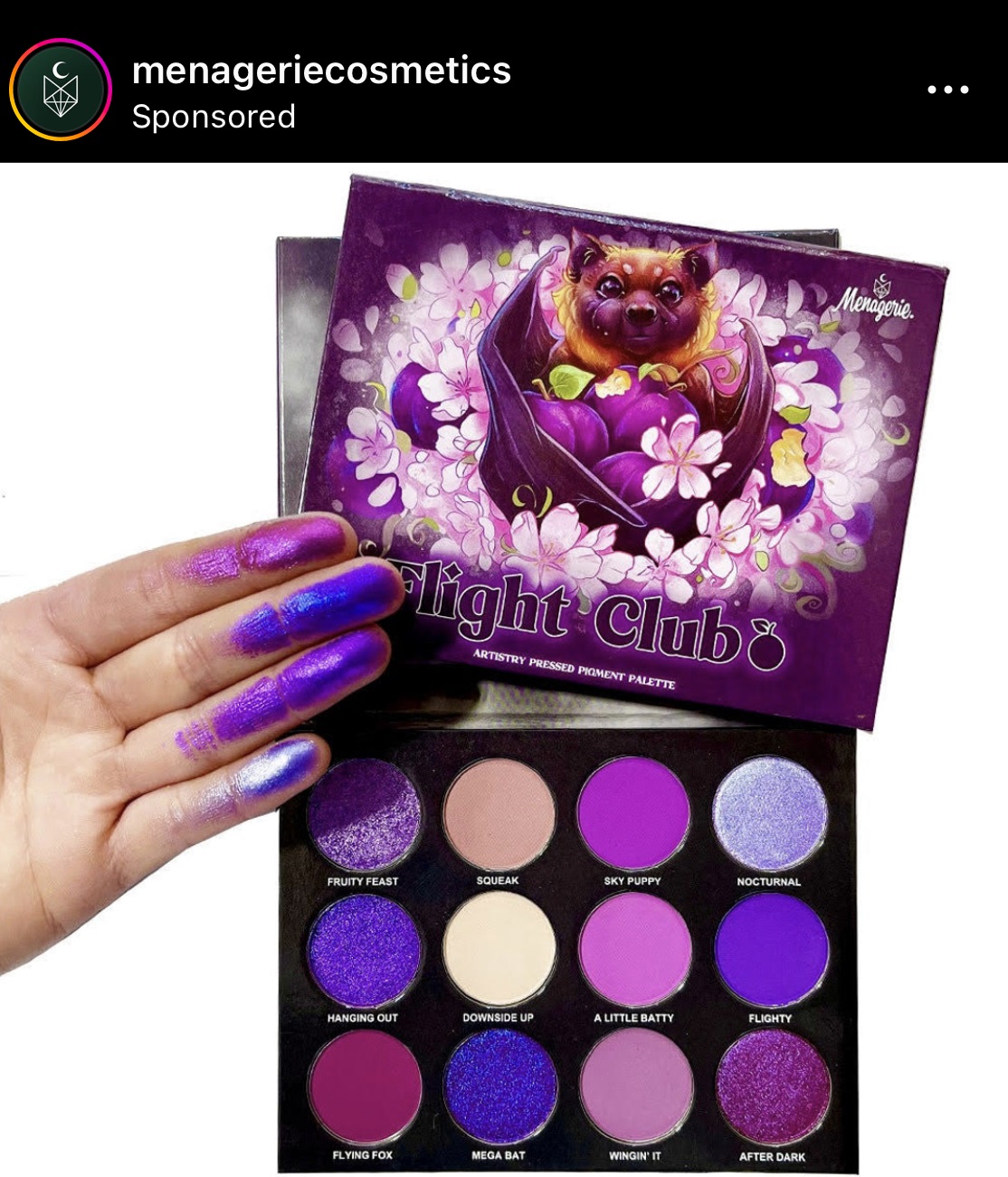 Trend #10: First-Party Data
Before investing in native display ad spending, you need to understand native trends and data collection. Google Chrome will stop using third-party cookies by the end of 2024.
This is significant since advertisers have relied on third-party cookies to learn about users' online behavior and browsing habits.
Instead, advertisers will start relying on first-party data: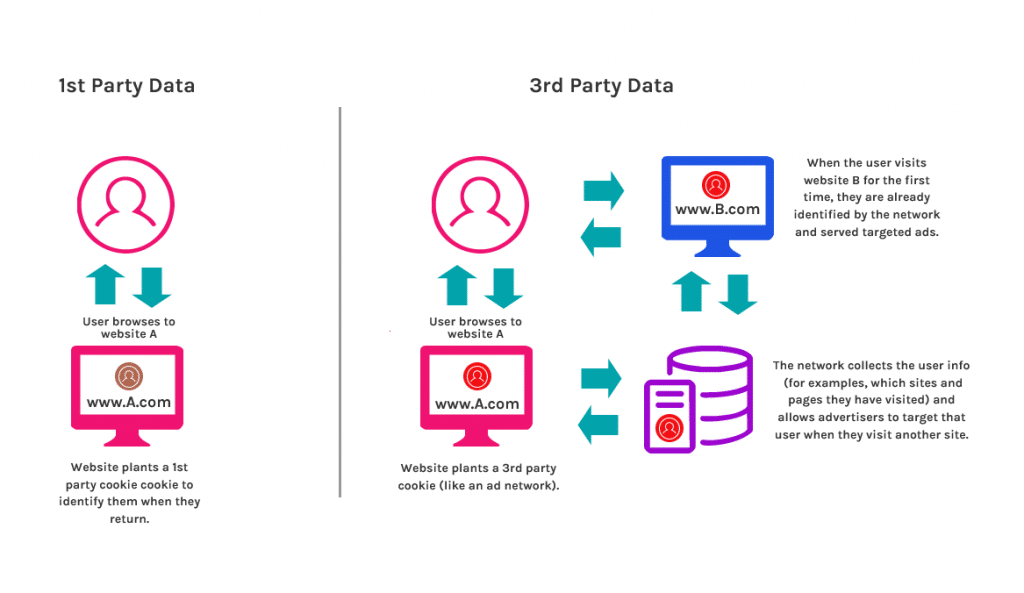 First-party data is customer information that a company collects but, unlike third-party data, the business owns first-party data. This will reduce the need to collect data elsewhere, resulting in more personalized and contextualized ads.
How can advertisers collect first-party data? Collecting data from a CRM is a tried-and-true method. Native ad platforms can provide a code to track customer behavior on their website. You can use this data to create ads that drive more impressions and visibility.
That said, you still need consent to collect first-party data to stay compliant with privacy laws such as GDPR and CCPA. If your business breaches these laws, you take full liability.
Dive Deeper: The Email Marketer's 4-Step Guide to GDPR Compliance
Trend #11: Ad Transparency
40% of customers say brand transparency is more important now than ever before, especially toward social native ads. Here's why:
Even though native ads look like organic posts, businesses must still stay transparent about their ads and use of data.
The best course of action is to follow all regulations outlined by the Federal Trade Commission (FTC). Your ads should stay compliant, which means having a "Sponsored Content" tag so your audience knows that the content is nothing more than an ad. The ad should also convey its advertising status in the text or imagery.
All these advertising notices should be clear and in an area where audiences can read them, without technical language or industry jargon.
Dive Deeper: How to Scale Your E-commerce Traffic Acquisition with Native Advertising
Follow These Native Advertising Trends to Increase Visibility
Native advertising is growing ever-more popular, and people can expect to see more native ads throughout different websites and apps. Businesses should follow these native advertising trends to stay competitive and engage their audience.
If you're ready to level up your business, Single Grain's paid advertising experts can help.👇