If you're a B2B SaaS marketer looking to drive a new pipeline from enterprise and mid-market prospects, there's no better channel these days for reaching these target customers than LinkedIn Ads.
That is, if you use it right.
Let's be clear: LinkedIn Ads is an expensive platform. It's easy to burn a lot of money quickly if you A) aren't a good candidate for the service or B) you don't know how to use it effectively.
In this guide, I'll cover everything you need to know to maximize your investment into LinkedIn Ads campaigns. But, generally speaking, I only recommend them to customers with an average customer lifetime value (CLV) of $15,000 or higher, and who can invest at least $5,000 upfront for a test campaign.
If you don't meet these criteria, don't worry – just bookmark this guide so that you can come back to it when you're ready!
And if you are ready to get started, read on for more info –  or book a free SaaS LinkedIn Ads Strategy consultation with Single Grain if you want to short-cut your path to positive ROI: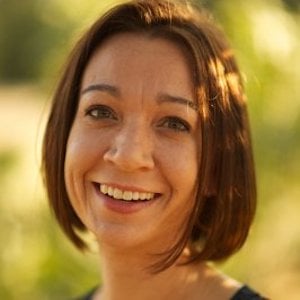 Kim Cooper
Director of Marketing, Amazon Alexa
Single Grain enables us to increase our impact without increasing our headcount
The "Big 3" Types of LinkedIn Ads for Enterprise SaaS
LinkedIn Ads offers several different campaign types (see more here), but for our purposes, the only three that enterprise B2B SaaS companies need to focus on are:
Sponsored Content
Message Ads
Text Ads
Sponsored Content
Sponsored Content ads come in three different formats:
Single ad
Video ad
Carousel ad
But the basic premise is the same for all three: You create a post and then promote it to a targeted group of LinkedIn users. Depending on the format you choose, that post can have a single image, a video or a carousel-style series of images.
You can create the post you'll promote in one of two ways: either by publishing something to your business's LinkedIn page or by using Direct Sponsored Content (which can be promoted without being published to your LinkedIn page).
In both cases, you'll be working in LinkedIn Ads' Campaign Manager, which is the site's self-serve platform for creating and running ad campaigns.
If you don't already have a Campaign Manager account, click the following URL while you're logged into your LinkedIn account: https://www.linkedin.com/campaignmanager/new-advertiser. From there, follow the prompts to associate your new Campaign Manager account with your business's LinkedIn page URL.
To create a Sponsored Content ad in your Campaign Manager, you'll designate the type of ad you want to run, create your ad copy and then establish your targeting preferences (which I'll cover in the next section):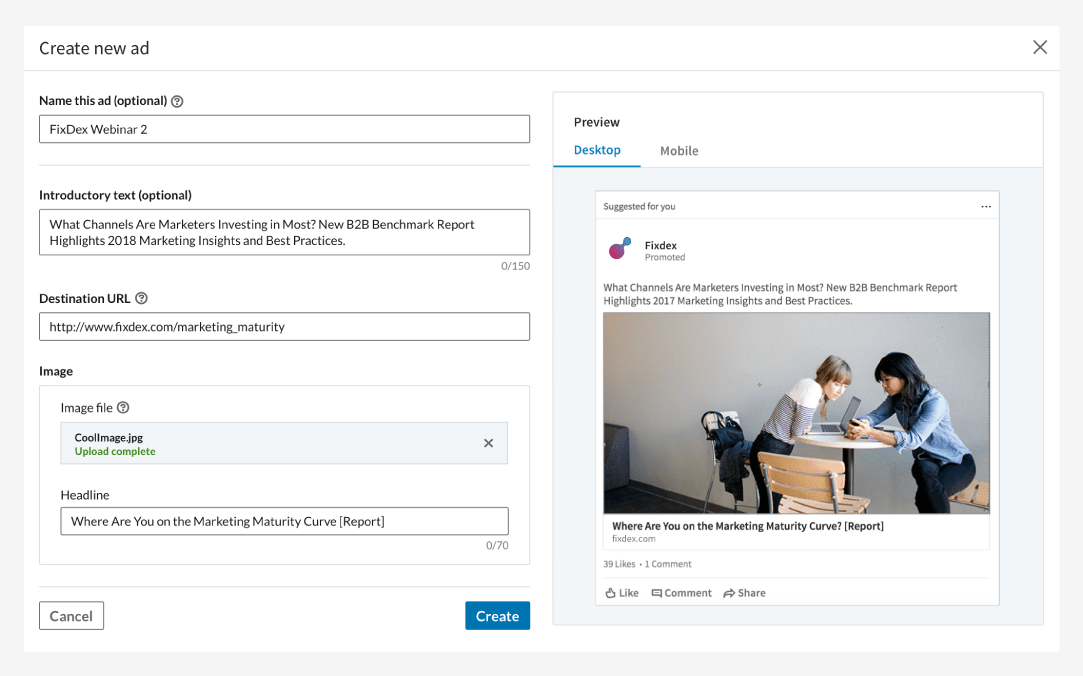 Overall, I've had the most success on B2B SaaS campaigns with Sponsored Content ads, though you'll still want to look into Message Ads and Text Ads as well.
Message Ads (formerly "Sponsored InMail")
While Sponsored Content ads appear in the News Feed of users whose profiles match your targeting criteria, Message Ads are directed to users' Messages inboxes: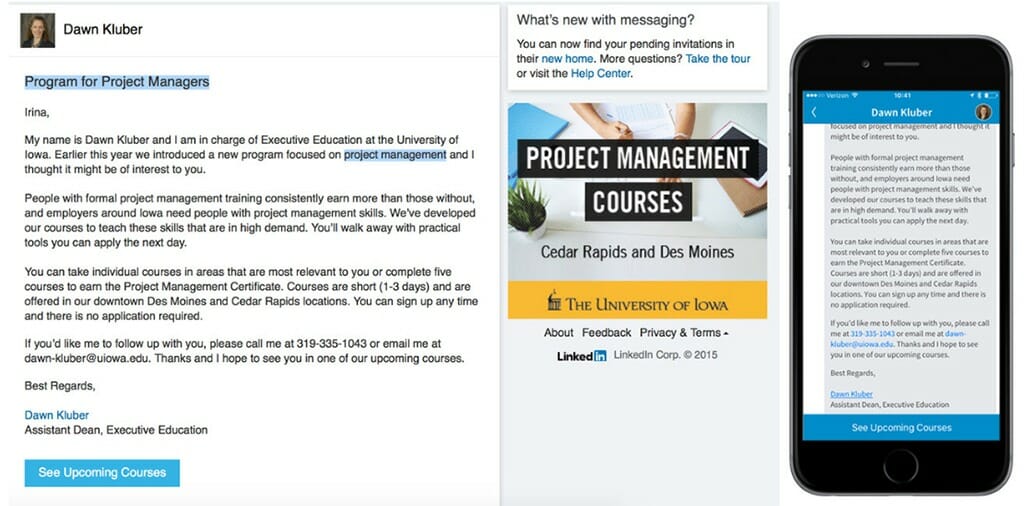 There are certain situations where it makes more sense to send a message than promote a post, and I'll get into examples of these in later sections of this guide.
Regardless, as with Sponsored Content, Message Ads can use the same targeting features to get your company's messages into the inboxes of the right people.
Text Ads
Finally, there are Text Ads, which are the little text and/or image blurbs that appear in designated header and sidebar areas on LinkedIn's site: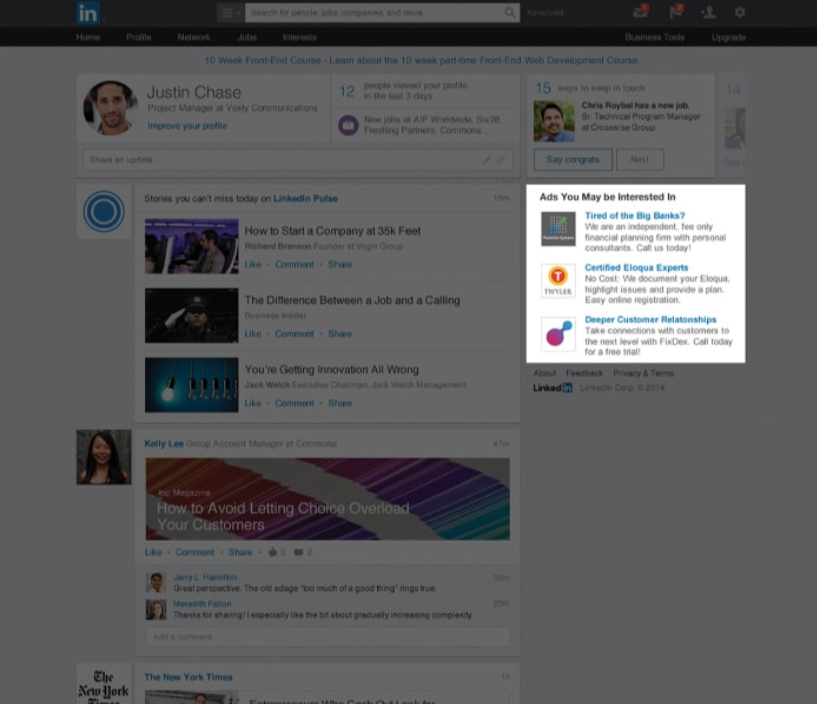 Text Ads probably aren't going to get you a huge number of clicks or leads.
Instead, I like to use them for brand-building and retargeting. They're a great way to build awareness and keep your brand top-of-mind with leads you've reached through other channels.
Dive Deeper:
* How to Target Effectively on LinkedIn
* LinkedIn's Algorithm Is Changing, so Milk It While It Lasts
* The Ultimate Guide to Creating a LinkedIn Ads Campaign
* How to Use Dux Soup & LinkedIn to Scale Your Sales and Recruiting Efforts

How to Set Up LinkedIn Ads Targeting
Choosing the right LinkedIn Ad type for your enterprise SaaS company comes down to several factors, one of which is the kind of targeting you want to use.
I like to think of targeting approaches as falling into one of three buckets:
Warm Traffic Targeting
When you target warm traffic using LinkedIn Ads, you're targeting people who have already been exposed to your brand, but who didn't initially convert.
To do that, you'll use LinkedIn's Website Retargeting functionality and build your campaign around high-impact pages on your site.
You'll need to have the LinkedIn Insight Tag added to any page on your website that you want to track. Once that's set, you'll be able to automatically create targeting segments made up of LinkedIn users who once visited designated URLs on your website: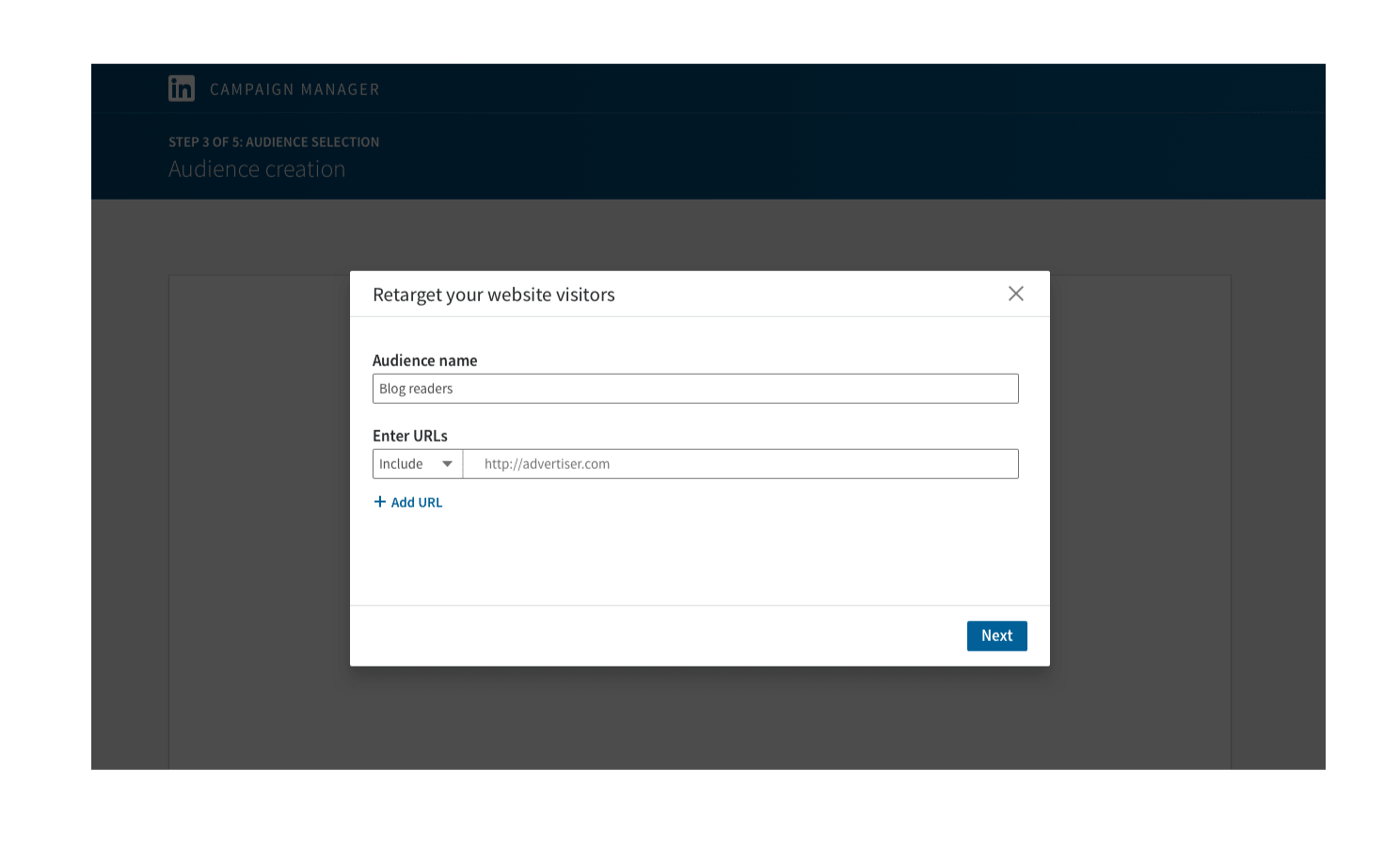 Generally speaking, you don't want to build a targeting segment around users who visited your home page. That's too generic of an action to really indicate intent. Instead, as an enterprise SaaS company, a few high-intent pages you may want to test include:
Your pricing page
Your contact page
Your demo or free trial sign-up landing page
Internal pages in your demo or free trial sign-up process (if you use a multi-step sign-up flow, reaching an internal page but not converting suggests that visitors had some level of active interest in your product)
Landing pages for any gated content assets on your site (for which a successful opt-in was not recorded)
Comparison pages that pit your company against your competitors (if present)
Note: Your audience segments will need to build up to at least 300 individuals before you'll be able to run ads, though, as LinkedIn notes:
"A good rule of thumb when starting out is to keep the target audience over 50,000 for Sponsored Content and Text Ads, and over 15,000 for Message Ads."
Depending on the amount of traffic each page on your site receives, this process could take anywhere from a few hours to a few days to complete. If you've gone really granular – for example, by creating retargeting audiences of visitors who failed to complete an opt-in or sign-up form on your site – you'll want to keep the "300 individual" limit in mind.
Retargeting campaigns will automatically send after hitting this threshold if you activated your campaign by clicking "Launch" during the setup process. If it takes you a month to reach this number – because your landing page visits or failed sign-ups are infrequent – your ad won't be delivered for up to 30 days from the visitor's activity, when it's potentially no longer relevant.
Cold Traffic Targeting
Cold traffic targeting, on the other hand, involves marketing to LinkedIn users who have never heard of your company before.
Although LinkedIn allows you to filter based on a number of different user facets, I've always seen the best results from targeting by Job Title.
You can filter based on Job Function, but because these segments are made up of standardized groupings created by LinkedIn, they can be so broad that you wind up wasting ad budget promoting to the wrong people.
That said, even job titles are standardized by LinkedIn. For example, "Men Designer" may be changed to "Menswear Designer" for accuracy purposes, according to the site's FAQ, so you still won't be targeting exact match titles. But Job Title will get you closer than Job Function, and you can always refine your targeting further with another layer, such as Seniority.
If you don't know which job titles to target, ask your sales reps what job titles they're seeing most commonly among the people who are booking demos. Most people's natural inclination is to go after the C-suite or other VIPs with their ads. But if you're going to be using your ads to solicit demo sign-ups, it doesn't make sense to go after key decision-makers just yet.
Don't target members of LinkedIn Groups. I see a lot of people recommending this as an advertising strategy, but think about the people who tend to spend time in those groups. They're either A) students trying to launch their careers or B) salespeople trying to gain market insights. Don't waste your money getting your ads in front of them.
Account-Based Marketing (ABM) Targeting
The third type of targeting that's relevant to enterprise B2B SaaS companies is account-based marketing, or "ABM." Rather than casting a broad net, ABM involves going after specific companies that you've already identified as being good candidates for your product.
In an interview with LinkedIn, Brian Jones, global head of advertising performance for DWA, explains that "DWA's marketing goals are much more about targeting a finite audience." As a result, reaching out to the masses isn't as valuable to the company as precisely targeting specific prospects.
If you aren't already doing ABM (check out our guide to ABM), the first thing you'll need is a list of target accounts. The fastest way to get one is to go to sites like Datanyze or Nerdy Data and run a search for your competitors' customers.
Then, you can use LinkedIn's Account Targeting feature to target users at these companies: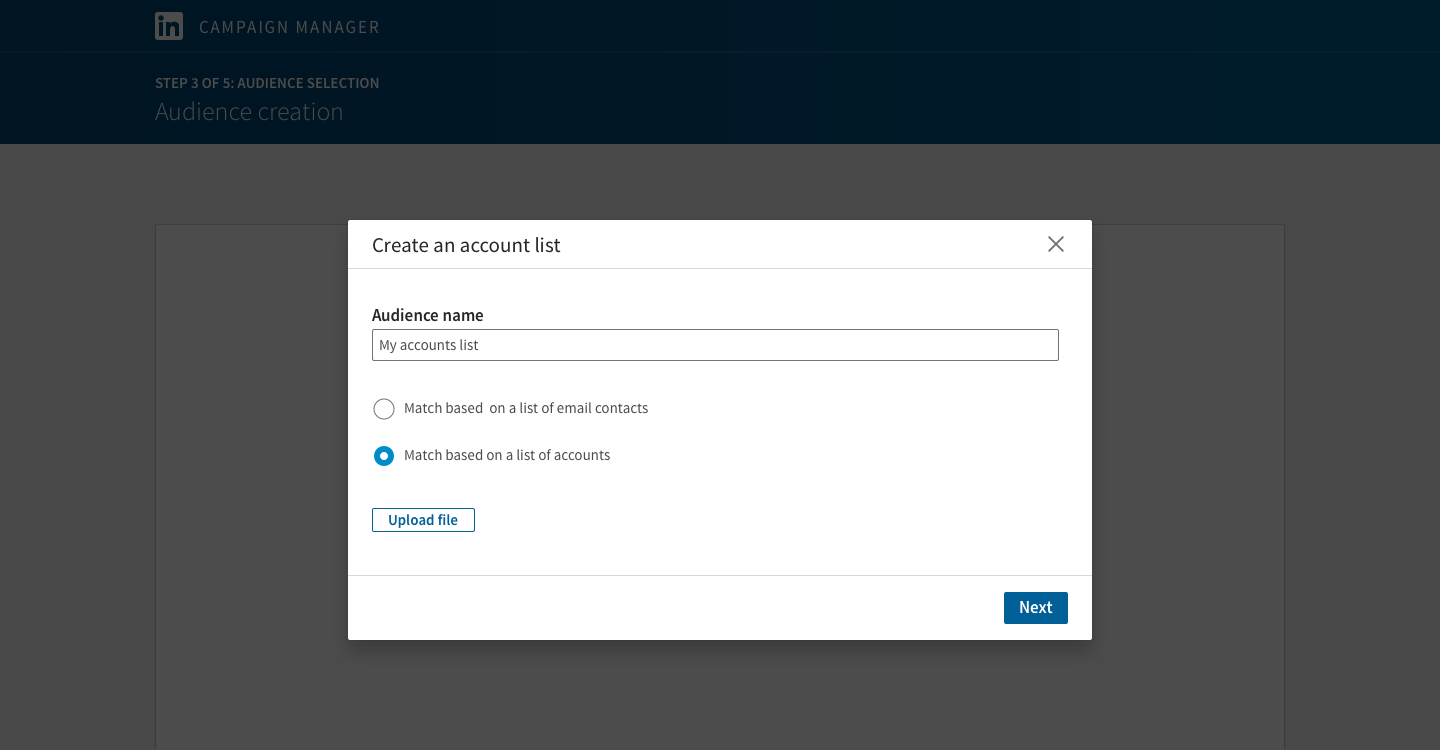 Since most of the results matched to your ABM target list won't actually be good prospects, you'll still want to add additional layers of targeting.
Pairing Job Title targeting with an ABM list is one of my favorite combos for connecting with the right people.
Dive Deeper:
* The Account-Based Marketing (ABM) Mega Guide
* The Anatomy of an Effective SaaS Lead Generation Strategy
* Here's How Targeting Cold, Warm & Hot Traffic Builds Successful Customer Relationships

How to Create a Strong LinkedIn Ad Offer
To a certain degree, the type of ad you plan to run and the audience you're targeting will influence the specific offer you make in your LinkedIn Ads. But because your offer can make or break your campaign's performance, this step in the process deserves some extra attention.
Choose the Right Asset
Most LinkedIn Ad offers are built around an asset, such as a case study, a white paper or a webinar. Others focus on sales messaging – for example, around a demo sign-up or free trial offer.
Regardless of what you plan to offer, ask yourself why you're putting it in front of people? Did you choose it because it's a topic you genuinely feel your audience will benefit from? Or are you using it because it's something you just have available?
I see this pretty often with businesses that want to branch out to LinkedIn Ads. When it comes time to create their ad copy, they grab a white paper the marketing team created six months ago because it's already live and can be easily worked into a new campaign.
Sometimes, they get lucky. Sometimes, they've actually chosen an asset or a topic that resonates with their audience. But choosing by default almost always puts you at a disadvantage to competitors who approach the decision more thoughtfully.
Take the time to understand your audience's needs (and how your campaign can support them) before you put money behind your ads.
Conduct a Survey
If you aren't sure that you've chosen the right offer or topic, start with a survey.
Ask your sales reps what pain points they're hearing from recent ideal customers you've brought on. Their insights can provide invaluable ideas for new content that can be created to support your LinkedIn Ads campaigns.
Check the Numbers
Another great source of information are the stats in your marketing automation system.
Which of your content assets have the highest opt-in rates? Which of your email messages have the highest open rates? Not only can this data tell you which assets to push in your campaign, they can also help you come up with the specific headlines that you'll use in your ads.
Use your data to make assumptions, and then test them within your LinkedIn Ads. Don't treat your selection as an afterthought by slapping up whatever's easiest for your team. Be intentional about the type of content you put up.
Still not sure you've come up with a compelling ad angle? Book a personalized SaaS LinkedIn Ads Strategy consultation to get our team's input.
Types of Creatives that Drive Qualified Leads (and Demos)
To help you put the tips above into practice, I've rounded up a couple examples of great LinkedIn Ads to inspire you and get you started.
You'll also find a list of recommended resources at the end of this section if you want to dig even deeper into LinkedIn Ads campaign creative development.
TOFU-Sponsored Content by Persona
This ad is promoting a specific guide on B2B Marketing Attribution, targeted towards CMOs: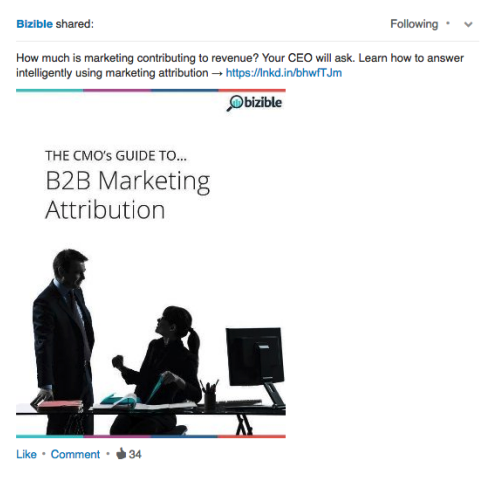 But look at the headline text. We can break it down really easily into a script that can be adapted to serve any buyer persona, in any industry:
"How will you [produce some outcome or deliver some requirement]? Your [boss's job title] will ask. Discover [the solution] to [achieving your desired outcome] in this [content asset type]."
Swap in your own specifics and you've got ad copy; you can begin testing right away.
BOFU Retargeting Text Ad Using a Customer Testimonial
To make an ad like this work, you need a solid understanding of your ideal customer profile (ICP) or buyer persona (check out our guide to creating buyer personas).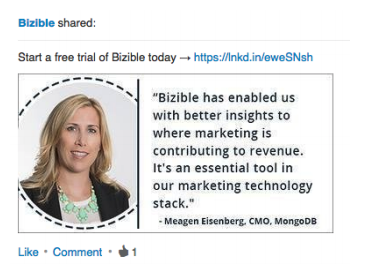 For your creative, you'll pull a testimonial from an existing customer who's a solid representative of the people you're targeting (for example, with website URL retargeting and either Job Title or Job Function targeting layered on top).
You'll also want to include a headshot in your ad, since images of people tend to capture attention and build trust.
Simple "If-Then" Lead-Gen Form Ad
Technically, this ad comes from an agency, not an enterprise B2B SaaS company: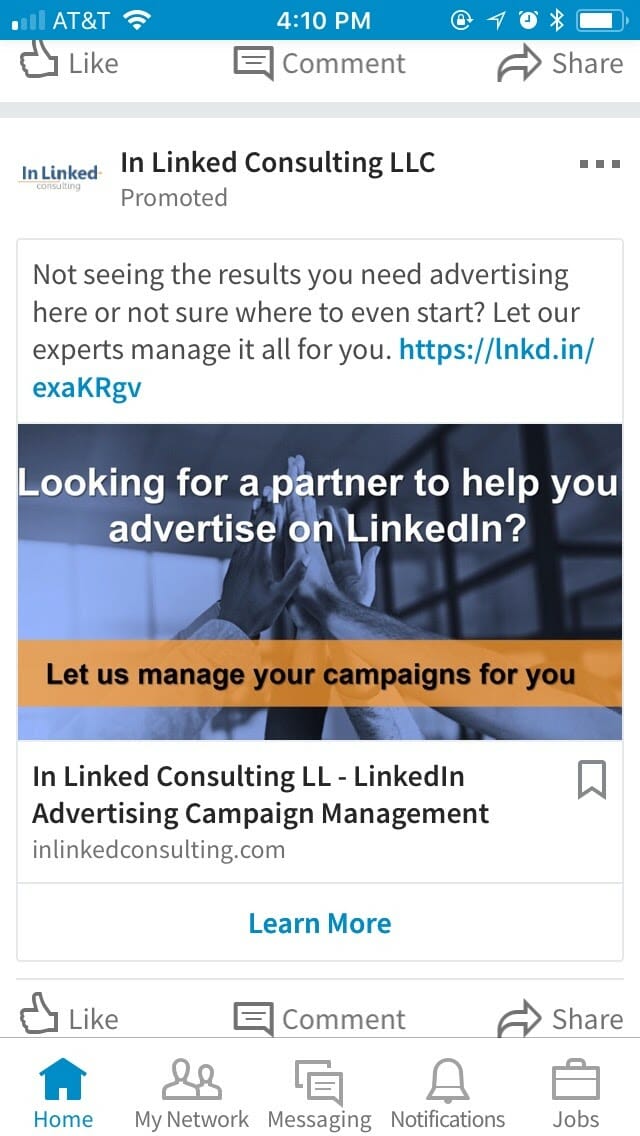 But I'm including it here anyway because I love the simple formula used in the headline text:
"Looking for a partner who can [deliver some result]? Let our team [help in some specific way]."
As with the TOFU Sponsored Content by Persona example above, this one's pretty much plug and play. You can't go wrong starting with a test that clearly defines who your company is, who you can help, and how you can do it.
Sponsored Content Carousel Ad Focusing on B2B SaaS Features
Using LinkedIn's carousel-style ads can feel tricky if you aren't a B2C seller or e-commerce site. After all, it's easy to cycle through multiple product shots. But what do you do if your product doesn't have a physical manifestation or lend itself well to beautiful photography?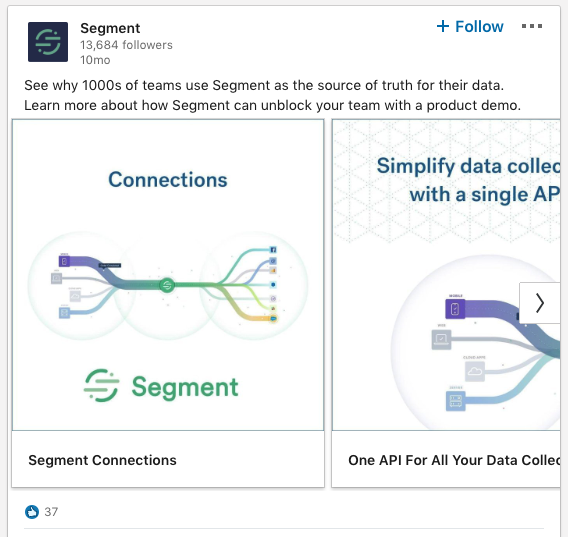 One strategy to test can be seen in Segment's ad above.
Here, they're using each image in the carousel to highlight a different feature or benefit associated with their product. They've kept the visual styling clean and simple, ensuring that the viewer's focus remains on the demo sign-up landing page they're being directed to.
Looking for even more inspiration? Matt Warsaw, Enterprise Account Executive at LinkedIn, regularly puts together round-ups of top-performing LinkedIn Ads. Here's a sample of one of his Top 20 Tech Sponsored Content ads round-up for your swipe file: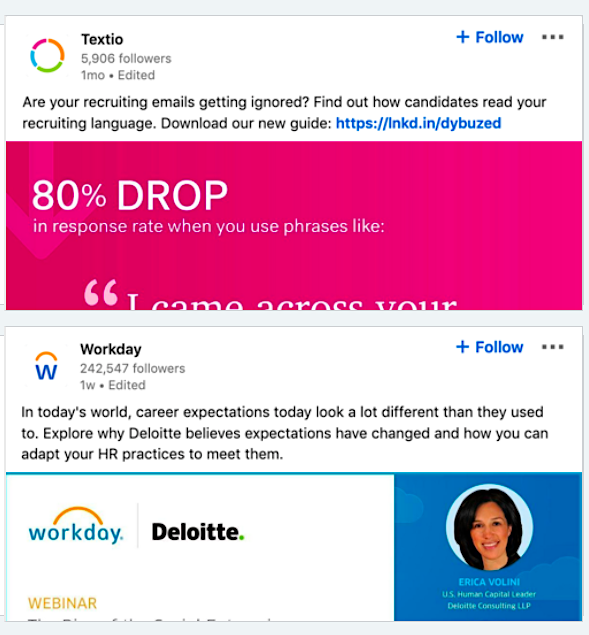 Learn More: Benefits of LinkedIn Ads: How to Make Your B2B Brand Excel on Social
Resources: Best Practices for Building Your Own Ad Creative
If you want to strike out on your own and create an ad that's custom-tailored to your circumstances, the following resources will help you better understand the best practices that most LinkedIn advertisers abide by these days:
LinkedIn Best Practices:
⚈ LinkedIn offers best practices guides for each of its ad products: check out the specific editions for Sponsored Content, Message Ads and Text Ads.
⚈ Their guide to Targeting on LinkedIn is also worth a look for understanding how to create ads based on the specific targeting approach you plan to take.
⚈ Individual case studies can be found throughout the LinkedIn Marketing Solutions website, though you can also find similar inspiration by searching Google for keywords like "great LinkedIn Ads." Don't copy them outright, since what works for their audience may not work for yours. But do try to understand why they're so successful by breaking them into scripts you can modify, as we did in the examples above.
⚈ Strike Social has a great list of ad specs, including image size requirement, text field length limits, and more for each LinkedIn Ads type.

Setting Your LinkedIn Ads Campaign Budget
One other decision you'll need to make before taking your ad campaigns live is how you'll allocate your budget.
If you've done any advertising on Facebook or Google Ads before, LinkedIn's budgeting platform should feel pretty intuitive. You'll set your total budget (typically by day), designate when your campaign will run, and select your bid type: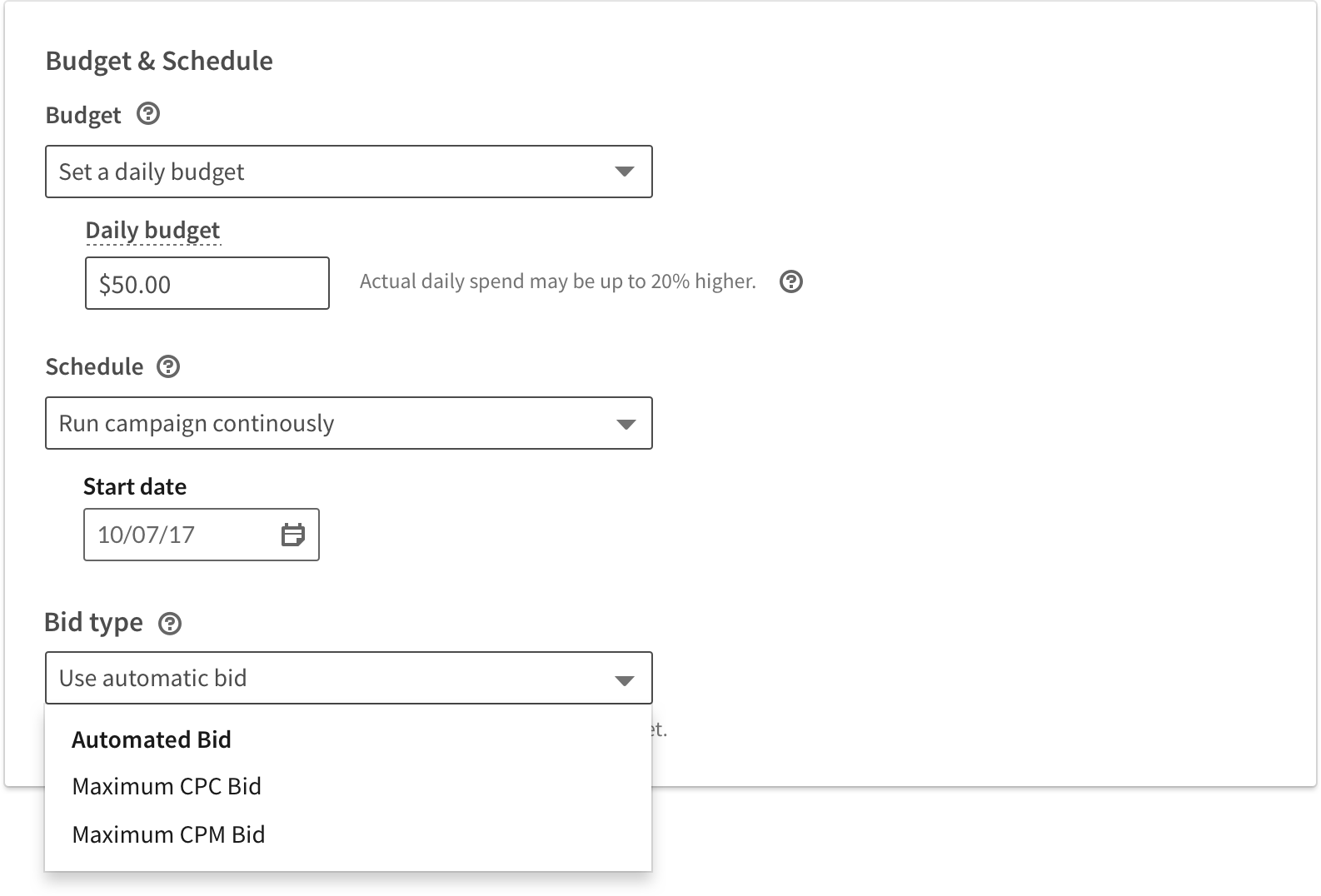 If you want to have control over the amount you bid, select "Maximum CPC Bid." If you trust LinkedIn's bidding platform to work in your best interests, select "Automated Bid." Either way, keep in mind that LinkedIn can spend up to 120% of your daily budget, so plan accordingly.
If you plan to run multiple ads or campaigns, you'll also need to designate how you want your budget spent across them. LinkedIn recommends two approaches:
A 70/30 split of BOFU and TOFU ads
An equal allocation across each ad type you plan to test
If your initial test budget is $5,000 and you need to account for a potential spend that's 20% higher than your total budget, your real monthly budget is $4,166.67, or roughly $138.89 per day. The two approaches above then shake out as follows:
$97.22 per day for BOFU ads and $27.78 per day for TOFU ads
$46.30 per day each for your Sponsored Content ads, Message Ads and Text Ads
Tailor these calculations to your own circumstances as needed and remember that you can always make adjustments as you go if testing reveals that you should focus more on one ad type or funnel stage than another.
Dive Deeper:
* How to Create A High-Value Lead Magnet to Quickly Grow Your Email List
* Turning a Lead into a Prospect with MOFU Content
* The Types of Videos to Use at Each Stage of the Marketing Funnel
* What's the Right Content for Each Stage of the Marketing Funnel?

Measuring Campaign Performance
As your ads begin to run, you'll generate plenty of performance data within LinkedIn. But if you're struggling to pull the highest value data points out from the noise, I recommend keeping an eye on three specific metrics to start:
Click-through rate
Cost per lead
Cost per sale (or cost per sales qualified lead)
Click-Through Rate
Click-through rate, or "CTR," measures the number of clicks that each of your ads received, compared to the number of times it was viewed (aka, "impressions"). CTR is easily viewable in your LinkedIn Campaign Manager dashboard, under the "Average CTR" column (fourth from left column in the image below):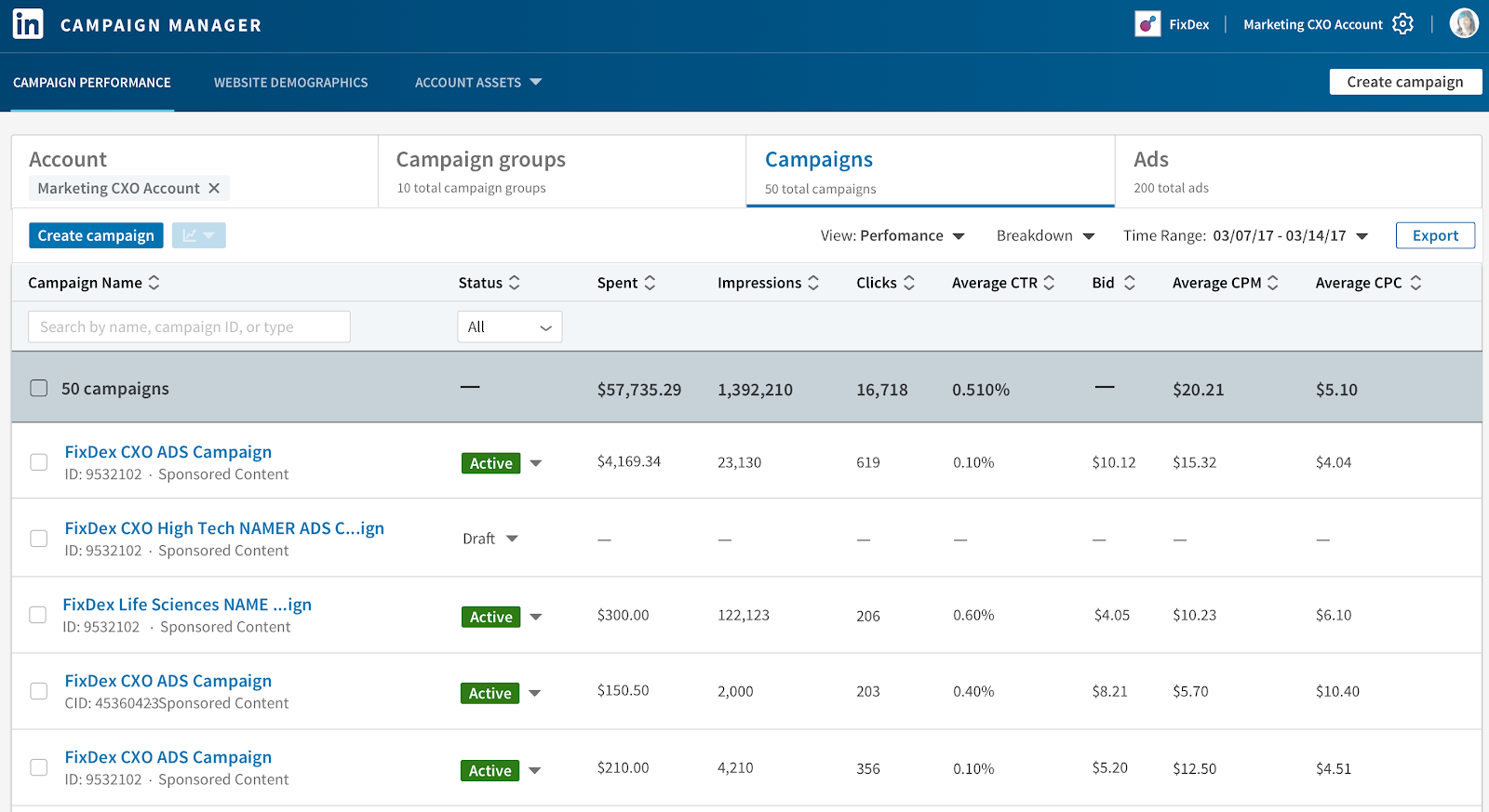 CTR gives you a couple important pieces of information:
Identifying which ads are earning the highest CTR suggests that either your offer or your ad messaging is resonating with viewers.
Identifying those with the lowest CTR tells you which ads could be good candidates to either update or delete.
What CTR doesn't tell you, however, is whether your ads are reaching the right people. For that, you'll need to bring cost per lead into the equation.
Cost Per Lead
Cost per lead, or "CPL," tells you how much you're spending to earn a lead through your LinkedIn Ads – essentially, it's your total campaign spend, divided by the number of leads it produced.
To measure CPL, you'll need some kind of mechanism in place to tie a lead conversion to a specific ad click. The LinkedIn Insight Tag can help with this if it's configured correctly: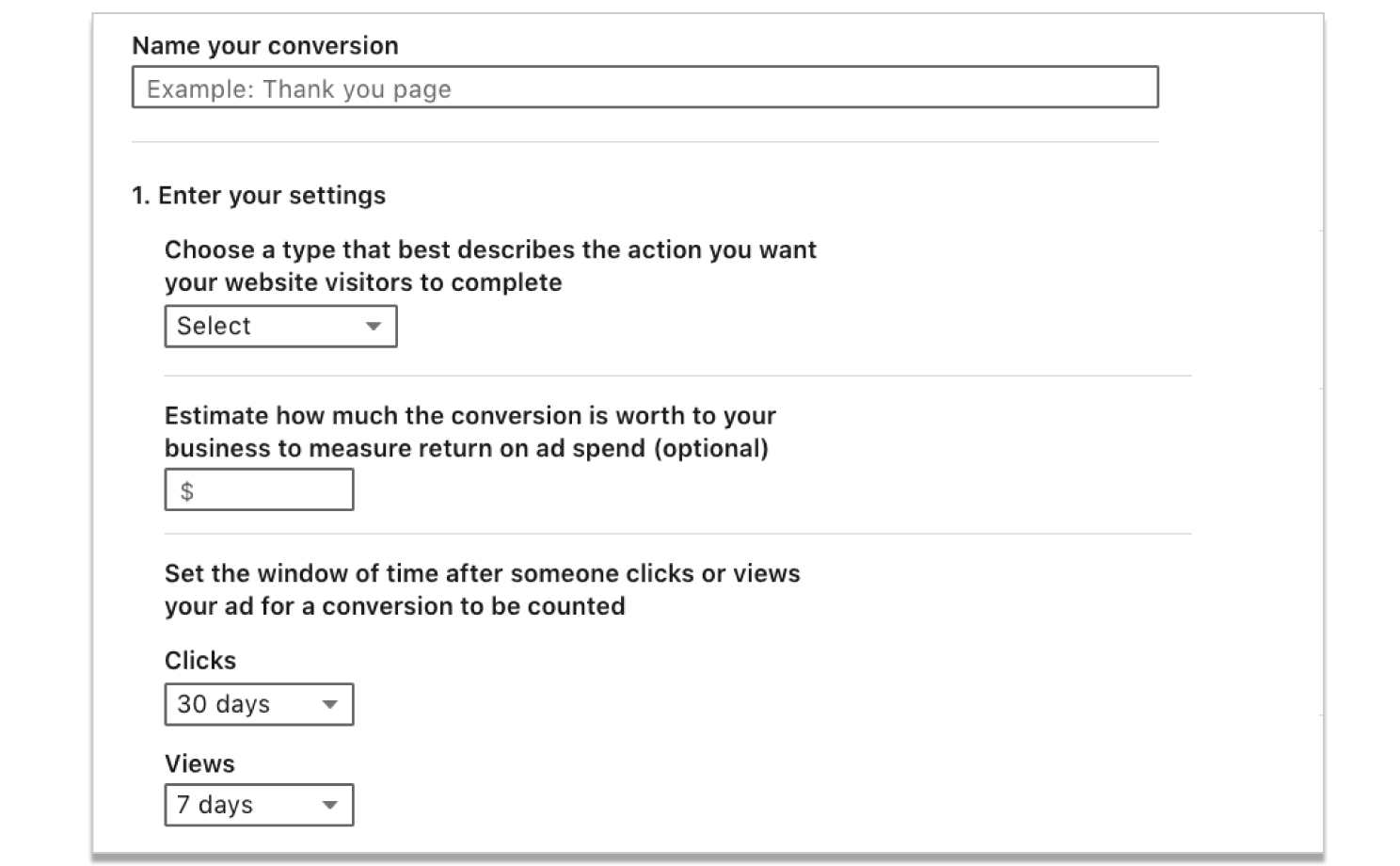 So can using LinkedIn's Lead Gen Forms: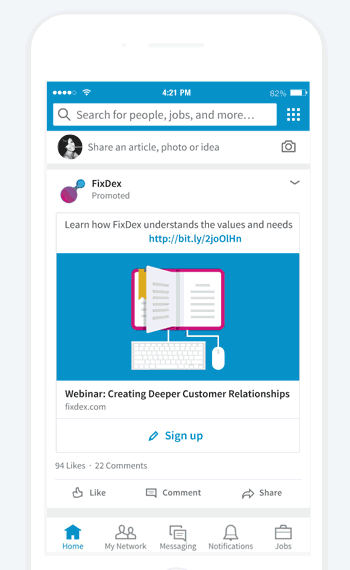 As a note, you may need to adjust the columns displayed in your LinkedIn Campaign Manager dashboard to view CPL data:

Once your lead conversion data is being generated, you'll want to keep an eye on a few things:
Which of your ads is getting you the lowest cost per lead?
Which is getting the highest?
Of your highest CPL ads and campaigns, which opportunities can you identify (if any) to bring costs down?
Ideally, your average cost per lead should be under $100.
LinkedIn Ads clicks generally cost between $7 and $15 per click, which should leave you in a good position as long as you're also getting a lead-gen form conversion rate of 10-20%.
However, like Google Ads, LinkedIn incorporates an internally determined quality score rating into its ad placement and pricing algorithms. If your CPL costs are higher than expected, this could indicate that you need to focus on improving quality before you'll be able to get your lead costs under control.
Cost Per Sale (or Sales Qualified Lead)
Currently, LinkedIn Ads offers support for the following specific conversion types:
Lead
Sign up
Purchase
Add-to-cart
Download
Install
Key page view
Other
When conversion tracking is set up, the LinkedIn Insight Tag or an event-specific pixel can be used to trigger one of these conversions – such as defining a "Purchase" as being a visit to a common "thank you" page after a sale is completed. If you had assigned a specific purchase value to this action when you set up the conversion, LinkedIn could automatically calculate the sales revenue generated by each ad, ad click and ad conversion for you.
Of course, for enterprise B2B SaaS companies, true conversions are rarely that straightforward. According to Gartner, the typical buying group for a complex B2B solution now involves 6-10 decision makers, all of whom have complex needs and requirements: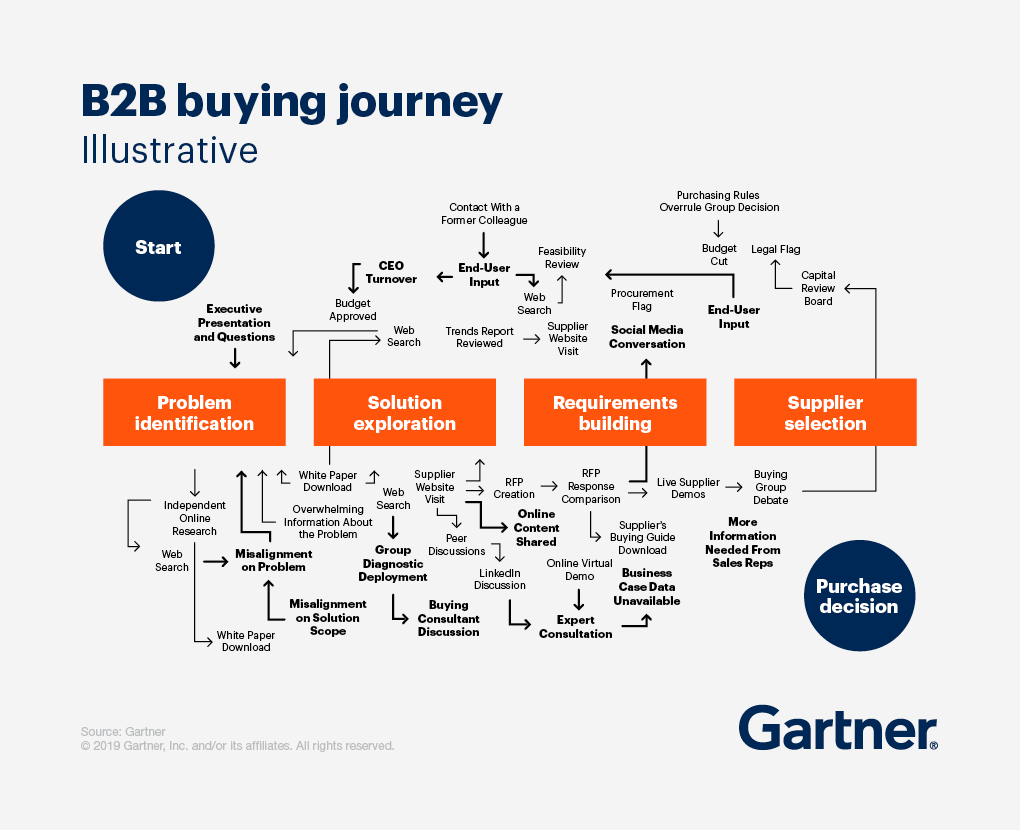 If an IT manager initially signs up for a free trial of your solution after viewing your ad, but it's eventually the CIO that pulls the sales trigger, LinkedIn won't be able to match that sale to the initial ad click on its own.
Further, sales amounts vary so greatly within enterprise SaaS organizations that measuring sales or sales-qualified leads (SQLs) is either going to require manual effort on your part or a third-party solution that can match your LinkedIn Ads data to your sales numbers.
It's worth taking this extra step, though – even if it does require some additional configuration. Even if you're able to get your CPL down to a reasonable level, you're still wasting budget if your ads aren't producing leads that ultimately convert to sales-won deals.
A Word on LinkedIn Ads Testing
Ok, two words: Do it.
The maxim "Always be testing" applies here. Plenty has already been written on how to use A/B split testing in paid ad campaigns, so I won't reinvent the wheel here.
Check out LinkedIn's guidance on setting up an A/B testing strategy and testing ad variations for specific tips on using testing in your campaigns.
Dive Deeper:
* How to Run A/B Tests that Actually Increase Conversions
* 10 Ways to Measure Social Media Engagement (Plus 7 Tools to Track It!)

Advanced Tips and Tricks to Skyrocket Your ROI
Even if you're feeling good about your LinkedIn Ads results, there's always something new you can try to further improve your ROI. Here are a couple advanced tips and tricks we've used in the past with Single Grain clients:
Use Demo or Testimonial Videos
If you aren't using demo or testimonial ads in your LinkedIn Sponsored Content video ads, try it ASAP. As the example below demonstrates, recording your customer testimonials creates social proof that LinkedIn customers can identify with: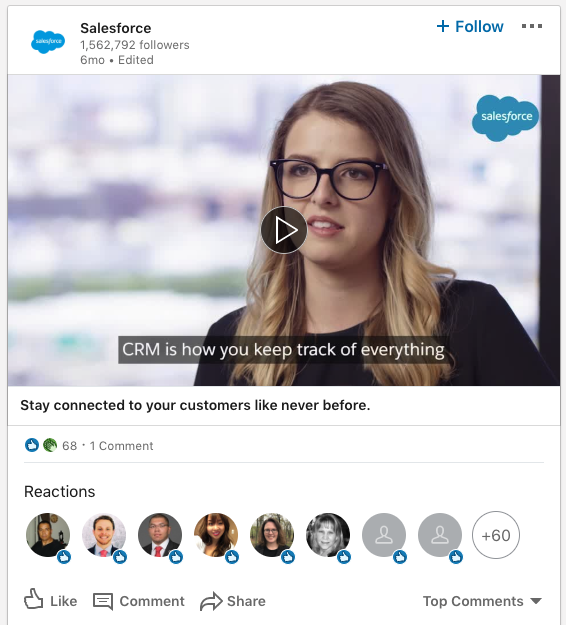 As much as possible, match your video subjects with the people you're targeting. People want to hear about the value of SaaS tools from their peers:
If you're targeting sales leaders, show a VP of Sales gushing about your product with their job title visible on the video.
If you're selling to a manager or director, featuring a user from the same hierarchical level proves that you understand their needs as well.
Don't have customer video testimonials? Consider using a service like ResultStory to schedule 10-minute video interviews with a few of your power users, in exchange for a free month of service or a gift card. You can also handle this yourself or designate the necessary outreach to an employee, using a script like the following:
Subject: Can I get your opinion, [NAME]?
Hi [NAME],
I'm [NAME] from the [COMPANY] team.
We're reaching out to a select group of customers to schedule video interviews about your experience with [PRODUCT].
Here's what that would entail:
1) You and I would hop on a Zoom call for 5-10 minutes.
2) You'd answer 4-5 simple questions about your experience, such as your favorite feature of [PRODUCT], and  any notable results you've achieved.
3) At the end of the video call, you'd get a $25 Amazon gift card as a thank you from us.
Interested?
Thanks in advance,
If you can get customers to record these kinds of videos, you'll have to spend very little money or effort to polish them – besides some limited post-processing production work to package everything up nicely.
Create a few of these videos, and you're likely to see a crazy-high ROI, simply by leveraging peoples' genuine enthusiasm in an authentic way.
Switch from Website Landing Pages to Lead-Generation Forms
Another option, if you've been sending LinkedIn Ads clicks to landing page forms on your website, is to test LinkedIn's Lead Gen Forms instead: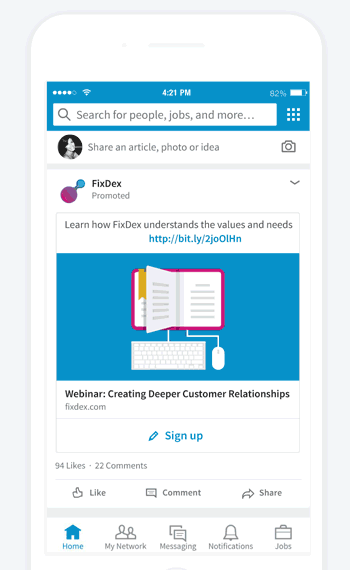 In one experiment by Yesler, performed on the Code24 website:
Switching to Lead Gen Forms performed 98% better than on-site landing pages, drove a 28% improvement in lead quality, and resulted in a 47% reduction in CPL for qualified leads.
A few of the advantages associated with LinkedIn's Lead Gen Forms include:
Faster mobile load times
Time saved on creating landing pages on your site
LinkedIn instantly pre-fills accurate opt-in information into your form fields, as pulled from their LinkedIn profiles
Here's an example from Intellimize, showcasing what a Lead Gen Form looks like before it's clicked: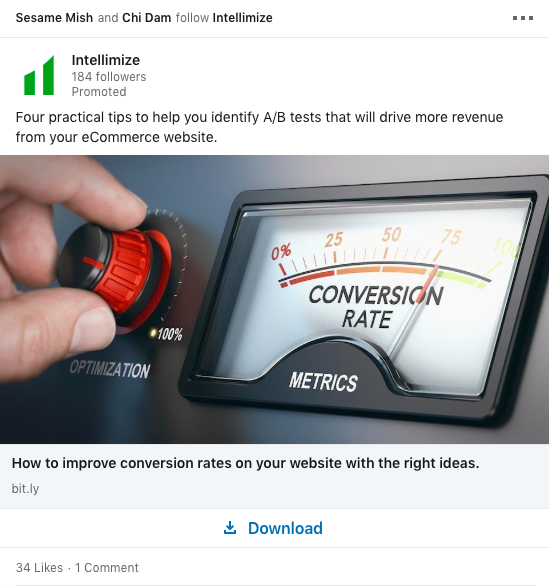 Pro Tip on Lead Gen Forms: For TOFU campaigns, we've found that adding a phone number kills lead form conversion rates. Instead, stick to a mix of 4-5 less scary, but still valuable, fields, such as:
Name
Job Title
Company
Email
LinkedIn Profile URL
That last one is actually a brand new field option, as of early 2020. Add it, and it'll be even easier for your sales reps to follow up on LinkedIn (in addition to connecting via email).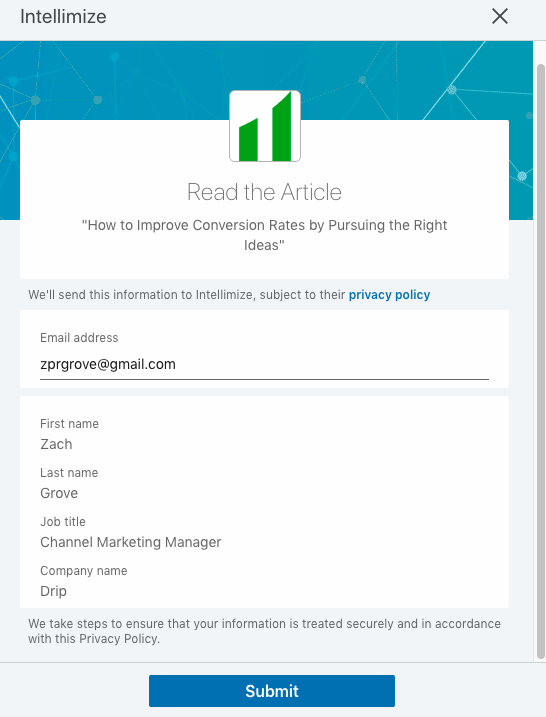 Enhance Delivery of the Content Assets Featured in Your Ads
If you've promised your lead a content asset in exchange for their opt-in – and they've voluntarily signed up to give you their information – don't make them wait.
Rather than saying "Thanks, you're all set" and making them stalk their inboxes for delivery of the asset (or worse, forget that they even opted in), include a link to start reading the asset right away within the Lead Gen Form by customizing your thank you message with a direct link to the asset: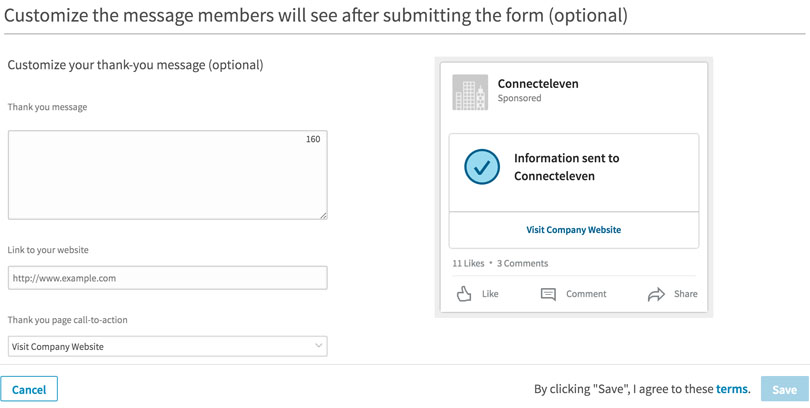 Next, take things further by adding a chatbot to the direct content asset link you'll send leads to. This is a pretty new opportunity that most enterprise B2B SaaS teams aren't yet taking advantage of.
When configured correctly, adding a chatbot turns your content asset into an interactive experience that allows you to quickly take a cold lead straight to a conversation with a sales rep.
Add Video Captions for Mobile Users
One final tip. If you're going to use video ads, make sure to turn on closed captioning and upload the relevant transcript file.
Mobile viewers may be unable to turn on audio for a number of reasons. If your video doesn't have captions, you'll have paid for them to view your video but they won't be able to receive the message you've developed.
This is a simple fix that should dramatically improve your Sponsored Content video ad results.
Need more expert tips? There's more where that came from! Book a free SaaS LinkedIn Ads Strategy consultation with Single Grain to learn more:
Troubleshooting Common LinkedIn Ads Scenarios
If you still aren't sure that LinkedIn Ads are right for you – or if you're testing them but haven't seen the results you expected – one or more of the following scenarios may be relevant to you:
Scenario #1: You want to try LinkedIn Ads, but you're working with a small budget
Let's be clear: A "small budget" is still at least a minimum $3K spend. If you don't have that budget, LinkedIn probably isn't right for you at this point.
If you're working with $3K-$5K, your best bet is to start with retargeting ads. That way, you're targeting the 97-98% of traffic that didn't convert right away, rather than trying to capture the attention of people who aren't familiar with your brand (and who don't really have a reason to care).
Another way to maximize your budget is to invest in your overall marketing funnel and campaign follow up. Make sure you've plugged as many funnel stage leaks as possible on your site and that your follow-up campaigns are both timely and performing well.
Get your house in order to make sure that you're maximizing the impact of the smaller number of visitors that'll be landing on your site.
Scenario #2: Your primary LinkedIn Ads goal is massive scale
Obviously, budget matters here, both in terms of overall budget and the daily spend limit you place on your campaign. Removing the daily limit entirely, for example, will drive results quicker, but will limit your ability to test and adjust course.
But one LinkedIn tool that's worth checking out if you're trying to reach as many people as possible as quickly as possible is lookalike audiences.
You'll need to have an existing matched audiences segment in place to create a lookalike audience, but once this is set up, LinkedIn estimates that creating a lookalike audience can expand the reach of your campaigns by 15X over your original audience.
Another option is to throw out the guidelines I shared above about targeting. If your goal is scale, go broader – for example, by using Job Functions and Seniority, instead of Job Titles and Seniority. This will expand your reach, but may decrease the odds of reaching the right people. Pay close attention to your performance metrics if you go this route.
Related Content: 7 LinkedIn Growth Hacks That You Might Not Know
Scenario #3: You're generating leads, but none of them are turning into sales qualified leads (SQLs)
If you're in this situation, the first thing you'll want to do is refine your sales process. Pay attention to your KPIs later in the funnel. Are you turning leads into SQLs on any other higher-intent paid channels you're using?
If not, test speeding up the pace of your lead follow-up. Zapier is a great solution for dropping a note into Slack that alerts sales reps as soon as a qualified lead comes through. That way, you can immediately call them to confirm and schedule their demo, rather than emailing them 1-2 days later.
One survey by Drift found that only 7% of companies followed up with a lead within five minutes of their inquiry.
Hit this threshold, and you'll easily beat your competitors who take longer to respond.
You can also test going omnichannel with your follow up. Instead of just following up via email, try using LinkedIn Sales Navigator along with an email.
With Single Grain's clients, we've also had success using direct mail to follow up with LinkedIn leads and incentivize them to either book a demo or attend a "Lunch & Learn" session. Basically, we'll cover the cost of lunch for the prospect and a few of their teammates if they'll commit to attending a 30-minute session.
One provider that can help you implement this on the software side is Sendoso. Or, if you're looking for a managed service provider that can take this completely off your plate, check out SaaSMQL for a direct mail test pilot.
Dive Deeper:
* MQL vs. SQL – Serve Up The Right Type Of Content To Your Leads
* Top Marketing KPIs that Every B2B Company Needs to Track
* How to Create the Ultimate Marketing Funnel (Templates Included)

Scenario #4: You're generating leads, but your per-lead costs are too high to generate a positive ROI
I mentioned above that your CPL should be under $100. But always trust your own data. These estimates are based on what we've seen be successful for Single Grain's clients. If your numbers support going more expensive in your campaigns (or if they suggest you need to go cheaper), you can safely operate outside of these estimates.
But if you've gone through your $5K test and you aren't even close to a sustainable lead cost, it may be time to either reallocate your resources elsewhere or bring in an expert partner who can take a closer look at your campaigns and identify opportunities for improvement that you may be missing.
If you need help with LinkedIn Ads, Single Grain's expert team is standing by. Schedule a free SaaS LinkedIn Ads Strategy consultation to see how our personalized guidance can dramatically improve your campaign performance: