Best Google Ads Agency: Top 5 Choices for 2023
Are you looking for the right Google Ads agency to serve your business? We get it. With so many options, you must be overwhelmed.
Who can you trust? What services can such an agency offer? And what should you expect to pay for their services?
These are some of the questions we'll answer for you.
---
---
Top 5 Google Ads Marketing Agencies
Now that you know what to look for in a Google Ads agency, here is a carefully curated list of the most prestigious agencies in the field.
Specializes In

: Paid media advertising, SEO, and content marketing

Top Clients

: Amazon, Salesforce, Airbnb

Pricing

: Custom based on your requirements
Single Grain is a digital marketing agency renowned for its paid media management services. Their team of marketing experts can manage all sorts of channels, including Google, Bing, Facebook, Twitter, LinkedIn, and YouTube ads.
Every client receives a custom-built Google Ads strategy aligned to their strategic goals and desired outcomes. Every quarter, we create quarterly plans based on our research, testing, and results in order to get our clients' message to the right audience with the right message at the right time.
We take our Google Ads management even further by working with our client's CRM and sales team to make sure we're driving the leads your business requires. Besides our Google Ads certifications, our experts hold certifications in Marketo, HubSpot, and other tools.
KlientBoost
Specializes In

: SEO, paid media advertising, and CRO

Top Clients

: Segment, SAP, Bloomberg

Pricing

: Custom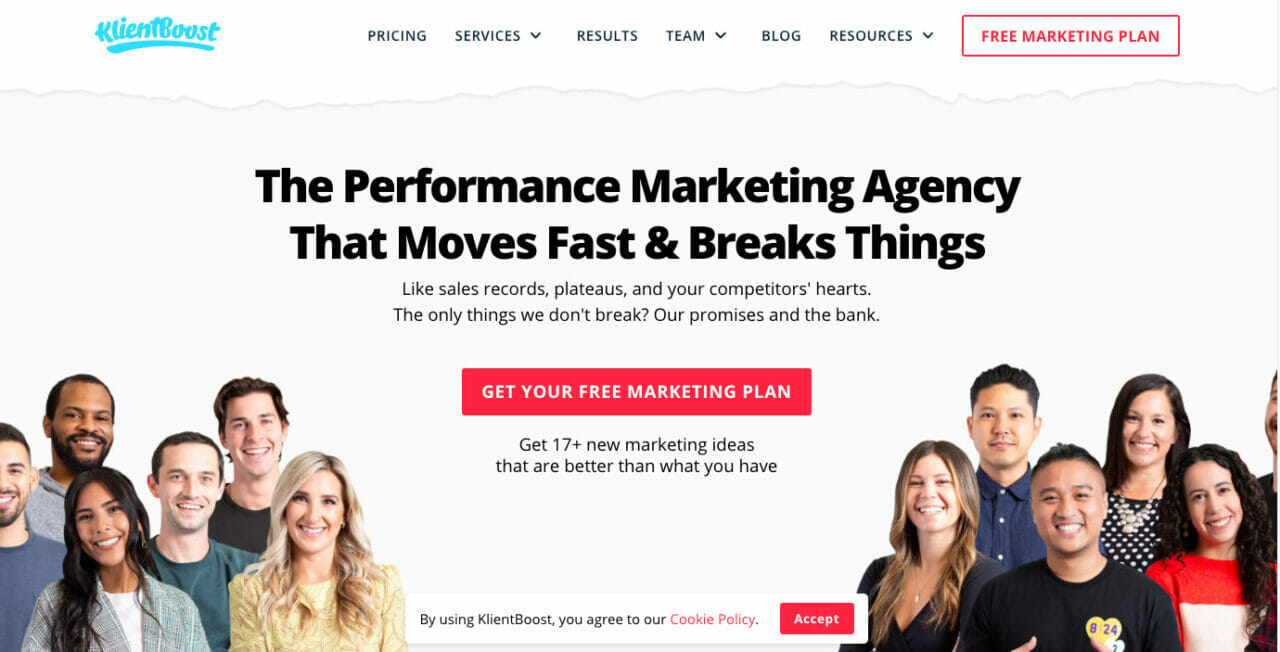 KlientBoost is a paid advertising agency experienced in lead generation, SaaS, and e-commerce marketing. Their team can manage Google Ads and Facebook Ads, along with other paid social platforms. They have more than 250 clients on their roster. Since its founding in 2015, they have experienced massive growth, opening three offices with over 120 employees.
Within their paid media management services, they take care of their clients' bidding optimizations, copywriting, tracking, and improvements. They are also certified in Google, Bing, and Facebook Ads.
KlientBoost works with small, mid-market, and enterprise companies in the e-commerce, SaaS, and service industries.
Dive Deeper: E-commerce Advertising Strategy: How We Doubled PPC Sales for ThinSlim Foods (with a 3X+ ROAS)
Disruptive Advertising
Specializes In

: Paid media advertising

Top Clients

: Adobe, ConocoPhillips, BPI Sports

Pricing

: Custom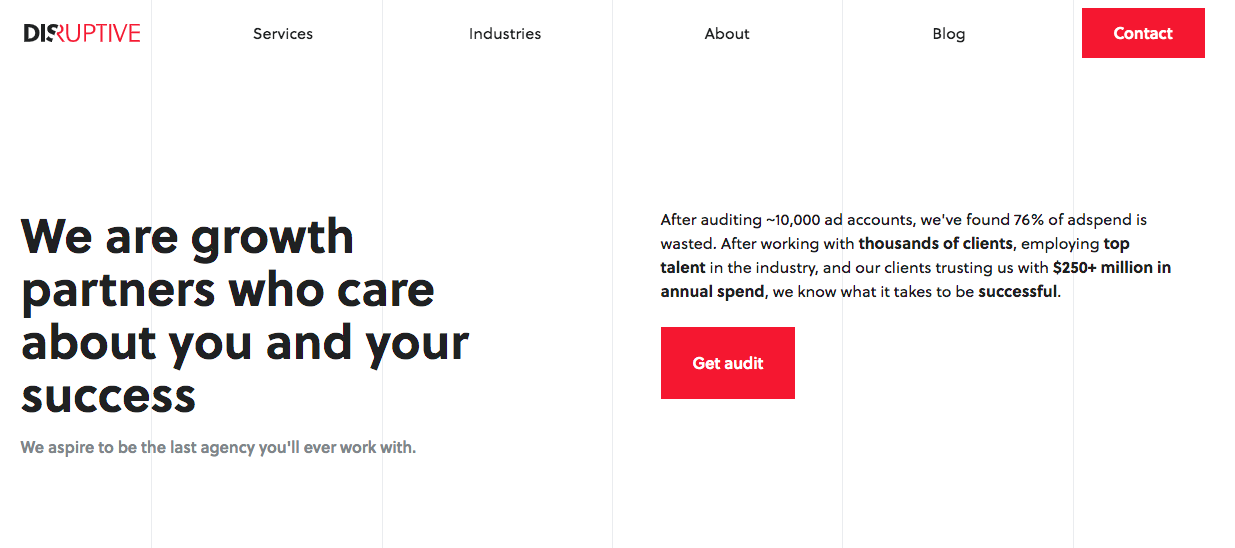 Disruptive Advertising is an agency with a special focus on "results-based relationships." They aim to develop long-term relationships that align their client's values with their own, thus leading to extraordinary results. Their unique approach has led them to be very picky with their clientele, making them reject 91% of their leads due to poor fit.
They offer Google Ads and Shopping management as well as Microsoft Ads, retargeting, and YouTube ads. They have also been named as a Google Ads Premier Agency Partner. The agency employs over 160 employees, the great majority of whom work as marketing consultants.
Disruptive Advertising works primarily with mid-market and enterprise clients who generate more than $10 million a year. A big portion of their client base is made up of online retailers, finance, and business services companies.
Related Content: The Complete White Hat SEO Guide: Google-Validated SEO that Works like Magic!
WebFX
Specializes In

: SEO and paid media advertising

Top Clients

: 1&1, Subway, Verizon

Pricing

: 12-15% of ad spend, with a minimum monthly budget of $1,250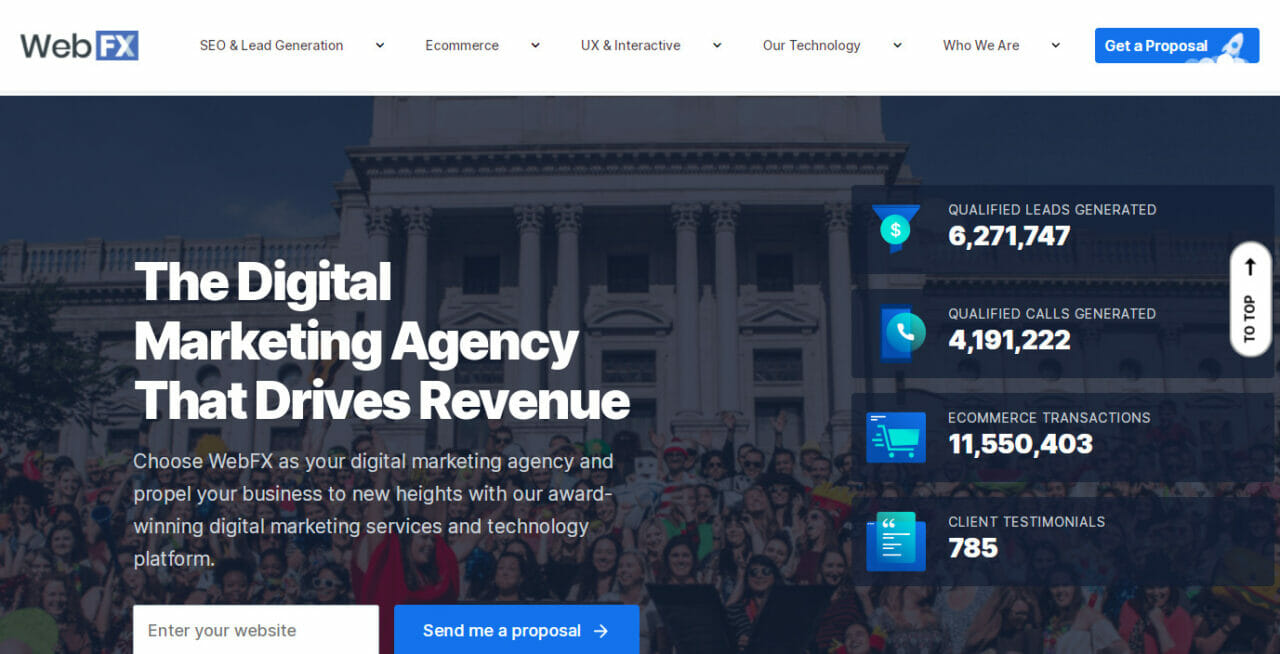 WebFX is a digital marketing agency that delivers SEO, lead generation, content marketing, social media marketing and, obviously, PPC services. As a Certified Google Premier Partner, they have generated over $2.4 billion in revenue to more than 780 clients.
The agency gives every client a dedicated account manager whose only job is to deliver results. They claim to research up to 10,000 keywords for every campaign.
WebFX charges a 15% commission from their client's ad spend with a minimum budget of $1,250 per month (up to $12,000). They also have two other plans that take 12% of your ad spend but require higher monthly budgets ($12,001 and above). However, these plans come with a few more perks, like conversion analysis reporting and banner ad designs.
Dive Deeper: How to Create a High-Performance Content Marketing Strategy in 2023
Ignite Visibility
Specializes In

: SEO and paid media advertising

Top Clients

: Tony Robbins, Sharp Healthcare, National Funding

Pricing

: Custom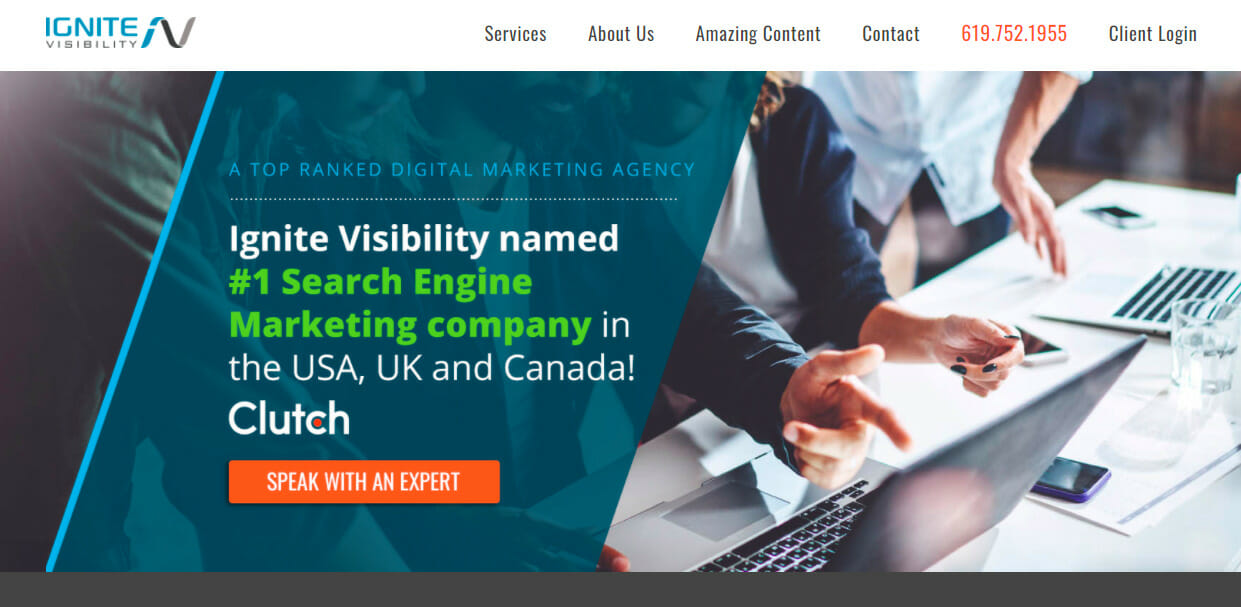 Ignite Visibility is a leading performance-based agency that offers SEO, paid media, social media, and email marketing services to over 150 clients. They manage over $50 million in paid media advertising on several networks, which is why they are Google, Facebook, and Microsoft premium partners.
With over 100 employees located in San Diego, they mostly manage accounts for mid-market companies in a variety of industries. The company states that they use a proprietary technology called the "Forecaster Method," which allows them to "forecast results for every service," giving them an edge over other agencies.
Related Content You May Also Like:
* Are Twitter Ads Worth It in 2023 and Beyond?
* How to Launch a TikTok Ads Campaign for E-commerce
* Spotify Ads 101: How to Run Successful Audio and Video Ads

What Is a Google Ads Agency?
Let's say you decided to start a Google Ads campaign with a monthly budget of $10,000 (or $333 per day). After a few weeks of wrestling through the difficulties of setting up a new campaign, it starts to bring some conversions.
Although you are excited about the new opportunities the Google Ads platform offers, you realize your whole team doesn't have the time or experience to scale this campaign. In fact, you can barely keep up with the constant number of tweaks you have to do daily to keep it functioning.
That's where a Google Ads marketing agency comes to the rescue. These companies bring their team of PPC experts to:
Release your already burned-out team from the stress of managing a campaign

Make all the small but necessary adjustments to steer your campaigns into the profits

Oversee and implement all the changes required to keep your campaigns profitable in the long term
More specifically, Google Ads agencies take care of:
Campaign planning and execution

In-depth keyword discovery

Thorough competitor analysis

Ad copywriting and optimization

ROI measurements and optimization

Ongoing campaign tracking and monitoring

Regular campaign progress reporting
A Google Ads marketing agency becomes vital when your business:
Invests four to five digits per day in this channel

Runs campaigns with different goals (e.g., one for sales, one for brand awareness, and so on)

Has an international presence and targets multiple languages

Lacks a sufficiently large marketing team or the appropriate experience in the field of paid media
Unlike other channels that require months of hard work to see any meaningful results, such as SEO, Google Ads can provide almost immediate results. What's more, Google provides an unparalleled quality of data, which allows you to make informed decisions quickly.
Dive Deeper:
* 9 Google Ads Trends You Can't Ignore in 2023
* 10 Most Important Google Ranking Factors (& How to Optimize for Them!)
* International SEO: How to Optimize Your Website to Capture a Global Audience

How to Choose a Google Ads Agency
To hire the right Google Ads agency that can provide substantial results for your company, you need to look for the following three factors:
Experience
The company you hire needs to have a strong portfolio of clients. Ideally, the agency should provide case studies that detail what they did for their clients. Testimonials are also good, although not as valuable as a real success story.
Since the online marketing field changes at breakneck speed, the case studies and testimonials should be recent. A success story that's over three to five years old may not prove the agency's competence with the latest Google Ads trends.
Finally, the agency should have experience working with companies in your industry. For example, if you run an e-commerce business, look for an agency experienced in e-commerce marketing.
🚩 Red Flags
Companies that show a lot of logos without any substantial case studies and testimonials are a big no-no. Some agencies add a logo as part of their portfolio after doing a bit of small, irrelevant work for their clients without specifying what work they actually did for them. 
What's more, some companies that provide multiple digital marketing services present logos without specifying the work they did for them. Therefore, an agency that worked with a big brand may trick you into believing they helped them with their Google Ads when, in fact, they only consulted them with some minor SEO issue they had.
As with everything related to marketing, it's best to look at the results the agency provides and not the logos or promises they make.
Reputation
Check the company's track record. Although this is associated with experience, reputation speaks more to the impact the agency has in its industry and region.
Industry awards and press mentions are fine, but the most important aspect to look for is reviews, particularly those from organizations such as the Better Business Bureau (BBB) and sites like TrustPilot, or sites like G2, Capterra and Clutch: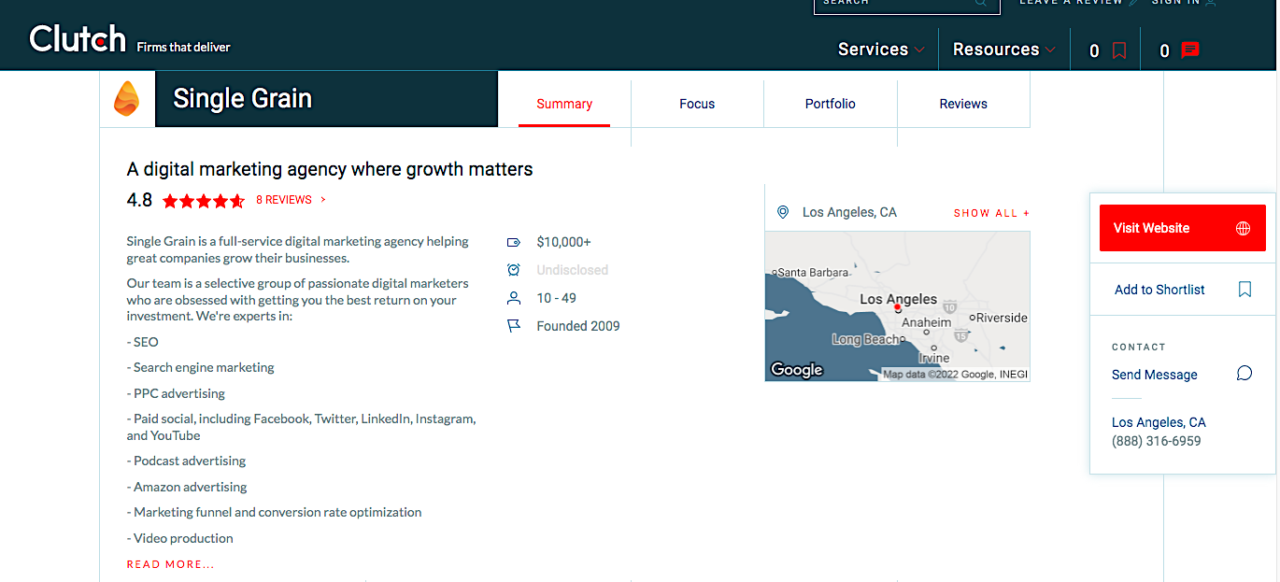 Another reference that speaks of the company's reputation is its Glassdoor page. Although this site only showcases employee satisfaction with a company, the quality of an agency's work environment is a good indicator of how they do business: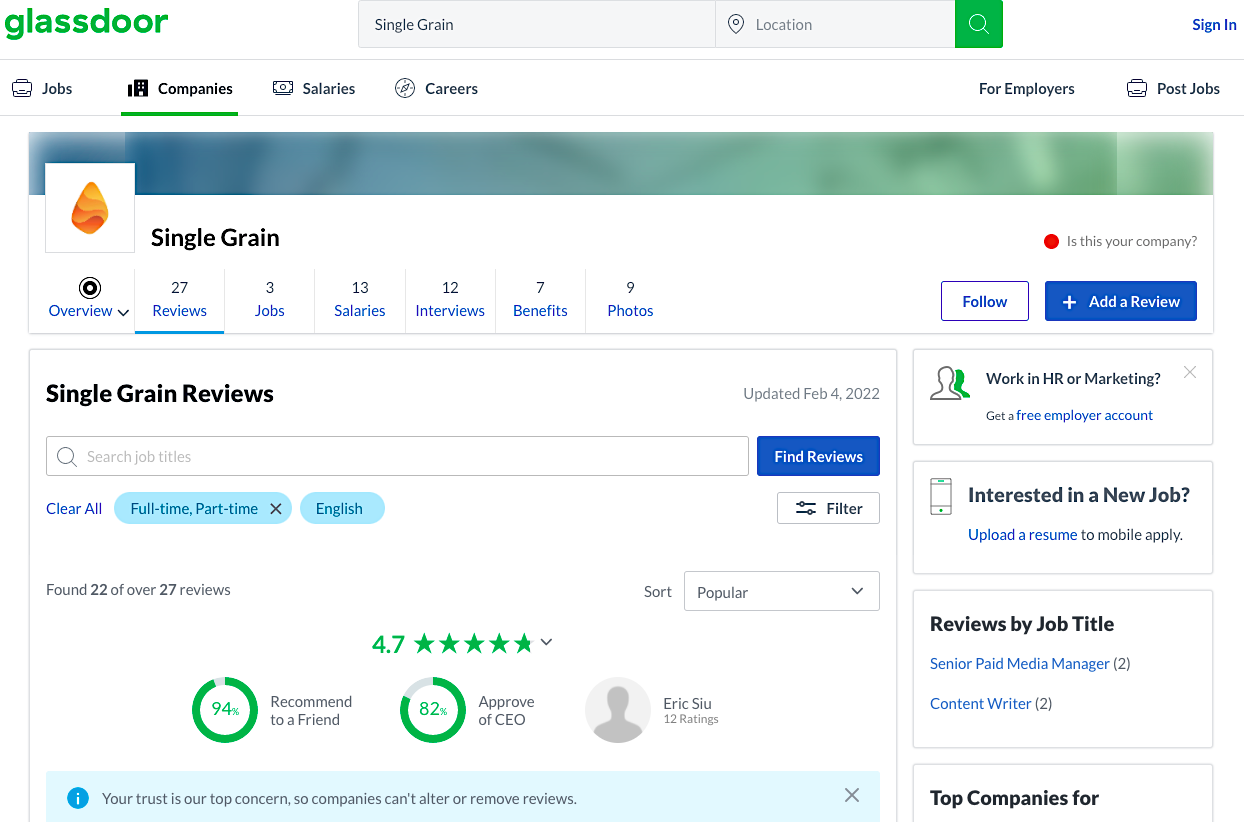 Finally, look for their founder's and employees' online presence. Those who showcase their passion by running a personal blog, podcast, YouTube channel, or active Twitter feed signal a potentially positive reputation.
Such is the case of Single Grain's CEO, Eric Siu, who has a YouTube presence: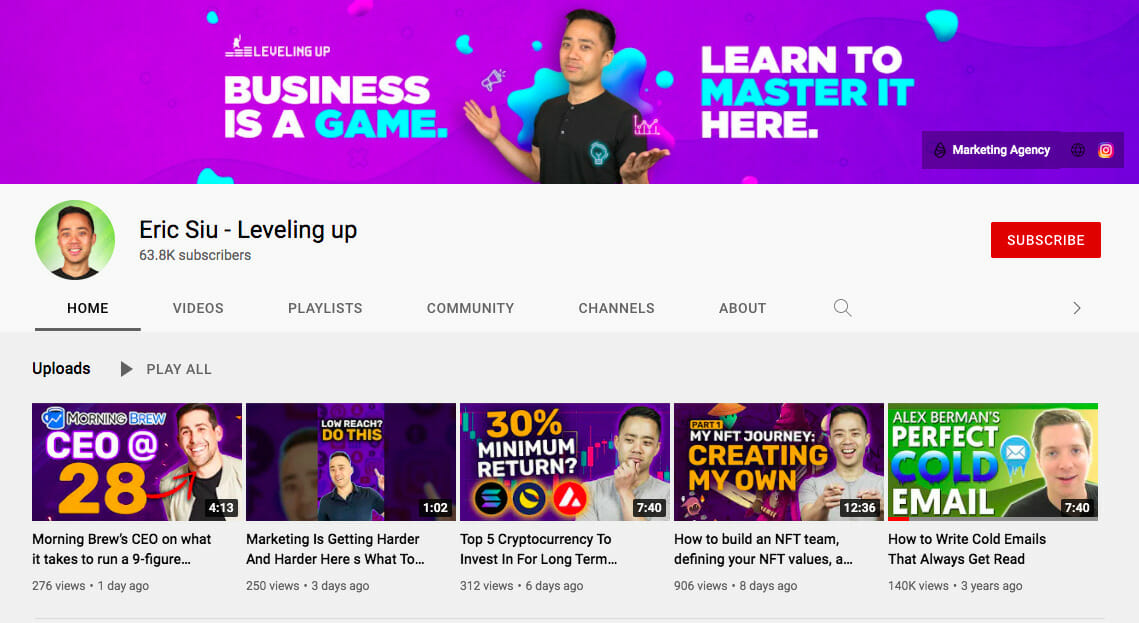 And a podcast he hosts with Neil Patel, called Marketing School: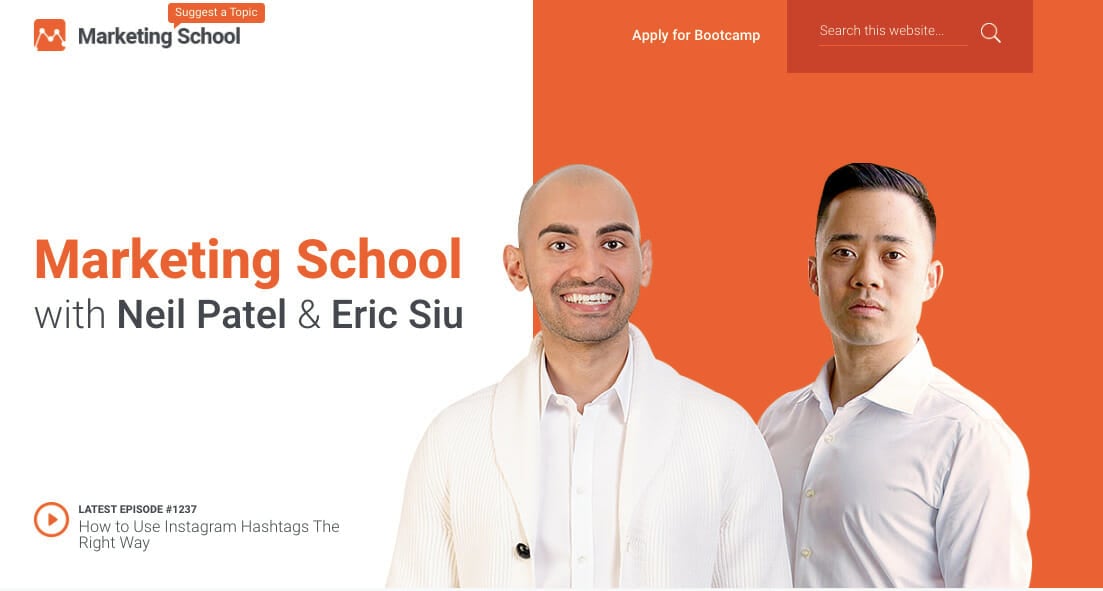 🚩 Red Flags
A company without a clear reputation should be taken with a grain of salt. You always want to see what past clients say about them and how respected they are in their industry.
Certifications
We all know that the quality of our education speaks a lot about our professional competence. However, in the world of online marketing, this isn't as important as the industry certifications a company and its people have. 
Any agency that manages Google Ads should have passed at least one of the following Google certifications:
Other related and equally important certifications to look for are:
These certifications guarantee that the company is up-to-date with the latest changes Google introduces to its marketing platforms every year.
Although not mandatory, a good sign of a high-quality Google Ads agency is a full-service Google Partner certification:

According to Google, any agency that earned this recognition has "expert-level Google Ads product knowledge. These partners receive training, support, and insights that keep their skills sharp and help drive campaign success."
🚩 Red Flag
A boast about "combined year of experience" says nothing about their capability. The same goes for certifications that have expired. Always make sure their certifications are still valid at the time of your research.
Google changes its products constantly. Past experience isn't proof of current competence. For example, a company may have been incredibly good ten years ago when Google permitted more lax marketing practices and the bidding costs were lower. Nowadays, succeeding in Google Ads requires much more creativity and marketing prowess.
Dive Deeper:
* A Simple Hack to Combine Facebook Ads and Google Ads
* Google Ad Extensions: Everything You Need to Know
* Google Privacy Sandbox: What Does It Mean for the Future of Targeted Ads?

What Do Google Ads Marketing Agencies Charge?
Google Ads agencies offer different pricing schemes depending on the complexity of the work required. The three common standard pricing models agencies use are:
Flat fee

: You pay a fixed amount every month, regardless of your spending or results.

Ad spend-based

: You pay a percentage of your ad spend.

Performance-based

: You pay according to a predetermined benchmark, such as a percentage of every sale you generate.
For companies with little experience and small budget looking to hire a Google Ads agency, the best one is the flat fee model due to its simplicity. The only problem with this model is that some agencies and managers use it to acquire customers regardless of the results they provide. What's more, it may demotivate the ad managers to do their best work.
Most agencies use a commission model, whether it's based on ad spend or performance. Agencies usually take 10-15% of the ad spend or a similar amount for every conversion you generate (in the latter case, a conversion refers to a lead, a sale, or any other key metric).
In the case of Single Grain, we offer custom pricing based on your business needs. We don't take a one-size-fits-all approach. Instead, we align ourselves with your goals to deliver the desired results consistently over a long time. The remarkable results our clients have seen speak for themselves.
Hiring the Right Google Ads Agency
With all the information you gathered today, you are ready to hire a Google Ads agency! Just remember the best practices we shared with you:
Make sure the agency specializes in paid media either exclusively or with a strong emphasis on Google Ads.

Analyze their reputation, such as reading reviews online, and their experience. Most importantly, look at the people who will manage your campaigns because their experience and expertise is what will define your results.

Avoid any of the red flags we mentioned earlier such as boasting "years of combined experience" or unclear testimonials.

Look for a pricing scheme that works best for you — be ready to negotiate a percentage of your spend or conversions, but if your budget is low, a flat fee may work best.
Schedule your FREE consultation with Single Grain's Google Ads experts to discuss your campaign requirements. 👇
Or learn more about what we can do for you here 👉   Google Ads Agency