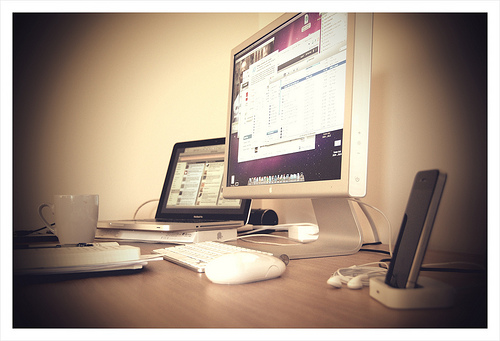 I get it – you're busy.  Whether you're a small business owner, a marketing representative for a larger company or anybody else who's thinking about taking on the responsibility for a corporate blog, your to-do list is already packed pretty tight.
So why should you even think about adding something else to your calendar?
In fact, business blogging offers a ton of different advantages, including all of the following:
Business blogging can help you to form relationships with new website visitors.  Instead of being greeted by a static, "billboard" like page, new readers can connect with the casual tone of your blog posts – forging connections that can result in increased revenue without the need for a hard sell.
Business blogging deepens the relationships you have with your current customers.  When you post good content regularly, these visitors will come back again and again, leading to recurring sales without a ton of extra effort on your part.
Business blogging gets new people to your website by improving your rankings in the natural search results.  Because SEO places a premium on good quality content that's updated regularly, running a business blog is an easy way to appease both the search engines' indexing programs and your regular readers.
Sounds great, right?  If you're ready to take advantage of all these different benefits for your own company, read on to find out how to get started with business blogging:
What does good business blogging look like?
When you take a look at all the different benefits that business blogging can provide, it's easy to get excited.  More visitors streaming into your blog?  Increased revenue from the customers you've already connected with?  Sign me up, right?
Although business blogging can be a powerful strategy for promoting and growing your business website, it's important to remember that it requires time and commitment to do well – just like any other marketing technique.
There's a big difference between good business blogging and bad business blogging.  Let's take a look at how the two differ:
Bob the bad business blogger knows how important his blog is, but can never seem to find the time in his day to commit to it.  He drops in once a month and writes a quick update that he publishes right away.  Because he releases so few posts, he makes them as sales-oriented as possible, believing that this will help him to squeeze as much revenue as possible out of the few people who do stop by.  Once this is done, Bob abandons his site until the next month – never checking back to respond to post comments or to promote his content on social sites.
Greg the good business blogger takes a different approach.  Greg knows that consistency is key when it comes to business blogging.  For this reason, he's created a publishing calendar that involves releasing two 1,000+ word posts each week that touch on a variety of fun and engaging topics.  Greg is active in his community, getting into great discussions with the readers who comment on his posts and carrying the conversations over to his company's social profiles whenever possible.
Is the "Goofus and Gallant" format of the examples above a little cheesy?  Sure – but it should highlight how much variability there can be in business blogging practices.
Obviously, Greg is going to get better results than Bob, whether he's attempting to attract new customers, bond further with past buyers or improve his search engine rankings.  If you're going to model your own business blogging approach after anyone, do your best to be like Greg!
What should you write about?
To improve the results you're able to achieve through business blogging, one of the most important things you can do is to set and stick with a publishing calendar.  At the very least, you should be posting to your website once or twice a week.  If you're able to post more frequently, that's great – but don't risk burning out your company's resources by trying to stick to an unreasonable schedule.
So what should you be writing about in your posts?  The following post formats should give you a place to get started:
Informative content – The cornerstone of any good business blog is the "evergreen" content that provides informative insight into topics that will always be relevant to your audience.  As an example, if you run a website that sells bicycle parts, an educational tutorial on choosing between different bike styles will serve your readers well.
"Linkbait" posts – Linkbait posts are designed to gather page views or backlinks (or both).  Typical linkbait post structures include list posts (for example, "17 Ways to Save Big on Bike Parts") or posts that take a controversial viewpoint (as in, "Why You Shouldn't Buy XX Brand Bikes").
Commentary on industry news – Offering your own two cents on issues that are affecting your industry helps to build your perceived authority amongst your readers and can also play a vital role in helping your blog appeal to the search engines (which value "fresh" news-related content).
Inside looks at office life – Website visitors love to see what's going on behind the curtains of your company.  Fun posts that showcase your company's office culture in words, pictures or videos can help to differentiate your brand from others in their minds.
Promotional content – While sales posts shouldn't represent the bulk of your blog's updates, tossing in a promotional piece every now and again can help direct readers to products they weren't previously aware of.
If the thought of writing all of these posts sounds overwhelming, consider adding other media formats to your business blog.  Posts that feature images, infographics, instructographics, video clips or downloadable files appeal to readers and can help break up the monotony of a regular publishing calendar.
How to get more out of your business blog
If you paid attention to the Bob and Greg examples above, you should have noticed that Greg the good business blogger didn't just publish posts – he actively engaged with his community as well.
Realistically, your blog should only be the starting point in the conversations you're able to have with your readers.  A blog post represents your viewpoints alone, but when you start to engage with the people who visit your site, you'll find that you're able to form even more meaningful relationships with the people who will go on to become your customers.  At the same time, monitoring reader feedback to your posts can result in incredible market research knowledge that can inform your future blogging efforts and other business needs.
As a result, it's not enough to simply publish posts and go on with your day.  Effective business blogging involves all of the following activities as well:
Approving and responding to comments
Sharing your posts on your social profiles
Engaging with readers who respond to your social profile updates
Yes, tying all of these things together requires both time and resources.  If you aren't a strong writer or if you don't have time to promote your content on social sites, you may need to pull others in your company into your blogging strategy or to outsource these tasks to remote workers.
Just don't let the excuse of a lack of time or resources prevent you from getting started with business blogging.  The results of this strategy can be tremendously powerful – as long as you commit to doing things right!