You have put your heart and soul into creating a blog from scratch. What next? Now it's time to drive some serious traffic to it.
However, generating high-quality traffic is one of the biggest challenges faced by new bloggers, especially when each niche has thousands of blogs shouting for attention. According to data from Statista, the cumulative number of blog accounts on Tumblr alone is more than 456 million: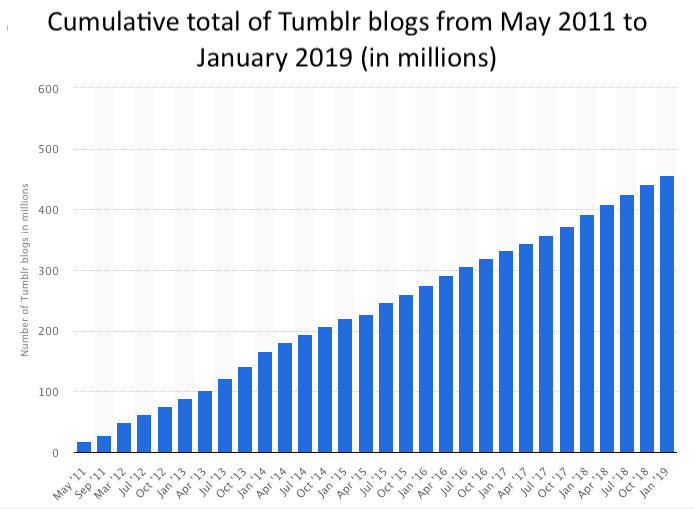 Developing your blog's content and credibility in the cut-throat blogging domain can be challenging. Here are seven smart ways to boost your new blog's readership and attract the audience you want.
1) Publish Relevant Content
Interesting and value-adding content is one of the primary reasons people follow blogs. Successful blogs cater to the specific needs of their audience and offer articles, videos, infographics, etc. that inspires their readers to trust and follow them.
It is wise to have a solid content marketing strategy in place to help you attract a steady stream of organic traffic, thereby establishing you as an authority in your domain. Further, an infographic shared by Demand Metric reveals that every dollar spent on effective content marketing generates 3x as many leads as traditional marketing: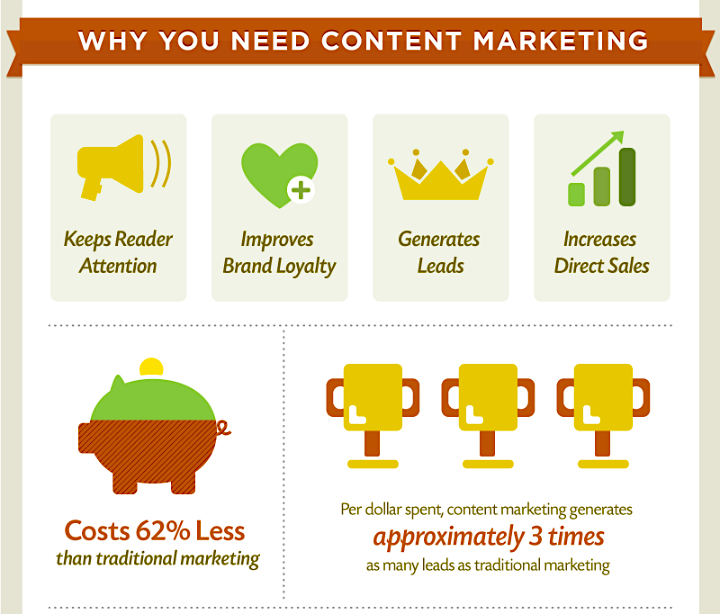 The quality of content depends on three parameters:
The headline
The content length
The content quality
On an average, 80% of readers will read your blog post's headline, and a compelling title can lead to 500% more page views. Therefore, your post title should grab the readers' attention, persuading them to read the entire post or article.
A compelling blog post title with a relevant header image is sure to hook readers looking for effective content marketing advice: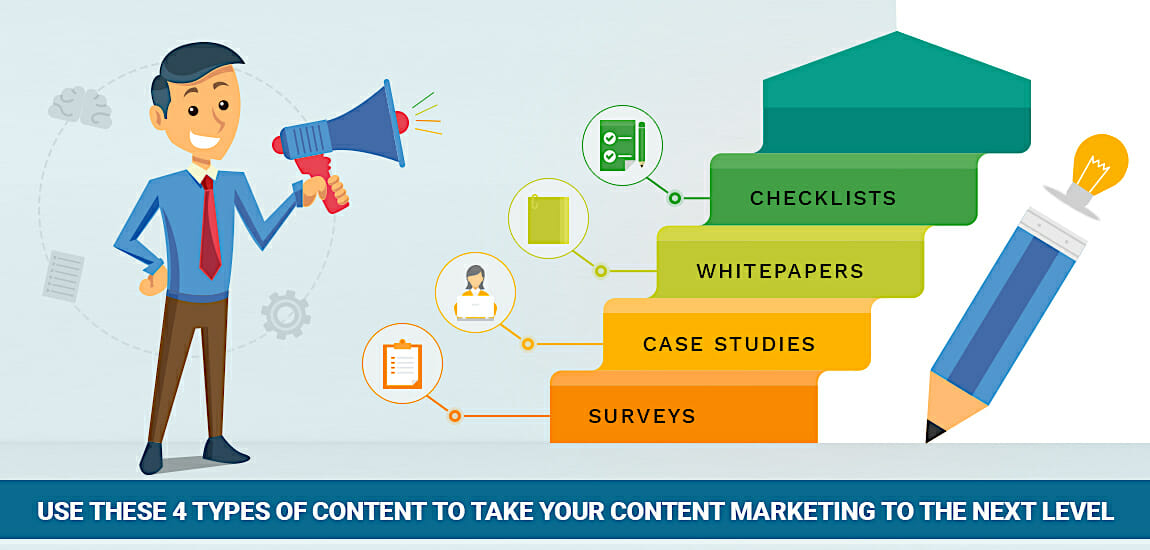 Further, long blog posts offer more opportunity for implementing effective SEO tactics and are given a high ranking by Google, thereby improving the blog's results in the SERPs. According to OkDork, a marketing and business blog, successful blog posts range from 3,000 to 10,000 words: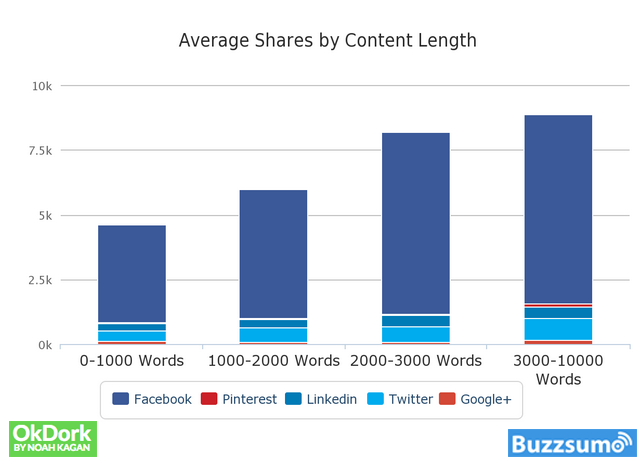 Lastly, pay attention to the quality of content being published on your blog. Find out what your audience is passionate about by using effective keyword research (more about this in the next section). Once you know what your audience is looking for, use blogging tools like Buzzsumo and Ubersuggest to generate relevant content ideas.
The audience comments on Quora are also a great way to research the hot topics being discussed in a particular domain. For instance, a blogger writing for men's fashion brands like Ralph Lauren or Nordstrom can browse through the relevant section on Quora to learn about the target audience's opinions and preferences: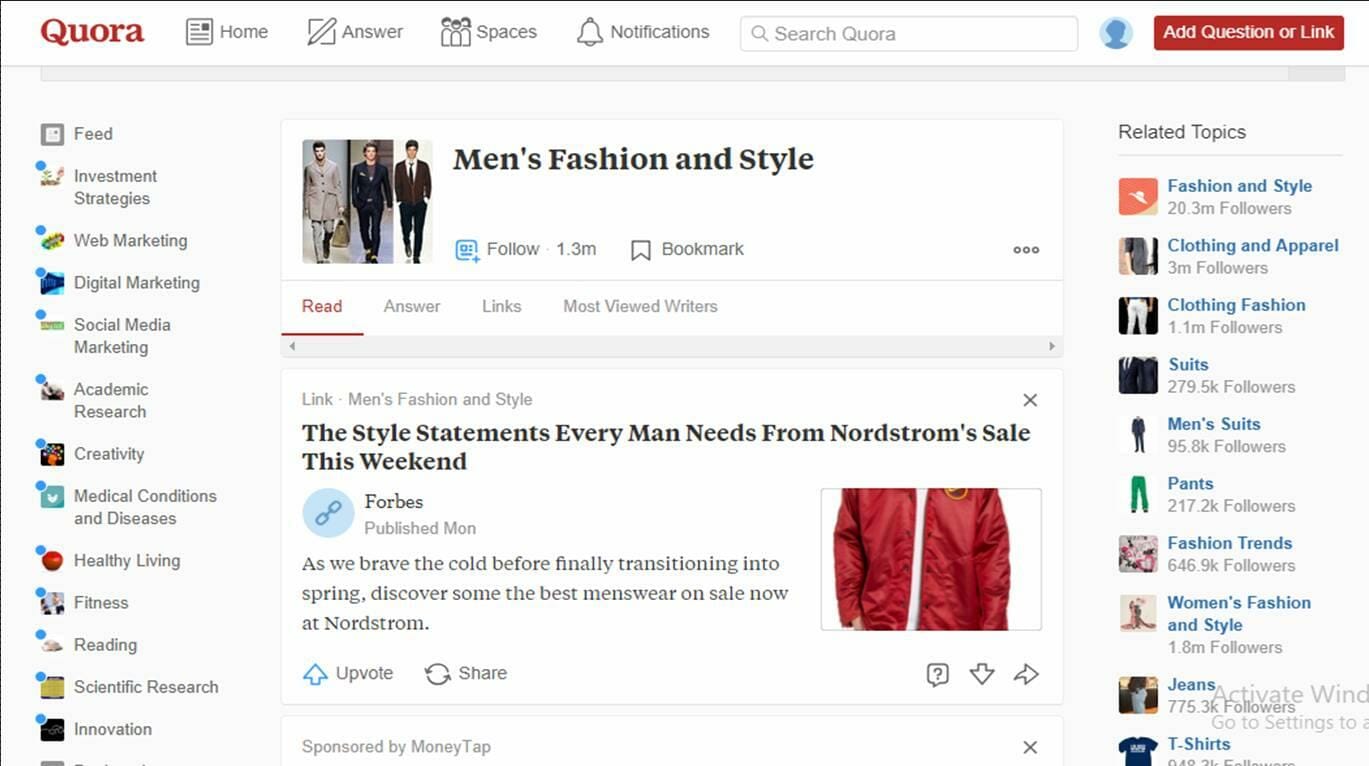 Remember: your blog post is competing against two million posts being written each day. Therefore, creating high-quality and relevant content is a critical step towards attracting traffic to your blog.
Dive Deeper:
2) Optimize Your Blog's Content
In order to find informative content, readers type a particular phrase or question into a search engine, so search engine optimizing your content will help make your blog visible to readers who are entering keywords pertaining to your domain.
Effective keyword marketing can help you identify and focus on the keywords used by your audience and avoid keyword stuffing, which is harmful to your blog and can earn you a penalty by Google. Google's tool, Keyword Planner, does not display all the terms used by people to search for content, and since this tool is used by most bloggers, they end up competing with established blogs for the same obvious keywords, preventing new bloggers from getting a higher SERP.
Therefore, besides Google Trends, Google Analytics, and Google Ads, it is wise to depend on a few under-the-radar keyword research tools like these ones to generate effective keywords: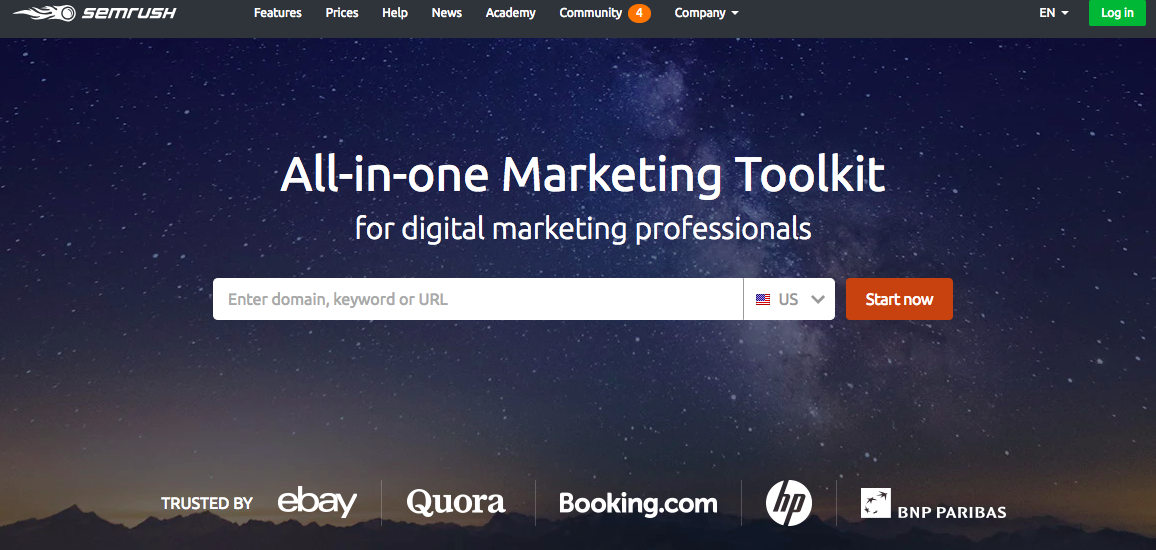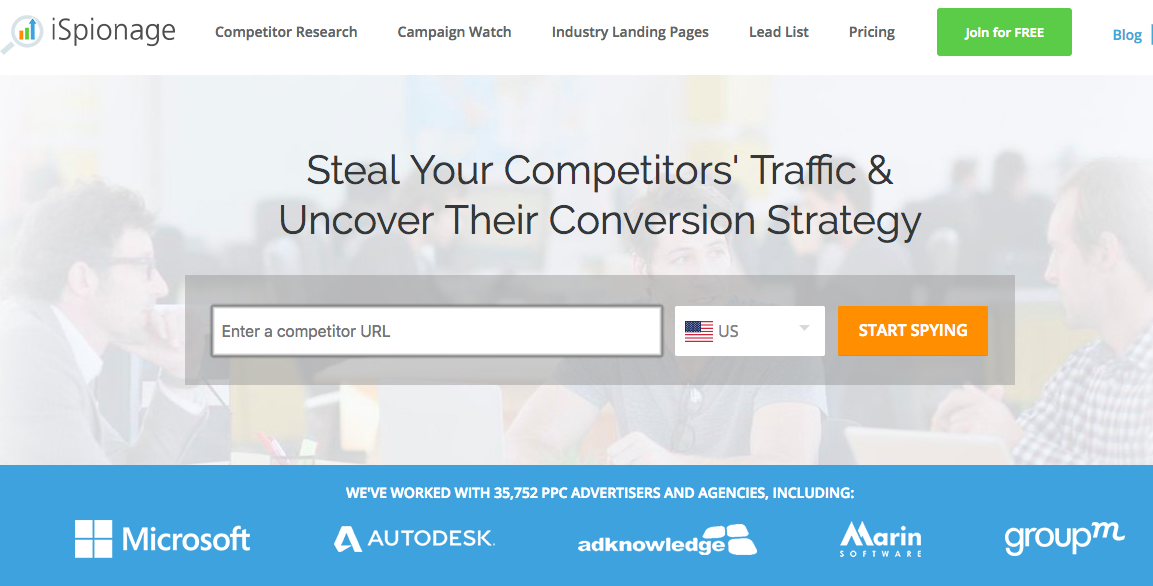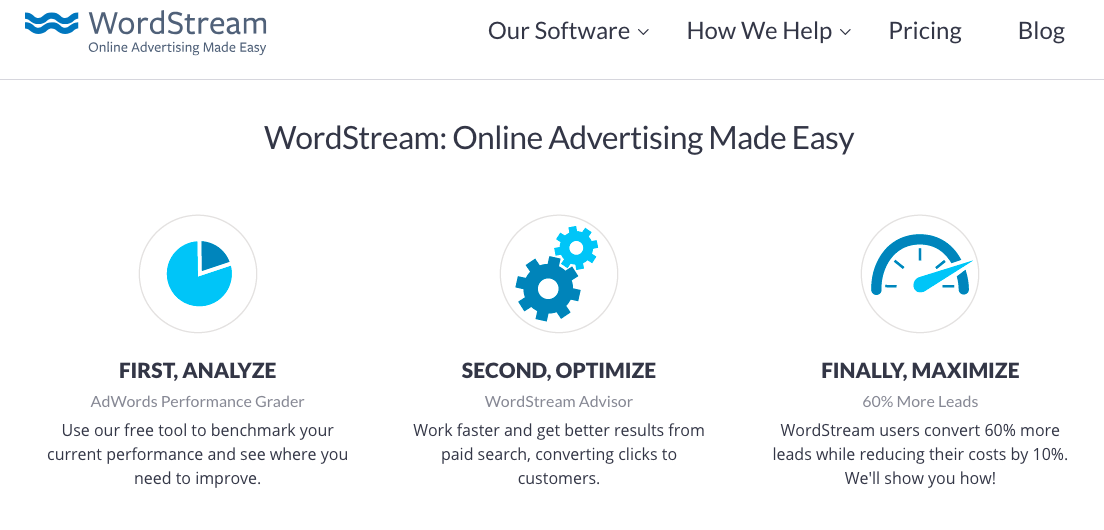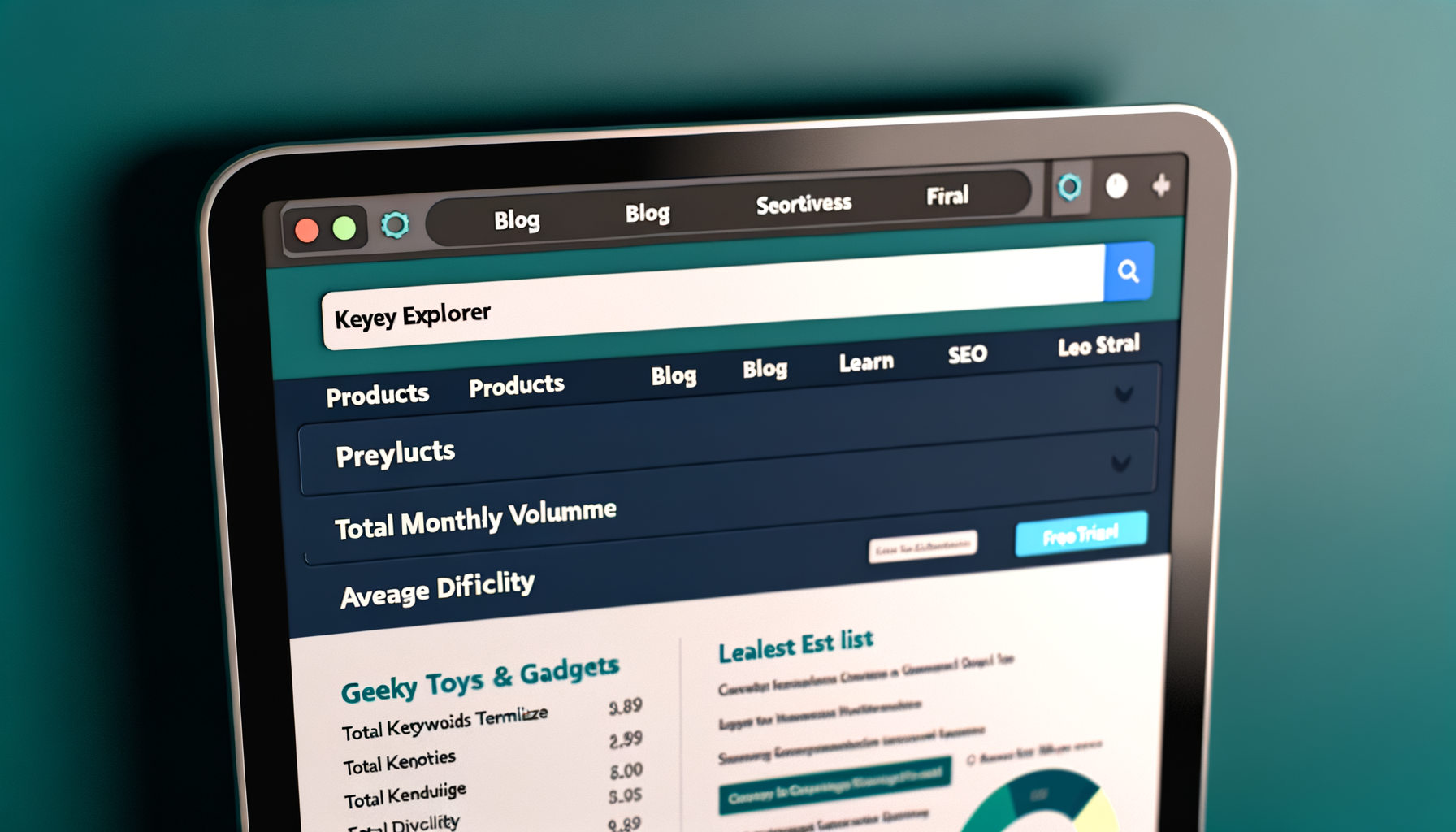 Once you have done your research, include a few long-tail keywords in the content's headline, main body, meta description, and URL. Long-tail keywords have a high chance of being read by your target audience, drawing them towards your blog.
Lastly, make sure that your blog is mobile-friendly. According to Statista, 157.6 million people searched the web on their mobile device in 2015, and that number is expected to hit 215.8 million by the end of 2019.
Google heavily favors mobile-friendly websites, so it is wise to use responsive web design, allowing your blog to have a common URL for desktops and mobiles and thereby improving your blog traffic.
3) Implement a Solid Social Media Promotion Plan
Blogging is not just about writing and publishing. You need to promote your content on the top social media platforms such as Facebook, Twitter, LinkedIn and Instagram, encouraging your audience to visit your blog for more content in your niche.
Presently, nearly 87% of B2B marketers use an average of five social media sites to promote their content and drive traffic to their site: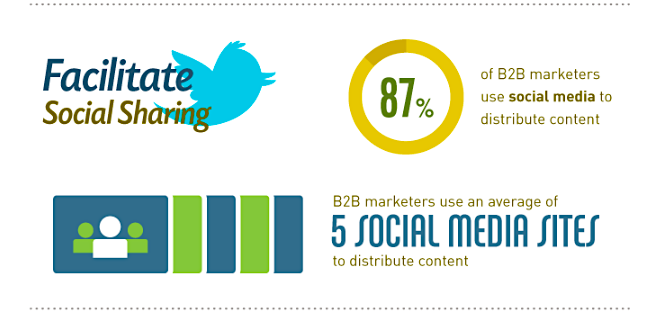 What's more, 81% of bloggers experienced a surge in their blog traffic by spending just six hours per week on social media promotion.
Find out the top social platforms used by your target audience and create multiple social media posts for each blog post:
Encourage your audience to share your posts by including click-to-tweet or share buttons in a prominent place on the page.
Further, tag a brand or a powerful online influencer who can get your content extra exposure, thereby boosting the traffic to your blog. For instance, a blogger in the home décor domain shouldn't miss an opportunity to tag influencer brands, such as Spruce Home Décor, John Lewis or Martha Stewart in relevant blog posts.
Learn More:
4) Promote Your Blog through the Community
Use Google Analytics to find the websites, blogs and professional forums that your audience is active on. Engage in social listening and interact with the audience on these forums to improve your image as a valuable member of the community.
Aggregate sites and up-vote communities such as Reddit, BizSugar and Triberr that help bloggers share their content and improve their blog traffic. Quora is a resourceful platform that can give you a pulse of the market and enable you to interact with your audience. Be sure to include your blog link when responding to questions.
Key in the "intitle:forum" + [your niche keyword] in Google to find the top forums in your niche. So, a blogger writing for a women's fitness apparel brand like Onzie or Aviator Nation can find the best forums in his/her niche using "intitle:forum" + activewear.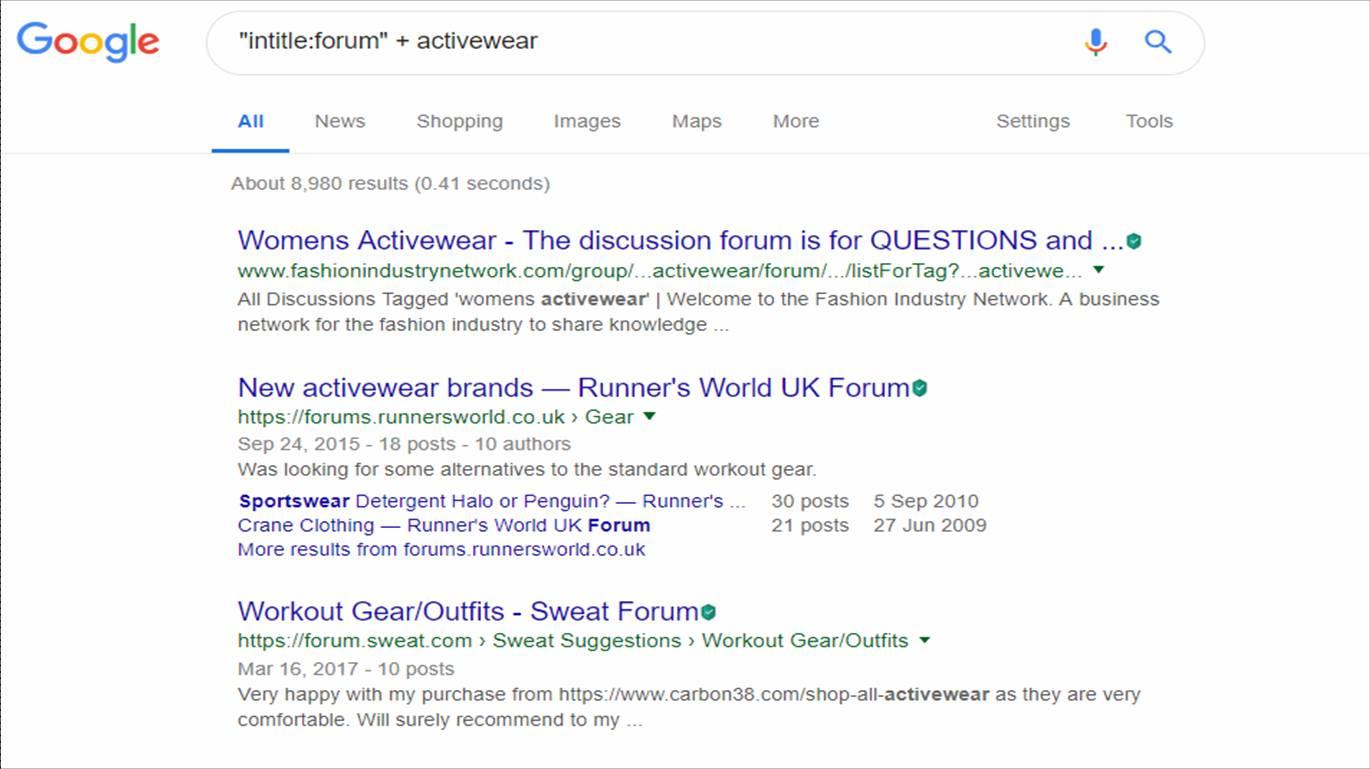 Similarly, a blogger writing for fashion and accessories brands like Shein, Urban Outfitters or BlueStone can find the top forums in this domain by typing "intitle:forum" + fashion in the search form.
Lastly, submitting your blog on social bookmarking sites like AllTop, StumbleUpon and Digg can improve the impressions on your posts, thereby boosting the traffic to your new blog.
Dive Deeper: Google Like a Pro: 42 of the Most Useful Google Search Tricks
5) Engage in Guest Blogging
Guest posting or contributing content to major blogs or media outlets is one of the best inbound marketing tactics that can drive qualified traffic to your blog.
The Content Marketing Institute shares that guest blogging (or off-site thought leadership) is at the top of the marketing funnel as it reaches a large audience who isn't familiar with a brand, thereby drawing them towards your blog to learn more: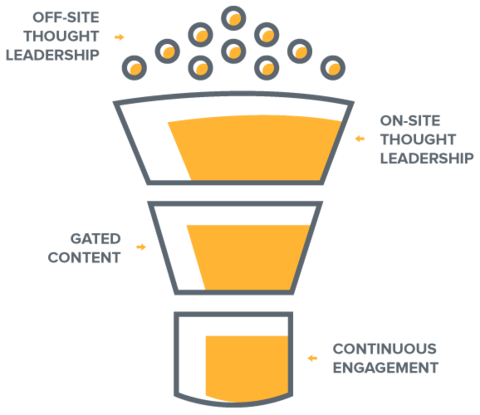 Guest blogging not only helps you reach a new audience, but also creates strong social proof for your blog. For instance, if Huffington Post publishes your article, it is telling its subscribers that your blog's content meets its high standards.
Research the guest-blogging sites that your audience visits and target two types of websites:
Leading publications like Huffington Post, Entrepreneur, Forbes and TechCrunch
Major blogs and websites in your niche (Optimize Smart can offer you valuable suggestions for finding the top websites in your domain)
Alternatively, you can use a search query "(topic keyword phrase)" + "write for us" or "(topic keyword phrase)" + "guest post" on Google to find websites that accept guest posts. Thus, a novice fashion blogger can type "fashion" + "write for us" to find the top sites that are open for content contributors: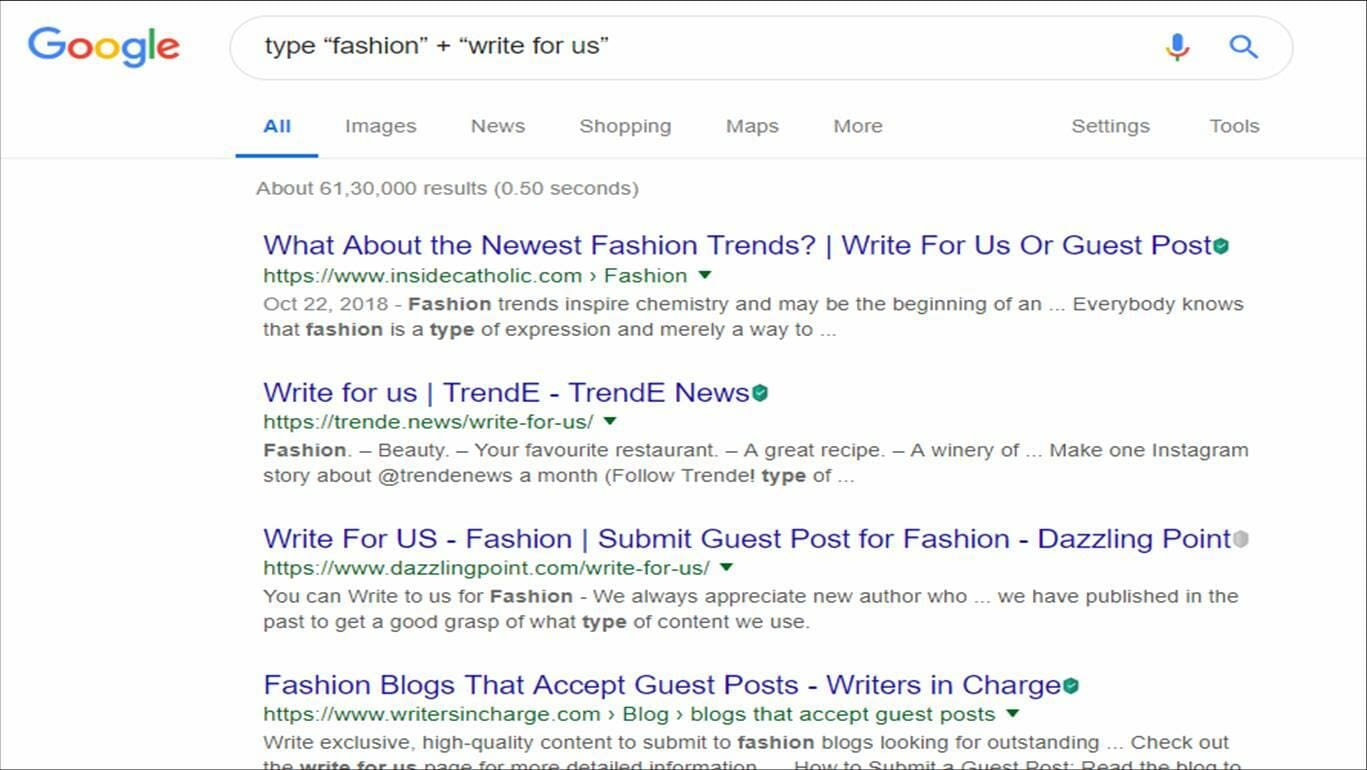 Compile a list of websites that match your blog's persona and reach out to the editors to pitch your content.
Learn More: 
6) Promote Your Blog through Email Marketing
The email list is by far the most valuable asset for any blogger. Email marketing can help you engage your readers and encourage them to come back to your blog when they need the latest content in your domain.
In fact, email marketing is the most profitable online marketing technique, generating a return of $44 for every dollar spent:

First things first – use list-building tools such as SumoMe plugin, Scroll Box, List Builder, and LeadPages to build your initial audience who is likely to read your posts and share it with others.
Next, send your emails on the best day or time when the receivers' inbox activity is high. Mail Chimp, for instance, has a Send Time Optimization feature that suggests the optimum time when users can send their emails.
For instance, research conducted by Mail Chimp reveals that Tuesdays and Thursdays are the best days for promoting your blog through emails, and the best time to send an email is between 8-10 am in your time zone.
Lastly, send an email newsletter to your list of readers to share new and old (but successful) blog posts. This will not only increase your page views, but also encourage your loyal audience to share it with their network.
Dive Deeper: [Case Study] The Content Sprout Method: How to Use Strategic Content Marketing to Grow Your Traffic From 0 to Millions
7) Measure Your Success
Blogging constantly without analyzing the key performance metrics is a waste of your time and effort. Measure your blog's success on a regular basis to identify the weaknesses and modify your blogging strategy.
Use effective online tools that offer traffic data for your blog, like:
The critical metrics to keep an eye on are the number of visitors, leads, subscribers, inbound links, and social media shares.
Each of these metrics will offer you valuable insights pertaining to your blog promotion strategy. For instance, a yoga blog getting inbound links from authority sites or brands, namely Yoga Journal, BookYogaRetreats or Green Apple, implies that your content is being perceived as high-quality and is relevant to the target audience.
Related Content: 9 Best Web Hosting Providers
Final Thoughts
Low blog traffic can be frustrating, especially after you have spent months creating your blog. Use the effective tips shared in this post to boost your blog traffic in today's competitive blogging environment.