Around 4 million blog posts are written every day. But just because everyone is creating blog content to promote their business doesn't mean that it's all great.
Although blogging is a terrific way to build an audience for your business, it isn't as easy as churning out numerous posts every month. It's essential to differentiate between mediocre pieces and high-performing content that provides value so you can hit the home run more often than not.
There's no real formula for success, although a checklist and a bunch of tools can work as a support system for time-starved content creators to help ensure that what they're writing is awesome.
Here are tips to create some smashing blog content.
1) Study Your Readers
It's no coincidence that this tip is first on the list. Knowing your readers' preferences, interests and needs lets you produce better content for them. For example, if you run a blog for CXO-level professionals, then posting beginner level content might irk the audience.
Here are some tips for understanding your readers better:
Join social media groups where your readers hang out and exchange views.
Follow niche thought-leaders to know what they're publishing.
Assess blog comments to learn from their feedback and suggestions: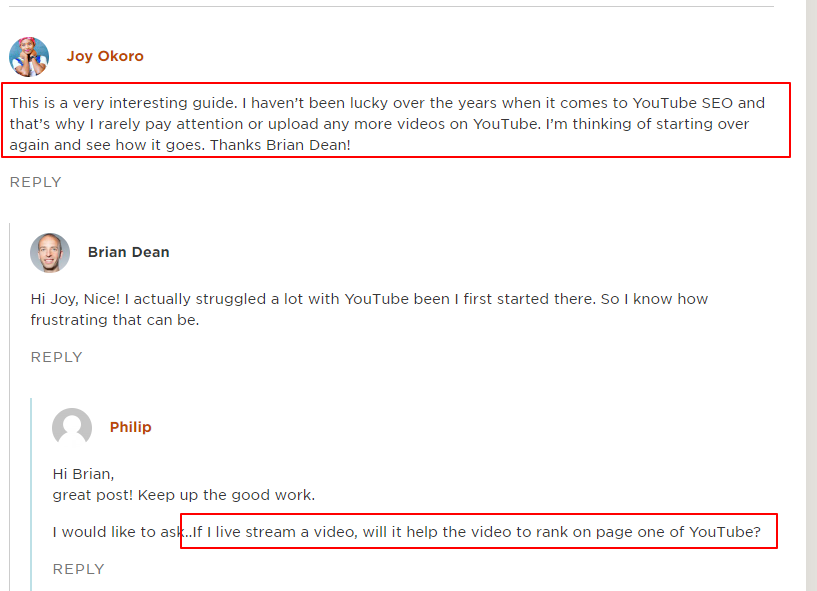 To get a better understanding of the topics your audience is searching for, you can use a free tool like Suggestion Keyword Finder to generate popular keyword suggestions, which also provides level 2 and level 3 keywords to help dive deep into search queries: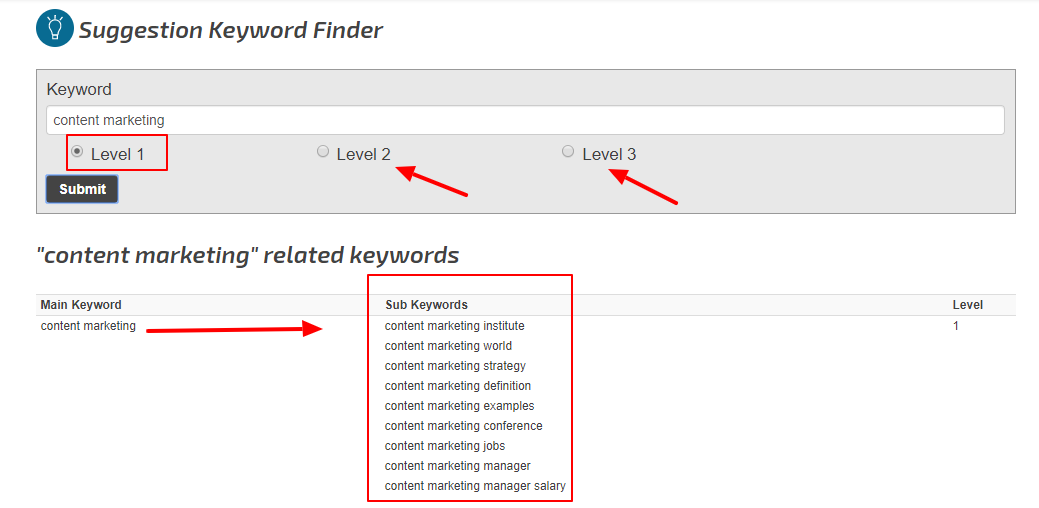 Knowing about the common challenges faced by your target audience can help you provide them with solutions.
Dive Deeper: Should a Blog Post Focus on One Keyword or Multiple Keywords for SEO?
2) Do Some Kick-Ass Research
Speaking of search queries, it's critical to learn about industry trends before writing a piece so that you can make it as fresh and impactful as possible. A good strategy is to browse through conversations on popular communities like Quora, Reddit, Medium and LinkedIn.
Using tools like Google Trends is a great way to analyze rising and falling trends in any niche, time period, country, and sub-region: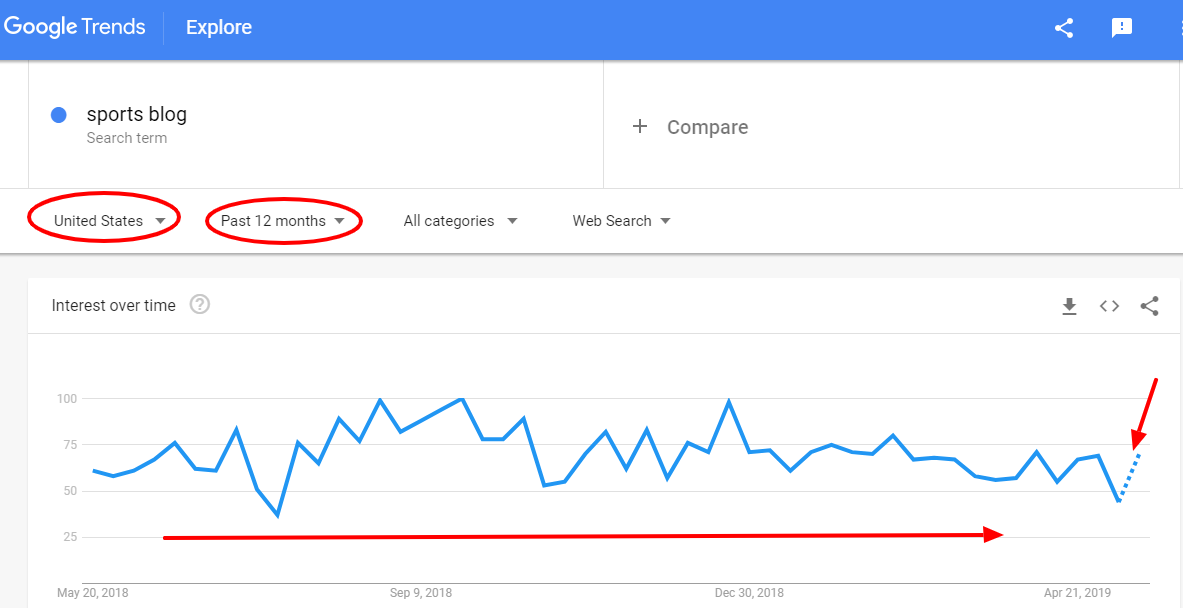 BuzzSumo is another free content research tool. Type in your keywords to find blog posts that have the highest number of social shares: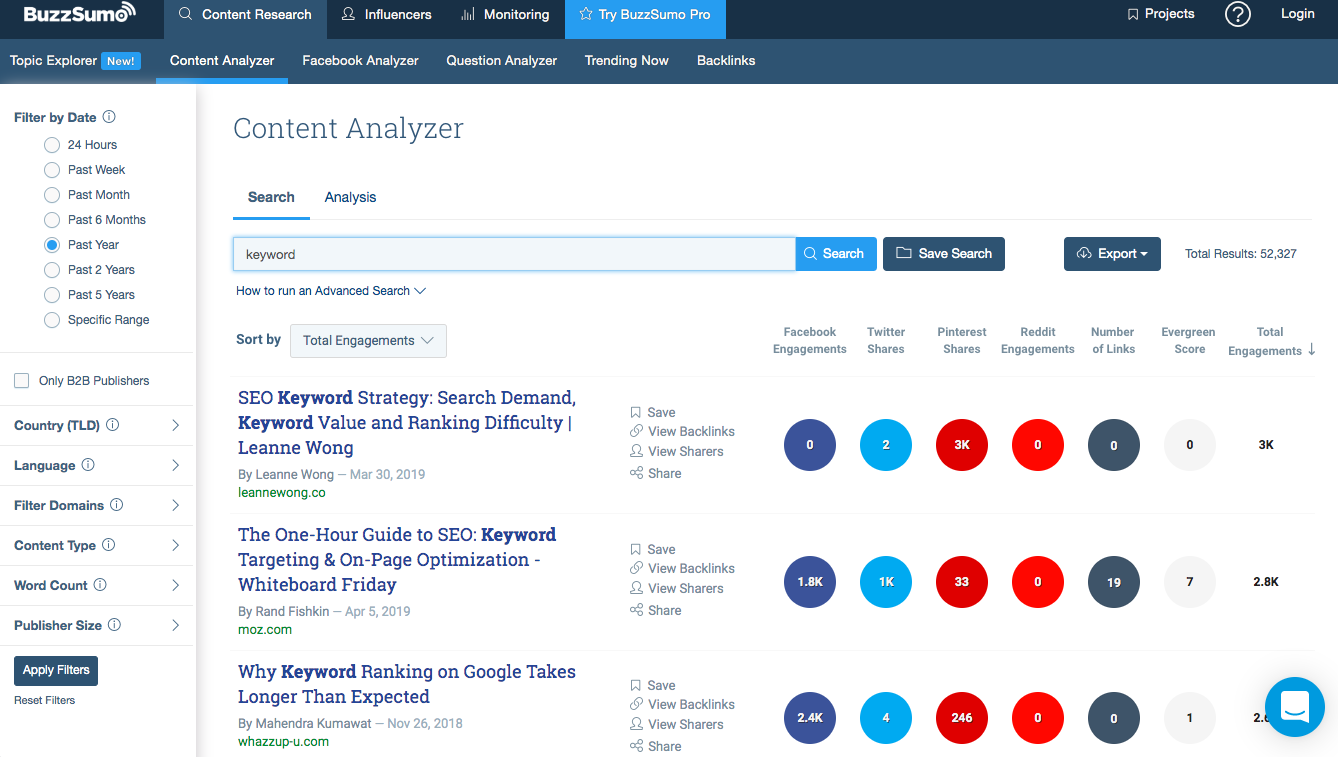 Research is the foundation of quality content as it gives writers in-depth knowledge about a topic and helps them understand what's doing well. The key, of course, is to then write blog posts and articles that are better than what's out there, not simply copy what's already been done.
Dive Deeper: 
3) Include Data That's Credible
Linking to reliable data sources creates the right reputation for your brand as readers are more open to brands that use credible data sources. Trusted resources include government websites, research papers, and white papers by industry experts.
Some general sources for credible data include:
Zanran (a search engine for finding data, statistics, graphs, charts and tables)
You can even search the hashtag #statistics on Twitter: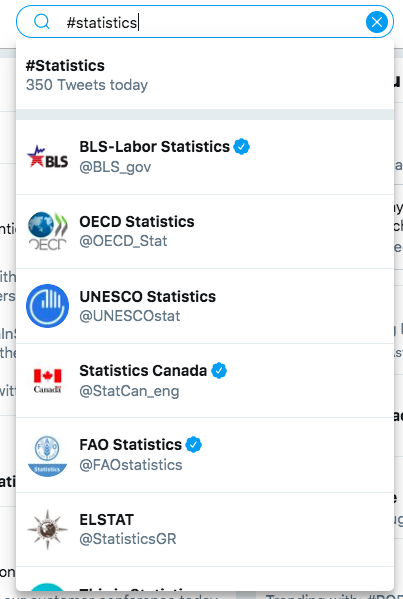 Looking to go up the authority ladder? Do original research and publish blog posts around it. Digging deeper into the root of a topic displays expertise and fetches loyal readership.
Dive Deeper: How To Write Data-Driven Posts
4) Have a Distinct Voice
Nobody wants to read a dry and emotionless blog post (unless you want to flaunt that it's written by a robot!). A unique voice helps you breathe life into words and establishes an emotional relationship with the audience.
For example, GenTwenty, a webzine targeting 20-somethings, has a very youthful, inspiring and refreshing content style: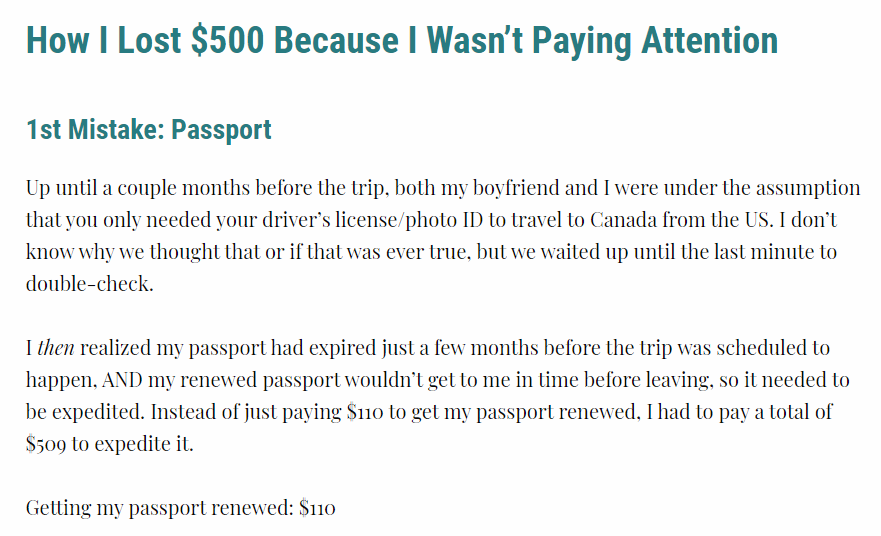 A unique voice is what attracts the readers and makes them remember your content. The fast-food restaurant Wendy's, for example, has a very unique (and very funny) voice on Twitter because, as they say in their description, they want to be "better than anyone expects from a fast food joint" (check out their best "savage tweets"):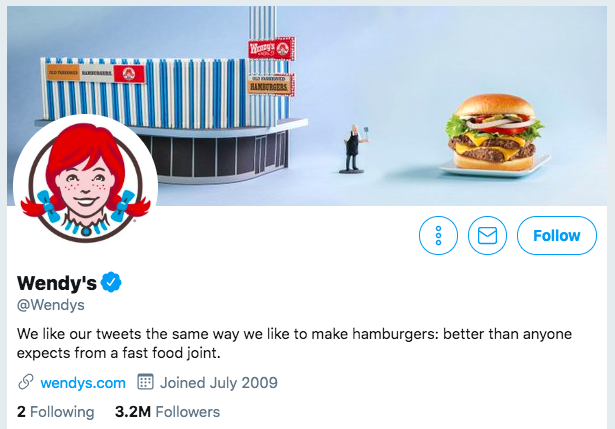 The bottom line is: don't skimp on the personality when you're writing articles, blog posts and social media posts!
Dive Deeper: 7 Creative Ways to Make Your Blog Posts Stand Out
5) Craft a Powerful Headline
A content creator should focus on intriguing the reader and compelling them to open the article, and the right headline helps the audience understand the main idea behind the article and what's in it for them:

A well-written headline should give readers a good idea about the content that follows. Including emotions like awe, joy, surprise, shock, concern and curiosity make headlines more clickable and infectious — although it's essential to understand the difference between a good headline and a clickbait!
You can use the Impact Title Generator to come up with a creative headline for your next blog post:
Plug in a concept and hit the refresh button to get many combinations and shortlist the options by using the heart icon. The tool also comes with a writer's block section that lets you doodle your thoughts and go into a deep thinking mode.
Here are some examples of great headlines:
How-to:
"How to Have a Healthier and More Productive Home Office"
"21 Ways to Dominate YouTube: The Ultimate Guide"
Identify and Solve a Problem:
"6 Instant Confidence Boosters"
"Parenting Guru: From Chaos to Access"
Strike a Note of Controversy
"Why All Guys Cheat, Fresh Insight"
"10 Reasons Civilization May Collapse Because Of Organic Foods…"
Ask Questions:
"Want to Immediately Reverse All Your Health Issues?"
"Six Types of Investors – Which Group Are You In?"
Dive Deeper: How to Write Hero Headlines to Skyrocket Click-Through Rates
6) Use Relevant and High-Quality Images 
In-depth and long-form blog posts do really well with the readers (and search engines, too):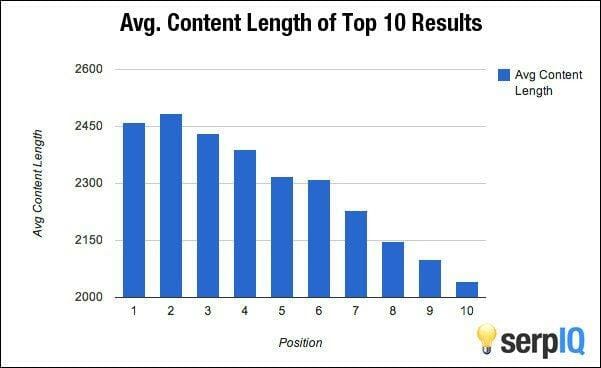 Adding visuals to a long post breaks the monotony of text and makes the content easier to read. In fact:
Blog posts with images are viewed 94% more than posts without.
People remember only 10% of information three days after hearing it, on average; adding a picture can improve recall to 65%.
Nearly two-thirds of people say they're visual learners.
Consumers are significantly more likely to think favorably of ads that emphasize photography over ads that emphasize text.
60% of consumers say they're more likely to consider or contact a business that has an image show up in local search results.
Charts, diagrams, infographics, screenshots and tables strengthen the narrative and help readers absorb the information. Taking into account your brand's voice (see #4 above), you also can make your content juicier by using memes, GIFs and quotes. In other words, surprise the audience at every step and compel them read on!
Use these free (and high-quality) stock image sites:
You can also use a tool like Canva or Visme to design some eye-catching visuals. Awesome Screenshot is another terrific tool to juice up your blog posts with some exciting live examples.
Dive Deeper: Overlooked SEO: Optimizing Images and Video For Search
7) Add Diversity with Different Post Types 
Blog creators need to add variety by experimenting with different post types:
Roundup Posts – Interview industry leaders and then put together an expert roundup. Such posts add much more value because they include the first-hand experience of those who have been there, done that. Here's an example:

Case Studies – Such content pieces work well with readers who are close to making a purchase decision. Put together a report that helps people understand exactly how your business helped a client and then supplement your blog post with the case study.
Check out this case study that Single Grain did: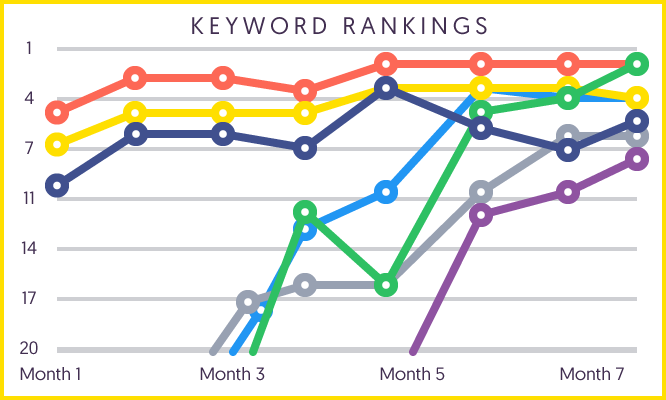 Opinion Pieces – Readers love it when you take a stand, so express your point of view on a news piece or an ongoing trend. Remember, an opinion piece is allowed to put diplomacy and politeness aside (it's fun playing the rebel!). If you make sure the piece is timely, you never know if it might go viral.
Take a look at this example:

Tell Your Story – The best way to make your blog posts stand out is to share your unique experiences. You can talk about stuff like:
How the founder came up with the business idea
What some common problems are that you are trying to solve
What it took to get funding for your business
Behind the scenes of your business and work culture
Lessons from your recent achievements
How you earned your first few clients:

Dive Deeper: 9 Ways to Repurpose Your Old Blog Content
8) Edit and Polish to Perfection 
Correcting grammar and spelling mistakes is not enough. If you call yourself a wordsmith, it's best to act like one, which means not only does every word of your blog post matter, but the syntax, sentence length and actual content is important, too. Make it effective and your writing will arouse the precise emotions and actions that you want.
Bloggers can add this list of power words to their vocabulary and make their blog content more impactful: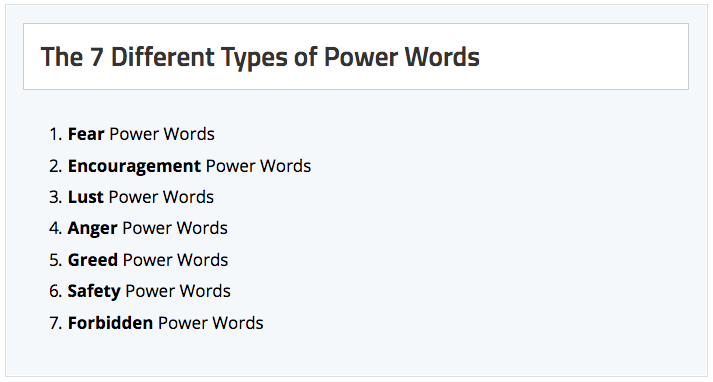 Likewise, if you don't want to make your blog post overly complicated or stale and hackneyed, avoid jargon, clichés and other weak words/phrases like:
Actionable
At the end of the day
Balls in the air
Bring to the table
Check the box
Game changer
Killer app
Literally
Out of the box
Reinvent the wheel
Secret sauce
They killed it
Touch base
Win-win
Here's a quick checklist to make your content fluid and reader-friendly:
Write crisp sentences and avoid circumambulating around one simple point.
Alternate short and long sentences

–

too many short sentences makes it sound like a rap song; too many long sentences and it sounds like a drunken ramble.
Shorten the paragraphs and use 4-5 sentences each

to

make the post look neat and scannable. Do not put each sentence on a new line

– not only does it look like a laundry list, but it's harder to read because the brain is trying to group ideas together.

Be attentive towards the writing flow; simplify sentences that are hard to understand.
Write in the active voice because the passive voice pushes the reader away from the message.

Active: He killed them.
Passive: They were killed.

CROss check visual content for copyrights. Either use rights-free images or add the relevant credits.
Edit many times and then get someone else to look it over before hitting publish.
If writing professionally is not your strong suit, you can use Grammarly to check for basic spelling, grammatical and language issues: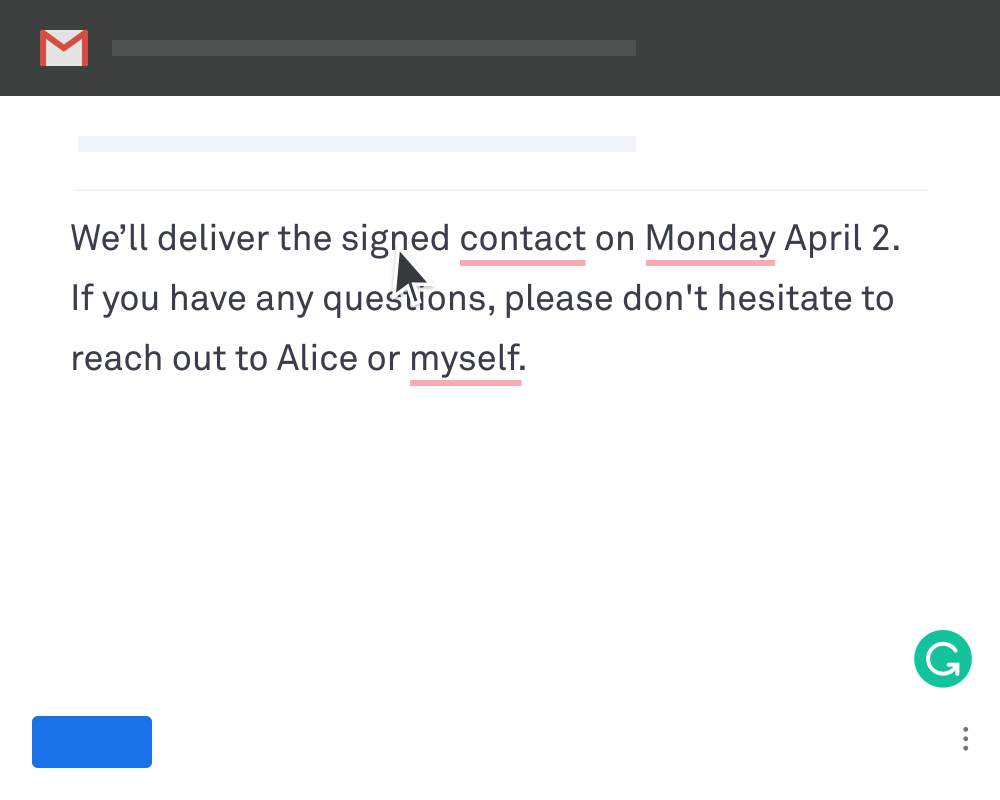 A tool like Readable helps score, analyze and improve content readability with methods like Flesch-Kincaid, Gunning Fox Index, Flesch Reading Ease and more.
Hemingway is another vital tool for improving your writing. It detects the passive voice, unnecessary adverbs and difficult sentences:
9) Optimize for Better Outcomes
One of the prime objectives of a business blog is to get results: traffic, engagement and leads. So on top of writing a great piece of content, you'll need to optimize it.
Make It Search Friendly – Here are some ways to get better search visibility:
Optimize your title and meta description using the Yoast SEO plugin.
Use a tool like LSIGraph to optimize your content for the relevant Latent Semantic Keywords.
Compress images before uploading them and don't forget to add keyword-optimized Alt tags.
Add links to useful and authority external resources.
Make sure the blog section of your site is mobile friendly. Take the Google Mobile-Friendly Test.
Search and mobile optimization are necessary to help fetch more traffic and readers.
Add a CTA – Don't forget to add a compelling call-to-action towards the end of each blog post. But don't just randomly throw it in there; use the blog content to start a conversation with the audience and turn it into an ongoing relationship with them. Then, at the end, ask readers to leave a comment or share the post or subscribe to your newsletter: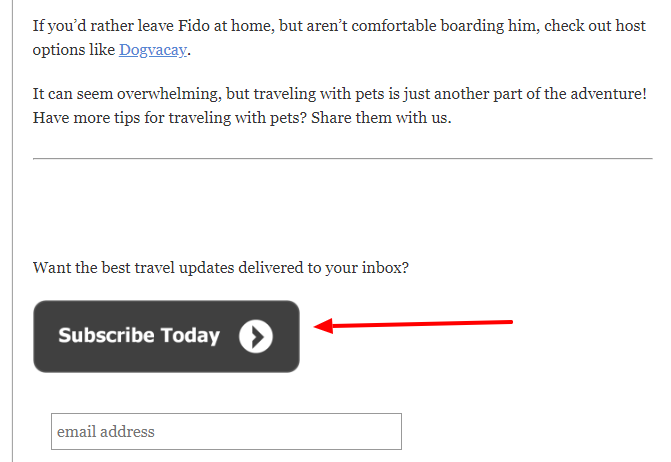 Small fixes like these can go a long way in way in making blog content relevant to search engines and helpful to readers.
Dive Deeper: How to Create CTAs that Actually Cause Action
Plan Well
A checklist helps blog writers to stay motivated about their content goals. You can use a content calendar template to populate monthly and yearly topics well ahead of time: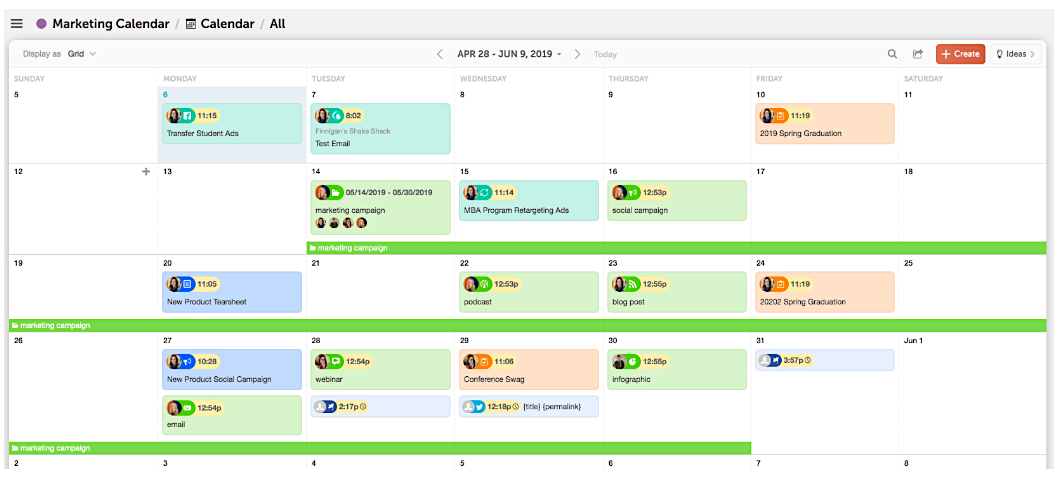 Thinking ahead fuels great story ideas; your team gets more time for brainstorming and experimenting. Make use of a time tracking tool like Toggl to keep tabs on your writing productivity.
Dive Deeper:
Over to You
Although newer content formats like video and podcasts have become popular, quality blogging has its space and audience. You don't want your business blog to have run-of-the-mill content.
Immerse yourself in every piece and give it the love it deserves and your audience will reciprocate more than you expect. Let your passion show and your posts will stay miles ahead of the competition.