How to Increase Website Traffic through Social Media
The fight for website traffic is a tale as old as time. From creative content to Search Engine Optimization (SEO), site owners are leveraging everything they can to increase traffic. Despite the many unknowns when it comes to the impact of social media on SEO rankings, one aspect is a certainty: the potential for referral traffic from social media channels.
Whether you are running a business website or a hobby blog, social media has the potential to create a huge impact on your traffic. The number of users on social media platforms in 2018 grew to an estimated 2.6 billion and the number is expected to climb to 3 billion by 2021:
These numbers represent around 72% of all Internet users, which is a staggering figure for a few platforms to share. The question that website owners need to look at – and what we'll answer here – is how to convert these social media users to traffic on their sites.
1) Identify the Right Channels
As of August 2018, the most popular social media network in the world was Facebook with 2.7 billion users, followed by YouTube and Instagram. Of course, these are just independent numbers and many users are likely to be present on more than one platform.
Yet the figures remain a massive source of potential traffic, so how do you leverage that? Rather than look towards those platforms for the answer, you need to look internally at your own brand and goals.
Social media platforms usually involve no cost – they're free, although the time involved in engaging users might be quite significant. There isn't any real way around that, so make sure that you are prepared before actually getting on any platform.
Choosing the right social channel can depend heavily on the nature of your site's content. If you are very focused on consumer products or information, then something like Facebook, Twitter or Instagram would be a good platform.
If you tend to write about business-oriented or professional topics, then a more suitable platform would be LinkedIn, as this platform has the potential to reach a more B2B-oriented audience.
Of course, there are also platforms such as Pinterest, Instagram and YouTube which are extremely visual. These should also be leveraged depending on your goals – for example, brand-building is something that would work well with a visual-oriented platform.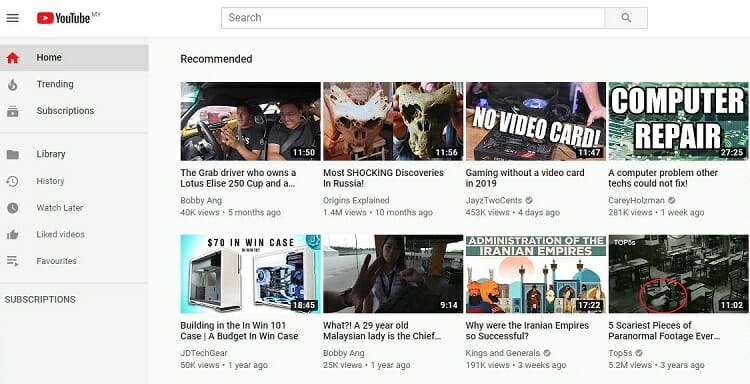 As I said, identifying your needs can go a long way to helping you choose the right medium for your social media goals. Once you're there, focus on the right parameters and build your content always keeping your goal in mind.
In addition, knowing the audience demographics of the popular social media platforms can help you choose which few to build your brand's presence on: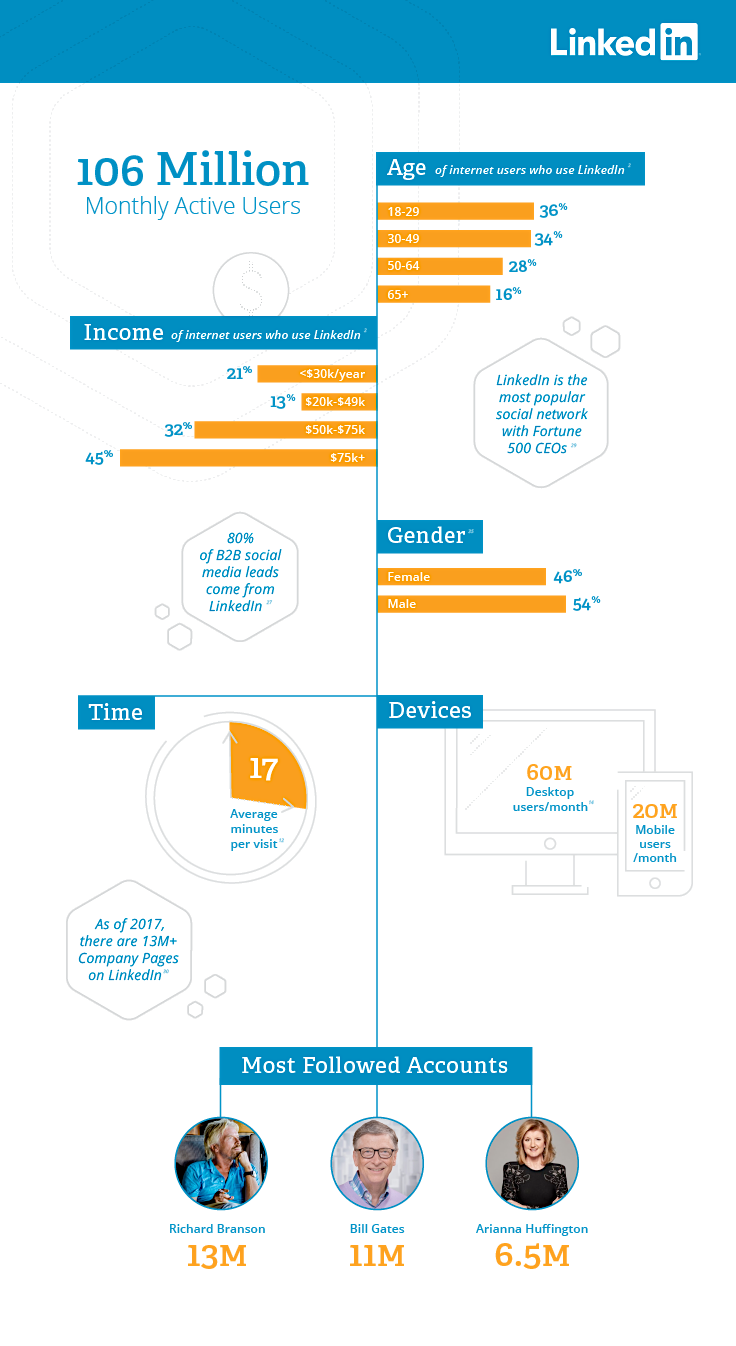 Learn More:
2) Choose What to Share
When trying to think of what to share, don't look at ground-level stuff, but rather aim strategically. First, figure out the goals that you want to work towards and then craft posts that can help you work towards those goals, which should follow the SMART principle: Specific, Measurable, Achievable, Relevant and Time-bound: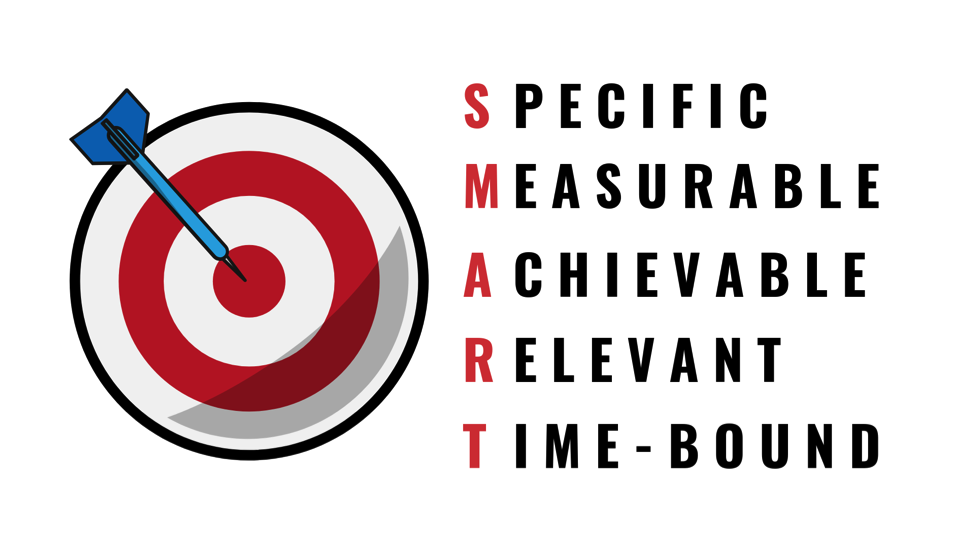 There is no fixed rule that will help you craft the perfect post. As always, the platform you have chosen will also play a part in what you share. This doesn't necessarily mean that your goals must change significantly, but only that the means towards those goals need to be refined.
Take for example Instagram. This platform only allows images and video content, but formats such as these can be immensely impactful. Think about how Coca-Cola has leveraged video to create a huge brand impact: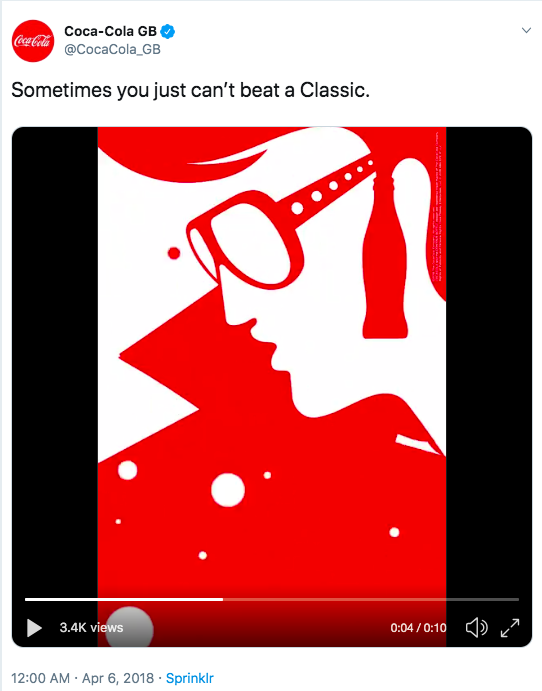 There are literally hundreds of ways in which you can make multimedia content very personal for your brand and image. Here are some ideas of what kind of content might work for you.
Infographics
These are informative and yet visually appealing, presenting facts (which can be fun!) in a very condensed fashion. The right infographic design can be a huge source of traffic, especially if it is good enough to be re-shared by a ton of people.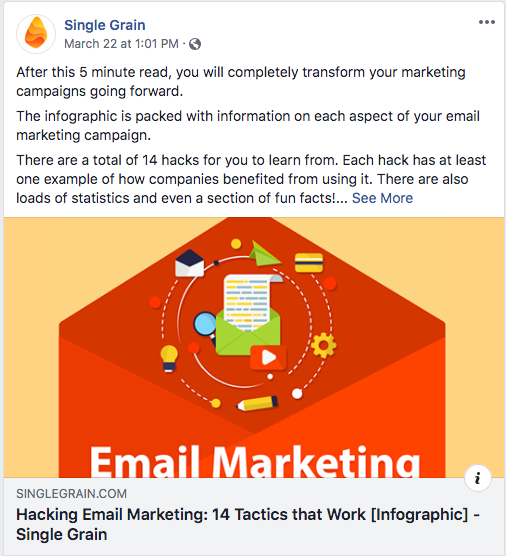 Company Clips
Don't just think stuffy corporate video, but look to ways in which you can show off aspects of your team. Humanize the brand and you just might win many more followers.

Learn More:
Reviews / Tutorials
If you've heard the phrase 'monkey see, monkey do' you'll realize that creating tutorials in multimedia formats can be huge. People will be able to see actual products or methods in use which for many might be much faster and easier than reading a 2,000-word article (like this one!)
I'm also going to talk about Facebook since it is likely that this is a platform many would be interested in simply because of the sheer number of users it has the potential to reach out to. Facebook has grown over the years and in fact, it still is. It is one of the biggest social media platforms in existence today and allows all types of content to be shared. Here is a screenshot of our Facebook insights page which shows users interactions: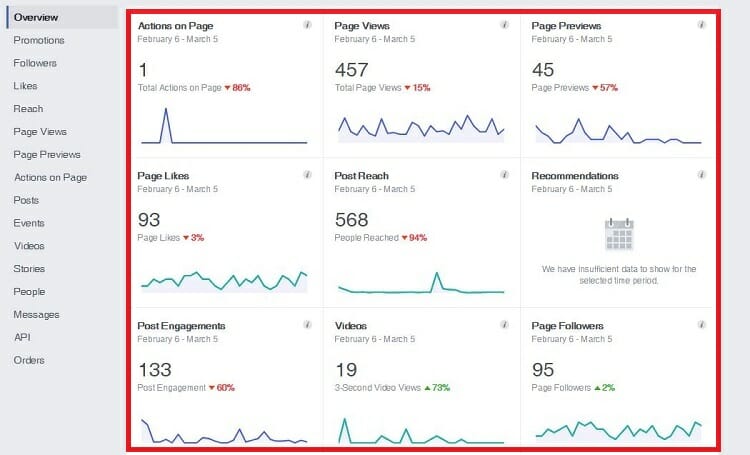 They key to success on Facebook is a little different because it doesn't have to be governed by a specific format of information. You can create a win here by looking towards engagement rather than the medium.
Because of its holistic approach, you can use Facebook insights to learn more about your audiences. You can use a combination of things to gain more followers and increase users interactions on Facebook on your page, such as:
Invite friends and/or customers to your page
Show visually stunning new products
Share quick updates such as a flash sale
Hold contests to increase engagement
For any social media platform, the key to successful content can be summarized in one word: shareability. To create your goals, think of the main ways in which your posts might cover one of three areas:
Inspiration – People love to be inspired, even if they don't voice that. By creating a post that is inspiring, you are creating positivity that just begs to be shared!
Entertainment – This is another engaging theme that often leads to people sharing just for joy and laughs.
Usefulness – Sharing information that helps people improve their knowledge or quality of life can be a big thing.
3) Schedule Content – When Is the Right Time to Post?
Once you've got the perfect content, you also need the perfect time to share it. Sharing is not only about the time that you post, but also how frequently you do it. I have seen people sharing almost every hour or so to those who hardly move their pages. How frequently do you need to post an update to succeed?
Facebook has a publishing tool feature which is great for planning. Find it on the top menu of your business page:

Here, you can schedule your posts:

According to social media integration platform Hoosuite, the ideal time for sharing content depends on each platform. For example, the best time to share a post on Facebook is between 12-3 p.m. on Monday, Wednesday, Thursday and Friday, and between 12-1 p.m. on weekends.
Each platform has its own peak timing for sharing, so make sure you leverage this information for maximum potential for your posts. I highly recommend that you create a post schedule ahead of time and make use of an auto-scheduler.
If you're thinking that more posts will gain you more traffic, remember that this is actual human traffic. You are drawing these people in through fundamentals which are positive (inspiration, entertainment, usefulness), so don't mess that up by annoying them through over-posting!
Several studies have shown that the ideal posting frequency should be one post every other day. For Tweets, about seven per day is the ideal number. Make suer you're familiar with each platform's recommended sharing frequencies.
Learn More:
4) Content Is King
You've probably heard the term "content is king" when you started a blog or a website. Basically, it means that you must fill a need by creating quality content that makes readers come back for more, but by now you might also be aware that it applies equally to social media.
Great content draws people, no matter what format it is in. Social media may require certain formats, but your content will still be the anchor of your ship. Here are some dos and don'ts when it comes to posting content on social media:
Dos of Social Media
Post Regularly – Sharing at a measured pace is always ideal. Humans are creatures of habit and will be accustomed to looking out for great content that you share on a schedule – don't let them down!
Craft Original Content – Make sure that each of your posts aligns with your goals as closely as possible. Make each post count by offering solid content that is unique you. Always put yourself in the audience's shoes to offer them content that is not only great, but gives your specific fans and followers something of value that they can't get anywhere else.
Choose a Day Just for Fun – A weekly comic strip of a humorous sketch can change the pace and match the reality of life for your readers. Who wants to be all business on Fridays, for example, right?
Build Relationships – Engage your users personally sometimes, because it isn't always about your posts and content. People tend to want to give feedback or criticism – you can engage them and learn from them at the same time.
Use all Resources – Sites like Facebook have a ton of tools you can use for promoting your content, such as the tagging. Asking users to tag a friend for various reasons (like a contest) might sound like a cliché, but it's free and it works!
Don'ts of Social Media
Blatant Promotion – Repetitive posts asking users to buy stuff isn't going to win you any fans, nor will saying that a product is awesome make it so. Be circumspect about what you are sharing – you risk damaging your credibility and turning your page into a negative comment fest.
Repeating Posts – If you don't have anything new, look for something new. Re-posting isn't going to win you any awards and people have long memories, especially your real fans. When in doubt, refer to the "dos" of social media and remember – craft original content.
Clickbait – It can be tempting to write extremely clickbaity titles for your social media posts to get more clicks, but this will likely only work for a short time. Once your reputation nosedives, it is unlikely to recover – at least anytime soon.
Mislead Your Fans – Lying or misleading your fans to create hype isn't a two-edged sword – it's a recipe for disaster. Your numbers may grow quickly for short periods of time, but it is almost without doubt that your reputation will tank when the truth emerges (and it always will).
Overshare – While it certainly is great to have a bit of fun on social media, oversharing is something you don't want to do in a professional capacity (personally, it's up to you, but I don't recommend it either). Always keep in mind that your audience is very real – and very human. They will get offended or annoyed the way that you or I do.
Conclusion
By now I am certain that you're thinking of the massive amount of time that you might have to invest in getting extra traffic out of your social media channels. You would be right – choosing to be active on any social media platform, never mind more than one, can be an incredible drain on resources if you allow it to be.
My recommendation is that you temper your expectations with the amount of resources you have available and double down on what you can realistically do. You should also be prepared for it to be a learning experience, much like the time when you first started your website.
It is likely that you're reading this because you think you have maxed out the organic potential of your site and are looking towards other options to increase your website traffic. True, social media can potentially be a big boost, but it isn't completely free, as you can see.
The question you need to ask yourself is whether that huge potential audience is attractive enough for you to sink a large amount of your time into and whether it can be sustainable for you to do so. Some companies have managed to do this very successfully, but for every success story, there are likely ten disaster stories to match.
My advice – please learn from both!
Learn More: