5 Hacks to Start a Conversation with an Influencer
If you're not using influencer marketing in 2018, you'd better have a good reason.
The recent stats showed that 92% of marketers who used influencer marketing in 2017 found it to be effective and 39% of them planned to increase their influencer marketing budget this year. Today we can see that they've kept their word.
Influencer marketing is becoming one of the most popular marketing strategies, which means that companies cannot afford to miss this tactic. It also means that influencers are extremely busy these days, so it's becoming more and more challenging to reach them.
In this post, I'm going to share five hacks (mostly related to content marketing) to unobtrusively start a conversation with an influencer and get a chance to build those valuable long-term relationships in future.
A Word on Influencer Marketing
People talk a lot about what influencer marketing is, so I'm going to say what influencer marketing is not. Influencer marketing is not about paying popular Millennials to promote your product or service.
People become influencers because they've managed to grow a large audience that trusts them. And since they don't want to lose that trust, they won't promote bad products, share poorly written articles or mention random people in their posts. So no, money is not everything.
Industry experts are swamped with senseless offers, advertising, and spam. People ask them to share, to help, to advise. This is why they tend to ignore most of the messages they receive without even reading them.
Most of the approaches I suggest here are based on doing the influencer a favor first, not asking them for a favor first, which will help them notice your message among all the others that are doing the opposite.
Once you strike up a conversation, you'll be able to start collaborating on some projects and building long-lasting relationships.
Further Reading:
1) Conduct an Expert Interview
How It Works
Here are two undeniable reasons for this approach:
People love sharing their experience and discussing things they're passionate about or they've learned.
Because influencers don't have a lot of time, your offer to interview them as an expert is a great opportunity for them with very little work on their part.
It's best if you pitch some large publications and have a publishing contract or agreement in place first before asking experts to contribute. Without an agreement, you may end up unable to find an appropriate platform for publishing your interview. And asking influencers to take part in articles that never go live isn't something that helps build strong relationships.
So tell the influencer your idea and where you're going to publish it. They are usually more than happy to contribute. Once your interview goes live, it will be much easier to ask your influencer for a favor or discuss some other ways to collaborate.
How to Implement
To find exciting questions for your interview, I suggest using BuzzSumo's question analyzer: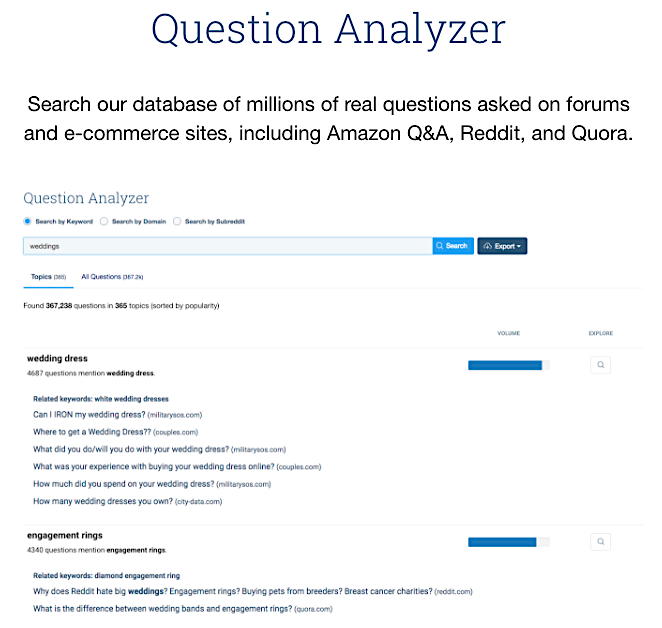 It gathers millions of questions from Q&A sites, e-commerce sites, and forums like Quora, Reddit and Amazon Q&A.
Try searching for your main idea for the interview, look through the list, and grab the most exciting questions you'd like to ask your subject.
Decide where you are going to publish this post (on your own blog or another platform).
Add it to your editorial calendar or make an agreement with the other platform.
Find influencers by using Mention, by searching LinkedIn, Facebook and Twitter communities, and by finding lists of industry experts on Google.

Add influencers on LinkedIn, Facebook and Twitter, and follow them on other social media platforms to make it easier to reach out or follow up in future.
Start reaching out to influencers! Send a personalized email explaining who you are, what you want, and what your idea is.
I believe strongly that no one is so busy that they have no time to write "thanks, not interested." So don't give up after sending a single email and not getting a reply.
Follow up at least two times if there is no response for 3-4 business days, and then try to reach out via LinkedIn/Facebook/Twitter, or the contact form on their site. But remember, don't be too pushy and don't write too often. Stop after 2-3 messages.
The main idea of this approach is to offer a unique and exciting idea so that the influencer notices you in the email chaos.
Further Reading:
2) Don't Ask For a Favor; Do a Favor
As I said earlier, influencers are swamped with messages from people asking them for a favor. If they helped everyone, they wouldn't have time for anything else! So that's why I offer the opposite approach: do a favor for them first.
How to Implement
What kind of favors can you do for an influencer? Here are few ideas:
Comment on their blog post
Share their blog post
Review their book
Endorse their skills on LinkedIn
Find and report an error on their blog
These ideas are easy to implement if you're already a part of the professional community. Let's admit it, almost everyone who writes for the Web dreams about being an influencer someday.
If you want to find an influencer in your niche, you should always be in the community commenting and sharing influencers' social media posts, their blog posts, and their articles on the leading publications in your niche. The thing is, if you're a part of this community, you won't have to fake your online presence. You'll already naturally be commenting, sharing, and discussing.
These steps will help let influencers know about you so that your name rings a bell when they see it in their inboxes.
The most important thing here is to find the right words to start a conversation so that it doesn't look like:
"Hey Ben, I reviewed your e-book. Now I want you to share my article in return."
The better variant would be:
"Hey Ben. Recently I was reviewing your e-book on Amazon and I came up with a brilliant idea for a blog post that would complement your book. Could you please take a look at it and share your opinion?"
You can also help influencers find an error on his/her website to win their trust. The easiest way to do this is to use an SEO tool that allows site audits like Serpstat. This tool finds a wide range of errors in a matter of minutes, although for this approach we only need HTTP status code issues.
Once you've launched a site audit to find 404 errors, the tool will show the number of such errors along with the locations and it gives recommendations on how to fix them.
Once you have this info, let the blog or site owner know about the error on their page. Helping an influencer improve his/her site is a good way to start a partnership!
Your message could look like (pretend you didn't use Serpstat to find their site errors!):
"Hey Ben, I found out that the article on how to plan an effective content marketing strategy on your blog is returning a 404 error. Just wanted to let you know about this issue.
To be honest, I was reading your blog as I was trying to find an idea for a guest post to offer you. And that topic from the broken page sounds like something I can cover. 🙂 What if I write an article on this topic so that you can update that broken page?
Or I can write on a completely different topic as well. Let's discuss it!"
3) Create a Personalized Pitch
Influencers usually have their own blogs, and pitching a high-quality article is a great way to start a relationship. If your idea is good and unique and your pitch doesn't look like spam, you have a great chance of getting noticed by the influencer.
While the wonderful idea for the guest post is up to you, I'll give you some tips on how to create a personalized pitch.
How to Implement
Call the influencer by his/her name in the subject line
Mailchimp's research shows that using the name of the email recipient has a positive impact on open rates (which my own experience validates). And although it might seem weird to use the first and last name of a person in your subject line, the research shows that it actually works well:

Some subject line examples are:
Congratulations, [FNAME] [LNAME]!
TED2014: Invitation to register for [FNAME] [LNAME]
Hi [FNAME] [LNAME], please update your email preferences
Influencers get tons of spam every day and most of this is sent via automation tools, so your main goal is to convince the recipient that you're NOT a mass-emailed newsletter.
Click To Tweet
Add a small personal note
Since automation tools are smart enough to add a name automatically, you should enhance your personalization with a personal note. It could be anything that shows the influencer that you have done a little research before pitching.
Some examples are:
"Hey, I found this article on your blog, and I think I could develop this topic in another direction…"
"I found an article about backlink building strategies in 2017 on your blog. I'd like to write an updated article on the same topic…"
"I've found that articles about content marketing are the most shareable on your blog, so I would like to offer…"
Use a tool like Serpstat or BuzzSumo to find the most shareable content on any blog or website.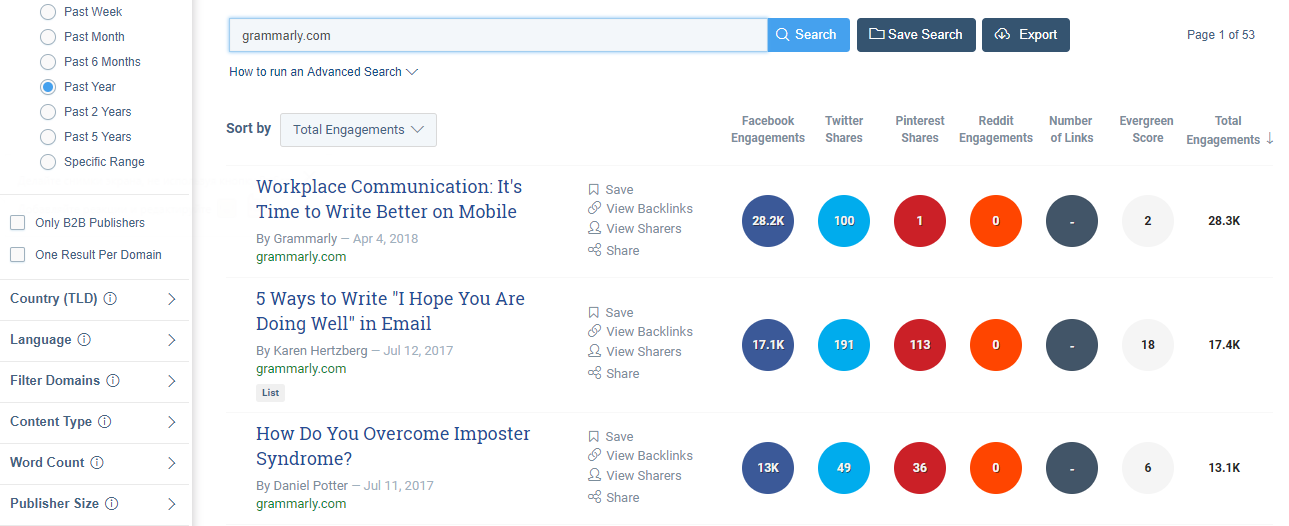 The ideas for personalization are endless – you just need to use your imagination a little. At the same time, you should keep your pitch as brief as possible. In fact, your pitch email should consist of a short introduction, a personal note, suggested topics for a guest post, and several writing samples (if necessary). So cut out the fluff and get straight to the point.
Further Reading:
4) Ask For a Piece of Advice
As I said earlier, people love sharing their experience, but most influencers are too busy to talk to strangers and help newbies. That said, a few years (or decades!) back they were newbies, too. If you ask meaningful questions, some of them will respond, and it's a great way to strike up a conversation and get the chance to collaborate in future.
How to Implement
Write down several complex or difficult issues that only an experienced person could answer. Never ask something that everyone can find on Google! If you can't think of anything, try looking on Quora or other relevant forums.
Send a brief and polite message asking the influencer if they could help you out by answering a quick question(s).
When Eric Siu, CEO of Single Grain and founder of Growth Everywhere, was first starting out, he used this exact strategy to learn from Neil Patel. Not only did he learn from an expert, but now they co-host the Marketing School podcast.
From an interview with Neil on Growth Everywhere:
"In the course of time that led up to Neil deciding to take Eric on as a mentee, Eric was constantly messaging Neil with short, to-the-point emails that contained sophisticated, non-basic questions – asking just one question at a time, making it easier for Neil to reply.
At the same time that Eric was asking him questions to help his business, he was also trying to help Neil's. For example, he gave Neil suggestions on ads by comparing his ads to someone else's and showing him the statistics."
Or listen to Eric talk about how he did it in Alex Berman's video "How to Find a Mentor? (How Eric Siu Met Neil Patel)":
5) Mention the Influencer in Your Content
The last approach I'm going to cover is mentioning influencers in your blog posts. In fact, you're helping the influencer promote his/her blog, personal brand or service, so of course s/he would be happy to take a look at this post and share some feedback.
How to Implement
Find influencers who are interested in your topic. To do this, you can use special tools, follow LinkedIn/Facebook communities, and follow influencers on Twitter.
Find a way to mention them in your blog post. It could be a quote, a link to his/her post or research.
Email the influencer and ask them to take a look at your post and share their feedback. If the post is good, an influencer can share it with his/her audience, and you'll have something to talk about.
The best article on this kind of outreach I've seen is this one called "I Just Deleted Your Outreach Email Without Reading. And NO, I Don't Feel Sorry."
Wrapping Up
All 5 of these hacks are based on helping the influencer instead of asking for help. Here's a quick summary of how you can build long-term relationships instead of one-time cross-promotional efforts:
Write a valuable article for the influencer's blog
Conduct and publish an expert interview with the influencer
Comment on and share his/her blog posts, help find an error on their site
Reach out to the influencer to ask a question only they would know
Involve the influencer in an interesting conversation
Check out this infographic How to Approach Instagram Influencers the Right Way from Ifluenz: